! >
Broadway To Vegas
  
  REVIEWS INTERVIEWS COMMENTARY NEWS

| | |
| --- | --- |
| | |
SNOOPING THROUGH WHERE PRINCE WILLIAM AND KATE WILL LIVE - - MONACO RED CROSS BALL - - THEATRE BOASTS WEST END TRANSFER - - BEACH LIFE BY ERIC FISCHL - - HARRISON, TX: THREE PLAYS BY HORTON FOOTE - - THE GREAT GATSBY MUSICAL - - GHOST:THE MUSICAL GIVES IT UP - - SADLY, TOO MANY DEATHS THIS WEEK - - DONATE . . . Scroll Down


Copyright: August 12, 2012
By: Laura Deni
CLICK HERE FOR COMMENT SECTION

LOVE, SCANDAL AND ROCK & ROLL - THE EMOTIONALLY FISSURED KENSINGTON PALACE


Kensington Palace photo by Laura Deni
Kensington Palace is the most emotionally fragmented of all the royal palaces. A bevy of gossip, history, intrigue, romance and heartache.

It's not a palace as much as an apartment building for well connected royals.

The living conditions are a cross between those in the Fort Greene Brooklyn brownstones and living in an assisted care facility.

As much and Will and Kate have attempted to maintain their current living quarters by themselves, moving into Apartment 1a at Kensington will require a fulltime staff. Should the young couple need any type of assistance, all they have to do is push a button.

They'll put their own stamp on the place - a place with a storied past.

Princess Diana used to sneak her lovers into Kensington.

It's haunted by a ghost.

In her and Lord Snowdon's Kensington apartment, Princess Margaret threw the best celebrity parties ever and became the life of the party herself.

It's where an 18-year-old named Victoria learned that she had become queen.

Diana invited the Rolling Stones to her home at Kensington, and some were not amused.

Then there is that warming pan baby.

I stood in Apartment 1a, in a room used by Princess Margaret as an indoor garden room. On display are gowns worn by Princess Diana. ( See Broadway To Vegas column of July 29, 2012 ). Soon it will be the apartment lived in by Prince William and Kate.

Last inhabited by the queen's late sister, Will and Kate won't move in until mid-to-late 2013, because the apartment still needs work. In American that would be called bringing the building up to code. Plumbing and electric work was extensive. Asbestos needed to be removed. That can cost a pretty penny, but there really isn't anything to show off. It's like asking somebody to come over and admire a new battery in your car.

New facilities do include gorgeous public gardens, a gift shop, a café and the $2 million Clore Learning Centre.

Two elevators were also added which will make it easier for Will and Kate to navigate the four-story apartment. Apartment 1a is perfect for a young family with its own walled-in garden, along with staff quarters and a nursery.



Princess Margaret with her children Lady Sarah and David, Viscount Linley who were raised in Apartment 1A. Photo: Royal Archives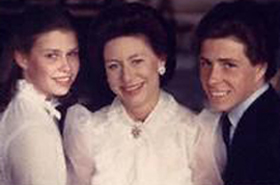 Princess Margaret and Lord Snowdon raised two children there; Lady Sarah and David, Viscount Linley - both of whom turned out to be by all accounts - totally perfect.

When occupied by Princess Margaret and Lord Snowdon the apartment was the location of London's social scene. The couple were fun loving and excelled at entertaining. Pop in and you might have found Diana Vreeland, Dudley Moore at the piano, Cleo Laine singing, Peter Sellers and Spike Milligan playing the fool, John Betjeman telling stories.

There was also a healthy dose of scandal, rumor, infidelity, alcohol, drugs and bizarre behavior.

It's been speculated had not Margaret been a royal princess, she would have become a sought after performer. She could sing and her ability to mimic and impersonate was reported to have been the highpoint of the couple's parties.

After their divorce, Margaret remained in the apartment until her death. Then the apartment was permitted to fall into disrepair. A decade of neglect made the abode uninhabitable.

Even if Will and Kate weren't slated to move in, Kensington Palace had needed a good going over.

The most obvious upgrade to the eye is the restoration of those magnificent gardens. Gone - the unsightly brush and neglected overgrowth. Princess Louise, one of Queen Victoria's daughters was an accomplished sculptor - her large marble statue of Queen Victoria has been given a bath.

Removed are most of the gates which offered a foreboding aura.

William and Kate will live next to a cafe and a souvenir shop.

While the fire places in Apartment 1a work, they can't be turned on because, as it was explained to me, "if we turn them on, then the savory smells (from the restaurant) come in and nobody wants that. Yes, all of the radiators do work."



Prince William and Kate's future dining room is for rent. Photo: Historical Royal Palace.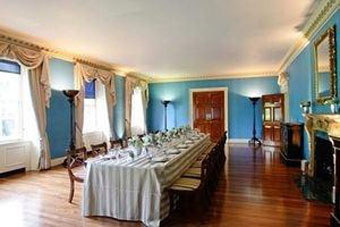 Before Will and Kate move in, it's possible to rent the dining room. The official advertisement states:

"Apartment 1a
Contemporary former home of Princess Margaret and Lord Snowdon. Available for a limited time only.
Capacity:
60 for receptions
40 for lunch or dinner
20 boardroom arrangement
60 theatre style

"About the venue
Features
A private, exclusive and contemporary space. Ideal for intimate dinners and lunches. Perfect for meetings requiring a small break out area."

"Best for
Apartment 1a is ideal for smaller events and for those seeking a truly unique experience. The contemporary decor set inside the historic Kensington Palace creates a real sense of modern royal life."

"A little history of the space
Apartment 1a was a private residence until 2002 and, following its restoration, was opened to the public in 2004. Former residents have included Augustus Frederick, Duke of Sussex, son of George III, who kept his famous collection of 50,000 books here until his death in 1843; and Princess Louise, daughter of Queen Victoria, who moved into the apartment in 1875."

"The most famous resident of Apartment 1a was Princess Margaret who moved to Kensington Palace in 1960 with her then husband Lord Snowdon. Princess Margaret and Snowdon set about transforming the apartment, which had lain vacant after Princess Louise's death in 1939, into a more contemporary home for heir family whilst still retaining many of the 18th century features."

"Preferred suppliers can help with catering, flowers, photography, music and entertainment and more."

Snooping through the place is an interesting experience.

Kensington Palace was built as a private country house called Nottingham House in about 1605. Princess Victoria was born there on May 24, 1819. She was christened the following month in a private ceremony in the Cupola Room.

Eighteen years later, Princess Victoria was awakened at Kensington Palace early in the morning of June 20, 1837 with news of her accession to the throne. Her first Privy Council was held in the Red Salon on this day, before the young Queen moved permanently to Buckingham Palace with her mother.

Encased in glass is the dress which Victoria was wearing in 1837 when she was told that her uncle, William IV, was dead and that she had become Queen.

Nearly 100 members of the Privy Council crammed into this room to proclaim her as Sovereign.

In the display, Privy Councillors' silhouettes line the walls alongside the names of all 97 men who attended the meeting.

Historical records show that, because she was in mourning for William IV, she was dressed in black. However, Sir David Wilkie's famous painting of that moment has her in virginal white.

Painters of that era had their own version of photo-shop, called a paint brush and more than one historical painting has altered history.

The actual dress is on display but looks bronze, not black. The official explanation is "due to the unstability of the dye." In other words, the dress faded.

The room's name also invokes literary license. Recent paint analysis has shown that the wall color was never actually red, and therefore the room was probably named the Red Saloon after the furnishings. The walls have been returned to the brownish pink color they were in 1837.

In all London palaces, colors of red, pink and purple predominate. The royals were mixing those shades eons before Carnaby Street clothes ever hit a runway.

Today, the State Apartments comprise the King's and Queen's Apartments which have been interpreted to represent the time of King William III and Queen Mary II.



Queen Victoria's wedding dress. Photo: for Historical Royal Palaces by Getty.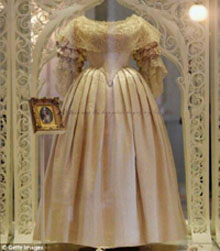 The Kensington Palace Queen Victoria exhibition is located in the rooms where Victoria lived as a child and include paintings by Franz Xaver Winterhalter and Sir Edwin Landseer, gifts that Queen Victoria exchanged with Prince Albert during their engagement in 1839 and her wedding dress.

Contrary to old folk tales, the celebrated silk-and-lace bridal gown worn by Queen Victoria didn't start the white wedding dress craze. Fabrics were an important in-your-face way to flaunt wealth. White was a valued color because it was both difficult to achieve, and hard to maintain. Wealthy brides, then, often wore white to demonstrate their money, not their purity.

Her jewelry, mourning clothes and other personal objects are also on display alongside replicas of Victorian children's toys. There are also let's play dress-up clothes and interactive displays for children. Visitors are encouraged to open drawers full of replica memorabilia and documents.

In one corner is the actual piano where Victoria and Albert would sit together and play duets.

The Palace is currently staging a temporary summer exhibition called Jubilee, telling the story of Queen Victoria's Diamond Jubilee celebrations in 1897.

There are film, sound and interactive displays and a focus on the procession through London on June 22, 1897 when the Queen, members of the royal family and soldiers from around the world paraded to a service of thanksgiving at St Paul's Cathedral.

While the guides insisted that the display was popular, I heard several complaints and I thought it was a waste of space. A loop of Queen Victoria's procession plays in the dark room.



The actual piano where Victoria and Albert would sit and play duets. Photo by Laura Deni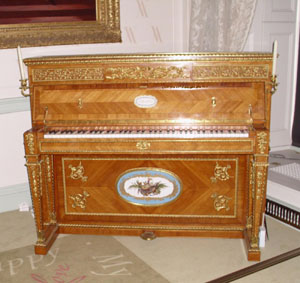 Hanging from the ceiling in a maze are strips of gauze looking material. Visitors make their way through the maze and are encouraged to wave. Look at the screen and you'll see your hand in the crowd, waving at Queen Victoria.

That's probably cute if you are eight. The loop is just that - a loop. After seeing the carriage procession for what seemed like the 60th time, it gets repetitive.

I would rather have just stood in a lighted, vacant room, and been able to enjoy the construction, the wood, the hues of the finishes. The room is infused with history which is obliterated by a high tech gimmick.

Highlight of the Queen Victoria section is in what was known as the Teck Saloon but renamed the 'Love Rooms' for this exhibition. It showcases the Victoria and Albert romance.

What is a romance it was - one of the greatest in history.

Much like the love story of Queen Elizabeth II and Prince Philip, the woman may have ruled the country but the man was her backbone. I've thought of Prince Philip as the Hidden King of England. He has also pulled off what few men could have accomplished - not losing his self esteem while walking one step behind.

Queen Elizabeth and Prince Philip are second cousins once removed. Thus both Elizabeth and Philip are the great-great grandchildren of Queen Victoria.

The couple recently visited the exhibit. While The Queen was enthralled with the gifts that Victoria and Albert had exchanged over the years, Prince Philip displayed his utterly delightful sense of humor. Upon entering the Love Rooms, which are covered - (from on the floor, on the walls and even on the clear display cabinets) in sometimes difficult to read script, words from Queen Victoria's diary and letters, Prince Philip quipped - "Who did the graffiti?"

Commanding attention is the gorgeous wedding dress - a dress Queen Victoria wore several times. Those love birds - Victoria and Albert - would regularly don their wedding attire and host wedding anniversary parties. As the petite Victoria got older and bore more children, her incredible gown experienced several alterations and the top layer of fabric is missing. However, it is one of the most stunning dresses you'll ever see. It's romantically and magnificently displayed in a case which is mirrored on three sides, enabling the visitor to see all angles of the gown.

The items on display are extensive and personal.

Her Transylvanian Suite of jewelry, her multi-colored bonnet which was considered at that time to be both sexy and bold, a brooch made from a milk tooth and Prince Albert's 'dressing case', a little wooden chest of bottles, brushes and a silver spatula which was used as - a tongue scraper.



A hands on display suggests visitors write Queen Victoria a post card. Photo by Laura Deni.

In one area post cards are provided for people to write messages to Queen Victoria and leave the cards in a box. Each night 10 of the cards are chosen to be displayed the next day on a bulletin board. It's cute and clever, but since the visitor won't be back the next day there is no way of knowing if their card has been selected.

While only a few in number, the originals on display are impressive, dramatic historical preservations.

There are numerous replicas of both clothes and toys which visitors are encouraged to touch, play with and try on.

Replicas of the dress uniforms worn by the Privy Councillors during the 19th century were recreated by the 2012 bespoke tailoring BA students at London College of Fashion in partnership with Savile Row tailoring firm Dege & Skinner and Historical Royal Palaces.

Another room is devoted to childhood - that of Victoria and also of her children. A baby-sized pair of slippers turns out to be her very first pair of shoes. Some of her earliest sketchbooks show she had both an interest and talent for drawing. She also loved to collect dolls, naming them after leading Court figures and theatrical stars of the day. Elsewhere, are baby clothes and fancy dresses actually worn by her children.

There are also talking walls. Sit on the elegant red velvet settees and press your ear against the walls. They come alive with historic court gossip. Much more interesting than the telephone you listen into at the Disneyland General Store to overhear party-line chatter.



One of Queen Victoria's mourning dresses and two of the mourning dresses for her children. Photo: For Historical Royal Palaces by Getty.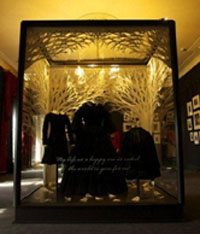 Victoria was madly, passionately in love with Albert. She may have ruled an Empire, but he owned her heart. His death was a blow from which she would never recover. She remained in mourning until the day she died.

Her extensive mourning period is displayed with dark drama.

Rooms are dim and shrouded in black.

On public display for the first time is the book that Victoria was reading to her husband at the moment he died. Her copy of Peveril Of The Peak by Sir Walter Scott has for ever after been open on page 80. She even had her handkerchiefs embroidered with black tears.

Her mourning dresses and those of her children are in cases. The dark room with eerie white trees makes one think of a haunted house.

Kensington is said to be haunted by the spirit of the formidable figure of Queen Mary, the consort of George V and William's great-great grandmother.

Queen Mary is a significant part of Kensington.

Queen Mary's Drawing Room is one of a series of small rooms which were used by the Queen as her private apartments. The room was badly damaged by incendiary bombs on the night of October 14, 1940; the paneling was destroyed and the walls are now covered with a modern paper. The giltwood chandelier, which is speculated as English, c1730, was one of four originally hung in the Queen's Gallery. The room contains an impressive collection of late 17th-century furniture including an inlaid cabinet containing 17th and 18th-century porcelain and an inlaid ebony writing table, typical of the style preferred by Queen Mary.



The only remaining Kensington gate is on the side where people still leave tributes for Princess Diana. Photo by Laura Deni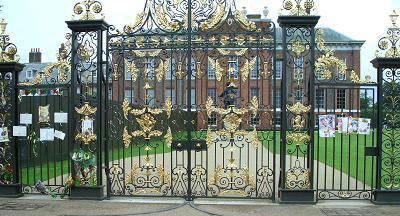 Queen Mary's Bedchamber is a room into which only the most senior of the Queen's staff were allowed access. The four poster state bed belonged to Queen Mary's stepmother, Mary of Modena. It is sometimes known as the 'warming-pan bed' and is traditionally associated with the birth of Prince James Francis Edward Stuart (the 'Old Pretender') at St James's Palace in 1688. The young Prince, son of James II and Mary of Modena, was the Catholic heir to the throne and news of his birth was not well received by the Protestant supporters of William of Orange (the future William III). Within hours a rumor was circulating that the infant was not the Queen's child but a surrogate baby smuggled into the bed in a warming pan.

Queen Mary II died of smallpox on December 28, 1694, presumed in that very room. After her death, at the early age of 32, the palace, including the Privy Chamber, Presence Chamber and the King's own bedchamber were hung with 4,200 yards of black and purple mourning cloth.

Queen Mary's Dining Room is the only room of the State Apartments specifically set aside for eating. Neither William nor Mary enjoyed dining in public and this room allowed them to eat in relative privacy.

17th and 18th-century Chinese porcelain of the type avidly collected by Queen Mary is displayed on a late 17th-century black lacquer cabinet. The room still retains its original marble fireplace and paneling, although it may have been once hung with gilt leather and tapestries.



View through an upstairs leaded window. Photo by Laura Deni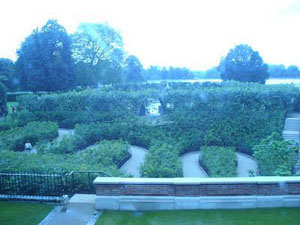 Queen Mary's Closet is a small space which was a scene of a scathing verbal fight.

Queen Anne's last meeting with Sarah, Duchess of Marlborough took place there on the evening of Maundy Thursday, April 6, 1710.

The Duchess was Anne's closest friend and held several important positions in the Queen's household, including First Lady of the Bedchamber.

The two corresponded incessantly, using the invented names of Mrs Morley (the Queen) and Mrs Freeman (the Duchess) to demonstrate the equality of their relationship.

However, their friendship ended after a disagreement, which escalated. The harsh exchange of words prompted the Duchess in 1711 to resign all her offices.

Queen Mary's Gallery was originally furnished with fine lacquered chairs, tables and cabinets and 154 pieces of Chinese and Japanese porcelain.

The room was originally lit by four chandeliers of gilded wood, suspended down the center of the room.



Mark, one of the more knowledgeable and helpful Kensington guides, stands watch over the Queen's Staircase. No stranger to Sin City, Mark has been to Las Vegas twice; first watch a Brit box at the MGM and, more recently, to attend a lavish wedding at Lake Las Vegas. Photo by Laura Deni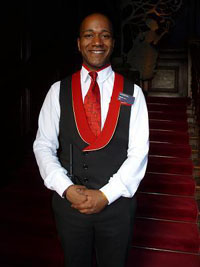 When the gallery was first built the paneled walls were hung with silk in the color chosen by the Queen' - with white damask curtains adorning the windows.

The present curtains are modern.

An odd theatrical touch, a flock of replica birds hang down from the ceiling since Mary kept her songbirds in this room.

The plain Queen's Staircase which was designed by Wren, was primarily used by the Queen to give access between the private apartments and gardens.

The rich, oak paneling was made under the direction of the King's Master Joiner, Alexander Fort, who was responsible for the paneling and the fitting of sash windows throughout the palace.

The staircase leads down to a hall that was once Queen Mary II's garden room.

The garden door, facing the foot of the stairs, dates from 1690-1.

Outside, William and Mary's monogram can be seen above the doorway, surrounded by swags of fruit and flowers.

More appropriate for the Haunted House at Disneyland or a scene of a horror movie, rather than a royal palace, is the birthday party for dead children - a vision of some theatrical stage designers.

One room is devoted to the tragic story of Queen Anne's 18 pregnancies. Only one child, Prince William, Duke of Gloucester, survived beyond the age of four. Shortly after turning 11, he himself died of 'overheating', supposedly brought on by too much dancing at his own birthday party.



Pillows embroidered with the faces of all royals who have lived at Kensington are on a stone and brick bench. Photo by Laura Deni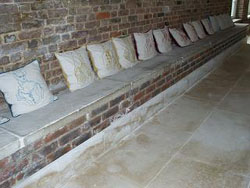 The last three embroidered pillows are of Princess Diana, Prince William and Katherine, Duchess of Cambridge. Photo by Laura Deni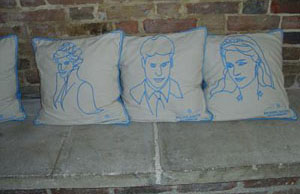 This surreal and depressing tale is represented by 18 empty chairs laid out for a children's birthday party in honor of William's dead siblings.

Management has called it a 'poignant re-interpretation'. Others have labeled it 'weird, downright macabre, very creepy, mawkish' and 'faintly peculiar'.

Elsewhere, a modern luminous light sculpture, made of more than two miles of electroluminescent wire constructed to look like lace, takes up significant entry hall space.

While this is an expensive, complicated and heavily thought out exhibition, it's impossible to please everybody.

There are important reasons why you don't hang a Picasso one inch away from a Rembrandt. Both are important and interesting. Put them too close together and they confuse and distract the appreciation for either.

There is a bit of that going on with this exhibition.

Blame a lack of direction.

While each of the four sections has a strikingly different theme, there are neither guided tours nor electronic headsets. Set in a relatively small space, visitors 'self guide' aimlessly stumbling (some sections are very dark) from one room into another and then back again. Asking a guide how to proceed, one is told to just walk around "any way you want," rather than helping the visitor finish a specific themed area before ambling into a different era. Many times you're not too sure which historical period you are in. Every room has at least one guide/guard. While they do offer a dribble of information, they seem to be present to make certain you ask permission before taking pictures. If it's clothing or paintings you want to snap, you'll be told 'no.' Other objects might get photo approval.

One long hallway has pillows embroidered with the faces of every royal who ever called Kensington home.

Then there is the section which causes ticket sales - anything related to Princess Diana. She may be the cash cow, but her significance seems to be her ability to wear clothes. It's difficult to find a peg upon which to hang her history: mother to a future king, divorced, stripped of the important HRH prefix before her princess title, humanitarian, credited with shaking the royal family into a modern age, loved and admired by the masses, tragic death.

Thus far, her memorials tend to be more superficial than substantial.

But, her name sells tickets.

Officials are hoping that just the small and quirky section devoted to the late Diana, which closes September 1, 2012, will increase its 2012 visitor numbers from the annual 300,000 to upwards of 400,000.



Large tents line a section of the Kensington back yard for a production of The Lion, The Witch and the Wardrobe. Photo by Laura Deni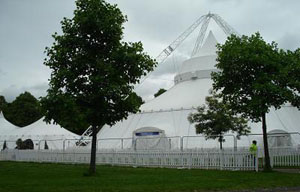 Kate, Duchess of Cambridge attended a charity performance mentioning that all she had to do to get there was walk across her back yard. Photo by Laura Deni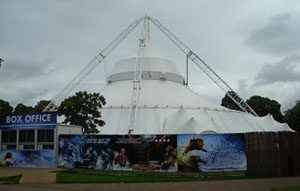 The $20 million refurbishment was paid for with cash reserves, Lottery funding and support from charitable trusts. Now, to keep it running it's up to the ticket buying public.

That includes renting the back yard for a popular production The Lion, The Witch and the Wardrobe, which runs through September 9. Kate even attended a charity performance commenting that it was convenient - being in her backyard.

The Kensington gift shop offers a more romantic, 18th century inspired area of quality goods. Some of the key rings are 18th century looking silver colored metal keys with a rhinestone in the center on both sides.

Many of the items are adorned with pearls and jewels - pens, note pads, magnifying glasses and letter openers.

There is an interesting array of well designed, expensive costume jewelry with starting prices beginning at about $300.

There are books, children's costumes, chocolates, tea sets, shirts, hats, scarves, men's ties and cuff links, charms, Christmas decorations, lotions and potions.

Historic Royal Palaces Enterprises Ltd is the trading arm of the charity, and "all profits from retail sales are gift-aided to the charity to enable us to continue to conserve these fabulous palaces for future generations."

The Historic Royal Palaces know that to keep Kensington Palace functioning they not only have to appeal to all ages and tastes but those people have to be paying customers.

However, if as senior curator and historian, Lucy Worsley, has been quoted as saying, that they need to "target a younger audience."

The "younger audience" wants Princes William, Harry and Kate.

Will and Kate are about to move into their new-to-them apartment. Think of an ordinary person who buys a home which has been part of tours given by real estate agents. Suggestion: scrub everything down with Lysol and change the locks.





Broadway To Vegas is supported through advertising and donations. Priority consideration is given to interview suggestions, news, press releases, etc from paid supporters. However, no paid supporters control, alter, edit, or in any way manipulate the content of this site. Your donation is appreciated. We accept PAYPAL. Thank you for your interest.



ART AND ABOUT


BEACH LIFE

The Beginning of the End by Eric Fischl.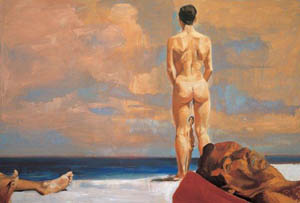 by Eric Fischl.

In keeping with Guild Hall's longstanding tradition of exhibiting artists of the region, they are devoting the entire museum to the works of Eric Fischl, featuring a wide selection of paintings that span a 30-year artistic career.

Fischl is an American painter, sculptor and printmaker. Born in New York City he grew up on suburban Long Island; his family moved to Phoenix, Arizona in 1967. His own web site describes him as growing up "against a backdrop of alcoholism and a country club culture\ obsessed with image over content.

He is a senior critic at the New York Academy of Art.

In response to 9/11, Fischl debuted his work Tumbling Woman at Rockefeller Center in New York, creating controversy since it reminded the viewers of people falling from the World Trade Center. When asked about the controversy in an interview, Fischl still felt "confused and hurt by [it]. It was an absolutely sincere attempt to put feelings into form and to share them, and it was met with such anger and anxiety in a way that used to be reserved for abstract sculpture, really." Fischl felt people were mourning the building more than the people since there were so few bodies but such a high body count, which he felt was wrong.

Fischl worked and resided in New York City, but has recently moved to Sag Harbor, Long Island, New York with his wife, landscapist April Gornik, where they share a home and matching studios.

On view through October 14 at Guild Hall in East Hampton, NY.

On Wednesday, August 15, it's Eric Fischl in Conversation. An illustrated talk with Eric Fischl in The John Drew Theater about his work, past, present and future.


SWEET CHARITY
Princess Charlene and Prince Albert of Monaco host the Red Cross Ball. Photo: Palace of Monaco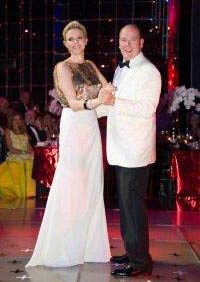 64th ANNUAL MONACO RED CROSS GALA took place August 3 in Monte-Carlo. One of Monaco's biggest annual events, it's so important that Prince Albert and his wife Charlene left the Olympics early to host the Gala.

A major fundraiser for the global charity, it is attended by celebrities and dignitaries from all over the world. This year, entertainment was provided by Scorpions, the German rockers known for their '80s anthem Rock You Like a Hurricane.

Princess Charlene was stunning in a gown with a gold sequined bodice and white draped skirt. Prince Albert complemented Charlene's ensemble by wearing a white tuxedo.

Prince Albert and Charlene, who recently celebrated their first wedding anniversary, spent a lot of time on the dance floor at the gala held in the Salle des Étoiles at the Sporting Monte-Carlo.

The event was attended by Gareth Wittstock, Charlene's brother, and the newly engaged couple Andrea Casiraghi and Tatiana Santo Domingo. Casiraghi is Prince Albert' nephew, the son of Monaco's Princess Caroline.

Also in attendance, China Moses who is the, daughter of jazz singer Dee Dee Bridgewater, Sandrine Quetier, Jean Leonard Taubert-Natta de Massy, Elisabeth Ann de Massy, Melanie-Antoinette de Massy, Roysin Galvin, Mr and Mrs Alberto Repossi, Julio Base, Mr. Chris Le Vine and his wife and Tiziana Rocca.

For the Red Cross organization founded in 1948 by Prince Louis II, this fabulous soirée is an opportunity to thank each and every person for their generosity throughout the past year. Since last year's Gala, 500 volunteers have devoted more than 38,000 hours of their time to the Monaco Red Cross - nursing, first aid and assistance. 42,000 persons have benefited from its help.


SPREADING THE WORD


STAR QUALITY Noël and Company present the world premiere of Noël Coward's original adaptation of his short story, Star Quality, a brilliant back stage comedy about an undeniably temperamental actress (forgiven only in light of her supreme 'star quality'), the naive young playwright, a rather novice director, his jaded assistant, and the hilarious ensuing hijinks. A brilliant homage to the theatre for anyone who works in, loves, and/or hates it... and all it's irresistible flippancies.

Starring Bebe Neuwirth and Brian Murray.

Directed by Keith Merrill.

Monday, August 13, 2012 at the New York Public Library for the Performing Arts, Dorothy and Lewis B. Cullman Center, Bruno Walter Auditorium, NYC.

FIRST TRANSFER TO LONDON'S WEST END has been announced by London's fledging theatrical company King's Head Theatre. Their critically acclaimed production of Tennessee Williams' late masterpiece Vieux Carré is transferring into the West End, opening at The Charing Cross Theatre on Tuesday August 14 and run for a strictly limited season, until Saturday, September 1.

"This is a historic move for the company, the first West End transfer of a play in our four year history. It wouldn't have been possible without the artistic vision of our director, Robert Chevara, the incredibly talented creative team, the excellent cast who have worked so hard through the run and you, our loyal audience," read their official announcement.

MAE WEST: MEET HER SECRET ITALIAN HUSBAND with speaker LindaAnn Loschiavo In August, 1913, Mae met a handsome vaudeville headliner, accordionist Guido Deiro. Learn the inside story of their hot romance and marriage. Watch Guido in performance. Listen to him play music he composed for Columbia Records and the Broadway musical Kismet.

This musical event concludes with a raffle, Italian wine, and light refreshments to celebrate the August 17, 1893 birthday of Mae West.

Thursday, August 16, 2012 at the Italian American Museum in New York City.

PULLMAN PORTER BLUES PLAYWRIGHT CHERYL L. WEST AT NAAM talking about the Seattle Rep season opener Pullman Porter Blues and the history behind the show at the Northwest African American Museum on Sunday, August 19.

Join Cheryl L. West along with long-time activist Eddie Rye and Pullman Porter descendent Thomas Gray for On Track to the Pullman Porter Blues: A Celebration and Discussion.

This event is free. The production of Pullman Porter Blues runs September 27 – October 28, 2012 at Seattle Rep in Seattle, WA.


CURTAIN DOWN


GHOST:THE MUSICAL an adaptation of the hit film, will close on August 18 after 39 previews and 136 regular performances at Broadway's Lunt-Fontanne Theater.

The production will close at a financial loss.

A National tour will begin next fall with international productions scheduled for Korea, Germany, Sweden, Hungary and elsewhere.

A current mounting at London's Piccadilly Theatre will shutter in October after a 14-month run.



THE GREAT GATSBY MUSICAL Composer and Lyricist Joe Evans. Writer and Director Linnie Reedman.

Set in the sizzling heat of a 1920s New York summer, Jay Gatsby is the man who has everything. But one thing will always be out of his reach... Beneath the shimmering surface of his life he is hiding a secret: a silent longing that can never be fulfilled. Soon this destructive obsession will force his world to unravel.

Discover the glitzy world of speakeasies, glamour and jazz in this brand new musical, adapted from F. Scott Fitzgerald's iconic novel.

Ruby In The Dust bring this world premiere of The Great Gatsby Musical to the King's Head Theatre in London with performances through September 1, 2012.

BRING IT ON the new Broadway musical with music and lyrics by Tony Award winner Lin-Manuel Miranda, music by Pulitzer Prize and Tony Award-winning composer Tom Kitt and lyrics by Kitt's High Fidelity collaborator Amanda Greenwith, has extended its Broadway run through January 20, 2013.

The musical began Broadway previews July 12 at the St. James Theatre and officially opened August 1. Performances were originally scheduled only through October 7.

CLOSER THAN EVER has extended its Broaway run for the second time. Presented by The York Theatre Company, the revival features the songs of lyricist Richard Maltby, Jr. and composer David Shire.

The four-person show will now continue through September 30 at The York Theatre at Saint Peter's in New York City.

Maltby directs with associate direction and choreography by Kurt Stamm and music direction by Andrew Gerle. The production features Jacquelyn Piro Donovan, Julia Murney, George Dvorsky and Sal Viviano.

A cast recording will be released by Jay Records while the original Off-Broadway cast recording is available from RCA Victor.

HARRISON, TX: THREE PLAYS BY HORTON FOOTE Helmed by Tony Award nominated director Pam MacKinnon.

Tony Award nominees Hallie Foote and Jayne Houdyshell will head up an ensemble featuring Devon Abner, Mary Bacon, Jeremy Bobb, Alexander Cendese, Andrea Lynn Green (Giant, Anne and Emmett), Evan Jonigkeit (High, History Boys at Arden Theatre Company, and Jenny Dare Paulin.

In Harrison, TX: Three Plays by Horton Foote, the Pulitzer Prize winner explores the humor, darkness, and romance of the people of the titular town in three works: Blind Date, The One-Armed Man, and The Midnight Caller.

Runs through September 15 at Primary Stages at 59E59 Theaters in New York City.

THE PALM SPRINGS FOLLIES in Palm Springs, CA has announced details of their upcoming season. Their all new edition is Dance to the Music. From the Stroll to the Twist to Disco, they'll be dancing to favorite tunes from the 40s, 50s, 60s and 70s, all performed by a cast definitely old enough to remember the way it really was!

Appearing in the star slot will be Lorna Luft making her Follies debut November 1 - December 31. Lou Christie is on stage January 8 - March 9, 2012 and Lesley Gore is back by popular demand March 12 - May 19, 2013.

HOPE IS THE SADDEST Written and Directed by Jeffrey Jay Fowler.

Billed as: "a bright black comedy with tells the story of three loners whose lives crash together in a pool of blood. Hope is a Dolly Parton fan, set to make the world a better place. Theo is a lonely gay would-be inventor. Marion recently inherited money, and moved out of the suitcase she grew up in.

The cast includes Michelle Robin Anderson, Jeffrey Jay Fowler, and Natalie Holmwood.

Hope is the saddest was the winner of the Best Theatre Award at the 2012 Perth Fringe Festival.

Part of the 16th annual New York International Fringe Festival, the production will be held at Venue #8: The First Floor Theatre at LA MAMA, New York City for five performances from August 12-24, 2012.


WHO'S WHERE


DIANA KRALL performs Saturday, August 18, at the Thunder Valley Casino in Lincoln, CA. On Sunday, August 19 she can be enjoyed at the Louise M. Davies Symphony Hall in San Francisco.

NEIL DIAMOND returns to the Greek Theatre in Los Angeles for performances on Thursday, August 16 and Saturday, August 18.

BARRY MANILOW will be performing his hits August 16-17 at Wolf Trap's Filene Center in Vienna, VA.

PINK MARTINI performs Monday, August 13, at the Boiler Room at the Sun Valley Resort. On Wednesday they open a two night gig at the Woodland Park Zoo in Seattle. Friday finds them at the Orpheum in Vancouver, BC. On Saturday the begin a two nighter at the Oregon Zoo Amphitheatre in Portland, OR.

STEVE MARTIN that wild and crazy multi-talented guy takes to the stage Monday, August 13, at the Gallo Center for the ARts in Modesto, CA.


FINAL OVATION


MARVIN HAMLISCH

Marvin Hamlisch 1944-2012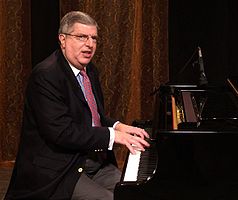 died August 2012 in Los Angeles following a brief illness. He was 68. One of only 11 people to have won an Emmy, Grammy, Oscar and Tony award, he is also one of only two people to have won those four prizes and also a Pulitzer Prize.

At the time of his death he was enjoying rave reviews for the Jerry Lewis directed The Nutty Professor, at the Tennessee Performing Arts Center. Hamlisch wrote the score.

He was also working on a new musical called Gotta Dance and was writing the music for a film about Liberace, starring Michael Douglas and Matt Damon and directed by Steven Soderbergh.

Hamlisch's career included composing, conducting and arranging music from Broadway to Hollywood. His movies included The Way We Were and Sophie's Choice.

His first job on Broadway was as a rehearsal pianist forFunny Girl with Barbra Streisand. His Broadway career went into superstardom with A Chorus Line.

He held the title of principal pops conductor for the Pittsburgh Symphony Orchestra, the Milwaukee Symphony Orchestra, the Dallas Symphony Orchestra, the Pasadena Symphony and Pops, the Seattle Symphony and the San Diego Symphony.

Neil Portnow The Recording Academy President/CEO issued the following statement:

"Four-time Grammy winner Marvin Hamlisch was a masterful composer whose work transcended Broadway stages and the silver screen. His compositions for Broadway hits such as A Chorus Line and The Goodbye Girl, and scores for films Sophie's Choice, Ordinary People, and The Way We Were earned him numerous accolades, including the prestigious honor of having received Academy Awards, Emmys, Golden Globes, Tonys and a Pulitzer Prize — in addition to his Gramny Awards. His work had a significant influence on our culture, and continues to reach across generations. The music industry has lost a truly gifted artist, and our condolences are with his family, friends and all those who were inspired by his singular talent.

In mourning the loss of Marvin Hamlisch the Broadway community dimmed the marquee lights in his memory on Wednesday, August 8th.

Charlotte St. Martin, Executive Director of The Broadway League, said, "Marvin Hamlisch's accomplishments in the theatre and film worlds are legendary. He left an everlasting mark with the groundbreaking A Chorus Line, one of my personal favorites. His legacy leaves us with a treasury of songs and stories that will always be familiar to theatregoers as they stir up meaningful and heartfelt emotions. Our thoughts go out to his family, friends, and fans everywhere."

He is survived by his wife Terre Blair, a Columbus, Ohio, native and news anchor from the ABC affiliate WTNV- Channel 6 in that city whom he wed in May 1989.

A public Visitation will be held August 12 and 13 at the Frank E. Campbell Funeral Chapel, in Manhattan. A funeral service, which is also open to the public, will be held August 14 at Temple Emanu-el, in New York City.

CHAVELA VARGAS a ground breaking Mexican singer died August 5, 2012 in Mexico. She was 93.

She was hugely successful during the 1950s, 1960s and the first half of the 70s, touring in Mexico, the United States, France and Spain.

Gabriel Abaroa Jr., President/CEO of The Latin Recording Academy stated:

Latin Recording Academy Lifetime Achievement Award recipient Chavela Vargas was one of Mexico's most legendary singers, hailed for her provocative singing style and haunting performances. Born in Costa Rica but later raised in Mexico, she defied gender stereotypes and her deep-voiced renditions of Mexican rancheras became the definitive versions of the genre's classic folk songs. Recording more than 80 albums over the course of her career, she was still at work as of last year, releasing a new album and performing to standing ovations. Mexico has lost a cultural icon and the music world has lost a true trailblazer. Our deepest sympathies go out to her family, friends, and all who were moved by her transcendent talent.

POPPY BARLOW a baby girl expected to be born later this month was a stillborn delivery in London on August 4, 2012. Her parents are Dawn and Gary Barlow.

As a member of Take That, Barlow has been part of one of Britain's most successful pop bands, and also recently organized the Queen's Diamond Jubilee concert at Buckingham Palace.

The 41-year-old singer and his wife Dawn, a dancer, 42, have been married for 12 years and have three other children - Daniel, 11; Emily, 10; and Daisy, three.

Sir Andrew Lloyd Webber wrote on Twitter: "Dearest Dawn & Gary, Madeleine & I are devastated about news of Poppy. Our thoughts & prayers are with you and your family."

MARK O'DONNELL the Tony Award-winning writer of the Broadway hits Hairspray and Cry-Baby, died Aug 6, 2012. He was 58.

O'Donnell dropped dead in front of his home on Riverside Drive after going into respiratory arrest, officials said. A medical examiner will determine the cause of death, but police said it is not suspicious.

DALE C. OLSON an entertainment industry publicist, died August 9, 2012 at the Burbank Healthcare and Rehabilitation Center after a long battle with cancer. He was 78.

The veteran publicist had a long client list including the late Rock Hudson, for whom he was spokesperson during his battle with AIDS; Shirley MacLaine, Steve McQueen, Gene Kelly, Doris Roberts, Marion Ross, Clint Eastwood, Lord Laurence Olivier, Peter Ustinov, Robert Blake, Tony Curtis, Cleo Laine, Diane Ladd, Jean Stapleton, Marilyn Monroe, and dozens more.

He began his career as an entertainment journalist. In 1956, he became West Coast editor of the motion picture exhibitor trade magazine Boxoffice. Subsequently, he spent six-and-a-half years as a reporter and entertainment critic. As the Variety drama critic, he was instrumental in forming The Los Angeles Drama Critics Circle. He later became an executive of Rogers & Cowan, Inc., then the largest independent public relations company in the entertainment industry, where he remained for 18 years, serving as senior vice president and president of the motion picture division, before he left to start his own firm.

On July 12, 2012, Olson was awarded the Actors Fund Medal of Honor which is the highest honor awarded by the Actors Fund. It was presented by colleague and friend, Shirley MacLaine, who said, "He was not only an ace publicist, but also a true friend to me, and to so many in need in our industry. A great, loyal and generous man. Thank you, Dale."

Mr. Olson is survived by his spouse of more than 30 years, Eugene Harbin.








Next Column: August 19, 2012
Copyright: August 12, 2012. All Rights Reserved. Reviews, Interviews, Commentary, Photographs or Graphics from any Broadway To Vegas (TM) columns may not be published, broadcast, rewritten, utilized as leads, or used in any manner without permission, compensation and/or credit.
Link to Main Page
---
Laura Deni



For the snail mail address, please E-mail your request.
CLICK HERE FOR COMMENT SECTION