! >
Broadway To Vegas
  
  REVIEWS INTERVIEWS COMMENTARY NEWS

| | |
| --- | --- |
| | |
TOP HAT ARRANGER CHRIS WALKER TIPS HIS HAT TO MUSICAL THEATRE - - PRINCESS DIANA WALLPAPER AT KENSINGTON PALACE - - BOXING GREAT ALI FETED AT VICTORIA & ALBERT MUSEUM GALA - - NEW JAMES BOND GIRL STEALS OLYMPIC SHOW - - 8 GETS READING - - BRING IT ON: THE MUSICAL - - WILL THE SUNSHINE BOYS AND THE NUTTY PROFESSOR MAKE IT TO BROADWAY? - - ALL THE WAY OPENS AT OSF - - DONATE . . . Scroll Down


Copyright: July 29, 2012
By: Laura Deni
CLICK HERE FOR COMMENT SECTION

TOP HAT ARRANGER TIPS HIS HAT TO MUSICAL THEATRE


Chris Walker. Photo by Laura Deni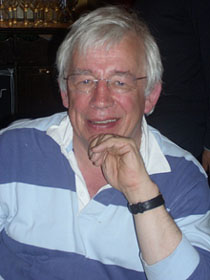 Once upon a time a talented man - who now lives in a literary enchanted forest - had dreams of becoming a television director. One who helmed serious, important dramatic programs.

Then one night he took a pretty lady to dinner . . . .

Chris Walker has for over twenty years been associated with many West End and Broadway shows including Godspell, Oliver!, Side by Side by Sondheim, My Fair Lady, Tomfoolery, Me and My Girl, Cabaret, Follies and Hot Shoe Shuffle, as either Musical Director or Orchestrator.

He was responsible for writing the dance arrangements for the Royal National Theatre/Cameron Mackintosh production of My Fair Lady and was also the Musical Director for the Donmar Warehouse Theatre's production of Privates on Parade. Other credits include writing the orchestrations and dance arrangements for the West End Production of Chitty Chitty Bang Bang which ran at The London Palladium and opened on Broadway in March 2005. He was also the Musical Director for the London production of Ragtime.

He served as Orchestrator/Musical Supervisor in the Stephen Sondheim musical Putting It Together for Cameron Mackintosh at the Manhattan Theatre Club, producer of the original London cast recordings of City Of Angels and Carousel together with a national tour as Musical Director of The Sound Of Music.



Tom Chambers is cast in the Astaire role of Jerry Travers. Production photo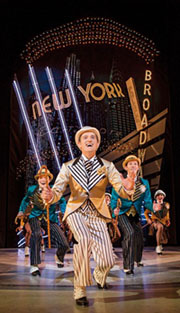 He currently serves as Orchestrator for the West End musical Top Hat.

Over lunch he spoke with Broadway To Vegas about his career and musical theatre in general.

"There is something about Broadway which is very special and I think it germinates from the fact that Americans invented musical theatre. The expectations in America are very high," he stated.

While it might appear that Broadway is dominated by shows which transferred from the West End, Walker pointed out that, "before Lord Andrew (Lloyd Webber) came on the scene the reverse was true. I think it beginning to even out."

"Now I think it's gotten to the point where no one really knows where musical theater is going, but I don't think there is much difference between American and English audiences. The British and the American ear are the same," he declared.

When questioned about cabaret he indicated that; "Cabaret has never flourished in England the same way it has in America."

The first thing a patron notices in entering a West End theatre is that there are no Playbills and no ushers who lead customers directly to their seats.

"No, no Playbills, and there are ushers, but they just point you in the right direction. It's always been that way," he said indicating the absence of those American expected accompaniments are not cost saving devices.



The Top Hat ensemble. Production photo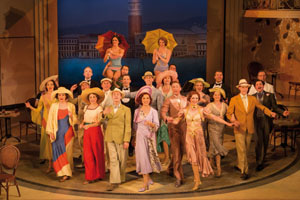 "If you want a program you have to pay for it," he said referring to the elaborate souvenir program booklets, which are also sold at Broadway shows.

At Top Hat two monitors are attached to the balcony ledge with a camera fixed on the conductor, helping the musical performers to stay in sync with the orchestra.

"The production pays for it, so you don't see it at every show," he said indicated there would be no need for monitors during the run of a play.

He admitted that, as in American, there are occasional problems between musicians and theatrical producers.

"The rules are slightly different," he explained. "In New York you have theatre orchestra minimums. In New York if the show doesn't need that number of musicians you have to talk to the union about reducing the number. Whereas, in England, the orchestra can be any size in any theatre."

The AFM has no control over musicians performing on the West End. "They are a lot stricter in New York," he admitted. "In American there are a lot of branches. In England it's a much smaller country, so there is just one."

As a union he indicated, "they aren't as weak as Equity."



Top Hat is a singing and dancing delight. Bill Deamer is the choreographer. Production photo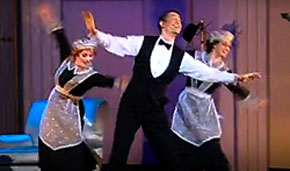 "The main problem with musicians in general is that there is no pay scale," he charged. "If you're a rank and file veteran musician, you don't necessarily get more money than somebody who just came out of music school."

Top Hat utilizes 14 musicians "which is a good size for London," he stressed. "It is augmented by a synthesizer. I don't think you can tell when you listen to it," he hastened to add.

Top Hat was a risky show to mount. The iconic movie starred Fred Astaire and Ginger Rogers - a one of a kind dancing duo.

"We had to make the decision early on that we weren't trying to imitate Fred and Ginger. You can't compare or copy. We had to concentrate on the music. I think people know they are not going to see Fred and Ginger," he emphasized.

I think that the theatre audiences for this show are slightly older," Walker mused. "Grandparents are bring their grandchildren. This show is introducing a whole new generations to the music."

"The jokes are as corny as hell," he admitted.



Ricardo Afonso as Alberto Beddini does a hilarious strip. Production photo.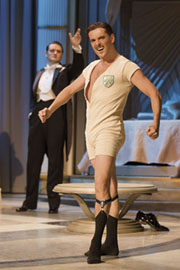 One of the scene stealers is the dress designer, played by Portuguese actor Ricardo Afonso as designer Alberto Beddini, whose use of a fractured Italian accent is topped only by what is the funniest male strip seen in ages. ( See Broadway To Vegas review in column of July 22, 2012 )

"One night somebody yelled from the front row 'take a little more off,'" laughed Walker.

London favorite Strictly Come Dancing winner Tom Chambers is cast in the Astaire role of Jerry Travers. According to Walker, Chambers is "a well known TV actor whose name sells tickets."

Even with a ticket selling name, a big plus is that it is cheaper to put the show on in England than on Broadway.

The preparation is no less arduous.

"To prepare I watched the film - many times," Walker divulged. "One of the reasons that I was so thrilled to do this show is because, when I was growing up, every Saturday afternoon my mother and I used to watch Fred Astaire movies."

"She was mental over him," he laughed. "She wanted to be a dancer and would watch his movies and fantasize. My father, unfortunately, couldn't put one foot in front of the other without knocking something over. So, I've loved the music since I was a kid."

"My mother instilled in me a love for the theatre. It was a rare privilege, really, to be working on this project."

The flick also featured few musical numbers. Set in 1935 it is antiquated and the jokes have cobwebs.



Berlin songs fuel the production. Dan Jackson is the musical director. A cast album has been recorded and will be released in two weeks. Production photo.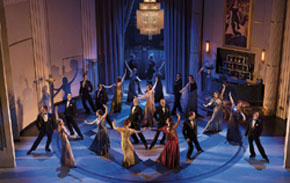 In this effort, the silly, musical delight of a show is fueled by the Berlin songs.

"The producer and the director saw places in the show where music was needed," continued Walker. "They talked to people at the Irving Berlin and Rodger and Hammerstein companies who worked their way through the Irving Berlin catalogue. They came up with perhaps three to four songs that could work in each scene. Then they sent them to us. We went over them with the musicians and picked the songs that worked the best."

Walker's biggest problem was "to take musical material which was written in several decades and make it sound as if it came from the same period. Berlin started writing during World War One and he lived to be 101, so he wrote for over 60 years, in several periods. Their songs reflect the ages in which he was writing and there are several styles."

To make the musical selections decade friendly Walker didn't need approval.

"No, not really. There has to be a level of trust."

"When the show was on tour we had a different opening number which worked partially well, called Don't Brush Me Off. That got the show off to a reasonable start. But we wanted something stronger. So, we did ask if we could use Puttin' On The Ritz. They didn't say 'yes' right away," he admitted.

"There were reservations because that song is so well known. They said to put together what we wanted to do with it and they'd have a look. The Berlin daughters and Ted Chapin and Bruce Pomahac from the Rodgers and Hammerstein office in New York, who administer the rights to the Berlin catalogue, said it was great and we could use it. They have been very supportive."

Walker has produced and mastered a cast recording of Top Hat, which will hit the stores in August.

The musicians were picked by a committee, although they don't sound like the preverbal joke of a committee designed camel.

"There were a number of people who picked the musicians. I had some input, There is a musical supervisor, the director, the conductor. We have a musical contractor."

He doesn't think England has any more of a good ole boy musical network than America.

"For musicians you're only as good as your last show. You don't get many second chances."

Walker who is a piano player, started out his career as an arranger. An English major at Cambridge he intended to become a television director specializing in drama.

"All through my university I wanted to be a television director. I was an English graduate. I wanted to join a graduate director trainee scheme that the BBC had."

During his second year in school, one of his school contemporaries, who would eventually become a literary editor for a university publication, dabbled in song writing. He found a producer who was not only willing to pay for a recording session but to foot the bill for an arranger. The friend asked Walker. "I didn't even know what to charge," he confessed.

Then when he was in his final year, the BBC dealt a serous blow to his aspirations by curtailing their director trainee program. At the same time, his friend's musical group was asked to make another album. Walker was again hired to serve as a paid arranger.

"I got sucked into the theatre," he divulged.

"I took this lady to dinner. Mary Adams, she was in a musical and asked if I'd ever thought about working in musical theatre and then wanted to know why not. It was a Thursday night and the musical she was in needed a musical director. I went in on Friday and auditioned. The musical was Godspell and I started work that Monday."

Eighteen months after university Walker was the Musical Director of a national tour of Godspell.

Over the years arranging has been influenced by the computer age.

Decades ago arrangers were limited to writing only on lined musical paper. If the employer wanted last minute changes the arranger could be up all night re-doing the lined paper. Some arrangers, who worked repeatedly with specific clients and got to know their temperament, would put masking tape over the original ink notes and copy changes onto the masking tape. Then when the employer changed they mind and decided to go back to the original, all the arranger had to do was remove the masking tape.

"We used to do that, too," he said of the masking tape. "Now it is cut and paste. It still takes the same amount of time to do the original but changing it, is easier. I still do arranging a symphony in pencil and I do a through job. I write it all out - how I feel it should be orchestrated. However, when I come to the changes, then it is cut and paste."

He'd encouraged musicians to enter his profession, but "nobody ever really sets out to become an arranger/orchestrator."

"I enjoy what I do, he emphasized. "I never thought I'd be able to do something I enjoy as much as I do and get paid for it as well."

Walker is a charming, affable professional who doesn't display the type of star ego that can enter a room before the person.

"It's very much a team effort," he reasoned. " If you go into rehearsals and the only thing you hear are the clashing of egos, it's counter-productive - major counter-productive."

When Walker isn't writing notes for others to perform, he collects wine for others - and himself -to drink. He's part of a cooperative where members share the storage use of a temperature controlled facility.

Happily married, he met his wife Annie over thirty years ago. He was the arranger for Godspell and she came in as a sub French Horn player. When Chris walked into the room Annie perked up but one of the musicians told her not to bother to even look - that he had just come back from his honeymoon - which he had.

Annie married another but the two worked together on many occasions and became friends. Decades passed and both of their marriages ended. They contemplated dating but she didn't want to run the risk of ruining a good friendship. He persuaded her to give it a try.

He proposed in Brooklyn, getting down on one knee. Instead of immediately saying 'yes', she asked him to get down on one knee again and do it all over, so she could take a picture. He did.

They've been married for over a decade and live in a house about 40 miles outside of London in Ashdown Forrest in Sussex, which is where Winnie the Poo is set. A voracious reader, he uses the train commute time to read.

So the big question is - Have you seen Winnie-the-Poo?

"No," he replied. Then, with a twinkle quickly added, "but I have seen Christopher Robin."





Broadway To Vegas is supported through advertising and donations. Priority consideration is given to interview suggestions, news, press releases, etc from paid supporters. However, no paid supporters control, alter, edit, or in any way manipulate the content of this site. Your donation is appreciated. We accept PAYPAL. Thank you for your interest.



ART AND ABOUT


DIANA WALLPAPER AT KENSINGTON PALACE

The wallpaper illustrations capture historic moments snapped by cameras including the birth of Prince William and her famous portrait session with Mario Testino not long before her tragic death. Photo by Laura Deni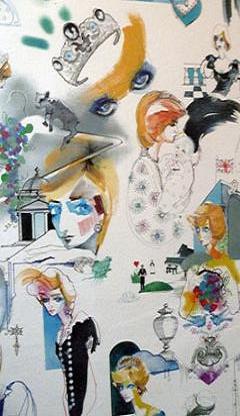 The whimsical wallpaper made from the most famous photographs of Diana's life, transferred into sketches by Julie Verhoeven, then printed as wallpaper by interiors firm Cole and Son. Photo by Laura Deni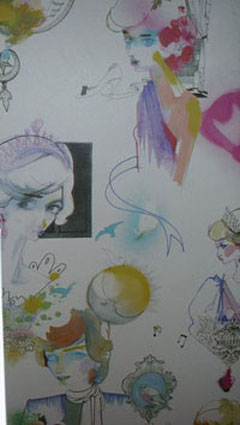 is what people leave the palace talking about - that wallpaper.

The official title of the display is Diana: Glimpses Of A Modern Princess an exhibition in Apt 1A of formal gowns worn by Prince William's mother which has been designed by interior stylist Finola Inger.

While visitors do pay attention to the gowns, it is that wallpaper that is causing the buzz.

Not just wallpaper but wallpaper leading to a rest room and also to the dress collection. The area is so dimly lit that many are fixated upon the dresses and don't realize the wallpaper is even there.

Creating the lovely, colorful, faithful to the photographs sketches into wallpaper is - odd. Why the glorious sketches weren't turned into silk scarves or jewelry pins which could have been sold to benefit Diana's charities (Kensington Palace has a gift shop which sells just about everything else) or posters or even colorful lawn flags is puzzling.

In this whimsical display some of the most famous photographs of Diana's life have been made into sketches by Julie Verhoeven, who was born in 1969 in Sevenoaks, Kent and received her BTEC Fashion Diploma from Kent Institute of Art & Design. Her sketches were then printed as wallpaper by interiors firm Cole and Son, who have a royal warrant from the Queen and are renowned for printing authentic period wallpapers.

The wallpaper illustration capture historic moments snapped by cameras including Diana's engagement and wedding to Prince Charles, the birth of Prince William and her famous portrait session with Mario Testino for Vanity Fair in 1997, not long before her tragic death.

The dresses, which are displayed alongside fashion illustrations and photographs, reflect some important and memorable moments in Diana's public life.

The small but significant display includes the famous black strapless evening gown by Emanuel which Diana worn on her first official engagement with the Prince of Wales on March 9, 1981. This gown has never been on public display before. There is also a stunning sleek black silk cocktail dress by Gianni Versace which she wore to the 1995 premiere of Apollo 13.

There is an amazing ivory silk formal dinner dress by Catherine Walker, a fuchsia and purple silk chiffon sari dress also by Walker and worn on a tour of Thailand, and a black and white cocktail dress by Bellville Sassoon complete the set.

The exhibition is curator by Deirdre Murphy and is only on display through October 28.

After that Queen Elizabeth reclaims Apt 1A at Kensington Palace, which has been operated by Historic Royal Palaces which is also responsible for the upkeep of The Tower of London, Kew Palace, The Banqueting House and Hampton Court.

In April 2003, responsibility of Apartments 1A and 3 - the latter used by Princess Margaret as her office - were transferred from the Royal Household to conservation charity Historic Royal Palaces. It was opened to the public for the first time in its 300 year history in 2004.

Princess Margaret was the last resident of the apartment, living there until her death in February 2002, which marked the end of three centuries of private residential use.

Her Majesty is taking steps to reclaim Apt 1A because she has given what was the apartment lived in by her sister Princess Margaret and her husband Lord Snowdon to Prince William and Kate.

More about those Apt 1A living quarters later.


SWEET CHARITY


BARRY MANILOW offered a free ticket to see his show last night (July 28) at the Bridgestone Arena in Nashville. All you had to do was donate a gently used musical instrument - anything including a used kazoo or a dusty guitar. Manilow wasn't picky. He accepted any type of a musical instrument.

All of the donated musical instruments will go to his charity The Manilow Fund for Health and Hope's Manilow Music Project, which will distribute the instruments to music students in Nashville public schools. To kick off the drive Manilow donated a Yamaha piano.

Most recently, he donated three truckloads of instruments to the students in Joplin, Mo., who lost their school in a tornado. Manilow has also donated trucks of instruments to schools in Las Vegas.

JOHN STAMOS currently starring in The Best Man at the George Shoenfeld Theatre on Broadway, is the national spokesperson for Project Cuddle, a non-profit organization that offers safe and legal alternatives to baby abandonment, rather than putting the baby in the trash or toilet. The agency runs a confidential toll-free 24-hour hotline for pregnant girls and women who are more than three months pregnant.

On September 7 a fund raiser will be held, with a limited number of tickets to The Best Man being set aside to benefit Project Cuddle in its fight to stop baby abandonment. Tickets must be purchased before August 14.

After the play an intimate Q&A with some of the cast members will take place.

On July 18, 2012 in Las Vegas a deceased baby girl was found in a dumpster.

The following day it was announced that Las Vegas Homicide detectives had located the juvenile mother who had concealed the pregnancy from friends and family, and had given birth to the baby girl at home. For a month she hid the body of the infant in her residence until placing it into the dumpster. Whether the baby was born alive or stillborn wasn't disclosed,

It is this type of tragic situation that Project Cuddle tries to prevent.


FORMER LAS VEGAN MUHAMMAD ALI FETED AT PRE-OLYMPIC GALA
Victoria & Albert Museum in London. Photo: Laura Deni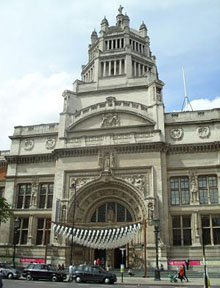 Known as The Greatest, boxing legend Muhammad Ali was the center of attention last Wednesday, July 25, at a gala in his honor at the Victoria & Albert Museum in London.

The black tie soirée attendees entered the building under an artistic canopy created from 208 suspended white traffic cones - part of the Heatherwick Studio: Designing the Extraordinary exhibition - which is on display through September 30, 2012.

The A-listers walking under the creative plastic cones included Rahman Ali, former boxer and younger brother of Muhammad Ali, Formula One McLaren boss Ron Dennis, actress Rosario Dawson, Former President Bush's niece, Lauren Bush and her husband David Lauren, son of Ralph Lauren who designed the Team USA Olympic uniforms, Lily Becker in a captivating, strapless, purple draped Grecian inspired outfit and Boris Becker, Lady Victoria Hervy in a backless and sideless lace gown, boxer Wladimir Klitschko, Sir Bob Geldolf, British Formula One driver Lewis Hamilton who tweeted photos of Ali during the ceremony as the pair shared the same table, Meredith Ostrom in a plunging neckline silver gown, Anthony Hamilton, Jemima Kahn, dapper Christopher Lee with a walking stick, Colin Jackson, Ron Dennis, Annabelle Wallis, and Nancy Dell'olio in a silver halter top gown.



208 suspended white traffic cones create the Victoria & Albert Museum canopy. Photo: Laura Deni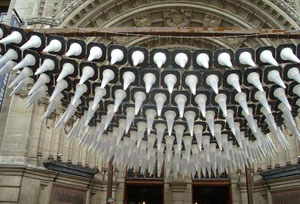 The evening commenced with a reception in one of London's most beautiful gardens and was followed by a black-tie Gala dinner and ceremony in the prestigious Raphael Gallery which houses some of the most important surviving examples of Renaissance art in the world including seven Raphael cartoons dating back to 1516.

It's status to hold an event at the V&A where Assistant Press Officer Elinor Hughes told Broadway To Vegas, "We are extremely careful that such happenings do not pose any threat to the works on display or fabric of the building."

A far cry from the man who grew up in the 1940s with the basic 8 color Crayola box not the 1949 rich kid's box of 48 shades and hues.

All of Ali's shades and hues were toasted at the benefit where table prices ranged from $23,280 to $155,000 with individual tickets purchased at prices ranging $3,900 to $15,520.



Raphael Gallery in the Victoria & Albert Museum in London set for a banquet. Photo: White Light. Photography by James McKenzie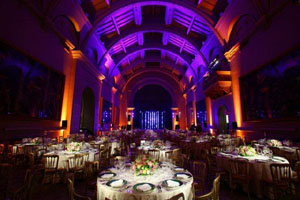 Those at the $155,000 table were promised an introduction to Ali and having their picture taken with the boxing legend.

Ali wore a black suit with a open-collar white shirt, and sat beside his wife Lonnie. Also at the Ali table were Boris Becker, actor Sir Christopher Lee; Lewis Hamilton, accompanied by his mother and father; Bob Geldof, and the current IBF, WBO and IBO heavyweight world champion Wladimir Klitschko.

As the guests ate dinner, Ali was introduced by Sir David Frost, who interviewed the boxer in 1974. Ali who arrived in a wheelchair briefly stood to wave to the 250 guests.

The evening celebrated Ali's Six Core values as they relate to the Olympic ideals: respect, confidence, conviction, dedication, giving and spirituality.

The boxer who famously 'floated like a butterfly and stung like a bee' is fighting Parkinson's disease.

After dinner, the guests bid for lots in an auction to raise money for the Muhammad Ali Foundation and Michael J Fox Foundation for Parkinson's Disease.

Winning bids included $19,000 for Olympics opening ceremony tickets, $31,500 for earrings designed by Angelina Jolie and Robert Procop, $33,000 for a tennis lesson with Becker and $79.000 for a weekend of driving with Hamilton.

Ali won gold at the 1960 Rome Olympics when he was known as Cassius Clay, Jr. The boxer went on to become the first and only three-time lineal World Heavyweight Champion.

His record includes 61 title fights, with 56 winds, 37 of those by knock outs.


WONDERFULLY QUIRKY OLYMPIC CEREMONY FEATURED NEW BOND GIRL
Daniel Craig as James Bond and Queen Elizabeth as the latest Bond Girl in a scene shot at Buckingham Palace. Photo: Getty.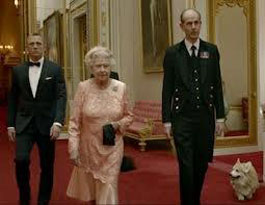 Nobody ever thought it was going to be easy - following the stunning Olympic Opening Ceremony put on four years ago in Beijing by House of Flying Daggers director Zhang Yimou.

Many wouldn't even have attempted the task.

Danny Boyle, the English director of Trainspotting and the Oscar-winning Slumdog Millionaire not only took on the challenge, but got it right when he created and directed the Opening Ceremony for the London 2012 Olympics.

He didn't attempt to imitate. He went original. He did quirky and he made the British proud.

A casting coup was co-starring Daniel Craig as James Bond and Queen Elizabeth as his latest Bond Girl in a production entitled On Her Majesty's Service.

With her corgie dogs Monty and Holly serving as background extras, Her Majesty displayed a sense of humor and a natural flare for acting in scenes shot at Buckingham Palace last March and April. We don't know if this part qualifies her for her SAG card, but she did steal the show.

It was also buzzed about that the fledgling actress did her scenes in one take.

As is customary, a stunt double was used during the helicopter skydiving scene. Then the real deal appeared at the Olympic Games wearing the same gorgeous peach satin lace dress she was wearing during the Buckingham Palace scenes.

The crowd howled and cheered.



Michelle Obama greets Kate, Duchess of Cambridge at a pre-Olympic Buckingham Palace reception. Photo: Getty.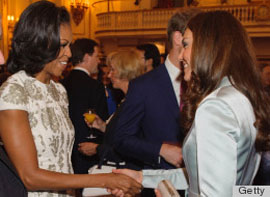 United States First Lady Michelle Obama and US Ambassador to the UK, Louis Susman attended a reception at Buckingham Palace for Heads of State and Government prior to the opening ceremony.

Mrs. O wore a white viscose techno crepe tailored jacket with overlapped side panels and silver embroidery from the J. Mendel 2013 Resort collection, along with a J. Mendel ivory silk satin faced chiffon pleated skirt, accessorizing with metallic pewter pointed toe pumps.

She was greeted by Queen Elizabeth who appeared in a pale blue dress, accessorizing with white gloves, pearl necklace and earrings and a brooch over the left shoulder as well as a black handbag and matching black leather pumps.

The First Lady and Ambassador Susman also met Prince William and Catherine, Duchess of Cambridge, who wore a pale blue grey belted long sleeved coat dress by Christopher Kane.

Prince Harry, Prince Edward, the Earl of Wessex and Princess Beatrice were also present.

Mrs. Obama embarrassed neither herself nor her country.

Not faring as well - Mitt Romney who should have acted like a polite guest in another country, rather than voicing opinions about the British ability to prepare for the Olympics.


DANNY DE VITO PLAYS IT COY WHILE JERRY LEWIS COMES ON STRONG


Two veteran performers - Danny DeVito and Jerry Lewis - may be headed towards Broadway.

Lewis makes no bones about it - that's his goal, while DeVito is playing it coy.

DeVito recently made his West End acting debut co-starring with Richard Griffiths in Neil Simon's The Sunshine Boys, (which closed July 28) at the Savoy Theatre.

Directed by Thea Sharrock, the excellent acting gave life to Simon's script - touching, funny, entertaining.

Seen in London, curmudgeon DeVito and British favorite Griffiths were a perfect match. Whispers immediately circulated that the production would transfer to The Great White Way, which would be a Broadway debut for De Vito, known for his television and movie roles.

Getting Richard Griffiths to transfer over would take permission.

Then there is the issue of the play. It's not flashy or high tech. It's about getting past your prime, egos and needing a purpose. It's about half remembered old issues.

Broadway is dominated by productions where the sets and special effects get star billing.

In The Sunshine Boys, comedians Willie Clark and Al Lewis aka The Sunshine Boys haven't spoken to each other in years. When CBS call for the vaudevillian greats to be re-united for a nostalgic History of Comedy, past grudges resurface as they take center stage once more.

The Sunshine Boys premiered on Broadway in 1972. Directed by Alan Arkin, the show starred Jack Albertson as Willie Clark and Sam Levene as Al Lewis. The show received three Tony nominations: Best Play, Best Director, and Best Actor in Play Jack Albertson.

It was revived on Broadway in 1996. Directed by John Tillinger, the revival starred Jack Klugman as Clark and Tony Randall as Lewis.

An MGM movie adaptation of The Sunshine Boys was released in 1975 starring Walter Matthau as Clark and George Burns as Lewis.

Shouting loud and clear that Broadway is in his cross-hairs is Jerry Lewis who is making his stage directing debut helming The Nutty Professor at the Tennessee Performing Arts Center in Nashville.

Broadway To Vegas has not seen a performance of The Nutty Professor, but the fact that Lewis has a musical version of his hit movie mounted has proved his point - with talent and tenacity - he did it.

Lewis has never kept it secret that he wants this show on Broadway. His biggest problem was getting it produced anywhere. The number of venues which turned down buying into this effort may have established a rejection record.

Undaunted, Lewis, 86, charged onward - although in a motorized scooter.

The production stars Michael Andrew as the awkward professor Julius Kelp and Marissa McGowan as student Stella Purdy.

McGowan originated roles in Bonnie & Clyde and the revival of A Little Night Music on Broadway, as well as performed Eponine and Cosette in the revival and national tour of Les Miserables.

The stage version of The Nutty Professor is the love child of Andrew who has protected and nurtured the project from the beginning. He is the one who brought it to Lewis, basically telling the iconic performer that it was his creation although Andrew was raising it in a different theatrical religion - the stage.

The plotline stays faithful to the 1963 film - Julius Kelp, creates a potion that turns him into the smooth talking - albeit obnoxious -Buddy Love to gain Purdy's attention.

The production has some excellent support beams. Marvin Hamlisch wrote close to 20 songs for this musical. Rupert Holmes contributed the musical book and lyrics.

Currently in previews, the musical officially opens July 31. Lewis will be in the audience but his vision is fixed on Broadway.


SPREADING THE WORD


JONATHAN MARTIN who spent four years with the Charlotte Symphony, after serving as general manager of the Cleveland Orchestra has been named to lead the Dallas Symphony Orchestra as president and CEO, effective in early September. Terms of the five-year agreement were not released.

Martin replaces David Hyslop, who has been Dallas Symphony Orchestra's interim president and CEO since May 2011.

BONNIE FRANKLIN who debuted on Broadway in 1970 in the musical Applause, earning a Tony Award nomination and has extensive stage credits is best known for her portrayal of divorced mother Ann Romano on the television sitcom One Day at a Time 1975-1984. The talented lady has been added to the cast of the soap The Young and the Restless. The episodes are set to be broadcast in August. The actress is cast as a nun, Sister Celeste, who comes to the assistance of Victor Newman who is portrayed by actor Eric Braeden.

THE OREGON SHAKESPEARE FESTIVAL with license from the American Foundation for Equal Rights (AFER) and Broadway Impact, will stage a one-night-only reading of 8, a play chronicling the historic trial in the federal constitutional challenge to California's Proposition 8, written by Academy Award-winning screenwriter and AFER Founding Board Member Dustin Lance Black.

The reading will be held at 8:30 p.m. Sunday, August 5 in the New Theatre. Tickets are $5.00 and will go to support the American Foundation for Equal rights.

The production will be followed by a talkback where cast and audience members can discuss the issues presented in the Perry v. Schwarzenegger trial. AFER Plaintiffs Kris Perry and Sandy Stier will be present on the panel.

The OSF cast features: Richard Howard, Cristofer Jean, Jackie Katzman, Christopher Livingston, Jadele McPherson, DeLanna Studi, Lisa Tejero and Matthew Whitfield.

8 is an account of the Federal District Court trial in Perry v. Schwarzenegger (now Perry v. Brown), the case filed by AFER to overturn Proposition 8, which stripped gay and lesbian Californians of the fundamental freedom to marry. 8 is based on the actual words of the trial transcripts, first-hand observations of the courtroom drama and interviews with the plaintiffs and their families.

8 had its Broadway world premiere on September 19, 2011, at the sold-out Eugene O'Neill Theatre in New York City. The production brought in over $1 million to support AFER's efforts to achieve full federal marriage equality.

8 had its West Coast premiere reading at the Wilshire Ebell Theatre on March 3, 2012, in Los Angeles. The reading featured an all-star cast led by Golden Globe Award-winner and Academy and Emmy Award-nominee Brad Pitt, Academy and Golden Globe Award-winner and Emmy Award-nominee George Clooney and Emmy and Golden Globe Award-winner Martin Sheen. That benefit reading was directed by AFER Founding Board Member Rob Reiner, and raised more than $2 million for the fight to secure full federal marriage equality.

On February 7, 2012, the United States Court of Appeals for the Ninth Circuit issued a landmark decision upholding the historic August 2010 ruling of the Federal District Court that found Proposition 8 unconstitutional. The Ninth Circuit concluded:

"Proposition 8 serves no purpose, and has no effect, other than to lessen the status and human dignity of gays and lesbians in California, and to officially reclassify their relationships and families as inferior to those of opposite-sex couples. The Constitution simply does not allow for laws of this sort."



ALL THE WAY

President Lyndon Baines Johnson (Jack Willis, foreground) and Senator Hubert Humphrey (Peter Frechette) watch the latest news about Freedom Summer events in Mississippi during the Robert Schenkkan play All the Way. Photo: Jenny Graham/Oregon Shakespeare Festival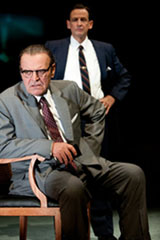 a new play by Pulitzer Prize winner Robert Schenkkan. The world premiere is directed by Bill Rauch, OSF artistic director.

This is the Oregon Shakespeare Festival's fourth commission from American Revolutions: the United States History Cycle.

According to the production: "In 1964, the year that LBJ is looking toward an election, he has also dedicated himself to the passage of the Civil Rights legislation that has languished in Congress, stirring the hopes, passions and fears of a country headed toward monumental change."

Pushing the landmark Civil Rights Act of 1964 through Congress, in an election year no less, calls for hard-core politicking, complete with egos, intrigue and uneasy alliances.

The cast of 17 takes on 61 named/speaking roles and an additional 40 non-speaking roles. Jack Willis plays President Lyndon Baines Johnson and Kenajuan Bentley plays the Rev. Martin Luther King Jr. Other cast members include Richard Elmore as J. Edgar Hoover, Mark Murphey as Robert McNamara, Jonathan Haugen as Gov. George Wallace, Peter Frechette as Sen. Hubert Humphrey, David Kelly as Sen. Everett Dirksen, Douglas Rowe as Sen. Richard Russell, Christopher Liam Moore as Walter Jenkins, Daniel T. Parker as Stanley Levison, Tyrone Wilson as Rev. Ralph Abernathy, Derrick Lee Weeden as Roy Wilkins, Kevin Kenerly as Bob Moses, Wayne T. Carr as Stokely Carmichael, Terri McMahon as Lady Bird Johnson, Erica Sullivan as Lurleen Wallace and Gina Daniels as Coretta Scott King.

All the Way is staged in repertory with another American Revolutions commission, Party People, a "highly theatrical production [that] uses music, poetry and dance to tell stories of the work and politics of the Black Panthers and Young Lords, parties that emerged in the mid to late-1960s."

The creative team for includes scenic designer Christopher Acebo, costume designer Deborah M. Dryden, lighting designer Mark McCullough, projections designer Shawn Sagady and original music and sound designer Paul James Prendergast. Tom Bryant is dramaturg and Rebecca Clark Carey is voice and text director. Emily Sophia Knapp is associate director.

The last of the 11 full productions of this year's season, runs in rep though November 3 at Oregon Shakespeare Festival's Angus Bowmer Theatre in Ashland, OR.

BRING IT ON: THE MUSICAL a new Broadway musical comedy with a libretto by Tony Award winner Jeff Whitty, music and lyrics by Tony Award-winning composer Lin-Manuel Miranda, music by Pulitzer and Tony Award-winning composer Tom Kitt and lyrics by Broadway lyricist Amanda Green.

Directed and choreographed by Andy Blankenbuehler.

Bring It On:The Musical "tells the story of the challenges and unexpected bonds formed through the thrill of extreme competition. With a colorful crew of characters, an exciting fresh sound and explosive dance with aerial stunts, this hilariously universal story is sure to be everything you hoped for and nothing like you expected."

Starring Taylor Louderman and Adrienne Warren, and features Ryann Redmond, Elle McLemore, Jason Gotay, Ariana DeBose, Gregory Haney, Neil Haskell, Janet Krupin, Kate Rockwell, Nick Womack and an ensemble of 25, including some of the nation's most skilled competitive cheerleaders with over 25 national and 50 team titles in gymnastics and cheerleading.

The creative team includes David Korins (Sets) Andrea Lauer (Costumes), Jason Lyons (Lighting), Brian Ronan (Sound), Jeff Sugg (Video), Charles G. LaPointe (Hair), and music supervision by Tony and Grammy Award winner Alex Lacamoire.

Opens at the St. James Theatre in New York City on Wednesday, August 1st, 2012.

MIKE TYSON: UNDISPUTED TRUTH the boxer's "raw" one-man show, which got its start in Las Vegas opens at the Longacre Theatre for a limited run of six performances, starting July 31.

The mounting is directed by Spike Lee and was co-written by Tyson and his wife, Kiki Spicer.


WHO'S WHERE




JOHN PIZZARELLI AND ANN HAMPTON CALLAWAY appear at the Ravinia Festival Sunday, August 5. Ravinia Park in Highland Park, IL.

CARRIE UNDERWOOD performs at the CMA Songwriters Series on Tuesday, July 31 at the Royale Nightclub in Boston, MA.

PAUL ANKA celebrates his birthday July 30 2012 by performing at the Starlite Festival in Marbella, Spain. On August 2 he'll be on stage at the Jardins De Cap Roig, Girona, Spain and on August 4 he performs at the Club Lio in Ibiza, Spain.

AEROSMITH in the spotlight on Wednesday, August 3, at the Pepsi Center in Denver. On Saturday the show is at the Oracle Arena in Oakland, CA.

THE CANADIAN TENORS will perform songs from their new album and film a new PBS special in an afternoon show at The Smith Center in Las Vegas on August 5.

THE EDINBURGH FESTIVAL FRINGE in Scotland begins August 3 and runs through August 27. The Edinburgh Festival Fringe (The Fringe) is the world's largest arts festival, with the 2012 event spanning 25 days totalling over 2695 shows from 47 countries.


FINAL OVATION


SHERMAN HEMSLEY the Emmy and Golden Globe nominated actor, most famous for his role as George Jefferson on the television series All in the Family and The Jeffersions died on July 24, 2012 at his home in Texas. He was 74.

He made his Broadway debut in Purlie and toured with the show for a year. In the summer of 1972 he joined the Vinnette Carroll musical Sorry, I Can't Cope ensemble in Toronto, followed a month later in the American Conservatory Theatre production at the Geary Theatre. In this production with arrangement with Edward Padula & Arch Lusterg with music and lyrics by Micki Grant had Hemsley in Act I performing the solo Lookin' Over From Your Side and in Act II Sermon.

While Hemsley was on Broadway with Purlie, Norman Lear called him in 1971 to play the role of George Jefferson on his burgeoning new sitcom, All in the Family. Hemsley was reluctant to leave his theatre role, but Lear told him that he would hold the role open for him. Hemsley joined the cast two years later.

In 1986 he starred in Norman, Is That You? at what was then the Hacienda Hotel in Las Vegas. Hemsley also served as host to three up-and-coming stand-up comics in a Comedy Jackpot special taped at the Sahara Hotel.

There are no close survivors.








Next Column: August 5, 2012
Copyright: July 29, 2012. All Rights Reserved. Reviews, Interviews, Commentary, Photographs or Graphics from any Broadway To Vegas (TM) columns may not be published, broadcast, rewritten, utilized as leads, or used in any manner without permission, compensation and/or credit.
Link to Main Page
---
Laura Deni



For the snail mail address, please E-mail your request.
CLICK HERE FOR COMMENT SECTION