Broadway To Vegas
  
 SHOW REVIEWS CELEBRITY INTERVIEWS GOSSIP NEWS

| | |
| --- | --- |
| | |
SMOKING BAN ON STAGE FIRES UP ACTORS - - THEATRICAL AWARD SEASON - - FUSION FEST AT CLEVELAND PLAYHOUSE FEATURES RUBY DEE - - REBA McENTIRE OPENS IN LAS VEGAS - - CELEBRITY FACES IN MATERNITY WARDS - - MILLION DOLLAR GRANT - - HARRY AND BESS LOOK ALIKE CONTEST - - TON WOLFE TALKS - - DONATE . . . Scroll Down


SMOKING BAN IGNITES THEATRE PROFESSIONALS
"The ban is ludicrous, it's pathetic, frankly. You can show sex on stage but you couldn't show them smoking afterwards." David Johnson - theatrical and comedy producer.

A firestorm has erupted over a smoking ban in the United Kingdom that threatens to burn away scenes which are crucial to plots.

Any smoking on stage, including herbal cigarettes, was banned under Scotland's anti-smoking law - The Smoking, Health and Social Care (Scotland) Act 2005 - which took effect at the end of last month. Present Laughter was the first play to open in Edinburgh after the ban was implemented.

Simon Callow became one of the first to experience the smoking restrictions during a performance of Present Laughter by Noel Coward at the King's Theatre in Edinburgh.



Simon Callow, lit cigarette in hand, in Present Laughter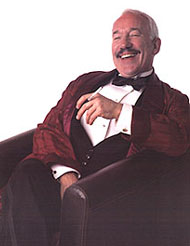 Starring as Garry Essendine opposite Lysette Anthony as Joanna Lyppiatt, he broke character and warned the actress as she went to light a cigarette, "Are you sure you should be doing that? Someone might come and arrest you." Callow then positioned the cigarette close to the flame but didn't light it. "We live in very strange times," Callow concluded, before returning to the script.

Callow, one of the UK's best-loved actors, is on tour with the production which closed last night, Saturday April 29, at Theatre Royal in Bath and opens May lst at the Arts Theatre, Cambridge before continuing with productions at the Birmingham Repertory Theatre, Birmingham and the Richmond Theatre in Outer London.

The Scottish Executive, a government agency, turned down appeals for a smoking exemption from theatre producers, advising them to use fake cigarettes filled with powder. Producers even received information on locations of novelty and joke stores that sell pretend cigarettes.

The only exemptions in Ireland, where a workplace smoking ban was implemented first, were for prisons, nursing homes and psychiatric hospitals. Stage productions were expected to use fake cigarettes.

In England, the actors' union, Equity, is pushing for an exemption for stage, film and TV sets from any smoking ban where smoking is an "integral part" of the piece of drama.

Other countries with smoking bans have implemented exemptions. California had one for film sets. New York State's smoking ban, which took effect on July, 2003, prohibits cigarettes in plays and other live performances as well as bars and restaurants. Stage performances where cigarettes were props, from the gritty play Twelve Angry Men to the standup comedy of Denis Leary, would have to be smoke-free under the law, said state Health Department spokesman William Van Slyke. Cities and counties could, however, seek waivers for specific shows and theaters, he said.

Tomek Borkowy the manager of the Hill Street Theatre at the Edinburgh Festival Fringe was fuming. Borkowy who gave up smoking ten years ago, has run the Hill Street Theatre for 16 years. He vowed to defy the "censorship" of the smoking ban following the threat by playwright John Byrne that he would block performances of his plays in Scotland because of it.

Borkowy, 53, insisted he was prepared to go to jail to defend his belief that the arts should be exempt from the law in Scotland. He maintained he intended to let actors smoke on stage in a production at his venue in Edinburgh this summer.



Earl Howe. In 1999 he was appointed Chairman of LAPADA, Great Britain's largest trade association for the fine art and antiques trade.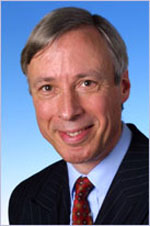 "As a venue manager, how do I react to the company that is coming from abroad and they have smoking on stage?" Borkowy questioned. "I have to ban the scene with the cigarette or break the law. I decided as a venue manager to break the law. This is interference with art. This shows how our beautiful politicians don't think about the art and the theatre at all. They don't give a damn," was Borkowsy's quoted complaint.

"In the Hill Street Theatre, in the bar, smoking will be banned, but not on the stage," said Borkowy. "You have to allow actors to smoke. I am for the ban, but I am against the stupidity of politicians. They measure everybody with one stick."

"For me, this is a part of censorship, because as a director I cannot have the freedom to show Princess Margaret with a cigarette, Churchill with a cigar, Sherlock Holmes with a pipe. This is inconceivable."

Venues director Hartley Kemp said "If smoking is integral to the artistic content it should be permissible."

"In a ventilated theatre space, the stage is sufficiently separate from the audience that passive smoking, as in a pub, wouldn't apply," added Kemp.

West End Theatres in London got hot under the collar when a smoking ban in England looked like it would snuff out actors taking a drag on a cigarette in plays from Henrik Ibsen to Noel Coward.

After pleas in the House of Lords last week from Earl Howe, the Conservative health spokesman, the Government has indicated it is sympathetic and is willing to compromise for art. The original bill the Smoking, Health and Social Care Bill passed 97 votes to 17 following a similar ban in Ireland which came into force in 2004. Caroline Flint, the Public Health minister, indicated she will write to theatre groups, film directors and television producers to consult them on allowing exemptions from the proposed ban on smoking in public places, as long as lighting up is necessary to the plot.

"Details of a possible exemption will be set out in the regulations which will be consulted on over the summer. We will be consulting with the theatre industry."

Howe, Tory health spokesman, the son and grandson of actors, said the Conservatives were not seeking to undermine the principle of the legislation. But he said: "I think we are capable if we're not careful of going overboard on the smoking ban. I am persuaded that there is robust scientific evidence to ban smoking in public places, but to prohibit actors on a stage or, indeed, in a film from smoking where it is integral artistically would be absurd."



Richard Pulford. Chief Executive of the Society of London Theatres/Theatre Management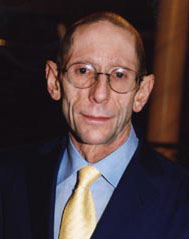 He cited a long list of plays in which smoking is part of the action, including the current West End productions of Who's Afraid of Virginia Woolf? and Billy Elliot. In the latter, the money spent on cigarettes by men is important to the depiction of the northern mining community.

Almost every play by Ibsen, from Hedda Gabler to An Enemy of the People, includes smoking, as do works by Noel Coward and Simon Gray.

"In every production I've ever seen of the opera Carmen the female members of the chorus troop out of the cigarette factory smoking as does Carmen herself," Howe declared.

Other Lords, including Lord Monson, Lord Stoddart and Lord Wakeham, suggested the move towards a complete smoking ban had been a step too far.

A new play at the Royal Court, Motortown by Simon Stephens, which opened April 21 running through May 20, has a scene in which a character is covered in gasoline and threatened by a lit cigarette, a scene which would have no power without the offending smoke, said Richard Pulford, the chief executive of the Society of London Theatres.



Motortown cover art features the lead character taking a drag on a cigarette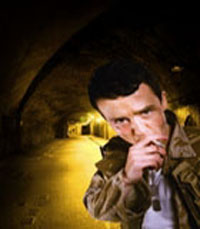 "It matters because of the integrity of the work. You just couldn't do Look Back in Anger without Jimmy smoking a pipe," continued Pulford. "But no one wishes to glamorize smoking on stage. I don't think it does."

If an exemption is not forthcoming, legal problems center on copyright production with no changes permitted without the agreement of the author or his or her estate. If an author refused to withdraw instructions for a character to smoke, the work could not, legally, be presented.

"In any play that is copyright, you cannot simply cross out a line that refers to somebody smoking," Pulford added.

In a debate on the issue, health minister Andy Kerr said the arts community had to use its creativity to come up with an alternative to cigarettes, in the same way that it had replaced whisky with cold tea on stage.



AWARD TIME OF YEAR


OBIE AWARDS Off-Broadway's highest honor, created in 1955 by Jerry Tallmer, will be an irreverent ceremony honoring the Off & Off-Off Broadway Theater Community for the 2005-2006 season to be held May 15 at The Skirball Center at NYU.

Cash Grants for artistic excellence & playwriting will also be awarded. A must see Photo Exhibit Celebrating A Half Century Off-Broadway Theater!

Presenters include actors Christine Lahti, Christine Ebersole, Edward Hibbert and Phylicia Rashad; playwright Douglas Carter Beane; and artistic director of the Public, Oskar Eustis.

There are neither nominations nor categories for The Obie Awards. The Obie judges' committee includes playwright Lynn Nottage, Deidre O'Connell, David Herskovits, playwright and head of Columbia University graduate playwriting program Eduardo Machado, critic and Yale School of Drama professor Marc Robinson, Village Voice theatre critic Michael Feingold, Village Voice theatre critic Alexis Soloski, and Village Voice theatre editor and chairman of the 2005-06 Obie Awards committee Jorge Morales.

51st ANNUAL DRAMA DESK AWARDS were announced Thursday April 27, by composer Marvin Hamlisch and actress Donna McKechnie in a ceremony at the New York Friars Club. Harvey Fierstein will host the 2006 Drama Desk Awards ceremony, which will be held on Sunday, May 21 at the LaGuardia Concert Hall at Lincoln Center.

Outstanding Ensemble Performances Awards will be given to the cast of Stuff Happens and the cast of Awake and Sing!

Special Awards will be presented to: the BMI - Lehman Engel Musical Theater Workshop "for nurturing, developing and promoting new talent for the musical theater"; The York Theatre Company "for its vital contributions to theater by developing and presenting new musicals"; Sh-K-Boom and its label Ghostlight Records "for dedication to the preservation of musical theater through cast recordings."

A special, lifetime achievement award goes to playwright Horton Foote.

(For a list of the nominees click here )


CELEBRITY FACES IN MATERNITY WARDS


NURSES in the gynecological ward of a Manchester, England hospital have pasted pictures of George Clooney and Brad Pitt over the examination tables.

BABY

Cast members Tim Ewing, Leslie Becker, Steven Goldsmith and Betsy Morgan at the Birth Place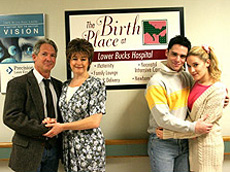 Book by Sybille Pearson. Music by David Shire. Lyrics by Richard Maltby, Jr. Based on a story developed with Susan Yankowitz.

Is there anything more exciting, frightening and utterly transformational than impending parenthood? BABY tells the story of three couples on a university campus as they deal with the painful, agonizingly funny consequences of this universal experience.

There are the college students, barely at the beginning of their adult lives; the thirty-somethings, having trouble conceiving but determined to try; and the middle-aged parents, looking forward to seeing their last child graduate from college when a night of unexpected passion lands them back where they started. Just in cast the cast has forgotten what a hospital maternity ward looks like four cast members paid a visit to The Birth Place at Lower Bucks Hospital. Steven Goldberg and Betsy Morgan, who play the college students Lizzie and Danny and Tim Ewing and Leslie Becker who play the middle-aged college professors, got a tour of The Birth Place from nurse Joan Weiss, who was with them every step of the way as they oohed and aahed with their noses pressed up against the window peering at the new arrivals.

Baby delivers May 2 – May 21 at the Bristol Riverside Theatre in Bristol, PA.

THE NEW YORK HISTORICAL SOCIETY The New-York Historical Society has named Doris Kearns Goodwin its American history laureate and will present her with its inaugural $50,000 Book Prize for American history for Team of Rivals: The Political Genius of Abraham Lincoln (Simon & Schuster), a biography of the president and his cabinet. The prize, to be awarded annually, will be bestowed on May 5 at the society's annual Weekend With History, a two-day program of informal conversations and presentations.



Broadway To Vegas is supported through advertising and donations. Priority consideration is given to interview suggestions, news, press releases, etc from paid supporters. However, no paid supporters control, alter, edit, or in any way manipulate the content of this site. Your donation is appreciated. We accept PAYPAL. Thank you for your interest.


OTHER PEOPLE'S MONEY


SIGNATURE THEATRE RECEIVES MILLION DOLLAR GRANT Artistic Director Eric Schaeffer announced a million dollar grant have been awarded to Signature Theatre of Arlington, VA, from The Shen Family Foundation. Thanks to this generous grant, Signature will launch The American Musical Voices Project, an unprecedented two-prong program of the Signature Theatre consisting of Musical Theatre Composer Grants and Musical Theatre Leadership Awards.

The Musical Theatre Composer Grants will be awarded to Ricky Ian Gordon, Michael John LaChiusa and Joseph Thalken. Each composer will receive a grant in the amount of $25,000 a year for four years.

The program will also underwrite the workshopping and presenting of the composers' new musicals by Signature Theatre over the course of the next four theatre seasons. Signature will premiere a full production of one of these new musicals in each year beginning with the 2007-o8 season. Eric Schaeffer will oversee and direct all three new productions.

The Musical Theatre Leadership Awards portion of the project will recognize four individuals for their extraordinary influence on and contribution to the advancement of new musical theatre. The recipients will be orchestrator Bruce Coughlin, composer Adam Guettel, singer/actress Audra McDonald, and director/musical director/orchestrator Ted Sperling. Each Leadership Award is presented in conjunction with a one-time grant in the amount of $25,000 to support the artist's continued contributions to musical theatre.

The presentation of The American Musical Voices Project composer grants and Leadership Awards will take place on Monday, May 15, at a cocktail reception to be held at New World Stages in New York City. The reception will also feature performances of the honored composers' work by some of the musical theatre's brightest stars, including Ms. McDonald, Tony nominee Kelli O'Hara and Tony nominee Howard McGillin


SPREADING THE WORD


TOM WOLFE

Tom Wolfe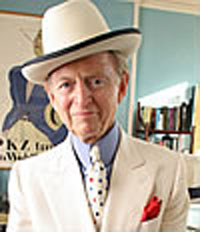 the celebrated novelist and chronicler of American society, will deliver the 2006 Jefferson Lecture in the Humanities. The annual National Endowment for the Humanities (NEH) sponsored Jefferson Lecture is the most prestigious honor the federal government bestows for distinguished intellectual achievement in the humanities.

"From his earliest days as a journalist through a long history of successful nonfiction books and novels, Tom Wolfe has entertained and enlightened readers with his meticulously researched commentary on the American scene," said NEH Chairman Bruce Cole. "His skill as a literary stylist has influenced our language. He has documented our culture, and, through his journalism and fiction, shaped the American identity."

Wolfe will present the 35th Jefferson Lecture in the Humanities on Wednesday, May 10, at the Warner Theatre in Washington, D.C. The lectureship carries a $10,000 honorarium.

A pioneer of the "New Journalism" and an astute observer of American manners and mores, Wolfe has combined an energetic literary style with the rigor and detail of fine reporting. His most recent work of fiction, I Am Charlotte Simmons (2004), draws on the author's extensive observation of college life in the United States during the first decade of the 21st century.

His other novels include A Man in Full (1998) and The Bonfire of the Vanities (1987), which originally appeared in serial form in Rolling Stone.

Wolfe's professional writing career began in December 1956 when he took a job as a reporter on the Springfield (Mass.) Union. He spent most of his 10-year newspaper career as a general assignment reporter. For six months in 1960 he served as The Washington Post's Latin American correspondent and won the Washington Newspaper Guild's foreign news prize for his coverage of Cuba. Wolfe was born and raised in Richmond, Va., and was educated at Washington and Lee (B.A., 1951) and Yale (Ph.D., American studies, 1957) Universities. He lives in New York City with his wife, Sheila; his daughter, Alexandra; and his son, Tommy.

Attendance at the lecture is by invitation and free.

DAMN YANKEES SPOTLIGHT ON HISTORY is a free pre-show discussion focusing on historical issues related to the performance. May 7 at the North Shore Music Theatre in Beverly, MA

SHAPING THE REAL: THE ART OF ELLSWORTH KELLY This conference takes place to coincide with the Serpentine Gallery exhibition Ellsworth Kelly 18 on display through May 21.

Ellsworth Kelly is among the greatest living artists. He pioneered an abstract aesthetic that has been vital to the evolution of post-Second World War art. Throughout a career that has spanned more than 50 years, he has worked independently of trends and movements and the resulting body of work is one of the major achievements of American art. For the Serpentine exhibition, the artist has selected 18 works made since 2002, to be shown together for the first time. This conference will explore aspects of Kelly's practice over the last half-century.

Speakers: Yve-Alain Bois Professor in the School of Historical Studies, Institute for Advanced Study, Princeton. Jon Thompson Emeritus Professor of Fine Art at Middlesex University. Roberta Bernstein Professor of Art History, University of Albany, State University of New York. Alex Coles Art critic and author. Chair Jon Bird is Professor of Fine Art and Critical Theory, Middlesex University. . In association with Middlesex University this event takes place Friday, May 6, at the Lecture Theatre, Victoria and Albert Museum, London.

SELECTED SHORTS An ARTS in the House presentation sponsored by WSHU Public Radio Group with special guests Keir Dullea, Patricia Kalember, Isaiah Sheffer.

You've heard it on the radio, now see it in person! Selected Shorts features some of the finest artists of the American theatre, reading contemporary and classic short fiction - the most distinguished works from a broad array of literary talents. Join host Isaiah Sheffer as he brings the renowned Symphony Space program, as heard on NPR, to the stage of the Playhouse. The reading will be taped for broadcast nationally on public radio, and will feature some of the Playhouse's favorite actors.

Wednesday, May 3 at the Westport Country Playhouse in Westport, CT.

SAVAGE LIGHT: AN EVENING WITH GEORGE FISCHOFF + CAST Songwriter/composer George Fischoff's new off-Broadway musical chronicles the adventurous life of artist Paul Gauguin.

Hear the cast perform songs from this new work, followed by a discussion with Fischoff, whose credits also include the Tony-nominated Georgy!, Sayonara, and Top 40 hits for such disparate artists as the Monkees and Perry Como.

Monday, May 8, as part of the 92nd St Y Theatre@ Makor series in NYC.

BEING SANDRA BERNHARD

Sandra Bernhard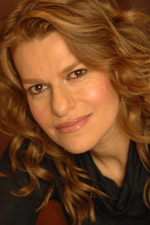 She is iconoclastic and irreverent, opinionated and openly lesbian.

Hear this style-setting performer discuss life, career and motherhood with New York Times reporter Kim Severson.

Monday, May 1 at the Fashion Institute of Technology Katie Murphy Amphitheatre Fred P. Pomerantz Art and Design Center, NYC.

Sandra has returned to off Broadway with her one woman explosion, Everything Bad & Beautiful written and performed by Bernhard. it's an extravaganza of her brand of wild comedy, reckless rock 'n' roll, and her trademark social commentary Musical Director: LaFrae Sci with The Rebellious Jezebels. Performances at the Daryl Roth Theatre.


GIVE 'EM HELL, HARRY
For his birthday in 1959, a group of small children present a birthday cake to former President Harry S. Truman at the depot in Independence, Missouri. Photo donated to the Truman Library and Museum by Mrs. Sammie Feeback.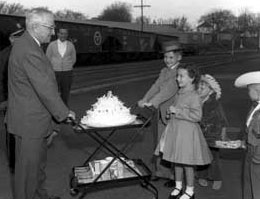 The 122nd Birthday of President Harry S. Truman will be celebrated May 5 - 13th at the Truman Presidential Museum & Library. In conjunction with Harry Truman's Birthday, the Museum will be opening an additional section titled The Living Legacy within the permanent exhibit Harry S. Truman: The Presidential Years.

The Living Legacy highlights some of the institutions, foundations, buildings, and awards that have been named to honor the legacy of the nation's 33rd President. Included, along with a number of others, are the Harry S. Truman Good Neighbor Award and the Harry S. Truman Award for Public Service, both of which will be given to prominent Americans during this series of events honoring President Truman. Highlights of the week at the Truman Presidential Museum & Library include $1 admission on Saturday, May 6, and a Truman Birthday Celebration film series each day including Edward R. Murrow who was the subject of the Academy Award winning Good Night and Good Luck, who interviews former President Truman. From the CBS production See It Now (1958) The President's birthday, May 8, is marked by a Harry and Bess Look alike contest and free birthday cake.

A The production Give 'Em Hell, Harry written by Samuel Gallu and directed by: Larry Carpenter, : presented by the Kansas City Rep ends it's run this evening at Union Station in Kansas City.


CURTAIN DOWN


RING OF FIRE the Broadway musical revue built around songs associated with Johnny Cash, closes after its matinee today, Sunday, April 30, at the Ethel Barrymore Theatre, after playing 37 previews and 57 regular performances. It opened officially on March 12, 2006.



DARWIN IN MALIBU An Evolved Comedy. Written by Crispin Whittell. Directed by Casey Stang.

The American Premiere of British playwright Crispin Whittell's philosophical comedy, Darwin in Malibu in which The Falcon Theatre shares the American Premiere with Bay Street Theatre of Sag Harbor, NY.

Due to the play's highly controversial and topical themes and issues, the Falcon will also host a Tuesday Night Forum immediately following each Tuesday night's performance for audience members who wish to discuss the play with the cast and a group of special guest panelists representing different fields of study.

Charles Darwin (Robert Foxworth) peacefully spends his afterlife in a beach house with a free-spirited young girl (Rebecca Brooksher), until two old friends, Bishop Samuel Wilberforce (Corey Brill) and Thomas Huxley (Granville Van Dusen) come to visit, one determined to save Darwin's eternal soul and the other to preserve Darwin's theory of evolution. Caught in the middle of the debate between science and religion, this group of unlikely friends struggles to find the meaning of life, death, and plastic surgery.

Playwright Crispin Whittell was born in Kenya and studied at Cambridge University. Darwin in Malibu premiered at Birmingham Repertory Theatre and was subsequently produced at Hampstead Theatre (London). It was nominated for the TMA Award for Best New Play in 2003. Crispin is currently directing his new play, Clever Dick, which opens at Hampstead Theatre in London in May. Darwin in Malibu is his third full-length play.

Officially opens May 5, at The Falcon Theatre in Burbank, CA.

THE PIRATE with music and lyrics by Cole Porter. Book by Zack Manna and David Levy. Additional Music and Lyrics by Brad Ross.

Come aboard as the Prince Music Theater embarks on the exciting maiden voyage of this new Cole Porter musical adapted from one of Hollywood's most frequently overlooked Golden Age movie musicals.

The Pirate, set in the West Indies, tells the story of an innocent young woman who fantasizes about being kidnapped and ravished by a dashing pirate despite her impending "arranged" marriage to the rich middle-aged town mayor. Enter a handsome traveling actor, who manages to learn the secret of her heart, and who risks life and limb to convince her that he is in fact the pirate of her dreams. Hi-jinks ensue as young love meets powerful opposition from all sides.

This stage adaptation features a fresh and witty new script, with a soaring Cole Porter score including hits like I Concentrate On You, VooDoo, and the popular Be A Clown, along with wonderfully tuneful but less well-known Porter songs.

Previews begin May 6 at the Prince Music Theatre in Philadelphia.

FUSION FEST Cleveland's first major multi-disciplinary festival of new work, FusionFest is the most ambitious undertaking of its kind in Play House history making the venue the only regional theatre in the country producing new work in dance, theatre, opera, and music.

From full productions by major groups to readings of the latest exciting scripts, performances by students from Cleveland School of the Arts and Shaker High School, cabarets, and numerous post-performance discussions.

FusionFest include a don't miss production of Ruby Dee in St. Lucy's Eyes ( See Broadway To Vegas column of April 15, 2001 ) and ( See Broadway To Vegas column of April 29, 2001 ) on Monday, May 8 followed by a reception in honor of Miss Dee.

The Cleveland Play House's 90th Anniversary Season, the first produced in its entirety by Artistic Director Michael Bloom, culminates with FusionFest, May 2 - 21 The first-annual performing arts festival offers a sampling of new work from Cleveland- area arts organizations in a variety of disciplines. All events are at The Cleveland Play House.

ON THE VERGE OR THE GEOGRAPHY OF YEARNING by Eric Overmyer. Directed by Tazewell Thompson in association with Westport Country Playhouse.

On the Verge or The Geography of Yearning is one of the funniest, most imaginative comedies around, ringing with wit, facility, dazzling audacity and intelligence. It is a play about imagination's desire for the future and the unknown, set amidst a virtuoso display of verbal and imaginative fireworks – a comedy where anything can, and does, happen. Three Victorian American lady adventurers – Mary, Fanny, and Alexandra – have set out on a journey to countries unknown. The women are seasoned travelers who relish pith helmets and sherpas as guides. As they hack through the jungle, the trio compares notes on favorite terrains (rain forests for Fanny, the desert for Mary, and polar ice caps for Alexandra) and bickers over the more appropriate attire for lady adventurers – pants or skirts. Before long, however, it becomes clear that this adventure is unlike any other before it as the women find anachronistic items like eggbeaters and hula hoops, spout forth strange phrases like "Mrs. Butterworth," and meet a variety of increasingly unusual characters. Each night, the women record the discoveries in their journals, seeking answers as time and space accelerate around them and the future looms closer than they ever expected.

May 5 through June 11 in the Fichandler at Arena Stages in Washington, D.C.

HOT FEET a musical featuring the music of Earth, Wind & Fire.opens on Broadway at the Hilton Theatre on April 30.

From Tony nominated Maurice Hines and Earth, Wind and Fire's very own Maurice White. Hot Feet - featuring such hits as After The Love Is Gone, Shining Star, September, and six brand new songs. In a world where ambition and fate sometimes never meet, Hot Feet is the musical story of fate, love and choice.

The production stars Vivian Nixon, Keith David, Ann Duquesnay, Allen Hidalgo, Wynonna Smith, Michael Balderrama and Samantha Pollino.

The ensemble includes; Kevin Aubin, Brent Carter, Gerrard Carter, Dionne Figgins, Ramon Flowers, Keith Anthony Fluitt, Karla Puno Garcia, Nakia Henry, Duane Lee Holland, Dana Marie Ingraham, Iquail S. Johnson, Terace Jones, Dominique Kelley, Matthew Warner Keirenan, Steve Konopelski, Sumie Maeda, Jon-Paul Mateo, Vasthy E. Mompoint, Tera-Lee Polin, Samatha Pollino, Sandra Reaves Phillips, Danita Salamida, Caesar Samayoa, Monique Smith, Daryl Spiers, Felicity Stiverson, Hollie E. Wright.



WHO'S WHERE


AL STEWART performs Tuesday, May 2 at the Forum Theatre in Metuchen, NJ. On Thursday the show is at Rams Head on Stage in Annapolis, MD> Saturday finds the performer at the Center for the Arts in Springfield, IL. Next Sunday he's on stage at Club Cafe in Pittsburgh, PA

CHRIS BOTTI opens a three night engagement Friday at the Indianapolis Symphony in Indianapolis.

PETER, PAUL AND MARY in the spotlight Friday, May 5 at Lowell Memorial Auditorium in Lowell, MA.

CHICK COREA opens a six night gig Tuesday, May 2, at Blues Alley in Washington, D.C.

BIG BAD VOODOO DADDY in a two night stand Friday-Saturday at the Palmer Event Center in Austin, Texas.

JOHNNY MATHIS brings his distinctive sound to Rancheros Visitadores in Santa Barbara, CA for a five night engagement beginning Saturday, May 6.

PAUL ANKA performs Monday at Royal Albert Hall in London. On Friday he can be enjoyed at Casino Esto in Estoril, Portugal.

ERIC CLAPTON on stage Friday, May 5 at La Palestre in Le Cannet, France.

REBA McENTIRE brings her talents to the Hilton Hotel in Las Vegas for engagement running May 3-7.
















Next Column: May 7, 2006
Copyright: April 30, 2006. All Rights Reserved. Reviews, Interviews, Commentary, Photographs or Graphics from any Broadway To Vegas (TM) columns may not be published, broadcast, rewritten, utilized as leads, or used in any manner without permission, compensation and/or credit.
Link to Main Page
---
Laura Deni


CLICK HERE FOR COMMENT SECTION