! >
Broadway To Vegas
  SHOW REVIEWS     CELEBRITY INTERVIEWS     GOSSIP     NEWS 
| | |
| --- | --- |
| | |
Copyright: April 15, 2001
By: Laura Deni
CLICK HERE FOR COMMENT SECTION

RING THEM BELLS It was a night of glitz and glamour. Last Thursday's black tie VIP opening for Bells Are Ringing, at the Plymouth Theatre in New York City, followed by a party at Sardi's, brought out the swells that make Broadway special.

Singer/actress Kitty Carlisle Hart, 87, widow of legendary producer Moss Hart, was in the front row. The epitome of classic glamour, she wore a long gown with slits up both sides. Some high quality hosiery company should be using this women as their spokesperson. Kitty belongs on the fashion pages showing off those gams. She looks 30 years younger than she is, her mind could probably ace the SAT and her legs belong on a 20-year-old. When I mentioned those legs she beamed and agreed to show off her long pins for our camera.


Kitty Carlisle Hart showing off her million-dollar legs Photo By: Laura Deni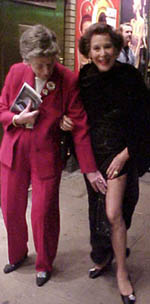 "I've always had good legs, "smiled the performer who, a few years ago, had her own one woman Broadway show Kitty Carlisle Hart A Broadway Memory. "I was just born that way. I've never had to really do anything special to keep them looking that way." With a twinkle in her eye the mother of two added, "And, the legs are the last to go!"

Adolph Green, who co-wrote the book and lyrics to Bells Are Ringing patted his partner Betty Comden on her shoulder and kissed her cheek, as Betty walked up and down the aisle greeting friends.

Good friend Lauren Bacall grabbing Adolph's hand commanding, "Come on, Adolph!"

Jerry Stiller said he liked the show and Rosie O'Donnell's musical director and sidekick John McDaniel, himself a Broadway musician, three rows ahead of me, looked enthralled. Having to do Rosie's show the next morning he bolted from the theatre the minute the curtain rang down.



Betty Comden signing autographs. Photo By: Laura Deni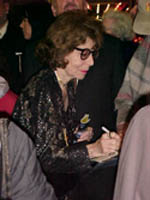 When the curtain is going to ring down on this production may be a valid question. When you begin by talking about everything except the show that's a clue that Bells Are Ringing has some bell clapper problems, although there is much to be enjoyed.

The music for instance.

With music by Jule Styne, Bells Are Ringing gave us standards The Party's Over, Just In Time, Long Before I Knew You and Better Than a Dream which was written for the movie version, and wisely included in this revival.

When Bells opened on Broadway Nov. 29, 1956, at the Shubert Theatre, running 924 performances - nobody mistook it for Chaucer. So why should anybody think differently now?

What was important with the original is that the writers crafted it for their friend, Judy Holliday, and in so doing made her a star. Holliday beat out Ethel Merman and Julie Andrews to win a Tony Award and Sydney Chaplain took home the Tony for his portrayal of Jeffrey Moss, the blocked writer whose lubricant of choice is alcohol.

Turned into a successful movie with Dean Martin in the Moss role, this is the first Broadway revival.

Incredibly talented, Tony winner Faith Prince is cast as Elle Peterson, the good hearted answering service operator who gets involved in the lives of her clients, including falling in love with Moss played by handsome, suave Marc Kudisch.

Fortunately, no attempt was made to update the 1950's setting. Comden and Greene wouldn't have been capable of bringing it into the computer age - nor should they have been expected to do so.



JEAN STAPLETON one of the many celebrities at the opening. Photo By: Laura Deni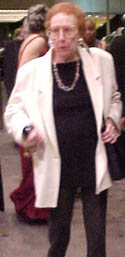 During the overture a clever, well constructed film segment effectively sets the era and mood. Apparently done by Batwin & Robin Productions, Inc. - since that firm is given video credit in the Playbill - this set-up gives the production a hard act to follow.

To compare Faith Prince to Judy Holliday isn't fair. Those who saw the original Broadway production are either dead or old. This production needs to be judged on its own merits. The story is charming, the music is lush, there is a lot of talent on that stage - but it looks like a badly done burlesque show.

Blame the director Tina Landau.

Prince lights up the stage playing Ella on a one dimensional level - over the top. She may not be miscast as much as misdirected. Turning this show into a series of burlesque scenes destroys the emotional depth of character development.

Ella cares how the messages she takes affect the receiver. Ella is vulnerable. None of that vulnerability and pathos comes across. Instead, it's camp.

With the exception of two scenes the wardrobe foisted upon Prince is distracting and inappropriate. Ninety percent of the time she is in pedal pushers and a sloppy pregnant looking ugly over blouse. This in a 1950's setting when women wore dresses, hose and hats.The rest of the people employed by the answering service are dressed neatly - why make Prince look like a slob?



Cast member Josh Rhodes. The cast received goodie bags from William Sonoma and flowers. Photo By: Laura Deni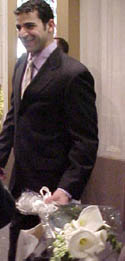 Faith's hair color and style are also distracting and detrimental to the production. The garish red/orange shade in the 50's was worn only by Lucille Ball. Today - by punk rockers. Faith's hair isn't even combed. It looks like somebody put in rollers, slid them out and then forgot to comb out the curlers. Women in the 50's used to have weekly appointments at the beauty parlor. Faith's headpiece is a wig and belongs on a circus clown.

That doesn't mean this revival doesn't have some charm.

Don Sebesky's orchestrations are excellent - ably conducted by David Evans. The musicians are wonderful.

David Garrison as Sandor, the bookie guised as a record company owner, is outstanding. His production number It's A Simple Little System is a highlight.

Beth Fowler as the owner of Susanswerphone who becomes involved with Sandor, does her best to add some depth to her part.

The cast members were given goodie bags by William Sonoma and most had friends who presented flowers. It's a talented, hard working bunch.

In the end it's the director who calls the shots. This production had everything going for it - until the director turned what should have been a glorious revival into a side show.




THE DEPTH OF SAINT LUCY'S EYES


Ruby Dee is more than an actress - more than star - she's a national treasure

With eminence comes perks and Dee has used well her option of being able to pick and choose her properties. Dee may be above merely being reviewed as to the quality of her acting. What would be news is if she didn't give a good performance.

In signing on as the star of Saint Lucy's Eyes, which has been extended at the Women Project Theatre, New York City, through April 29, Dee has brought to the stage playwright Bridgette A. Wimberly, whose work deserves to be recognized.

The name Rudy Dee, of course, sells tickets. The theatre is packed with a wide cross section of humanity, many not having an idea what they are about to see - only that Ruby Dee will be on stage. The crowd begins wildly applauding, acknowledging that Ruby is seated in a chair on stage - and so far done absolutely nothing. By the end of the show her standing ovation acknowledges not just Ruby's being there but delivering a distinguished performance of a powerful, multi edged, well crafted script.

From the clap of a thunderstorm, to the Catholic Saint Lucy, to a name the significance of which isn't known until the last five minutes of the play - Saint Lucy's Eyes is mesmerizing. Just when you think you know where the plot is headed a new layer of emotion is unveiled to give depth to desperation.

Abortions are illegal and Ruby Dee's character - known to her patients as Grandma- provides the service. It's a skill she learned at the tutelage of a white women whose house she cleans. It's a serious business that was practiced by many - including Frank Sinatra's mother. Illegal abortions transcended class, race and religion. A constant was that the women who were "good" illegal abortionists weren't casual about their business. Part social worker, part "grandma" with their own desperate needs that drove them to a profession with no antibiotics, in which a jail term was only an infection away.

Playwright Wimberly was a 1999 Mentor Project Fellow at the Cherry Lane Alternative. Her play St. Lucy's Eyes was mentored by Wendy Wasserstein.

In explaining her play, Wimberly said;

"As a girl, the statue of Saint Lucy at the church connected to my school frightened me until I finally stepped back and reevaluated the pair of eyes lying on her plate. Eyes I once found judging now looked forgiving. I was surprised to do a play exploring judgement; judgement by others and self-judgement. I wanted to tell the story of someone who was doing something she felt was important. Something she felt was right but she couldn't discuss with anyone, not even her God. I wanted to explore the process of forgiveness, a woman who had to reevaluate a pair of eyes watching her."

The cast includes Toks Olagundoye, Sally A. Stewart and Willis Burks II. Directed by Billy Allen. Sets by Beowulf Borritt, Costumes Alvin B. Perry; Lights By Jane Reisman, Original Music by Michael Wimberly.



Broadway To Vegas is supported through advertising and donations. Priority consideration is given to interview suggestions, news, press releases, etc from paid supporters. However, no paid supporters control, alter, edit, or in any way manipulate the content of this site. Your donation is appreciated. We accept PAYPAL. Thank you for your interest.


ANTIQUE AUTO AUCTION
ELVIS PRESLEY 1976 Cadillac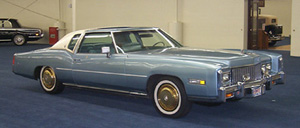 The 15th annual antique, classic and special interest automobile auction and exposition sale takes place at the Imperial Palace in Las Vegas on April 21-22 and promises to be a star studded event.

Being gaveled down are over 400 rare and interesting automobiles some of which had some notable owners.



ELVIS PRESLEY gave this car to his dentist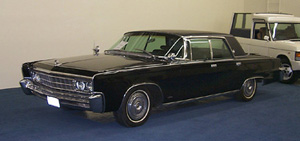 Elvis Presley is represented with two automobiles.

A 1976 Cadillac Eldorado was the last vacation owned by Presley. The car is equipped with a television and a mobile telephone.

Presley purchased a 1966 Chrysler Imperial and then gave the auto to his dentist.

The Kennedy family is also represented with two automobiles.

JOHN F. KENNEDY JR'S COLLEGE CAR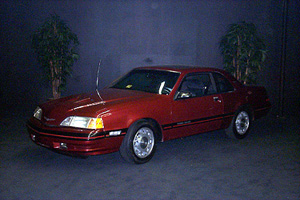 A 1988 Ford Thunderbird Turbo Couple ID# 1FABP64T9JH145736 was John F. Kennedy, Jr's personal car at college.

JFK Jr was the original owner, which is documented. All original parts and runs like new.

Jacqueline Kennedy is represented through a 1961 Lincoln Continental Convertible ID# 1Y86H420678.



JACQUELINE KENNEDY'S LIMO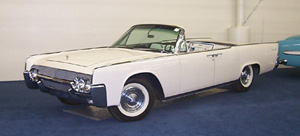 From the 1950's through the 1970's Ford Motor Co. Operated a garage in Washington, D.C. just to provide the White House with vehicles for executive branch use.

Periodically the cars were replaced, and a group of 3 came up for bids. This car, the President's and the Vice President's. This car was purchased by Stuart Ford, a dealership in Lanham, Maryland.

Letters attest to the car's history and that the secret service removed their equipment and under dash radios. The car has now recorded 84,500 miles, is equipped with cruise control, and has been restored.



LIBERACE'S CAR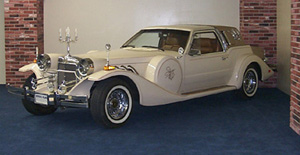 Las Vegas showmen are also represented in this auction.

A Tom Jones vehicle will hit the auction block as well a 1981 Zimmer Golden Spirit owned by flamboyant entertainer Liberace.

The hype on this buggy states "this automobile combines styling reminiscent of the classic era with the service ease and dependability of a modern Ford chassis and drive train.

Manufactured by the Zimmer Motor Cars of Pompano Beach, Florida." This car was custom built for Liberace and he called it is favorite automobile.




JERRY LEWIS originally owned this car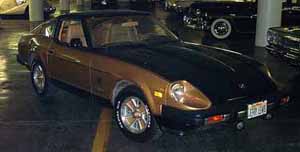 Las Vegas resident Jerry Lewis once owned one of the vehicles in the show - a 1980 Datsun 280 ZX - I.D. #HS130224289 Limited Edition 10th Anniversary car.

New Kids on the Block and martial arts expert Bruce Lee expect to get their vehicles hammered down during the auction.

A 1987 Chevrolet Camero is tied into the New Kids on the Block because it was used on the MTV special.



BRUCE LEE'S CUSTOM BUILT ROLLS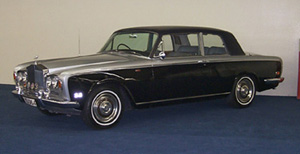 A 1965 Rolls-Royce Silver Shadow has a more personal history with Bruce Lee.

The car has custom coach work by James young Ltd and was custom built for the martial arts superstar.




THE POPEMOBILE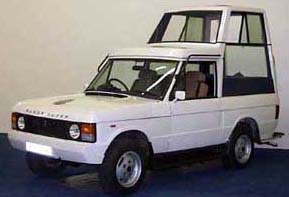 This Range Rover custom built at the factory for the Pope became known as "The Pope Mobile."

It was specifically built for the Papal visit to the United Kingdom.

The rear passenger compartment has been armor-plated with 2MM steel and 21 MM laminated glass.



SWEET CHARITY

MARY STOUT currently playing the humorous housekeeper in the Broadway musical Jane Eyre (see Broadway To Vegas column of Jan 14, 2001) has a full plate these days. In addition to eight performances a week at the Brooks Atkinson Theatre, Mary will appearing in a one-night only celebration of the Big Band era called Zoot Suit Strut tomorrow, April 16, at Symphony Space Theatre, NYC. Mary will perform a Fanny Brice song Cooking Breakfast for the One I Love by William Rose and Henry Tobias as well as a Sophie Tucker song by Vivian Ellis called If Your Kisses Can't Hold The Man You Love, Then Your Tears Won't Bring Him Back. Zoot Suit Strut benefits Dancers Responding to AIDS.


OTHER PEOPLE'S MONEY


JUDGMENT AT NUREMBERG cast members unanimously voted not to activate a contract clause that guarantees a pay increase.

This important show is one of several productions having trouble filling seats.

The cast forgoing a pay increase helps the producers keep the production open.


APPLAUSE, APPLAUSE

A TRIBUTE TO MAYA ANGELOU recipient of the 2001 Aaron Davis Hall Harlem Renaissance Award.

The event will feature Ashford & Simpson, Rev. Calvin Butts, George Faison, Cissy Houston, IMPACT, Chuck Jackson, Ben E. King, Tsidii Le Loka, Gloria Lynne, Pat Prescott, The Hon. Charles B. Rangel, Max Roach, Sonia Sanchez, Paul Schaeffer, Susan Taylor, Tamara Tunie and Dionne Warwick.

Monday April 23 Aaron Davis Hall, NYC.



MADAME MELVILLE starring Macaulay Culkin, Joely Richardson, written and directed by Richard Nelson in previews at the Promenade Theatre, NYC.

THE GATHERING starring Hal Linden Cort Theatre, NYC

SEUSSICAL getting new life in it with teen cutie Aaron Carter who gets billing above Cathy Rigby.The teen fans standing outside the theater hoping to spot Carter are five deep; the police have to put up barricades and the screams from his fans when he finally emerges can be heard a block away.

THE PRODUCERS make your reservations now for tickets in 2002-2003 and years thereafter. Full review next week. One of the best to ever play Broadway. A new word needs to be invented to describe Mel Brooks. Creative genius doesn't do him justice.

GEORGE GERSHWIN ALONE starring Hershey Felder begins previews for a limited engagement on Tuesday. Helen Hayes Theatre. NYC. Full review next week.

CATCH ME IF YOU CAN by Jack Weinstock and Willie Gilbert April 19-May 20 at Theater Arlington in Arlington Texas

HOW I LEARNED TO DRIVE is Paula Vogel's 1997 Pulitzer Prize-winning play about Li'l Bit, a middle-aged Maryland woman who tells how she was molested for several years by her uncle, beginning when she was 11 and he was 38, including the period in which he was teaching her how to drive a car. A professional Actors' Equity production by Tennessee Repertory Theatre officially opened last Thursday and continues through April 20.Tennessee Performing Arts Center's Johnson Theater, Nashville.

BRIGADOON by the authors of My Fair Lady and Camelot, Brigadoon is Alan Jay Lerner and Frederick Loewe's mystical tale of a love that transcends time, boasting spirited Scottish dancing and a tender and evocative score that includes such standards as "Almost Like Being in Love" and "Heather on a Hill." The story of two Americans who stumble upon an enchanted Scottish village which comes to life just one day every hundred years, Brigadoon is a true classic of the American musical theatre that the entire family will enjoy! Goodspeed Opera House, East Haddam, CT through June 23.


WHO'S WHERE

VILLAGE PEOPLE bring back the disco 70s sound for two nostalgic shows at the Riviera Hotel, Las Vegas.



The Village People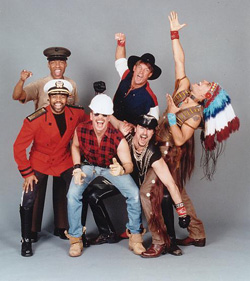 The brainchild of producers Jacques Morall and partner Henri Belolo, the American male stereotypes hit the music scene charts with their recordings of Y.M.C.A, Macho Man, In The Navy and Ready for the 80s

The group is composed of Bronx born and raised Ray Simpson, the lead singer and "Cop." Alexander Biley, the son of a minister, is the original "GI Military Man." David Hodo, the original Construction Worker, was featured off-Broadway in Sal Mineo's Fortune and Men's Eyes. Jeff Olson, the "Cowboy" started his career as a New York and Pris model. Founding member Felipe Rose, the "Indian" is the son of Jenny Ortiz, a Copa Cabana girl in the late 40s. Eric Anzalone, the "Biker Leatherman" starred as the purple-masked Donatello in the world tour of the Tennage Mutant Ninja Turtles. The original Biker/Leatherman, Glenn Hughes, recently passed away.

During the earlier years Madonna and Joan Rivers were among the artists who opened for the Village People in Las Vegas, Madison Square Garden, Japan's Budokan, Sydney's Hordem Paviliion and Hollywood's Greek Theatre.

The Village People will be performing April 20-21 at the Riviera Hotel, Las Vegas.

BARBARA COOK April 21 in Palm Desert, CA.

FLORENCE HENDERSON April 15 at the Mohegan Sun Casino.

DEE DEE BRIDGEWATER April 17-22 at Jazz Alley in Seattle, WA,

MICHAEL FEINSTEIN April 30 at Carnegie Hall, NYC


THIS AND THAT

JERRY LEWIS celebrated his daughter Danielle's ninth birthday by flying from Las Vegas to New York so his daughter could pig out on a Broadway marathon of shows including seeing Annie Get Your Gun, The Lion King, The Music Man, and 42nd Street.



Mention BROADWAY TO VEGAS for Special Consideration
Call (800) 942-9027









Next Column: April 22, 2001
Copyright: April 15, 2001. All Rights Reserved. Reviews, Interviews, Commentary, Original Photographs from any Broadway To Vegas (TM) columns may not be published, broadcast, rewritten, utilized as leads, or used in any manner without permission, compensation and/or credit.
Link to Main Page
---
Laura Deni


CLICK HERE FOR COMMENT SECTION