! >
Broadway To Vegas
  
  REVIEWS INTERVIEWS COMMENTARY NEWS

| | |
| --- | --- |
| | |
BROADWAY SHOW THE PROM REVIEWED - -BEACH BLANKET BABYLON TO CLOSE - - WATER THERAPY FOR RACE HORSES - - ROUNDABOUT THEATRE COMPANY BENEFIT - - KELSEY GRAMMER IN MAN OF LA MANCHA - - DESIGNER WRAPPERS FOR CHOCOLATE BARS - - QUEEN ELIZABETH TURNS 93 - - HAPPY 455th BIRTHDAY, MR SHAKESPEARE - - DONATE . . . Scroll Down





Copyright: April 21, 2019
By: Laura Deni
CLICK HERE FOR COMMENT SECTION


THE PROM IS ONE DANCE YOU DON'T WANT TO MISS
Cast of The Prom Production photos by Deen van Meer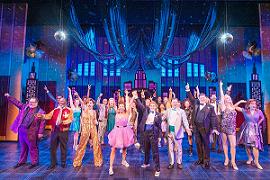 The Prom is a fun, easy to enjoy musical which has strong appeal to a wide audience and should enjoy a long worldwide touring future. That means money for investors, and employment for actors.

It's an art form to be able to take segments of truth, twisting them into humor and not knife yourself in the back.

Book writers Bob Martin and Chad Beguelin and music makers Matthew Sklar and lyricist Chad Beguelin have brilliantly accomplished what should be the impossible in creating The Prom.

Difficult to accomplish but expertly crafted in this romp is making fun of the egos of your own friends, acquaintances and profession. In this case that would be doing something good, provided there is a benefit for you.

It's a story within a story. A critic has written such a scathing review of Eleanor, a show about Eleanor Roosevelt that it immediately closes, leaving four star descending actors forced to take on a bus and truck road show in order to keep their name in lights and their bills almost paid. Temporarily stranded in Ohio, the desperate for attention and publicity cast discovers an "injustice" which they can capitalize on to their own advantage. A high school is refusing to permit a lesbian to bring her date to the prom. The narcissistic actors take up the cause.

What breaks out? Joy, humor, sass, effervescent fun - and a lot of laughs.

Director Casey Nicholaw knows how to deliver outrageous laced with sweet be it in directing or the fun choreography.



Josh Lamon as Sheldon Saperstein, Beth Leavel as Dee Dee Allen, Brooks Ashmanskas Barry Glickman and Angie Schworer as Angie in The Prom. Production photos by Deen van Meer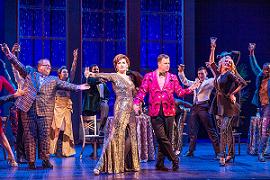 While there are messages of equality and pointed jabs at self serving do gooders, this over the moon romp permits the audience to escape from current issue headlines, tweets and water cooler arguments. The Prom is a remarkable stress reliever - total enjoyment - a pleasure to watch.

The score, which was reviewed separately when the original Broadway cast album was released, is full throttle musical pleasure. See Broadway To Vegas column of January 20, 2019.

The melodies are easy on the ears and the lyrics are non stop witty. The arrangements by Larry Hochman capture either the traditional Broadway sounds or popular pop culture and the sound is excellent.

Christopher Sieber as Trent Oliver. Production photos by Deen van Meer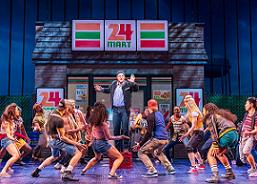 Actually, everything about this show - lighting by Natasha Katz, costumes by Ann Roth and Matthew Pachtman; sets by Scott Pask; sound by Brian Ronan; music direction by Meg Zervoulis; music supervision by Mary-Mitchell Campbell; production stage manager Glynn David Turner - amount to an A+.

There isn't anything not to like - except the possibility that one ticket means you see the show - once. Chances are you'll want to do a repeat, which means procuring another ticket.

If you're in the New York area catch the show on Broadway at the Longacre Theater. If not, make plans to see the show when it eventually arrives on tour.

The outrageously excellent cast includes: Brooks Ashmanskas, Beth Leavel, Christopher Sieber, Caitlin Kinnunen, Isabelle McCalla, Michael Potts, Angie Schworer, Courtenay Collins, Josh Lamon, Mary Antonini, Gabi Campo, Jerusha Cavazos, Shelby Finnie, Josh Franklin, Fernell Hogan, Joomin Hwang, Sheldon Henry, David Josefsberg, Becca Lee, Wayne Mackins, Kate Marilley, Anthony Norman, Drew Redington, Jack Sippel, Teddy Toye, Kalyn West and Brittany Zeinstra.






E-Book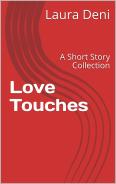 Soft back Book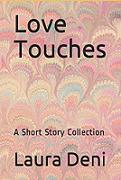 Broadway To Vegas is supported through advertising and donations. Priority consideration is given to interview suggestions, news, press releases, etc from paid supporters. However, no paid supporters control, alter, edit, or in any way manipulate the content of this site. Your donation is appreciated. We accept PAYPAL. Thank you for your interest.


ART AND ABOUT


DESIGNER WRAPPERS FOR CHOCOLATE BARS the French brand Le Chocolat des Français has called on artists, illustrators, and graphic novelists to create the packaging for its chocolate bars, which can now be found at the MoMA Design Store and at Bloomingdale's in New York, Nieman Marcus and Saks Fifth Avenue and in specialty food stores Le District, Murray's, and OCabanon in Manhattan.

"We wanted people to think twice about ripping the paper used to wrap our chocolate bars," says Paul-Henri Masson, the founder of Le Chocolat des Français along with Matthieu Escande and Vincent Muraire. Their comments to Clément Thiery were translated from French by Alexander Uff.

In November 2014, the brand made itself known at the Paris Chocolat Fair having recruited 50 artists including Edith Carron, Marie Assénat, Laura Junger, and Laurène Boglio to decorate the packaging for its bars. Some 300 examples of their work were showcased as if in a gallery. The company then made waves in 2016 with a 20-foot-tall chocolate statue of King Kong in homage to the work of contemporary artist Richard Orlinski, and again in 2017 with a mural depicting former French president Jacques Chirac made using 2,080 chocolate bars!

The bars feature figures such as a blue, curly-haired poodle, a bunny hugging the Sacré-Coeur basilica, a young singer reminiscent of Claude François, and a sailor sporting retro tattoos. Trendy pop is the overall theme. The brand goes for "bright, joyous colors," says Paul-Henri Masson. "We choose the artists we work with based on impulse and feeling."

Some 500 artists have already contributed to Le Chocolat des Français, including tattoo artist Jean André and illustrator Jean Jullien, whose Peace for Paris drawing went viral on social media following the November 2015 terrorist attacks. Their works and many others now serve as the packaging for the brand's products, such as dark chocolate squares, bars filled with hazelnut praline, and chocolate-covered almonds.

The products are all made in France. The company boasts that the United States, is the brand's second biggest export market after Japan. This success was reflected at the Fancy Food Show in New York, which featured the company's product decorated with towering skyscrapers and Uncle Sam wearing sunglasses.

Some 500,000 bars were sold in 2017, and 700,000 in 2018. A free standing store in the United States, is considered a "logical move," says Paul-Henri Masson. "The Americans love our products!"

LEONARDO DA VINCI: A LIFE IN DRAWING

The Duke of Gloucester went to South Yorkshire last week to visit the Millennium Gallery to see a range of creative activities being held as part of the Leonardo da Vinci: A Life in Drawing exhibition. Photo: Royal Collection Trust.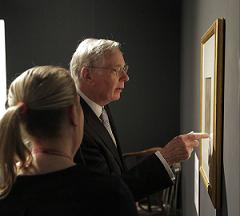 are exhibitions of drawings made by Leonardo da Vinci on display as part of a nationwide British exhibition marking the 500th anniversary of his death.

The exhibition is part of a series in partnership with the Royal Collection Trust where 144 drawings are on display at 12 simultaneous exhibitions.

The Duke of Gloucester went to South Yorkshire last week to visit the Millennium Gallery to see a range of creative activities being held as part of the Leonardo da Vinci: A Life in Drawing exhibition.

Leonardo da Vinci: A Life in Drawing features 12 drawings at each venue, all selected to reflect the full range of Leonardo's interests – painting, sculpture, architecture, music, anatomy, engineering, cartography, geology and botany.

In May over 200 drawings will go on display at The Queen's Gallery, Buckingham Palace, and then the exhibition will move to The Queen's Gallery, Palace of Holyroodhouse in November, 2019.

Leonardo da Vinci: A Life in Drawing features 12 drawings at each venue, all selected to reflect the full range of Leonardo's interests – painting, sculpture, architecture, music, anatomy, engineering, cartography, geology and botany. In May over 200 drawings will go on display at The Queen's Gallery, Buckingham Palace, and then the exhibition will move to The Queen's Gallery, Palace of Holyroodhouse in November, 2019.

In a film, Prince Charles introduces the exhibition to visitors.



E-Book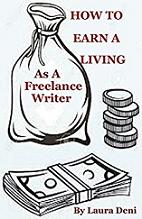 Soft back Book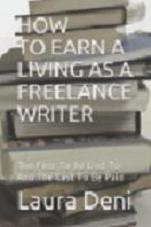 This is not your typical, totally boring textbook.

In the pages of How To Earn A Living As A Freelance Writer (the first to be lied to and the last to be paid) you'll find sex, celebrities, violence, threats, unethical editors, scummy managers and lawyers, treacherous press agents, sex discrimination; as well as a how-to for earning money by writing down words.





SWEET CHARITY


ROUNDABOUT THEATRE COMPANY has a one-night-only benefit reading of Twentieth Century on April 29 at the Roundabout's Studio 54 theater in New York City.

Henry Winkler, Dan Butler, Julie Halston, Alec Baldwin and Anne Heche will read Ken Ludwig's adaptation of the classic 1932 Ben Hecht-Charles MacArthur comedy. Rounding out the production will be Stephen DeRosa and Paul Alexander Nolan.

Directed by Walter Bobbie, the Twentieth Century stage reading reunites the director with Baldwin, Heche, Butler, Halston and DeRosa from the 2004 Roundabout production of the play. Baldwin will reprise his role of "Oscar Jaffe," as will Heche with "Lily Garland." Butler will play "Owen O'Malley," DeRosa is "First Beard," Halston is "Ida Webb," Nolan will be "Dr. Grover Lockwood," and Winkler is "Matthew Clark." The late Tom Aldredge played the role in the 2004 production.

As described by Roundabout: Bankrupt, with his career on a downslide, egomaniacal Broadway director Oscar Jaffee (Baldwin) boards the Twentieth Century Limited and encounters his former discovery and ex-chorus girl Lily Garland (Heche), now a temperamental Hollywood star. He'll do anything to get her back under contract and back in his bed, but his former protégé will have nothing to do with him. All of the action takes place on board the legendary Twentieth Century train from Chicago to New York City where Oscar has 20 hours to persuade Lily to return to Broadway in his upcoming show. If he fails, it's the end of the line.

All proceeds benefit the not-for-profit Roundabout and its programs.

THE NEW YORK POPS 36th BIRTHDAY GALA will honor Grammy, Emmy, and Tony Award-winning music icon Cyndi Lauper and Kenneth W. Lowe, Former Chairman, President and CEO of Scripps Networks Interactive (Food Network, HGTV, Travel Channel), at its 36th Birthday Gala celebration on Monday, April 29, 2019 in Stern Auditorium / Perelman Stage at Carnegie Hall, New York City.

The festive concert will feature some of Lauper's greatest hits performed by The New York Pops, under the music direction of Steven Reineke, together with a starry line-up of guest artists including Lena Hall, Ingrid Michaelson, Annaleigh Ashford, Boy George, Estelle, Bridget Everett, Nona Hendryx, Carly Rae Jepsen, Alex Newell, and Stark Sands perform.

Co-chairs for the event include Lisa Barbaris, Tina Fey, Billie Jean King, Jeff Sagansky, and David Zaslav.

Proceeds from the Gala support the organization's PopsEd music education programs. The concert is followed by a black tie dinner and dance at the Mandarin Oriental New York.

CANADIAN UNIVERSITY DUBAI (CUD) staged their gala event 'Music is Our Voice' on April 17 at Dubai Opera in Dubai, UAE. The gala was in aid of Autism Awareness. CUD's enSEmble – the UAE's first choir for people of determination – took to the stage with a symphony orchestra to sing for autism awareness. They were joined by the 2013 Arab Idol winner, Mohammed Assaf who also performed his own solo set.



SPREADING THE WORD


BEACH BLANKET BABYLON

Prince Charles, third from left, and his wife, Camilla, Duchess of Cornwall, fifth from left, meet Val Diamond, center, wearing a massive San Francisco Skyline Hat and other cast members after they attended the musical performance of Beach Blanket Babylon in San Francisco. Next to the Duchess of Cornwall is former U.S. Secretary of State George Shultz, and beside Prince Charles is Charlotte Maillard Shultz.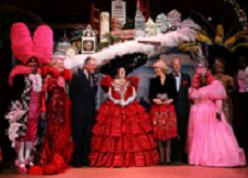 the famed large hat cabaret show which has been viewed from everyone from Queen Elizabeth to common tourists will sadly hand up the chapeaus for the last time on December 31,2019.

After 17,216 performances, 6.5 million visitors, and who-knows-how-many gargantuan hats head back into the hat boxes. By the way, that San Francisco skyline hat is 14 feet high, nine feet wide and weighs more than 250 pounds.

The show, which for years has been staged at Club Fugazi in San Francisco's North Beach neighborhood, was created by Steve Silver, and was constantly updated. Silver died of AIDS in 1995. His widow, co-founder Jo Schuman Silver told the press she no longer wants to run the musical revue and is too protective of it to let someone else take the reins.

"I just felt it was time — after 45 years, it was the right time to close," said the producer, Jo Schuman Silver. "It's better for us to go out on top than to drag this out."

Beach Blanket Babylon's 45-year run even spawned a short lived Las Vegas off-shoot.

The zany spoof show, in which extravagant costumes and headdresses steal the show has been running since 1974 and claims to be the longest-running musical revue in the world, The campy sight-gag performance piece show almost has a storyline Snow White, looking for love, wanders the world encountering famous people who sing pop song parodies, often about politics and celebrity.

ALLIE ESIRI PRESENTS WOMEN POETS THROUGH THE AGES Allie is joined by special guest actors Helena Bonham Carter, Helen McCrory and Josette Simon who will take you on a journey through the history of women's writing.

April 28, 2019 at The Bridge Theatre in London.

ROB BRYDON PROBES BARRY HUMPHRIES LIVE ON STAGE takes place at the The London Palladium on Sunday, April 28, 2019.

Join Rob Brydon, star of The Trip, Would I Lie To You? and Gavin and Stacey as he takes to the stage for a unique evening in conversation with the legendary antipodean antihero Barry Humphries (Dame Edna Everage), who promises to reveal all with onscreen clips and extracts from his favorite comedy moments.

ANNE, THE PRINCESS ROYAL

Princess Anne watches as a race horse enjoys water therapy at Mark Johnston Racing Stables. Photo:Royal Family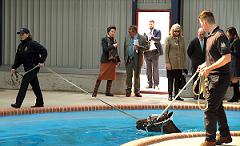 a well known horse lover visited the Mark Johnston Racing Stables to see how hydrotherapy aids the process of rehabilitating race horses.

With some American race tracks experiencing far too many horse deaths, what The Princess Royal learned could benefit horses around the world.

Mark Johnston is one of Britain's leading racehorse trainers. On August 23, 2018, Mark became the winning most trainer in British racing history when he saddled his 4,194th winner. Uniquely, he has trained more than 100 British winners for 25 consecutive seasons, achieving success in British and Irish Classics and in numerous Group One races.

Located at Kingsley Park, their beautiful 300-acre yard is based in the picturesque village of Middleham, England. From the extensive gallops set amid the scenic Yorkshire Dales to the resident vets with their hi-tech equipment, Johnston Racing offers some of the finest facilities in Britain for the care and training of racehorses.

The resident vets are Neil Mechie who has been at Mark Johnson since 2011 and John Martin, on board since 2012. Erin Allison is the Vet Assistant. She's been with the organization since 2014.

THE ONE DAY PLAYS Five plays are conceived, written, rehearsed and performed for a live audience within a 23-hour period. Members and friends of IAMA Theatre Company meet the night before to pair up directors, writers and actors by drawing names from a hat. Once the five "teams" are chosen, the writers have nine hours to write the scripts. Actors receive them the morning of the show to rehearse and memorize. That night an audience arrives and watches five fully realized plays that did not exist one day earlier.

Written, directed and performed by members of IAMA Theatre company, including co-artistic director Katie Lowes. Guest performers: Jake Choi, Kimrie Lewis, Artemis Pebdani , Baron Vaughn.

Sunday, April 28 at the Greenway Court Theatre in Los Angeles.

SHIRLEY MacLAINE celebrates her 85th birthday April 24 with Disney announcing a November streaming release of Noelle, the holiday picture Shirley just completed.

"Marc Lawrence's Christmas movie Noelle follows Santa's daughter played by Anna Kendrick who must track down her brother Nick when he goes missing. Lawrence wrote and Bill Hader, Billy Eichner, and Shirley MacLaine star."

QUEEN ELIZABETH who holds down a full time job, which requires her to dress well and put in unpaid overtime, celebrates her 93th birthday today, April 21, 2019.

Since her birthday this year happens to fall on Easter, she'll begin her day by attending church services. Any birthday celebration will be private. Her official birthday celebration takes place June 8, 2019 when the English weather is more conductive to outdoor festivities.

APRIL 21 is Chocolate-Covered Cashews April 22 is National Jelly Bean Day. April 23 pays tribute to National Cherry Cheesecake Day and National Picnic Day. April 24 is National Pigs-In-A-Blanket Day while April 25 celebrates National Zucchini Bread Day. April 26 is National Pretzel Day and April 27 devours National Prime Rib Day.





HAPPY BIRTHDAY, MR SHAKESPEARE
2>



When the celebration is in honor of 455 years - that means a lot of candles.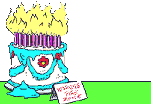 Just because you've been dead a lot of years doesn't mean people can't eat birthday cake in your memory. For instance, Shakespeare. What would have been the Bard's 455th is being celebrated coast to coast. Yesterday, April 20 at The Old Globe in San Diego, a birthday party day for the whole family included birthday games and activities, free crafts, and cookie decorating. There was even a safe sword-fighting demonstration and workshop hosted by George Yé. There will also be both modern and Elizabethan music and dance by San Diego musicians and performers as well as a sonnet-writing competition Plus, a Globe open house featuring a Shakespeare-inspired costume display by Charlotte Devaux.

On Tuesday, April 23, at the opposite end of the country A Birthday Part for the Bard in partnership with the 53rd Street Library and the New York Shakespeare Exchange presents a screening of 20 incredible films from their award-winning The Sonnet Project which received a Special Commendation from The Shakespeare Birth Place Trust in Stratford-Upon-Avon, UK. Each of the films features one of the Bard's iconic love poems in perfect indie-cinema style. The films will be shown in a feature-length screening in the library theater. The screening will be followed by a panel discussion with the actors and directors, about translating Shakespeare to film. Free to attend. And - birthday cake included.

The Sonnet Project is a tapestry of cinematic art that infuses the poetry of William Shakespeare into the poetry of the world in which we live. The project began with the goal of creating 154 films in the five boroughs of New York City. Each film taking one of Shakespeare's sonnets and interpreting it for the screen. But as the end of that journey (130 films released, so far) nears, the conversation has expanded to include two new series of films: The Sonnet Project US and The Sonnet Project International.

The films feature performances from acclaimed actors such as Joanna Gleason, Susan Heyward, Lynn Cohen, Billy Magnussen, Isaiah Johnston, and Hannah Elless. The event will also feature a panel consisting of several of the Sonnet Project filmmakers including Adam Bradley, Karla Braithwaite, Alex Megaro, Jessica Baumann, Harry Taylor, Lucas Rainey, Pat Dwyer, moderated by NYSX artistic director, executive producer and creator of the Sonnet Project Ross Williams.

Part lecture, part performance, and part town hall conversation, Freestyle Labs address the issues facing our world through a Shakespearean lens. All Freestyle Labs begin with an exhibition performance and conclude with a vibrant Town Hall conversation with the artists and audience.


OTHER PEOPLE'S MONEY


CINEMA BUILD KSA FORUM in partnership with GCAM, the Forum's Government Supporting Partner, which recently took place at the Four Seasons Hotel in Riyagh, UAE was attended by over 300 potential market- stakeholders, entertainment, construction, technology experts from 30 countries in addition to more than 25 exhibitors for a two day trade show.

With the size of the population of more than 32 million, majority of whom are under the age of 30, Saudis spend about $30 billion annually on tourism and entertainment outside the Kingdom, which makes the argument to allow movie theatres open a domestic market expected to be worth up to $1bn in annual box-office sales by 2030.

The General Authority for Entertainment has indicated that the entertainment sector needs 267 billion SAR ($71bn) to build suitable infrastructure for entertainment across the UAE, with expected investments in the entertainment sector to reach 18 billion SAR ($4.8bn) annually, according to a 2018 report from Flanders Investment and Trade.

Vox Cinemas, a subsidiary of UAE based Majid Al Futtaim, was awarded the second license to open cinemas in the Kingdom. The company also plans to invest 2 billion SAR ($533,280,000.00) in 600 screens over the next five years, which Saudi officials estimate will bring the total number of cinemas in operation to as high as 350 and the number of screens to 2500 by 2030.



E-Book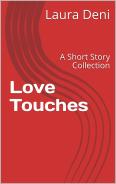 Soft back Book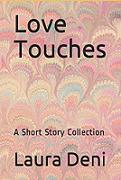 FOR THE FIRST TIME IN HISTORY the world's most prestigious mathematics prize is being awarded to a woman. This year, the Abel Prize is being awarded to 76-year-old Karen Keskulla Uhlenbeck "for her pioneering achievements in geometric partial differential equations, gauge theory and integrable systems, and for the fundamental impact of her work on analysis, geometry and mathematical physics."

The award – which has been called the "Nobel" prize of mathematics – also comes with a $700,000 prize. The king of Norway will be presenting the prize to Uhlenbeck in Oslo in May.

According to the Norwegian Academy of Science and Letters, they decided to award the prize to Uhlenbeck for her decades of scientific contributions, the most notable of which includes her work with predictive mathematics inspired by soap bubbles.

THE 2019 PULITZER WINNERS have been announced. Congrats to all. Of Special interest to Broadway To Vegas readers:

MUSIC p r i s m with music by Ellen Reid. Libretto by Roxie Perkins. Direction James Darrah. Music direction Julian Wachner. p r i s m was developed by Beth Morrison Projects, Lyric Theatre @Illinois, Arizona State University School of Music, Trinity Wall Street, and PROTOTYPE Festival. Commissioned by Beth Morrison Projects, David & Kiki Gindler, Linda & Stuart Nelson, and Elizabeth & Justus Schlichting, with additional commissioning support from Nancy and Barry Sanders, OPERA America's Opera Grants for Female Composers, funded by the Virginia B. Toulmin Foundation and The Opera Fund: Repertoire Development; The Francis Goelet Charitable Lead Trust; and National Endowment for the Arts – Art Works.

FICTION: Richard Powers, for his novel The Overstory.

BIOGRAPHY: The New Negro: The Life of Alain Locke, by Jeffrey C. Stewart.

POETRY: Be With, by Forrest Gander.

GENERAL NONFICTION: Amity and Prosperity: One Family and the Fracturing of America, by Eliza Griswold.

DRAMA: Fairview, by Jackie Sibblies Drury. The play, which was co-commissioned by Soho Rep and Berkeley Rep and premiered in 2018, also won the Susan Smith Blackburn prize earlier this year. It will return to the stage in New York in June and is due to open at the Young Vic in London later this year

SPECIAL CITATION: This year, the Pulitzer Prize Board also awarded a special citation honoring the career and work of singer, songwriter, pianist and civil rights activist Aretha Franklin, who died August 16. Artists such as Bob Dylan and Hank Williams have been honored with similar awards in the past. Franklin became first individual woman to earn the honor since it was first awarded in 1930.



E-Book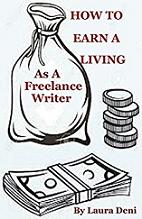 Soft back Book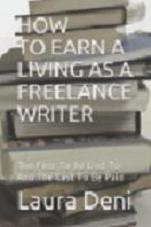 This is not your typical, totally boring textbook.

In the pages of How To Earn A Living As A Freelance Writer (the first to be lied to and the last to be paid) you'll find sex, celebrities, violence, threats, unethical editors, scummy managers and lawyers, treacherous press agents, sex discrimination; as well as a how-to for earning money by writing down words.






MAN OF LA MANCHA inspired by Miguel de Cervantes's masterpiece Don Quixote. Book by Dale Wasserman. Lyrics by Joe Darian. Music by Mitch Leigh and Michael Linnit.

Directed by Lonny Price.

David White will conduct the ENO's 35 piece orchestra.

Emmy Award winner Kelsey Grammer leads the cast in the dual role of Miguel de Cervantes and Don Quixote. Nicholas Lyndhurst will play the Innkeeper and the Captain. Cassidy Jansen will share the role of Aldonza and Dulcinea with opera singer Danielle de Niese, with De Niese playing the role in 33 performances and Janson in 17.

The semi-stage production is produced by Michael Linnit and Michael Grade. The score includes The Impossible Dream; I Really Like Him and Little Bird.

. In a 16th century dungeon Cervantes and his man servant await trial from the Spanish Inquisition. In his possession he has a trunk, carrying an unfinished novel Don Quixote. As prisoners attempt to steal his possessions, Cervantes embarks on acting out his novel as his defense, transforming himself into Alonso Quijano.

Quijano, deluded, believes he is a knight errant, renames himself Don Quixote de la Mancha, and sets off on a fantastical quest with his man servant Sancho Panza. Chivalry abounds in this classic tale of knighthood, love, loyalty and adventure.

Set during the Spanish Inquisition, the 1965 musical won five Tony Awards on Broadway and was last staged in the West End in 1968.

Performances April 26 - June 8 at the London Coliseum, West End, London.

CRIMES OF THE HEART by Beth Henley.

Directed by Theresa Rebeck.

Winner of the 1981 Pulitzer Prize and New York Drama Critics Circle Award, Beth Henley's first play brings you to the Mississippi home of the Magrath sisters. Babe has just shot her husband because she didn't like his looks. This brings middle sister Meg back to town from Los Angeles, where she is unsuccessfully pursuing a music career. And poor Lenny, everyone has forgotten her birthday! Warm-hearted, irreverent, and imaginative, Crimes of the Heart teems with humanity as the sisters forgive the past, face the present, and embrace the future.

The cast includes: Dylan Godwin as Barnette Lloyd - Chelsea Ryan McCurdy as Meg Magrath - Melissa Pritchett as Lenny Magrath - Skyler Sinclair as Babe Botrelle - Jay Sullivan as Doc Porter - Bree Welch as Chick Boyle.

Creative Team includes: Alexander Dodge Scenic Design - Tilly Grimes Costume Design - Philip S. Rosenberg Lighting Design - M.L. Dogg Sound Design - Sophia Watt Assistant Director - Rebecca R.D. Hamlin Stage Manager - Emily Bohannan Assistant Stage Manager.

At the Hubbard Theatre of the Alley in Houston, Texas through May 5, 2019.
Events associated with the author include on April 28: Alley InContext with Playwright Beth Henley and on April 29: Alley All New reading Series: Beth Henley's Lightning.

THE MUSIC MAN Book, Music and Lyrics by Meredith Willson Story by Meredith Willson and Franklin Lacey.

Directed by Jenn Thompson.

Music Direction by Michael O'Flaherty.

Choreographed by Patricia Wilcox.

You got trouble in River City! Professor Harold Hill and Marian the Librarian have marched into their first appearance at Goodspeed in a rousing new production of this great American musical. When huckster Harold promises to save an Iowa town by selling the dream of a boys' band, Marian is the only skeptic. Until she starts to buy his pitch. Fall in love all over again with 76 Trombones; The Wells Fargo Wagon; Trouble and Till There Was You.

Starring Ellie Fishman as Marian Paroo and Ed Watts as Harold Hill. Featuring D.C. Anderson as Mayor Shinn - Stephanie Pope (Eulalie Mackecknie Shinn) - Amelia White (Mrs. Paroo) - Juson J. Williams (Marcellus Washburn) - Iman BarnesI (Ensemble) - Kelly Berman (Maud Dunlop, Ensemble, Dance Captain) - Cicily Denise Daniels (Ethel Toffelmier, Ensemble) - Shawn Alynda Fisher (Zaneeta Shinn, Ensemble) - Damien Galvez (Ensemble) - Jeff Gurner (Quartet, Ensemble) MaddieKay Harris(Gracie Shinn, Ensemble) - Victoria Huston-Elem (Mrs. Squire, Ensemble) - Elise Kowalick (Ensemble) - Danny Lindgren (Charlie Cowell, Constable Locke, Ensemble) - C. Mingo Long. (Quartet, Ensemble) - Matthew Boyd Moore (Ensemble) - Kent Overshown (Quartet, Ensemble) - Raynor Rubel (Tommy Djilas, Ensemble) - Benjamin Sears (Ensemble) - Branch Woodman (Quartet, Ensemble) - Katie Wylie (Amaryllis, Ensemble) - Elizabeth Brady (Swing) - Ryan Lambert(Swing).

The creatives include: Scenic Design by Paul Tate dePoo III. Costume Design by David Toser. Lighting Design by Paul Miller. Sound Design by Jay Hilton. Orchestrations by Dan DeLange. Wig & Hair Design by Mark Adam Rampmeyer. Casting by Paul Hardt, Stewart/Whitley Casting.

A glorious classic which has been extended until June 20 at The Goodspeed in East Haddam, CT.

Wednesday, April 24, is Meet the Orchestra night. Free. Join members of Goodspeed's orchestra for a special post-show discussion led by conductor Wade Russo.


WHO'S WHERE




SARAH McLACHLAN performs April 24, 26, and 27 at Wynn Las Vegas.

JOE BONAMASSA blues rock guitarist performs Wednesday, April 24-Friday, April 26 at Royal Albert Hall in London.

AZIZ ANSARI writer, producer, director, and comedian, on stage Wednesday, April 24 at the UB Center for the Arts in Buffalo, New York.

GUILDHALL JAZZ ORCHESTRA pays tribute to the great Duke Ellington. in the first night of the Guildhall School's summer 2019 Jazz Festival on April 30, 2019. Martin Hathaway directs the Guildhall Jazz Orchestra in a celebratory program of the music of Duke Ellington, transcribed and arranged by Michael Kilpatrick. At the Barbican in London.

ERIC CHURCH has a two nighter April 26-27 at the Bon Secours Wellness Arena in Greenville, SC.

54 SINGS ALANIS MORISSETTE will be celebrated in story and song at Feinstein's/54 Below in New York City on Wednesday, April 24th, in a concert directed by Robert W. Schneider. Hosted by Robbie Rozelle, the concert will be music directed by Luke Williams. Scheduled to appear are La Donna Burns, Kristy Cates, Jennifer DiNoia, Molly Griggs, F. Michael Haynie, Jessica Hendy, Diana Huey, Amy Jo Jackson, Sarah Lynn Marion, Ezra Menas, Jenna Najjar, Brian Charles Rooney, Nathan Salstone, Lianah Sta. Ana, and Donna Vivino. The ensemble will feature Roger Dawley, Gregory Driscoll, Asher Dubin, Atiauna Grant, Samantha Littleford, and Joe Veale.


FINAL OVATION


GEORGIA ENGEL 5 time Emmy nominated actress died April 12, 2019 in New Jersey. She was 70.

Best known for her work on sitcoms as The Mary Tyler Moore Show and Everybody Loves Raymond, at the age of 21 was in the original Broadway production of Hello, Dolly! playing millinery shop assistant Minnie Fay, sharing the stage with both Phyllis Diller and Ethel Merman in the title role.

Other credits include John Guare's The House of Blue Leaves; My One and Only; The Boys From Syracuse and as Mrs. Tottendale in 2006's The Drowsy Chaperone.

Engel was such a talented actress that she even brought dignity, class and sensitivity to her role in the questionable 1992 mounting of the drama Cut The Ribbons. Most recently she starred as a kindergarten teacher with a gangsta rap alter ego in Half Time at the Paper Mill Playhouse.

She is survived by sisters Robin Engel and Penny Lusk.

LES REED a British songwriter who wrote chart toppers for Tom Jones, Elvis Presley and Shirley Bassey died April 15, 2019. He was 83.

Reed composed music for stage musical productions including ,I.The Magic Show (1974), American Heroes and And Then I Wrote. In 1994, Reed produced an album for Max Bygraves to raise money for the Lest We Forget Association. He was honored as a Freeman of the City of London for his contributions to the music industry. Following this in 1998, Reed was awarded an Order of the British Empire in the Queen's Birthday Honours. Reed co-composed, with Roger Cook, the score for the 2004 musical Beautiful and Damned, based on the lives of Zelda and F. Scott Fitzgerald.

ALAN WASSER longtime Broadway general manager for over 60 productions died in New York City pn April 14, 2019 from complications from Parkinson's disease, He was 70. w His frequent collaborator was Cameron Mackintosh – and the company Wasser co-founded in 2012, Foresight Theatrical LLC, which is currently represented on Broadway today with The Prom and King Kong. Foresight's upcoming productions include Moulin Rouge!

Other productions include: The Lifespan of a Fact; Escape to Margaritaville; The Band's Visit; Charlie and the Chocolate Factory; Tuck Everlasting; American Psycho, Misery; Disgraced; and Kinky Boots. His group was also the general manager for the Tony Awards from 2009 to 2012.

Mackintosh, in a press statement, said, "Alan's contribution to the re-birth of the American musical theatre in the 1980's and 1990's was enormous, helping turn it into a hugely successful industry where before there had only been occasional big hits. Through Alan's organizational efforts and inspiration, he brought to my attention numerous exciting new talents who had not yet worked on Broadway. Through their tremendous efforts these huge shows criss-crossed America on a similar scale to their original Broadway splendor—something that had not happened before on this scale. Alan was also the nicest and fairest man you could ever work with. We all adored him and will carry his memory forever."

In 1986, Alan Wasser Associates general managed all of Cameron Mackintosh's Broadway and U.S. touring productions, including Les Misérables; The Phantom of the Opera; Miss Saigon; Five Guys Named Moe; Swan Lake; Putting It Together; Martin Guerre; and Oklahoma! Wasser's long-time collaboration with Mackintosh is credited with revolutionizing the way shows were produced and managed both on Broadway and on tour across North America.

Wasser earned his bachelor's degree at Columbia University, majoring in music composition and orchestration. He got his start in the professional theatre at Circle in the Square, first as subscription manager and later as assistant managing director. The former general manager of the Kennedy Center was a 2017 Tony Honors recipient.

Wasser is survived by two sisters Rosalie Quinn (Paul) of Bellevue, Washington, and Carolyn Ikuta of Yorba Linda, California, and nine nieces and nephews.


















Next Column: April 28, 2019
Copyright: April 21, 2019 All Rights Reserved. Reviews, Interviews, Commentary, Photographs or Graphics from any Broadway To Vegas (TM) columns may not be published, broadcast, rewritten, utilized as leads, or used in any manner without permission, compensation and/or credit.
Link to Main Page
---
Laura Deni



For the snail mail address, please E-mail your request.
CLICK HERE FOR COMMENT SECTION