! >
Broadway To Vegas
  SHOW REVIEWS     CELEBRITY INTERVIEWS     GOSSIP     NEWS 


| | |
| --- | --- |
| | |
Copyright: April 21, 2002
By: Laura Deni
CLICK HERE FOR COMMENT SECTION

THE BOY FROM OZ

Liza Minnelli's bridegroom deserted her on their wedding night to rendezvous with his male lover. Regardless, Liza always maintained they had great sex.

Now Peter Allen's story is being readied for Broadway. Ruthie Henshall, who has announced she will appear in the Roundabout Theatre Company's upcoming revue, The Look of Love, The Songs of Burt Bacharach and Hal David, is set to play the role of Minnelli, opposite Hugh Jackman in the NYC workshop of the new musical about Liza's first husband, titled The Boy From Oz.


Peter Allen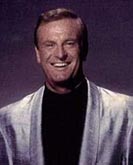 The production has been a hit in Allen's native Australia and for several years producers have wanted to bring it to the Great White Way.

At the age of eighteen Liza met Allen after she and her mother, Judy Garland, had performed together at the London Palladium. Peter has been appearing with his brother at the Hong Kong Hilton in the spring of 1964 when Garland saw them and was impressed. She got them bookings and brought them to London, where they were her opening act.

Liza Minnelli and Judy Garland Live at the London Palladium November 8, 1964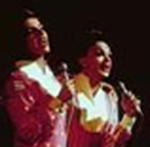 She immediately decided that Peter and Liza belonged together.

At Trader Vic's in the London Hilton on November 26, 1964, less than three weeks after they met, they became engaged - a situation orchestrated by her mother.

Liza and Peter set up housekeeping in New York City. Under the same roof they lived separate lives in their three-room, eighteenth floor apartment on Easy 57th Street. There were navy blue walls, Lucite sculptures, a baby grand piano and good paintings. Many of those objects were still part of Liza's living arrangements when she wed her current husband, who reportedly not realizing the value, attempted to trash the Lucite.



Liza Minnelli and Peter Allen on their wedding day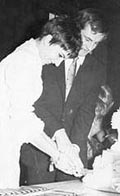 After a two year engagement, shortly before Liza's 21st birthday, on March 3, 1967, Liza and Peter were married. Liza wore a lace wedding gown for the ceremony. Afterwards, for the reception at the Central Park West home of her business manager, Marty Bregman, Liza appeared in an Elizabethan-style gown designed especially for her by her father, Vincente Minnelli.

People say the bridegroom disappeared on their wedding night to be with his gay lover.

Liza swears she didn't know he was gay.

"I married Peter Allen and he didn't tell me he was gay. Everybody knew it but me! And I didn't find out until I found out - Let me put it this way. I'll never surprise anybody coming home again as long as I live. I call first," she had explained to The Advocate, regarding walking in on Peter and his lover.

Never-the-less Liza had maintained that; "We had a wonderful sex life."

While he may have been more brother than husband to Liza, many called him the family backbone. Judy adored him and depended upon him to pay her bills, answer fan letters and help her children - Liza's half sister and brother, Lorna, then fifteen and Joey, then thirteen - cope with family travails generally created by Judy's increasingly violent drug induced problems.

On June 22, 1969 it was Peter that answered the phone when the call came informing them that Judy Garland was dead.

So was the marriage.

With Judy Garland gone, the marriage between Peter and Liza seemed lacking of purpose.

Their careers were in opposite directions. Liza was heading towards superstardom and Peter, a genius of a talent, was still struggling.

At age 19 Liza had become the youngest actress to win a Tony award for a musical role for her performance in Flora the Red Menace, although the show was a flop running for only 87 shows.

Liza and Peter separated during the 1969 holiday season. In April, 1970 they agreed to a formal separation. They finally divorced July 24, 1974 - remaining friends.

"He' a wonderful, wonderful man. Very talented. We're still really good friends," declared Liza.

In the 1970's, Allen gained recognition both as a composer of romantic ballads such as I Honestly Love You and Don't Cry Out Loud and - contrasting - a flamboyant stage performer who was called a cross between Liberace and P.T. Barnum.

Allen eventually recorded 11 albums, including Continental American, Taught by Experts, It Is Time for Peter Allen, I Could Have Been A Sailor and Bi-Coastal.

As a songwriter, Allen wrote for singers such as Rita Coolidge, Melissa Manchester, Olivia Newton-John, and Frank Sinatra.

He also kept pursuing his Broadway dream - Legs Diamond. It took him over four years but Allen finally opened it on December 26, 1988. Costarring with Allen were Julie Wilson, Randall Edwards, and Joe Silver. It ran only 64 performances, completely failing to impress either the critics or the public. But, a cast album was recorded and released on RCA.

In 1981, Allen headlined at Radio City Music Hall, where he danced with the Rockettes and rode a camel during I Go to Rio.

When Carole Bayer Sager sat down with Burt Bacharach and Christopher Cross to write a theme song for the film comedy Arthur, she recalled a phrase from an unrecorded song she and Allen had written years earlier: "When you get caught between the moon and New York City." It became part of the chorus of Arthur's Theme (Best That You Can Do), which topped the charts for Cross in the fall of 1981 and won Allen and his fellow songwriters the Academy Award for best song.

While performing in Las Vegas he explained to me that the line - When you get caught between the moon and New York City - had come to him after he had been in a plane attempting to land in New York City and forced to circle for 45 minutes.

He closed his segment of the show with Quiet, Please, There's a Lady On Stage, written not for Liza, but as a tribute to Garland.

Switching to Arista Records, he released Not the Boy Next Door in early 1983; it made the charts and spawned three adult contemporary chart entries, You Haven't Heard the Last of Me, Once Before I Go, and You and Me (We Wanted It All).

Allen continued to tour extensively, returning to New York for a run of sold-out performances at Carnegie Hall in September 1984 that were recorded for the 1985 Arista album Captured Live at Carnegie Hall.

Allen's final album, Making Every Moment Count was released in 1990 by RCA.

He died of complications from AIDS in 1992.





Broadway To Vegas is supported through advertising and donations. Priority consideration is given to interview suggestions, news, press releases, etc from paid supporters. However, no paid supporters control, alter, edit, or in any way manipulate the content of this site. Your donation is appreciated. We accept PAYPAL. Thank you for your interest.


WOODY ALLEN TO ATTEND CANNES FILM FESTIVAL; UP AND COMERS AIM FOR PEACE
Woody Allen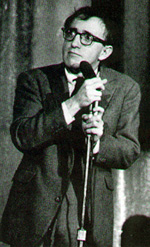 Wood Allen is getting downright social. He almost stole the show at the Oscars and now the clarinet blowing film maker is - for the very first time in his career - coming in person to the famed Cannes Film Festival. He'll present Hollywood Ending, his latest film, that will open the Festival de Cannes on May 15th.

The film drama, whose characters are played by Woody Allen, Tea Leoni, Debra Messing, George Hamilton, Mark Rydell, and Treat Williams will be presented out of competition. It will launch the 55th edition under the auspices of humor and fun.

"The French people have been so supportive and so nice to me over the years" Woody Allen said, "and I've been invited so many times that I wanted to give something back to them by coming particularly since I felt this film was so right for the occasion," Allen stated in a press release.

Also attending the Cannes Film Festival are individuals selected as part of the Cannes Film Festival's Internship Program - talented, aspiring film makers.

Koren Young and Jodie Lea Higby, currently attending California State University, Northridge, are Santa Clarita natives working together to promote the increasingly important message of peace and tolerance. Their latest project, Camp Pacific, will premiere this evening at the International Family Film Festival in Santa Clarita. Mayor Frank Ferry, along with several other city representatives are slated to attend. The short will also be screened at the American Pavilion at the Cannes Film Festival in France next month.

"Many of the films that students majoring in film make are heavy on violence or casual sex. The Family Film Festival won't accept those types of films," said Young who spoke with Broadway To Vegas about filmmaking and interning at the Cannes Film Festival.

"After a year of hard work, it's nice to finally be able to show the film," said Young, producer of the film. Higby, the film's script writer and director added, "We hope that the audience leaves the film with a brighter outlook on peace everywhere."

Young, a 21-year-old young man with an unusual first name, has a level head full of creative ideas. In Hebrew his name, Koren, means Ray of Light. It's deliberately spelled with the letter K, in honor of his late, paternal great grandmother, a Scottish lassie named Katie.

The son of Naomi and Dennis Young, a CPA, the young film maker, who wants a career as a film producer, teamed up with a childhood friend and longtime schoolchum Jodie Higby, daughter of Sharon Heitt and James Higby.

To prepare for this film project Young spent a over a year keeping a meticulous scrapbook documenting news reports on daily happenings in Israel. Inspired by a real life New Jersey camp attended by Arab and Israel students, Young developed a fictional story about an Arab and an Israeli boy brought together at what Young labeled Camp Pacific in California. Young then had Higby take his story and write the script. That was given the once over by Professors Nate Thomas, Jared Rappaport and John Stahl.

The film's goal is to promote peace by showing the potential tragedies of misunderstanding. A Jewish teenager from Israel, David, is sent to a summer camp in California. The camp's goal is to unite children of Middle Eastern families in order to promote peace and tolerance between them. David meets Amir, an Arab teen whom he dislikes merely because his surroundings conditioned him to. Eventually they become friends through several camp activities, much to the dismay of their two best friends."



Director Jodie Higby, Cinematographer Adam Robinson, Sound Director Mignion Doby, and Producer Koren Young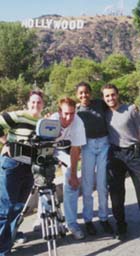 Pre-production on the film began last April and the entire process took about one year. Nothing gets made without money. Getting the bankroll is the job of the producer. Young began fundraising last July. On July 12 he found a tax attorney willing to work pro bono on this project.

Then he mailed out 161 packets to prospective contributors.

"The film should have cost $35,000 to make. We did it for $12,000 because of assistance from several industry-related companies such as Panavision, Chapman/Leonard, FotoKem, Kodak, Universal Studios Set Lighting and Grip department, and U-Haul," Young related.

"Fifty actors were selected to audition from over 200 headshot applications. From the auditions we selected twelve cast members," explained Young.

Noam Milner was cast as David, and Santiago Rizzo as Ami. Others making the cut were Maleika Faiver, Darren Robertson, Ethan Drake, Billy Minogue, Jenna Hastings, Helen Yeoman, Danica DeCosto, Onika Fiori and Chris Alejandre.

On September 8 Shayna Roseman was selected to be the film editor and Mignion Doby was tabbed as the sound director. Young and his associates also slated September 23 as the night to hold a fund raiser. On September 9 shooting locations were obtained.

Then September 11 happened.

The question became - do we do this film or not? Without hesitation it was decided that this film needed to be produced.

The filming was completed on October 15, with post production work wrapped March 5.

Young and Higby then applied - and were accepted - for the three-week Cannes Internship Program. They leave May 8.

The unpaid internship program requires them to work seven days a week, six hours a day.

For those who think it would be way cool to be an intern at the prestigious Cannes Film Festival - no doubt it is. But, officials are after only serious film students.

The application process involved writing essay answers to questions regarding motives and aspirations. "Anybody who said they wanted to do this to hang out with the stars, get autographs or party would have their application thrown out," stressed Young.

Their first day will involve orientation and job assignment. "They try to match jobs to your abilities," said Young adding "but that can mean anything from running errands to waiting on tables."



BIRTHDAY PARTIES
LIONEL HAMPTON was born April 20, 1908 in Louisville, Kentucky. As a composer and arranger, Hampton wrote more than 200 works, including the jazz standards Flying Home, Evil Gal Blues, and Midnight Sun. He also composed the major symphonic work, King David Suite.

As a statesman, he was asked by President Eisenhower to serve as a goodwill ambassador for the United States. President George Bush appointed him to the Board of the Kennedy Center, and President Clinton awarded him the National Medal of the Arts



Lionel Hampton with Presidents George and George W. Bush
As a businessman, he established two record labels, his own publishing company, and he founded the Lionel Hampton Development Corporation to build low-income housing in inner cities.

The Lionel Hampton School of Music at the University of Idaho is the only music school named for a jazz musician. Hampton celebrated his 94 birthday in Washington, D.C at a luncheon sponsored by U.S. Congressman John Conyers of Michigan and the University of Idaho. Both the U.S. House of Representatives and the U.S. Senate passed resolutions honoring Hampton's 94th birthday.

The party continues at Birdland in New York City on April 24. His entire orchestra and singer Carla Cook will be on hand with guest artists to honor this fabulous talent.

THE SHAKESPEARE SOCIETY OF NEW YORK CITY will host actors Philip Bosco, Blair Brown and Richard Easton in an April 22 reading of Shakespeare's King Lear. The date is the eve of the Bard's 438th birthday.

Bosco will play the tormented king to Easton's equally deluded Gloucester. Lear's daughters will be played by Brown (Goneril), Laila Robins (Regan) and Jessica Hecht (Cordelia). Michael Cumpsty and Boris McGiver play Edgar and Edmund, respectively, and Mark Linn-Baker joins Bosco on the heath as the Fool. Also in the cast are Mark Nelson and Philip Goodwin.

Brian Kulick, the artistic director of the society, will direct the event, in which the actors hold their scripts in hand.

The event is at the Kaye Playhouse NYC.

BILLIE HOLLIDAY

Billie Holliday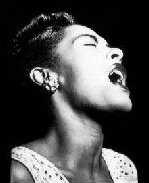 will have her natal day celebrated April 22 at Carnegie Hall by several Broadway and pop artists. Tony winner Alan Cumming, Rebecca Luker, Tom Wopat, Oleta Adams and Jimmy Scott are slated to perform songs associated with the legendary jazz performer in an evening titled Broadway Artists Sing the Songs of Billie Holiday. The Terence Blanchard Quintet will also be center stage.

Holiday was born in 1915 and became one of the first and greatest jazz singers of all time. In the 1930's "Lady Day" became a sensation at New York's jazz club, The Apollo. Some of her signature tunes include Fine and Mellow, God Bless the Child, Good Morning Heartache and her biggest hit, Lover Man. Her addiction to heroin and opium as well as excessive drinking sparked a rapid decline in health, and the multitalented but troubled Holiday died tragically in July 1959.


SWEET CHARITY



MICHAEL JACKSON AND TONY BENNETT will headline a New York concert spearheading the Democratic National Committee's (DNC) "Every Vote Counts" national voter registration drive. The April 24 event at the historic Apollo Theatre in Harlem will also boast performances by k.d. lang, Ruben Blades, and BeBe Winans. Comedian Chris Tucker and actress Cicely Tyson will co-host A Night at the Apollo, which will also feature an appearance by former President Bill Clinton.

BROADWAY CARES/EQUITY FIGHTS AIDS 16th ANNUAL EASTER BONNET COMPETITION reputed to be the hottest ticket on Broadway, features a parade of bonnets hand-crafted by the casts and crews of dozens of participating productions. This annual spring event is the culmination of an intensive six-week fundraising effort by the companies of Broadway, Off-Broadway and national touring productions. Curtain speeches, sales of autographed posters and programs, auctions and cabaret performances which frequently spoof themselves and other shows are just some of the activities. Slated to participate are Brad Oscar, Kathleen Turner, Molly Ringwald, Tony Roberts, Brian d'Arcy James, Mary Testa, Louise Pitre, Judy Kaye, Karen Mason, and that dynamite showgirl/dancer 98-year-old Doris Eaton Travis. April 22-23 at the New Amsterdam Theatre.

BLACK 2 BROADWAY billed as a celebration of "the contributions of African-American Performers in Theatre," features a live band, background vocalists, dance and music performances. In addition, to cultivate future artists, the variety show formatted presentation will spotlight rising stars from theatre as well as music and dance. Headliners include Melba Moore, the first African-American to take the leading roles in the musicals Hair and Les Miserables and received a Tony Award for her role in Perlie. Also appearing will be Tony nominated B.J. Crosby, Victor Trent Cook, the 1998 $100,000 Star Search winner as male vocalist. Cook is currently starring in touring hit, Three Mo' Tenors and singer/actress Marva Hicks. April 22 at the B.B. King Blues Club in NYC.


JERRY LEWIS receives the Variety Club's International Humanitarian of the Year award from Monty Hall April 27 during the 75th annual Variety Intl. Convention in Palm Springs, CA.

THE NATIONAL MEDAL OF ARTS is bestowed upon Kirk Douglas, Mike Nichols, Johnny Cash, Yo-Yo Ma, Judith Jamison and the Alvin Ailey Dance Foundation tomorrow at Constitution Hall, in Washington, D.C.

The event is followed by a presidential reception at the White House.



THE FIREBUGS by Max Frisch presented by The Colleagues Theatre Company will star Laurence Luckinbill. Roy B. Steinberg will direct the timely dark comedy at The Neighborhood Playhouse June 4-29.

The production will also features Ben Hammer, Ruby Holbrook and Don Amendolia with Shannon Emerick, Michael Lipton and Emily Mitchell. The cast includes Drew Donovan, Hollis Huston, Robert Ieraldi, Peter James Kelsch, Nate Lombardi and John Mishalski as The Firemen.

Tony nominated Laurence Luckinbill ( See Broadway To Vegas column of March 1, 1999 ) plays Gottlieb Biedermann. He is the founder of the New York Actors Theatre and a charter member of the Great Lakes Shakespeare Festival, Lincoln Center Repertory Company and ACT.

The Firebugs was first produced in 1958 in Zurich, and then presented at London's Royal Court Theatre in 1961 under Lindsay Anderson's direction. It was also presented off-Broadway and at the Guthrie Theatre in Minneapolis. It is a striking and timely dark comedy about how evil can be denied and ignored until it is too late. A chorus of firemen bear witness to the trusting yet foolish actions of the prosperous Gottlieb Biedermann as he invites two strangers into his home. He is a living example of Chico Marx's classic inquiry: "Who are you going to believe---me or your own eyes?"

The lighting designer is Jeff Fontaine, with sound design by David Gilman, sets by Cyrus E. Newitt and costumes by Karin Beatty. Production Stage Manager is Sharika Niles, the first graduate of CTC's internship program.

The Colleagues Theatre Company was founded in 1996 by Catherine Wolf to commission and produce plays that celebrate the richness of the mature life experience; to provide performance opportunities for seasoned artists, and to create a two-year technical training program in theatrical craftsmanship for gifted high school graduates from underserved communities CTC's first production this season was Jean Giraudoux' comic fable The Madwoman of Chaillot starring Kim Hunter, Anne Jackson and Alvin Epstein. In keeping with the mission of The Colleagues Theatre Company, eight of the 13 cast members in The Firebugs are over the age of 50.

The Firebugs June 4-29 at The Neighborhood Playhouse, NYC. Opening Night, Thursday, June 6th, will be a benefit for the company with all seats $100 which includes a gala reception following the performance.

THE ODD COUPLE female version of Neil Simon's comedy, starring Barbara Eden and Rita McKenzie. at the Macomb Center in Clinton Township, Michigan April 25-27.

A MAN FOR ALL SEASONS by Robert Bolt and directed by Michael Ross, takes place during the reign of Henry VIII during which Henry tries desperately to obtain from the Pope a divorce from Catherine of Aragon so he can marry Ann Boleyn. Huntington Beach Playhouse,CA April 26 through May 12.

PASSION Music and lyrics by Stephen Sondheim, Book by James Lapine Based on the film, Passione D'Amore directed by Errole Scola. Speak Easy Stage Company in Boston. April 26 - May 18.

THE MYSTERY OF CHARLES DICKENS by Peter Ackroyd starring Simon Callow, who portrays the author and forty-nine of his characters in a one-man show, opens on April 24 at the Belasco Theatre in NYC.

CABARET

Polly Bergen as Fraulein Schneider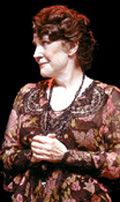 is worth seeing again. If the wonderful Kander and Ebb tunes aren't enough to get you to buy a ticket, consider the cast. While Cabaret has always has a wonderful lineup - On April 29 virtually a new cast of saloon residents take over the bar stools and stage including the Tony Award winning Hal Linden as Herr Schultz opposite the Fraulein Schneider of Polly Bergen.

That pairing alone is worth the price of a ticket.

As Schultz, Linden will duet with Bergen on It Couldn't Please Me More and Married. The Emmy Award winning Bergen has enjoyed an illustrious career spanning five decades of appearances on stage, screen, television, radio, and recordings. She received Tony and Drama desk nominations for her performance in last season's production of Follies. With over 300 film and television credits she most recently starred in Eve Ensler's The Vagina Monologues at the Westside Theatre.

The wonderfully talented Jane Leeves, John Stamos and Rick Holmes will also join the company as, respectively, Sally Bowles, the Emcee and Clifford Bradshaw. Directed by Sam Mendes.

This highly provocative and gritty production, not recommended for children, is at Studio 54 in NYC.




WHO'S WHERE


BERNADETTE PETERS April 26 at the Hilbert Circle in Indianapolis, IN.

JIMMY BUFFETT throws a party on stage Tuesday at the C.W. Mitchell Pavilion in The Woodlands, Texas. Then they move it on down the road for a performance Thursday at the Smirnoff Music Center in Dallas.

ALAN JACKSON performs April 25 in Albuquerque, New Mexico at the Isleta Gaming Palace. On Friday he sings in Primm, Nevada at the Star Of The Desert Arena. Then on Saturday he can be located in Queen Creek, Arizona at Country Thunder USA.

PAUL McCARTNEY continues his road show on April 23-24 in Washington, DC at the MCI Center. Friday and Saturday finds the superstar performing in New York City at Madison Square Garden.

USHER center stage April 24 in Denver, CO at the Pepsi Center. On Friday the spotlight will shine in Albuquerque, New Mexico at the Journal Pavilion. Usher rounds out the week Saturday in Phoenix, Arizona at the Cricket Pavilion. Next Sunday the show moves to Las Vegas at the Mandalay Bay Resort & Casino.

RICHARD SKIPPER as Carol Channing, Hunterdon Playhouse in Hampton, New Jersey tonight, and Tavern On The Green in NYC on April 23rd.

MICHAEL FEINSTEIN entertaining next Saturday Stockton Performing Arts Center in Pomona, New Jersey.

SMOTHERS BROTHERS entertain Monday and Tuesday at Casino Arizona in Scottsdale, Arizona. On Friday the guys will be trying to decide which one mother liked best at Casino Magic in Bay St Louis, MS.

LARRY GATLIN center stage Thursday at the Cerritos Center in Cerritos, California.

ENGELBERT HUMPERDINCK singing Saturday at the Mountaineer Race Track and Resort in Chester, West Virginia.

DIANNE REEVES in a two nighter Saturday and Sunday at the Opera House in Gravehurst, ON.

WAYNE SHORTER center stage Monday at the Civic Auditorium in Santa Cruz, California.

MAUREEN McGOVERN is on a wonderful adventure, performing as part of the Crystal Symphony World Cruise. She is on the Hawaii, San Francisco, Los Angeles leg of the jaunt docking April 27.

DAVID COPPERFIELD doing the hocus pocus routine Friday through Sunday at the State Theatre in Minneapolis.

BILL COSBY telling funny stories next Sunday at Mystic Lake Casino at Prior Lake, Minn.

HARRY CONNICK, JR in a Salt Lake City, Utah concert at the Delta Center on Thursday, April 25.

LORRIE MORGAN in the spotlight Saturday at the Mohegan Sun Casino in Uncasville, CT.

KENNY ROGERS performs Saturday at the Count Basie Theatre in Red Bank, N.J.

JOHN PIZZARELLI on stage next Sunday Robert Schonhom Arts Center in Peapack, New Jersey.

JARS OF CLAY center stage April 26 in North Little Rock, Arkansas at the Alltel Arena. On April 27 they perform in Oklahoma City, Oklahoma at Six Flags Frontier City Theme Park.

N SYNC performing April 22 in Pittsburgh, at the Mellon Arena. On Tuesday the boys are in Columbus, Ohio at the Nationwide Arena. Thursday finds the guys in Memphis, Tennessee at The Pyramid. On Saturday they are center stage in Fort Lauderdale, Florida at the National Car Rental Center and on Sunday they do it again in Orlando, Florida at the TD Waterhouse Centre.

ROBIN WILLIAMS Saturday, April 27 in Las Vegas at the MGM Grand.


PIFFLE AND PROFUNDITIES


CINDERELLA STORY A year ago Christmas he was Santa Claus in the Radio City Rockettes Show in Branson, Missouri. Today, he is the star of The Producers. Stories like his are what make aspiring actors hang onto the dream.

Brad Oscar flew from Missouri to Chicago on his day off from wearing a fat suit playing Santa Claus, to audition as Nathan Lane's standby and swing in The Producers, which was about to open in Chicago, prior to the Broadway launch.

Oscar got the job. Usually a standby and swing person, while having to learn all of either the male or female parts, does not appear on stage on a regular basis.

During rehearsals in Chicago Ron Orbach, who was playing Nazi-loving playwright Franz Liebkind, injured his knee. Oscar filled in during rehearsals and on opening night. When it became evident that Orbach would not be well enough to return, Oscar - still Lane's understudy - was made the permanent replacement. After the hit moved to New York Lane develop vocal problems and as his standby, Oscar went on 80 times.

Lane fulfilled his contract and left the show. The producers hired another Max Bialystock who was fired last week, a month into his gig. Permanently signed on as the new Bialystock is - Brad Oscar. From standby to star. The Producers starring Brad Oscar and Steven Weber is at the St. James Theatre, NYC.













Next Column: April 28, 2002
Copyright: April 21, 2002. All Rights Reserved. Reviews, Interviews, Commentary, Photographs or Graphics from any Broadway To Vegas (TM) columns may not be published, broadcast, rewritten, utilized as leads, or used in any manner without permission, compensation and/or credit.
Link to Main Page
---
Laura Deni


CLICK HERE FOR COMMENT SECTION