! >
Broadway To Vegas
  SHOW REVIEWS     CELEBRITY INTERVIEWS     GOSSIP     NEWS 
| | |
| --- | --- |
| | |
Copyright: March 1, 1999
By: Laura Deni
CLICK HERE FOR COMMENT SECTION

HAPPY BIRTHDAY TOMMY TUNE


Tommy Tune with Siegfried & Roy. The birthday boy is a fan having seen the Siegfried & Roy show five times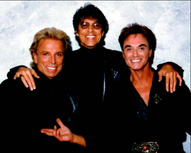 Celebrities flocked to Las Vegas this past week-end to help Tommy Tune celebrate his 60th birthday.

It sounds like a trite cliché, but this guy at 60, really does look 40 and acts 20. He's currently starring in EFX at the MGM Grand in Las Vegas. Turning the big six zero was the perfect excuse for a party. Lucie Arnaz, who spent nine months on the road with Tune in My One and Only jetted in from Los Angeles.

Winging it in from New York was Carol Channing.

But, the best present of all was the arrival yesterday of Ophie, who is Tune's Yorkshire Terrier.

The two are usually inseparable, but the four footer remained in New York while the lanky dancer was living out of the Las Vegas Hotel.

Now that the "first gentleman of Broadway" has found some permanent digs, Ophie hopped a flight


MANDALAY BAY OPENS WITH CHICAGO


The posh 43-story resort that contains the only five-star hotel in Las Vegas, a 424-room Four Seasons resort - opens on Tuesday.

In addition to the five-star hotel, Mandalay Bay boasts the House of Blues, 15 gourmet restaurants. the city's first sand-and-surf beach, with 6-foot artificial waves and the full-length Tony award winning production Chicago, which opens Wednesday in Mandalay Bay's 1,700-seat showroom.

Ben Vereen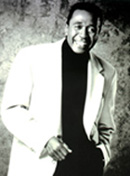 Joining Chita Rivera ( See Broadway To Vegas column of January 25, 1999 ) and Ute Lemper in the production is Ben Vereen, portraying slick lawyer Billy Flynn.

The multi-talented performer, who became a household name after his awesome performance in Roots, began starring in Las Vegas more than 20 years ago - appearing on a regular basis at the Riviera Hotel.

Much of the media have droned on that this musical, which will be the uncut, almost three hour, Broadway version - rather than a dinner-show production - marks the first time that an uncut Broadway show has played Las Vegas. Not true.

When Chorus Line first opened in Vegas, it was the Broadway version. Accustomed to a nightclub atmosphere, restless customers were annoyed that cocktail waitresses didn't serve during the show. Casino bosses cursed and threatened. Decades ago the casino controlled entertainment by subsidizing the showroom. If a performer repeatedly ran over, they pushed their luck of not having their option picked up.

I've been in the audience when a comedian went on too long and a hotel executive simply walked out on stage and told him the audience was wanted in the casino and he should get off. There was another occasion when I was in the audience when a performer pushed the clock. Refusing to obey an off stage command to say good-night, the singer had the curtain dropped right in mid lyric.

Those days have been over for years.

Entertainment is now two wall or four walled - meaning the performer or producer rents the space or cuts a 50-50-deal with the venue. Four wall deals are becoming the norm. They don't watch the clock like they used to. I've suffered through concerts that started an hour late and dragged on forever.

The people that are bringing in Chicago are no dummies. They are betting that a "real" Broadway show will make it in Vegas. I hope Chicago succeeds. I respect and enjoy Rivera, Lemper and Vereen. If Chicago flops in Vegas it won't be because it isn't a good show, with great talent. A failure will have little or nothing to do with the length.

The Magical Empire at Caesars Palace, which I've been to three times, takes three hours to complete. If Chicago fails it will have more to do with the brilliant Broadway show, still doing knock out business, wonderful regional theaters, and a marvelous proliferation of touring shows, than anything else. If somebody has just seen - or has the opportunity in the near future to see the show elsewhere - will they lay their money down here for something they can see at another location.

Las Vegas is the only place when you can see Siegfried and Roy at the Mirage, O at the Bellagio, Mystere at Treasure Island, EFX at the MGM Grand, Caesars Magical Empire at Caesars Palace or Jubilee at Bally's - to name only the big productions. There are also numerous excellent entertainment offerings, that are cheaper than Chicago, and can only be found in Las Vegas. Will the public pay $55 to $75 to see in Las Vegas what they can see some place else?


FROM STAR TREK TO CLARENCE DARROW
Laurence Luckinbill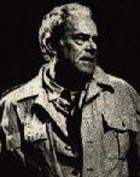 Laurence Luckinbill has received critical acclaim on the stage, in motion pictures and television. His latest accomplishment Clarence Darrow Tonight is a new play written, staged and performed by Luckinbill. Previews Wednesday at the Ensemble Studio Theatre in New York, with the official opening performance on Sunday.

This award-winning one-man play is about the famed maverick defense lawyer whose daring, honesty, eloquence, and sly humor on behalf of seemingly lost causes often left jurors and audience gasping with admiration and delight.

Luckinbill creates an inspired, haunting, and unforgettable portrait of Clarence Darrow whom Life magazine called "one of the most influential men in the 20th Century.



Laurence Luckinbill as Clarence Darrow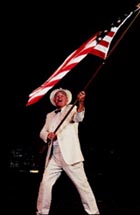 Luckinbill defines Darrow as the warmly passionate, powerful knight in a rumpled suit, who fought for the eight-hour day; for a decent standard of living for the American working man; for free speech, and the right to criticize the government, for peaceful integration of the races; and, for the right of a teacher of science to teach the theory of evolution - the famous Scopes Monkey Trial - in the public schools.

It's the inspiring story of a man who set still unmatched standards for American trial jurisprudence - and who remembered as his greatest achievement that one hundred and two men he defended had faced the death penalty - and none were executed.

The production has already received the Silver Gavel Award, presented by the American Bar Association. The award recognizes "products in the media and the arts published or presented" that have been "exemplary in fostering public understanding of the law and the American legal system."

I spoke to Larry Luckinbill - whose one man show Lyndon is a favorite of mine - about his own life and his new production. Married for almost 19 years to Lucie Arnaz, he's the father of five; two grown sons by a previous marriage and two sons and a daughter with Lucie. Down to earth, fascinatingly intelligent, the following is the first of two parts.

"Part of my first act is about Darrow wanting - not springing full blown from the head of Zeus as a hero -ala Scopes. It's about a young guy who grew up in rather unusual circumstances, with parents who were fringe people. He decided he wanted to get outside of that and make a lot of money. He was unbelievably lucky - by somewhat compromising his parent's principles."

"I think what this play is, is a very different view of Clarence Darrow than you'll see in Inherit The Wind, or in any place you've ever seen anything about him," theorized the author. "It shows a man who had to make very hard personal choices in order to become the man that he became. He was, of course, the most famous attorney of his time. At the same time he died a poor man, and not because he lived extravagantly. He never earned enough money."



Luckinbill as Lyndon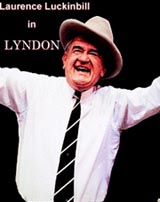 When Luckinbill introduced Lyndon Keith Haney devised make-up, including new ear lobes and an extension of his nose, that gave Luckinbill an astonishing resemblance to Johnson. That became crucial, since everyone knew what Johnson looked like. Since few people remember Darrow's exact appearance, I asked Luckinbill if make-up for this role was easier.

"It's much easier," he quickly answered. "All I do is put a little Kiwi shoe white on my hair. Actually, I'd been using Kiwi nurses' shoe white, but my previous stage manager was a very nice young woman who said to me - You can't do this any more. I'm getting you some proper hair whitener. So, she got me some hair silver stuff, which is very good. It takes a lot less to do my hair - although I don't have a lot of hair. But, what I have is precious to me. I just whiten my hair. That's all I do, but it makes a big difference."

Luckinbill was born in Ft. Smith, Ark. After considering medicine or dentistry he followed his heart into drama, graduating from Catholic University in Washington, D.C. He spent two years abroad with the State Department.



University of Kartoum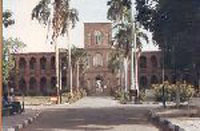 "I was hired by the Office of International Education at the State Department," explained Luckinbill. "I had gone to Catholic University, and you get plugged into people there. This was a Kennedy administrator and Soapy Williams, the Governor of Michigan, had gone to Africa. He came back and made a big speech at Kennedy's request. Africa had become a new battle ground. The idea was - let's send out the best Americans that we can find. They will be our front line troops in spreading the American way."

"At that time there was a great rush of wanting to do good for somebody. It's what they now call community service. You wanted to do something to repair the world. You wanted to be out there helping. And so - I went.


WHAT WE REALLY NEED IS A CARPENTER

"I got the job for two reasons. First, Bill Fulbright was my senator. And, he swung a lot of big club around Washington. And, the second reason is - and they told me this - I was the only one who applied who could teach, act, direct - and build sets," he explained.

When I suggested it was the last qualification that tipped the scales, he confessed, "Yeah, because I was the only one who applied who had a practical trade. I was a skilled carpenter. I could cut and saw and make things. One of the reasons they wanted me there was because there was a tremendous need at the University of Khartoum in Sudan, and in the outlying dramatic clubs, for people to help them build basic sets. I ended up doing a lot of that."



University of Kartoum from the Blue Nile 1901 from the University of Kartoum archives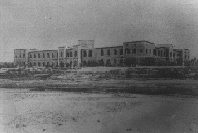 "But I went out and spent two years there. It was a military dictatorship at the time. I directed Arms and the Man - which is what they wanted - and they shut the production down. My leading man was arrested for being a provocateur and was sent to jail for three years. It was frightening," he admitted.

"At the time there were Black Africans who were coming up from the Nile to get educated. One young boy - I'll never forget him - his name was Leonard," recalled Luckinbill his voice taking on a sad timbre. "He had walked 200 miles with a bag of flour and a suit, which his mother had sewn for him. She sent him to Khartoum to get an education. He got there and was living in a culvert until somebody put him onto me."

"I signed him up for a typing class and I paid for it. It was pathetic," he emphasized, "because it was nothing for me. It was five Sudanese pounds for the entire typing class. That saved the kid's life. He was later killed as a person against the government, because he was a Black African."

"I found this out through the missionaries - the Italian White Fathers - who were there. The only schools were run by the Catholic or Protestant missionaries. They eventually threw all missionaries out of the Sudan and the education dropped to nothing!" protested the actor who lamented, "It's so sad!"

We spoke the day after last week's Grammy Awards and I asked him if he had seen Will Smith's acceptance speech. The actor-rapper won best rap song and said he had been to his first PTA meeting, where he was told his son was doing great in math but "his rhyming skills are down," Smith said. "I swear - that's what the teacher told me. That's just pure parental neglect." Smith philosophically commented that he could settle for his son going to law school.

"Yes, and that was charming, really was charming," replied Luckinbill. "He appears to be such a sweet kid - not at all puffed up. I love Lauryn Hill's thing of reading the psalm," he said referring to the 23 year old performer who won 5 out of 10 Grammy nominations - taking her Bible to the podium and reading the 41st Psalm. "It was very sweet," said Luckinbill.

N SYNC, Kate Luckinbill's favorite; her father tries to keep up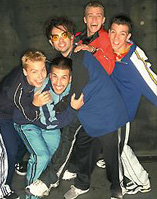 "Of course, Kate was devastated because N Sync was not even nominated!" he dramatically reported, about his youngest child's obsession with the group.

"She thinks they are the best. They appear to be nice boys. They seem quite genuine. They were on Rosie (O'Donnell) the other day and Kate was on there with them, and got to meet them. Rosie put her on the air - I think. I haven't gotten to see that tape, yet. Lucie took her down to the show. She and her friend from school got to go."

Luckinbill is personally and professionally an eclectic person who cares - about his family, the world, education, and his chosen profession. In addition to keeping up with all of the current musical group, he watches CPAN and listens to National Public Radio. He doesn't always like what he sees and hears.


A MONKEY WOULDN'T HAVE US

"You know, the level of congress has dropped so much - and I think people look mystified at this - but the truth is, now we're getting the leading edge of the storm of the bad education that has been handed out for the last 30-40 years in this country," he charged.

"We have lawmakers who don't know how to read and write. I'm convinced of that." Or, speak, I interrupted.

"Definitely," he agreed. "They have no manners. The way that people address each other these days is so low. We have descended. The real issue of the Scopes Trial would now be to prove that we haven't descended from monkeys. They wouldn't have us. They maintain their territory with rigid politeness."

WILLIAM SHATNER DIRECTING STAR TREK HAD HIS DUCKS IN A ROW

After his State Department service ended, the diversified actor ran the gamut of roles, including appearing in "ten or eleven" productions with his wife, Lucie Arnaz. His film credits include The Boys in the Band in which he re-created his stage role, appearing opposite Charles Bronson in Messenger of Death, with Tom Cruise and Bryan Brown in Cocktail.

On Broadway he brought home awards for The Memory Bank and received a Tony nomination for his performance in The Shadow Box, and won raves for his enthralling one man show LBJ. Luckinbill also had a fascinating role in the movie Star TrekV: The Final Frontier, which William Shatner directed.

"I think it was one of the best," flatly stated Luckinbill about that Star Trek movie."

Bill Shatner directed it and took a lot of heat, a lot of bad press, because Bill is kind of full of himself. But, he's also a very professional guy - very good at what he does. He really is," reiterated Luckinbill.



Spock (LEONARD NEMOY) and his half-brother, Sybok (LAURENCE LUCKINBILL)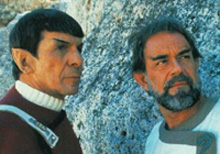 "Beside, the point is," continued Luckinbill."I thought he was a good director. He really had his ducks in a row and his heart in the right place. I thought he cast it very well," he facetiously commented about his own casting.

"I thought he was working at full strength intensity on the movie. He got only an 18 week post on that movie. Now, there were big, big effects and you just can't do em! So, everything had to be cut down to that type of a size. One of the reasons was that Bat Man was coming out and so all of the ADR stages and everything was booked. Of course, it was Paramount - so they weren't speaking to each other by the end of the thing," related Shatner about production problems.

Those started when George Lucas' Industrial Light and Magic (ILM) that had delivered the fabulous work on Star Trek II, III, and IV was undercut by another special house, which offered to deliver the effects for Star Trek V in a shorter time and for less money than ILM. The head honchos decided to go the cheap route and not use ILM. Instead, Associates and Ferren (AF) was chosen for the effects on Star Trek V.

"The film suffered from that," concluded Luckinbill.

ILM has been used on all subsequent Star Trek films.

"But, the story was a very strong story," emphasized Luckinbill. "And my character of Spock's brother, "Sybok" the renegade, was the best character that they've ever come up with," he related about his role as the Vulcan who kidnaps the new but untested Enterprise, to go on a search beyond the Great Barrier.

"And, I must say I had a ball!" an enthusiastic Luckinbill exclaimed. "Bill and I talked a lot about what this guy was meant to be - and do - and it was fabulous!"

"Of course, once we started production, we were up in Mono Lake. It was dusty and horrible. I would go up to him in the morning and said - Good morning. And, he's say - I can't talk to you about motivation," laughed Luckinbill. "He was joking, but he wasn't, because they were about to pull his house trailer or something," said Luckinbill in a droll reference to the production problems.

As to the current trend towards all reporting needing some type of tabloid or sexual angle, Luckinbill suggested that we might consider changing this website name to "Nipples."
PLEASE JOIN US NEXT WEEK WHEN OUR INTERVIEW WITH LARRY LUCKINBILL CONTINUES. HE TALKS ABOUT, AMONG OTHER THINGS, BEING MARRIED TO LUCILLE BALL'S DAUGHTER.



Broadway To Vegas is supported through advertising and donations. Priority consideration is given to interview suggestions, news, press releases, etc from paid supporters. However, no paid supporters control, alter, edit, or in any way manipulate the content of this site. Your donation is appreciated. We accept PAYPAL. Thank you for your interest.


CLEVELAND PLAYHOUSE PRESENTS LOVE, JANIS
JANIS JOPLIN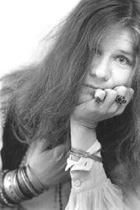 The Cleveland Play House will produce Love, Janis, a musical based on the book of the same title, written by Laura Joplin, sister of the legendary soul-baring blues singer.

The musical biography was conceived and adapted by Randal Myler, who also directs.

Punctuated by questions from an interviewer, the musical contrasts the swaggering, raunchy public image of Janis Joplin with the vulnerable, private side that she revealed in the letters she wrote home to her family.

Beth Hart and Andra C. Mitrovich will alternate performances in the vocally demanding role of Janis -The Public Performer, singing all her classic hits including: Ball and Chain, Mercedes Benz, Me and Bobby McGee, and Get It While You Can.

Actress Catherine Curtin will play the role of Janis-The Private Person, and Michael Santo will play the Interviewer. Sam Andrew, founder of Janis Joplin's first band, Big Brother and the Holding Company, will serve as music director. He and Joplin later formed the Kozmic Blues Band.

Sets and costumes will be designed by Robert Blackman, the Emmy Award winning costume designer for the television series Star Trek: The Next Generation

Love, Janis with Catherine Curtin portraying Janis, the lonely misfit, premiered in 1994 at the Denver Center Theater Company. In 1997 the show was enthusiastically received at the Zachary Scott Theatre in Austin, Texas, where Andra C. Mitrovich recreated the singing of the raw-voiced rock n' roll legend, who died of a drug overdose in 1970 at the age of 27.

Previews begin Tuesday March 2 and opening night is set for Friday, March 5. Love, Janis will run through Sunday, April 4.

Through May 2 Cleveland's Rock and Roll Hall of Fame and Museum, where Janis Joplin was inducted in 1995, will display original copies of her letters and photos taken by family and friends


START YOUR ENGINES


Over a quarter of a million rabid race car fans are revving up their engines to come to Las Vegas for a week-end of racing attractions. The NASCAR Las Vegas 400 comes to the Las Vegas Motor Speedway March 7. The day before is the Busch Grand National at Sam's Town.

Jeff Gordon, a three-time NASCAR Winston Cup champion will debut a new car, sponsored by Pepsi, in the Busch Grand National. This will be Gordon's first Busch race in seven years.

The following day he'll race in the Las Vegas 400, a Winston Cup event.

Gordon has been in Vegas this past week testing his new car, signing autographs and, as the official spokesman, promoting the NASCAR Speedtrack at the All-American Sports Park.

Las Vegas is part of the Richard Petty Driving Experience. If your idea of a good time is to go around in a circle at break-neck speed, you don't want to miss this adventure.

With prices ranging from $89.99 to $2,999.99 you can zoom along. The cheap package puts you in a car with a driver who knows what he's doing for a three lap run around the track.

You have to work your way up to be permitted to plop down almost $3,000 for the experience of making a 40-lap run. Those rules require you to first participate in the $1,099.99 Experience of a Lifetime, which is driving three 10-lap sessions. There you unbuckle your purse strings and ante up another $2,199.99, before buckling your seat belt for an 80 lap drive over a two day period, which includes a final round with an instructor. Then you have graduated to the Advanced Racing Experience. That's the top rung - the $2,999.99 event - which is a 40-lap run. Total bill; $6,299.97. To make your reservations call (702) 643-4943
SWEET CHARITY


PHYLLIS NEWMAN hosts her annual ''Nothing Like a Dame,'' benefit tonight, Monday March 1 at the Shubert Theater, which is the place to be if you are in New York.

The event benefits the Women's Health Institute of the Actor's Fund of America.

Slated to perform are: Loni Ackerman, Joy Behar, Kate Burton, Zoe Caldwell, Diahann Carroll, Ayodele Casel, Kathleen Chalfant, Lea DeLaria, Patricia Elliott, Melissa Errico, Girl's Choir of Harlem, Amanda Green, Uta Hagen, Joan Hamburg, Celeste Holm, Dee Hoty, Pamela Isaacs, Anne Jackson, Eartha Kitt, Sharon Lawrence, Tsidii Leloka, Priscilla Lopez, Anna Manahan, Karen Mason, Saeka Matsuyama, Sally Mayes, Theresa McCarthy, Rue McClanahan, Donna McKechnie, Anne Meara, Donna Murphy, Bebe Neuwirth, Phyllis Newman, Nancy Opel, Christine Pedi, Faith Prince, Mary Testa, Marisa Tomei, Karen Ziemba and more!

CONGRESSIONAL NIGHT At the Shakespeare Theater, Washington D.C. on Wednesday, March 3. Senator Robert Bennett (R-Utah) Representatives Ralph Regula (R-OH) and Steny Hoyer (D-MD) host this special evening. A cocktail and buffet supper reception is followed by a performance of King John. Proceeds will benefit the artistic, education, and community outreach programs of The Shakespeare Theatre.



ANNIE GET YOUR GUN starring the marvelous Bernadette Peters and Tom Wolpat is the revival we have all been waiting for. Marquis Theatre NYC.

THE GIRL WHO SAID YES TO THE GUY IN THE BROWN SUBARU a romantic comedy by Margaret Elman, premieres March 10 at the Samuel Beckett Theater. Paul Reggio, of Cosby and Spin City fame co-stars with Marsha Dietlien, who starred in Amazing Grace and The Food Chain. Laura Josepher directs.

THE CRIPPLE OF INISHMAAN by Martin McDonagh, who wrote the hit The Beauty Queen of Leenane, has its Philadelphia premiere at the Wilma Theatre, officially opening Wednesday, March 3. The comedy, set in 1939 Ireland, runs through April 4. Jiri Zizka directs.

CHICK COREA who just picked up another Grammy Award, does a one nighter tomorrow, March 2, with his new band Origin at the Riviera Hotel, Las Vegas. Massachusetts born Corea became a citizen of the world with his musical fusion of jazz, rock and classical. The 9 time Grammy award winner with 38 nominations, formed his own label, Stretch Records, with his longtime manager Ron Moss, permitting creative control and a chance to spotlight other artists that might otherwise go unheard.


THIS AND THAT


THE ROLLING STONES roll into Las Vegas April 16 for a concert in the MGM Grand Arena, with a top ticket price of $400. Mick's lawyers have probably told him he'll need the money. With a pending divorce and a model girlfriend pregnant with his child, incidentals like alimony and child support can add up. If you can't afford $400, cheapskate tickets start at $100.

LORIANN CROOK had a party hardy birthday in Las Vegas. The personable co-host of Crook & Chase discussed her natal day festivities with her co-host Charlie Chase. The brunette beauty admitted that while in Vegas she never got to bed before 3:30 a.m., spent three days gambling away every single cent she had allocated, including the 240 quarters she won. Gambling wasn't the only thing the lovely Loriann did while in Vegas. She saw Siegfried and Roy at the Mirage and the new O show at the Bellagio. Loriann's father celebrated his birthday shortly after his daughter and the country show hostess said her father is an opera buff, who gets on the internet buys and 20 or 30 opera CDs at a time. Maybe Loriann should introduce her father to opera buff Tony Randall. The two guys could sit around and discuss arias.

MERV GRIFFIN positively glowed as he told Tom Snyder about helping to midwife the birth of his second grandchild, and first grandson, on February 10. The Wheel of Fortune creator learned that when you're trying to assist a woman giving birth, never mind the phrase - "I'd like to buy a vowel" - it's the four letter word PUSH that matters.

YOU SAY TOMATOES a comedy, penned by veteran writer Bernard Slade, continues through March 7 at Theatre 90 at the Glen Lock restaurant, Syracuse, NY.

TREASURERS OF RUSSIA that fabulous exhibit of priceless treasures at the Rio Hotel. (See Broadway To Vegas column of Nov. 9, 1998) has been seen by more than 200,000 people since it opened Nov. 7. The exhibit, which is the largest collection of historic Russian art objects ever shown in the United States, runs through April 15. If you're in Vegas, put Treasures of Russia on the Must See list. When it closes the 1,150 antiquities will be returned to the Palaces of Peterhof in St. Petersburg, Russia.


FINAL OVATION


DEEDA HYMES-NEELAND comic-actress, died last week in Las Vegas. She began her musical comedy career in New York City, appearing with Buster Keaton, Gisele Mac Kenzie, Nat King Cole, Van Johnson and Gale Storm. She appeared in the television series Hill Street Blues, Starsky and Hutch and in the films Harry and Tonto, Dream Chasers, and Going In Style.Her regional theater work included Pajama Game, Bells Are Ringing, and Music Man, among others. She spent seven years starring with Breck Wall and Patrick Maes in Bottoms Up. A member of MENSA, Screen Actors Guild (SAG) and Actors Equity, she is survived by her husband, John Neeland, who is publicity manager for the Riviera Hotel in Las Vegas. They met in the late 60s when he put an ad in Variety seeking a comedy partner for his act. Their professional act got the hook, but the marriage was a smashing success.

JOSE QUINERO director, died last Friday in New York. He was 74. Quinero directed 17 productions of Eugene O'Neill plays, including the 1956 The Iceman Cometh and A Long Day's Journey Into Night. The Tony Award winner was born in Panama City, Panama. He received a bachelor's degree from USC in 1948. Quintero had written that his father had wanted him to become a doctor, but his heart was in acting. He became a director, he wrote, when his acting group needed a director. The 14 actors "formed a circle and spun an empty wine bottle. It pointed to me, and a director was born." He is survived by a sister and his companion, Nick Tsacrios.



Mention BROADWAY TO VEGAS for Special Consideration
Call (800) 942-9027









Next Column: March 8, 1999
Copyright: March 1, 1999 All Rights Reserved. Reviews, Interviews, Commentary, Photographs or Graphics from any Broadway To Vegas (TM) columns may not be published, broadcast, rewritten, utilized as leads, or used in any manner without permission, compensation and/or credit.
Link to Main Page
---
Laura Deni




For the snail mail address, please E-mail your request.
CLICK HERE FOR COMMENT SECTION