! >
Broadway To Vegas
  
  REVIEWS INTERVIEWS COMMENTARY NEWS

| | |
| --- | --- |
| | |
MATILDA ON BROADWAY BETTER THAN THE LONDON PRODUCTION - - TELEVISION EXECUTIVES WORRIED ABOUT NON-TV HOUSEHOLDS & POINT FINGER AT KEVIN SPACEY AND BARRY DILLER - - ASHLEY JUDD SUBJECTED TO CHARACTER ASSIGNATION STRATEGY - - FAITH PRINCE: TOTAL FAITH LIVE FROM THE ROYAL ROOM AT THE COLONY CD REVIEW - - JULIE TAYMOR AND SPIDERMAN SETTLE LAWSUIT - - HANDS ON A HARDBODY CLOSES AT TOTAL LOSS - - 40th CHAPLIN AWARD GALA HONORING BARBRA STREISAND - - HILARITY FOR CHARITY - - DONATE . . . Scroll Down




Copyright: April 14, 2013
By: Laura Deni
CLICK HERE FOR COMMENT SECTION


TELEVISION EXECUTIVES WORRIED ABOUT NON-TV HOUSEHOLDS: POINT FINGER AT KEVIN SPACEY AND BARRY DILLER
Kevin Spacey in House of Cards. Photo: Netflix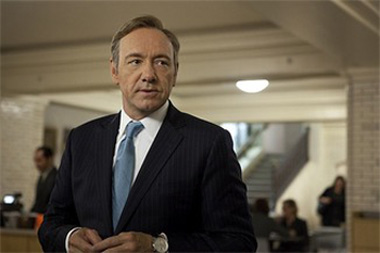 Walking the halls of the National Association of Broadcasters, (NAB) the 90,000 strong convention, which wrapped up April 11 in Las Vegas, is an interesting experience. It's easy to overhear conversations. Names which kept being muttered - generally through clenched teeth or with a curse word or two thrown in for added emphasis - were those of Kevin Spacey and Barry Diller.

Kevin Spacey starring in House of Cards, has panicked television executives who are openly worried that, thanks to the popularity of the series, television will never again be the same.

The Tony and Oscar award winning actor is making television history - by starring in a non-television series.

He plays Frances Underwood, the ruthless, silver-tongued House Majority Whip in the political drama House of Cards, which is airing exclusively as part of Netflix's streaming video service.

Catering to viewers who prefer marathon viewing, all 13 episodes of the first season were posted on February 1, 2013. A second season is already in the works. Before the first season was even posted, Spacey was notified that a third season was being planned.

On Thursday, April 11, Netflix CEO Reed Hastings took to Facebook to publish: Looks like House of Cards is starting to have an impact: Netflix members watched more than four billion hours of video during the first three months of 2013.

Written by Bea Willimon, it's an adaptation of the early 90s British miniseries of the same name. The man calling the shots is David Fincher, who directed Spacey in Social Network. Much of the cast, including the talented Robin Wright as Francis' calculating wife Chaire, have little to no experience working in television.

Television executives, whose egos and livelihood are programmed to the boob tube, are admittedly worried about increasing numbers of households who are eschewing television sets in favor of streaming.

It does little good to offer bigger and better sets if people don't turn them on.

People are watching shows, just not on television sets, rather on the Internet and even cell phones - and at their time preference.

Households are taking hard looks at $100 a month cable bills. In a personal version of sequestering, many families are opting to cut the cord. So many people no longer own a television that last month Nielsen, Co., the venerable television rating company, started labeling people in this group as Zero TV households. It's not that those families don't watch what are known as television programs, but that they fall outside the traditional definition of a TV home. There are 5 million of these residences in the U.S., up from 2 million in 2007.

Free television in the daytime has seen an increase in the cheap to produce talk type shows, which are gravitating more towards pivoting on audience giveaways. It used to be people enjoyed attending the taping of a television show because of the experience. Not any more. Now audience members want to know what they are going to take home. Networks solicit companies to provide products as free gifts to all audience members. In turn, the talk show hosts and panelists are required to chortle like hyped up boardwalk hucksters, slathering over how much they love the product. It's a live commercial.

The lucrative nighttime television time slots, which air the comedies, dramas and movies that people are now watching on something besides a television set, was a major topic at the NAB Show.

Winning back the Zero TV crowd became a recurring theme.

It is House of Cards that is making network television executives fearful that their own house of cards will fall.

No surprise, It has to do with money.

Show creators and networks do make money from Zero TV households, but that is through deals with online video providers and from advertising on their own websites and apps. The broadcasters only get paid when they relay such programming in traditional ways.

Broadcasters tend to cling to their own ways. Unless they learn now and are willing to adapt to changing platforms, their revenue from Zero TV viewers will be exactly that.



Barry Diller photo by David Shankbone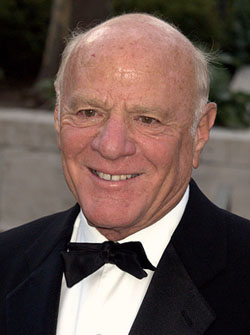 That may have inspired this year's theme - Metamorphosis - which may be an apt one word description for Barry Diller, but is a process which staid television executives have trouble comprehending.

Online video subscriptions from Netflix Inc. and Amazon.com Inc. - which cost less than $15 a month combined - are considerably cheaper that the least expensive cable option.

We have also become a mobile, frenetic nation. Unless it a major sports' event, households no longer collectively plunk down as couch potatoes to stare at the TV set.

"Getting broadcast programming on all the gizmos and gadgets - like tablets, the backseats of cars, and laptops - is hugely important," says Dennis Wharton, a spokesman for the National Association of Broadcasters was quoted as saying.

Although Wharton says more than 130 TV stations in the U.S. are broadcasting live TV signals to mobile devices, he pointed out that few people have the tools to receive them. Most cell phones require an add-on device known as a dongle, but these gadgets are just starting to be sold.

In other words, it's a growth industry and manufacturers have taken note.

Another name that wrangled attendees was Barry Diller, the man who started Fox, and the money man behind Aereo, a New York City-based technology company that allows consumers to access live broadcast television on Internet-connected devices through use of its remote integrated antenna/DVR technology.

Aereo allows users to watch live broadcast television and pause, rewind and fast-forward any program that they are watching. Consumers access Aereo's technology through supported internet browsers; there is no application to download and no box to install. A cable or satellite television subscription is not required to use Aereo.

The Barry Diller financially backed start up internet service, originally called Bamboom, was founded by Chaitanya "Chet" Kanojia who serves as its CEO.

Currently available only in New York, Aereo has announced a 2013 expansion plan involving 22 new cities including: Chicago, Denver, Minneapolis, Kansas City, Houston, Dallas, Detroit, Cleveland, Miami, Boston and Washington, DC.

Aereo charges $1 for a day pass, $12 a month or $80 for a year's subscription. With the exception of the day pass, subscribers have access to two antennas, meaning they can watch two shows at once, or watch one show while recording another.

As with everything, the issue is - money.

Aereo charges users only for the use of the technology, not for programming. They reason that if you were at the location with any over-the-air receiver, such as in your home with a television set, you wouldn't be charged for the network programming, so there is no need to charge, if all they're doing is giving you remote access.

Broadcasters are livid because that service cuts them out of the revenue stream. The broadcasters assert that Aereo needs to pay them for the use of their programming - like any other television program distributor.

It's a serious issue that caused major broadcasters to take legal action against Aereo, but so far Aereo has prevailed in the court decisions.

In July 2012 New York federal judge Alison Nathan refused an injunction sought by CBS Corporation, Comcast, News Corporation and the Walt Disney Company against Aereo because they failed to prove "irreparable harm," typically the highest bar in gaining an injunction.

Broadcasters immediately appealed the verdict.

In WNET v. Aereo, Inc., television broadcasters (and other copyright owners of broadcast television programs) brought a copyright infringement lawsuit against Aereo, The district court denied the broadcaster plaintiffs' preliminary injunction motion, principally because the plaintiffs were not able to show a sufficient likelihood of success on the merits of the case.

On April 1, 2013, the Second Circuit affirmed.

Aereo concerns the exclusive right of a copyright holder to publicly perform his or her work.

17 U.S.C. § 106(4). The Copyright Act defines "perform" as "to recite, render, play, dance, or act it, either directly or by means of any device or process or,

in the case of a motion picture or other audiovisual work, to show its images in any sequence or to make the sounds accompanying it audible."

17 U.S.C. § 101. Performing a work "publicly" means:

to perform or display it at a place open to the public or at any place where a substantial number of persons outside of a normal circle of a family and its social acquaintances is gathered; or

to transmit or otherwise communicate a performance or display of the work to a place specified by clause

(1) or to the public, by means of any device or process, whether the members of the public capable of receiving the performance or display receive it in the same place or in separate places and at the same time or at different times.

Because each subscriber has access to a single copy of a broadcast through that single antenna, and no other subscribers can receive a transmission from that copy, the Second Circuit held that the transmission did not constitute a public performance.

Pressing forward, a group of the plaintiffs, including Fox and PBS, said they intended to move to trial. "Today's decision is a loss for the entire creative community," they said in a statement. "The court has ruled that it is O.K. to steal copyrighted material and retransmit it without compensation. While we are disappointed with this decision, we have and are considering our options to protect our programming."

That this decision was made a few days before the NAB opened in Las Vegas made the issue a hot button topic with gossip swirling that Aereo was in talks with major ISPs and TV providers like Dish, DirecTV, and AT&T.

If Diller is David to the network's Goliath, Diller's stone throwing is hitting it's mark.

In a full bore fight back mode, the television broadcasters have their own weapon, a dongle.

The rechargeable miniature TV antenna picks up free, mobile broadcast signals. It attaches to iPhone and iPad power ports and extends about 7 inches, allowing users to view live local TV channels at not-quite-high-definition quality. Backing the device is a coalition of 12 major broadcasters and networks calling themselves Dyle Mobile TV.

The dongles were on display at the NAB and considered to be a necessary look-see.

In an infancy stage, the gadgets receive signals from stations that only broadcast to mobile devices. So far, the dongles will work for signals from 116 stations in 39 markets including New York, Los Angeles and Chicago.

Dyle mobile TV states their device "allows you to watch local broadcast channels including ABC, CBS, FOX, NBC, Qubo, Telemundo and Univision. The service also allows access to local broadcast channels that are not affiliated with Dyle mobile TV by performing a full scan of channels that are available over the air. Currently viewers in each Dyle mobile TV market have access to between one and seven channels."

In order to use Dyle mobile TV, you must have a compatible device, as well as the appropriate mobile TV app.

In New York City the dongle will pick up Fox, Independent WNYE, NBC, Qubo and Telemundo. Those in Chicago can pick up Fox, NBC, PBS, Qubo and Telemundo. In Los Angeles Dyle Mobile provides Fox, Independent, NBC, Qubo, Telemundo and Univision.





Broadway To Vegas is supported through advertising and donations. Priority consideration is given to interview suggestions, news, press releases, etc from paid supporters. However, no paid supporters control, alter, edit, or in any way manipulate the content of this site. Your donation is appreciated. We accept PAYPAL. Thank you for your interest.


ART AND ABOUT


EARLY AMERICAN SILVER FROM THE CAHN COLLECTION

Image: Paul Revere Jr., Boston, 1734-1818. Tea Service, ca. 1790. Silver. Teapot: 6 x 11 1/2 in. (15.2 x 29.2 cm). The Cahn Collection, St. Louis, Missouri. Photo: David Ulmer.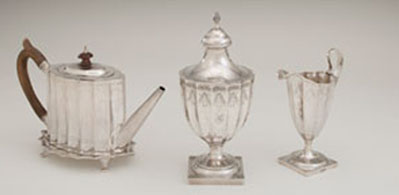 masterworks of the premier Boston silversmiths such as Paul Revere and New York silversmith Myer Myers, whose objects are shown throughout the museum's buildings.

Early Americans collected silver objects (also called plate) for their utility, to demonstrate their sophistication and to keep up with current styles.

Silver was also a valuable commodity that could be bought, sold or passed on to heirs.

St. Louis collectors Paul and Elissa Cahn have assembled one of the finest collections of American and English silver in the world and share their treasures with this public display.

This exhibition will be on display in several locations in the museum including works of 18th century American silver alongside their European counterparts on the Plaza Level.

April 20, 2013- November 3, 2013 at the Nelson-Atkins Museum in Kansas City.


SWEET CHARITY


40th CHAPLIN AWARD GALA HONORING BARBRA STREISAND will take place April 22, 2013 at Avery Fisher Hall in New York City.

The event will be attended by a host of notable guests and celebrities honoring Ms. Streisand's film career, including Pierce Brosnan, Blythe Danner, Richard Dreyfuss, Amy Irving and Kris Kristofferson.

In addition, the evening will feature show-stopping musical performances by Tony Bennett, Kristin Chenoweth, Wynton Marsalis and Liza Minnelli.

The tribute will culminate with the presentation of the Chaplin Award to Streisand by President Bill Clinton.

This celebration of Streisand is the continuation of a 40-year tradition at the Film Society that honors a distinguished film artist whose body of work and lifetime of achievements represent a significant contribution to the art of film.

A truly rare and groundbreaking talent, Streisand is the first woman artist to receive credit as writer, director, producer and star of a major feature film, Yentl. She is also the first female film director to receive a Kennedy Center Honor.

The annual Chaplin Award Gala is the Film Society's major fundraising event, helping to support the organization's ongoing work in education, artist development, and cross-cultural film outreach.

LOS ANGELES BALLET RUBIES GALA honors Nigel Lythgoe and Linda Duttenhaver.

An evening of cocktails, elegant dining, a preview performance of Balanchine Festival's Red, and dancing to the music of JT and California Dreamin'.

Gala Chairs are Kirsten Sarkisian and Lori Milken.

Saturday, April 20 at the Beverly Wilshire Hotel, Beverly Hills, CA.

HILARITY FOR CHARITY benefiting the Alzheimer's Association.

After being actively involved in the Alzheimer's community for the past several years, Seth Rogen and Lauren Miller, along with their friends, created Hilarity for Charity: an awesome, one-of-a-kind, and most importantly, hilarious event to raise money and awareness for Alzheimer's among a younger generation.

The first Hilarity for Charity event, held in January 2012 is remembered as being held in "beautiful downtown Los Angeles, entertained guests with a variety show filled with music, magic, comedy, and more."

"With their tummies filled by food from trucks like The Grilled Cheese Truck, The Lime Truck, Chronic Tacos, and Cool Haus Ice Cream, the audience was treated to a show hosted by Seth Rogen, Paul Rudd, David Krumholtz, and Ty Burrell."

Performances by Bruno Mars, Tenacious D, Patton Oswalt, Aziz Ansari, Judd Apatow, Pauly D, and more made the event a huge success.

"Not only was over $300,000 raised, but Alzheimer's disease was brought to the forefront of a group who don't normally think about it."

On April 25, 2013, Hilarity for Charity once again promises to entertain the masses with Rogen hosting a 'house party" and variety show. April 25 at the Avalon in Hollywood, CA.

PALM BEACH DRAMAWORKS staged a month-long drive to raise money from the stage during its run of A Raisin in the Sun resulting in $18,001.77 for The Actors Fund.

Dramaworks, a professional not-for-profit theatre company, located in West Palm Beach, Florida is the first regional theater to mount a sustained drive.

Producing Artistic Director William Hayes and Managing Director Sue Ellen Beryl serve as National Ambassadors for The Actors Fund and were proud to bring its first fundraising program to South Florida.


THE MUSIC GOES ROUND AND ROUND


FAITH PRINCE: TOTAL FAITH LIVE FROM THE ROYAL ROOM AT THE COLONY in Palm Beach, Florida, billed as a "solo recording" from Tony winner Faith Prince, will be released April 16 on the Broadway Records label.

Do not ignore the important contribution made by Alex Rybeck who provided music direction, arrangements, served as pianist and offered some significant vocal accompaniment. James Ousley on bass ably rounds out the trio.

Recorded live in spring 2010, on the accompanying CD booklet Prince wrote, "Amidst the early stages of a terrible recession, we were opening my new cabaret show in Palm Beach, where the Madoff scandal was especially raw. It then dawned on me, this is how cabaret came to be... A place to escape, to be transported. To quote Kander and Ebb: '...so life is disappointing, forget it! In here, life is beautiful.'"

Her adenoidal speaking voice is Damon Runyon doll, one of which she played in her Tony Award winning performance in Guys and Dolls. Appropriately, she opens with Take Back Your Mink and then offers up a medley from Guys and Dolls, The King and I, and Bells are Ringing. Her parody of Take Me Back to Manhattan called Take Me Back to the 80s - the words penned by the talented Cheryl Stern - is a clever comparison to today's frugal ways versus the 80's excess.

"I tried to being frugal - for several hours . . . Take me back to the 80s, take me back to excess. I'm just longing to see a thriving US department store . . . Take me back to the 80s and charge my credit card . . . "

Her between show patter relates to her participation in a particular musical, leading into her next selection, a number from that show. She a performer who makes the audience feel comfortable. Faith segues effortlessly from talking to the audience to singing a variety of musical styles.

In one segment she tells about, as she put it, a "pretty ballsy" way in which she auditioned for a part - which she got - only to discover that she would be working with a live duck possessing a 6-foot wing span. The duck didn't like her and she felt the same about the web footer. That leads into a very funny anecdote.

There was also another audition in which she admits to literally getting down on her hands and knees and begging.

At another point she refers to a famed off Broadway venue asking: "Does anyone remember The Village Gate? It's now a CVS pharmacy."

She even does a take on that famous Las Vegas catch phrase; promising "What happens at the Royal Room stays at the Royal Room."

This CD is a show tune bonanza with selections taken from Guys and Dolls, The Bells Are Ringing, The King and I, Once Upon a Mattress, Little Shop of Horrors, Starting Here/Starting Now, Sweeney Todd, Company, A Catered Affair, By Jupiter, and Hello Dolly! plus songs from a couple of films.

Not every song is robust. Somewhere That's Green from Little Shop of Horrors is sweet and tender backed by a tinkling piano. Later in the program she sings the poignant and powerful If He Walked Into My Life from Mame.

Her vibrant duet with Alan Rybeck on Suddenly Seymour is exhilarating and is followed by the slower, moody Tattooed Boy In Memphis, penned by Harold Arlen and E. Y. Harburg from the film A Day at the Circus.

As might be expected from the quirky talented lady, she spend an entire page in the CD booklet thanking people. In what is probably a first - the thanking of by name - the chef and the culinary staff.

Engineers, mixed and mastered at Monk Music Studios by Cynthia Daniels.


MATILDA ON BROADWAY SUPERBLY BETTER THAN LONDON
Opening scene from Matilda on Broadway. Photo: Joan Marcus
There is no rhyme or reason for it, but Matilda The Musical the Royal Shakespeare Company production, which opened on Broadway last Thursday at the Shubert Theatre, is considerably better than the West End London production. ( See Broadway To Vegas column of July 22, 2012 )

Directed by Matthew Warchus with songs by Tim Minchin and a book adapted from Dahl by Dennis Kelly, the Broadway version is an interesting experience, since there are no major changes in this show, versus the one across the pond.

Maybe it was me having an off night. What I found almost boring in London, I found delightfully entertaining on Broadway.

For instance, the lyrics. Deliciously clever. That escaped me in the London version, which may have had something to do with the accents, although British performers generally enunciate so that they can be understood by everyone.

An issue which has relevance to any show featuring children, and is no exception with Matilda - kids garble and slur their words. This is a problem which I was positive that the American staging would avoid. I was wrong. There are times when it is hard to understand the lyrics. It's difficult for many grown-ups to enunciate well. Children have an even more trying time. That makes it problematic for an audience to understand all the words being sung. Blame is then leveled at the lyricist - in this case Minchin - when the real issue is with extremely talented children not clearly enunciating the words.

Lyricists in general need to pay more attention to how their lyrics sound when heard by somebody who doesn't know the words. Have a bunch of strangers watch the show, because movement, lights, costumes, etc. can alter the listening concentration level. Then ask the test people if they can repeat back any of the lines from different songs. Find out if they could actually understand and remember any of the lines before officially launching an opening night.

Chris Nightingale's orchestrations are also inspired, appropriate and can be actually heard, thanks to a good sound system by Simon Baker.

As in the British production, the role of Matilda is alternated between four girls.



The maliciously awesome Bertie Carvel in Matilda. Photo: Joan Marcus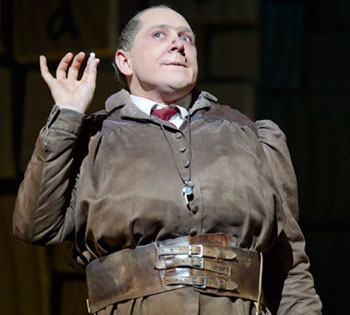 One excellent constant is the Olivier Award winning Bertie Carvel, who played the bullying headmistress Miss Trunchbull in the London production. Thankfully, he has transferred to Broadway. In this awards' season, he should easily walk away with the Tony.

Karen Aldridge as the sympathetic librarian is more down to earth and approachable than the librarian in the London production. Miss Honey, played by London production transfer Lauren Ward, is as vulnerable as she was in the London mounting, although in the Broadway production there is more of a sense that she really would like to protect Matilda - she just can't.

Young British actor Ted Wilson, who has a long, successful career ahead of him, has also transferred from the original London cast. A strong presence, he is cast as schoolmate Eric.

Like the London production, there are adults who portray children, as they must, for some of the choreography is death-defying. All of the acrobats/dancers are excellent with Samantha Sturm being a standout.

This sassy musical has spirit and spunk. While perfect for the family, Matilda is also just simply entertaining. You don't need to drag along a kid to enjoy the show.

After seeing the London production I projected that the show would be nominated for at least six Tony Awards. Now I think they'll probably earn at least 8 nominations. One of the wins will be for Best Musical.

Seen during production in London and in previews in New York. One of the best musicals to open on Broadway in years.

Matilda deserves to thrive on Broadway for a decade or more.


ASHLEY JUDD SUBJECTED TO CHARACTER ASSIGNATION STRATEGY
Ashley Judd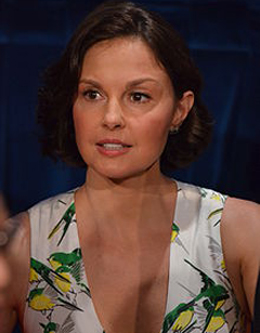 A secret recording involving plans to use character assignation to destroy Ashley Judd has been uncovered.

It doesn't matter if you like or don't like Ashley Judd as a performer, a person or political candidate. It doesn't matter whether you would have voted for her - or not. What matters is that, for several decades, the trend in all forms of American life, is to engage in character assignation, rather than a straight forward honest discussion or argument.

A continuation of the 60's me generation where there were books, and seminars on how to win through manipulation and intimidation, people are being raised to act as salesmen, if not philosophy majors - using bating, mocking, manipulation and intimidation to get what they want.

It doesn't matter the issue or event, if you can't get what you want honestly, the general operational strategy is to attack in a way which is difficult to defend, because each person listening to an attack answer has their own definition of the issue, depending upon their own personal feelings.

It generally involves using convoluted reasoning. For instance, people who major in philosophy are taught to listen precisely to what somebody says, rather than the total content, context, vocal inflection, gestures, circumstances or any other variable, and then pick a word or phase, twist it and use it against the person. The strategy is extremely effective and can destroy lives and careers.

When caught, the dirty playing twisted thinkers are quick to point fingers at others. The real issue - that they shouldn't have been using hate tactics - is twisted to revolve around their complaints about being caught.

Senate GOP Leader Mitch McConnell (Ky.) has asked the FBI to investigate the secret recording of a campaign strategy meeting in which the lawmaker and his staff made disparaging remarks about actress Ashley Judd.

Some have compared the McConnell taping to the Mitt Romney secret tape which was made public. The only accurate comparison is that both tapes were made without the knowledge of the speaker.

However, in the Romney tape the candidate is stating his views on a political issue. In the McConnell political strategy meeting tape, plans are being laid for character assignation towards a potential rival.

According to The Hill which broke the story, "In the recording, obtained by Mother Jones, McConnell and his aides debate the merits of attacking Judd's mental health, religion and family values."

McConnell can be heard telling his campaign aides they are in "the Whac-A-Mole period of the campaign … when anybody sticks their head up, do them out."

One aide can be heard describing Judd as "clearly … emotionally unbalanced."

Judd had been considering a 2014 Senate run against McConnell but opted against the race last month.

Judd has made two appearances on Broadway. In 1994 she starred opposite Kyle Chandler in Picnic. Directed by Scott Ellis, the production also featured Angela Goethals, Tate Donovan, Debra Monk, Anne Pitoniak, Polly Holliday, Larry Bryggman, and Audrie Neenan at the Roundabout Theater.

Almost a decade later, Judd returned to Broadway in 2003 as Maggie the Cat opposite Jason Patric in Cat on a Hot Tin Roof at the Music Box Theater.


SPREADING THE WORD


MIKE DAISEY: BRADLEY MANNING'S WAY is the final piece in Mike Daisey's explosion of new work this season, Bradley Manning's War is about Private First Class Bradley Manning, who was held for over a thousand days and nights before being arraigned on charges of treason against the United States of America.

An incredibly polarizing figure, he's reviled by some as a traitor, credited by others as having been the catalyst for the Arab Spring, despised for aiding and abetting enemy combatants, and celebrated as a hero and whistleblower. He is an enigmatic figure who has cast a long shadow across the world during his imprisonment, used as a tool and symbol by many different sides.

For a single night patrons will have the opportunity to try to find the human story of Mr. Manning, and attempt to understand his war, and all of our roles in it.

April 22, 2013 at Joe's Pub in New York City.

SIR NICHOLAS HYTER the artistic director of London's National Theatre has announced that he will step down at the end of March 2015.

In a statement Hytner, 56, said, "It's been a joy and a privilege to lead the National Theatre for ten years and I'm looking forward to the next two. I have the most exciting and most fulfilling job in the English-speaking theatre; and after twelve years it will be time to give someone else a turn to enjoy the company of my stupendous colleagues, who together make the National what it is."

Departing before Hyter is Nick Starr, who has been executive director since 2002. He announced that he will be leaving the National Theatre next year,

Starr said it would be "a wrench" to leave the theatre. "I want to make room for the next generation, and it's time for me to plough new furrows," he said.

John Makinson, chairman of the National Theatre, said it was "a sad moment" for the theatre. "Nick Hytner and Nick Starr have led the National Theatre to undreamt levels of creative and commercial success over the past decade," he added. The position was advertised last week and a replacement will be announced in autumn 2013.


OTHER PEOPLE'S MONEY


JULIE TAYMOR AND SPIDERMAN HAVE SETTLED their lengthy and contentious legal wrangling.

Taymor, Glen Berger and 8 Legged Productions LLC, the producer of Broadway's Spider-Man: Turn Off the Dark announced April 10 that the pending litigation between them has been settled by mutual agreement of all parties.


CURTAIN DOWN


HANDS ON A HARDBODY which deserved a longer run before entering the used car lot, closed at the Brooks Atkinson Theatre on April 13 at a total loss. The musical had 28 regular and 28 previews.



THE BIG KNIFE by Clifford Odets, directed by Tony Award winner Doug Hughes.

The cast includes Rachel Brosnahan as Dixie Evans, Bobby Cannavale as Charlie Castle, Marin Ireland as Marion Castle, Billy Eugene Jones as Russell, Richard Kind as Marcus Hoff, Ana Reeder as Connie Bliss, Reg Rogers as Smiley Coy, Joey Slotnick as Buddy Bliss, Brenda Wehle as Patty Benedict, C.J. Wilson as Hank Teagle, Chip Zien as Nat Danziger.

In the golden age of Hollywood cinema, actors may have all the glory, but studio execs have all the power. The Hoff-Federated studio has had its most successful star, Charlie Castle, over a barrel ever since it helped cover up a mistake that could have ended his career. When a woman with insider knowledge threatens to come forward, the studio heads will stop at nothing to protect Charlie's secret... but how far is he willing to go before he quits the movie business for good?

Set in a glossy world of rumor mills and rocky friendships, Clifford Odets's The Big Knife is about living the life you always wanted but wanting something more.

The design team includes John Lee Beatty (sets), Catherine Zuber (costumes), James F. Ingalls (lighting), David Van Tieghem (sound & original music). This is the first new Broadway production since The Big Knife premiered on Broadway in 1949, directed by Lee Strasberg.

Opens officially on Tuesday, April 16, 2013 at the American Airlines Theater in New York City.

RICH GIRL written by Victoria Stewart. Directed by Michael Bloom.

Featuring Tony Award-nominated actresses Dee Hoty and Liz Larsen.

When sheltered Claudine meets starving artist Henry, she falls head over heels. But her mother, a celebrated tough-talking financial guru, has her doubts: Is Henry everything her daughter deserves or is he only after her money?

Rich Girl, a modern day take on the classic play and film The Heiress, is a clever new comedy about women and their relationships with men, mothers and money - and not necessarily in that order.

April 19 - May 19, 2013 on the Second Stage at The Cleveland Playhouse in Cleveland, OH.

ORPHANS by Lyle Kessler. Directed by Daniel Sullivan.

Starring Alec Baldwin, Ben Foster, and Tom Sturridge.

In Orphans, two orphaned brothers are living in a decrepit North Philadelphia row house. Treat, the eldest, (Ben Foster), supports his damaged younger sibling Phillip (Tom Sturridge) by petty thievery, and makes the house a virtual prison for the seemingly simple-minded Phillip. One night he kidnaps a rich older man, Harold (Alec Baldwin), who turns out to have his own motives and becomes the father figure the boys have always yearned for.

The creative team for the production includes John Lee Beatty (scenic design), Jess Goldstein (costume design), Pat Collins (lighting design), Peter Fitzgerald (sound design), Tom Kitt (original music), Thomas Schall (fight direction), Deborah Hecht (Dialect Coach) and Caparelliotis Casting (Casting.)

Orphans officially opens April 18 at the Gerald Schoenfeld Theatre in New York City.

LOVE LIES BLEEDING: ALBERTA BALLET'S ELTON JOHN TRIBUTE set to 14 songs by Sir Elton John and lyricist Bernie Taupin, including the unforgettable Goodbye Yellow Brick Road and Bennie and the Jets.

The pulsating choreography by Alberta Ballet's artistic director Jean Grand-Maître, choreographer of the Vancouver 2010 Olympic Opening Ceremonies, conjures a romping and visually spectacular tribute to the work of Sir Elton John and Bernie Taupin.

This wild and whimsical piece explores the trials, victories, and sacrifices of achieving super stardom with an unforgettable story of rock 'n' roll, drama, passion – and above all – love.

"I am proud of what Alberta Ballet has created… It's a strong, contemporary choreography that entertains and challenges new audiences with its new esthetics and its powerful fusion of art mediums." Sir Elton John.

April 19-20 at the National Arts Centre in Ottawa, Canada.

DOKTOR GLAS epistolary novel by Hjalmar Söderberg. Performed in its original Swedish with English surtitles.

Krister Henriksson, who is best know as Wallander in Henning Mankell's widely praised Swedish TV series, will make his West End debut in Doktor Glas, which transfers to London following its acclaimed run at Sweden's National Theatre.

Doktor Glas tells the story of a 19th century physician who falls madly in love with the beautiful young wife of a corrupt clergyman. When she confides in him that her marriage is making her miserable, he agrees to help in whatever way he can. Soon Doktor Glas finds himself torn between his passion and his morality, and drives the play towards its shocking climax.

April 16 – May 11, 2013 at Wyndham's Theatre in London.

BALLO - A MASKED BALL by Verdi.

Adam Spreadbury-Maher directs his own new English version.

Based on the real-life assassination of King Gustav III of Sweden, this new English version of Verdi's political thriller is set in a Swedish homeware store.

Verdi's original Swedish version was considered too politically inflammatory, and so had to be re-written to give the characters Italian identities.

OperaUpClose's production will combine the Italian characters with a distinctly Swedish flavor, served up in the unmistakably English setting of an out-of-town shopping centre on the North Circular Road.

Olivier Award-winning OperaUpClose presents the production April 17 - May 25 at King's Head Theatre in London.


WHO'S WHERE




RITA WILSON is keeping busy while her husband Tom Hanks is starring on Broadway in Mr. Lucky. Wilson delivers a nostalgic throwback to the soft rock of Los Angeles in seven special performances April 14 - 20 at 54 Below in NYC. Wilson will perform songs from her debut Decca Records solo album, AM/FM, featuring iconic hits from the 60s and 70s. The LA born actress, producer, and writer made her Broadway debut as Roxy Hart in Chicago.

ALICIA KEYS brings her tour to the Joe Louis Arena in Detroit on Wednesday, April 17. Thursday's show is at the United Center in Chicago.

JEFF BRIDGES the Academy Award winner will perform April 19 at Santa Fe Station and April 20 at Red Rock Resort in Las Vegas. The star of Crazy Heart will perform original songs from his self-titled solo album.

FLEETWOOD MAC brings their tour to the Air Canada Centre in Toronto, Ontario. On Tuesday, April 16. Thursday's show is at the TD Garden in Boston. Saturday performance is at the Mohegan Sun Arena in Uncasville, CT.

CHRIS BOTTI starts a three night gig on Thursday, April 18, at the Concert Hall in Washington, DC. Next Sunday, April 21, the show is at the Kravis Center in West Palm Beach, FL.

TAYLOR SWIFT begins a two night gig at the Philips Arena in Atlanta, GA on Thursday, April 18. On Saturday she's on stage at the Times Forum in Tampa Bay, FL.

PINK opens a two nighter tonight, April 14, at the Arena in Manchester, UK. on Wednesday she's across the channel for a show at the Palais Omnisports de Paris-Bercy in Paris. Friday's performance is at the Ziggo Dome in Amsterdam. On Sunday, April 21 she begins a two night gig at the LG Arena in Birmingham, UK.

ELTON JOHN brings his show The Million Dollar Piano back to Las Vegas with performances April 20 to May 11, at The Colosseum at Caesars Palace.

JON BON JOVI on stage Tuesday, April 16, at the Pepsi Center in Denver. Wednesday's show is at the Energy Solutions Arena in Salt Lake City. Friday finds him at the Staples Center in Los Angeles. On Saturday he stars in Las Vegas at the MGM-Grand.


FINAL OVATION


PETER REVEEN known as Reveen the Impossibilist, died April 8, 2013 at his home in Las Vegas. He was 77.

The popular stage master illusionist and hypnotist is being remember as having the spent the last 20 years as the manager for illusionist Lance Burton.

That's fine, but what he also should be remembered for is being the man who had the courage to take a stand and open the doors for specialty acts - as they were called decades ago - being able to be booked into venues which were only interested in rock acts.

If it hadn't been for Reveen a lot of performers wouldn't have received the bookings, which made it possible for them to not only survive but rise from "specialty act" to "star" status.

One of the numerous publication I've been affiliated with is a trade publication called Amusement Business. My name was listed on the masthead as a Contributing Editor.

In an article, which carried my by-line, published March 29, 1975, titled "Reveen Blasts Aud Managers as Unwilling to Take Chance" the story ended up being given two pages - rare - in a trade publication which had to cover the world.

Reveen had come to me with the allegations of specialty acts being shut out by auditorium managers who only considering rock acts, even though some specialty acts would have turned a higher profit for the venue.

He offered me the opportunity to look at his financial records. At that time Reveen was appearing with Steve & Eydie at Caesars Palace.

As I wrote in the article, it was the first time Caesars had ever used a magic act. The credit for that went to Steve Lawrence.

I met with Reveen privately in his dressing room at Caesars before a dinner show performance. I studied the financial sheets.As the article indicates, Raveen had obtained the financial statements of various venues which were owned by cities or counties and, thus, their financial statements were public records. It was obvious that what Reveen was saying was true.

Reveen speaking out against auditorium managers in 1975 was a seriously dangerous move. Reveen's complaints and proof that he and other specialty acts could legitimately make more money for the venues, yet auditorium managers who booked the venues, were only booking rock acts, smacked of under the table deals by rock promoters and auditorium managers - a not unheard of practice back then. Specialty acts didn't have the money to pay kick-backs.

Everybody knew there were hands under the table, just as there were in Vegas hotel entertainment departments. In making the complaint, Raveen was running the risk nobody would ever hire him.

I decided that if he had the courage to speak out, I'd have the courage to print it.

A few things resulted.

1) Instead of a hard lock-out, Reveen opened the doors for specialty acts. Suddenly, it seemed, every venue noted for its rock acts, wanted a specialty performer to open the show.

2) Raveen called to thank me. He also offered to pay for security to watch my house until he was comfortable that I wasn't in danger. I declined his offer.

3) A few years before dementia robbed him of his brilliant mind, I attended a press function and was, by chance, seated next to him. On the other side of Raveen happened to be a press agent, who has never said neither a nice nor accurate word about me. Reveen instantly remembered me and, not knowing I knew the press agent, attempted to introduce me. Reveen started to make some flattering statements about me, explaining how I was the only one who would print his charges and how he would forever be grateful for the article I wrote. At that point the press agent told Reveen to, "Be quiet."

Reveen was one of the founding members of the Magic Castle in Los Angeles, and in 1987 wrote the book The Superconscious World. In 2000, he won the DRAGON Award, an annual award given to magicians who excel in Drama, Romance, Artistry, Glamour, Originality and Necromancy. In December 2009, IBM Ring 257 named Reveen their 2009 Magician of the Year.

Reveen is survived by Coral Reveen and their four sons: Wayne, Tyrone who is carrying on his father's mantle as an illusionist, Calvin, and Peter Jr. who is best known as the former guitar player in the now defunct American hard rock band Salty Dog.

MARGARET THATCHER who served as the Prime Minister of England from 1979 to 1990, the first woman to hold the post, died April 8, 2013 after suffering a stroke. She was 87.

A controversial, conservative, her tenure as prime minister plays a significant role in the musical Billy Elliot. The movie Iron Lady was made about her and, in an Oscar winning performance, starred Meryl Streep.

In accordance with her family's wishes, she will not have a state funeral, but will be accorded the same status as Princess Diana and the Queen Mother. The ceremony, with full military honors, will take place at London's St Paul's Cathedral on April 17.

ANNETTE FUNICELLO who starred as a mouseketeer in Disney's original Mickey Mouse Club died April 8, 2012 at Mercy Southwest Hospital in Bakersfield, CA. She was 70. She had suffered from MS since 1987. She had lost the ability to walk in 2004 and the ability to speak in 2009, and required round-the-clock care.

Following her mouseketeer days she made several films including The Shaggy Dog, a 1959 comedy starring Fred MacMurray. That was followed by Babes in Toyland, The Misadventures of Merlin Jones and The Monkey's Uncle. It was her paring with Frankie Avalon that made teen-age hearts flutter. Loaned by Disney to American International Pictures she make Beach Party, the song-filled, 1963 comedy in which she was first teamed on the big screen with Avalon. The popular pair went on to star in Muscle Beach Party, Bikini Beach, and Beach Blanket Bingo.

She was married to Jack Gilardi from 1965-1981 by whom she had three children, Gina, Jack, Jr. and Jason. She is survived by her children and her husband, harness racing horse breeder/trainer Glen Holt, whom she married in 1983.

JONATHAN WINTERS the comedic film, television, Las Vegas showroom performer and artist died April 11, 2013 at his home in Montecito, CA. He was 87.

Winters enlisted in the Marines before finishing high school and during World War II served as a gunner on the aircraft carrier Bon Homme Richard in the Pacific. After the war he completed high school and, hoping to become a political cartoonist, studied art at Kenyon College and the Dayton Art Institute.

The inventive comic was difficult to define. Winters was the inspiration for other comedians such as Robin Williams and Jim Carrey.

Probably the best-known of his characters from this period is Maude Frickert, the seemingly sweet old lady with the barbed tongue.

Winters recorded 12 classic comedy albums for the Verve Records label, starting in 1960, receiving 12 Grammy nominations. He won the Grammy Award for Best Spoken Word in 1992.

Neil Portnow President/CEO of The Recording Academy issued the following statement: "Grammy winner Jonathan Winters was a mercurial comedian who created a range of unique characters that ultimately launched him into the spotlight, and kept him there for more than six decades. A master of improvisation, he drew his material from observing human behavior – as opposed to politics and current events - which set him apart from other comedians of his time and made his comic style more accessible. The entertainment world has lost one of its giants, and his legacy will continue to inspire future comedians for many generations to come. Our deepest sympathies go out to his family, his fellow comedians, and all who have ever enjoyed a good laugh thanks to his insightful and offbeat humor."

Winters appeared in nearly 50 movies and several television series.

In 1999, Winters was awarded the Mark Twain Prize for American Humor.

A serious artist he had many gallery showings as well as galleries presenting in one-man shows of his art. In 1987, he published Winters' Tales: Stories and Observations for the Unusual.

In 1948 he married Eileen Schauder, a Dayton native he met when she was studying art at Ohio State. She died January 11, 2009 died at the age of 84 after a 20-year battle with breast cancer. He is survived by two children and five grandchildren.

MARIA TALLCHIEF one of the 20th century's greatest ballerinas died April 11, 2013 at Northwestern Memorial Hospital in Chicago. She was 88. Oklahoma born, she was the first Native American to become a prima ballerina of a major company. From 1942, at age 17, until 1947, she danced with the Ballet Russe de Monte Carlo, but she is even better known for her time with the New York City Ballet, from its founding in 1947 through 1965.

Russian-born choreographer George Balenchine, who was her first husband, wrote several of his most famous works for her.

She was the director of the Chicago Lyric Opera Ballet from 1973 to 1979. With her sister Marjorie she founded the Chicago City Ballet in 1981 and served as its artistic director until 1987. From 1990 until her death she was artistic advisor for Von Heidecke's Chicago Festival Ballet.

In addition to numerous other awards, she received the Kennedy Center Honors in 1996 along with Johnny Cash, Jack Lemmon, Edward Albee, and Benny Carter.

Tallchief was married three times. She married Balanchine in 1946 and divorced in 1950. Her second husband was Elmourza "Elmo" Natirboff (1925-2012) a charter-airline pilot. They married on October 4, 1952 and divorced in 1954. Her third husband was Henry "Buzz" Paschen Jr. (1926-2003), scion of a Chicago construction family.. They married on June 3, 1956 and had one daughter, Elise Paschen (born 1959), an award-winning poet who served as the executive director of the Poetry Society of America from 1988 to 2001 and currently teaches in the writing program at the Art Institute of Chicago.. By this marriage, Tallchief also had a stepdaughter, Margaret Wright. She is also survived by her son-in-law, Stuart Brainerd; and two grandchildren, Stephen and Alexandra







Next Column: April 21, 2013
Copyright: April 14, 2013. All Rights Reserved. Reviews, Interviews, Commentary, Photographs or Graphics from any Broadway To Vegas (TM) columns may not be published, broadcast, rewritten, utilized as leads, or used in any manner without permission, compensation and/or credit.
Link to Main Page
---
Laura Deni



For the snail mail address, please E-mail your request.
CLICK HERE FOR COMMENT SECTION