! >
Broadway To Vegas
  
  REVIEWS INTERVIEWS COMMENTARY NEWS

| | |
| --- | --- |
| | |
MUSICAL TOP HAT CHARMS THE WEST END - - MUSICAL MATILDA INTENDS TO RULE BROADWAY - - WORKING CD REVIEW - - PAUL CUMMINS' THE ENGLISH FLOWER GARDEN AT PARLIAMENT - - MICHELLE OBAMA SEES THREE BROADWAY SHOWS - - A FIT LONDON WELCOMES THE OLYMPICS - - THE NUTTY PROFESSOR DIRECTED BY JERRY LEWIS OPENS - - CHARLIE SHEEN DONATES AT LEAST $1 MILLION - - DONATE . . . Scroll Down


Copyright: July 22, 2012
By: Laura Deni
CLICK HERE FOR COMMENT SECTION

MUSICAL TOP HAT CHARMS THE WEST END WHILE MATILDA TAKES AIM AT BROADWAY

The buzz from London's West End is that the musical Matilda will be the show which conquers Broadway when it transfers across the pond next season.

There are a lot of heavyweights connected with this show. However, should any of them get too cocky about the musical coming to The Great White Way, a slippery slope slide could result.

There are a lot of pluses to the production which was seen in London at the Cambridge Theatre.

The girls who rotate in playing the title role on Broadway will have an important credit on their resumes.

Not since Annie has such a star vehicle role been written for a child. But because more than one child will play the lead, one individual's performance ability won't have the power to make the show into a box office smash, nor turn them into an Andrea McArdle. However, anything less than outstanding leads will break the show.

In London four girls rotate the part, an adrenaline rush for New York stage mothers in knowing that there are more opportunities for their darlings to land the role.

There are several strong parts for children and those cast in the London production have talent, polish, snap and style.

The musical score by Tim Minchin is vibrant and original, although it does stay within narrow musical parameters.


Several girls will rotate the lead of Matilda.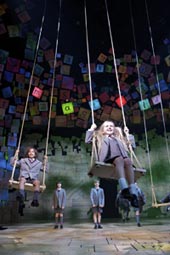 The adult part of schoolmistress Miss Trunchbull, played in London by Bertie Carvel in drag, is show stealing. "To teach the child, we must first break the child," is the educational mantra.

There is no doubt Matilda will succeed on Broadway. To what degree of success becomes the question.

Unlike The Producers or The Book of Mormon this musical is not obviously going to knock out all competition.

There are a few things lacking.

The way it is currently mounted makes it a show for kids - especially those who are familiar with the name Roald Dahl's literary masterpiece Matilda.

If a child isn't already a fan of Matilda then the musical is dark and scary. Those who complained that the Broadway revival of Mary Poppins was too dark will suddenly decide Mary Poppins is a burst of sunlight compared to this tale.

The show opens with inventive set design by Rob Howell who also did the costumes. A mosaic of suspended book pages, and walls and walls of books. Hugh Vanstone's use of shaft lighting is important. The set and lighting captures and holds the audience's interest. The first number features kids establishing that London has no shortage of amazingly talented child actors who known how to sing, dance and deliver a part. Not a second rater in the group.



The inventive sets and costumes are by Rob Howell.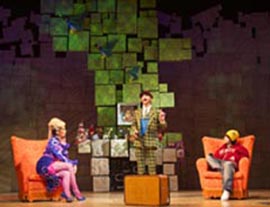 The adults appear to establish the direction of the show. An obviously pregnant - but in denial - women doesn't want that condition. Forced to give birth, the father doesn't want a girl.

The opening number Miracle will be applauded by pro-lifers, but whether they will show their musical approval by buying tickets is another issue.

And so Matilda is born - somebody nobody ever wanted and that view is what permeates this musical. Her parents' viewpoint is that she is evil and their child rearing techniques are to resent and ignore her.

The children take over, although brilliant Matilda's mystical powers aren't revealed until late in the show.

This presents two problems for adult theatergoers.

Few adults attend school gymnastic, dance or theatrical productions unless they know somebody in the cast. There is a risk that adults watching Matilda without a child in tow might find the production boring.

The second problem is that the music isn't memorable.

There is no The Sun Will Come Out Tomorrow or It's a Hard Knock Life from Annie. There isn't a Chitty Chitty Bang Bang - whose book was also penned by Dahl. No Supercalifragilisticexpialidocious, or Hushabye Mountain. Nothing poignant like As Long As He Needs Me from Oliver! or If He Walked Into My Life from Mame. No Defying Gravity or For Good from Wicked.

No important, memorable number. Not one.

In a difficult dance routine choreographer Peter Darling uses adults impersonating children which is understood considering the danger, but still a bit disconcerting.

In The Big Apple, those with enough discretionary income to appease their offspring who clamor to see Matilda will purchase tickets. Once the new kid gloss wear off, how many adults will pay top dollar in order to see Matilda, based on the possibility that one of the child actors will become a household name - when they can watch star maker programs for free on television?

Selling tickets to those outside the tri-state area for whom Roald Dahl is not a household name might be an issue.

Directed by Matthew Warchus the show is sassy and spirited.

There are the classic, naughty Dahl putdowns: Maggot!. "My daddy says I should shut my cakehole," sings Matilda which will have parents explaining to the child they took to the theater that we don't call people that name, nor talk that way.

Matilda has moments of sweetness, sharp wit and laughs but is basically dark, tart and sinister.

There is a lot for people to enjoy in this show, which should rake in at least 6 Tony nominations. However, some ticket holders might not enjoy the production as much as they have other musicals, while being hard pressed to explain why.

A lack of kinship for the title role.

To emotionally survive a hateful upbringing Matilda has retreated into books, creating stories.

Matilda is brilliant, mystical, sassy, determined and never complains. There aren't a lot of Matildas in this world. That creates an empathy problem. While she is the one from the truly abusive household, others turn to her to solve their problems. She is the one who saves the others while there is no real support system for her. Even the one character in the show who displays an interest in Matilda, Miss Honey, the meek teacher who is impressed by Matilda's intellect, never-the-less needs Matilda more than Matilda needs her.

Matilda's only satisfaction is in instigating rebellion which improves the lives of others. The audience cheers for her to lead the way for them, but isn't actually cheering for her. She's being used. That gives the audience a peculiar feeling which they can't quite pinpoint.

Matilda is a novel by British author Roald Dahl. It was published in London 1988. While the book is a classic in England, not every American child - nor their parent - is familiar with the tome. More Americans have probably seen the movie than read the book and there are numerous differences between the film version and stage production, which is considerably darker.

This is not a warm and fuzzy, feel good, toe tapping musical. It's dark, mean and puts the responsibility for Matilda to cope with her problems squarely on her own tiny shoulders.

"Nobody but me is going to change my story," she sings in Naughty. "Just because you find that life's not fair / It doesn't mean that you just have to grin and bear it / If you always take it on the chin and wear it, nothing will change."

The award-winning Matilda the Musical will begin previews on Broadway March 4, 2013, at the Shubert Theatre - and the schoolgirl Matilda will not be Americanized announced Andre Ptaszynski, the executive producer of Matilda on behalf of the Royal Shakespeare Company. Dialect coaches will travel to New York to work with the cast to help them achieve the perfect English accent.

British dialect? Yeah, sure. You can bet your fish and chips money that the American kids will be speaking an articulate, easily understood stage version of British speak; not the common man on the London street version who speaks with a stiff, clenched jaw and drops consonants, so that it is entirely possible not to understand one, bloody word.

Producers aren't going to want opening night reviewers carping they couldn't understand any of the dialogue.

Then there is the biggest problem of all - no stand alone, inspiring anthem. Nothing on the likes of -'Matilda is special. Matilda is a joy. There is a bit of Matilda in every girl and boy.' No song to skip out of the theatre singing. It doesn't matter that the Matilda score is excellent. Depending upon what other musicals open on Broadway, no important, memorable, uplifting, sing along song could turn this musical into an expensive, entertaining but not quite on key mounting.



Summer Strallen as Dale and Tom Chambers in Top Hat.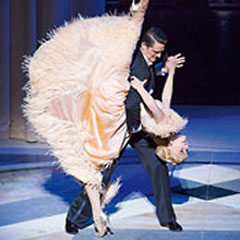 Top Hat seen at the Aldwych Theatre with music and lyrics by Irving Berlin. Based on the Fred Astaire-Ginger Rodgers RKO motion picture, the screenplay by Dwight Taylor and Allan Scott has been adapted for the stage by Matthew White and Howard Jacques.

Set in 1935, it's an antiquated, creaky show which is absolutely charming.

Spot on Art Deco sets which make masterful use of sliding panels are by designer Hildegard Bechtler. Effective lighting by Peter Mumford. The sublime costumes by Jon Morrell might be budget breaking but they are well worth the thought, construction, and upkeep.

Directed by Matthew White, this is a truly fun - just relax and enjoy it - piece of musical theatre.

The spine of the production is the music - a showcase for Irving Berlin tunes - all approved for inclusion in this show by the Berlin daughters and the Rodgers & Hammerstein organization which controls the library.

There is a full overture under the direction of Dan Jackson. The musical compositions arranged by Chris Walker are faithful to the 30s - making good use of saxophones and trumpets. The 14 member live ensemble is augmented by a synthesizer strategically used to enhance rather than annoy. The musical results being first rate, and highly effective.



Tom Chambers in the sizzling opening number Puttin' On The Ritz.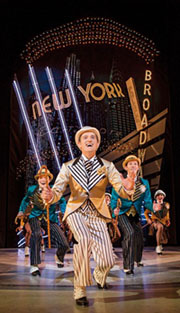 The production opens with a glossy, full throttle version of Putting On The Ritz which establishes the appropriate mood.

Performed by a cast of 31, this new musical comedy includes Irving Berlin classics from the movie such as Cheek to Cheek, Isn't It a Lovely Day to be Caught in the Rain and Top Hat White Tie and Tails. In addition, from Berlin's 1200 strong back catalogue, a further ten numbers have been interpolated including Let's Face the Music and Dance.

Keeping the atmosphere going are four support beams: Martin Ball as Horace Hardwick and Vivien Parry as his wife Madge. She thinks he's cheating on her and expresses her love by bickering and assaulting. He defends himself by whimpering. Stephen Boswell is their delightfully doleful butler Bates and the scene stealing Portuguese actor Ricardo Afonso as designer Alberto Beddini, whose use of a fractured Italian accent is topped only by what is the funniest male strip seen in ages.

Their roles are important and downright corny. The jokes are old but when told with such pitch perfect timing become deliciously funny.

They hold the theatrical canopy high for Summer Strallen as Dale and London favorite Strictly Come Dancing winner Tom Chambers as Jerry Travers who fall in love. Whey they aren't sassing each other they are dancing.

This isn't the most expensive, elaborate, complex musical ever mounted. But there is something civilized, quaint, delightfully British about the presentation. A nice addition to the West End line-up, Top Hat offers a lovely night out to enjoy an entertaining musical which doesn't require a patron to muse over a storyline, recall history or the news of the day.







Broadway To Vegas is supported through advertising and donations. Priority consideration is given to interview suggestions, news, press releases, etc from paid supporters. However, no paid supporters control, alter, edit, or in any way manipulate the content of this site. Your donation is appreciated. We accept PAYPAL. Thank you for your interest.



ART AND ABOUT


PAUL CUMMINS: THE ENGLISH FLOWER GARDEN AT HOUSES OF PARLIAMENT

A small section of the Parliament building in London. Photo: Laura Deni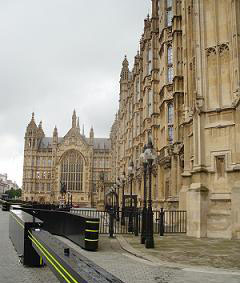 is a series of six installations with a total of 15,000 individually hand-thrown ceramic blooms mounted on metal rods.

He's created several hundred ceramic roses in red and white as well as multi-colored tulips.

The leaves of the tulips are made of glazed metal and can gently move with the wind.

It is a celebration of the quintessential British love of flowers.

Paul Cummins is known for his distinctive landscape installations and traditional earthenware pans.

His work features exuberant flower glazes and the signature flower heads and vessels are reminiscent of ceramics from the Mediterranean.

This installation is part of Arts in Parliament, a project that brings art, music, dance and poetry into the Houses of Parliament from June to September 2012, for the London 2012 Cultural Olympiad.



Exhibit of Paul Cummins' The English Flower Garden on the lawn of Parliament. Photo: Laura Deni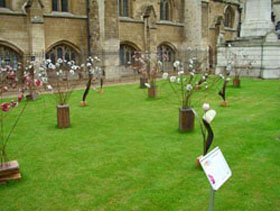 The Derby graduate is among 13 artists with disabilities commissioned to produce work for a groundbreaking cultural program Unlimited for the 2012 London Olympics.

Unlimited is a program celebrating disabled artists' work.

Paul, 33, of Chesterfield - who has severe dyslexia - said: "I am really pleased that my submission to be one of the Unlimited program artists has been accepted.

Ruth Mackenzie, Cultural Olympiad Director, added: 'This commission is about world-class artists creating brilliant work which will change perceptions of the work of disabled and deaf artists."

It is one of six installations by the artist around the theme of the English garden.

Having originally studied environmental architecture, Paul uses traditional yet environment methods to create ceramic vessels and installations. This is reflected in the way he creates and fires his work.

Paul uses traditional once firing methods, which use less energy thus reduces the firing to 36 hours as opposed to 6 days.



One of the tulips. The heads are made in Terracotta clay. Photo: Laura Deni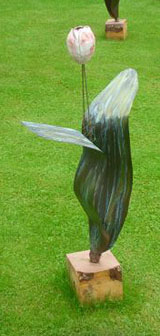 In addition to this Paul create glazes using more environmentally friendly based material for example sourcing materials such as lead substitute as opposed to using lead.

The tulip heads are made in Terracotta clay.

The artist kneeds a large wedge of raw clay weighing approximately 11 pounds.

The wedge or 'hump', as it is known when placed onto the potter's wheel, is thrown to form 3 or 4 flower heads in succession.

Each head is cut from the hump and put aside to dry to leatherhard or green state, when it is ready to be sculpted into its final shape.

Paul carves each flower head using a potter's pen, to achieve its individual form, using drawings, photographs and images as his inspiration (some from copies of the famous plates in The Temple of Flora that was originally produced on May 1, 1798, published by Thornton). Every flower head is different.



Several hundred ceramic roses in red and white are on display in the artistic garden. Photo: Laura Deni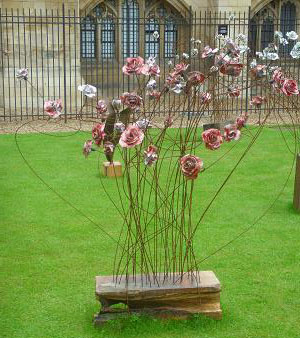 To achieve the lustrous glazes and rich colors Paul uses two firing methods.

The first applies to the tulip head in its leatherhard state which is painted entirely with pale Maiolica tin glaze, after which color details are applied by brush, and then the color and pattern is fixed in a single firing.

The alternative process involves two firings: Initially the leatherhard tulip heads are placed in the kiln and fired to 950 degrees to become 'biscuit'.

When slightly warm (around 100 degrees) Paul paints the first opaque cream maiolica glaze, and once the heads are cool he adds the colors - oxides and stains - that achieve the vivid colors.

The heads are kiln-fired again to a temperature of approximately 1100 degrees for 2 days and when the kiln is opened, it reveals the spectacular tulip heads.

The project is part of the London 2012 Cultural Olympiad, the largest cultural celebration in the history of the modern Olympic and Paralympic Movements.

It has also been selected to be part of the London 2012 Festival, a spectacular 12-week nationwide celebration from running until September 9, 2012 bringing together leading artists from across the world with the very best from the UK.


THE MUSIC GOES ROUND AND ROUND


WORKING a musical adapted by Stephen Schwartz and Nina Faso from Studs Terkel's book by the same title. It includes songs contributed by Stephen Schwartz, James Taylor, Craig Carnelia, Mary Rogers, Micki Grant, and Susan Birkenhead.

The new CD is released by Masterworks Broadway.

The musical is based on the Studs Terkel book Working: People Talk About What They Do All Day and How They Feel About What They Do (1974), which has interviews with people from different regions and occupations.

The musical was first staged at the Goodman Theatre in Chicago from December 1977 through February 1978. It then was produced on Broadway at the 46th Street Theatre, opening on May 14, 1978 where it ran for only 24 performances and 12 previews, but was nominated for 6 Tony Awards.

Directed by Schwartz, the cast featured Patti Lu Pone who is part of the Company on this CD, Bob Gunton, Joe Mantegna, Lynne Thigpen, David Patrick Kelly, Robin Lamont, Steven Boockvor, Rex Everhart, Bobo Lewis, Lenora Nemetz, Brad Sullivan, Matt Landers, David Langston Smyrl, Matthew McGrath, Susan Bigelow, Terri Treas and Arny Freeman, an actor who was interviewed in the book.

"What's the theme of Working, the book and the musical? It's about a search for daily meaning as well as daily bread, for recognition as well as cash, for astonishment rather than torpor; in short, for a sort of life rather than a Monday-through-Friday sort of dying. Perhaps immortality, too, is part of the quest. To be remembered was the wish, spoken and unspoken, of these heroes and heroines. In a sense, they were speaking for all of us." - Studs Terkel, 1978

This is an interesting CD which holds the listener's attention. You find yourself not using the music as background entertainment, but actually stopping to listen to the lyrics which are as significant today as they were 35 years ago.

Musical instruments morph into a steel hammer while a jackhammer adds its point. People work in All the Live Long Day performed by the Company.

Loving Al performed by David Langston Smyrl who portrays a parking lot attendance/bus driver is a southern blues with a tinkling piano and a slap it bass.

The Mason about a man who builds houses one stone at a time, sung by David Patrick Kelly. "Every house he builds/Every stone he lays/ he builds a house by hands/the work a mason does was made to last."

Nobody Tell Me How with music by Mary Rodgers and lyrics by Susan Birkenhead is performed by Bobo Lewis. This is a spirited number about a teacher complaining how teaching methods have changed. Once upon a time teachers did it their way. Now, administration tells you how to do it.

Un Mejor Dia Vendra is sung in English and Spanish by Matt Landers and Joe Mantegna and Company. It's about a teacher who has taught for 41 years. Children are expected to learn and a teacher is suppose to keep up with the times.

Just a Housewife is a powerful anthem to the 24-house difficult profession written by Craig Carnelia and sung by Susan Bigelow and Company. "All I am is just a housewife/Nothing special/ All I am is someone's lover/All am is someone's wife/All of which seems unimportant/All it is, is my life. / Take the dog out/ Clean the house/ Try to lose weight/Try Again/Loose your patience/Count to ten/ What I do is out of fashion/ What I do is unfulfilling/So the TV talk shows tell me every night/ What I do may be dumb to you/But it's not to me."

Millwork sung by Robin Lamont is an ode to generations who passed down their craft from grandfather to son. A ballad featuring guitar, mandolin and strings salutes the man whose name is on the label - the man who never meets the person who buys the table. The craftsman has become part of the machine.

If I Could've Been sung by David Patrick Kelly, Lynne Thiggen and Company is a spirited, gospel feel number about people left with their dreams about what they could have been.

Joe delivered by Arny Freeman is a talked song, about a man who has retired and is trying to find meaning in life. You cook to save money, visit your wife's grave - remember the dance when you were 17 - watch the news on TV - straighten up the place - change your shirt - watch the game - remember when you were working.

It's An Art is a production number sung by Leonora Nemetz and Company explaining how being a waitress and serving a pork chop is an art.

Brother Trucker performed by Joe Mantegna and Company is a blues song by James Taylor.

Fathers and Sons written by Stephen Schwartz and sung by Bob Gunton. It a moving piece about fathers working for their children. A steelworker father recalling when he was a hero to his small child and how that changes. Daddies make mistakes.

The spirited Cleanin' Woman offered by Lynne Thigpen about a hotel maid who works 6 days a week and dreams of "one of these days to sleep until noon."

The entire Company performs the final cut, Something to Point To - "See that building" - as workers explain what they do for a living. Everyone has something to point to / to be proud of.

Musicians:

Keyboards - Ken Bichel Rosalinda De Leon, Stephen Schwartz.
Guitars - Scott Kurney, Jerry Wiener, David Patrick Kelly, Matt Landers
Drums - Don Simmons
Percussion - Jim Ogden
Bass - Gregory Maker
Trumpets - Jim Sedlar, John Bova
Trombones - Eddie Bert, Jack Elliot
French Horn - Don Corrado
Woodwinds - Joe Grimaldi, Richard Centalonza, Joe Palmer
Violins - Jesse Cusimano, Terry Woitach, Evelyn Glover, John Kunkel
Cellos - Carolyn Halik, Clarissa Howell
Orchestra Personnel Manager - Earl Shendell. Recorded at A&M Recording, Inc New York City. Recording Technicians - Chaz Clifton, Ed Rak. Mastered at Sterling Sound. Mastering Engineer George Marino.


FIRST LADY AND DAUGHTERS ATTEND 3 BROADWAY SHOWS CAUSING TWITTER FRENZY


Broadway performers couldn't wait to get to their Twitter accounts when First Lady Michelle Obama and her daughters spent a week-end in New York.

Michelle Obama recently attended the Broadway shows Sister Act, Porgy and Bess and Spider-Man Turn off the Dark.

The no-frills appearances weren't even announced to the cast until intermission after which performers went into a Twitter frenzy.

Michelle and the First Daughters Sasha, 11, and Malia, 13, enjoyed Sister Act on Saturday, July 14.

"Just had the honor of performing for the First Family of the USA. Just met Sasha and Malia Obama!" Tweeted Sister Act co-star Chester Gregory immediately after the performance.

That evening the first lady watched Porgy and Bess at the Richard Rodgers Theatre with her sister-in-law, Maya Soetoro-Ng. Afterwards they went backstage to meet the cast. Star Audra McDonald hit the keystrokes.

"Catfish row is floating on air after meeting Michelle Obama at our show tonite. She is grace incarnate & hugged every member of the cast!" tweeted McDonald.

Then Sasha, Malia and their Mom attended the Sunday, July 15 matinee performance of Spider-Man: Turn Off the Dark at the Foxwoods Theatre where some fool staged a bomb scare. As purses and backpacks are inspected before ticket holders enter the venue, a man who apparently was trying to be funny - but wasn't - joked to cops that if he didn't like the show, his luggage might "blow up."

The man had no knowledge that the First Lady and her daughters were going to attend.

Never-the-less, the Secret Service saw nothing funny in the prank, although no arrest took place.

"Was sooo excited that my little cousins came out to Spidey today! And Michelle, Malia and Sasha Obama were in the house as well!!! #Awesome," Tweeted Spider-Man cast member Dana Marie Ingraham who was recently promoted to Dance Captain.


A FIT LONDON WELCOMES THE OLYMPICS
Olympic Rings hang from The London Bridge. Photo by: Laura Deni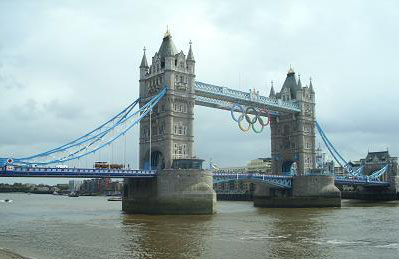 London has rolled out the welcome mat for those attending the Olympics.

Olympic Rings hang from The London Bridge. They are also painted on road lanes earmarked for travel to and from the Olympic village.

Flags fly everywhere and road signs give directions.

Britain has gotten physically fit.

Since winning the bid to host the Olympics a campaign has been waged against looking fat and sloppy.

If your destination is three miles or less, you're encouraged to walk it. The fact that transportation costs are outlandish also helps fuel the footpower.

Calorie counts are posted on food and server boards. Information on how many are burned off walking are easy to locate.



The Jubilee walk stepping stones helps in putting one foot in front of the other. Photo by: Laura Deni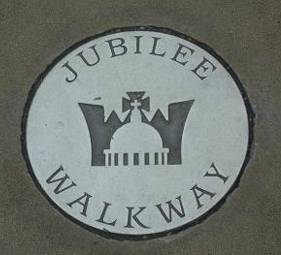 There are seven routes to choose from and stepping stones help guide the way. Photo by: Laura Deni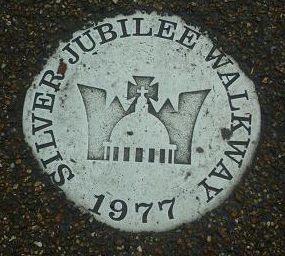 Stairs are the upward mobility of choice.

Nobody gives a second thought about climbing four flights.

After you've logged about 5,000 stair steps your legs stop hurting, you can jog up the steps and you wonder why anyone would complain.

A fun event is the Walk London program. This is a structured walk divided into seven sections with specific paths, each ranging from 15 to 152 miles.

Certificates are awarded for the completion of each section.

An interesting and physical fit way to discover London.

And, not as leg cramping as it sounds as there is no time limit for the completion of each path section. All of the paths have markers to guide the foot trotters along their way.

Complete any or all of the paths.

Hint: Strike up a conversation with people walking dogs, they seem to be the friendliest.

Grocery store food prices are two to three times as expensive as American grocery stores prices - also a deterrent to overeating.

If you see somebody overweight in London, it's a good bet they are a tourist.


SPREADING THE WORD


4th ANNUAL ATLANTIC CITY FOOD AND WINE FESTIVAL takes place July 26-29 at Caesars Atlantic City with celebrity chefs Paula Dean, Anne Burrell, Tyler Florence, Nadia G, Robert Irvine, Buddy Valastro, and Andrew Zimmern.

BERNARD GERSTEN TO STEP DOWN AS EXECUTIVE PRODUCER OF LINCOLN CENTER THEATER J. Tomilson Hill, Chairman of the Board of Directors of Lincoln Center Theater, has announced that Bernard Gersten has decided to step down as the Theater's Executive Producer, a position he has held for 28 years, as of June 30, 2013.

Mr. Hill said, "Lincoln Center Theater is truly fortunate to have been the beneficiary of Bernard's dedication, vision, grace, and his gift for working with André Bishop to create a leadership position for our theater."

Over the last 27 years, Mr. Gersten has overseen - initially with Gregory Mosher, and since 1991 with current Artistic Director André Bishop - more than 147 productions in LCT's Lincoln Center houses as well as on Broadway, off-Broadway, and on national and international tours.

Mr. Gersten said, "We've had a terrific run for 27 years at Lincoln Center Theater and with a devoted Board and a crackerjack staff, the Theater can look forward to the next 27."

There will be no successor to Mr. Gersten named as Executive Producer. Lincoln Center Theater will continue to operate under the continuing direction of Mr. Bishop with its current staff.


OTHER PEOPLE'S MONEY


CHARLIE SHEEN will donate at least $1 million to the USO to help wounded soldiers. The first installment of $250,000 was delivered last week.

The funds have been earmarked for the USO's Operation Enduring Care campaign, which is helping to build two new USO Centers to support ill and injured troops and their families. One will be at Walter Reed/Bethesda Hospital in Bethesda, Maryland, the other at Fort Belvoir, N.J.

In a press release Sheen, 46, said overall he'll donate 1% of the profits from his new FX show Anger Management to the morale-boosting nonprofit agency, which gained fame for sending entertainers to active military bases around the world.

Sheen guaranteed a minimum gift of $1 million, with no cap on the final donation.

"It's an honor for me to be able to give back to these men and women of the military who have done so much for all of us," Sheen said in a statement.

"They put their lives on the line for us every day, and I'm just happy that my work on Anger Management can bring a little bit of relief to the troops and their families."


OPERA FOR THE HIGH TONE SHOPPER
Kirsty Michele Anderson entertaining Harrods' shoppers in London. Photo: Laura Deni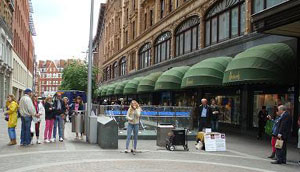 Shoppers at the upper-crust department store Harrods in London were entertained by rising opera star Kirsty Michele Anderson.

The delightful musical high note by the blonde beauty was the perfect way to enter the high class store.

Young and sexy looking in casual blue jeans, the lady with a golden voice did almost the impossible - stopping dedicated shoppers in their tracks.



Kirsty Michele Anderson, winner of Open Mic UK.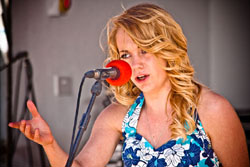 Anderson is recognized as one of the brightest and most promising Opera singers in the UK today.

In 2007 she joined the Stanley Opera Company.

In 2009, Kirsty's professional career was launched after she took home the title of the winner of Open Mic UK, a competition into which 10,000 singers entered.

In April 2010, Kirsty made her operatic debut as Mimi in Puccini's La bohème, performing alongside top tenor Alexander Anderson-Hall.

The following year, she played Gilda in Verdi's Rigoletto and was once again met with glowing reviews from theatre critics.


GET WELL SOON TO . . . .


KRISTIN CHENOWETH who has had a miserable past few months - first plagued by throat problems and now the Tony Award-winning actress is recuperating from being injured July 11th while filming in Brooklyn on the set of the CBS drama The Good Wife.

A piece of equipment, knocked loose by strong winds, struck Chenoweth, who fell to the ground. The actress was taken to Bellevue Hospital for treatment for her undisclosed injuries. She was released on July 12.

The injury forced Chenoweth to cancel a scheduled Live! With Kelly co-host appearance on July 19th.



THE NUTTY PROFESSOR a new musical comedy based upon the film by the same name. Directed by Jerry Lewis.

Featuring music by Oscar, Emmy, Tony, and Pulitzer Prize winner Marvin Hamlisch and a book and lyrics by 3-time Tony winner Rupert Holmes.

The story follows geeky chemistry professor Julius Kelp, who concocts a formula to turn himself into the ultimate heartthrob. But when the woman he loves falls for his alter ego, will Julius find the courage to win her back from his hipper self?

Heartwarming and delightfully funny, The Nutty Professor has a universal message that everyone can relate to: we might try to change who we are...but there's no substitute for the real thing.

Starring Michael Andrew as Julius Kelp/Buddy Love.

Todd Ellison, musical director. Joann M. Hunter, choreographer. David Gallo, scenic designer. Ann Hould-Ward, costumes.

TPAC in Nashville proudly presents this world premiere July 24-August 12, 2012.

ALL THE WAY a world premiere by Robert Schenkkan. Directed by Bill Rauch.

Right out of Shakespeare's playbook 1963.

An assassin's bullet catapults Lyndon Baines Johnson into the presidency. A Shakespearean figure of towering ambition and appetite, the charismatic, conflicted Texan hurls himself into Civil Rights legislation, throwing the country into turmoil. Alternately bullying and beguiling, he enacts major social programs, faces down opponents and wins the 1964 election in a landslide.

But in faraway Vietnam, a troublesome conflict looms. In the Pulitzer Prize–winning playwright's vivid dramatization of LBJ's first year in office, means versus ends plays out on a broad stage canvas as politicians and civil rights leaders plot strategy and wage war.

All the Way was commissioned as part of the Oregon Shakespeare Festival's American Revolutions: The United States History Cycle.

July 25-November 3 in the Angus Bowmer Theatre in Ashland, Oregon.

THE PRODUCERS Book by Mel Brooks and Thomas Meehan. Music and Lyrics by Mel Brooks. Original direction and choreography by Susan Stroman who does the same for this production.

From the brilliantly twisted mind of Mel Brooks comes this insanely funny adventure - a down-on-his-luck Broadway producer and his mild-mannered accountant concoct a get-rich scheme to bilk their investors out of millions by producing the most notorious flop in history. Based on Brooks' Oscar-winning 1968 film, this Broadway smash hit and winner of a record-breaking 12 Tony Awards is the annual fully staged musical at the Hollywood Bowl. Conducted by Kevin Stites.

Starring Richard Kind as Max Bialystock and Jesse Tyler Ferguson as Leo Bloom.

With Roger Bart as Carmen Ghia, Gary Beach as Roger De Bris, Dane Cook as Franz Liebkind and Rebecca Romijn as Ulla.

July 27-29 at The Hollywood Bowl in Hollywood, CA.

INTO THE WOODS Music and Lyrics by Stephen Sondheim. Book by James Lapine. Directed by Timothy Sheader. Co-Directed by Liam Steel.

Featuring Amy Adams, Jack Broderick, Gideon Glick, Cooper Grodin, Ivan Hernandez, Tina Johnson, Josh Lamon, Jessie Mueller, Donna Murphy, Denis O'Hare, Laura Shoop, and Tess Soltau.

In Into the Woods, a witch's curse condemns the Baker and his Wife to a life without children. They embark on a quest to find the four items required to break the spell: the cow as white as milk, the cape as red as blood, the hair as yellow as corn, and the slipper as pure as gold. Will they succeed? And what happens after "happily ever after?"

A Tony Award-winning masterpiece, Into the Woods is a witty and irreverent reimagining of beloved classic fairytales: Jack and the Beanstalk, Little Red Riding Hood, Rapunzel, and Cinderella.

This production is based on the Regent's Park Open Air Theatre London Production produced by Timothy Sheader and William Village for Regent's Park Theatre Ltd.

Scenic Design by John Lee Beatty and Soutra Gilmour. Costume Design by Emily Rebholz. Sound Design by Acme Sound Partners. Originally Directed on Broadway by James Lapine.

The five-week engagement at the Delacorte Theater in Central Park in New York City begins July 23.

Free tickets to Shakespeare in the Park are distributed on the day of the performance beginning at 1PM at The Delacorte Theater.

OUR LOVE IS HERE TO STAY The music of George Gershwin spanned both popular and classical genres and his beautiful melodies are widely recognized. Paired with his lyricist brother, Ira, the Gershwins wrote some of the great love songs of the 1930s like Fascinating Rhythm, 'S Wonderful, A Foggy Day and But Not for Me.

A tribute to one of America's most beloved song writing teams. Starring Philip Chaffin, Melissa Joy Hart, Lauren Rooney, Anette Michelle Sanders & Keith Spencer. Through July 29 at the Bristol Riverside Theatre in Bristol, PA.

SKIPPYJON JONES based on the popular picture book series of the same name by Judy Schachner. Directed by Peter Flynn and choreographed by Devanand Janki. Music by Eli Bolin with book and lyrics by Kevin Del Aguila.

Skippyjon Jones wants to be the best Chihuahua ever! The only problem: he's actually a Siamese cat. Before you can say "holy guacamole," Skippyjon's wild imagination transforms him into El Skippito Friskito, the greatest sword fighter in Mexico.

The production stars Austen Nash Boone as Skippyjon Jones, Jose Restrepo as Mama Junebug/Polka Dot-ito/Alfredo Buzzito, Veronica Reyes as Jezebel/Poquito Tito, Gabrielle Ruiz as Ju-Ju Bee/Rosalita, and Graham Stevens as Jilly Boo/Don Diego. Melanie Beck and Marcelo Pereira are the understudies.

Scenic design by Rob Odorisio, costume design by Tracy Christensen , lighting design by Tony Award winner Jeff Croiter and Corey Pattak, and sound design by Carl Casella. Orchestrations are by Frank Galgano and Matt Castle. Castle also serves as musical director.

Performances began on July 17, 2012 at Off-Broadway's Lucille Lortel Theatre in New York City. Performances continues through Friday, August 17, 2012. Opening night is set for Wednesday, July 25.

Launched in 1989, the mission of Theatreworks USA's Free Summer Theatre Program is to provide New York City youth with their own theatre tradition that not only entertains, but also educates and fosters positive value and an appreciation for theatre.

More than 15,000 free tickets will be distributed to Skippyjon Jones this summer. This year's Honorary Chairs for the Free Summer Theatre Program are Tony Award winner Christian Borle, television and film actor Mark Consuelos, Emmy Award-winning television host Kathie Lee Gifford, and Tony Award winner Lin-Manuel Miranda.


WHO'S WHERE


NEIL DIAMOND performs his hits Monday, July 23, at the Key Arena in Seattle. On Thursday his tour stops at the 1st Bank Center in Denver. Saturday's show is at the Rio Tinto Stadium in Salt Lake City.

AEROSMITH on stage Tuesday, July 24,at the Philips Arena in Atlanta. On Saturday they entertain at the American Airlines Center in Dallas.

MADONNA performs Tuesday, July 24, at the Aviva Stadium in Dublin, Ireland. Next Sunday she's on stage at the Ernst Happel Stadion in Vienna, Austria.

BELOW 54 the new cabaret in New York City has some strong performers entertaining this week. Andre McArdle performs July 23 as does Lea DeLaria. July 24-28 it's Jennifer Lewis with Marc Shaman.

MICHAEL FEINSTEIN entertains Friday, July 27 at Benaroya Hall in Seattle, WA.

JOHN PIZZARELLI opens a two nighter Tuesday, July 24, at Dimitriou's Jazz Alley in Seattle,WA. Thursday's show is at Yoshi's in San Francisco. On Friday he can be enjoyed at the Napa Valley Opera House in Napa, Ca. Saturday he's in the spotlight at the Lesher Center in Walnut Creek, CA.




FINAL OVATION


CELESTE HOLM the legendry actress died at her New York City apartment on Sunday, July 15. She was 95.

She studied acting at the University of Chicago and made her professional theatrical debut was in a production of Hamlet starring Leslie Howard.

Her first role on Broadway was a small part in 1938 comedy Gloriana, which lasted five performances. Her first major Broadway part was as Mary L. in William Saroyan's 1940 revival of The Time of Your Life co-starring fellow newcomer Gene Kelly.

She made an indelible Broadway impression as Ado Annie in Rodgers and Hammerstein's Oklahoma! She played the lead in the musical comedy Bloomer Girl the next year.

Between movie roles Ms. Holm returned to the stage, appearing in numerous Broadway shows in the 1950s and '60s. She filled in for Gertrude Lawrence in The King and I and for Angela Lansbury in Mame and played the title role in Anna Christie. In her last Broadway role in 1991, she played a theatrical agent revisiting a long-ago romance with John Barrymore in I Hate Hamlet.

Her later movie roles included the comedy The Tender Trap (1955) and the musical High Society (1956), both of which co-starred Frank Sinatra.

She earned an Academy Award for her work in Gentleman's Agreement (1947) and earned two additional Oscar nominations for Come to the Stable (1949) and All About Eve (1950).

The marquees of Broadway theatres in New York were dimmed in her memory on Wednesday, July 18th.

Charlotte St. Martin, Executive Director of The Broadway League, said, "Celeste Holm's impressive career on stage and screen spanned six decades, so multi-generations of theatre and film fans had the chance to appreciate her unique talent. Our thoughts are with her friends and family at this time."

RICHARD D. ZANUCK Oscar winning movie producer, died July 13, 2012 of a heart attack at his Beverly Hills home. He was 77.

Among Mr. Zanuck's many films were Steven Spielberg's first feature film, The Sugarland Express, and his first blockbuster, Jaws. His other credits included The Sting, which won an Oscar as Best Picture, and six movies directed by Tim Burton, including this year's Dark Shadows.

During his reign as production chief of the studio his father co-founded, 20th Century Fox, the studio produced the phenomenally successful musical The Sound of Music, as well as Patton and The French Connection.

After a falling out with his father, Zanuck moved to Warner Brothers, and in 1971 formed the Zanuck/Brown Company with David Brown. Productions included Cocoon and its sequel, The Verdict and Target. When the company dissolved, he formed the Zanuck Company, which producer the film version of the play Driving Miss Daisy, a hit that won the Oscar for Best Picture. Later films included the musical Sweeney Todd. He is survived by his third wife, Lili Fini Zanuck; his sons Harrison and Dean, who have produced movies; and nine grandchildren.

JON LORD the former keyboard player with heavy rock band Deep Purple, died Monday, July 16, 2012. He was 71.

Lord co-founded Deep Purple in 1968 and co-wrote many of the group's songs including Smoke On The Water. He also played with bands including Whitesnake.

He died at the London Clinic, surrounded by family, a statement said. "Jon passes from Darkness to Light," it added.

Lord had been receiving treatment for pancreatic cancer since last August.

He broke the news of his cancer diagnosis on his website last year, telling fans he would continue to write music as part of his therapy.

Born in Leicester, Lord learned classical piano at an early age before being seduced by watching early rock 'n' roll star Jerry Lee Lewis and jazz organist Jimmy Smith.

Lord's rock attitude helped Deep Purple become pioneers of progressive and heavy rock.

FLEDIA FAY "MICKI" HOLLAND SARDELLI wife of entertainer Nelson Sardelli and mother to award winning stage director Giovanna Sardelli and social activist Pietra Sardelli, passed away in her Las Vegas home, surrounded by family, on July 8.

A 47-year Nevada resident, Fledia served on the early board of Opportunity Village and was one of the first Presidents of the Vanguards. She was instrumental in the writing and passage of legislation to better the lives of the mentally challenged in Southern Nevada.

In addition to her husband and two daughters she is survived by grand-daughter Indrani Sardelli. She was preceded in death by her eldest daughter Venetia Sardelli.








Next Column: July 29, 2012
Copyright: July 22, 2012. All Rights Reserved. Reviews, Interviews, Commentary, Photographs or Graphics from any Broadway To Vegas (TM) columns may not be published, broadcast, rewritten, utilized as leads, or used in any manner without permission, compensation and/or credit.
Link to Main Page
---
Laura Deni



For the snail mail address, please E-mail your request.
CLICK HERE FOR COMMENT SECTION