! >
Broadway To Vegas
  
 SHOW REVIEWS CELEBRITY INTERVIEWS GOSSIP NEWS

| | |
| --- | --- |
| | |
HOMAGE TO MARIA CALLAS - -BERNADETTE PETERS REPLACES KRISTIN CHENOWETH - - FRAGMENTS AT THE YOUNG VIC - - THE FIRST EMPEROR CHINA'S TERRACOTTA ARMY - - MARGARET GARNER - - BROADWAY ON BROADWAY - - YO-YO MA AT THE NEW YORK PHILHARMONIC - - YOUNG FRANKENSTEIN RAFFLE INCLUDES FREE COFFEE AND DOUGHNUTS - - DONATE . . . Scroll Down


Copyright: September 9, 2007
By: Laura Deni

CLICK HERE FOR COMMENT SECTION
HOMAGE TO MARIA CALLAS-FOR THE 30th ANNIVERSARY OF HER DEATH
Maria Callas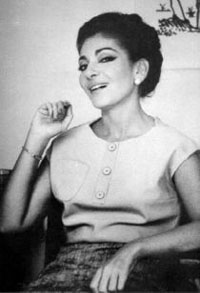 Aristotle Onassis called her the great love of his life. Even after he dropped her to marry Jacqueline Kennedy, he engaged in clandestine meeting with her. Leonard Bernstein called her "The Bible of opera". Terrence NcNally wrote a play about her. Over forty biographies, in five different languages, have been published since her death in 1977.

Maria Callas.

On September 16 it will be 30 years since she died of a heart attack at the age of 53.

On September 14 the exhibitions Stage Costumes and Backstage Images will be launched in the Theatre Museum and at the Arturo Toscanini Boxes Foyer in the Teatro alla Scala in Milan, Italy.

The first exhibition, which runs until January 31, 2008, will display the original costumes worn by Callas during her performances at the Milanese opera house, which today are kept in the historical archives of the theatre. The second exhibition, open until November 30,2007, will feature photographs of Maria Callas, most of them never shown previously.

On Sunday, September 16, on the exact day of the anniversary, La Scala will open its auditorium to the public for the world premiere of Philippe Kohly's film Callas. There will be three screenings that day. Participation in the event is free, but is by ticket only.

The anniversary will also be celebrated with the publication of an illustrated book published by Allemandi, Maria Callas - Gli anni della Scala. The volume documents the ten unforgettable seasons that changed the way opera presents itself as a high synthesis of theatre and music to today's sensitiveness.

The Greek Parliament Foundation is offered a view of the world of opera "through the eyes" of Maria Callas.

Mounted in Athens, Greece, the free exhibition being held through October includes photos, videos, costumes designed by famous painter Yiannis Tsarouchis for the opera Medea, scores, personal objects, albums, books and photos from Callas' performances in opera houses all over the world present the entire work of this magnificent singer and imprint in detail her brilliant career as the most famous soprano in the world.

The material comes from La Scala of Milano, Arena in Verona, Athens Theatre Museum, Greek National Opera, Peloponnesian Folklore Foundation, Tsarouchis Foundation, Onassis Foundation, Benaki Museum, Maria Kallas Museum of the City of Athens, EMI Classics, Associated Press, K. Megalokonomou Museum of Athens, Hellenic Parliament Library and private collections.

Maria Callas - Thirty Years After is part of a series of exhibitions staged by the Foundation of the Hellenic Parliament and is organized within the framework of the Maria Calls Year.

Born in New York on December 2, 1923 and raised by an overbearing mother, her family returned to Greece, where she attended the Athens Conservatory, studying with soprano Elvira de Hidalgo. She made her professional operatic debut in a major role, Tosca, at the Athens Opera in 1941. In 1944 she sang her only Leonora in Fidelio, which brought success in Athens, and she then returned to the US in 1945.

Forced to deal with the exigencies of wartime poverty and with myopia that left her nearly blind on stage, she endured struggles and scandal over the course of her career. She turned herself from a heavy woman into a glamorous one after a mid-career weight loss, which might have contributed to her vocal decline and the premature end of her career.

The press exulted in publicizing Callas' allegedly temperamental behavior, her supposed rivalry with Renata Tebaldi, and her love affair with Aristotle Onassis. Her dramatic life and personal tragedy have often overshadowed Callas the artist in the popular press. Her artistic achievements, however, were such that Leonard Bernstein called her "The Bible of opera", and her influence so enduring that, in 2006, Opera News wrote of her, "Nearly thirty years after her death, she's still the definition of the diva as artist—and still one of classical music's best-selling vocalists."

During 1953 and early 1954, she lost almost 80 pounds, turning herself into what Maestro Rescigno called "possibly the most beautiful lady on the stage".

From October 1971 to March 1972, Callas gave a series of master classes at the Juilliard School in New York. These classes later formed the basis of Terrence McNally's 1995 play Master Class, which was awarded the 1996 Tony Award for best play.

On September 3, 1957, while still married to husband Giovanni Battista Meneghini, Callas was introduced to Greek shipping magnate Aristotle Onassis in Venice at a party given in her honor by Elsa Maxwell after a performance in Donizetti's Anne Bolena. The affair that followed received much publicity in the popular press, and in November 1959, Callas left her husband.

The relationship ended nine years later in 1968, when Onassis dropped Callas in favor of Jacqueline Kennedy. However, the Onassis family's private secretary, Kiki, writes in her memoir that even while Aristotle was with Jackie, he frequently met up with Maria in Paris, where they resumed what had now become a clandestine affair.

When Onassis was dying in 1975, he took Maria's final gift, a red cashmere Hermès blanket, to the hospital.



Maria Callas and Aristotle Onassis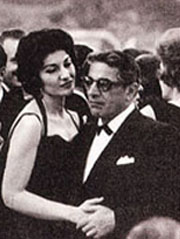 Paris honored Callas in 2000 when Paris Mayor Jean Tiberi officially renamed a small street for renowned opera performer, who died there in 1977 in what was thought to be mysterious circumstances.

The apartment where Callas lived her final days on the Avenue Georges Mandel overlooks the tree-lined street named Allee Maria Callas, in the 16th district of Paris.

A commemorating plaque was placed at the street invoking memories of the diva as it notes "Allee Maria Callas (1923-1977) artist lyrique".

"With her miraculous voice, Callas deeply altered operatic traditions," Tiberi said, adding, "with her genius, she left her mark on the history of music."

That ceremony was held on the eve of a long-awaited auction of Callas' personal belongings, including a pair of silk stockings and the white mink coat Onassis gave her.

The auction featured 415 lots, from the most intimate apparel to family albums and fan letters addressed only to "La Divina."

Callas ended her opera career at the Paris Opera House in June 1965 following a performance of Bellini's Norma, one of her most critically acclaimed roles, and then withdrew to Paris for the next 12 years living largely in isolation.


ART AND ABOUT


THE FIRST EMPEROR CHINA'S TERRACOTTA ARMY This once-in-a-lifetime exhibition will explore one of the greatest archaeological discoveries of the 20th century and provide an insight into China's First Emperor, Qin Shihuangdi, and his legacy.

Objects featured in the exhibition will include a number of the world-famous terracotta warriors from Xi'an, China, which were buried alongside the First Emperor in readiness for the afterlife, as well as some of the most striking recent discoveries made on the site.

( See related article Broadway To Vegas column of May25, 2005 )

In introducing the idea of a unified state and effectively creating China in 221 BC, the First Emperor of Qin created what is today the oldest surviving political entity in the world. How that state has survived, developed and is viewed today will be explored through events, lectures and debates around the exhibition.

Thursday, September 13 through Sunday, April 6, 2008 at the British Museum in London.

A MEETING WITH ALAIN ROBBE-GRILLET the French born writer and filmmaker. He is, with Nathalie Sarraute, Michel Butor and Claude Simon, one of the figures most associated with the trend of the nouveau roman.

Leading artists including Michel Auder, Miriam Bäckström, Olafur Eliasson, Liam Gillick, Dan Graham, Philippe Rahm, Sarah Morris, Runa Islam, Carsten Höller and Cerith Wyn Evans will join the eminent writer and director Alain Robbe-Grillet for a weekend of discussions, films and readings at the Serpentine Gallery Pavilion and the Institut Français on September 15-16.

The premiere of Robbe-Grillet's latest film Gradiva (C'est Gradiva qui vous appelle), 2006 on Saturday night at the Serpentine Pavilion, will be complemented by a month-long retrospective of his films at the Institut Français which opened September 9 and runs through September 30. At the Serpentine Gallery in London.



Broadway To Vegas is supported through advertising and donations. Priority consideration is given to interview suggestions, news, press releases, etc from paid supporters. However, no paid supporters control, alter, edit, or in any way manipulate the content of this site. Your donation is appreciated. We accept PAYPAL. Thank you for your interest.


SPREADING THE WORD


NOBEL PRIZE WINNER DEREK WALCOTT opens the 92nd Street Y Unterberg Poetry Center's 69th season on Monday, September 17, when he takes to the Kaufmann Concert Hall stage to read from his rich and evocative poetry. The winner of the Nobel Prize in literature in 1992, Derek Walcott is one of the most praised Caribbean-born writers of our time. He is the author of more than 20 poetry collections and 30 plays, including Another Life, Omeros, The Prodigal, Dream on Monkey Mountain and The Haitian Trilogy. Walcott will be introduced by Glyn Maxwell, author of The Boys at Twilight and Professor in the Writing Program at New York University. Monday, September 17, at the Kaufmann Concert Hall in NYC.

BROADWAY ON BROADWAY sponsored by the League of American Theatres and Producers to showcase the upcoming season takes place on September 16.

Current star of Hairspray on Broadway, and former member of boy band phenomenon 'Nsync, Lance Bass will host the Broadway on Broadway outdoor concert in Times Square. The annual free event features performances by cast members from current and upcoming Broadway shows.


SWEET CHARITY


PITTSBURGH SYMPHONY GALA CONCERT- FOUR SINGULAR SENSATIONS takes place September 15 at Heinz Hall in Pittsburgh, PA.

Tony Award winner Bernadette Peters has replaced Kristin Chenoweth who was forced to withdraw from the concert due to recent rib injuries sustained when she fell on a stairwell.

The upcoming concert, which kicks off the Pittsburgh Symphony Orchestra's 2007-2008 season, will also feature tenor Dmitri Pittas and conductors Sir Andrew Davis and Marvin Hamlisch.

A night of music from A Chorus Line, La Boheme, Rigoletto, West Side Story and more!

CHICAGO SYMPHONY GALA legendary conductor Riccardo Muti triumphantly returns to the Chicago Symphony Orchestra for the first time in more than 30 years to kick off the 2007/08 season! Joining him is internationally renowned soprano Barbara Frittoli, making her CSO debut, who will perform some of the most beloved opera arias of all time. The second half of this unforgettable evening will feature Ravel's sultry Boléro, performed by the exceptional musicians of the CSO.

Immediately following the September 15 performance, gala package holders will be transported via trolley to the North Promenade in Millennium Park to enjoy cocktails, dinner, and dancing under a festive tent. Guests with concert-only tickets are invited to a post-concert reception in Buntrock Hall with hors d'oeuvres, drinks, and live music.

WOLF TRAP BALL 2007 is an annual black-tie affair that is one of the most unique cultural events in Washington. Every year, the immense Filene Center Stage is transformed into a magical setting, representing a featured host country.

This year, Wolf Trap is proud to partner with the Embassy of Greece to produce a Ball that will be rich in both history and culture.

The Ball is one of the Foundation's largest fundraisers, and all proceeds benefit Wolf Trap's Education Programs.

Chairs: Michael Rebibo and Jacqueline Indelicarto Saturday, September 15, in Vienna, Virginia.

NEW YORK PHILHARMONIC'S OPENING NIGHT GALA

Yo Yo Ma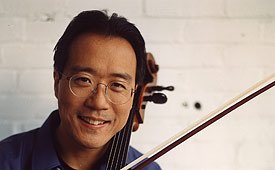 the 166th season opens with a spectacular all-Dvorák concert conducted by Music Director Lorin Maazel and will feature the acclaimed cellist Yo-Yo Ma performing Dvorák's Cello Concerto.

The concert is preceded by a cocktail reception and is followed by a Gala black-tie dinner.

Gala Chairmen; Mr. and Mrs. Evan G. Greenberg. Co-Chairmen; Mr. J. Christopher Flowers and Dr. Mary H. White. Mr. and Mrs. Gerald L. Hassell. Mr. and Mrs. Karlheinz Muhr.

Tuesday, September 18, at Avery Fisher Hall at Lincoln Center.

See related article below.
OTHER PEOPLE'S MONEY


THE NEW YORK PHILHARMONIC is staging a first - a free-to-the-public Dress Rehearsal featuring cellist Yo-Yo Ma, Lorin Maazel and the Philharmonic as they prepare for the September 18 gala opening night concert.

Free general admission tickets will be handed out, 1 per person, on a first-come, first-served basis, starting at 8:00 a.m. September 18, at Lincoln Center in front of Avery Fisher Hall. The New York Philharmonic Principal Brass will join the celebration with early-morning appearances on the Plaza. All who attend the dress rehearsal will receive a discount coupon for a future Philharmonic concert.

This free event is a gift to New York from the New York Philharmonic and Credit Suisse to celebrate the launch of their Global Partnership.

YOUNG FRANKENSTEIN RAFFLE INCLUDES FREE COFFEE AND DOUGHNUTS What could be sweeter - a free doughnuts and a ticket to see Young Frankenstein for only $25.00. Middle class poor folk carping that they can't afford to ante up $450 for a ticket to see the new Mel Brooks/Susan Stroman musical have been sent a message - show up tomorrow, September 10, at the McDonald's on 42nd St near Times Square in New York City.

There they will be raffling off front-row seats - to each performance for just $25. There will even be free coffee and doughnuts.

Management will also sell a limited number of prime seats at $120 at the box office, in order to give loyal theatergoers just as good a shot as ticket brokers and those who know their way around the Internet. The musical opens at the Hilton Theatre in November.



MARGARET GARNER Nobel Prize-winning author Toni Morrison and Grammy Award-winning composer Richard Danielpour collaborate on a landmark new work, based on the true events which inspired Morrison's Pulitzer Prize-winning novel Beloved.

Tazewell Thompson directs this all-new production of what is being hailed as a great new American opera.

Before the fight for freedom came the fight for humanity. When a runaway slave kills her own children rather than return them to a life of bondage, it sparks a heated controversy about ownership of both bodies and souls.

Conducted by George Manahan.

The cast includes; Margaret Garner: Tracie Luck. Cilla: Lisa Daltirus. Caroline Gaines: Maureen McKay. Casey: Joel Sorensen. George Hancock: Christopher Jackson. Edward Gaines: Timothy Mix. Robert Garner: Gregg Baker.

Set Designer: Donald Eastman. Costume Designer: Merrily Murray-Walsh. Lighting Designer: Robert Wierzel. Choreographer: Anthony Salatino. Chorus Master: Gary Thor Wedow. Supertitles: Celeste Montemarano.

Sung in English with English supertitles. Sept 11-14-16-20-22-26-29. New York City Opera.

NUNSENSE A-MEN! Regional Premiere directed by Bob Wells.

Five feisty, male nuns are back in the habit, with music and fun that makes these "sisters" a scream. September 14 - October 21 at the Town Hall Arts Center in Littleton, CO.

PARADE - A NEW MUSICAL winner of two Tony Awards for Book and Score. Book by Alfred Uhry, Music and Lyrics by Jason Robert Brown, Co-conceived by Harold Prince.

Atlanta, Georgia, 1913. A Jewish man from Brooklyn stands accused of the murder of a young factory worker.

Based on the true story of Leo Frank, Parade recalls the press frenzy and public hatred surrounding the trial, and his wife's crusade for justice. In a time of religious intolerance, political injustice and racial tension, this musical explores the endurance of love and hope against all the odds.

September 14 - November 24 at the Donmar in London.

CHICAGO welcomes Kelly Osbourne, daughter of Ozzy and Sharon Osbourne, to the London production. Kelly will be making her legitimate-theater debut as the prison matron Mama Morton. She'll be in the production at the Cambridge Theatre from September 10 through October 27.

ESCANABA IN LOVE Jeff Daniels' eleventh new play, brings a touching, romantic comedy element to the rugged hunter-humor of Michigan's favorite yooper family. As deer hunting season arrives, the Soady men meet their biggest challenge; not a great buck, or a hunter's dream, but the camp's first female visitor, young Albert Soady Jr's impromptu bride Big Betty Balou. Daniels' hilarious humor kicks into high gear when the Soady men make their best attempts to grapple with their newest family member.

Directed by Guy Sanville.

Performances begin September 11 at The Gem Theatre in Detroit, Michigan.

ZORBA with a book by Joseph Stein, music by John Kander and lyrics by Fred Ebb. Adapted from the novel Zorba the Greek by Nikos Kazantzakis.

Zorba is the first show in the York Theatre Company's Musical in Mufi 2007 Fall Series, which will celebrate the work of Joseph Stein.

Zorba is set in Crete in 1924 and is about the friendship between Zorba and Nikos, a young American student who has inherited an abandoned mine on Crete, and their romantic relationships with a local widow and French woman – Hortense, respectively.

The novel was turned into a film in 1964 and was produced and directed by Michael Cacoyannis. Anthony Quinn replayed the role and Lila Kedrova played Madame Hortense. The movie won three Academy Awards, including Best Supporting Actress (Lila Kedrova), Best Art Direction and Best Cinematography.

A musical version of the film was made in 1968. Originally directed by Harold Prince and choreographed by Ronald Field, Zorba opened on Broadway at the Imperial Theatre on November 16, 1968, ran for 305 performances and starred Herschel Bernardi in the title role and Maria Karnilova as Madame Hortense. The show was nominated for eight Tony Awards and won a Tony Award for best Scenic Design. It also won three Drama Desk Awards – for Outstanding Lyrics, Costume Design and Set Design.

A revival opened at the Broadway Theatre on October 16, 1983 and ran for 362 performances. This production brought together many of the film's team. Directed by Michael Cacoyannis and choreographed by Graciela Daniele, the production starred Anthony Quinn in the title role and Lila Kedrova as Madame Hortense. Ensemble members included Rob Marshall and Robert Westenberg. Lila Kedrova won a 1984 Tony Award and Drama Desk Award for Best Featured Actress. Cast recordings were made of both the original and revival of Zorba.

September 14-16 presented by the York Theatre Company in Saint Peter's Theatre in Manhattan.

MARTHA GRAHAM DANCE COMPANY in a special two week engagement in New York City at The Joyce Theater September 11 – 23. The acclaimed company will be performing three programs (A, B, C) that will feature many of the Graham classics during this 80th anniversary Season. The Opening Night program will include a special presentation. There will be a Gala on Tuesday, September 18 with special program and guest artists.

Each program features three Graham masterworks

Program A includes Diversion of Angels, and Night Journey on Wednesday, September 12, Saturday, September 15 and Thursday, September 20.

Program B features Cave of the Heart, and Acts of Light on Thursday, September 12, Friday, September 14, and Sunday, September 16.

Program C showcases Appalachian Spring, and sketches from Chronicle on Wednesday, September 19, Friday, September 21, Saturday, September 22 and Sunday, September 23.

The Special Programs for Opening Night on Tuesday, September 11 spotlights Lamentation Variations by Azme Barton, Larry Keigwin and Richard Move; Embattled Garden, and Night Journey.

From The Horses Mouth – the heart and history of Graham told in stories and dance by illustrious alumni takes place Saturday, September 15.

Founded in 1926 by dancer and choreographer Martha Graham, the Martha Graham Dance Company (Janet Eilber, Artistic Director; LaRue Allen, Executive Director) is the oldest and most celebrated contemporary dance company in America. Since its inception, the Company has received international acclaim from audiences in over 50 countries throughout the world. Martha Graham choreographed 181 works in her lifetime.

Though Martha Graham herself is the best-known alumna of her company, having danced from the Company's inception until the late 1960's, the Company has provided a training ground for some of modern dance's most illustrious performers and choreographers including: Merce Cunningham, Erick Hawkins, Pearl Lang, Elisa Monte, Paul Taylor, Glen Tetley, and Pascal Rioult.

Among celebrities who have joined in performance are Mikhail Baryshnikov, Claire Bloom, Margot Fonteyn, Liza Minnelli, Rudolf Nureyev, Maya Plisetskaya, and Kathleen Turner. The Martha Graham Dance Company has commissioned works from Twyla Tharp, Robert Wilson, Susan Stroman, Lucinda Childs, and Maurice Béjart.

FRAGMENTS by Samuel Beckett. performed in English. Directed by Peter Brook.

Five little known pieces by the greatest theatre poet since Aeschylus. Peter Brook's sinuous stripped back productions reveal all the angry warmth of this, dark, despairing, life-celebrating humanist. The acclaimed cast includes Jos Houben and Marcello Magni, co founders of theatre company Complicite and the Olivier Award winning Kathryn Hunter.

The pieces include: Rockaby, Rough for Theatre I. Act Without Words I.I Come and Go and Neither.

Lighting by Philippe Vialatte.

A co-production with the Théâtre des Bouffes du Nord in Paris, Opens September 15 at The Young Vic in London.

THE MILK TRAIN DOESN'T STOP HERE ANY MORE the Los Angeles revival of Tennessee Williams' rarely-produced black comedy.

Directed by Simon Levy and featuring Karen Kondazian, Lisa Pelikan, Scott Presley and Michael Rodgers.

Flora Goforth (Karen Kondazian), immensely wealthy and outrageous and living high atop her secure Italian villa overlooking the Mediterranean and the Divina Costiera, dictates her memoirs to her secretary, Blackie (Lisa Pelikan), when they are disrupted by the violent and mysterious arrival of a handsome and charismatic poet (Michael Rodgers). Mrs. Goforth decides she wants him as a lover, but he's there for other reasons. When they are visited by the Witch of Capri, the Marchesa Constance Ridgeway-Condotti (Scott Presley), the true identity of the poet is revealed: He is known as the Angel of Death.

Set Design is by Travis Gale Lewis. Lighting Design is by Kathi O'Donohue. Costume Design is by Shon Le Blanc. Sound Design is by David B. Marling. Prop Design is by John Minchin. Hair and Makeup Design is by Judi Lewin. Dialect Coach is Larry Moss.

Previews begin Saturday, September 15 towards an official opening on Friday, September 28 running for six weeks through Sunday, November 4 at the Fountain Theatre in Los Angeles.

AIDA by Giuseppe Verdi.

Desperately seeking recognition in a war-ravaged Egypt, Radames hopes to be chosen as army commander. Envisioning a glorious victory, he dreams of freeing his beloved Aida, an Ethiopian slave, from Amneris, the King's daughter. His fantasy is seemingly fulfilled when the King announces Radames' appointment as commander; the Egyptian army prepares for war.

Presented by the Lyric Opera of Kansas City. Opens September 15.

JOURNEY TO DOLLYWOOD an imaginative new dramedy by Jessie McCormack, A waitress who idolizes Dolly Parton, her rival co-worker, and their eccentric boss are all changed forever when a stranger's car breaks down in their sleepy Southern town.

"I was charmed when I read it," says Atlantic Theater Company member Rod McLachlan, who directs. "The characters are wonderfully interesting and quirky. One minute, it's very funny - then, it turns on a dime and becomes extremely poignant. One of Jessie's many talents as a writer is that she can deliver surprising, yet fully motivated changes in tone." McLachlan wasn't the only one captivated by the script. Dolly Parton liked it so much that she recorded a voiceover for the play and hopes to attend a performance this fall. In June, McCormack visited Parton at her recording studio in Nashville, Tennessee. "It's a play about courage," explains McCormack, who also plays Jolene. "Dolly Parton is a symbol of hope. She's the 'American Dream' personified, a person who struggled against all odds to get where she is today. In the play, Jolene's desire to travel to Dollywood is a metaphor for taking a leap of faith and going for what you want in life."

The cast also includes Melissa Greenspan as Cici, Jolene's ditzy co-worker; Erik Van Wyck as Manny, their idiosyncratic, Brooklyn born-and-bred boss; and Henry Gummer as Josh, the unassuming outsider who stumbles into this strange, funny world.

Set design for is by Keith Mitchell; costume design by is Sharell Martinl lighting design is by Kimberly Negrete projections and sound design is by Steve Altman.

Opens on Saturday, September 15 and continues through October 27 at the Matrix Theatre, Los Angeles.

TO KILL A MOCKINGBIRD by Harper Lee. Adapted by Christopher Sergel. Directed by Fracaswell Hyman.

An artful and compassionate story of innocence, courage and what it means to be a family. This most beloved and widely read Pulitzer Prize winner tells the extraordinary and unforgettable story of life in the American Deep South.

To Kill a Mockingbird is set in Maycomb, a "tired old town" in Alabama over three years in the 1930s. Scout Finch, the narrator, lives with her brother, Jem, and their widowed father, Atticus, a lawyer. The central event of the novel Atticus Finch's defense of Tom Robison, a black man who has been accused to raping a white woman named Mayella Ewell. As seen through Scout's eyes, Harper Lee's beautifully written story tells deep truths of life in the Deep South—including the racism and mob mentality which bring about Tom Robinson's trial—and evokes the solitude and richness that characterize Maycomb's community of eccentrics, loving families and Scout's mysterious neighbor, Boo Radley.

The production stars David Bishins as Atticus Finch. Patti Cohenour, who recently understudied the lead role in The Light in the Piazza on Broadway, as Maudie Atkinson. The cast includes ; Peter Crook, David Drummond, Stephen Grenley, William Hall Jr., Russell Hodgkinson, Josephine Howell, Lori Larsen, Lino Marioni, Liz Morton, Sean Phillips, Nick Robinson, Walayn Sharples and Keaton Whittaker.

Creative Team Scenic Design by Alec Hammond. Costume Designer is Elizabeth Hope Clancy. Lighting Design by Greg Sullivan. Composer and Music Coach Grant Dermody. Sound Design by Joseph Swartz. Fight Director is Geoffrey Alm. Dialect Coach Judith Shahn.

The fourth production in the five-year American Cycle series, To Kill a Mockingbird will be the centerpiece of numerous public programs including humanities forums and a series of community readings.

This year, there will be numerous dramatic readings and discussions of selections from Harper Lee's To Kill a Mockingbird beginning on Tuesday, September 11. The production opens September 14 with performances through October 28 at the Intiman Theatre in Seattle.


| | | |
| --- | --- | --- |
| | | |
WHO'S WHERE

JOHN WILLIAMS the Oscar-winning composer will conduct the New York Philharmonic in a magical evening of music and film. The programs includes; Sound the Bells! the Flight to Neverland from Hook, Suite from Jane Eyre, Suite from the Harry Potter films, Excerpts from Fiddler on the Roof Hooray for Hollywood from Hollywood Hotel You're All the World to Me from Royal Wedding, Bless Your Beautiful Hide from Seven Brides for Seven Brothers, I Like Myself from It's Always Fair Weather, The Worry Song from Anchors Aweigh, Singin' in the Rain from Singin' in the Rain, Sayuri's Theme from Memoirs of a Geisha, and A Tribute to George Lucas and Steven Spielberg.

Hosted by legendary director Stanley Donen. September 14-16 at Lincoln Center in New York City.

ASHFORD & SIMPSON the songwriting and performing duo will open the fall season at Feinstein's at Loew's Regency in Manhattan with an engagement from Sept. 11 through Sept. 29. The program will include hits like Ain't No Mountain High Enough and Reach Out and Touch Somebody's Hand.

TONY BENNETT croons Wednesday, September 12, at Davies Symphony Hall in San Francisco. On Friday he's on stage at the Paramount Theatre in Seattle.

THE KINGSTON TRIO bringing back memories Saturday, September 15, at the Ruth A,. Knoll Theatre in Hartford, WI.

MICHAEL FEINSTEIN entertains Saturday, September 15 at the Cobb Energy Performing Arts Centre in Atlanta, GA.

SHeDAISY on stage Tuesday, September 11 at the Wayne County Fair in Wooster, OH. On Thursday they are part of the Utah State Fair in Salt Lake City. Saturday finds them at the Tulare County Fair in Tulare, CA.

HOOTIE AND THE BLOWFISH is starring this evening, Sunday, September 9, at the Ryman Auditorium in Nashville. On Thursday the show is at Twin Rivers Casino in Lincoln, RI. Friday finds him at the Innsbrook Pavilion in Glen Allen, VA. On Saturday he's in the spotlight at Hampton Beach Casino in Hampton Beach, NH and next Sunday he's performing at the Volunteer Fire Station in Saint Leonard, MD.

ROY ROGERS AND THE DELTA RHYTHM KINGS perform Wednesday in Las Vegas at the San Fe Station Hotel. The following night they move across town to a sister hotel and entertain at Boulder Station Hotel. On Friday they are on stage at Humphrey's Concerts by the Bay in San Diego. Saturday they can be enjoyed at Backstage Jazz & Blues Supper Club in Long Beach, CA.

INDIO GIRLS on stage Wednesday, September 12 at Harrah's in Kansas City. On Thursday the show is at Cain's Ballroom in Tulsa, OK. Friday the can be found at the Majestic Theatre in Dallas. On Saturday they appear as part of the Austin City Limits Music Festival and next Sunday they are in the spotlight at Tipitina's Uptown in New Orleans.

HEART entertaining this evening, Sunday, September 9, at Humphrey's By the Bay in San Diego.

THE POLICE perform on Tuesday, September 11, in Hamburg, Germany at the AOL Arena. On Thursday they open a new nighter at the Amsterdam Arena in Amsterdam. Sunday, September 16, finds then performing at the Geneva Stadium in Geneva, Switzerland.




PIFFLE AND PROFUNDITIES


FRENCH DRAMATIST PIERRE BEAUMARCHAIS during the American Revolution, financed the shipping of supplies and ammunition to the colonists, even sending out his own cruiser, Le Fier Roderique, in the D'Estang fleet. He displayed a deep interest in the impending struggle between the American colonies and the mother-country, his sympathies were entirely with the former. He succeeded in inducing the French government to give ample, though private, assistance in money and arms to the Americans. He himself, partly on his own account, but chiefly as the agent of the French and Spanish governments, carried on an enormous traffic with America. Under the name of Rodrigue Hortalez et Cie, he employed a fleet of forty vessels to provide help for the insurgents. During the same period he produced his two famous comedies: The Barber of Seville and The Marriage of Figaro.

Next Column: September 16, 2007
Copyright: September 9, 2007. All Rights Reserved. Reviews, Interviews, Commentary, Photographs or Graphics from any Broadway To Vegas (TM) columns may not be published, broadcast, rewritten, utilized as leads, or used in any manner without permission, compensation and/or credit.
Link to Main Page
---
Laura Deni


CLICK HERE FOR COMMENT SECTION