! >
Broadway To Vegas
  
  REVIEWS INTERVIEWS COMMENTARY NEWS

| | |
| --- | --- |
| | |
DOWNTON ABBEY COSTUME DISPLAYS AND LINE OF CLOTHING - - FREELANCE WRITING IS LIKE WALKING THROUGH A MINE FIELD - - SECONDHAND LIONS - - THAT FACE: THE ART OF KEN FALLIN - - VIENNA: CITY OF DREAMS FESTIVAL WILL INCLUDE MUSIC OF BROADWAY - - SCREAM YOUR HEAD OFF - - THE AMERICAN THEATRE WING'S ANNUAL GALA - - ALLAN RAMSAY EXHIBIT - - DONATE . . . Scroll Down




Copyright: September 8, 2013
By: Laura Deni
CLICK HERE FOR COMMENT SECTION


DOWNTON ABBEY COSTUMES: VIEW THEM AND WEAR THEM
Lady Sybil (L) and on the right, the delicious Ralph Lauren version. Photo: Downton Abbey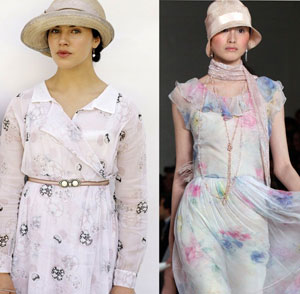 If you think you'd look good in any of the Downton Abbey costumes, which are being displayed in a variety of locations, be of good cheer, NBC Universal, the production giant that now owns the rights to the drama, announced that a clothing line inspired by the British show will be launched later this year. The collection is set to go on sale along with an extensive range of merchandise such as home ware, furniture and even beauty products.

American designer Ralph Lauren had a well shod leg up on the market. Sales of the timless designer have soared since his fashion house signed on to sponsor the show. Models in tweeds and flat caps walked the catwalk to the Downton Abbey theme music at the Ralph Lauren show at New York Fashion Week in February, 2012. Lauren's fall 2012 runway show also spotlighted Downton with the phrase: "Watch the show, see the looks, get the trends and go behind the scenes."

For those of a certain age, just rummage through your closet - vintage is in!

Before you shop until you drop, you can get a peek at the costumes from the mega hit. Downton Abbey exhibitions seem to be popping up everywhere.

Ten Downton costumes have gone on display in an art gallery located in Bampton, Oxfordshire, England where many of the location scenes are filmed. The square around St. Mary's church was used to film all the village scenes, including the marriages of Lady Mary (played by Michelle Dockery) and Lady Edith (Laura Carmichael), and funerals in the church, the home of the Crawley family, several pubs, the post office and the cottage hospital.



Wrapping their status and money in fashionable lace, velvet and jet beading, Lady Mary, Lady Sybil and Lady Edith of Downton Abbey fame. Photo: ITV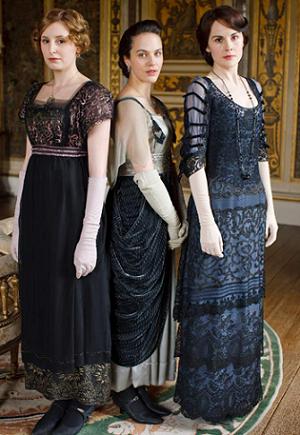 The exhibit also includes Downton inspired artwork by Pip Shuckburgh and Esther Hepworth which the West Ox Gallery proudly boasts as "our very own Downton Extra."

The exuberant Shuckburgh has a Twitter page in which she disclosed that Downton was filming in town, in what should have been a one day August 6 shoot, was extended into the next day. She also disclosed that the filming, which began May 16 had Shuckburgh posting about feeding of the crew.

Pip Shuckburgh, née Spargo, was born into an artistic family and brought up on the Oxfordshire/Berkshire borders. Her parents created the iconic television animated series Willo the Wisp. The series was written and directed by Nick Spargo and produced by Nicholas Cartoon Films in association with the BBC and Tellytales Enterprises. The character of Willo the Wisp originated in an educational animation created by Nick Spargo for British Gas pictures in 1975.

As for Pip, after art college she embarked on a career in illustration and commercial art, landing her first complete book to illustrate at the age of 21.

Working largely in watercolor and gouache, she illustrated books for Duckworth, Blackie, Mitchell Beazley, Heineman, the Sunday Times and many others.

She turned to oils in the 1990s, giving her first solo exhibition in 2006 in her home town of Bampton. She has since exhibited in the C2 gallery in Milton Keynes, the Said gallery, the North Wall gallery and St Hilda's college in Oxford, and the Cork Street and Knapp galleries in London.

She is a member of the Oxford Art Society and West Ox Arts and her paintings hang in private collections around the world, as well as BMW in Munich, and, recently, as prints and cards, at Blenheim Palace in Oxfordshire.

And, don't forget the souvenirs.

The filming of the blockbuster television series was a new experience for Bampton. The village soon discovered that they needed souvenirs for the many visitors who come to see the film set. Luckily Pip, who lives in the village, was well known for painting local houses, including Blenheim Palace, so she was quickly recruited to paint some of the buildings used in the filming.

More recently, to complete the set, she has painted the main house itself, Highclere Castle.



Caroline McCall and Susannah Buxton with their Emmy statues. Photo: Emmys.com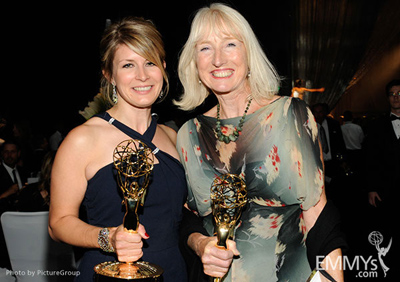 As for those costumes, Season 1 required two costume designers, a hair and makeup designer, and two separate locations packed with furiously sewing workers to create the look and style of Downton Abbey's characters.

The same costume designers and hair and makeup designers have changed over the seasons.

Caroline McCall studied art at Portadown college went to art college in Belfast, and from there to Wimbledon School of Art, followed by training at the BBC. She was the assistant designer under Susannah Buxton on Season 1. McCall declined to work on Season 2 because she had accepted an offer to design for the crowd scenes of the blockbuster film Clash of the Titan 2 starring Liam Neeson.

However, when Buxton moved on to other projects, Caroline was offered the change to be chief designer on the third Downton season and took it.

The current exhibit spotlights costumes used in Season 3. McCall, who holds a Designers Guild award and an Emmy for her work on the show, and Magi Vaughan, who did hair and makeup were the main designers for that season.

The highly talked about episode in which Lady Sybil dies after childbirth, required Vaughan to research how the wealthy passed away. She studied a Monet painting of his wife on her deathbed. She discovered the artist first used warm colors - yellow, red, orange, purple, blue - which gave the impression of life and then the artist suddenly switched to cold colors, symbolizing death.

That convinced McCall, not to use the standard white nightdress for Sybil, played by Jessica Brown Findlay. McCall selected mauve. Michelle Dockery wore a blue nightdress.

Dressing Shirley MacLaine, who plays Matthew Crawley's mother, required McCall to fly to Los Angeles to meet the icon. McCall called MacLaine "fantastic."

McCall must be on hand when every new scene is filmed, to make sure every detail is perfect - right down to the all important gloves and jewelry.

The show begins in 1912, the day after the sinking of the Titanic. That is squarely in Edwardian fashion, which features a straighter silhouette and higher waistline than the late-period Victorian S-silhouette that preceded it. However pure Victorian fashion is worn by Dowager Countess Violet.

By 1918, World War I placed a need for austerity. Thus, costumes are plainer, skirts are shorter, and colors are less vibrant. With the 20's approaching, several girls are spotted wearing the straight, loose, sleeveless dresses that are about to become all the rage.



On display are actual costumes worn by Dame Maggie Smith, Dan Stevens, Hugh Bonneville, Michelle Dockery, Elizabeth McGovern, Jessica Brown-Finlay, Phyllis Logan and Joanne Froggatt. Photo: Nuneaton Museum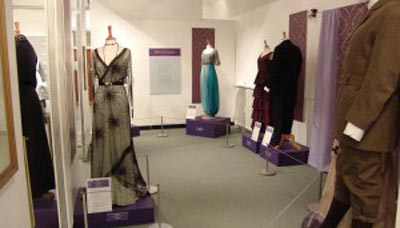 With Season 3 opening at the beginning of the 1920s, costumes were shorter, less ornate and incorporated more art deco and flapper detailing.

Daywear is simple, using natural fabrics and dyes, and always worn with a hat, while evening gowns feature plenty of beading and are accessorized with headbands.

The costumes from Season 3 of Downton are on display through September 29 at the West Ox Art Gallery.

The exhibit Dressing Downton which opened last July 6 and closes next Sunday, September 15, at the Nuneaton Museum & Art Gallery in Warwickshire, England is quite similar to the one at West Ox Art Gallery, in that it's a 10-costume display. Visitors can gaze at costumes worn by Dame Maggie Smith, Dan Stevens, Hugh Bonneville, Michelle Dockery, Elizabeth McGovern, Jessica Brown-Finlay, Phyllis Logan and Joanne Froggatt. The display also includes Lady Sybil's controversial pantaloons outfit and her sister Mary's engagement frock.

A small collection of Downton costumes are included in a display at the FIDM Museum & Galleries in Los Angeles. That display features more than 120 original costumes from 16 popular television shows including Game of Thrones, Behind the Candelabra, Scandal, House of Cards and many others, and is titled the 7th Annual Outstanding Art of Television Costume Design exhibition spotlighting the work of talented Costume Designers, Costume Supervisors, and Assistant Costume Designers. The exhibition was organized by guest curator Mary Rose, costume designer and president of the Costume Designers Guild.

A major exhibit, Costumes of Downton Abbey, will be staged in American March 1, 2014-January 4,2015 at the Winterthur Museum, Garden and Library in Winterthur, Delaware.

Winterthur's curators will create the exhibition so that visitors experience the fictional world of Downton Abbey and the contrasting world of Winterthur founder Henry Francis du Pont and his contemporaries in the first half of the 20th century.

"Winterthur is delighted to add this artistic and historical masterpiece to our already outstanding schedule of major exhibitions for the coming year," said Winterthur Director David Roselle.

"Costumes of Downton Abbey will not only showcase authentic designs from the series that has taken America by storm but also provide a remarkable educational experience by holding up a mirror to both places and societies. We think it's going to be a real treat."

In addition, Winterthur will host a wide range of lectures, workshops, and exciting events for adults and families focusing on entertaining and country house life in Britain and the United States.

Approximately 35 historically accurate costumes from the television show will be displayed in Winterthur's largest gallery space. The costumes will be supplemented by photographs and vignettes inspired by the fictional program and by real life at Winterthur.

The costumes are lent by Cosprop, the world's leading costumier to film, television, and theater. Based in London, Cosprop specializes "in the hire and making-to-hire of period costume for professional productions". They offer an exhibition service to museums and historical houses and own and run Camden's Hampshire Street Studio.

Their client list is a who's who, including: Almeida, Donmar Warehouse, ENO, National Theatre, The Old Vic, Royal Court, Theatre an der Wien, Royal Opera House, BBC, ITV, HBO, 20th Century Fox, BBC Films, Buena Vista Pictures, Canal+, Columbia Pictures, Ealing Studios, Film4 Productions, Focus Features, Merchant Ivory, Hammer, MGM, Momentum, Miramax, Paramount Pictures, Universal Pictures, Sony Pictures Classics, UK Film Council, Warner Bros., Walt Disney Pictures, The Weinstein Company and Zentropa Entertainments.

The above list explains why some Merchant Ivory costumes have been used in Downton Abbey.

Season 4 begins being aired in the UK this month. The show's fourth season premieres January 5, 2014 in America on PBS. Downton Abbey will also make its debut in China later this year.





Broadway To Vegas is supported through advertising and donations. Priority consideration is given to interview suggestions, news, press releases, etc from paid supporters. However, no paid supporters control, alter, edit, or in any way manipulate the content of this site. Your donation is appreciated. We accept PAYPAL. Thank you for your interest.





ART AND ABOUT


THAT FACE: THE ART OF KEN FALLIN

Matilda The Musical by Ken Fallin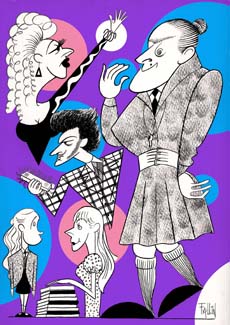 Nathan Lane in The Nance by Ken Fallin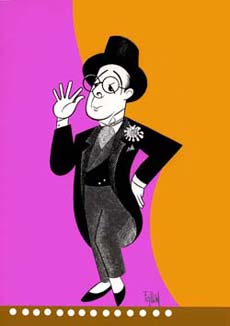 Broadway, Hollywood & Wall Street. Curated by Bernard Stote, this exhibit will feature over 75 original works of Caricature Art of popular cultural icons from Broadway community, Hollywood, politics, and Wall Street.

The work will be on exhibition at Gallery New World Stages in New York City from September 12th through December 31st, with a gala opening reception on September 12.

"We are very excited to be hosting such an exceptional body of work that pays tribute to the Broadway community of actors and actresses," said Stote. "This is Mr. Fallin's New York debut of his art as an exhibition to the general public."

Florida born Ken Fallin is an internationally published illustrator, whose specialty is pen and ink caricature. His career began in 1983 creating the ad campaigns and posters for the satirical revue Forbidden Broadway, as a respectful homage to the legendary Al Hirschfeld. That assignment led to a five-year stint for the Sunday edition of the Boston Herald, where he contributed a weekly celebrity caricature for the theatre section. National ad campaigns for American Express, Belvedere Vodka, and CNBC's Squawk Box followed.

He has also done illustrations for The Washington Post, The Los Angeles Times, The Boston Globe, The Hollywood Reporter, The Chicago Tribune, and The New Yorker.

Belvedere Vodka hired him to turn famous icons like the Playboy Bunny and Quentin Tarantino into bottles of the alcohol. Other clients have included HBO, Showtime and Walk Disney Production. Since 1994 Ken's work has appeared regularly in The Wall Street Journal. Ken has chronicled the New York theatre scene for Playbill.com since 2010.

In February of 2012 he had his first one-man show Ken Fallin Draws Hollywood for the Hamilton Selway Gallery in Los Angeles.

In 2010 he was nominated for an Emmy Award for an animated CNBC commercial. His work is in the permanent collection of the Victoria and Albert Museum, London and in the private collections of Bernadette Peters, Angela Lansbury, Bob Avian, Sir Cameron Mackintosh, Sir Patrick Stewart, Marlo Thomas, Helen Hunt and Norbert Leo Butz.

Artwork on exhibit will range from President Barack Obama and Senator Edward M. Kennedy to Kinky Boots, from Book of Mormon to the cast of Mad Men, from Pippin to Patti LuPone, Stephen Sondheim, and more.

ALLAN RAMSAY

Allan Ramsay self portrait. c. 1737-9. National Portrait Gallery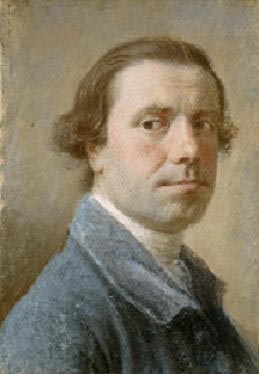 a major new exhibition dedicated to one of Britain's most accomplished 18th century painters. Allan Ramsay (1713 - 1784) is best known as a portrait painter whose elegant style set him apart from other portraitists of the time.

Born in Edinburgh, his career took him from a small Scottish clientele to the Hanoverian court of King George III. Away from his studio, Ramsay was in close contact with a number of influential figures, and his published writing includes works on taste, politics and archaeology.

The exhibition centers on a selection of portraits from across Ramsay's thirty years as a painter and also features drawings, watercolors, published books, pamphlets, letters and other materials which demonstrate Ramsay's fascinating place in the intellectual and cultural life of Edinburgh, London, Paris and Rome in the mid 18th century.

The exhibition also includes key loans from UK public and private collections and new research, examining the intellectual context in which Ramsay painted a number of his most important portraits, including that of Hunterian founder Dr William Hunter.

September 13, 2013 - January 5, 2014 at the Hunterian Art Gallery at the University of Glasgow, Scotland.


SWEET CHARITY


THE AMERICAN THEATRE WING's ANNUAL GALA will honor director and producer Harold Prince, recipient of a record-breaking 21 Tony Awards.

Anki Leeds and CeCe Black will serve as Gala co-chairs.

The evening includes cocktails, dinner and performances.

All proceeds will benefit the educational and outreach programs of the American Theatre Wing.

The American Theatre Wing Gala will be held September 16 at The Plaza Hotel in New York City.


SCREAM YOUR HEAD OFF - IT'S NATIONAL HOLLERIN' CONTEST DAY


Spivey's Corner, North Carolina (7.8 square miles) has a population of about 448 people. But, on National Hollerin' Contest Day, thousands of people come to take part in and enjoy the screams of others at the annual National Hollerin' Contest.

People have been hollerin' about this day every year since its beginning in 1969. This year the shout out will take place September 14th.

There is an art to hollerin' - so pay attention.

Hollerin' is considered by some to be the earliest form of communication between humans. It is a traditional form of communication used in rural areas before the days of telecommunications to convey long-distance messages. Each culture used or uses hollers differently, although almost all cultures have specific hollers meant to convey warning or distress. Otherwise hollers exist for virtually any communicative purpose imaginable -- greetings, general information, pleasure, work, etc. The hollers featured at the National Hollerin' Contest typically fall into one of four categories: distress, functional, communicative or pleasure.

Although similarities abound - particularly in sound, hollerin' as defined by the Spivey's Corner contest, is not the same thing as yodeling or other farm or hunting calling. Rather, it is viewed, at least by Sampson County natives, as an art form to be taken seriously, according to The Rounder Collective, Hollerin' Record Jacket, 1975.

Its roots, however, can be traced back to the men working on rafts in the 1700s, when logs were transported from Sampson County via its many rivers and streams to Wilmington. The loggers operating the rafts hollered back and forth to one another about their rafts so that they wouldn't run into each other, or so that if stuck, others would come to their aid. The tradition has survived since its colonial origins.

According to that Rounder Collective, the trademark holler of Sampson County, NC is one considered unique because of its virtuoso rendering. This holler "consists primarily of rapid shifts between natural and falsetto voice within a limited gapped scale" and the typical melodic movement "consists simply of alterations between the first, third and fifth of the scale" so that the voice is "employed almost as a musical instrument."

These hollers can travel and be heard up to three miles in distance.

Now, rev up the decibels on your vocal chords, and enjoy the Hollerin' Contest.'

All Proceeds from this event will go to the Spivey's Corner Volunteer Fire Department. The fire department is made up of volunteers who put their life on the line for their community. The monies raised from this event will help to purchase needed equipment, maintain current equipment, and give the fire department the means necessary to better protect their community.


FIRST EVER GREATER BOSTON THEATRE EXPO
On Tuesday, September 10, at The Cyclorama at the Boston Center for the Arts over 50 theatre companies will come together on one night to showcase their venues and events.

The public is invited to attend the first Greater Boston Theatre Expo 2013 - a free event - to meet representatives and artists from the region's fringe, small, mid-sized, and large theatre companies. There will also be special discounts and perhaps some giveaways.

"From the award-winning work on the stages of our flagship companies to the remarkable and innovative pieces by Greater Boston's adventurous small theatre scene, the range of work being produced in our region is among the most impressive in the country," says David Colfer, general manager of Emerson Stage and Expo co-organizer.

"By bringing so many theatre companies together under one roof at the Greater Boston Theatre Expo, organizations will connect with new supporters, and audiences will have the chance to explore this rich marketplace in a format that is convenient, efficient, and free."

"On a typical Friday night during the theatre season, Greater Boston theatre audiences have a choice of nearly 40 different theatrical productions from Portsmouth to Providence," observes Michael Maso, Huntington Theatre Company managing director and Expo co-organizer. "But because of our geographic disparity, it can be easy to overlook our scope, scale, and economic impact on the region. The convergence of more than 50 organizations at the Greater Boston Theatre Expo will be a reminder of the theatre community's breadth, variety, and vitality."

Participating Organizations: Actors' Shakespeare Project - American Repertory Theater - Apollinaire Theatre Company - The Accessible Theater - ArtsBoston - ArtsEmerson - Bad Habit Productions - Blue Man Group - Boston Babydolls Burlesque - Boston Childrens' Theatre - Boston Playwrights' Theatre - Boston University College of Fine Arts - Broadway in Boston - Bridge Repertory Theater of Boston - Central Square Theater - Charlestown Working Theater - Commonwealth Shakespeare Company - Company One - Emerson Stage - Emerson Umbrella Center for the Arts - Fiddlehead Theatre Company - Flat Earth Theatre - Fort Point Theatre Channel - Fresh Ink Theatre - Greater Lowell Music Theatre - Guerilla Opera - Huntington Theatre Company - Israeli Stage - Imaginary Beasts - Liars and Believers - Lyric Stage Company of Boston - Merrimack Repertory Theatre - New Repertory Theatre - Playwrights' Commons - Puppet Showplace Theatre - Revels, Inc. - Rogue Theatre Company - Rosalita's Puppets - Sleeping Weazel - SpeakEasy Stage Company - StageSource - Stoneham Theatre - Suffolk University Theatre - The All Stories Theater Company - The Boston Teen Acting Troupe -The Hanover Theatre for the Performing Arts - The Pub Theater -The Theater Offensive - The Wilbury Theatre Group - Theatre Company of Saugus - Theatre on Fire - They Gotta Be Secret Agents - True Story Theater - Vagabond Theatre Group - WAM Theatre - Wheelock Family Theatre - Whistler in the Dark - Zeitgeist Stage Company.

Greater Boston Theatre Expo 2013 Organizing Committee:
David Colfer, General Manager, Emerson Stage
Christopher Cook, Director of Arts, Tourism and Special Events, City of Boston
Rebecca Curtiss, Communications Manager, Huntington Theatre Company
Anna Fitzloff, Director of Marketing and Communications, American Repertory Theatre
Anne Gottlieb, Actor
Julie Hennrikus, Executive Director, StageSource
Shawn LaCount, Artistic Director, Company One
Veronique LeMelle, Executive Director, Boston Center for the Arts
Steve Maler, Artistic Director, Commonwealth Shakespeare Company
Michael Maso, Managing Director, Huntington Theatre Company
Kati Mitchell, Director of Press and Public Relations, American Repertory Theater
Catherine Peterson, Executive Director, ArtsBoston
Jeff Poulos, Executive Director, Associated Grant Makers


VIENNA: CITY OF DREAMS FESTIVAL WILL INCLUDE MUSIC OF BROADWAY


Carnegie Hall's salute to Vienna's extraordinary artistic legacy with Vienna: City of Dreams, a three-week citywide festival during February and March 2014 will- as expected - feature symphonic and operatic masterpieces, chamber music, and lieder, as well as a sampling of new sounds that are emerging from this historic cultural capital.

There will also be Broadway music - and we don't mean merely a slap dash rendition of Edelweiss from The Sound of Music.

One of the performers will be Anna Bergman, who recently appeared in An Evening with the Astaires, along with Lee Roy Reams and Jennifer Sheehan. ( See Broadway To Vegas column of August 11, 2013 )

Regarding the upcoming Festival, Bergman told Broadway To Vegas that the event "is called Glamorous Nights: A Viennese Salon which will premiere on March 6, 2014 at the Neue Gallerie's Cafe Sabarsky in NYC, which is a partnering organization of Carnegie Hall's Vienna: City of Dreams festival. It is being directed by one of Broadways' premiere casting directors Jay Binder. It is an evening of Viennese and American Broadway music."

This event is part of the Neue Galerie New York's series of cabaret performances that will feature Viennese artists and repertoire in its Café Sabarsky.

Other city wide events include film series, panel discussions, art exhibitions, and even a Viennese Opera Ball, highlighting Vienna's unrivaled cultural heritage as well as its ongoing role at the heart of Europe.

Vienna has long held a romantic and musical fascination. A glittering cultural jewel at the heart of Europe, Vienna has for centuries drawn artists, dreamers, and innovators from all corners of the continent to its dazzling intellectual and artistic life. With its famed art salons and coffee houses, Vienna supported a unique culture in which artists and scientists, firebrands and aesthetes, met and freely exchanged ideas. From this hothouse atmosphere emerged revolutionary breakthroughs in psychology, literature, art, and music, reverberating around Europe and indeed the world. 2013-2014 Carnegie Hall Festival Events include: the Vienna Philharmonic Orchestra, Kristian Bezuidenhout, Ensemble ACJW, Vienna State Opera, Discovery Day: Franz Schuber's Last Years, Leonidas Kavakos, Enrico Pace, Matthias Goeme, Christoph Eschenbach, Fennesz, Zawinul Legacy Band, Hugo Wolf Quartet.



Jay Binder will direct a night of Viennese and American Broadway music.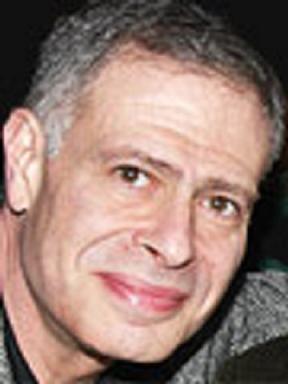 Partnering groups include The Austrian Cultural Forum New York which has festival programming emphasizing the Vienna of today, "explor(ing) the vibrant creative fabric of the "city of dreams" in the 21st century with programs of contemporary music, a lecture and discussion series, films, readings, dance performances, and a major visual art exhibition entitled The Vienna Complex.

The Center for Architecture will host hosts a panel on public spaces, with special focus on the artful plazas of Vienna and its pedestrian-oriented city plan. The New York Art Resources Consortium (NYARC) - a collaboration between the libraries of The Frick Collection, Brooklyn Museum, and The Museum of Modern Art - has extensive holdings of materials relating to artist Gustav Klimt (1862–1918). In 2014, NYARC will produce and release a web-based exhibition of its Vienna Secession (Union of Austrian Artists) catalogs and other related materials for the period that Klimt, as a founding member, was involved, including the 14th Secession exhibition (1902) that was designed by Joseph Hoffmann and included tributes to Beethoven.

The Jewish Museum will present a talk by Nobel Prize-winning neuroscientist Dr. Eric Kandel, author of The Age of Insight: The Quest to Understand the Unconscious in Art, Mind, and Brain, from Vienna 1900 to the Present. The Juilliard School will present its own AXIOM ensemble in an Alice Tully Hall concert conducted by Jeffrey Milarsky, which includes contemporary Austrian composer Georg Friedrich Haas's Monodie. The Keyes Art Projects coordinates a series of exhibitions, receptions, lectures, and public programs at leading galleries and museums throughout New York City, giving a glimpse into the wealth and diversity of contemporary art from Vienna. (Le) Poisson Rouge presents a concert that features contemporary concert and electronic music from Vienna.

Leo Baeck Institute, the foremost library and archives of German-speaking Jews, presents an exhibit about the rich music and theater scene of Vienna from the turn of the century into the 1930s, with original documents and photos that focus on the fruitful multicultural life of the Austrian metropolis, including famous artists and writers such as Arthur Schnitzler, Richard Beer-Hofmann, Sigmund Freud, and Theodor Herzl, to name a few. The Morgan Library & Museum presents a performance inspired by works in its renowned music collection of autograph manuscripts.

The Museum of Modern Art celebrates the 50th anniversary of the Austrian Film Museum with a major collaborative exhibition that explores Vienna throughout the history of cinema as a city both real and mythic. The exhibition centers on Austrian and German Jewish émigrés looking back on the city they left behind, as well as an international array of contemporary filmmakers and artists whose own visions of Vienna reveal the powerful hold the city continues to exert over our collective unconscious.

Exploring the culture of Vienna through food, music, and literature, The New York Public Library intends to host conversations for all ages on cooking, counterculture, and children's tales. The Paley Center for Media will present Spotlight on Vienna, featuring screenings of programs from its archives, including Our Man in Vienna (1962), an examination of the culture and history of Vienna hosted by reporter David Brinkley; Beethoven's Birthday: A Celebration in Vienna (1971), with Leonard Bernstein narrating and conducting excerpts from the Vienna State Opera production of Fidelio (with Gwyneth Jones and James King) and the Ninth Symphony (with Gwyneth Jones, Shirley Verrett, Plácido Domingo, and Martti Talvela); and In Performance: Timeless Vienna (1981), featuring the Vienna Philharmonic Orchestra under the direction of Willi Boskovsky with the Vienna Choir Boys in a program of Strauss and Ziehrer waltzes.

The eagerly anticipated Viennese Opera Ball in New York, a white-tie charity gala held under the auspices of the US-Austrian Chamber of Commerce, is an annual international social landmark that exemplifies Vienna's cultural legacy, elegance, and glamour. The 59th Viennese Opera Ball will be held on February 21, 2014, at The Waldorf Astoria in New York, launching Carnegie Hall's citywide Vienna: City of Dreams festival.


FREELANCE WRITERS HAVE A DIFFICULT JOB PROTECTING THEMSELVES


An August 24, 2013 article in Politico  began: "In late July, Daniel Flynn, a conservative author and columnist, submitted an essay to The Wall Street Journal Weekend Review called "The War on Football," which laid out the case against banning the sport at the youth level. Two days later, Flynn was informed that his piece had been turned down.

"Two and a half weeks later, on Aug. 17, Flynn went to the Journal's website and found that the paper had published a column by another author, titled "In Defense of Football," which included much of the same data presented in the same order and language similar to that presented in his own work. "What followed was a battle between Flynn and the Journal that ultimately resulted in Flynn publicly accusing the Journal and author Max Boot — a senior fellow at the Council on Foreign Relations and contributing editor to the Weekly Standard and the Los Angeles Times — of plagiarism. In a column for The American Spectator published Friday, Flynn claimed that Boot's article "freeloaded" the "research, structure, and ideas" from his work."

"Boot and representatives from the Journal deny that charge, and both Boot and his research assistant say they had no knowledge of Flynn or his work." ( http://www.politico.com/blogs/media/2013/08/a-charge-of-plagiarism-verdict-uncertain-171141.html)

I have no knowledge about that article or any of the people involved. But, it did bring back a lot of memories - about 50 years of experience earning a living freelancing. It's like trying to survive walking through a mine field.

Three of many personal experiences:

Decades ago I conducted an in person interview with Diana Ross in her dressing room in Las Vegas. She was fabulous. Can't say enough nice comments about her.  At the time of the interview she was the top draw on the Las Vegas Strip and starring in a movie.

I submitted the copy to a publication, which had never before published my work. They rejected the copy, returning my original article back to me with a note wishing me good luck in placing it elsewhere.

I did just that, selling the  manuscript to the first magazine's rival publication. A publication date was set for the article and I was paid. 

I woke up one morning to discover that my article was the cover story of both publications - word for word - with my byline.  The same  article - word for word - is printed by  two competing magazines. 

Without my knowledge, the first publication - which rejected the article  - had made and kept a Xerox copy. From the time of my submission/rejection "good luck on placing elsewhere" there had been magazine personnel changes. A new person had seen my interview and decided to use it.The new person, seeing no indication that I had been paid, issued payment, which arrived the following day. 

I learned that it was common practice for publications to Xerox off copy that they are rejecting. The publications then use the copy as idea inspirations for their staff writers, spin off sentences or paragraphs without giving credit or payment to the author. It's a way of stealing. They might as well be wearing a mask and carrying a flashlight.

In my case - it doesn't get much worse than what happened:  the same article appearing on the stand the same day by two rival publications. I was caught in the middle. It's my by-line that stuck out for the world to see. To those in the business who didn't take the time to investigate, it looked like I had sold the same copy to two publications, when  - again -  one of the publications had rejected the article, made a Xerox copy without my knowledge or permission, and wished me luck in "placing it elsewhere."

My complaint was twisted into a blame-the-victim scenario: "You should have know that rejection slip was a mistake. Your article was so good, you should have known we would buy it. Why didn't you contact us and ask why you had received a rejection?"

Huh?

While I was never informed that a Xerox copy had been made and retained, it is a warning to writers who have their material rejected - or think it's been rejected. Keep a record of the entire event - date submitted, to whom, a copy of the submission and a copy of the rejection notice.  Be wary.

2) BE CAREFUL ABOUT EVEN A CASUAL CONVERSATION:  When the first George Bush was president I visited Washington, DC during  the Christmas season. Part of the events included a tour of  the White House. Suddenly, First Lady Barbara Bush burst into the room to speak to some Marines who were getting ready for an event regarding their worthwhile Toys for Tots Campaign, in which FLOUS  was  a participant. Her conversation with the Marines and her assistants turned to First Dog Millie who had given birth to six pups.

One pup in particular was a favorite of both President Bush as well as his granddaughter. The story, as Mrs. Bush was relating it, was darling, warm, personal, human, a perfect holiday story about puppies, which ended with Mrs. Bush making a comment about her husband. There are certain things that only a wife can say and how the comment is said is as important as what is said.  When she said what she did, everyone around her laughed. It was a funny, endearing, loving comment. 

When I got home I received a phone call asking me how my vacation had been. I mentioned that I heard Barbara Bush tell one of the funniest stories and repeated what I had heard.  A couple of weeks later I awoke to find my experience the lead gossip piece in a national Sunday newspaper supplement. There were several problems - the biggest being that my experience had been slanted  to give that impression that Mrs. Bush had basically called her husband incompetent. She did not!

Fire emanated from the phone lines when I called the person in Florida who had called me, casually asking about my trip. She had repeated my experience to a man who admitted taking my experience and selling the material to the supplement magazine, which apparently he did on a regular basis.  When I complained,  he said, "F*** you." 

The Sunday newspaper supplemental magazine never contacted me.  Never verified the story with me  While the "facts" in the story were correct, the innuendo totally changed the meaning into the seriously negative.

I have never given anyone permission to sell my experiences. To profit from my experiences  is (1) wrong, and (2) to do so at the harm and ridicule of somebody else (in this case the President of the United States, for God's sake) is unforgiveable.

3) UNUSUAL PAYMENT METHODS: Back in the days when  payments came by check, rather than on-line direct deposit, publications used tricks to cut the pay. A check would arrive in a different amount that the agreed upon sum - say half the figure. The check would indicate that cashing the check indicated payment in full.  If the freelancer cashed the check, thinking they'd then argue for the other half, the cashed check sent word to the hierarchy that the freelancer needed the money. That info would spread like wildfire. From then on editors knew that the freelancer was an easy  target for payment fraud.

Freelances are the last to be paid and the first to be knifed in the back.

Payments can come in strange ways. I once sold an article to a Catholic magazine. Instead of sending me a check, I received a message, on an expensive piece of embossed stationary, telling me that "in lieu of payment a Special Novena will be said in your honor."

I wrote back, informing the editor that "the butcher told me to tell you that your Special Novena wasn't worth a pound of hamburger."

I got paid.

Years later a different publication owed me money for an article. The editor assured me that I'd be paid, but informed me  that payments for the issue in which my article appeared, had been "closed."  Therefore, I would be receiving a check, but  to ignore  the reference story. In order for me to be paid, the editor indicated they'd have to  list something still open for payment. The check came, indicating that it was for a Sinatra story I knew nothing about.

Over the decades I have written many articles about Frank Sinatra and all of his children. I written some tough articles about them, especially Frank Sinatra, but never have I written anything either unkind or untrue about any of them.

I called and asked why I was being paid for a Sinatra story that I had nothing to do with. I was told that was payment for the story I wasn't paid for; to just cash the check, mark down that I'd been paid for the non Sinatra related article I did work on, and not worry about it. I compiled and heard nothing more  - until years later when I was legally questioned about the payment. 

I repeated what had taken place. I was called a lier.  I was threatened that every word I said was going to be checked out. They did -  and  - I was telling the truth. Apparently, I had been used as a scapegoat, only the lawyers refused to provide me with any details. From what I could glean, a story about either Frank, or somebody in the Sinatra family, resulted in Sinatra lawyers either suing or threatening a lawsuit. I was never provided with any information, being told it was none of my business. The only information I was provided was that when the Sinatra lawyer saw my name on the check "he winced." As far as I'm concerned, that makes it my business.

I requested that the Sinatra lawyers be contacted and  that my name be cleared. I was told that would happen. I have no reason to believe the lawyers fulfilled their end of the bargain.  The reason, I'm guessing, is that by  admitting this happened to the Sinatra lawyers, a case might possible have been reopened that the publication wanted to remain closed. 

On more than one occasion I've had a lawyer look me in the eye say: 'I lied to you.'  If you're a freelance writer, don't trust lawyers.

Recently it was disclosed that  JK Rowling's pen name  was leaked by the law firm which represented her. 

Russells, which specializes in entertainment law, paid "substantial" damages after admitting exposing  Rawling  as the author of  The Cuckoo's Calling, published under the name Robert Galbraith. Rawling  had brought proceedings at London's High Court against Chris Gossage, a partner at the law firm, and his friend Judith Callegari after a Sunday Times article revealed the author's pseudonym.

Russells admitted that Gossage had told Callegari about Rowling's authorship, and she in turn had passed the information to a Sunday Times journalist in a Twitter exchange.

Rowling's solicitor, Jenny Afia, told the court that the author "has been left dismayed and distressed by such a fundamental betrayal of trust".

Russells, which also apologized for the breach of confidence, was required to also repay Rowling's legal costs.

In America, a person's legal name is the name that appears on their social security card. The name of the social security card is also the name that is suppose to appear on the person's driver's license and passport. Just about all writers also write under pseudonyms. That doesn't mean the person is going by an alias. It also doesn't mean that the author has to disclose their pen names. Just as in the UK, no entity is entitled to divulge any author's pseudonyms. The only exception is a person who uses a pseudonym for the purpose of committing plagiarism. There is a man in Nevada who does precisely that.  

If you are good and really do know how to write, the problem isn't getting published, although you may not get paid as much as you would like and probably will have to nag to get the paycheck. The biggest problem is protecting your work and yourself.  

Justice is neither swift, nor fair. Two individuals in two of the above mentioned events were terminated from their employment, which didn't put a dime in my pocket.

Nobody sets out with the goal of being a freelance writer, meaning no guaranteed income or company benefits such as health insurance, sick leave, vacation pay, or a pension. To those whose family circumstances make it impossible or impractical to accept a time regulated position with a specific publication, and thus must embark on making a livelihood as a freelancer, it's a minefield. Document everything. Even then, you aren't safe, although you might possibly survive. 







SPREADING THE WORD


DIRECTING SHAKESPEARE Tony Award winner and former Artistic Director of the Old Globe Theater, Jack O'Brien and Tony Award nominated director, David Leveaux take part in The Shakespeare Society's opening event,Directing Shakespeare on September 16 at the Pearl Theatre in New York City.

This event will feature Artistic Director Michael Sexton speaking with both directors on their current and upcoming Shakespeare productions in New York and their approaches to directing Shakespeare.

David Leveaux is directing the current Broadway production of Romeo & Juliet, featuring Orlando Bloom and Condola Rashad. Jack O'Brien is directing the upcoming Lincoln Center Theater production of Macbeth with Ethan Hawke and Anne-Marie Duff.

The evening will end with an interactive Q&A between the directors and audience. This event is part of the Shakespeare Talks series of programming. Complimentary wine will be served afterwards in the lobby of The Pearl Theatre.

Shakespeare Talks is a series of intimate events, aimed at opening up the conversation about Shakespeare with the audience and colleagues in the theatrical, academic, and educational fields. A more interactive evening, the onstage conversations will lead to a question and answer session with the audience and feature a post show reception with the participants. The Shakespeare Talks series is in partnership with The Pearl Theatre Company.

THE PASADENA PLAYHOUSE announced that Seema Sueko has been appointed the new Associate Artistic Director. Sueko, who is the co-founder and Executive Artistic Director of the Mo`olelo Performing Arts Company in San Diego will assume her new role at The Playhouse beginning January 6, 2014.

Mo`olelo, which means "story" in Hawaiian, is a community-focused, socially-conscious, Equity Theater Company, and was co-founded by Sueko and Kim Palma Richmond in San Diego in 2004. Sueko, who is originally from Hawaii, held the artistic and managing leadership position at Mo`olelo since its founding. She developed Mo`olelo's greening initiative, consensus organizing methodologies, and led the Company through its selection as the Inaugural Resident Theatre Company at La Jolla Playhouse for the 2008-2009 season. She served as Artist in Residence at University of California San Diego's Thurgood Marshall College for 2008-2009 and taught Theatre & Society at University of San Diego in 2009. She holds an MA in International Relations from the University of Chicago, is a member of Actors' Equity Association, and was recognized with the 2010 Des McAnuff New Visions Award from the San Diego Theatre Critics Circle.

STARS WILL RECEIVE HONORARY OSCARS Angelina Jolie is to receive the Jean Hersholt Humanitarian Award while honorary Oscars will be presented to: Angela Lansbury, Steve Martin and Italian costume designer Piero Tosi, who becomes the first costume designer to receive an honorary Oscar.

The honorary Oscars "pay tribute to individuals who've ma, wde indelible contributions in their respective fields," said Academy president Cheryl Boone Isaacs. The honorary awards are given out every year in recognition of "extraordinary distinction in lifetime achievement, exceptional contributions to the state of motion picture arts and sciences, or for outstanding service to the Academy".

The Hersholt Award is presented periodically to a film industry member for exemplary humanitarian work. Jolie, who was nominated for her leading performance in 2008's Changeling and won for her supporting role in 1999's Girl, Interrupted, serves as a special envoy for the United Nations High Commissioner for Refugees. The 38-year-old actress and filmmaker has also lobbied Congress to support programs protecting women and children.

Previous recipients of the Hersholt Award include Jeffrey Katzenberg, Oprah Winfrey, Sherry Lansing, Jerry Lewis and Elizabeth Taylor.

The awards will be handed out by the Academy of Motion Picture Arts and Sciences at the untelevised Governors Awards' ceremony on November 16 at Hollywood & Highland Center's Ray Dolby Ballroom.

SONGWRITERS TO SOUNDMEN PROGRAM staged by the Rock and Roll Hll of Fame, celebrating the 60th anniversary of Sun Records.

Interviews will feature music producer Hank Davis; Richard Weize, founder of Germany's Bear Family Records and the Miller Sisters, Sun Studio recording artists.

The event will be held Saturday, September 14 at the Rock and Roll Museum's Hall of Fame Theater in Cleveland, Ohio.

LETTERS TO JACKIE In collaboration with the American Film Institute, the Kennedy Library hosts the Boston premiere of Bill Couturié's film Letters to Jackie.

The presentation features condolence letters from the Kennedy Library Archives and is based on the book by historian Ellen Fitzpatrick.

A discussion follows with letter writers and actors from the film. Tuesday, September 17, 2013 at the Kennedy Library in Boston.


OTHER PEOPLE'S MONEY


FLOYD MAYWEATHER JR guaranteed $41.5 million for fighting Canelo Alvarez on September 14 in Las Vegas at the MGM-Grand.That pay day breaks the previous record of $32 million, also guaranteed to Mayweather for his 2012 match against Miguel Cotto. Tickets for the Saturday event sold our less than 24 hours after going on sale, bringing in the biggest gate ever for a fight at $19.9 million.



INSIDE WAGNER'S HEAD inspired by the life of composer Richard Wagner, is a one-man show starring Simon Callow.

Directed by Simon Stokes, currently artistic director of the Theatre Royal Plymouth.

Simon Callow presents an exploration of the life and legacy of Richard Wagner in his bicentenary year. Wagner's life was fiercely passionate in every aspect: political exile, tempestuous love affairs, provocative writings and an astonishing operatic output that revolutionized the stage.

"There are many truths and myths surrounding the composer Richard Wagner. In this one-man show, Callow tries to show what Wagner was actually like, and what it was like to be around him. He was a mass of contradictions: a sublime visionary and a petty anti-Semite, a political radical but dependent on dukes and princes, irritating yet charismatic to the point of commanding absolute devotion."

Set design by award-winning theatre and opera designer Robin Don, lighting design by Rick Fisher and sound design by Adrienne Quartly. Video design by Robin Don and Duncan McLean.

The production has been specially commissioned for this year's Deloitte Ignite contemporary arts festival curated by Stephen Fry and The Royal Opera, and co-produced by the Royal Opera House and Theatre Royal Plymouth.

Officially opened September 6 at the Royal Opera House in London with performances through September 29, 2013.

TONE CLUSTERS by multiple award-winning, three-time Pulitzer Prize-nominated author Joyce Carol Oates.

Directed by Mike Peebler

Starring Alan Blumenfeld, Katherine James and Jeff Wiesen. Monologues performed by Jonathan Blandino, Cynthia Kania and Sarah Lyddan.

In Tone Clusters, real-life married couple Alan Blumenfeld and Katherine James portray Frank and Emily Gulick, an ordinary American husband and wife who find themselves trapped in the media spotlight when their son is arrested as the alleged killer of a neighborhood girl.

"Although written in 1990, Tone Clusters is even more relevant in 2013," notes Peebler. "With our current 24/7 news cycle, everything is about ratings and number of clicks. We have taken tragedy and turned it into a commodity." Tone Clusters was first performed in 1990 as part of the Humana Festival of New Plays at the Actors Theater of Louisville, where it was the recipient of the Heideman Award. It later received the Fringe Report Award for Best Play at the Edinburgh Fringe Festival. Rounding out the evening, Jonathan Blandino, Cynthia Kania and Sarah Lyddan will perform four monologues by Oates: The Orange, The Mirror, Slow Motion and I Stand Before You Naked.

Six performances, each followed by an audience talk-back, the first one on September 5 was moderated by Oates who travelel to L.A. to lead a panel discussion.

Performances continue September 12, 19 and 26; Friday, October 4; and Saturday, October 12 in the S. Mark Taper Foundation Pavilion, Theatricum's intimate second performance space at Will Geer's Theatricum Botanicum in Topanga, CA.

DIAMOND LIL written in 1928 by Mae West. Staying faithful to the gritty themes in the novel by Mae West, LindaAnn Loschiavo trimmed the work to 85 minutes for a cast of eight.

Starring Darlene Violette as Diamond Lil, Queen of the Bowery and also featuring Sidney Myer, Anthony DiCarlo, Joanna Bonaro, Gary Napoli, Juan Sebastian Cortes, Kimmy Foskett, Jim Gallagher.

Live music by Brian McInnis.

Torso-tossing scenes of sin and sensationalism return to the red curtained realm called "Suicide Hall".

The public is invited (suitable for age 18 and over) as the iconic NYC nightspot Don't Tell Mama in New York City is turned into Gus Jordan's "Suicide Hall" for Diamond Lil. Performances this month are on Sunday September 15th and 22nd.

GHOST THE MUSICAL book by Bruce Joel Rubin, who adapted his Academy Award-winning original screenplay for the stage. An original score by Dave Stewart and Glen Ballard which also includes Unchained Melody. Directed by Tony Award winner Matthew Warchus.

Ghost The Musical is described as: a "timeless fantasy about the power of love. Walking back to their apartment one night after a romantic dinner, Sam and Molly are mugged, leaving Sam dead on a dark street. Sam is trapped as a ghost between this world and the next and unable to leave Molly, who he learns is in grave danger. With the help of a phony storefront psychic, Sam tries to communicate with Molly in the hopes of saving and protecting her."

The first national tour begins at Proctors Theater in Schenectady, NY, on September 14 with performances through September 20.

SECONDHAND LIONS a new musical by with a score bt Michael Weiner and Alan Zachary and a book by Tony Award winner Rupert Holmes. Based on the 2003 movie starring Michael Caine and Robert Duval

Directed by Scott Schwartz. Choreography by Joshua Bergasse.

Starring Tony Award nominee Gregg Edelman, Mark Jacoby and Johnny Rabe.

Edelman and Jacoby portray the eccentric uncles who are entrusted with their 14-year-old nephew Walter, played by Rabe. The cast also features Jason Danieley, Kevin Earley, Kendra Kassebaum, Jenny Powers, Jared Michael Brown, Sophia Anne Caruso and Justin Huertas.

The ensemble includes Wendi Bergamini, Scott Brateng, Sydney Buckley, Sarah Rose Davis, Nick DeSantis, Eric Esteb, Lori Ann Ferreri, Jenifer Foote, Matthew Posner, Nick Gaswirth, Fawn Ledesma, Ulyber Mangune Harris Milgrim, Ryah Nixon, Deon Ridley, Indeah Thomaier, Grayson Smith and Kennedy Miller.

Scenic design by Eugene Lee, costume design by Ann Hould-Ward, lighting design by Howell Binkley, sound design by Kai Harada, hair and makeup design by Mary Pyanowski, orchestrations by Alan Lee Silva, dance arrangements by Sam Davis, projection design by Jeff Sugg and fight direction by Rick Sordelet.

The new musical is described as "Harkening back to a simpler time, when a boy's imagination was all that was needed to turn a regular summer on a Texas farm into the adventure of a lifetime, Secondhand Lions follows the extraordinary tale of Walter, a 14-year-old boy sent to live with his irascible uncles on their Texas farm for the summer. While there, the tall tales his uncles tell him - stories of hidden treasure and beguiling princesses - lead Walter on a magical odyssey through history and the past."

Previews began September 7, with the official opening set for September 26 at the 5th Avenue Theatre in Seattle, Washington. The production runs through October 6.


WHO'S WHERE




BRUCE SPRINGSTEEN AND THE E STREET BAND next Sunday, September 15, appear at the Rock In Rio event at Rock City in Rio De Janeiro.

ROD STEWART performs Thursday, September 12, at the 02 World Arena in Hamburg, Germany. On Saturday he's on stage at Stadion Rybnik in Rybnik, Poland.

PATTI LuPONE performs September 12-13 at the Dakota Club in Minneapolis, MN; in her show Far Away Places, Acts 1 & 2. On September 14 the Tony Award winner brings her act to the Escher Auditorium of the College of St. Benedict in St. Joseph, MN. Joseph Thalken is the Musical Director.

MICHAEL FEINSTEIN will bring his new show, Swingin' Back Home, to his new home, Feinstein's at the Nikko. Paying tribute to the great singers who reinvented the popular song, Feinstein will perform some of the most beloved classics including Without a Song, Just One of Those Things, and Lady is a Tramp in a swing style. September 11 & 13-15 at the Nikko in San Francisco.

TONIA TECCE who spent 18 seasons with the Ocean City Pops, makes her NYC cabaret debut on September 11 at The Metropolitan Room. She'll be performing A Cockeyed Optimist: Why We Believe - The Songs of Richard Rodgers. Written and directed by Michael Bush, with Tom Lawton as Musical Director.

RIHANNA has a sold out concert September 14 at the Venetian Hotel's Cotai Arena in Macau.

TAYLOR SWIFT takes to the stage Thursday, September 12, at the Coliseum in Greensboro, NC. On Friday she sings her hits at the PNC Arena in Raleigh, NC. Saturday's show is at the JPJ Arena in Charlottesville, VA.

BLAKE SHELTON takes to the stage Thursday, September 12, at the Xcel Energy Center in Saint Paul, MN. Friday's show is at the BMO Harris Bradley Center in Milwaukee. On Saturday he's in the spotlight at the Bridgestone Arena in Nashville, TN.

ZZ TOP will bring their rock, blues, and beards to the Filene Center in Vienna, VA for the first time on September 11.

MICHAEL BUBLE entertains Wednesday, September 11, at the XCEL Energy Center in St. PAul, MN. On Friday he's in the spotlight at the Pinnacle Bank Arena in Lincoln, NE. Saturday finds him at the Scottrade Center in St. Louis, MO. Next Sunday, September 15, he can be enjoyed at the Bankers Life Fieldhouse in Indianapolis.

TONY BENNETT performs Friday, September 13, at the Ritz Carlton Pacific Place in Jakarta, Indonesia.

PET SHOP BOYS perform Thursday, September 12, at the Jackie Gleason Theater in Miami Beach, FL. On Friday the show is at the Mahaffey Theater in Saint Petersburg, FL. Saturday's gig is at Symphony Hall in Atlanta.

ARTURO SANDOVAL the nine time Grammy Award winner brings his group to the Smith Center in Las Vegas on September 12, 2013.

SUTTON FOSTER performs September 10 to September 28 at the Carlyle Hotel in New York City.

SELENA GOMEZ entertains Wednesday, September 11, at the Campo Pequeno in Lisbon, Portugal. On Thursday she's in the spotlight at the Palacio Vistalegre in Madrid, Spain.

LARRY GATLIN AND THE GATLIN BROTHERS appear at the Clay County Fair in Spencer, IA on Monday, September 9. On Tuesday they star at the Kansas State Fairgrounds in Hutchinson, KS.


FINAL OVATION


SIR DAVID FROST the famed broadcaster died Saturday, August 31, 2013 of a suspected heart attack. He had been giving a speech aboard the cruise ship the Queen Elizabeth. He was 74.

Fost's interview with President Richard Nixon was turned into the Broadway play and movie Frost and Nixon. Michael Sheen portray Frost to Frank Langella's Nixon. Sir David attended the film's premiere in 2008.

Frost was the only person to have interviewed eight British prime ministers serving between 1964 and 2010 (Harold Wilson, Edward Heath, James Callaghan, Margaret Thatcher, John Major, Tony Blair, Gordon Brown and David Cameron) and the seven US presidents in office between 1969 and 2008 (Richard Nixon, Gerald Ford, Jimmy Carter, Ronald Reagan, George H. W. Bush, Bill Clinton and George W. Bush).

Frost rose to prominence in the UK when he the host for That Was The Week That Was for British television, which then transferred to America. Following a pilot episode of That Was the Week that Was, November 10, 1963, the 30-minute US series, also featuring Frost, and aired on NBC from January 10, 1964 to May 1965. In 1985. Frost was featured on Season Six (1970-1971) of The Dean Martin Show and in 1971 was signed by the Riviera Hotel in Las Vegas to bring his variety show to resort in 1972.

In the early 1970s he was engaged to American actress Diahann Carroll; between 1972 and 1977 he had a relationship with British socialite Caroline Cushing; and in 1981 he married Lynne Frederick, widow of Peter Sellers, but they divorced the following year. He also had an 18-year intermittent affair with Carol Lynley.

On 19 March 1983, David Frost married Lady Carina Fitzalan-Howard, daughter to the 17th Duke of Norfolk, and the couple had three sons. Lady Carina and their sons survive him.













Next Column: September 15, 2013
Copyright: September 8, 2013. All Rights Reserved. Reviews, Interviews, Commentary, Photographs or Graphics from any Broadway To Vegas (TM) columns may not be published, broadcast, rewritten, utilized as leads, or used in any manner without permission, compensation and/or credit.
Link to Main Page
---
Laura Deni



For the snail mail address, please E-mail your request.
CLICK HERE FOR COMMENT SECTION