! >
Broadway To Vegas
  SHOW REVIEWS     CELEBRITY INTERVIEWS     GOSSIP     NEWS 
| | |
| --- | --- |
| | |
FOR $12,500 PER PERSON - -MOB SCENE WITH THE SOPRANOS - - GIULIANI'S HANDBAGS - - AL PACINO OPENS NATIONAL ACTORS THEATRE SEASON - - VIC DAMONE'S SON RADIO INNOVATOR - - BROADWAY CARES FLEA MARKET - - PLANETS ALIGN FOR JERRY SEINFELD - - BUTTER AND EGG MAN - - DONATE . . . Scroll Down


RECOVERY AND REBUILDING
Rosie Perez, Kristin Davis, Scott Cohen, Cynthia Nixon, J Dakota Powell, John Patrick Shanley, Orfeh, Josh Kessler (guitarist), Michael Potts, Frank Pugliese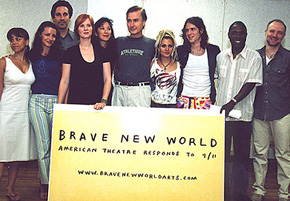 With the first anniversary of September 11th taking place this week the Broadway theatre community is remembering and recovering in a variety of ways.

Brave New World has a mission to unite and encourage the American theater to explore the roots of terrorism and address the changes in the world in the aftermath of the attacks. Brave New World will provide a forum for artists to wrestle with these issues, hopefully helping all to resolve continuing feelings of helplessness and confusion in the face of this tragedy.

The association believes that an artistic response is essential towards understanding not only the repercussions of terrorism on our most intimate relationships, but also the reasons for a type of warfare that is grinding away at the foundations of cultures around the world.

The Brave New World event will star dozens of actors performing more than 50 new plays and songs at the historic 1500-seat Town Hall Sept. 9-11. A separate benefit event under the Brave New World umbrella, The 24 Hour Plays will be presented Monday at the Minetta Lane Theater - the culmination of a 24-hour workshop of writers, directors, actors and staff.

Six brand new plays will be written, cast, rehearsed and performed in a single day, featuring an all-star line up of performers, writers and directors.

Confirmed artists include actors Eli Wallach, Estelle Parsons, Martin Short, Lily Tomlin, Mary-Louise Parker, Billy Crudup, Sigourney Weaver. Julianne Moore, Bebe Neuwirth. Jane Adams, Rosie Perez, Fisher Stevens, Marisa Tomei, Frank Wood, Lili Taylor, Dana Ivey, and Mariska Hargitay, playwrights Alexandra Gersten, Eduardo Machado, Alfred Uhry, Christopher Durang and Warren Leight, directors Gregory Mosher, Frank Pugliese, and Ana Strasberg. Mike Doughty, ex-lead singer of Soul Coughing, will provide music.


The 24 Hour Plays presents the newest of new work, prepared at a breakneck pace and propelled by the participants' adrenaline and unfiltered creative energy. The process begins at 10 pm the night before the show, when the writers actors and production staff gather at the theater.

After everyone has been briefed (and Polaroided), the writers remain for the night and each compose a ten-minute play. At 7am the next morning, the directors return, read the plays, and choose their favorites to direct. The casts meet for the first time at 8 am and quickly get to work rehearsing with 12 hours until opening night. Tech rehearsal runs from 5 to 7:30pm - doors open at 7:45. At 8 pm, the new plays are performed for a live audience!

Net proceeds will be donated to the New York Childrens Foundation, founded for children who lost family in the World Trade Center.


AL PACINO AND STELLAR CAST OPEN NATIONAL ACTOR'S THEATRE


Tony Randall's National Actor's Theatre will present a special presentation of Bertolt Brecht's savage satire The Resistible Rise of Arturo Ui as the season opener.



Al Pacino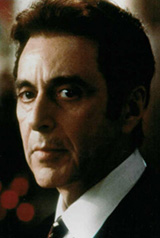 Oscar and Tony Award-winning actor Al Pacino will star in the title role as Arturo Ui. Pacino is a longtime veteran of the Broadway stage. He made his Broadway debut in Does A Tiger Wear A Necktie by Don Peterson. He starred in the 1977 play The Basic Training of Pavlo Hummel at the Longacre Theatre and in 1981 headlined David Mamet's award winning play American Buffalo at the Circle in the Square Theatre. He returned to that stage in 1991 to star in Salome

Simon McBurney, Artistic Director of Complicite, directs a cast which includes Gerry Bamman, Lothaire Bluteau, Sterling Brown, Steve Buscemi, Dominic Chianese, Billy Crudup, Charles Durning, Linda Emond, Tom Riis Farrell, Paul Giamatti, Michael Goldfinger, John Goodman, Jacqueline McKenzie, Chris McKinney, Ajay Naidu, Novella Nelson, Matte Osian, Al Pacino, Chazz Palminteri, Tony Randall, Robert Stanton, John Ventimiglia, Jack Willis.

A comic parable about the rise of Hitler, The Resistible Rise of Arturo Ui charts the ascent of a small time gangster who violently takes over Chicago's greengrocery trade. His annexation of Cicero, a Chicago suburb, parallels German conquests in the 30's and the unification with Austria.

Written in exile in 1941, Brecht savages his characters with a black wit: the play is as sharp and ugly as a broken bottle. It is a direct attack on the apathetic response to Hitler's rise to power and serves as a warning to future generations of all nations.

No simple allegory, Arturo Ui is alarmingly contemporary, revealing the fertile bed corruption makes for tyranny. This is a warning that while we may have defeated one dictator, "the bitch that bore him is in heat again."

Randall began the National Actors Theatre with the dream to present the world's great theatre, with the best actors. In 11 seasons on Broadway, the company presented 17 productions with a stellar group of actors. In the spring of 2002, it was announced that Randall was moving his company to its new home at the Michael Schimmel Center for the Arts at Pace University, a move that would enable the Company to further many of its original goals as well as help to re-vitalize lower Manhattan.

Performances begin October 3.



Broadway To Vegas is supported through advertising and donations. Priority consideration is given to interview suggestions, news, press releases, etc from paid supporters. However, no paid supporters control, alter, edit, or in any way manipulate the content of this site. Your donation is appreciated. We accept PAYPAL. Thank you for your interest.


OTHER PEOPLE'S MONEY


SAVE THE DATE The Metropolitan Museum in New York is staging a deep pockets promotion. Invitations to the well heeled went out this week - you mean you didn't get yours - for an exclusive weekend at the museum next March. For the pocket change amount of $12,500 per person, you'll get a tour by the museum's director, Philippe de Montebello, private talks with curators, dinner in the museum galleries and a cocktail party at the home of a New York collector.


THE MOB SCENE


STUEY

Michael Imperioli will star as Stu Unger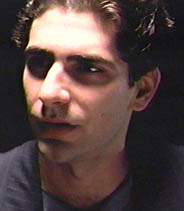 a biography of the late poker ace Stu Unger, who was found dead in a seedy Las Vegas motel, has been shooting in Las Vegas. Michael Imperioli who plays Christopher Moltisanti on The Sopranos takes on the title role of the three time World Series of Poker winner.

Vincent Van Patten and Michael Nouri also star. Former Riviera Hotel entertainment director turned The Sopranos actor, Steve Schirippa, returned to his former town for a role in the flick - Ungar's pal Big Anthony. Renee Faia plays Unger's wife.

As for The Sopranos, last Thursday the mob scene was at Radio City Music Hall when cast members of the smash HBO series emerged from black limos for a sneak preview of episodes from Season 4, which debuts Sept. 15. The screening was followed by a party at the Rockefeller Center ice-skating rink.


SWEET CHARITY


THE WHEEL OF DIVAS on behalf of the Actors Fund, with Richard Skipper as Carol Channing doing the spinning, will be a fun section of The Broadway Cares Flea Market September 22 in Shubert Alley.

If you are interested in being a part of this fun and worthwhile event, either as volunteer, or to contribute Performing Arts related merchandise, please E mail Skipper at richard@richardskipper.com.

Celebrities - real or imaginary - are needed to help with the event. Merchandise donated by the famous will be up for a spin. Everyone is a winner because even if your spin doesn't land on a celebrity donation, Richard Skipper as Carol Channing has a goodie bag for all the players.

HAIRSPRAY stages a benefit performance for the American Cancer Society on September 18. Call (212) 237-3888.

LAND MINE CLEARANCE BENEFIT former Beatle Paul McCartney and Beach Boys co-founder Brian Wilson will perform together at a Sept. 18 benefit to raise money for clearance of land mines. McCartney and his wife, Heather Mills, will host the second annual Adopt-A-Minefield Open Hearts Clear Mines benefit at the Century Plaza hotel in Los Angeles. Jay Leno will be master of ceremonies.

TIE ONE ON WITH RUDOLPH GIULIANI Former New York Mayor Rudolph Giuliani - who became everyone's mayor in the aftermath of 9/11 figured out what to do with all those neckties in his closet.

He donated them.

They were made into eight handbags, seven of which went up for bid last Wednesday at a charity auction staged in Henri Bendel's department store to benefit the Twin Towers Fund, a charity Giuliani established to assist families of uniformed rescue workers killed in the attacks.

The handbags were made by a Milwaukee seamstress, out of about 70 neckties he wore while in office. The opening price for the seven bags were each $250. An eighth bag, is owned by Giuliani's girlfriend and host of the auction, Judith Nathan, and is not for sale.

Also gaveled down were personal photographs taken and signed by Giuliani after Sept. 11, as well as books and T-shirts signed by the former mayor. The opening bid for each photograph was $1,000, while the T-shirts started at $100.

Bendel donated 10 percent of the proceeds from the entire store's sales during the three-hour event on Wednesday evening to the Twin Towers fund as well.

Judith Nathan a board member of the Twin Towers Fund, hosted the silent auction, which was part of Bendel's "We Love New York" week, a 10-day series of fund-raising events mixing fashion and art.

Two years ago Bendel sold handbags made by former White House intern Monica Lewinsky.



THE BUTTER AND EGG MAN by George S. Kaufman. This comedy from the 1920s centers on two former theatrical agents, who know all the ropes, find a play they believe will be a smash, and aim to produce it on Broadway. Getting in their way are a demanding, fading leading lady, a secretary wanting to get paid, a sarcastic, ex-vaudevillian wife and the fact that they don't have any money! If they can only find a "butter-and-egg man" - a millionaire to finance the show and butt out, their problems will be solved.

They think their have hit pay dirt when a naive rube from the Midwest, with a recently-acquired inheritance, enters the picture and is conned into dumping all his savings into this show, which one of the agents' wives calls "rotten junk." Hilarious problems begin when the show receives a poor reception out of town. Suddenly, the naive butter-and-egg man begins to believe that he is an actual producer and starts locking horns with the two showbiz veterans over the best way to fix the play. When the butter and egg man starts to get too interested in running things, their plan is in danger of backfiring. This very funny comedy is the only play written by George S. Kaufman without a collaborator.

Two productions of this spoof of old time Broadway are opening - which will raise your laughter, not your cholesterol.

David Pittu directs the New York City cast composed of Todd Bounopane, David Brummel, John Ellison Conlee, David Cromwell, Amanda Davies, Heather Goldenhersh, Julie Halston, Tom Mardironsian, Michael McGrath, Robin Skye, David Turner and Amelia White.

Sets by Ana Louizos, Lighting design by Robert Perry, Costumes by Bobby Tilley II, Sound Fitz Patton and the Stage Manager is Stephen M. Kaus.

The play begins previews Sept. 12 for an opening on Oct. 2 at the Atlantic Theatre Company in New York City.

The Hunterdon Hills Playhouse in Clinton, New Jersey stages The Butter and Egg Man September 17th - October 30th.

THE GOAT welcomes Sally Field and Bill Irwin, who will begin performances on Sept. 13, taking over the roles created by the departing Mercedes Ruehl and Bill Pullman. The former Flying Nun will play the headstrong, passionate wife of Irwin, an architect who reveals that he's having an affair with a goat named Sylvia. Supporting players Stephen Rowe and Jeffrey Carlson will continue in their roles. The Golden Theatre, New York City.

I SENT A LETTER TO MY LOVE Music by Grammy award winning actress/singer/songwriter Melissa Manchester; Book and lyrics by Jeffrey Sweet; Based on the novel by Bernice Rubens; Patricia Birch directs a cast headed by Cass Morgan starring as Amy; others in the company include Diana Canova, Kevin Early, and Bethe B. Austin, NSMT for the New England premiere.

I Sent a Letter to My Love is a touching story of deep yearning about a physically challenged man and his sister, both seemingly trapped in a world of loneliness.

Orchestrations by three-time Tony winner Doug Besterman. Musical direction is under Phil Reno, Jim Morgan is the scenic designer, Kirk Bookman lighting designer and Susan E. Picinich costume designer. North Shore Music Theatre in Beverly, Mass. September 3- 22.

CHICAGO welcomes Charlotte d'Amboise who assumes the role of Roxy September 17-October 27.

GEORGE M. COHAN: IN HIS OWN WORDS musical celebration of the composer. Written by Chip Deffaa from Cohan's own words, the show features more than a dozen classic songs, including Over There and You're a Grand Old Flag. Cohan was the first person in show business ever awarded the Congressional Medal of Honor.

Chip Deffaa directs the cast that includes Jonny Peterson, Hal Blankenship, Joan Jaffe, Dawne Swearingen, Jackie Comisar, Stephanie Saunders and Suzanne Dressler.

Co-Director & choreographer is Justin Boccitto. Musical Director is Sterling Price-McKinney.

September 10-September 28 at Chashama Theatre, New York City.

42nd STREET hoofing its way into Cincinnati's Aronoff Center Sept. 10-22.

BLUE starring Phylicia Rashad through October 13 at The Pasadena Playhouse, California.

SOUTH PACIFIC starring Las Vegas resident Robert Goulet has performances September 10-18 at the Weidner Center in Green Bay, Wisconsin.


WHO'S WHERE


THE ROLLING STONES are moving around too fast to gather any moss. Tonight they are in Boston, Mass. at the Orpheum Theatre. On Tuesday the action takes place in Chicago, Ill at the United Center. Then on Friday it's the same city, but a different location - this time Comiskey Park.

RUSH on stage tonight in Vancouver, BC at General Motors Place. On Tuesday the show is in Admonton, Alberta at the Skyreach Centre. On Thursday the action is in Calgary at Pengrowth Saddledome and on Saturday the performance is in George, Washington at The Gorge.

JOURNEY brings their power ballads to the California speedway stage in Fontana, California this evening. On Friday they are in the spotlight in Biloxi, Mississippi at Beau Rivage. On Saturday the performance is in Robinsonville, Mississippi at the Horseshoe Casino.

THE OAK RIDGE BOYS perform on Wednesday in Tulare, California at the Tulle Country Fair. On Thursday the guys are on stage in Puyallup, Washington, at the Western Washington Fair. On Saturday the show is in Branson, Missouri at the Grand Palace.

THE SMOTHERS BROTHERS fighting over whom mother loved best Saturday in Providence, Rhode Island at the Providence Performing Arts centre.

AN EVENING WITH PATTI LUPONE AND MANDY PATINKIN September 14 at the Charles W. Eisemann Center in Richardson, Texas.

CHRISTINE EBERSOLE the Tony Award winner for her performance in the revival of 42nd Street, makes her Cafe Carlyle debut in a cabaret show directed by Scott Wittman. With Bette Sussman as musical director the show takes the audience on Ebersole's journey as a performer, wife, and mother, employing an eclectic array of musical styles, including ballads, jazz, opera, pop, torch songs, swing, and country.

Ebersole will also be back on Broadway. She is set to star with Joe Grifasi, Dorothy Loudon, Ann McDonough and James Rebhorn in Lincoln Center's revival of George S. Kaufman and Edna Ferber's Dinner at Eight. The production is directed by Gerald Guiterrez, is scheduled to begin performances at the Vivian Beaumont Theater on November 21. Christine will be playing the lead role of Milllicent Jordan, a socially ambitious woman trying unsuccessfully to pull off a swank dinner party. In the meantime enjoy her at the Cafe Carlyle September 10-October 5.

OLIVIA NEWTON JOHN singing her hits Thursday in Detroit, Michigan at the Fox Theatre. On Friday she is center stage in Pittsburgh, Pa at Heinz Hall. She closes out the week, Saturday, in Merrillville, Indiana at the Star Plaza Theatre.

EARTH, WIND AND FIRE perform Tuesday in Puyallup, Washington, at the Western Washington Fair. On Friday the action is in Sacramento, Calif. at The Cove @Cal Exp.

STEPHEN SCHWARTZ & FRIENDS the Oscar and Grammy Award-winning songwriter is joined by Broadway stars Debby Gravitte and Scott Coulter in a show-stopping treat for the whole family. Sunday, September 8, at the Westport Country Playhouse, Conn. This is the last in the summer series of Sunday musical events the Playhouse annually offers, this year sponsored by Fleet Bank.

GEORGE WINSTON is on his European tour. Saturday he entertains at the Centro De Artes Escenias in Salamanca, Spain.

THE GOO GOO DOLLS with third Eye Blind & Vanessa Carlton Tuesday, September 10, Mandalay Bay Resort, Las Vegas.

BONNIE RAITT & LYLE LOVETT together in concert Tuesday, September 10, Aladdin Hotel, Las Vegas.

ANDRE-PHILLIPPE GAGNON the singing impressionist discovered by Celine Dion, opens Monday, September 9 performing through December 26 at the Paris Hotel, Las Vegas.

JERRY SEINFELD with his Sun in Taurus and his Moon in Pisces gets the planets aligned to generate laughs while he's on stage Saturday at the Community Center Theatre in Sacramento, California.

JACKIE MASON opens September 9 at the Helen Hayes Theatre in Nyack, New Jersey. His one man show runs through September 12.

OZZY OSBOURNE on stage this evening, Sunday, in the Smirnoff Music Center in Dallas, Texas.

PETER FRAMPTON performing Thursday at the New Mexico State Fair in Albuquerque, New Mexico. On Saturday Peter is center stage at the Los Angeles County Fairgrounds in Pomona, California.

BRUCE HORNSBY starring Friday in Burlington, Vermont at the Flynn Theatre. On Saturday the show is in Hampton Beach, New Hampshire at the Hampton Beach Casino Ballroom.

MICHAEL BOLTON on stage this evening in Council Bluffs, Iowa at Ameristar. On Tuesday he's in the spotlight in Cleveland, Ohio at Nautica Stage. On Thursday he performs in Clio, Michigan at the Clio Amphitheater and on Friday the show is in Merrillville, Indian at the Star Plaza Theatre.


PIFFLE AND PROFUNDITIES


VIC DAMONE

Perry Damone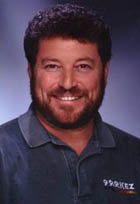 who was credited with having the best vocal equipment in the business, and set the gold standard for retiring with class, now has an official website.

The long overdue site was started by Damone's son, Perry, who is an on-air personality on Phoenix FM Radio Station 99.9 KEZ, and Webmaster Frank Sinclair, who report they "are having a blast working on it." Give it a look at www.vicdamone.com

For over ten years Perry, whose mother was actress Pier Angeli, and long-time Phoenix area teacher, Linda Tuttle, have helped schools throughout Arizona, starting at Tuttle's own Shumway Elementary School, install and operate their own campus radio stations.

Thousands of kids have enjoyed the opportunity to become radio stars in their own right by participating in the KdSTR Radio program, the first to put radio stations in grade schools in the United States.

DON KNOTTS

Siegfried & Roy with Don Knotts
visited Las Vegas, attending the Siegfried & Roy show at the Mirage Hotel for the first time.

He then went backstage to meet the illusionists. Although Knotts couldn't convince the magicians to show him their magical secrets, they did make a stuffed white lion appear in his arms.

Don's first jump into the entertainment business was as a ventriloquist. From there he moved on to comedy being cast as Windy Wales on the Bobby Benson radio show.

He auditioned for and got a small role in the Broadway play No Time For Sergeants where he first met Andy Griffith. Don later reprised his role for the movie version. Don also became a regular on the Tonight Show with Steve Allen, doing his nervous man routine for the Man-on-the-Street segments. In 1959, the Tonight Show moved to Hollywood and Don moved with it to California. He heard that Griffith was doing a new TV series about a small-town sheriff. He called Andy and suggested that the show needed a deputy. A few weeks later, Don got the part of Deputy Barney Fife, winning the Emmy for Best Supporting Actor five years in a row.













Next Column: September 15, 2002
Copyright: September 8, 2002. All Rights Reserved. Reviews, Interviews, Commentary, Photographs or Graphics from any Broadway To Vegas (TM) columns may not be published, broadcast, rewritten, utilized as leads, or used in any manner without permission, compensation and/or credit.
Link to Main Page
---
Laura Deni



U.S. Postal Address: Post Office Box 60538, Las Vegas, NV 89160
CLICK HERE FOR COMMENT SECTION