! >
Broadway To Vegas
  
  REVIEWS INTERVIEWS COMMENTARY NEWS

| | |
| --- | --- |
| | |
ON THE TOWN CD REVIEW - - GEORGE CLOONEY AND SANDRA BULLOCK TEAM UP AGAIN - - DISNEY'S THE LION KING ACHIEVES MILESTONE - - WORLD PREMIERE OF EDIE BRICKWLL AND STEVE MARTIN'S BRIGHT STAR - - DOWNTON ABBEY'S JOANNE FROGGATT STARS IN RABBIT HOLE - - JOAN RIVERS WAS A MAJOR LAS VEGAS PRESENCE - - OPERA PHILADELPHIA 40th ANNIVERSARY GALA - - FERRARI MUSEUM - - DONATE . . . Scroll Down




Copyright: September 7, 2014
By: Laura Deni
CLICK HERE FOR COMMENT SECTION


LONDON ON THE TOWN CD RELEASED PRIOR TO BROADWAY REVIVAL


Whether a coincidence or a smart marketing strategy, the original stereo London cast recording of On the Town has been re-released by Masterworks Broadway as a new Broadway revival begins previews at the Lyric Theatre on September 20, 2014, officially opening on October 16, directed by John Rando with choreography by Joshua Bergasse. The cast will feature Jay Armstrong Johnson (Chip), Tony Yazbeck (Gabey) and Clyde Alves (Ozzie).

On The Town as both a production and as this CD is a fun, bouncy musical with an interesting past.

On the Town has music by Leonard Bernstein and book and lyrics by Betty Comden and Adolph Green, based on Jerome Robbins' idea for his 1944 ballet Fancy Free, which he had set to Bernstein's music. The musical introduced several popular and classic songs, among them New York, New York, Lonely Town, I Can Cook, Too (for which Bernstein also wrote the lyrics), and Some Other Time, all of which are heard on this CD.

The story concerns three American sailors on a 24-hour shore leave in New York City during wartime 1944. Each of the three sailors becomes enamored of a particular woman — and of the city itself.

On the Town was first produced on Broadway and then made into a film in 1949 - although the film replaced all but three of the original Broadway songs with Hollywood-written substitutes. That most enjoyable film musical created problems for subsequent stage versions, since the music is different, although both the movie and the stage version integrates dance into its storytelling: Robbins made a number of ballets and extended dance sequences for the show, including the Imaginary Coney Island ballet, which is also part of this CD.

On the Town premiered on Broadway at the Adelphi Theater on December 28, 1944, directed by George Abbott and with choreography by Jerome Robbins. It closed on February 2, 1946, after 462 performances.

The production went downhill from there for a variety of reasons, including lack of the patriotic swell present during and immediately after World War II. The first Broadway revival opened at the Imperial Theatre on October 31, 1971, and closed on Jan 1, 1972 after 73 performances. The second Broadway revival opened on November 19, 1998, and ran for 69 performances.



Elliott Gould, Andrea Jaffe, Franklin Kiser, Gillian Lewis and Carol Arthur. Production photo.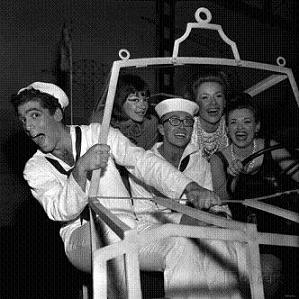 The first London production - captured in this CD - was directed and choreographed by Joe Layton and starred Elliott Gould as Ozzie, Don McKay as Gabey, Franklin Kiser as Chip, Carol Arthur as Hildy, and Bristol Old Vic trained Gillian Lewis as the feisty Claire. This CD also features Meg Walter as Diana Dream who has a solo number in I Wish I Was Dead, Lewis Henry as Policeman and Howarth Nuttall as Workman who opens the show with I Feel Like I'm Not out of Bed Yet. Nuttall had been a member of the famous music hall show Fol de Rolls that ran and played every year from 1911 to 1976. The Theatre Royal closed its doors for the last time on the 15th of December 1956 after the last performance there of Fol-de-Rolls, with Nuttall in the cast.

On The Town opened at the Prince of Wales Theatre on May 30, 1963, but ran for only 63 performances - critics blamed the Beatles for the early curtain drop, while historians have opined that; "It was not a propitious time for new musicals in London, given dramatic developments that year in British popular music."

Hopefully the upcoming Broadway revival will fare better.

The Masterworks Broadway CD of the original London production is more vibrant and boisterous that the original Broadway version or the previous revivals and is an upbeat listening pleasure.

In addition to a faster presentation there are a few subtle changes in the London CD versus assorted Broadway versions. Just as the original London hit Matilda altered some very British words to please the ears of the Broadway audience, On The Town going across the pond needed to accommodate that audience.

At the time of the original Broadway production, WWII was in high gear with both the military and ordinary citizens knowing that Navy E was an Army-Navy award created to encourage civilian industrial mobilization and production of war time materials, including rations. Civilian recipients were presented a pin attached to a card. The program was terminated December 5, 1945.

In the original Broadway version I Can Cook Too has a line in which Hilty proclaims that she does "rate a big Navy E." That phrase which wouldn't even be understood by anyone in America today was removed from the song when the production transferred to London. Likewise, references of two New York City restaurants in Come up to My Place and substitutions of the names of plays on Broadway to restaurant and show names familiar to those across the pond were substituted.

Two songs aren't included on this London recording: Do-Do-Re-Do, and I Understand, simply because the record producers were restricted to space limitations.

Many experiencing this CD might have been unaware that Elliott Gould can sing. Many know him from Bob & Ted & Carol & Alice (1969) and M*A*S*H (1971). However, he started out on Broadway. In 1957, at age 18, he made it to The Great White Way with a stage debut as a chorus boy in the musical Rumple, which led him to being cast in the chorus for the 1960 music Irma La Douce, which let him to receive the starring role in I Can Get It For You Wholesale. Gould's co-star was his future wife Barbra Streisand.

In 1963, the couple married. Both Gould and Streisand were both wanted for On the Town in London. Streisand had better things to do and soon thereafter their marriage, in effect, closed out of town.

While he doesn't have a solo, Gould duets with Claire (Gillian Lewis) on Carried Away and sings on four other selections.

Playing the spunky, brassy Hildy is Carol Arthur, wife of Dom DeLuise, who always said that Imogene Coca was her idol. A bit of that persona can be heard in Arthur's stand out number I Can Cook, Too. Arthur had also been in I Can Get It For You Wholesale and it was her show stopping portrayal of Miss Marmelstein in that musical that led to her being cast as Hildy.

A beautifully re-issued CD, with balanced sound and lyrics which are easy to understand. If you'd never experienced On The Town pick up this CD and give a listen to a time in history when military guys lived for a 24-hour pass. Give them that and New York City and On The Town packs a lot of living.

Enjoy this CD and then go see the upcoming Broadway revival.





Broadway To Vegas is supported through advertising and donations. Priority consideration is given to interview suggestions, news, press releases, etc from paid supporters. However, no paid supporters control, alter, edit, or in any way manipulate the content of this site. Your donation is appreciated. We accept PAYPAL. Thank you for your interest.





ART AND ABOUT


FERRARI MUSEUM

Some of the most expensive cars in the world. Photo: Ferrari Museum

is actually two Italian museums; the traditional Ferrari Museum in Maranello and the Museo Enzo Ferrari in Modena, Italy - the latter being the one with the dramatically vented yellow aluminum roof resembling a sports car's hood.

There are over 250,000 visitors every year at the Museo Ferrari where visitors have an opportunity to not only look at some of the most famous and expensive cars in the world - which many consider works of art - but also turn into a Formula I driver on board a semi-professional simulator.

Before getting behind the gears guests receive a briefing from a technician, who explains how to use the gearbox (F1 type with shift paddles and no clutch) and which are the gears to be used at the most significant sections of the track.

The Museum just a stone's throw from the Ferrari factory complex and The Museum in Maranello has several areas: the permanent section with the Victory Hall, where you can find all the F1 cars World Championship the Scuderia Ferrari has won since 1999, the trophies and the World Champions history and the section dedicated to Formula 1 with the historical cars as well as the "pitwall", to see where Stefano Domenicali and the engineers work during the Grands Prix.

Some of the cars on display include the 1989 Ferrari Mondial Cabrio which Al Pacino as the blind Frank Slade drives around the blocks of New York in the 1992 movie Scent of a Woman.

There is the spectacular car from an American collector, inspired by the 330 LM used by Federico Fellini in Tre passi nel delirio, the 1966 Ferrari 275 GTB4 - which Steve McQueen bought when he was filming Bullit in 1968.



The museum is open all year except on Christmas Day and New Year. Photo: Ferrari Museum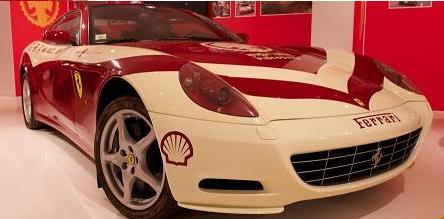 Another McQueen touched car is the 1970 Prototype Championship. This car was one of the protagonists of the film Le Mans, starring McQueen. A clip from this film can be seen in the Museum's cinema room.

Stars have always loved the Ferrari brand. Most stars respect and baby their Ferraris. Others . . . not so much.

Justin Bieber's expensive Ferrari has been the subject of much press coverage. At the end of August 2011 Justin decided to race in his black Ferrari F430 Scuderia and got clipped by a Honda Civic. No one was injured.

"I just raced @justinbieber down Ventura in his Ferrari I won but a fedex truck got in his way...Seemed like a down to earth kid," Everlast, aka House of Pain member Erik Schrody, tweeted, which caused the police to be called.

On January 1, 2013 Lil Twist was pulled over for speeding in Justin's Ferrari. A paparazzo rushing to take a photo of the scene, was struck and killed by a car as he tried to cross the street.

On March 2, 2013 Lil Twist got behind the wheel of Justin's chromed finished Fisker Karma - base price of nearly $100,000 - and crashed the car.

John Lennon owned a Ferrari 330 GT and Elvis Presley possessed a 1975 Ferrari 308 GT4.

Those who have the Ferrai Calidornia: Actors Adrian Brody, Ashton Kutcher, Hugh Grant, Heidi Montag and singer George Michael. Preferring the Ferrari 458 Italia are Ozzy Osbourne, Simon Cowell, boxer Manny Pacquiao, and Eric Clapton who has a Ferrari SP12 EC built from a Ferrari 458 Italia.

Owners of a Ferrari F430 are actor Nick Cannon, boxer Floyd Mayweather, Jr., tennis great Andy Murray and NFL player Reggie Bush.

Laying claim to a Ferrari F430 Spider are Geri Halliwell, Seal, and NBA player LeBron James.

Driving a Ferrari Enzo are fashion designer Tommy Hilfiger and actor Nicholas Cage. Fashion designer Ralph Lauren has a Ferrari Collection.

Arnold Schwarzenegger prefers a Ferrari 360 Spider while MLB Player Alex Rodriquez prefers the Ferrari 575 Marenello.

Movie producer Jerry Bruckheimer bought a Ferrari 348 TS, David Beckham drives a Ferrari 812 Scagletti. Sylvester Stallone lays claims to a Ferrari 599 GTB Fiorano.

The museum is open all year except on Christmas Day and New Year. It offers a hospitable Café, where visitors can taste the regional products loved by founder Enzo Ferrari.


SWEET CHARITY


OPERA PHILADELPHIA 40th ANNIVERSARY GALA From The Stage to the Stars takes place Saturday, September 12, 2014 at the Academy of Music.

Philadelphia Mayor Michael A. Nutter and Mrs. Lisa Nutter serve as 40th Anniversary Honorary Chairs.

The 40th Anniversary Gala Co-Chairs are: Sandra K. Baldino, Susan E. Sherman, Stephen A. Madva and Denise C. Creedon.

Celebrate by taking a seat on the Academy stage for an intimate recital by soprano Ailyn Pérez and tenor Stephen Costello, and then join in under the stars for dinner and dancing in a tented ballroom on the glorious Avenue of the Arts.

The party will include dozens of guest artists including Nathan Gunn, William Burden, Jennifer Higdon, Patricia Schuman, Morris Robinson, and many more.

Gala proceeds benefit Opera on the Mall, Opera Philadelphia's annual broadcast to Independence National Historic Park.








SPREADING THE WORD


ANDREA MARTIN IN CONVERSATION WITH NATHAN LANE award winning actress Martin, who has two Emmys and two Tonys, will discuss her new memoir, Andrea Martin's Lady Parts with good friend Nathan Lane.

The event promises to be "a not-to-be missed conversation on the triumphs and challenges, both professional and personal of a lifetime in show business, including lots of laughter along the way."

A book-selling and signing of Andrea Martin's Lady Parts follows the conversation. Sunday, September 14, at the 92Y in New York City.

ED ASNER who turns 85 in November, spent all last week as a guest artist in a new television pilot, according to an official at the Edgarton Center. Next Sunday, September 14, Asner will be on stage at the Edgerton Center for the Performing Arts at Sacred Heart University in Fairfield, Connecticut in Ed Asner – a Live Interview On Stage, as part of the 2014-2015 American Legend Series.

The living legend has won more Emmy Awards for performing than any other male actor - seven. In 1996, he was inducted into the Academy of Television Arts & Sciences Hall of Fame.

LUIS ALFARO the Oregon Shakespeare Festival's Andrew W. Mellon Foundation Playwright-in-Residence, will perform his autobiographical playSt. Jude on September 11 in the Thomas Theatre as part of the Festival's four-day CultureFest celebration.

In St. Jude, Highway 99 becomes an emotionally charged memory lane for Mr. Alfaro when his father has a stroke, compelling him to revisit the Central Valley of his childhood. As the family gathers around the ailing patriarch, the playwright conjures up memories of his youth - complete with an old-school slide show - from picking grapes to gospel-infused tent revivals family holidays to running away from home at 16.

20,000 DAYS ON EARTH bold and vivid, this unconventional documentary about one of music's most mysterious and charismatic figures, Nick Cave, became one of the highlights at this year's Sundance Film Festival.

Ahead of its official UK release, join Nick Cave, directors Iain Forsyth and Jane Pollard and special guests as they share behind the scenes stories, followed by a one-off Q&A and performance with Cave, Warren Ellis, Barry Adamson and more.

This event will also be broadcast live to cinemas across the UK and Ireland. Wednesday, September 17 at Barbican in London.

GEORGE CLOONEY who is busy preparing for his wedding, is also busy with Sandra Bullock. The two have reunited for Our Brand is Crisis, a feature film based on the 2005 documentary of the same name, which focuses on the use of American political campaign strategies in South America. Open casting was held September 3 in New Orleans. Bullock and Clooney star and executive produce. David Gordon Green directs.

REEL PIECES the 92Y film series moderated by Annette Insdorf, continues on Monday, September 8, with Oscar winning actor Kevin Kline and his new film, My Old Lady. Following a preview screening of My Old Lady, Kline and writer-director Israel Horovitz will discuss the film with Insdorf.

Making his film directorial debut is Israel Horovitz, the award winning author of over 70 plays. He adapted My Old Lady from his own play. A bittersweet drama with comic moment, the film follows New Yorker Mathias Gold (Kline) to a beautiful Paris neighborhood, where he tries to claim the sprawling apartment left to him in his estranged father's will. But he discovers tenants - Mathilde (Maggie Smith), who was close to his father, and her testy daughter (Kristin Scott-Thomas) - and must find a way to coexist with them.

Monday, September 8, at the 92Y in New York City.

THE KENNEDY CENTERS HONORS will be bestowed upon singer Al Green, actor and filmmaker Tom Hanks, ballerina Patricia McBride, singer-songwriter Sting and comedienne Lily Tomlin. The announcement was made September 4 by the John F. Kennedy Center for the Performing Arts.

President and Mrs. Obama will receive the Honorees, members of the Artists Committee who nominate them, and the Kennedy Center Board of Trustees at the White House prior to the gala performance taping December 7. The 37th annual national celebration of the arts will air December 30, 2014 on CBS.

PRINCE CHARLES, THE PRINCE OF WALES hosted a cultural evening showcasing Welsh food, music and people for world leaders on the first day of NATO UK as 60 world leaders met in Newport. Prince Charles greeted each guest as they arrived.

President Barack Obama attended the event at the Celtic Manor, which was to promote Wales and thank the community for its hospitality. President Obama thus became the first serving US president to visit Wales and he praised the nation and its people. The US leader said when he arrived at the reception that "you can see natural beauty, the wonderful people, great hospitality" and he went on to urge people to visit the nation.

On the menu at the drinks and canapes event were classic dishes such as Welsh rarebit, cured Welsh salmon and goat's cheese tartlet, and on hand to wash them down were local beers and wines from France and Chile.

Guests were entertained by the orchestra of Welsh National Opera, students from the Royal Welsh College of Music and Drama and the Prince of Wales' official harpist, Hannah Stone.


NEVER TOO YOUNG TO TICKLE THE IVORIES
I think I've got the finger position. Now what? Photo provided by: Luo Zhenni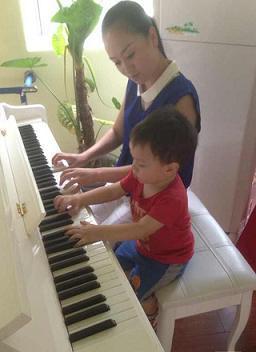 That's the note! Photo provided by: Luo Zhenni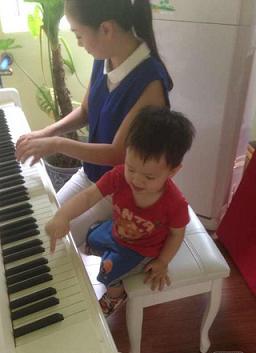 Luo Zheng Hao, age 22 months, appears to be enjoying his first piano lesson at Kitty Mommy Kindergarten, a preschool in China.




Pushing the key is hard. I'll put one finger on top of another. Photo provided by: Luo Zhenni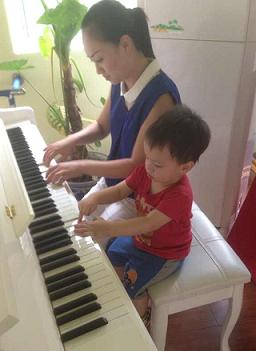 Schools in China place an emphasis upon the arts for students of all ages. Teachers have specialized training in how to acertain if a toddler has more than a passing interest in music, and then in how to teach the diaper set music makers.

An American citizen, Zheng Hao was born on Halloween 2012. His mother reports that before he was a year old, he was "walking very well, not like a baby."

Upon close inspection it appears that, with the exception of the keyboard, the white piano is covered in some sort of wrap or plastic - no doubt making it easier to remove tiny finger prints.


OTHER PEOPLE'S MONEY


DISNEY'S THE LION KING which can be enjoyed at the Minskoff Theatre in NYC played its 7,000th Broadway performance on September 3, 2014. Only The Phantom of the Opera, Chicago and Cats have also reached this historic milestone.

The Lion King was also the first show in Broadway history to pass $1 billion in cumulative gross.

THE LA OPERA BOARD OF DIRECTORS has announced that Plácido Domingo's contract has been ext3ended through 2019.

"Plácido Domingo has been an important and vital presence in LA Opera's administration since the Company's formation, having served as Artistic Consultant (since 1984) and Artistic Director (2001-2003) before he was named General Director in 2003," reads the statement. "Under his leadership and artistic vision, LA Opera has rapidly grown to become a company of international stature. As a performer, he first appeared in Los Angeles in 1967, starring in a New York City Opera tour of Alberto Ginastera's Don Rodrigo at the Dorothy Chandler Pavilion, with additional appearances on subsequent tours with New York City Opera as well as with the Royal Opera House (Covent Garden) and Deutsche Oper Berlin. He sang the title role in LA Opera's inaugural production of Otello in 1986 and he has appeared regularly with the company since then; his appearance later this month as Giorgio Germont in La Traviata will be his 26th different role with LA Opera, and he has also conducted 15 different operas to date with the company. His keen interest in helping young singers led to the 2006 formation of LA Opera's Domingo-Colburn-Stein Young Artist Program."

The Board of Directors also approved a contract extension for Christopher Koelsch, President and Chief Executive Officer, through June 2018, and announced a new contract for John Nuckols, who has been with LA Opera since 2002, to serve in the new position of Executive Vice President through June 2018.

As previously announced, James Conlon, LA Opera's Richard Seaver Music Director, has a contract with LA Opera through June 2018, and Resident Conductor Grant Gershon recently extended his contract through June 2017. The executive staff also includes Faith Raiguel, who has been Vice President and Chief Financial Officer since 2008, and Diane Rhodes Bergman, who has been Vice President of Marketing and Communications since 2011. Both have continued employment commitments with LA Opera.



BRIGHT STAR

Carmen Cusack appears as Alice Murphy and A.J. Shively as Billy Cane in the world premiere of Bright Star. Photo by Jim Cox.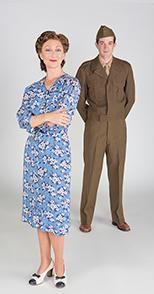 the world premiere of a new American musical with music by Edie Brickell and Steve Martin; lyrics by Brickell; book by Martin. Based on an original story by Martin and Brickell.

Directed by Tony Award winning Walter Bobbie in his Old Globe debut.

Bright Star features 25 new songs and tells a beguiling tale that unfolds in the Blue Ridge Mountains of North Carolina between 1923 and 1945. Billy Cane, a young soldier just home from World War II, meets Alice Murphy, the brilliant editor of a southern literary journal. Together they discover a powerful secret that alters their lives. A musical of enduring love, family ties, and the light of forgiveness that shines from a bright star.

Featuring: Stephen Lee Anderson (Daddy Murphy), Stephen Bogardus (Daddy Cane), Allison Briner (Ensemble), Max Chernin (Ensemble), Patti Cohenour (Mama Murphy), Carmen Cusack (Alice Murphy), Wayne Duvall (Mayor Josiah Dobbs), Hannah Elless (Margo Crawford), Jeff Hiller (Daryl Ames), Leah Horowitz (Ensemble), Joe Jung (Ensemble), Lulu Lloyd (Swing), Kate Loprest (Lucy Grant), Ashley Robinson (Ensemble), Greg Roderick (Swing), Sarah Jane Shanks (Ensemble), A.J. Shively (Billy Cane), Scott Wakefield (Ensemble), Wayne Alan Wilcox (Jimmy Ray Dobbs), Libby Winters (Dora Murphy).

The creative team includes Josh Rhodes (Choreography), Peter Asher (Musical Supervisor), Rob Berman (Musical Director), Eugene Lee (Scenic Design), Jane Greenwood (Costume Design), Japhy Weideman (Lighting Design), Nevin Steinberg (Sound Design), and Howie Cherpakov, CSA (Casting Director).

A workshop production of Bright Star was presented by New York Stage and Film & Vassar at the Powerhouse Theater, Summer 2013. Workshop production produced by The Old Globe, rehearsed and presented at the New 42nd Street Studios; March 6 and 7, 2014.

Preview performances run September 13 – September 27. Opening night is Sunday, September 28 with performances through November 2, 2014 on the Donald and Darlene Shiley Stage, Old Globe Theatre, Conrad Prebys Theatre Center in San Diego, CA.

DOCTOR SCROGGY'S WAR by Howard Brenton, commissioned by Shakespeare's Globe marking the centenary of World War One.

Directed by John Dove.

In Howard Brenton's epic new play about the First World War, Jack Twigg, 19 years old, enlists in the London Regiment and goes on a journey he never imagined - nor did the rest of the world. On his way, he meets the pioneering medic Harold Gillies, who saves his life and his sanity. But who is the mysterious 'Doctor Scroggy' who appears at night in Gillies's hospital dispensing champagne to the patients?

Hilarious and moving, Dr Scroggy's War gives a sideways look at the First World War a hundred years after its onset.

Opening September 12, 2014 at Shakespear's Globe in London.

On Saturday October 4, Friends of Shakespeare's Globe can meet the cast of the play following the matinee.

RABBIT HOLE the 2007 Pulitzer Prize for Drama by David Lindsay-Abaire.

Actor turned director Nigel Harnab will helm the production.

Joanne Froggatt, best known for playing Anna in Downton Abbey, will star as Becca.

Becca and Howie Corbett are parents who have all that a family could wish for, until one day their world is suddenly turned upside down. Eight months following that life-shattering incident the young couple find themselves drifting perilously apart. The play charts their bittersweet search for comfort in the darkest of places and for a path that will lead them back into the light of day.

The production will be designed by Tim Hatley, with lighting by Hugh Vanstone and sound by Ben and Max Ringham.

The U.K. at the West End's Vaudeville Theatre, begins performances September 11 prior to an official opening September 24, for a run through November 22, 2014.

LOVE LETTERS a Broadway revival of A.R. Gurney's hit production will feature a rotating cast of stars.

Gregory Mosher will direct.

From September 13-October 10 the production will star Brian Dennehy and Mia Farrow. Dennehy will then be joined by Candice Bergan as the female lead. They'll star in the two person play through November 7. On November 8 Alan Alda steps into the male lead with Bergan remaining for shows through December 5.

On December 6 Stacy Keach and Diana Rigg take over for performances through January 8, 2015. The production closed with Angelica Huston and Martin Sheen in a run from January 10-February 1, 2015.

The production will have scenic design by two-time Tony Award winner John Lee Beatty, costume design by Tony Award winner Jane Greenwood, lighting design by Tony Award winner Peter Kaczorowski and casting by Telsey + Company (William Cantler, CSA and Andrew Femenella, CSA).

Love Letters, which has turned into a favorite offering from national venues to local playhouses, is described as: "disarmingly funny and unforgettably emotional portrait about the powerful connection of love. Two friends, rebellious Melissa Gardner and straight-arrow Andrew Makepeace Ladd III have exchanged notes, cards and letters with each other for over 50 years. From second grade, through summer vacations, to college, and well into adulthood, they have spent a lifetime discussing their hopes and ambitions, dreams and disappointments, and victories and defeats. But long after the letters are done, the real question remains: Have they made the right choices or is the love of their life only a letter away?"

Performances begin September 13 at the Nederlander Theatre in New York City.

MARJORIE PRIME a world premiere by Jordan Harrison.

Directed by Les Waters.

"An exquisitely crafted and compelling story of memory, loss and love that transcends the passing of life. This poignant new drama invites you on a twisty ride to uncharted theatrical terrain. In the age of artificial intelligence, how do you compute the reality of loss and keep your loved ones from becoming a distant memory?"

Starring Lisa Emery, Lois Smith, Jeff Ward, and Frank Wood.

Set Designer by Mimi Lien. Costume Design by Ilona Somogyi. Lighting Design by Lap Chi Chu. Sound Design by Adam Phalen.

September 10 - October 19 at the Mark Taper in Los Angeles.

WITHIN THE LAW by Bayard Veiller.

Directed by Gayle Stahlhuth.

"I can buy all the law I want. And there's nothing you can't do with the law, if you have money," tells Mary Turner to Police Inspector Burke of the New York City Police Department. He'd like nothing more than to catch her in a crime, but with the help of a smart lawyer, she is able to stay just as the title of the play implies - "Within the Law."

A huge hit on Broadway in 1912–1913, running for 541 performances. It was subsequently performed by multiple road companies and adapted as a movie five times.

Within the Law was the most popular and financially successful play to hit Broadway in ten years. The story of how a salesgirl falsely accused of stealing gets revenge, resonated with social workers, politicians, and the public.

Featuring Meredith Lark, Matt Baxter Luceno, John Cameron Weber, Patrick Hyland, Hillary Pusak, Tom Byrn, Thomas Raniszewski, Eric Stephenson, Lee O' Connor, Ken Glickfeld, Jennifer Bissell, Seth James and Gayle Stahlhuth.

Choreography by Joseph Travers.

Presented by the award-winning Equity professional East Lynne Theater Company in Cape May, New Jersey September 17 through October 12, 2914.

BULL DURHAM a world premiere written by Ron Shelton, the film's original screenwriter who has adapted his screenplay for the musical, which has music and lyrics by Susan Werner.

Directed by Kip Fagan.

Starring Tony nominee Will Swenson, stars as veteran catcher "Crash" Davis, with Tony nomine Melissa e Errico as Annie Savoy and John Behlmann as baseball rookie Ebby Calvin "Nuke" LaLoosh.

The production also features Brent Bateman as Larry Hockett, Jake Boyd as Jimmy, Lora Lee Gayer as Millie, Jordan Gelber as Joe "Skip" Riggins, Joel Hatch as Max Patkin, Manuel Herrera as Jose, John Clarence Stewart as Deke and Joe Tippet as Hack Arnold.

Described as: "Bull Durham, loosely based on Ron Shelton's experiences on and off the field with a Minor League Baseball team, tells the story of three lives brought together by America's two favorite pastimes. Veteran catcher 'Crash' Davis has been brought to the Durham Bulls to prepare rookie Ebby Calvin 'Nuke' LaLoosh, a hot rod pitcher with a 'million dollar arm and a five cent head,' for the majors. Annie Savoy, self-appointed high priestess and muse of the Bulls, has a hard decision to make - every season she transforms one lucky player from an also-ran to an all-star by sharing with them her wisdom, experience, and bed. The love triangle heats up quickly as each character struggles with their own desires and hopes for what the future holds. Bull Durham is a pitch perfect blend of comedy, drama, and steamy romance."

Creative team members also include choreographer Joshua Bergasse ("Smash"), musical director Jason DeBord, Tony Award winner Derek McLane (scenic design), Tony winner Jeff Croiter (lighting design), Tony Award nominee Toni Leslie James (costume design) and Tony nominee Peter Hylenski (sound design).

The production began previews September 3 and runs through October 5. An official opening night is set for September 13 at the Alliance Theatre in Atlanta, GA.


WHO'S WHERE


LADY GAGA brings her tour to the UAE, when the pop diva performs in a Dubai concert on September 10 at the Meydan Racecourse. Her concert will be "edited with respect to the local law and culture." Gaga will also be stopping over in Istanbul on September 16.

JOHN CALE AND LIAM YOUNG: TRANSMISSIONS FROM THE DRONE ORCHESTRA Art and technology merge seamlessly in this unprecedented audio-visual experiment – Velvet Underground co-founder John Cale performs music from across his catalogue with his band, assisted by flying drones carrying loudspeakers around the auditorium. Hear the constantly-changing, three-dimensional orchestra flying over your head. September 12-13 at the Barbican in London.

LANA TROTOVSEK AND PIANIST ANNA SHELEST opens the Embassy Series on September 9th with a concert at the Slovenian Embassy in Washington, DC. A pre-concert reception will be followed the concert and then a Slovenian buffet prepared by Slovenian caterer Zarko.

KATY PERRY brings her tour to the Tacoma Dome in Tacoma, WA for a show on Saturday, September 13.

EAGLES on stage Monday, September 8, at the Van Andel Arena in Grand Rapids, MI. Wednesday's gig is at the Prudential Center in Newark, NJ. On Friday they'll be performing their hits at the PPL Center in Allentown, PA. Saturday's stop is at Madison Square Garden in NYC.

AEROSMITH entertain Tuesday, September 9, at the DTE Energy Music Theatre in Clarkston, MI. On Friday they appear at open Hearth Park in Sydney, NS.

GARTH BROOKS returns to the Allstate Arena in Rosemont, Ill for a three night stand beginning Thursday, September 11.

MILEY CYRUS entertains Thursday, September 11, at the Coliseo de Puerto Rico in San Juan, PR. Saturday she stars at the Quisquerya Stadium in Santo Domingo, Dominican Republic.

ANN HAMPTON CALLAWAY with special guest The Switzer Trio perform Tuesday, September 9, at the Maltz Jupiter Theatre in Jupiter, Florida.


FINAL OVATION


JOAN RIVERS an internationally renowned comedian, Emmy-award-winning television talk-show host, Tony-award-nominated actress, bestselling author, playwright, screenwriter, film director, columnist, lecturer, syndicated radio host, jewelry designer, cosmetic-company entrepreneur, and red-carpet fashion laureate died at 1:17 p.m. ET Thursday, September 4, 2014 surrounded by family and friends. She was 81.

On Thursday, August 28, 2014 she stopped breathing while undergoing "a throat procedure on her vocal chords" at Yorkville Endoscopy, an outpatient health care facility in New York City.

Rivers was rushed to Mount Sinai where she was placed in a medically induced coma and listed in critical condition.

She had been scheduled to perform at the 1,543 seat Count Basie Theatre in Red Bank, NJ in on August 29, 2014 and was to launch a UK tour in October.

During the late 1950s, Rivers appeared on Broadway in a short-run play, Driftwood, playing a lesbian with a crush on a character played by a then-unknown Barbra Streisand. The play ran for six weeks, according to her book Enter Talking. Rivers performed in numerous comedy clubs in the Greenwich Village area of New York City in the early 1960s, including The Bitter End and The Gaslight Cafe before making her first appearances as a guest on the TV program The Tonight Show originating from New York, hosted at the time by Jack Paar.

By 1965, Rivers had a stint on Candid Camera as a gag writer and participant; she was "the bait" to lure people into ridiculous situations for the show. She also made her first appearance on The Tonight Show with new host Johnny Carson, on February 17, 1965. Years later he would ban her from the show.

Her theatrical work included Fun City an original comedy, co-written with Lester Colodny and her husband Edgar Rosenberg. The production ran in 1972 at the Morosco Theatre. She returned to Broadway in 1988 as a replacement for Kate in Neil Simon's Broadway Bound at the Broadhurst Theatre. In 1994 she again took to the Broadway stage in Sally Marr and her escorts a play suggested by the life of Lenny Bruce's mother which she co-wrote with Erin Ladd Sanders and Lonny Price.

In 2008, she starred at the Geffen Playhouse in Los Angeles in Joan Rivers: A Work in Progress by a Life in Progress. She also toured with the show making stops at the Edinburgh Festival Fringe and at the Leicester Square Theatre in London.

In 2012 she did a UK tour called Joan Rivers: The Now or Never Tour which was to have been followed in October 2014 with a UK tour of Joan Rivers: Before They Close The Lid tour.

Rivers wrote the TV movie The Girl Most Likely To, a black comedy starring Stockard Chaning. In 1978, Rivers wrote and directed the film Rabbit Test, starring her friend Billy Crystal.

Beginning in 1969 she was a Las Vegas regular - the the opening act for singers such as Paul Anka, Helen Reddy, Robert Goulet, Mac Davis and Sergio Franchi in various hotels on the Las Vegas Strip.

Rivers graduated Phi Beta Kappa from Barnard College in 1954 and would routinely wear her Phi Beta Kappa key as jewelry when performing in Las Vegas.

Over the decades I interviewed her several times, going back to when Melissa was an infant. Although her estate is estimated at $150 million, she wasn't always in tall cotton. Even as a new performer Joan Rivers was ever the attentive businesswoman. When rhinestones and sequins were a major part of Las Vegas costumes, Rivers investigated how much it would cost to rhinestone stud a denim jacket. She decided she could do the job herself. I was scheduled to interview her in her dressing room. She had a stud machine in one hand and her jacket in the other and meant business. For over an hour I sat there handing her rhinestones which she put into the studding machine and then slammed down the handle. The results were beautiful. "Does this look like Nudie did it? I want them (the audience) to assume Nudie did this," she said referring to Nudie Cohen a top celebrity glam designer (Elvis Presley/Porter Wagner/Cher/Elton John, etc) who went by his first name. When she finally wore her home studded jacked on stage the audience never knew the difference.

Frequently criticized for making jokes that are either insensitive or about situations which should be taken seriously, she also knew when to change direction. For years her standup routine always included insulting comments about both Queen Elizabeth II and Prince Charles. Then a mutual friend introduced the comedian to the couple during a painting holiday in the South of France. Rivers genuinely liked and respected them. Rivers immediately stopped insulting the royal family in her Vegas act. The comedian would work with Camilla on osteoporosis charity events and entertained at many of Prince Charles' charity functions.

Regarding Prince Charles she once stated: "He (Prince Charles) is so charming, so humorous. All the ­passions that everyone used to laugh at him for — organic food, architecture, talking to the flowers, we're all into those things now.

"He is so far ahead of his time, and I think he will be a very good monarch. He is a very smart man and I adore him."

She was one of only four Americans invited to their wedding on April 9, 2005.

A statement released by Clarence House stated:

"The Prince of Wales and The Duchess of Cornwall are deeply saddened to hear of the death of Joan Rivers.

"His Royal Highness said 'Joan Rivers was an extraordinary woman with an original and indefatigable spirit, an unstoppable sense of humour and an enormous zest for life. She will be hugely missed and utterly irreplaceable'.

"Joan Rivers was a guest at Their Royal Highnesses wedding in 2005 and performed for His Royal Highness, The Duchess of Cornwall, The Duke of Cambridge and Prince Harry at the We Are Most Amused comedy gala, in aid of The Prince's Trust, for his 60th birthday."

Involved in almost all aspects of show business, in 1990 she won an Emmy for Best Talk Show host for The Joan Rivers Show.

Rivers was active in equal rights and humanitarian efforts, such as AIDS, long before they became popular charities.

In a June 5, 2012, interview with Howard Stern, Rivers said she had several extramarital affairs when married to Rosenberg. According to Rivers, she had a one-night sexual encounter with actor Robert Mitchum in the 1960s after an appearance together on The Tonight Show. She also had an extended affair with actor Gabriel Dell during the out-of-town and Broadway productions of her play, Fun City, in 1971, for which Rivers told Stern she "left Edgar over" for several weeks.

Rivers was open about her multiple cosmetic surgeries. Her first procedure, an eye lift, was performed in 1965 as an attempt to further her career.

Her 1955 marriage to James Sanger was annulled after 6 months, on the grounds that he didn't inform her that he didn't want children. She married Edgar Rosenberg in 1965. He committed suicide in 1987. She is survived her daughter Melissa and grandson Edgar Cooper Endicott.

Her body was cremated on Saturday. Her funeral is set for today, Sunday, September 7, 2014 at Temple Emanu-El in Manhattan.

VICTORIA MALLORY an Emmy nominated television and Broadway veteran died August 30, 2014 after a battle with pancreatic cancer. She was 64.

She came to fame when appearing on Broadway in the 1970s with parts in three Stephen Sondheim musicals: she had a small role in Follies as Young Heidi, a starring one in A Little Night Music as Anne Egerman (1973–74), and starred as Maria in the first revival of West Side Story at Lincoln Center.

She performed with, among others, the Los Angeles Civic Light Opera, the Pittsburgh CLO, the St. Louis Muny Opera, Atlanta's Theater Of The Stars, Kansas City Starlight, Dallas Summer Musicals, Utah's Pioneer Theatre Company, the Irish Repertory Theatre (NYC).

For six seasons she appeared as Leslie Brooks on The Young And The Restless.

She received an Emmy nomination for her performance on the CBS musical special, After Hours: Singin', Swingin', And All That Jazz.

She is survived by her husband, actor Mark Lambert, and daughter Ramona Mallory Lambert.

GUSTAVO CERATI famed Argentina rock star died September 4, 2014. He was 55. The Soda Stereo lead singer had been in a coma since May 15, 2010 when he suffered a stroke following a performance in Caracas, Venezuela.

Gabriel Abaroa, JR.,President/CEO of The Latin Recording Academy issued the following statement: "A six-time Latin GRAMMY^® winner, Argentina's Gustavo Cerati was a not only a talented singer/songwriter, musician, composer, and producer but undoubtedly one of the most iconic figures in Latin rock history. A founding member of the highly influential band Soda Stereo, formed in the early '80s, the group's innovative sound coupled with Cerati's distinct voice and alluring stage presence catapulted the band to success throughout the Americas for nearly two decades. Their album, Canción Animal is regarded as one of the most significant releases in the world of rock music. Launching his solo career in the late '90s and further experimenting with a variety of sounds, he was recognized for his vibrant live performances and his ability to play intricate guitar solos while singing, a skill highly evident in his album Ahí Vamos. Our thoughts are with his family, friends, colleagues and to the people of his beloved land who have lost a legendary rock figure."















Next Column: September 14, 2014
Copyright: September 7, 2014 All Rights Reserved. Reviews, Interviews, Commentary, Photographs or Graphics from any Broadway To Vegas (TM) columns may not be published, broadcast, rewritten, utilized as leads, or used in any manner without permission, compensation and/or credit.
Link to Main Page
---
Laura Deni



For the snail mail address, please E-mail your request.
CLICK HERE FOR COMMENT SECTION