! >
Broadway To Vegas
  
 SHOW REVIEWS CELEBRITY INTERVIEWS GOSSIP NEWS

| | |
| --- | --- |
| | |
NEVADA CITY CONSTITUTION DAY - - ROLLING STONES' LOGO PERMANENT MUSEUM DISPLAY - - PARTY TIME AT THE MARK TAPER FORUM - - ROCK MEMORABILIA BRINGS IN BIG MONEY - - WESTPORT COUNTRY PLAYHOUSE GALA HONORS ANGELA LANSBURY - - FLYING ELVI HELP OPEN NEW MEXICO RESORT - - WISHFUL DRINKING BY CARRIE FISHER - - TABOOS BY CARL DJERASSI - - DONATE . . . Scroll Down


Copyright: September 7, 2008
By: Laura Deni
CLICK HERE FOR COMMENT SECTION
NEVADA CITY BOASTS THE MARCHING PRESIDENTS, THE OPHIR PRISON MARCHING KAZOO BAND AND AN ASTRONAUT
The Marching Presidents - with wives, occasional girlfriend and Secret Service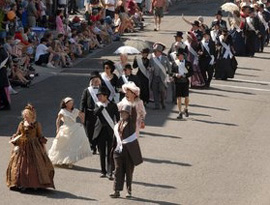 More fun that grown-ups should be permitted to have.

Respected adults dressed up like all of the presidents of the United States, their wives, alleged girlfriends and even their secret service agents. It's The Marching Presidents of Nevada City, led by David "Sparky" Parker as President Martin Van Buren. This week-end marks 21 years that Parker and friends have impersonated all of the presidents. Nevada City resident Philip Yager has been President Herbert Hoover since the first parade - the one and only parade - in which the presidents dropped their pants in front of the judges' stand to show off red, white and blue boxers.



David Parker as President Martin Van Buren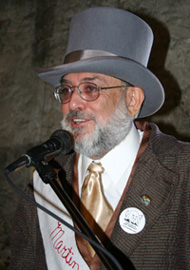 It's the annual Constitution Day Parade in the historic California Gold Rush town of Nevada City, located in California on the western slope of the Sierra Nevada mountains midway between Sacramento and Lake Tahoe.

A local tradition since 1967, the event is reported to be the oldest and largest Constitution observance in western American. It all takes place this coming week-end, September 13-14, in a town known for its classic small town spirit and unique events. With a population of 3,001, Nevada City swells to 10,000 or more on Constitution Day.

"We don't drop our pants anymore," founding member Dave Carter told Broadway To Vegas. "That was just done once."

Carter is currently portraying President Jimmy Carter - no relation.

The parade through the downtown historic district includes marching bands, floats, antique autos, equestrians, politicians and perennial crowd favorites such as The Marching Presidents and the Ophir Prison Marching Kazoo Band.

"This was started by the Masons 42 years ago. They were required to do something for Constitution Day," Kathie Whittlesey of The Nevada City Chamber of Commerce told Broadway To Vegas, referring to the significant historical event commemorating the signing of the U.S. Constitution. "Some Masonic chapters had speeches, but our chapter staged a parade,"



President Herbert Hoover and his wife Lou, as portrayed by retired UC Davis professor Phil Yager and his wife, Jane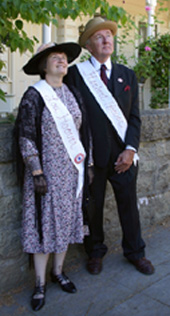 The reenactments are colorfully authentic with realistic costumes.

"Some go to thrift shops, others to costume shops and some to their own closets," Whittlesey added.

Last year's event, covered by The Sacramento Bee, reported that "Lady Bird Johnson was in the parking lot, having a quick smoke with Marilyn Monroe. Abraham Lincoln sang a Beatles parody in a lusty baritone. As Herbert Hoover fretted about shaving his goatee, Bill Clinton sidled up to strange women and drawled 'Hello, darlin'...' And Richard Nixon -- in a Hawaiian shirt and necktie, Bermuda shorts and black socks -- trailed 18 1/2 minutes of audio tape from his pocket."

"Being a president is a highly prized position. You can't just become a member, you have to wait for a presidential opening," founding member Dave Carter told Broadway To Vegas. "I started out as George Washington. Then I was Madison. Then I became Jimmy Carter. At first I wore a suit as Jimmy. Then he became more and more involved with Habitat for Humanity. So, now I wear overalls and carry a 2x4 with streamers saying Habitat for Humanity. I pass out peanuts. I love being Jimmy."

"We always have Marilyn Monroe walking with Kennedy," continued Carter. "We have had Monica in her stained blue dress."

"All of this is voluntary. In fact, with The Marching Presidents - we pay to be one," he laughed.

"There will be maybe 150 in just The Marching Presidents. We have such a good time," he emphasized.

Over 80 units are expected to parade down the street.

That includes the Watsonville Band from Watsonville in Monterey County, one of the few adult community bands in the United States which performs on a regular basis - marching and concert - with all performances free to the public. Having received over 1,000 awards, they have performed all over the world, including President Clinton inviting them to perform a two-hour concert at the White House.

If that isn't enough, there is The Ophir Prison Marching Kazoo Band.



Ophir Prison Marching Kazoo Band; Rufus T Whizbang conductor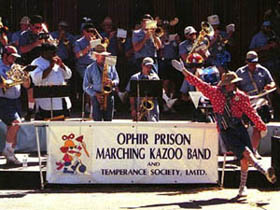 Rufus AKA Neil Hillel is the leader of the band. He spoke with Broadway To Vegas about why nobody in the group wants to be paroled.

"We play at major prison breaks, rummage sales and any place that sells beer. We are all trained in mouth to mouth recreation. We are never responsible for deaths or pregnancies resulting from responding to the excitement of our performances."

Is that in the contract rider?

"Contract? Our contract is a six-pack of beer."

"We play probably 15 times a year at various locations throughout California. Our biggest performance is at the Sacramento Jazz Jubilee. We've performed there for the past 13 years," he recalled.

"We started back in 1971 - a bunch of guys sitting around and trying to figure out how to perform for people. We were all involved in a collegiate music program, which will go unnamed."

Being "convicts" they adhere to keeping their past a mystery and criminality to the forefront.

"We still have about a dozen charter members that have been around 38 years," he added explaining that as the years ensued, others became incarcerated into the band.

There are some requirements.

"We ask two questions; The first one is, Can you drink beer? And, secondly, What instrument do you play?"

Members of the band - under a variety of names - also perform with popular musical groups that are (gasp) termed legitimate.

"We perform with regular band instruments," he said about the Ophir Prison Marching Kazoo Band. "We also use kazoos in a few tunes. What better place to use a kazoo that in Stars and Stripes Forever. As a matter of fact, we hand out kazoos now-a-days to our audiences. They have my picture on it."

Is that the clown?

"Excuse me!!!" he exclaimed to the unintentional insult. "I'm Rufus T. Whizbang. I'm not a clown. I have never been called a clown. I think I need a beer."

"So, that is you out in front ......expertly...."

"That's a good word. Sparkling leadership. I am the dum - that's d..u..m. major. Drum majors are for sissy bands"



"Inmates" of the Ophir Prison Band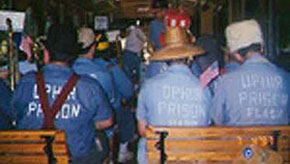 "They dress up in blue prison outfits and act like prisoners, so people who see them don't know the difference," commented Whittlesey.

"Yes, that is a true statement," he confessed. "People ask, 'Are you a prisoner?' I will look them straight in the eye and shake my head from left to right and say 'Yes.'"

"This is the 35th year that we have been doing this parade. We do this one - The Constitution Day Parade - and we generally do their annual 4th of July Celebration, which rotates between Grass Valley and Nevada City."

Think how many musicians don't get two gigs a year, or only work on New Year's Eve.

"Oh, we also work on New Year's Eve," he bragged about the band's resume. "We played in Old Sacramento for the City of Sacramento's New Year's festivities."

All of the musicians live in close proximity.

"The prison isn't that big. Our cells are pretty close to each other. We get on the prison bus and away we go."



Union side - Battle re-enactment by the American Civic War Association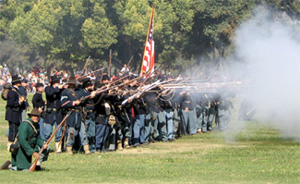 Confederate side - Battle re-enactment by the American Civic War Association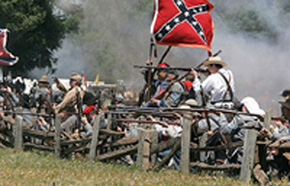 In addition to The Marching Presidents and the Prison Kazoo Band, the week-end will include members of the American Civil War Association, who will offer living history and battle reenactments.

Experts in making history interesting, this group travels throughout the United States participating in historical battle recreations.

More than 200 military and settler re-enactors are expected to take part in the three battles, which will be staged during the two days.

There will be ongoing Living History demonstrations depicting the daily life of the soldiers, women and children of the American Civil War and Victorian era. The camps will be open during non-battle times, so the public can meet the soldiers in the field and experience camp life first hand.



Grand Marshal of 42nd Annual Nevada City Constitution Day Parade is Astronaut Dr. Garrett Reisman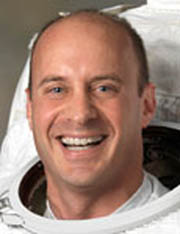 In a hard turn into the future, astronaut Dr. Garrett Reisman will be in attendance. This is one of his first appearances since he returned to earth. Reisman served with both the Expedition-16 and the Expedition-17 crews as a Flight Engineer aboard the International Space Station. He launched with the STS-123 crew aboard the Space Shuttle Endeavour on March 11, 2008 and returned to Earth with the crew of STS-124 aboard the Space Shuttle Discovery on June 14, 2008. During his three-month tour of duty aboard the station, Dr. Reisman performed one spacewalk totaling 7 hours and 01 minutes of EVA and executed numerous tasks with the Space Station robotic arm and the new robotic manipulator, Dextre.

The New Jersey born Reisman received his Ph.D in Mechanical Engineering from the California Institute of Technology. His multiphase fluid mechanics research provided the first experimental evidence of the presence of shock waves in unsteady cloud cavitations.

Talk about shock waves, when he sees The Parading Presidents and the Ophir Prison Marching Kazoo Band he just might think he's landed in a parallel universe.


IT'S PARTY TIME FOR THE RENOVATED MARK TAPER FORUM


It wasn't so much any negative criticism of the plays as it was the critique about the bathrooms.

Too few. Four women's stalls - with two more added later - for a 750-seat venue.

Despite the fact that the building was constructed without either a tenant nor a purpose in mind, for over four decades the mushroom shaped Mark Taper Forum in downtown Los Angeles has become a cultural landmark.

Following its year-long $30 million top-to-bottom renovation, the Music Center is celebrating with a month-long festival of events. The celebration includes theatre, dance, opera and music in all four Music Center theatres, on the Plaza, the outdoor amphitheatre at Walt Disney Concert Hall and on Grand Avenue from Temple Street to the Central Library on Fifth. Most are free and open to the public, including the wildly popular Grand Avenue Festival on September 28th.

This Saturday, September 13, it's party time Taper style. Dame Edna, philanthropic goddess, swami and cutting-edge gigastar is hosting what the Taper bills as "the divine bash of the year." "The Mark Taper Forum is coming out of rehab and I am throwing a divine bash. Mark your calendars now and join me for an evening of fun, glamour, surprises, and of course a performance of The House of Blue Leaves as we celebrate the biggest face lift Los Angeles has ever seen." - Dame Edna

Honorary Chairman Brindell Roberts Gottlieb and event committee members; Judith Beckmen, Patricia Glaser, Martin Massman, Nancy Mishkin, Laura Rosenwald, Eva Stern and Louise Taper promise an evening to turn your normal Gala on its head. The Dame has warned attendees to expect two things – No rubber chicken dinners and no speeches!

The evening opens with the red carpet arrival of dignitaries following by cocktails. Then comes dinner and attending a production of The House of Blue Leaves. The post performance includes a celebration and fireworks.



Photo-engraved concrete of Welton Becket created by Texas-based Intaglio Composites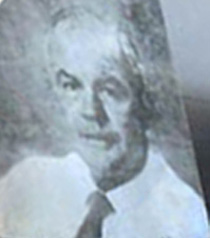 Opened in 1967, the Taper was designed by the Los Angeles architect Welton Becket who put the Dorothy Chandler Pavilion and the Ahmanson Theater at opposite ends of a plaza with the Taper in-between.

It was fashioned after Lincoln Center of the Performing Arts in Manhattan - a type of civic construction that became significant as a part of the American public landscape in the postwar era, encouraged by a wealth of government incentives. Becket designed the center in the style of New Formalism, developed in the mid-1950s as practitioners of modernism sought new modes of expression not so tightly bound by the rigid formulae of the American version of the International Style.

With an emphasized on geometric shapes searching for symbolic meaning, modernist architects of the mid-1950s through the early 1970s embraced Classical precedents in establishing building proportions, in the use of the arch, stylized classical columns and entablatures, and in use of the colonnade as a compositional device, as well as the elevated podium. Traditional rich materials such as travertine, marble, or granite were used, as were manmade materials that mimicked their luxurious qualities.

In other words, to show off wealth or create an aura of perceived filthy lucre. Keeping up with the Joneses became important in the 50's and carried over into the next decade.

An affluent society lends itself to the use of expensive materials (as well as materials that only look expensive); in a society that aspires to culture it flatters the spectator with its references to the past; in a conservative society it suggests that the old forms need only to be restyled to fit them. For each of the three major arts complexes completed in the United States during the 1960s, the Los Angeles Music Center, Lincoln Center for the Performing Arts in New York, and Edward Stone's Kennedy Center for the Performing Arts in Washington, D.C., the New Formalism was employed as an appropriate synthesis of civic authority and Classical monumentality.

Considered one of Becket's best accomplishments, the Taper has never been a stagehand's best friend.

Calling the backstage area tiny is an understatement. Stagehands looked like moving van employees as they loaded set pieces onto dollies and pushed them across the plaza so they could pull stuff up five steps and then push everything through a door 4'10"x7'. According to The New York Times "They managed to maneuver in a Mustang (on its side), a bus (in three pieces) and the towering backdrop for Angels in America.

Cutting edge 1960's experimentations proved to be downright annoying. This complete over-haul is being warmly welcomed by all involved.



Cleaned - the Taper's 378-foot precast concrete mural relief, sculpted by Jacques Overhoff, has been returned to its original elegance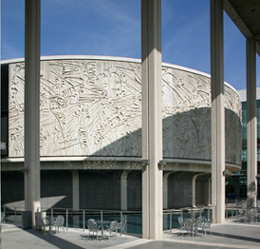 The neo-classic exterior of the Welton Becket-designed building was cleaned, returning the Taper's 378-foot precast concrete mural relief, sculpted by Jacques Overhoff, to its original elegance.

The lobby bar is more accommodating while the lobby's signature abalone shell wall has been preserved with new lighting to showcase the natural beauty of the rare material. The flooring is decorative terrazzo and the lobby ceiling has been raised and lit in a radial grid pattern — creating a shimmering and dramatic entry to the theatre.

The new 1,350-square-foot lounge offers comfortable, casual seating with two large curved banquettes, on either end of the metal-mesh draped lobby. Richly-textured carpeting. Gold upholstery, mirrored columns and a graceful staircase are highlights of the lounge's interior design.

Inside the auditorium, the unique intimacy of the Taper with its special audience-stage relationship has been retained, with upgrades such as new, more comfortable seats, upholstery, carpeting, and sleek and elegant new railings along the aisles. Zebrawood panels flank the stage. A less cluttered ceiling provides a more open and friendly ambience.

The acoustics of the theatre are also improved to allow theatergoers to hear the spoken word better and without amplification, and a new air conditioning system provides quieter and more even air distribution.

A new logical and well-designed lighting grid replaces the cumbersome grid that has been pieced together over the course of the theatre's history i.e. lights stuck through tiny slits in the ceiling, which prevented workers from seeing where they were pointing.

Accessibility for patrons with disabilities has been increased in several ways. The floor of the entrance lobby has been raised to the same level as the Music Center Plaza providing direct access. An elevator has been installed to transport patrons from the lobby to both the lounge and the second level of the theatre. An accessible restroom has been added to the second level and - keeping in mind that the ticket buying baby-boomer of today is the assisted care person of the future - new wheelchair locations have been installed on that level.

Backstage, new technology and space improvements bring the theatre to 21st century state-of-the-art standards, enabling CTG to operate more efficiently and to mount exciting new works using multi-media effects. The backstage loading door has doubled in size and, as with the front of the house, the floor of the backstage area has been brought to plaza level. Both changes simplify the loading in and out of the scenery. There is now a green room, a hair and make-up room and a new wardrobe area - which had been a shack in the middle of a hallway.



Artistic Director Michael Ritchie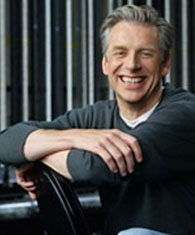 Last month artistic director Michael Ritchie drew laughs during a presentation to local dignitaries. There were the obligatory speeches praising politicos and donors, then Ritchie commented on free speech, government and benefactors before - as it was termed - "poking fun at a few missteps."

"The government has created a tax code that tells wealthy people who don't know what to do with their money to donate it to the arts," he stated. "And then we stage The Black Rider and Lewis & Clark, proving that we don't know what to do with it, either."

The Taper stage, where Tony winners The Kentucky Cycle and Angels In America premiered, has long been problematic in situations that require trapdoors. Formerly limited to a crawl space, there is now up to five feet of space under the stage to place actors or set pieces.

While the remodeling reduced the total capacity from 745 to 739, Ritchie called the renovation - "Act-Two for The Taper" promising that "It's a platform for the next 40 years."

Oh, the bathrooms. The new location for the restrooms on the subterranean level, accessible by both elevator and stairs, provides an increase in capacity that exceeds code.There are now 16 stalls for women.


ART AND ABOUT


MICK JAGGER'S LIPS - AKA the Stones' lips logo - will become part of London's Victoria and Albert Museum's permanent collection. The V&A had the highest bid for the Rolling Stones' famous tongue and lips logo which was gaveled down for $92,500.

Artist John Pasche, 63. who sold the artwork, was originally paid £50 ($88) for creating the hand-painted black and white design. The Stones were so pleased that, in 1972, they gave him a bonus of £200 ($353). Designed in 1970 by Pasche, a student at London's Royal College of Art had said he was partly inspired by the distinctive shape of the Rolling Stones' frontman's mouth. The image was first used on the Stones' 1971 Sticky Fingers album and has been in continuous use ever since.

When Jagger became annoyed that he was only offered bland designs by record label Decca, he decided to ignore them and pick his own logo. Jagger approached the Royal College of Art in London in 1969 to help him find a design student. Pasche was mentioned as a possibility. Jagger attended Pasche's degree show, and came away impressed. Discussions began for both a logo and also art work for the Stones' own label, Rolling Stones Records, after the group's contract with Decca ended in 1970.

Pasche went on to design a series of Rolling Stones posters for their tours during the 1970s and early 80s.

The artist went on to work with other musicians including Sir Paul McCartney and The Who, later becoming art director at United Artists, Chrysalis Records and London's South Bank Centre.

Victoria Broakes, head of exhibitions, V&A Theatre and Performance Collections, said: "The Rolling Stones' tongue is one of the first examples of a group using branding and it has become arguably the world's most famous rock logo.

"We are delighted to have acquired the original artwork, especially as it was designed at the Royal College of Art right here in South Kensington by a student who used to visit the V&A's collections for inspiration. We are very grateful for the Art Fund's support in helping us acquire this exciting addition to our collections."

The Art Fund, the UK's independent art charity, contributed half the cost of the piece. David Barrie, director of the Art Fund, said: "This iconic logo ... is one of the most visually dynamic and innovative logos ever created. "The Rolling Stones were one of the first bands who really took logos and made branding a serious part of their business," said deputy director of The Art Fund, Andrew Macdonald. "It marks, therefore, the transition from this kind of rebelliousness of the 60s into the corporate machines that we see today."

Broadway To Vegas is supported through advertising and donations. Priority consideration is given to interview suggestions, news, press releases etc from paid supporters. However, no paid supporters control, alter, edit, or in any way manipulate the content of this site. Your donation is appreciated. We accept PAYPAL. Thank you for your interest.


SWEET CHARITY


WESTPORT COUNTRY PLAYHOUSE GALA

Julia Roberts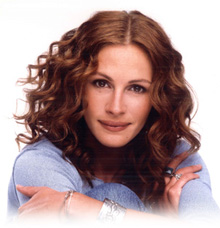 Footlights and Film: A Celebration of the Great Musicals from Stage and Screen takes place September 15.

Academy Award winner Julia Roberts will host the gala that includes a silent auction, dinner and a musical performance by celebrated Broadway actors. The evening will feature a trio of Gypsy stars, including Tony Award winners Angela Lansbury who will receive a special tribute presented by Bernadette Peters. 2008 Tony Award winner Laura Benanti will be on hand as will be her husband, stage and screen actor Steven Pasquale and three-time Tony nominee Raúl Esparza.

The gala is chaired by Laurie Lister, Judd Burstein, Sharon Sullivan and Jeff Kindler. Honorary Gala Chairs are Joanne Woodward and Paul Newman. The event will honor Autism Speaks co-founders Bob and Suzanne Wright.

Footlights and Film: A Celebration of the Great Musicals from Stage and Screen is directed by Joe Calarco with musical direction by Mary-Mitchell Campbell.

Funds raised by this gala will benefit artistic and educational programming at the Westport Country Playhouse. In its 78-season history, the Westport Country Playhouse - located in Westport, CT - has produced more than 700 plays, 35 of which have transferred to Broadway.

PERFORMANCE SPACE AT THE RIVERDALE Y OPENING NIGHT GALA AND FUNDRAISER with "Carol Channing" (sort of). This gala fundraiser on September 7 will feature well known Broadway performers - the Tony Award winning Michele Pawk, John Dosset, Bob Walton, Joe Kolinski, Alison Kolinski, Emily Walton, noted Klezmer violinist Alcia Svigalse and the award winning Richard Skipper as Carol Channing. Also performances by Ballet Neo, The Bronx Arts Ensemble, The Bronx Opera and the Flynn School of Irish Dance as well as entertainment from Riverdale Rising Stars, Junior Rising Stars and Riverdale Repertory Company. 100% of ticket sales will directly support performing arts at the Riverdale Y in the Bronx.

An after show wine and cheese reception offers a chance to meet the stars.


OTHER PEOPLE'S MONEY


ROCK MEMORABILIA BRINGS IN BIG MONEY

Jimi Hendrix live at the Royal Albert Hall in London on February 18, 1969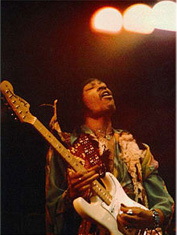 Aficionados of rock memorabilia seem immune to a down economy. A spokeswoman for promoter Magnum Communications announced that a guitar owned by Jimi Hendrix was auctioned off for approximately $117,000.

The 1965 Fender Stratocaster was the first guitar torched on stage by Hendrix, who died in 1970 at the age of 27. Hendrix decided to set it ablaze at the end of a show at the Astoria in Finsbury Park, north London, in 1967.

Roadies put out the flames while Hendrix was being treated for minor burns, and his press officer Tony Garland stored it in his parents' garage in southern Britain.

Hendrix later became famous for burning his guitars on stage but this instrument was only recovered from a garage last year, unearthed by Garland's nephew, and still bears the scorch marks of Hendrix's performance.

It was one of 160 lots sold at the It's More Than Rock 'n' Roll auction at the Sound venue in London's Leicester Square, raking in a total of $ 1,521,082.

The spokeswoman said a percentage of the profits would go to the Cancer Research U.K. charity.

About 150 people attended the auction, including members of bands The Clash and Thin Lizzy. Others placed bids over the telephone or online. "There were a few private investors over the phone from the United States, but most of these items stayed in the hands of people from the industry," the spokeswoman said. The east London sale also included the Beatles' first management contract, signed in 1962 by all four members of the group and manager Brian Epstein. The document, carrying the signatures of Paul McCartney's and George Harrison's fathers, was gaveled down for $424,488. Drummer Ringo Starr signed the four-page contract under his original name, Richard Starkey. Managing director Ted Owen said the document was "the most important music contract to have ever appeared".

Also up for sale were what are claimed to be the only remaining fingerprints of Elvis Presley, on a concealed gun permit. Another hot property was the audio archive of legendary music producer Joe Meek - a set of almost 2,000 master tapes.



TABOOS by Carl Djerassi. Directed by Melissa Maxwell.

What makes one a parent? Love, genetics, giving birth? This question lies at the center of Carl Djerassi's newest play Taboos. Retuning to his scientific roots, Djerassi explores the other side of planned parenthood. When a lesbian couple and an infertile fundamentalist Christian couple each look to have a child, more then biology gets in the way of the idea of the "perfect family." Taboos explores the unexpected, and often messy, results that arise when emotions and science collide.

Djerassi, emeritus professor of chemistry at Stanford and renowned inventor of the birth control pill, has spent the past 20 years writing on the human aspects of science. He has written multiple fiction and non-fiction works as well as 8 plays, and was awarded the National Medal of Science by President Nixon, at a time when he appeared on Nixon's infamous Enemies List.

Cast includes: Helen Merino, John G. Preston, Julie Leedes, Jenn Schulte and Blake Delong. The creative team includes: Lauren Halpern (Sets), Adrainna Durantt (Lights), Chloe Chapin (Costume), Arielle Edwards (Sound), Katy Tucker (Projections).

Taboos was first presented at London's New End Theatre in 2006. The American premiere is staged at the Soho Playhouse in NYC with performances beginning on Wednesday, September 10 and will run through October 19, 2008.

THE GLASS MENAGERIE By Tennessee Williams. Directed by Michael Bloom.

It is the 1930s and while the World's Fair shouts what is exciting about the future, the Wingfield family, led by an indomitable single mother, wrestles with the realities of living in a St. Louis tenement, while longing for the past and dreaming of the future.

Cleveland Playhouse; Drury Theatre, September 12 - October 5, 2008.

WIG OUT a new play by Tarell Alvin McCraney. Directed by Tina Landau.

Billed as a fierce and intoxicating story which tells of competing "houses" of drag queens and the loves, loyalties and dreams within each that draw their members together and apart.

Starring Michael Kenneth Williams, Rebecca Naomi Jones and the downtown drag performer Daniel T. Boothe, a k a Sweetie.

Performances September 10 - October 19 at The Vineyard in NYC.

WISHFUL DRINKING an outrageous memoir created and performed by Carrie Fisher. Directed by Tony Taccone, Artistic Director of the Tony Award-winning Berkeley Repertory Theatre.

An uproarious and sobering look at Carrie Fisher's Hollywood hangover. Fisher tells a true and intoxicating story with the strong, wry wit, Born to celebrity parents - Eddie Fisher and Debbie Reynolds - she was picked to play a princess in the original Star Wars when only 19 years old.

Alas, aside from a demanding career and her role as a single mother, Carrie also spends her free time battling addiction, weathering the wild ride of manic depression and lounging around various mental institutions. It's an incredible tale—from having Elizabeth Taylor as a stepmother, to marrying (and divorcing) Paul Simon, from having the father of her daughter leave her for a man, to ultimately waking up one morning and finding a friend dead beside her in bed.

A Jonathan Reinis Production in association with Berkeley Repertory Theatre with performances through September 28, 2008 at the Lincoln Theatre - Arena Stage in Washington, DC.

SAY GOODNIGHT GRACIE written by Rupert Holmes. Directed by John Tillinger.

The Life, Laughter, and Love of George Burns & Gracie Allen. It's not often that a Broadway show can wrap you in a tender love story … delight you with an uproarious comedy … and glide you through a guided tour of an American century of entertainment, all in one memorable theatrical event. Say Goodnight, Gracie centers around one man's devotion to his wife, a woman who was his friend, his sweetheart, and his partner for life and beyond. A love story one hundred years in the making, the Gem Theatre production marks this critically acclaimed show's Michigan Premier with Joel Rooks - who understudied the late Frank Gorshin in the original Broadway Production - as George Burns.

September 9 - November 16 at the Gem Theatre in Detroit, Michigan.

IT'S THE HOUSEWIVES! a comic rock musical with music and lyrics by two-time Grammy winning guitarist Laurence Juber and Emmy-nominated television writer Hope Juber. Book by Hope Juber and Ellen Guylas. Directed by Kelly Ann Ford. Musical Director Laurence Juber. Choreography by Kay Cole. Featuring Jed Alexander, Vince Cefalu, Roger Cruz, Corinne Dekker, Anthony DeSantis, Terri Homberg-Olsen, Jamey Hood, Danielle Kennedy and Jayme Lake.

Set Design by Davis Campbell and Danny Cistone, DC2. Lighting Design by Lesley Fairman Costume Design by Sharell Martin. Sound Design by Joseph "Sloe" Slawinski.

Three young moms get their humble start at the PTA talent show, then go on to "clean up" as the most celebrated, yet unlikely girl group in history with their 'domestic' brand of rock 'n roll. The songs in this world premiere comic rock musical, have titles like In Sink And At Your Disposal; Ironing Bored and I've Been Defrosting All Day. Opened last night with performances through October 12 at the Whitefire Theatre in Sherman Oaks, CA.

ENCHANTED APRIL by Matthew Barber from the novel by Elizabeth von Arnim. Directed by Timothy Near.

"To those who appreciate wisteria and sunshine. Small castle on the Mediterranean, Northern Italy, to be let for the month of April."

That simple newspaper notice seduces a quartet of British women to rent a villa for one blissful spring in 1922, where their lives of ordered regularity blossom into glorious disarray. Seduced by cinnamon breezes, they learn to let their hair, and their guards, down and awaken to the simple joys of friendship, love and marriage. A Tony-nominated Broadway hit based on the best-selling novel, Enchanted April is a heartwarming, verdant comedy about the romantic rediscovery of life's enchantments.

Broadway To Vegas adored the play when seen on Broadway, although we've always that despite a theater filled with Italian flags, the plot is about Italy as it is about human emotion.

Starring Finnerty Steeves, Matthew Floyd Miller, Kathryn Meisle, Al Espinosa, Monette Magrath, Tony Roach, Patricia Kilgarriff and Lynne Soffer.

Scenic Design by Kent Dorsey. Costume Design by Maggie Morgan. Lighting Design by David Lee Cuthbert.

Presented by the Arizona Theatre Company in Tucson: September 13 – October 4, 2008 and in Phoenix: October 9 – 26, 2008.

LA BOHEME Music by Giacomo Puccini. Liberetto by Giuseppe Giacosa and Luigi Illica.

Conducted by Ward Homquist. In one of the most popular and romantic operas ever written, bleak winter weather can't cool young love's passion. Puccini's masterpiece has inspired audiences for more than 100 years with its glorious melodies illuminating the eternal story of starving bohemians and star-crossed lovers in the Latin quarter of Paris.

Metropolitan Opera National Council Auditions grand prize winner Alyson Cambridge portrays Mimì. Rodolfo is played by Michael Fabiano. Marcello by Daniel Belcher. Musetta by Katrina Thurman and Colline by Matthew Trevino.

Stage Director is Ellen Douglas Schlaefer. Set Design by R. Keith Brumley. Lighting Design by Barry Steele. Costume Designer is Martin Pakledinaz.

Sung in Italian with English subtitles. September 13, 15, 17, 19, 21. Lyric Opera of Kansas City, MO.




WHO'S WHERE


JANET JACKSON brings her tour to General Motors Place in Vancouver, BC on Wednesday, September 10. On Saturday she is on stage at Oracle Arena in Oakland, CA.

EAGLES on stage at the AT&T Center in San Antonio on Monday, September 8. On Tuesday they open a two night gig at the Toyota Center in Houston. On Saturday the begin a two nighter at the American Airlines Center in Dallas.

TONY BENNETT thrilling fans Friday, September 12 at the Greek Theatre in Los Angeles.

RAMSEY LEWIS performs at the Ravinia Festival in Highland Park, IL on Friday, September 12.

RYAN ADAMS performs at the John Labatt Centre in London, Ontario on September 9.

JONAS BROTHERS on stage Thursday, September 11 at the Apollo Hammersmith in London, UK.

B. J. THOMAS in the spotlight Tuesday, September 9 at The Fairgrounds in Hamburg, NY.

JOHNNY MATHIS crooning Thursday, September 11 at the Community Theatre in Sacramento, CA. On Saturday he is at Arlene Schnitzer Concert Hall in Portland, OR.

CHRIS BOTTI hitting all the right notes Friday, September 12 at the Church of the Resurrection in Leawood, KS. On Saturday he can be enjoyed at the Fox Theatre in Saint Louis, MO.


PIFFLE AND PROFUNDITIES


THE FLYING ELVI are a 10-member Las Vegas based group of zany skydivers who were first featured in the 1992 fun filled hit movie, Honeymoon in Vegas. Sanctioned by Presley Enterprises, The Flying Elvi dress in white jumpsuits with red trim, gold framed sunglasses and black helmets which look like Elvis Presley's hair. They jump from altitudes of 5,000-12,500 feet and free-fall for up to 9,500 feet at speeds ranging from 120 to 160 miles per hour.

Last Wednesday they dropped in on the grand opening of the Pojoaque Pueblo's Buffalo Thunder Resort & Casino in Pojoaque, New Mexico - 15 minutes north of the Santa Fe Plaza. The resort is managed by the Hilton corporation, which is where Presley last performed in Las Vegas. Also on the grand opening program - a performance by Gladys Knight, pueblo dancers and Beau the white buffalo.

Next Column: September 14, 2008
Copyright: September 7, 2008. All Rights Reserved. Reviews, Interviews, Commentary, Photographs or Graphics from any Broadway To Vegas (TM) columns may not be published, broadcast, rewritten, utilized as leads, or used in any manner without permission, compensation and/or credit.
Link to Main Page
---
Laura Deni



U.S. Postal Address: Post Office Box 60538, Las Vegas, NV 89160
CLICK HERE FOR COMMENT SECTION