! >
Broadway To Vegas
 
  SHOW REVIEWS CELEBRITY INTERVIEWS GOSSIP NEWS

| | |
| --- | --- |
| | |
CIGARS LIGHT UP ANNA IN THE TROPICS - - GEORGE SIDNEY HONORED - - BROADWAY ON BROADWAY - - MACAULAY CULKIN & COLOR COORDINATED WRIST BANDS - - WEATHERMAN SUGAR RAY LEONARD - - DEMOCRACY OPENS AT THE NATIONAL - - HUGH JACKMAN'S CAFFEINE OVERLOAD - - PRODUCTION HONORS 9/11 - - DONATE . . . Scroll Down


CIGARS LIGHT UP INTEREST


Big, round, smelly cigars have long been associated with power.

A new play Anna in the Tropics, from Nilo Cruz who penned Two Sisters and a Piano is set for a triple opening; on September 9th at the Roger S. Berlind Theatre, the McCarter Theatre's new space in Princeton, N.J.; South Coast Rep in Costa Mesa, Calif. September 28 - October 19 and a September 12th opening at the Victory Garden in Chicago.

In conjunction with the New Jersey opening, the Ellarslie Museum in Trenton is hosting "The Churchills in Chambersburg," a special exhibition of cigar and tobacco products and the industry's impact on 1920's Trenton, from the city's economy to its workforce.

The exhibition kicked off with a Opening Reception Gala on Wednesday September 3, and will through October 26.

Many people have forgotten - or never knew - that Trenton was a major producer of premium cigars, handrolled from Cuba's finest tobacco leaves by female workers in factories that flourished in Trenton for much of the 20th century.

Michael Frank in Cigar Aficionado pointed out that "in 1905 there were 80,000 cigar-manufacturing businesses in the United States."

"Much of the Cuban population came to (New Jersey) long before Castro," wrote Frank. "These new Americans arrived in the '20s and '30s at the behest of American cigar manufacturers. Labor prices skyrocketed in Cuba because of unionization. To maintain profits, major corporations like American Tobacco shifted operations onshore to places like Trenton, New Jersey, and Union City--beating the unions while still importing cured tobacco from Cuba (which was taxed at 10 percent rather than the exorbitant 100 percent rate on finished cigars). A few decades later, labor prices at home would escalate, and major manufacturers would shift their operations back to the Caribbean; but the Cuban community in New Jersey stayed behind to make cigars for its own consumption--and occasional outsiders."

In 1955, there were 3,000 people rolling cigars in Trenton. Cigar rollers were respected craftsmen, and their wage could support a family.

A Cuban cigar refers to where the tobacco leaves were grown, not where the cigar was rolled.


Winston Churchill with his ever present cigar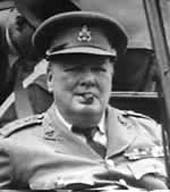 One of the biggest clients of Trenton rolled cigars was former British Prime Minister Winston Churchill, who preferred a particular type of Trenton cigar that came to be known as "Churchills."

Just having the Churchill account could keep a factory in business.

As one of his valets, Roy Howells, wrote in his book, Simply Churchill, "It took me a little while to get used to the fact that in two days his Cuban cigar consumption was the equivalent of my weekly salary."

Peter Welsh, a member of the International Churchill Society, wrote; "It was in the Caribbean that Churchill's Cuban cigar smoking began in earnest. Having arrived in Havana in November 1895, along with a fellow officer named Reginald Barnes, and having been stood up at the docks by the Spanish commandant who was to have met the two men, Churchill and Barnes took a room at one of the best hotels in town and spent the next several days living off of little more than two of the local specialties, oranges and Cuban cigars."

From that point on, Churchill favored Cuban cigars above all others.

As Larry Arnn, an assistant to Martin Gilbert, Churchill's official biographer, has said, "Thereafter, cigar and Cuban were synonymous for Churchill."

Indeed, among Churchill's favorite brands were Romeo y Julieta and the now-defunct La Aroma de Cuba. He had a number of regular suppliers of Cuban cigars who kept him well-stocked with Cuban cigars throughout his life, even during the prohibitive years of war. And at Chartwell Manor, his country home in Kent, Churchill stocked between 3,000 and 4,000 Cuban cigars in a room adjacent to his study.

"Churchill typically smoked between eight and 10 Cuban cigars per day, although he did not constantly smoke his Cuban cigars but often allowed them to burn out so that he could chew on them instead," wrote Arnn. "In this manner of consumption, the Cuban cigars often became mauled and frayed. To address this problem, Churchill devised what he called a "bellybando," which was a strip of brownish paper with a little glue on one end. To prevent the Cuban cigar from becoming excessively moist and to keep it from fraying, he would wrap the bellybando around the end."

"The bellybandos also made it somewhat easier for Churchill to smoke so many Cuban cigars every day, because they limited direct contact with the tobacco and, therewith, Churchill's intake of nicotine. Churchill smoked his Cuban cigars down to about the last one or two inches, and, later in life, when he spent much of his time in the country at Chartwell, his staff would save all of the ends of his Cuban cigars in order to give them to one of the gardeners at Chartwell, a Mr. Kearnes, who liked to break them up and smoke them in his pipe."

During the Depression, many were in bread lines. In Trenton, the cigar industry was on a roll. Workers were paid by the leaf or by the hour - 10 cents an hour - considered a good wage at that time.

Strippers, the workers who tore the central vein from each tobacco leaf, were paid by the leaf. Selectors who selected and sorted leaves according to their color, quality and size, were paid by the hour.

Bales of tobacco were stored in the basement while cigars were rolled on the second floor.

Machine-rolled cigars didn't come into the mix until the 1950s although hand rolled cigars are considered by aficionados to be superior.

The cigar factory was also a family - a strong feeling of community - thus Anna in the Tropics. The McCarter Theatre production stars Jimmy Smits and Daphne Rubin-Vega. To prepare for the production the entire cast, including stars Smits and Rubin-Vega, visited a cigar factory where they were taught how to sort tobacco leaves and roll cigars.

Set in 1929 in a Cuban-American cigar factory where cigars are still rolled by hand and "lectors" are employed to educate and entertain the workers. The 2003 Pulitzer Prize winner captures a lingering moment on the cusp of the Depression. The last of the Cuban cigar makers in a Florida factory bring an exuberant humor and love of life to their toil. They've tried to create a little city like the one they left behind, but it has turned into a hot and steamy world of danger and betrayal. Into this evocative setting comes a man known as the "lector," who reads aloud in the tradition of the time. His chosen book is Anna Karenina, and the emotions it unleashes change the destiny of everyone who listens.

It is noted that while the characters are filled with laughter and love of life, they inhabit a dangerous, steamy world. While there is strong language and may be brief nudity and smoking, mature audiences will be captivated by the evocative story and the soaring poetry of the playwright's voice.


INAUGURAL ENTERTAINER/ARTIST HALL OF FAME AT UNLV TO HONOR DIRECTOR GEORGE SIDNEY
George Sidney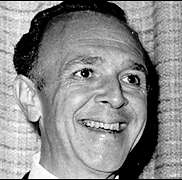 University of Nevada at Las Vegas will host a weekend of events to launch its First Annual Entertainer/Artist Hall of Fame. The first honoree, inducted posthumously, will be George Sidney, who passed away May 5, 2002 at the age of 85.

The Las Vegas resident and legendary director made 28 feature films in less than three decades.

His long list of credits includes the Oscar-nominated Anchors Aweigh, The Harvey Girls, Annie Get Your Gun, Thousands Cheer, Bathing Beauty, Jupiter's Darling, Kiss Me Kate, Show Boat, The Three Musketeers and Scaramouche.

To date, Sidney holds the unprecedented record of 15 consecutive box-office hits, some grossing as much as $30 million in an era of 35-cent tickets.

Sidney won three Oscars for short-subject films: Quicker 'n a Wink (1936), Of Pups and Puzzles (1937); and The Merry Wives of Windsor Overture (1953).

He produced the first televised Academy Awards show in 1953.

Sidney joined what would become the Director's Guild of America - originally knows as the Screen Directors Guild (SDG) - in 1939, just three years after its inception. At the time he was the SDG's youngest member and legend has it he began smoking what would become his trademark pipe in order to look more grown up.

Sidney was its president for 16 years, a record that still stands. He received the first DGA president's award in 1998.

Born in Long Island City, New York on October 4, 1916, Sidney began his career in film at only 5-years-old playing opposite 1920s cowboy star Tom Mix in The Littlest Cowboy. His film-making career began with shorts but he started to direct feature-length films for MGM studios with 1941's comedy Free and Easy.

His first musical was Thousands Cheer in 1943, starring Kathryn Grayson and Gene Kelly.

In 1950, he took over Annie Get Your Gun - delayed by the illness of its star Judy Garland - completing the film with Betty Hutton in the title role.

Sidney's last film was the 1968 British musical Half a Sixpence, starring Tommy Steele.

In the late '50s, Sidney joined Harry Cohn at Columbia where he produced and directed The Eddy Duchin Story, Jeanne Eagels, Pal Joey and Pepe.

His unforgettable Bye Bye Birdie and Viva Las Vegas are both revered as classics.

Sidney later joined Joe Barbera and Bill Hanna to finance Hanna-Barbera Productions. He created an empire there, serving as president for the first ten years.

Throughout his long career, he worked with such Hollywood legends as Frank Sinatra, Clark Gable, Judy Garland, Spencer Tracy, Gene Kelly, Ava Gardner, Fred Astair and Lana Turner.

At the Director's Guild tribute to his memory, Las Vegas resident Tony Curtis, who met Sidney in 1950 and remained close friends until his death, stated; "He was the most encouraging and friendly person I had met."

"In an environment that was difficult and quite uncomfortable for me at the time, George always went out of his way to make me feel comfortable and happy. The unique thing about George for me was ... him."

"He had a way of shining at you, his sweetness, his caring, it all came out in his face. I needed someone like him to give me the sense of who I am and what I am."

The Las Vegas festivities will begin Friday, September 12, with a special $500 per person, black tie event at the home of his widow, Corinne Entratter Sidney. Corinne was the widow of Las Vegas entertainment icon Jack Entratter when she married Sidney in 1990.

The official awards ceremony will be held Saturday, September 13, in Artemus Ham Hall. The evening includes a live performance from the musical Annie Get Your Gun and celebrity speakers who will share their memories of Sidney.

Following the ceremony, a George Sidney Film Festival will commence and run through Monday, September 15, inside Ham Hall.

Four Sidney films will be shown in rotation. These films will be Pal Joey, Kiss Me Kate, Viva Las Vegas, and Show Boat.

In addition, an exhibition of previously unseen photographs taken by Sidney, an avid photographer, will be featured in the Donna Beam Fine Art Gallery September 15 – October 4.

Personalities such as Frank Sinatra, Judy Garland, Elvis Presley, Ann Margaret and many others are captured through Sidney's discriminating lens.

These candid Hollywood photos portray the people with whom Sidney worked on a daily basis and will be publicly displayed for the very first time.

Currently, the Smithsonian Institute is negotiating with Corinne Sidney to acquire the collection for the museum.

The Entertainer/Artist Hall of Fame at UNLV has been founded to honor residents of Southern Nevada who have made a significant impact on the arts, including visual and performing arts and architecture.



Broadway To Vegas is supported through advertising and donations. Priority consideration is given to interview suggestions, news, press releases, etc from paid supporters. However, no paid supporters control, alter, edit, or in any way manipulate the content of this site. Your donation is appreciated. We accept PAYPAL. Thank you for your interest.


WRIST BANDS, PSYCHO WARDS AND MOVIE PREMIERES
Macaulay Culkin on a magazine cover promoting Party Monster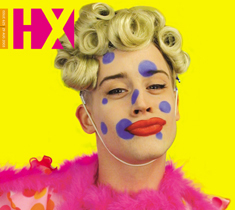 Wrist bands are everywhere - rock concerts, psycho wards, movie premiere VIP parties. It's not enough to have your wrist encased in plastic. Color counts.

For instance, that party at Plaid, following last Wednesday's New York movie premiere for indie film Party Monster, based on James St. James's critically acclaimed book, Disco Bloodbath. Written and directed by Fenton Bailey and Randy Barbato - it's the flick that stars Macaulay Culkin.

Never mind that one attendee was garbed in bright pink bikini underwear, matching gloves, white ankle socks with four-inch platform sandals, and a stole made up of Hello Kitty dolls artfully worn to expose a breast. Ignore the men in drag dancing on tables.

It's the color of the wrist band that is the attention getter.

Party Monster, which opened in New York Friday, is based on the true story of Michael Alig, a drugged-out club promoter who dressed in drag, and who in 1996 beat his drug dealer roommate, Angel Melendex, with a hammer, suffocated him, mutilated his body and tossed it into the Hudson River. Melendex picked up the name Angel because he frequented clubs wearing angel's wings.

The independent film stars Macaulay Culkin as Alig, Seth Green as his best friend James St. James, Chloe Sevigny, Natasha Lyonne, Dylan Mc Dermot, Marilyn Manson, Wilson Cruz, Wilmer Valderrama and Diana Scarwid.

At the premiere James St. James appeared with his head shaved, wearing black eyeliner, gold nail polish and a suit flecked with silver. We're not sure the color of his wrist band.

What appears certain is that the wrist band worn by veteran press agent and Tony voter Jim Baldassare - Chapter Chair of the Press Agent side of the Association of Theatrical Press Agents and Managers (ATPAM) Board of Governors - wasn't the hue of choice, while the one on the wrist of actress Swoosie Kurtz was the fashion fave.



Swoosie Kurtz and Jim Baldassare. Photo By: Laura Deni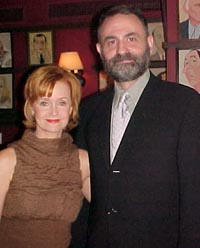 Baldassare and Kurtz have been friends for decades. For almost that length of time they have been attending New York functions together. Such was the case on Wednesday.

Friday's edition of The New York Times reported upon their arrival and departure as thus;

"At the after-party at Plaid, we saw two men in dresses dancing on the stage. We also saw Swoosie Kurtz, who was a little upset. She had just tried to get into the V.I.P. room to congratulate Mr. Culkin and Mr. Green and had been told she could be admitted, but that her friend, Jim Baldassare, a longtime theater publicist, could not be, since he was not wearing the appropriate wrist band.

"You're kidding," Mr. Baldassare said, "You're going to let her in, but not me?"

The man shook his head yes.

A few minutes later, Ms. Kurtz and Mr. Baldassare, looking disgusted, walked out the door."

Gracious! Don't Kurtz and Baldassare know the importance of color coordination? What transpired that led them to don wrist bands that didn't match? Broadway To Vegas tracked down Baldassare and demanded an answer to this colorful problem.

"We both had wrist bands on," Baldassare answered. "Hers was red and mine was blue. They were like hospital wrist bands. In the film both lead characters spend time in the hospital on drug overdoses. At the theater we were told;

a.) the colors didn't mean anything, and then

b.) you got a different gift bag depending on your color.

"When we left the party at about 11:10 pm - the gift bags 'had not arrived yet!' The movie started at 7:30 pm. I should say it was scheduled to start at 7:30 pm. It started almost an hour late. I enjoyed the film - more than most of the reviews I've seen in the papers."

"The party was also at a nifty new club called Plaid on East 13th Street. The V.I.P. room was no big deal, but Swoosie wanted to tell Macaulay Culken and Seth Green how good they were in the film - so we attempted to go in there. Which is when we had the "trouble."

"I told Swoosie she could go see them by herself and I'd wait, but she didn't want to."

Nor did they get their wrist band color coded gift bags.

"No gift bag," related Baldassare. "They told us they were arriving at 11:30 pm - and we weren't going to wait. We left."



BROADWAY ON BROADWAY the official kick-off for the Broadway theatre season, hosted by Nathan Lane and Jane Krakowski is billed as "the quintessential New York City event."

It's taking place today, September 7th, with 50,000 spectators expected. They'll experience live numbers from Broadway shows performed on a giant outdoor stage, television cameras, a galaxy of celebrity performers, and a big finale with showers of confetti.

Now in its 12th year, this open-air concert brings together more than 200 performers and a 30-piece orchestra, turning Times Square into the world's biggest concert hall.

Free and open to the public, Broadway on Broadway features show-stopping musical numbers from long-running shows and recent hits, along with sneak previews of this fall's new plays and musicals including; Avenue Q, Big River, Cabaret, The Caretaker, Chicago, Gypsy, Hairspray, Little Shop of Horrors, Mamma Mia!, Never Gonna Dance, Nine, The Phantom of the Opera, The Producers, Rent, Six Dance Lessons in Six Weeks, Taboo, Thoroughly Modern Millie and Wicked.

Antonio Banderas, Polly Bergen, Harvey Fierstein, Mark Hamill and Kyle MacLachlan will be there. Two-time Tony Award winner Donna Murphy will perform a selection from Wonderful Town.

The concert will be taped for broadcast on NBC4 New York on Tuesday, September 9th.

ASSASSINS starring Patrick Cassidy, Anthony Crivello, Harry Groener, John Mahoney, Kevin Chamberlin, Annie Golden, Ben Platt, Lyn Greene and Kevin Earley in a one night only concert version of Stephen Sondheim and John Weidman's musical.

Musical direction by Steve Orich and directed by David Lee. Monday, September 15th at UCLA's Freud Playhouse as the first Marvelous Musical Monday production of the 7th season of REPRISE!

This production of Assassins features three of the original Off-Broadway cast members reprising the roles they created in New York; Patrick Cassidy as the Balladeer; Annie Golden as Squeaky Fromme and Lyn Greene as Sarah Jane Moore.

THE GRADUATE starring Jerry Hall as Mrs. Robinson, Rider Strong as Benjamin and Devon Sorvari as Elaine, opens September 9th at the Civic Theatre in San Diego with performances through September 14.

THOROUGHLY MODERN MILLIE the national tour, opens September 9th at the Orpheum Theatre in Memphis for an engagement running through September 14th.

THE GUYS Anne Nelson's play about a journalist who helps an FDNY captain compose eulogies for his men lost in the World Trade Center tragedy, will be staged at the New-York Historical Society on September 10 and 11 , to mark the second anniversary of the terrorist attacks. Swoosie Kurtz and Dan Lauria will perform the two person play. Kurtz also performed the role in the off-Broadway production and with Bill Irwin recorded it for Random House Audio.

Admission is $15 and seating is limited. Honored guests attending the performances include members of the FDNY and their families. Proceeds from the performances will go towards the N-YHS's History Responds project, which involves collection, conservation, and educational efforts in response to the events of 9/11/01.

THE DANNY GANS SHOW will stage a free show on September 11th for all Las Vegas fire fighters and police officers. The Mirage Hotel in Las Vegas.

BELLY:THREE SHORTS by Alva Rogers is a trilogy of related short plays with music about the inner lives of women in the past, present, and next millennium, in which real acts of violence are juxtaposed against the act of giving birth. belly: three shorts addresses the ways society tries to control women's reproductive rights and the profound impact those attempts can have on women's lives.

Julia Whitworth directs the cast that includes Sherry Boone, Ann Hu, Myorah B. Middleton, Barbara Pitts, Margi Sharp and Meredith Wright.

Music by Alva Rogers. Musical director is Janice Lowe. Sets by Cameron Anderson. Lighting by Mark Barton. Costumes by Oana Botez-Ban. Sound by Lucian Ban Produced by New Georges with performances at HERE in NYC. Opens September 9th.

DEMOCRACY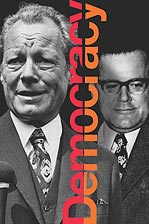 world premiere of a play by Michael Frayn, based on fact. Three political parties, in and out of bed with each other like drunken intellectuals, fifteen warring cabinet ministers, and sixty million separate egos. All making deals with each other and breaking them. All looking round at every moment to see the expression on everyone else's face. All trying to guess which way everyone else will jump. All out for themselves and all totally dependent on everyone else. Not one Germany. Sixty million separate Germanies. The tower of Babel!

West Germany, 1969. Willy Brandt begins his brief but remarkable career as the first left-of-center Chancellor for nearly forty years. Always present but rarely noticed is Günter Guillaume, Brandt's devoted personal assistant – and no less devoted in his other role, spying on Brandt for the Stasi.

Michael Blakemore directs a cast that includes; Roger Allam as Willy Brandt and Conleth Hill as Gunter Guillaume along with Nicholas Blane, Jonathan Coy, Christopher Ettridge, Paul Gregory, Glyn Grain, Steven Pacey and David Ryall.

Set designs by Peter J Davison, costumes by Sue Willmington, lighting by Mark Henderson and sound by Neil Alexander.

Opens at The National Theatre in London on Tuesday.


| | | |
| --- | --- | --- |
| | | |
WHO'S WHERE


HUGH JACKMAN preparing for his starring role as flamboyant showman Peter Allen in the musical The Boy From Oz, telling Vogue magazine he's put himself on a strict regimen to get ready for his October Broadway opening.

Besides physical training and yoga, said Jackman, 34, "I've completely gone off sugar and coffee - and I love coffee - because I figured there's so much adrenaline you use in the show."

WYONNA whose entourage includes two children and three dogs, performs Friday at Humphrey's in San Diego. On Saturday she is center stage at the Flamingo Hilton in Laughlin, Nevada. Next Sunday, September 14th, she performs at the Greek Theatre in Los Angeles.

LEE GREENWOOD performing at Andiamo Italia in Warren, Michigan this coming Friday, September 12th. On Saturday he is at Buffalo Hill Village in Varysburg, New York.

TONY BENNETT on stage Tuesday at the Schuster Performing Arts Center in Dayton, Ohio. On Friday the ageless crooner is at the Freedom Hill Amphitheater in Sterling Heights, Michigan. Next Sunday, September 14, he can be enjoyed at the Commerce Bank Ballpark in Bridgewater, New Jersey.

BILLY IDOL performs tonight, September 7, at Foxwoods Casino in Mashantucket, CT. On Tuesday the show is at the Hampton Beach Casino Ballroom in Hampton Beach, NH. Wednesday finds Idol on stage at the Hammerstein Ballroom in NYC. Friday the performance takes place at Stone Pony in Ashbury Park N.J. He closes out the week, Saturday, at Grand Cayman Ballroom in Atlantic City.

MARIAH CAREY on tour performing Monday at the Wang Center in Boston. On Wednesday she can be enjoyed at the Tower Theatre in Upper Darby, PA. Friday finds the singer at Careerbuilder.com Oakdale Theatre in Wallingford, CT.

SHIRLEY JONES in the spotlight September 12th at the Kean Theatre Pittsburgh in Gibsonia, PA.

JO DEE MESSINA Thursday at Tingley Coliseum in Albuquerque, NM. On Saturday she is at the Pala Casino in Pala, CA.

CHER brings her talent to the San Diego Sports Arena in San Diego on Friday. On Saturday she's starring at the American West Arena in Phoenix, Arizona.

JOHN PRINE performing Friday at the Saenger Theatre in Pensacola, Florida. On Saturday the show is at the Davis Theatre in Montgomery, Alabama.

INDIA.ARIE on stage at the Mandalay Bay Beach Events in Las Vegas on September 12th.

PAULA POUNDSTONE getting laughs at the Ramada Inn in Jacksonville, Florida Thursday-Sunday.

KENNY ROGERS performs at the Clark County Fair in Spencer, Iowa on Friday, September 12th.

KAREN MASON in an act conceived by Barry Kleinbort, featuring musical direction by Christopher Denny. September 15th at The King Kong Room in NYC.

DWIGHT YOAKAM on stage Wednesday at the Vegas Kewadin Casino in Sault Ste. Marie, Michigan. On Thursday he is in the spotlight at the Soaring Eagle Casino in Mount Pleasant, Michigan. Friday finds the singer at Casino Rama in Rama, Ohio. He ends the week, Saturday, at the Pepsi Cola Roadhouse in Burgettstown, PA.

BRUCE SPRINGSTEEN AND THE E STREET BAND takes control of the RedExField in Landover, MD on Saturday. Next Sunday the Boss is at the Kenan Stadium in Chapel Hill, N.C.

PHYLLIS PASTORE, ANTHONY SANTEIMO, JR, DIANA TEMPLETON, RICHARD SKIPPER as Carol Channing making a special guest appearance. Danny's Grand Sea Palace in NYC on September 7th.


PIFFLE AND PROFUNDITIES


SUGAR RAY LEONARD has a real career to fall back on if that boxing thing doesn't work out. He'd make a top drawer weatherman. Leonard proved that last week when he showed up at the Las Vegas CBS affiliate, KLAS-TV, to deliver the weather.

The former light welterweight 1975 Olympic champ, who won the world welterweight title in 1979 and four more titles, retired after losing to Terry Norris on Feb. 9, 1991, with record of 36-2-1 and 25 KOs and then staged a misguided comeback in 1997, resulting in resounding defeat by Hector Camacho.

Now a grandfather, Leonard, 47, was in Las Vegas this past week as a boxing promoter, touting the September 5th card with his client at the Stardust Hotel. That event between former WBO middleweight champion Lonnie Bradley and Epifanio Mendoza was called off minutes before the sock-em-up was to begin because Mendoza, while warming up, suffered a torn tendon resulting in dislocation and nerve injury to his left arm. Fighter Bradley is under contract to and managed by Leonard.

As for this week-end's sold out event at the MGM-Grand - that would be the 12-round, WBA and WBC super welterweight titles fight September 13, between Oscar De La Hoya and Shane Mosley - Leonard predicts that Oscar will win.
















Next Column: September 14, 2003
Copyright: September 7, 2003. All Rights Reserved. Reviews, Interviews, Commentary, Photographs or Graphics from any Broadway To Vegas (TM) columns may not be published, broadcast, rewritten, utilized as leads, or used in any manner without permission, compensation and/or credit.
Link to Main Page
---
Laura Deni


CLICK HERE FOR COMMENT SECTION