! >
Broadway To Vegas
  
 SHOW REVIEWS CELEBRITY INTERVIEWS GOSSIP NEWS

| | |
| --- | --- |
| | |
THE CHARITABLE RENEE FLEMING - - LIVE MUSIC FLOURISHING - - JOHN BARROWMAN SWINGS COLE PORTER - - TWISTED INDIAN GOOD LUCK SYMBOL - - WOLF TRAP BALL - - PORTRAITS OF GRIEF - - THE COLOR PURPLE PREMIERE - - DEAD PUPPET TALK - - DONATE . . . Scroll Down


THE PRODUCER'S NIECE HAD HIS PICTURE ABOVE HER BED


Actor/singer John Barrowman is out with a new CD, John Barrowman Sings Cole Porter, featuring fourteen songs each with sparkling new swinging arrangements by Larry Blank. It's sassy, seductive Cole Porter featuring the blue eyed Barrowman, who has been starring in the smash hit production of Cole Porter's Anything Goes at the Theatre Royal, Drury Lane, London. That successful run closed August 28. The recording of Anything Goes was released by First Night Records last year.

While this CD is mostly Porter standards, also included are three tracks which - for no apparent reason - are less familiar to the general public; I Happen to Like New York, Ca C'est l'Amour from Les Girlsand After You, Who?

Barrowman displays perfect annunciation that enables the listener to understand every witty, sexy, poignant word Porter penned. Thus, it's possible that tunes you've enjoyed for years may suddenly take on an added enjoyment.

After several upbeat, snazzy selections, Barrowman offers a poignant been there delivery of After You, Who? and a wistful Ev'ry Time We Say Good-Bye. He gives a punch to Ca, C'est l'Amour, and sets forth a powerful, determined It's All Right With Me.

A native of Scotland, Clan Barrowman was relocated by Caterpillar Inc. from Glasgow to Aurora, Illinois when John was 8. While in college he landed a gig at the Opryland USA a musical Theme Park in Nashville Tennessee. A graduate of the United States International University in California, it was through USIU, John had the opportunity to return to the UK and study Shakespeare at a London University.

It was during his studies abroad John's big break came in the form of an open casting call. A young man who could sing and act and also do an American accent was needed to play opposite one of London's premiere theater stars, Elaine Paige in Cole Porter's Anything Goes. What started out as a six month study abroad, turned into a theatre career.



John Barrowman and Sally Ann Triplett in Anything Goes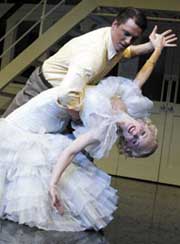 From Anything Goes, John landed roles such as Chris in Miss Saigon, the title role in Matador opposite Stephanie Powers, Raoul in Phantom of the Opera, Red Red Rose, Claude in the 25th anniversary revival of Hair, Che in Oslo's production of Evita, Alex in an Irish production of Aspects of Love and Sunset Boulevard opposite successively, Betty Buckley and his guardian angel, Elaine Paige.

It wasn't long before John had the attention of American TV producers. It seems that a niece of one of them had a poster of John above her bed.

That led to them catching John in Sunset Boulevard, resulting in him being flown back to the States where they introduced him to American audiences in the Daren Star CBS television Series, Central Park West.

To come full circle, it was while John was filming CPW in New York, that he made his Broadway debut. Pulling double duty between shooting CPW and helping Betty Buckley, get ready for her close up, he once more stepped back into the shoes of the character of Joe Gillis in the Broadway production of Sunset Boulevard. A few years later, John would also return to American Television this time for Aarron Spelling as Peter Williams in NBC's short lived prime time soap Titans. He also appeared on Broadway opposite Carol Burnett in Putting It Together Most recently he was seen as Bobby in the Kennedy Center's production of Company followed by a star turn in a tribute to Jerry Herman with the Boston Pops.

He received an Olivier Award nomination for The Fix at the Donmar Warehouse and was featured in the movie De-Lovely.

Last Friday Barrowman sang live for the BBC Radio 2 Concert from the Mermaid Theatre in London performing 4 solos and 2 duets with Claire Moore.

Just a few weeks after saying goodbye to Billy Crocker and Anything Goes, Barrowman will say hello to Billy Flynn and Chicago, when he takes over that role on Monday, September 20th. Fans will then have ten weeks - until Saturday, November 27th - in which to catch Jim playing the fast talking, slick as silk, lawyer at the Adelphi Theatre in London. Jennifer Ellison will make her London stage debut stepping into the role of Rosie Hart on Monday September 20. She will play the role for nine weeks until November 20.



Barrowman at a CD signing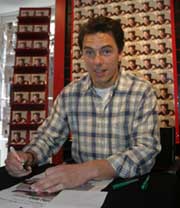 Recorded at Phoenix Sound Studios in Wembley, England. The Pro Arte Orchestra of London conducted by Stewart Mackintosh featuring musicians;

Jay Craig, John Franchi, Jimmy Hastings, Stan Sulzmann, Roy Willox, John Anderson, Mike Lovatt, Mark White, Pat White, Colin Sheen, Chris Dean, Peter North, David Lee, Jeff Bryant, Paul Maguire, Beverly Holt, Lucy Wakeford, John Parricelli, Mike Smith, Tristan Fry, Michael Davis, Chris Garrick, Alexander Balanescu, Howard Ball, Gillian Findlay, Nicole Goldscheider, Peter Hanson, Jonathan Hill, Rebecca Hirsch, Matthew Scrivener, Celia Sheen, Levine Andreade, Judith Bushridge, Rusen Gunes, Andrea Hess Adrian Bradbury, Justin Pearson, Steve McManus.

First Night Records are the specialists in theatrical recording. Since their first recording Singing In The Rain in 1984 they have released more than 100 albums of West End and Broadway musicals

TRACK LISTING

1. Just One Of Those Things
2. What Is This Thing Called Love
3. In The Still Of The Night
4. I Happen To Like New York
5. Anything Goes
6. After You, Who?
7. Ca C'Est L'Amour
8. Don't Fence Me In
9. Miss Otis Regrets
10. Do I Love You
11. You'd Be So Nice To Come Home To
12. Ev'ry Time We Say Goodbye
13. It's Alright With Me
14. Easy To Love (bonus track from Anything Goes 2003 cast recording


GOOD LUCK SYMBOL WARPED BY HITLER
Indian relic features good luck image at upper left corner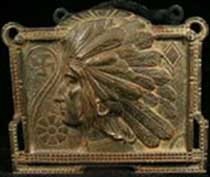 Reader Jean Shea E-mailed Broadway To Vegas about the Corn Palace article of August 29, 2004. The comment was intriguing so we did some investigating:

Shea wrote:

I grew up in South Dakota, and in those days ('50s, '60s) going to the Corn Palace was BIG DEAL to us locals ... BTV, did you know that during one year, the mural sported a swastika? That was before the rise of Hitler. Apparently that design is an American Indian motif, possibly Lakota."

What BTV discovered:

Swastika is a Sanskrit word. The ancient symbol is used throughout Asia to generally mean good fortune and spiritual victory. The symbol was used by Hopi and some Plains tribes.

According to information obtained from the Plains Indian Museum - "The design commonly referred to as a swastika was used as a directional symbol in textiles (e.g., Navajo weaving) and beadwork prior to World War II. Although there are examples of the design in museums, it is not used so often in contemporary art, perhaps because of the World War II connotation.

There is no policy against displaying objects with the design in this museum. Unfortunately, museum visitors do not always understand the history of the symbol in Indian art." Emma I. Hansen — Curator, Plains Indian Museum

The 1907 Corn Palace design contained swastikas - again - an American Indian symbol of good luck. Today all photos of the design hanging on the Corn Palace wall, or on postcards for sale, have a disclaimer stating it wasn't a Nazi symbol in 1907.



Bobby Madritsch told to cover up symbol
The Lakota Sioux Indians were noted for their use of that good luck symbol. Bobby Madritsch, the former Winnipeg Goldeyes pitcher, now signed with the Seattle Mariners, is proud of his Lakota heritage.

His body boasts many Native American tattoos. There are several on his arms but it is the one on his chest - that twisted sign - which touched off a controversy in Winnipeg when his picture was published in a newspaper. "It's a Native American peace sign," Madritsch shot back, "infamously warped into a sinister symbol as a Nazi swastika." After negative feedback the paper ran another story to explain the real meaning. Madritsch frequently visits schools to speak about his heritage and the historical importance of their symbols.

On August 13 it was reported in the Seattle Times that Madritsch had been told that he needs to wear sleeves to cover up his tattoos while pitching.

On September 21 in Washington, D.C., The National Museum of the American Indian will open to the public with a week long The First Americans Festival featuring traditional Native American blessings and pageantry. The Smithsonian's newest outpost. will showcase an unmatched collection of artifacts and displays designed to set the record straight on the history and contributions of native peoples.

That will culminate a 20-year push to establish a museum in Washington, D.C. that would enshrine 10,000 years of Native American life and culture as a central chapter of history, said the museum director, W. Richard West Jr.

The 250,000-square-foot building west of the Capitol and the Botanic Garden was designed to be in tune with native beliefs and culture, including an entrance that faces east, "to meet the morning sun." The five-story, somewhat-circular building is swathed in limestone from Minnesota. The stone has been treated to suggest it has been shaped by decades of wind and rain. Light spills into the interior through a series of prisms, reflecting the importance of sun and light in Indian cultures.

The core of the museum's collection is the 800,000 items gathered in the first half of the 20th century by George Gustav Heye. On display will be 7,000 objects on display, from gold figurines that predate Columbus to beadwork, baskets, blankets, garments and pottery. Tribes from the Arctic to Patagonia will be represented.

West stressed no topic "would be dodged" -- from the "efforts of the federal government to eliminate native people" to questions about casinos on Indian reservations to repatriation of native artifacts.

West said he expects 4 million visitors in the first year. Admission is free.


WHO IS?


His father-in-law is an actor and his son has acting credits. While in college he sang and played guitar in a band called Ugly Rumors. In 2003 he was featured on a CD track of Vault from hip hop artists 617.

A good friend of Bono, he is a fan of the rock group Dire Straits and the progressive rock band King Crimson.

Answer at bottom.



Broadway To Vegas is supported through advertising and donations. Priority consideration is given to interview suggestions, news, press releases, etc from paid supporters. However, no paid supporters control, alter, edit, or in any way manipulate the content of this site. Your donation is appreciated. We accept PAYPAL. Thank you for your interest.


SPREADING THE WORD


PORTRAITS OF GRIEF for the third year in a row, New York City actors Carl Palmer and Jeff Pucillo - who began this tradition three years ago - along with fellow actors will read The New York Times Portraits of Grief – a compilation of brief biographies on those who died on September 11, 2001. NYC's Naked Angels Theater Company will sponsor the reading that will begin September 7 and will run until September 11. Adjacent to the entrance of the PATH train, at the corner of Church & Fulton streets. 8am-10pm and on Saturday, September 11 – 11am-10pm.

MARK GETTY has been re-appointed Trustee of the London National Gallery for a period of four years beginning September 6th. The National Gallery holds Rngland's collection of Western painting from the 13th to the early 20th centuries, representing all the major schools of painting by all the major artists.


SWEET CHARITY


WOLF TRAP BALL 2004 JEWELS OF INDIA at the close of every summer season, the immense Filene Center stage is transformed into a magical set for the Wolf Trap Ball, the Washington area's black tie cultural extravaganza. For one night, over 1,000 guests dine and dance in the same spotlight that usually shines upon performers from around the world.

Throughout its distinguished history, the Wolf Trap Ball has partnered with various embassies to celebrate the rich artistic heritage of their nations. This year, Wolf Trap is thrilled to add the Embassy of India to this prestigious line, which has included Austria, France, Italy, Jordan, Thailand, Morocco, Sweden, Brazil, Spain, Mexico, Canada, Germany, Argentina, the United Kingdom and Australia. These partnerships have fostered many lasting friendships and increased cultural understanding and appreciation among all nations involved.

Wolf Trap Ball 1996: Thailand A prominent cross-section of Washingtonians and guests from other cities and nations attend the Ball each year, including members of the Diplomatic Corps, the President's Cabinet, the U.S. Congress, state and local government officials. It is also customary for the Ambassador to attend the Ball as Guest of Honor.

The Ball directly benefits Wolf Trap's renowned education programs, including the Wolf Trap Opera Company and the Wolf Trap Institute for Early Learning Through the Arts. Ball proceeds also enable Wolf Trap to keep performance ticket prices affordable for many who otherwise might not be able to attend.

Wolf Trap Ball 2004 with Chairs: Mr. Mark C. Lowham and Dr. Joseph A. Ruzzo takes place Firday, September 10.

BRAVO!'s 13th ANNUAL OPENING NIGHT GALA stars internationally acclaimed soprano Renée Fleming performs. The concert will be followed by a seated dinner in the Green Room of the Veteran's Building followed by dancing into the wee hours. September 10th in San Francisco.

12TH ANNUAL MICHAEL BOLTON CHARITIES BENEFIT CONCERT a special evening of entertainment including Bolton, world-renowned soprano Renee Fleming, Cyndi Lauper and mistress of Ceremonies, Joan Lunden, honoring Stamford Mayor Dannel P. Malloy and his wife Cathy for their work on behalf of women and children. Funds raised support the efforts of The Michael Bolton Charities to provide assistance, education and shelter to children and women at risk.

Cocktail Reception, Silent Auction & Orchestra Seats: $250 Cocktail Dinner Reception, Silent Auction and VIP Orchestra Seats: $500 Concert Tickets: $50, $75, and $100. Sunday, September 12 at the Palace Theatre in Stamford, Conn.

THE 24-HOUR PLAYS ON BROADWAY will present a charity performance in which six plays will be written, cast, directed, rehearsed and performed in one day. It begins at 10 p.m. on Sept. 12, and at 8 p.m. the next day at the American Airlines Theater in Manhattan.

Billy Crudup, Julianna Margulies, Mos Def, Marisa Tomei, Sam Rockwell, Rosie Perez, John C. Reilly, Brooke Shields, Rachel Dratch and Lili Taylor do the honors.

The performance will benefit Working Playground, which sends artists to New York City schools and helps develop arts-based curriculums.


OTHER PEOPLE'S MONEY


LIVE MUSIC FLOURISHING according to a survey released in London last week. An estimated 1.7 million live gigs were staged in the UK this past year.

The major survey for the Live Music Forum shows of the 1,600 venues questioned, 55 per cent put on musical acts "because customers demand it." A fifth of venues stage live acts at least twice a month.

Minister Richard Caborn said the survey also revealed that many venues have not thought about putting on live music, despite incoming licensing laws.

"The new Licensing laws will create more opportunities for budding musicians, but the survey shows that there are many potential venues who have not thought about putting on live bands," he said.

"We need to encourage them to do so and show them that the licensing changes will make staging live music easier so that they are ready to embrace the new law when it comes in next year."

Chair of the Live Music Forum, 80s chart topper Feargal Sharkey, said:

"A third of the people we spoke to who do not currently put on live music said they probably would in the future."

"I want them, and anyone with the space to put on a band or a live act, to think carefully and remember the benefits in profits, to customers and to the next generation of performers."

The Forum brings together the music industry, Arts Council, local authorities, small venue owners and Government to look at the current and future live music scene.

The new legislation comes into force in late 2005.



THE COLOR PURPLE a world premiere. Book by Marsha Norman Music and Lyrics by Brenda Russell, Allee Willis and Stephen Bray. Based on the novel by Alice Walker and the Warner Brothers/Amblin Entertainment motion picture. Directed by Gary Griffin.

Atlanta native Saycon Sengbloh was cast in the coveted role of Nettie in The Color Purple. Sengbloh was in Aida on Broadway.

The Color Purple is Broadway-bound, but the World Premiere of this soul-stirring version of Alice Walker's Pulitzer Prize-winning novel takes place at the Alliance Theatre. The Color Purple is a family saga of hope, inspiration and triumph as Walker's diverse and unforgettable characters come vividly to life on stage. Blending dance with the sounds and rhythms of blues, gospel, jazz, swing, rural roots and African music, this acclaimed, sweeping epic - which Ms. Walker has called a universal story with music in its soul - sings with emotion, wit and love of life.

September 9 - October 17 at the Alliance Theatre in Atlanta, GA.

LEADING LADIES a world premiere comedy. Created and Directed by Ken Ludwig.

Jack and Leo, two aspiring young actors, take their two-man Scenes from Shakespeare to all the "big" houses - like the Elks Lodge in Scranton.

But, when they learn of an opportunity to collect a very large inheritance, they rush headlong into the cross-dressing roles of a lifetime.

The question being - For a million dollars, which dress would you wear?

Sept. 7-Oct. 3 at the Drury Theatre in Cleveland, Ohio.

DEAD PUPPET TALK a world premiere. Known to New York audiences through his regular appearances at the Henson International Festival at the Public in the '90s, Roman Paska returns to New York after four years as director of the International Institute of Puppetry in Charleville-MéziPres, France, the world's foremost center for puppet theater, with a new production, Dead Puppet Talk - Initially developed by Music-Theatre Group, the production is a multidisciplinary work with a score of American traditional and contemporary music that includes sequences by composer Richard Termini.

Dead Puppet Talk conjures a hypnotic world where puppet performers silently act out scenes from a "play within the play" as actors wryly speculate on the puppet's raison d'Ltre. Developed at the 2004 Sundance Theatre Lab at White Oak and described as a "talking opera," it features the director's signature blend of elegant puppets inspired by anatomical dolls and artists' mannequins, film interludes, and a sampling of electroacoustic music mixed live at each performance.

The company of four actor-puppeteers includes Uta Gebert, Gabriel Hermand-Priquet and Philippe Rodriguez-Jorda, all of whom have trained with Mr. Paska in Europe and performed in his productions in Paris, Stockholm, Helsinki and Avignon.

September 9-18 at the Kitchen in New York City.

TEA AT FIVE

Kate Mulgrew as Katharine Hepburn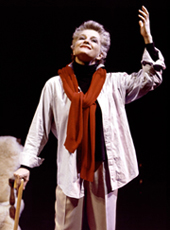 starring Kate Mulgrew as Katharine Hepburn.

By Matthew Lombardo. Directed by John Tillinger.

Kate Mulgrew stars as legendary actress Katharine Hepburn in Tea at Five, an intimate look at the actress at home in her Fenwick Estate of Old Saybrook, Connecticut.

The play portrays the four-time Academy Award winner at opposite ends of her peerless career, revealing Hepburn as an undeniable talent that is equal parts witty and fiery, and one of the twentieth century's greatest film stars.

Kate Mulgrew returns to the stage after a seven-year run as Captain Kathryn Janeway on UPN'sStar Trek: Voyager. Her performance in Tea at Five garnered a 2003 Outer Critics Circle Award nomination for Outstanding Solo Performance and a 2003 Lucille Lortel Award nomination for Outstanding Actress.

A special engagement at Seattle Repertory Theatre September 10 – 18.

DEFENDING THE CAVEMAN by Rob Becker. Belding Theater. Rob Becker's Defending the Caveman is the longest running solo play in Broadway history, comes to Hartford, CN for five performances only.September 9-12 at the Belding Theater in Hartford, CN.

TAP DOGS - REBOOTE a show merges all the energy, adrenaline and favorite numbers of its predecessor, the international sensation Tap Dogs, with just a touch of sassiness and sensuality. Tap Dogs Rebooted is making its North American debut with a 2004 national tour.

The production still features the driving score, complex tap rhythms and fit men in jeans that made Tap Dogs so hip. Now, for the first time ever, this crowd pleaser features girls alongside the sexy guys in Blundstone Australian Dein Perry is the creator and choreographer.

Thursday, September 9, in the Stephens Auditorium at Iowa State University, Ames, Iowa.

THE GLEE CLUB a musical play by Richard Cameron. Five hard working, hard drinking South Yorkshire miners and a church organist, better known as The Glee Club. With its raucous humor and superb close-harmony song renditions, The Glee Club is an insightful and poignant view of six northern miners in 1962, the songs they sing and the small village, and ideals, which shape the way they live their lives. Contains nudity and strong language. September 8-18 at the 350-seat Courtyard Theatre in Leeds, England.

OF THEE I SING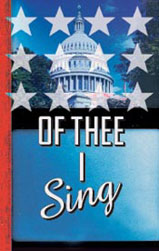 Music & Lyrics by George Gershwin & Ira Gershwin. Book by George S. Kaufman & Morrie Ryskind. Directed by Tina Landau.

It was the first musical ever to win the Pulitzer Prize and is one of the brightest, most clever parodies ever written about American politics.

Presidential candidate Wintergreen, whose major qualification is his presidential-sounding name, excites voters out of apathy and sweeps the country with his one-word platform—love.

All have fallen under the sway of the campaign, including the Supreme Court, except one who has taken insult to his behavior.

Will his own platform of love rescue this new president from impeachment?

Papermill Playhouse The State Theatre of New Jersey September 8 - October 1.


| | | |
| --- | --- | --- |
| | | |
WHO'S WHERE


TONY BENNETT center stage at the Star Plaza Theatre in Merrillville, Indiana on Friday, September 10.

ELTON JOHN takes his talent and wit on the road performing September 10 at Victoria Stadium in Gibraltar.

CASSANDRA WILSON Monday, September 6, begins a six night gig at the Blue Note in Tokyo, Japan.

GARY LEWIS & THE PLAYBOYS perform . Sept. 11 at Ocean City Music Pier in Atlantic City.

DAVE MATTHEWS BAND perform Wednesday, September 8, at USANA Amphitheater in West Valley City, UT.

BIG BAD VOODOO DADDY hitting the right notes Friday, September 10 at Historic Mountain Winery in Saratoga, CA. Next Sunday they're in the spotlight at Rib America Festival in Louisville, KY.

AN EVENING WITH CAROL CHANNING STARRING RICHARD SKIPPER making his only New York City appearance for the rest of 2004 on Monday September 13 at Mama Rose's.

JERRY SEINFELD in the spotlight September 10 at Merrill Auditorium in Portland, ME.

STEVE TYRELL performs Saturday, September 8 at the Crown Center in Kansas City, MO.

DOOBIE BROTHERS perform September 8 at the Wente Vineyards in Livermore, CA.

STEPHEN SORRENTINO brings his Voices In My Head show to the Tropicana Hotel in Atlantic City for a two month run. The musical comedian is backed by a 10 pierce orchestra and 10 showgirls. The show begins Sept. 7.


PIFFLE AND PROFUNDITIES


WHO IS? Tony Blair.

ROBERT GOULET receiving rave reviews as King Arthur, in a current tour of Camelot, hasn't let a hectic schedule detract him from voting. Goulet and his wife, Vera - who recently became an American citizen - have already cast their votes for the Primary Election in Las Vegas, which takes place Tuesday. The Goulets utilizied mail-in ballots.
















Next Column: September 12, 2004
Copyright: September 5, 2004. All Rights Reserved. Reviews, Interviews, Commentary, Photographs or Graphics from any Broadway To Vegas (TM) columns may not be published, broadcast, rewritten, utilized as leads, or used in any manner without permission, compensation/credit.
Link to Main Page
---
Laura Deni


CLICK HERE FOR COMMENT SECTION