! >
Broadway To Vegas
  SHOW REVIEWS     CELEBRITY INTERVIEWS     GOSSIP     NEWS 
| | |
| --- | --- |
| | |
Copyright: September 5, 1999
By: Laura Deni
CLICK HERE FOR COMMENT SECTION

PARIS LAS VEGAS TRES GREAT
The latest resort to take Sin City by storm is patterned after the City of Lights. The 2,916-room Paris Resort impressively opened in Las Vegas and may well be the resort with the most personality. Even the half scale 540-foot, 50 story Eiffel Tower - 500 feet shorter than the real one - which looked tacky while being constructed, adds a certain je ne sais quoi to the Las Vegas Strip.


The Paris Resort, lived up to the hype

The $800 million French themed resort, geared to impress the multitudes who have never seen the real thing, is giving its all to capture the French essence. Security guards are costumed in replica gendarme uniform. Employees are required to polish faux French accents and greet all guests with "Bonjour. Ca va?" All employees, who are referred to as "citizens of Paris," went through three days of training to learn French phrases and bone up on the Gallia history.



CATHERINE DENEUVE herself a saucy French pastry opened Paris Las Vegas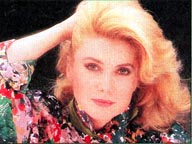 Backed by the Nevada Symphony Orchestra, Oscar winner Michel Legrand and French chanteuse Line Renaud sang a medley of French songs Legrand had written, while the gorgeous Catherine Deneuve threw a switch turning on the lights illuminating the Las Vegas tower."Even if the Eiffel Tower is half the size of the real one, it's nice to walk around," she observed.

Earlier Deneuve accepted a $350,000 donation on behalf of Women In Film from Sarah Kugelman of Gloss.com, a sponsor of the resort's opening celebration. As is becoming a Vegas trend, elaborate openings are linked to charity benefits.

The resort is planning an eclectic appeal. Stevie Wonder was the first entertainer to perform and needless to say his Saturday night concert was SRO.Marcel Marceau opens Wednesday performing through Sunday. Composer Legrand returns to perform October 7-9. Black Entertainment Television owner Robert Johnson previously announced that his Tres Jazz restaurant will occupy a walkway leading from Bally's Hotel to the Paris Resort.

GOSPEL IS

Gospel Is, a new musical from the creators of Mama, I Want To Sing, is billed as a soul-satisfying musical journey exploring the roots of traditions and contemporary gospel music by people who lived and sung it.



DORIS TROY Las Vegas resident, stars in Gospel Is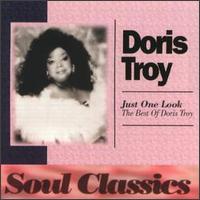 Judging from the cast, the singing power is enough to make anyone jump up and yell hallelujah!

The cast features Richard Hartley as the Minister of Music and the New York Reach Ensemble with Darryl Copeland, Knoelle Higginsen-Wydro, Tonya Lewis, Kelvin Lowery, Darren Page, Sissy Peoples, Melanie Price, Dejahnee Richardson, Melvin Thomas, Anita Wells and the one-and-only Doris Troy, who starred in the original production - based on her life - of Mama, I Want To Sing and who made it to the top of the record charts with the global hit Just One Look.

The unique hesitation in lyric pronunciation was an accident. "I started to cough, and the producer said let's keep that in," Troy recalled. "Every other line, we would make words three syllables."

Troy also made the financial pages with her disclosure that record companies had cheated her - and other singers - out of their fair share of royalty payments.

The vivacious singer is an under appreciated stylistically and melodically ambitious performer who wrote under the name of Payne. She sang backup for Dionne and DeeDee Warwick and Cissy Houston before striking out on her own.



ELTON JOHN, shown a copy of Ebony by Troy who told him to get hip glasses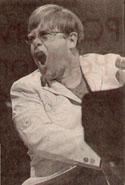 Troy is also the person who advised Jimi Hendrix to achieve success first in England because his string bending guitar bending sound was "too weird for America." Troy took one look at Elton John, whose band was playing back up for her, noticed his ordinary thick glasses and advised him to "get b-bop glasses." When Mick Jagger, Paul McCartney and Carly Simon were having problems with a background track it was Troy they called at 3a.m. to help them out. She did. The song was You're So Vain. Doris was rich in talent but cheated on the financial balance sheet. During the 1950's and early 60's Troy was one of the multitude who got "short money" from the record companies they helped make rich.

A long and hurtful legal process resulted.

In 1996 the Las Vegas resident was one of 11 rhythm and blues artists who received $15,000-$20,000 grants from the Rhythm and Blues Foundation during their seventh annual Pioneer Award ceremony in Los Angeles.

The nonprofit foundation - spearheaded by Bonnie Raitt, Ruth Brown, Isaac Hayes, Aretha Franklin, Bruce Springsteen and Sam Moore - was created to provide economic and medical aid to R&B artists who were cheated and then forgotten by the music industry.

The Rhythm and Blues Foundation, based in Washington, D.C. has lobbied record companies to get them to ante up the royalties to artists who were not justly compensated.

Troy credited her faith and her father, the Rev. Randolph Higginson, in providing her with the strength she needed to fight the good fight. "If you are going to worry, don't pray. And if you pray, don't worry."

Gospel Is begins performances on October 9, at the Williams Lafayette Theatre, NYC. The book and lyrics are written by Troy's sister, Vy Higginsen, and Ken Wydro. Original music and orchestrations by Wesley Naylor. Choreography by Anita Wells with costumes by Theresa Morris, lights by Marlon Campbell and sound by Wayne Dickens.

Gospel Is will be directed by Ken Wydro and produced by the not-for-profit Mama Foundation for the Arts.


BUSY, BUSY, BUSY
DEBBIE AND EDDIE WERE AMERICA'S SWEETHEARTS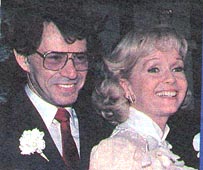 The Coke Time Kid, Eddie Fisher, who ended up having an addiction problem more serious than soda pop, heads to the 92nd Street Y in New York City on Sept 12 to details plans and answer questions about his tell all autobiography Been There, Done That.

The tome lays out the ins and outs of those he's laid.



EDDIE AND LIZ He left Debbie for her then Liz left him for Richard Burton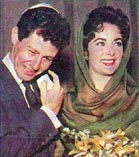 So far the gentleman has put notches in his belt for Edie Adams, Pier Angeli, Ann-Margret, Joan Collins, Bette Davis, Angie Dickinson, Judith Campbell Exner, Marlene Dietrich, Mia Farrow, Abbe Lane, Peggy Lipton, Kim Novak, Michelle Phillips, Stephanie Powers, Juliet Prowse, Dinah Shore, and Mamie Van Doren.

Fisher maintains that after JFK and Frank Sinatra had finished their affairs with Judith Campbell Exner, the crooner took his turn. Sometimes Fisher took his orders from Chicago mob boss Sam Giancana. "One night Sam had me take Judy all over Chicago showing her the sights."

Those sights apparently included himself, since Fisher says the two then carried on a six month affair.

There were also half the showgirls in Las Vegas. One long legged lovely saved his dried sperm on a Kleenex and tried to peddle the personal trophy. She kept lowering the price, but no takers.

Let us not forget the ex-wives: Debbie Reynolds, Elizabeth Taylor, Connie Stevens and and former beauty queen Terry Richards.

This literary scribble isn't a one night wham bam creation. Fisher, 71, has spent several years trying to remember all of his playmates, so the publication didn't catch any of his former bedmates off guard. Still, none of the former Mrs. Fishers seem amused.


LA CAGE TO LONDON'S WEST END
LA CAGE FROM VEGAS TO LONDON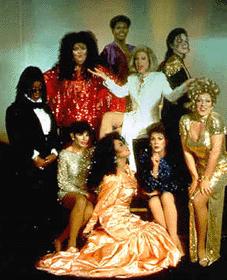 An Evening at La Cage a mainstay of the Riviera Hotel, Las Vegas, will open a show in London on Tuesday, November 23rd in the Embassy Room. The production is signed to run through Jan. 6, 2000, with options.
The cast will be headed by Gary Dee who came to Las Vegas from The Jewel Box Revue, in Aruba. He will serve as the show's hostess Joan Rivers. Jimmy Emerson will perform as Rosanne, "Tammy Spraynet" and "Madonna's Bigger Sister."

Larry Edwards will take the stage as Tina Turner and Whoopi Goldberg. Chris Woods is Diana Ross and Whitney Houston. Chad Michaels does his Cher and Celine Dion. Jayson Malone gets all dolled up as Bette Midler and Judy Garland.

John Merritt impersonates Liza and does What Makes a Man A Man, originally done by Charles Aznavor, in which he transforms from a woman to a man and Joby Rogers plays Michael Jackson.

After 15 years of successfully playing The Strip in Las Vegas La Cage will be the first show from Las Vegas to play London.


SWEET CHARITY

USO RECRUITS HOLLYWOOD Stars have lined up to sign up for a USO tour to Kosovo. Doing their patriotic duty are: Danica McKellar of The Wonder Years, David Carradine of King Fu, Garret Morris from Saturday Night Live, James B. Sikking from Hill Street Blues, Robert Loggia of Mancusco FBI, and Tracy Scoggins star of Babylon 5 will do a tour of duty. Home Improvement's Richard Karn is on board as is Craig T. Nelson of Coach. Edward James Olmos of Selena, George Takei from Star Trek, Gena Lee Nolin of Baywatch, and Tiffani-Amber Thiessen star of Beverly Hills 90210, have signed up, as have comedians Fred Travalena and Paula Poundstone.

PASSION the Stephen Sondheim-James Lapin musical will return to Los Angeles for a one night stand Sept. 27 at UCLA'S Freud Playhouse. The event with cast members Eileen Barnett, Teri Bibb and David Engle is a benefit for both the Musical Theatre Guild and for Reprise! Broadway's Best in Concert. Tickets are $55.

CLARENCE DARROW starring Leslie Nielsen will be at the Peace Center in Greenville, S.C. on Sept.17-18, according to our roving reporter Trudy Knight who reports that there will be a reception after the show with proceeds benefitting Legal Services Agency of Western Carolina. Nielsen brings the show to Vegas in December.



Broadway To Vegas is supported through advertising and donations. Priority consideration is given to interview suggestions, news, press releases, etc from paid supporters. However, no paid supporters control, alter, edit, or in any way manipulate the content of this site. Your donation is appreciated. We accept PAYPAL. Thank you for your interest.



LATE NITE CATECHISM continues through Sept. 26 Civic Center, Des Moines, Iowa.

GRAND HOTEL the five time Tony winner opens Sept 14 at The 5th Avenue Theatre, Seattle. The dazzling and intriguing musical runs through Oct. 3.

THE SCARLET PIMPERNEL resumes it's Broadway run Friday at the Neil Simon Theatre NYC.

BOOMTOWN continues through Sept. 12 at the B Street Theatre, Sacramento, CA. Written by actor Jeff Daniels, the play is the story of three ordinary people who become entangled in a web of love, land and small-town politics.

SUNSET BLVD starring the multi-talented Petula Clark has a Phoenix, AZ run Sept. 7-12 ASU's Gammage Auditorium.

THE SOUND OF MUSIC starring Richard Chamberlain Sept. 14-19 at the Fox Theatre, Atlanta, GA.

ART Judd Hirsch reprises his Broadway role in this acclaimed comedy. Curran Theatre, San Francisco Sept. 14-Oct. 10.

1776 the rip-roaring patriotic musical, a hit revival on Broadway, about Franklin, Jefferson, John Adams and the Declaration of Independence. Fun, funny, dramatic and filled with history. Opened Sept. 3 with a run through Oct. 21 at the Cumberland County Playhouse, Crossville, TN.


WHO'S WHERE

ANDREA BOCELLI makes his United States opera debut in the title role of Massenet's Werther, at the Michigan Opera Theater, Detroit beginning October 29. Tickets go on sale September 13 priced from $55 to $250. Bocelli will portray a suicidal poet who falls in love with a woman promised to another man.

LUCIANO PAVAROTTI reportedly will appear in February at the Gaylord Entertainment Center, Nashville, backed by the Nashville Symphony. If the deal goes through, this would mark the tenor's first appearance in Nashville.

HARRY BELAFONTE at the Lied Center for the Performing Arts, Lincoln, NE September 22.

NEIL SEDAKA who received three standing ovations and performed two encores during his recent Las Vegas engagement at the Orleans Hotel, performs September 10-11 at the Frederick Brown Jr. Amphitheatre, Peachtree City, GA.

LEANN RIMES closed out her Las Vegas Hilton engagement and heads to Branson, Mo for a one nighter September 18 at the Grand Palace . The next night she's booked into the Kansas State Fair in Hutchinson. The teen-age songbird then returns to Las Vegas to participate in Andre Agassi's Grand Slam for Children Benefit Sept. 25 at the MGM-Grand Hotel.

HUEY LEWIS & THE NEWS Sept 9 Horseshoe Casino Robinsonville, Miss.

PATTI LABELLE Sept. 12 Sam's Town River Palace Arena, Robinson, Miss.


THIS AND THAT

LAUREL AND HARDY DAYS East Haven, Conn Sept 18-19.

DON RICKLES says the one thing he always wanted to accomplish and still hasn't - is to appear in a Broadway show.

DAME EDNA THE ROYAL TOUR which opens at the Booth Theater, NYC on September 14 will have all first preview tickets priced at $20. They go on sale this Wednesday with Dame Edna a.k.a Barry Humphires on hand to greet fans.

LES MISERABLES features reduced priced preview tickets that go on sale September 10 for the Ahmanson Theatre, LA engagement Dec 12-Feb 12.



Mention BROADWAY TO VEGAS for Special Consideration
Call (800) 942-9027









Next Column: September 12, 1999
Copyright: September 5, 1999. All Rights Reserved. Reviews, Interviews, Commentary, Photographs or Graphics from any Broadway To Vegas (TM) columns may not be published, broadcast, rewritten, utilized as leads, or used in any manner without permission, compensation and/or credit.
Link to Main Page
---
Laura Deni
broadway@broadwaytovegas.com
CLICK HERE FOR COMMENT SECTION