! >
Broadway To Vegas
  
 SHOW REVIEWS CELEBRITY INTERVIEWS GOSSIP NEWS

| | |
| --- | --- |
| | |
CELEBRITIES HELP KATRINA VICTIMS - - MICHAEL BALL MAKES NEW YORK CITY OPERA DEBUT - - PLAYWRIGHT SEEKS STORIES ABOUT WILLIAM INGE - - GUEST ARTIST BY JEFF DANIELS - - NINE PARTS OF DESIRE AT GEFFEN - - TEXTILES IN THE THEATRE - - COLDER THEN HERE STARS JUDITH LIGHT - - JADA PINKETT SMITH HAS A BAND - - DONATE . . . Scroll Down


PERFORMERS RUSH TO HELP KATRINA VICTIMS
Wynton Marsalis director of the Jazz at Lincoln Center, announced that Eric Clapton and John Mayer will perform at a September 17 benefit at the Rose Theatre in NYC.

Las Vegas resident Jerry Lewis, whose own Muscular Dystrophy telethon takes place Labor Day week-end, encouraging donations to help Katrina victims. Another Vegas resident, Celine Dion, pledged $1 million.

Morgan Freeman, whose Mississippi Delta home received rain and high wind damage, helped organize an online auction for the American Red Cross Disaster Relief Fund.

Irving Mayfield, the artistic director of the New Orleans Jazz Orchestra - with a father and brother still missing - urges citizens to remember the many musicians who live and perform in New Orleans. Now homeless and out of work, their ability to find employment is extremely difficult.

Harry Connick, Jr and Steve Harvey made separate visits to shelters in Baton Rouge.


FOREIGNER AND MARK CHESNUTT POP OUT HITS AT POPCORN FESTIVAL


The Marion Popcorn Festival is the largest popcorn festival in the world annually attracting crowds in excess of 250,000 over the three-day festival. Sept 8-10.

The First Marion Popcorn Festival was held in 1981. Why Marion? Because Marion County in Ohio is one of the top growers of popcorn in the United States and Marion based Wyandot, Inc. is one of the largest exporters of Popcorn in the World.

Classic country singer of the first order, Mark Chesnutt, will take the main stage of The Marion Popcorn Festival on Saturday, September 10. Legendary rock 'n roll band Foreigner will be popping out hit after hit on Friday, September 9. The performances are free of charge for all Festival attendees.

Other events include a popcorn cooking contest, a fine art show, crafts, Popcorn 5000 5K run, Popcorn 100 bike tour, a community showcase stage, and "Magic Pops When You Wish Upon A Star," the 2005 Popcorn Festival Parade sponsored by Con Agra Snack Foods with over 300 units.



Mark Chesnutt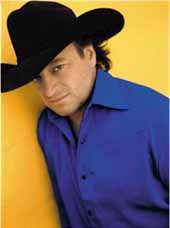 The Marion Popcorn Festival Scholarship Program, in which Mary Krouse captured the title of Miss Marion Popcorn Festival 2005. This is an official preliminary for the Miss Ohio/Miss America Scholarship Program. There is also the crowning of Miss Teeny Pop and Wee Little Pop.

Americans today consume 17 billion quarts of popped popcorn each year. The average American eats about 54 quarts per man, woman and child each year. Approximately 70 percent of that is purchased at retail stores in both raw and popped form, and eaten at home.

The remainder pops up almost any place associated with fun, food and fitness -- movie theaters, sporting events, entertainment arenas, amusement parks, and other recreational centers.



Foreigner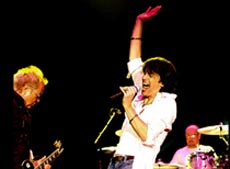 Kids love popcorn because it tastes good and adults favor popcorn for its nutritional value.

Popcorn is a whole grain maize product -- it's grown extensively in the corn belt states of the U.S., where the majority of popcorn sold worldwide is grown. It resembles corn-on-the-cob in appearance and cultivation, although only popcorn kernels have the ability to pop. Popcorn can be ear-harvested, where the whole ear of corn is cut and stored for eight-12 months, until the moisture levels in the kernels reach optimum levels. At this point, the kernels are stripped from the cobs and graded to eliminate ones that are too small to pop efficiently.

Popcorn's ability to pop lies in the fact that the kernels contain a small amount of water stored in a circle of soft starch inside the hard outer casing. When heated, the water expands, creating pressure within, until eventually the casing gives way, and the kernels explode and pop, allowing the water to escape as steam, turning the kernels inside out.

The oldest ears of popcorn ever found were discovered in the Bat Cave of west central New Mexico in 1948 and 1950. Ranging from smaller than a penny to about 2 inches, the oldest Bat Cave ears are about 4,000 years old.

Popcorn was integral to early 16th century Aztec Indian ceremonies. Bernardino de Sahagun writes: "And also a number of young women danced, having so vowed, a popcorn dance. As thick as tassels of maize were their popcorn garlands. And these they placed upon (the girls') heads."

In 1519, Cortes got his first sight of popcorn when he invaded Mexico and came into contact with the Aztecs. Popcorn was an important food for the Aztec Indians, who also used popcorn as decoration for ceremonial headdresses, necklaces and ornaments on statues of their gods, including Tlaloc, the god of rain and fertility.

An early Spanish account of a ceremony honoring the Aztec gods who watched over fishermen reads: "They scattered before him parched corn, called momochitl, a kind of corn which bursts when parched and discloses its contents and makes itself look like a very white flower; they said these were hailstones given to the god of water."

Writing of Peruvian Indians in 1650, the Spaniard Cobo says, "They toast a certain kind of corn until it bursts. They call it pisancalla, and they use it as a confection."

The use of the moldboard plow became commonplace in the mid-1800s and led to the widespread planting of maize in the United States.

Popcorn was very popular from the 1890s until the Great Depression. Street vendors used to follow crowds around, pushing steam or gas-powered poppers through fairs, parks and expositions.

During the Depression, popcorn at 5 or 10 cents a bag was one of the few luxuries down-and-out families could afford. While other businesses failed, the popcorn business thrived. An Oklahoma banker who went broke when his bank failed bought a popcorn machine and started a business in a small store near a theater. After a couple years, his popcorn business made enough money to buy back three of the farms he'd lost. During World War II, sugar was sent overseas for U.S. troops, which meant there wasn't much sugar left in the States to make candy. Thanks to this unusual situation, Americans ate three times as much popcorn as usual.

Popcorn went into a slump during the early 1950s, when television became popular. Attendance at movie theaters dropped and, with it, popcorn consumption. When the public began eating popcorn at home, the new relationship between television and popcorn led to a resurge in popularity.

Microwave popcorn - the very first use of microwave heating in the 1940s - accounted for $240 million in annual U.S. popcorn sales during the 1990s.


FASHION ROCKS AT FASHION WEEK


David Bowie, Destiny's Child, Alicia Keys, Gwen Stefani, Joss Stone and Tim McGraw are set to perform at the Fashion Rocks concert Sept. 8 at New York's Radio City Music Hall during the city's annual fashion week which struts the runways Sept. 9-16. Duran Duran, Shakira, Billy Idol and Nelly also will perform during the show. Fashion Rocks will mark the last televised appearance of Destiny's Child, who in June announced plans to disband after its ongoing Destiny Fulfilled ... And Loving It tour. CBS will broadcast the show the following evening.



Broadway To Vegas is supported through advertising and donations. Priority consideration is given to interview suggestions, news, press releases, etc from paid supporters. However, no paid supporters control, alter, edit, or in any way manipulate the content of this site. Your donation is appreciated. We accept PAYPAL. Thank you for your interest.


SPREADING THE WORD


CURTAIN UP! TEXTILES IN THE THEATER The Shelburne Craft School Gallery on the Green and the Flynn Center for the Performing Arts in Burlington, Vermont are collaborating to bring the exhibition Curtain Up! Textiles in the Theater, running concurrently at the Flynn's Amy E. Tarrant Gallery and the Shelburne Craft School.

Curtain Up! offers insight into the processes of costume and set design that add to the excitement of live theater, dance, puppetry, film, and circus.

The joint exhibition includes drawings for A Midsummer Night's Dream by award-winning designer Laura Crow and completed costumes from the Opera North productions of Oberon and Titania.

Also on display are costume and fabric props from twin-sister artists - formerly with Cirque de Soleil - who now perform as Gemini Trapeze and run Nimble Arts, a trapeze school in Brattleboro; costume pieces from a production of Cincinnati Playhouse in the Park; costumes designed by Martin Thaler for several University of Vermont productions and a Vermont Stage Company production; and several of Thaler's drawings.

Featured as well are large, textile puppet costumes and banners from Bread & Puppet Theater; a costume from the American Museum of Dance; the quilt from Vermont Stage Company's recent production of Quilters; and fabric designed by Thistle Hill Weaves of Cherry Hill Valley, New York, for a film production.

Friday, September 9-Saturday, October 29.

PLAYWRIGHT SEEKS STORIES ABOUT WILLIAM INGE, OLD INDEPENDENCE Playwright Marcia Cebulska of Topeka, Kansas has been commissioned by the William Inge Center for the Arts to write a new play about the late Pulitzer Prize-winning writer. She is seeking help to find stories about daily life in old Independence, Inge's hometown as well as stories about William Inge himself.

The play about William Inge will premiere on April 26, 2006, at the opening night of the 25th Silver Anniversary William Inge Theatre Festival. Inge won the Pulitzer for Picnic, Oscar for the screenplay of Splendor in the Grass.

"I would like to hear stories about Bill Inge, his family, his teachers, his friends," Cebulska said, "but I would also like to hear about any events or stories that might have been source material for his work. For example, does anyone know about a girl in love with the son of a rich oil man who tried to kill herself, as Inge wrote in his movie Splendor in the Grass? What was life like in the days William Inge grew up in Independence, around 1913-1933?

"Also, I'd be curious as to what was Neewollah like back then. Did drifters come through town, as in Picnic?" Cebulska said. "What kinds of events were there at Riverside Park? And what were the community attitudes about romantic adventures or drinking alcohol? I want to hear the anecdotes people have heard from their parents and grandparents. I want to learn from the community," she added.

Cebulska lived in the William Inge Home in Independence during the fall of 2002, as one of the first two Inge Center Playwrights-in-Residence. She also taught playwriting at Independence High School as part of the Inge Center's Playwrights-in-the-Schools program. Cebulska was commissioned by the Brown vs. Board of Education Foundation to pen Now Let Me Fly, about the struggle to integrate schools. That play was opened with an all-star cast in 2004 as part of the official commemoration ceremonies of the land mark Supreme Court decision.

She has been a frequent visitor to Independence since, having participated in panel discussions during the Inge Festival. Cebulska also has advised youth writing for the Inge Center's various 24-Hour Plays and will do so again Sept. 9-10 for the "5th Annual College 24-Hour Plays.

During her stay in Independence she wants to meet with residents who have stories to share. The Reminiscing of Inge and Old Independence with Cebulska will take place Thursday, September 8th, at the historic Inge Family Home in Independence.

HUNGARIAN CULTURE WEEK TO DEBUT IN BEIJING Hungarian Culture Week to debut in Beijing at Tianqiao Theater from September 8, featuring performances of the work of Franz Liszt and patriotic poet Petofi Sandor.

The China-Hungary convention on cultural cooperation was signed in July 1951. In October 1999, China hosted the first China Culture Week in Hungary, and in return, the Hungarian Culture Week now comes to China.

The event is sponsored by the China Art and Entertainment Group (CAEG).

Hungarian Culture Week will open with one performance by Hungarian National Dancing Ensemble and an exhibition of Hungarian puppetry. On September 10, two Hungarian troupes, Romano Drom, and Five-Person Brass Band, will stage performances. Romano Drom established its fame for its strong gypsy flavor, and the members of the Five-Person Brass Band all graduated from the world's renowned Liszt musical conservatory.

In addition to live performances there will be a painting exhibition of contemporary Hungarian artists like Gabor Rosko, Agnes Eperjesi, and Imre Bukta. From September 9, five Hungarian films that have won top international prizes will be shown in a local theater at the city center.


OTHER PEOPLE'S MONEY


HARRAH'S owner of two hard hit Gulf Coast casinos, will continue to pay their out of work employees for three months.



COLDER THAN HERE by Laura Wade.

Starring Judith Light, Brian Murray, Sarah Paulson and Lily Rabe. Directed by Abigail Morris.

"Your 'fridge is where food goes to die."

Faced with the news of her impending demise, Myra is trying for once to be the model home-maker, wife, and mother, turning her household topsy-turvy as she sets her sights on a few domestic tasks to complete before she leaves…like arranging every last detail of her own funeral and relentlessly trying to force her fractured family to communicate with each other.

In Laura Wade's funny and moving comedy-drama, Myra, her mild-mannered husband and quirky daughters set off on a whirlwind journey of surprise, exasperation, and discovery just as Myra's own lifetime passage is winding down to its final destination…a hilarious and powerful story of our human condition.

In NYC opens MCC Theater's 20th anniversary season. Sept. 7 with performances through October 15.

KISS ME KATE Book: Bella & Sam Spewack Music/Lyrics: Cole Porter.

One of Broadways best, Kiss Me Kate centers around a revival of Shakespeare's The Taming of the Shrew. Off and on-stage antics, create a merry, melodious and sophisticated show stopper that all ages will enjoy. The score is one of the greatest featuring such superb numbers as Too Darn Hot, and Brush Up Your Shakespeare. Sept. 8-10, 15-18, 22-25 at Theatre Charlotte in Charlotte, NC.

DEDICATION OR THE STUFF OF DREAMS welcomes Don Amendolia to the cast. He will replace Nathan Lane on Sept. 6 in the Terrence McNally hit play which has been extended until Oct. 2 at Primary Stages in New York City. Nathan Lane is leaving the play today, Sept. 4, to begin rehearsals for The Odd Couple. Amendolia will be co-starring with the incredible Marian Seldes.

ENCHANTED APRIL by Matthew Barber. directed by Richard Hay. A play which Broadway To Vegas found enchanting when seen on Broadway can be enjoyed at Artists Repertory Theatre in Portland, Oregon September 6 - October 16.

MADAMA BUTTERFLY Music by Giacomo Puccini. Libretto by Giuseppe Giacosa and Luigi Illica.

The romance between a Japanese geisha and an American naval officer inspired one of the most beloved operas ever composed. The setting is beautifully exotic. The characters, unforgettable. Their love story, tender, tragic, and utterly heartbreaking. But above all, it is Puccini's lush and potent music, with its tinges of Oriental flair, that has made this masterpiece an audience favorite for more than a century.

On Friday, September 9 Opera lover, Cynthia Nixon will greet the audience for this special performance, which will also feature behind-the-scenes video presentations before the show and between the acts. Ari Pelto conducts.

City Opera's production of Butterfly remains one of its most visually stunning and dramatically riveting. With its breathtaking sets, costumes, and staging, it evokes the colorful and simple brushstrokes of Japanese painting.

Sung in Italian with English supertitles.

The cast includes; Jee Hyun Lim, Shu-Ying Li, Kathryn Friest, Brandon Jovanovich, Robert Mack, Jake Gardner, William Ledbetter, Brian McIntosh, Kyungmook Yum and Jennifer Tiller.

Production: Mark Lamos. Stage Director: David Grabarkewitz. Set Designer: Michael Yeargan. Costume Designer: Constance Hoffman. Lighting Designer: Robert Wierzel. Chorus Master: Gary Thor Wedow. Supertitles: Cori Ellison.

Co-produced with Glimmerglass Opera, officially opens September 11 at New York City Opera.

CHICAGO welcomes Brooke Shields to the cast as Roxie Hart in the revival at the Ambassador Theatre. Shields, who starred in the London production of the Kander and Ebb musical, joins the New York production Sept. 9.

OF MICE AND MEN by John Steinbeck. Clinging to each other in their loneliness and alienation, George and his simple-minded friend Lennie dream, as drifters will, of a place to call their own. But after they come to work on a ranch in the Salinas Valley their hopes and dreams, like "the best laid schemes o' mice an' men," begin to go awry. This outstanding drama was very successful on Broadway and has become one of the ost consistently produced classics. September 8 - October 8 at The Ritz Theatre in Oaklyn, NJ.

MOLLY PICON'S RETURN ENGAGEMENT a musical play written by Sarah Blacher Cohen.

Featuring Renee Matthews as the fabled Yiddish actress, and Gerald H. Bailey who will play Molly's husband, Gerald H. Bailey, in this two-person show. The play-with-music is performed in English, with songs sung in Yiddish. September 7-25 at Chicago Jewish Theatre.

NINE PARTS OF DESIRE Los Angeles Premiere. Written and performed by Heather Raffo.

Directed by Joanna Settle.

It is "a work so compassionate, so heart-breaking, so soul-shatteringly human, that it promises to change forever the way you'll think about the women (indeed the people) of the Middle East."

Heather Raffo, an Iraqi-American journalist, playwright, and performer, has captured the psychic lives of nine Iraqi women brutalized by the Saddam regime.

She will take your breath away, as she has done for audiences in London and New York. Nine Parts of Desire is a very special Los Angeles theater event.

September 6 - October 16 at the Brentwood Theatre, which will be the last production from the Geffen Playhouse in this theater before moving to the new Geffen Playhouse.

THE SHANGHAI CHINA DRAMA ART CENTER will stage an Asian contemporary drama season, during which one third of the plays are planned to be shown with half ticket price. The weeklong drama season, cosponsored by Shanghai Art and Literature Association, Shanghai Media Group and Shanghai Drama Art Center, is scheduled to open on Sept. 6.

Troupes from six countries will give 29 performances of 11 plays and the ticket prices vary from 80 to 200 yuan or $9.90-$ 24.70. About 8,000 people are expected to attend.

This biennial drama event originated ten years ago in Osaka, Japan.

URINETOWN THE MUSICAL Book by Greg Kotis. Lyrics by Greg Kotis and Mark Hollmann. Music by Mark Hollmann. Directed by Joe Zingo.

One of the most uproariously funny musicals in recent years, Urinetown is a hilarious tale of greed, corruption, love, and revolution in a time when water is worth its weight in gold. In a Gotham-like city, a terrible water shortage, caused by a 20-year draught, has led to a government-enforced ban on private toilets. The citizens must use public amenities, regulated by a single malevolent company that profits by charging admission for one of humanity's most basic needs. Amid the people, a hero decides he's had enough, and plans a revolution to lead them all to freedom! Inspired by the works of Bertolt Brecht and Kurt Weill, Urinetown is an irreverently humorous satire in which no one is safe from scrutiny. Praised for reinvigorating the very notion of what a musical could be, Urinetown catapults the "comedic romp" into the new millennium with its outrageous perspective, wickedly modern wit, and sustained ability to produce gales of unbridled laughter.

Oregon Premiere September 9 - October 1, 2005 at Actors Cabaret in Eugene, Oregon.

PATIENCE

Michael Ball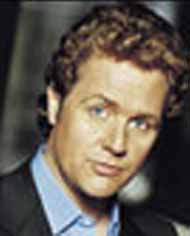 Music by Arthur Sullivan Libretto by W.S. Gilbert

Superstar Michael Ball - The Woman in White and the original London casts of Les Misérables, Passion, and Aspects of Love - makes his New York City Opera debut in Gilbert & Sullivan's rollicking, irrepressibly funny operetta Patience.

Notorious for lampooning Victorian England's fashions and fads, Gilbert & Sullivan made merciless fun of the era's obsession with art for art's sake in Patience.

The libretto's timeless jabs at high society are buoyed by a delightful score of sparkling arias, tongue-twisting patter songs, exuberant choruses, and sidesplitting parodies of Italian grand opera.

Tazewell Thompson directs with pitch-perfect comic timing.

Twenty maidens are lovesick for two pretentious poets, but the bards are vying for Patience, the simple village milkmaid who cares nothing for their verses. She believes in a purer love, the kind devoid of artifice. Add to the charades a brigade of macho dragoons and a most unladylike Lady, all of whom learn that the key to winning in love is to not play the game at all.

Sung in English with English supertitles.

In addition to Micharl Ball the cast includes; Tonna Miller, Jennifer Roderer, Kathleen Magee, Heather Johnson, Myrna Paris, Christopher Jackson, Timothy Nolen, Kevin Burdette and Matthew Burns.

Conducted by Gary Thor Wedow. Set Designer is Donald Eastman. Costume Designer is Merrily Murray-Walsh. Lighting Designer is Robert Wierzel. Supertitles by Kelley Rourke.

Co-production with Glimmerglass Opera. Opens September 10 at New York City Opera.

COMMEDIA DELL SMARTASS

Jessi Campbell and Debargo Sanyal. Photos by: Carol Rosegg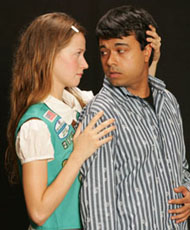 a new play by Sonya Sobieski. Directed by Jean Randich.

Commedia Dell Smartass is an eccentric comedy featuring an overachieving Girl Scout who wants to get into a good college, a Fencer who reads Machiavelli, a Clown of ambiguous gender, and a guy named Henry.

Sobieski's play takes place in a slightly alternate reality, and she has chosen her unusual characters to toy with more typical archetypes of high school, such as the cheerleader, the football jock, and the sensitive drama student.

It's just the reminder, all adults need, that the treacherous environment of high school was only the opening salvo for the rest of one's life.

New Georges - Susan Bernfield, Artistic Director; Sarah Cameron Sunde, Associate Director - the OBIE-winning theater company founded in 1992 which produces highly theatrical new works by women, will present this world premiere. Performances begin September 9 at the Ohio Theater in New York City.

CATHAY: THREE TALES OF CHINA by Ping Chong and Shaanxi Folk Art Theatre.

Innovative theatre artist and master storyteller Ping Chong returns to Seattle Rep with his newest creation, Cathay: Three Tales of China.

Cathay is a theatrical triptych that weaves together tales from far-flung eras of China's past and present, mixing puppetry and actors.

With a little magic, hints at reincarnation and the promise of Karma, Chong's Chinese stories take us from fabled ancient times through the tumult of the 20th century to its economically powerful present.

The three tales, of an emperor and his consort, World War Two's consequences in a country village, and a contemporary "grand hotel" collage of international tourists and business people, converge in a resolution of forgiveness and hope.

This original work was commissioned by the Kennedy Center for the 2005 Festival of China and developed in partnership with Shaanxi Folk Art Theatre, one of China's premier puppet theatre companies.

September 10 - October 9 at the Leo K. Theatre,Seattle Repertory Theatre in Seattle, WA.

AFTER ASHLEY by Gina Gionfriddo. Directed by Lee Mikeska Gardner featuring Bruce Nelson and Michael Willis with Deanna McGovern, Paul Morella, Marin Penning and Mark Sullivan.

In this blisteringly funny and heartbreakingly truthful satire, a teenager is unwillingly thrust into the national spotlight when a family tragedy becomes talk-show fodder. Focusing a critical eye on our obsession with reality TV and public grieving, this critically-acclaimed new work takes a no-holds barred look at how the American media and the line between reporting the truth and exploiting it.

The production designers for include James Kronzer (Set Design), Melanie Clark (Costume Design), Lisa L. Ogonowski (Lighting Design), Michael Kraskin (Sound Design/Composer) and Lesley Milner. (Properties).

September 5 - October 9 at Woolly Mammoth in Washington, D.C.

GUEST ARTIST is a new play by actor/writer/theatre owner Jeff Daniels. The World Premiere slated to begin January 19, 2006 will take place at Daniels' Purple Rose Theatre in Chelsea, Michigan.

The play termed - "his most autobiographical work yet" - is about the arrogant use of power; a story about taking risks, playing it safe and the mixed blessing of getting exactly what you wish for.

Daniels weaves a funny and poignant story about a young man coming face to face with his hero and explores the tangled relationship between the dreams of youth and the wisdom of age.

Directed by Purple Rose Theatre Company's Artistic Director Guy Sanville, the cast will include Randall Godwin, Patrick Michael Kenney and Grant R. Krause.

January 19-March 18 at the Purple Rose Theatre in Chelsea, Michigan.

HARVEST Written by Richard Bean. Directed by Wilson Milam.

William: It's 1958. The poor want meat. Agar: Do they? Oh dear. They don't want meat every day do they?

On 14th May 1875 Lord Primrose Agar, drunk as a skunk, wagered one of his tenant farmers, Orlando Harrison, that his border collie pup Jip would outlive the 94-year-old Harrison. The prize would be 82 acres of up and down known as Kilham Wold Farm, near Driffield in East Yorkshire.

Thirteen years later, having buried his dog, Agar shook hands with Orlando and conferred on the Harrisons a century of struggle.

Richard Bean's comic new play sweeps through four generations of a Yorkshire farming family fighting to protect their livelihood.

The cast includes: Sharon Bower, Mike Burnside, Sian Brooke, Matthew Dunster, Gareth Farr, Craig Gazey, Jane Hazlegrove, Adrian Hood, Clare Lams, Paul Popplewell, Jochum Ten Haaf, Dickon Tyrell.


Opened September 2 with performances through October 1 at the Jerwood Theatre Downstairs in London.

CHITA RIVERA: THE DANCER'S LIFE

Chita Rivera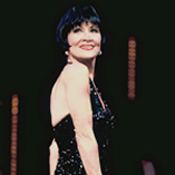 a world-premiere musical celebration of the life and career of one of America's most beloved stage performers, written by four-time Tony Award-winner Terrence McNally with direction and choreography by Graciela Daniele.

Following its run at the Globe, Chita Rivera: The Dancer's Life will be produced on Broadway by West Egg Entertainment and The Producer Circle Co. with Marty Bell and Aldo Scrofani as Executive Producers, beginning performances in November, 23 at the Schoenfeld Theater.

This unique theatrical event offers audiences a rare look into that moment when great musical numbers in the theatre were born, as related and performed by the woman for whom they were created – the ultimate Broadway "gypsy." Chita Rivera: The Dancer's Life is a magical tour through landmark creations in the American theatre that were helmed by some of the greatest talents in its history, including Jerome Robbins, Leonard Bernstein, Bob Fosse, Gower Champion and Michael Kidd and will feature new songs by the Tony Award-winning team of Lynn Ahrens and Stephen Flaherty. Along the way, Rivera and the eleven-member company, drawn from among Broadway's most talented performers, will celebrate some of her most stunning and legendary Broadway performances – from West Side Story to Chicago to Kiss of the Spider Woman.

"Chita Rivera is our strongest link to the Golden Age of the American Musical. She worked with all the great choreographers and composers and was present at the creation of such seminal masterpieces as The Dance at the Gym from West Side Story when the talent in the room was a veritable Mount Rushmore of the American theatre: Bernstein, Sondheim, Robbins, Laurents and Prince," said Terrence McNally. "I hope our show reminds audiences of what that level of theatre was like and what it still can be if the talent, the technique and the passion are there. Chita Rivera: The Dancer's Life looks back in order to look forward." Scenic Design by Loy Arcenas. Costume Design by Toni Leslie James. Lighting Design by Jules Fisher & Peggy Eisenhauer. Sound Design by Scott Lehrer. Musical Direction by Mark Hummel. Stage Manager is Arturo Porazzi. Sept. 10 through Nov. 6 at The Old Globe Theatre in San Diego, CA.


| | | |
| --- | --- | --- |
| | | |
WHO'S WHERE


MILLENNIUM PARK'S BLOCKBUSTER WEEKEND Luminaries will light up the night sky Sept. 10-12 at the Jay Pritzker Pavilion in Chicago. The free events will include Sen. Barack Obama (D- Ill.) narrating Aaron Copland's Lincoln Portrait accompanied by members of the Chicago Symphony Orchestra on Sept. 11. For the fifth time, Lyric Opera of Chicago will present a star-studded outdoor concert as its pre-season gift to the city. This year's vocal spectacular takes place on Saturday, September 10. A constellation of the world's greatest opera stars and the internationally renowned Chicago Lyric Opera Orchestra in an evening of opera's greatest hits.

Ildebrando D'Arcangelo, Denyce Graves, Nathan Gunn, Matthew Polenzani, Sondra Radvanovsky, Andrea Rost, and more. Conducted by John Mauceri, music director of the Pittsburgh Opera and principal conductor of the Hollywood Bowl Orchestra.

Steppenwolf Theatre will present a concert-style reading of Studs Terkel's Will the Circle Be Unbroken, with guest Garrison Keillor, on Sept. 12.

Free to the public.

LYLE LOVETT has a busy week. On Tuesday, September 6, he's on stage at Harrah's in Council Bluffs, Iowa. Wednesday finds him at the State Theatre in Minneapolis. On Thursday the show is at the Potawatomi Casino in Milwaukee. Friday the performance takes place at the Taft Theatre in Cincinnati. On Saturday he can be enjoyed at the Orpheum Theatre in Memphis and next Sunday, September 11, he's in the spotlight at the Ryman Auditorium in Nashville.

JOURNEY Don't stop believin'! With hits like Open Arms and Separate Ways, Journey is still going strong. Wednesday, September 7 at the Filene Center in Vienna, Virginia. On Thursday they can be enjoyed at the Fraze Pavilion in Kettering, Ohio. Friday finds the gang at Rams Head Live in Baltimore, MD.

MERCY ME center stage Friday, September 9 at Disney World in lake Buena Vista, Florida. On Saturday they entertain at Son Fest in Charlotte, NC.

LUCINDA WILLIAMS performs at the House of Blues in Las Vegas on September 8. On Friday she is at The Rialto in Tucson, AZ and on Saturday the performance is at The Grove of Anaheim in Anaheim, CA

LARRY GATLIN AND THE GATLIN BROTHERS open a six night engagement Tuesday, September 6, at the Bass Performance Hall in Fort Worth, TX.

B.B. KING BLUES FESTIVAL 2005 Starring B.B. King with Special Guest Joe Bonamassa.

His reign as King of the Blues has been as long as that of any monarch, yet he continues to wear the crown well. He'll also be celebrating his 80th birthday. September 11 at the Filene Center of Wolf Trap in Vienna, VA.

COLDPLAY opens a two night stand Tuesday, September 6 at Madison Square Garden in NYC. Friday finds them at the Verizon Wireless Amphitheater in Charlotte, NC. On Saturday the action shifts to the Alltell Pavilion at Walnut Creek in Raleigh, NC.

DAVE MATTHEWS BAND performs Monday, September 8, at the C.W. Mitchell Pavilion in The Woodlands, Texas. On Wednesday they are on stage at the Verizon Wireless Amphitheatre in Bonner Springs, KS. On Friday they open a three night engagement at the Red Rocks Amphitheatre in Morrison, CO.

PAUL ANKA on Monday closes out the last night of a three night stand at Niagara Fallsview Casino in Niagara Falls, ON. Wednesday finds him in Calgary, AB and on Friday he starts a two nighter at River Rock Casino in Richmond, BC.

BIG BAD VOODOO DADDY performs Friday, September 8, at the Historic Mountain Winery in Saratoga, CA.

JADA PINKETT SMITH (yes, the movie star) AND HER BAND WICKED WISDOM featuring Phillip Fisher, who also founded the influential hard funk-rockers Fishbone, open Ozzfest today, September, 4, at the Verizon Wireless Amphitheatre in Charlotte, NC.

THE ROLLING STONES on stage Tuesday, September 6, at the Xcel Energy Center in Saint Paul, MN. Thursday finds the guys at Bradley Center in Milwaukee. On Saturday they can be enjoyed at Soldier Field Stadium in Chicago.

JOHNNY MATHIS singing his hits Thursday, September 8, at Humphrey's By The Bay in San Diego, CA.

TONY BENNETT delighting the crowds Sunday, September 11, at the Britt Festivals in Jacksonville, OR. On Saturday he takes part in the Monterey JAzz Festival at the Monterey County Fairgrounds in Monterey, CA.


PIFFLE AND PROFUNDITIES


COLE PORTER had a sweet tooth. While on tour he had nine pounds of fudge sent to him each month.
















Next Column: September 11, 2005
Copyright: September 4, 2005. All Rights Reserved. Reviews, Interviews, Commentary, Photographs or Graphics from any Broadway To Vegas (TM) columns may not be published, broadcast, rewritten, utilized as leads, or used in any manner without permission,compensation/credit.
Link to Main Page
---
Laura Deni


CLICK HERE FOR COMMENT SECTION