! >
Broadway To Vegas
  
  REVIEWS INTERVIEWS COMMENTARY NEWS

| | |
| --- | --- |
| | |
WHITNEY HOUSTON SPECIAL WILL TAPE OCTOBER 11 - - EDWARD M. KENNEDY $100,000 DRAMA PRIZE - - VEGAS TV SHOW DOESN'T KNOW THE 60s ERA - - THE DESERT SONG CD REVIEW - - RONNIE WOOD ROLLING STONE AUCTION - - WICKED AGAINST BULLYING - - A WINDOW INSIDE AFGHAN WOMEN - - AUTISM SPEAKS BENEFITS FROM OFF-BROADWAY PLAY FALLING - - DONATE . . . Scroll Down


Copyright: September 30, 2012
By: Laura Deni
CLICK HERE FOR COMMENT SECTION

CBS VEGAS TV SERIES DULLS RALPH LAMB AND DOESN'T UNDERSTAND THE ERA


Michael Chiklis and Dennis Quaid in Vegas. Photo: CBS Promotion photo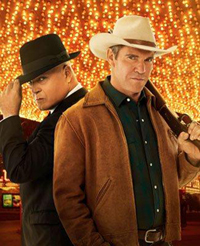 The much ballyooed - at least in Las Vegas - new CBS television series titled Vegas "inspired by" the life of former Las Vegas Sheriff Ralph Lamb made its debut last week.

While well acted, the able creators did the unthinkable. The dulled down Ralph Lamb and really missed on the era.

What has made Mad Men and Downton Abbey so irresistible is the effective capturing of their respective eras. The viewer is drawn into the time frame. If not empathy towards, at least an understanding of why the people behaved as they did.

The effective immersion of the era is as important as the script and acting.

In Vegas, starring talented actors Dennis Quaid and Michael Chiklis, that era connection is lacking. So far this is just another good guy/bad guy show.

Instead of a car chase you've got one dude on a horse.

The events in the first episode were fiction. As portrayed in the series the antics of Lamb not only didn't take place but would have been impossible to have occurred.

If there is anybody who could make fascinating television viewing it is Ralph Lamb - and the rest of the Lamb boys - as they were called.



The cast of Mad Men, a series which totally captures the 60's era.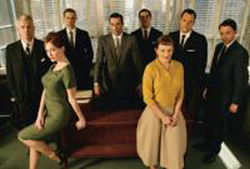 The real Ralph Lamb is far more interesting than his television character. A fourth generation Mormon, he was a 5-pack-a-day Marlboro man. That contradiction is important, because if Lamb was anything in the 60s, it was a contradiction.

That doesn't come across in the series.

There were 11 kids in the Lamb family. Their father was killed in a 1939 rodeo accident trying to rescue a 7-year-old boy from a runaway horse. At one time the Lamb family was regarded as the most powerful in Clark County.

Ralph's brother Darwin was a county commissioner. A brother-in-law Wes Howery was a member of the Las Vegas City Council. And then there were Floyd and Larry.

Floyd became a bank president and one of the most influential politicians in Nevada before being convicted in 1983 of attempted extortion in the FBI bribery sting Operation Yobo.

Yobo - a name misspelling of the FBI agent-in-charge Joe Yablonsky.



Image deliberately removed by Broadway To Vegas to prevent it from being copied by a researcher whose procedural methods Broadway To Vegas takes issue.
Floyd Lamb was one of five public officials, including another senator and two commissioners, caught in the sting. He was accused of accepting $20,000 from an FBI undercover agent in exchange for a promise to help arrange a loan from the state Public Employees Retirement System to help in the purchase of a Reno casino. He was sentenced to three years in prison but was released in 8 1/2 months, partly due to ill health.

He was also indicted by a federal grand jury on income tax evasion charges in 1976 but was acquitted.

Floyd's temper made Ralph seem like a pussycat.

Even Floyd Lamb's obit made reference to his "legendary temper".

His obit stated: "He once socked and knocked down Reno hotel owner Charles Mapes in the bar at the Mapes (hotel). Another time he kicked then-Assemblyman Norman Hilbrecht of Las Vegas in the seat of the pants in the hallway of the Legislature after an argument. He tackled the late Sen. Emerson Titlow in the lobby of a Reno hotel and they grappled on the floor. He slapped and kicked an Associated Press reporter when he became angry about a story in 1977."

In 1977 Ralph was also indicted, but not convicted, on charges of tax evasion. He was also investigated for a kick back scheme but never charged.

Larry Lamb, who followed the band Stark Naked and the Car Thieves, once filled the fountains in front of Caesars Palace with soap bubbles. In 1980 he shot and killed a man at a Christmas tree lot. Charges were dismissed, leading to complaints that the youngest Lamb boy used his political influence to get off.

To placate the masses, the murder charge was reinstated, but Larry was acquitted in a jury trial.

His stated he acted in self-defense, claiming the dead man, Lee "Crowbar" McCambridge, threatened him with a non-electric ordinary hand saw.

"Where the hell was I going to go?" Larry Lamb testified in court. "I didn't want to get hit with no saw."

The temperament of the Lamb clan not only doesn't permeate the script, the CBS series - perhaps in trying too hard - manages to both dumb-and-dull-down the Lambs.



Jimmy Hoffa at left with his party at the opening of Caesars Palace in Las Vegas, Nevada 1966. Hoffa's Teamsters controlled the resort, while Sheriff Lamb controlled the area where Caesars is located. Photo: News Bureau.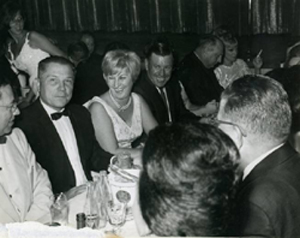 Nor does the Chiklis mob boss pique interest. Real life casino mob bosses could be charming to customers. Bad guys have always been a draw on television. Women find them sexy and men are intrigued. There is no human side to the Chiklas character.

Another serious difference between Mad Men, Downton Abbey and Boardwalk is that all three series nailed it in the first episode. That Vegas didn't have a solid pilot is problematic.

In this series people should be smoking and drinking the way they do in Mad Men.

This series makes Lamb seem dull.

What is sorely missing is an accuracy of the 1960s in Las Vegas. I know, I lived through that era in Las Vegas. And, this show really doesn't get it.

Attention to details can make the difference between capturing a forever audience - like Mad Men or Downton Abbey - or just become a so-so, non memorable series.

There wasn't such an animal as a female assistant district attorney. That didn't happen until the late 1970s

Why is there a black judge?

The first black judge in Las Vegas was named Del Guy, a wonderful man who died too soon in 1997 at the age of 73. However, he didn't take the bench until 1976.

Las Vegas/Clark County was also highly divisive.



In 1969 Elvis Presley performed at the New Frontier Hotel on the Las Vegas Strip, which was under the jurisdiction of Sheriff Lamb Photo: News Bureau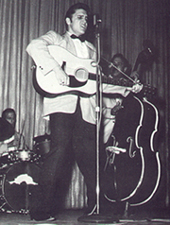 Prior to July 1, 1973, major law enforcement in the area amounted to the Clark County Sheriff's Department and City of Las Vegas Police Department.

The Las Vegas Police Department was responsible for police services in the City of Las Vegas, which consisted of approximately 53 square miles.

The Clark County Sheriff's Department was responsible for police services in the unincorporated areas of the County of Clark, which consisted of approximately 8,000 square miles.

This area covered the land mass from the California border on the south and west to the Arizona border on the east, and the Utah and Lincoln County borders on the north.

Prior to 1973 those were two distinct agencies and Ralph Lamb headed up the sheriff's department, not the police department. It was a serious distinction - especially for the police chief. That distinction and how the agencies did and didn't work well together isn't made clear in the series.

Sheriff's Lamb's office was in the city, an area which was enforced by the Chief of Police - not Lamb. The series has emphasis on Fremont Street, an area which was enforced by the Chief of Police - not Lamb.



The Rat Pack at the Sands Hotel. Peter Lawford, Sinatra, Dean Martin, Sammy Davis, Jr and Joey Bishop. Sinatra would get into a fight with casino boss Carl Cohen. Sinatra dumped a table which caused hot coffee to scald Cohen's groin and abdomen. Cohen responded by slugging Sinatra, splitting his lip and knocking out his two front teeth. Sinatra then swung a chair, missing Cohen but cracking the head of a security man. Sheriff Ralph Lamb would suspend Sinatra's work card for three days. Sinatra moved his star power to Caesars Palace where casino boss Sam Waterman pulled a gun on Sinatra during an argument over casino credit. Sheriff Ralph Lamb threatened to throw the singer in jail. Lamb was quoted as saying "I'm tired of the way he has been acting around here anyway." Photo: News Bureau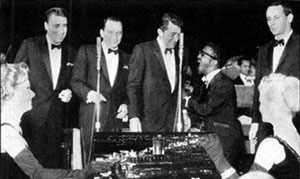 During the 1960s when arguments were made for a merger of the Sheriff and the Police departments, the Clark County Board of Commissioners opposed the efforts of the City of Las Vegas to incorporate the tax-rich "strip" area because, to do so, the County would be deprived of tax revenue.

In 1968 many of the County Commissioners viewed as personal enemies anyone who was perceived to be in favor of the merger. All I did was to write several articles about the proposed merger and the wrath of certain County Commissioners reigned down on my head.

Years ago I was in a deposition, which continues to cause me serious harm in a multitude of ways. That insult to a legal proceeding was conducted by an attorney who was providing information to several people. He had agreed to bring up subjects which had nothing to do with the issue and then report back information. He also brilliantly edited a deposition to slant several answers. I was even questioned about specific pieces of jewelry I owned; if I traveled with them and how I stored them. A few weeks later my jewelry - some of which I'd had since the age of 13 - was stolen.

I came under heated attack for reporting an illegal land deal. During the Ralph Lamb era, while waiting in line at McCarran Airport in Las Vegas, I could clearly hear the entire conversation of a man standing about five people ahead of me. An important individual, he was loudly bragging to his two companions about insider knowledge of shifting road projects in Las Vegas. That information would make it possible for he and his associates to rake in a fortune from a land parcel.



Downton Abbey not only captures an era, but like Mad Men has complex character development with multiple story lines.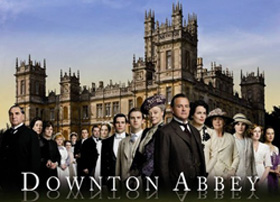 Upon returning to Las Vegas I reported the conversation to legal authorities. Unknown to me, one of the lawyers (now deceased) was a partner in the upcoming road shift-land deal. My knowledge of the pending road shift ruined their game plan.

That lawyer provided a multitude of lies and partial truths about me for that deposition. During that interrogation I was criticized for having reported what I had heard about the illegal plan. Nobody likes a whistle blower.

No regrets on that one. My spilling the beans on the road shift scuttled the project. Some high ranking people lost a lot of money, but several mom and pop stores and middle class homes were saved.

Hint: (1) Don't try to commit an insider, illegal act. (2) If you are dumb enough to attempt an illegal act, don't brag about it at an airport where your conversation can be clearly heard 20 feet away.

I was also run over the coals regarding the merger of the sheriff and police departments, as if that was my idea and accusations that I all but put the plan together. All I ever did was write about the merger. ( Added commentary )

That Vegas airs on CBS is ironic. The head of CBS is Les Moonves, a name also thrown in my face during that deposition. I have fascinating Les Moonves experiences - also legal papers.

During the 60s Las Vegas was a good-old boy network to the extreme. Judges accepted (expected) Christmas presents from lawyers, politicians and business owners. Sweet deals were offered and accepted by politicians.

In Vegas you don't sense that 'I-help-you. You-help-me. We destroy anybody who gets in our way' fraternity.

Women didn't wear their hair just hanging down the way the imaginary female deputy DA did in the first show.

It would have been in a flip, covered with not just hair-spray, but Aqua Net Ultra Hold, which came in a white can.

The phones didn't work very well, either. If you wanted to establish a phone line you got a party line, because the phone company was still stringing lines. A party line was a pain. The family sharing my line would leave the phone off the hook and I could hear their dinner conversation.

Phones were on short cords that were attached to the wall. I still have one. That means that if you are talking to somebody and need to reach anything father away than about three feet, you have to put the phone receiver down.

That is all atmosphere that helps a viewer understand an era.

Las Vegas has always been heavily populated by those who practice the Jesus Christ of Latter-day Saints (Mormon) religion. At that point in time, Mormon women didn't work, were seriously discouraged from attending college in favor of marriage and children, were not permitted to wear make-up and had to wear ultra conservative cut clothing. In many cases, those were neat and clean dresses that went to the ground and arms were covered to the wrists.

As in London where women wearing burkes are common place; but they do stand out. Las Vegas Mormon women going to the grocery store, their church meetings or shopping also stood out.

Speaking of grocery stores or shopping - good luck with that. Downtown (casino center) was where most of the stores in Las Vegas were located on Fremont Street. That would be Sears, Penny's, Ronzones plus White Cross Drugs and the Kresge and Woolworth dime stores. Woolworth had a snack counter. At Easter time they brought in extra help to decorate cookies and baskets with frosting. The five grocery stores located throughout town carried the basics.

Nothing grew in Las Vegas. All food had to be shipped in. Catholics ate fish on Friday, which would arrive on Thursday. Nobody in their right mind bought fish on Wednesday. When hotels started flying in oysters and shrimp with daily airline flights, it was so important that the fish were listed on the marquee, with many stars taking second billing to the fresh seafood cocktail.

Men flying to San Francisco to conduct business before the 9th Court of Appeals would return home with loaves of sourdough bread. You couldn't buy it in Las Vegas. Guys in the sheriff and police departments were always wanting to know who was going to San Francisco and could they bring them back some sourdough.

Satellite television didn't exist. Why is a satellite dish seen on the roof of a house in the first episode of Vegas?

Women were viewed as chattel.

Las Vegas and Detroit used to vie for having the highest murder rate in the country, but Las Vegas was the safest place to live. The murders were mob hits and those who were residents never locked their cars and frequently left their houses unlocked.

Las Vegas was a rough and tumble town. On the Strip the mob ruled - unless Ralph Lamb decided otherwise.

The real stories about Ralph Lamb are spellbinding and, if they were correctly brought to television life, could hold viewers for years.

Those who lived in Las Vegas around that era understand the atmosphere. Unfortunately, the general television viewer hasn't a clue about the 60s in Las Vegas. The sought after viewer demographically had yet to be born. To them this may be nothing more than a cop on a horse show.

With both Mad Men and Downton Abbey multiple character development was established in the first episode. There were and are characters and plotlines that will appeal to a variety of viewers.

In Vegas there are two main characters - take 'em or leave 'em - and no real depth of character with either.

Worse, little attention to detail is paid to the era.

Las Vegas during the 1960s and the factual experiences of the real Ralph Lamb are far more interesting than what was shown on Vegas.





Broadway To Vegas is supported through advertising and donations. Priority consideration is given to interview suggestions, news, press releases, etc from paid supporters. However, no paid supporters control, alter, edit, or in any way manipulate the content of this site. Your donation is appreciated. We accept PAYPAL. Thank you for your interest.



ART AND ABOUT


A WINDOW INSIDE

From A Window Inside exhibition. Photo by Lana Slezic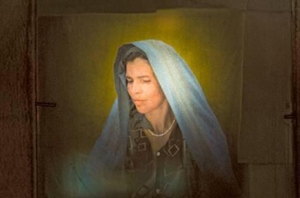 an exhibition of portrait images from Afghanistan by renowned documentary photographer, Lana Slezic.

Using an old box camera in a Kabul market, Slezic captured this extraordinary series of photographs of Afghan women and girls.

Lana Slezic met these women in a roadside kiosk in Kabul, and photographed their reflections in the viewfinder of an old Afghan box camera there, whose scratched ground glass plate created images that were textured and grainy, with a halo that merged into the darkness of the surrounding camera box.

Slezic felt this was a unique and unobtrusive way to capture the beauty of these women,who were at the kiosk to have their required identification photo taken.

Slezic's first encounter with Afghanistan in 2004 was a six-week assignment with Canadian Geographic.



From A Window Inside exhibition at the Gulf Photo Plus gallery space in Dubai. . Photo by Lana Slezic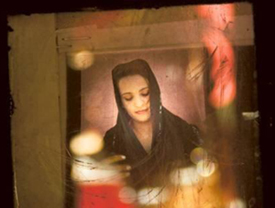 Captivated particularly by the Afghani women she met, she felt compelled to extend her stay for what became two years in Afghanistan, photographing women throughout the country.

Her book Forsaken aims to connect in a very intimate way with the troubling state of existence that many women face in Afghanistan, allowing their stories to be brought to light through her photographs.

A year after leaving Afghanistan, Slezic returned with a different photographic series in mind.

A Window Inside focuses on the strength and beauty of these women despite their hardship. The series of portraits aims to show the beautiful women that they are without undermining the circumstances in which they live.

In 2008, Slezic won a World Press Photo Award for this series. On display at the Gulf Photo Plus gallery space in Dubai, UAE, the show is open to the public through October 25, 2012.


THE MUSIC GOES ROUND AND ROUND


THE DESERT SONG a re-release by Masterworks Broadway of RCA'S original 1958 recording.

An operetta with music by Sigmund Romberg and book and lyrics by Oscar Hammerstein II, Otto Harbach and Frank Mandel, The Desert Song was inspired by the 1925 uprising of the Riffs, a group of Moroccan fighters, against French colonial rule. It was also inspired by stories of Lawrence of Arabia aiding native guerrillas. Many tales romanticizing Arab North Africa were in vogue, including Beau Geste and The Son of the Sheik.

With an orchestra conducted by Lehman Engel, this CD will put the listener into a storytelling spell of days gone by with smart lyrics and music that will inspire you to march, sway, or sit back listening to love develop. Smartly reproduced by Masterworks Broadway.

Originally titled Lady Fair, after successful out-of-town tryouts in Wilmington, Delaware and Boston, Massachusetts, the original Broadway production opened at the Casino Theatre on November 30, 1926 and ran for a very successful 465 performances.

The piece enjoyed a London production and was revived on Broadway in 1946 and 1973. In the 1980s, it was played regularly by the Light Opera of Manhattan and revived by the New York City Opera. It remains a popular piece for community light opera groups.

No original Broadway cast recording was made, but the 1927 London cast recorded eight selections for EMI.

A mostly complete 1958 studio cast album with Giorgio Tozzi and Kathy Barr, and conducted by Lehman Engel, was released by RCA Victor and is now available on this CD and for digital download.

The cymbal clashing, dramatic, into-battle-intro for the Opening Chorus leading into The Riff Song is an inspiring number. The earnest, yet flirty O! Pretty Maid of France to the ladies wondering in a light-hearted way Why Did We Marry Soldiers? are excellent examples of what made operetta so popular.

This RCA recording features American-born bass-baritone Giorgio Tozzi (pronounced TOT-zee) as Pierre Birabeau, a French officer who moonlights as the Red Shadow, a Robin Hood-type alter ego, who no one suspects is the leader of a rogue outfit calling itself The Riffs. Leading lady is Kathy Barr with Peter Palmer, Warren Galjour and Eugene Morgan as co-stars.

Those performers have interesting backgrounds.

Three time Grammy winner Tozzi was a mainstay for many years with the Metropolitan Opera having sung 528 performances with the Met. He also sang principal bass roles in nearly every major opera house worldwide.

After dubbing the singing parts for the character of Emile de Becque (acted by Rossano Brazzi) in the 1958 film version of South Pacific, Tozzi spent many years playing the role of de Becque himself in various revivals and road tours of the show, including one opposite Mary Martin, in a West Coast production and another one at Lincoln Center in the late 1960s.

In 1980, Tozzi earned a Tony award nomination for Best Leading Actor in a Musical for his work as Tony in The Most Happy Fella.

After serving in the Army in World War II he began his vocal career as a baritone. He made his debut (as George Tozzi) in 1948, singing Tarquinius at the Ziegfeld Theater on Broadway, in a production which also starred Kitty Carlisle.

He then studied in Milan, leaving that experience as a bass. Soon afterward, at the suggestion of RCA Victor, for whom he made some of his early recordings, he became Giorgio Tozzi, because they thought the name sounded more operatic and Italian.

Leading lady Kathy Barr was born Marilyn Sultana Aboulafia in New York of Turkish ancestry.

The record company changed her name to sound more America.

This flaming redhead was discovered by Mario Lanza. A vibrant, sexy soprano, she was a crossover artist who made several records of popular music, and appeared in radio, television and nightclubs. One of her most famous pop albums featured her wearing a nightgown on the cover.

When she married Irwin Glickman her musical career ended as she concentrated on being a wife and mother. She passed away in Hollywood FL on June 21, 2008. She had one child a daughter Sylvia Glickman, and two grandsons.

Tozzi and Barr deliver strong performances.

Especially dynamic is Tozzi's duet with Peter Palmer, Broadway's original Li'l Abner on The Riff Song, and Tozzi's duets with Barr on Then You Will Know and The Sabre Song.

In addition to his portrayal of Li'l Abner both on Broadway and in the film. Milwaukee born Palmer also appeared on Broadway in Lorelei in 1974. After retiring to Florida, Palmer and his wife, who passed away in 2011, were active in the Masque Community Theatre of Temple Terrace.

Warren Galjour's Broadway credits include the original productions of Dear Judas, Music in the Air, Of Thee I Sing, Wonderful Town, Fanny and What Makes Sammy Run, while Eugene Morgan appeared in Bajour and Cabaret.

At one time operettas - a genre of 19th-century French light opera - the precursor to musical comedy, were extremely popular on Broadway, and the go-to guy was Romberg with his light, swaying, infectious distinctive operetta style.

A member of the Songwriters Hall of Fame, Romberg was even the subject of the 1954 Stanley Donen directed film Deep in My Heart, in which he was portrayed by Jose Ferrer.


SWEET CHARITY


FALLING by Deanna Jent has announced it will donate $5 from every full price ticket for October to Autism Speaks.

Falling is a real life drama about how 18-year-old Josh, who has autism, affects the lives of everyone around him. When a relative comes to visit, the family is thrown off their equilibrium, with everyone trying to balance what is best for the family with what is best for each of them.

The Off-Broadway Premiere began previews last Thursday at Minetta Lane Theatre in NYC. The official opening night is slated for October 15.

Autism Speaks is the world's leading autism science and advocacy organization. It is dedicated to funding research into the causes, prevention, treatments and a cure for autism; increasing awareness of autism spectrum disorders; and advocating for the needs of individuals with autism and their families.

Autism Speaks was founded in February 2005 by Suzanne and Bob Wright, the grandparents of a child with autism. Mr. Wright is the former vice chairman of General Electric and chief executive officer of NBC and NBC Universal.

Since its inception, Autism Speaks has committed over $180 million to research and developing innovative resources for families.


ESTABLISHMENT OF THE $100,000 EDWARD M. KENNEDY PRIZE FOR DRAMA INSPIRED BY AMERICAN HISTORY
Edward "Ted" Kennedy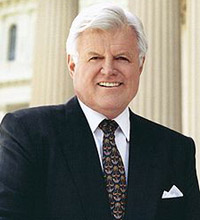 Ambassador Jean Kennedy Smith and Columbia University have announced the establishment of a significant theater award, The Edward M. Kennedy Prize for Drama Inspired by American History (EMK Prize).

Ambassador Smith has created the Prize to honor the life and legacy of her late brother, Senator Ted Kennedy. The first recipient of the EMK Prize will be announced on Senator Kennedy's birthday, February 22, 2013.

The EMK Prize consists of two parts. The author of the winning work will receive a bursary award of $100,000.00.

In addition, The Columbia University Libraries' Center for New Media Learning and Teaching, working with the Prize recipient will create a website featuring study and teaching guides, including extensive historical research and scholarly discussion and interpretation of the Prize-winning play or musical. This website will be available to any theater artist and any teacher or class studying the work.

The size of the bursary component makes this among the largest prizes given for dramatic writing, and indeed for writing in America, while the commitment to an in-depth and publicly accessible examination and exploration of content makes the EMK Prize absolutely unique among dramatic and literary awards.

The EMK Prize has potential for contributing to an elevation of the standards of scrupulousness, intellectual rigor and seriousness with which dramatic literature is approached by theater artists, audiences, educators, students and critics. Ambassador Smith hopes that the Prize will galvanize a new and vigorous exploration of American history and the institutions of American politics among dramatists and creators of musical theater.

Plays and musicals that have received their first professional productions in 2012 will be eligible for the Prize. The recipient will be determined by a panel of judges from a list of five works selected by a national network of nominators.

The judges' panel will consist of three playwrights, two musical theater writers (book writer, lyricist or composer), two scholars of literature, American history or political science, and the President of Columbia University.

The EMK Prize will be given annually through the Columbia University Libraries to a new play or musical of merit that, in the words of the Prize's mission statement, ".enlists theater's power to explore the past of the United States, to participate meaningfully in the great issues of our day through the public conversation, grounded in historical understanding, that is essential to the functioning of a democracy."

Ambassador Jean Kennedy Smith said: "My brother loved the arts - museums, books, the performing arts. Music was perhaps dearest to him, but he and I shared an enjoyment of theater - especially, for Teddy, musical theater. He admired the discipline and skill that theater demanded of actors, directors and writers.

"He was intrigued by the theater's creation of worlds, based on the human imagination, either for purposes of escaping what's difficult in life or for purposes of confronting difficult truths.

"He was an insatiable student of American history, and, of course, he devoted his life to public service. My brothers, sisters and I were raised to appreciate how much a society's culture contributes to the happiness of its citizens and to the health of its civic institutions. I decided to establish a prize for dramatic writing that speaks to this connection between art and civic life as a way of honoring my brother, and also as a way of acknowledging my family's commitment and indebtedness to the arts.

"I also must acknowledge Tony Kushner who, from the beginning, has shown tremendous understanding and enthusiasm for this endeavor to honor my brother," continued the Kennedy statement.


Kushner will serve on the EMK Prize Board.

James Neal, Vice President of Information Services and University Librarian at Columbia University will serve as the administrator.


DIVORCE SETTLEMENT MEANS ROLLING STONES STUFF GETS SOLD


When Rolling Stones guitarist and two-time Rock and Roll Hall of Famer Ronnie Wood and ex-wife Jo Wood finalized their divorce last year after 24 years of marriage the assets got divided up.

That means the ex-couple is auctioning off their shared collection of art and band memorabilia.

Tour clothing and a custom-painted Fender Stratocaster, depicting a Stones recording session, are among the items going under the hammer in two sessions on October 27, 2012 at Julien's Auctions in Beverly Hill.

The auction is expected to raise up to $500,000.

The auction comes ahead of the launch of Jo Wood's first autobiography HeyJo. Her memoirs, which will be released in February of next year, will reveal her tales as a wife of a Rolling Stone. The auction house is even offering an opportunity to pre-order her book.

The Wood collection features an assortment of memorabilia from the Rolling Stones, Faces, and Ronnie Wood's solo career both as a musician and an artist, spanning over four decades.

Some of the key music-related highlights of the Wood Collection are stage worn leather jackets and clothing.

Also offered are two Ronnie Wood custom painted Fender Stratocasters, one with the body depicting a Rolling Stones recording session ($4,000-$8,000). For the Rolling Stones collectors there is tour clothing, backstage passes and tour ephemera from various Rolling Stones tours of the 1990's and 2000's, collectible Rolling Stones books, guitar picks, vinyl record albums, and other Rolling Stones memorabilia which Jo collected over the years.

Other highlights include a Mick Jagger handwritten note to Wood ($200-$400), a twice signed Mick Jagger Rolling Stones poster ($400-$600), and a cardboard cutout in the form of a guitar body inscribed "To Ronnie from Keith," describing a guitar Richards commissioned for Wood as a Christmas gift ($200-$300). Portraits of Keith Richards, Eric Clapton, and Bob Dylan are among some of the artwork offered by Wood, a celebrated visual artist and painter ($800-$1,200 each).

The Wood collection also includes fine antiques, furniture and decorative art from Holmwood, the magnificent Surrey countryside estate shared by Ronnie and Jo Wood.

The resplendent décor combined a modern Rock 'n Roll aesthetic with stately 19th century antiques and fine art including an Erard harp ($4,000-$5,000), a Victorian Mahogany dining table ($4,000-$6,000), and a pair of Aubusson tapestry entre fenetres ($8,000-$10,000).

Also offered is a collection of British sporting artwork including a bronze jockey statue by Dame Elisabeth Frink ($65,000-$85,000), Shark and his Trainer Price, from the studio of George Stubbs ($45,000-$55,000), and other equestrian paintings by Richard Roper ($20,000-$25,000), and Edwin Loder of Bath ($6,000-$8,000).

Other fine paintings in the sale are The Coronation of Saint Cosmos and Saint Damian from the Circle of Pietro Malambra ($12,000-$18,000), The Flower Seller by John William Hennessey ($25,000-$30,000), and works by James Arthur O'Connor and Sir William Orpen.

The sale includes an array of decorative statues, masks and furnishings collected from all over the world during various Rolling Stones tours, along with a traveling case containing a double burner electric stove used to make family meals while on the road.

Other unique offerings from this collection include a set of nine original John Lennon and Steven Verona cartoon drawings used in The Beatles' first music video ($1,500-$2,500), a sterling silver Theo Fennell soda siphon ($8,000-$10,000), and a slot machine by Pierre Abel-Nau, circa 1913 ($3,000-$4,000).

A portion of the proceeds from the auction benefits MusiCares, a nonprofit organization of The Recording Academy that provides emergency financial assistance and addiction recovery resources to music people in need.

The Woods separated in 2008 after Ronnie's widely reported relationship with waitress Ekaterina Ivanova.


WE WILL ALWAYS LOVE YOU - TELEVISION SPECIAL TO SALUTE WHITNEY HOUSTON - TIES IN WITH ALBUM RELEASE
Whitney Houston performing Saving All My Love for You on the Welcome Home Heroes concert in 1991.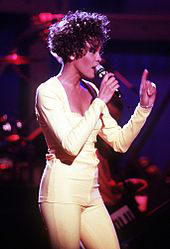 In a marketing-entertainment blend - and as a run up to the Grammy Awards - We Will Always Love You: A Grammy Salute To Whitney Houston, is set to tape October 11 at Nokia Theatre L.A. LIVE, airing November 16 on CBS.

The marketing tie-in can't be ignored.

I Will Always Love You - The Best of Whitney Houston, will be released by RCA Records on November 13. The project is promoted as the "first ever, definitive single disc" hits package, and will contain 18-songs.

On February 11, 2012, Houston was found unresponsive in suite 434 at the Beverly Hilton Hotel, submerged in the bathtub. The coroner ruled the death was an "accidental drowning".

Less than 48 hours earlier on February 9, Houston visited singers Brandy and Monica, together with Clive Davis, at their rehearsals for Davis' pre-Grammy Awards party at the Beverly Hilton Hotel in Beverly Hills. That same day, she made her last public performance, when she joined Kelly Price on stage in Hollywood, and sang Jesus Loves Me.

The Guinness World Records cited her as the most awarded female act of all time. Houston was one of the world's best-selling music artists, having sold over 170 million albums, singles and videos worldwide.

Houston garnered six Grammy and two Emmys, countless other awards and accolades. She graced the Grammy stage eight times over the years - one of a few artists who has had the distinction of performing the most times on the annual telecast. Most recently, she appeared as a presenter at the 51st Annual Grammy Awards in 2009 - ultimately presenting Jennifer Hudson with her first Grammy for Best R&B Album.

While her passing will be commemorated in the upcoming television special, it is her life that will be celebrated.

We Will Always Love You to be directed by Louis J. Horvitz promises to include never-before-seen footage and exclusive interviews, along with artists sharing their memories of Houston. Additionally, the special will feature highlights of Houston's career, including great Grammy and other iconic performances.

Those remembering and saluting Houston in the one-hour special will include five-time Grammy winner Celine Dion, Grammy and Academy Award winner Jennifer Hudson, and seven-time Grammy winner Usher.




SPREADING THE WORD


JESUS CHRIST SUPERSTAR closed before it opened in Rostov, Russia after protests by Orthodox Christians.

A Russian company, the Saint Petersburg's Rock Opera company was set to open the Andrew Lloyd Webber rock opera at the Rostov Philharmonic on October 18.

Eighteen local Russian Orthodox protesters filed a formal complaint with prosecutors in Rostov-on-Don, and wrote a letter of complaint to the management of the Philharmonic, according to the Rostov Times newspaper.

Russian theatres have been staging Jesus Christ Superstar for more than two decades without any problems. The musical has been performed in Rostov five times and last time the performance was sold out. Thus, the formal complaint that the "image of Christ presented in the opera is false from the point of view of Christianity," stunned the cast and has now caused news commentators to complain about Church interference in public life.

The lower house of the Russian parliament, the State Duma, is currently considering a bill which would make it a crime to offend the "religious feelings of citizens," according to the Russian newspaper.

However, that bill has not yet passed. Thus, it may be the protestors have jumped the gun when they cited a "new law protecting the rights of believer." In their complaint they they called the famous musical a "profanation" and demanded that productions with any religious content should be submitted to the Russian Orthodox Church for approval.

Immediately upon receiving the formal complaint the theatre stopped ticket sales pending the outcome of the probe.

A decision as to whether the show can go is expected on Monday, October 1.

WICKED will host a special event October 11 featuring two leaders in the worldwide campaign to bring an end to bullying: Ben Cohen, MBE, founder of The Ben Cohen StandUp Foundation, and Dan Savage, co-founder of The It Gets Better Project.

Cohen and Savage will be joined by members of the Wicked company for a post-performance talk-back to discuss what can be done to help stop the prevalence of bullying.

The Ben Cohen StandUp Foundation, Inc. is the world's first foundation dedicated to "raising awareness of the long-term, damaging effects of bullying, and funding those doing real-world work to stop it. The organization stands up against bullying regardless of to whom it happens.

Tickets for the upcoming special event, which is being held on National Coming Out Day, includes that evening's performance of Wicked at the Gershwin Theatre as well as access to the talk-back. A portion of the ticket price will be donated to The It Gets Better Project and The Ben Cohen StandUp Foundation.


OTHER PEOPLE'S MONEY


ALL I KNOW ABOUT FOOTBALL I learned by attending the Broadway musical Lombardi. Suffice it to say I'm not the one to engage in a play by play conversation. However, even I could figure out that those men impersonating NFL refs needed to take a shower and go home.

Interestingly enough, those substitute refs have sort of a theatrical background. Qualifications for one of the substitute refs is that he is a professional poker player and his referee experience is - judging poker tournaments - whatever that means. The commissioner of the women's Lingerie Football League announced it fired several of the replacement NFL refs for being incompetent. No word on whether any of them has ever worked a comedy club.

Everyone is pleased that those who know how to do it are now back on the field. And, we all now appreciate that being a referee takes knowledge and skill. However, the money they receive for the part-time job is a good chunk of change. Their salaries will now jump from an average of $149k per year in 2011 to $173k in 2013 to $209k by 2019. It would be nice if some of the refs and their wives didn't act so unbelievably arrogant.



THE THEATRE HALL OF FAME has announced their newest inductees. Michael Kahn, the 25-plus-year Artistic Director of Washington's Shakespeare Theatre Company, has been named to the Theater Hall of Fame.

Also on the list of newly minted members are Lincoln Center Theater Artistic Director Andre Bishop, director Trevor Nunn, actor/singer Betty Buckley, playwrights Christopher Durang and Paula Vogel, actor Sam Waterston and, posthumously, costume designer Martin Pakledinaz.

The official 2012 induction ceremony will take January 28, 2013 at the Gershwin Theatre in New York City.


GET WELL SOON TO . . . .


BONNIE FRANKLIN who has been diagnosed with pancreatic cancer.

Franklin was in the original Broadway production of Applause, earning a 1970 Tony Award nomination. She also appeared in Dames at Sea and A Thousand Clowns.

The delightful Franklin gained household name recognition starring as single mom Ann Romano in the hit CBS comedy One Day At a Time, which aired from 1975 to 1984. Her co-stars included Mackenzie Phillips and Valerie Bertinelli.



SOMETHING'S AFOOT book, music and lyrics by James McDonald, David Vos & Robert Gerlach, and additional music by Ed Linderman.

Directed and choreographed by Vince Pesce.

An old English mansion. A raging thunderstorm. Ten strangers.

Murder, mystery, music and comedy abound when the guests disappear one by one – knocked off by cleverly fiendish devices.

Join the fun as Miss Tweed the amateur sleuth sets out to solve the crimes…but the butler didn't do it!

With songs like I Owe It All To Agatha Christie, it's bill as a zany whodunit for all to enjoy.

Starring Ed Dixon, Hunter Ryan Herdlicka, Audrie Neenan and Lynne Wintersteller.

Something's Afoot plays the Goodspeed Opera House in East Haddam, CT, October 5-December 9.

POESIE, SANDWICHS ET AUTRES SOIRS QUI PENCHANT Original idea and artistic direction by Loui Mauffette.

With: Betty Bonifassi, Nathalie Breuer, Anne-Marie Cadieux, Anne Casabonne, René Richard Cyr, Bénédicte Décary, Maxime Denommée, Clara Furey, Stéphane Gagnon, Émilie Gilbert, Simon Lacroix, Benoit Landry, Julie Le Breton, Fanny Mallette, Loui Mauffette, Yves Morin, Iannicko N'Doua, Patricia Nolin, Yann Perreau, Éric Robidoux, Sasha Samar, and other surprise guests.

According to Loui Mauffette, the orchestrator of this madcap, constantly reworked score, poetry can be compared to "wearing mismatching socks, placing shirt buttons in the wrong buttonholes or kicking long-dead traffic lights back to life".

From Marie Uguay to Nelligan and Patrice Desbiens to Aragon, the traditional poetry evening undergoes shock treatment in this joyous mess of words, unleashed and festive and brought to life by actors, singers, dancers and musicians.

The twenty guests seated around a huge kitchen table may be wild and crazy at times, but demonstrate that words still have the power to bring us together, striking a resonant chord and inciting change. All the senses are invited to this banquet of staged poems.

Spectators are asked to leave bad moods at the door.

Artistic consultant: Maxime Denommée (2012 Edition), Assistant: Marjorie Bélanger, Lightning: Étienne Boucher, Musical director: Yves Morin, Excerpt from La pornographie des âmes, with the authorization of Dave St-Pierre.

October 3 - 6, 2012 at the National Arts Centre in Ottawa, Ontario, Canada.

FRATERNITY by award-winning playwright/screenwriter Jeff Stetson. Directed by Henry Miller.

Three weeks after Dr. King's seminal "I Have A Dream" speech, a bomb destroyed an Alabama church, murdering four young girls and shattering the dream that had inspired so many. Set in a private club in 1987, Jeff Stetson's Fraternity explores the journeys of seven successful black community leaders whose lives were forever affected by that tragedy. It examines what happens to those who seek power, privilege and inclusion, while abandoning the sacrifices that made their success possible.

The cast features: Harvy Blanks as Rev. Wilcox, Ron Canada as Turner Greystone, Rocky Carroll as Paul Stanton, Robert Gossett as Lawrence 'Turk' Maddox, Nasir Najieb as Brandon Carrington, Tony Award winner Roger Robinson as Charles Lincoln, and William Allen Young as Preston Gherard.

In addition to director Henry Miller, the creative team includes scenic design by Edward E. Haynes, Jr., costume design by Wendell C. Carmichael, lighting design by Elizabeth Harper and sound design by Bob Blackburn. The production stage manager is Sheldon P. Lane.

The political drama play October 3 – 28, 2012, with the official press opening on Friday, October 5 at the Nate Holden Performing Arts Center in Los Angeles.

THE FREEDOM OF THE CITY by Brian Friel. Directed by Ciarán O'Reilly.

Set in Derry, Northern Ireland during the aftermath of a civil rights meeting, The Freedom of the City revolves around an inquiry into the shooting by British soldiers of three marchers as they emerged from the Guildhall. As the inquiry continues, with testimony from 'expert' witnesses, the play relives the real events that led to its institution.

When the police disrupt the peaceful protest, three unarmed strangers, Lily, a middle-aged mother of 11, and Michael and Skinner, two young men, take refuge from the streets and find themselves inexplicably in the Mayor's Parlor. As the three settle in to the Lord Mayor's opulent office, word spreads about the "occupation" of the Guildhall.

The motley trio is transformed into a band of armed and desperate terrorists, a fiction that is taken up by the church, the media, the army, and nationalist balladeers, all of whom use the myth for their own diverse ends.

The cast includes: Ciaran Byrne, Clark Carmichael, James Russell, Christa Scott-Reed, Cara Seymour, Joseph Sikora, John C. Vennema, Craig Wroe and Evan Zes.

Set Design by Charlie Corcoran. Costume Design by David Toser. Lighting Design by Michael Gottlieb. Original Music by Ryan Rumery. Sound Design by M. Florian Staab. Hair & Wig Design by Robert-Charles Vallance. Props by Sven Nelson. Dialect Coach is Stephen Gabis. Casting by Deborah Brown. Production Stage Manager is Pamela Brusoski and the Assistant Stage Manager is Rebecca C. Monroe.

October 3 - November 25 on the Francis J. Greenburger Mainstage of The Irish Rep in New York City.


WHO'S WHERE


DIANA KRALL the multi-platinum selling jazz vocalist and pianist returns to the Royal Albert Hall in London for a performance on Tuesday, October 3-.

ESPERANZA SPALDING opens a three night stand Monday, October 1, at the City Winery in Chicago. On Friday she appears at the Byham Theater in Pittsburgh. Saturday's show is at the Murat Theatre in Indianapolis.

ALLAN HARRIS performs Wednesday, October 3, as part of Rockefeller Center's Starlight Music Series. Harris will perform on the 67th floor observation deck at Top of the Rock in New York City.

FIONA APPLE performs Monday, October 1, at the Hard Rock Cafe in Orlando, FL. Wednesday's show is at the Tabernacle in Atlanta. On Friday the performance is at The Palace Theatre in Louisville, KY. On Saturday the tour stops at the Aronoff Center for the Arts in Cincinnati, OH.

MELISSA ETHERIDGE is in the spotlight Wednesday, October 3, at the Fox Theater in Oakland, CA. On Saturday she can be enjoyed at the Wild Horse Pass Hotel in Chandler, AZ. Next Sunday, October 7, she's in the spotlight at the Terrace Theater in Long Beach, CA.

ALANIS MORISSETTEentertains Tuesday, October 2 at the Henry Miller Library in Big Sur, CA. On Thursday the show is at Centre for the Performing Arts in Vancouver, BC. On Friday she sings at the Moore Theater in Seattle.


FINAL OVATION


ANDY WILLIAMS the singer and Emmy award-winning TV host died September 25, 2012 at home in Branson, Missouri after a year-long battle with bladder cancer. He was 84.

Williams recorded eighteen Gold-and three Platinum-certified albums. He hosted The Andy Williams Show, a TV variety show, from 1962 to 1971, as well as numerous television specials, and owned the Moon River Theatre in Branson named after his hit song of the same name.

During the 1960s, Williams became one of the most popular vocalists in the country and was signed to what was at that time the biggest recording contract in history.

On August 5, 1966, the 14-story, 700-room Caesars Palace resort/casino opened in Las Vegas, with Williams as the star attraction in the Circus Maximum showroom in an evening billed as Rome Swings. For the next 20 years he would headline that hotel, although his Vegas debut was starring at the El Rancho Hotel with his brothers before he starred at the Sahara Hotel. He also appeared at the Orleans and Hilton Hotels in Las Vegas.

Williams hosted the most Grammy telecasts, from the 13th Annual Grammy Awards in 1971 through the 19th Annual Grammy Awards in 1977, totaling seven consecutive shows.

Neil Portnow President/CEO of The Recording Academy issued the following statement: "Andy Williams' smooth voice and casual style turned the songs he sang into timeless classics and made him one of America's top pop singers. As host of his own weekly variety series, The Andy Williams Show, he helped put both established and emerging talent in front of American audiences. Williams was the first host of the live Grammy Awards telecast and hosted the show for seven consecutive years, beginning with the 13th Annual Grammy Awards in March 1971, at the Hollywood Palladium. The entertainment industry has lost a giant piece of its living history today, but Williams' legacy will forever be enshrined in the annals of music and television. Our deepest condolences go out to his family, friends, and all who will miss this American treasure."

His television Christmas specials, which appeared regularly until 1974 and intermittently from 1982 into the 1990s, were among the most popular of the genre. It was a family format featuring Williams, his wife French-born Claudine Longet, whom he met when he pulled over to aid her on a Las Vegas road. She was a dancer at the time at the Folies Bergere at the Tropicana Hotel. They married on December 15, 1961. The union produced three children: Noelle, Christian, and Robert within the next eight years. The children were also a prominent part of the Christmas specials.

After a lengthy separation, Williams and Longet divorced in 1975. In March 1976, however, when Longet was charged with fatally shooting her boyfriend, alpine ski races Spider Sabich in Colorado, Williams played a significant public role in the legal events, escorting her to and from the courtroom, testifying to her character at the trial, and providing legal assistance. Longet claimed the shooting was accidental, and eventually received 30 days in jail, which was served at her convenience.

In addition to his children, Williams is survived by his second wife Debbie Meyer whom he married on May 3, 1991.

MANNY FOX recording and theatrical producer and director died September 23, 2012 in Phoenix, AZ, as a result of complications from a heart condition. He was 77.

Born and bred in New York City, his first New York production was a 1959 Greenwich Village revue The Roots of Jazz, staged at the Cherry Lane Theatre.

He regularly produced jazz festivals featuring the likes of Louis Armstrong and Sarah Vaughan, and folk festivals at Carnegie Hall with Chuck Berry, Johnny Cash, Muddy Waters, Phil Ochs, Buffy Sainte-Marie and the Staple Singers.

A five-disc retrospective of Duke Ellington produced by Fox led to the idea of presenting the Ellington revue Sophisticated Ladies.

The show ran for two years on Broadway, made a star of Gregory Hines and was nominated for several Tony Awards, including Best Musical. Mr. Fox produced five subsequent companies of Sophisticated Ladies throughout the world, including stagings in Japan and Russia.

Sophisticated Ladies was also the first live Broadway musical to be streamed on Pay-Per-View television and was also released as a DVD special.

As well as being able to boast more than 24 celebrated hit anthologies of tracks from the likes of Bing Crosby and Louis Armstrong, Fox also also produced albums featuring Orson Welles' broadcast of The War of the Worlds; The Golden Age of Comedy, narrated by George Burns; and Showstoppers, a collection of 50 performances by the original casts in Broadway musicals that included Ethel Merman, Rex Harrison, Barbra Streisand and Ezio Pinza.

He is survived by his four sons, Stephen, Richard, Jon and William, as well as three grandchildren.








Next Column: October 7, 2012
Copyright: September 30, 2012. All Rights Reserved. Reviews, Interviews, Commentary, Photographs or Graphics from any Broadway To Vegas (TM) columns may not be published, broadcast, rewritten, utilized as leads, or used in any manner without permission, compensation and/or credit.
Link to Main Page
---
Laura Deni



For the snail mail address, please E-mail your request.
CLICK HERE FOR COMMENT SECTION