! >
Broadway To Vegas
  
 SHOW REVIEWS CELEBRITY INTERVIEWS GOSSIP NEWS

| | |
| --- | --- |
| | |
APPOMATTOX WORLD PREMIERE - -AN EVENING WITH MARY TYLER MOORE - - ANDRE AGASSI'S GRAND SLAM - - INSIGHTS CELEBRATES ARTISTIC WORK OF THE BLIND - - NOHO ARTS SCENE - -SCULPTOR RUTH ASAWA RECEIVES MAYOR'S AWARD - - PETER NERO AND THE PHILLY POPS - - LOU DIAMOND PHILLIPS GETS SIMULATED - - DONATE . . . Scroll Down


Copyright: September 30, 2007
By: Laura Deni

CLICK HERE FOR COMMENT SECTION
NOHO ARTS SCENE - BETWEEN FUNKY AND CORPORATE


When funky meets corporate the off-spring can be a mating disaster - or in the case of the North Hollywood NoHo Arts District - an eclectic romp well grounded.

This Saturday those that call this place home will open up their doors for NoHo Scene, an All Day Celebration of the Arts offering a true taste of unique NoHo Arts District.

The NoHo Arts District in NOrth HOllywood, California is "Where the Arts are Made." This one-square mile community is filled with an array of entertainment options for the artist, arts lover and the art curious. The area residents are proud to have the following cutting-edge venues in just one-square mile:

22 professional, award-winning theatres producing adventurous, new work
Indoor & outdoor art galleries from mainstream to underground art
Professional dance studios that create "the moves" we see on stage, TV and film
Largest concentration of music recording venues in the U.S.
Home to the Academy of Television Arts & Sciences and the world-famous Emmy Statue
Resale boutiques and costume capital
Annual arts festivals and special events for all arts lovers
Due to its close proximity to Hollywood, NoHo is filled with the "behind the scenes" partners that help make movie magic. Studios and productions come to NoHo for their costume companies, makeup artists, special effects companies and photo studios.



The Carlos Gardel Tango Festival featuring Sandor and Parissa of Broadway's Forever Tango will offer Tango lessons. Photo; Teatro de las Aries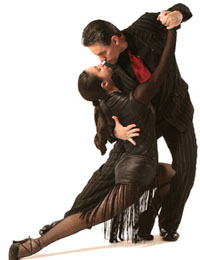 Shane Sparks from the hit show So You Think You Can Dance? will show off some of his own moves as well as judge a dance contest. Photo; Millennium Dance Company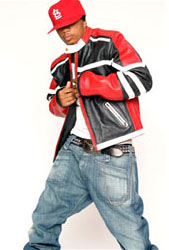 This Saturday's NoHo Scene is an all day celebration of the arts that offers free theater, dance and music performances; improv and acting workshops; art exhibits and demonstrations; film screenings; an array of samples and discounts from local eateries and boutiques; a performance and free Tango lessons from the stars of Broadway's Forever Tango, courtesy of The Carlos Gardel Tango Festival; an awesome dance contest, judged by Shane Sparks from the hit show So You Think You Can Dance? who'll also show off some of his own moves; an Art Battle - a live-art competition where artists are given three hours to create a painting in front of an audience and the public chooses the winner; and entertainment from cookin' and slammin' Jack Mack and the Heart Attack.

Nancy Bianconi who, with her daughter, Lisa, owns NoHo Communications Group, a marketing and production firm that handles the majority of marketing for the NoHo Arts District, spoke with Broadway To Vegas about this happenin' place.

"We are fortunate because the Redevelopment Agency of the City of Los Angeles is actually the producer. We have been hired to coordinate with them. Even though we are the producer we still have to get permits. We still have to make sure that we are in compliance with regulatory agencies like fire and building safety. We have to have a security plan. It's a public event. You have to hire a clean up crew."

"This is North Hollywood, which is in the City of Los Angeles. This district has had an arts type of event for the last 14 years, but this is the first year for this particular event," she continued. "During other events we have been very successful in not having gang problems or security risks."



Halloween arrives early with a free performance of Edgar Allen Poe's The Black Cat. L. to R. Shaun-Mathieu Smith, Ana Rey and Chase Mallen. Photo by Zombie Joe.
"For an events coordinator, this isn't a massive undertaking," she insisted. "I've been doing this for 35 years. The first thing I do is a time line, which is the most important thing you can do. It outlines in detail every single task that you or a designated person does, the person who is responsible for it and the start and stop date."

"Because we do the marketing for the NoHo Arts District we have a relationship with the theatres, galleries, non-businesses. Luckily, we have communication and a sense of trust with each other."

"It is a growing area," she stressed. "Real estate developers and businesses are pouring in. Previously the area was blighted, run down and the city decided that there needed to be something to bring back businesses to the commercial corridor. They contracted with some very large developers to do apartment buildings and condominiums and home ownership programs. They are what we call mixed used development. We have a lot of retail coming in. Some corporate retail and we do have smaller boutique shops. They are not part of the chain stores across the country - the mall stores. They are individual stores. At least half of them the new ones coming in are small business with a uniqueness."

"The price of our property rentals are going up," she reported of a positive indicator that the blight is turning to bright. "We are seeing a lot of foot traffic. In all cities the arts districts began as blighted, then they become funky and then corporate. We are trying to stay in-between funky and corporate."

"It takes a little bit of both, I have to admit."

"There were a lot of crime problems for people who were both living and working here. With developments and corporations coming in, the crime unbelievably decreases."



"It's my kind of scene," said Ed Begley, Jr. "There's so much to do and you can walk to everything. That's a big part of the NoHo arts community for me."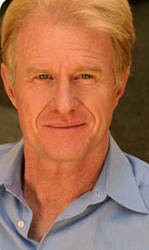 As to Saturday's event she gleefully predicted that attending will be "over 7500 people over the course of the one day."

As Bianconi explained, tickets are distributed by each venue or event in compliance with Fire Department /Occupancy Codes.

Visitors will be able to see production numbers from Ed Begley Jr.'s musical Cesar & Ruben that chronicles the life of activist Cesar Chavez, ( See Broadway To Vegas column of March 30, 2003 ) and from The Marvelous Wonderettes - the smash hit running nearly a year at NoHo's historic El Portal Theatre.

Offering up free sample performances are more than 17 theaters and acting companies such as Actors Forum Theatre; Actors Workout Studio; Antaeus Company; Avery Schreiber Theatre; Deaf West; El Portal Theatre; The Hub; Lonny Chapman's Group Repertory Theatre; New Place Theatre/Andak Stage Company; NoHo Arts Center; NoHo London Music Hall; The Raven Playhouse; The Road Theatre Company; Secret Rose Theatre; Sherry Theatre; Theatre Tribe and Zombie Joe's Underground - including the presentation of new works, revived classics, dramas, musicals and comedies. Free performances will be offered throughout the day.



Comedy troupe Dynamite Kablammo (L. to R. Greg Kaczynski, Dane Biren, Matt DeNato, Dana DeRuyck) at Zombie Joe's Underground. Photo by Steve Yager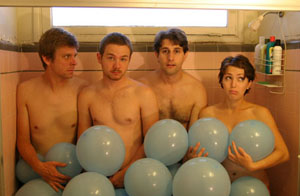 At the Secret Rose Theatre excerpts from the World Premiere And the Winner is… written & performed by Tony Award-winner Sammy Williams (A Chorus Line); how stage discovered Sammy & how he discovered his passion for dance; Developed through Solo Factor, a one-person show workshop held at the Secret Rose.

The NoHo Arts Center was formed in 2004 by theatre veterans James J. Mellon and Kevin Bailey. Open at the Top is the Center's resident company and now numbers over 60 actors, directors and writers. This past season OATT presented the World Premiere of Feed, a play written by OATT Founding Member Jim Lunsford and directed by Artistic Director James J. Mellon as well as presenting the West Coast Premiere of the New York hit musical revue, Bush Is Bad, The Musical.

Their latest production The Drawer Boy, written by Michael Healey and directed by Chris Brown, officially opens on Friday, October 5 and will run for six weeks through Sunday, November 11 at the NoHo Arts Center.

The Hub Theater is NoHo's newest venue for theater, music, comedy, variety nights and musical performances to improv shows and original productions.

"We jumped on board immediately," Hub producer Matthew Dickens told Broadway To Vegas. "Rich Crater the owner of The Hub has been making a lot of renovations in preparations for the festival. We've made the stage larger. We've made some stairs safer going to the stage. We put in an extra door. We didn't have to do any security. We have just sort of dolled up The Hub - getting it dressed and ready to open itself to visitors. It is a theatre and we welcome everybody in. Those are permanent changes, which we just geared up for the NoHo Scene and the opening of our new show, which opened September 23." Called A Wild Night at Kirby's, it's a variety show created by Dickens which runs through December.

"We have our show performing at 10 p.m. right as the festival ends, so we will traffic people in who are still at the festival into The Hub. During the day, we are having an open house at noon to let people know what is going on at The Hub - classes we offer, new productions coming in. Between noon and 10 pm are a series of comedic One Minute Monologue. Rich Crater teaches acting in Santa Barbara, so he is bringing his students down to showcase their monologues. Improv International is an Improv group that works out of the Hub."

"I limited it to one minute comedy and I want them back to back. They literally have one minute because I'm going to hit a bell. It will last 20-25 minutes and we want it to be entertaining for the audience."

"We also have a live acoustical guitarist, Asa Danekind from Ohio."



Matthew Dickens
A graduate of The Duke Ellington School of the Arts in Washington, DC. and a scholarship recipient from the Alvin Alley School, Dickens was born in France the son of an African-American military man and a Pilipino mother. As a performer, Dickens appeared on Broadway in the revival company of Dreamgirls, and was a member of the original company of Sunset Boulevard starring Glenn Close.

"I was in Sunset Boulevard from beginning to end - from Los Angeles with Glenn Close then to Broadway with all three of the stars - Glenn Close, Betty Buckley and Elaine Paige. I left for eight months to perform Smoky Joe's Cafe in Australia. Smokey Joe's Cafe is a great musical for any of us to do because everybody gets their part, its energetic and it's also short and to the point. It is the perfect musical revue."

Other Broadway credits include the roles of Chris (the only African-American to play this role) and John in Miss Saigon, also performing the role of John in Miss Saigon, in Dutch, at the Circus Theater in Holland.

"When Sunset Boulevard closed, Cameron Mackintosh invited me to do the Dutch version of Miss Saigon. It was all Dutch. In the degree of difficulty, Dutch is the second most difficult language next to Mandarin. People may say Dutch is easy to learn, but the pronunciation has to be perfect or the Dutch people won't understand what you are saying. A coach taught me how to change the vowel placement and place the words and singing in the front of my mouth," he related as opposed to say German, which is a guttural-throat language.

"I learned it phonetically, then the word for word translation and then I put on top of that the emotional intent. I had a daily coach. My first performance in front of a Dutch audience was three weeks after I started. It was a wonderful experience, but a challenge. It was something that I had to continually work on daily for the entire nine months."

Dickens was a featured singer in Phylicia Rashad & Company opening for Bill Cosby at the Las Vegas Hilton, and starred opposite Debbie Allen in Pearl at the Kennedy Center (DC) and the Geffen Playhouse (LA).

So why come to NoHo?

"I moved back to LA because I thought it's time to get my roots back to America," he answered.

"I worked a lot in Hollywood as a dancer. I did the movies Rent and Dream Girls - all of the award shows - the Academy Awards and the Emmy shows. While in Hollywood it was nice to discover this small theatre where I can workshop ideas. The arts district is really growing - becoming an artistic hub for theatre and comedy. It is growing into this wonderful area for artists. I'm glad I got in there at the beginning."

"The festival has tickets," he continued about the Saturday event. "Our tickets stay The Hub 1p.m; The Hub 2p.m. We can only give out 50 tickets for each time period."



NoHo Scene from 11am-10pm features free theatre, dance and music performances; art exhibits and workshops. Photo: NoHo Communications Group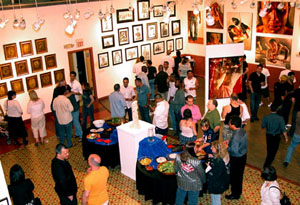 "What we have done in the district is to make sure people will come to the theatres to see performances during the day," continued Bianconi. "They will visit the galleries and the dance schools. We have over 50 businesses offering deep discounts on that day."

"We have rented three double-decker busses and we have actors who have volunteered to act as tour guides, she giggled. "It's going to be such fun. We hope they will be costumed and the busses will tour throughout the district. "All of the actors live or work in the area. We know and love these actors and many of them have been in Broadway shows."

"I love what I do," bubbled Bianconi. "I love the arts. I am blessed with working with the Arts District. I would love to be an actor, but I have no acting talent, so I do what I know how to do and have skills for - this is the way I can do my part."

Perhaps she can take her bow Saturday night. How about walking into the middle of the street - as the street cleaners hold up an arch of brooms?

She laughed. "Having a lot of people see what NoHo is all about is all the applause I need."



SAN FRANCISCO MAYOR GAVIN NEWSOM'S FIRST ANNUAL MAYOR'S ART AWARD

Ruth Asawa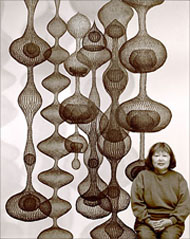 to be presented to Sculptor Ruth Asawa at a reception hosted by the San Francisco Arts Commission on Monday, October 1.

Ruth Asawa is an American artist, who is nationally recognized for her wire sculpture, public commissions, and her activism in education and the arts. In San Francisco, she has been called the "fountain lady" because so many of her fountains are on public view.

When Ruth was 16, she and her family were interned along with 120,000 other people of Japanese ancestry who lived along the West Coast of the United States. For many, the upheaval of losing everything, most importantly their right to freedom and a private, family life, caused irreparable harm. For Ruth, the internment was the first step on a journey to a world of art that profoundly changed who she was and what she thought was possible in life. In 1994, when she was 68 years old, she reflected on the experience: "I hold no hostilities for what happened; I blame no one. Sometimes good comes through adversity. I would not be who I am today had it not been for the Internment, and I like who I am."

"The Mayor's Office and the Commission conceived of this award, and selected Ruth Asawa as its inspiration, to recognize the City's vibrant arts culture, and people like Ruth who make it that way," said Arts Commission President P.J. Johnston.

Her legacy as an artist and as an arts education advocate is unparalleled in San Francisco. Many of Asawa's sculptures are permanently displayed at the de Young Museum in Golden Gate Park, and her commitment to bringing art to the San Francisco schools has touched thousands of students' lives over several decades.

"Ruth Asawa's work exemplifies the Arts Commission's own commitment to public art, neighborhood arts programs, art in schools and after-school, individual artistic achievements — all these things together that give San Francisco its unique character as a city," said Johnston.

October 1 also marks the start of National Arts and Humanities Month (NAHM). From arts center open houses to mayoral proclamations to storefront banners and newspaper articles, thousands of communities across the United States will be participating in recognizing the nation's cultural treasures.


ART AND ABOUT


18TH ANNUAL INSIGHTS a juried art exhibition of works by artists who are blind or visually impaired. Presented by the LightHouse at the San Francisco Arts Commission Gallery in City Hall, the show emphasizes the diverse range of how people express themselves and how they see. INSIGHTS will run October 4 through December 7th, with a public opening reception on Thursday, October 11th.

"INSIGHTS is the venue that both celebrates the work of talented artists who are blind or visually impaired and raises the general public's awareness of visual impairment. The exhibition also sets an example for all exhibitions to follow by making the art accessible to individuals with visual impairments who attend the show, " said Anita Shafer Aaron, Executive Director of the LightHouse.

This year, jurors Jack Fischer of Jack Fischer Gallery, Melissa Rinne of the Asian Art Museum, and artist Gay Outlaw selected 39 artists from 27 communities spanning San Francisco to Scotland who demonstrated that they have not allowed vision loss to hamper their artistic talent or expression.

Now in its 18th year and growing in size and scope, the INSIGHTS exhibition will include solo shows by 3 featured artists: East Bay two-dimensional artists Lois Ann Barnett and Lacee King, and sculptor Martha Cowden of Ohio. The show will feature work by several blind photographers, including Sacramento's Pete Eckert, a blind photographer who appeared on NBC's Today Show in May. Irvine's Bruce Hall has previously exhibited at the Smithsonian Institution, and photographer Kurt Weston's work has been widely exhibited throughout the country, from the Berkeley Art Museum to the National Gallery in Washington D.C.

INSIGHTS invites sighted, blind and visually impaired viewers alike to experience the artwork. Touchable sculpture, Braille and alternative format materials, as well as a full audio description including interviews with the artists offer multiple ways to engage the viewer in the art. This year's audio tour will be recorded using state of the art technology provided by Guide By Cell.

The LightHouse, a nonprofit organization, helps individuals live independently with vision loss.



Broadway To Vegas is supported through advertising and donations. Priority consideration is given to interview suggestions, news, press releases, etc from paid supporters. However, no paid supporters control, alter, edit, or in any way manipulate the content of this site. Your donation is appreciated. We accept PAYPAL. Thank you for your interest.


SPREADING THE WORD


SUZI GABKIK: MY TIME WITH MAGRITTE Acclaimed art critic and author Suzi Gablik reads from her most recent autobiographical book Living the Magical Life: An Oracular Adventure. This memoir offers a glimpse into her life and work including eight months living with acclaimed surrealist artist Rene Magritte and his wife. After the reading Gablik participates in an informal discussion related to her time spent in the Magritte household. Gablik will also draw material from her monograph Magritte. This free program is offered in support of the Department of Theatre and Dance production This is Not A Pipe Dream by Barry Kornhauser. His play explores the dreams and wishes of renowned artist Rene Magritte as a young boy. As a child he is told by his father that his desire to become a painter is merely a "pipe dream." He perseveres and becomes a painter who works with the style of surrealism to understand the world and communicate with it. Thursday, October 4, TCVA Lecture Hall, Turchin Center for the Visual Arts, Appalachian State University in Boone, North Carolina.

ZANDRA RHODES IN CONVERSATION in association with English National Opera, the celebrated fashion designer talks to the writer and broadcaster Paul Allen about her career and her recent designs for the English National Opera's new production of Aida.

Taking place October 5 as part of The Victoria & Albert Friday night Lecture Theatre program which features big names from the world of design, art and culture. Talks last approximately 50 minutes. Victoria & Albert Museum in London.

AN EVENING WITH MARY TYLER MOORE This evening celebrates Mary Tyler Moore's diverse and highly acclaimed contributions to the medium of television. Our conversation will focus on the profound impact her work has had on the portrayal of women on television. Laura Petrie and Mary Richards remain icons of modern, articulate, intelligent women, and their influence is felt in all of the strong, funny, self-reliant female characters who have followed.

Thursday, October 11 at The Paley Center for Media in New York City.


SWEET CHARITY


ANDRE AGASSI'S GRAND SLAM which is celebrating its 12th year, will benefit at-risk youth in Southern Nevada.

Performing will be Tony Bennett, Kelly Clarkson, Matchbox Twenty, Carlos Santana, George Wallace and Jerry Seinfeld.

Grammy-award winning producer, arranger and composer David Foster will return for his 12th year as musical director. The October 6 event will be held at the MGM Grand Garden Arena in Las Vegas.


OTHER PEOPLE'S MONEY


STAMFORD CENTER FOR THE ARTS for the first time in four years, has reported a balanced budget for their fiscal year, a crucial step toward financial stability. In the upcoming season, Stamford Center for the Arts, located in Stamford, CT, has not only tripled the number of performances, but has also returned to producing theatre with some of the finest directors, designers, and actors in the business. SCA has also doubled the number of education and outreach programs it offers the community.


CURTAIN DOWN


LONE STAR LOVE a retelling of The Merry Wives of Windsor set in the Wild West, was to have opened Dec. 3 at the Belasco Theatre in NYC. It will play its final performance Sept. 30 in Seattle, where it received mixed reviews. The show will have played for a total of 11 previews and 15 regular performances.

Producers pulled the plug on the $6.5 million show after on-going backstage bickering and clashing repeatedly with their star, Randy Quaid, and his wife and manager, Evi.

The production starred Quaid as Colonel John Falstaff, Robert Cuccioli as Frank Ford and Dee Hoty as Margaret Anne Page.

The musical is conceived by John L. Haber, with a book by Robert Horn and Haber and a score by Red Clay Rambler Jack Herrick. An earlier version of the show opened at off-Broadway's John Houseman Theatre in December 2004 and was recorded by PS Classics.



APPOMATTOX an opera by Philip Glass. Libretto by Tony award winner Christopher Hampton. Music by Philip Glass. World premiere commissioned by the San Francisco Opera.

It was a turning point in American history, and the climax of a powerful personal drama about two proud men. After four years and the loss of 600,000 lives, Confederate General Robert E. Lee surrendered to his Union counterpart, General Ulysses S. Grant, in Appomattox Court House, Virginia, bringing the Civil War to an end.

The intense emotions of this landmark day and the historic weeks leading up to it are compellingly conveyed by the hypnotic music of Philip Glass in this highly anticipated world premiere. The dazzling creative team includes Academy Award winner Christopher Hampton (librettist), renowned stage director Robert Woodruff (director) and acclaimed champion of new music Dennis Russell Davies (conductor).

Starring baritone Dwayne Croft as Robert E. Lee and the bass-baritone Andrew Shore as Ulysses S. Grant.

Set Designer: Riccardo Hernandez. Costume Designer: Gabriel Berry. Lighting Designer: Christopher Akerlind.

To celebrate this historic world premiere The San Francisco Opera is staging numerous special events presented by their community partners, including performances, lectures and activities throughout the Bay Area.

During the production run - October 5-24 - the San Francisco Opera presents Appomattox Opera Talks, These are informative 25-minute talks presented by Sara Jobin prepare listeners to enjoy the opera. Opera Talks begin 55 minutes before each performance in the orchestra section of the Opera House.

War Memorial Opera House. Free to opera ticket holders only.

The final dress rehearsal on October 2 is a donor event. Individual Donors $7,500+ and Corporate Council $10,000. Donor card required for admission.

The production opens on October 5.

1776 Music and Lyrics by Sherman Edwards. Book by Peter Stone. Based on a concept by Sherman Edwards. Directed by Rob Ruggiero. Choreographed by Ralph Perkins.

Our nation's founding fathers fight for our freedom and draft the Declaration of Independence before your very eyes. Sparks fly as John Adams plots, the delegates vote, Thomas Jefferson writes, and George Washington waits, but it takes wily and wise Ben Franklin to save the day. It's a riveting musical filled with history, humor and, of course, romance.

History is brought to life - John Adams is played by Peter A. Carey. Ben Franklin is portrayed by Ronn Carroll. Edward Watts is cast as Thomas Jefferson. Richard White plays Richard Henry Lee. Playing the role of Edward Rutledge is Glenn Seven Allen. Jay Goede who originated the role of Frog in the Tony Award-winning Broadway production A Year With Frog and Toad has the park of John Dickinson. Abigail Adams is brought to life by Jayne Paterson. Martha Jefferson is played by Teal Wicks. The role of Connecticut Delegate Roger Sherman is played by Greg Roderick. Paul Jackel makes his Goodspeed Musicals debut as Robert Livingston. Christopher Kauffman acts as The Courier. The notable John Hancock is played by Alan Rust who is Director of the Theatre Division at the Hartt School. Jack Agnew makes his Goodspeed Musicals debut as Dr. Josiah Bartlett.

Broadway veteran John Newton plays Stephen Hopkins. Michael A. Pizzi is cast as Lewis Morris. James Wilson is played by Marc Kessler. Trip Plymale is portraying Caesar Rodney. Jerry Christakos is cast as Jonathan Witherspoon.

Kenneth Cavett is playing Col. Thomas McKean. George Read will be played by Dean Bellais. Samuel Chase will be portrayed Paul Carlin. Michael Cartwright will be acting as North Carolina's Joseph Hewes. Dennis Holland makes his Goodspeed Musicals debut as Dr. Lyman Hall of Georgia. Secretary Charles Thompson is played by Charlie Tirrell and John Costa plays Custodian Andrew McNair. Returning to Goodspeed Musicals as Leather Apron is Marcellus Waller. The swings for this production are Kristofer Holz and Erin Williams.

Choreographer Ralph Perkins is the Director of Dance for the Theater Division of the Hartt School of Music and Artistic Director and co-founder of The New Works Project in Las Vegas, NV. Based in Hartford, CT his involvement in Las Vegas includes EFX with Tommy Tune and David Cassidy at the MGM-Grand Hotel, Siegfried and Roy at the Mirage, Legends in Concert at the Imperial Palace and Melinda, the First Lady of Magic at the Sahara, Sands and Lady Luck Hotels.

Scenic designs will be by Michael Schweikardt. Costumes will be designed by Alejo Vietti. The Music Director for 1776 is Michael O'Flaherty. He is in his 16th season as Goodspeed's Resident Music Director. William J. Thomas is assistant music director. Orchestrations are by Dan DeLange. Lighting design by John Lasiter.

Officially opened on September 28 with performances through December 2 at Goodspeed Musicals in New Haddam, CT.

MAURITIUS by Theresa Rebeck. Directed by Doug Hughes, the production stars: F. Murray Abraham, Dylan Baker, Bobby Cannavale, Katie Finneran and Alison Pill.

Jackie (Pill) and Mary (Finneran) are half-sisters whose mother's death leaves them in possession of a rare stamp collection. But which sister actually owns the stamps? Which of three men (Abraham, Baker, and Cannavale) can be trusted with their sale?

The creative team for Mauritius includes: John Lee Beatty (Scenic Design), Catherine Zuber (Costume Design), Paul Gallo (Lighting Design), and David Van Tieghem (Original Music and Sound Design), Rick Sordelet (Fight Director), and David Caparelliotis (Casting).

Mauritius, a co-production with the Huntington Theatre Company, officially opens on Thursday, October 4 at the Biltmore Theatre in NYC.

TOO OLD FOR THE CHORUS Book, Music & Lyrics by Marie Cain, Mark Winkler & Shelly Markham. Additional Material suggested by Jill K. Mesaros and Paula Kalustian. Musical Direction by Lisa Lemay. Choreography by Dana Solimando. Directed by Joel Bishoff.

Every seven seconds another baby boomer turns fifty. The formerly young people who were once voted most likely to succeed become the ones most likely to have a heart attack. And a letter from the AARP notifying them of all this great news is immediately sitting in their mail along with their 50th birthday cards. Are the best years still to come, or have they just grown Too Old for the Chorus?

Too Old for the Chorus is a celebration of the generation that vowed to stay young forever!

Performances through October 14th at the La Mirada Theatre for the Performing Arts in La Mirada,CA.

QUEEN IT'S A KIND OF MAGIC takes audiences back to the 1986 world tour of Freddie Mercury and Queen.

Starring Craig Pesco as Freddie Mercury, Travis Hair as Brian May, Brett Millican as Roger Taylor, and David Christopher as John Deacon, Queen It's a Kind of Magic began in England in 1997.

Lighting Design by Creative Concepts. Sound by VibeTribe Ents. Directed by Peter Ross.

Friday, October 5 at the Kodak Theatre in Los Angeles, CA and Saturday, October 6 at the Orange County Performing Arts Center in Costa Mesa, CA.

GOOD HEIF by Maggie Smith. Directed by Sarah Cameron Sunde.

The play, set in a hot, dry landscape, where life is nothing but "diggin' and eatin' and prayin' and sleepin'," finds Lad who's astonished by the arrival of his manhood. The men of the town laugh at his questions, respond with useless remedies and outsize alarm, and his Pa's advice just won't do. He's forced to wonder whether the devil got into him or whether it's just the lure of what's "over thar?" Against a backdrop of entrenched fear and immobility, Smith's stimulating and provocative new drama has found a way to talk about the danger of ignorance, the necessity of change, and how instruments of community propriety hold fear in place and keep societies, even the smallest ones, in check.

Stars Paul Klementowicz, April Matthis, John McAdams, Barbara Pitts, Yves Rene, Christopher Ryan Richards.

Sets by Lauren Helpern, Lighting by Juliet Chia, Costumes by Olivera Gajic. Sound by Katie Down.

Presented by New Georges, previews begin October 6 at the Ohio Theatre in NYC.

BALLET FOLKLORICO DE MEXICO created in 1952 by acclaimed dancer and choreographer Amalia Hernàndez, Mexico's oldest, finest and most celebrated dance company keeps historic folk dance traditions alive and thriving in a sensory feast of spectacular costuming, whirling colors, traditional music, and glorious ceremonial rituals. Hernàndez researched Mexico's native cultures and created new folkloric dances for stages worldwide until her death in 2000. Her legacy lives on as her company performs in residence at Mexico City's famed Palace de Bellas Artes and a 58-member touring group brings Mexico to the world.

A free Ballet Folklórico de México Pre-Performance Lecture takes place with UVM Associate Professor of Anthropology Luis Vivanco. He'll provides background on Mexican folklore and the cultural context in which it is produced. Professor Vivanco conducts research and teaches on indigenous cultures of the southern Mexican state of Oaxaca.

Thursday, October 4 at the Flynn Center for the Performing Arts in Burlington, VT.

A YORKSHIRE FAIRIE TALE by Thomas H. Diggs. Directed by Nancy Robillard and stars Jessica Arinella, Paul DeCordova, Matt Rashid, Peter Russo, Susan Wands. The Set Design is by Diana Whitten; with Costume Design by Jessica Jahn and Lighting Design by Chris Conti. The play is inspired by the Cottingley Fairy Hoax.

A Yorkshire Fairie Tale is a coming-of-age story about Dulcie, a thirteen-year-old girl, who fakes photographs of fairies in order to save her relationship with her mother, which has been torn apart by the First World War. With the help of Francis, an eccentric male friend, Dulcie manages to create a series of photographs that not only cheer up her mother, but also entertain a nation. Dulcie's celebrity around the faked photos goes too far as her life becomes unbearable watching her mother go "round the bend."

Officially opens October 1 at the Michael Weller Theatre in NYC.


| | | |
| --- | --- | --- |
| | | |
WHO'S WHERE


PETER NERO AND THE PHILLY POPS 2007-08 season opens with Broadway Showstoppers – Best of the Tony's which features selections from shows that have received or been nominated for Tony Awards. Three of Broadway's top talents join Peter Nero and the Philly Pops for this annual favorite. They are Lisa Vroman, Rachel York and Doug LaBrecque. Performances take place on September 30 and October 3 and 5-7, in Verizon Hall at The Kimmel Center for the Performing Arts, Philadelphia.

CHAD & JEREMY with hits like Yesterday's Gone and A Summer Song to their claim, this iconic pop duo brings their latest CD release, Chad Stuart & Jeremy Clyde 2007. Friday, October 5 at The Barns at Wolf Trap in Vienna, VA.

SQWONK & CRAFTY APPLES Jonathan Russell, bass clarinet; Jeff Anderle, bass clarinet; Sky Chari, flute; Jason Levis, marimba, percussion; Aaron Novik, bass clarinet. Works by Becker, Dicke, Waitkus, Russell, and J.S. Bach. October 5 at Old First Concerts in San Francisco.

One of the Bay Area's most active independent concert series, Old First Concerts has been presenting performances of chamber and recital repertoire on a year-round basis since 1970. Artists are attracted by the excellent acoustics, a superb Steinway concert grand piano and a willingness to take programming risks.

MAROON 5 perform Monday, October 1 at the Xcel Energy Center in Saint Paul, MN. On Tuesday they are on stage at the Allstate Arena in Rosemont, IL. Thursday finds them at the Air Canada Centre in Toronto. On Friday they are in the spotlight at the Quicken Loans Arena in Cleveland. Next Sunday the performance is at Nationwide Arena in Columbus, OH.

THE POLICE heading the Stadio Della Apli in Turin, Italy on Tuesday, October 2. On Saturday they can be enjoyed at Croke Park in Dublin, Ireland.

BRUCE SPRINGSTEEN in the spotlight Tuesday, October 2, at the Hartford Civic Center in Hartford, CT. On Friday the place to be is the Wachovia Center in Philadelphia, PA.

MARC ANTHONY AND JENNIFER LOPEZ team up on stage Wednesday, October 3 at the Mohegan Sun in Uncasville, CT. On Friday they are on stage at the Verizon Center in Washington, D.C. Next Sunday they open a two night gig at Madison Square Garden in New York City.

ARLO GUTHRIE has a three night engagement beginning Friday, October 5 at the Guthrie Center in Great Barrington, MA.

STEVE TYRELL performs Thursday, October 4 at the Napa Valley Opera House in Napa, CA,. On Friday he's on stage at the Haugh Performing Arts Center in Glendora, CA. Next Saturday the show is at the Smothers Theatre in Malibu, CA.

JETHRO TULL has a busy week. On Tuesday the show is at the Hult Center for the Performing Arts in Eugene, OR. On Wednesday he's on stage at the Laxson Auditorium in Chico, CA. Then it's off to the Wells Fargo Center for the Arts in Santa Rosa, CA on Thursday. Friday finds him at the Lancaster Performing Arts Center in Lancaster, CA and on Saturday the show is at the Civic Arts Plaza in Thousand Oaks, CA.

JUDY COLLINS singing her hits Friday, October 5, at the Performing Arts Theatre in Roanoke, VA.

CHAD & JEREMY with hits like Yesterday's Gone and A Summer Song to their claim, this iconic pop duo brings their latest CD release, Chad Stuart & Jeremy Clyde 2007. Friday, October 5, The Barns at Wolf Trap in Vienna, VA.

QUEEN LATIFAH musician, television and film actress, label president, author, and entrepreneur performing her Trav'lin' Light Tour October 9 at the Palace Theatre Stamford Center for the Arts in Stamford, CT.

LAURA LEIGH DAVIDSON in That Certain Smile: the music of Sammy Fain. Arrangements, musical & stage direction by Earl Wentz. Opening Friday, October 3 at don't tell mama in New York City.




PIFFLE AND PROFUNDITIES


LOU DIAMOND PHILLIPS the Tony award winner, is currently starring as King Arthur in the national tour of Lerner and Loewe's Camelot, in a production at the San Diego Civic Theatre, which closes this evening. He spent last Wednesday chatting with members of several US Navy Squadrons stationed at NAS North Island as guest of Commanding Officer Captain Tony Gianni and PAO Captain Matt Brown

The son of a Vietnam veteran, Lou was born in Subic Bay and named for a famous Marine hero. During his visit he took a trial drive in a flight simulator, which he thought was more exciting than the movies.

Next Column: October 7, 2007
Copyright: September 30, 2007. All Rights Reserved. Reviews, Interviews, Commentary, Photographs or Graphics from any Broadway To Vegas (TM) columns may not be published, broadcast, rewritten, utilized as leads, or used in any manner without permission, compensation and/or credit.
Link to Main Page
---
Laura Deni


CLICK HERE FOR COMMENT SECTION