! >
Broadway To Vegas
  SHOW REVIEWS     CELEBRITY INTERVIEWS     GOSSIP     NEWS 
| | |
| --- | --- |
| | |
RITA HAYWORTH GALA - - GIMME A BREAK CABARET - - MUSEUM OF SEX OPENS - - DECCA DOES BROADWAY - - MOVIN OUT MOVES IN - - GLENN CLOSE STARS IN STREETCAR - - BRITNEY SPEARS HONORED - - BUDDY GRECO BANKRUPTCY - - DONATE . . . Scroll Down


Copyright: September 29, 2002
By: Laura Deni

CLICK HERE FOR COMMENT SECTION
FROM SIN CITY TO SEX CITY
This summer Las Vegas had a political flap over regulating lap dancing. With legal brothels a cab ride away Vegas has always been a tag bit amused by its Sin City tagline. Now New York has just staked it's claim as Sex City.

On Saturday the Big Apple's latest museum,The Museum of Sex, will open its doors to voyeurs wishing to become educated as to the bawdy history sex and social mores. The press got to titillate at preview shows last week.

The Museum's first installation is NYC Sex: How New York City Transformed Sex in America and will run for 10 months.

Is there a special cleaning crew to feather dust the fake genitalia? Will a dildo deteriorate if sprayed with 409? Maybe you just tell housekeeping to blow it off.

"I thought it was an important undertaking," says Daniel Gluck, the Museum's executive director and founder. He got his inspiration while in a Sushi bar. The decision to pursue the project was more mainstream coming after months of research and conceptual review by a number of renowned academics, historians and artists. "I want the Museum of Sex to be a place where the work and scholarship that has been accomplished by the latest generation of students and researchers in sexuality and gender studies can finally be given a public forum."

The museum's mission is to preserve and present the history, evolution, and cultural significance of human sexuality. In its exhibitions, programs and publications, The Museum of Sex is committed to open discourse and exchange, and to bringing to the public the best in current scholarship.

The Museum of Sex, which has been dubbed MoSex as in MOMA, New York's Museum of Modern Art, is located on two floors of a six-story, 19th century building at Fifth Avenue and 27th Street.

The highly respected Grady Turner, former director of exhibitions at the New York Historical Society, serves as the executive curator.

He has spent the last year collecting items for the museum. Turner estimates that "certainly more than half" of the hundreds of articles that will be exhibited have never been seen by the general public.

Much comes from the world famous porn collection of Ralph Whittington, 57, a retired Library of Congress curator. For 36 years - until his retirement in 2000 - Whittington of Clinton, Maryland, worked at the Library of Congress overseeing the collection of phone books. At home he was the curator of his 30-year $100,000 collection of pornography which he cataloged, indexed, and cross-referenced.



Ralph Whittington in the 1996 King of Porn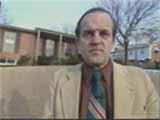 In 1996, documentary filmmaker Jeff Krulik made a six minute movie on Whittington titled King of Porn, shot in one day and edited in one night by Krulik and his brother during the director's stint working at the Discovery Channel. Soon Whittington was featured in Spin magazine - which dubbed him the Librarian of Sexual Congress - and on the Comedy Central network's Daily Show. Whittington turned into a celebrity.

Turner purchased Whittington's porn collection for an undisclosed sum. The sale thrilled Whittington's 85-year-old mother who had moved in with him five years ago. She felt the collection was so large Whittington was having trouble keeping his room clean.

"It's an incredible time capsule of a period in American pop culture when pornography went from an under-the-table, plain-brown-wrapper kind of thing to the mainstream, where you could buy it in any community," Turner has stated.

"Whittington's collection captures the era when court decisions made most pornography legal and the advent of the VCR took porn out of peep shows and made it a multibillion-dollar industry. This is a collection you could not make now," Turner added. "It will be a primary source for historical research and a great repository of pop culture."

500 boxes stuffed with 400 8mm films, 700 videos, 1,500 magazines, 200 books, calendars, posters, blow-up dolls, artificial genitalia, erotic records, novelties, records, bawdy house coins, and a selection of women's high-heeled shoes filled two huge trucks.

When the U-Haul parked on Fifth Avenue and people started unloading boxes marked 'Gangbang' and 'Obese' and 'Ginger Lynn,' a crowd did gather.

How New York City Transformed Sex in America will be presented through six thematic sections beginning with the account of the murder of prostitute Helen Jewett, axed to death in the 1830s, the ensuing trial spurring the city's first media sex scandal. The exhibition delves into the histories of prostitution, "white slavery", birth control, fetish, sexual freedom and obscenity laws. Among recent events, it covers the city's response to the AIDS crisis, the Giuliani-era transformation of Times Square, and the emergence of a new underground.



Gagging Margaret Sanger in the 1920s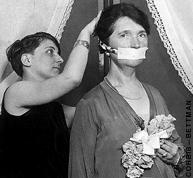 Other displays will include moral crusader Anthony Comstock who, in the late 1800s, proudly boasted he had driven 15 "wicked souls" to suicide, the 1917 jailing of Margaret Sanger for dispensing information about birth control, pornography and censorship, to the 1969 Stonewall riot and the beginning of the gay rights movement in America.

Stories will be told through diverse historic ephemera and photographs from private and public collections, including never-before exhibited material from The Kinsey Institute. Works by photographers Donna Ferrato, Charles Gatewood, George Platt Lynes, Robert Mapplethorpe, Annie Sprinkle, Harvey Wang, among others, will be featured.

Little Egypt has a place of interest in the museum. She was a pre-Hollywood sex symbol created by and personified the Western obsession for the exotic. She was born in an age when showmen, in deliberate Barnum-esque fashion, outdid each other to manipulate the press and mislead the public by fabricating larger-than-life personalities.

Looking for Little Egypt by Donna Carlton is a comprehensive account of the lady who brought the world the hoochy coochy.

Little Egypt was a notorious entertainer of the late nineteenth century. She became front-page news in December 1896 after she danced at a Fifth Avenue bachelor party for a chap named Seeley. The party was raided by the vice squad.

She escaped by hiding in another part of the establishment sipping champagne.

The newspaper headlines turned her into star quality. She was hired by Broadway impresario Oscar Hammerstein I to appear as herself in a humorous parody of the Seeley dinner.

After her Broadway gig Little Egypt formed a touring burlesque company

Mae West, the come up and see me sometime gal, has her place on honor in the Museum. Part of the exhibit includes "Tijuana Bibles" pornographic cartoons, produced and circulated from the late 1920s through the 1940s. Tijuana Bibles edited by Bob Adelman published by Simon & Schuster Editions reprints dozens of these hard-core comics, most of which came from the collection of a woman named Madeline Kripke.

In his introduction, cartoonist Art Spiegelman (who won the Pulitzer Prize for Maus) estimates that some 700 to 1,000 different "bibles" were made during the first half of the 20th Century.

This is the most thorough reprinting yet of the anonymous adults-only cartoon pamphlets that were, as the name suggests, often printed and sold south of the border.

The following historians and scholars have lent their expertise and guidance to the development of NYC Sex: How New York City Transformed Sex in America; Ruth Abram President and Founder, Lower East Side Tenement Museum, New York, NY., Elizabeth Blackmar, Ph.D. Professor of History, Columbia University, George Chauncey, Ph.D. Professor of History, University of Chicago, Patricia Cline Cohen, Ph.D. Professor of History, University of California at Santa Barbara, Martin Duberman, Ph.D. Distinguished Professor of History, City University of New York (CUNY), Timothy J. Gilfoyle, Ph.D. Associate Professor of History, Loyola University, Chicago, Joan Nestle Co-founder, Lesbian Herstory Archives, Jan Seidler Ramirez, Ph.D. Vice President of the Museum, The New-York Historical Society, June M. Reinisch, Ph.D. Director Emeritus, The Kinsey Institute for Research in Sex, Gender and Reproduction, Luc Sante Visiting Professor of Writing and Photography, Bard College, Michael Sappol, Ph.D. Curator-Historian, The National Library of Medicine, Andrea Tone, P.h.D. Associate Professor of History, Georgia Institute of Technology, Mike Wallace, Ph.D. Director, Gotham Center and Professor of History, John Jay College, City University of New York, Suzanne Wasserman, Ph.D. Associate Director, The Gotham Center, Craig Steven Wilder, Ph.D. Professor of History, Dartmouth College.

"New York continues to be the most creatively rich city in the world. To open a new cultural institution here is an honor and we are privileged to dedicate our inaugural exhibition to New Yorkers past and present," said Gluck.

Casson Mann, the UK's foremost consultancy specializing in the design of contemporary museum exhibitions and installations, is responsible for the exhibition design.

The Manhattan law firm of Slater & Beckerman is special counsel to the museum.

All visitors must be 18 or older. Museum reserves the right to check ID. Photography is not permitted under any circumstances



Broadway To Vegas is supported through advertising and donations. Priority consideration is given to interview suggestions, news, press releases, etc from paid supporters. However, no paid supporters control, alter, edit, or in any way manipulate the content of this site. Your donation is appreciated. We accept PAYPAL. Thank you for your interest.


THE MUSIC GOES ROUND AND ROUND


FLOWER DRUM SONG Rodgers & Hammersein's original motion picture soundtrack has been released on Decca Broadway - the first time on CD. The release includes a bonus track of Rosemary Clooney singing Love, Look Away, new liner notes by David Hwang and rare production photos.

Did we mention that this "hundred million miracles" score lives on through generations and revivals? A new Broadway production, officially opening October 17, has a book by Hwang and stars Lea Salonga.

The original Motion Picture soundtrack features classic Rodgers and Hammerstein compositions such as I Enjoy Being a Girl, A Hundred Million Miracles and Love, Look Away.

Set in San Francisco, Flower Drum Song is a comic battle of wills between old world Chinese struggling to hold onto custom and their younger generation who are all too ready to trade tradition for all that is American.

Flower Drum Song originally opened at Broadway's St. James Theatre on Dec. 1, 1958. Directed by Gene Kelly and choreographed by Carol Haney, the cast featured Larry Blyden as Sammy Fong, Pat Suzuki as Linda Low, Miyoshi Umeki as Mei-Li, Juanita Hall as Madam Lian, Arabella Hong as Helen Chao and Ed Kenney as Wang Ta.



Nancy Kwan performing I Enjoy Being a Girl

It ran 600 performances. The classic score features such tunes as Sunday, I Am Going to Like It Here, Chop Suey, and Grant Avenue.

In 1961 Universal International Pictures released the film version directed by Henry Koster.

The epic starred Nancy Kwan as Linda Low, James Shigeta as Wang Ta, Benson Fong as Wang, Jack Soo as Sammy Fong, Juanita Hall as Madame "Auntie" Liang, Reiko Sato as Helen Chao, Patrick Adiarte as Wang San, Kam Tong as Doctor Li, Victor Sen Yung as Frankie Wing, and Soo Yong as Madame Fong.

The movie garnered five Academy Award nominations.

Decca Broadway - bless 'em - is committed to recording the best in contemporary Broadway musicals and to remastering and reissuing classic performances of the best of historical Broadway.

THE MERRY WIDOW part of Decca Broadway's Operetta series are vintage Decca studio recordings and essentially feature musical "highlights." Many of the songs introduced in each show had already become pop standards by the time the albums were produced. The orchestrations and musical arrangements are more representative of the mid-20th century that the age of operetta - fascinating study of how different arrangements can take a song and transform it into a timeless classic.

The Merry Widow features a woman who has some of the best legs ever put on a woman - the person who would become Kitty Carlisle Hart. Then Kitty Carlisle she is joined by Wilbur Evans, Felix Knight, Lisette Verea with the Merry Widow Orchestra and chorus directed by Isaac Van Grove.



Kitty Carlisle Hart Photo By: Laura Deni

Kitty Carlisle was born Catherine Conn in New Orleans. After schooling abroad, she made her debut in an abridged version of the musical Rio Rita which toured in the early 1930s. Her Broadway debut came in 1933 in the "trouser role" of Prince Orlofskyin Champagne Sec the English language version of Die Fledermaus. Shortly afterwards she was signed to a contract with Paramount Pictures appearing in the 1934 musical comedy Murder at the Vanities, in which she and costar Carl Brisson introduced the hit song Cocktails for Two. Later that year Carlisle was cast opposite Bing Crosby in She Loves Me Not, a film memorable mainly for her with Crosby on Love In Bloom.

In 1935 Metro Goldwyn Mayer borrowed her to play opposite Allen Jones in A Night at the Opera, one of the Marx Brothers biggest hits. Larceny With Murder and Hollywood Canteen followed. In 1936 Carlisle returned to Broadway starring alongside William Gaxton in White Horse Inn

In 1946 she married Moss Hart and over the next decade to appeared on Broadway in The Rape of Lucretia, Anniversary Waltz, and Kiss Me Kate.

New generations came to know her as a television quiz show panelist, appearing regularly on Who Said That? and I've Got a Secret. In 1956 she joined To Tell The Truth remaining with the show until it went off the air in 1977.

Carlisle returned to Broadway in the 1983 revival of On Your Toes. In 1976 she was appointed Chairwoman of the prestigious New York State Council On The Arts, a post which she held for 20 years.


JABBER, JABBER, JABBER


NEW GEORGE'S 10th ANNIVERSARY ARTIST'S SYMPOSIUM will take place on October 5. Two panel discussions, each followed by a conversation session, will focus on questions of community.

The Civilians Conversation will have panelists of professional women from fields outside of the arts. It will take a look at the differences and similarities between these career choices.

The Golden Age Conversation poses the question: Don't you always feel like you missed it? Paris in the 20s, the Village in the 50s. Panelists will include artists-who-were-there talking about the "Golden Ages" they experienced. The conversation will then turn to contemporary models of creative communities. A happy hour and net working session will conclude the symposium.

New Georges - Susan Bernfield, Artistic Director, Sarah Cameron Sunde, Managing Director, is an Obie-winning theatre company founded in 1992 which produces highly theatrical new works by women and is also a play and artist development organization.

EVERYTHING OLD IS NEW AGAIN with host David Kenny tonight spotlights the music of Las Vegas residents Steve Lawrence and Eydie Gorme. The show will also will be giving away two pairs of tickets for Jane Oliver's show - in what will be her first New York concert in 20 years. That takes place at The Kaye Playhouse at Hunter College Friday and Saturday, Oct. 4th and 5th. Everything Old Is New Again can be heard every Sunday 9-11 PM(EDT) over WBAI 99.5 FM and on the Internet at http://www.2600.com/offthehook/hot2.ram


OTHER PEOPLE'S MONEY


BUDDY GRECO AND WIFE LEZLIE ANDERS FILE FOR BANKRUPTCY a chapter 7 filed in Las Vegas. The couple owns a $350,000 home, $41,283 in property a 1983 Nissan pickup truck worth $400 and have $55 in cash. They owe somewhere between $500,000 and $1 million. Greco, 76, has recorded over 60 albums.


A LONG ROAD HOME FOR ANDY GRIFFIN


Mayberry Days, which began Friday and continues through tonight, is an annual celebration of The Andy Griffith Show. This Surry Arts Council event brings fans and friends from all over the county together in Andy Griffith's hometown of Mount Airy, North Carolina.

Mayberry Days events take place in locations around Mount Airy, with the Andy Griffith Playhouse being the hub of activity. the special guests joining the celebration this year: Participants this year include Betty Lynn (Thelma Lou), Howard Morris (Ernest T. Bass), Las Vegas resident Maggie Mancuso (Charlene Darling), George Spence (Frank), Doug Dillard (of the Darling boys), James Best (Jim Lindsey) and Harvey Bullock who was one of the premiere writers for TAGS, creating such classic episodes as Opie the Birdman, The Pickle Story and The Loaded Goat.

Neal Brower, the author of Mayberry 101 for many years has taught The Andy Griffith Show class at Community Colleges throughout North Carolina. Neil and Harvey teamed up for a lecture and a book signing. Bullock's lecture included stories and memories of the classic scenes.

Although Griffith, 76, wasn't in attendance this week-end, he is making a rare return to his hometown. In fact the last time he was in Mt Airy was June 1, 1957, when he was greeted with a parade for his movie No Time for Sergeants. What has lured Griffith back to Mount Airy, on October 16 is the dedication of a section of U.S. 52 in his honor.

"He is probably one of the most recognized people, most recognized actors in the country because he's just got that charm," said David Bradley, the president of the Greater Mount Airy Chamber of Commerce. "This is a great opportunity."

Gov. Mike Easley will be the keynote speaker, with Griffith scheduled to speak afterward.



MAC ARTHUR FELLOWS have named 24 new recipients. Each will receive $500,000 in "no strings attached" support over the next five years.The MacArthur Fellows Program - also known as the "Genius Grants" awards unrestricted fellowships to talented individuals who have shown extraordinary originality and dedication in their creative pursuits and a marked capacity for self-direction. There are three criteria for selection of Fellows: exceptional creativity, promise for important future advances based on a track record of significant accomplishment, and potential for the fellowship to facilitate subsequent creative work.

Those with ties to the arts include:

KATHARINE BOO 37, Staff Writer The Washington Post Washington, DC who chronicling the stories of people struggling at the invisible margins of society.

GEORGE LEWIS 50, Professor of Music University of California, San Diego La Jolla, CA a trombonist and composer bridging traditions and opening wide frontiers in experimental music

LIZA LOU 33, glass bead artist from Los Angeles who creates large works of color and complexity that merge fine art and craft.

EDGAR MEYER 41, Bassist and Composer Nashville, TN Bassist and composer fusing classical and bluegrass styles to create an expansive repertoire of American music

JACK MILES 60, Senior Advisor to the President J. Paul Getty Trust Los Angeles, CA Literary scholar and critic interpreting, through the genre of biography, the Bible as literary text with God and Christ as the principal characters.

STANLEY NELSON 48, Director, Producer, Writer Firelight Media / Half-Nelson Films New York, NY a documentary filmmaker synthesizing biography, history, and culture in signature portrayals of the African-American experience.

COLSON WHITEHEAD 32, novelist from Brooklyn, NY experimenting with inventive plots weaving American folklore and history into freshly drawn contemporary stories.


SWEET CHARITY


THE 2002 RITA HAYWORTH GALA themed The Lady From Shanghai, benefiting the Alzheimer's Association, is Thursday October 3, hosted by Hayworth's daughter Princess Yasmin Aga Khan who founded the organization.

Other chairpersons include Andrea Stark and Paulo Costa. The 18th annual event will honor Margo Catsimatidis and will present a special caregiver award to Butch Trucks, lead drummer of the Allman Brothers Band. There will also be a special performance by the Allman Brothers Band.

The festivities take place at the Waldorf-Astoria Grand Ballroom. Black Tie or Asian Splendor attire.

GIMME A BREAK CABARET benefit hosted by the Transport Group will feature more than 20 Broadway stars singing the songs that helped launch them to the Great White Way. This fun evening takes place October 28 at 45 Bleecker. The show will be followed by a Wine and Champagne Reception and a "Huge Fabulous Silent Auction."



Karen Mason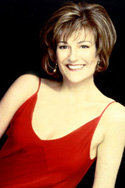 Hosted by Bryan Batt (Forbidden Broadway; currently in Beauty and the Beast). With more expected to hop on board the confirmed performers so far include: Judy Blazer (Titanic; 45 Second from Broadway); Alan Campbell (Sunset Boulevard Tony nom.; Contact); Lewis Cleale (Swinging on a Star; Once Upon A Mattress; currently in Amour); Brian D'Arcy James (The Sweet Smell of Success; MTC's The Wild Party); Daisy Egan (Tony winner for The Secret Garden); Harvey Evans (Oklahoma; original Jet in the film version of West Side Story); Alison Fraser (The Secret Garden; Romance/Romance); Boyd Gaines (3-time Tony winner for She Loves Me, The Heidi Chronicles, Contact); James Hindman (City of Angles; currently in LTC's A Man of No Importance); Laura Kennedy (Side Show; Les Mis; The Last Five Years and Trevor Nunn's South Pacific);

Mary Stout
Alix Korey (MTC's The Wild Party); Liz Larsen (The Most Happy Fella); Sondra Lee (original Tiger Lily in Peter Pan); Karen Mason (Mamma Mia); Debra Monk (Tony winner for Redwood Curtain); Dana Moore (original cast of Fosse; Sweet Charity; Bob Fosse's Dancin'); Kerry O'Malley (Into the Woods); Faith Prince (Tony winner Guys & Dolls, Tony nom; Bells Are Ringing); Sara Ramirez (A Class Act); Anne Rolfsson (Victor/Victoria; Cyrano); Mary Stout (Jane Eyre; Copperfield; My Favorite Year); Barbara Walsh (Tony nom Falsetto's); more names to come!!! Tickets range from $75 single ($140 per couple) to $1,000 per person or ($1500 per couple.

The silent auction will feature over 30 amazing items which include: An original customized song written especially for the highest bidder by legendary Cy Coleman. A walk-on role in one of the hottest shows on television. There is a private two-hour Fosse Master Class given by original Fosse dancer Dana Moore. Autographed piece of tennis equipment autographed by Pete Sampras will be up for bid as will exclusive items donated by Nicole Kidman.

AVON FOUNDATION'S KISS GOODBYE TO BREAST CANCER concert tomorrow night will feature Natalie Cole as the headliner. R&B star Kelly Price, who has family members who have suffered from the disease, is also expected to perform during a pre-show ceremony where Avon will honor five people or organizations that have helped lead the fight against breast cancer. Star Jones of television's The View and actresses Leelee Sobieski and Thora Birch will host the event. Lincoln Center's Avery Fisher Hall, N.Y.C.

BRITNEY SPEARS will be honored for her work with children's charities. The Children's Choice Award will be presented to the 20-year-old by the Neil Bogart Memorial Fund at a Los Angeles gala in early November.



MOVIN' OUT has moved into the Richard Rodgers Theatre, NYC with previews beginning September 30.

The songs of five-time Grammy Award winner Billy Joel and the direction and choreography of two-time Emmy Award winner Twyla Tharp come together in Movin' Out - the story of six lifelong friends told over two turbulent decades. Featuring a remarkable cast of 27 along with 24 Billy Joel classics, there is a revised first act, since nobody - including Billy Joel- liked the beginning when the show played in Chicago.

This show is heavy on dance and Tharp can drive the best to their limits. To give everyone a chance to catch their breath there are different leads and a different singer for the matinees than headline the evening performances.

The evening performances will feature Elizabeth Parkinson and John Selya as Brenda and Eddie, Keith Roberts as Tony, Ashley Tuttle as Judy and Michael Cavanaugh as the vocalist delivering those Joel songs.

On Wednesday and Saturday matinees, Brenda and Eddie will be played by Holly Cruikshank and William Marrie, while David Gomez will be Tony, Dana Stackpole is Judy and Wade Preston is on vocals.

At all performances, Scott Wise will play Sergeant O'Leary and the Drill Sergeant, and Benjamin G. Bowman will portray James.

The show will officially open at the Richard Rodgers in New York on Oct. 24. The October 14 show had a $200.00, $350.00 and $500.00 block of tickets, with proceeds going to the ASPCA. The $500.00 ducats were instantly snapped up.

WHATEVER HAPPENED TO BABY JANE? book by Henry Farrell, music by Lee Pockriss, lyrics by Hal Hackady.

Theatre Under The Stars has secured the rights to produce the World Premiere of What Ever Happened to Baby Jane?, a new musical based on the 1960 novel from which the legendary Warner Brothers film was made.

Novelist Henry Farrell, author of the original novel, as well as the screenplay for Hush, Hush, Sweet Charlotte, is the bookwriter. Music is by Lee Pockriss, noted pop, film and Broadway composer whose hit songs (including Catch A Falling Star and Johnny Angel) have sold over 100 million copies. Pockriss' musical theatre credits include Broadway's Tovarich starring Vivien Leigh and the much-produced Ernest in Love. Lyrics are by Hal Hackady, whose Broadway and West End shows have included Minnie's Boys, Goodtime Charlie, Teddy and Alice, Ambassador and Snoopy.

What Ever Happened to Baby Jane? follows the relationship of Jane Hudson, a one-time child vaudeville star (played by Bette Davis in the film), and her wheelchair-bound sister, Blanche (Joan Crawford), now a former MGM musical star. It combines chilling suspense, dark comedy, and the glamour of a bygone era of vaudeville and Hollywood. The show has been developed in England over the past eight years by British producer Michael Rose including a workshop at London's Victoria Palace Theatre and a fully orchestrated concert performance in Brighton.

The world premiere production will be directed by London-based American David Taylor. Costumes will be designed by Eduardo Sicangco, while Richard Winkler will create the lighting design.

October 10-27 Theatre Under The Stars, Hobby Center, Houston, Texas.

A STREETCAR NAMED DESIRE

Glenn Close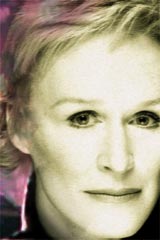 a masterpiece of lyrical heightened naturalism by Tennessee Williams brings three time Tony award winner Glenn Close to the National Theatre in London. She'll play Blanche DuBois, a faded and fragile Southern belle who arrives to visit her younger sister Stella, now living in a seedy district of New Orleans. Blanche is near the end of a downhill path in her life, but she comes repeatedly into confrontation with Stella's sexually aggressive husband, Stanley Kowalski (Iain Glen), whose coarseness both offends and attracts her educated sensitivity. As jazz from the local bars blares through the night, tensions rise to an inevitable breaking point.

This production co-star Iain Glen. The cast includes former Murphy Brown co-star Robert Pastorelli as well as Miquel Brown, Essie Davis, Sam Douglas, George Eggay, Valerie Farr, Jonathan Forbes, Joanna Hole, William Hoyland, Sue Kelvin, Gary Oliver, Jack Pierce, Katherine Reilly, Andrew Westfield, with Lola Bashua and Wendy Morgan.

Directed Trevor Nunn. Set designer is Bunny Christie. Lighting Designer Paul Pyant. Sound Designer Paul Groothuis.

Previews begin September 28. Opening night is October 8 for a run through November 23.

THE PRODUCERS the national tour in Cleveland, Ohio at the Allen Theatre October 1-20.

MY OLD LADY by Israel Horovitz, which began previews at the Promenade Theatre on Sept. 12, officially opens October 3. David Esbjornson directs the cast which includes Sian Phillips, Peter Friedman and Jan Maxwell.

My Old Lady received its West Coast premiere last December at the James A. Doolittle Theatre in Hollywood.

JAZZ AND JITNEY is taking place Friday, October 4 in Louisville, Kentucky. Theatre patrons are being urged to ignite their senses with August Wilson's passionate, explosive drama Jitney starting at 8 pm on October 4. Immediately following the performance, head downstairs to Encore at Actors Restaurant and Bar for Ron Hayden and friends. Have a drink and enjoy the cool tunes from this popular local jazz ensemble. Louisville born Hayden is a musician and composer of jazz fusion compositions. Admission to Encore is free with a Jitney ticket. Performances of Jitney continue through October 19.

SOUTH PACIFIC starring Robert Goulet is at the Orpheum Theatre in Minneapolis October 1-6.

SEUSSICAL THE MUSICAL at the Community Center Theater in Sacramento, CA October 1-13.

THE EXONERATED directed by Bob Balaban, starring Richard Dreyfuss and Kyra Sedgwick begins previews October 1 at 45 Bleecker Street, NYC.

Wrongly convicted, they sat on death row for years. There is nothing that can compare to being on death row when you shouldn't be. Extraordinary legal measures saved their lives. A new play confronts us with their nightmares.

Over the summer of 2000 married authors Jessica Blank and Erik Jensen, traveled across the United States from interviewing 40 of the then 89 former death row prisoners. They went as far south as Texas and Miami, as far north as Chicago, to meet the people whose stories appear in The Exonerated.

As might be expected the stories are dramatic and serious, but there is also hope and gratitude.

Blank double-majored in theater and philosophy at the University of Minnesota, gravitating early in her acting career to documentary theater Jensen, earned a bachelor's in fine arts from Carnegie Mellon University in Pittsburgh. The project began after the authors attended a conference on the death penalty at Columbia University.

Originally developed by The Culture Project, a staged reading took place in November 2000. Richard Dreyfuss, Parker Posey, Blair Brown, Steve Buscemi, David Morse, Cherry Jones, Martha Plimpton, Debra Winger, Ossie Davis and Charles Dutton participated in four benefit performances, including one at the United Nations.

Tim Robbins staged the show at the Actor's Gang in Hollywood where he serves as artistic director.

The Exonerated dramatizes the harrowing nightmares of six innocent people who were accused of heinous crimes they did not commit; were sentenced to death; languished on death row for years and then were mercifully freed. In this production the Exonerated are Kerry Max Cook, Gary Gauger, Robert Earl Hayes, Sonia "Sunny" Jacobs, David Keaton and Delbert Tibbs.

Starring Sedgwick and Dreyfuss The Exonerated begins previews October 1, officially opening October 10.


WHO'S WHERE


POLLY BERGEN found fame with her Emmy-winning portrayal of the great torch singer in The Helen Morgan Story nearly five decades ago. Last year, she was the toast of New York. Audiences and critics gave her sold-out nightclub revue at Feinstein's glowing notices, while her rendition of I'm Still Here brought the house down at every performance of Stephen Sondheim's Follies, which earned her a Tony award nomination.

Bergen will open the Orange County Performing Arts Center's 2002-2003 Elvin and Marjorie Shane Klein Cabaret series with five-performances at the Costa Mesa, California venue Oct. 1-5.

NEIL DIAMOND center stage tonight in Winnipeg at the Winnipeg Arena. On Tuesday he'll sing his hits in Edmonton, Alberta at the Skyreach Centre. On Wednesday the show is in Calgary at the Pengrowth Saddledome and Friday he can be enjoyed in Vancouver at the General Motors Place.

PAUL McCARTNEY will be getting standing ovations Tuesday in Boston, Mass. at the Fleet Center. On Friday Sir Paul is center stage at the Gund Arena in Cleveland, Ohio. The tour stops in Indianapolis, Indiana at the Conseco Fieldhouse on Saturday.

MICHAEL FEINSTEIN at the Orpheum Theatre in Omaha, Nebraska Friday through Sunday.

ELTON JOHN AND BILLY JOEL are a busy twosome. John was in Las Vegas this past week-end entertaining at the Andre Agassi benefit and Joel was in New York getting ready for his Movin Out show. Now the two get together to make up some of those postponed concerts. The canceled April 6, 8 and 11 shows at the Continental Airline Arena in New Jersey will be staged October 2, 4, and October 8.

TONY BENNETT singing Wednesday in Redwood City, California at the Fox Theatre. On Friday the crooner is in Albuquerque, New Mexico at the Isleta Casino and Resort. On Saturday he can be enjoyed in Sedona, Arizona at the George Frontier Pavilion.

DEE DEE BRIDGEWATER on stage Saturday in Madison Wisconsin at the Madison Civic Center.

SMOKEY ROBINSON on stage Thursday in Red Bank, New Jersey at the Count Basie Theatre. Then he's got a two nighter Friday and Saturday at the John Harris Center in Englewood, New Jersey.

PAULA POUNDSTONE Friday in Huntington, New York at the IMAC. On Saturday she is at the Count Basic Theatre in Red Bank, New Jersey.

BRUCE SPRINGSTEEN selling out the Fleet Center in Boston on October 5. The standing ovations on October 6 will be in Philadelphia at the First National Arena. On October 7 the action is in Buffalo at the HSBC Arena.

JOHN McDERMOTT singing and playing the piano on Tuesday in Boston at Symphony Hall. On Friday he'll be at the Westbury Music Fair in Westbury, New York.

MICHAEL BOLTON performs October 2 in Portland, Maine at the Merrill Auditorium. On October 5 the performer is on stage at Foxwoods Casino in Mashantucket, Conn.

ELVIS COSTELLO entertains Tuesday at the Terrace Theatre at the Long Beach Performing Arts Center in Long Beach, California. On Wednesday he is center stage at the Dodge Theatre in Phoenix, Arizona. Thursday finds him at the Paolo Solen Amphitheatre in Santa Fe, New Mexico. He closes out the week, Saturday, performing at the Bronco Bowl in Dallas, Texas.

PATTI LuPONE October 4 at the Tillis Center at Long Island University in Greenvale, NY in her Coulda, Woulda, Shoulda show.

BARBARA COOK sings October. 1-5 at the Merriam Theatre in Philadelphia, PA.

BERNADETTE PETERS in the spotlight October 5 at the Sundome Center in Sun City West, AZ.

HARRY BELAFONTE and his happy music Tuesday at the Celebrity Theatre in Phoenix, Arizona. On Thursday he's in the spotlight at the Paramount Theatre in Denver.

BRUCE HORNSBY has a two nighter Tuesday and Wednesday at the Count Basie Theatre in Red Bank, New Jersey. On Friday he'll star at Washington & Lee University in Lexington, Virginia. He closes out the week, Saturday, performing at the Haymaker Music Festival at Spotsylvania, Virginia.

GEORGE WINSTON entertains in Wisconsin this week. Tonight he performs in Janesville at the High School. On Tuesday it's Sheboygan, at the Sheboygan Theatre. On Thursday the show is in Eau Claire, at the State Theatre and on Saturday the city is Fish Creek at the Door Community Auditorium.

OLIVIA NEWTON JOHN sings this evening in Little Rock, Arkansas at the Robinson Center Hall. On Tuesday she is in the spotlight in Bernalillo, New Mexico at the Santa Ana Casino. On Thursday the lady performs in Phoenix at the Celebrity Theatre. Then the perky one has a two nighter in Las Vegas, Friday and Saturday, the at the Paris Hotel.

DAVID CASSIDY entertaining Saturday at the Paramount Arts Center in Aurora, Illinois.

SINATRA ON SINATRA Frank Sinatra, Jr.and his 36-piece orchestra conducted by Terry Woodson, playing the music of Sinatra. MGM-Grand Hotel, Las Vegas October 4-9.

SMOTHERS BROTHERS on Wednesday open a five night stand at the Mohegan Sun Casino in Uncasville, Conn.

BETTY BUCKLEY performing October. 3-6 at the Bass Performance Hall in Fort Worth, Texas.

LIZ CALLAWAY on stage October 5 with the Westchester Philharmonic concert of Richard Rodgers music.


PIFFLE AND PROFUNDITIES


SHUT THE PHONE OFF! The New York City Council is considering a bill to ban the use of cellphones in public theaters. Legislation is being discussed that would make it illegal to talk on a phone or let one ring during a movie, musical, play or any other performance in public theaters. Barbara Janowitz of the League of American Theaters and Producers testified Tuesday that the ringing of cellphones has ruined many theatrical performances. Violators would be fined $50 and could be ejected from the theater. The bill would also require theater owners to post warning signs.

LORD ATTENBOROUGH has become president of Britain's leading theatrical college Rada - the first person to hold the position since the death of Diana, Princess of Wales Attenborough, who is a film-maker and actor was a student at Rada six decades ago and has been chairman of its ruling council since 1972.













Next Column: October 6, 2002
Copyright: September 29, 2002. All Rights Reserved. Reviews, Interviews, Commentary, Original Photographs or Graphics from any Broadway To Vegas (TM) columns may not be published, broadcast, rewritten, utilized as leads, or used in any manner without permission, compensation and/or credit.
Link to Main Page
---
Laura Deni



U.S. Postal Address: Post Office Box 60538, Las Vegas, NV 89160
CLICK HERE FOR COMMENT SECTION