! >
Broadway To Vegas
  
 SHOW REVIEWS CELEBRITY INTERVIEWS GOSSIP NEWS

| | |
| --- | --- |
| | |
INSIDE PRIVATE LIVES - - 2008 CENTENNIAL HONORS WILLIAM SAROYAN - - THE WOODY SHOW - - CAROL CHANNING BREAKS HIP - - BERNSTEIN:THE BEST OF ALL POSSIBLE WORLDS - -EARTH SUCKS STARS HOWARD STERN'S DAUGHTER - - SEATTLE REP HONORS BILL IRWIN - - PAUL NEWMAN DIES - - DONATE . . . Scroll Down


Copyright: September 28, 2008
By: Laura Deni

CLICK HERE FOR COMMENT SECTION
WE NEED YOUR HELP....

BROADWAY TO VEGAS, which has been in existence over 10 years, is not affiliated with any blog. A copyright clause is at the bottom of every Broadway To Vegas column. Recently, it has been brought to our attention that there is a Las Vegas based blog with an extraordinarily similar title. If you have provided that (or any) blog with: information, invitations, purchased anything through any link on that blog or transferred money, goods or services to anyone connected with that blog THINKING YOU WERE DOING BUSINESS WITH BROADWAY TO VEGAS - we want to hear from you. The more detail the better. Thank you.
GETTING THE AUDIENCE INSIDE PRIVATE LIVES
Kristin Stone as Christine Jorgensen in Inside Private Lives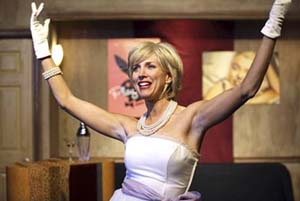 Marge Schott wanting to "adopt a black baby." Transgendered Christine Jorgensen having photographs taken to become a Playboy centerfold. Jimmy Carter's beer drinking brother Billy, not understanding why he can't speak at the Democratic National Convention.

Inside Private Lives is a unique, award-winning production which encourages audience members to question and challenge the likes of cult leaders, celebrities, political operatives, sports figures and other notorious newsmakers of the 20th century.

Created by Kristin Stone, the actress/producer spoke with Broadway to Vegas about this production in which six controversial figures are featured at every performance, and with a gallery of over sixteen notorious newsmakers to choose from, every show is different.



The cast of Inside Private Lives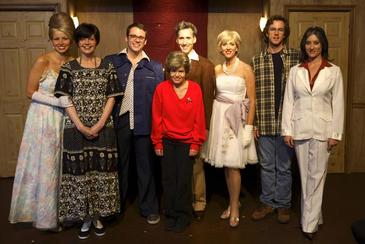 Created in 2005 with three characters the production has evolved into repertoire of headline makers: Christine Jorgensen, first transgendered personality; David Koresh, leader of the Davidian Cult who led his followers to a fiery death in Waco; Marge Schott, outspoken owner of the Cincinnati Reds; Billy Carter, America's beer drinking "First Brother"; Brownie Wise, innovator of Tupperware Home Sales Parties; Elia Kazan, celebrated stage and film director damned for his cooperation with the House Un-American Activities Committee during the McCarthy Era; Julia Phillips, acerbic motion picture producer of The Sting and Close Encounter of The Third Kind; King Edward VIII who abdicated the throne for his love of an American divorcee; Wallis Simpson, the woman King Edward VIII loved; Jane Roberts, trance channeler of the spirit entity "Seth"; Bobby Sands, the first of the ten IRA members to die in 1980's hunger strike; Aimee Semple MacPherson, one of the first widely popular evangelists; and Ann Landers, advice-dispensing columnist.

"From the very beginning of the play, audience members are encouraged to ask questions and address the performers, and the audience is also given different roles per scene," explained Stone.

"I think of this as reality theater because these are real, controversial people from the 20th Century that we have read a lot about in the newspapers. We allow the audience to go behind the headlines into their private life - what may have been going on at the time - what may have lead up to the incident. going into the psyche of those particular people."

"We are not run of the mill and I think that is why we received the distinctions that we did at the Edinburgh Fringe Festival. The production received Pick of the Fringe There were over 2,000 shows during the Fringe and we received the Highlight of the Fringe Award."

You don't need to be a history buff or the connoisseur of the front page to appreciate Inside Private Lives.

"Even for folks who are from different parts of the world and may not be familiar with some of these characters - that's okay. We assume that you don't know any of them when you come in to see the show."



Billy Carter (right), greets his brother, President Jimmy Carter, at the commencement ceremonies at the General Institute of Technology in Atlanta on February 20, 1979. Billy registered as a foreign agent of the Libyan government and received a $220,000 loan. This led to a Senate hearing over alleged influence peddling which some in the press dubbed "Billygate."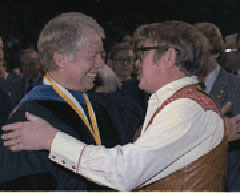 "It doesn't take much to figure out that when David Koresh starts talking to you, saying you've fallen away from the religion and he wants you to come back and believe in his revelation. That all women should only procreate with him, so that they could produce children of God, because he is the lamb of God. And, your husbands should remain celibate. It's not hard for the audience to throw that back at him. What are you talking about? This is what he believed."

"One scene features Billy Carter on the eve of the re-election of Jimmy Carter, addressing the audience members as if they are part of Jimmy's re-election campaign," Stone continued. "He was at the Democratic National Convention going - what do you mean I can't speak? Just because I borrowed money from Kadafi, you think that is influence peddling? Just because I drink Billy Beer 24/7? Just because I had dinner with the Imperial Wizard of the KKK? How many wizards have you had dinner with?"

"So, it's not hard," Stone reiterated.



Marge Schott with her dog Shottzie. Marge was the first woman to buy a baseball team rather than inheriting it. Her controversial behavior during her tenure as owner of The Reds, included slurs towards African-American, Jews, the Japanese and gays. She was banned from managing the team by the MLB from 1996 through 1998 due to a series of statements sympathizing with Nazi party leader Adolph Hitler; shortly after, she sold the majority of her share in the team.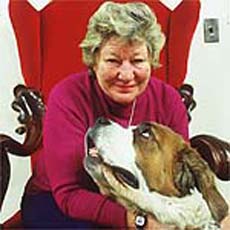 Another character is Marge Schott, the outspoken owner of the Cincinnati Reds who was censured from baseball for her remarks.

"When Marge Schott states to an adoption agency - which is what audience is - Well, I don't understand why you won't let me adopt a good, black baby. Who is going to help me take care of him? Well, my baseball team. I've got my million dollars N-----s. They'll help. And the bulldog Schotzie is the best nanny of them all. She tell how she rubs his fur on her for good luck, and she rubbed that fur on her the morning before she met with the adoption agency. She's drinking her vodka and smoking her cigarette at ten in the morning. It's not hard for an audience to go - You know what? We're not going to let you adopt a baby."

"We definitely have a format," stressed Stone. "Each character wants something and the audience decides whether they want to give it to them or not."



Julia Phillips wrote the no-holds-barred autobiography You'll Never Eat Lunch in This Town Again about her experiences in Hollywood. The book topped the New York Times bestseller list but its revelations about high-profile film personalities and Hollywood's casting couch mentality made her one of the most despised people in the film industry. She died at the age of 57, from cancer on New Years Day, 2002, and was interred in the Hillside Memorial Park Cemetery in Culver City, CA.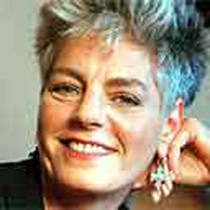 "For instance, Leonora Gershman portrays Julia Phillips who wrote You'll Never Eat Lunch In This Town Again. She was famous for being the first woman to win an Oscar for The Sting as producer and then she went on and did Close Encounters of the First Kind where she was fired for her erratic drug use. Well, she walks on stage and we've had nights where someone yells - You're a coke head, Julia. She hasn't even started her piece and that's fine," stated Stone about the segment in which Gershman as Phillips has been known to argues with and curse at the audience.

"There is a reason to the segments and there is a rhythm and it works, Stone elaborated. "There is freedom but it doesn't ever get to a situation that you would consider bedlam. The audience plays the game."

"We have some very interesting and provocative scenarios that the audience gets to role play. In each of the scenarios, the audience gets to play somebody different in their lives at that time," continued Stone who portrays Christine Jorgensen.

"In Christine Jorgenson's case she had photographs taken for the purpose of being the centerfold in Playboy. In the 11th hour Hef said; Oh, come on Christine, that's even a little bit much for us. I was just sort of teasing you. You shouldn't have taken it so seriously. So, in the scene, the audience assumes the role of Playboy executives and Christine is trying to convince you that she is woman enough for Playboy. That's fun."

The show has mounted at places beside theatrical.

"We have taken one of our characters - Bobby Sands - to Notre Dame University. He was the first of the ten IRA hunger strikers to die in 1980 in Belfast, Ireland. Our segment on Bobby performed for a Masters in Theology class, which was wonderful and very exciting for the students as well as for our actor," Stone said referring to Paul Thomas Ryan

"The purpose of the show - although somewhat historical in nature - isn't necessarily meant to be a history lesson. It is for the purposes of entertainment," Stone quickly injected.

"We create an imaginary circumstance based upon reality. You do learn a lot about these people, but you also get the fun of being at the theatre and having this be for the purposes of entertainment."

A committee decides which characters are brought on board.

"We have a creative team that is made up of the actor, the director and myself. We sit together and talk about what type of characters would be fun to bring into the show. Or, would bring in a different element. In one performance, we like the audience to really go through a roller coaster of emotions; some are high comedy others are very thought provoking. You will visit different time periods."

In addition to Kristin Stone as Christine Jorgensen, the ensemble cast includes: Freddy Douglas as King Edward VIII, Leonora Gershman as Julia Phillips, Diana Morrison as Ann Landers, Molly Hagan as Aimee Semple MacPherson, Maddisen Krown as Jane Roberts, Adam LeBow as Elia Kazan, Mary MacDonald as Marge Schott, Eileen O'Connell as Brownie Wise, Paul Thomas Ryan as Bobby Sands, Bryan Safi as Billy Carter, David Shofner as David Koresh and Shelia Wolf as Wallis Simpson.

All cast members are experts at improv.

"Not only do they have strong improvisational skills - they are excellent actors," Stone emphasized. "They come from traditional acting backgrounds - classically trained. NYU graduates from their theater program."

"Their history comes from a place from trained performers. On top of that, their improvisational skills are well honed and finally, they have a sense of curiosity. They have a real interest in these characters. They spend several months researching these characters and this research continues."

"We have groupies, because they have a favorite character. Marge Schotz has her groupies. They bring friends and don't tell them about the concept of the show and then have fun seeing their reaction. We've never had a show where people didn't get it, play along, have a blast."

None of the actors ever met any of the characters they portray.



Brownie Wise on the cover of Business Week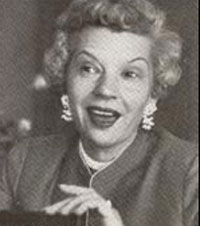 "However, we have people who have come to the show that knew and worked with these people. We had the daughter of the man who managed Christiane Jorgensen. We had a man who lived next door to Brownie Wise when she was running Tupperware," said Stone referring to the charismatic single mother from Detroit who, in 1954, was first woman ever to make the cover of Business Week.

Although highly researched, this is not an impersonation revue.

"In fact, we shy away from doing any of the highly impersonated people because that is not what it is about," Stone insisted. "We may bring their mannerisms. We may bring a little bit of their dialect - certainly Bobby Sands from Northern Ireland. Or, Billy Carter from Plaines, George, because their dialect is very much a part of who they were."

"One of the things we do at the end of every show is to ask that the audience stay. We come out as the actors and talk to you about the experience of the show. Sometimes the conversations even get a little heated and the audience members will be arguing among themselves, trying to persuade each other. Every character wants something from the audience. And, the audience decides if they are going to give it to them or not."

"At this time our actors only play one character. However, we do have several of our actors developing new characters to add to the repertoire. They won't retire any, we'll just add some to the rotation. For instance, we are getting ready to add Albert Einstein. He will be coming into our extended run in November. He is played by Adam Brough who also plays Eli Kazan. There are a few others - Tammy Faye Baker Messner. We have an actress who is working on her."

Currently Inside Private Lives is at the Fremont Center Theater in South Pasadena with a run extended through December. This week-end they are also part of the 2nd Annual NoHo Scene. "When we were in New York we performed for a month at 59E59. We sold out. It was a terrific opportunity.," Stone gleefully recalled. "But coming back to LA where we premiered the show, and being part of the NoHo Scene where we first tested the idea - is really special," she exclaimed.

On Sunday, October 5, NoHo will host the biggest arts and culture party in the San Fernando Valley from 11 am until 8 pm. And, it's free.



The cast of Bush Is Bad
Dozens of artists from NoHo's theater, music, dance and arts community are ready to introduce everyone to North Hollywood's unique and thriving city-designated arts district. There will be a sampling from 16 theaters and acting companies, including several full-length plays: Two of the selections are; the Tony Award-winning The Belle of Amherst, playwright William Luce's stunning theatrical event based on the life and poetry of Emily Dickinson, directed by Tony Sears and performed by Kate Randolph Burns and musical numbers from the Whitefire Theatre's upcoming production of Willy Russell's long-running West End hit musical, Blood Brothers. Then there is Bush is Bad: The Alaskan Beauty Queen Edition. All gloves are off in this satiric, musical skewering of the present White House administration. The updated version includes musical parodies of the newly minted Republican ticket of John McCain and Sarah Palin. It's for adults who like their politics raw and unedited. The production will also stage a special performance on Election night - Nov. 4th.

"The NoHo Scene is a wonderful festival that not only brings people together to enjoy their community, it emphasizes the arts," said Los Angeles City Councilmember Tom LaBonge. "The establishment of the arts district was the beginning of the revival of North Hollywood. I'm so proud to see the way this area has come back to life."


GET WELL TO .....


CAROL CHANNING fractured her hip last week, Eric Brizee of the Museum of Performance and Design in San Francisco told Broadway To Vegas. Thus she "had to cancel out of the concert and our gala. The gala will still happen, with Chita Rivera, JoAnne Worley and a few others honoring her in her absence, as will our exhibition," said Brizee referring to the Friday, September 26 black-tie cocktail reception and dinner in the Venetian Room of the Fairmont Hotel. This marks the first time in her 70-year-career that Channing has had to cancel a performance.

Hello, Carol, A Celebration of Carol Channing, the first major retrospective exhibition ever mounted on the life and work of this Broadway and Hollywood legend, presented by The Museum of Performance and Design, opened Sept. 26 and runs through March 14, 2009. ( See Broadway To Vegas column of September 21, 2008 )


CELEBRATING QUINTESSENTIAL NEW YORKER LEONARD BERNSTEIN: THE BEST OF ALL POSSIBLE WORLDS
Leonard Bernstein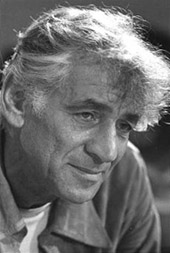 A city-wide festival celebrating one of the most important international musicians of the 20th century and a quintessential New Yorker - Leonard Bernstein - commemorates the 90th anniversary of his birth and the 50th anniversary of his appointment as the Music Director of the New York Philharmonic.

Recognizing Bernstein's many roles as performer, composer, educator, advocate, and idealist, this special festival, presented through December 13,2008, will feature more than 30 events at Carnegie Hall, Avery Fisher Hall, New York City Center, and venues throughout New York City. The celebration, reflecting Bernstein's multi-faceted artistry and work in diverse musical genres, will include concerts, recitals, musical theater, lectures, and film screenings, as well as family and educational programming, illustrating the breadth of this legendary artist's contributions to music history on both the American and international music scenes.

.Bernstein: The Best of All Possible Worlds launched on September 24 with the 2008–09 season Opening Night Gala at Carnegie Hall featuring Michael Tilson Thomas and the San Francisco Symphony. The orchestra will be joined by soloists Dawn Upshaw, Thomas Hampson, and Yo-Yo Ma in a program showcasing highlights from Bernstein's operatic and musical theater works including selections from Fancy Free, A Quiet Place, On the Town, Wonderful Town, Candide, and West Side Story.

"All of us at Carnegie Hall are very proud to be presenting—jointly with his great orchestra, the New York Philharmonic—this special celebration of Leonard Bernstein," said Carnegie Hall's Executive and Artistic Director Clive Gillinson. "Lenny appeared on Carnegie Hall's stage more than 400 times in his career, with audiences experiencing his talents as performer, composer, and master educator. Well beyond our walls, he inspired an entire generation, bringing music to the center of people's lives all around the world. A celebration of Lenny is a celebration of life and a celebration of music. His love of life and of music, allied to his insatiable curiosity, inspired everyone, informing our appreciation and understanding of music for a lifetime. We look forward to joining our partners in placing special focus on someone who was not only a remarkable artist and a great New Yorker, but also someone who truly belonged to the world. Lenny was music!"

"Leonard Bernstein's New York Philharmonic legacy is like no other. From the moment of his legendary conducting debut in 1943 to his final concert, from the players on stage to adoring audiences in New York and around the world, Leonard Bernstein inspired nearly everyone he encountered," said New York Philharmonic President and Executive Director Zarin Mehta. "Even today, Lenny's legacy—as conductor, composer, and educator—continues to resonate throughout the New York Philharmonic."



Lorin Maazel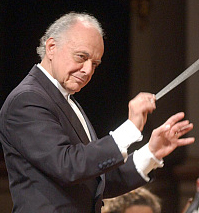 Marking the 50th anniversary of Bernstein's appointment as Music Director, the New York Philharmonic will present three Avery Fisher Hall programs that showcase Bernstein's three symphonies paired with works by fellow Philharmonic music directors and with other 20th-century American composers. Music Director Lorin Maazel will lead the Philharmonic in Bernstein's Symphony No. 2, "The Age of Anxiety," paired with works by Mahler, Boulez, and Maazel himself on September 25–27. David Robertson will conduct a program featuring Bernstein's Symphony No. 1, "Jeremiah," alongside works by Copland, Elliott Carter, and Christopher Rouse on October 30–November 1. On November 24, New York Philharmonic Music Director Designate Alan Gilbert will lead The Juilliard Orchestra in Bernstein's Symphony No. 3, "Kaddish," paired with Beethoven's Symphony No. 3, "Eroica." This final concert with The Juilliard Orchestra symbolizes not only Bernstein's lifelong commitment to education, but also a new era in collaboration between The Juilliard School and the New York Philharmonic.

On November 14, 1943, Leonard Bernstein stepped onto the stage of Carnegie Hall for the first time, substituting at the last minute for the ailing Bruno Walter and making his historic New York Philharmonic debut in a performance that grabbed national attention. On November 14, 2008, the 65th anniversary of that special occasion will be celebrated at Carnegie Hall with an all-Bernstein program by the New York Philharmonic, led by Music Director Designate Alan Gilbert and featuring Bernstein's music for the concert hall, theater, and film, including the two suites from West Side Story.

Among other exciting musical festival highlights are a semi-staged production of the Bernstein/Comden and Green musical, On The Town, as part of New York City Center's Encores! series November 19–23; performances of Bernstein's Mass with Marin Alsop and the Baltimore Symphony Orchestra (October 24–25); and a one-night-only concert with the Israel Philharmonic Orchestra led by Gustavo Dudamel at Carnegie Hall (November 16).

Broadway To Vegas is supported through advertising and donations. Priority consideration is given to interview suggestions, news, press releases etc from paid supporters. However, no paid supporters control, alter, edit, or in any way manipulate the content of this site. Your donation is appreciated. We accept PAYPAL. Thank you for your interest.


2008 CENTENNIAL HONORS WILLIAM SAROYAN
William Saroyan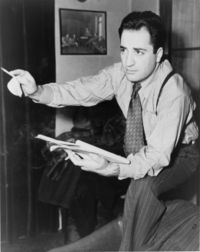 It all started in Fresno - William Saroyan (1908-2008) was born and died in Fresno. In between, he became a Pulitzer Prize winning playwright and respected author whose published writings topped over 4,000 literary works, including short stories, plays, and novels. He wrote the Academy Award- winning screenplay for The Human Comedy and later adopted it into a popular novel. He was the first American to win both the Drama Critics Circle Award and the Pulitzer Prize in the same year for his play, The Time of Your Life. On the international scene, he rubbed shoulders with the rich and famous of his day, but he always returned to Fresno, the only place he considered home.

The William Saroyan Centennial Committee, consisting of dozens of sponsoring organizations throughout this California Valley, and beyond, have been honoring William Saroyan with a year long tribute to his life's work and his Armenian heritage.

William Saroyan's powerful drama, Slaughter of the Innocents, will be presented by the Fresno State University Theatre Arts Department opening October 3. The play involves a government in an unnamed country, set some time in the future, that has gone crazy. It has suspended all civil rights and is now holding witch hunt trials in every conceivable place including Archie's Bar, where the play is set. Archie becomes a willing accomplice to murder until he can't stand it any more and rebels even though he knows his life is now in jeopardy.

On October 11 patrons can enjoy dinner and one-man show Portraying William Saroyan with David Fox-Brenton, in a Saroyan tribute: Fox-Brenton has been acting in theatre, film and television in England, Canada and the United States. The dinner and show is a fundraising event for the Armenian Home of California (in Fresno) and the Centennial.

On Saturday, October 18, is the Saroyan Musical Celebration. Join the Academy of Classical Music and Art in celebrating the genius of writer, William Saroyan, with a musical extravaganza, featuring virtuoso duo pianists Gianeh and Ovanes Arakelyan, violinist Patrick Contreras, and other musical friends. Along with this tribute, there will be video interviews of "Saroyan Memories" from family and friends of this legendary writer.

As a result of the Burbank based Syzygy Theatre Group's ongoing collaboration with the Armenian Dramatic Arts Alliance, the theatre company is participating in the international centennial by presenting Saroyan's rarely-produced comedy Love's Old Sweet Song. Written in 1939 in the midst of the Great Depression, is a surprisingly timely play which touches on many of our current social, political, and economic issues.

Martin Bedoian directs a cast of 23 in this comedy about everyone's need for love, faith, correction of our political missteps, and, of course, love . . . and more love. Performances begin Thursday, October 16.

"Part of Syzygy's mission includes the production of classic works, and since 2008 marks the centennial of one of the great playwrights of the 'golden age' of American theatre, William Saroyan, I felt it was important for Syzygy to do one of his plays this year," said artistic director Martin Bedoian. "As I researched his work, I discovered that he was incredibly prolific and that much of his work has not been seen in decades, so I particularly wanted to do a lost treasure — something that would surprise our audience. After reading countless plays (published, unpublished, and out-of-print), I found Love's Old Sweet Song. It's very funny and also hasn't been produced in nearly 70 years and maintains the spirit of much of Saroyan's work, including his boundless optimism for the power of the human spirit. We're honored to present this play as part of Syzygy's Fifth Anniversary Season."

In Love's Old Sweet Song, Ann, a lonely woman in her yard in Bakersfield, California in 1939, is greeted by a Greek telegraph messenger, Georgie, with a mysterious telegram sent collect from a man in Boston. Georgie tells Ann it is from a man named Barnaby Gaul. It seems Gaul passed by her house twenty-seven years ago and fell in love with her. He will return shortly and will be whistling "Love's Old Sweet Song". And then, they hear whistling and a stranger walks up — it is love at first sight.

The principal cast includes: Joshua Ansley, Chris Damiano, Lauren Dunagan, Heather Fox, Michael Heshel, Jack Kandel, McKerrin Kelly, Steve Marvel, Shawn MacAulay, Jennifer Pennington, John Schumacher, and Devin Sidell. An ensemble of 10 children rounds out the cast.

Joining director Martin Bedoian are set designer Jeff Rack, costume designer Sherry Linnell, lighting designer Dan Reed, assistant director and sound designer Mark McClain Wilson, fight choreographer Ryan Honey, stage manager Rachel Levy, assistant stage manager Karen Baughn, and producer Katherine Bedoian.

Love's Old Sweet Song opened on Broadway in 1940 at the Plymouth Theater and was directed by Eddie Dowling

Rounding out special events this year will be the San Joaquin Valley Town Hall Lecture Series on Tuesday, November 8. That event will feature a panel presentation on the life and writings of William Saroyan. Town Hall panelists will include Bruce Janigian, Saroyan's attorney; Richard Rodriguez, journalist and author; Annette Keogh, Curator William Saroyan Collection at Stanford University and Jon Whitmore, President of Texas Tech University, will moderate these distinguished panelists for a lively discussion.


SWEET CHARITY


SEATTLE REPERTORY THEATRE'S GALA DINNER DANCE & AUCTION

Bill Irwin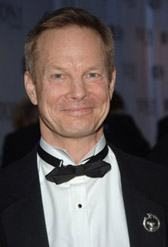 will honor Bill Irwin - legendary actor, vaudevillian clown, playwright, choreographer and so much more - with Seattle Repertory Theatre's Lifetime Achievement in the Theatre Award. This award honors and recognizes individuals who have played a significant role not only in Seattle Rep's success, but have made major contributions to the American theatre. Seattle Rep audiences have experienced Bill's extraordinary talent in many incarnations and Seattle Rep is thrilled that Bill Irwin will return to their stage later this season to introduce a new generation of young theatergoers to one of the most important pieces of dramatic literature of the 20th century, Samuel Beckett's Waiting for Godot, which will head straight to Broadway after its Seattle Rep production.

The evening will also present the inaugural Seattle Repertory Theatre Lifetime Dedication Award to the Theatre to Matthew N. Clapp, Jr. This is an award which honors and recognizes extraordinary involvement in and support of Seattle Repertory Theatre over a lifetime. "For more than two decades, Matthew has been at the heart of all that we do at Seattle Rep. A truly generous, leading supporter and enthusiastic audience member, Matthew has long been dedicated to helping Seattle Rep develop and produce new plays for the American stage by both established and emerging writers."

Taking place Saturday, October 4, 2008 at the Grand Hyatt Seattle the evening will open with Cocktails, hors d'oeuvres and multi-course meal designed by Executive Chef Brent Martin. Fabulous theatre-themed items will go up for auction and there will be dancing to the swinging sound of The Dudley Manlove Quartet.


OTHER PEOPLE'S MONEY


BOARSHEAD THEATER in Lansing, Michigan received a gift of $75,000 from Meijer's grocery store chain, which operates 171 stores throughout Illinois, Indiana, Kentucky, Michigan and Ohio. Mayor Virg Bernero spoke at the Wednesday a press conference, held on stage at the BoarsHead Theatre. Others speakers included Meijer President Mark Murray and BoarsHead Board of Trustees Chair Larry Meyer. Murray came to Meijer in August 2006 after serving as President of Grand Valley State University. Prior to joining GVSU in 2001, Murray served as Treasurer of the State of Michigan as well as the State's Director of Management and Budget. He also served as Vice President for Finance and Administration at Michigan State University. The donation, which is nearly 10 percent of the theater's annual budget, is to help fund the 43rd season for the BoarsHead Theater.


CURTAIN DOWN


XANADU will end its Broadway run at the Helen Hayes Theatre two weeks earlier than recently announced. On Sept. 16 producers of the musical had announced that Xanadu would stage its final performance on Oct. 12. A new closing date was announced on Sept. 23. Xanadu will now play its final Broadway performance today, Sept. 28, having played 49 previews and 512 regular performances. The producers released a statement saying that the decision to close the show early was made to avoid losses in the current economic climate.



THE WOODY SHOW a musical celebration of the life of songwriter, folklorist and labor leader Woody Guthrie, returns to The Will Geer Theatricum Botanicum on Sunday, October 5. Special guests Beau ridges and Amy Madigan join the Geer family and friends, including Ellen Geer, Thad Geer, Melora Marshall, Willow Geer, Peter Alsop and Ian Flanders, in a special edition of the annual tribute performance that kicks off Theatricum Botanicum's Americana Museum Project.

In the 1940s, Will Geer arranged Woody Guthrie's first radio gig in New York City. Though city life wasn't to Guthrie's liking, the two remained steadfast friends. Together they recorded radio plays with Alan Lomax, toured migrant work camps to lift the spirits of the workers, and in the 1950s and '60s sang often on Theatricum's stage. It was at Theatricum Botanicum that Guthrie gave his last performance before succumbing to Huntington's chorea in 1967.

Just outside the Botanicum's main stage entrance is a shack where Guthrie stayed when visiting Geer, Geer's wife Herta Ware, and their children. This wooden structure, affectionately known as Woody's Shack, will be restored and renovated to house the Americana Museum with rotating exhibitions and a small gift shop. The exhibitions will include historic letters, photographs, recordings, reviews and more, all chosen from the thousands of fascinating materials found in Will Geer's archives.

On October 5, Beau Bridges, Amy Madigan and special guests will read selections from the Will Geer Archives. Following the readings, members of the Geer family and their friends bring to life the spirit of Woody Guthrie through his own words and music. The Woody Show paints a musical portrait of the self-described "rambling man from Oklahoma." It is built upon songs such as Pastures of Plenty; Worried Man; Union Maid and This Land is My Land and incorporates selections from published and unpublished writings of this seminal American artist who was considered a member of the Geer family.

The Will Geer Theatricum Botanicum is in Topanga, midway between Malibu and the San Fernando Valley.

FROST/NIXON the national tour of the 2007 Tony-nominated drama written by Peter Morgan, kicks off September 30, with Stacy Keach in the role of President Richard Nixon and Alan Cox as David Frost.

Appearing alongside Keach and Cox are Meghan Andrews as Evonne Goolagong, Bob Ari as Bob Zelnick, Antony Hagopian as John Birt, Roxanna Hope as Caroline Cushing, Ted Koch as Jack Brennan, Stephen Rowe as Swifty Lazar, Brian Sgambati as Jim Reston and Noel Velez as Manobo Sanchez. Rounding out the ensemble are David Sitler, Peter Hilton and Tamara Lovatt-Smith.

Frost/Nixon recounts one of the most powerful television interviews of all time. How did British talk-show host David Frost elicit the apology the rest of the world was waiting to hear from former President Richard Nixon? This play chillingly recounts one of the most monumental television interviews of all time.

Michael Grandage, who directed the original London and Broadway productions, directs the tour with associate director Seth Sklar-Heyn.

The design team includes; set design by Christopher Oram, with lighting by Neil Austin, and the music and sound score by Adam Cork. Video design is by Jon Driscoll.

The Frost/Nixon tour officially opens in Des Moines, IA at the Des Moines Civic Center (September 30-October 5, 2008). The show then travels to Appleton, WI (October 7-12, 2008), Columbus, OH (October 14-19, 2008), Houston, TX (October 21-November 2, 2008), East Lansing, MI (November 4-9, 2008), Washington DC (November 11-30, 2008), Pittsburgh, PA (December 2-7, 2008), Wilmington, DE (December 9-14, 2008), Minneapolis, MN (January 6-11, 2009), Cleveland, OH (January 13-25, 2009), Boston, MA (January 27-February 8, 2009), Charlotte, NC (February 10-15, 2009), Tampa, FL (February 17-22, 2009), Cincinnati, OH (February 24-March 8, 2009), Los Angeles, CA (March 10-29, 2009), Tempe, AZ (March 31-April 5, 2009), San Antonio, TX (April 7-12, 2009), Sacramento, CA (April 14-26, 2009) and Dallas, TX (April 28-May 3, 2009).

THE THREE MUSKETEERS by Ken Ludwig. Directed by Kyle Donnelly.

Bring your family to this fresh, fast-paced, and funny adaptation of one of literature's most thrilling romantic adventures. The dashing musketeers—and one plucky kid sister—swashbuckle their way through nefarious villains, international intrigue, and exotic ladies. It's "all for one and one for all!" in an action-packed update of this beloved classic.

Starring Jim Abele, Geoffrey Alm, Hans Altwies, Jeffrey M. Bender, Cheyenne Casebier, Montana von Fliss, David Goldstein, Jennifer Sue Johnson, Ellen Karas, Kate Kraay, Shawn Law, Mike Rossmy, Ryan Shams and Andrew William Smith.

The artistic team includes; Set design by John Arnone. Costume Designer is Nan Cibula-Jenkins. Lighting Design by Nancy Schertler. Sound Design by Lindsay Jones. Assist. Sound Designer is Will Pickens. Wayne Barker serves and the composer and the Fight Director is Rick Sordelet.

Staged on the Bagley Wright Theatre of Seattle Rep October 2 – November 15, 2008.

CREDITORS by Strindberg, in a new version by David Greig.

Directed by Alan Rickman. Starring Tom Burke, Anna Chancellor and Owen Teale.

Anxiously awaiting the return of his new wife, Adolph finds solace in the words of a stranger. But comfort soon turns to destruction as old wounds are opened, insecurities are laid bare and former debts are settled.

Regarded as Strindberg's most mature work, Creditors is a darkly comic tale of obsession, honor and revenge. Set Designer: Ben Stones. Costume Designer: Fotini Dimou. Lighting Designer: Howard Harrison. Composer & Sound Designer: Adam Cork.

Performances through November 15, 2008 at the Donmar Warehouse in London.

MacHOMER adapted from William Shakespeare's Macbeth with characters created by Matt Groening. Directed by Sean Lynch.

Virtuosic performer Rick Miller brings 85% of the Bard's original text delivered by over 50 familiar voices from The Simpsons. This is a sublimely silly multi-media update of Shakespeare's chilling tragedy.

October 8 – 12, 2008 at Woolly Mammoth Theater in Washington, DC.

EARTH SUCKS

Lucas Revolution and Emily Stern in Earth Sucks. Photo by Lauren Raquel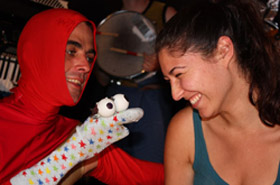 Book, Music and Lyrics by Jonas Oppenheim who also directs.

Starring Howard Stern's daughter, Emily, as a renegade Earth girl who falls for a fugitive alien lead singer in this new cosmic rock musical. Only their love and music stand between an evil pop diva and the destruction of the universe.

Everything sucks for Earth teen Echo Bell: school, the mall, her rocker boyfriend, her missing mom, her distant dad. Echo dreams of touring the galaxy with an alien rock and roll band. It so happens that one such band is heading for Earth in their psychedelic space bus. They are fleeing Grace Jones-esque pop queen Ulinia Swords. Ulinia has enslaved their home planet with a song so catchy that once you hear it, you can never get it out of your head.

Vocal Direction by Normandie Wilso. Choreography by Reed Farley and Gustine Fudickar.

The cast also features: Emily Stern, Nakia Syvonne, Lucas Revolution, Christopher Fairbanks, Alicyn Packard, Jennifer Fenten and Scott Palmason. The Band: Rawn Erickson II, John Hanson, Duncan Mackay and PJ Wyderka.

Currently in previews, the show officially opens on October 4 with performances through November 2 at Art|Works Theatre in Hollywood, CA.




WHO'S WHERE


BARRY MANILOW opened his new show Ultimate Manilow: The Hits, at the Las Vegas Hilton on September 24. In the audience this week-end enjoying the performance were Drew Carey and his lady, Nicole. Manilow is at the Hilton through December.

VAN MORRISON performs Friday, October 3, at Philharmonic Hall in Liverpool, UK. On Saturday the show is at Symphony Hall in Birmingham, UK.

JANET JACKSON takes to the stage at Bell Centre in Montreal on Monday, September 29. On Wednesday the show is at the TB Banknorth Garden in Boston. On Thursday she performs at The Wachovia Center in Philadelphia. Saturday she is in the spotlight at Greensboro Coliseum in Greensboro, NC.

TONY BENNETT has a one night stand Tuesday, September 30, at the UCF Arena in Orlando, FL.

RANDY OWEN legendary front man and lead vocalist of one of country music's most prolific groups, Alabama, is once again on the road. touring with a new band he'll be on stage October 3 at The King Center in Melbourne, FL.

MADONNA is back in the United States after taking her tour to Europe. On Saturday, October 4, she is on stage at the Izod Center in East Rutherford, NJ.

ALICIA KEYS appearing at the Bermuda Music Festival in Bermuda on Saturday, October 4.

SUSAN ANTON both beautiful and talented performs at the Suncoast Resort in Las Vegas October 3-5.

DANA CARVEY will be making people laugh October 3-5 at the Orleans Hotel in Las Vegas.

ABIGIAL WASHBURN and an all-star acoustic aggregation of world music The Sparrow Quartet featuring Béla Fleck, Casey Driessen and Ben Sollee. Saturday, October 4, at the Flynn Center for the Performing Arts in Burlington, VT.


FINAL OVATION


PAUL NEWMAN

Photo from Newman's Own Charities
died Friday, Sept. 26, at his home in Westport, Conn. He was 83. The cause was cancer.
The Oscar winning actor began his career on Broadway before acting in more than 65 movies over more than 50 years.

Paul Leonard Newman was born Jan. 26, 1925, the second son of the well-off Arthur and Theresa Newman, in Shaker Heights, OH. In high school, besides playing football, he acted in school plays, graduating in 1943. After being expelled from Ohio University at Athens for bad behavior, he joined the Navy Air Corps to be a pilot. When a test showed his beautiful blue eyes were colorblind, he was made an aircraft radio operator.

After the war the future Oscar winner entered Kenyon College in Ohio on an athletic scholarship. He played football and acted in a dozen plays before graduating in 1949. He spent a year acting in small theater companies, supported by his reluctant father.

Arthur Newman, a strict and distant man, thought acting an impractical occupation, died in May 1950. Newman was then forced to return to Cleveland to run the family's successful sporting goods store. At that time he was married to his first wife, Jacqueline Witte, an actress he had met in summer stock. After 18 months Paul asked his brother to take over the business while he, his wife and their year-old son, Scott, headed for Yale University, where Newman wanted to concentrate on directing.

With his wife again pregnant, Newman left Yale in the summer of 1952. Almost immediately, the director Josh Logan and the playwright William Inge gave him the small role of Alan Seymour in Picnic, a play that was to run 14 months on Broadway. It was in that play in which he met Joanne Woodward, who was an understudy. Eventually Newman took over the lead role of Hal. The impact of his performance was such that Warner Brothers offered Newman a $1,000 a week movie contract to star in The Silver Chalice as the Greek slave who creates the silver cup used at the Last Supper.

Years later, Newman, who rarely watched his own films, once gave out pots, wooden spoons and whistles to a roomful of guests and forced them to sit through The Silver Chalice, which he called the worst movie ever made. He even took out a newspaper ad apologizing for his performance.

He quickly returned to Broadway. In Joseph Hayes's play The Desperate Hours he starred as an escaped convict who holds a family hostage. The play was a hit, and during its run, Jacqueline Newman gave birth to their third child.

On his nights off Newman acted on live television.



Paul Newman and Joanne Woodward married in Las Vegas at the El Rancho Hotel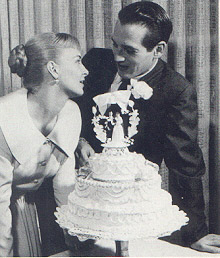 Newman and Woodward were married in Las Vegas, on Jan. 29, 1958.

That same year Newman played Brick, the reluctant husband of Maggie the Cat, in the film version of Tennessee William's Cat on a Hot Tin Roof, earning his first Academy Award nomination.

He returned to Broadway twice in the 1950s: to play Glen Griffin, a fugitive criminal holed up in a suburban home, in Joseph Hayes' The Desperate Hours in 1955, and the gigolo Chance Wayne in Tennessee Williams' Sweet Bird of Youth opposite Geraldine Page in 1959. The two actors repeated their roles in the subsequent film.

In 1968 - after he was cast as an ice-cold racecar driver in Winning with Woodward playing his frustrated wife - Newman was sent to a racing school. In midlife racing became his obsession. When Caesars Palace has a race track behind the Las Vegas resort, Newman would zoom around. His first race was in 1972 and his first professional victory took place a decade later. In 1995, as a 70th birthday present to himself, he raced at Daytona. When he won his event, he made the Guinness Book of Records as the oldest winner in his race class. He partnered in a successful car racing team - Newman/Haas.

That website lists messages from his partners:

"On behalf of Newman/Haas/Lanigan Racing, my wife Bernadette and myself, I want to express our most sincere condolences to Joanne and the entire Newman family on the loss of a great human being. Paul and I have been partners for 26 years and I have come to know his passion, humor and above all, his generosity. Not just economic generosity, but generosity of spirit. His support of the team's drivers, crew and the racing industry is legendary. His pure joy at winning a pole position or winning a race exemplified the spirit he brought to his life and to all those that knew him. We will truly miss him." - Carl A. Haas, co-owner of Newman/Haas/Lanigan Racing.

"We truly lost a great man. Most of us knew him as Butch or Fast Eddie from the theater or from our living rooms at home. He was much more than a great actor. His legacy will be his five children, his wife, Joanne and all the sick children around the world who desperately needed his help. Paul was a man of character who cared about the world and the people who lived in it. Putting a smile on a young person's face and helping people in need was a virtue he excelled at. Little did anyone realize a child born of such humble beginnings could affect our lives in so many positive ways. We should all learn to live by his example. We will miss him dearly but will never forget him." - Michael Lanigan, co-owner of Newman/Haas/Lanigan Racing.

In his later years, he became as well-known for his philanthropic causes and business ventures as for his acting. Paul Newman believed in sharing his good fortune. He created Newman's Own Foundation, a private independent foundation, to carry on his commitment of donating to charity all profits and royalties he earns from the sale of Newman's Own products. Paul Newman and the Newman's Own Foundation have donated more than $250 million to thousands of charities worldwide.

Much of the money was used to create a string of Hole in the Wall Gang Camps, named for the outlaw gang in Butch Cassidy. The camps provide free summer recreation for children with cancer and other life-threatening illnesses. Mr. Newman was actively involved in the project, even choosing cowboy hats as gear so that children who had lost their hair because of chemotherapy could disguise their baldness.

Several years before the establishment of Newman's Own, on Nov. 28, 1978, Scott Newman, the oldest of Newman's six children and his only son, died of an overdose of alcohol and pills, at 28. His father's monument to him was the Scott Newman Center, created to publicize the dangers of drugs and alcohol. It is headed by Susan Newman, the oldest of his five daughters.

Newman's three younger daughters are the children of his 50-year second marriage, to the actress Joanne Woodward.

A politically active liberal Democrat, Newman was a Eugene McCarthy delegate to the 1968 Democratic convention and appointed by President Jimmy Carter to a United Nations General Assembly session on disarmament. He expressed pride at being on President Richard M. Nixon's enemies list.

After his fifth best-actor Oscar nomination, for his portrait of an innocent man discredited by the press in Sydney Pollack's Absence of Malice (1981), and his sixth a year later, for The Verdict, the Academy of Motion Picture Arts and Sciences in 1986 gave Newman the consolation prize of an honorary award. In a videotaped acceptance speech he said, "I am especially grateful that this did not come wrapped in a gift certificate to Forest Lawn."

In all he received eight Oscar nominations for best actor In 1987 he finally took home a best-actor Oscar for The Color of Money.

In 1994 he received the Jean Hersholt Humanitarian Award. In 1994 he starred in Nobody's Fool, which garnered him his eighth best-actor Oscar nomination. In 2002 Newman's portrayal of a toxic mob boss in Road to Perdition, scored him his last Oscar nomination, for best supporting actor.



Paul Newman in Our Town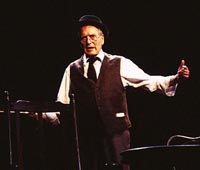 He returned to the stage in 2002, when he played the Stage Manager in a revival of Thornton Wilder's Our Town at the Westport Country Playhouse near his home in Westport, CT. ( See Broadway To Vegas column of June 16, 2002 ) At that time his wife, Joanne Woodward, was the playhouse's artistic director, a position she recently reclaimed with co-artistic director Anne Keefe. He subsequently played the part on Broadway for a limited run, and won his only Tony Award nomination.

This year he had planned to direct Of Mice ands Men based on the John Steinbeck novel. The production plays October 7 - November 1 at the Westport Country Playhouse in Connecticut. But in May he announced that he was stepping aside, citing his health. It would have been his first time directing a stage production. The website states: "Of Mice and Men is dedicated to the memory of Paul Newman".

Paul Newman's craft was acting. His passion was racing. His love was his family and friends. And his heart and soul were dedicated to helping make the world a better place for all. Newman is survived by his wife, Joanne, and five children: Susan, Stephanie, Elinor, Melissa and Clea. The family has asked for privacy.

Next Column: October 5, 2008
Copyright: September 28, 2008. All Rights Reserved. Reviews, Interviews, Commentary, Photographs or Graphics from any Broadway To Vegas (TM) columns may not be published, broadcast, rewritten, utilized as leads, or used in any manner without permission, compensation and/or credit.
Link to Main Page
---
Laura Deni



U.S. Postal Address: Post Office Box 60538, Las Vegas, NV 89160
CLICK HERE FOR COMMENT SECTION