! >
Broadway To Vegas
 
  SHOW REVIEWS CELEBRITY INTERVIEWS GOSSIP NEWS

| | |
| --- | --- |
| | |
TONY RANDALL ENDORSES FUN FUNERALS - - AVENUE Q SMART SASSY CD - - SHOCKING SCHIAPARELLI - - SHANGHAI ARTS FESTIVAL INVITES GEORGIA THEATRE - - JACK KLUGMAN'S ONE MAN SHOW - - GEORGE FOREMAN WANTS BROADWAY - - SHUBERT THEATRES USER FRIENDLY - - ROGER WILLIAMS' MARATHON - - DONATE . . . Scroll Down


TONY RANDALL NOT INVITING BUSH/CHENEY TO HIS FUNERAL
Tony and Heather Randall. He wants her to bar Bush & Cheney. Photo by Laura Deni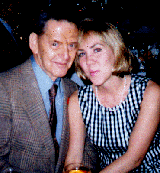 If life is a crapshoot, funeral directors are betting that themed funerals will become the must have event for baby boomers heading towards the grim reaper. If you thought Italian or Irish wakes were fun - party hardy at the casino, rodeo, biker, clown or golf themed funerals that are both expensive and popular. Celebrities getting into the act also infuses life into the six-feet-under industry.

Actor Tony Randall, 83, father of a six-year-old daughter and a five-year-old son, is on board as the new spokesman for the National Funeral Directors Association.

"Every funeral begins with 'fun!,'" said Randall speaking in Washington, D.C. last week to promote putting some joy and laughter into funerals. "I've been asked to speak at funerals and have seen first-hand how they can help the grieving. When we think of people who've gone, think of the humorous side of life."

"With NFDA's educational effort the public can get information on how to plan a meaningful celebration of life," said the actor about last week's launch of the National Funeral Directors Association's For a Life Worth Celebrating consumer education campaign. "This campaign is designed to help families understand that this experience can be as unique as the loved one being honored."

The Emmy-award winning actor had some thoughts about his own funeral. He told the organization about his fantasy: When he dies, President Bush and Vice President Dick Cheney show up to pay their respects but they're turned away — because his family knows he didn't like them.

Funerals should be planned as a celebration of life, and "a touch of humor doesn't hurt a bit," Randall said.

The National Funeral Directors Association will hold their annual convention in Las Vegas October 19-22.

The Tuesday October 21 convention luncheon will feature Henry Winkler, who committed to attending prior to the death of his long-time friend, John Ritter.

Winkler will speak about a project very close to his heart - his new children's book series Hank Zipzer, The Mostly True Confessions of the World's Best Underachiever, which he has co-written with Lin Oliver.

Inspired by Henry's own true-life experiences growing up with undiagnosed dyslexia, the books - two in the series, so far - chronicle the adventures of Hank Zipzer, a high-spirited and funny fourth-grader with learning difficulties.

The Annual Banquet will feature songwriter and performer Neil Sedaka who will entertain with hits that have made him a legend in the music industry. Starting out his training in classical music, Sedaka jumped into stardom as a teen idol dominating the music charts in the late 1950s and early 1960s. Having written over 1000 songs, Sedaka has also been inducted into the Songwriter's Hall of Fame and has a star on the Hollywood Walk of Fame.

Should the expected 6,000 attendees tire of workshops or viewing 300 exhibits, the NFDA has a booth they call the Oasis. There participants can find books, tapes, souvenirs and gobble down free popcorn.


HIRSCHFELD ART AUCTIONED
Self-Portrait in Barber Chair, circa 1957 Swann Auction Galleries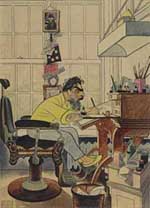 TV Totem Pole. Swann Auction Galleries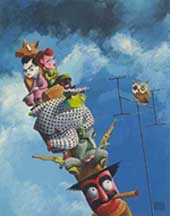 A stunning auction featuring a private collection of original drawings and limited edition etchings and lithographs created by The Line King, Abe Hirschfeld, was gaveled down last Thursday at Swann Auction Galleries.

Also on the auction block were books, letters and posters.

All 128 items for sale were from private collections. Numerous items were from a retired Cleveland automobile dealer, who has been collecting Hirschfelds since the 1940s.

Hirchfeld's TV Totem Pole featured Lucille Ball, Desi Arnaz, Jackie Gleason, Jack Webb and Groucho Marx captioned "An early version of television's rating system. Later on the pole was greased." It appeared as Colliers cover October 29, 1954.



Katharine Hepburn in The Millionairess, 1952. Swann Auction Galleries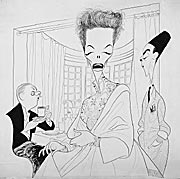 Liberace the cover of Colliers September 3, 1954. Swann Auction Galleries
For nearly 70 years, the beloved Abe Hirschfeld honored theatre stars with his caricaturist drawings which also appeared in publications from The New York Times, to TV Guide.

His drawings are in several major institutions, including the Metropolitan Museum of Art and the Museum of Modern Art, both in New York City.

In June, Broadway's Martin Beck Theatre was renamed for Hirschfeld.



Tahiti watercolor. Swann Auction Galleries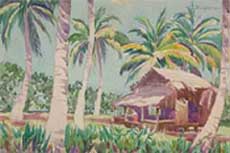 Among the more unusual works is a watercolor done by Hirschfeld during a two-month stay in Tahiti in 1931.

This is not the traditional Hirschfeld style. Rather, the watercolor features swaying palm trees and a grass hut.

His distinct signature is in the work's upper right-hand corner.

Hirschfeld died in January at age of 99.


SHOCKING! THE ART AND FASHION OF ELSA SCHIAPARELLI
George Hoyningen-Huene (American, 1900-1968), Elsa Schiaparelli in a white gown and coq-feather boa for summer 1932, published in Vogue, September 1, 1932 © Vogue, Conde Nast Publications Inc. From Philadelphia Museum of Art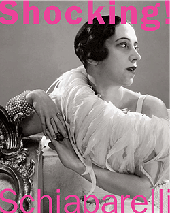 It was declared to be that social gala of the season. Marisa Berenson didn't have a thing to wear, so she borrowed a dress.

The occasion was last Thursday's fete for "Shocking! The Art and Fashion of Elsa Schiaparelli." The display opens today, Sunday, September 28, at the Philadelphia Museum of Art.

Actress and model Berenson is the granddaughter of Italian born designer Schiaparelli (1890-1973) and helps narrate the show's audio guide.

She contacted Philadelphia broadcaster Gene London, who is a renowned collector of couture, borrowed one of her grandmother's dresses - a black velvet number with a portrait neckline and full skirt accented by a necklace in pink - the color her grandmother established on the fashion world pallet.

The artistic world turned out to enjoy and marvel at the pink drenched Schiaparelli event. Geoffrey Beene and Mary McFadden were there as was Yves St. Laurent muse Loulou de la Falaise and Robert Rufino, creative director at Tiffany's international. Karen Akers serenaded with La Vie en Rose.

Schiaparelli had 12 commandments for women including:

Remember-twenty percent of women have inferiority complexes - 70 percent have illusions. They should never shop with another woman, who sometimes consciously or unconsciously, is apt to be jealous. She should buy little and only of the best or the cheapest. Her final commandment was: And she should pay her bills.

The exhibit includes over 150 dresses, shoes, hats, jewelry plus fashion illustrations, drawings, paintings and sculptures by Man Ray, Salvador Dali and others. Curator Dilys Blum has worked almost six years putting together this exhibition, which runs through January 4 at the Philadelphia Museum of Art.


USER FRIENDLY BROADWAY


U.S. Attorney James Comey announced Thursday that 16 landmarked Broadway theaters, operated by the Shubert Organization, will make their buildings accessible to people with disabilities by the end of the year.

Two consent decrees between the Shubert Organization and the government settle civil lawsuits brought against the organization under the ADA, enacted in 1990. Under ADA regulations, 1 percent of all seats must be set aside for disabled people, as well as another 1 percent for companions; both the best and the least expensive tickets must be available.

The Shubert Organization has spent $5 million to improve wheelchair seating areas, restrooms, entrances, exits, ticket windows, concession areas and drinking fountains.

"What we did was a combination of compulsion and volunteerism," Shubert Chairman Gerald Schoenfeld said at an opening ceremony. "We were a willing complier. This is a great example of the public and private sectors working together to remove barriers for all people who desire to enjoy the unique experience of seeing a Broadway show."

The agreement was hailed by Shubert adviser Kevin McGuire, a disabilities access consultant who uses a wheelchair.

All 16 theatres - which are half the seats on Broadway - are historical landmarks the newest of which was built more than 70 years ago, and modifying them was "an architectural challenge of a very high order," U.S. Attorney James Comey said. Regulations imposed by the Fire Department had to conform to historical landmark requirements.

Comey added that authorities are now checking disability access at other Broadway theaters


THE MUSIC GOES ROUND AND ROUND


AVENUE Q THE MUSICAL original Broadway cast recording on RCA Victor. In stores October 7.

A line from one of the songs says; "It's a fine, fine line between love and a waste of time."

Both critics and the audience fell in love with this show. The question is whether it's a waste of time to listen to this CD.

The production bears the warning: "Full puppet nudity, not suitable for children." Significant stage magnetism comes from the X-rated Muppets - so - will this wry musical hold the listener's interest when one can't see the puppets' psychological body language - or perhaps didn't see - or may never see - the show?

Yes!!



Rod and John Tartaglia photo by Carol Rosegg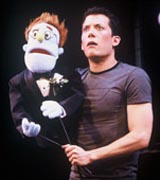 Music and lyrics written by Robert Lopez and Jeff Marx have pop melodies that are toe tapping, inspiring and rousing. The heartfelt, wicked lyrics speak to anyone who has wandered through those hallowed halls on any campus - or footed the bill for anyone else.

The insightful lyrics, a social commentary on today, are worthy to be studied by a sociology class. The classes on how Elvis Presley music changed society are really passe. Somebody needs to pick up on Avenue Q and turn it into a teaching tool.

Smart and sassy, this refreshingly delightful musical was first mounted off-Broadway winning the Lucille Lortell Award as Best musical - then it transferred to Broadway where it continues to delight audiences at the John Golden Theatre.

Avenue Q tells the satirical tale of college graduates who learn that a college diploma doesn't automatically mean a five figured income with perks and a pension plan. One character has a Masters Degree in social work but no clients and a lot of bills.

Plenty of 30-year-old-college graduates are in dead-end or entry level positions. Too many parents wonder if all that scrimping, saving and going into debt was for naught.



Kate Monster and Stephanie D'Abruzzo photo by Carol Rosegg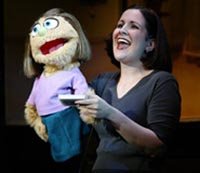 Avenue Q is set on a street in New York City - described as the place you live when you can't afford to live anywhere else - where young people fresh out of college and new to the city struggle to find their way in the world, dealing with thorny issues such as romance, racism, dating, sex, maxed-out credit cards, finding an apartment, finding a job and finding themselves, all told in a story with a huge dose of wit, humor and a whole lotta heart.

Avenue's stellar cast includes: Jennifer Barnhart, Natalie Venetia Belcon, Stephanie D'Abruzzo, Jordon Gelber, Ann Harada, Rick Lyon, John Tartaglia, Jodi Eichelberger, Peter Linz and their fabulous puppet co-stars created by Rick Lyon.

Musical supervision, arrangement and orchestration by Stephen Oremus; Instrumental music by Gary Adler and Michael Keller is musical coordinator. Adler conducts The Avenue Q Band composed of; Mark Hartman, Patience Higgins, Brian Koonin, Mary Ann McSweeney, Michael Crolter. The album is produced by Grammy Award winner Jay David Saks.

The holidays are approaching. Need an inexpensive gift? If you're "a college graduate with no skills" who is "looking for a purpose" knowing someday you'll "make a difference" - don't fall into a narrow minded bog of thinking Avenue Q is only for the under 30 intellect.

Load up on this CD as a stocking stuffer for old friends or family members. Avenue Q will be enjoyed, understood and laughed at by (amazing they can still stand and walk) the over 45-year-old set. The music and razor-sharp, pity lyrics have a far broader base than one might suspect.

As for Lopez and Marx - long may they create.

UP IN CENTER PARK & ARMS AND THE GIRL for the first time on CD, available for a limited time, is a Decca Broadway issue of two remastered, original cast recordings. This niche market release is Decca Broadway's tribute to the legendary pop song and Broadway lyricist Dorothy Fields (1905-1974) considered one of America's finest wordsmiths.

She is remarkable, both for the longevity of her career - from the 1920s to the 1970s - and for being a woman in a profession dominated by men. Her hits range from Can't Give You Anything But Love and Don't Blame Me to Big Spender, written for the Broadway musical Sweet Charity.

Up in Central Park (1945) was written with composer Sigmund Romberg, a Songwriters' Hall of Fame member, noted for his scores that favored the romantic, lyrical style of Viennese operettas.

It tells the tale of the real-life New York figure Boss Tweed and his nefarious attempts to skim profits from the new Central Park in the 1870s. A tremendous hit on Broadway, where it played a total of 504 performances, Up In Central Park includes such hit songs as April Snow, and the famous and sublime Close As Pages In A Book.

Decca's recording features Wilber Evans and Betty Bruce, from the original Broadway cast, as well as the great vocalist Eileen Farrell. This release is perfectly timed to coincide with the national celebration for Central Park's 150 Anniversary.

Arms and the Girl was Fields collaboration with popular and classical music composer Morton Gould.

Set in 1776, the Revolutionary War is on and bullets are flying.

According to the original liner notes included in the booklet of this CD, "the place is a hayloft of Thad Jennings' barn in Ridgefield, Connecticut. Two people are hiding in the hay: Franz, a Hessian solider (Georges Guetary) who has deserted from the British and Connecticut (Pearl Bailey), a runaway slave."



Pearl Bailey in Arms and the Girl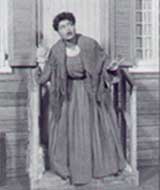 "Both are discovered by Kirkland (Nanette Fabray), who captures the first and befriends the second."

"Jo wears pants and carries a gun and seems resolved to win the war single-handed. Her father is a militant revolutionist and he had brought up his daughter in his own image."

This short lived 1950 musical, which closed after only 134 performances, is significant because Pearl Bailey was not only making her Broadway debut, but stole the show.

Up In Central Park and Arms and the Girl available for a limited time only starting October l.



Broadway To Vegas is supported through advertising and donations. Priority consideration is given to interview suggestions, news, press releases, etc from paid supporters. However, no paid supporters control, alter, edit, or in any way manipulate the content of this site. Your donation is appreciated. We accept PAYPAL. Thank you for your interest.


SPREADING THE WORD


FREDDY ROMAN & GUESTS ON JEWISH COMEDY A master entertainer, Freddy Roman added important new career laurels for creating, packaging and starring in Catskills on Broadway. The show won critical and audience acclaim in New York on Broadway and on tour across the United States and Canada. Wednesday, October 1st at the 92nd Street Y in NYC.


HAPPY BIRTHDAY


ROGERS WILLIAMS will celebrate his 79th birthday, October l, by performing for over 13 hours, taking requests from the public, and breaking the marathon world record for piano performance.

"I love to play beautiful music for people, and on my birthday I'm going to be playing requests all day long and breaking the world record."

The Roger Williams Birthday Marathon will take place October first from 10:00 a.m. until 11:15 p.m. at the Palm Springs Desert Museum, Palm Springs, CA.


SWEET CHARITY


BRIGHT YOUNG THINGS the film by Steven Fry stages its European premiere this evening to benefit The Prince's Trust. Prince Charles plans to attend and it's promised that the stars will be out in force. The 'who's who' cast includes Peter O'Toole, Simon Callow, Jim Broadbent, Richard E. Grant, Emily Mortimer, Stockard Channing, Dan Aykroyd, Stephen Campbell, Imelda Staunton, James McAvoy and many others.

This is Fry's film directorial debut, and he describes the love story and satirical comedy as "a period film shot with modern pace and cinematography. It deals with fame, sexual scandal, greed, night-clubbing and the frantic glamour of youth not seen before."

The event takes place tonight, September 28th, at the Odeon Leicester Square in London. There is a pre-film reception and a post-film party.

The Prince's Trust offers practical support including training, mentoring and financial assistance, to help 14-30 year olds realize their potential and transform their lives. So far 470,000 have been helped.

ROLF AT THE ROYAL ALBERT HALL takes place on September 29 also benefiting The Princes Trust. The Australian is celebrating 50 years in television with this entertainment extravaganza which is billed as an extraordinary Golden Jubilee Prom, packed with color, music, laughter and surprises - plus fantastic celebrity special guests all lining up to join the fun.

Russell Crowe, who says Rolf Harris was his childhood hero, indicated he plans to attend.

Singer, songwriter, musician, TV personality, artist, cartoonist, author and funnyman - that's the internationally acclaimed and inspirational Rolf Harris. He was there at the very beginning of national television in the UK and is still going strong today.

In effervescent Rolf fashion, he intends to raise the roof with: a scintillating orchestra accompanied by didgeridoos; wobble boards; audience members performing with their own Stylophone; a giant singalong; painting a giant canvass; rock 'n' roll - much much more. The event will be shown on BBC ONE later in the year.

VANITY FAIR IN CONCERT 2nd Annual concert series to benefit Step Up Women's Network. Created to bring Vanity Fair's November Music Issue to life, the "Vanity Fair In Concert" program combines music, charity and celebrity, with the cutting edge of the music entertainment world. Featuring Sheryl Crow, Deborah Harry and Chris Stein of Blondie and more! Hosted by Natalie Portman and Chloe Sevigny. Also featuring DJ Mark Ronson and DJ Sky.

Step Up Women's Network unites women in the arts, entertainment, and media fields to raise awareness for women's health and social issues. October 6th Hammerstein Ballroom, NYC.

ANDRE AGASSI'S GRAND SLAM FOR CHILDREN BENEFIT with Sheryl Crow, Billy Joel, Elton John, Dennis Miller and Robin Williams. October 4 at the MGM-Grand in Las Vegas.


OTHER PEOPLE'S MONEY


PITTSBURGH SYMPHONY ORCHESTRA which has been invited by The Vatican to play a concert for the pope on Jan. 17, 2004, in Rome, has settled a contract dispute. Last July management asked seven musicians who were at least 60 years old and with at least 30 years of experience to accept an early retirement package which was not based on merit. The deadline for the musicians to decide was August 13, and the union insisted that any opening be filled by a full-time employee.

The musicians approved a new contract last Tuesday, a settlement termed essential to overcoming a projected $3 million deficit in the 2003-4 season. The new contract includes a 7.8 percent pay cut in the first two years of a new three-year contract. However, their salary is expected to increase in the 2005-6 season. In the first two years of the agreement, the annual wage will be cut to about $83,000 from $90,220. In the third year the musicians will earn 95 percent of the average wage of orchestra musicians in Chicago, Cleveland, Philadelphia and New York, giving the Pittsburgh musicians a projected salary of $103,000. The musicians' contract expired September 21.



THE CHAIRS

Michael Anthony Tatmon and Shontelle Thrash star. The production has been invited to China. Photo by Yvonne Boyd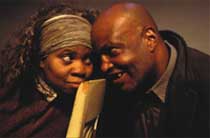 Ever feel like life is just a little out of control? Escape into an absurd alternate universe with Ionesco's classic comedy The Chairs.

Unseen guests fly in and out, doors slam and sputter, and a message meant to save humanity is ready to be delivered - if only our two heroes can make it through the night without running out of chairs.

Enter into a world where only two people aren't invisible and there are simply never enough chairs. The production will be directed by Bulgarian director Prodan Dimov, with scenic design by Chinese scenographer Ming Chen. Michael Tatmon and Shontelle Thrash star as an elderly couple scrambling for chairs.

Considered to be the defining play of the Absurdist theatre movement, The Chairs has been wowing audiences with its clever wit and Laurel and Hardy physical comedy for over five decades. This fresh, unique 7 Stages production incorporates design elements by French surrealist painter Rene Magritte, who was a contemporary of Ionesco, and features two of the city's finest African-American leading actors. The production will continue after its performances in Atlanta onto a tour of China this fall, where it is the only American theatrical production thus far invited to participate in the three year old China Shanghai International Arts Festival.

When an elderly couple realize they have discovered the secret to life, they invite everyone in the world over to their home (which just happens to be situated on an island in the middle of an endless void). It's not long before hundreds of guests (who just happen to be invisible) are knocking on their door – and looking for a place to sit. Unseen guests flood in, doors slam and sputter, and the chairs just keep coming.

Romanian-born Ionesco established Theatre of the Absurd in France, where he found himself unwittingly exiled at the outbreak of World War Two. Calling his plays "antiplays," he created dream-like worlds defined by bizarre and whimsical norms and even stranger situations. Using humor mixed with sudden dark surprises, Ionesco's work challenged the meaning of "sense" in the modern world, confronted our growing isolation from one another, and sought after the source our seeming inability to communicate.

This production of The Chairs is presented in conjunction with Take a Seat, a silent auction of chairs designed exclusively for 7 Stages by 9 of Atlanta's most prominent and cutting-edge designers. The gallery exhibit of chairs will open at the production's benefit opening night October 4. The silent auction will continue in the gallery and online throughout the run of the production.

Funds raised will help support 7 Stages tour of The Chairs to China's Shanghai International Arts Festival in November. Participating designers include Stan Topol, John Oetgen, Bill Stewart, Suzanne Kasler, Benji Jones, Joel Kelly, John Craft, Will Roberts, and Mimi Williams.

The Chairs begins previews Thursday, October 2. Performances run through Sunday, October 26. A talkback with the cast follows the October 9th performance. Atlanta, Georgia.

TOUCH by Toni Press-Coffman, directed by Loretta Greco, at the Women's Project in New York City. A moving story of loss and devotion. "When a dying star explodes, its light is so great that it outshines its entire galaxy." Tom Everett Scott stars as Kyle Kalka, a heartsick astronomer trying to come to terms with his wife's murder. With his memories of her as a roadmap, Kyle embarks on a desperate journey to rediscover the power of human connection.

The cast also includes Michele Ammon, Matthew Del Negro and Yetta Gottesman.

Michael Brown (set design), James Vermeulen (lighting design), Jeff Mahshie (costume design) and Robert Kaplowitz (sound design and original music).

Produced by Robin Chambers, gal Friday to actor Robert De Niro, RoseMarie Terenzio who served as John F. Kennedy Jr.'s personal assistant from 1993 until his death in July 1999, and actress Michele Ammon. Their company is known as GreenFlash.

Performances begin September 30 with an official opening scheduled for October 9 at The Women's Project Theatre, NYC. Founded in 1978 by Julia Miles, The Women's Project and Productions is the nation's preeminent non-profit theatre dedicated to producing and developing new plays by women.

MAMMA MIA! Benny Andersson and Björn Ulvaeus' Broadway and international smash hit musical based on the songs of ABBA, that has become one of the most successful musicals of all time, is coming to the Music Hall at Fair Park in Dallas. The infectious and funny production features the pop super-group's best-known songs. Music Hall at Fair Park in Dallas, Texas from September 30 – October 19. Parking Note: The State Fair of Texas dates are September 26 – October 19. It is extremely important that you allow ample time to arrive and find parking - 1 to 2 additional hours. Please note that the State Fair of Texas does not reserve any parking for the Music Hall patrons and all parking for all park visitors is available on a first-come, first-served basis. Please also note that October 3, October 4, and October 11 will be high volume days on the State Fair Grounds due to football games and concert events.

AN EVENING WITH JACK KLUGMAN the three-time Emmy Award winner is the first offering of the Falcon Theatre's second season. The new one-man show offers an intimate dialogue between Klugman and the audience. Falcon producing director Rowan Joseph serves as off-stage moderator with Klugman fielding prewritten questions from the audience. In two acts, augmented by a video montage, Klugman shares stories from his over half-a-century in show business. Klugman speaks about working with such legendary figures as Humphrey Bogart, Henry Fonda, Ethel Merman, Judy Garland and Tony Randall, as well as sharing his battle and recovery from throat cancer. Runs through October 19 at the Falcon Theatre in Burbank, CA.

NINE welcomes Jenna Elfman to the cast of the Tony-winning Broadway revival. Elfman, who starred on the TV sitcom Dharma and Greg, replaces Jane Krakowski in the role of Carla, the insecure actress in love with womanizing Italian film director Guido Contini on October 7th.

TONY N TINA'S WEDDING which ended a 15 year run in NYC last May returns to the Big Apple, opening October 2. Get in on the gossip, fights, pasta and champagne Thursday, Friday and Saturday evenings. The ceremony takes place at St. Luke's Church and the reception, a block away, at Vinnie Black's Coliseum at the Edison Hotel. If you aren't on the New York scene this fun, interact show can be enjoyed in Philadelphia, Hawaii, Las Vegas, Minneapolis, Chicago, Detroit, Toronto and Vancouver.

THE MARRIAGE OF FIGARO by Mozart. Ildebrando D'Arcangelo as Figaro, Isabel Bayrakdarian as Suzanne, soprano Ruth Ann Swenson, baritone Peter Mattei. Conducted by Sir Andrew Davis. In Italian with projected English titles. Through October 25 at the Civic Opera House in Chicago.

ANYTHING GOES by Cole Porter, starring Klea Blackhurst as Reno Sweeney. October 3-12 at the Shubert Theatre in New Haven, CT.


| | | |
| --- | --- | --- |
| | | |
WHO'S WHERE


MARILYN HORNE AND BARBARA COOK perform as part of the FleetBoston Celebrity Series. Once or twice a millennium the heavens conspire to create a celestial event that lights up the night like no other. This will surely be the case when the incomparable classical vocalist Marilyn Horne and the irrepressible Broadway legend Barbara Cook together illuminate the stage at Symphony Hall. Could any stars in the sky shine brighter? Marilyn Horne's gleaming coloratura mezzo and Barbara Cook's bright-as-a-bell soprano have made them two of the world's most celebrated practitioners of the vocal arts. Their program of solos and duets from the American Songbook, performed with full orchestra, includes treasures by Cole Porter, Richard Rodgers, Harold Arlen, Duke Ellington and the Gershwins. Wally Harper musical director. A don't miss performance on October 3 at Symphony Hall in Boston.

BERNADETTE PETERS on vacation from starring in Gypsy September 29 to October 4. Maureen Moore will be performing the role of Momma Rose. Shubert Theatre in NYC.

BRUCE SPRINGSTEEN AND THE E STREET BAND will play New York's Shea Stadium on Oct. 1 and 3, the final stop of their 2002-2003 world tour.

SHANIA TWAIN on stage at HSBC Arena, September 30, Buffalo, NY.

PAULA POUNDSTONE opens a three night engagement Friday the The Improv in Homestead, PA.

VINCE GILL on stage Thursday and Friday at Casino Rama in Ontario.

EDDIE IZZARD on Tuesday opens a five night engagement at the Shubert Theatre in Chicago.

PETER CINCOTTI performing this evening at William Paterson College in Wayne, New Jersey. On Saturday he can be enjoyed at the Arts Center in Rochester, NY.

BILLY IDOL on stage Wednesday, October 1, at the Civic Arts Plaza in Thousand Oaks, California.

CREEDENCE CLEARWATER REVISITED perform October 3-4 at the Las Vegas Hilton.

SMOKEY ROBINSON on stage October 3-4 at the Paris Hotel in Las Vegas.

DIANE SCHUUR performing a two nighter Thursday-Friday at the UCO Jazz Lab in Edmond, Oklahoma. On Saturday she's in the spotlight at the Arkansas Best Performing Arts Center in Fort Smith, Arkansas.

RICHARD SKIPPER AS CAROL CHANNING musical director John Bowen. Special guest- Scott Samuelson. Monday October 7 at The Duplex in NYC.

KAREN AKERS performing at Morgan's Cabaret at the Prince Music Theater Oct 1–5, Oct 8–12 in Philadelphia, PA.

GARY PUCKETT singing his hits Friday at the Heart O'Texas Fair in Waco, Texas.

KENNY ROGERS entertaining Friday at the Ameristar Hotel & Casino in Kansas City. On Saturday he is at the Crystal Grand Theatre in Wisconsin Dells, Wisconsin.

PAT BOONE opens a five night engagement on Monday, September 29, at the Hilton Grand Hotel in Atlantic City, New Jersey.

JIMMY STURR the 13 time Grammy award winner who has received more consecutive Grammy nominations than anyone in the historiy of musical awards brings his Polkapalooza to the Stardust Hotel in Las Vegas October 4-5. He travels in a custom 45-foot customized tour bus and lives in the house he grew up in. His office is across the street from the high school he attended in the upstate village of Florida, New York with a population of 1,800, where he runs his various businesses which include United Polka Artists, Starr Record Company, Jimmy Sturr Travel Agency, a publishing company and his syndicated radio show.


PIFFLE AND PROFUNDITIES


LONG LEGGED BLONDES HAVE MORE FUN Well, duh! Paramount Pictures held an open casting call for its remake of The Stepford Wives last week at the Lockwood-Mathews Mansion Museum in New Canaan, Conn. The studio was looking for extras to play Stepford wives and husbands for an outdoor scene being shot in New Canaan today and tomorrow. Casting requirements were; Women must be 20 to 40 years old, 5-foot-8 or taller and pretty. Being blond is a plus, but not a requirement. Men need to be 30 to 40, 5-foot-8 or shorter and average looking.

Over 3,000 showed up to audition for the 200 non speaking parts.

GEORGE FORMAN boxer, minister and hamburger grill promoter, telling writer Frank Gannon that he wants to star in a Broadway play.
















Next Column: October 5, 2003
Copyright: September 28, 2003. All Rights Reserved. Reviews, Interviews, Commentary, Photographs or graphics from any Broadway To Vegas (TM) columns may not be published, broadcast, rewritten, utilized as leads, or used in any manner without permission, compensation and/or credit.
Link to Main Page
---
Laura Deni


CLICK HERE FOR COMMENT SECTION