! >
Broadway To Vegas
  SHOW REVIEWS     CELEBRITY INTERVIEWS     GOSSIP     NEWS 
Copyright: September 28, 1998
By: Laura Deni

CLICK HERE FOR COMMENT SECTION


TENNILLE TERRIFIC IN VICTOR/VICTORIA


The multi-talented Toni Tennille, who first became known as the female half of The Captain and Tennille, is starring as the woman-pretending-to-be-a-man-pretending-to-be-a-woman in Victor/Victoria.

The national touring company has hit the road with a tour that extends through 1999. If anyone can handle the rigors of that, it is Toni Tennille.

She and her husband, former Beach Boys keyboardist Daryl Dragon, took their bouncy brand of pop music to the top of the charts.

From 1975, when their cover of Neil Sedaka's Love Will Keep Us Together sold over 2.5 million copies to 1979, when they scored their last Top Ten hit with Do That To Me One More Time, Toni and Daryl have sold over 23 million records.



The Captain and Tennille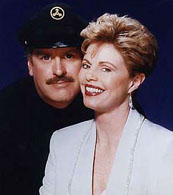 They crossed over to television in 1976 hosting their own variety series, The Captain and Tennille Show, which lasted for two seasons.

They've spent decades starring in Nevada nightclubs, both as The Captain and Tennille and Toni doing a solo act featuring big band songs. From Pink Floyd to Gershwin that woman can knock out a song.

Tennille has signed on for the grueling Victor/Victoria tour, which began Sept. 1 in Reno, Nevada then headed to Portland, Ore, and Cosa Mesa, Calif., before opening a four night, five show engagement in Omaha, Nebraska last Thursday.



Toni Tennille as Victor/Victoria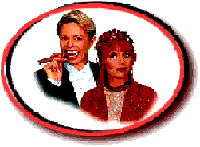 Michael Ashleman has seen Tennille perform over 20 times in six venues.We sent him to cover the Omaha production of the Blake Edwards-Henry Mancini creation, Victor/Victoria.

"This was a flawless production, equal to any Broadway production I've ever seen. Staged at the Omaha Civic Auditorium Music Hall, the production was suppose to start at seven-thirty. After the curtain was fifteen minutes late, a voice from a speaker explained they were having technical difficulties, which they hoped to have fixed. In about another ten to fifteen minutes the curtain finally went up," Ashleman explained.



Julie Andrews as Victor/Victoria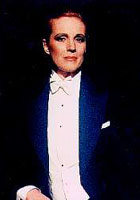 "Toni Tennille in the difficult role of Victor/Victoria has a great range of voice. In fact, her vocal range, for this play, is more suited to the role than Julie Andrews' voice, though Julie Andrews' thinner figure and higher voice made it more dramatic.

"If Julie Andrews had not been originally cast in Victor/Victoria, Toni Tennille would have been a fabulous choice," he stated.

Tennille would agree. When auditions were held to replace Andrews on Broadway, Toni put thousands and thousands of dollars into a tryout for the lead. She wasn't selected, but Tennille refused to give up. In April, l997 she told USA Today Weekend "As Madonna went after Evita, I'm going after this. I'm perfect for it."

"Toni looks good. She's got to be in her early 40s . . . " he began. When interrupted and told Tennille was 53, our reviewer gasped, paused and exclaimed - "For 53 she looks -- gorgeous!"

"But, she really looks like a woman," he continued. "She has a great figure, so it's a little bit of a push having her play a man, although the costuming is wonderful. They do it quite well," he emphasized, referring to the costumes of Willa Kim.

When reminded that it was Raquel Welch who replaced Andrews on Broadway, our reviewer responded with a really long pause followed by; " that really is a stretch." As for Toni's Omaha engagement Ashleman reported, "Toni's first three entrances on stage resulted in applause. She received applause for just walking on stage. Finally the audience stopped doing that, so she could perform. She'd pause and the play paused to permit the audience to finish applauding, and then the play resumed. So, the audience had to stop applauding so the play could finish.

"The costumes were outstanding and I was extremely impressed with the scenery. This production is traveling all over the country. They have a two-story hotel on stage," he stressed. "It's a two story set that rolls on and off the stage about six times. That scenery is built as solid as a house. This is not a cheap production on a shoestring budget.



DENNIS COLE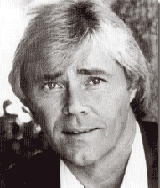 "This is an A quality show from the dancers - everything.

"One thing I found rather unique was that all of the dancers were not flat chested, thin, anorexic dancers. These were full bodied people. They were exceptional dancers, proving that to be a good dancer you don't have to be anorexic. Every one of the women had a normal looking, healthy body."

Co-starring in this production was Dennis Cole as King Marchan. He recently celebrated 30 years in show business. He started as a motion picture and television stunt man.



Dennis Cole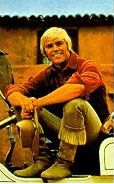 His acting career was launched with the starring role in ABC-TV's Felony Squad with Howard Duff and Ben Alexander.

Another major television role was that of Lance Prentis in The Young and the Restless.

After performing for many years in television Dennis became involved in theater when he landed the lead in the Broadway bound show All The Girls Came Out To Play.He's traveled with Ray Conney's British farce Run For Your Wife, and performed as narrator in Blood Brothers.

At one point Dennis decided to devise his own musical review which he performed in Los Angeles and in Las Vegas at the Debbie Reynolds Hotel.

He wasn't that good.

He was perfectly credible, perfectly competent, by any standards, for this part," countered Ashleman.



Dennis Cole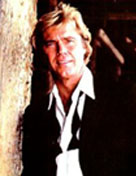 "The reason he wasn't a headliner in Vegas is that his voice is not a Robert Goulet," analyzed Ashleman. "I don't know if it was a technical error or if they were covering a flaw in his voice, but in a duet he has with Toni Tennille, second act, scene six, Almost A Love Song,they had her miked a bit louder than him. Her mike had more volume."

"Dennis Cole did a credible job as King Marchan," stressed Ashleman."The poor guy failed in Vegas because he's suited to the stage, not a nightclub. He would not be a nightclub performer."

"He's not remarkable. But, by no means is he awful. He was perfectly suited to the part he was given here. You could put him in any Broadway play or musical type production and he would not embarrass any production. I don't think he'd ever stand out as WOW!!, but his acting is perfectly credible, perfectly competent by any standards."

"His acting is good and his singing is not distracting to the show," Ashleman reiterated. "He's not a show stopper, but it's perfectly acceptable to put him in any play and not have to worry about him screwing it up. In this show he was very good, equal to any Broadway star you might see up there."

"The Bodyguard, Mr. Bernstein - nicknamed Squash - was played by A.J. Irvin. At the end of the show he sings a line and he actually has a great voice," Ashleman related. "He recently completed playing the role of Smokey in the national touring company of Damn Yankees."

"Dana Lynn Mauro played Norma, who is King Marchan's original love interest when he comes to Paris. She's the blonde. She does a very good job of playing a dumb blonde. She had a couple of scenes where she throws a fit and she got a lot of laughs from the audience. She could really ham it up, because that's the type of hammy character she's playing. She was great, a real scene stealer."

"Jamie Ross as Carroll Todd, the old drag queen who talks Victoria into becoming Victor, was outstanding. Nobody could have done a better job."

"There was a live orchestra," reported a delighted Ashleman. "They were wonderful," he said, referring to the ensemble under the direction of John Mezzio, who also provided additional orchestrations.

The opening night show was sponsored by the Omaha based Oriental Trading Company, a major company distributing novelty items (think rubber chickens) around the world.

A disappointment was that the Music Hall, which seats 2,449, was only half full. If cities clamor for great entertainment, then it's too bad they don't have enough sense to recognize great talent when it's in their backyard. Victor/Victoria should have been Standing Room Only. It wasn't. Shame on Omaha.

This marvelous production opens tomorrow Tuesday, September 29 in Grand Rapids, Michigan with performances through October 4. Next stop is Chicago with an October 6th opening night.



Broadway To Vegas is supported through advertising and donations. Priority consideration is given to interview suggestions, news, press releases, etc from paid supporters. However, no paid supporters control, alter, edit, or in any way manipulate the content of this site. Your donation is appreciated. We accept PAYPAL. Thank you for your interest.


STARS SHINE AT GALA
ANDRE AGASSI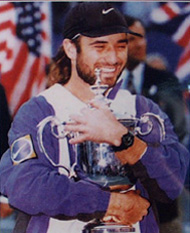 The Andre Agassi Gala to benefit his foundation for at risk children was a stunning, star studded event last Saturday night at the MGM-Grand Hotel, Las Vegas. Agassi proudly announced that the event raised $3.285 million, $1.6 million of it from the auction.

Robin Williams egged people on, running up the bid on a package that had him hosting dinner in a San Francisco restaurant. There were two top bids of $110,000 each, so Williams graciously extended his participation to two packages. He then explained -- "The dinner will begin with snails followed by a couple of endangered species. Then we'll join Mike Tyson...".



ROBIN WILLIAMS hosted San Francisco dinner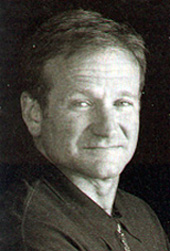 Brooke Shields' eye. She requested that the model come to her table, so she could give the baubles the once-over before nudging Andre to bid. A spirited bidding war erupted between Andre and Robin Williams with Williams placing the winning bid of $37,000.

A children's party for 12 at FAO Schwarz in Las Vegas culminating with Brooke and Andre reading bedtime stories to the children fetched $60,000.

Looking very chic in a short black dress, Brooke took the stage to auction off two non-speaking walk-on parts in her hit TV series Suddenly Susan.Despite the fact that the packages included dinner at the NBC commissary, the packages pulled in $39,000 and $29,000.

Generating the most spirited bidding was the last auction item; autographed bats from Mark McGwire and Sammy Sosa, plus the opportunity to meet the ball players. Referring to McGwire's bat, Andre told the bidders, "I was going nuts trying to get his bat." The winning big was gaveled down at $115,000.

When Grammy award winning producer-arranger-composer David Foster pulled a cigar from his coat pocket and inquired whether anyone would like to bid on a used cigar, the joke and laughter that followed gave a clue that much of the evening to come would be X-rated.



Amy Grant made her debut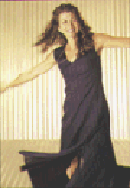 As usual the entertainment was the best. You can't get much stronger than Lionel Ritchie. Stevie Nicks and Fleetwood Mac had the black tie group literally dancing in the aisles. The lovely and talented Amy Grant, who was the first gospel singer to cross over to pop, made her first appearance at the benefit. She was followed by Dennis Miller who quipped - "Solid booking move to have me follow the Christian chick."

While Miller's vocabulary is XXX-rated his brilliant, insightful, pity, rapid fire current event commentary took no prisoners and was dead-on accurate. A lot of time and money could be saved if the news commentators and political analysts were told to clam up and Miller was given 20 minutes - he could explain it all.

The only down side to the elegant evening was the sound level. Expert producer David Foster contracted 100 gifted musicians. Then he destroyed everything by having the sound level so high the seats vibrated and heads throbbed. The sound was so loud everything was distorted. You couldn't tell a violin from a saxophone. People - lots of them - walked out. The MGM-Grand Garden is an enclosed venue, not a cow pasture. David Foster should get himself to an audiologist. He may have a hearing problem. If not, then he ought to get himself to a lawyer who can advise him on liability insurance. Some day he's going to get nailed for damaging other people's hearing.

Marc Cohn, who sang at Brooke and Andre's wedding, had the sound at the level it should have been for everyone, and delivered a sensitive rendition of "their" song True Companions. Last year Brooke told the do-gooders that she'd take singing lessons and promised that this year she'd sing. She didn't. With due respect to Mrs. Agassi, everyone was laughing so hard at Dennis Miller and Robin Williams that noone noticed.


POP ON OVER
Skitch Henderson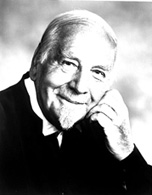 The New York Pops with founder and music director Skitch Henderson, will make its 16th season at Carnegie Hall with seven concerts.

Opening night with the glamorous Christine Baranski is slated for October 10. The Brazilian Beat with vocalist Susannah McCorkle and flutist Paula Robinson follows on Nov. 20.

A Pops holiday Celebration with The Fort Worth-TCU Symphony Choir continues the program with performances on Dec. 18-19. The Best of Gilbert and Sullivan rings in the New Year with the Blue Hill Troupe on Jan. 29.

Lost in the Stars featuring a performance of Holst's The Planets is slated for Feb. 12. Ending the season on March 19 is The Broadway Prince conducted by New York Pops assistant conductor Charles Prince with Skitch Henderson as narrator.


CASHING IN ON COMMERCIALS


National commercials are a lucrative business. Many an actor prays to get cast hawking anything.

Then there is fashion doyenne Carrie Donovan, the former style editor of The New York Times Magazine.

CARRIE DONOVAN and Friend in an Old Navy Spot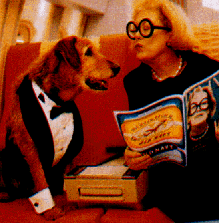 Her big Mr. McGoo eyeglasses, Chanel cuffs, and black cashmere sweaters are her trademark. So, how and why would this fashion guru not just get into a commercial, but into all of the Old Navy commercials?

Donovan explained to Vogue that while she was at work an Old Navy member was rushing off to shoot a commercial. Donovan cracked that she thought she'd be good on television. Just like that, they started writing her into the spots.

She never dreamed the spots would take off and turn her into something of a cult figure.

"I get to wear my own pearls, my own cashmere sweater. I did have to have a pair of nonreflective glasses made," she told Vogue. "My friend Joel Schumacher said they would light me fabulously. And they do.

"It's simply hilarious and fun. The biggest compliment was when the other actors on the set insisted that I had to join the Screen Actors Guild. Now I am a member of SAG."



J. Peter Loftus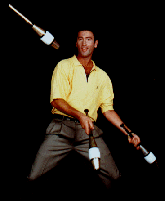 Working with Donovan in the Old Navy commercials is J. Peter Loftus. For him, entertaining at a birthday party was the stepping stone to the national television commercial arena. Of course it wasn't just any birthday party. "It was Woody Johnson's birthday party. He's the heir to Johnson and Johnson. He hired a circus for his birthday party."

You mean, you don't?

Loftus, who has been juggling for 20 years, recalled that he "juggled and was paid $2,000." "The agent who was at the birthday party called and said they needed someone for a commercial which would air during Wimbledon. NBC Sports and Nike were doing a commercial with Pete Sampras, one of the world's greatest tennis players. They needed a juggler who could be his double. I have a very similar build as his," explained Loftus.



PETE SAMPRAS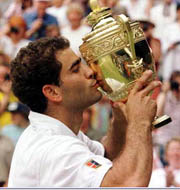 "Even though he is an amazing tennis player, he's not a world class juggler, quipped Loftus. "So, they had me bounce balls off a racket in time with music. After it was edited it created an illusion that he was actually doing it, but it was me," explained Loftus, referring to the commercial called Musical Racquets.

"That commercial aired during Wimbledon, two years in a row - June of 1997 and June of this year."

Loftus' next national commercial was for Old Navy Clothing. "I got called by an agent at Jordan Gill & Dornbaum," he said referencing the highly respected New York talent agency. "They said they were referred to me.

"I auditioned. Usually at an audition the casting director is there, the producer or the director of the commercial and their assistants. In the first audition for Old Navy there was the producer, a casting agent and their assistant.

"I walked in and they said they understood I was a talented juggler. They said - So juggle something. I juggled seven objects at one time, which is a very difficult thing to do.

"When they saw that they said: - Walk around and juggle. I did. Then I did a bounce routine. They turned on some music and wanted to know if I could dance and juggle. This is all rather rudimentary for me," recalled Loftus whose juggling expertise includes tossing things around while water skiing.

"Usually, when you're in an audition for more than five minutes, you know it's going well. I was in there for 10 or 15 minutes, so I had a real good feeling. You never know if you're going to get called back" he cautioned.

"I got a call back the next day. I went back and this time the producer and the actual director of the commercial were there. The director asked me to walk around juggling. He wanted to see a lot of visual things. The director handed me various props; light bulbs and heavy electrical equipment, to see if I could juggle them," he said referring to the ability to juggle while counter balancing items of different weights.

"I didn't know if I had the part, but I still had a good feeling. The next day they called me," related Loftus, who has appeared on The David Letterman Show. "The next step in getting any commercial is called the availability check. They check to see if you're available to do the commercial on the dates they are going to shoot it. I was. They called me back within minutes to tell me I had the part.

"Then they tell you where to be for your wardrobe fitting. Finally, you shoot the commercial.

"It's a harem," said Loftus, explaining one Old Navy commercial. "There are dancers around a Moroccan style tent. Barbara Eden is there, dressed Jeannie. I'm next to her juggling. I'm also doing what is called principal work on camera, juggling clubs.

As for Carrie Donovan, Loftus simply adores her. "She is really nice," he exclaimed. "She really liked my juggling. She was the nicest person to work with."



Eartha Kitt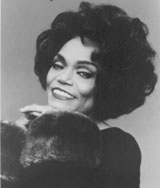 Loftus has also appeared in the Old Navy commercial, Cats Meow, which features the fabulous Eartha Kitt.

Next on the docket is an avenue of employment that is also extremely lucrative for talented performers - industrial shows.

"This is for Toyota," he explained. "It's like a Broadway production. They go from city to city with car shows. I'm featured as the juggler. And, I'll be doing national commercials with them.

"Anaheim is the first show. Then we go to Miami, San Diego, Los Angeles, Dallas and Detroit. It's big money," he stated. "The best money I've ever made as a juggler will be with this industrial show. They pay expenses; airfare, travel, room, per diem rates," he elaborated.

Loftus is a SAG member and receives residuals on commercials.

For those who would like to enter the commercial arena, Loftus has a few suggestions. "Once you get caught up in the mainstream of commercials they start to use the same people over and over, because they've already worked with them. They know they know the format. That's why you see the same people in commercials over and over," he divulged.

While many an actor has used national commercial work as the springboard to super-stardom Loftus emphasized, "Don't be a problem. Don't be a head case. Remain a modest person."

That doesn't mean selling yourself short. National commercials use highly skilled actors. Many possess trained or unique skills. Loftus stressed to let your talents be known. "Put down any special talents you have," he advised. "I know a guy who can blow perfect smoke rings. He puts that on his resume. He's done three or four television shows, just because he can blow smoke rings."


TO KILL A MOCKINGBIRD -- DOA


Flat Rock Playhouse in Flat Rock, North Carolina is a 458 seat playhouse rated as one of the top summer theaters in the nation. Our roving North Carolina reporter, Trudy Knight-Peek, covers the performances at that playhouse.

She's always been impressed with the productions and was particularly eager to cover To Kill A Mockingbird since that is one of her favorite movies. Sometimes anticipation is a precursor to disappointment.

"For the lack of a better word, IT'S AWFUL!!" fumed Knight-Peek. "It was totally amazing to me how they could butcher such an excellent movie. We didn't even stay for the entire show. We left about 15 minutes after the intermission," she confessed.

The Pulitzer Prize winning novel has the Flat Rock production directed by Betsy Bisson.

"The production was nothing less than boring," declared Knight-Peek.

In the movie Gregory Peck gave an absorbing performance as the poignant Atticus Finch. In this production Peter Thomasson assumed that role.

"Gregory Peck was soft spoken, laid back - a quiet man. I feel that Mr. Thomasson came across as being too aggressive - to quick - to loud," complained Knight-Peek. "It's just not the style in which the character should be portrayed. I realize that Gregory Peck is a hard act to follow, but this production did not do justice to such a wonderful movie," she chided.

There were some rays of light. "Mayella Ewell played by Lynn Llewelyn was very convincing. She is a BFA graduate of SMU. One of her favorite roles was Echo in Eleemosynary opposite June Havoc and Elizabeth Ashley," Knight-Peek reported.

She also applauded Randy Evans who played Tom Robinson."He was excellent."

Knight-Peek also had kudos for the children. The play has three children alternately played by six young actors.

"Young Scout was played by Kelsey Stout and Shelby Huntley. The brother, Jem, is played by Scott Whittemore and Will Hartzog, and their friend, Dill, is performed by Nick Kepley and Jake Krickhan. The children carried the show.

"I understand that you cannot fit every single thing from a movie into a play - however - they cut a lot of both interesting and significant scenes. Such as; Scouts poor little friend who came for dinner and poured syrup over all of his food. And, when Scout went to her first day of school wearing a dress for the first time and got into a fist fight.

"Also, the courtroom scene was too long and drawn out," Knight-Peek carped. "The only people in the top row of the courthouse were the Minister, played by Benny Smith, and the children. It seems to me they could have had some extras, just to sit there. After all, in the movie the courtroom was jam packed with Blacks.

"The stage scenery left much to be desired as well," she continued. "No color, just boring."


ONE STOP TICKET SHOPPING

The Broadway Ticket Center offers visitors to New York one-stop shopping for advance as well as same day tickets to Broadway and off-Broadway shows.

The new Times Square Visitors Center, located on the east side of Broadway between 46th and 47th street is open 8 a.m. to 8 p.m. daily. There are descriptions and video excerpts from shows and theater location maps. There is also a sales office that handles all Broadway shows except The Lion King, plus off-Broadway shows. Tickets are full price plus a $4.50 handling charge per ticket.

The League of American Theatres and Producers, which operates the ticket center, also runs a toll-free sales and information service, The Broadway Line which can be reached at (888) 411-BWAY.

In addition to Broadway shows there are listings for touring Broadway shows in 50 cities.

Discount Broadway tickets, for same-day performances only, continue to be available at the TKTS outlet, across the street from the Times Square Visitors Center, which also has cash machines, Internet computer terminals, a newsstand and a transit information booth.


THIS AND THAT


PUTTING IT TOGETHER a new revue with words and music by Stephen Sondheim has an October 4-November 29 run at the Mark Taper Forum in Los Angeles. Show stars; John Barrowman, Carol Burnett, Susan Egan, Michael Nouri, and Bronson Pinchot.

CHARLES AZNAVOUR returns to Broadway October 21-November 3 at the Marquis Theater, NYC. Then he hits the road, with engagements in Chicago and Los Angeles.

VISITING MR. GREEN the off-Broadway comedy at the Union Square Theater, starring Hal Linden, closes October 4th.

DEBTORS a comedy starring Michael Caine and Randy Quaid is co-written and directed by Quaid's wife, Evi. Movie plot revolves around a trio of free-spending misfits undergoing therapy for their urge to splurge. Production moves to Las Vegas for a five-day shoot October 23.

CHRISTIAN SLATER signed to star in Side Man. His character wrestles between late night jam sessions versus being a good husband. Production moves from the Roundabout to the Golden Theater NYC on October 20.

Next Column: October 5, 1998
Copyright: September 28, 1998. All Rights Reserved. Reviews, Interviews, Commentary, Graphics, or Photographs from any Broadway To Vegas (TM) columns may not be published, broadcast, rewritten, utilized as leads, or used in any manner without permission, compensation and/or credit.
Link to Main Page
---
Laura Deni


CLICK HERE FOR COMMENT SECTION