! >
Broadway To Vegas
  
 SHOW REVIEWS CELEBRITY INTERVIEWS GOSSIP NEWS

| | |
| --- | --- |
| | |
CHARLES BARTLETT: PLAYWRIGHT WITH 1,000 VOICES - - GEORGE S. KAUFMAN'S DAUGHTER WANTS TO MOUNT FATHER'S SELDOM SEEN PLAY - - THE OLEANNA TALK-BACK SERIES - - ALAN CUMMING'S DEBUT CD I BOUGHT A BLUE CAR TODAY - - BLACK EYED PEAS PERFORM AFTER GOVERNMENT BAN LIFTED - - TONYA PINKINS STARS IN BLACK PEARL SINGS! - - TURNER AND THE MASTERS - - TOOTHPICK CITY II: TEMPLES AND TOWERS - - DONATE . . . Scroll Down


CHARLES BARTLETT; PLAYWRIGHT WITH 1,000 VOICES
Charles Bartlett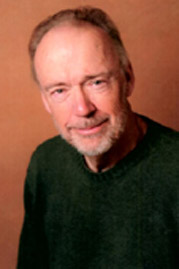 It's not easy being a cow.

For instance, motivation.

Charles Bartlett, who was the voice of the cow in Babe, thought of the antique business.

"I didn't think of it as a cow. I saw the cow as kind of an aging, androgynous man who worked in a antique store on Madison Avenue.

He thought of himself as a Prince, who looked down his nose at the world. I thought of him dressed all in white with an ascot."

"You visualize the characters you do in different ways, but that's one way. I didn't tell anybody that was what I was doing, but they liked the way I interpreted the cow."

Bartlett ought to know good from bad. Actor-turned-playwright Charles Bartlett has been 1000 voices in 1000 pictures, from that cow in Babe to the Borg in Star Trek. The eclectic Bartlett started his career in Chicago as an original member of the Body Politic Theatre Company, working with legendary Paul Sills and Viola Spolin.



Paula Kelly on the back of Charles Bartlett in Rape of Europa based on Ovid's account in book II of his Metamorphoses.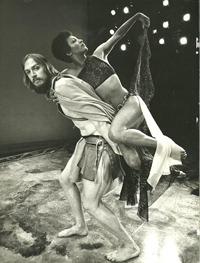 In New York, he appeared in the Tony Award-winning Story Theatre; in Jean Genet's The Screens at the Chelsea Theatre Center; and in the Public Theatre's acclaimed production of Much Ado About Nothing in Central Park, which transferred to Broadway and was turned into a CBS special. He both acted and taught at the famed Manhattan Theatre Club.

Bartlett co-wrote the play That Perfect Moment which runs October 3 - November 8 at the NoHo Arts Center in North Hollywood. He spoke with Broadway To Vegas about his eclectic career.

Babe, a light but deft look about not fitting in and a pig who bucks the social order, won an Academy Award for Best Visual Effects, and was nominated in six other categories including Best Picture, but it was Braveheart that took home that award.

"Braveheart was wonderful but it wasn't as inventive, revolutionary as Babe," declared Bartlett. "Babe was a startling movie. And those guys that did this film were wonderful," he said referring to writer-director Chris Noonan who penned the screenplay with George Miller.



James Earl Jones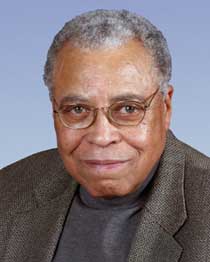 Voice-overs can be a lucrative business - provided you get your vocal chords in the door.

"It is difficult to get into the business," he admitted. "It's a difficult profession. Period."

"James Earl Jones is ultimate. He's everything," exclaimed Bartlett.

For anyone who isn't James Earl Jones, "you do what you're right in," said Bartlett. In his case, that has been ADR - Additional Dialogue Recording. "It's a critical sound process," he explained. "After the film is shot they essentially record the principle photography, then they hold the mike up to get ambient sound but often they just dump all that. So, they have to record, re-voice people. They have to add all of the background sound, You look at a picture and there are all sorts of people talking. That is all done post production."



A Borg drone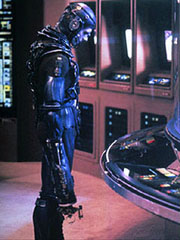 Bartlett was the voice of the Borg in Star Trek. "I was one of the villains in Men in Black II. I was in Jaws. Here is an instance of what happens, the guy they cast - they loved his looked. Tall, spooky looking guy. He was British. But, he had a high pitched voiced. They didn't want that. They wanted a bigger, fuller, stereo sound. I've done a lot of villains. They'll get a guy who is big, beefy and thick necked. If you think about operatic tenors. Very often, they are big but a high tenor. Well, these big guys had light, high voices. They don't want that. They want a big, beefy voice for a villain," he reiterated. "I did a character called The Hit Beast. In 12 Ghosts, I was one of the ghosts. I do a lot of heavy villains."

Born and raised in San Antonio, he was the day dreaming kid who hung out with his pals, Tony and Jerry, drinking beer and singing Johnny Cash songs. His first love was a gal named Gail.

Tony and Jerry had enlisted in the Coast Guard. "They said, 'Why don't you come in with us on the buddy system?' I did and never saw them again," he ruefully laughed about the sign-up process, in which buddies are promised that they will be stationed together.

Bartlett almost snaps to attention when discussing his military service. He has fond memories of the Coast Guard, a sometimes misunderstood, frequently underappreciated branch of the military, which in time of war is part of the Department of the Navy and during peace time is under the Department of Homeland Security.



U. S. Coast Guard Port Security Unit 309, from Port Clinton, Ohio, joins a number of other Coast Guard units in patrolling the Allegheny, Ohio, and Monongahela rivers during the Pittsburgh Summit 2009, Wednesday, Sept. 24, 2009. (U. S. Coast Guard photo/ Petty Officer 3rd Class Casey J. Ranel)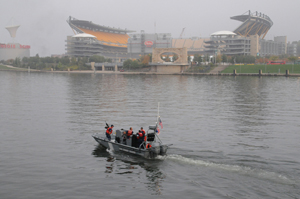 "It's the hardest branch to get into. A lot of people can't get in. A lot of people make it a career," proudly stated Bartlett.

"The Coast Guard is the most dangerous of the service branches. There are more people killed per capita in the Coast Guard (during peace time) than in the other services, because they are working all the time."

That includes going after boats with the drugs and illegal immigrants, being the ones who knew what they were actually doing in effectively evacuating people from Katrina, ice operations, ports, waterways and coastal security.

"Curiously enough, I have a friend whose son is in the Coast Guard. He's going into a discipline, which they call striking for something - it's an area of work. He's going to be a marine scientist. So, when they get out they are hirable. Many of the Coast Guard disciplines set you up to be hired in the civilian world. I ended up being the company commander and the lst battalion commander in boot camp. And, they kept me to be part of the training division. I was a low level drill instructor. I had advanced to E5, which is about as far as you can during your first four years. I was stationed on the East Coast. The Coast Guard can be stationed anywhere around the world. I have wonderful memories of the Coast Guard. One thing that I got from the experience was the GI Bill, which really helped me in college."

That would be the Yale School of Drama.

"I went to Yale in 1968 and did a year. While I was there I met Paul Sills who is the son of Viola Spolin. Viola wrote improvisation for the theater," related Bartlett about the teacher and writer who authored of the first book on improvisation techniques, Improvisation for the Theater, and was the student of play therapy theorist Neva Boyd.



Paul Sills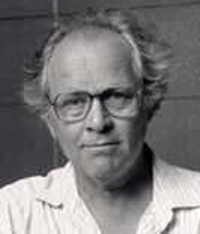 Viola Spolin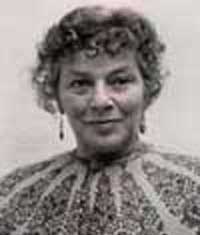 "Paul was an important guy in the theater," continued Bartlett.

Sills and David Shepherd founded Compass Players, the first improvisational theater in the US, where he directed Shelley Berman, Mike Nicholas, and Elaine May. In 1959, Sills, along with partners Howard Alk and Bernie Sahlins opened a nightclub review called The Second City, which Sills directed. With early cast members Alan Arkin, Barbara Harris, Severn Darden, Mina Kolb and Paul Sand, success led to Broadway, London and world recognition.

"Sills came to Yale to fill in for somebody who was on a sabbatical," recalled Bartlett.

"He had a project in Chicago and invited me to go with him. I went with Sills to Chicago with every intention of returning to Yale and I did return - but I returned in 1988. I got my MFA right before I turned 50. I was 24-years older than anybody else in the class."

A happily married family man, who was old enough to be the father of his classmates.

"They thought that might present a problem, but it didn't."

Before returning to Yale Barlett's career had reached the top rung of the steady working, voice over/commercial ladder.



Murphy Brown was just one of numerous television shows in which Bartlett had an on camera role.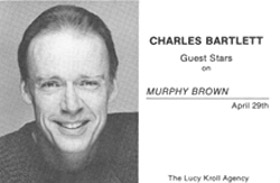 "Sills is the man who put me on the map. He did a show in New York and I stayed and worked there for six years."

"Sills was a brooding man and could be difficult, but his work was lighter than air. He strove to make his work fresh, light and easy. He directed a Laverne and Shirley and I was in that episode. Sills was a different kind of guy. We worked in Chicago with him and then he moved to Wisconsin. They'd call him in to New York or California to direct shows. He was a brilliant, creative guy," stressed Bartlett.

"In the 70's and up to the early 80's I did dozens and dozens on-camera shows. I played a lot of heavies."

A few of his credits include; Simon and Simon; Remington Steele; Dukes of Hazard, Murphy Brown; General Hospital; Hart To Hart; TJ Hooker; Night Rider; Tales of the Gold Monkey and the list goes on.

"A million years later in a very different world I auditioned for Babe. It turned out that I was the only male who auditioned for the cow. Oddly enough, they cast me. I auditioned for that part because of another set of circumstances. Back in 1980 I had a job in LA directing some vignettes for Public Television. Just a small job. I used a woman name Barbara Harris, an actress. She subsequently started this voice over business. She used me and, as a result of that, I did over 1,000 jobs. Babe was one of those jobs. I had to audition for Babe, but most of these jobs I didn't audition, because I was part of her stable. She didn't use me for every job, but I was one of the lucky few who worked 100 jobs a year for quite a while."

"Barbara Harris, in essence, bought my house and cars, and is responsible for my having health insurance and a pension."

California based Bartlett revels living in one of Oxnard's beautiful oceanfront beach communities.

"I used to work a lot. But it's a very ageist profession," he says about an inherent attitude of the entertainment business. "They don't want any gray hair in the room - even if you're doing a voice over. I've started auditioning for on camera commercials again. I dropped out of that for about four years and missed it. My wife laughs when I come home from an audition and say; 'It was a bunch of old guys and me.' I'm sure they all say the same thing. I see old friends and they tell the same tale."

What has been keeping the voice over/commercial actor busy is playwriting.

Bartlett co-wrote That Perfect Moment, with poet, non-profit grant writer Jack Cooper who holds degrees in biology, psychology and English. "I probably wrote it for deep psychological reasons," he laughed. "Jack and I were looking for something to do. We wanted write something."

Inspiration came from a Christmas letter, one of those annual wrap-ups that people send and many recipients dread reading.



Gueria Barry, Bruce Katzman, John Bigham and Tait Ruppert in That Perfect Moment. Photo by Ed Kreiger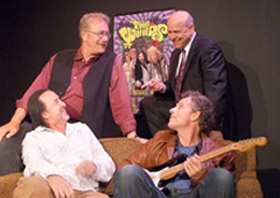 "I got a Christmas letter from a good friend of mine. He and his wife announced that their son was getting married - and thank God that the bride was a good Republican. This was a Christmas letter and this was the lead paragraph."

"We thought that was so peculiar, so we used that as the frame. Four guys who had a rock and roll band back in the 60's. They broke up, but held their friendship together by their liberal world and political views. That was the cornerstone of their relationship. All of a sudden one becomes a conservative Republican. The others felt betrayed, hurt and worried about him. From there the play develops. The back-story of the guy they discover owns all of the rights to their music and whose child is getting married to a Republican."

"When we started writing this it was political, but it ended up being more about the times and our generation. It's timely and nothing is more rabid than a conservative."

That Perfect Moment directed by Rick Sparks, featuring Gueria Barry, Bruce Katzman, John Bigham and Tait Ruppert. Original songs by Sky Keegan, whose first national record release, Memphis Miracle is referenced in the anthology, Elvis: His Life from A-Z. As a songwriter, his catalog was acquired by Paul McCartney. That Perfect Moment runs October 3 - November 8 at the NoHo Arts Center in North Hollywood.



Broadway To Vegas is supported through advertising and donations. Priority consideration is given to interview suggestions, news, press releases, etc from paid supporters. However, no paid supporters control, alter, edit, or in any way manipulate the content of this site. Your donation is appreciated. We accept PAYPAL. Thank you for your interest.


ART AND ABOUT


TURNER AND THE MASTERS

JMW Turner Moonlight, a Study at Millbank 1797 © Tate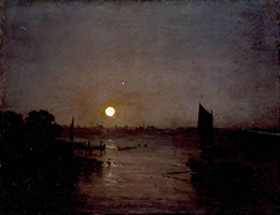 Rivalry, obsession, jealousy... the story of Turner's battle to outdo all other artists.

This unforgettable show places beautiful masterpieces by Canaletto, Rubens, Rembrandt and Titian next to some of JMW Turner's most dramatic paintings. It shines light on a lesser-known side of the British Romantic painter: his obsession to prove he was just as good, if not better, than the old masters who he so admired.

Turner was born into a working-class family and relentlessly pursued his ambition to be a great artist, once proclaiming, 'I am the great lion of the day.' He entered into direct competition with artists – past and present – who he considered as worthy rivals to his own fame. In a final act of self-promotion, he asked in his bequest that two of his paintings hang in the National Gallery alongside the work of Claude Lorrain – and you can see these stunning paintings in this exhibition. Turner also had a great rivalry with John Constable. At the Royal Academy exhibition in 1832, Turner upstaged Constable by adding a dash of red to his own painting at the last minute – and Constable was none too pleased.

This is the first exhibition ever to explore the full range of Turner's challenges to the past, and his fierce rivalry with his contemporaries. Many works are reunited here for the first time in hundreds of years and others have never been seen together before in this light. Come along and decide which for yourselves which battles Turner wins, and which he loses.

Opened September 23 and is on displsy through January 31, 2010 at Tate Britain in London.

TOOTHPICK CITY II: TEMPLES AND TOWERS

Toothpick City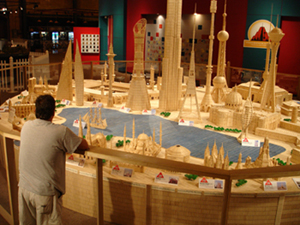 Stan Munro is rebuilding the world - one toothpick at a time.

How many toothpicks does it take to break the world record for a toothpick structure?

Millions.

Toothpick City II is now on display at the Milton J. Rubenstein Museum of Science & Technology (MOST), located in the heart of Syracuse's historic Armory Square.

Come see Stan Munro working on the exhibit throughout 2009. Completion is set for December.

This amazing exhibit titled: Temples and Towers is a collection of more than 20 famous religious buildings and tall towers from around the world standing side by side on a 20-foot diameter circle platform.

The centerpiece of the exhibit, the Burj Dubai tower, will stand almost 19 feet tall.



The Las Vegas Little White Wedding Chapel complete with limo.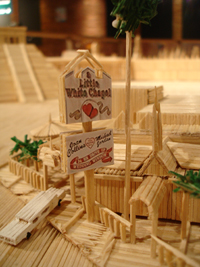 "The exhibit will honor architectural achievement, religious diversity and historical accuracy," says Munro.

Made with only with toothpicks, every few months, Munro orders a quarter of a million from a wholesaler.

Toothpicks aren't cheap. $40,000 is enough to only buy 11,627,907 which sounds like a lot of tree slivers until you realize that a 9-foot tall sculpture can easily take 100,000 toothpicks to create.

At to the stick-to-it stuff, Muro told Broadway To Vegas; "I only use Elmer's Glue."

Toothpick City II will be the largest toothpick structure in the world with almost 4 million toothpicks used when completed.

The re-creations of famous cathedrals, temples and mosques include;

The Grand Mosque in Mecca, Saudi Arabia
The Vatican
London Bridge
The Blue Mosque in Istanbul
Notre Dame in Paris
and
two Las Vegas recreations - The Little White Wedding Chapel and The Stratosphere Tower.

The wedding chapel is complete with stretch limo and sign proclaiming that Joan Collins was married there.

The Stratosphere Tower features a detailed toothpick rendition of the famed roller coaster.



Stratosphere Hotel in Las Vegas.

A ride on top of the Stratosphere Tower is captured in toothpicks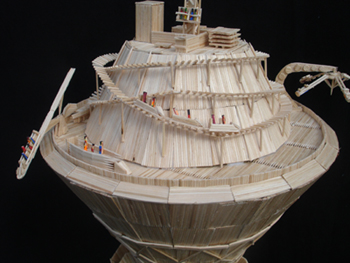 "My wife and I were married at the Little White Wedding Chapel 6 years ago," Munro told Broadway To Vegas.

As for the Stratosphere Hotel, Munro confessed "I won't go on the rides."

Bob Stupak, built the Stratosphere and the 1,149-foot-tall Stratosphere Tower which opened in 1996. It went bankrupt and was sold soon after.

The colorful Stupak, known as The Polish Maverick, died September 25 at Desert Springs Hospital after a long battle with leukemia. He was 67. Las Vegas Mayor Oscar Goodman issued the following statement:"Bob was an impresario, a ringmaster in the mold of the promoters who made Las Vegas the great town that it is."

Munro has been working on Toothpick City II for approximately four years and will continue to construct the collection - which will total 40 structures and will break the world's record for the largest toothpick structure - all while on exhibit at the MOST.

A full time "tooth-picker", Stan attended the Fashion Institute of Technology in NYC and began Toothpick City I: A History of Skyscrapers, in 2004. He sold it in 2006. It is currently on display at The House of Katmandu in Mallorca, Spain.

URBAN SPIRITUALITY: CONTEMPORARY HONG KONG ART

Atomic Jellyfish by Bovey Lee. 2008 papercut 125 x 69 m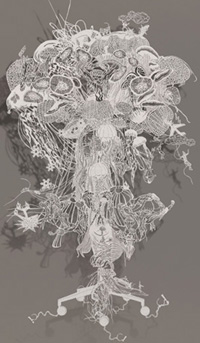 From September 29 to October 23, 2009, Rossi & Rossi in London will present the works of five Hong Kong artists presented by Grotto Fine Art, their first show in London and the only gallery in Hong Kong specializing in contemporary Hong Kong art.

Bovey Lee is an artist with dual training in painting and digital art. Her new collection of paper cut-out drawings explores the issues of identity and her own bicultural experiences as a Hong Kong Chinese living in America. Both positive and negative imageries in her drawings, formed by meticulous cut-outs on a singular picture plane, express the artist's feelings of displacement and tension. Born in Hong Kong in 1969, Bovey Lee received her BA in fine art from the Chinese University of Hong Kong (1991), MFA in painting from UC Berkeley (1995), and MFA in digital arts from Pratt Institute in NY (2000).

Focusing on linear narrative, Joey Leung delivers her message through fragments of scenes that resemble traditional comics. The story line, however, features her interpretation of today's society and humanity in raw satire or cynicism. Vanity, greed and self-indulgence are all common themes in this exhibition that collectively projects a personal response to the social environment and changes in Hong Kong.

Angela Su presents her interpretation of the human skeleton in raw anatomical renderings while her embroidery brings to light the possibility of intricate design and creative juxtaposition. Su is also an independent artist based in Hong Kong, graduating in 1990 from the University of Toronto and in 1994 from the Ontario College of Art, Canada.

Halley Cheng, the Hong Kong artist born 1986, has focused on a collection of imitations of ancient masterpieces. Instead of forging an exact copy, Cheng aimed to recreate the appearance of the subject with new media such as charcoal, biro, adhesive tiles and pencil - even the border of the painting is redone to create a new visual boundary.

Wilson Shieh uses gongbi (a fine and meticulous brush technique popularized during the Song and Tang dynasties) to connect the past and the present through various interplays of metaphors and symbols.





THE MUSIC GOES ROUND AND ROUND


ALAN CUMMING: I BOUGHT A NEW CAR TODAY taken from his one-man cabaret act, the CD is an eclectic mix of pop, theater, punk and chamber rock - some obscure and some with explicit lyrics. For the talented chameleon known as Alan Cumming that seems appropriate.

Cumming's cabaret act has been called "frank but tender" and the same can be said for this CD.

In case you're wondering about the oddball title, Cumming offers an explanation.

He says: "The album title comes from the naturalization test I took to become a citizen of the US of A. In the test, there is a bit where the man says a sentence and you have to write it down to prove your prowess in English. My sentence was ' I bought a blue car today,' which initially I though was really sweet and childlike, but on closer examination I realized that it's all about consumerism and gas guzzling, which rather brilliantly encapsulates America's financial and energy crisis in one fell swoop. (The CD is) made up of songs and stories about my ten years in the states culminating in my becoming a citizen."

Musical director Lance Horne has provided excellent, new arrangements which make the most of Cumming's limited vocal range. The musicians include; Piano; Alan Cumming. Piano and backing vocals; Lance Horne. Base: Jordan Jancz. Drums: Michael Croiter. Guitar; Ricardo Miolina, Michael Croiter, Tony Salvatore and Yair Evnine. Oboe; Dan Willis. Woodwinds; Kristy Norter. Trombone; Randy Andos. Strings; Claudia Chopek, Anna Okunev, Yair Evnine. Bass; MaryAnn McSweeney.

The album is peppered with material by Cyndi Lauper, Dory Previn and Kander & Ebb. Tracks include songs from Hedwig and the Angry Inch; Chess; Falsettos and Cabaret. Songs of love, loss and yearning come from the talents of Jimmy Webb, Bjorn Ulvaeus, Benny Andersson, Tim Rice and John Bucchino as well as originals by Cumming himself with his musical director, Lance Horne.

Cumming's debut album kicks off with a rockin' Shine by Cyndi Lauper whom Cumming worked with on Broadway in The Three Penny Opera. He was Mac the Knife and she was Jenny. Cumming selected Shine because "I love the message of this song. You're beautiful and I'm here to make you see it."

The Tony award winner effectively delivers Dory Previn's tender I Dance and Dance and Smile and Smile - about trying too hard to please. Mein Heir sung in Cabaret by the character of Sally Bowles (famously played by Liza Minnelli) delivered by Cumming has a thrusting beat as Cumming slams the words home.

All I Know is slow, melodic, sensitive. What More Can I Say by William Finn is described by Cumming as being one of the first love songs written for a gay couple. The Sinatra anthem That's Life is presented as a spirited, revved version which emphasizes the musicians. The hilarious Thinking of You isn't what you'd expect and causes the listener to laugh and gasp. Beautiful with piano accompaniment by Lance Horne is the XXX rated closer.

It's surprising that Cumming waited so long to release an album. Those who know him from theater and cabaret will delight in this extension of his career. Listening to this CD will open the eyes of television viewers who only know Cumming as the suited guy who introduces PBS's Masterpiece Mystery.

The tracks are:

Shine by Cyndi Lauper
Dance and Dance and Smile and Smile by Dory Previn
That's Life the Sinatra anthem by Dean Kay & Kelly Gordon
Wig in a Box/Wicked Little Town from Hedwig and the Angry Inch by Stephen Trask
Don't Tell Me by Lance Horne
Here You Come Again/My Interpretation(of the Dolly Parton classic hit ) by Barry Mann, Cynthia Weil, Mika, Jodie Marr & Richie Supa
Next To Me by Lance Horne & Alan Cumming
Unexpressed by John Bucchino
Where I Want To Be from Chess by Bjorn Ulvaeus, Benny Andersson, Tim Rice
Thinking of You by Victoria Wood
What More Can I Say by William Finn
Mein Heir from Cabaret by John Kander and Fred Ebb
All I Know by Jimmy Webb
Beautiful by Jeff Harris.

Recorded and Mixed at Yellow Sound Lab in NYC. Mixed by Doug Derryberry Mastered by Michael Fossenkemper/Turtletone Mastering.

On The Yellow Sound Label, the CD was released September 22, 2009. Cumming's cabaret act I Bought a Blue Car Today opens Saturday at California's Orange County Performing Arts Center for two performances before bringing his rockin', raucous and sassy one-man cabaret. to the Geffen Playhouse's intimate Audrey Skirball Kenis Theater from Tuesday through October 4.



KEN HOWARD the Tony and Emmy Award winning actor has been elected president of the Screen Actors Guild, the union announced on Sept. 24. He succeeds Alan Rosenberg. Howard was elected to a two-year term.

Alongside Howard, Amy Aquino has been elected secretary-treasurer. Hollywood Division National Board members include Martin Sheen, Ed Harris, Elliott Gould, Ed Asner, Anne-Marie Johnson, Connie Stevens, Diane Ladd, Dulé Hill, Hill Harper, Nancy Travis, and Marcia Wallace; with New York Division board members including Sharon Washington, Monica Trombetta, Sam Freed and Liz Zazzi and Mike Hodge as NY Division President.


SWEET CHARITY


VOICES OF AMERICA IN STORY AND SONG Amy Madigan, Peter Alsop, Ellen Geer, Melora Marshall and members of the Theatricum Botanicum Repertory Company present selections from Theatricum's Americana series, integrating poetry, dialogue, music and songs from various periods during the on-going evolution of our nation.

All proceeds from this "sneak preview" of next season's main stage offering go to support Theatricum's Performing Arts Education Programs that bring dramatic literature and American history to life for thousands of Los Angeles school children.

Sunday, October 4 at The Will Geer Theatricum Botanicum in Topanga CA.






SPREADING THE WORD


ANNE KAUFMAN, DAUGHTER OF THE PULITZER PRIZE-WINNING PLAYWRIGHT

John Cameron Weber, Suzanne Dawson, Morgan Nichols, Mark Edward Lang, Tommy Raniszewski, Daisy Ouzts, Tiffany-Leigh Moskow, Justin Flagg, and Alison J. Murphy in ELTC's The Butter and Egg Man"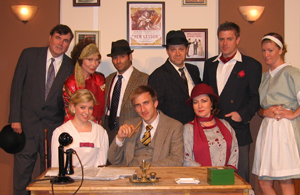 George S. Kaufman, will take park in a Q&A with the cast of East Lynne Theater Company's The Butter and Egg Man on Friday, October 2.

George S. Kaufman (1889-1961) became America's most successful playwright in the 1920's and 1930's. He collaborated with Marc Connolly, Dorothy Parker, Edna Ferber, Ring Lardner, Morrie Ryskind, Moss Hart, and Howard Teichmann. Kaufman's two Pulitzer Prizes were for Of Thee I Sing, with Morrie Ryskind and Ira Gershwin, the first musical to be so honored, and with Moss Hart for You Can't Take It With You.

The Butter and Egg Man, is the only play he wrote by himself, and ELTC recently celebrated its Broadway premiere on September 23, by opening on the same day, 84 years later.

When Anne Kaufman came to Cape May to see Kaufman and Connolly's To the Ladies! last fall, not only did she enjoy the production, and patrons and cast members enjoyed her, but she is now in the process of finding out how this version of Ladies can be published. It had not been produced in 83 years and Ms. Kaufman had neither read nor seen the play until Gayle Stahlhuth, Artistic Director of the East Lynne Theater Company brought it to her attention.

Audience members will have the opportunity to ask questions of Ms. Kaufman, the cast members and the director, too, after the show on October 2. The cast includes Tiffany-Leigh Moskow, Morgan Nichols, Mark Edward Lang, Alison J. Murphy, Suzanne Dawson, Tommy Raniszewski Justin Flagg, John Cameron Weber, and Daisy Ouzts.

The Butter and Egg Man opened September 23 and runs through October 24, every Wednesday through Saturday, where the company is in residence at The First Presbyterian Church, Cape May, NJ.

THE OLEANNA TALK-BACK SERIES

Director Doug Hughes with stars Julia Stiles and Bill Pullman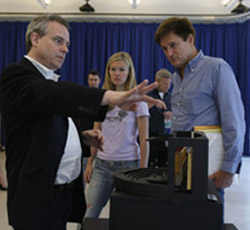 for 20-30 minutes following each preview performance, distinguished celebrities from the worlds of media, entertainment, politics, law and education will discuss and debate the issues brought up by this production. The group of panelists has been specifically chosen to contribute their specialized expertise and further stimulate spirited debate. Initial confirmed panelists are set to include former New York City mayor David Dinkins; NYC Deputy Mayor of Education and Community Development Dennis Walcott; FOX News Channel legal analyst Lis Wiehl; Partner of Vladeck, Waldman, Elias & Engelhard, P.C. Anne C. Vladeck; Dean of the Tisch School of the Arts Mary Schmidt Campbell; Lies My Mother Never Told Me author Kaylie Jones; Founding and Managing Partner of Outten & Golden LLP Wayne N. Outten; Legal Partner of Proskauer Rose LLP Kathleen M. McKenna; NYU Professor of Urban Policy and Planning Mitchell Moss; and NYU/Tisch Associate Arts Professor and Tony nominator Laurence Maslon.

Alternating moderators for the series will be Judith Kaye, JD (Juris Doctor from Harvard and President of Judith Kaye Training & Consulting) and Cynthia Tornquist (President of Tornquist Productions LLC and former CNN correspondent).

The first talk-back in the series, to be held after the first preview on Tuesday evening, September 29, will feature moderator Judith Kaye and panelist Lis Wiehl, legal analyst for FOX News Channel.

Directed by Tony Award winner Doug Hughes Oleanna is a gripping account of a power struggle between a male university professor (Bill Pullman) and one of his female students (Julia Stiles). Currently in rehearsals, the Broadway production will begin previews Tuesday, September 29 with an official Opening Night set for Sunday, October 11.

A CONVERSATION WITH MADELEINE ALBRIGHT Former Secretary of State Madeleine Albright discusses her new book, Read My Pins: How One Woman's Jewelry Collection Was Used to Make Diplomatic History, with former Governor of Vermont Madeleine Kunin. Thursday, October 1, at the John F. Kennedy Library and Museum in Boston.

STAGED READING of Rajendra Ramoon Maharaj's Little Rock will feature Tony-Award winner Leslie Uggams, Leslie Becker, Tony nominees Clifton Davis and Alan Campbell, Sherry Boone and Rodney Hicks.

Rebel Theater Company artistic director and playwright Maharaj directs. Little Rock, centers on the historic "Little Rock Nine" - the historic group of African-American students who enrolled at the segregated Little Rock Central High School in 1957 and were initially denied entry by the Governor, but were later officially allowed entry by President Eisenhower. The decision was seen as a key turning point in the Civil Rights Movement. The staged readings are Sept. 29-30 at the Union Square Theatre in NYC.

AN EVENING WITH JULIE ANDREWS in which the star will discuss her television career followed by a question-and-answer session. She will also sign copies of her newest children's book, Julie Andrews' Collection of Poems, Songs, and Lullabies. Presented by The Paley Center for Media on October 5 in New York City.





OTHER PEOPLE'S MONEY


CINE VEGAS the decade old annual Las Vegas film festival will not unspool in 2010. Reason cited? The economy.



BLACK PEARL SINGS! by Frank Higgins. Directed by Jennifer Nelson.

Tony Award winner Tonya Pinkins makes her Ford's Theatre debut in the title role with Erika Rolfsrud as Susannah.

Susannah, a song collector for the Library of Congress, travels the country seeking little-known melodies. When she encounters Pearl in a Texas prison, she discovers dozens of musical treasures rooted in the African tradition. Pearl must decide whether to give away her ancestors' songs for a chance at her own freedom. Music unites strangers in a powerful story that illuminates America's racial divisions and the attempts of two women to bridge them.

In previews with the official opening slated for September 30. Performances through October 18 at Ford's theatre in Washington, DC.

Post-Performance Discussion: Saturday, October 3. Following the matinee, members of the cast will take questions from the audience and discuss the artistic process.

On Sunday, October 4, director Jennifer L. Nelson will participate in A.C.T.O.R. (A Continuing Talk on Race) at Busboys and Poets in Washington, DC. No reservations are required.

THE POWER OF YES by David Hare. Angus Jackson directs the world premiere.

A dramatist seeks to understand the financial crisis.

On 15 September 2008, capitalism came to a grinding halt. As sub-prime mortgages and toxic securities continued to dominate the headlines, the National Theatre in London asked Hare to write an urgent and immediate work to be staged this autumn that sought to find out what had happened, and why.

"After meeting with many of the key players from the financial world, he has created this work, which is described as 'not so much a play as a jaw-dropping account of how, as the banks went bust, capitalism was replaced by a socialism that bailed out the rich alone.'"

Set design by Bob Crowley. The production will begin performances in London's Lyttelton Theatre September 29, prior to an official opening Oct. 6, and then continue in repertory.

LONG STORY SHORT written by Brendan Milburn and Valerie Vigoda from band Groovelily.

Directed by Kent Nicholson. Music Director/Band Leader Mark Danisovszky.

This love story introduces us to a sassy Asian American girl named Hope, who falls in love with a sweet Jewish guy named Charles. Like most couples, this duo has their up's and down's and Long Story Short takes us on a musical journey through their entire 50 year relationship.

The role of Hope will be played by Melody Butiu who will share the stage with musical theater tenor Robert Nrewer,who will be playing her love interest – the ever romantic Charles.

Hope and Charles love story encompasses two different cultures and two distinct mythologies—in play and at play. They literally pour their hearts into each other through a rush of decades that embraces erotic highs, childbirth, tragedy, hard times, recovery, marital doldrums, separation, reconciliation and a final elegant dance to the tune, Letting Go.

The San Diego Rep production of Long Story Short begins in previews at the Lyceum Theatre in San Diego on October 3, with an Opening Night performance on October 9 and closes on November 1.

A Surround Event will be presented Sunday, October 4, titled What's the Secret? Rev. Dr. Arvid Straube of the First Unitarian Universalist Church asks that very question. Three couples share their secret for long-lasting love: longtime REP supporters Trina and Ted Kaplan (married 63 years); Bill Doyle and Mark Stevens, theatre artists and teachers at San Diego School of Creative and Performing Arts (together over 30 years); and Dr. Kuang-Chung Chien, former president of Chinese Women's League in San Diego and Clinical Assistant Professor of Pediatrics at UCSD and her husband, Dr. Shu Chien, also a professor at UCSD who has made seminal contributions in bioengineering (married 52 years). Bring your mate and save: For this performance all couples can buy two tickets for the price of one.

HOW TO ACT AROUND COPS by Logan Brown with Matthew Benjamin. Directed by Leland Kean.

Police don't seem to have much of a sense of humor these days, especially when there is something thumping in the boot... How to Act Around Cops is billed as "for anyone who ever felt a sudden twinge of guilt when a police car cruised by.

With a witty script and as many twists as can fit into 90 minutes, this hilarious Tarantino-style road trip will keep you guessing and exposes the dark side lurking in all of us."

Featuring Andrew Bibby, Justin Stewart Cotta, Angela Hattersley, Tamlyn Henderson and Bryce Youngman.

Set & Costume Designer; Jessie Giraud. Lighting Designer; Luiz Pampolha. Sound Designer; Jeremy Silver.

Previews begin September 30 with the official opening slated for October 2. Performances through October 30 at the Darlinghurst Theatre in Potts Pont, NSW, Australia.

CALL ME MADAM! Music and Lyrics by Irving Berlin. Book by Howard Lindsay and Russel Crouse. Directed by Dyan McBride. Musical Director Dave Dobrusky.

This slam-bang musical comedy hit of 1950 spotlights international cabaret and concert star Klea Blackhurst as Ambassador Sally Adams, the "Hostess With the Mostes' on the Ball." Washington's most vivacious - and unconventional - party-giver is sent to represent the U.S. in the tiny duchy of Lichtenburg, where her down-to-earth and decidedly unorthodox manner surprises and charms the local citizenry.

The handsome Foreign Minister, a trio of U.S. congressmen, an errant princess, a devious protocol director, and a young press attaché complicate the new Ambassador's incumbency. The dynamite Irving Berlin score features You're Just in Love; It's a Lovely Day Today; Something to Dance About; The Ocarina, and The Best Thing for You.

Peter Budinger is Sebastian Sebastian. Giana DeGeiso is Princess Maria, Gabriel Grilli is cast as Pemberton Maxwell. Rob Hatzenbeller is Cosmo Constantine. DC Scarpelli portrays Senator Brockbank. Charlie Levy is Kenneth Gibson. Scarlett Hepworth as Congresswoman Wilkins/Grand Duchess Sophie. John-Elliott Kirk as Senator Gallagher/Grand Duke Otto. With; Lillian Askew, Sarah Kathleen Farrell, Benjamin Knoll and Allison Rich.

Ellen Brooks is in charge of Lighting Design. The choreographer is Jayne Zaban. Louise Jarmilowicz serves as costumer. Scott A. Wilber is Set Design/Decorator. Kevn Pong is the Prop Master.

Presented by the 42nd Street Moon. Committed to preserving and presenting lesser-known, rarely-produced musical theatre works of the early to mid-twentieth century, their motto is: To Make Great Musical Sing Again.

Call Me Madam! is presented through October 18 at the Eureka Theatre in San Francisco.

BROKE-OLOGY a new play by Nathan Louis Jackson, directed by Thomas Kail. It's cast of four features Francois Battiste, Crystal A. Dickinson, Alano Miller and Wendell Pierce.

Broke-ology marks the New York debut of playwright Nathan Louis Jackson, a 2009 graduate of the Juilliard School's Playwriting program. Originally produced last summer at the Williamstown Theater Festival, Broke-ology is the story of the King family who have weathered the hardships of life and survived with their love for each other intact. But when two brothers (Francois Battiste and Alano Miller) are called home to take care of their ailing father (Wendell Pierce), one of them must choose to follow the life he dreams of, or honor the unspoken promise of loyalty to his family.

The production has sets by Donyale Werle, costumes by Emily Rebholz, lighting by Jason Lyons and sound design by Jill BC DuBoff.

Currently in previews, Broke-ology opens on Monday, October 5 at the Mitzi E. Newhouse Theater, NYC.

CHICAGO will welcome back Broadway favorite Brent Barrett as Billy Flynn on Monday, October 5 for an eight-week return engagement through Sunday, November 29. Most recently, Barrett starred as the Phantom in Andrew Lloyd Webber's Phantom - The Las Vegas Spectacular at The Venetian Hotel and Casino. Chicago plays on Broadway at the Ambassador Theatre.

SAMMY Book, Music and Lyrics by Leslie Bricusse. Additional Songs by Leslie Bricusse and Anthony Newley. Choreography and Musical Staging by Keith Young, Music Supervision and Vocal Arrangements by Ian Fraser. Directed by Keith Glover.

Featuring the classic tunes that helped to make Sammy Davis, Jr. an icon, Sammy traces the struggles and triumphs of the ultimate triple-threat singer, actor and dancer.

The cast includes: Heather Ayers (May Britt/Ensemble), Obba Babatundé (Sammy), Ann Duquesnay (Rosa Davis), Mary Ann Hermansen (Kim Novak/Ensemble), Adam James (Frank Sinatra), Troy Britton Johnson (Sgt. Jennings/Cohn/Dean Martin), Ted Louis Levy (Sammy Davis, Sr.), Keewa Nurullah (Lola Folana/Ensemble), Victoria Platt (Altovise Gore/Ensemble), Lance Roberts (Will Mastin), Alonzo Saunders (Murphy/Ensemble), Sarrah Strimel (Luella/Hedda/Ensemble) with Jenelle Engleson, Stephanie Girard, Lauren Haughton and Anise Ritchie (Ensemble).

Serving as the creative team are: Alexander Dodge (Scenic Design), Fabio Toblini (Costume Design), Chris Lee (Lighting Design), John Shivers (Sound Design), Ned Paul Ginsburg (Orchestrator), Rahn Coleman (Music Director/Conductor/Dance Music Arranger), Tara Rubin Casting (Casting) and David Sugarman (Stage Manager).

Performances through November 8, 2009 at the Old Globe Theatre in San Diego, CA.

THE BREATH OF LIFE

Stockard Channing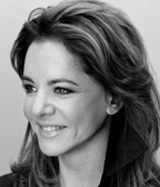 Jane Alexander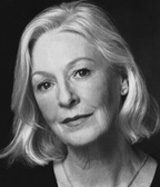 written by David Hare. Directed by Mark Lamos.

Starring Jane Alexander and Stockard Channing.

On a small island off the coast of England, two women with a shared history meet for the first time. For twenty-five years, though strangers to one another, Frances and Madeleine were intimately connected in ways they're only now beginning to understand.

Over the course of a single night, as they confront the past, they finally come to terms with the choices they've made and the lives they've lived in this extraordinary drama by one of Britain's greatest playwrights.

September 29 - October 17, 2009. Westport Country Playhouse in Westport, CT.





WHO'S WHERE


BLACK EYED PEAS who last Friday, September 26, played to a mixed audience in Malaysia after a government ban on Muslims attending the concert was lifted, are in Australia this week with a show Thursday at the Brisbane Entertainment Centre in Boondall. On Friday they open a two nighter at the Acer Arena in Sydney.

BRUCE SPRINGSTEEN one stage Wednesday, September 30 at the Giants Stadium in East Rutherford, NJ. On Friday, October 2 Springsteen and the E Street Band return to the same location for the first night of a two night stand.

CHICK COREA IN CONCERT a Rare Solo Piano Performance on Thursday, October 1, 2009 at the Farthing Auditorium, Appalachian State University in Boone, North Carolina.

JERRY SEINFELD in the spotlight Friday, October 2, at the Palace Theatre in Albany, NY.

NATALIE COLE performs Friday, October 2 at the Horseshoe Casino in Hammond, IN. On Saturday she on stage at Motor City Casino in Detroit.

BRYAN ADAMS has a busy week. On Monday, September 28 he performs at the Wilma Theatre in Missoula, MT. Tuesday finds him at the Martin Woldson Theater in Spokane. On Wednesday the show is at the Convention Center in Calgary, AB. On Thursday he opens a two nighter at the Orpheum in Vancouver, BC.

LYLE LOVETT appears with the Hardly Strictly Bluegrass at Speedway Meadow in San Francisco on Friday, October 2.

WEDNESDAY NIGHT AT THE IGUANA hosted by Dana Lorge and Richard Skipper. This week's guests include: Wendy Lane Bailey, Bobby Belfry, Stewart Brodian, Rick Younger, Paul & Rochell Chamlin. Wednesday, September 30 at The Iguana in NYC.

DEE DEE BRIDGEWATER entertains Saturday, October 3 at the Sheldon Concert Hall in St. Louis, MO.

LOUDON WAINWRIGHT III and RICHARD THOMPSON have influenced over three decades of folk music with their sophisticated, bold, and poignant songwriting. Now, the longtime friends combine as a double bill for their first-ever North American tour as Loud & Rich. Saturday, October 3; MainStage Flynn Center for the Performing Arts in Burlington, VT.




Next Column: October 4, 2009
Copyright: September 27, 2009. All Rights Reserved. Reviews, Interviews, Commentary, Photographs or Graphics from any Broadway To Vegas (TM) columns may not be published, broadcast, rewritten, utilized as leads, or used in any manner without permission, compensation and/or credit.
Link to Main Page
---
Laura Deni



U.S. Postal Address: Post Office Box 60831, Las Vegas, NV 89160
CLICK HERE FOR COMMENT SECTION