! >
Broadway To Vegas
  
 SHOW REVIEWS CELEBRITY INTERVIEWS GOSSIP NEWS

| | |
| --- | --- |
| | |
SUCCESS OF NATIONAL THEATRE LIVE EVEN SURPRISES THE CREATOR - -THE LANGUAGE ARCHIVE - - HARNONCOURT'S PORGY AND BESS CD WORTH OWNING - - WAYNE NEWTON WANTS TO TURN HOME INTO TOURIST ATTRACTION - - KATHLEEN TURNER IN CONVERSATION - - CHURCH BASEMENT LADIES - - GALA SHAKESPEARISSIMO - - WHO CONVENTION TO BENEFIT CHARITIES - - DONATE . . . Scroll Down


SUCCESS OF NATIONAL THEATRE LIVE EVEN SURPRISES ITS CREATOR


For a guy who was dubious about live theatre airing on television, Nicholas Hytner took a bold step last year when he started National Theatre Live. Printed reports have him admitting he "shamelessly ripped off" the concept of satellite streaming from the Metropolitan Opera in New York. Thus, if it's good enough for the Met . . . .

Taking that as his mantra, Hytner, head of the world-renowned National Theatre of Great Britain, launched a new initiative to beam live performances of plays into cinemas and performing arts venues around the world.

He didn't know what to expect and what he's received are countless headlines and rave reviews.

The first season was seen by over 165,000 people on 320 screens in 22 countries. Hytner would like to triple that figure.

"We couldn't have foreseen that the experimental National Theatre Live season would be such a hit with audiences around the world, who are hungry to see our work in their local cinema", admitted Hytner. "We're delighted that we can confidently build on its success with a second season of broadcasts, and warmly welcome our partnerships with Complicite and the Donmar Warehouse," he said referring to, for the first time, two collaborations with other British theatre companies.



All theatres will show an encore screening of Helen Mirren in Phèdre.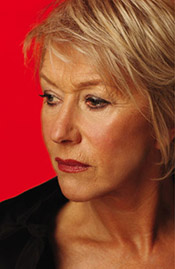 Broadcasts also feature behind-the-scenes footage and interviews with artists.

"I grew up in Manchester in the 60s. If I had been able to see Olivier's National Theatre at my local cinema, I would have gone all of the time." - Nicholas Hytner

All participating theatres are will start the second season with an encore showing of Phèdre, a savage play by Jean Racine, translated into muscular free verse by Ted Hughes.

The production which was SRO stars Helen Mirren as Phèdre who, consumed by an uncontrollable passion for her young stepson and believing Theseus, her absent husband, to be dead, confesses her darkest desires and enters the world of nightmare. When Theseus returns, alive and well, Phèdre, fearing exposure, accuses her stepson of rape. The result is carnage.

National Theatre Live performances are filmed live in high definition and broadcast via satellite to over 300 cinemas around the world, live in Europe and some US cities, and time-delayed in countries further afield. There are over 75 venues in the UK alongside venues in the USA, Canada, Australia, South Africa, Scandinavia and Europe. The performances at the National are nominated in advance to allow cameras greater freedom in the auditorium.

The new eclectic seven show-season started hitting movie screens in Canada and 21 other countries last Thursday. All theatres broadcast the same shows, but not all on the same day. Some venues stage encore screenings and some do not.



A Disappearing Number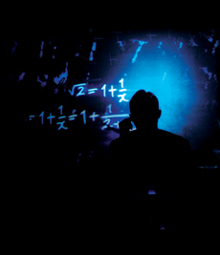 In a quick spot check, The Coolidge which is the exclusive Boston-area venue for this series of plays will show A Disappearing Number on October 14 with an encore on Monday, October 25 while the La Mirada Theatre for the Performing Arts in La Mirada, CA will broadcast on October 28. The Rialto Cinemas in Berkeley has set screenings for Tuesday, October 19 and Thursday, October 21. The Lincoln Theatre in Mount Vernon, Washington will screen on October 14. The Paramount in Charlottesville, VA unspools A Disappearing Number on November 12.

Most venues offer the option of purchasing tickets for individual screenings or as a season package.

In National Theatre Live's first venture beyond London, A Disappearing Number from the internationally acclaimed theatre company Complicite, will be broadcast from the Theatre Royal, Plymouth. Conceived and directed by Simon McBurney, the production won the Laurence Olivier, Evening Standard and Critics' Circle Awards for Best New Play. It weaves together the story of two love affairs, separated by a century and a continent. The first happens now. The second is set in 1914. It tells of the heartbreaking collaboration between the greatest natural mathematician of the 20th century, Srinivasa Ramanujan, a penniless Brahmin from Madras in South India, and his British counterpart, the brilliant Cambridge don GH Hardy.

The second season's line up also includes a second collaboration with another British theatre companies the Donmar Warehouse, whose productions of King Lear will be filmed at the Donmar's home theatre in London.

Shakespeare's Hamlet, directed by Nicholas Hytner, will be broadcast from the National's Olivier Theatre.

FELA! comes via Broadway to the National Theatre, where it will be broadcast live from the Olivier Theatre. Sahr Ngaujah, who won an Obie Award for his performance as Fela Kuti, will lead a new cast for the London production.

Derek Jacobi plays the title role in the Donmar Warehouse production of Shakespeare's King Lear, directed by Michael Grandage, which will be broadcast from the Donmar's home in London's Covent Garden.

Danny Boyle's new production of Frankenstein, a play by Nick Dear, based on the novel by Mary Shelley, will be broadcast from the National's Olivier Theatre.

Closing out the season is Anton Chekhov's The Cherry Orchard which will be directed by NT Associate Director Howard Davies, with Zoë Wanamaker playing Madame Ranevskaya.



Broadway To Vegas is supported through advertising and donations. Priority consideration is given to interview suggestions, news, press releases, etc from paid supporters. However, no paid supporters control, alter, edit, or in any way manipulate the content of this site. Your donation is appreciated. We accept PAYPAL. Thank you for your interest.


ART AND ABOUT


GAUGUIN

Paul Gauguin, Teha' amana has many parents 1893 photo. Art Institute of Chicago
the first important Gauguin exhibition in Britain for 50 years. Gauguin is one of the world's most famous and best-loved artists from the early 20th century. For the first time in the UK in over 50 years, Tate Modern presents an exhibition dedicated to this master French Post-Impressionist, featuring paintings and drawings from around the world. His sumptuous, colorful images of women in Tahiti and beautiful landscape images of Brittany in France are some of the most popular images in Modern art.

Gauguin was the ultimate global traveler, sailing the South Seas, and living in Peru, Martinique, and Paris among other places. This exhibition explores the role of the myths around the man - Gauguin as storyteller, painting himself as a Christ-like figure or even a demon in his own paintings, religious and mythical symbols in his work, and the manipulation of his own artistic identity.

It features many of his iconic paintings, including those showing daily village life from the artist's colony of Pont-Aven in Brittany, nude bathers and haystacks in the Breton landscape, and decorative works such as the carved wooden door panels around Gauguin's hut in the Marquesas Islands in French Polynesia.

Gauguin sought to escape European civilization in the South Seas. Inspired by Tahiti's tropical flora, fauna and island life, he immersed himself in its fast-disappearing local culture to invest his art with deeper meaning, ritual and myth.

On exhibit through January 16, 2011 at The Tate Modern Museum in London.

DEBATING MODERN PHOTOGRAPHY: THE TRIUMPH OF GROUP f/64

Alma Lavenson (United States, 1897–1989), Self-Portrait (Hands), 1932, gelatin silver print, 23.0 x 30.1 cm. Center for Creative Photography, University of Arizona: Gift of Paul Wahrhaftig.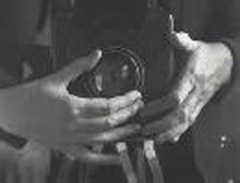 In the 1930s, a small group of California photographers challenged the painterly, soft-focus Pictorialist style of the day. They argued that photography could only advance as an art if its practitioners exploited characteristics inherent to the camera's mechanical nature.

This small association of innovators created Group f/64, named after the camera aperture which produces great depth of field and sharp focus.

Debating Modern Photography: The Triumph of Group f/64, on view September 30 through December 5, 2010, at the Portland, Maine's Museum of Art, revisits this debate and includes images by photographers in Group f/64 such as Ansel Adams, Edward Weston, Imogen Cunningham, Sonya Noskowiak, and Willard Van Dyke, as well as images by Pictorialists such as Anne Brigman, William Dassonville, Johan Hagemeyer, William Mortensen, and Karl Struss.

With more than 100 works by 16 artists, Debating Modern Photography is the first exhibition to provide a substantial consideration of the group since 1992, and is unique in its inclusion of pictorialist examples to illustrate the debate.

For the group, subject matter was less important than technique. Their photographs include nearly every possible category: industrial, urban, and natural landscapes; portraits of friends and fellow group members; isolated objects for sharp-focus still lifes; and details extracted from the visible world.

To distinguish themselves from the Pictorialists, Group f/64 wrote, "Pure photography is defined as possessing no qualities of technic [sic], composition or idea, derivative of any other art-form."

In related news, Over time, Group f/64's purist approach came to be known as "straight" photography, in contrast to the manipulation typical of their Pictorialist opponents. That straight vision became so widely accepted and championed, it no longer appears controversial, as it did to audiences of the 1930s. Furthermore, the triumph of the short-lived but influential Group f/64 has caused the Pictorialist side of the debate to fade into near obscurity. This exhibition revisits the controversy, not only to acknowledge the Pictorialists' arguments, but to illustrate how avant-garde straight photography once was.

Debating Modern Photography will provide outstanding examples of the clean edges and bold forms of Group f/64 that contrast sharply with the romantic, hand-crafted Pictorialist approach that appears in ­elegant portraits, tonalist landscapes, and allegorical studies.

In related Portland Museum of Art news, the museum has determined that the proceeds from the major gift of $3 million given to the Museum from the family of Emily Eaton Moore, who passed away in March 2010, will be allocated as follows:

$1 million to create the Emily Eaton Moore and Family Fund for the Collection for the acquisition and maintenance of art; $1 million to create an investment fund to support the Museum's general operations; and $1 million to the Winslow Homer Studio campaign to ensure the ongoing educational, curatorial, and maintenance of the Studio. In addition, the fourth floor gallery in the Charles Shipman Payson Building will be named the Emily Eaton Moore and Family Gallery. Given to the Museum in June, this is one of the largest gifts made to the Museum in the last 10 years. The Portland Museum of Art is Maine's largest art museum.



THE MUSIC GOES ROUND AND ROUND


PORGY AND BESS music by George Gershwin, libretto by DuBose Heyward, and lyrics by Ira Gershwin and DuBose Heyward. Based on DuBose Heyward's novel Porgy and the play of the same name which he co-wrote with his wife Dorothy Heyward.

Sony Masterworks has released a live recording of the Graz Festival's production of Porgy and Bess to celebrate the opera's 75th anniversary of opening on Broadway October 10, 1935. Nikolaus Harnoncourt conducted the production, which had five semi-staged performances mounted during the 2009 Styriarte Festival in Graz, Austria with predominantly black soloists and the Chamber Orchestra of Europe. The performances were recorded June 29 and July 1, 2, 5, and 7, 2009 then culled into this magnificent three-CD set.

The production utilizes the version of the score that was used for the show's New York performances, one amended by George Gershwin himself.

Porgy and Bess tells the story of Porgy, a disabled black beggar living in the slums of Charleston, South Carolina. It deals with his attempts to rescue Bess from the clutches of Crown, her violent and possessive lover, and Sportin' Life, the drug dealer. Where the earlier novel and stage-play differ, the opera generally follows the stage-play.

Originally conceived by Gershwin as an "American folk opera", when Porgy and Bess premiered in New York the production featured an entire cast of classically trained African-American singers - a daring and visionary artistic choice at the time. Incorporating a wealth of blues and jazz idioms into the classical art form of opera, Gershwin considered it his finest work.

Others did not.



Nikolaus Harnoncourt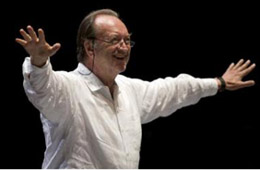 The work was not widely accepted in the United States as a legitimate opera until 1976, when the Houston Grand Opera production of Gershwin's complete score established it as an artistic triumph. Nine years later the Metropolitan Opera gave their first performance of the work. The work is now considered part of the standard operatic repertoire and is regularly performed internationally.

Summertime is by far the best-known piece from the work, and the second best-known number is It Ain't Necessarily So. The opera is admired for Gershwin's innovative synthesis of European orchestral techniques with American jazz and folk music idioms.

Enter Nikolaus Harnoncourt, who isn't noted for his jazz riffs. The Austrian cellist who went on to become a conductor and a founding father of the modern early-music movement, is considered the go-to guy for chamber music.

Who would have guessed that George Gershwin was his childhood hero and he'd spent years obsessing over his own desire to conduct Porgy and Bess. Harnoncourt turned 80 last December and gave himself a birthday present in the form of conducting Porgy and Bess. In turn listeners receive a gift.

Harnoncourt considers Porgy an opera not a musical, which has listeners experiencing a more formal rendition rather than a dinner-theater interpretation.

While some Porgy purists might complain that some songs are truncated, if you try hard enough, it's possible to criticize anything.

Conducting Porgy and Bess is, as a understatement, challenging. It's not the predictable boy gets girl, loses girl, gets girl back again.

The energetic, bustling city overture leads into the glorious rendition of Summertime by Clara (Bibiana Nwobilo) and the chorus. Harnoncourt knew what he was doing when he hand picked every singer. He also was on target in selecting musicians who know how to use their instruments to punctuate, speak and deliver the meanings of the music. - nervous, edgy, feisty, gripping, moving, exciting, compelling, beaten down, desperate and lonely.



Jonathan Lemalu and Isabelle Kabuto as Porgy and Bess. Photo by Werner Kmetitsch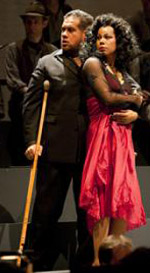 While Porgy and Bess has become the official opera of South Carolina, it's time a new audience discovered this masterpiece.

The Nikolaus Harnoncourt Porgy and Bess could be the vehicle. For those who like operatic music, it's there. Prefer great singing? Have a listen. Like drama, crime, drugs, intrigue, love won and lost? All in the plot. Dramatic inner city beats? It's what the musical is all about.

Will you be glad you listened to the CDs and want to play them again? Yes.

The cast includes:

Porgy performed by the New Zealand-born Samoan bass-baritone Jonathan Lemalu while Bess is brought to life by the Belgian soprano of African origins Isabelle Kabatu who, in 1996, made her début at the Houston Grand Opera to perform the role of Bess in Porgy And Bess.

Clara is sung by soprano Bibiana Nwobilo who was born in Nigeria and grew up in Austria and is the beautiful voice singing Summertime.

Sporting Life is played by tenor Michael Forest who was a Member of the Metropolitan Opera's Young Artists Development Program from 1989 to 1992 and made his debut as Mingo in a 1989 production of Porgy and Bess. Jake is sung by Rodney Clarke a British bass-baritone opera singer of Jamaican origin. He has appeared as Jake in Porgy and Bess for Opéra National de Lyon and in the title role (concert version) with the Orchestra di Santa Cecilia.

Serena is performed by dramatic soprano Angela Renée Simpson who has taken the position of voice teacher at the Academy of Fine Arts in Charlotte, NC.



Roberta Alexander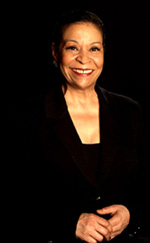 Maria is sung by American singer Roberta Alexander who studied at the University of Michigan and was also in the Metropolitan Opera production. She posted some interesting comments on her own website: "I had an AMAZING time in Graz with Harnoncourt doing Maria in Porgy and Bess. Speaking of Harnoncourt; I was invited to his 80th birthday party in Vienna on December 6th. It was a wonderful affair, and I was mighty pleased to be seated at the table with he and his wife Alice. His children and grandchildren did a bang-up job of hosting the party which was held in the Brahms hall of the Musiekverein. A good time was had by all. Sony brought out the Porgy and Bess recording of those concerts in Graz to coincide with his birthday. Nice gesture. Oh, and up until now? No one has guessed that I also sang the Strawberry Lady"

Crown is played by Gregg Baker who also sang the role in the 1985 Metropolitan Opera production, the 1986 Glyndebourne production, the 1989 EMI recording made with the Glyndebourne cast, and in the 1993 television adaptation of that production. The roles of Mingo, Robbins, Peter and Crab Man are performed by Previn Moore whose Broadway type music credits run the gamut from Anything Goes to Victor/Victoria. Scipio is played by the young Yannick Germain Balihe while Detective, Archdale, and Policeman are sung by bass David McShane.

Chamber Orchestra of Europe, Arnold Schoenberg Chor conducted by chorus master Erwin Ortner, who founded the choir in 1972 and remains its artistic director.

Soloists: Caroline Kuehn, Stuart Kinsella, Nenad Marinkovic.

Musicians include Manuel Hofstätter, Rainer Furthner, Stefan Rapp, Leonhard Schmidinger, percussion Wolfgang Pointner, banjo. George Darden, piano.

Recorded and mixed by Teldex Studio Berlin. Recording producer: Tobias Lehmann who also did the mixing. Balance engineer: Michael Brammann. Digital editing: Julian Schwenker and Tobias Lehmann. The well put together booklet is in both English and German.


IMMIGRATION MUSEUM OF ELLIS ISLAND DEDICATES BOB HOPE MEMORIAL LIBRARY
The reading area at the Bob Hope Memorial Library at the Ellis Island Immigration Museum. NPS photo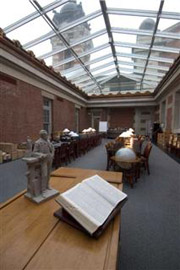 Bob Hope died in 2003 at the age of 90. After the initial publicity spike, most celebrities then tend to rest in peace with memories of their accomplishments dimming with the passing of time.

Not so in the case of the British born American citizen who appeared in vaudeville, on Broadway, and in radio, television and movies. He was also noted for his work with the US Armed Forces including appearing in or hosting 199 USO shows. Throughout his career, he was honored for his humanitarian work. A 1997 act of Congress signed by President Clinton honored Bob Hope by declaring him the "first and only honorary veteran of the U.S. armed forces."

In 2008, the research library at the Ellis Island Immigration Museum was renamed by Congress with the consent of the President, as the Bob Hope Memorial Library.

On Tuesday, October 12, 2010, the Hope Family including Bob Hope's daughter Linda Hope and his son Kelly Hope, and invited guests from the worlds of theater, film, television and comedy will gather for the formal dedication of that newly refurbished Bob Hope Memorial Library.

Those in attendance will enjoy a ribbon cutting ceremony, brief speeches and musical performances - including Michael Feinstein, who was a personal friend, singing Hope's signature song Thanks for the Memories.

New York City Mayor Michael R. Bloomberg is issuing a proclamation for the occasion and his Honor will be represented by NYC Commissioner of Immigration, Fatima Shama.

The October 12 official dedication will include exhibits of Bob Hope's career in the entertainment business as well as memorabilia pertaining to his USO tours and golfing endeavors. A highlight of the exhibit will be a kiosk with Bob Hope jokes.

The reading room of the library contains books, periodicals, contemporary and historical photographs, film and video productions, unpublished manuscripts, archival collections, oral history interviews and other research materials relating to the history of the Statue of Liberty, Ellis Island, immigration history and the National Park Service.

Some unique collections include photos of individual immigrants taken by Augustus Sherman and Colonel John Weber, both employees of the Immigration and Naturalization Service.

Following the ceremony, there will be a luncheon featuring British inspired fare that will include a couple of Bob Hope's favorite dishes that his mother Avis served such as lemon meringue pie and lamb, one of his all time favorite dishes.


SWEET CHARITY


GALA SHAKESPEARISSIMO

Annette Bening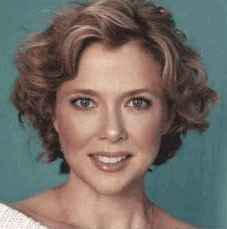 Join STC and a cast of distinguished performers from the worlds of dance, opera and classical music as tribute is paid to William Shakespeare's Italy at the annual gala.

René Auberjonois, Paloma Herrera and Cory Stearns, the Julliard Jazz Artists Diploma Ensemble, Bronson Pinchot, Frederica Von Stade and actors from the Shakespeare Theatre Company will perform.

Honorary Chair Martha-Ann Alito. Gala Co-Chairs: Abbe David Lowell and Molly A. Meegan, Giuseppe and Mercedes Cecchi.

Under the patronage of His Excellency the British Ambassador and Lady Sheinwald, the 2010 Gala will also feature the presentation of the William Shakespeare Award for Classical Theatre to Annette Bening and the Sidney Harman Award for Philanthropy in the Arts to the HRH Foundation. The evening ends with a walk down the red carpet to dinner and dancing in the National Building Museum.

The Gala supports the Shakespeare Theatre Company's education and outreach programs and the annual Free For All at Sidney Harman Hall.

October 3, 2010 at the Harman Center for the Arts, Washington, DC Sunday, October 3, 2010.

BROADWAY TAKES THE RUNWAY An Evening of Fashion and Song, to be presented at the Touch Nightclub in Manhattan on Monday, October. 4.

Hosted by Carson Kressley and Tony Award nominee Sara Ramirez, 100 percent of the profits will go to Al D. Rodriguez Liver Foundation which was founded by Kressley and Ramirez and named after their friend who died in 2008 of liver cancer.

This exciting event celebrates fashion and songs as only the Broadway community can. Broadway divas and divos will deliver their signature Broadway hits, dressed in spectacular couture gowns and suits, personally chosen for each star by Carson.

Scheduled to appear in Audra McDonald. The event, to be directed by Schele Williams, will also feature performances by Robin DeJesus, Montego Glover, Michael Park, Christopher Jackson, Billy Porter and Natalie Weiss. Mary Mitchell Campbell is the evening's musical director.

WHO CONVENTION TO BENEFIT CHARITIES For over 30 years, fans of The Who have been gathering at conventions to celebrate the work of Messrs Townshend, Daltrey, Entwistle and Moon, and to raise money for some great causes. The 2010 convention begins in Kilburn on Saturday October 2nd, followed by the main event at Dingwalls in Camden Market on Sunday October 3rd.

Fans are told to expect rock operas, films, memorabilia, auctions and some very special guests as part of this convention. The proceeds will be split between the Teenage Cancer Trust and the Meg Fox Educational Trust Fund set up to benefit children of a dear late friend of The Who.

Who's Next, the UK's leading Who tribute band, will play The Good Ship on Saturday, October 2nd as part of The Who Convention 2010.

Alan Parker, the co-author of The Who By Numbers, will be signing his brand new book which breaks down songs throughout The Who's career number by number. Parker has previously written books on John Lennon, Sid Vicious and The Sex Pistols. Paolo Hewitt will be signing copies of his book The Sharper Word: A Mod Anthology, which explores the mod youth sub-culture.






SPREADING THE WORD


KATHLEEN TURNER will take part in a public conversation about her life and career on Monday, October 4 at the New York Public Library for the Performing Arts. Producer Elizabeth Ireland McCann will conduct the interview, which is part of the League of Professional Theatre Women's Oral History Project, which chronicles and documents the contributions of significant theater women in many disciplines.

AN ADIRONDACK AFFAIR takes place October 1-2 in Long Lake NY. A panel discussion, Behind the Scenes on a Soap, will feature As The World Turns stars, two-time Emmy Award winner Martha Byrne, Ellen Dolan and Emmy winner Michael Park. On Saturday there will be Acting, Directing and Writing workshops with writer Tom Cassiello from Young and the Restless and Directing Talent from All My Children, Fritz Brekeller.

PLACIDO DOMINGO has agreed to remain director of the Los Angeles Opera until at least 2013, the company announced. The 69-year-old Spanish tenor said he was "thrilled" to continue his work with the company in a "creatively challenging" role. Domingo will be named person of the year at the Latin Grammys in November.





OTHER PEOPLE'S MONEY


WAYNE NEWTON a Las Vegas resident, is seeking a special use permit from the county, so he can turn the property across from his home - a 38-acre ranch known as the Casa de Shenandoah - into a tourist attraction, complete shuttle bus tours, a museum and a theatre where Newton would perform. His home is located in an upscale neighborhood. Newton's neighbors are objecting.

QUEENS THEATRE IN THE PARK an iconic structure from the 1964 World's Fair, celebrated the completion of a $27 million renovation and expansion with a ribbon cutting ceremony and reception on Thursday, September 23, 2010, attended by dozens of the borough's elected officials and invited guests. The transformation included adding a 75-seat cabaret performance space with a full service cafe and kitchen facility; created a dramatic new 3,000 square foot lobby/reception area; provided new visitor amenities and improved the facility's accessibility.

Queens Theatre in the Park is located in Flushing Meadows Corona Park, Flushing, NY. and is committed to not only presenting performing arts that provide audiences with the highest quality work but producing new plays, with a concentration on up-and-coming directors and playwrights. QTP has broadened the experience of its core audience to include works by under-recognized artists from around the world and works that tap into the diverse communities of Queens.

Queens Theatre in the Park is located in the New York State Pavilion designed for the 1964 World's Fair by Philip Johnson. The Pavilion was converted to a theatre in 1972 and was operated by various organizations until 1985. QTP was officially established in 1989 with the full support of the community and the Queens Borough President. After a $4 million renovation that brought full ADA compliance, the Theatre officially opened to the public in 1993 in a facility that allows it to stage productions equal to those of any Off-Broadway house in Manhattan in its 464-seat main stage theatre and its 99-seat studio theatre. What was then a small cabaret-style theater with an operating budget of under $500,000 has transformed itself into a major performing arts center with exhibition galleries with an operating budget of $3.5 million.



LES MISERABLES in concert at The O2 in London on Sunday, October 3, celebrating the 25th Anniversary of the legendary musical, will make theatrical history with an international first - three different productions in London at the same time.

The Original Production at the Queen's Theatre, the New 25th Anniversary Production at the Barbican, London and now, stars in their multitudes will gather for a celebratory concert at The O2 when all three productions and many of the show's original cast will come together to celebrate this momentous occasion.

The 25th Anniversary concert at The O2 will host a company of over 300 actors and musicians.

They include Alfie Boe as 'Jean Valjean', Nick Jonas as 'Marius', Norm Lewis as 'Javert', Matt Lucas as 'Thenardier', Lea Salonga as 'Fantine', Jenny Galloway as 'Madame Thénardier', Camilla Kerslake as 'Cosette' and the casts of the Original Production at the Queen's Theatre, the New 25th Anniversary Production at the Barbican, London and members of the Original 1985 London cast.

RECIPIENTS OF THE 2010 NATIONAL THEATRE COMPANY GRANTS the first group of theatres receiving American Theatre Wing support following the revision of our long-standing theatre company grants program are:

1812 Productions in Philadelphia; About Face Theatre in Chicago; Boise Contemporary Theatre in Boise, ID; Company One in Boston; Curious Theatre Company in Denver; The Flea Theater in New York City; Profile Theatre in Portland, OR; Silk Road Theatre Project in Chicago; Synetic Theater in Arlington, VA and the Triad Stage in Greensboro, NC.

Grants for the 2010 cycle in the amount of $10,000 each will be distributed for general operating support to these companies which, according to grant guidelines, have been in operation at least five, but not more than fifteen years, have articulated a distinctive mission, cultivated an audience, and nurtured a community of artists in ways that strengthen and demonstrate the quality, diversity, and dynamism of American theatre.

Grants Committee Chair Lucie Arnaz commented, "In a bold departure from our past grants giving program, the Wing decided to use our limited resources to bring national attention and acknowledgment to what we feel are some of the most inspiring and innovative theatre companies on our national landscape. Fewer grants for more money on a wider scale. It's a very exciting concept."

BOB NEWHART'S 50th ANNIVERSARY IN SHOW BUSINESS

Bob Newhart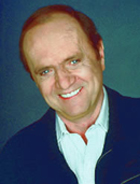 will be celebrated Wednesday, October 6, at the Paley Center for the Media in Los Angeles.

Comedy's master of the deadpan delivery, Bob Newhart has been amusing audiences for five decades with his dryly funny observations on human behavior.

The Paley Center celebrates Bob's half-century in show business with highlights from his television work, including bits from the satirical monologues that first brought him attention, his hit situation comedies The Bob Newhart Show and Newhart, and acting appearances on such programs as ER and Desperate Housewives.

In his droll Las Vegas nightclub act Newhart would explain that after being discharged from the military he got a job as an accountant for United States Gypsum where his motto in balancing the books became "That's close enough," indicating he didn't have the temperament to be an accountant. He also told about being a clerk in an unemployment office making $55 a week but quit upon discovering that weekly unemployment benefits were $45 a week and the guy getting them "only had to come in to the office one day a week to collect it."

Newhart will chat about his career and take questions from the audience.

VIP tickets also include a private reception with Bob Newhart.



SABRINA FAIR

Tom Story as David, Susan Heyward as Sabrina and Todd Gearhart as Linus photographed by Scott Suchman.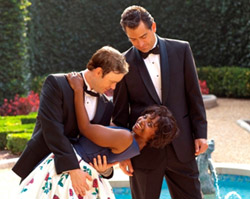 by Samuel A. Taylor. Directed by Stephen Rayne.

Billed as a delightful modern twist on the Broadway production which ran for a total of 318 performances, opening at the National Theatre on November 11, 1953. The critic for The New York Times, Brooks Atkinson, praised both the script and the production for its "droll wit."

With sparkling wit and intelligence, Sabrina Fair considers true love hindered by class, race and social conventions. When the daughter of the Larrabees' chauffeur returns after five years in Paris, she bewitches the Larrabee brothers with her youthful vitality and newly found sophistication. Largely ignored as a child, Sabrina now finds suitors at every turn, including the handsome playboy David, for whom she has always harbored affection. But is David the right Larrabee brother for her?

Starring Tom Story as David Larrabee the dissolute younger brother, Susan Heyward as Sabrina and Todd Gearhart as Linus Larrabee, Jr, John Dow as Linus Larrabee, Sr., Helen Hedman plays Maude Larrabee, Kimberly Schraf is Julia), and Craig Wallace is cast as Fairchild.

The cast will also feature Michael Morrow Hammack, Bolton Marsh, Donna Migliaccio, Casie Platt, Julia Proctor, Tonya Beckman Ross, and Derek Kahn Thompson.

The creative team will include Daniel Lee Conway (scenic design), Wade Laboissonniere (costume design), Pat Collins (lighting design), and John Gromada (sound design).

October 1-24, 2010 at Ford's Theatre in Washington, DC.

Post-Performance Discussion: Thursday, October 7 following the evening performance, members of the cast will take questions from the audience and discuss the artistic process.

OFFICE HOURS a world premiere by A.R. Gurney. Directed by Steven Banks.

Fall 2010 Performed by the Flea Theater's resident acting company, The Bats, which include: Holly Chou, Louiza Collins, Tommy Crawford, Bjorn DuPaty, Katherine Folk-Sullivan, Andy Gershenzon, Raúl Sigmund Julia, Betsy Lippitt, Maren Langdon, Turna Mete, John Russo and Wilton Yeung. The production, which looks at the political climate across U.S. colleges in the 1970's, officially opens September 30 with performances through October 24 at The Flea Theater in NYC.

ME AND MRS JONES by JD Lawrence.

Whether a matter of marrying the wrong person or simply falling out of love with the person you're with, Me & Mrs Jones "gives audiences a taste of reality in a thought provoking, yet powerfully intriguing in an outright hilarious way. If laughter does the heart good like medicine, then JD Lawrence is the doctor serving up prescriptions left and right in his latest show," which is a follow-up to his The Clean Up Woman.

The cast includes Emmy Award winning actress Jackee Harry, Grammy Award-winning R&B singer Dave Hollister, and America's Next Top Model winner Eva Pigford along with playwright Lawrence, Darrin Henson, Tammy Turner, and Red Grant.

The performances September 27-29 at the Palace Theatre in New Haven, Connecticut are part of a fall tour.

BRIEF ENCOUNTER by Noël Coward, adapted and directed by Emma Rice.

Featuring Joseph Alessi, Dorothy Atkinson, Damon Daunno, Gabriel Ebert, Edward Jay, Annette McLaughlin, Adam Pleeth, Tristan Sturrock, Hannah Yelland.

An imaginative new work that combines elements of Noël Coward's beloved screenplay, and the one act play on which it was based, with song, dance and Technicolor displays of emotion.

A Roundabout Theatre Company presentation which officially opens at Studio 54 in NYC on September 28.

CONFESSIONS OF A MORMON BOY written by and starring Steven Fales.

Steven Fales could have been the poster child for the Church of Jesus Christ of Latter-day Saints (Mormon Church): Eagle Scout, international missionary, BYU graduate, married in the Salt Lake Temple, and father of a beautiful boy and girl. In his autobiographical one-man play, Fales tells the captivating story of his failed attempt to overcome his "same-sex attraction" through "reparative therapy," which resulted in his divorce and excommunication from the Mormon Church.

After his perfect Mormon world fell apart, Fales took his pain and confusion to New York City where he quickly descended into the gay underworld of escorting and drugs. Both touching and funny, Mormon Boy is a reclamation saga of a Latter-day prodigal son that ends in a moment of self-revelation.

The very personal play shows the link between spiritual abuse and addiction. Fales defines spiritual abuse as any time an individual, group, or institution uses religion to justify telling or showing anyone they are not worthy of god's full love and blessings. Mormon Boy also illustrates the dilemma of those struggling to reconcile their dreams of becoming straight with the realities of being gay and what it costs to accept or deny that truth when children are involved.

Fales says he wrote his "valentine to Mormonism and hedonism" for his children so that they would some day be able to understand their gay father. "I kept thinking that if I were to die, there wasn't anyone I could fully trust to tell my kids who their 'wicked' gay dad really was and how much I loved them."

September 27 at the Rose Wagner Black Box in Salt Lake City, Utah. October 1 - 2 at Church of the Foothills in Orange County, CA.

JEKYLL AND HYDE with music by Frank Wildhorn and lyrics by Leslie Bricusse. Directed by Robert Cuccioli who played the roles of Jekyll and Hyde on the first US tour, and then originated the roles on Broadway. He has gone on to direct a few of the regional stagings of the show since then, including the production which opens September 30 at the Westchester Broadway Theatre in New York.

Choreography by Jean-Paul Richard.

An evocative tale of romance and the epic battle between good and evil. Based on Robert Louis Stevenson's classic novel.

The cast will include Xander Chauncey (Jekyll/Hyde), Michelle Dawson( Lucy), Jennifer Babiak (Emma), Tom Galantich (Utterson), James Van Treuren (Sir Danvers), Jessica Morris (Lady Beaconfields), Paul Binotto, Jane Bunting, Katie Keyser, Karen Webb, Leah Monzillo, Kevin Melendez, Sean Patrick Murtagh, Jean Paul Richard, Ron Tal, Tom Schubert, Christopher DeRosa, Britt Johnson and Benjamin McHugh (Dance Captain). Orchestrations by Kim Scharnberg and arrangements by Jason Howland. The Band is composed of: Leo Carusone/Musical Director, Keyboards. Patrick Kelly/Assistant Musical Director, Keyboards. Ken Ross/Percussion. Arnold Gottlieb/Bass. Ron Kozak/Reeds. Von Ann Stutler/Musical Contractor.

The creative team will include Andrew Gmoser (lighting design), Jonathan Hatton (sound design), Gail Baldoni (costumes). Performances are September30-November

Performances September 30 - November 28, 2010 and then resume December 29 - February 6, 2011 at the Westchester Broadway Theatre in Elmsford, New York.

THE LANGUAGE ARCHIVE by Julia Cho who grew up in a Korean-speaking household but never learned the language. The comedy commissioned by Roundabout Theatre Company had its world premier last March at South Coast Repertory's Segerstrom Stage and now is in previews at the Harold and Miriam Steinberg Center for Theatre in NYC with an official opening set for October 17. The play was the winner of the prestigious 2009 Susan Smith-Blackburn prize for outstanding new English language play by a woman.

Mark Brokaw directs a cast that features Tony Award nominee Jayne Houdyshell, Matt Letscher, Betty Gilpin, John Horton and Heidi Schreck.

Matt Letscher plays a man obsessed with documenting dying languages of distant cultures billed as "a brilliant comedy about a man devoted to the study of language who struggles to find the right words to save his career... and his marriage."

The design team includes Neil Patel (Sets), Michael Krass (Costumes), Marc McCullough (Lights) and David Van Tieghem (Sound).

Performances to December 19.

THEY'RE PLAYING OUR SONG Book by Neil Simon. Music by Marvin Hamlisch. Lyrics by Carole Bayer Sager. Directed by Tony nominee Lonny Price. Choreography by Joshua Rhodes and musical direction by Bruce Kiesling.

Starring Stephanie J. Block and Jason Alexander who is also the artistic director for the Reprise Theatre Company which stages this production.

This audience favorite follows the on-again, off-again romance of one very despondent composer and one very ditzy lyricist, as they try to create their own unique love song. Based on the real-life love affair of composer, Marvin Hamlisch, and lyricist, Carole Bayer-Sager who also penned the delicious score of this whirling dervish of a musical comedy.

This production promises to feature a new song written for the production by Hamlisch and Sager. Two other Hamlisch-Sager songs will be added: One Hello, which was the theme of the film of Neil Simon's I Ought to be in Pictures, and If You Remember Me, from the film The Champ; the latter was used in the national tour of Song. All three songs will be orchestrated by Larry Blank, the original music director of the show.

Performances September 28-October 10 at UCLA's Freud Playhouse, Los Angeles.

CHURCH BASEMENT LADIES written by Jim Stowell and Jessica Zuehlke, with music and lyrics by Drew Jansen.

The regional premiere of the hilarious musical that played in Minneapolis for two years has arrived in Lancaster, PA.

Church Basement Ladies celebrates the women who work tirelessly in the church kitchens to keep stomachs filled and coffee brewing for every important event from weddings to pot luck suppers.

The church basement kitchen throughout much of America is often the heart and soul of any church. In Church Basement Ladies we meet the pastor, three main kitchen cooks and one daughter who run the kitchen and care for the congregation by preparing and serving the food . Like any great kitchen, problems are solved here as well. We see the four women handle a Lutefisk Dinner, a funeral, an Easter Fund Raiser, and, of course, a wedding. The stave off potential disasters, have fun, share and debate recipes, instruct the young, and keep the pastor on due course.

This musical comedy based on recipes, food, and change in the church is billed as "funny, heart warming, and down to earth. It will bring back memories of many people you know from churches everywhere."

To promote the engagement at the Dutch Apple Dinner Theatre, the venue is staging a recipe contest to selected a few good recipes. Creators of the top 20 recipes will be asked to prepare their recipe for the panel of judges. The top 7 recipes selected will be prepared by the chef at the Dutch Apple and one recipe will be featured each week in the buffet during the run of Church Basement Ladies. September 30 - November 13, 2010 Dutch Apple Dinner Theatre in Lancaster, PA.





WHO'S WHERE


LIZA MINNELLI performs Wednesday, September 29, at the Merrill Auditorium in Portland, ME.

BRET MICHAELS takes part in the La Crosse Oktoberfest on Tuesday, September 28, at the Oktoberfest Grounds in LaCrosse, WI. On Friday he's on stage at Sea World of Texas in San Antonio.

CELTIC THUNDER on stage Tuesday, September 28, at the Performing ArtsCenter in Baltimore. On Wednesday the show is at the Benedum Center in Pittsburgh. Friday finds the group at Radio City Music Hall in NYC and on Saturday they can be enjoyed at the Tower Theatre in Upper Darby, PA.

RENEE FLEMING brings her beautiful voice to the Reynolds Auditorium in Winston-Salem, NC on Monday, September 27. On Saturday she's in the spotlight at Powell Symphony Hall in St. Louis.

WEDNESDAY NIGHT AT THE IGUANA with hosts Dana Lorge and Richard Skipper. Barry Levitt on keyboard & Saadi Zain on bass. Wednesday's guests include: Dale Badway, Daryl Glenn, Rita Ellis Hammer, Gloria Waldman and Marya Zimmet. Wednesday, September 29, at the Iguana VIP Lounge in NYC.

SIR JAMES GALWAY will be showing off what you can do with a flute Saturday, October 2, at the Orpheum Theatre in Sioux City, IA.

ARETHA FRANKLIN has a sold out gig October 1 at the The Paramount in Charlottesville, VA.

STING is on stage Thursday, September 30. at the Omnisports Palais in Paris. On Friday he opens a two nighter at Royal Albert Hall in London.

IDINA MENZEL entertains Saturday, October 2, at the Tilles Center for the Performing Arts in Greenvale, NY.

ANN HAMPTON CALLAWAY performs Saturday, October 2, at the folly Theater in Kansas City, MO.




FINAL OVATION


EDDIE FISHER one time top selling recording artist, television star and Las Vegas performer, died September 22, 2010 in Berkeley, CA of complications from hip surgery. Fisher had broken his hip on September 9, 2010. He was 82.

During the 1950s Fisher, a romantic crooning tenor, was an icon and poster boy with thirty-five Top-40 hit records. He was known as the Coke Time Boy, because Coca Cola sponsored his television show and he regularly starred on the Las Vegas Strip. Fisher has two stars on the Hollywood Walk of Fame, one for recording, and one for television.

He was one half of "American's Sweethearts" when he married Debbie Reynolds in 1955. Fan devotion turned against him when he left the mother of his two small children to marry Elizabeth Taylor. That marriage ended in divorce as did his marriage to Connie Stevens, which also produced two daughters. He next married beauty queen Terry Richard who was 21-years-old while Fisher was 47. That marriage ended 10 months later. His fifth and final marriage in 1993, to an extremely successful businesswoman, Chinese born Betty Lin, survived until her death from lung cancer in 2001.

Fisher is survived by four children: son Todd and daughter Carrie by Debbie Reynolds and daughters Joely and Tricia Leigh Fisher by Connie Stevens and six grandchildren.




Next Column: October 3, 2010
Copyright: September 26, 2010. All Rights Reserved. Reviews, Interviews, Commentary, Photographs or Graphics from any Broadway To Vegas (TM) columns may not be published, broadcast, rewritten, utilized as leads, or used in any manner without permission, compensation and/or credit.
Link to Main Page
---
Laura Deni



For the snail mail address, please E-mail your request.
CLICK HERE FOR COMMENT SECTION