! >
Broadway To Vegas
  
  REVIEWS  INTERVIEWS COMMENTARY NEWS

| | |
| --- | --- |
| | |
MASTERWORKS BROADWAY'S DIVINE HAIR CD REVIEW - - PAUL McCARTNEY'S BALLET - - WARHOL: HEADLINES EXHIBIT - - WESTPORT COUNTRY PLAYHOUSE GALA - - CITY OF ANGELS REVIVAL - - KIM DELANEY'S STAGE MELTDOWN - - ORIGINAL ANNIE STAR TAKES ON ROLE OF FLOOZY CON ARTIST - - THE GRAMMY FOUNDATION AND MUSICARES FOUNDATION - - DONATE . . . Scroll Down



MASTERWORKS BROADWAY RELEASES THE HEAVENLY DIVINE HAIR/MASS IN F
Some religious leaders know how to make a musical beat swing the message.

Bishop Horace W. B. Donegan, the Episcopal Bishop of New York from 1950 until 1972 was an early church advocate for the rights of blacks, women and the poor. In his 22 years as spiritual leader of the New York diocese, he transformed its social consciousness. On his own time he liked to listen to Gilbert and Sullivan operettas. The courageous and creative theologian died of throat cancer on November 11, 1991 at his home in Sanibel, Fla. He was 91 years old.

Bishop Donegan had some equally socially relevant religious cohorts. That in-your-face group devised this event, which fortunately was recorded.

In April 1971, as Hair was celebrating the show's third anniversary on Broadway, the Bishop of New York invited Hair to participate in a celebration of the Holy Eucharist with a Mass performed in the Cathedral of St. John the Divine, the Cathedral of the Episcopal Diocese of New York - the world's largest Gothic-style cathedral.

The Mass included selections from the Broadway musical as well as a new work by the composer Galt McDermot titled Mass in F. It was performed by The Choir of the Cathedral of St. John the Divine, St. Martin's Choir, St. Mary's Choir, Delores Hall, J. Faulton Hodge, Jack W. Jones, and the Broadway cast of Hair.

Divine Hair/Mass in F which was released last Tuesday by Masterworks Broadway, is the live recording of that extraordinary event.

Extraordinary indeed!

Why this event has been kept underwraps for 40 years ought to be a sin.

Anybody who has ever loved Hair, in any of its styles, should own this CD - a musical transferred into an event rarely accorded a Broadway show. This is a live recording. You can hear people moving about, rumblings of conversations, even an occasional cough.

In the background is that organ, built by the renowned organ builder E.M. Skinner in 1911. In 1952 it was enlarged by the Aeolian Skinner Organ Company. During this rebuild the State Trumpet. Speaking on fifty inches of wind pressure it is the most powerful organ stop in the world. The Great Organ is currently valued at over $8 million. Expertly played by Jack W. Jones, the organ introductions are improvisations of Aquarius.

The Reverend Richard R. Kirk provides instruction on how the congregants will take communion.

Canon Sacrist Dr. Edward Nason West, who served as master of ceremonies for more than 40 years, welcomed the congregation.

Canon West - the title canon indicates a priest affiliated with a cathedral - was also a leading authority on liturgical celebrations and as Canon Sacrist was in charge of preparations for all services at St. John the Divine. Dressed in a black cassock, black cape and black skullcap, he often officiated at elaborate ceremonies at the huge Gothic cathedral, using a silver-tipped oak staff to orchestrate pageants with thousands of participants.

Among the notable events he organized at the Episcopal cathedral, on the Upper West Side of Manhattan, were the funerals of Mayor Fiorello H. La Guardia, Duke Ellington, Dag Hammarskjold and George Balanchine, as well as visits by the Queen Mother of Britain, the Dalai Lama, and Vasken I, Catholicos of All Armenians.

Canon West, who died in 1990, was a take-no-prisoners intellect who didn't blink at opposition. He admitted that there were vehement critics to this religious service in honor of the third anniversary of the ground breaking musical.



Galt MacDermont was inducted into the 2009 Songwriter's Hall of Fame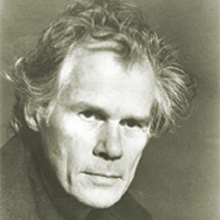 "This past week when were bedeviled for inviting you here for this anniversary. I was able to quiet, or at least to confuse, one of our more vehement critics by pointing out that the Service would include not only olotrichian but also ussothrichian elements, and that we had satisfied ourselves completely that the lisso-trichian part would have both euplocomi anduthycomi represented. Naturally, We are relying on the human indolence to keep the person involved from taking the pains to find out that all these splendid Greek words merely describe different kinds of hair."

Clergy taking part in the service included: The Reverend Richard R. Kirk, The Rev. Richard Ragni and The Rev. Howard Stowe.

For those who would rather rot in whatever than listen to a religious sermon - take heart. The Lesson runs 45 seconds. The Epistle is a minute-and-a-half while the dreaded sermon, The Gospel is an OMG lengthy one-minute-thirty-nine seconds. You can handle that. You might even find them so enjoyable that you hit replay.

Interspersed between these short scripture readings and prayers are selections from Hair kicking off with Aquarius.

Three-Five-Zero-Zero is sung during the offertory. The congregation applauds after musical selections.

An up-beat tempo, arranged in the Hair genre, version of The Lord's Prayer is sung by Delores Hall, followed by applause and cheers from the congregation. The CD closes with Let The Sun Shine In

Hallelujah!

Selections from the Musical Production Hair by James Rado, Gerome Ragni and Galt MacDermot sung by the Broadway cast: Robalee Barnes, Alan Braunstein, Zenobia Conkerite, Dennis Cooley, Sally Eaton, Bobby Ferguson, Tadg Galleran, George Garcia, Gloria Goldman, Nat Grant, Delores Hall, Marta Heflin, Fluffer Hirsch, David Hunt, Ursuline Kairson, Bobby London, Charles O. Lynch, Robin McNamara, Nathaniel Morris, Allan Nicholls, Cecilia Norfleet, Angie Ortega, Dale Soules, Bryan Spencer, Tom Stovall, Valerie Williams, Kathrynann Wright.

New York Hair Musicians: Margaret Harris - electric piano and musical director; Charlie Brown and Alan Fontaine - guitars; Jimmy Lewis - bass; Zane Paul - woodwinds and reeds; Donald Leight and Eddy Williams - trumpets; Warren Chaisson - percussion; ldris Muhammad - drums.

Introit, Sequence, Offertory, Responses, and Dismissal sung by the Choir of the Cathedral of St. John the Divine, New York City Organist: Jack W. Jones.

The 19 tracks:

1. Introduction (Organ)
2. Canon West's Welcome
3. Aquarius (Introit)
4. The Collect
5. Sanctus & Benedictus Qui Venit - Mass in F
6. The Lesson
7. What a Piece of Work Is Man (Sequence)
8. The Epistle
9. Hair
10. Three-Five-Zero-Zero (Offertory)
11. Where Do I Go?
12. The Gospel
13. Agnus Dei - Mass in F
14. 1000 Year Old Man
15. Kyrie - Mass in F
16. Gloria in Excelsis - Mass in F
17. Organ Improvisation on Aquarius
18. The Lord's Prayer
19. The Flesh Failures



Broadway To Vegas is supported through advertising and donations. Priority consideration is given to interview suggestions, news, press releases, etc from paid supporters. However, no paid supporters control, alter, edit, or in any way manipulate the content of this site. Your donation is appreciated. We accept PAYPAL. Thank you for your interest.



ART AND ABOUT


WARHOL: HEADLINES

A Boy for Meg capitalizes on a national obsession with the lives of celebrities, whether members of the royal family such as Princess Margaret giving birth to her son, David, or popular personalities such as Frank Sinatra, and foreshadows the silkscreened depictions of celebrities that the artist would commence later the same year Andy Warhol, A Boy for Meg, 1962, Gift of Mr. and Mrs. Burton Tremaine, 1971.87.11 © 2011 The Andy Warhol Foundation for the Visual Arts, Inc./Artists Rights Society (ARS), New York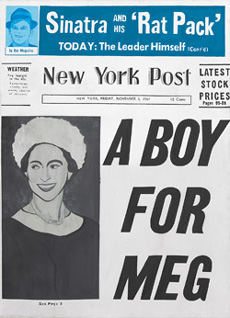 will define and bring together works that the artist based largely on headlines from the tabloid news.

Warhol had a lifelong obsession with the sensational side of contemporary news media, and examples of his source materials for the works of art will be presented for comparison, revealing Warhol's role as both editor and author.

The rich headline motif will be traced through about 80 works representing the full range of its treatment in Warhol's practice - from paintings, drawings, prints, photography, and sculpture to film, video, and television.

A major, yet previously unexplored theme that ran through Warhol's entire career, the headline encompasses many of his key subjects, including celebrity, death, disaster, and current events.

Andy Warhol (1928–1987) is among the foremost American artists of the last century. Alongside Pablo Picasso, he is also considered one of the most important 20th-century artists in the world.

Wherever one places him, Warhol's influence is indisputable.

His visual vocabulary has become a part of the vernacular from which it originally derived. Even his purported 1968 statement "in the future everyone will be world-famous for 15 minutes" has become as ubiquitous as the 24-hour news cycle.

Organized by the National Gallery of Art, Washington, in association with The Andy Warhol Museum, Pittsburgh, the Galleria nazionale d'arte moderna, Rome, and the Museum für Moderne Kunst, Frankfurt.

September 25, 2011–January 2, 2012 at the National Gallery of Art in Washington, DC.

DE KOONING: A RETROSPECTIVE The most complete museum retrospective of Willem de Kooning's work, and one of the most highly anticipated shows of the season, and will only be seen at MoMA in NYC.

It's an unparalleled opportunity to view the work of the prolific artist's nearly seven-decades-long career, beginning with his early academic paintings through to his final abstract works of the late 1980s.

The entire sixth-floor gallery space of the Museum is dedicated to de Kooning: A Retrospective and features approximately 200 masterworks.

Representing nearly every type of work de Kooning made, in both technique and subject matter, this retrospective includes paintings, sculptures, drawings, and prints. Among these are the artist's most famous, landmark paintings - among them Pink Angels (1945),Excavation (1950), and the celebrated third Woman series (1950–53) - plus in-depth presentations of all his most important series, ranging from his figurative paintings of the early 1940s to the breakthrough black-and-white compositions of 1948–49, and from the urban abstractions of the mid 1950s to the artist's return to figuration in the 1960s, and the large gestural abstractions of the following decade. Also included is de Kooning's famous yet largely unseen theatrical backdrop, the 17-foot-square Labyrinth (1946).

Organized by John Elderfield, Chief Curator Emeritus of Painting and Sculpture.

On display through January 9, 2012 at MoMa, New York City.

SAN FRANCISCO'S ASIAN ART MUSEUM will unveil its new look, logo and brand identity and stage a preview of its coming season of exhibitions on Tuesday, September 27.

The Asian Art Museum of San Francisco is one of the largest museums in the Western world devoted exclusively to Asian art. Here, you can travel through 6,000 years of history, trek across seven major regions, and sample the cultures of numerous countries.


SIR PAUL McCARTNEY'S BALLET DEBUT
Sir Paul McCartney at rehearsal for Ocean's Kingdom. Photo: Lincoln Center Ballet Company.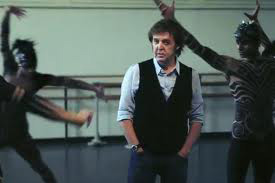 No, he didn't get En Pointe while wearing toe shoes.

He was on point when it came to the 69-year-old former Beatle knowing how to compose a ballet score - his first such effort.

Ocean's Kingdom premiered last Thursday, performed by The New York City ballet.

The pop icon kept the production in the family. Costumes for the ballet were designed by his daughter, Stella.

Nobody is fooling themselves. Even the New York City Ballet's Ballet Master in Chief, Peter Martins has conceded that people who bought tickets for this production didn't do so out of any great love for the ballet.

It's the Beatle - that McCartney fellow who has not only attended rehearsals but helped to direct and choreograph.

After all, it is his score.

The underwater adventure tells the story of a princess called Honorata snatched by an evil queen before being reunited with her love.

Martins is the one who approached McCartney in the first place about writing an opera, a guy who has confessed that he knew next to nothing about ballet before beginning this project.

While this is McCartney's first ballet, he is no novice to the world of what many refer to as serious music. The rock icon has released five classical albums, with the most recent being 2006's Ecce Cor Meum. Whereas classical music can be emotionally narrow focused, McCartney relished the challenge of creating a ballet score, which demanded numerous emotions, all of which retained their emotional core when translated into dance.

The production starred New York City Ballet principal dancers Sara Mearns and Robert Fairchild.

The orchestra was conducted by the company's conductor Fayçal Karoui who also delivered a short introduction. The well heeled, A-list, sophisticated crowd screamed every time McCartney's name was mentioned.

It's an uncomplicated score that has the fins to flutter kick its way to productions elsewhere. The test of whether the underwater ballet delivers a tidal wave at the box office will be determined at mountings where McCartney isn't present.

At the New York Gala at the David Koch Theatre at Lincoln Center - traditional proscenium theater with seating for 2,544 - the former Beatle was accompanied by his fiancée Nancy Shevell. A-listers including Sarah Jessica Parker, Liv Tyler, Naomi Watts, Angelica Houston, Alec Baldwin, Christopher Maloney and musicians Bon Jovi and former Monkee Micky Dolenz.

Stella McCartney, who celebrated her 40th birthday during rehearsals, is a noted designer having fashioned costumes for Madonna's Re-Invention Tour and for an Annie Lennox tour as well as for movies and artists, including Jeff Koons.

Some of her many designs for this production included brightly colored bodysuits, while black leather straps and shining silver studded headdresses and thick, dark geometric lines and swooping curves in a Maori-esque pattern on technically formed bodysuits were balanced by light, delicate, and translucent dresses.

The label which famously turned down the chance to sign the Fab Four in 1962, explaining that guitar bands were going out of fashion - Decca Records - will release a recording of Ocean's Kingdom on October 3. The score conducted by John Wilson, is performed by The London Classical Orchestra.

Premiered on September 22 with additional performances 24, 25, 27, 29. In related news, while her finance was rehearsing, Nancy Shevell who is set to marry Sir Paul with their wedding bans posted at London's Westminster Register Office, is reported to have been browsing for wedding accessories at ritzy Upper East Side shops.


ORIGINAL ANNIE STAR GOES FROM ORPHAN TO CON ARTIST
Aileen Quinn will play con artist Lily St. Regis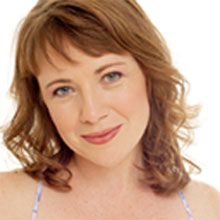 Aileen Quinn as a spunky Annie in the movie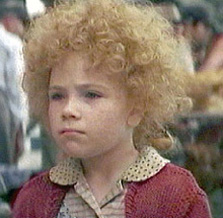 At least she won't have to endure dog food smeared on her face.

Aileen Quinn, who captured the hearts of moviegoers when she starred as Annie in the original 1982 film, takes to the stage version of the classic musical - only this time she plays the floozy Lily St. Regis, played by Bernadette Peters in the movie - a major departure from the role of the young, spunky red head.

Now living in Los Angeles, Quinn will appear December 16-23, 2011, in the Theatre Aspen production at the Wheeler Opera House in Aspen, Colorado.

Aileen, who was 10-years-old when she was cast for the part, wore a red wig, which was so itchy that the prop department had to give her a special comb with which to scratch her head. As to the dog food, Alpo was rubbed on Quinn's face in order to make "Sandy" kiss her.

Annie based upon the popular Harold Gray comic strip Little Orphan Annie, has music by Charles Strouse, lyrics by Martin Charnin, and the book by Thomas Meehan.

Also starring in the Aspen production will be Nina Gabianelli as Miss Hannigan, Julia Foran as Annie and Franz Alderfer, along with the orphans played by Sophie Schlosser, Karlie Nelson, Kaia Vresilovic, Talitha Jones, Danielle Erickson and Tatum Shane. They will be joined by Rena Strober, Rodney Lizcano, Flynn Holman and Graham Northrup. "Sandy" will be played by Aspen Mountain Rescue Dog Zoot Alors Benson.


SWEET CHARITY
Curtain call with Karen Ziemba; Max von Essen; Bernadette Peters, who received Westport Country Playhouse's Distinguished Dedication and Service to the American Musical Theater Award; James Naughton; Elizabeth Stanley; and Andrew Rannells. Photo Credit: Kathleen O'Rourke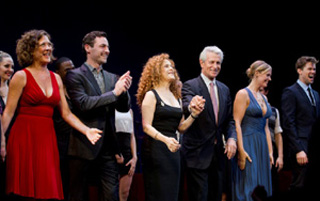 Westport Country Playhouse alumni Laurence Luckinbill, Lucie Arnaz, Tom Jones and Sheldon Harnick. Other alumni in attendance were Jo Sullivan Loesser, James Naughton, Jane Powell and Joanne Woodward. Photo Credit: Kathleen O'Rourke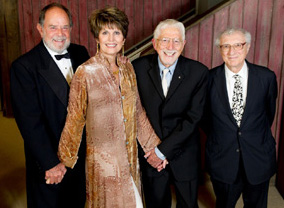 WESTPORT COUNTRY PLAYHOUSE staged their Gala last Monday, September 19, and a champagne swilling, boa swinging good time was had by all.

Playing Our Songs: Celebrating 80 Years of Musical Theater, a retrospective of musicals that have been produced at Westport Country Playhouse since its founding in 1931 honored Bernadette Peters with the venue's Distinguished Dedication and Service to the American Musical Theater Award.

Michael Ross, the Westport Country Playhouse managing director, helmed the glittering evening which was attended by 500 A-listers.

The event featured a cocktail reception, performances by Broadway friends, a tribute to actress Bernadette Peters, dancing, dinner and a silent auction.

Kim Harizman, a playhouse trustee, along with her husband Niv, were the gala co-chairs.

NATIONAL ARTS CENTRE GALA - ONE ENCHANTED EVENING a highlight of the Ottawa music and social season for the past fifteen years, took place last night, Saturday, September 24.

Maestro Pinchas Zukerman and the NAC Orchestra welcomed Canadian superstar singer/songwriter Sarah McLachlan. The Orchestra performed in the first half of the Gala (Rachmaninoff's lovely Vocalise, with Pinchas Zukerman as violin soloist; Tchaikovsky's impassioned Romeo and Juliet Fantasy-Overture; and Strauss's snappy Radetzky March) and Sarah McLachlan and her musicians joined the full orchestra on the sensational second half of the program.

The Gala evening began with a glittering wine and hors d'oeuvres reception, followed by a magnificent concert featuring McLachlan and her hand-picked fellow musicians.

Guests who purchase Encore Gala tickets also enjoyed an exclusive post-concert reception and the evening concluded with a sumptuous meal prepared by NAC Executive Chef, Michael Blackie, served on the Southam Hall Stage.

The NAC gala benefiting the NAC's Foundation's National Youth and Education Trust.

THE GRAMMY FOUNDATION AND MUSICARES FOUNDATION the affiliated charities of The Recording Academy - announced that their respective Boards have elected new Officers and Directors. Scott Pascucci has been elected to serve as the Chair of MusiCares, with Jon Platt, president of North America creative for EMI Music Publishing, elected as Vice Chair, and Gary Veloric elected as Secretary/Treasurer. In addition, Paul Caine, executive vice president and chief revenue officer of Time Inc., will now be the Chair Emeritus of MusiCares.

For the Grammy Foundation, Board leadership remains the same with Board Chair Beatriz R. Perez, chief sustainability officer of the Coca-Cola Company; Vice Chair Rusty Rueff, former CEO of Snocap; Secretary/Treasurer Tim Bucher, founder and CEO of TastingRoom.com and Silicon Valley-based entrepreneur; and Chair Emeritus George Jones, chairman and CEO of Caravan Entertainment.

The newly elected MusiCares Directors are John Burk, chief creative officer for Concord Music Group; Susan Genco; Bill Silva,president of Bill Silva Entertainment; and Stasia Washington, senior vice president, wealth advisory for the Private Bank, Union Bank.

Newly elected Grammy Foundation Directors are Amanda Marks, global head of digital accounts for Universal Music Group; and Elizabeth Moody, YouTube's head of strategic partner development for music.

Established in 1989 by The Recording Academy, MusiCares provides a safety net of critical assistance for music people in times of need. MusiCares' services and resources cover a wide range of financial, medical and personal emergencies, and each case is treated with integrity and confidentiality. MusiCares also focuses the resources and attention of the music industry on human service issues that directly impact the health and welfare of the music community.


DOES ARMY WIVES' STAR KIM DELANEY NEED HER OWN M*A*S*H INTERVENTION?
Kim Delaney's 2002 mug shot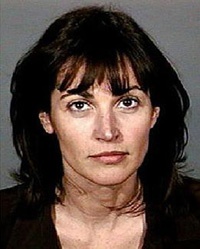 What is normally an uneventful, almost boringly routine function, hit the headlines when Kim Delaney hit the skids.

Delaney got escorted off the stage before she was finished speaking at Philadelphia's National Constitution Center Thursday night, after attempting to get through what has been called "an inappropriate and at times incomprehensible speech" at the Liberty Medal Award presentation to former defense secretary Robert Gates.

Instead of beginning her speech by explaining that, in her profession as an actress, she has had the privilege of played military roles and then explain what those roles taught her, the star of Lifetime's Army Wives stumbled to the podium and twisted her hands as she talked about having "served in active military duty family for five years." "I've seen soldiers come home with painful life altering injuries borne of their time and service," she said, slurring at times. "I've attended numerous military funerals, including that of my best friend's son."

All of which were scripted parts.

Before she was able to explain that she was referring to make believe roles, the crowd became noticeably uncomfortable and Delaney was escorted off stage.

Military Times reported that Delaney "appeared to have trouble reading the teleprompter. After about two minutes, audio is heard in the background and someone involved with running the ceremony appears to escort Delaney off stage."

Delaney, 49, has a history of substance abuse problems. In 2002, she was arrested for suspicion of drunk driving after she refused to take a breathalyzer test. She subsequently pleaded no contest and was sentenced to two years' probation, fined, and ordered to take a driving class. She's sought rehab for alcohol addiction twice.

Delaney currently plays Claudia Joy Holden on Lifetime Television's series Army Wives.


CHANNEL SURFING


ANDERSON COOPER'S

Anderson Cooper - good talk show, bad diet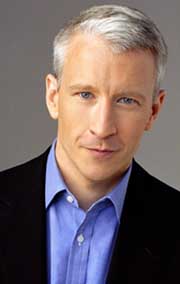 new television talk show, Anderson is a cross between Phil Donohue and Oprah. A difficult to locate program, as far as time and what channel - finally caught up with it last Wednesday on a show about conjoined twins.

Well done; interesting, informative and entertaining - not always easy to accomplish, especially on a serious subject.

Another show featured guests Jerry Seinfeld, his wife, self taught expert cook Jessica, and comedian George Wallace, who stars in Las Vegas. On that show Anderson divulged that he doesn't eat vegetables and his cooking skills amount to being able to boil two hotdogs. The upcoming Tuesday, September 27, show is touted as "Anderson explores why we eat what we eat, including odd patterns many people have with food consumption. For the first time in his life, Anderson tries spinach, Brussels sprouts and coffee. Plus, learn about the Anderson Family Dinner Challenge."

Not sure why anybody would give somebody who doesn't eat their veggies spinach and Brussels sprouts, since those are strong vegetables needing an acquired taste. Nor, if Anderson doesn't drink coffee, why anybody thinks he should start. The producers mayhave been going for some grimaced facial shots.

Other shows this week run the gamut from twins who have been abandoned and abused, to a movie segment with Seth Rogen, Joseph Gordon-Levitt and Anjelica Huston.

In looking at his website, there was an opportunity to watch an entire episode of the previous Monday segment, which was about his mother - Gloria Vanderbilt - last of a social era, designer and mother who lost a son to suicide.

Although able to access programs from other companies and shows, after trying three times to get the Vanderbilt show to play, I gave up.

When Cooper gets in front of his guests the veteran newsman knows what to do. Whether his talker will make it rests more on those programming and booking the segments. Also, stations sticking with it so Anderson can build an audience.

EMMY AWARDS had some highlights: the totally delightful "beauty pageant" presentation for Outstanding Lead Actress in a Comedy crown and roses to Mike & Molly star Melissa McCarthy. The sensitive and tasteful tribute of those who passed away this past year accompanied by The Canadian Tenors.

JERI RYAN who co-stars with Dana Delany (no relation to Kim Delaney) on the ABC series Body of Proof has been tweeting about her miserable home life -- not what you're thinking. Rather, spiders and then her daughter came down with the flu and started passing it from one family member to the next. Disclosing the spider bites she tweeted: "Dghter & I bth bitten while we slept last night - her foot, my FACE. A SPIDER was CRAWLING ON MY FACE & on my baby. NEVER. SLEEPING. AGAIN" Followed by: "Ok, does anyone know how to reduce the swelling of a (we assume) spider bite? ON MY FOREHEAD. I look like a cyclops."

As for the flu she tweeted: " Oh, look. The stomach flu. My turn now. So this should be fun..."

Body of Proof, a medical drama created by Chris Murphey, premiered March 29, 2011. On May 13, 2011, ABC renewed the series for a second season, which premiered on Tuesday, September 20, the same week Ryan's household developed their own medical drama.


SPREADING THE WORD


GUTHRIE THEATRE welcomes Nobel laureate Seamus Heaney for an In Conversation with Artistic Director Joe Dowling event on Monday, October 3, on the McGuire Proscenium Stage at the Guthrie.

Heralded as "the most important Irish poet since Yeats," Heaney's appearance coincides with the Guthrie's opening weekend of The Burial at Thebes, his adaptation of Sophocles' Antigone, which director Marcela Lorca last night with performances through November 6, 2011, on the McGuire Proscenium Stage. Commissioned by Ireland's renowned Abbey Theatre, the play revives the Greek tale of love and self-sacrifice for today's theatergoer and, as with the original, focuses on the never resolved conflict between a person's individual rights and the demands of the state. The timeless struggle for honor is called into question in the face of challenging authority: to whom does loyalty belong - to one's family and cultural practices or to the law decreed by the state?

MY LAST YEARS WITH BING: WITH KATHRYN CROSBY remembers Bing Through Song, Images, and Film. Sunday, October 2, 2011, at the New York Public Library for the Performing Arts, Dorothy and Lewis B. Cullman Center, Bruno Walter Auditorium, NYC.

GROWING PAINS: AN EVENING WITH SMART & FUNNY LADIES a night of new works featuring Nora Chau, Kitty Chen, Cindy Cheung, Carla Ching, Jackie Chung, Mia Katigbak, Jen Kwok, Greta Lee, Rehana Lew Mirza, Maureen Sebastian and Ching Valdes-Aran. Hosted by The Pretty Precious Unicorns.

This program is free and open to the public. Co-presented by Ma-Yi Theatre Company and Second Generations Productions on Thursday, September 29, Museum of Chinese in America, NYC.

A STAGE READING: MISS CRANDALL'S CLASSES by Catherine Gropper. Miss Crandall tells her story about taking on the prejudices of her nineteenth century New England village when she decides to open up her all white academy for girls to Sarah, a black student. Together they overturn a new law and forge a friendship that changes their lives and history forever.

Kate Mueth will portray Prudence Crandall.

This staged reading is free and will take place Tuesday, September 27 at Guild Hall in East Hampton, New York.

NO BUSINESS LIKE SHOW BUSINESS: PRODUCING ON BROADWAY a special discussion with Arena Stage Managing Director Edgar Dobie and Trouble in Mind Production Dramaturg Amrita Ramanan on what it takes to get a play to the Great White Way, spanning from Childress' era through to today. Tuesday, September 27 Arena Stages in Washington, DC.

WILLIAMS COLLEGE home of the Williamstown Theatre Festival, invites patrons to join in several events surrounding the staging of Ping Chong: Angels of Swedenborg.

On September 26 there is a Screening and Talk: For Such A Time As This in which award-winning writer/producer Martha Williamson '77 traces the use of angels and spiritual beings in contemporary entertainment and explores the power of storytelling to effect social change. She will screen For Such A Time As This, an episode of the CBS drama Touched By an Angel, for which she was Executive Producer and Head Writer.

On September 30 there will be a Post Show Q&A with Professor of Theatre David Eppel.

On October 1st in the CenterStage Lobby it's Cocktails and Context before the evening performance of Ping Chong: Angels of Swedenborg.

Hosted by Williamstown Theatre Festival, Artistic Director Jenny Gersten will moderate a conversation with a panel of artists including scenic designer David Evans Morris, director Michael Greif and costume and scenic designer Clint Ramos.


OTHER PEOPLE'S MONEY


MacARTHUR FOUNDATION GENIUSES have added 22 to the select club. The winners with connections to the arts include: Kay Ryan, 65, a former poet laureate of the United States who won the Pulitzer Prize for poetry this year Alisa Weilerstein, 29, a New York City based cellist. A. E. Stallings, 43, a poet and translator from Athens; Francisco Núñez, 46, a conductor, composer, pianist and founder of the Young People's Chorus of New York City; Dafnis Prieto, 37, a jazz percussionist and composer in New York City; Peter Hessler, 42, a journalist cited for his writing about reform-era China; and Jad Abumrad, 38, the co-host and producer of "Radiolab," a program on WNYC in New York that explores questions of science and philosophy, like the nature of altruism.

The grants comes in five annual payments of $100,000, with no strings attached.



THE CAPE COD THEATRE PROJECT has announced the appointment of director Hal Brooks as the new artistic director of the Cape Cod Theatre Project in Falmouth, MA.

Andrew Polk, who served as artistic director of the CCP for 17 years, announced his departure in July. The non-profit organization works with playwrights and professional actors to develop new American plays each summer.

The Cape Cod Theatre Project has nurtured plays by Joe DiPietro, Adam Rapp, John Cariani, Itamar Moses, Neil LaBute, Daniel Goldfarb, Paula Vogel, Anna Ziegler, Lanford Wilson, Mike Daisy and Jeff Daniels.






CITY OF ANGELS music by Cy Coleman, lyrics by David Zippel and book by Larry Gelbart. Directed by Darko Tresnjak, the new artistic director of Hartford Stage.

The is a totally entertaining, thoroughly delightful 1989 Tony award-winning musical which also has a must have original Broadway cast recording. The best reason to visit Connecticut since watching-the-leaves-turn became a tour pitch line.

Swinging, sexy , smart, and funny! An ingenious spoof of 1940s Hollywood and whodunit films with side-by-side stories about the "real" world of a detective fiction writer Stine and the "reel" world of his fictional gumshoe hero, Stone. One balances romance and rewrites while the other slinks through a film noir netherworld of thugs and femmes fatales. Winner of tons of Tony Awards, it's a witty detective thriller with a jazzy score that really kills.

When Coleman and Gelbart decided to team up to pen a musical comedy based on the private eye movies of the 1940s, it was a match made in heaven from the start. Coleman had long wanted to do a jazz score for a musical. Not jazz that had been watered down for Broadway, but real jazz. And Gelbart was no jazz novice himself, having studied clarinet with a former student of the great Benny Goodman. While he admittedly did not possess the dexterity of Goodman, Gelbart's love of jazz rivaled only his love for movies, which was a great help when writing a musical about Hollywood. Rounding out the collaboration would eventually be David Zippel, a Harvard Law School graduate turned lyricist, or as Gelbart put it, "an open and shut case of choosing rhyme over reason." The three writers garnered much success with City of Angels. The original 1989 Broadway production ran for more than two years and won 6 Tony Awards including Best Musical, Best Book, and Best Original Score.

Laurie Wells plays Bobbi and Gabby; Liz Pearce plays Alaura Kingsley and Carla Haywood; Nancy Anderson is cast as Girl Fridays Donna and Oolie; Jay Russell plays Buddy Fidler and Irwin Irving; Jeffrey David Sears assumes the role of Jimmy Powers; Gregor Paslawsky plays Luther Kingsley and Werner Krieger; Danny Bolero plays Lt. Muñoz and Pancho Vargas; Allen E. Read plays Peter Kinglsey and Gerald Pierce; Kathleen Rooney plays Mallory Kinglsey and Avril Reins; Michael Keyloun plays Dr. Mandril and Gilbert; Jerry Gallagher plays Big Six; Spencer Rowe is cast as Sonny; Josh Powell is in the roles of Officer Pasco, Del Dacosta and Gene. Robert J. Townsend plays Mahoney. Christina Morrell plays Margaret and Anna.

The Angel City 4 - a harmonic vocal group - will be played by Mick Bleyer, Vanessa Parvin, Sierra Rein and Adam West Hemming. All four actors are members of the 2010 Manhattan Association of Cabarets and Clubs (MAC) award-winning vocal group, Marquee Five. The swings will be Becca Pesce and Adam Bastien.

The creative team also includes choreographer Jennifer Paulson Lee; scenic designer David P. Gordon; costume designer Tracy Christensen; lighting designer John Lasiter; projection designer Shawn Boyle; sound designer Jay Hilton; music director Michael O'Flaherty, assistant music director William J. Thomas; and orchestrator Dan DeLange.

Goodspeed Musicals' new production of City of Angels, began previews September 23 at Goodspeed Opera House in East Haddam, CT. Officially opening on October 19, the musical runs to November 27.

SAVING AIMEE Book and Lyrics by Kathie Lee Gifford. Music by David Pomeranz and David Friedman. Additional music by Kathie Lee Gifford.

Directed by David Armstrong.

Tangled with scandalous love affairs and a tabloid-frenzied trial, this powerful new musical tells the real-life story of Aimee Semple McPherson - the charismatic leader of a theatrical super church in 1920s L.A. who was equally passionate about saving souls and making headlines.

September 30-October 30, 2011 at the 5th Avenue Theatre in Seattle, WA.

SISTER ACT the Tony nominated Broadway musical, based upon the movie of the same name, is returning to the UK where it began it's stage life. However, this tour will be the new "Broadway version" of the show.

The UK tour kicks off September 29-October 15 at the Opera House in Manchester, England.

SHIRLEY VALENTINE Written by Willy Russell. Directed by Andrew Barnicle. Starring DeeDee Rescher.

Shirley Valentine is a middle-aged housewife from Liverpool whose life and marriage is trapped inside humdrum domesticity. She is in a rut. What has happened to her life? When her best friend Jane pays for a holiday for two to Greece she packs her bags, heads for the sun and starts to see the world and herself rather differently, and discovers a new lease on life. This Tony-Award-winning play is a hilarious, poignant and touching journey toward independence and self-discovery.

September 27 – October 23, 2011 at the Laguna Playhouse, Laguna, CA.

WE LIVE HERE by Zoe Kazan, one of New York's most acclaimed young actors, who returns to Manhattan Theatre Club for her New York playwriting debut with this world premiere MTC-commissioned play.

Directed by Sam Gold.

Featuring Mark Blum, Jessica Collins, Betty Gilpin, Amy Irving, Oscar Isaac, and Jeremy Shamos.

Allie Bateman's (Jessica Collins) wedding to Sandy (Jeremy Shamos) is Sunday. When Dinah (Betty Gilpin), her precocious younger sister, returns to their parents' (Mark Blum and Amy Irving) home for the festivities, she brings more than anyone expected: a new boyfriend (Oscar Isaac), whose hidden history resurrects passions and painful memories for the whole family. Over one emotionally charged weekend, the Batemans must acknowledge and accept loss to gain hope for regeneration. — an incisive and beautifully rendered portrait of a contemporary family coming together through grief and celebration.

The creative team for includes: John Lee Beatty (scenic design), David Zinn (costume design), Ben Stanton (lighting design), Ryan Rumery (sound design), and Thomas Schall (fight direction).

We Live Here began previews Thursday, September 22 and will open Wednesday, October 12 at New York City Center – Stage I.

SOMEWHERE

(from left) Benita Robledo, Juan Javier Cardenas, Jon Rua, Leo Ash Evens and Priscilla Lopez appear in the World Premiere of Matthew Lopez's Somewhere, directed by Giovanna Sardelli. Photo by Henry DiRocco.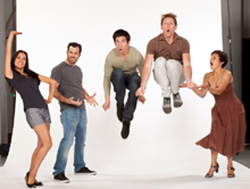 by The Old Globe's Playwright-in-Residence Matthew Lopez. Directed by Giovanna Sardelli, who was born and raised in Las Vegas.

A new play about the neighborhood torn down to make way for Lincoln Center. Set in 1959, Somewhere, "follows one New York City family's attempt to make its fantasy a reality. Inez Candelaria and her three children dream of a life in show business. When they learn that their home is being torn down to make way for Lincoln Center - and that the filming of West Side Story will take place on the streets of their demolished neighborhood - they must fight for their dreams as their world crumbles around them."

Starring the playwright's cousin, Tony winner Priscilla Lopez as Inez, the headstrong matriarch of the Candelaria family. The cast also includes Juan Javier Cardenas (Francisco Candelaria), Leo Ash Evens (Jamie MacRae), Benita Robledo (Rebecca Candelaria) and Jon Rua (Alejandro Candelaria).

The creative team includes Campbell Baird (scenic design), Charlotte Devaux (costume design), Lap Chi Chu (lighting design), Jeremy J. Lee (sound design), Greg Graham (choreographer) and Elizabeth Stephens (stage manager).

Previews began September 24 with the officially opening slated for September 29, running through October 30 at the Sheryl and Harvey White Theatre, part of the Globe's Conrad Prebys Theatre Center in San Diego, CA.


WHO'S WHERE


LADY GAGA AND STING appear at the Beacon Theatre in NYC on Saturday, October 1.

JAZZ AT LINCOLN CENTER WITH WYNTON MARSALIS perform Tuesday, September 27, at the Jesse Auditorium in Columbia, MO. On Wednesday the show is at the Orpheum Theater in Wichita, KS. Thursday finds the musicians at the Performing Arts Center in Broken Arrow, OK. On Friday they can be enjoyed at the Sheldon Concert Hall in St. Louis, MO. On Saturday they're on stage at the Kauffman Stadium in Kansas City.

JERRY SEINFELD getting laughs Friday, September 30, at the Schnitzer concert Hall in Portland, OR. On Saturday he's center stage at the Paramount Theatre in Seattle.

KATHY GRIFFIN brings her pithy observations to the Abravenel Hall in Salt Lake City on Friday, September 30. On Saturday she'll be telling stories at the Temple Hoyne Buell Theatre in Denver.

PAUL ANKA singing his hits Saturday, October 1, at the Mohegan Sun in Uncasville, CT. Next Sunday, October 2, his show is at the St. George Theatre in Staten Island, NY.

LANG LANG performs September 28-30 with the Roal Concertgebouw Orchestra in Amsterdam, Netherlands.




FINAL OVATION


DOLORES HOPE the widow of Bob Hope died September 19, 2011 at her home in Los Angeles. She was 102.

A singer, Dolores and Bob met in 1933 when he was appearing in the Broadway production of Roberta. She was singing at the Vogue Club. Hope's friend and fellow Roberta cast member George Murphy convinced him to go to the Vogue Club to hear the pretty girl sing. She was known as Dolores Reade, a dark beauty whose singing of It's Only a Paper Moon captivated the young comedian.

The couple married Feb. 19, 1934, and she quit nightclubs to join his vaudeville act. Then she retired to raise the four children they adopted. Later she accompanied her husband on several of his famed USO tours.

In addition to her husband, she was preceded in death by their son Anthony who died in 2004. Children Eleanora, Linda and Kelly survive.








Next Column: October 2, 2012
Copyright: September 25, 2011. All Rights Reserved. Reviews, Interviews, Commentary, Photographs or Graphics from any Broadway To Vegas (TM) columns may not be published, broadcast, rewritten, utilized as leads, or used in any manner without permission, compensation and/or credit.
Link to Main Page
---
Laura Deni



For the snail mail address, please E-mail your request.
CLICK HERE FOR COMMENT SECTION