! >
Broadway To Vegas
  
 SHOW REVIEWS CELEBRITY INTERVIEWS GOSSIP NEWS

| | |
| --- | --- |
| | |
JUBILEE PRODUCTION SHOW AT BALLY'S HOTEL CELEBRATES 15,000 SHOW - - OF ALL THE PEOPLE IN THE WORLD USES 11,000 POUNDS OF RICE - - LEONARDO DA VINCI ON PAPER - - THE WHO ON TOUR - - ROYAL WORLD PREMIERE OF HISTORY BOYS - - MacARTHUR GRANTS INCLUDE CREATIVE ARTS - - MUSICAL HIGH FIDELITY - - TREASURES FROM THE GEM PALACE - - DONATE . . . Scroll Down


Copyright: September 24, 2006
By: Laura Deni

CLICK HERE FOR COMMENT SECTION
SHOWGIRLS (AND BOYS) CELEBRATE 15,000th JUBILEE SHOW AT BALLY'S HOTEL


Jubilee the spectacular production show at Bally's Hotel in Las Vegas will celebrate it's 15,000th show this week.

That seemed like a fitting occasion to participate in their back stage tour. This sell out event, which requires a ticket purchase, proved to be a delightful way to spend an hour. The sold out tour cost $10.00 if you have seen the show and $15.00 if you haven't.

Once the interesting and informative tour had ended, those who hadn't been to Jubilee before the walking tour were clamoring to purchase tickets

Ushered into the showroom, at first glance it wasn't what anyone expected.

The ticker holders thought the Bally's stage would reflect the Jubilee production show upon which the tour is based. Instead, it was set for The Price Is Right. - in neon psychedelic colors.

The Price is Right is a live stage show, where every audience member is a contestant and plays via interactive touch pads, for the opportunity to win cash and prizes. Unlike the television taping which is free, the Vegas version has a price tag of $39.95.

"Is Bob Barker still alive? I used to watch that show as a kid when I'd be home sick from school," somebody piped up, referring to the original show which aired from 1956-65.

"I used to watch Queen for a Day," said a petite blonde who didn't look old enough to remember that show. "Jack somebody-or-other was the host and he had a moustache," she said referring to Jack Bailey and a show that aired from January 3, 1956 to October 2, 1964. "Whoever had the biggest sob story got a washing machine or a refrigerator."

We were all waiting for the beautiful, scantily clad showgirl to show us around.



Bryan hands out legal papers absolving the hotel of any responsibility should any on the backstage tour get hurt. Photo by Laura Deni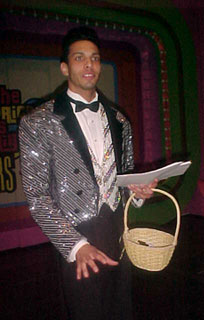 Suddenly, a guy wearing a sequined jacket arrived carrying papers and a basket full of pens Each person was required to sign a legal waver absolving the hotel of responsibility for just about anything. Walk backstage at your own risk.

Bryan 27, eldest of five children, raised in White Bear Lake, Minnesota was our "showgirl." He has performed from Miami to Los Angeles and on cruise ships before winning an audition to enter the world of Las Vegas show biz.

When Bryan auditioned he was one of 48 trying out for three coveted positions. Every contract is for six months and every person must re-audition. There is no free ride.

"It's really cut-throat," stressed Bryan who is realistic about the length of a dancer's career. Already he experiences the typical dancer maladies - knee and back problems. His goal is to own his own dance studio. He raves about the training he received at the Larkin Dance Academy in Minnesota. That school has been in operation for 57 years. Director Shirley Larkin is National President Emeritus of Professional Dance Teachers Association.

As we head backstage we are told that Jubilee has a cast of 85. Each entertainer works six nights a week and each have 12 days off every six month period, which is on a rotating basis - seniority ranking first dibs for time off days, since many times periods are blacked out. If it's holiday time and Vegas is busy - you're on stage, not home for the holidays.



Bryan holds up an original costume. Photo by Laura Deni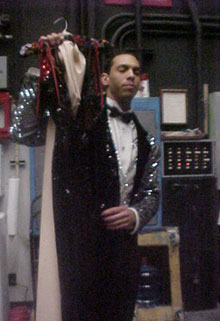 Back stage tour participants are eager to get a feel of the original costume. Photo by Laura Deni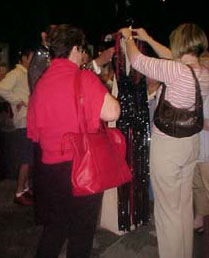 After all of the signed, legal paperwork was picked up, we made our way backstage where serious photo restrictions are in place. The only place a camera is permitted is within the stage wings.

When the show originally opened the production cost $10 million with $3.5 million spent just on costumes.

Costumes for the finale are designed by Bob Mackie. The costumes for acts I, II and II are created by Pete Menefee.

"Pete Menefee is here now," continued our guide. "He's been here for a month. He's redesigning the costumes."

That is no easy task.

All costumes and sets are both constructed and repaired in house. More than 1,000 elaborate costumes - costing up to $20,000 apiece - have been designed for the show over the past 25 years.

We learn that 29 people work in wardrobe in three shifts running 21 hours out of 24. Copies of the famous World War II inspirational poster We Can Do It are affixed to cabinet doors.

"The first shift begins at 6:30 a.m. and concentrates on fine sewing. Waist bands on fishnet stockings are removed," he said holding up a pair of stockings. "Costumes have built in hooks to hold the fishnets, so there is no need for an unsightly waistband, which could be seen in some costumes. The fishnets are repaired as much as possible. When they become beyond repair the wardrobe personnel literally cut up and pull apart the stockings - thread by thread - to use those threads in repairing other fishnets."

"Showgirl earrings are so heavy that they are attached to the headgear. Each showgirl wears a different bracelet and earrings for each number," he said referring to the nearly 10,000 pounds of jewelry created Jacques Ryckewaert and H. Vicalre, both of Paris. "All of the girls in the opening number received new costumes six months ago which are identical to the ones when the show opened."

There is a wig room to house and care for the Wigs by Roselle. and a spectacular feather room.

The production takes pride in their feathers and baubles.



Headdresses can weigh as much as 25 pounds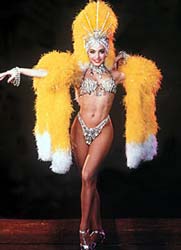 "We use only real feathers and Swarovski crystals," Bryan proudly exclaimed.

The production is heavy on feathers, all of which are purchased from Feather by Societe Parislenne De Parures Et Nouveautes of Paris and American Feathers of New York City.

"All of these just came in from New York City," said Bryan waving his arm around a room housing feathers in hues reminiscing of a Crayola box. "The feathers are dyed to order, so that the shades are identical. " They feather can be wired or not. Artisans cut and shape the plumes and create the exquisite costumes.

There are a lot of male peacock and ostrich plumage.

"The feathers need to be changed every six years and can be professional dry cleaned only twice," he said.

Shaking those tail features can take its toll.

We learned that the male dancers wear a V-neck T-shirt under their costumes and go through four per show, as well as using 2-3 pairs of socks per show. With one dresser for every 8 cast members - everyone is busy.

Each hat costs an average $1,700. The largest hat - Delilah's Crown - is 2 1/2 feet high and weights 25 pounds. Covered dancers have a chin strap on their headdresses while topless dancers do not. Their headdresses are molded to their heads, kept on secure with foam and tape.

Skirts weight from 9 to 12 pounds.

Jubilee has 36 topless and 26 covered showgirls. All must be at least 18 years old. While there are no weekly weigh-ins, the performers are asked to "maintain how they looked at the audition when they were hired." related Bryan. "The biggest problem isn't in gaining weight, but in losing weight. That's because we are always running up and down stairs. The dressing rooms are two flights below the stage and everyone has between 9 to 12 costume changes per show, so there is a lot of running up and down steps."



The elaborate back costumes are called backpacks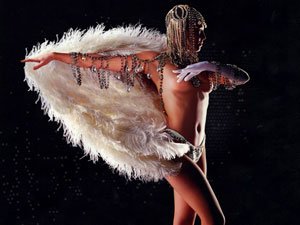 Performers have only two minutes to make it downstairs to the dressing rooms, change their costumes, their shoes and their wig before heading back up to the stage to perform their next scene. Showgirls, often wearing headdresses and costumes called backpacks that weigh up to 35 lbs, make an average of 10 trips up and down two flights of stairs per show. All the while wearing 3-inch heels and many times running in a bent over position to accommodate the "backpacks." The elaborate back costumes are called backpacks because the harness that holds them and straps onto the woman are constructed exactly like a backpack, enabling the weight to be properly distributed.

"Cruise ships hire primarily American dancers. In this show, the American dancers are the minority," said Bryan. "There are a lot of Russian dancers. Also, Swedish, Canadian, Puerto Rican, Cuban, Australian and Romanian."

Sometimes communicating can be a problem. Not all are fluent in English. What bonds them is a love of dance and this production show.

All of the performers are responsible for their own makeup. Women are required to wear both upper and lower false eyelashes. The guys are instructed not to wear more than the women - something that on occasion "has been a problem in the past," divulged Bryan. While the women are under wigs and hats - the men are not. Therefore, unusual hair colors are not permitted. That got one male laid off. "He had been in a hair show and came in one day with hair that was Ronald McDonald red. He was sent home," Bryan related.

Because certain scenes call for the men to wear G-strings and the women are frequently in little more than feathers and fishnets, the performers stay away from the sun - tanning lines can ruin your career.

By Las Vegas standards, Bally's is an older hotel and the stage is the original. "It's miserable backstage," admitted Bryan. "It's too cold in the winter and too hot in the summer," he said of a construction problem that is also evident with older Vegas homes.

"The air is bad in the dressing rooms," he continued. "If one person gets sick, we all get sick. That also is accommodated in the choreography. In the Samson and Delilah scene there can be anywhere from 3-5 couples on each side, depending upon how many are sick."

The choreography by Rich Rizzo, Winston Hemsley, and Tom Hansen isn't just choreography. It's a lesson problem solving.

The show is choreographed and then undergoes "modified choreography" to prepare for any stage disaster such as not being able to use an exit, an elevator getting stuck or a stage not properly moving. The seven-act show takes place on an impressive 15-story, 190-foot stage - one of the largest and most technically complex in the country. There are three 100,000-pound load-bearing elevators, two wagons and two revolves - slang for two types of stage. The show is unusual in that everything is mechanical. It takes 45 stage hands to keep the show moving.

The heaviest stage set weights 15 tons.



Broadway production Titanic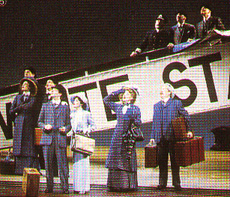 The Titanic ship was constructed from maps of the original ship with The Titanic Boiler Room designed by Bob Rang. "When they did both the movie and the Broadway show, their design people came here to study how we made our ship and pattern theirs after ours," he related. The Broadway musical opened on Broadway in 1997. It won five Tony Awards including the award for Best Musical.

There is a giant staircase where "scintillating beauties" cascades through their male counterparts - all gussied up in top hats and tails - make their way down the steps. The steps are six sections put together with a variation of a slip bolt.

"The steps move and it feels like an earthquake," Bryan admitted. "You're not suppose to look down. You're suppose to smile and look ahead. You just know how many steps and hope nothing goes wrong. I've only seen two or three slips in the past two years."

One of those slips was Bryan who didn't fall on the steps, but slipped on dry ice. He was out of the show for six weeks.

The stage hands are unionized, the dances are not. They are covered under Workman's Comp, although rules change. When Bryan was injured he was permitted to stay home. Now, he would be told to "come in and wrap silverware in napkins." If you can't do your original job, you are required to perform whatever task you are physically able to handle.

"Males must be at least 6 feet to be hired.The tallest male chorus boy is 6 feet 5 inches. The tallest female showgirl is 6 feet 2 inches without shoes. All showgirls wear 3-inch-heels throughout the show," said Bryan who is six feet.

When the cast changes there are only 26 hours to fit the new members into their costumes. New cast members only have one month of rehearsal.

Both the covered and topless showgirls go through the same audition process.

"Then they ask who is willing to go topless and have them remain on stage. They are told to turn around and take off their tops. Nobody with any breast augmentation is hired. The show adheres to the original concept of celebrating the beauty of the human form."

"Don't the topless dancers have some support for their breasts?" asked a lady. "They are going to be flopping around."

"No, there is no support," he answered.

"You mean, they just hang there?" she continued.

"Well, the topless dancers mostly walk slow and just dip and turn," he replied.

Jubilee is the only show actually owned by the hotel - and it turns a nice profit. While the cast was somewhat nervous when Harrah's Entertainments took over Bally's hotel, the performers were reassured that Jubilee is a sure thing.

"To pay the cast and crew only 275 seats have to be sold each night," divulged Bryan. "The room holds 1031 and averages 75 percent capacity." Jubilee is a money maker. Nothing guarantees a show running like turning a profit.

There are 18 male dancers with choreography for 16. The Dance Captain and Bryan cover everyone. If it is a singer that is missing Bryan is put into a singer's costume and given a dummy mike to hold. Only the front row would be able to actually hear him sing. If the audience can't hear him, be aware that those on stage can see and hear everything. "People in the booths think we can't see them," said Bryan. "We not only can see them. we can hear what they are saying."

Jubilee at Bally's Hotel in Las Vegas is celebrating it's 25th anniversary. They perform their 15,000 show this week. Backstage tours are held on a regular basis and require a ticket.


ART AND ABOUT


LEONARDO DA VINCI

Leonardo da Vinci, Vertical and horizontal sections of the human head and eye, about 1489, pen and ink and red chalk. Royal Collection © 2006 Her Majesty Queen Elizabeth II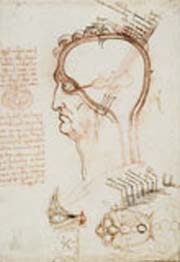 is an exhibition is about how Leonardo da Vinci thought on paper. It contains some of his most complex and challenging designs. Although many other artists, inventors and scientists have brainstormed on paper, none of Leonardo's predecessors, contemporaries or successors used paper quite like he did. The intensity, variety and unpredictability of what happens on a single sheet are unparalleled.

Leonardo seems to have begun recording his thoughts in notebooks from the mid-1480s. When he died at Amboise in 1519, he left all his drawings, papers and notebooks to his assistant, Francesco Melzi (1491/3-about 1570), who took them back to Milan.

Melzi used the notebooks and papers to produce a work that recorded Leonardo's ideas on painting, the 'Trattato della pittura' which survives as a manuscript in the Vatican library (Codex Urbinas). This work refers to some 18 manuscripts and notebooks, of which only six can be identified today. Melzi certainly had more manuscripts than survive today, and there are references to some owned by other 16th century collectors (from the 'Milanese painter mentioned by Vasari to the duke of Amalfi) that are lost.

Behind the diversity are a series of unifying themes in Leonardo's vision of how the world works. The dominant theme is the mathematical operation of all the powers of nature.



Leonardo da Vinci, horses in action, with studies of expression in horses, a lion and a man, and an architectural ground plan, about 1505, pen and ink. Royal Collection © 2006 Her Majesty Queen Elizabeth II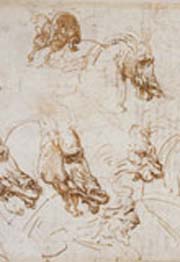 Every small part of nature mirrors the action of the whole, and the human body is specifically a "lesser world" – lesser in scale but not in wonder and complexity. Everything is related to everything else. Leonardo saw connections where we see only differences.

For Leonardo, sight was the noblest and most certain sense. It provided access to "experience", which shows us how nature works according to mathematical rules. Any knowledge that could not be certified by the eye was unreliable.

The theory of the microcosm and the macrocosm was ancient. It stated that the human body contained in miniature all the operations of the world and universe as a whole.

Leonardo performed many roles and undertook many tasks for his court patrons. He performed many of his duties with enthusiasm. However, they took him away from the making of paintings and sculpture, upon which he pinned most of his hopes for fame.

Leonardo's vision of the natural world was extraordinarily dynamic. Force was the key to the vision. The application of force was necessary for anything to move. Motion gave life to all things but also exercised a huge destructive potential. experience, experiment and design.

Until January 7 at the Victoria & Albert Museum in London.

TREASURES FROM THE GEM PALACE A major exhibition of precious jewelry. will include not only exquisite examples of traditional Indian jewelry and unique creations but also contemporary pieces that illustrate the evolution of Indian jewelry design.

There will also be a specially designed shop selling a selection of Gem Palace jewelry. The Gilbert Collection, Somerset House, London runs September 28-October 22.



Broadway To Vegas is supported through advertising and donations. Priority consideration is given to interview suggestions, news, press releases, etc from paid supporters. However, no paid supporters control, alter, edit, or in any way manipulate the content of this site. Your donation is appreciated. We accept PAYPAL. Thank you for your interest.



MacARTHUR GRANTS also known as the genius grants are $500,000, no-strings-attached fellowships. This year's 25 winners were announced Tuesday by the Chicago-based John D. and Catherine T. MacArthur Foundation. The grants recognize people in a wide array of fields.

New Felloes involved in the creative arts include;

Josiah McElheny, 40, a master glassblower from New York.

Regina Carter, 40, a classically trained jazz violinist from New York. Credited with inventing a modern repertoire for the violin in contemporary and improvisational music; She is widely recognized for her singular style on recordings like Motor City Moments, released in 2000.

David Macaulay, 59, a children's book illustrator/writer celebrating civilization's greatest architectural and engineering achievements.

Adrian LeBlanc 42, from New York a narrative journalist.

Josiah McElheny, 39, from New York City. Sculptor drawing from the decorative and functional traditions of glass to craft a new, multifaceted form of contemporary art.

Sarah Ruhl, 32, Playwright from New York City. Playwright creating vivid and adventurous theatrical works that poignantly juxtapose the mundane aspects of daily life with mythic themes of love and war.

George Saunders, 47, Professor of Creative Writing Syracuse University Syracuse, New York Short Story Writer satirizing and humanizing the moral dilemmas faced by Americans in the twenty-first century.

Anna Schuleit, 32, from New York City. Commemorative Artist illuminating the lives lived within mental health institutions by transforming historic facilities into moving, multi-sensory memorials.

Shahzia Sikander, 37, from New York City. Painter merging the traditional South Asian art of miniature painting with contemporary forms and styles to create visually compelling, resonant works on multiple scales and in a dazzling array of media

John Zorn, 53, from New York City. Founder and President Tzadik Record Company Musician/Composer creating inventive music that explores the spaces between and among genres, defying convention and redefining the experimental possibilities of musical performance.


SWEET CHARITY


ROYAL WORLD PREMIERE OF THE HISTORY BOYS The black tie event will be attended by Prince Charles and Camilla, The Duchess of Cornwall at The Odeon, Leicester Square to benefit The Prince's Trust.

The History Boys charts the fortunes of an unruly bunch of bright sixth form boys in pursuit of a coveted place at Oxford or Cambridge. Set in the 1980s in the north of England, this insightful comedy pits an inspirational but highly unconventional teacher against a headmaster who is obsessed with test results and the young supply teacher who is brought in to groom the boys for greatness.

Based on Alan Bennett's multi award-winning National Theatre and Broadway smash hit, it is a clever and entertaining exploration of the anarchy of adolescence and the purpose of education. Brought to the screen by director Nicholas Hytner, the film features the original National Theatre cast, led by Richard Griffiths, Frances de la Tour and Stephen Campbell Moore.

The Tony award-winning play will close it's Broadway run on October 1 with a profit of $2 million. The production won six Tony Awards, including Best Play. Immediately following the final performance, Griffiths and the rest of the cast will pile into a fleet of limousines and head to JFK to catch a plane back to London, where they'll attend this world premiere event on Monday, October 2 at The Odeon Leicester Square in London. The movie opens in American on November 22.



ALL THE PEOPLE IN ALL THE WORLD produced by one of Britain's most innovative theatre companies, Stan's Cafe - is a deeply affecting performance installation that uses 11,000 pounds of rice to portray human life.

In this work, five artists, all dressed as lab technicians, utilize 300 million grains of the staple food to quantify human statistics. They build mounds of rice representing wide-ranging truths--from the most serious and sobering facts to lighthearted pop-culture trivia. Every grain of rice represents one person in the United States. The intriguing and surprisingly beautiful piles of rice brings to life everything from the U.S. prison population to the headcount at Charles and Camilla's wedding, from the number of civilian deaths in wars over the last ten years to the thousands of American Idol auditioners last season. The statistics represented will be changed continually over the course of the work's six-day run at the Skirball, creating a shifting landscape of rice inside the gallery where it will be staged.

Shocking, dismal, playful, and celebratory in turn, Of All the People in All the World will inspire viewers to discover our small, purposeful roles in an ever-expanding global village and to contemplate the connections among people, communities, and cultures.

September 26-October 1 at The Skirball in Los Angeles.

CHICAGO welcomes pop star Ashlee Simpson, to the London show, as Roxie Hart. The hit West End production of Chicago is now in its 9th year. Simpson will join the show on September 25th, performing for a limited six-week engagement.

HIGH FIDELITY the musical version of Nick Hornby's novel of the same name makes its pre-Broadway world premiere at the Colonial Theatre with previews beginning with previews on September 26.

South Boston native David Lindsay-Abaire, has penned the book for the musical. The score is by Tom Kitt and Amanda Green wrote the lyrics.

Tony Award-winner Walter Bobbie directs the show which stars Will Chase, High Fidelity, a romantic comedy about a record-store owner struggling back to life after being dumped yet again, plays the Colonial through October 22.

MISS WITHERSPOON a deliciously hilarious new comedy by Christopher Durang, the author of Beyond Therapy and Sister Mary Ignatius Explains It All For You. Delicia Turner Sonnenburg will direct.

The cast features San Diego and REP veterans Melinda Gilb in the title role, DeAnna Driscoll, Jo Anne Glover, Steve Gunderson and Sylvia M'Lafi Thompson.

The designers are Nick Fouch (sets), Jennifer Setlow (lights), Jennifer Brawn Gittings (costumes) and Stephanie Robinson (sound).

Performances begin Saturday, September 30 with Opening Night on Friday, October 6 running through October 29 in the Lyceum Space Theatre in downtown San Diego.

CABARET Lyrics by Fred Ebb, music by John Kander.

In 1966 Cabaret had an original Broadway run of 1,166 performances and won the Tony Award as the season's best musical.

Life is a cabaret for Sally Bowles, the singer with green nail polish crooning in a dark Berlin nightclub in the days before WWII. Add in an American writer looking for inspiration, a German political activist, and a sweet Landlady who knows the value of a mark, and you have one of the most compelling portraits of pre-Nazi Germany ever written.

Nick Sugar will be reprising his role as the MC, as well as bringing his signature sultry edge to the direction and choreography. From the bitterness of encroaching political powers, to the sweetness of a widow and widower who find love, Cabaret will delights patrons with high energy song-and- dance numbers, and haunts you long after you leave the theatre.

In the spirit of the European Cabaret, Town Hall's production will include select table seating for patrons on stage. Playing through October 22 at the Town Hall Arts Center in Littleton, Colorado.

PETER AND THE WOLF written by Timothy Groff. Directed by Joseph Leo Bwarie. A World Premiere Halloween Haunt for Kids! The Falcon Theatre in Burbank, CA presents a World Premiere spooky spin on the classic tale of Peter and the Wolf. While Peter is in Russia visiting his cousins, Nina, Svetlana and Boris, he stumbles upon a treasure map hidden in Grandfather's library. But when the four cousins start their search, they find they are not alone. Is it Boris up to his old tricks? Is it their wild imagination? Or could it be the Wolf? With excitement around every turn, Peter and the Wolf is one howling good time for the whole family!

The cast features (in alphabetical order) Gail Bianchi, Voki Kalfayan, Anthony Mannix, and Jennifer Seifert, Opened Saturday, September 23.

THE FOREIGNER Stewart F. Lane directs this hilarious show. Charlie, a shy Englishman who is on vacation in the U.S., attempts to avoid social interaction by passing himself off as a foreigner who doesn't speak English. The laughs are continuous throughout this engaging comedy! September 27 - October 22 on the New Mainstage of the Olney Theatre in Olney, MD.


| | | |
| --- | --- | --- |
| | | |
WHO'S WHERE


KITTY CARLISLE HART performing her I Walk With Music show September 26-30 at Feinstein's at the Regency in NYC.

ROBYN McCORQUODALE this favorite Canadian thrush once again returns to NYC for a one-night-only concert for an evenings of originals and standards. Friday, September 29, at Danny's Skylight Room in New York City.

JEFF BECK the guitar great stops at the House of Blues in Las Vegas on Sept. 29.

KT SULLIVAN AND ALLAN HARRIS perform Mercer & Ellington: American Naturals – September 26-October 14 at the Algonquin Hotel in New York City.

BIG BAD VOODOO DADDY performs Friday, September 29 at the Performing Arts Center in San Luis Obispo, CA. On Saturday they'll be swinging at the Fox Theatre in Visalia, CA.

CHRIS BOTTI performs Saturday, September 30, at the Miller Auditorium in Kalamazoo, MI.

DEBBIE REYNOLDS in Concert September 27 - October 1 at the Drury Lane Theater in Oakbrook, IL.

MARIAH CAREY on stage Monday, September 25 at the Pengrowth Saddledome in Calgary, Alberta, Canada. On Wednesday she can be enjoyed at the ARCO Arena in Sacramento, CA. On Saturday she stars at the MGM Grand in Las Vegas.

THE WHO bring their tour to the United Center in Chicago on Monday, September 25. On Tuesday they are on stage at the Wells Fargo Arena in Des Moines, Iowa. Friday finds them at the Palace of Auburn Hills in Auburn Hill, Michigan. On Saturday they'll be all over the stage at John Labatt Centre in London, Ontario Canada.

ESA-PEKKA SALONEN launches the 2006/07 Los Angeles Philharmonic season by leading the Philharmonic in Mahler's overwhelming Third Symphony, a work which has been such a touchstone in his career. Ticketholders get the chance to hear Salonen speak beforehand at Upbeat Live, a pre-concert event that is free to concertgoers.

Michelle DeYoung, mezzo-soprano. Women of Pacific Chorale, John Alexander, artistic director. Los Angeles Children's Chorus, Anne Tomlinson, artistic director.

Friday, September 29-Sunday October 1 Walt Disney Concert Inn in Los Angeles.
















Next Column: October 1, 2006
Copyright: September 24, 2006. All Rights Reserved. Reviews, Interviews, Commentary, Photographs or Graphics from any Broadway To Vegas (TM) columns may not be published, broadcast, rewritten, utilized as leads, or used in any manner without permission, compensation/credit.
Link to Main Page
---
Laura Deni


CLICK HERE FOR COMMENT SECTION