! >
Broadway To Vegas
  SHOW REVIEWS     CELEBRITY INTERVIEWS     GOSSIP     NEWS 
THE MAN BEHIND THE STARS TRIBUTES JOHN WAYNE

In many way he's more interesting that the movie stars he promoted.



A.C. Lyles by his Star on the Hollywood Walk of Fame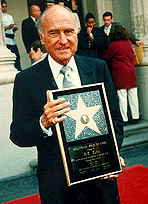 He's worked for Paramount longer than any other human being - 72 years. A building has been named after him, although the office he occupies was once Fred Astaire's. At 82 years old, A.C. Lyles still goes to the office every day, an office cluttered with Astaire memorabilia. "I never knew anyone classier than Fred Astaire," he said. "The way he dressed, the way he treated people, was always first class. He was a real gentleman."

When he isn't in his office he's jetting around the country representing Paramount and Hollywood, speaking at colleges, film festivals and industry functions, which is how he ended up in Omaha, NE this week-end at the John Wayne Film Tribute.

A.C. Lyles is not only a walking history of the Paramount Studio but a living legend of his own design.

At an early age A. C. Lyles had already decided he wanted to be a Hollywood producer. On his ninth birthday Lyles got a job at the Florida Theater, part of the Paramount-Publix chain, in his native Jacksonville. While working at the theater Lyles interviewed visiting celebrities for the Jacksonville Journal, and there he met a visiting Adolph Zukor, the founder and head of Paramount.

In 1916, the two most powerful production companies contracted to distribute their films through Paramount, Famous Players and Jesse L. Lasky Feature Play Co., merged into the motion picture industry's biggest studio yet. While Paramount would remain strictly a distribution company throughout the 1920s, the world famous company was owned and operated by Famous Players-Lasky - with Adolph Zukor as its mastermind.

Zukor told the fourteen year old to complete high school and "keep in touch". To Lyles, " keeping in touch" meant just that and he wrote to Zukor each Sunday for the next four years.


The executives of Famous Players and Jesse L. Lasky Feature Play Co (left to right) Jesse L. Lasky, Adolph Zukor, Samuel Goldfish (later Goldwyn), Cecil B. DeMille and Albert Kaufman.circs 1916. Photo: Silent Films Archves.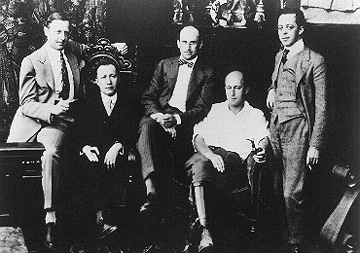 When Gary Cooper made a visit to the Jacksonville theater where Lyles worked, the teen-ager talked the famous actor into scribbling a note to Zukor to the effect that Lyles was deserving of a Paramount job.

Facing such determination, Zukor hired the 18-year-old Lyles after he graduated from Andrew Jackson High School and arrived in California in 1937 with $48, two jars of peanut butter and two loaves of bread.

He was sent to the mail room.

At the end of the two weeks, Lyles' newly acquired friends at Paramount, including Bing Crosby, Gary Cooper, Dorothy Lamour, Bob Hope and others who asked Zukor to keep Lyles on.

Adolph Zukor took a personal interest in Lyles and, when he transferred to the New York office, Zukor introduced the young man to Y. Frank Freeman, the new studio boss. By this time Lyles and Zukor had become close friends, a friendship that lasted until Zukor died at the age of 103.

Freeman promoted Lyles to the publicity department, and a short time later, named Lyles, at age nineteen, a director of publicity.

During the next dozen years, Lyles worked on more than seventy features. In 1954 Lyles was promoted to associate producer on The Mountain starring Spencer Tracy. Lyles then attained his first full producer status when he and his close friend, the late James Cagney, teamed on Short Cut to Hell.



JIMMY STEWART, CHARLTON HESTON and LYLES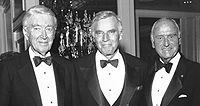 In 1955 Lyles married his wife Martha at the Little Brown Church in the valley, with their longtime friends, the James Cagneys and the Ronald Reagans, in attendance. It is the same place where the Reagans had been married three years earlier.

In 1956, Lyles formed his own production unit at Paramount, producing many features and television programs for the studio. He holds the record for the largest number of motion pictures ordered from a producer in a single contract: a minimum of ten features in twenty-four months. Paramount also around this time ' loaned' Lyles to CBS for the series Rawhide as associate producer. The television show made Clint Eastwood a star and made him and Lyles good friends.



CLINT EASTWOOD had his day made when Lyles made him a star.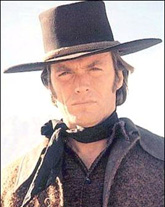 During the sixties, Lyles produced scores of successful westerns that became a staple for Paramount. In the eighties he produced a long running NBC primetime series Here's Boomer. His other productions have include theatrical and television features, including Conversations With The Presidents, an hour long primetime special for ABC in which groups of children interviewed Presidents Gerald Ford, Jimmy Carter, and Ronald Reagan.

In 1983 old friend Ronald Reagan commissioned Lyles to the President' s Advisory Council on Private Sector Initiatives in 1983. In January, 1986, Lyles was sworn onto the Presidential Board of Advisors on Private Sector Initiatives. He regularly attended White House meetings with President Reagan and his staff as well as attending overseas conferences. During the Reagan and Bush administrations, he also functioned as Hollywood liaison, getting celebrities to entertain at the White House and other presidential functions.

In 1984, Lyles received the George Washington Award of the Freedoms Foundation, presented to him in the Oval Office by President Ronald Reagan.

John Wayne, Barbara Stanwyck and Lyles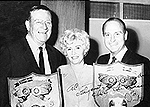 Over his lifetime Lyles has received a plethora of awards. In 1969, he and his friend John Wayne were each presented with the famous Golden Spurs award; Duke, for being the most popular western star, and Lyles for keeping alive the spirit and tradition of the Old West in his movies.

"Duke and I' ve been very fond of A.C. ever since he was a mailboy at this studio," Barbara Stanwyck said at the awards ceremony. " And he's fulfilled what we all expected of him," Wayne added.

He made close friendships delivering the eulogies for Gary Cooper, Clara Bow and Charles "Buddy" Rogers, something he does about a dozen times a year.

In honor of his long association and his outstanding contribution to the motion picture industry, Lyles received a star on the Hollywood Walk of Fame in 1988 in front of the El Capitan Theater. At the same time, Paramount named a building on the lot after him.

Lyles is also a member of the Academy of Motion Picture Arts & Sciences, the Academy of Television Arts & Sciences, the Producers Guild of America, the Writers Guild of America and a founding member of the Publicists Guild. He served on the Executive Committee for Paramount' s 75th and 80th anniversaries and Hollywood' s Centennial

"The only thing I wanted to do was make movies," he said. "I still see them constantly, because all the new ones are screened for us at the studios. The magic of movies never, never, never has worn off for me."

To spawn that jest in others there are A.C. Lyles internships - two of them now, four in a year - at Florida State University Jacksonville to help young people do what I did, to get into the movie business."

Lyles thinks The Searchers, the choice for Omaha's tribute, was among the best of Wayne's films.

"Certainly it was one of his three best. Jack Ford directed it, and Natalie Wood, a good friend, starred in it. It holds up remarkably well."

So does Lyles, who lives with his wife, Martha, in an Early America home on a Bel Air hilltop overlooking Los Angeles.



Broadway To Vegas is supported through advertising and donations. Priority consideration is given to interview suggestions, news, press releases, etc from paid supporters. However, no paid supporters control, alter, edit, or in any way manipulate the content of this site. Your donation is appreciated. We accept PAYPAL. Thank you for your interest.


ASTRONAUTS AND UFOs WHILE NASA TAKES A TRAIN RIDE

NASA has put its space shoes on the ground and filled five shiny railroad cars with works of art which are chugging around the country for children and adults to gape at.

Artrain USA, a national touring museum, is bringing "Artistry of Space" to middle class America. Currently in the heartlandof America, stops have included Oklahoma City.

Visitors can see an exhibition of 78 paintings, drawings, prints, music and fiber art from NASA and the Smithsonian's National Air and Space Museum collection.

Since the inception of NASA's art program in 1962, more than 250 American artists have been involved in the U.S. space programs, interpreting space flight and documenting the work of engineers, astronauts and scientists through art mediums.



ANDY WARHOL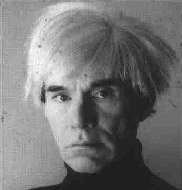 From the initial effort to enable a man to walk on the moon to recent endeavors such as the Mars Pathfinder mission and the Hubble Space Telescope, artists have been behind the scenes, commissioned to create their works.

Andy Warhol, Norman Rockwell, Robert Rauschenerg, Wilson Hurley, Robert McCall, Peter Max, and James Wyeth have all been a part of the invited artistic elite.

The canvases that decorate the train's walls have been seen in many small towns that are not on the circuit of major museum exhibitions.

During the Oklahoma city whistle stop Oklahoma astronaut Gordon Cooper made a special appearance. Cooper, one of the original Mercury Seven space pioneers, signed copies of his recently published book, Leap of Faith: An Astronaut's Journey Into the Unknown. Astronaut Gordon L. Cooper, one of America's original seven Mercury Astronauts has been outspoken in his belief in UFO's. He's spoken on the subject to the United Nations and given an interview to The National Enquirer

Cooper orbited the Earth for a record 34 hour, 22 orbit flight in the spacecraft 'Faith 7', in May of 1963. He has been outspoken about the need for an open inquiry into UFOs - based on his own personal experience of sighting UFOs in space and the testimony of other Mercury, Gemini and Apollo Astronauts.

After leaving Oklahoma City, Artrain USA rolled into Bartlesville, Muskogee and Durant.


BIG D DERAILS FILMS
Dallas is now the only major city in the country without a film commission. Despite appeals by four of its members, the Dallas City Council last Wednesday put a wrap on their 13-year-old Dallas/Fort Worth Regional Film Commission, an office which helped bring films and television production to the area.

Ironically, the indie feature Pendulum, starring Rachel Hunter, James Russo and Matt Battaglia, was in town where they shooting outside City Hall.

"I'm very concerned," Texas Film Commissioner Tom Copeland said. "The biggest concern is not only for the films we have there now, but for the ones that may be interested in Dallas and we are working on a lot of projects."

This past year, the Dallas contributed $152,250 of the commission's $352,000 funding. The remainder came from 27 other area municipalities that belong to the regional body

During the pre-vote discussion it was pointed out that nearly every other film commission in the nation is funded through hotel occupancy taxes. A proposal to fund the Dallas Film Commission that way was defeated. At that point Mayor Ron Kirk changed his aye to a nay switching the count to a 7-6 vote which was originally counted at 8-5


SWEET CHARITY

BOB HOPE is honored Sept. 26 at Rao's in East Harlem, NYC in an event that benefits the national Museum of Catholic Art and History. Bob Hope's wife, Dolores, is flying in from Palm Springs to pick up the museum's Humanitarian Award. Also to be honored: Regis Philbin, New York Stock Exchange Chairman Richard Grasso, private eye Bo Dietl and union leader Martin Maddaloni

COW AUCTION those udderly marvelous bouvines that have been decorating the NYC streets through summer will be herded together for one last time, Sept. 28 in Grand Central Terminal's Vanderbilt Hall. Phillips Auctioneers has volunteered to sell the batty bovines for a group of city charities, and Mayor Rudy is expected to bang down the gavel on the first lot. Muffie Aston, Joan Rivers and Blaine Trump who are big supporters of one of the beneficiaries, God's Love We Deliver insist they intend to bid bigtime and each intend to take home a Fiberglas cow.



ROSIE PEREZ

ROSIE PEREZ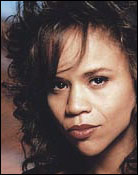 who was once kicked out of dance class after being told she had no rhythm, has been convinced by George C. Wolfe, the artistic director of the Public Theater to star on Broadway in References to Salvador Dali Make Me Hot.

It's surreal-sounding play by Jose Rivera that features actors in the characters of the moon and a coyote.

Perez will play an unhappy wife opposite John Ortiz. Performances for References to Salvador Dali Make Me Hot begin in March.

MAN OF LA MANCHA Sioux City Auditorium, Sioux City, Iowa on September 26.

THE BEAUTIFUL GAME Cambridge Theatre, London opens Sept 26. Set in 1969 Belfast From despair comes hope and from hate comes love. Andrew Lloyd Webber and Ben Elton's new musical is the story of ordinary people in an extraordinary situation. The Beautiful Game follows the fortunes of a group of teenagers, all members of a local soccer team, and their friends. Ben Elton's story has been identified as having both humor and compassion and his lyrics - both funny and heartbreaking. Andrew Lloyd Webber's new score has been labeled evocative - combining heart searing ballads and stirring anthems with the sounds of Ireland.

THE EXACT CENTER OF THE UNIVERSE is the Charlotte Repertory Theatre's 24th season-opener at the Booth Playhouse. Sets by Anna Sartin, Lights by Eric Winkenwerder and Bob Croghan - costumes. Directed by Steve Umberger, Charlotte Rep founder and artistic director, the production stars Equity actors Rebecca Koon, Breton Frazier and Mary Lucy Bivins in the role played off Broadway by Frances Sternhagen To October 1. Charlotte, N.C.

DEATH OF A SALESMAN opened in Los Angeles and it was a star studded audience that turned out to watch Brian Dennehy and Elizabeth Franz reprise their award winning roles in the Arthur Miller play. Applauding the production were; Kirk Douglas, Jenna Elfman, Kirstie Alley, Sharon Lawrence, Tobey Maguire, Debra Messing and David Schwimmer.

LOOSE ENDS presented by Southern Methodist University's Division of Theatre at the Margo Jones Theatre in the Meadows School of the Arts, through tonight. Written by Michael Weller who is a producer of the NBC-TV show Once and Again, Directed by Kevin Paul Hofeditz. Lighting by Linda Blaze. Received excellent reviews.

RICHARD III

TED ZUROWSKI as Richard III. Photo By: Dave Cross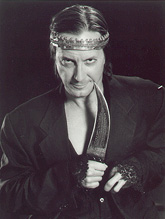 will be presented as the opening of the sixth season of presenting Shakespeare on the Upper West Side by the Frog & Peach Theatre Co, NYC.

The company's artistic director Ted Zurkowski stars in the title role with Vivian Landau as Elizabeth.

Richard III deals with the ambition of Richard of York, duke of Gloucester, to ascend the English throne, no matter how "subtle, false, and treacherous" he has to be to gain it. In his path stand his two elder brothers, King Edward IV and George, duke of Clarence, and their children. The play is thought to have been Shakespeare's first success. It's probably the character of Richard - a villain protagonist - that accounts for the play's perennial popularity to this day.

The production will be directed by Frog and Peach co-founder Lynnea Benson.

Performances begin September 28 at the Theatre at the West-Park Church.


WHO'S WHERE

BARBRA STREISAND at Madison Square Garden, on her "farewell" tour. More tickets were released for sale last week. Sept 27-28. An interest aside - during her celebrity heavy L.A. engagement - when Babs introduced Michael Crawford there was tremendous applause. When she introduced Dick Clark it was the sound of one hand clapping.

CAROL BURNETT getting another Broadway show ready. It's called Hollywood Arms which was written by Carol with her daughter Carrie Hamilton. Harold Prince will direct.

JOHN PRINE and Iris DeMent perform at Stephens Auditorium in Ames, Iowa on September 29.

PHISH Sandstone Amphitheater Kansas City, September 25.

CLEO LAINE Sioux Falls, SD - The Great Hall, Washington Pavilion of Arts September 27.

MICHAEL FEINSTEIN Luther Burbank Center, Santa Rosa. CA. September 28.

JEFFERSON STARSHIP House of Blues, Myrtle Beach, North Carolina September 26.

SARAH BRIGHTMAN September 26 in Providence, RI at the PAC September 27 in Lowell, MA at the Memorial Auditorium.

RAVI & ANOUSHKA SHANKAR September 27. An ambassador for India's music for half a century and master of the sitar, the legendary Pt. Ravi Shankar will perform with his charismatic 20-year-old daughter. Tickets: $34 to $42. LIED Center, University of Nebraska Lincoln

JIMMY PAGES' continuing back problems means that Jimmy Page and The Black Crowes will no longer be performing with The Who on October 3, 4, 6 & 7 at Madison Square Garden, NYC. All shows are continuing as scheduled, with The Wallflowers as the special guest on these dates.

JOHN LITHGOW who is returning to Broadway in Sweet Smell of Success, is first doing a reprise act at Carnegie Hall on November 12th performing his children's songs. Not bad for a guy who didn't even begin to plunk at the guitar strings until he was an advanced 27 years old. While guesting on The Rosie O'Donnell Show he divulged that he had gotten song writing down to a dog walk - literally. He thinks about what he is going to write while he walks his pooches around the UCLA campus and writes one stanza per walk.

EDDIE MONEY

EDDIE MONEY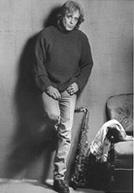 will keep the toes tapping at the Flamingo, Las Vegas when he performs September 29-30.

On the roster are excerpts from his new album Ready Eddie, featuring all new material.

The guy has been in the business for over 25 years, so his nightclub gig will also have his old favorites like Two Tickets to Paradise and Baby Hold On.




THIS AND THAT
MEOW Siegfried of Siegfried and Roy doesn't have a lot of free time since he is busy performing at the Mirage Hotel in Las Vegas. When he does have a minute to call his own, he enjoys attending other Las Vegas shows. Recently he caught An Evening at La Cage at the Riviera Hotel, which stars Frank Marino impersonating Joan Rivers. Afterwards, Siegfried went backstage, posed for photographs with Marino and complimented Marino on his performance. Marino responded by complimenting Siegfried on looking well preserved. "The female impersonators in La Cage and myself were quite honored to see Siegfried up close and in person and he looks marvelous for his age. He was performing before I was born and he is old enough to be my father."




Mention BROADWAY TO VEGAS for Special Consideration
Call (800) 942-9027









Next Column: October 1, 2000
Copyright: September 24, 2000. All Rights Reserved. Reviews, Interviews, Commentary, Photographs or Graphics from any Broadway To Vegas (TM) columns may not be published, broadcast, rewritten, utilized as leads, or used in any manner without permission, compensation and/or credit.
Link to Main Page
---
Laura Deni


CLICK HERE FOR COMMENT SECTION