! >
Broadway To Vegas
  
  REVIEWS INTERVIEWS COMMENTARY NEWS

| | |
| --- | --- |
| | |
KILLERS: A NIGHTMARE HAUNTED HOUSE - - CHILDREN'S HEALTH FUND 25th ANNIVERSARY CONCERT - - WOMANIZING CHARLES DICKENS DIVORCE LETTER UP FOR AUCTION - - SMITH CENTER PBS SPECIAL COULD HAVE BEEN BETTER - - LAURA OSNES' DREAM A LITTLE DREAM: LIVE AT CAFE CARLYLE CD REVIEW - - HELEN MIRREN TO STAR ON STAGE AS QUEEN ELIZABETH II - - ROYAL WEDDING CAKE SLICES ARE UP FOR BID - - DENNIS HOPPER THE LOST ALBUM ON DISPLAY - - DONATE . . . Scroll Down


Copyright: September 23, 2012
By: Laura Deni
CLICK HERE FOR COMMENT SECTION

PERFORMERS WHO RECORD ON THE CHEAP CHEAPEN THEIR CAREERS: LAURA OSNES DOES IT RIGHT


Laura Osnes' Dream a Little Dream: Live at Café Carlyle is a perfectly put together, classy CD.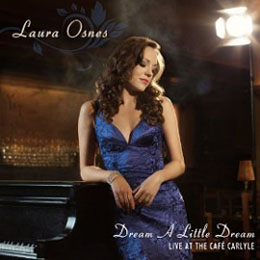 In the bygone era when recordings of live performances were standard, the quality was excellent.

People who never would have the opportunity to see a live show bought the album because listening to it gave them a true sense of being in the audience. Record labels made money and the performer gained fans.

Ask a person if they liked a certain singer and a common answer was: I've never seen him/her, but I have all their records.

Recorded live albums were expensive to produce and the costs were the responsibility of the record label. The records sold, all entitles made money and everyone was happy - including the listeners.

With cable, the internet and the demise of commonplace recording contracts, artists got stuck with the bill.



Laura Osnes performing Baby, It's Cold Outside with Tom Wopat during her Live at Café Carlyle engagement. Photo: Broadway Records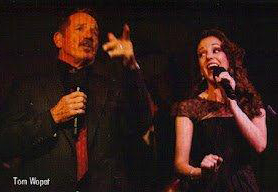 Enter cheap and shoddy.

The one thing worse than a singer not having a CD is a singer having a bad CD. It's not just a CD but an audition tape for anyone listening to it. Job offers and popularity spin on the revolutions of that disc.

For the most part, artists are self-funded. They "produce" their own CDs. To save money they don't mic the performance properly and bargain basement edit and mix. The corresponding results are there to torture the listeners - if there are any. Many of these self produced live performance cabaret CDs end up being traded off to other cabaret acts. The 'I'll buy yours and you'll buy mine' business approach. That means the only people who net a profit are the poor-man's techs who put together the CD.

Want to hear to what a live recording should sound like? Buy and listen to Laura Osnes' Dream a Little Dream: Live at Café Carlyle recorded during three performances - Thursday June 28-Saturday June 30 - for the Broadway Records release.

The performances are perfectly staged and captured in a gold standard CD, released last week on Broadway Records.

Cabaret performances can be more difficult to capture than a proscenium stage performance because customers are in closer proximity, may be drinking alcohol, talking and making noise.

Establishing the proper sound balance for the performance is one of the most crucial elements. Handled to a fair-thee-well by recording engineer Aaron Ankrum, who also mixed it at Aerial View Studio. Scott Hull mastered the recording at Masterdisk in New York City.



Laura Osnes teams up with Jeremy Jordan in Anything You Can Do, during the Live at Café Carlyle engagement which was captured in this CD. Photo: Broadway Records.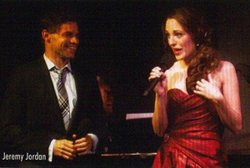 Many cabaret performers can be a bit too self serving. Their conversation bits are too inside for the understanding and enjoyment of all but the closest of associates.

Osnes shows how to brilliantly babble. She offers nine conversational segments. All are short, delightfully interesting and effectively lead into the next musical number.

Important - all words can be both heard and understood. That also includes being able to hear the audience at the appropriate times, such as applauding. The listener feels a connection to the performance.

In the by-gone hey day of entertainment in Las Vegas showrooms, when there was a dinner show followed by a cocktail show, it was common place for entertainers to attend the shows of others performers on the Strip. Famous friends also were in the audience. Seated in the showroom favorite - red velvet booth seats - eating their dinner and then not only watching the show, but being introduced from the audience. The star in the audience would frequently climb on stage to exchange some patter or ever join in on a song.



Laura Osnes performing with husband Nathan Johnson. Their first kiss was on stage. Photo: Broadway Records.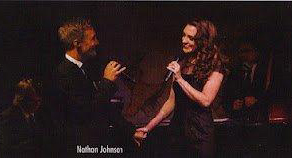 Tony Award nominee Osnes utilizes this approach to warm perfection.

A charming bit of talk called "Understudies" explains how she met her husband when the two were understudies in a production of the musical Aladdin in their home state of Minnesota. The leads got hurt, were take to a hospital, and strangers Osnes and Nathan Johnson were thrust into the spotlight. They had their first kiss on stage as scripted in Aladdin. Johnson joins his wife on stage for A Whole New World.

At other performances Osnes was joined by special guests; Bonnie & Clyde co-star Jeremy Jordan who sang along on Anything You Can Do, and Pipe Dream co-star Tom Wopat, who chimes in on Baby, It's Cold Outside. Both of those are also preserved on this CD.

All of the arrangements are excellent, although a special nod goes to the notes behind Fever which really allow the instruments to communicate.

Her voice is gorgeous and her vocal interpretations light up the musical theater based compositions.

By all means Osnes is not the only singer to correctly capture a cabaret act. Patti LuPone and Betty Buckley have it down pat. I Bought a Blue Car Today is the name of a cabaret act and live CD of Alan Cumming who is not a singer by any stretch of the imagination. ( See Broadway To Vegas column of September 27, 2009 ). However, he knows how to talk a song better than many songbirds can chirp. He also surrounded himself some of the best in the business.

Unfortunately, for all of the Osnes and Cummings who do it high class, there are far too many who wonder why their careers seem off key. They ought objectively listen to their own CDs.

For those who want to feel like they've had a night out while in the comfort of their own homes, pick up a copy of Laura Osnes: Live at the Café Carlyle.

It's the next best thing to having been there in person.

Osnes' quartet was led by musical director Fred Lassen on piano with Marc Copely on guitars, Pete Donovan on bass and Larry Lelli on drums. The engagement at the Carlyle was directed by Joe Langworth.

The album is produced by Fred Lassen and Aaron Ankrum and executive produced by Van Dean and Kenny Howard.

Osnes will return to Broadway in 2013 in a revised version of Rodgers and Hammerstein's Cinderella.





Broadway To Vegas is supported through advertising and donations. Priority consideration is given to interview suggestions, news, press releases, etc from paid supporters. However, no paid supporters control, alter, edit, or in any way manipulate the content of this site. Your donation is appreciated. We accept PAYPAL. Thank you for your interest.



ART AND ABOUT


DENNIS HOPPER THE LOST ALBUM

Dennis Hopper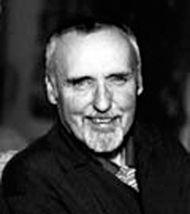 is an exhibition of 440 vintage photographs curated from photographs taken by the late Oscar winner in the 1960s.

On display for the first time in Europe the photographs include images of James Brown and Peter Fonda.

They collection was discovered in storage boxes when Hopper's house was cleared after his death in 2010.

"In his last will, my father asked for the compound of houses where he lived to be sold," his eldest daughter Marin Hopper who helped organize the show said at the press opening.

"We put all his belongings in a storage. It's only a year later when we sorted everything out that we found the boxes with all the pictures," she added.

Marin told the gathering that the exhibition provides "a very intimate portrayal of his thought process as an artist".

The black-and-white small format photos were taken between 1961 and 1967.

They include portraits of his family and friends, as well as the artists Andy Warhol, David Hockney and Roy Lichtenstein. Musicians Ike and Tina Turner also feature in the prints.

Photos of a civil rights march, taken in Alabama in 1965, include portraits of the Reverend Martin Luther King.

Hopper originally put them together for an exhibition in Fort Worth, Texas in 1970.

On exhibit at Berlin's Martin-Gropius-Bau museum, the exhibition was curated by Petra Giloy-Hirtz. In a press preview she said she attempted to display the photographs as Hopper had them originally exhibited. Giloy-Hirtz called Hopper as "a very serious artist".

"We always see Dennis Hopper as an enfant terrible, someone who was always crazy, but he took his photographic work very, very seriously."

Hopper's son, the actor Henr Hopper added: "I just see him as a young man, having these experiences, taking these pictures, and it's really valuable for me."

The exhibition opened Thursday, September 20 and runs to December 17.


SWEET CHARITY


CHILDREN'S HEALTH FUND 25th ANNIVERSARY CONCERT takes place October 4 at Radio City Music Call in New York City.

The benefit concert will bring together well-known artists who will perform as couples or with members of their families. They have all donated their time out of the shared concern for the health and well-being of underserved children in the United States.

The concert will include performances by: Rubén Blades & Luba Mason, Tina Fey & Jeff Richmond, Amy Grant & Vince Gill, Steve Martin, Paul Simon & Edie Brickell, Sting & Trudie Styler, James Taylor & Caroline Taylor, Tom Hanks & Rita Wilson and Stevie Wonder & Aisha Morris.

The evening will underscore the crisis facing many of the nation's children who, for a variety of reasons, are unable to receive proper medical care. Children's Health Fund has operated 50 state-of-the-art, fully-equipped mobile medical units through 25 National Network projects in 17 states and Washington, DC.

In 2011, Children's Health Fund's National Network provided more than 250,000 medical encounters to children of all ages. While this number is significant, it is only but a portion of the thousands of children across the country that could benefit from such a program.

"When I started Children's Health Fund with Paul Simon in 1987, we didn't know how long we would need mobile medical clinics to care for underserved children. While we have made major strides and have provided almost 3 million medical encounters to children, there is still much to be done," said Dr. Irwin Redlener, Children's Health Fund co-founder and president. "We are truly grateful to the incredible line up of talent assembled for this concert, and know the funds raised through this event will allow us to do even more in the future."

At a pre-concert gathering, Simon Fuller, creator and executive producer, American Idol founder, and CEO of XIX Entertainment, will receive the Founders' Award to acknowledge the strong support of "Idol Gives Back" to Children's Health Fund. David Pulman, PhD, president of Global Manufacturing and Supply, GlaxoSmithKline, will also be presented with the Corporate Award.

PULLMAN PORTER BLUES COMMUNITY GALA is an opportunity for the people of Seattle support 8 nonprofit organization while enjoying wine, food, and a silent auction and then see the world premiere performance of Cheryl L. West's Pullman Porter Blues in the Bagley Wright Theatre at Seattle Rep on Thursday, September 27, 2012.

About the show - Pullman Porter Blues - It's 1937, and three generations of porters are hard at work on the luxurious Panama Limited train. Midwest blues songs flavor their journey from Chicago to New Orleans as the porters confront dark secrets from their past and tough truths about their future together. This captivating coming of age story is woven with iconic blues music and features a live band.


LET THEM EAT (LEFTOVER ROYAL WEDDING) CAKE
Fiona Cairnes stands by the wedding cake she created for William and Kate's reception. Photo: John Stillwell/PA Wire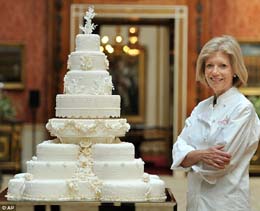 Okay, so it's a bit on the day-old side.

Those royal wedding cakes. The ones which were stage center at the weddings of Prince Charles and Lady Diana (1981-but ended in divorce), Prince Andrew and Sarah Ferguson (1986-but ended in divorce), Princess Anne and Captain Mark Phillips on November 14,1973 (ended in divorce) and Prince William and Kate (going strong).

Bidding which had an opening minimum of $170 has begun on all slices from those four cake creations.

Last May the first piece of the leftover Will and Kate cake was sold for $3,000.

The last time a piece of Charles and Diana's 31-year-old cake double wrapped in its original waxed paper and housed in its original printed white presentation box, was gaveled down - May 2012 - at PFC Auctions it went for $2,752. It surpassed the previous record of $1,830, set in August 2008 for a piece sold by a former royal servant - corresponding to a 16.20% increase,or a profitable investment, providing you like things that can attract vermin. Oh, that's the stock market.

The Will and Kate boxed fruit cake - known as lot 78 - supplied to the auction PFC Auctions by an anonymous seller, was among 650 pieces of wedding cake given to guests at the afternoon reception of the royal wedding held at Buckingham Palace a year ago April.

The cake, designed by Fiona Cairnes, comes in a presentation tin commissioned and designed by Peter Windett and Sally Mangum. Also in the tin is a 'with best wishes from' card from Prince Charles and Camilla.



Cake slices from weddings of Prince Charles to Lady Diana and Prince Andrew to Sarah Ferguson are being hammered down. Photo: PFC Auctions.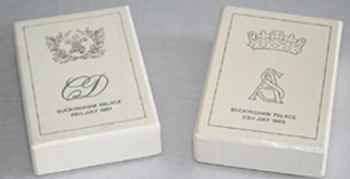 Lot #79 is "A slice of Royal Wedding cake from the marriage of Princess Diana and Prince Charles in 1981. Accompanied by a slice of cake from the marriage of Prince Andrew and Sarah Ferguson in 1986. Both slices are housed in their original cardboard presentation boxes with the first initials of the married couple and date of the wedding printed on the lid, both measuring 3" x 4½" x 1¼".

In case you're into counting cakes instead of sheep, the reception for Prince Charles and Diana actually included 27 wedding cakes. The cake the couple cut stood over five feet tall and was created by David Avery from the Royal Navy Cookery School. The cake was wrapped with royal icing and decorated with the Windsor royal coat of arms made from marzipan. The second tier of the cake was later transformed into Prince William's christening cake.

Lot #80 contains 3 slices of Royal Wedding cake from 3 Royal Weddings. "3 slices of cake from the weddings of Prince Charles & Princess Diana in 1981 (3" x 4½" x 1¼"), Prince Andrew & Sarah Ferguson in 1986 (3" x 4½" x 1¼") and Princess Ann and Captain Mark Phillips in 1973 (2¾" x 4" x 1¼"). Each slice is housed in its original presentation box with the first initials of the married couple and date of the wedding printed on the lid. With minor age toning to all 3 presentation boxes and creases and paper peeling to the box for Anne & Mark's cake. Overall in very good condition. "

"Accompanied by an original Order of Service, Ceremonial Brochure and souvenir catalogue of wedding gifts from the marriage of Prince Charles & Princess Diana, photocopied thank you letters from Anne & Mark and Prince Charles and a letter of appreciation to Colonel H.F. Brassey OBE."

A buyer's premium is attached to each wedding cake. Sort of like a divorce.


THE SMITH CENTER IS NOT LOCATED AT HOOVER DAM
The Grand Lobby of The Smith Center in Las Vegas.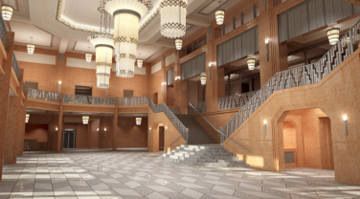 The PBS special From Dust To Dreams purported to showcase the grand opening of the Smith Center for the Performing Arts in Las Vegas - didn't.

While the wide variety of performing talent was superior, the show's concept was one of the most boring, misleading and non-informative to ever air on the revered PBS channel.

The slow moving opening of the Colorado River focusing on the construction of Hoover Dam has nothing what-so-ever to do with the PAC located in downtown Las Vegas.

It looked like a National Geographic lead in. Or, maybe a put-you-to-sleep show on the importance of water as a power source.

On the technical side, the lighting, sound and camerawork were exceptional, as is a given with all Stevens Productions.

Academy Award winner Jennifer Hudson, country superstars Willie Nelson, Merle Haggard, Emmy Lou Harris and Martina McBride, iconic singer-songwriter Carole King, trumpeter Arturo Sandoval, world renowned classical violinist Joshua Bell, Rock and Roll Hall of Fame Member John Fogerty, Gospel great Mavis Staples, Train lead singer Pat Monahan,Tony winner Brian Stokes Mitchell, Tony nominee Laura Osnes, Cheyenne Jackson, Sherie Rene Scott, Montego Glover, Benjamin Walker, and the incredible American Ballet Theater dancers Marcello Gomes and Luciana Paris electrifying the stage in their performance of Twyla Tharpe's Sinatra Suite did nothing more than participate in an old fashioned television musical variety show. There were no comments or conversation about the multi-purpose PAC.



Marcelo Gomes, born in Brazil partnered with Buenos Aires born Luciana Paris, to dance Twyla Tharp's Sinatra Suite. Photo: Luciana Paris website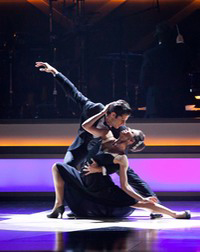 Marcelo Gomes and Luciana Paris are one of the greatest interpretative dance teams to ever trip the light fantastic on stage. Picture here in Twyla Tharp's Sinatra Suite. Photo: Luciana Paris website.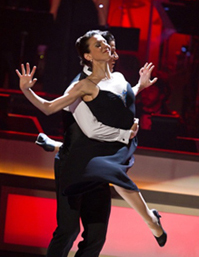 Actually, you wouldn't have known they knew they were performing at the Smith Center or even in Las Vegas. The stars came on stage, did their allowed minutes and made an exit.

Wonderful to watch them perform, but they could have been anywhere.

To see the heavy emphasis on Hoover Dam and the desert, a viewer might surmise that, prior to the opening of the Smith Center, the poor rubes living in Las Vegas had no entertainment.

For decades we've had something called the Las Vegas Strip.

There isn't anything that the Smith Center has staged that couldn't have been presented in a variety of Las Vegas venues. The difference with the Smith Center is that it is new, located off the Strip and combined several entities under one roof. If you're going to take the approach that our roof is better than your roof, then show why. This From Dust to Dreams PBS offering didn't establish why the Smith Center is better for a performer than any other performance venue in Las Vegas.

No red carpet excitement. Dull footage of Hoover Dam but no exciting footage of the black tie guests making comments about the grand building.

Nothing to make the viewer wish they were there. ( See Broadway To Vegas column of March 11, 2012 )

There are rehearsal rooms and a cabaret. Top acts Linda Eder and Clint Holmes performed in the two-level, 258-seat Cabaret Jazz room while this special was being put together. Not so much as a glimpse of them.

Why weren't the performers photographed showing their pleasure at the dressing rooms and performance spaces?

Why no shots of musicians excited about the acoustics?

Why didn't the go-to guy for hosting, Neil Patrick Harris, take the viewers on a five minute tour of the building.

Why were there construction shots of Hoover Dam but none of the Smith Center?

What did photographs of Martin Luther King have to do with The Smith Center? Oh, he had a dream.



Hoover Dam as photographed by Ansel Adams in 1942. Photo: National Archives.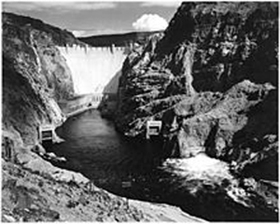 Whoever thought up the esoteric concept of bare desert, Hoover Dam, morphing into a "dream" of Smith Center should get a reality check on their own self inflated spin. They weren't suppose to be creating their own emotional illusions for a film school documentary class.

This golden opportunity of a PBS Special should have enticed people outside of Las Vegas to not only understand the venue, but want to either stage or attend performances at the Smith Center.

Absolutely nothing in the presentation tempted the national viewer to put seeing a performance at the Smith Center on their 'Vegas to do' list.

And, name five things you learned about The Smith Center.

What is the room called where the performance took place? How big is it? How much did the Smith Center cost? How long did it take to build? How many dressing rooms? Are the seats comfortable? In this down economy, how many workers were hired to construct the place? What style of architecture? (30s art Deco - the same era as Hoover Dam which is why the dreadful tie-in) What is the bell tower? How big is the orchestra pit? Is there a bar?

Oh, none of those were mentioned.

The Smith Center.

No, not named after all of the Mr. and Mrs. Smiths who check into Las Vegas Hotels. Rather, named after Fred Smith and his late wife. Fred was there. Where was a red carpet sound bite from him?

Oh, that's right. There weren't red carpet sound bites from anybody. In fact, you didn't even know there was a gala or that the place has a magnificent entrance.

As a contrast, when Great Performances or Live at Lincoln Center air on PBS the viewer experiences excitement. There are breaks that take the viewer back stage and interviews with the performers and crew. Great Performances creates a home bound opportunity to share with those who were in attendance.

For those who thought a Hoover Dam concept on "showcasing" the opening of the Smith Center was a good idea - some directions. The PAC is not located near Hoover Dam, but next door to the Cleveland Clinic Lou Ruvo Center for Brain Health where they are doing wonderful work on brain dysfunction issues. You might want to make an appointment.


WOMANIZING CHARLES DICKENS' DIVORCE LETTER UP FOR AUCTION
Charles Dickens in London in 1858.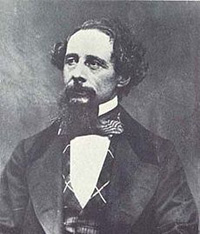 The guy who gave the world A Christmas Carol, in which a man confronts his past, had his own hidden secrets.

Charles Dickens was a wife abusing womanizer, who after fathering 10 children with his wife left her for an 18-year-old actress.

On the plus side, the famed author seemed relatively eager to keep his wife's horse fed.

A desperate divorce letter written by the famed author over 150 years ago to his lawyers has been discovered and is up for auction.

In the detailed, handwritten missive, the intent is evident - he is determined to dump his wife Catherine and mother of his 10 children for the teenage actress Ellen Ternan.

Charles Dickens' love life has always been the subject of fascination and sordid gossip.

In 1830, Dickens met his first love, Maria Beadnell, thought to have been the model for the character Dora in David Copperfield. Maria's parents disapproved of the four year courtship and ended the relationship by sending her to school in Paris.

It is generally agreed that he may have been a virgin when he married at age 24, but there was lust in his heart for his wife's sister, Mary, who historians have stated was the love of his life.

Immediately after his honeymoon with Catherine, her 17-year-old sister Mary moved in with them and instantly fell in love with Dickens.

She died in his arms from a fever in 1837.

The famed author idealized her and was devastated after her death. He was so overcome with grief that he was unable to write - for the first and only time in his life. Eventually, he resumed work on Oliver Twist. Oliver's teenage aunt Rose Maylie was based on Mary.

Dickens is also thought to have drawn on memories of her for his later descriptions of Little Nell and Florence Dombey.



Ellen Ternan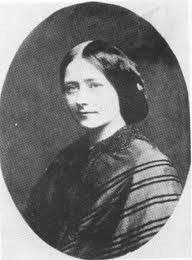 In 1857, Dickens hired professional actresses for the play The Frozen Deep, which he and his protégé Wilkie Collins had written. Dickens fell deeply in love with one of the actresses, Ellen Ternan, who was 18 years old. He was 45.

"In 1858 a bracelet that Dickens bought as a present for the actress Ellen Ternan was accidentally delivered to the Dickens house. Catherine discovered the bracelet, thus initiating the sequence of a divorce," explained the auction house Fraser's Autographs.

In Dickens' day as now, bad public relations is bad public relations. The scandal was causing concern and Dickens was worried that his book sales would drop off.

Dickens made the decision, which went strongly against Victorian convention, to separate from his wife, Catherine, in 1858 - divorce was still unthinkable for someone as famous as he was.

Anxious to get a legal separation, he wanted to move on with Ternan. In fact, Dickens would remain with Ternan until his death in 1870. On his death, Dickens' will provided Ternan with an annuity which made her a financially independent woman.

That Dickens and Ternan had a son who died in infancy was alleged by Dickens's daughter, Kate Perugini, whom Gladys Storey had interviewed before her death in 1929, and published in her book Dickens and Daughter.



Charles Dickens' letter to his lawyer. Photo: Fraser's Autographs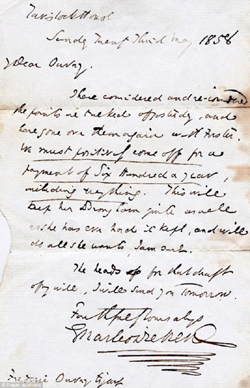 Dickens' letter to his lawyers was sarcastic and even a little mean, referring to the mother of his 10 children as a pronoun - 'her' or 'she'.

Auction Lot 119 is described as: "An extremely important autograph letter signed from Dickens to his solicitor, Frederick Ouvry, discussing preliminary arrangements.

"Tavistock House, Sunday 23 May 1858. Approx. 185 x115mm, with two horizontal folds (sl. chipped at ends), light browning to edges and small amount of loss to portion of left margin.

According to the Auction House, Dickens wrote how he had considered the points he and Mr Ouvry had spoken of the previous day.

He said: "We must come off for a payment of Six Hundred a year, including everything[this sentence underscored]. This will keep her Brougham [ie. her horse-drawn carriage] quite as well as she has ever had it kept, and will do all she wants, I am sure."

Note: 600 pounds then is worth about $40,600 today.

Charles Dickens' letter has now surfaced after 150 years, discovered folded in half and tucked between the pages of a paperback Bible.

The letter, which was found in the village of Blockley, Gloucestershire, is being offered for sale by Dr Jackie Sheehan.

She told the Telegraph: "This little paperback Bible was in a batch of books which my sister's mother-in-law was given by an elderly neighbor who moved into residential care seven or eight years ago." She indicated the letter fell out of the Bible during a major cleaning earlier this year.

Dr. Sheehan had no knowledge of how the elderly neighbor had come into the possession of the Bible.

Dr. Jackie Sheehan knew immediately that the letter was important.

Sheehan is a bit of a scholar herself. She is Deputy Director of the Institute of Contemporary Chinese Studies Institute. Her research includes China's contemporary labor and political history, particularly the Cultural Revolution and the democracy movement, and the reform of state-owned enterprises, work for which she has had two ESRC grants for fieldwork in China, and which culminated in the publication of the co-authored book China's State Enterprise Reform (Routledge, 2007). She is the author of Chinese Workers: A New History (Routledge, 1998) and author or co-author of a number of journal articles and book chapters on labor, management, and employment in China in the reform period.

She also researches on Chinese migrant labor in the UK and human trafficking between the UK and China. She regularly acts as an expert witness on human-rights issues and the legal system in the PRC in immigration and asylum cases.

The first thing Dr. Sheehan did with the Dickens' letter was to have it authenticated by a Dickens' scholar who called it,"an exciting find."

The letter was also confirmed by Fraser's as being genuine. It is being sold by Fraser's Autographs in London with on-line bidding ending on September 27.


PRINCE WILLIAM AND KATE - DON'T UNDER ESTIMATE NGUZU NGUZU
Prince William and Duchess Kate were spared being served as dinner and enjoyed a nice feast after riding in their good luck nguzu nguzu car. Photo: Getty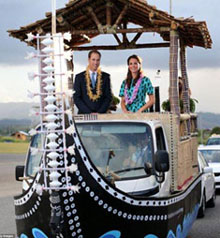 Fortunately, Prince William and Kate weren't served as dinner.

Never under estimate the power of nguzu nguzu.

Last week Father Henry Teho, an Anglican priest who took part in the ceremony to welcome William and Kate to the Solomon Islands stated:

"When you would have come to our place in the old times you would have been killed and eaten straight away. But not today of course."

Whew. Big relief.

"The Tukawaka (welcome ceremony) is just to tell you that you are welcome here," he added.

Then the royal couple, who were on an official 9-day Far East Diamond Jubilee Tour on behalf of William's grandmother, Queen Elizabeth II, climbed up into a 'canoe,' this one, made out of rush matting, bamboo and sago palm leaves, surrounding a white Toyota mini van.

It consisted of a magnificent, carved black and white prow which had been decorated with sea shells and feathers.



Side view of the nguzu nguzu which wards off evil offering William and Kate safe passage.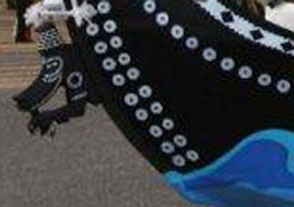 Front view of nguzu nguzu which led the royal couple away from being the main dinner course to enjoying a state dinner.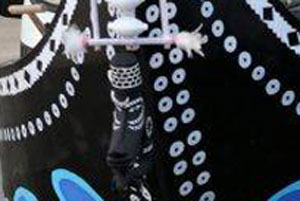 On its base was a small carved spirit, called a nguzu nguzu (sometimes called a musu musu or toto isu), holding a bird to ward away evil.

Nguzu nguzu originated in the western Solomons, but are now a national symbol. Nguzu nguzu - pronounced en-goo-zoo en-goo-zoo - are small relative to the large prows. One is attached to the prow just above water line. The figureheads are always stained black and inlaid with shell, to match the canoes.

Nguzu nguzu war gods watch out for enemies, reefs and sand bars, calm the seas and keep away evil water spirits. Nguzu nguzu may hold heads, skulls or birds in their hands. The nguzu nguzu birds are now called "birds of peace."

Later, instead of being the main course, Will and Kate were guests of honor at a state dinner.


SPREADING THE WORD


DAME HELEN MIRREN

Dame Helen Mirren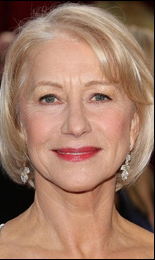 will take to the London stage as Queen Elizabeth II, a part she's played before, as in her Oscar-winning role in The Queen, in which she played Elizabeth II.

The stage play is scripted by Peter Morgan and called The Audience.

To be directed by Stephen Daldry, the plot depicts the weekly meetings between Her Majesty and some of the 12 Prime Ministers of her reign - from Winston Churchill to David Cameron.

Morgan has used his imagination to conjure up pivotal conversations that are a very private part of those weekly meetings.

"From Churchill to Cameron, each Prime Minister has used these private conversations as a sounding board and a confessional - sometimes intimate, sometimes explosive," stated the official release.

In the stage play Mirren, 67, faces the challenge of playing Queen Elizabeth II from ages 25 through the 80s. Set design will be by Bob Crowley.

The West End production at the Gielgud theatre opens on February 15, 2013, and runs to June 15, 2013.

PARK NIGHTS: ROBERT ASHLEY this 3-day event with pioneering American contemporary composer Robert Ashley, celebrated for his operas and multi-disciplinary projects, will centre on Vidas Perfectas, an ambitious new Spanish-language opera based on Ashley's Perfect Lives.

Five episodes from Vidas Perfectas will be performed on September 28 and 29 at the Serpentine Gallery and at Café OTO. Ashley will perform and take part in a discussion with Alex Waterman and Will Holder on September 30 at Café OTO, the Serpentine Gallery in London.

PRISCILLA PRESLEY will make her London stage debut in a Christmas pantomime Snow White and the Seven Dwarfs at South London's New Wimbledon Theatre, beginning performances December 7 prior to an official opening December 13, for a run through January 13, 2013.

Presley will play The Wicked Queen in the show, opposite veteran actor Warwick Davis as Prof and Jarred Christmas as Herman the Henchman.


OTHER PEOPLE'S MONEY


THE NATIONAL SCIENCE FOUNDATION has awarded a grant of $2,654,895 to the Balboa Park Cultural Partnership of the Art of Science Learning Initiative, a project entitled Integrating Informal STEM and Arts-Based Learning to Foster Innovation. Harvey Seifter, Art of Science Learning founder/director, is the project's director and principal investigator. Paige Simpson, the Partnership's Interim Executive Director and Director of the Balboa Park Learning Institute, is project administrator.

Over the next four years, this grant will fund arts-based incubators for innovation in STEM (Science, Technology, Engineering, Math) learning in San Diego, Chicago and Worcester, Mass, as well as a new arts-based STEM curriculum; experimental research to measure the impact of arts-based learning on creativity, collaboration and innovation.

The incubators – hosted by San Diego's Balboa Park Cultural Partnership, Chicago's Museum of Science and Industry and Worcester's Science and Nature Center, EcoTarium – will bring together 30 cross-disciplinary innovation teams professionals, artists, educators, business leaders and students. The teams will learn arts-based techniques for generating, transforming, prototyping and communicating creative ideas and apply them to STEM-related civic innovation challenges.



THE FIRST RECIPIENTS OF THE PRISON ARTS SCHOLAR AWARD presented by Boston University College of Fine Arts are Jamie Hillman (DMA, CFA '13,) and Emily Howe, conductor, Boston University Choral Society, in recognition of Hillman and Howe's outstanding contributions to teaching in prison education.

On Thursday, September 20, Benjamín Juárez, Dean, College of Fine Arts, and Jay A. Halfond, Dean, Metropolitan College and Extended Education, presented the award in honor of their commitment to bringing music appreciation to MCI-Norfolk and MCI-Framingham, through BU's Prison Education Program.

and Professor Andre de Quadros, School of Music, launched the music program at MCI-Norfolk in the spring of 2012 as part of BU's Metropolitan Prison Education Program.

From 2006-2008, Hillman was a professor of music at Prairie Bible College in Three Hills, Alberta, He currently serves as Associate Director of Music at Grace Chapel in Lexington, MA.

Without access to musical instruments, which cannot be brought into the medium-high security men's prison, Hillman and de Quadros brought Music Appreciation (MET MU 118) to 23 students at the medium-security prison in a team-taught class.

Forced to rely upon the most basic and emotive instrument available, the human body, Hillman and de Quadros succeeded in offering a multifaceted examination of music, where students learned among other things, solfeggio, and music from the Western and other music traditions. The course, which notably requires that each student will sing, provides a venue where participation is encouraged and self-expression can be an act of courage.

"They let their guard down," notes Andre de Quadros, Professor, School of Music, College of Fine Arts. "The class was a safe zone for them, and they were able to speak freely, to show their feelings and their emotions through music."

Hillman transformed the lives of MCI-Norfolk's prisoners, bettering their minds and their outlooks. This fall, Hillman and de Quadros are growing this universally rewarding program, teaching Special Topics in History and Theory of Music, at MCI-Norfolk. In addition, Howe and de Quardros are introducing the Music Appreciation course to the women at MCI-Framingham.

"I am very impressed with the enthusiasm that this effort has generated, and pleased to collaborate with the College of Fine Arts to recognize those young scholars who are bringing their passion and expertise to these students," said Jay A. Halfond, Dean, Metropolitan College and Extended Education. "Typically, incarcerated students do not have the sophisticated means to support their instruction, so this puts even more emphasis on creative teaching. This is a great experience for future scholars and practitioners in music education and an important recognition that I hope helps in their future careers."



FLY by Trey Ellis and Ricardo Khan.

Directed by Ricardo Khan.

They fought for freedom abroad … and at home.

Based on the experiences of the Tuskegee Airmen, Fly is the powerful story of four African-American military pioneers who proved themselves as officers and pilots during World War II.

The play follows these courageous heroes hailing from Chicago, Harlem, rural Iowa and the Caribbean as they train to fly combat aircraft. In spite of the overt racism they encounter, the men form a lasting brotherhood and fly with distinction, paving the way for the desegregation of the American military and the Civil Rights Movement.

The production inventively combines live action, video footage and the inspirational "Tap Griot," a dancing storyteller who expresses the anger, fear and triumph that the officers cannot.

Fly had its world premiere at the Tony Award-winning Crossroads Theater, in New Brunswick, NY in 2009.

Originally written as a 43-minute play and was subsequently performed in high schools throughout the state. Teamed with co-writer Trey Ellis, Kahn expanded that work to 95 minutes and added multi-media effects.

Fly is the second offering in the multi-year Lincoln Legacy Project - an effort to create dialogue around the issues of tolerance, equality and acceptance.

September 21-October 21, 2012 at Ford's Theatre in Washington, DC.

There will be a free panel discussion on October 1, 8 and October 15. This free series of Monday night panels will feature members of the Tuskegee Airmen and other experts discussing the history behind the play and how the Tuskegee Airmen influenced the American military, the Civil Rights Movement and related contemporary social issues.

A Special Exhibition: The Test runs through October 21, 2012. In conjunction with Fly, Ford's Theatre is showing a special exhibition in the Center for Education and Leadership. Titled The Test, the exhibition details the training of the first African-American aviators in U.S. Military history and follows their ground-breaking deployment and service in World War II.

GOLDEN BOY by Clifford Odets. Directed by Bartlett Sher.

Lincoln Center Theatre' 75th Anniversary Production of the classic, includes 75th anniversary production includes Seth Numrich as Joe Bonaparte; Tony Shalhoub as Joe's father; Danny Burstein as his trainer, Tokio; and Yvonne Strahovksi as his girl, Lorna Moon.

Others in the superb cast are: Michael Aronov, Bill Camp, Tony winner Anthony Crivello will play gambler Eddie Fuselli, Sean Cullen, Dagmara Dominczyk, Ned Eisenberg, Brad Fleischer, Karl Glusman, Jonathan Hadary, Daniel Jenkins, Danny Mastrogiorgio, Dion Mucciacito,Vayu O'Donnell, Lucas Caleb Rooney, and David Wohl.

Golden Boy charts the swift rise of a gifted twenty-one-year-old violinist, Joe Bonaparte, who is corrupted by fame and fortune when he chooses to become a professional boxer. Surrounding his hero with a gallery of sharply written characters who try to shape and guide Joe's destiny, Odets lays out the young man's many facets: sensitive musician, rebellious son, frustrated lover, and self-destructive champion. In the end, it is the seductive promise of the American dream that betrays Joe as it did for so many in the Depression years.

Sets by Michael Yeargan. Costumes by Catherine Zuber. Lighting by Donald holder. Sound by Peter John Still and Marc Salzberg. Fight Director is B.H. Barry.

Previews begin Thursday, November 8 with the official opening night slated for Thursday, December 6 at the Belasco Theatre, Belasco the same theatre where the play premiered in 1937.

KILLERS: A NIGHTMARE HAUNTED HOUSE FLY a horrifying, immersive experience about our obsession and fascination with serial killers both real and fictional opens for Halloween thrills September 28 through November 3, 2012 at the Clemente Soto Velez Cultural Center on Manhattan's Lower East.

Visitors navigating the tormenting labyrinth of Killers: A Nightmare Haunted House "will encounter various psychopaths, including Ted Bundy, Albert Fish and the Zodiac killer, among others - who are neither sexy or cool - but rather presented for what they are...scary as hell! Focusing on both the perpetrators and their victims, both historical and contemporary, Killers sets out to prove that the most haunting experiences are those that are real. There is nothing more frightening than the monsters that walk among us."

As an entree to the larger attraction of Killers: A Nightmare Haunted House, a one of its kind gallery exhibit featuring artwork, memorabilia and personal possessions belonging to the worlds most notorious serial killers will be on display.

"Killers will be by far and away the most aggressive, interactive and flat-out scary haunted house Nightmare has ever done," says creator Timothy Haskell. "We don't think these beasts should be glorified or celebrated, only feared. They should be treated as the boogeymen that they are. We make haunted houses. They are supposed to be scary. This will be very, very scary."

Haskell's Nightmare creation has been called "New York's most horrifying haunted house and AOL CityGuide's No. 1 rated haunted attraction in NYC," and Steve Kopelman, producer of The Nest was named ABC News / Good Morning America's "Scariest Place in America".

"I'm so excited to be partnering with The Nightmare brand," explained Steve Kopelman. "With my expertise in maximizing scares along with this years theme of real serial killers, we're creating a chillingly real environment, unsurpassed in fright level."

Production Design is lead by Paul Smithyman. Art direction is by Justin Haskell and David Hinkle, sound design is by David Roy, costume design is by Candice Thompson, lighting design is by Garin Marshall. Eli Boznick is the director of magical illusions.

FALLING a new play by Deanna Jent, the Artistic Director of Mustard Seed Theatre in St. Louis, Missouri, and a Professor of Theatre at Fontbonne University.

Lori Adams directs a cast that features Daniel Everidge, Celia Howard, Daniel Pearce, Jacey Powers, and Julia Murney.

Falling is a real life drama about how 18-year-old Josh, who has autism, affects the lives of everyone around him. When a relative comes to visit, the entire family is thrown off their equilibrium, with everyone trying to balance what is best for the family and what is best for them.

Set design by John C. Stark, costume design by Tristan Raines, lighting design by Julie Mack, and sound design by Raymond Schilke. Rick Sordelet will serve as Movement & Fight Director.

The open ended run begins Thursday September 27th at the Minetta Lane Theater in New York City.

LUCIA DI LAMMERMOOR by Gaetano Donizetti. Directed by John Doyle, this is a new co-production with Houston Grand Opera and Teatro La Fenice.

Bel canto songbird Emma Matthews leads an international cast which includes charismatic Italian baritone Giorgio Caoduro as Lucia's cruel brother Enrico, and American James Valenti, a rising star who has just made his debut at New York's Metropolitan Opera, as Edgardo.

An atmospheric, psychologically searching take on Sir Walter Scott's thrilling tale.

Lucia and Edgardo are in love, but Lucia's brother Enrico plans to marry her off to Arturo to secure the family's fortune. Will Lucia submit to her brother's will? Find out in this famous jewel of the bel canto repertoire.

Performed in Italian with English surtitles.

September 28-October 27 at the Sydney Opera House in Sydney, Australia.

THE JUDAS KISS by David Hare. Directed by Neil Armfield.

Starring Rupert Everett as Oscar Wilde and Freddie Fox as Bosie.

With Alister Cameron as Moffatt, Tom Colley as Galileo, Ben Hardy as Arthur, Cal Macaninch as Robbie Ross and Kirsty Oswald as Phoebe.

David Hare's play, first seen in 1998, imaginatively recreates what happened on two critical days in the life of Oscar Wilde; the day Wilde decides to stay in England and face imprisonment, and the night, after his release two years later, when the lover for whom he risked everything betrays him.

With a quiet but burning sense of outrage, David Hare presents the consequences of taking an uncompromisingly moral position in a world defined by fear, expedience and conformity.

Set Design by Dale Ferguson. Costume Design by Sue Blane. Lighting Design by Rick Fisher. Composed by Alan John. Sound Design by Paul Groothuis. Casting by Cara Beckinsale.

The sold out engagement plays until October 13 at the Hampstead Theatre in London, after which it will tour the UK.

FINDING NEVERLAND the new musical with a book by Allan Knee, based on his play The Man Who Was Peter Pan about the real life story of J.M. Barrie and the family which inspired Peter Pan. The score is by Tony Award-nominated Scott Frankel and Michael Korie.

Tony and Olivier Award winner Rob Ashford directs and choreographs.

Starring Julian Ovenden as Scottish playwright J.M. Barrie, who created Peter Pan, opposite Rosalie Craig as Sylvia Liewellyn Davies, the ailing mother whose family touched Barrie uniquely.

The cast also features Oliver Boot as Blunt/Hook, Norman Bowman as P.G. Wodehouse, Claire Foster as Mary Barrie, Vince Leigh as Arthur Conan Doyle, Stuart Neal as Elliot, Liz Roberstson as Mrs. DuMaurier and Matt Wilman as Edward Elegar.

Completing the cast are Michelle Rancis, Frankie Jenna, Julie Jupp, Gary Watson, Stephen Webb, Zoe Rainey, Harry Polden, Corey Wickendon, Connor Fitzgerald, Worrall Courtney, Edward Bracey, Connor Phillips, Garrett Tennant, Jamieson Hughes, Theo Fewell, Josh Swinney, Harrison Slater and Morgan Heath.

According to the venue: "With his last play a failure, James Barrie is crippled by writer's block and success seems like a far-away land. But then a chance encounter with widow Sylvia Liewellyn Davies and her four young sons sends his heart and imagination soaring, and their friendship gives birth to a magical tale that will live forever."

The world-premiere engagement begins September 22 at the Curve Theatre in Leicester, London with performance through October 18, 2012.


WHO'S WHERE




MICHAEL FEINSTEIN in the spotlight Saturday, September 29, at the Auditorium Theatre in Chicago, IL.

MADONNA has a duo of two night stands this week. Tonight, Sunday, September 23 she opens the first two nighter at the Verizon Center in Washington, DC. On Saturday she does the same at the Rogers Arena in Vancouver, BC.

RED HOT CHILI PEPPERS perform Tuesday, September 25, at the Jobing Arena in Glendale, AZ. On Thursday the show is at the Pepsi Center in Denver and on Saturday the tour stops at the AT&T Center in San Antonio, Texas.

JUSTIN BIEBER performs Saturday, September 29, at the Jobing Arena in Glendale, AZ. On Sunday, September 30, he stars at the MGM Grand Garden Arena in Las Vegas.

CARRIE UNDERWOOD in the spotlight Wednesday, September 26, at the Resch Center in Green Bay, WI. On Thursday she's on stage at the Target Center in Minneapolis. Saturday's show is at the Fargodome in Fargo, ND.

PAULA POUNDSTONE telling funny stories September 28 at the Flynn Center for the Performing Arts in Burlington, VT.


FINAL OVATION


NORMAN KAYE the last surviving member of the famed Mary Kaye Trio died September 17, 2012 in Las Vegas. He was 89. Kaye had suffered a stroke in 2008.

( See Broadway To Vegas column of December 2, 2001 ) and ( See Broadway To Vegas column of December 12, 1999 )

With sister Mary on guitar and comedian-sometimes accordionist Frank Ross, the Mary Kaye Trio is credited with introducing the word "lounge" into the lexicon of Las Vegas. They were the first group to ever be advertised as a "lounge" act, a term which Norman had suggested to the Last Frontier after his sister Mary had suggested an intimate room be built just for them.The group performed between 1 and 6 a.m. on the newly enclosed stage, helping to turn Las Vegas into a 24-hour town.

The trio worked an average of 36 weeks a year, often appearing at the Sahara and Tropicana hotels. The group recorded dozens of songs, including My Funny Valentine and April in Paris, and released a dozen albums before breaking up in 1966.

Speculating that Las Vegas would boom Kaye formed Norman Kaye Real Estate, and in the late 1960s it was described in news stories as the largest real estate company in Nevada.

He also was an active civic leader on the boards of several Las Vegas arts and business organizations.

For 37 years Kaye was Nevada's poet laureate.

Kaye also is the man who composed Throw a Dime My Way, which became the theme song for the International March of Dimes. Another composition, Have a Heart, Lend a Hand, was the theme for the Variety Clubs International.

Kaye was born Norman Kaaihue on Sept. 22, 1922. His grandfather was Prince Kuhio, brother of Queen Liliuokalani, who was the last monarch of Hawaii and wrote many musical standards, including Aloha 'Oe. His father was known professionally as Johnny Ukulele. As a child Kaye performed with his band, Johnny Ka'aihue's Royal Hawaiians.

After serving in World War II Norman Kaye returned and with his sister formed a group that evolved into the Mary Kaye Trio, first playing Las Vegas in 1947.

Ross died in 1995 and Mary Kaye in 2007 at the age of 83.

Kaye is survived by his fourth wife, Barbara Ann Meriwether, whom he married in 2006, a daughter, Sherry Marshall, and by four of his six sons: John, Don, Richard and Tracy.








Next Column: September 30, 2012
Copyright: September 23, 2012. All Rights Reserved. Reviews, Interviews, Commentary, Photographs or Graphics from any Broadway To Vegas (TM) columns may not be published, broadcast, rewritten, utilized as leads, or used in any manner without permission, compensation and/or credit.
Link to Main Page
---
Laura Deni



For the snail mail address, please E-mail your request.
CLICK HERE FOR COMMENT SECTION