! >
Broadway To Vegas
  
  REVIEWS INTERVIEWS COMMENTARY NEWS

| | |
| --- | --- |
| | |
QUINCY JONES PRESENTS DUBAI MUSIC WEEK - - AARON TVEIT THE RADIO IN MY HEAD CD REVIEW - - BORN FOR BROADWAY - - BOB NEWHART FINALLY WINS AN EMMY - - HONEYMOON IN VEGAS - - NORMAN ROCKWELL EXHIBIT AND AUCTION - - SHAKESPEARE THEATRE COMPANY STAYS PUT - - POSSIBILITY JUNKIE - - DONATE . . . Scroll Down




Copyright: September 22, 2013
By: Laura Deni
CLICK HERE FOR COMMENT SECTION


QUINCY JONES PRESENTS DUBAI MUSIC WEEK
Quincy Jones and Emirati social entrepreneur Badr Jafar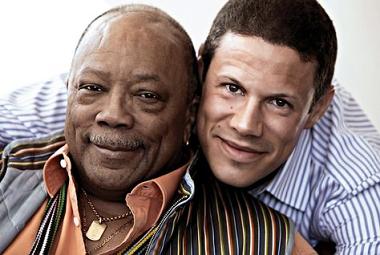 Concerts, conferences, seminars and exhibitions take place September 24-29 at the World Trade Center in Dubai, UAE. The first international event dedicated to establishing the music industry in the region, is presented by the Grammy winning producer Quincy Jones in conjunction with Global Gumbo Group, which was co-founded by Jones.

Jones and UAE entrepreneur Badr Jafar, who is president of the Crescent Petroleum, set up the Los Angeles-based Global Gumbo Group (G3) in 2011 in a bid to promote opportunities for western and Middle Eastern artists in MENA region.

Taymoor Marmarchi, the Dubai Music Week project director of Global Gumbo Group, called this a "long-term initiative with a lot of investments."

The event is open to the public.

Performers include wil.i.am and Timbaland on September 26. Bollywood night on September 28 will feature actor, director and singer Farhan Akhtar. He'll be joined on stage by music director Pritam and singers Mohit Chauhan, Benny Dayal, Arjit Singh, Harshdeep Kaur and Neeti Mohan. The Stars Dance World Tour with Selena Gomez is September 27 and exclusive seminars with Quincy Jones take place September 24-25.

One of the highlights of the event, on September 24, will be a seminar led by Jones, who was recently inducted into the Rock n Roll Hall of Fame. Joining Jones will be Michael Jackson's dream team; singer Siedah Garrett, who sang the duet with Jackson in I Just Can't Stop Loving You and co-wrote the No. 1 single Man in the Mirror and Rod Templeton, who wrote Jackson's Rock With You and the iconic Thriller. Also offering his expertise will be Bruce Swedien a five time Grammy Award-winning audio engineer and music producer. The team, who were responsible for creating the King of Pop's record-breaking albums, Off The Wall, Thriller and Bad, will give insight into the experience of producing the greatest selling album of all time.

The next day, on September 25, a day before they take the stage to perform, wil.i.am and Timbaland will lead a panel discussion. They will also pick a winner from five pre-screened upcoming Arab artists who will then be signed by Sony and managed by Jones' label.

Then there is Midem, on the 26th and 27th, which will feature conferences attended by musicians, producers, managers, journalists, labels, app developers and content creators from around the world. The 27th will also be Selena Gomez' turn to perform as part of her Stars Dance world tour.

Another event, called the Pepsi Band Slam, will see six regional bands compete for the chance to open for X Factor Arabia winner Rifi on the free Arabic night on the 29th.

Why Dubai?



will.i.am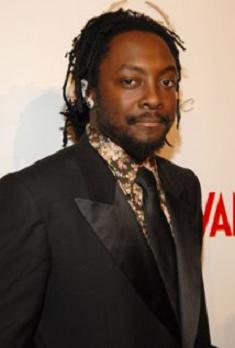 Jones and Jafar said in a joint statement that "I strongly believe in the social powers of arts and entertainment, and so am constantly looking to see how best to use these spheres to create positive social impact."

"We both believe this collaboration with DWTC will provide a cultural exchange between our region and the rest of the world, using music's amazing power to foster a better understanding and an appreciation for our common values."

An official release explains: "As a melting pot of people, races and musical genres and inspiration, Dubai's ideally placed to bring disparate musicians, labels, brands and bands together for the opportunity to learn, listen, network and embrace the music industry in all its forms.

"There are approximately 200 nationalities living in the UAE making the country truly global. Dubai has become a business hub for an ever growing region, boosted by growth in key industries, business friendly policies and its strategic geographical location. Dubai had approximately 15 million tourists in 2012. Today it does not take business owners more than three days to start-up their businesses officially in Dubai."

Named by Time Magazine as one of the six most influential Jazz artists of the 20th Century, Quincy Jones's career spans six decades in the entertainment industry. With 27 Grammy Awards and a record 79 Grammy Award nominations, his experience and knowledge in the music industry is what the expected audience of thousands will be looking to learn from.

Another strong support beam is the involvement of Midem as curator. Midem is the acronym for Marché International du Disque et de l'Edition Musicale, which is organized annually in and around Cannes, France. The tradeshow, which is billed as the leading international business event for the music ecosystem, has been held since 1967 Next Midem takes place February 1-4, 2014.

Midem's strong presence in the Dubai conference sends a message that the event is the key music conference in the entire Middle East/Africa, India and South East Asia region. Musicians, Producers, Managers, Journalists, Labels, App Developers and Content Creators from around the globe attending the event, will create the region's first major music hub.

"Midem will promote the DMW conference event towards its highly qualified database of international Music and Technology Brands and Delegates, introducing DMW to a global audience." Their seminars and keynote speakers include: Midem Best of Digital Marketing Campaigns in 2013 with Karim Fanous head of research at Music Alley in the UK. A seminar in Innovation in Rights Management features Richard Conlon, Sr. VP, Corporate Strategy Communications & New Media at BMI USA, Claude Gaillard, Director of International at Sacem in France and Jihad Nehme Executive Manager, Publishing Department and International Operations at Rotana Publishing UAE.

The Music Starups Demonstration Session will have input from Arthur Dagard and Guillaume Jouannet the co-CEO's of Evergig in France.

A session about Social Music & Streaming features Eddy Maroun, co-founder & CEO of Anghami in Lebanon, Marwan Sl Sesdhi (aka DJ Bliss) producer and radio and television personality who is the founder of Bliss, Inc in UAE and Patrick Boulos managing director MEA Region, Universal Music UEA.

Challenges in Music Publishing will be discussed by Natasha Baldwin the Group President, Creative & Marketing of Imagem UK, Jean Marie Riachi the founder OMP in Lebanon, Mandar Thakur COO Times Music India and Hussain Spek Yoosuf founder/managing director of PopArabia UAE.

Keynote Sessions include Successful Music & Brand Partnership with Freank Cooper III, Chief Marketing Officer, Global Consumer Engagement PepsiCo, Inc. USA., Mohammad Rifi, winner of X-Factor Arabia in Morocco, Shridhar Subramaniam president of Indian and Middle East Sony Music Entertainment India, Bill Werde editorial director of Billboard USA.

Music: A Mobile-first Experience will spotlight Karan Grover entertainment lead India, Middle East & Africa Nokia, Laurence Le Ny director of music and cultural partnerships Orange France and Stephen Titmus music manager Shazam UK.





Broadway To Vegas is supported through advertising and donations. Priority consideration is given to interview suggestions, news, press releases, etc from paid supporters. However, no paid supporters control, alter, edit, or in any way manipulate the content of this site. Your donation is appreciated. We accept PAYPAL. Thank you for your interest.





ART AND ABOUT


NORMAN ROCKWELL: BOY SCOUTS a new exhibition features selected works by America's quintessential illustrator. Drawing upon the archival collections of the Norman Rockwell Museum, as well as additional oil-on-canvas paintings from the National Scouting Museum, this special exhibition offers a glimpse into the artist's body of work for the Boy Scouts of America.

With over 75 pieces including paintings, drawings, gelatin silver prints, book covers, personal artist's supplies, early scouting artifacts and more, this fascinating installation celebrates the organization's century-plus history (2010 was the 100th anniversary). During the same time period, Scouting Through the Years will be presented in The Museum's Central Gallery. This exhibition, presented in partnership with the World of Scouting Museum in Valley Forge, Pa., is a look at the evolution of Scouting over the past century, and includes historical memorabilia such as uniforms, badges/patches, awards, flags, photos, equipment and more.

When the Boy Scouts of America organization was still in its infancy, Norman Rockwell became one of its key illustrators - an important early achievement for the young man fresh out of art school. His first assignment for the Boy Scouts was to create pen and ink drawings for their Hike Book in the fall of 1912. Shortly after, at the age of nineteen, Rockwell was appointed art editor of Boy's Life magazine, a post that required him to create imagery for the publication and supervise work delegated to other artists. He created more than 200 illustrations for this publication.

As his style matured and the Rockwell name became known, he was hired by outside publishers to compose illustrations for children's books and periodicals. When his tenure began with The Saturday Evening Post in 1916, Rockwell left the salaried position at Boy's Life, but continued to include Scouts in Post cover images and the monthly magazine of the American Red Cross. He resumed work with the Boy Scouts in 1924 with the production of his fifty-one annual images for Brown and Bigelow's highly successful Boy Scout Calendar. His connection to the group spanned sixty-four years, making the longest professional association of his career.



Saying Grace was named Rockwell's most popular cover years after it appeared on the 1951 Thanksgiving issue of the Saturday Evening Post, The idea was submitted to Rockwell after a reader saw a Mennonite family praying in a restaurant. Photo: Sotheby's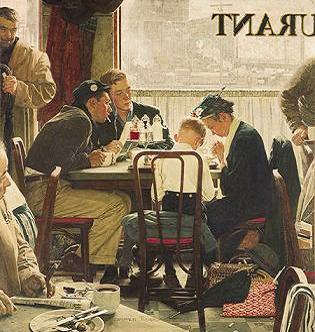 Rockwell depicted the theme of gossip several times in his career. In his movie-montage-like work The Gossips, the artist uses his Arlington, Vermont, neighbors as models, as well as his wife Mary (second from left and third row from top) and himself (bottom row right, in a hat). Photo: Sotheby's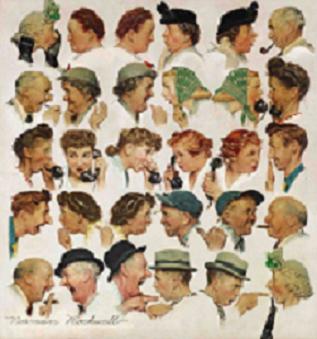 In related Norman Rockwell news, seven Rockwell Saturday Evening Post covers will go under the hammer on December 4 at Sotheby's in New York City.

The seven paintings by Norman Rockwell from the family of Kenneth J. Stuart, Sr, include one masterpiece as well as several completed works and color studies. The artist's longtime friend, Stuart was art editor at the Saturday Evening Post, the publication that became nearly synonymous with Rockwell's influential vision of American life. Rockwell's personal and professional relationship with Stuart coincided with the artists most productive and creative period.

It is anticipated that the sale of Saying Grace, which appeared on the November 24, 1951 cover. Four years later a Post poll listed the cover as a 'reader;s favorite.' Named Rockwell's most popular cover years after it appeared on the 1951 Thanksgiving issue of the Saturday Evening Post, Rockwell's Saying Grace was based on a reader's idea submitted to the artist about seeing a Mennonite family praying in a restaurant. Rockwell depicted several of his favorite models, including his son Jarvis, seated at the table with his back to the window next to Rockwell's studio apprentice Don Winslow.

Sotheby's has an estimated price of $15m-$20m and could break the record of $14.5m for a Rockwell at auction. The Post paid Rockwell $3,500 for that cover drawing.

Similarly beloved by Rockwell followers is The Gossips, a montage of pairs of faces facing one another and chattering in intent, seemingly heated conversation. The figures were neighbors of Rockwell and also include his wife Mary and himself in the same pose, he wagging his finger. It could fetch up to $9m. The last of the three most treasured of the lots is entitled Walking to Church which appeared on the cover on April 4, 1953.

The auction is considered a serious loss to the popular Norman Rockwell Museum in western Massachusetts, which has been home to all three of the pictures for 20 years. They were on loan from the family of Kenneth Stuart, and are being put up for sale only after years of legal wrangling between his heirs.

Select Rockwell works will be on display at Sotheby's Los Angeles September 25-26, at Hong Kong Convention & Exhibition Centre October 3 to 7 and at Sotheby's New York November 1-13 and November 29 to December 3.

DIRECTOR GARY TINTEROW TALKS WITH RONALD S. LAUDER in the third edition of this year's Conversations with the Director series. Arts patron and noted collector Ronald S. Lauder established the Neue Galerie in New York in 2001, the landmark museum devoted to early 20th-century German and Austrian art and design.

In this conversation, he will discuss his years of collecting art, from antiquities and medieval art to modern masters, as well as his passion for Austrian and German art of the early 20th century.

Friday, September 27, at the Museum of Fine Arts in Houston, Texas.


SWEET CHARITY


ORBIS

Sophie Countess of Wessex, the wife of Prince Edward, watches an ORBIS doctor examine a young eye patient. Photo: Getty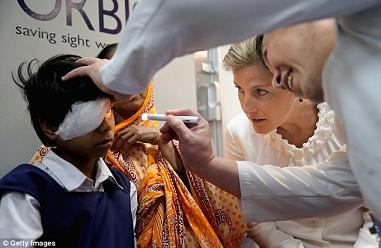 the international non-profit organization fighting blindness in developing countries, where 90 percent of the visually impaired reside, recently had some royal support in the form of Sophie Countess of Wessex, the wife of Prince Edward.

During her weeklong tour of Indian she visited an eye hospital where she donned protective blue shoe covers when she entered the operating room at the Susrut Eye Foundation in Kolkata, West Bengal.

The hospital is an advanced eye care unit and the mother-of-two learned about the sight-saving treatments. She even tried a cataract surgery simulator that helps teach physicians the procedure.

The India childhood blindness initiative was launched in 2002 to help ensure that the country's children have access to quality eye care. Sophie met patients, staff and volunteers on board a converted DC-10 Aircraft which ORBIS has converted into a flying ophthalmic hospital and training facility. The plane makes it possible for the doctors to care for people in rural communities.

According to the World Health Organization, 285 million people worldwide are visually impaired - yet 80 percent suffer needlessly. Their blindness could have been prevented or treated.

ORBIS maintains an office in New York.

BORN FOR BROADWAY their fourth annual celebrity cabaret, featuring Broadway and TV stars donating their time and talent to raise money for paralysis-based organizations, will be take place at 54 Below in New York City, on Monday September 30, 2013.

Tony nominated director Marcia Milgrom Dodge will direct; Lawrence Yurman is Music Director.

Tony winner James Naughton, Tony winner Julie White, Tony Goldwyn, Tony nominee Richard Kind, Kathie Lee Gifford, Jenna Ushkowitz, Tony nominee Malcolm Gets, Vicki Lewis, Tony nominee Orfeh, and Aaron Lazar are among the many Broadway and TV stars that have performed in Born for Broadway galas.

Born For Broadway was created ten years ago as a student sponsored cabaret at Marymount Manhattan College, where Founder & Executive Producer Sarah Galli was enrolled as a performance major. Sarah created the show as a way to give back after her brother, Jeff, suffered a spinal cord injury in 1998 in a diving accident.

The mission of Born For Broadway is to engage college campuses across the nation in raising funds for paralysis related organizations. By engaging young artists and producers in this philanthropic commitment, students have an opportunity to produce their own musical theatre production, while using their time and talent for a greater cause. The annual Broadway gala showcases the performances of both established performers as well as emerging talent.

All funds contributed from college productions and the gala benefit research and quality of life for individuals living with paralysis, through both national and grassroots non-profit organizations.

STING will perform ten concerts to benefit New York's Public Theater art organization. The concerts will run from September 25 through October 9 at the 260-seat Anspacher Theater at the arts organization in Manhattan.

The concerts will feature songs from his latest CD The Last Ship, partially based on memories of Sting's childhood.

The Last Ship is also being turned into a stage musical by Sting, and writers John Logan and Brian Yorkey. The show's story follows the adventures of a man named Gideon, who leaves his shipbuilding town, only to return 14 years later to find the economy a shambles and his childhood sweetheart engaged to someone else.

"The memories at the heart of The Last Ship have occupied my mind for most of my life," explained Sting in a press release.

"I was compelled to tell this story, and I've had the great fortune of collaborating with an enormously talented team."

The musical is slated to premiere at Chicago's Bank of America Theatre beginning June 10, 2014, prior to opening on Broadway.


THE MUSIC GOES ROUND AND ROUND


AARON TVEIT: THE RADIO IN MY HEAD released on Broadway Records, recorded live at 54 Below, the venue that is one of the best things to happen in New York City in decades.

Aaron Tveit is an amazing talent. He's also just too cute for words. His debut CD Aaron Tveit: The Radio In My Head may be his first, but it won't be his last. He has a long career ahead of him, so make room on your CD shelves for many more Tveit CDs.

This CD of 23 songs comes with a cool booklet, which features several photos of Tveit, for those who would care to drool as they listen.

Tveit is known to many from his roles in three mediums: television, film and Broadway. He stars as undercover FBI Special Agent Mike Warren in the USA Television series Graceland. He starred as Enjolras in the 2012 Golden Globe winning film of Les Miseables. In Broadway he created the role of Frank Abagnate, Jr. in Catch Me If You Can, as well as originating the role of Gabe in the Tony and Pulizer Prize winning musical Next to Normal. He has also appeared on Broadway in Wicked and Hairspray.

When something is good, and this is, there is no point in overanalyzing why it is good. It simply is. Tveit is a rare talent. First albums alwys end up becoming collector's albums - some for the right and others for the wrong reasons. For all of the right reasons, buy and enjoy this CD. Then either take very good care of it, or buy a second copy to save, because this is a CD that will be enjoyed by your children and grandchildren. Tveit is so young that children and grandchildren will one day also be Tveit fans.

In the booklet Aaron explains the carefully thought out selections. "My aim was to share some of the songs that have meant a tremendous to me and how those particular songs have, in a way, mapped my life and career as an artist and a singer. I also wanted to make the show very personal, sharing the stories of why these songs meant so much to me."

Just a few of the selectins include: standards - Billy Joel's She's Always A Woman, Johnny Mercer and V. Schertzinger's I Remember You. Show tunes such as Leonard Bernstein and Stephen Sondheim's Something's Comin, Richard Rodgers and Oscar Hammerstein's If I Loved You, Lorenz Hart and Richard Rodgers' My Romance, Marc Shaiman and Scott Wittman's Goodbye, Run Away With Me and pop tunes represented by Joni Mitchell's A Case of You, Bob Dylan's To Make You Feel My Love, and We Are Never Ever Getting Back Together by Max Martin, Taylor Swift and Shellback.

Music Director/Piano and arrangements by Bryan Perri
Guitar Eric B. Davis
Bass Michael Blanco
Drums Damien Bassman.

Mixed at Kontinuous Jams Studios. Mastered by Greg Reierson of Rare Form Mastering. Engineer Lake Baum.

FOH Mix & Recording Engineer Kris Umezawa.

CD Packaging Design and Layout by Van Dean.







SPREADING THE WORD


NOT A BAD ENDORSEMENT In a wide ranging interview with the Rev. Antonio Spadaro, Jesuit and editor in chief of La Civiltà Cattolica, the Italian Jesuit journal. Pope Francis stated that his favorite movie was "La Strada, by Fellini, is the movie that perhaps I loved the most. I identify with this movie, in which there is an implicit reference to St. Francis. I also believe that I watched all of the Italian movies with Anna Magnani and Aldo Fabrizi when I was between 10 and 12 years old."

Their movies included the Roberto Rossellini directed Rome Open City.

In addition to Rome Open City, the Magnani films which would have been showing during the age period Pope Francis referenced include: Woman Trouble, L'amore, Scarred, Lo sconosciuto di San Marino, Angelina, Peddin' in Society, Before Him all Rome Trembled, The Bandit, Revenge, amd Down with Misery.

Fabrizi was a beloved and hugely popular Italian comic. He was an actor/writer/director, in music halls and variety shows for much of his early career.

The 1954 classic La Strada was written by Fellini and Tullio Pinelli and scored by Nino Rota. La Strada was the winner of the first official Academy Award for Best Foreign-Language Film, awarded in 1956.

The Italian neo-realist drama is set in a seedy travelling carnival, this symbolism-laden drama revolves around brutish strongman Zampano(Anthony Quinn), his simple and servile girlfriend Gelsomina (Giuliette Masina, Fellini's wife), whom he has purchased from her mother and takes her with him to see the world. They encounter his old rival the Fool, a clown/aerialist Matto (Richard Basehart). Appalled at Zampano's insensitive treatment of Gelsomina, the gentle-natured Matto invites her to run off with him; but Gelsomina, like a faithful pet, refuses to leave the strong man's side. Eventually Zampano's volcanic temper erupts once too often, leading to tragic consequences.

La Strada has been described as: "always conveyed to audiences a certain universal significance which has made it one of the most revered films in world cinema; an artistic masterpiece that transcends national borders to deliver a profound commentary on the nature of the human condition and our most basic needs as sentient creatures."

LAUGHTER AND REFLECTION WITH CAROL BURNETT a conversation with Carol where the audience asks the questions takes place September 29, 2013 at The Smith Center in Las Vegas.

Patrons are invited to "bring your questions for a hilarious, impromptu, audience interactive evening with actress, comedienne, and author."

BROADWAY COMES TO LOWER MANHATTAN WITH BROADWAY ON THE HUDSON produced by the Broadway League.

The free outdoor concert, which begins at 12:30 pm at Brookfield Place Waterfront Plaza on Friday, September 27, will feature performances from nearly a dozen Broadway shows.

Participating shows are expected to include: Annie, Chicago, First Date The musical, Newsies, The Phantom of the Opera, Pippin, Rodgers + Hammerstein's Cinderella, Rock of Ages, Soul Doctor and Spider-Man Turn off the Dark.

LATIN GRAMMY AWARD NOMINATIONS will be announced on Wednesday, September 25, at the Avalon Hollywood Hotel in Hollywood.

Reading off the nominations will be nine-time Grammy winner Natalie Cole, Latin Grammy winner Aida Cuevas, bachata artist Leslie Grace, singer/songwriter Gaby Moreno, lead vocalist of Intocable Ricky Muñoz, two-time Latin Grammy-winning singer/songwriter Draco Rosa, and five-time Latin Grammy and Grammy winner Julieta Venegas.

The 14th Annual Latin Grammy Awards will be broadcast live on the Univision Network from the Mandalay Bay Events Center in Las Vegas on November 21, 2013.

THE OREGON SHAKESPEARE FESTIVAL has announced the selection of three key positions on the Festival's Leadership Team. Ted DeLong, who served as Associate Producer, Company on an interim basis since August 2011, has been chosen to fill the new General Manager position. Becky Ross has been selected as OSF's Director of Development. She assumed the position in May 2012 on an interim basis, with the understanding that a national search would be conducted once a new Executive Director was in place. (Cynthia Rider joined OSF as executive director in January 2013, and the search for director of development commenced in late April.) Mica Cole has joined the Artistic Office as the new Associate Producer, Company, and will report to Artistic Director Bill Rauch.


OTHER PEOPLE'S MONEY


THE RECORDING ACADEMY has extended President/CEO Neil Portnow's contract through 2019, it was announced by Chair of the Board Christine Albert. At its semiannual meeting in May, the Board voted unanimously to keep Portnow at the helm of the nonprofit music membership organization. Portnow, who had two years remaining on his existing contract, is now in his second decade at the helm of the premier music organization. He became President of The Academy in December 2002 and was promoted to President/CEO in September 2007.

In addition to his role as President/CEO of The Recording Academy, Portnow is also President/CEO of MusiCares and the Grammy Foundation, Chair of the Board of the Grammy Museum, and a member of the Board of Trustees of The Latin Recording Academy.

CHRIS JENNINGS Managing Director of the Shakespeare Theatre Company in Washington, DC reports that "this week the Shakespeare Theatre Company has reached an agreement that ensures we will continue to occupy our longtime home in the Lansburgh Theatre.

"We initiated litigation in June 2012 as a last resort, only after the landlord insisted upon an exorbitant rent increase and ordered us to vacate the Lansburgh Theatre premises. A court order entered the following December stopped the defendants from evicting or otherwise interfering with the STC supporting charity while all parties continued negotiations.

"Both sides reported to the DC Superior Court today (Sept. 20) that we have negotiated and documented a final agreement. STC representatives signed this agreement today and once signed by the developer – we expect this matter to finally be concluded. Under the terms of this agreement, we will stay in the Lansburgh Theatre under a succession of 20-year leases which will automatically renew as long as STC is operating as a theatre company and properly maintaining the premises."

MICHAEL FEINSTEIN'S contract as Principal Pops Conductor of the Pasadena Pops Orchestra has been extended through 2016.

Pasadena Symphony Association President Diane Rankin and Chief Executive Officer Paul Jan Zdunek made the announcement. His current contract was for a 1-year term. The "decision represents a confident commitment to Feinstein and support for his vision for the Pasadena POPS Summer Concert Series at the Los Angeles County Arboretum and Botanic Garden."

Feinstein serves as Artistic Director of the Palladium Center for the Performing Arts, a $170 million, three-theatre venue in Carmel, Indiana, which opened in January 2011. The theater is home to an annual international Great American Arts festival, diverse live programming and a museum for his rare memorabilia and manuscripts. Starting in 2010, he became the director of the Jazz and Popular Song Series at New York's Jazz at Lincoln Center.

He has designed a new piano for Steinway called "The First Ladies," inspired by the White House piano and signed by several former First Ladies. It was first played to commemorate the Ronald Regan centennial on February 6, 2011.



THE 65th ANNUAL CREATIVE ARTS EMMYS

Bob Newhart wins his first Emmy. Photo: Getty Images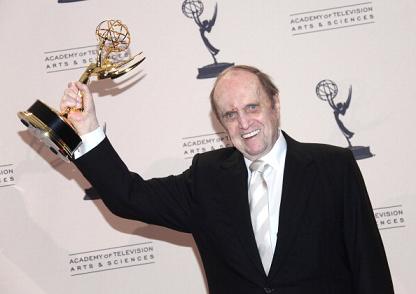 were awarded Sunday, September 15, 2013 at the Nokia Theatre in Los Angeles.

Highlight of the event was Bob Newhart, 84, winning his first Emmy.

Most people simply assume that he'd already won an Emmy. Probably several Emmys. Maybe so many statuettes that the maid charges extra for dusting and polishing them.

After eight nominations, last week the comic icon finally took home the prize for his guest starring role in The Big Bang Theory. Newhart is set to make a return guest appearance as Arthur Jeffries/Professor Proton on The Big Bang Theory this season. He'll tape than episode in October.

For decades Newhart was a regular Las Vegas showroom headliner. His last appearance in Sin City was last May when he and his best buddy Don Rickles appeared at the AARP convention. They discussed everything from their friendship to what it was performing when the mob ran Las Vegas.

In addition to the Newhart win, results that might be of special interest to Broadway To Vegas readers include:

Outstanding Guest Actress in a Drama Series
The Good Wife, CBS. Carrie Preston as Elsbeth Tascioni

Outstanding Guest Actress in a Comedy Series
Louie, FX. Oscar winner Melissa Leo.

Outstanding guest Actor, Drama Series
Scandal, ABC. Dan Bucatinsky as James Novack

Outstanding Music Direction
66th Annual Tony Awards, CBS. Elliot Lawrence, Music Director

Outstanding Music Composition for a Series (Original Dramatic Score)
Downton Abbey, Episode 6, PBS. Music by John Lunn.

Outstanding Original Music and Lyrics
66th Annual Tony Awards, If I Had Time, CBS. Lyrics by Adam Schlesinger. Music by David Javerbaum.

Outstanding Music Composition for a Miniseries, Movie or a Special (Original Dramatic Score)
World Without End, Medieval Life And Death, ReelzChannel. Music by Mychael Danna.

Outstanding Original Main Title Theme Music
Da Vinci's Demons, Starz. Music by Bear McCreary.

Outstanding Directing for Nonfiction Programming
American Masters, "Mel Brooks: Make a Noise," PBS. Directed by Robert Trachtenberg.

Outstanding Special Class Programs
66th Annual Tony Awards, CBS

Outstanding Technical Direction, Camerawork, Video Control for a Miniseries, Movie or a Special
66th Annual Tony Awards, CBS. Eric Becker, Technical Director. Cameras: Rob Balton, Gerard Cancel, Bob DelRusso, Charlie Huntley, Ernie Jew, Salvatore "Tore" Liva, John Meiklejohn, Lyn Noland, Mark Renaudin, Shaun Harkins, Jay Kulick, Paul Ranieri. Video Control Ka-Lai Wong.

Outstanding Directing for a Variety Special
The Kennedy Center Honors, CBS. Directed by Louis J. Horvitz.

Outstanding Variety Special
The Kennedy Center Honors, CBS

Outstanding Host for a Reality or Reality-Competition Program
Project Runway, Lifetime. Hosts Heidi Klum and Tim Gunn.

Outstanding Reality Program
Undercover Boss, CBS Extive Producers: Eli Holzman, Stephen Lambert, Chris Carlson. Producers: Scott Cooper, Rachelle Mendez, Abigail Shafran, Brielle Cohen.

The Prime Time Emmy Awards, hosted by Neil Patrick Harris, take place tonight, September 22, 2013.



POSSIBILITY JUNKIE a new musical theater work with music and lyrics are by David Ippolito. Book by David Ippolito and Gretchen Cryer. The show is directed by Cryer.

Musical director is Mike Murray.

The performers are Jillian Louis, Rob Barnes, Joel H. Jones, David Ippolito, Vanessa Theus, JC Hall and Teresa Reynolds. There is an onstage orchestra of five. The story is based loosely on the career of David Ippolito, who is known as That Guitar Man from Central Park. "Part singer/songwriter, part storyteller, part social-commentator and humorist, Ippolito has become famous for his simple catch phrase, "It's just us," and his ability to turn a large crowd of strangers into a group of friends." His performance space - a lakefront area a few blocks north of Strawberry Fields and West 72nd Street - is now indicated on Central Park maps and his reputation as a New York attraction is international.

Choreography is by David Eggers. Set design is by Heather Wolensky.

It was Broadway legend Tony Walton, would persuaded Ippolito to develop a stage musical to bring his music and message to a wider audience. Thus was born Possibility Junkie, the musical. "It's the story of a fiercely independent street musician who writes a funny but politically charged song poking fun at a thin-skinned conservative talk-show host, Sean Kilroy, who's a star of the thinly-fictional broadcast organization FAX News and who considers himself the voice of America. "The satirical song goes viral on YouTube, which really pisses off this powerful right-winger. So Kilroy sends a beautiful and ambitious young woman on a special assignment to entrap and destroy the Guitar Man. It sets up a David and Goliath scenario and a ride that's unpredictable, thought-provoking and fun. Throughout, Possibility Junkie retains the optimism and fiercely independent spirit that has characterized Ippolito's career to-date."

Tony Walton refers to the show as a 'grandchild of Hair."

Theater for the New City hosted the piece for a developmental workshop in September, 2012 and will now present the full production September 28 to October 20, 2013.

HONEYMOON IN VEGAS a new musical featuring music and lyrics by Jason Robert Brown and a book by Andrew Bergman, who wrote and directed the 1992 film.

Directed by Gary Griffin. The musical will have choreography by Denis Jones and musical direction by Tom Murray.

Starring Tony Danza as Tommy Korman, Tony nominee RobMcClure as Jack Singer; and Brynn O'Malley as Betsy Nolan. Tony nominee Nancy Opel as Bea Singer, Matthew Saldivar as Johnny Sandwich, David Josefsberg as Tony Rocky/Roy Bacon and Catherine Ricafort as Mahi.

The ensemble includes: Matt Allen, Stanley Bahorek, Tracee Beazer, Grady McLeod Bowman, Barry Busby, Daniel J. Edwards, Paige Faure, Leslie Donna Flesner, Garlen Gilliland, Sarah Marie Jenkins, Max Kumangai, Raymond Lee, George Merrick, Mara Newbery and Katie Webber.

Honeymoon in Vegas tells the story of Jack Singer, a regular guy with an extreme fear of marriage. When his girlfriend Betsy puts the pressure on, Jack finally pops the question and they head to Sin City for a whirlwind wedding weekend. But when Vegas wise guy Tommy Korman catches a glimpse of the stunning bride-to-be, and notices her uncanny resemblance to his late wife, he does everything possible to break up the romance and get his own second chance at love.

Performances September 26-October 27 at Paper Mill in Milburn, New Jersey.

FLOWERS FOR ALGENON written by David Rogers. Inspired by the book by Daniel Keyes. Directed by Matthew McCray.

Using its signature, award-winning combination of signed and voiced theater to bring new perspective to this modern American classic.

Starring Hillary Baack, Josh Breslow, Daniel Durant, Sean Easton, Karla Gutierrez, Charles Katz, Bruce Katzman, Alek Lev, Sarah Lilly, Crystal Lott, Shanna Sorrells, Melanie H. Vansell.

Poignant, funny and thought-provoking, Flowers for Algernon is the story of Charlie Gordon (Daniel Durant), willing subject of an extraordinary experiment, and the strange interweaving of his life with Algernon, a mouse whose intelligence has been increased threefold by the daring new procedure.

When the operation is performed on intellectually disabled Charlie, his mental capacity changes and so does his life. Suddenly, Charlie (voiced by Josh Breslow) must deal with his blossoming love for his former teacher (Hillary Baack); the uncovered memory of how he was treated as a child by his mother (Sarah Lilly) and sister (Crystal Lott); the complications that arise when his own intelligence exceeds that of his employer (Melanie H. Vansell) and his doctors (Charles Katz, Bruce Katzman and Alek Lev); and conflicting emotions regarding his own former, childhood self (voiced by Sean Easton).

Deaf West Theatre productions weave American Sign Language (ASL) with spoken English to create a seamless ballet of movement and voice. In a unique twist on the Flowers for Algernon story, Charlie learns to celebrate his deaf identity and becomes a master of ASL, a "super-signer."

"ASL will be the visual embodiment of the high IQ that Charlie achieves," says Deaf West artistic director David J. Kurs. "As Charlie's IQ grows, his signing will become ever more fluent and beautiful, until he is creating pictures in the air."

Set design is by Sarah Krainin, lighting design is by Jeremy Pivnick, costume design is by Gwyneth ConawayBennison [sic], sound design is by Joseph "Sloe" Slawinski and projection design is by Adam Flemming. The ASL Master is Shoshannah Stern, and assistant ASL Masters are Benjamin Lewis and Amber Zion. David J. Kurs and Laura Hill produce for Deaf West Theatre.

Flowers for Algernon runs September 28 through November 3, 2013 at The Whitefire Theatre in Sherman Oaks, CA.

An Audience Talk Back with special guest David Serlin, Associate Professor and Chair, Department of Communication UC San Diego, will follow the matinee performance on Sunday, October 6..

PUTTING IT TOGETHER music and lyrics by Stephen Sondheim. Directed by Alastair Knights, with choreography by Matt Rowland, and associate direction and choreography by Scarlet Wilderink. Presented by Alex Parker, who is also the show's musical director of a seven-piece band.

With an all-star cast including Olivier Awards Winners Janie Dee and David Bedella with Daniel Crossley, Damian Humbley, and Caroline Sheen.

Called "a revue with a difference… A revue that tells a story."

Set at a cocktail party in New York City, two couples - one middle-aged and married, the other young lovers just starting out - reflect through the songs of Stephen Sondheim on the complexities that make up modern relationships.

Putting It Together was previously seen off-Broadway at Manhattan Theatre Club in 1993 and subsequently on Broadway in 1999. Billed as "an exciting new production of this dazzling Sondheim revue, staged exclusively for 4 performances only, September 27-29, at the G Live Studio, Guildformd England.

THE LARAMIE PROJECT by Moisés Kaufman and Members of the Tectonic Theatre Project; directed by Matthew Gardiner. Part of The Lincoln Legacy Project

The Laramie Project presents a deeply complex portrait of a community's response to the 1998 murder of Matthew Shepard, a young gay man living in Laramie, Wyoming. In a series of poignant reflections, the residents of Laramie react to the hate crime and surrounding media storm with anger, bewilderment and sorrow.

The play portrays the seismic and deeply personal impact Matthew's death had on this small town while also demonstrating the power of the human spirit to triumph over bigotry and violence. Fifteen years later, Matthew Shepard's story still reverberates, urging us on with its clarion call to confront the destructive power of bullying and hate, in all forms.

The Laramie Project is the third offering in the multi-year Lincoln Legacy Project - an effort to generate dialogue around issues of tolerance, equality and acceptance.

September 27-October 27, 2013 at Ford's Theatre in Washington, DC.

THE LAST GOODBYE Conceived and Adapted by Michael Kimmel. Music and Lyrics by Jeff Buckley. Orchestrations, Music Direction and Arrangements by Kris Kukul. Choreography by Sonya Tayeh. Directed by Alex Timbers.

A new musical fusing Shakespeare's Romeo and Juliet with the incendiary music of rock icon Jeff Buckley.

Featuring:. Hale Appleman (Mercutio), Jay Armstrong Johnson (Romeo), Stephen Bogardus (Friar Laurence), Nancy Snow Carr (Lady Montague), Shannon Cochran (Lady Capulet), Talisa Friedman (Juliet), Brandon Gill (Benvolio), Bryan Scott Johnson (Montague), Eric Morris (Paris), Daniel Oreskes (Capulet), Tonye Patano (Nurse), Wallace Smith (Prince) and Jeremy Woodard (Tybalt) with James Brown III, Billy Bustamante, Drew Foster, Adam Perry, Steve Schepis and Nik Walker (Ensemble), Megan Carmitchel (Additional Vocals), Bradley Gibson (Swing) and Adam Cochran (Band Singer).

The creative tean includes: Christopher Barreca (Scenic Design), Jennifer Moeller (Costume Design), Justin Townsend (Lighting Design), Ken Travis (Sound Design), Ian Hersey (Text Consultant), Kate Waters (Fight Director), Jacob Grigolia-Rosenbaum (Associate Fight Director), Carrie Gardner, CSA (Casting) and Peter Lawrence (Production Stage Manager). September 22 – November 3, 2013 at the Donald and Darlene Shiley Stage, Old Globe Theatre, Conrad Prebys Theatre Center in San Diego, CA.


WHO'S WHERE




AMANDA GREEN with very Special Guests, including Van Hughes, Alison Case, Jenn Colella, Kathleen Monteleone, Jim Newman, JacobMing Trent, Jon Rua & William Youmans. The Broadway at Birdland concert series takes place Sunday, September 29 at Birdland in New York City.

FLEETWOOD MAC open a three night split stand at the 02 in London on Tuesday, September 24 then return for shows on Wednesday and Friday. Next Sunday, September 29, they'll be on stage at the LG Arena in Birmingham, UK.

BLAKE SHELTON performs Thursday, September 26, at the John Paul Jones Arena in Charlottesville, VA. Friday's gig is at the Thompson-Boling Arena in Knoxville, TN. Saturday's show takes place at The Palace in Auburn Hills, MI.

MICHAEL BUBLE performs Tuesday, September 24, at the First Niagara Center in Buffalo, NY. Wednesday's stop is at the XL Center in Hartford, CT. On Friday the tour stops at the Prudential Center in Newark, NJ. Next Sunday, September 29, he's be delighting the crowds at Barclays Center in Brooklyn, NY.

STRAIGHT NO CHASER has a three nighter beginning Thursday, September 26, at the Pearl Concert Theater in Las Vegas.

PET SHOP BOYSentertain Tuesday, September 24, at the Olympia in Montreal, Canada. On Wednesday they star at the SonyCentre in Toronto. Friday's show is at Caesars in Windsor, Ontario and on Saturday their tour stops at the Auditorium Theatre in Chicago.

JUSTIN TIMBERLAKE performs Sunday, September 29, at the iTunes Festival in London.

ALEJANDRO ESCOVEDO AND SHELBY LYNN an An Evening of Stories andSongs, Saturday, September 28 at the Flynn Center in Burlington, VT.

STEVE MARCH-TORME son the legendary late singer Mel Torme comes to the Smith Center in Las Vegas on September 27. He'll be backed by a great jazz trio, presenting ballads and uptempo songs from the Great American Songbook, in addition to original tunes by the vocalist.













Next Column: September 29, 2013
Copyright: September 22, 2013. All Rights Reserved. Reviews, Interviews, Commentary, Photographs or Graphics from any Broadway To Vegas (TM) columns may not be published, broadcast, rewritten, utilized as leads, or used in any manner without permission, compensation and/or credit.
Link to Main Page
---
Laura Deni



For the snail mail address, please E-mail your request.
CLICK HERE FOR COMMENT SECTION