! >
Broadway To Vegas
 
  SHOW REVIEWS CELEBRITY INTERVIEWS GOSSIP NEWS

| | |
| --- | --- |
| | |




TAKE A BACKSTAGE TOUR - -PLAYBOY AUCTION - - FESTIVAL OF NEW MUSICALS - - AUTHORS SPEAK - - DRURY LANE THEATRE TO BECOME A WAL MART - - WOODY HARRELSON DIRECTS THIS IS OUR YOUTH - - HE SHE THEM - - CELEBRITY SLOT MACHINES - - DONATE . . . Scroll Down



By: Laura Deni

BIDDING ON THE BUNNY
from Christie's Auction House

He takes Viagra and wears hearing aides. He's never been more popular. Playboy founder Hugh Hefner,77, spent the week-end in Las Vegas celebrating his brand of a bunny hop and the upcoming Christie's Auction of Playboy memorabilia, currently on a pre-auction tour. From Vegas the items travel to Chicago and then to New York for the December 17th event at Rockefeller Center.

There is that Mecca of DNA - the round bed. And, two of the Hef's little black books circa 1957 and 1958. Expected to gavel down for $8,000 to $12,000, they contain the addresses and - no longer current - phone numbers for Richard Avedon, Oleg Cassini, and artist Leroy Neiman.

A cartoon by Hefner himself, captioned "Man is she stacked," which appeared in the magazine's the first edition, is up for auction. Experts guess it will bring $2,000 to $3,000.

A Mercedes limousine Hef owned will also be on the auction block. The winning bidder will be transported to the Playboy mansion where they will be presented keys to the car from Hefner.

An original Playboy Bunny costume is predicted to go for between $4,000 and $6,000.

The Hefner style and marketing concept changed the mores of America.



"Man is she stacked" by Hugh Hefner. Photo from Christie's Auction House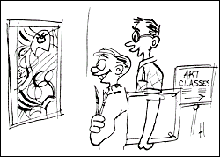 "Affairs of state will be out of our province. We don't expect to solve any world problems or prove any great moral truths. If we are able to give the American male a few extra laughs and a little diversion from the anxieties of the atomic age, we'll feel we've justified our existence." —Hugh M. Hefner in his introduction to the first issue of Playboy

It's a philosophy which worked and has never been altered, although the bunny hutch has been given a face lift and profits are now driven by pay-TV and the Internet.

During the magazine's heyday in the 1970's Playboy had six million readers. Today it's about half that count. Hefner still owns about 30 percent of the company's stock.

Christie's celebrates Playboy Magazine's 50th anniversary with an exciting auction of books, cartoons, illustrations, manuscripts, memorabilia, paintings and photographs from the archives of Playboy Enterprises. Just as each issue of the magazine juxtaposes side-by-side literature, humor, interviews, photographs and artwork, Christie's sale offers a chronological cross-section of Playboy's historical contribution to popular culture during the last 50 years.

The paintings section will showcase the core group of artists who contributed to Playboy's creative evolution and legacy, including LeRoy Neiman, Ed Paschke, Roger Brown and Patrick Nagel.



Photograph of Marilyn Monroe, which appeared in the December 1960 issue, expected to sell for $3,000 to $5,000. Photo from Christie's Auction House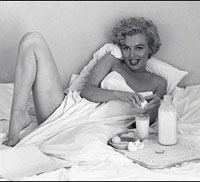 In order to best represent the magazine's history and collection, the sale will also feature a carefully selected group of adult themes and nudity, the core of Playboy's identity. Significant literary contributions by such influential authors as Jack Kerouac, Ian Fleming, Vladimir Nabokov and Jean-Paul Sartre will appear next to historical examples from non-fiction, the "Playboy Interview" and "Dear Playboy".

Further highlights include cartoons by Jack Cole, Eldon Dedini, John Dempsey, Erich Sokol and Shel Silverstein, as well as a selection of "Vargas Girls" by renowned pin-up artist Alberto Vargas.

In addition, photographs to be auctioned include portraits of Elizabeth Taylor, Cindy Crawford, Marilyn Monroe, Madonna and Brigitte Bardot by some of the most recognized contemporary and fashion photographers including Helmut Newton, Herb Ritts, Brett Weston and Lee Friedlander.


CELEBRITY ONE ARMED BANDITS BIG HIT


Company employees may look forward to a gold watch when they retire. For sitcom stars, syndication pasture is having your face plastered on a slot machine.

If the slot machine junkie is going to lose their money, they might as well do it while jerking the handle or punching the buttons of their favorite program.

Slot machine manufactures are happy to comply.

Global Gaming Expo, the largest gaming industry trade show, took place in Las Vegas this past week and there were celebrities everywhere - all insisting that their slot machine was the most fun to play.

Aristocrat Technologies Inc. rolled out 140 new slot machines. More than half of the games introduced were penny slots, "a direct reflection of the industry's move to penny slots as a way to increase time on device and create more winning excitement for players," Vice President of Marketing Kent Young said.



"Rednecks have pennies," said Jeff Foxworthy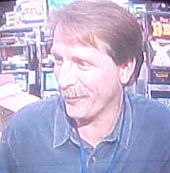 "Rednecks have pennies," explained comedian Jeff Foxworthy, who attended to promote the machine bearing his kisser.

The five-reel video slot entitled "You Might Be a Redneck If..." emphasizes Foxworthy's humor and includes symbols such as an outhouse, a moonshine jug, a beer can and a vintage pickup truck.

International Game Technology, which unveiled 150 new machines, had a booth with non stop celebrity effusion.

There were appearances by four cast members of Gilligan's Island: Bob Denver, Dawn Wells, Russell Johnson and Tina Louise; Penny Marshall and Cindy Williams, the stars of Laverne and Shirley; cartoonist Scott Adams, creator of Dilbert; Gary Burghoff, who played 'Radar' on the M*A*S*H TV series; Jim Lange, host of The Dating Game; Barbara Eden, the star of I Dream of Jeannie; Max Baer, Jr., who played Jethro Bodine on The Beverly Hillbillies; and Dick Clark, the host of American Bandstand.

IGT is the company that signed a deal with actress Elizabeth Taylor, 71, to create two slot machines that will feature her name and image. A megajackpot slot and a game that will give players a chance to win jewelry that she has designed. The actress has recorded voice messages so that the machines will "talk' to players.

The Taylor machine will be one of the first to showcase a celebrity outside the context of an entertainment program. IGT already offers a series of collective jackpot slots called Diamond Cinema that use images of Marilyn Monroe, Humphrey Bogart and James Dean. The company also has Elvis Presley and Frank Sinatra slots.

Many IGT slot machines have themes from vintage television sitcoms and game shows such as Bewitched and The Price Is Right.



Penny Marshall looks over the Laverne and Shirley machine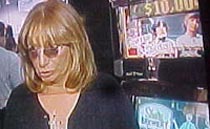 Introduced this year were a slot based on the 1977 Star Wars movie, the 1960s television comedy Gilligan's Island and 1970s sitcom Laverne & Shirley. A Steve McQueen machine also will debut under the Diamond Cinema series, as well as updated versions of existing I Love Lucy, I Dream of Jeannie, Wheel of Fortune and Frank Sinatra machines.

The zany castaways of television's Gilligan's Island will now wash up in the casino. "Every member of the cast is featured in the game so all the characters have a part in the game," said Rich Pennington, executive vice president of product development for IGT. "The show represents a great mix of nostalgia and pop culture that has the makings of a very successful slot theme."



M*A*S*H slot machine

"M*A*S*H's" Radar, Gary Burghoff, spent two days appearing at eight Station Casino properties promoting the new M*A*S*H slot machine.

It's the 4077th, M*A*S*H video slot - the world's first 2 Cent megajackpot - which beckons you to sit down for a drink at the Officer's Club and to visit with the occupants of the Swamp.

Part of IGT's TV Hits series of games, the M*A*S*H game features reel symbols that pay tribute to the characters of the ground-breaking television comedy.

The game orders you to be 'at ease' when three, four or five Helmet symbols land anywhere on the reels.



Barbara Eden's I Dream of Jeannie now a slot machine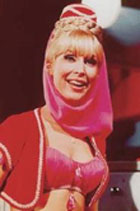 The genie is out of the bottle and on a casino reel with the I Dream of Jeannie slot. The game takes a nostalgic turn when the familiar theme music from the show plays in the background and Jeannie (Barbara Eden) murmurs encouragement to her "master" during the game play.

Three scattered Wish symbols trigger the Three Wishes Bonus. You pick three out of six wishes when Jeannie beckons, "Make a wish." Choices include "I wish I had natural blonde hair" and "I wish my mattress was stuffed with money." If the Bonus Wish symbol is uncovered, you get an extra pick from the wish list.

The Spin the Wheel Bonus, triggered by three, four or five Jeannie Wheel symbols on any payline has the gambler picking the number of spins by choosing bottles from a beach. The familiar TV show theme music plays during the reel spin, credit rollup and bonus play, and the round ends with Jeannie announcing, "Master, you're a winner!"

Dan Aykroyd hosted a party the Palms Casino to introduce the new Bally Gaming Systems one armed bandit based on Saturday Night Live.


SNOOPING AROUND BACKSTAGE


You might think fifth row center is the best seat in the house. Others observe that the best view is the one from a backstage tour.

Across the country theaters encourage people to peek at what makes the fantasy possible. Many tours are free. Others have a nominal charge.

A random check discovered;



Santa Fe Opera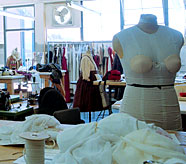 Santa Fe Opera has comprehensive, behind-the-scenes tours which provide a unique opportunity to look in on the makings of opera. Tours include scenic storage areas, the costume shop, properties shop and production areas.

Tours begin July 1 and continue through the closing of the season.

The Arizona Theatre Company in Phoenix Arizona Theatre Company has announced their 2003-2004 season tour schedule of the historic Temple of Music and Art. Beginning on September 27, the tours continue through May 1, 2004.

Temple Tours are conducted anywhere from one to three times a month. Tours begin in the courtyard of the Temple of Music and Art and are guided by ATC docents. Docents will discuss the history of the building, its restoration and renovation, and take visitors on a backstage tour for a behind-the-scenes look at the theatre. All tours are open to the public and free of charge. Reservations are not required.

The Temple of Music and Art was dedicated on October 21, 1927. Virtuoso violinist Jasche Heifetz performed at the Grand Opening ceremony. Throughout its seven decades, the Temple served various functions before finally being historically renovated and rededicated in October of 1990.

Jubilee! the stage spectacular at Bally's hotel in Las Vegas resumed back stage tours on September 15th. This Donn Arden's stage spectacular was produced at a cost of $10 million and features more than 100 dancers and singers wearing $3.5 million worth of costumes.

Having a total width of 190 feet, the Jubilee! stage is half the size of a football field and is 15 stories high from the bottom of the pit to the top of the roof.

The Jubilee! stage utilizes 11 elevators for such sequences as The Sinking of the Titanic to raising dancers on lighted staircases through the floor.

At the conclusion of the tour, there is a live make-up demonstration as a tour guide transforms herself into a beautiful and glamorous Las Vegas Showgirl.

The largest community theatre in the nation, The Omaha Community Playhouse in Omaha, Nebraska, offers tours at no charge. To schedule a tour, just call the theater.

In response to popular demand, A.C.T. now offers behind-the-scenes tours of the Geary Theater in San Francisco. The approximately 75-minute tours are a wonderful opportunity for adults and children to see how theater magic is made! Every tour includes backstage areas otherwise closed to the public. The tour is wheelchair accessible, but the theatre does ask that you let them know by phone in advance if you need specific accommodations.

Shubert Theater in New Haven, Conn also encourages people to come by for a look. Each season hundreds of students and adult members of the community take a trip behind the scenes and "back in time" with a "Backstage Tour" of the historic Shubert Theater. Scheduled one Monday per month, participants are taken onstage and into chorus and star dressing rooms and offer a special viewing of the famous "graffiti walls".

The Lobero Theatre offers free docent guided tours upon request. Learn about the architectural history and tradition of the Lobero, hear about the great performing artists who have performed there and get the inside scoop on what happens behind the scenes of California's oldest, continuously operating theatre. Tour takes approximately 50 minutes and is billed as a great alternative lunchtime activity.

The Lobero Theatre is California's oldest continuously operating theatre. It is designated California Landmark #361. Al Jarreau performed at the Lobero last Thursday.

The Bergan County Players in Oradell, New Jersey have free tours. Teachers and Scout Leaders are urged to arrange tours for their groups. "Youngsters are fascinated by theatre crafts. Let them explore the dressing rooms, backstage areas, lighting, and sound booths, and much more," stated theater officials.

Anything Goes opened at the Bergan County Theatre on September 13th.

Center Stage in Baltimore, Maryland opens its season with Misalliance by George Bernard Shaw October 3-November 2. Tours of Center Stage's historic Mt. Vernon home and their backstage production shops are conducted by Docents who have received intensive training on the history of the building and the theater.

Baltimore's Hometown Resident Professional Theater was launched in 1963. Today Center Stage welcomes more than 100,000 people each season to its award-winning theater in Baltimore's historic Mt. Vernon Cultural District. Time magazine called the theater "an unsung regional of the first rank."

As the theater prepares for its 40th Anniversary season, it welcomes a new Managing Director, Michael Ross, formerly of New Haven's Long Wharf Theater, unveils a challenging new season of plays - including two world premieres of words commissioned by the theater.



The Bushnell
As Connecticut's premier presenter of the performing arts, The Bushnell has delighted and inspired audiences for more than seven decades With an annual roster of over 500 events which welcomes an annual audience of over 600,000.

Behind the scenes tours of The Bushnell Theatre take you through every corner of the performing arts center. You'll experience the glamour of the historic Mortensen Hall; you'll marvel at the luxuriousness of the new Belding Theater; and you'll leave talking about the 14-foot Chihuly chandelier in the Autorino Great Hall.

You'll also be taken through a variety of backstage areas rarely seen by the public - including the autograph room and star's green room.

The theater serves as the performance home of Hartford Symphony Orchestra, Dance Connecticut, Connecticut Opera and The Connecticut Forum. The Bushnell presents major Broadway tours, symphony orchestras, family presentations, travel films and children's theater.

In 2001, The Bushnell also began presenting off-Broadway, jazz, blues, cabaret and comedy performances as well as concerts and world music events.

Broadway's new musical comedy phenomenon, Hairspray is coming to The Bushnell Center for the Performing Arts' Mortensen Hall September 23-October 5th as part of the Phoenix Broadway Series.

Tours are given by experienced volunteer guides. There is no charge for tours, and groups are welcome.


FESTIVAL OF NEW MUSICALS


The 15th Annual Festival of New Musicals will be held on September 21 & 22, at the Douglas Fairbanks and John Houseman Theaters in New York City for an invited audience of National Alliance for Musical Theatre (NAMT) members and theatre producers.

To celebrate the Festival's 15th year, Songwriter Showcase will present highlights of current shows by Alumni Festival writers. The Sunday evening event will be hosted by two-time Tony Award Nominee Mary Testa and Christian Borle, currently playing Jimmy in Thoroughly Modern Millie, a 1996 Festival presentation.

The Showcase will feature songs from; Matthew Sklar and Chad Beguelin's Rhythm Club, Kirsten Childs' Miracle Brothers, Scott Warrender and Jim Luigs' Cinderella, David Friedman and Peter Kellogg's Desperate Measures, Dan Lipton and David Rossmer's Notes To Marianne, Hunter Foster and Rick Crom's Bonnie and Clyde, Douglas Cohen and Cheryl Davis' Barnstormer, Robert Lindsay Nassif and Peter Ullian's Flight of the Lawnchair Man, Robert Lee and Leon Ko's Chinese Hell, Stephen Cole and Claibe Richardson's Night of the Hunter, and Daniel Goldfarb and David Kirshenbaum's Party Come Here.

The complete line-up follows:

The Ambition Bird by Matthew Sheridan; starring Victoria Clark

Ballad of Little Pinks by Alan Menken, Connie Grappo and Marion Adler; starring Frank Valstnik and Lee Wilkof

Harold and Maude by Tom Jones and Joseph Thalken; starring Rita Gardner and Michael Arden

Princesses by Cheri and Bill Steinkellner, David Zippel and Matthew Wilder; starring Tom Wopat, Julie Halston and Jenny Fellner

Sarah, Plain and Tall by Julia Jordan, Nell Benjamin and Laurence O'Keefe and directed by Joe Calarco; starring Becca Ayers, Herndon Lackey and Debra Wiseman

Swing Shift by David Armstrong, Michael Rafter and Mark Waldrop; starring Kim Huber and Judy McLane

Two Queens, One Castle by Jevetta Steele, Thomas Jones II, William Hubbard and J.D. Steele; starring Jevetta Steele

Was by Barry Kleinbort and Joseph Thalken; starring Malcolm Gets, Andrea Burns, Kirk McDonald, John Jellison and Barbara Walsh

Since 1989, NAMT's Festival of New Musicals has introduced musical theatre producers to 131 musicals and 268 writers from around the world.

The mission of the National Alliance for Musical Theatre's Festival of New Musicals is "to expand the musical theatre repertoire by encouraging the production of new musicals; present works that are diverse in ethnicity, subject matter, style, and concept; discover new work and new voices; and nurture creative writing teams."

The Festival is funded entirely by contributions to NAMT, a not-for-profit organization, and is supported in part by a grant from the National Endowment for the Arts. Admission is by invitation only to theatre producers.

The National Alliance for Musical Theatre (NAMT), founded in 1985, is the only national service organization for musical theatre. Its membership includes theatres, booking and presenting organizations, universities, and independent producers. Located throughout 33 states, Canada, Finland, Germany, Spain, and the United Kingdom, member companies vary substantially in size, structure, and purpose, reflecting the increasing diversity of the field. Their common bond is a shared commitment to preserve and enhance musical theatre as the art form that is America's contribution to world theatre.



Broadway To Vegas is supported through advertising and donations. Priority consideration is given to interview suggestions, news, press releases, etc from paid supporters. However, no paid supporters control, alter, edit, or in any way manipulate the content of this site. Your donation is appreciated. We accept PAYPAL. Thank you for your interest.


SPREADING THE WORD
SCREENING AND DISCUSSION American Museum of the Moving Image will present a preview screening of Robert Benton's much-anticipated adaptation of Philip Roth's novel, The Human Stain, on Wednesday, September 24. Following the screening Benton will discuss the film and his impressive career, which includes three Academy Award wins, for writing Places in the Heart and writing and directing Kramer vs. Kramer. The film, starring Nicole Kidman and Anthony Hopkins, will be screened at the Loews Cineplex Lincoln Square in NYC.

CONVERSATION WITH AUGUST WILSON AND REGINA TAYLOR in conjunction with the opening of Wilson's King Hedley II September 26th on the Hertz Stage. The inter-active talk-back session will be hosted by Alliance Artistic Director Susan V. Booth and recorded by the Spoken Word radio show on WABE 90.1, Atlanta's NPR affiliate. The talk back takes place Tuesday, September 30th on the Alliance Stage. Atlanta, Georgia.

TONY KUSHNER the Pulitzer Prize winner's latest play, Homebody/Kabul, is in previews at the Taper Forum in Los Angeles. On September 22 Kusher will be at UCLA Live, for a talk about politics and other timeless matters. Followed by a book signing. Royce Hall, Monday, September 22, UCLA, Westwood, California.

ARTHUR MILLER IN CONVERSATION WITH MEL GUSSOW takes place Monday, September 22 at the 92nd Street Y in NYC. The Unterberg Poetry Center opens its 65th season with a conversation between the Pulitzer Prize winning playwright and the New York Times culture writer. Gussow, author of the book Conversation with Miller, speaks to Miller about his craft and long career in the theatre. Among the topics is the East Coast premiere of Miller's play Resurrection Blues, a satire set in a military-run Latin-American country, it tells the story of a revolutionary leader and a dictator who sells exclusive broadcast rights to his execution to an American television network. That production opened at the Wilma Theatre in Philadelphia on September 17. Gussow will also speak with Miller about his work in progress, a play called Finishing the Picture.


SWEET CHARITY


17th ANNUAL BROADWAY FLEA MARKET AND GRAND AUCTION takes place today, Sunday, Sept. 21. The annual outdoor shop till you drop experience in Shubert Alley raises money for Broadway Cares/Equity Fights AIDS. This event brings out the biggest and brightest stars from Broadway, Off-Broadway, Dance and daytime television to greet fans and sell memorabilia. Casts and company members of dozens of shows are joined by theatrical unions and guilds, producing organizations, local merchants, and many other groups to sell costume pieces, autographs, original scripts, rare photographs, and more. The event also includes the Celebrity Table, where celebrities gather throughout the day to sign autographs and pose for photos in exchange for donations. The highlight of the Flea Market is the Grand Auction, in which singular items and opportunities such as walk-on roles in Broadway shows, television programs and films are available to the highest bidder.

Jim Caruso and WPLJ radio personality Jason Drew co-host the Celebrity Table. The plethora of stars promising to appear include;

11 AM- 12 noon: Real Andrews, Stephanie D'Abruzzo, Christian Borle, Delta Burke, Kerry Butler, Martha Byrne, Hunter Foster, Ann Harada, Dana Ivey, Rebecca Luker, Joe Machota, Tina Madigan, Mary Beth Peil, Chita Rivera.

12 noon-1 PM: Bradley Cole, Ellen Dolan, Harvey Fierstein, Eileen Fulton, Ricky Paull Goldin, Joel Grey, Dick Latessa, Jeff McCarthy, Matthew Morrison, Denis O'Hare, Elizabeth Parkinson, Louise Pitre, John Selya, John Tartaglia, Ashley Tuttle;

1-2 PM: Mario Cantone, Sean Dugan, Lesli Kay, Nathan Lane, Beth Leavel, Grayson McCouch, Donna Mckechnie, James Mitchell, Austin Pendleton, Bernadette Peters, Billy Porter, Roger Rees, Peter Samuel.

2-3 PM: Polly Bergen, Rebecca Budig, Marj Dusay, Tovah Feldshuh, Patricia Elliott, Ilene Kristen, Barbara Luna, Donna Murphy, Bebe Neuwirth, Phyllis Newman, Angelica Torn, Ann Wedgeworth.

3-4 PM: Jennifer Bassey, Barbara Cook, Andre DeShields, Penny Fuller, Randy Graff, Sandra Joseph, Swoosie Kurtz, Andrea McArdle, Mark Menard, Betsy Palmer, Eden Riegel, Jana Robbins, Tamara Tunie, B. D. Wong.

SHIRLEY BASSEY'S GOWNS

Goldfinger Dress. Photo from Christie's Auction House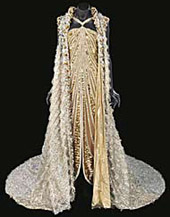 were auctioned off for charity last Thursday. Christie's, in association with Swarovski, hosted the glamorous and glistening sale of Dame Shirley Bassey's costumes.

The fifty breathtaking gowns span the performer's entire career and her preferred designer, Douglas Darnell, created almost all of them.

The majority of the creations are lavishly decorated with the magnificent, sparkling Swarovski crystals.

The Goldfinger Dress, associated with her first hit, the 1964 James Bond theme Goldfinger is a lavishly embroidered gown with graduated Swarovski clear crystals, gold sequins and gold pearl beads and a corresponding sleeveless coat decorated with silver tinsel fringe and sequins.



The Something Dress - sleeveless citrus yellow gown applied with paisley cones embroidered with Swarovski clear crystals, turquoise beads and imitation pearls with cut out shaped sections, with matching stage coat Photo from Christie's Auction House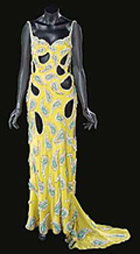 Bassey attended the auction at Christie's in person, to help boost the bidding, which brought in approximately $325,000.

Before the auctioning began, Dame Shirley told the roomful of well-heeled guests and celebrities including broadcaster David Frost, fashion designer Isabelle Kristensen, rock star Bryan Adams, and the Aga Khan: "I feel proud knowing I wore these gowns. I love them all," she said.



The Shimmy Gown, densely decorated and embroidered with imitation pearls, sequins and large imitation pearl drops. Photo from Christie's Auction House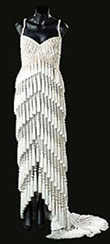 "Parting with these beautiful gowns will be an emotional experience as they have brought me great success in my career and have been loved and admired by so many."

"I am going to leave you with these words." She then broke into song to tumultuous applause and clapping with: "Hey big spender spend a little time with me."

She also got into the act by bidding on - the famous Welsh flag dress, worn at the official opening of the Millennium Stadium. The charitable diva ended up with the high bid of almost $4,500.



The Diamond Dress Photo from Christie's Auction House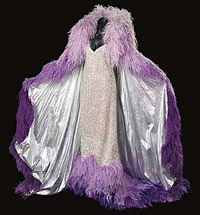 A shimmering chiffon dress, which she wore to sing to President John F Kennedy following his inauguration, sold for almost $4,000.

The money will be split between the Dame Shirley Bassey scholarship and two concerns in her birthplace of Cardiff - the Royal Welsh College of Music and the Noah's Ark Children's Hospital appeal.

The oldest piece up for sale was a 1955 sleeveless gown, known affectionately by the singer as "the diamond dress".

The outfit is a fitted bodice and skirt encrusted with thousands of Swarovski aurora borealis crystals, the flowing train and hem elaborately trimmed with ostrich feathers in tones of purple and a corresponding stage coat weighs an incredible 13 pounds.

One of her favorites gaveled down was a black velvet gown with a three-dimensional orchid made from crystals, The gold and silver sequined and beaded gown associated with her first hit, the 1964 James Bond theme tune Goldfinger.

Another highlight was a fabulous cat suit of natural colored chiffon lavishly embellished with Swarovski aqua marine topaz and aurora borealis crystals - complete with matching coat - which Dame Shirley wore during her 60th Birthday Concert at Althorp Park in 1997.

The auction took place at Christie's in London immediately following a champagne reception.



IT'S ALL RELATIVE

Maggie Lawson, John Benjamin Hickey, Christopher Siebet, Harriet Sansom Harris, Reid Scott, Paige Moss, Lenny Clarke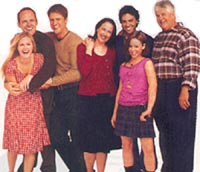 ABC-TV's new sitcom from the writers of Frasier and the producers of Chicago - a pedigree that causes people to take notice. This half hour comedy series is one of the new launches that involves a gay couple.

In this sitcom, working-class Bobby O'Neil played by Reid Scott gets engaged to sophisticated Liz portrayed by Maggie Lawson, the 'traditional' meeting of the parents is anything but. You see, Bobby is from a traditional working class, Irish Catholic family and Liz - well Liz's family is slightly less traditional. She has two Dads - sophisticated art dealers played by John Benjamin Hickey and Christopher Sieber, who don't approve of Bobby's low class background. Nor do Bobby's parents delight in a marriage producing two sons-in-law.

Not since Romeo declared his love for Juliet have two families struggled harder to get along.

It's All Relative stars Broadway stars Lenny Clarke (The Job) and Harriet Sansom Harris (Thoroughly Modern Millie) as Bobby's parents Mace and Audrey, Reid Scott (American Dreams) as Bobby, Maggie Lawson (Nancy Drew) as Liz, Christopher Sieber (Thoroughly Modern Millie) and John Benjamin Hickey (The Crucible) as Liz's Dads Philip and Simon. And Paige Moss (Auggie Rose) as Bobby's sister Maddy.

It's All Relative is produced by Paramount Television and Touchstone Television. Anne Flett-Giordano and Chuck Ranberg - both of Frasier - are executive producers and writers. Craig Zadan and Neil Meron - both of Chicago - are executive producers. The show tapes at Paramount Studios in Hollywood, California and will air on Wednesday evenings beginning October 1st.

THOROUGHLY MODERN MILLIE welcomes Delta Burke to the production, in what becomes Burke's Broadway debut. The television star, who became famous as the star of Designing Women, enters the Marquis Theatre stage September 30th as the delightfully evil Mrs. Meers - a corrupt former actress who dressed up as an Asian dragon-lady to sell orphan chorus girls to a white slave trader.

NICKLE AND DIMED by Joan Holden, adapted from Barbara Ehrenreich's book. Holden is believed to be the most produced female playwright in American theater history.

Presented by Denver's Curious Theatre Company who won the rights to become only the fifth company to stage it, following the Mark Taper Forum in Los Angeles and the Guthrie in Minneapolis.

Talkbacks are schedule after each performance. Ehrenreich's next goal is involvement - affordable housing and organizing living-wage and union-organizing campaigns. With that in mind Curious Theatre will host a panel discussion on public policy related to the working poor after every Sunday matinee performance beginning today, September 21.

The topics are; Sept. 21: Organizing for Mobility: Creating Family-Supporting Jobs in our Community ; Sept. 28: Stretching Your Nickels and Dimes - Advocacy and Legislation; Oct. 5: Fighting Back Against Being Nickel and Dimed; Oct. 12: Affordable Housing in Denver: An Oxymoron? All panels begin at 5 p.m., are free and open to the public. Photo essay: Exhibit by Denver artist Alana Rothstein chronicling "a day in the life of three local individuals trying to make ends meet on minimum wage," throughout the show's run which concludes October 25.

HE SHE THEM written by Irwin Heller and directed by Steven Maler. Starring Judd Nelson and Tasha Lawrence. The World Premiere of a play taking an unconventional look at relationships. "He" is a successful, single real estate developer. "She" is the married architect designing one of his buildings. Flirtation grows to friendship, and they are then faced with the possibility of love. As He and She decide on what's to become of Them, they are forced to examine the sometimes uncomfortable realities of their true feelings. Opens at the Shubert Theatre in Boston on September 30 running through October 12.

CUPID AND PSYCHE Books & Lyrics by Sean Hartley, founding Artistic Director of the Cape Cod Theater Ensemble, and currently the Director of the Theater Wing at the Kaufman Center in New York; Music by Jihwan Kim. Choreographed by Devan and Janki.

Cupid and Psyche is a new take on Venus and Cupid. This mythical musical tells the comic tale of a forbidden romance and the thwarted efforts of Venus, the goddess of love, as she tries to come between her son Cupid and the bright and beautiful mortal Psyche.

The cast, directed by Timothy Childs includes: Laura Marie Duncan as Venus; Barrett Foa as Cupid; Deborah Lew as Psyche and Deven May as Mercury.

Designers include: David Swayze (sets), Christine Darch (costumes), and Aaron Mason (lights).

Opens on Wednesday, September 24th through October 26th at the John Houseman Studio, NYC.

THIS IS OUR YOUTH directed by Woody Harrelson, stars Fabrizio Filippo, Marya Delver, and Marcello Cabezas. Written by Kenneth Lonergan, the plot line centers around two days in the lives of three New York teenagers in 1982. Sets by Michael Gianfrancesco, Kimberly Purtell lighting, Tara Posluns costumes and Lyon Smith sound.

Previews began September 18 with the official opening slated for September 22nd. The run is through October 18 at the Berkeley St. Theatre Upstairs in Toronto, Canada.

THE 1940's RADIO HOUR by Walton Jones. This nostalgic musical, starring recording artist Michael Civisca as crooner Johnny Cantone, captures the magic of the fabulous forties with great songs like Chatanooga Choo-Choo and I'll Never Smile Again.

The show opened at the St. James Theatre on Broadway October 7, 1979 running for 105 performances. In the original production were Dee Dee Bridgewater and Mary-Cleere Haran.

Presented by The Irish Classical Theatre Company on the Main Stage of the Sphere Entertainment Complex, in Buffalo, NY with performances through October 5th.

PUMP BOYS AND DINETTES by John Foley, Mark Hardwick, Debra Monk, Cass Morgan, John Schimmel, and Jim Wann. Directed by Jeremy Kendall.

On highway 57, somewhere between Frog Level and Smyrna, stands a gas station and a sign that reads "Double Cupp Diner." Four guys work at the station and the Cupp sisters wait tables at the diner. Pump Boys and Dinettes is part pop-country concert and part musical theatre - celebrating the value of friendship and life's simple pleasures. September 26-October 19. Lincoln Community Playhouse in Lincoln, Nebraska.

THE SOUND OF A VOICE an opera. Philip Glass applies Asian and western instrumentation to stories by David Henry Hwang, in which the dreams and fantasies of a Japanese writer and an aging warrior are laid bare. The Sound of a Voice explores how intimacy is achieved between people who have lived in seclusion. In the first part, an aging Japanese warrior arrives at the home of a mysterious woman who lives like a hermit deep in the woods. Has he come as her suitor, or her assassin? Does she intend to love him, or to imprison him forever, like the flowers she cultivates so assiduously? The battles of love become a deadly contest in this tale, blurring the distinctions between hero and coward, between victor and vanquished. In the second part, an elderly Japanese writer visits a mysterious brothel, which caters to men near the end of their lives by providing them with a means to relive their youth. The writer's initial contempt for the house gives way first to acceptance, then to regular visits. Ultimately, he finds his dreams and fantasies exposed before the brothel's elderly Madame, and embarks with her on an ethereal journey beyond sex and love. Opens September 25 at the Court Theatre in Chicago.

MAMMA SAID THERE'LL BE DAYS LIKE THIS a musical by Marsha Estell, is a history of the girl groups of the 1950s and '60s, including the Shirelles, the Chiffons, and Martha Reeves and the Vandellas. The world premiere opened September 18 at the Black Ensemble Theatre in Chicago.

SWEET AND HOT helps to ring down the curtain for the Drury Lane Evergreen Park, which is being replaced by a Wal-Mart in 2004! The final show at this famed theatre will be January 11, 2004.

Marc Robin directs a top-notch cast in Sweet and Hot, which opened September 12th. This razz-a-ma-tazz, high energy revue celebrates the songs of one of America's greatest composers. Written from the 1930s to the 1950s, Harold Arlen's swinging, sassy, bluesey and soaring melodies define the word standard.

Among the three dozen selections included in this fabulous show are Stormy Weather, Get Happy, Come Rain or Come Shine, That Old Black Magic and Over the Rainbow. Through October 17th at the Drury Lane Evergreen Park, Ill.


| | | |
| --- | --- | --- |
| | | |
WHO'S WHERE


MARIA FRIEDMAN British musical star and the winner of two Olivier Awards, will make her United States debut when she opens a three week engagement on September 23 at the Cafe Carlyle. Barbara Cook and Stephen Sondheim will host her opening night.

RANDY NEWMAN For more than 30 years this ubiquitous singer/songwriter/film composer has made music that is at once poignant and playful, tragic and comic, nostalgic and contemporary, in the process winning three Grammys and fourteen Oscar nominations (and one win) for films such as The Natural, Ragtime, Avalon, Toy Story, Toy Story II, and Monsters Inc. He'll perform Friday, September 26th at the McCarter Theater Princeton, New Jersey.

MICHAEL BUBLE performs Friday, September 26th at B.B. King's Blues Club in Manhattan.

BRUCE SPRINGSTEEN AND THE E STREET BAND tonight, September 21, at Comerica Park in Detroit, Michigan. On Thursday The Boss and his Band take control of Investo Field at Mile High in Denver, Colorado. On Saturday they storm Miller Park in Milwaukee.

KT SULLIVAN debuts her new show Illusions: Songs of Weimar Berlin with Jed Distler and Special Guest Barbara Brussell. The King Kong Room in New York City on September 29.

SHANIA TWAIN the Canadian pop-country superstar will launch her first world concert tour in three years on September 25 in Hamilton, Ontario, Canada. On September 27th she performs in Ottawa before bringing the tour to the States.

TONY DANZA on stage Thursday at the Monday Musical Club in Youngstown, Ohio. On Friday he's in the spotlight at the Ritz Theatre in Tiffin, Ohio. He'll be delighting crowds Saturday at the Westminster College Performing Arts Center in New Wilmington, PA.

PAUL ANKA continues his engagement at the MGM-Grand in Las Vegas through September 24.

BLIND BOYS OF ALABAMA on stage Tuesday at Viterbo College in La Crosse, Wisconsin. On Thursday the show is at the Yerba Buena Arts Center in San Francisco. On Saturday they are center stage in Reno, Nevada at the Hawkins Amphitheatre.

PETER CETERA performs Saturday, September 27, at the Constant Center in Norfolk, Virginia.

EDDIE IZZARD in a two nighter - Monday and Tuesday at the Paramount Theatre in Denver. Then he brings his show to the Pantages Theatre in Minneapolis for a Friday and Saturday engagement.

PETER CINCOTTI entertaining this evening, September 21, at the KiMo Theatre in Albuquerque, New Mexico. On Thursday he performs at Brevard College in Brevard, North Carolina. Friday finds the young man on stage at the Diana Wortham Theatre in Asheville, North Carolina. He closes out the week, Saturday, at the Robert Ferst Center for the Arts in Atlanta, Georgia.

CHER brings her energy and talent to the Kemper Arena in Kansas City on Monday, September 22. On Wednesday she'll be singing her hits at the Convention Center in Fort Worth, Texas. Friday finds her on stage at he C.W. Mitchell Pavilion in The Woodlands, Texas and she closes out the week Saturday at the Verizon Wireless Amphitheatre in Selma, Texas.

JOHN PRINE performing Saturday at the Blue Ridge Harvest Festival in LaFayette, Georgia.

RICHARD SKIPPER AS CAROL CHANNING with Musical Director John Bowen entertaining at a private function, the SLS Health Putnam County Bar Association Golf Event, at the Centenial Golf Course in Carmel, New York on September 29.

BIG BAD VOODOO DADDY swingin' Monday at the Invesco Field at Mile High in Denver. On Wednesday the guys are at the Showbox in Seattle. Friday the beat goes on at the Roseland Theater in Portland, Oregon and on Saturday they are center stage at McDonald Theatre in Eugene, Oregon.


PIFFLE AND PROFUNDITIES


GINGER ROGERS BIRTHPLACE HOME located in suburban Kansas City has been designated a historic landmark.

The Independence City Council voted unanimously Monday to make the home where Rogers was born a local landmark, qualifying it for historic preservation. "I think this is long overdue," Independence Mayor Ron Stewart said. "I am very happy we are finally getting around to this designation." Build around 1900, the owners of the house applied for historic status in July 2002.

Rogers was born in the home on July 16, 1911, as Virginia Katherine McMath. The entertainer, who died in 1995, had returned to visit the home several times after she became famous.
















Next Column: September 28, 2003
Copyright: September 21, 2003. All Rights Reserved. Reviews, Interviews, Commentary, Photographs or Graphics from any Broadway To Vegas (TM) columns may not be published, broadcast, rewritten, utilized as leads, or used in any manner without permission, compensation and/or credit.
Link to Main Page
---
Laura Deni


CLICK HERE FOR COMMENT SECTION