! >
Broadway To Vegas
  
  REVIEWS INTERVIEWS COMMENTARY NEWS

| | |
| --- | --- |
| | |
PRESIDENTIAL MUSEUMS OFFER ENTERTAINMENT - -A WONDERFUL LIFE: THE MUSICAL - - CONCERT FOR GLOBAL PEACE - - COSMONAUTA: BIRTH OF THE SPACE AGE - - BROAD MUSEUM OPENS - - THE INTERNATIONAL MUSICIANS SEMINAR - - CEZANNE AND THE MODERN MASTERPIECES OF EUROPEAN ART - - CAREER TRANSITION FOR DANCERS 30th ANNIVERSARY - - DONATE . . . Scroll Down






Copyright: September 20, 2015
By: Laura Deni
CLICK HERE FOR COMMENT SECTION


PRESIDENTIAL LIBRARIES OFFER INTERESTING ENTERTAINMENT
Part of the Football Exhibit at the Reagan Library. Photo: Reagan Library.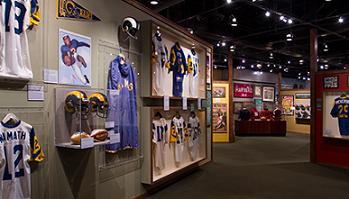 The political equivalent of open mike night at the local comedy store took place last Wednesday when the second GOP debate was held in the Reagan Library's Air Force One Pavilion, moderated by CNN anchor and chief Washington correspondent Jake Tapper.

That fun fest isn't the only entertainment taking place at presidential libraries and museums. The offerings are as diverse as the men who occupied the Oval Office.

Ronald Reagan was the actor turned president where he earned the moniker 'the great communicator.' While toiling as an actor he starred as George Gipp in the 1940 movie Knute Rockne All American. Gipp, who played for Notre Dame, has gone down in history as the greatest all-round player in college football history.

Gipp died at the age of 25 of a streptococcal throat infection, days after leading Notre Dame to a win over Northwestern in his senior season. It was on his hospital bed that he is purported to have delivered the famous, "win just one for the Gipper" line. He apparently said this line to Knute Rockne. The full quotation from which the line is derived - and delivered by Reagan in the film - is:

"I've got to go, Rock. It's all right. I'm not afraid. Some time, Rock, when the team is up against it, when things are wrong and the breaks are beating the boys, ask them to go in there with all they've got and win just one for the Gipper. I don't know where I'll be then, Rock. But I'll know about it, and I'll be happy."

For Reagan, playing the Gipp was both a memorable and meaty role. That may explain why the Ronald Reagan Presidential Library and Museum, located in Semi Valley, California, hosts a football exhibit.

Called an " in-depth exhibit," on display are more than 500 artifacts, including:

Game-worn jerseys, some autographed, by football's greats, including Peyton Manning, John Elway, Tom Brady, Kurt Warner, Drew Bledsoe, Joe Montana, Troy Aikman, Johnny Unitas, Terry Bradshaw, Brett Favre, Drew Brees, Dan Marino, Steve Young, Ben Rothlisberger, Joe Theisman, Eric Dickerson, Jim Kelly, Fran Tarkenton and more

There are signed Lombardi Trophies from Joe Namath, Eli Manning, and Bart Starr.

Special sections featuring the Los Angeles Rams and the rivalry between UCLA and USC.

Also on display are some of the first footballs, cleats, helmets, uniforms, and folk art as well as an unmatched collection of football cards and photographs of the astonishing athletes who played the game.

The exhibit is in partnership with Gary Cypres and the Sports Museum of Los Angeles.

The Gerald R. Ford Library is located in Ann Arbor, Michigan while the Museum is in Grand Rapids, Michigan. Ford, the 38th President, actually played football in college.

From 1931 to 1935 Ford attended the University of Michigan at Ann Arbor where he played on the University's national championship football teams in 1932 and 1933. He was voted the Wolverine's most valuable player in 1934 and on January 1, 1935, played in the annual East-West College All-Star game in San Francisco, for the benefit of the Shrine Crippled Children's Hospital. In August 1935 he played in the Chicago Tribune College All-Star football game at Soldier Field against the Chicago Bears.

He received offers from two professional football teams, the Detroit Lions and the Green Bay Packers, but chose instead to take a position as boxing coach and assistant varsity football coach at Yale hoping to attend law school there.

The venue displays several items related to Ford's football career. Jim Kratsas, Deputy Director of the Gerald R. Ford Museum told Broadway To Vegas: "There is a 6 foot in diameter drum from his high school used during the games, a loving cup from the 30/30 club which won the state championship his senior year at South High, his U. of Michigan football helmet, an autographed football from when he played in a college all-star game, as well as newspaper articles, team photos of high school and college, and two very large labels describing his football career."

The Library also contain:

Documents - 25 million pages
Still photographs - 450,000
Video - 3,500 hours
Audio - 3,000 hours
Motion picture film - 787,000 feet

The galleries feature hands-on, interactive, video, and holographic displays that make visitors "participants" in history.

In the first gallery, a multi-media re-creation of pop culture immerses visitors in the sights, sounds, and issues of the tumultuous period. Video and sound bites recalling various news events blend with early 1970s memorabilia including platform shoes, tie-dyed garments, bell-bottom jeans, love beads, eight-track tapes, and MIA bracelets.

The exhibits also enable visitors to travel by video with President Ford and Secretary Kissinger to various hot spots around the globe; take a holographic tour of the Ford White House; and experience a day in the Oval Office through a sound and light show. A Watergate gallery includes a six-minute, multi-screen history beginning with the June 1972 break-in -- plus the actual burglary tools on display. An interactive Cabinet Room allows visitors to take part in Presidential decision making.

Not all of the museum's programs revolve around the exhibits schedule. Museum staff organize and host special events, including a 1940s fashion show and activities for school children. The Museum also hosts naturalization ceremonies for new citizens and opens the grounds to the community festivities and fireworks on the fourth of July.

The Eisenhower Museum near Abilene, Kansas has a partnership with the Great Plains Theatre. Show your ticket stub and receive $5 in savings at either venue.

Weekend Comedy by Sam Bobrick and Jeanne Bobrick will be staged October 2 - 11 at the Great Plains Theatre.

Two couples accidentally rent the same cabin unbeknownst to each other and decide to stick it out for the weekend – all four together. The generation gap between the young couple and the more mature couple provide for plenty of comedic clashes in this fun and fast paced play. That will be followed by productions of On Golden Pond by Ernest Thompson November 13-22 and She Loves Me December 11-20.

As for the Eisenhower Museum the exhibit Be Ye Men of Valour: Allies of World War II is on display through December 2016.

"Centuries ago words were written to be a call and a spur to the faithful servants of Truth and Justice: 'Arm yourselves, and be ye men of valour, and be in readiness for the conflict; for it is better for us to perish in battle than to look upon the outrage of our nation....'" –Winston Churchill, 19 May 1940

This exhibit, with many rare item borrowed from collections around the world, strives to tell the untold and forgotten stories of the many allies involved in the war effort. While it was major industrial powers like the United States, England, and the Soviet Union that provided the bulk of manpower and resources, dozens of other Allies selflessly spent blood and treasure of their own to defeat the Axis powers. This exhibit explores the important victories, defeats, personalities, and causes associated with the lesser-known Allied nations and resistance groups.

The Jimmy Carter Library and Museum in Atlanta, Georgia is where celebrated New York Times bestselling author and winner of the Pulitzer Prize, Rick Bragg, will participate in a reading and book signing on Monday, September 28. He's penned My Southern Journey: True Stories from the Heart of the South, called "a poignant and wryly funny collection of essays on life in the south."



From the exhibit The People's China: Village Life by Zeng Yi.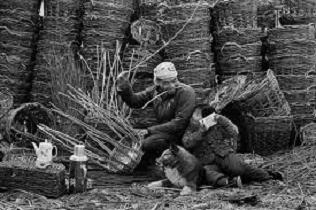 From October 1, 2015 through January 17, 2016, the Jimmy Carter Presidential Library presents The People's China: Village Life by Master Photographer Zeng Yi.

Take a journey into the villages of China for a personal look at the people and how they live. World-renowned master photographer Zeng Yi has spent a lifetime telling the story of the common people of China through his photography. More than 50 photographs by Zeng Yi will be on display.

Zeng Yi was born in 1949 in Jinan, the capital of the Shandong Province in Eastern China, and is now the curator, professor and research supervisor of Shandong College of Art and Design, Professor Zeng is one of the established leaders of the arts in China.

A winner of numerous international awards, his work has been exhibited in the United States, Germany, France, Italy, Belgium, South Korea and Taiwan. He has written extensively on the visual arts and organized numerous international exhibitions, including Asia's largest exhibition of Picasso paintings in 2004. He was selected by the Chinese Ministry of Culture as a planning director of the Beijing International Photography Week in 2013, and took a lead role in conducting Photo Beijing in 2015.

This exhibition is part of the Atlanta Celebrates Photography Festival supporting Atlanta's emergence as an international center for photography.

Harry S Truman Library and Museum in Independence, Missouri is hosting the exhibit Till We Meet Again through January 3, 2016.

This exhibition commemorates the 70th anniversary of the end of World War II and Harry Truman's elevation to the Presidency. Set in the tumultuous year of 1945, the exhibition uses the history of the war as a backdrop to the momentous events of that year - the violent battles in the Atlantic, Europe, and the Pacific, the Yalta Conference, the death of President Roosevelt and elevation of Harry Truman to the Presidency, the surrender of Germany, the founding of the United Nations, the Potsdam Conference, the use of the atomic bomb, and the surrender of Japan.

Told through iconic artifacts and history-shaping documents, supplemented by memorable video clips, letters, diary entries, and personal mementos, the exhibition follows a new President wrestling with decisions that will affect the future of the world, while ordinary Americans of the Greatest Generation struggle to survive the war and look ahead to the uncertainty of their new lives in a land forever altered by the world conflict.

The John F. Kennedy Library in Boston is featuring the special exhibit Presidential Getaway: JFK on Cape Cod, a display of original artifacts, photographs, and historic film footage about the President's time in Hyannis Port, the emotional center of his family's life for decades.

The museum collection comprises some 20,000 three-dimensional objects and works of art, including many objects of extraordinary historical significance and value. Among the collection are gifts, including those presented to President Kennedy by world leaders as well as the charming and whimsical items handmade by private citizens to express their support and admiration for President Kennedy.

Ladies and Gentleman ... The Beatles! is the featured exhibit at the Lyndon B. Johnson Library and Museum in Austin, Texas.



Part of The Beatles Exhibit at the LBJ Library. LBJ Library Photo by Lauren Gerson.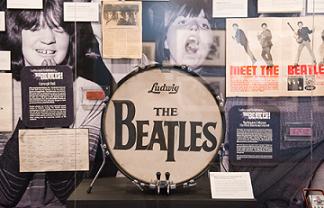 Ladies and Gentlemen...The Beatles! is a traveling exhibit curated by the Grammy Museum and Fab Four Exhibits that explores the impact The Beatles' arrival had on American pop culture, including fashion, art, advertising, media and music, from early 1964 through mid-1966 – when the British boy band was at its peak.

On display are more than 400 pieces of memorabilia, records, rare photographs, tour artifacts, video, and instruments from private collectors and the Grammy Museum, including the original Ludwig drum head Ringo played on The Ed Sullivan Show. It even includes an oral history booth where visitors can leave their own impressions of the timeless group.

On display through January 10, 2016, this exhibit appears to be the popularity winner of current presidential exhibits. The museum states: "Due to an overwhelming response to Ladies and Gentlemen...The Beatles!, we cannot guarantee admittance to the exhibit after 3 p.m. on weekends. Thank you for your understanding."






Broadway To Vegas is supported through advertising and donations. Priority consideration is given to interview suggestions, news, press releases, etc from paid supporters. However, no paid supporters control, alter, edit, or in any way manipulate the content of this site. Your donation is appreciated. We accept PAYPAL. Thank you for your interest.








ART AND ABOUT


COSMONAUTS: BIRTH OF THE SPACE AGE

The exhibition was formally opened by special guest Cosmonaut Valentina Tereshkova, the first woman ever to go to space. At the opening she was reunited with Vostok 6, the capsule in which she returned safely to earth in 1963. She is pictured here with Ian Blatchford, the Science Museum's Director, Dame Mary Archer, Science Museum Chairman, and Sir Tim Barrow, UK Ambassador to Russia. Photo: Science Museum.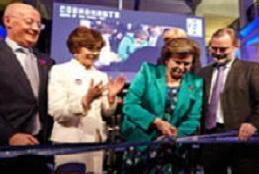 is referred to by the Science Museum as "our most ambitious exhibition to date."

The exhibit traces the dramatic story of Russia's yearning for space and the heroic achievements that turned this dream into reality. In 1957 Russia launched the world's first artificial satellite, Sputnik, into space and just four years later sent the first ever human – Yuri Gagarin. Discover the dramatic story of how Russia turned the dream of space travel into a reality and became the first nation to explore space.

Cosmonauts: Birth of the Space Age reveals the most significant collection of Russian spacecraft and artifacts ever to be shown outside of Russia, including:

Vostok 6: the capsule flown by Valentina Tereshkova, the first ever woman in space
Voskhod 1: the capsule used on the first mission to carry more than one crew member
LK-3 Lunar Lander: a single cosmonaut craft built to compete with Apollo
a collection of gadgets that cosmonauts - and pioneering space dogs - need to live in space, including a shower, toilet, medical instruments and survival kits for crash landings.

Visitors are invited to "explore the historical, cultural and spiritual context of Russian space travel, shaped especially by the turbulent early decades of the twentieth century. See poignant testimonies and memorabilia belonging to some of the biggest names in spaceflight and discover the deeply personal stories of the pioneers who kick-started the space age." Opened last Friday and is on display through March 13, 2016 at the Science Museum in London.

THE BROAD MUSEUM a $140-million art museum opened this week-end in Los Angeles with a ribbon cutting Friday morning attended by Gov. Jerry Brown, Mayor Eric Garcetti, Los Angeles County Supervisor Hilda Solis, Councilman Jose Huizar, museum director Joanne Heyler and Eli and Edythe Broads themselves. On Friday evening VIPS attended a Friday evening cocktail party. Earlier in the week 800 people were invited to a black-tie sneak preview.

The museum opens to the public today, Sunday, September 20, 2015.

The Broad is a new contemporary art museum founded by philanthropists Eli and Edythe Broad located in downtown Los Angeles. The 50,000 square feet of exhibition space on two floors was designed by Diller Scofidio + Renfro in collaboration with Gensler and is home to 2,000 works of art in the Broad collection.

The installation includes the Los Angeles debut of Yayoi Kusama's Infinity Mirrored Room.

Founding Director Joanne Heyler, who curated the inaugural installation, has selected more than 250 works - by over 60 artists including Jasper Johns, Robert Rauschenberg, Ed Ruscha, Andy Warhol, Roy Lichtenstein, John Baldessari, Mark Bradford, Jeff Koons, Barbara Kruger and Kara Walker - that best represent the Broad collection's view of a half century of contemporary art.

CEZANNE AND THE MODERN MASTERPIECES OF EUROPEAN ART FROM THE PEARLMAN COLLECTION

Paul Cézanne. Mont Sainte-Victoire, ca. 1904–06. Oil on canvas. The Henry and Rose Pearlman Foundation, on long-term loan to the Princeton University Art Museum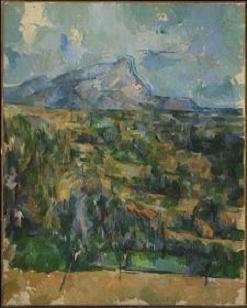 one of the finest collections of works to be held by a single family, the Henry and Rose Pearlman Collection has not toured in its entirety since 1974, when it was placed on long-term loan at the Princeton University Art Museum and where it has remained ever since.

This major exhibition will present Impressionist and Post-Impressionist masterpieces from the Pearlman Collection and will feature paintings and sculptures by artists who were transformative members of the avant-garde of their day.

A rare opportunity for audiences in four countries to discover lesser-known masterworks from beloved artists including Edgar Degas, Edouard Manet, Vincent Van Gogh, and Amedeo Modigliani, as well as an extraordinary collection of magisterial watercolors, oil paintings, and drawings by Paul Cézanne, this exhibition will offer insights not only into the development of Impressionism and Post Impressionism, but into the history of collecting avant-garde art in the United States.

Opened yesterday, September 19, 2015 and on display through January 10, 2016 at the Princeton University Art Museum. Princeton, NJ.






SWEET CHARITY


THE OREGON SHAKESPEARE FESTIVAL'S 28th annual Daedalus Project fundraiser for HIV/AIDS organizations, held August 24, 2015, brought in $115,772. The event was produced by Claudia Alick, associate producer, community.

Tickets for the afternoon reading of Paula Vogel's The Baltimore Waltz, which was directed by Eugene Ma and presented by special arrangement with Vogel and Dramatists Play Service, and the evening variety show, which was directed by Sara Bruner, along with general donations, raised approximately $60,000.

Participants in the ever-popular underwear parade, which occurs during intermission of the variety show, raised $16,843 for the cause. Contributions also came from the Daedalus 5K Run; sales of T-shirts, lemonade, baked goods, concessions; a quilt raffle; an Arts and Treasures sale, and sales of Daedalus Pillows and Bears created by members of OSF's Costume Department.

Each year following the benefit, the Festival distributes the funds to various local, regional, national and international organizations involved in the battle against HIV/AIDS. Since the first Daedalus Project was organized by OSF actor and director James Edmondson in 1988, OSF will have distributed $1.6 million to HIV/AIDS organizations, including this year. In the last 28 years, the Daedalus Project has created a tradition of remembrance, celebration and collective action for OSF's company, community and audience.

The 2016 Daedalus Project will be held on Monday, August 22, 2015.

30th ANNIVERSARY PEARL JUBILEE: A STAR-STUDDED RETROSPECTIVE presented by Career Transition For Dancers' on Monday, September 28, in association with the Lloyd E. Rigler - Lawrence E. Deutsch Foundation, at New York City Center, NYC followed by Supper With The Stars at The Grand Ballroom at The Hilton New York.

Robert Fairchild, New York City Ballet principal who earned a Tony nomination and an Outer Critics Circle Award, as well as numerous other accolades, for his star turn in An American In Paris, will perform A Tribute To Gene Kelly.

The 30th Anniversary Pearl Jubilee is A Gala Celebration of Career Transition For Dancers' 30 Years Changing Lives. The opening will be a production number written by Ann Marie DeAngelo and Kathleen Fitzgerald, that will include over 80 dancers with musicians, some original music and the Jubilee Orchestra and will feature: Thomas and Peter Campbell; dancers from American Repertory Ballet and Las Vegas Contemporary Dance Theater; Jason Samuels Smith; Sue Samuels with her Jazz Roots Dance Company; Ephrat Asherie Dance Company and National Dance Institute. The star-studded, variety retrospective will also feature performances by All That Jazz from Chicago with Bebe Neuwirth; American Ballet Theatre; Arthur Murray Dance Center, Columbus Circle; Big Apple Circus; New York Song & Dance Company; Parsons Dance; and others.

The 2015 Rolex Dance Award recipient is Shirley MacLaine. "We are pleased to present this year's Rolex Dance Award to Shirley MacLaine, award-winning American film, television and theater actress, singer and dancer. We salute her dedication to the arts and support of Career Transition For Dancers" said Stewart Wicht, President and CEO of Rolex Watch USA.

The Career Transition For Dancers Outstanding Contributions to the World of Dance Awards recipients are: Andrew Faas-Faas Foundation; Irene & Fred Shen and Misty Widelitz. The CTFD 30th Anniversary Pearl Jubilee Award Honoree will be Rolex Watch U.S.A., Inc.

The 30th Anniversary Chairs are Anka K. Palitz, Michele Herbert and Michele Riggi. Janice Becker is the Dinner Chair; Ann Van Ness, Auction Chair and Craig Dix, Journal Chair.

CONCERT FOR GLOBAL PEACE hosted by Danny Glover featuring the YPHIL-International Philharmonic Orchestra brings together 100 young talented musicians from 74 countries to represent their countries through music in Seven Epic Concerts. The final performance takes place September 27 in a concert for Global Peace on Isaac Stern Auditorium/Ronald O. Perelman Stage at Carnegie Hall during United Nations week.

The evening will feature Venezuelan-born, Spanish conductor Jose Luis Gomez, and Alexander Markov, Violin, performing with the musicians.

The program will include F. Mendelssohn's Violin Concerto E Minor Op.64 featuring soloist Alexander Markov and Faruk Kanca's Turken Foundation Symphonic Suite of Voices of the World spotlighting traditional instruments from around the world. The participating young musicians will perform on the same day their countries are represented at the United Nations during the General Assembly meetings.

YPHIL - International Philharmonic Orchestra aims to show the world how representatives of different countries can work together regardless of their nationality, race and beliefs; bringing out the magnificent music, celebrating the collaboration of cultures. This dynamic performance will exemplify how collaborating with people from all over the world can bring a better tomorrow.


SPREADING THE WORD


LAST MAN STANDING the charming ABC comedy series starring Tim Allen, has been taping their fifth season which begins airing September 25 on ABC.

The series follows ultra conservative Mike Baxter, played by Allen a senior executive and director of marketing for an outdoor sporting goods store chain based in Denver, Colorado. Héctor Elizondo plays Edward "Ed" Alzate, Mike's longtime boss. He started a bait and tackle shop many years ago and hired Mike, who turned the shop into the 20-store Outdoor Man chain.

At home Baxter's world is filled by women who aren't all as conservative as he. They include a wife (Nancy Travis) and three daughters, one of whom is a single mother.

On May 15, 2015, it was announced that Hallmark Channel has obtained the rights to the sitcom and will begin airing the series in January 2016. Last Man Standing also airs in Australia, Canada New Zealand, the United Kingdom and Ireland.

Emmy award nominated Allen spends his spare time taking his stand-up act on the road, and regularly performs in Las Vegas at the Mirage Hotel, returning October 10, 2015.

A stand up routine act centering around hardware was made into a Showtime special. Then into a television series called Home Improvement in 1991. The show was a mega hit, running for eight years, winning Allen numerous awards for best comedic actor. During one week in November 1994, he simultaneously starred in the highest grossing film The Santa Clause, topped the New York Times best-seller list with his book Don't Stand Too Close to a Naked Man, and appeared in the top rated television series Home Improvement

His personal life wasn't a hit. In 1984 he married Laura Deibel. She filed for a legal separation in 1999 in Los Angeles Superior Court, citing irreconcilable differences.

In 2003 he starred in Las Vegas. At that time he and Laura had just settled a messy divorce ending a 19-year marriage. Like most comedians he incorporated his own personal experiences into his act. The segment in his comedy stand -up act about his divorce was black humor, involving his then hatred for the name 'Laura'. He indicated that the next person he met with the name 'Laura' would be the victim of a horrific death.

The audience roared with laughter.

I was in the audience to review in his show for one publication and then go backstage to interview him in his dressing room for a different publication. His manager or pr person escorted me back stage.

Allen was seated in a chair and I was offered the chair opposite him. A coffee table was all that separated us.

"This is the girl who is going to interview you," explained the man.

Allen look at me and smiled. "What is your name?"

I looked at him and didn't answer.

He leaned forward. "Don't you know your name?"

"Yes, but I don't want to tell you."

Allen looked at his management man.

"Her name is Laura Deni and she just attended your show."

Allen had a blank look.

"Your show," repeated the man. "You told the audience that you were going to kill the next person you met named 'Laura.'

Allen started to laugh and assured me that I had nothing to fear.

THE INTERNATIONAL MUSICIANS SEMINAR which takes place at Prussia Cove, England is considered one of the premier short course seminars in the world. It offers musicians from all over the world the opportunity to participate in seminars which are unique in both their approach and environment. They attract maestri of world standing who encourage traditional values of musicianship and develop the artistic potential of tomorrow's leading musicians.

Founded by Sándor Végh, the Artistic Director is Steven Isserlis. Sir Simon Rattle OM, CBE has recently accepted the position of President.

HRH The Duke of Kent is Patron and will attend the seminar which takes place on September 25.



OTHER PEOPLE'S MONEY


IN 1995 JERRY LEWIS became the highest paid performer in Broadway history for his role as the Devil in Damn Yankees.



A WONDERFUL LIFE: THE MUSICAL

a tuneful re-imagining of the classic Frank Capra film It's a Wonderful Life, with music by Joe Raposo. Book and lyrics by Tony award winner Sheldon Harnick.

Directed by Michael Perlman.

Music director is Michael O'Flaherty.

Choreographed by Parker Esse.

Bedford Falls comes alive as never before with the Goodspeed premiere of the magical tale of finding hope in your own hometown when a would-be angel swoops to the rescue of desperate banker George Bailey on Christmas Eve. As a heartwarming family musical that celebrates the power of love and the goodness in all of us. Remember: "Every time a bell rings, an angel gets his wings!"

Starring Duke LaFoon as George Bailey, Josh Franklin as Sam Wainwright, Logan James Hall as Harry, Ed Dixon as Mr. Potter, Hollis Scarborough as Karen, Bethe B. Austin as Mille Bailey and Mrs. Martini, Frank Vlastnik as Clarence, Kirstin Scott as Mary Hatch, Carol Schuberg as Mrs. Hatch, Michael Medeiros as Uncle Billy, Ben Stone-Zelman as Tommy, Kevin C. Loomis as Bert, Ryan G. Dunkin as Ernie, Riley Briggs as Beth, Ella Briggs as Zuzu and George McDaniel as Tom, Matthew and Mr. Martin.

Dan DeLange is the Orchestrator. Scenic Design by Brian Prather. Costume Design by Jennifer Caprio. Lighting Design by Scott Bolman. Sound Design by Jay Hilton. Wig and Hair Design by Mark Adam Rampmeyer.

Performances through November 29, 2015 at the Goodspeed Opera House in East Haddam, CT.

FOOL FOR LOVE written by Pulitzer Prize winner Sam Shepard.

Directed by Obie Award winner Daniel Aukin.

The cast of features Tony Award winner Nina Arianda, Sam Rockwell, Emmy Award winner Tom Pelphrey, and Tony Award nominee Gordon Joseph Weiss.

Holed up in a seedy motel on the edge of the Mojave Desert, two former lovers unpack the deep secrets and dark desires of their tangled relationship, passionately tearing each other apart. Beaten down by ill-fated love and a ruthless struggle for identity, can they ultimately live with, or without, each other?

The creative team for Fool for Love includes Dane Laffrey (scenic design), Anita Yavich (costume design), Justin Townsend (lighting design), Ryan Rumery (sound design) and David S. Leong (movement and fights).

Presented in association with Williamstown Theatre Festival, the Manhattan Theatre Club's Broadway premiere is in previews with the official opening slated for Thursday, October 8 at MTC's Samuel J. Friedman Theatre in New york City.

CLOUD NINE by Caryl Churchill.

Directed by James Macdonald.

Set in colonial Africa and 1979 London, Cloud Nine is about power, politics, family, Queen Victoria, and sex. The production stars Brooke Bloom, Sean Dugan, Lucy Owen, Chris Perfetti, John Sanders, Izzie Steele, and Clarke Thorell.

Scenic design by Dane Laffrey, costume design by Gabriel Berry, lighting design by Scott Zielinksi, sound design by Darron L. West, and casting by Telsey + Company.

The Atlantic Theater Company production is in previews with the official opening set for Monday, October 5 for a limited engagement through Sunday, November 1 off-Broadway at The Linda Gross Theater in New York City.

FULL GALLOP by Mark Hampton and Mary Louise Wilson.

Directed by Andrew Russell.

Starring Academy Award and Tony Award winner Mercedes Ruehl.

Long before the devil wore Prada - 20 years ago in fact - the story of the irrepressible Diana Vreeland first commanded the stage of the Globe in 1995. Vreeland, larger-than-life doyenne of American taste, unceremoniously fired as editor of Vogue, hunkers down in her famous all-red New York apartment and plans her comeback: a magazine of her own. The path to get there is as complicated and outré as Vreeland herself. Full Gallop is a witty one-woman tour de force about the fabulous style icon who forever changed the way Americans experience clothing, art, and life.

The creative team includes Sean Fanning (Scenic Design), Mark Mitchell (Costume Design), Robert J. Aguilar (Lighting Design), Matt Starritt (Sound Design), Brian Meister (Assistant Director), and Annette Yé (Production Stage Manager).

September 26 – October 25, 2015 at The Old Globe in San Diego, CA.

On Saturday, October 3, following the matinee performance, join renowned fashion designer Zandra Rhodes for an illuminating post-show discussion exploring the ideas and issues raised by the production. Rhodes will discuss her storied life in the fashion industry and how that industry has changed from the 1970s to today. She will also talk about her own relationship with Diana Vreeland, whom she considered a personal mentor.

THE GUARD a world premiere by Jessica Dickey.

Directed by Sharon Ott.

In this world-premiere comedic drama, playwright Jessica Dickey paints shimmering portraits of Rembrandt, Homer and the modern-day individuals who protect the art we cherish.

Spanning centuries of human experience, The Guard "movingly explores the power of creative expression and the sacrifices we make in the pursuit of love and beauty," according to Ford's Theatre.

The play opens in a modern-day art museum where three individuals yearn to experience first-hand the wonder and glory of Rembrandt's work. The play then travels back to the 1600s where the surly but soft-hearted Rembrandt discusses life and art with his son, Titus. Dickey then juxtaposes a vivid scene with the ancient Greek visionary Homer with a quiet glimpse at the final days of a 21st-century poet.

Ford's Theatre commissioned The Guard as part of the 2015 Women's Voices Theater Festival - a celebration of original works by female writers in more than 50 of the Washington region's professional theatres.

September 25-October 18, 2015 at Ford's Theatre in Washington, DC.

THE LAST HOTEL a new opera about life, death, duty and guilt by composer Donnacha Dennehy.

Written and directed by Enda Walsh.

The worlds of theatre and opera collide.

As The Last Hotel begins, a man silently mops the floor – the water bloody. The hotel room he's supposed to be preparing is not ready yet. A woman is meeting a man and his wife in the hotel's car park. All three are nervous. Tonight there will be a death.

The cast includes baritone Robin Adams, sopranos Claudia Boyle and Katherine Manley and renowned Irish actor Mikel Murfi, with music performed by the 12-piece Crash Ensemble, conducted by Alan Pierson.

Set and Costume Design: Jamie Vartan. Lighting Design: Adam Silverman. Sound Design: David Sheppard, Helen Atkinson. Associate Director: Sophie Motley.

This hugely acclaimed new opera will have just five performances at the O'Reilly Theatre between September 27 - October 3 in the O'Reilly Theatre at the Dublin Theatre Festival, Ireland.

ROBERTO DEVEREAU one of the four Tudor period operas composed by Donizetti in 1837.

Libretto by Salvatore Cammarano, based on the tragedy Elisabeth d'Angleterre (1829) by Jacques-François Ancelot.

Musical directors Bruno Campanella and Andriy Yurkevych.

Stage director: Alessandro Talevi. Choreographer: Maxine Braham.

In the last and most dramatic aria in Roberto Devereux, the protagonist, Queen Elizabeth I of England, exclaims: "I do not reign, I do not live". This statement encapsulates great operatic themes, and it is the culmination of an opera that reveals the passions of characters who live among palace intrigues. Written in the mature period of the leader of Italian romanticism, the opera displays a great vocal virtuosity, and is an example of Donizetti prizing the voice above all in the genre.

Starring: Mariella Devia, Maria Pia Piscitelli, Mariusz Kwiecien, Ángel Ódena, Silvia Tro Santafé, Veronica Simeoni, Gregory Kunde, Ismael Jordi and Juan Antonio Sanabria.

Featuring the Teatro Real Chorus and Orchestra.

The staging, by South African director Alessandro Talevi, places the play in an undetermined period, focusing on the chiaroscuro.

Set and costume designer: Madeleine Boyd. Lighting designer: Matthew Haskins. Chorus Master: Andrés Máspero.

First performed in the Royal Theatre of Saint Charles in Naples, on October 28, 1837 First performed at the Royal Theatre in Madrid on March 5, 1860. Production by the Welsh National Opera in Cardiff. Performances September 22-October 4, 2015 Main Hall of the Teatro Real in Madrid, Spain.


WHO'S WHERE




SEE JANE SING! WITH JANE LYNCH opens Sunset Center's season on Saturday, September 26, with a pre performance reception. With her magnificent comedic timing, luminous stage presence, and remarkable wit, Lynch is the recipient of Emmy and Golden Globe awards and currently stars in the sitcom, Angel from Hell which begins airing in November. Lynch kicks off the Sunset Center season with this delightful evening of cabaret and comedy. Sunset Center is located in Carmel, CA.

DIANA KRALL brings her talent to the Palacio de Deportes in Madrid, Spain on September 22. On Thursday she's on stage at the MEO Arena in Lisbon, Portugal. Saturday finds her at the Auditori del Forum in Barcelona, Spain.

KRISTIN CHENOWETH will be center stage next Sunday, September 27 at The Mountain Winery in Saratoga, CA.

IMAGINE DRAGONS entertain at the Life Is Beautiful Festival in Las Vegas Friday and Saturday.

ONE DIRECTION opens a six night gig Thursday, September 24 at the 02 in London.

JOSH GROBAN performs Tuesday, September 22, at the Sony Centre for the Performing Arts in Toronto, Ontario. On Friday he stars at the Wang Theatre in Boston. Saturday finds him at the Toyota Oakdale Theatre in Wallingford, CT.

ARIANA GRANDE performs Tuesday, September 22, at the Bridgestone Arena in Nashville. Thursday's stop is at the PNC Arena in Raleigh, NC. On Saturday she opens a two night stand at Barclays Center in Brooklyn, NY.


FINAL OVATION


SIR DAVID WILLCOCKS famed choirmaster who redefined the sound of British choral music and once played the piano under heavy shell fire in Normandy died September 17, 2015. He was 95.

He spent 17 years as director of music at King's College, Cambridge, and 38 years in charge of the elite Bach Choir - which has counted the Duchess of Kent and Leopold de Rothschild among its members and the Prince of Wales as its president. The choir, under his direction, also sang at the wedding of the Prince of Wales and Lady Diana Spencer in St Paul's Cathedral in 1981.

In 1969 Willcocks had astonished the more traditional members of the Bach Choir when he announced that they were to cut a track with the Rolling Stones and Mick Jagger. You Can't Always Get What You Want became the flipside of Honky Tonk Woman.

Four times a year between 1956 and 1974 he conducted the massive ranks of the Bradford Choral Society.

Willcocks was appointed CBE in 1971 and knighted in 1977. In 1947 he married Rachel Gordon Blyth, a parson's daughter whom he met while conducting the Cambridge Philharmonic Society in the St Matthew Passion, although their parents had been acquainted.She survives him, with two daughters and one son; another son predeceased him.

Neil Portnow President/CEO of The Recording Academy issued the following statement:

Grammy Award winner Sir David Willcocks was a colossal talent and a true mastermind of choral music. Known as England's "Choir Master," Sir David was a highly accomplished conductor, composer, organist, arranger and music director. He was an inspiration to so many and we will cherish his work for years to come, particularly around the holidays. Our deepest condolences go out to Sir David's family, friends and all those who had the pleasure of working with him.

JACKIE COLLINS OBE best selling author died September 19, 2015 in Los Angeles after battling breast cancer for the last six years. She was 77.

She wrote 32 novels, all of which have appeared on The New York Times bestsellers list. In total, her books have sold over 500 million copies. Eight of her novels have been adapted for the screen, either as films or television mini-series.

Collins was appointed Officer of the Order of the British Empire (OBE) in the 2013 Birthday Honors for services to fiction and charity.

Collins married her first husband, Wallace Austin, in 1960 and divorced in 1964. They had one child, Tracy. In 1965, Collins married for the second time to art gallery and nightclub owner, Oscar Lerman. Collins and Lerman had two daughters, Tiffany and Rory. Lerman also formally adopted Collins' daughter, Tracy, from her previous marriage. Lerman died in 1992 from prostate cancer. In 1994, Collins became engaged to Los Angeles business executive Frank Calcagnini, who died in 1998 from a brain tumor.

Survivors include her three daughters Tracy Tiffany and Rory, six grandchildren, a brother Bill Collins and her sister, actress Joan Collins.



















Next Column: September 27, 2015
Copyright: September 20, 2015 All Rights Reserved. Reviews, Interviews, Commentary, Photographs or Graphics from any Broadway To Vegas (TM) columns may not be published, broadcast, rewritten, utilized as leads, or used in any manner without permission, compensation and/or credit.
Link to Main Page
---
Laura Deni



For the snail mail address, please E-mail your request.
CLICK HERE FOR COMMENT SECTION