! >
Broadway To Vegas
  
  REVIEWS INTERVIEWS COMMENTARY NEWS

| | |
| --- | --- |
| | |
2012 LONDON PARALYMPICS A ROYAL SUCCESS - - SPIDER-MAN: TURN OFF THE DARK AND JULIE TAYMOR SETTLE - - VIVA ELVIS AND PHANTOM: THE LAS VEGAS SPECTACULAR CLOSE - - 2012 PRESIDENTIAL PRIMARY MEMORABILIA - - CARS A CONCOURS OF ELEGANCE - - PRINCE HARRY AND THE WALKING WARRIORS - - RECORDING ACADEMY TO GIVE FANS THE CREDIT - - BROADWAY ON BROADWAY - - DONATE . . . Scroll Down


Copyright: September 2, 2012
By: Laura Deni
CLICK HERE FOR COMMENT SECTION

PARALYMPICS' OPENING CEREMONY: BRILLIANT, COURAGEOUS, AND - ENTERTAINING


Spectacular fireworks show at the 2012 Paralympics. Photo: Mike Ehrmann / Getty
Leaving no doubt that there is something to see besides Prince Harry's naked photographs, was the incredible Paralympics Opening Ceremony masterfully directed by Bradley Hemmings and Jenny Sealey. It starred non other than Steven Hawking whose courage and brilliance have turned into a sex appeal which rivals that of Prince Harry.

Hawking is a living example that physical disabilities do not limit human potential.

The theme of the three-hour show was Enlightenment, and Prof Hawking guided the audience on a voyage of scientific discovery from the Big Bang to the Large Hadron Collider.

"Even if we do find a complete theory of everything, it is just a set of rules and equations," advised Hawking, who was given two years to live in 1963 after he was diagnosed with motor neuron disease. "What is it that breathes fire into the equations and makes a universe for them to describe?"

The words of Shakespeare also stood out.

Speaking via his electronic voice box, the legendary theoretical scientist directed the fictional Miranda of The Tempest to "be curious" - and the stadium was transformed into a giant blinking eye. Along her travels, the curious Miranda navigated a maze to find an apple. Spectators were each given an apple as they entered the arena and encouraged to take a bite out of the fruit when she did.



Sir Ian McKellen as Prospero. Photo: PA Images David Davies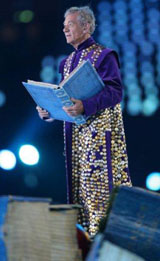 British actor Ian McKellen as Prospero took liberties from the large book he was holding - assumed to be the script - and delivered a more modern take, advising his wheelchair bound daughter to "go out into the world and shine your light on to the beautiful diversity of humanity".

He declared that "the greatest adventure is what lies ahead."

Of course royals were at the Opening Ceremony. Queen Elizabeth said: 'It is with tremendous pride that the people of London and the United Kingdom welcome the world to the London 2012 Paralympic Games.

'The Games are returning to the country where they first began, more than 60 years ago.

'We look forward to celebrating the uplifting spirit which distinguishes the Paralympic Games from other events, drawing on Britain's unique sporting heritage.'



Prince William and Kate, Duchess of Cambridge at the 2012 Paralympics Opening Ceremony. Photo: Getty.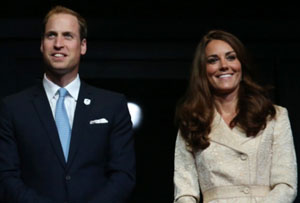 The Paralympic movement tracks its beginnings to the vision of Dr. Ludwig Guttmann, who in 1948 organized an archery competition for 16 injured patients at Stoke Mandeville Hospital in Britain.

Queen Elizabeth was accompanied her son Prince Edward and his wife Sophie, Countess of Wessex, her grandson Prince William and his wife Kate, Duchess of Cambridge and her daughter Anne, the Princess Royale who wore her patriotic Team GB scarf.

Princess Anne sat next to Kate who wore a designer coat dress covered with golden thread embroidery by DAY Birger et Mikkelson that she wore last year to the wedding of Princess Anne's daughter Zara Phillips and six years earlier at the wedding of Camellia's daughter Laura Parker Bowles. Kate also selected LK Bennett heels and a sparkling clutch purse.



Queen Elizabeth followed by her daughter-in-law, Sophie, Duchess of Wessex arrive at the 2012 Paralympics reception and opening ceremony. Photo: Stefan Rousseau/WPA Pool/Getty Images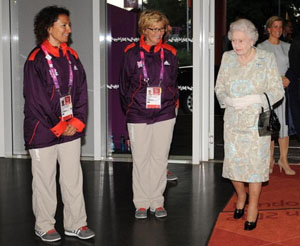 The Queen wore a pale blue and champagne dress and coat designed by Angela Kelly.

Prime Minister David Cameron and his wife Samantha, were there with the PM seated next to Prince William. Samantha appeared in a bright red Victoria Beckham dress.

Prince Albert of Monaco and his wife Charlene were also in the crowd. HSH Princess Charlene was designated the Monaco ambassador for the Special Olympics more than a year ago.

On August 30, the couple attended various swimming events at the Aquatics Centre. They cheered as Jonathan Fox of Team GB set a new world record in the Men's 100m Backstroke. Afterward, the prince and princess visited the Olympic Village where they mingled with various athletes.

Then the son of movie star Grace Kelly and his wife traveled to Yorkshire to present a Variety Club sunshine coach to the Greenhill Primary School.



Prince Albert II of Monaco and Princess Charlene of Monaco present a Variety Children's Charity sunshine coach to pupils and staff from Greenhill Primary School on August 30, 2012 in Leeds, United Kingdom. Photo: Andrew Benge/Getty Images Europe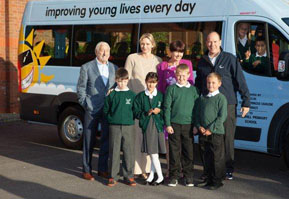 Money for the bus came from the almost $500,000 raised for the Variety Club children's charity at the black tie affair the Monaco royal couple attended, which took place in the historic setting of Harewood House last September.

Deputy headteacher, Jane McDermid, said: "The children have been in a state of high excitement about meeting a real prince and princess.

"This is our first Sunshine coach and will open up lots of exciting the charity helped almost 60,000 children take part in day trips.

As for Prince Harry, he'd never been scheduled to appear at the Paralympic Opening Ceremony. Same goes for Prince Charles and Camilla. Prince Philip had planned to attend, but after his latest bout in the hospital, he was advised to sit this one out.

Prince Harry has always been slated to make his first public Paralympic appearance on Monday, September 3, when he watches swimmers in the aquatic center and later chats to sportsmen and women in the official meeting place for the country's competitors - Paralympics GB House.

William, Harry and Kate are all Paralympics GB ambassadors.

The opening ceremony for the London 2012 Paralympics was created by artistic directors Jenny Sealey and Bradley Hemmings, who share a long history of staging exciting live shows together, including work with deaf and disabled artists.

Sealey, 47, has been the artistic director of Britain's flagship disabled-led theatre company Graeae since 1997. Sealey, who went deaf at seven, has used sign language and audio description plus different forms of physical movement to try to reach wider audiences. She was awarded an MBE for services to disability arts in 2009.



Artistic Directors of the London 2012 Paralympic Games Opening Ceremony, Bradley Hemmings and Jenny Sealey pose together as they visit a circus skills workshop on May 2, 2012 in London, England. 60 specialist performers in the Paralympic Opening Ceremony took [art in an eight week training program at Circus Space in Hackney, London. Source: Handout/Getty Images Europe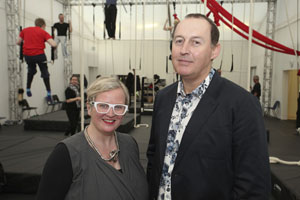 Hemmings, 51, is the artistic director of the Greenwich+Docklands International Festival and also curates and produces Liberty, London's annual disability arts festival for the London Mayor.

From the get-go the pair was thrilled.

Nottingham-born Sealey said: "This is a once-in-a-lifetime opportunity to work collaboratively with leading deaf, disabled and non-disabled artists to create a unique, unforgettable spectacle to be enjoyed by millions across the globe."

Londoner Hemmings commented: "I feel both excited and privileged to have the chance to work with artists and Paralympians on a ceremony which, perhaps uniquely, has the power to transform perceptions."

50 specialist performers in Opening Ceremony prepared by attending an 8 week circus skills training program at Circus Space in Hackney, England.

The program which is funded by Arts Council England, saw performers with disability, including established artists and people new to the arts such as rehabilitating soldiers and non competing Paralympians, learn circus arts skills.

These new skills will not only to help them with their specialist roles in the Ceremony where they will perform aerial work on a 35m high rig, but also build on these skills after the Games.

The Opening Ceremony included an Adult Volunteer Cast of 3000, Children Volunteer Cast of over 100, and a Professional Cast of over 100.

The show featured 73 deaf and disabled professional performers and 68 disabled people.

Groundbreaking in its inclusivety and innovative staging, the Ceremony showcased the excellence of deaf and disabled artists and opened with a fly past by Aerobility, a British charity that trains disabled people to become pilots.

Athletes entered the arena to the David Bowie song Heroes. Music used for the parading athletes was mixed and played by three London-based DJs - DJ Walde, DJ Excalibah and Goldierocks.

Blind soprano Denise Leigh sang the specially commissioned Paralympic tribute song Spirit in Motion, by British composer Errollyn Wallen, as the moon rose behind her. The words were signed by the deaf actor Deepa Shastr.

Other performers included soprano Elin Manahan Thomas, Beverley Knight, the British dance group Flawless, and six London-based choirs - including the London Gay Men's Chorus and the Lewisham Choral Society - performed Prinicipia, a specially composed piece by Greenwich-based composer Errollyn Wallen.

Live music concerts are planned for every evening during the Games. There will also be cultural entertainment.

Coldplay's track Viva la Vida will be played at hundreds of community concerts throughout the UK at 2pm on September 9 in celebration of the London Paralympic Games concluding.

The rockers gave permission for the tune to be played with Frontman Chris Martin stating, "It's a great honor for us to be part of the celebrations for the Paralympic Games and it should be a great moment when the bandstands of Great Britain strike up in unison."





Broadway To Vegas is supported through advertising and donations. Priority consideration is given to interview suggestions, news, press releases, etc from paid supporters. However, no paid supporters control, alter, edit, or in any way manipulate the content of this site. Your donation is appreciated. We accept PAYPAL. Thank you for your interest.



ART AND ABOUT


2012 PRESIDENTIAL PRIMARY MEMORABILIA is being collected by Smithsonian Curators.

Wielding large portfolios under their arms, political history curators Larry Bird and Harry Rubenstein of the Smithsonian's National Museum of American History wound their way through the crowds at the GOP National Convention this past week and will repeat the process at the upcoming Democratic National Convention.

They aren't trying to find a better spot to see the podium or to try to get anybody to sway their vote. Rather, they are scouting out the best political paraphernalia.

Since the late 1980s, the duo have been attending political campaigns and collecting signs, buttons, posters, hats, sunglasses and other novelties that speak to the atmosphere of the conventions.

This is just one step in the ongoing effort to preserve political memorabilia for future generations to study the political movements of today's society.



An Obama bag by Diane von Fürstenberg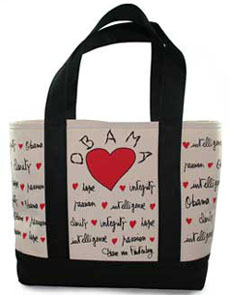 Larry Bird and Harry Rubenstein have been collecting political objects together for the Smithsonian since 1988.

Every four years, Bird and Rubenstein, or "Harry and Larry" as they are popularly known, attend the Iowa caucuses and New Hampshire primaries as well as the Democratic and Republican Party Conventions. Their collecting forms part of a large research collection in American presidential politics, and the objects are used to tell campaign stories in museum exhibitions such as The American Presidency and The First Ladies.

"These objects represent a celebration of democracy and how people express their identity and the identity of the nation," said Rubenstein about the materials added to the national collections.

"Whether it's handmade or mass-generated, each object represents history in the making by showing how candidates communicate with the public and how the public in turn communicates with the candidates," said Bird.



An "I Like Ike" dress supporting Eisenhower for President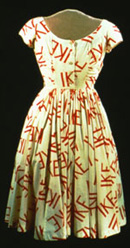 In addition to the posters, badges, buttons, ribbons and advertising novelties the curators expect to collect, they also will try to obtain materials used by the media and other individuals associated with the political process.

So, if you're wearing a political campaign shirt and a couple of guys named Harry and Larry ask you to take it off - they're aren't being rude, just historical.

"By actively collecting new materials at the early primaries and the party conventions, the museum is better able to document the political campaign process and can share the spirit of the presidential campaigns with the American public, both now and in the future," said Marc Pachter, interim director of the museum.

Today, the museum's political history collection includes objects related to presidential history and political campaigning, as well as the history of the White House and first ladies; the civil rights, women's suffrage and reform movements; the World War II home front; and labor history.

The political history collection includes some of most important national treasures, such as the small portable desk on which Thomas Jefferson wrote the Declaration of Independence; the top hat Abraham Lincoln wore the night he was assassinated; and small metal buttons made to celebrate George Washington's inauguration in 1789.

The National Museum of American History, located in Washington, DC, collects, preserves and displays American heritage in the areas of social, political, cultural, scientific and military history.


SWEET CHARITY


PRINCE HARRY

Prince Harry supports the Walking With The Wounded South Pole Allied Challenge 2013. Photo: Official handout.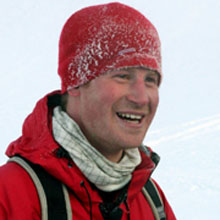 has become Patron of a charity race to the South Pole between three teams of wounded servicemen from around the world.

The Prince, who last year joined a group of injured soldiers as they trekked to the North Pole, is now supporting the Walking With The Wounded South Pole Allied Challenge 2013.

Groups of armed forces personnel from Britain, the United States and the Commonwealth - who sustained physical or cognitive injuries in the line of duty - will take part in the competition in November and December next year.

During the four-week Antarctic expedition the racers will trek a total of 210 miles, drag sledges - known as pulks - weighing more than 150lb and face extreme temperatures as low as -45C, along with savage 50mph winds.

The Allied Challenge to the South Pole will combine five charities for injured servicemen and women from across the globe.

Funds raised will be shared among the host organizations Walking With the Wounded (UK), Soldiers to Summits (USA), Soldier On (Canada), Soldier On (Australia) and Wounded Warrior Trust (New Zealand).

The event, which will involve daily treks of between nine and 13 miles, has been predicted by polar experts to be the largest modern day expedition of its type.


THE RECORDING ACADEMY LAUNCHES CAMPAIGN TO "GIVE FANS THE CREDIT"
Don Was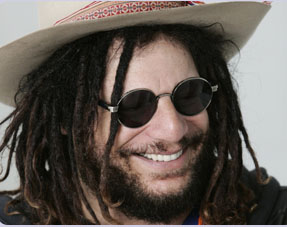 Finally!

Giving those who did the work, the credit!

The Recording Academy, the organization internationally known for the Grammy Awards, is launching Give Fans The Credit - a new campaign that will help enhance fans' discovery of new music by ensuring all music creators are credited for their work on digitally released recordings.

Honorary Ambassadors who will help further awareness of this important initiative include: 12-time Grammy-winning producer T Bone Burnett; Grammy-winning songwriter Lamont Dozier; singer/songwriter/percussionist Sheila E; singer/songwriter Skylar Grey; five-time Grammy-winning producer/songwriter Jimmy Jam; two-time Grammy-winning producer/songwriter RedOne; and three-time Grammy-winning producer Don Was.

"The staggering pace of digital innovation gives consumers access to more and more information, but in this case — digitally released music without liner notes — the music fan is getting less information," said Neil Portnow, President/CEO of The Recording Academy. "We can watch movies online with the credits included, and the same should be true for digitally released recordings. If music devices can access millions of tracks in the cloud, we're confident we can find a way to acknowledge those who created the tracks here on Earth."

Anytime Broadway To Vegas reviews a CD every effort is made to include the names of the musicians, and who participated in the recording - such as the recording engineer or who mixed the album.

If it weren't for those folk, there would be no CDs.

According to the Recording Academy project: "Songwriters, non-featured performers, producers and engineers make significant contributions to recordings, but as liner notes are becoming less common, these creators rarely receive credit on digital music devices. Currently, the only credits consumers are generally able to see are the song title, album, and artist; but music fans should have access to additional information: the songwriter who composed the work, the producers and engineers who shaped the sound, and the musicians who brought the song to life."

The Give Fans The Credit campaign will address this issue on several fronts. Campaign ambassadors and other leaders at The Recording Academy will begin a series of discussions with digital music services to brainstorm ways to deliver more robust crediting information on digital music platforms. At the same time, The Academy's Producers & Engineers Wing will continue its efforts to ensure accurate data is contained within the music files.

"By engaging consumers and the industry in this effort, we seek to give music fans the rich information and content they desire," said Daryl Friedman, Chief Advocacy & Industry Relations Officer for The Recording Academy. "Discovery is a key part of today's digital music services. By knowing who wrote, produced and played on the tracks, consumers will be able to discover even more great music. This will give both creators and fans the credit they deserve."


SPREADING THE WORD


BROADWAY ON BROADWAY the free outdoor concert in the heart of Times Square kicks off the new Broadway season with star performances from new shows and long-running favorites, accompanied by a 30-piece live orchestra.

Singer, actress, talk-show host and lyricist Kathie Lee Gifford will host the September 9 event.

Presented by The Broadway League and The Times Square Alliance, the concert will begin at 11:30 AM.

Gifford is the writer (book and lyrics) of the upcoming new musical Scandalous: The Life and Trials of Aimee Semple McPherson that is coming to Broadway in October. She's best known for her 15 years on Live with Regis and Kathie Lee and is currently the three-time Emmy Award-winning co-host of the fourth hour of NBC's Today show with Hoda Kotb.

Gifford made her Broadway debut in Stephen Sondheim's Putting It Together in 2000, then originated the role of Marta Dunhill in Rupert Holmes' Thumbs and played Miss Hannigan in a record-breaking run of Annie at Madison Square Garden. In 2005 her first musical Under the Bridge (book and lyrics) opened Off-Broadway. She contributed three songs to Hats!, the musical, has recorded numerous CDs and is a three-time New York Times best-selling author.

The annual free outdoor concert at the crossroads of the world brings together stars and performances from current and upcoming Broadway productions to celebrate the beginning of the new Broadway season. Times Square will be a big block party with thousands of attendees between 46th & 47th streets between Broadway and Seventh Avenue.

FREE OPEN REHEARSAL for The Government Inspector takes place at the Tony Award winning Shakespeare Theatre Company's Lansburgh Theatre in Washington, DC on Wednesday, September 5.

Nikolai Gogol's outrageously funny satire of provincial bureaucracy, is the perfect play at just the right time for our nation's capital. Michael Kahn directs and Derek Smith stars in this masterful comedy of errors. The Government Inspector arrives Thursday, September 13 with performances through October 28, 2012.


CARS - A CONCOURS OF ELEGANCE
Prince William driving his bride from their reception in his father's Aston Martin. Photo: Getty Images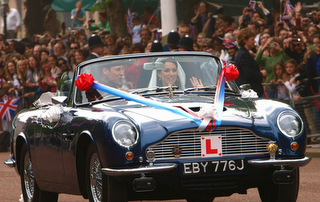 Concours of Elegance - it's from the French meaning a competition of elegance - referring to the gathering of prestigious cars - dates back to 17th Century French aristocracy, who paraded horse-drawn carriages in the parks of Paris during Summer weekends and holidays.

Updated to the present.

Remember Prince William driving his bride Kate away from their wedding reception in that 1969 Aston Martin, borrowed from his father?

The nervous bridegroom did forget to dislodge the parking brakes and managed to burn out the stopping devices. Those brakes have been repaired.

Now, you can get up close and personal with that car September 7 to 9th at Windsor Castle Concours of Elegance at Windsor Castle in England.

A gift to Charles from his mother the Queen on his 21st birthday, the car is considered one of Prince Charles most prized possessions, and one of the rarest and most sought-after Aston Martins.

It will be joined by a further 60 of the rarest motor cars in the world.

Uniquely, within the walls of Windsor Castle a show of spectacular historic automobiles.

From pioneering horseless carriages to the birth of the supercar.

Famous race winning sports cars, graceful limousines, exquisite one-off examples of celebrated coachbuilders' art. All the great motoring marques from AC to Zagato.



1912 Rolls Royce Photo: Concours of Elegance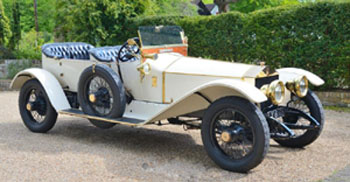 A three day gathering of magnificent motor cars and elegant people, in what's been called England's most romantic castle.

Great Britain has played more than a pivotal role in the history, development and indeed restoration of the motor car and brags that it still does to this day.

What they lacked has been a world-class concours event that proudly acknowledges that heritage. The Windsor Castle Concours of Elegance intends to put that right.

With the permission of Queen Elizabeth, the cars will be displayed in the central quadrangle (The Upper Ward) of Windsor Castle. Half of the automobile gems will be coming from abroad-almost 20 from America. Some of them are outright concours winners, others are in the final process of restoration ready for their 'debut'.

Nearly all of the cars are being driven into the Castle by their owners on the opening day - Friday, September 7. A further 60 British classics will be driven on the Royal Automobile Club's Best of British Tour on Saturday, September 8.

On Sunday, September 9 a further 60 cars, one from each year of HM The Queen's reign, are arriving as part of the Octane Jubilee Tour.

And if that wasn't enough, numerous Owners' Clubs are planning to bring their top 60 examples too. Everyone from Aston Martin to Bentley, Jaguar to Ferrari will be joining the party with special displays along the Castle's Long Walk.

Last, but not least, The Prince of Wales' 1969 Aston Martin Volante DB6 MKII will take to the stage. Only a handful of these desirable convertibles were ever made.

Finished in Seychelles Blue, this is no ordinary Aston Martin. The Prince, an ardent environmentalist, has had it converted to run on bioethanol fuel produced from waste generated by English wine production and whey, a by-product of cheese making.

The Windsor Castle Concours of Elegance's primary objective is to be a highly successful fundraising event. Thorough Events has chosen The Royal Marsden Cancer Charity and East Anglia's Children's Hospices as this year's charitable beneficiaries, supporting their work in the area of palliative care for children and young people.

There are an estimated 40,000 children in the UK with a life limiting illness. Palliative care services offer vital support for these children and their families. They help to manage pain and symptoms, provide respite care, support siblings and help families plan for end of life and bereavement.

However, while there is a great deal of public support for children with life threatening conditions, the availability of high quality palliative care services for children remains very sporadic. Where it is available, it is often not available at home, where the vast majority are cared for on a daily basis, often at great financial and personal cost.

Britain is credited with leading the world in the provision of children's palliative care. In many parts of the world, and especially the developing world, there is little or no pain relief or palliative care available for children.

The funds raised through the Windsor Castle Concours of Elegance will be granted to organizations which are making a real impact in this area. The Royal Marsden and East Anglia's Children's Hospices whose royal patron is HRH The Duchess of Cambridge - that would be Kate - are just two such organizations which are already working in this area.

All of the proceeds from this event (expected to be at least $200,000 will be distributed equally between The Royal Marsden and East Anglia's Children's Hospices.


OTHER PEOPLE'S MONEY


GORE VIDAL'S THE BEST MAN the new Broadway revival has recouped its initial capitalization of $3.25 million.

The play will conclude its limited engagement at the Gerald Schoenfeld Theatre in NYC on September 9. Upon closing, the show will have played 209 performances.

THE LVH which lost the right to use the Hilton Hotel name, announced that the financially troubled Las Vegas resort would be sold in a November foreclosure sale.

The operator of the LVH hotel-casino in Las Vegas its chief creditor and a partner intend to buy it out of foreclosure in November and then continue operations.

A court-appointed receiver, Ronald Paul Johnson, has been running the property under an agreement reached in January between its owners, investment company Colony Capital LLC and investment bank Goldman Sachs, and its main lender, which is also Goldman Sachs. Billionaire financier Kirk Kerkorian built the hotel in the 1960s and called it The International. He sold the property to the Hilton Corp., which expanded the hotel to 2,950 rooms.

The Las Vegas Hilton was famous as the showroom where Elvis Presley performed.

SPIDER-MAN: TURN OFF THE DARK AND JULIE TAYMOR have reached a tentative settlement which ends a legal dispute over her role in the musical, according to the Associated Press which first published the report.

A document filed August 30 in the U.S. District Court in Manhattan said the case could be reopened within two months if the agreement breaks down. A jury trial on the case was originally scheduled to start in early 2013. Settlement terms were not released.

In November 2011, Taymor who was the original Spider-Man: Turn Off the Dark filed a lawsuit against the producers of the musical asserting they had violated her creative rights and did not compensate her for her work on the musical.

In response the producers filed in January 2012 an answer and countersuit Taymor her company, LOH, Inc. The counterclaims were that Taymor refused "to fulfill her contractual obligations, declaring that she could not and would not do the jobs that she was contracted to do."


HANG IN THERE . . . .


RICHARD BACH 76, author of the 1970 best selling book, turned into a movie, Jonathan Livingston Seagull, was seriously injured September 1 in a plane crash. He was attempting to land his small plane - N346PE, a 2008 Easton Gilbert G SEAREY C/N 1DK425C, that he nicknamed "Puff" - at a private airport on San Juan Island in Washington state.

The experienced pilot was flying alone when his landing gear caught the power lines. He was trapped in the cockpit which had crashed upside down. Local media reported that a group celebrating the Labor Day week-end holiday cut him free.

The accident took down two power poles and caused a small grass fire.

Bach is noted for his love of flying and for his books related to air flight and flying in a metaphorical context. He has pursued flying as a hobby since the age of 17.

He was listed in serious condition at Harborview Medical Center with a head injury and broken shoulder.

VAN CLIBURN 78, who has been diagnosed with advanced bone cancer. The famed classical pianist has performed for every president since Harry Truman.

Cliburn won a Grammy Lifetime Achievement Award in 2004, and was presented with the Presidential Medal of Freedom in 2003.

EDDIE VAN HALEN 57, who underwent emergency surgery for diverticulitis, resulting in the band Van Halen to postpone a tour of Japan.

The group posted a statement to its website explaining Van Halen had to be treated for a "severe bout" of the painful digestive disorder that involves the formation of pouches on the outside of the colon, and that a "full recovery is expected within 4-6 months."


CURTAIN DOWN


VIVA ELVIS AND PHANTOM: THE LAS VEGAS SPECTACULAR are no more. Viva Elvis left the Aria building on Friday, and Phantom at the Las Vegas Venetian Hotel dropped the chandelier for the last time on September 1.

Viva Elvis will be replaced by the Cirque show Zarkana, which closed in New York City on Saturday, September 1, and now rolls 87 trucks down the highways to Sin City.



THE DEATH OF THE NOVEL by Jonathan Marc Feldman. Directed by Rick Lombardo.

Explained as: Brilliant young novelist Sebastian Justice claims to be the most well-adjusted, depressed agoraphobic in Manhattan. While he rants about anything from global warming to tennis, his publisher-ordered psychologist (a "writer's block-whisperer") tries to get to the bottom of his grief. But when a stunning and mysterious Saudi woman intrudes into his self-contained world his emotional descent takes a sudden turn, for the raving beauty may not be the person she says she is. Will this stranger be the one to help him find his way back, and at what cost? Identities blur in this enthralling and evocative story that takes a look at the modern world through the eyes of a brilliant and tragically wounded artist.

Starring Vincent Kartheiser (Sebastian), best known to audiences worldwide as spitfire advertising executive Pete Campbell of the Golden Globe, Emmy, and SAG Award-winning drama series Mad Men, Amy Pietz (Perry), Vaishnavi Sharma (Sheba), Patrick Kelly Jones (Philip), Zarah Mahler (Claire).

The design team includes: John Iacovelli, scenic design; Denitsa Bliznakova, costume design; David Lee Cuthbert, lighting design; Haddon Givens Kime, composer/sound designer; Stephanie Schliemann, stage manager; Deirdre Rose Holland, assistant stage manager; Bruce Elsperger, casting director.

Performances through September 22, 2012 at San Jose Rep in San Jose, CA.

LOVE STORY a new musical on a beloved book and blockbuster film by the same name. By Eric Segal. Book and Lyrics by Stephen Clark. Music and Additional Lyrics by Howard Goodall.

When Oliver Barrett IV wanders into a library in search of a book, he discovers Jenny Cavilleri. They came from different worlds. He was a Harvard man, she was Radcliffe. He was rich, she was poor. But they fell in love. This is their story.

September 4 - October 21 at the Walnut Street Theatre in Philadelphia, PA.

HARBOR by Tony nominee Chad Beguelin. Directed by Westport artistic director Mark Lamos.

Tony Award nominee Bobby Steggert and Emmy Award nominee Paul Anthony Stewart co-star in this world premiere comedy.

Joining Steggert and Stewart are Kate Nowlin and Alexis Molnar.

According to Westport, "Harbor opens with Ted and Kevin, who have been together for 10 years, in their picture perfect house in Sag Harbor. When Kevin's ne'er-do-well sister Donna, whom he hasn't seen in years, and her 15-year-old daughter arrive out of the blue, the pair's idyllic life changes and tensions quickly bubble to the surface. The bonds between kith and kin are tested in this alternately biting, touching and hilarious new comedy about the constantly shifting nature of the meaning of family."

The design team includes Andrew Jackness (scenic design), Candice Donnelly (costume design), Japhy Weideman (lighting design) and John Gromada (sound design).

Performances through September 15 at the Westport Country Playhouse in Westport, CT.

CHINGLISH by David Henry Hwang. Directed by Leigh Silverman.

In the delightful Chinglish, "an American businessman heads to Asia to score a lucrative contract for his family's firm - but the deal isn't the only thing getting lost in translation as he collides with a Communist minister, a bumbling consultant, and a suspiciously sexy bureaucrat."

Hwang said in a statement, "In a time when Americans both admire and fear the rising power of China, the journey of Chinglish has been so gratifying to me. First in Chicago, then on Broadway, I've seen non-Asian, Asian American, and Chinese audience members, sitting in a theatre, watching a comedy set in today's China - and laughing together. I'm so excited we're now bringing Chinglish to its natural home on the West Coast, which has long understood the often-hilarious mishaps that can occur when East and West meet."

The West Coast mounting of Chinglish features an ensemble of seven, including Vivian Chiu (Zhao), a member of the original company of Chinglish on Broadway; Celeste Den (Miss Qian/Prosecutor Li); Michelle Krusiec (Xi Yian); Austin Ku (Bing/Judge Geming); Alex Moggridge (Daniel); Brian Nishii (Peter); and Larry Lei Zhang (Minister Cai Guoliang), an original Broadway cast member of Chinglish.

The creative team behind the Broadway production of Chinglish also handles this mounting: David Korins (scenic design), Anita Yavich (costume design), Brian MacDevitt (lighting design), Darron L West (sound design), Jeff Sugg (projection design) and Shawn Duan (projection design). The stage manager for this production of Chinglish is Michael Suenkel, Berkeley Rep's resident production stage manager.

The West Coast premiere opened August 29 in Berkeley, CA, in a co-production by Berkeley Repertory Theatre and South Coast Repertory.

South Coast Rep in Costa Mesa, CA, will present the play Jan. 25-Feb. 24, 2013. It runs at Berkeley Rep's Roda Theatre through Oct. 7. The play is presented in English and Mandarin with English supertitles.

The production will also travel to Hong Kong, March 1-6, 2013, the first time that Berkeley Rep will ever take a show to Asia.

WICKED has blown into Las Vegas with performances through October 7, 2012 in the 2050-seat Reynolds Hall at The Smith Center.

Directed by Joe Mantello, the three dozen cast members includes Nicole Parker (Elphaba), Patti Murin (Glinda), Kim Zimmer (Madame Morrible), Cliffton Hall (Fiyero), Tom McGowan (the Wonderful Wizard of Oz) and Demaree Hill (Nessarose).


WHO'S WHERE




MICHAEL FEINSTEIN AND MARILYN MAYE the first joint engagement of the club's founder, two time Emmy and five-time Grammy nominated entertainer Michael Feinstein and acclaimed Grammy Award nominated singer, Marilyn Maye. The two powerhouse entertainers share the nightclub stage for the first time in an evening of dynamic entertainment including pop standards, boogie woogie classics and audience favorites. The show will run Tuesday through Saturday from September 4 to 22 at Feinstein's at Loews Regency Hotel in New York City.

JOSS STONE is on stage Wednesday, September 5, at the 02 Shepherds Bush Empire in London. Next Sunday, September 9, the show is at the Paradiso in Amsterdam, Netherlands.

TONY BENNETT entertains Friday, September 7, at the Hard Rock in Biloxi, MS. On Saturday he'll be singing his hits at The Joint in Catoosa, OK.

PINK MARTINI entertains Thursday, September 6 at Humphrey's Concerts by the Bay in San Diego, CA. On Saturday they are on stage at McCallum Theatre in Palm Desert, CD. Sunday, September 9, they can be enjoyed at the Greek Theatre in Los Angeles.

RUFUS WAINWRIGHT entertains Saturday, September 8, at the Canberra Theatre in Canberra, Australia. On Sunday, September 9, the show is at the Sydney Opera House in Sydney, Australia.

TOAD THE WET SPROCKET performs Thursday, September 6, at the Raft Theater in Cincinnati, OH. On Friday the show is at The Vogue in Indianapolis.

JOHN PIZZARELLI performs, September 7, at the Bull Run Restaurant in Shirley, MA.


FINAL OVATION


LUCIMARIAN TOLLIVER ROBERTS died August 30, 2012 in Mississippi. She was 88.

Best known as the mother of Good Morning America co-anchor Robin Roberts, the 88-year-old woman achieved great success in her own right.

Lucimarian Tolliver was born in 1924 in Akron, Ohio. As a teenager she was awarded the John S. Knight Scholarship, given by the publishers of the Akron Beacon Journal. The first person in her family to go to college, Tolliver graduated in 1946 from Howard University, where she met her future husband, Lawrence Roberts. The couple had four children and moved 27 times as part of his military career. Roberts was a pilot with the Tuskegee Airmen and a colonel in the United States Air Force with 32 years of total military service

Mrs. Roberts' achievements included serving as director of the Federal Reserve Bank of Atlanta, New Orleans Branch; chair of the Mississippi Department of Education; and as a board member for the Boys and Girls Club of the Mississippi Gulf Coast. She also served on the Presbyterian Church (USA) National Committee on the Self-Development of People and was co-chair of the national steering committee for the mission initiative: Joining Hearts and Hands. In 2011 Mrs. Roberts received the Medgar W. Evers Lifetime Achievement Award from the Gulfport branch of the NAACP.

Mrs. Roberts collaborated with daughter Robin Roberts and author Missy Buchanan to pen My Story, My Song: Mother-Daughter Reflections on Life and Faith (Upper Room Books, April 2012). The book brings together pivotal moments of Lucimarian Roberts' intriguing life with personal reflections from Robin Roberts.

Robin Roberts has gone public with her medical struggles; first against breast cancer and then being diagnosed with MDS, a rare blood disorder that affects the bone marrow.

Her sister, Sally-Ann, is a match, and the GMA host is scheduled to start her treatments for a bone marrow transplant this week. She took a leave of absence from the popular morning television show to be by the side of her dying mother.

Lucimarian Roberts was preceded in death (2004) by her husband of 57 years Lawrence E. Roberts. She is survived by their children Dorothy Roberts McEwen, Lawrence E. Roberts II, Sally-Ann Roberts Craft Nabonne, and Robin René Roberts.

TONY ZOPPI died August 24, 2012 in Texas. He was 92.

Texas newspapers gave his death some interesting coverage, while the Las Vegas newspapers barely listed a mention.

There was a prolonged period of time when Tony Zoppi was one of the most powerful men on the Las Vegas Strip.

According to the Texas newspaper obits: "Raised in Long Branch, N.J., a teenage Tony Zoppi worked days as a telephone pageboy at an elegant beach club. At night, at the same club, he was the band boy for the Abe Lyman Orchestra, often carrying bags for acts like Sophie Tucker or Milton Berle.

"I knew that's where I wanted to be," Zoppi remembered in 1999, "in show business. I didn't want to be an entertainer. I wanted to be a writer like Walter Winchell or Ed Sullivan."

After the Japanese attack on Pearl Harbor, Zoppi enlisted in the Army, was given an officer's commission and worked as a special service officer booking USO shows.

He met his wife, Terion Hebisen, a woman with two toddler sons whose husband was killed on Guadalcanal. After Zoppi and Hebisen were married, he adopted the two boys. Taking a job at the Longview (Texas) News Journal, Zoppi was hired in 1948 by Congressman Lyndon Johnson to do advance work for his senate campaign. After working for Johnson, he took a job at The Dallas Morning News as an entertainment columnist, and was host of the television show Dallas After Dark.

Tony Bennett often credited Zoppi's review of a 1956 show the crooner gave at a Dallas hotel for giving him the courage to tour.

Anthony "Tony" Guy Zoppi became an international celebrity because he knew striptease club owner Jack Ruby who would regularly call Zoppi wanting free publicity. After Ruby shot Lee Harvey Oswald it seemed that every media outlet in the world wanted to interview Tony.

A devout Catholic, in 1965 Zoppi left his family in Texas and moved to Las Vegas where he would be hired as Publicity Director before becoming Vice President of Entertainment booking superstars. He remained at the resort for 17 years.

Zoppi contracted such acts as Bob Hope, Frank Sinatra and Elvis Presley. He signed Ann-Margret for her first live performance in 1967 and planned her wedding in May of that year to 77 Sunset Strip star Roger Smith - and even served as a groomsman.

This was the heyday of Vegas superstar entertainment with the best acts in the world performing for an average of a week to 10 days at a time.

For the entertainment press it was never-ending dinner show opening nights followed by backstage, dressing rooms press parties.

Depending upon which performer was starring at the Riviera, there were times when I was in Tony Zoppi's office every day of the week.

I got to know him quite well.

On September 11, 1970 the Associated Press announced that Jean Mcgowan had been named director of public relations at the Las Vegas Dunes Hotel, replacing Lee Fisher. Unheard of. A woman not only as a hotel executive, but in what had always been a "man's position." Mcgowan was a bright, hard working, beautiful, vivacious blonde who managed not to become jaded while doing a man's job at the Dunes Hotel - which at that time was one of the major hotels on the Strip. She was one of the nicest individuals you could ever hope to know.

She and Zoppi became good friends.

Several times they came to my home.

Just because Zoppi wasn't physically present in Texas didn't mean he didn't love and care for his Texas family.

The boxes he shipped to The Lone Star state are probably why the post office, at one time, was prosperous.

Eventually Zoppi moved his elderly mother to Las Vegas. The woman suffered from dementia. This was prior to an abundance of assisted care facilities being available.

Zoppi was always searching for somebody to help care for her. Frequently, he was left with no option but to bring her to show openings and sit her at the press table. Sometimes she would sit next to me. She was a charming, opinionated woman who would forget where she was.

During the 70s, bouffant, French twists and bee hives were still popular hair styles. I'd just been to the beauty shop and sat next to her at the opening for a major performer. She spent the entire time removing hair pins from my hair and trying to unwind the curls. Zoppi looked pained, but he was trapped as many care givers are. He had to tend to an opening night at his hotel and couldn't attempt to save my hair-do.

Back then I was a really placid person who wouldn't have complained about anything - and Tony knew that. Never-the-less the following day he called to thank me and offered me two comp tickets to the most expensive gourmet restaurant in the hotel, which I declined. Comped gourmet dinner tickets are lovely, except you're still expected to tip and a tip in a gourmet restaurant can equal a week's food budget. The fact that he thanked me and even offered the meals meant a lot.

When a person you knew over a long period of time dies, you start to think about them. All types of memories come to mind.

Tony knew how to get along with everybody. He wasn't the type to sit you down and tell you want you needed to know. Tony was always nice to me, as he was to everyone. But suddenly he began acting just too nice. He'd just sort of look at me in a pitiful way, pat my head and say things like - 'you deserve better' and 'just a shame' or 'once a man does character assignation to a woman, he owns her. He's in control.'

At the time none of that made any sense. It was also an era when you didn't snap back with - 'You sound crazy, what are you talking about' retort. Or, at least I didn't, though I wish I had.

A man I was involved with for decades got together with his television honcho buddies and composed a letter to a sex magazine that was so vulgar, lurid, offensive and incendiary that the effects still linger - resulting in not only serious monetary loss but also serious physical harm.

Unknown to me, this man listed me as one of the beneficiaries of his will, and I stayed as a beneficiary in that will for years.

I learned about that inclusion when his nasty lawyer sent me an e-mail saying I was being removed from the will and I shouldn't try to contest my removal. I had no idea what he was talking about and called the mouthpiece to ask what was going on. In a sassy, arrogant way he said, to the effect, that he'd read a lot about me. Then, in a gleeful, sassy tone of voice informed me that I was excitable and boy would he have fun with me on the stand.

Whatever. Only, I have the right to defend myself and speak out whenever I think it's appropriate.

Zoppi wouldn't have known about me being in anybody's will, and the will removal came a decade after Zoppi left Las Vegas - but his change in attitude - patting me on the head - means he must have seen the sex letter. I really wish Zoppi had told me.

In addition to a period when he patted my head, there was a season when a bird sat on his.

A small bird had fallen from its nest, landing by Tony's window. He scooped the bird up and made a shoebox "nest". The future winged flyer was miraculously kept alive by Tony feeding it soft canned dog food with a toothpick. When the bird first opened its eyes the first thing it saw was Tony. From that second on, the bird thought Tony was its mother.

Bird had the run of the office. Immediately it became evident that birds can't wear diapers.

Enter Zoppi's office and the hotel executive would be brushing up what he hoped were all of the bird's droppings.

Frequently Tony would be talking on the phone while the bird was perched on top of his hair. If the bird thought you were getting too near Mother Tony, the three-inch creature thought it was a guard dog and came straight at your eyes until you turned away.

The time had come for the bird to wing it elsewhere. The bird loved Tony and didn't want to fly the coop. Not one to toss an object out of the window not even one with wings - Zoppi located a lady in either California or Oregon would had an animal sanctuary and agreed to adopt a bird who thought he was a pr assistant.

A bird-brained problem was that Zoppi would have to play surrogate mother for several weeks until the lady was scheduled to visit Las Vegas.

Finally, moving day arrived.

Days later Zoppi looked downcast. He said he missed the bird. "Do you really think he thought I was its mother?" was the pitiful inquiry.

Mcgowen died of breast cancer. After 17 years at the Riviera, Zoppi returned to Dallas when his wife became terminally ill with cancer.

He loved and raised his sons via commuting from Las Vegas. Unfortunately they both preceded him in death. Larry Lee Zoppi passed away in 1994. When son Ronnie Vee Hebisen died in 2007 at the age of 67, his obit stated: "He was raised and nurtured by Anthony G. Zoppi."

Tony is survived by seven grandchildren, eight great-grandchildren and one great-great-grandchild. and his daughters-in-law Joan Zoppi Bryan and Norma Hebisen. The funeral Mass was September 1, 2012 at St. Patrick Catholic Church in Dallas.

HAL DAVID the famed lyricist died on September 1, 2012 at Cedars-Sinai Hospital in Los Angeles from complications of a stroke. He was 91.

He enjoyed a lengthy career writing numerous hit songs with Burt Bacharach.

The pair won two Oscars - one for the soundtrack for the 1969 film Butch Cassidy and the Sundance Kid - and the other for the song Raindrops Keep Fallin' On My Head.

His work on Broadway included Promises, Promises which received a Best Musical Tony nomination. the production won a 1970 Grammy Award for Best Cast Album. He also was the featured songwriter for André DeShield's Haarlem Nocturne (1984) revue and was the lyricist for the 2003 revue The Look of Love.

In 1972 he was inducted into the Songwriters Hall of Fame. In 2011, he and Burt Bacharach were awarded the Gershwin Prize for popular song by the US Library of Congress, the first time a songwriting team has been given the honor.

David was a founder of the Los Angeles Music Center. He was a member of the Board of Directors of ASCAP, having served as its President from 1980 till 1986, and later worked on reform of intellectual property rights.

In May, President Barack Obama and the first lady hosted a concert honoring Bacharach and David as part of the In Performance at the White House series.

Neil Portnow President/CEO of The Recording Academy issued the following statement: "Grammy winner Hal David was an exquisite lyricist who penned timeless songs that have become classics in the American songbook. With his heartfelt and poetic lyrics, he wrote for countless legendary recording artists, and his songs such as Promises, Promises and Rain Drops Keep Falling On My Head have graced Broadway stages and the silver screen, garnering both Oscar and Tony Awards. In 1997, The Recording Academy honored David and longtime writing partner Burt Bacharach with a Trustees Award, recognizing their historic contributions to the music industry. Our very own Grammy Museum includes a permanent Songwriters Hall Of Fame section thanks to a vision of David's that brought a longtime dream of his to reality. His body of work has left a lasting impact on our culture, and today we have lost a true legend of our industry. Our deepest condolences go out to his family, friends and those he inspired through his exceptional and legendary work."

His first wife, Anne, died in 1987. He is survived by his wife, Eunice; two sons, three grandchildren, and two stepsons.








Next Column: September 9, 2012
Copyright: September 2, 2012. All Rights Reserved. Reviews, Interviews, Commentary, Photographs or Graphics from any Broadway To Vegas (TM) columns may not be published, broadcast, rewritten, utilized as leads, or used in any manner without permission, compensation and/or credit.
Link to Main Page
---
Laura Deni



For the snail mail address, please E-mail your request.
CLICK HERE FOR COMMENT SECTION