! >
Broadway To Vegas
  SHOW REVIEWS     CELEBRITY INTERVIEWS     GOSSIP     NEWS 
| | |
| --- | --- |
| | |
Copyright: September 2, 2001
By: Laura Deni
CLICK HERE FOR COMMENT SECTION

BILL COSBY'S DAUGHTER HITS THE ROAD
Being fired can be an uplifting career move.

Bill Cosby axing Audra McDonald because she wasn't considered funny enough was a pink slip move that elevated several careers.

The actress who replaced McDonald, T'Keyah Crystal Keyman, opens her theatrical show, T'Keyah Live! September 6 at The Globe Playhouse in Los Angeles, followed by a three-month tour to 19 cities


T' Keyah Crystal Keyman who replaced Audra McDonald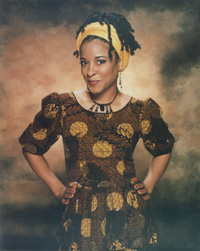 In 1996 Cosby returned to television in a series called Cosby, which had Bill cast as Hilton Lucas, a devoted husband, father and grandfather, whose life is turned up side down when he finds himself a victim of corporate downsizing. The original cast members were Telma Hopkins of Dawn singing fame as Bill's wife and Audra McDonald as his daughter.

The chemistry wasn't right and Telma was replaced by Phylicia Rashad, who had previously been wed to Cosby on The Bill Cosby Show. Cosby gave the word that a different daughter was needed.

T'Keyah had starred on In Living Color and a short-lived series The Show. She was in Russian doing a play which was about to close. "There were three actresses in the play and we're thinking we're going home to no series," recalled T'Keyah in speaking with Broadway To Vegas. "We told ourselves that anything could happen - that by the time we get back they'll be replacing people. And, sure enough, I get back they are recasting for Bill Cosby's new show. When they were casting originally I was in another series called The Show, so I couldn't go out for it, but by the time they recast the Cosby show The Show got canceled.

We missed seeing The Show.

"Well, everyone did," she kidded then added, "It was a cute show. I played a comedy writer."



AUDRA McDONALD getting replaced resulted in 4 Tony Awards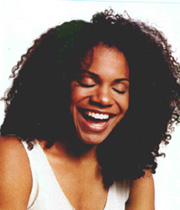 As for the Cosby recasting - "All I knew was they were revamping the whole show. When I talked to people they said - Yeah, they didn't think the last girl was funny enough."

"I had no idea who had played the part. I go there and I get the part and everything is wonderful. They show me a tape of her and it was Audra McDonald and I though - Oh whew! I'm glad I didn't see that before I auditioned! There is nothing wrong with the girl!

Cosby, based on the British sitcom One Foot In The Grave, was signed to a CBS contract in a rare 44-episode, two-season commitment.



Madeline Kahn, Bill Cosby, T'Keyah, Phylicia Rashad, and Doug E. Doug receiving a People's Choice Award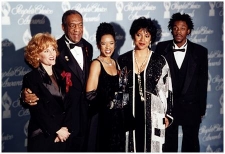 Had Audra McDonald not been fired from Cosby she wouldn't have been able to star on Broadway - and win a Tony award four years in a row.

"Can you believe that? Everything works out the way it's suppose to," exclaimed T'Keyah.

Cosby received the People's Choice award, but it wasn't all kudos and joy. During the course of the series Bill Cosby's son Ennis was murdered and Tony award winner Madeline Kahn died of ovarian cancer. Not an easy time for the close knit television family

"I don't think there has ever been any long running job I've had that someone hasn't died that was loved or a part of the job - someone's mother or father dies that was a part of the show. So, you experience that as a company," T'Keyah softly said.

"Certainly these were two public deaths. We had to experience it as a company and in the press, which makes it a thousand times harder. You want to go on with the show, so to speak, because that is what you do as actors. And, you can't because the public wants to be a part of your experience. You have to allow for that.

"You have to walk a thin line with it, because the show can't become about something sad. We didn't lose much time after the death of his son because we had a break that was scheduled at that time. We took it and came back on time. Because he needed to come back to work. Bill Cosby said something that stays with me - He said - help me do what it is I do. Which is - and I don't know what word to use - but it is to make other people feel good.

"So let go on from that and do what we came to do and that will make it better."

As for Madeline Kahn, who knew she was dying and kept working as long as possible, T'Keyah is still upset.

"Oh, Gosh, Madeline is and I must speak about her in the present tense because she is present to me. She is just a wonderful, wonderful spirit that is with me.

"The show was in transition when Doug E. and I leaped into it," recalled T'Keyah referring to Doug E. Doug who was brought in as the deadbeat neighbor who lusted after T'Keyah's character. "Madeline was the first person in that whole chaos to say - it's not you, it's us. You're going to be okay. We move fast around here, just jump right in. She's the one who would always ask - are you okay?"



MADELINE KAHN

"She was just a beautiful, beautiful person and it was a joy to work with her. She never came in sad. I lost two friends to cancer during the run of that show. And with each one, as is often the case in cancer people, they will have a remission and get better. I have know people who become fine. And, with both of them, Madeline and my other friend, were sick and then they got better. Certainly during the last period of work with Madeline she looked fine. She was out of the wig. Her hair had grown back. I though - she's going to beat it. Of course she is going to beat it. We can't lose Madeline. The world can't lose Madeline. The industry can't loss Madeline The show ... I Can't Lose Madeline ... not MADELINE KAHN! And, I just believed that. Until I heard otherwise.

"Quite frankly I was in denial when she first wasn't there, I just kept thinking - Oh, she's doing something else because she took off at a couple of points to do other work. So, I'd tell myself, okay, she's taken a week off and then I wouldn't ask - because I didn't want, to know."

T'Keyah has remained close to her other castmates. "I went to see Phylicia in Blue and went backstage afterward. I've talked to Doug E a couple of times and I've talked to Dr. Cosby several times," she said referring to the comedian who holds a Ph.d in education. "He has a jazz band. That was the last time I saw him. He hosts a jazz festival every year. Darren, who played my husband on the show, is a film maker and his first film is just completed. I read the script and it's wonderful."



T'Keyah and her grandmother Mary Carter in Paris on their dream vacation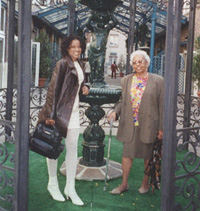 T'Keyah was born and raised in Chicago, Ill. "I was actually raised by my grandparents. It was wonderful. I thought everyone was strict as all get out. No one's parents understood what was happening in present day," she laughed.

As to whether being raised by grandparents taught her to judge people not by their age but by what they can do she responded, "Oh, definitely. My grandmother, Mary Carter, is so far above the category of hero that she deserves a whole other category.

"My sister and I look our grandmother to Paris three years ago. She'd been wanting to go there all of her life."

"It was a crazy household," continued T'Keyah. "There were my siblings. My grandfather was sick at the time. Her mother, my great-grandmother lived with us and she was sick at the time. My grandmother's brother and brother-in-law lived with us and her brother was sick at the time. She held the whole household together. I don't know how. We all went to Catholic schools. I can't imagine where the money came from. She was a case worker for the Illinois Department of Public Aid.

"All of the children turned out well. One of my brothers is a career Army person. My sister is the vice president of a bank. Another brother is in investments. People who had mothers and fathers and money didn't do as well. I contribute it all to my grandmother's strength and my grandfather's love

"I started performing when I was very little and the only one in the family with any type of inclination like that.



With dance partner Keith Perry, Najwa Dance Corps concert.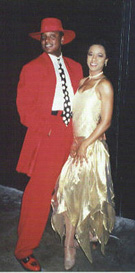 "They all thought I would grow out of it and I never did! I went on a scholarship to A&M University in Florida in their business program. After a couple of years I said - who am I kidding - and I switched to theater and took overloaded classes so I could still graduate on time. I was a gypsy after that. I sang in bands. I danced in companies. I was in a children's improv group. I did plays. To eat I was a substitute teacher during the day."

It was an eye opening experience.

"This is K-8, 12-year- olds, 13-year-olds. My first year teaching I ran across a 12-year-old, a 7th grader, who was quite pregnant, which was shocking to me. It was sad enough to find a 12-year-old pregnant, but in addition to this girl's life being sad to me, the school joke was - Who's the father?"

"That girl and those I saw after that gave birth to my first show Some of My Best Friends. I did three teen age characters and two of them dealt with teenage promiscuity, teen pregnancy and the aftermath, because what I had experienced while teaching was too much for me to let go and forget.

"There are teen characters in my new show T'Keyah Live! as well and deal with things that more than shock me. For instance, what is going on with young people in the school system. They hate each other first and as a result are killing each other or trying to.

"I did my first show for ten years and retired it this year. The subject of teen promiscuity was sort of taboo on stage. People would squirm in their seats. Then they'd come to me after the show and say - Thank you - you were talking about me and I really appreciate it.



T'Keyah as Dinah Washington - in the stage play The Regal Theater, Chicago. Tammy Terrell was also part of the program.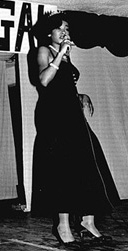 "In this show T' Keyah Live I have a series called Dear Diary where something has happened that's vague enough so it could apply to anybody. What we see is an assignment that a counselor has given these young people - to write in a diary their feelings about what has happened. We see it through the eyes of four characters how they feel about what happened, about each other, themselves, and life through the diary.

"Teachers who have seen the show have asked me to turn that segment into a full length production. In the future that is definitely something I'd like to do, combined with the teen age things I did from the other show."

T'Keyah is bright, enthusiastic, articulate and talented. In Chicago she was in an educational improv group called Wave Link. "Some of the Wave Link people went over to Second City, but by the time they did that I was leaving. In Living Color was the first series I did and I had to move to California to do it."

Her new show encompasses singing, dancing, vignettes, impressions, scenes, improv, audience participation, and video presentations.

People aren't sure what to expect when they come in but are happy they did when they leave.



Madame Walker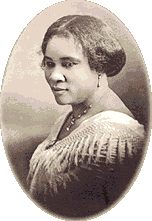 Her three-month 29 city tour includes a Nov. 4 engagement at the Madame Walker Center in Indianapolis, MN.

Madam C.J. Walker was born Sarah Breedlove. She rose from the cotton fields of the South to become the first American woman to earn a million dollars. There were American women millionaires before her time, but they had inherited their wealth. Madam Walker was the first women to earn her fortune by setting up her own business and proving that women could be financially independent of men. The hair care company she started in the early years of this century is still in operation today.

For T'Keyah, performing at the Madame Walker Center has added significance since Madame Walker is a distant relative.

"On my father's side of the family, as an in-law. Her husband would have been my great uncle."

As for what it is like for a person trying to break into show business or progress in their chosen field, T'Keyah sees few changes on the rough road to full employment.

"Now 25 isn't young enough. You have to be 17," lamented T'Keyah, who has always looked younger than her age. "And it's our fault because we run out and see those things and we don't run out to see the Meryl Streep movie the first week end it comes out. It is the white man's world, then black men are second and then white women and black women are last. And all other people of color. That's the way it is. You can sit and cry about it or you can try to do something about it."

"After we finished Cosby I took a year off to really plan my life and my career, which aren't the same thing. Someone I loved died and I realized that I was never going to do that movie with them that I wanted to do. And, I said, - Okay, I have to stop taking jobs and start creating jobs that I really want to do and that's what I started doing. This tour, the book and the CD are the beginning of those things," she said referring to a beauty book she has written Natural Woman, Natural Hair which features well-known faces such as T.C. Carson, the star of Living Single, Josie Harris Thacker of In Living Color and singer Pru. She is also working on a CD which is an eclectic mix of rhythm and spoken work that she has coined Jazz Spirit.

To keep fit she has a gym in her garage. "I just got a tread mill and I love it just a little bit too much. I have a tap mat, a ballet bar and I do ballet exercises. I have a step master." She also has a vegetable garden where she grows a myriad of fresh vegetables and herbs. "My grandmother taught me to do that. She always had a garden."

The opening night of her Los Angeles engagement will be a benefit performance involving several youth charities. According to T'Keyah in addition to her performance there will be "a cool jazz band, munchies and T.C. Carson will be there."

T'Keyah Live! has performances September 5-9 at The Globe Playhouse in Los Angeles before moving on for a Sept 15 show at the Cramton Auditorium in Washington, D.C.



Broadway To Vegas is supported through advertising and donations. Priority consideration is given to interview suggestions, news, press releases, etc from paid supporters. However, no paid supporters control, alter, edit, or in any way manipulate the content of this site. Your donation is appreciated. We accept PAYPAL. Thank you for your interest.


THE MIRRORED STAGE LIFE OF VIVIEN LEIGH

The life of Vivien Leigh makes for an intriguing production. So much so that there are two remarkably similar stage presentations, each telling the tale of success found, love and sanity lost.

The Triumph and Madness of Vivien Leigh is a one woman play by Rick Foster starring Janis Stevens which opens at the Magic Theatre in San Francisco on Sept. 8 with performances through Oct. 7. Barbara Bosch directs



Vivien Leigh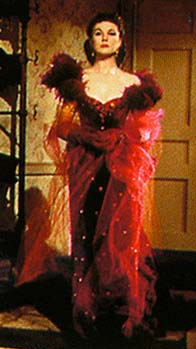 The production has been endorsed by Vivian Leigh's stepson, Tarquin Olivier: "Rick Foster's range of understanding and recreating Vivien amazed and moved me with every page, all so marvelously in character."

Oscar-winning actress Vivien Leigh's life story was a complex one. Born in India and trained in England, she won Academy Awards for her portrayals of quintessential Southern belles the unstoppable Scarlet O'Hara in Gone With The Wind and the doomed Blanche DuBois in A Streetcar Named Desire. However, her longing and respect all went to the stage, not film. It was only in the theater that she truly felt at home. Leigh married and unhappily divorced Laurence Olivier, and then endured manic-depression and a twenty-year battle with tuberculosis before those demons killed her in 1967.

The Rick Foster one-woman biodrama opens as Leigh stumbles into the dark West End theatre in 1967 where she thinks she supposed to be doing a read through of Edward Albee's A Delicate Balance, the play she was rehearsing when she was found dead in her London home.

Finding the theater empty, she is swept into a journey of confrontation with the specters of her theatrical and personal past as she recounts her many life battles from her love and loss of Olivier, considered the finest actor of his era, to the bipolar disease which gave her great energy only to plunge her into despair right afterwards.



Laurence Olivier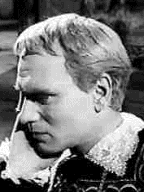 The son of a clergyman, Olivier went from Shakespearean performances to Broadway to Hollywood stardom when he played the lead in Yellow Ticket. By the time he made Fire Over England, he was a hot ticket, made even bigger box office by his well-publicized affair with his co-star - Vivien Leigh. Gossips had a field day because both Olivier and Leigh were married to other people at the time. They later freed themselves in order to marry, a union that lasted for more than twenty years.

The Triumph and Madness of Vivien Leigh has much in common with a British production called The Last Press Conference written and performed by Marcy Lafferty.



Marcy Lafferty as Vivien Leigh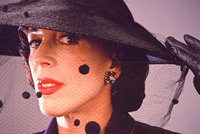 British actress Leigh (Mary Lafferty,) only a shell of her former self, arrives on an almost bare London stage in 1960 to be interviewed by the press. Leigh, as written and performed by Lafferty, is relentlessly driven to explain the sequences of her life - her orchestrated rise from a nonentity to an international star, her all devouring love for Sir Laurence Olivier and her tragic descent into madness.

Reviews called The Last Press Conference "a tour-de-force sojourn into the tortured soul of an artist who could overcome everything but her own conscience."

Using the actress's own words, Lafferty's Leigh fluidly jumps present to past. From antidote to performance, from lucid reason to uncontrollable delusion as she surveys the fragmented moments of her existence.

Both shows sum up Vivien Leigh by three defining roles: Scarlet O'Hara from Gone With The Wind, Blanche DuBois from Streetcar Named Desire and as Lady O, the wife of Olivier.



Sir Laurence Olivier, Lady Olivier (Vivien Leigh) with State Librarian, John Metcalfe at the State Library of New South Wales in 1948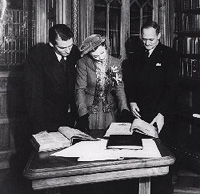 The saga of Gone With The Wind commands much of Leigh's memory. Her maneuvers to gain the part took on aspects of a great military campaign - her utter determination to get the role after reading Margaret Mitchell's epic novel as a young unknown in London. It was a two-year process that eventually let her to the 20th Century Fox back lot "burning of Atlanta" set.

Descriptions of the often torturous months of film making are intertwined with recollections of the early years in Leigh's overpowering love affair with Olivier.

Ironically in her campaign to win Olivier's love she planted the seeds that would eventually lead to her mental collapse. As is explained in The Last Press Conference the lives they destroyed - his wife's and her first husband's - cast a shadow of guilt over their relationship that never abated even though their subsequent marriage and shared work ascended them to the status of the world's theater royals.

As Leigh's personal career begins to wane she over overtaken with bouts of depression, maniacally detailing the crumbling of her marriage to Olivier as she exhausts her abilities to deal with life. She identifies her portrayal of Blanche DuBois with her own deteriorating mental state. In describing Leigh's fragile state of mind Lafferty as Leigh says: "When I see the light at the end of the tunnel it is an oncoming freight train."


SWEET CHARITY


BROADWAY ON BROADWAY the tenth annual free outdoor concert will be hosted by Brooke Shields, who is currently starring as Sally Bowles in Cabaret. The Sunday performance features numbers from The Producers, 42nd Street, The Full Monty, Blast, Kiss Me, Kate, and a preview peek at Mamma Mia! plus Tom Selleck and Jennifer Jason Leigh. Times Square NYC Sept 9.

FRIENDS IN DEED BENEFIT SEPT. 10. It s a benefit auction called "Target for Friends: Icons & Legends," hosted by Mike Nichols, Sarah Jessica Parker and Graydon Carter. This happens at Christie's in New York City. Items to be gaveled down include images of Marilyn Monroe by Dick Avedon, Madonna by Steven Meisel, Elizabeth Taylor by Bert Stern, The Beatles by Harry Benson, John and Yoko by Annie Leibovitz, Muhammad Ali by Tom Hoepker, along with Indiana Jones' bullwhip, and Mick Jagger's shirt.

HELEN MIRREN spearheads a September 6 on line auction to benefit Oxfam International, (OI) a confederation of autonomous non-governmental organizations, committed to working together to fight poverty and injustice around the world. Up for bid is dining with Jeremy Irons at Ireland's Ballymaloe Hotel with the top bidder to Children's Aid Direct. Joanna Lumley donated her 1986 red Ferrari, and Richard Branson will go up, up and away in his hot air balloon with the highest bidder.



CHICAGO played its 2,000th performance last Saturday night, making it the longest running revival in Broadway history.


CHANGING FACES


THE PRODUCERS will have Jeffrey Denman and James Laverdiere alternating in the role of Leo Bloom while Matthew Broderick takes some time off from Sept. 4 to 9. Nathan Lane is going to receive his respite from Sept. 18 to 23 at which time Brad Oscar will step in as Max Bialystock.

THE ROCKY HORROR SHOW has welcomed the multi-talented Terrence Mann as the new Frank n' Furter.



45 SECONDS FROM BROADWAY by Neil Simon starts rehearsals on Sept. 9th The production will open at the Richard Rodgers Theatre. NYC.

MOONLIGHT AND VALENTINO by Ellen Simon, who calls Neil Simon dad, does it her way with her play opening at the BroadHollow Theater in Bethpage, LI, Sept. 8-30.

The play revolves around the recently widowed Rebecca (played by Carolyn Popadin), who is coping with the accidental death of her husband, as her friends and family rally around her in support. When a sexy male painter enters her life to paint her home, she discovers that laughter can be the best medicine.

Doug Lillie directs. The cast also includes Deborah Engel, Karen Rowan and Constance Moore.

THE HONOR OF THOMAS BECKET adapted and directed by Boomerang Theater Company's artistic director, Tim Errickson. A historical memory piece, taken from letters, plays and historical records, this work explores the relationship between King Henry II and the Archbishop of Canterbury, Thomas Becket. Friends since childhood, the two are split asunder when the King appoints Becket to the Archbishop position, figuring that as his best friend, Becket will bring the Church into line with the Crown's needs (such as paying taxes to the throne). However, Becket has always done the very best in whatever job he has been given, and now realizes his duty is to God first and King and country second. Issues of faith, honor, politics and religion are played out against this backdrop as the two men desperately try to find some way to save their friendship and at the same time, stay true to themselves before it is too late. And even after the tragic conclusion - there are questions of atonement and penance. Are they real or just for the benefit of the people? And is a kingship worth more than your best friend? The Honor of Thomas Becket runs September 7th - September 22nd. at The Flatiron Playhouse, NYC.

THE CIRCLE starring Tony Award winner Carole Shelley and Paxton Whitehead began previews Aug. 31 at South Coast Repertory in Costa Mesa, California. The production officially opens on Sept. 7 with performances slated through Oct. 7.

Shelley and Whitehead play ex-wife and husband in the W. Somerset Maugham classic. Also in the cast are Nancy Bell as Elizabeth, Rebecca Dines as Anna, John Hines as Arnold, McGuire as Porteous and Douglas Weston as Edward Luton.

Ralph Funicello in charge of sets, Walker Hicklin head of costumes, York Kennedy is the lighting designer and Michael Roth original music and sound.

A CHORUS LINE conceived, directed and choreographed by Michael Bennett had a Book by James Kirkwood and Nicholas Dante, Music by Marvin Hamlisch and Lyrics by Edward Kleban. It became one of the longest running American Broadway musical ever, playing 6,137 performances.

The show gives an exclusive look backstage at the realities of show-business through the true life stories of dancers who reveal their hopes, fears, and frustrations as they vie for a place in the line. This singular sensation won 9 Tony Awards including Best Musical and Book, and for its dazzling choreography, and exuberant score, as well as a Pulitzer Prize, and features the instant hit "What I Did For Love." One of the most exciting and evocative shows, A Chorus Line exemplifies the quintessential Broadway musical.

The Paper Mill Playhouse summer-tour revival is staging one big time opening night.

All of the surviving members of the original 1975 cast have been invited to attend. At least nine members of the original cast are expected to be there. A spokesman for Paper Mill, the New Jersey nonprofit devoted to musicals and plays, said among those attending the opening performance will be original 1975 cast members Clive Clerk Wilson (Larry), Kelly Bishop (Sheila), Priscilla Lopez (Diana), Thommie Walsh (Bobby), Sammy Williams (Paul), Pamela Blair (Val), Baayork Lee (Connie), Scott Allen (Roy) and Donna Drake (Tricia). Lee, of course, directed and choreographed this tour and has handled many stagings over the years. Donna McKechnie, who played Cassie originally, will be on the road and unavailable to attend the Paper Mill opening. McKechnie's one-woman autobiographical musical show, Inside the Music, directed by Thommie Walsh, plays Paper Mill Oct. 2

The revival's musical director, Fran Liebergall was the original rehearsal pianist in 1975.
September 5 - October 14 at The Paper Mill Playhouse in Millburn, NJ.


WHO'S WHERE


DON RICKLES a.k.a. Mr Warmth can be found at the Stardust Hotel, Las Vegas Sept 6-9

STEPHANIE POPE former Fosse star makes her Arci's cabaret debut with her new show, Now's the Time to Fall in Love, on Sept. 6. through Sept. 15. Arci's Place NYC.

AEROSMITH tomorrow performs in New Orleans, LA at the New Orleans Arena. On Wednesday the group entertains in Memphis, TN at The Pyramid and on Friday it's center stage in Cincinnati, OH at the Riverbend Music Center.

JIMMY BUFFET at the Blockbuster Sony Music Entertainment Center in Atlantic City on September 6.

SADE tonight in Memphis, TN at The Pyramid. On Wednesday she's in the spotlight in St. Louis, MO at the Savvis Center and on Friday the performance is in Noblesville, IN at the Verizon Wireless Music Center. The week closes out Saturday in Cincinnati, OH at the Riverbend Music Center.

DESTINY'S CHILD performs tonight in Irvine, CA at Verizone Wireless Amphitheatre. Tomorrow night they are in Phoenix, AZ at the Cricket Pavilion. Friday finds the gals center stage in New York, NY at Madison Square Garden and on Saturday they take center stage in Alburquerque, NM at the Journal Pavilion.

DAVID CASSIDY does a two nighter in Shreveport, LA at Harrah's Casino Friday and Saturday.

GLADYS KNIGHT performs Friday and Saturday in Dover, DE at the Dover Down Slots.

B.B. KING has a full week. He performs tonight in Canandaigua, N.Y. at the Finger Lakes P.A.C. Tomorrow night the place in Toronto, ON at the Molson Amphitheatre. On Tuesday King entertains in Vienna, VA at the Wolf Trap Filene Center. Friday finds him in Clarkston, MI at the DTE Energy Music Theater and he closes out the week center stage in Big Flats, NY at the Budweiser Summer Stage.

MELISSA ETHERIDGE in the spotlight Wednesday in Atlanta, GA at the Atlanta Civic Center Theatre. On Friday she begins a two night engagement in Miami Beach, FL at the Jackie Gleason Theater.

LORETTA LYNN entertaining Sept 6-8 Boulder Station, Las Vegas.

SMOKEY ROBINSON singing up a storm September 7-8 Hilton Hotel, Las Vegas.

GEORGE CARLIN explaining words to the audiences September 6-12, MGM-Grand Hotel, Las Vegas.


PIFFLE AND PROFUNDITIES


PRESIDENTIAL FEET

President Bill Clinton has he defected to Ferrigamo?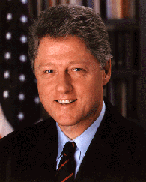 when they are in the White House are slipped into Johnston & Murphy shoes. When they leave office they switch to Ferrigamo - at least that seems to be how it is with former president Bill Clinton.

During his recent Las Vegas visit a shopping spree took place with Clinton, who never met a freebee he didn't like, spending somebody's money buying shoes at the upscale Italian Ferrigamo store.

While in office Clinton was given shoes by Johnston & Murphy who have been shodding the feet of sitting presidents since Millard Fillmore was in office.




The West Wing stars now wear presidential shoes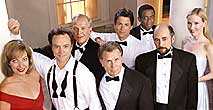 If Clinton is defecting to Italy, putting their tootsies into Johnston & Murphy are TV presidents. Johnston & Murphy pitched NBC's The West Wing, and now the entire male cast has free, new shoes.

Martin Sheen, who plays President Jed Bartlet, is walking around in his new size 9-Ds.
















Next Column: September 9, 2001
Copyright: September 2, 2001. All Rights Reserved. Reviews, Interviews, Commentary, Photographs or Graphics from any Broadway To Vegas (TM) columns may not be published, broadcast, rewritten, utilized as leads, or used in any manner without permission, compensation and/or credit.
Link to Main Page
---
Laura Deni



U.S. Postal Address: Post Office Box 60538, Las Vegas, NV 89160
CLICK HERE FOR COMMENT SECTION