! >
Broadway To Vegas
  
  REVIEWS INTERVIEWS COMMENTARY NEWS

| | |
| --- | --- |
| | |
THE AMAZING BEST SELLING AUTHOR ALISON WEIR - - PRINCE PHILIP SHOWS HE'S A LOYAL SCOTSMAN - - BARBRA STREISAND EXPANDS TOUR - - KATE, DUCHESS OF CAMBRIDGE AND SOPHIE, COUNTESS OF WESSEX DISPLAY STYLE - - MACY'S BELIEVES IN SANTA CLAUS - - PRINCE WILLIAM AND KATE SUE OVER INVASION OF PRIVACY - - BRAD GARRETT HAS CHARITY POKER TOURNAMENT - - KENNEDY CENTER HONORS CLASS OF 2012 - - DONATE . . . Scroll Down


Copyright: September 16, 2012
By: Laura Deni
CLICK HERE FOR COMMENT SECTION

THE AMAZING BEST SELLING AUTHOR ALISON WEIR


Best selling author Alison Weir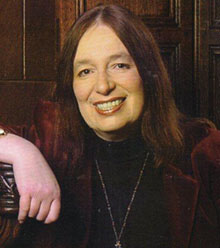 Those Tutors were an amazing group. Sex, murder, mistresses, intrigue. A dysfunctional family if there ever was one. But, oh, so interesting.

Riveting as brought to life by best-selling author Alison Weir, who spoke with Broadway To Vegas about her own interesting life, as well as the antics of those who flow from her prolific pen.

The writer of history books, and latterly historical novels, mostly in the form of biographies about British royalty from the Tudor period have made her a best-selling author.

The Tutor period was dramatic, vivid with strong female personalities. The Tudor period is also the first one for which there is a rich visual record, with the growth of portraiture, and detailed sources on the private lives of kings and queens.

Weir has sold more than 2.3 million books: with more than a million of those sales coming from the United States.

She is also the 5th best selling historian in the United Kingdom. The top four are Antony Beevor, Stephen Ambrose, Simon Schama and Peter Ackroyd.

Weir's fourth novel, A Dangerous Inheritance, is the stand-alone sequel to Innocent Traitor. It tells the story of Lady Katherine Grey, and is a suspenseful tale about one of history's most controversial mysteries, approached from a new angle in an intriguing sub-plot, with a hint of the supernatural. The paperback edition of Alison's latest biography, Mary Boleyn was published in America on September 4, 2012.

Weir specializes in writing about a century of raw power and rude humor.

Rather than objecting to what Weir pens about their kinfolk, the royals embrace her.

"The Duchess of Cornwall came to one of my events in which I was promoting adult literacy, and afterwards she kindly ordered all my books," Weir told Broadway To Vegas referring to Camilla, the wife of Prince Charles.

"After I spoke at a banquet at Hampton Court, the Countess of Wessex asked for details of my work," continued Weir about Sophie who is married to Prince Edward. Those two are currently on a working tour of Canada, representing Edward's mother, Queen Elizabeth.

"The Duke of Gloucester kindly sent me some information from his late father's library," Weir added.

Prince Richard Alexander Walter George, born August 26, 1944 and known as the Duke of Gloucester is the youngest grandchild of King George V and Queen Mary.

His father was Prince Henry, Duke of Gloucester, the third son of George V and Queen Mary. His mother was Princess Alice, of the 7th Duke of Buccleuch. Today Prince Richard carries out royal duties on behalf of his cousin, Queen Elizabeth II. The Duke and Duchess of Gloucester's official residence is at Kensington Palace - the same place Will and Kate call home and where Prince Harry has a crash pad.

The Duke of Gloucester is one of only five living grandchildren of King George V and Queen Mary. The others are Queen Elizabeth II, Prince Edward, Duke of Kent, Prince Michael of Kent, and Princess Alexandra.

As to whether any of the relatives of figures in her books have contacted her with their opinions, Weir replied: "Anya Seton's daughter contacted me after I had written an appendix about her mother's novel, Katherine, in my biography of Katherine Swynford. She was happy with my portrayal of her mother and said I'd got it mostly right!"

Some people not only appear to have it all, but make it look so easy.

Underneath the success is a lot of talent and tenacity.

Meet the personal side of Alison Weir.

Born and bred at Westminster, London, she has also lived in Norfolk, Sussex and Scotland, and now reside in Surrey.

'My parents split up when I was young, and my father died many years ago," Weir told Broadway To Vegas. "He instilled in me a love of classical history when I was a child, and introduced me to the works of Robert Graves and Mary Renault."



This lurid book of fiction about Katherine of Aragon inspired Alison Weir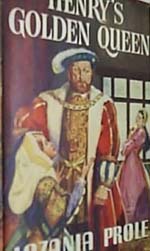 Weir has been interested in history since the age of fourteen, when she read her first adult novel, a rather lurid book called Henry's Golden Queen, about Katherine of Aragon. She was so enthralled by it that she dashed off to read real history books, to find out the truth behind what she had read, and thus her passion for history was born.

By the time she was fifteen, she had written a three-volume reference work on the Tudor dynasty, a biography of Anne Boleyn based partly on contemporary sources, and several historical plays. She had also started work on the research that would one day take form as her first published book, Britain's Royal Families.

Alison was educated at the City of London School for Girls and the North Western Polytechnic, training to be a teacher with a major in history.

However, she quickly became disillusioned with trendy teaching methods. Before becoming a published author in 1989, she was a civil servant, then a housewife and mother.

It should come as no surprise that super-mom Alison Weir did what a lot of mothers are required to do - rise to the occasion.

From 1991 to 1997, while researching and writing books, she also ran her own school for children with learning difficulties.

"My son has special needs and we couldn't find a suitable school for him," she told Broadway To Vegas. "So, I set up my own!"

She's been married to Rankin Weir since 1972, and they have two children, John who was born in 1982 and Kate who came along in 1984.

"My husband was a civil servant until 2001; since then, he has worked for me. He is the bedrock of our lives - I couldn't do this without him," she stressed. "My children, indeed my whole family, are all marvelously supportive."



Alison Weir will take part in a book reading and signing of Captive Queen on September 28 to benefit the The Friends of Northampton Castle, a volunteer group established to publicize the castle and provide information about the history of the site and the castle itself. In July 2012, FONC commissioned a 3D reconstruction of the castle which has been published on youtube. Built between 1084-86, Thomas Becket was tried at the castle in 1164.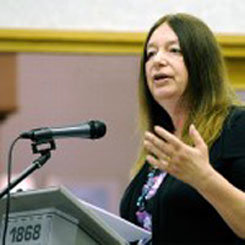 Being an organized pack rat can be important to a successful author.

"I save most things, and yes, I have used a huge amount of my earlier research in my books," she said answering a Broadway To Vegas question. "I'm now rewriting two early novels, and am about to base a book on England's medieval queens on research I did four decades ago."

In the 1970s, Weir spent four years researching and writing a non-fiction biography of the six wives of Henry VIII. Her work was deemed too long by publishers, and was consequently rejected. A revised version of this biography would later be published as her second book, The Six Wives of Henry VIII.

In 1981, she wrote a book on Jane Seymour, which was again rejected by publishers, this time because it was too short. Weir became a published author in 1989 with the publication of Britain's Royal Families, a compilation of genealogical information about the British Royal Family. She revised the work eight times over a twenty-two year period, and decided that it might be "of interest to others".

What Weir's writing has done to encourage an interest in history is magnificent. However, she hasn't attempted to get her books turned into movies or a PBS special because, frankly, "Normally, broadcasting companies approach me."

Those who are successful authors of romance novels know there is a formula. What about historical fiction?

"It all depends on your publisher, and editors vary widely in their opinions," she answered. "I was given a lot of excellent advice (e.g. show, rather than tell), so I do bear that in mind, but by now it's virtually become second nature."

As to whether she has a favorite character that she'd would like to spin off into a series of books, Weir replied: "Not yet, but I'm thinking about it! A female detective who solves historical mysteries would sing to me!"

Weir's writings have been describing as being in the genre of popular history, which has attracted criticism from academia.

Weir is not apologetic.

"History is full of wonderful stories and amazing characters. I feel very privileged to be able to bring them to life in both my non-fiction books and my novels. In both cases, I feel that an author has a responsibility to be as true to the facts as is possible. And in an age in which history is increasingly perceived to be 'dumbed down' in schools, on television and on film, we can all learn from a study of the past. We can discover more about ourselves and our own civilization.

"History belongs to us all, and it can be accessed by us all. And if writing it in a way that is accessible and entertaining, as well as conscientiously researched, can be described as popular, then, yes, I am a popular historian, and am proud and happy to be one."





Broadway To Vegas is supported through advertising and donations. Priority consideration is given to interview suggestions, news, press releases, etc from paid supporters. However, no paid supporters control, alter, edit, or in any way manipulate the content of this site. Your donation is appreciated. We accept PAYPAL. Thank you for your interest.



ART AND ABOUT


CITIZEN ARTISTS SERIES Educating the Citizen Artist is central to Boston University College of Fine Arts' mission. On September 17, CFA will kick-off their Citizen Artists Series, a series of informal evening lectures that pair faculty and student guest speakers within the CFA community to share their experiences and endeavors as Citizen Artists.

A Citizen Artist is one that understands and embraces the role their creativity, craft, and inspiration play in responding to societal challenges in the world in which they live. They are advocates for artistry that is a positive force for enlightenment, change, empathy, and compassion.

"Today, more than ever, the world needs leaders educated with a sense of inspiration, imagination, and vision," says Benjamín Juárez, Dean, College of Fine Arts, Boston University. "By tapping into the diverse perspectives of BU and Greater Boston communities, CFA is defining the role of the artist in the 21st century: an artist able to thrive in difficult times – a Citizen Artist, resilient in the face of uncertainty and determined to make the world a better place." In this three-part series, Citizen Artists will have the unique opportunity to tell their story and invite students, alumni, faculty, staff, and guests to explore what it means to be a Citizen Artist in the 21st century.

In this first presentation, Hugh O'Donnell, Professor of Art, School of Visual Art, and Kristie O'Donnell (CFA '09,) will discuss the creation of the Huntington Fire Station Mural, a site-specific art collaboration with the Boston Fire Department. Through artists working directly with the community to bring visibility and remembrance to contemporary life, the long tradition of history painting comes alive in this presentation.

COLBERT MASHILE: NOT YET Internationally recognized South African artist Colbert Mashile presents a new series of prints that draw upon his deep connection to rural life.

Through the graphic black and white qualities of linoleum printing, Mashile renders dramatizing narratives of the human condition, specific to socio-economic issues currently facing South Africa.

Tuesday, September 18-Sunday, October 28, 2012 with the Opening Reception taking place Thursday, September 20 at the Sherman Gallery at Boston University.

JUST CAN'T GET ENOUGH: THE PHOTOGRAPHS OF ROBERT ALFORD on September 19 at the Rock and Roll Hall of Fame in Cleveland.

Photographs and opening interview with Robert Alford will bring to life images of numerous rock stars from the 1980s and 1990s

The exhibit features images by Robert Alford and offers a snapshot into the world of some of the most influential and successful artists from the last three decades of rock and roll.

In addition to the exhibit opening, Alford will be interviewed by Curatorial Director Howard Kramer. The event will take place on Wednesday, September 19, in the Rock Hall's Foster Theater.

AN EVENING WITH ANDREW LOGAN Sculptor, performance artist, jewelry-maker, portraitist and painter, Andrew Logan discusses his work as a 'Baroque' pop artist.

One of Britain's principal sculptural artists, Andrew Logan challenges convention, mixes media and plays with our artistic values. Logan has worked across the fields of sculpture, stage design, drama, opera, parades, festivals, interior design and film, including The British Guide to Showing Off

His work is featured in the current POP! exhibition at the museum. Tuesday, September 18 at the Fashion and Textile Museum in London.


SWEET CHARITY


BRAD GARRETT MAXIMUM HOPE FOUNDATION CHARITY POKER TOURNAMENT takes place today, Sunday, September 16, at the MGM Grand Hotel's Poker Room in Las Vegas.

Garrett's Everyone Loves Raymond cast mate Ray Romano is playing, as are Garrett's Hollywood friends, including Willie Garson, Elizabeth Perkins and Mimi Rogers.

First prize pays $10,000. The event benefits Maximum Hope which is a non-profit foundation that offers compassionate, practical assistance to families caring for a child with life-limiting illness. Their mission is to provide struggling families with everyday essentials like housing, utilities and groceries, so they can focus on what is most important: their child.


IN THE COURTS - PRINCE WILLIAM AND DUCHESS KATE SUE


If you're sunbathing on private property owned by your cousin, there ought to be a law that photographs can't skulk on the roadway and secretly make photographs.

The Royal House of Windsor has barristers who intend to prove just that.

Last Friday, September 14, a French magazine published unauthorized topless photographs surreptitiously taken of Prince William's wife, Catherine the Duchess of Cambridge. That same day St. James Palace filed a lawsuit - in what may well be a record for getting legal papers typed up and filed.

It is the first time a senior member of the Royal family has sued in a foreign court to protect their privacy, and if the case goes before a judge it will be the first time any such hearing has taken place.

St. James' Palace said in a statement to BBC News that "legal proceedings for breach of privacy have been commenced today in France by the Duke and Duchess of Cambridge against the publishers of Closer Magazine France."

The blurry photos were taken earlier this month as the royal couple vacationed at a private estate in Provence, near the French Riviera.

The week-end before the royal couple left on a tour of the Far East and South Pacific marking Queen Elizabeth II's Diamond Jubilee, they quietly went to France to vacation at the Chateau D'Autet owned by Will's cousin, David, Viscount Linley, who is the son of Antony Armstrong-Jones and the late Princess Margaret. Lindley is admired and respected as a maker of bespoke furniture.



(L-R) Princess Eugenie, Mike Tindall who is married to Princess Anne's daughter Zara, David Linley and Serena Linley as they prefer to be known, attend a reception at Guildhall on June 5, 2012 in London, England. Photo: Chris Jackson/Getty Images Europe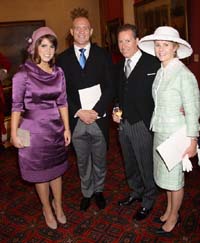 A close and trusted family member, David is married to the Irish heiress Serena Stanhope, a descendant of Charles II, who runs Serena Linley Provence, a shop in Chelsea that sells soap, perfume and home fragrances made from French lavender. They have two children, Charles, aged 12, and Margarita, 10, who was a bridesmaid at the Duke and Duchess of Cambridge's wedding.

His client list is secret, but it is public knowledge that Linley has made furniture for Elton John and designed interiors for Oprah Winfrey, Carolina Herrera and Jo Malone.

David and Serena Linley acquired a 19th-century hunting lodge, with a guesthouse behind it, on 650 mountainous acres in the south of France. They retained the rustic exteriors but updated the interiors with elegant and comfortable furnishings. The house was featured in Architectural Digest. Surrounded by big trees and fields of lavender, the estate screams privacy.

Immediately after the magazine with the privately invasive photos hit the French newsstands St. James's Palace officials reacting in behalf of Prince William with harsh statements, criticizing the magazine for a "grotesque" abuse of privacy and "reminiscent of the worst excesses of the press and paparazzi during the life of Diana, Princess of Wales, and all the more upsetting to the duke and duchess for being so."

Prince William has always emphasized he would not permit his wife to be hounded in the way his mother was.



Laurence Pieau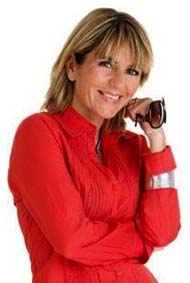 Laurence Pieau, the editor of Closer, defended the decision to print 11 topless photos. She told French radio the couple was on a terrace that was visible from a public road when they were photographed.

She insisted the royals were not making an effort to conceal themselves and called the photos "joyful," not degrading.

"We must not be too dramatic about this," she said, refusing to say how much the magazine paid for the pictures.

Pieau stated surprise at the "hullabaloo", issuing a sassy retort: "It's as if we had killed Princess Diana a second time." She also boasted the pictures would "go round the world", and declared: "We won't be the only ones to publish them."

That was true.

The Irish Daily Star ran the pictures Saturday over two inside pages, although the editions distributed in Northern Ireland, which is part of the United Kingdom, did not include the spread.

The royal couple's St. James's Palace office condemned the Irish paper, saying: "There can be no motivation for this action other than greed."

The Dublin-based newspaper is a joint venture between Northern & Shell - the publisher of the UK Daily Star owned by Richard Desmond - and Ireland's Independent News and Media. Desmond immediately issued a statement saying he was "profoundly dismayed" at the newspaper's decision to run the pictures.

Earlier the Italian gossip magazine Chi said it planned to print the pictures in a special 26-page issue on Monday, further incurring the wrath of the Royal family.

Closer which has no connection to the British magazine of the same name, is owned by a firm run by the daughter of Silvio Berlusconi, the former Italian prime minister who was forced out of office in November after he was unable to bring Italy out of its debt crisis. He's currently on trial in Milan on charges he paid for sex with an underage Moroccan girl and then used his office to try to cover it up. He denies wrongdoing, and both he and the girl state they never engaged in sex.

The Duke and Duchess made no attempt to conceal their fury in a statement released by St James's Palace yesterday morning, saying had "every expectation of privacy" in the remote Chateau, and that publication of the photographs was "unthinkable".

The statement added that the Duke and Duchess had been "hugely saddened to learn that a French publication and a photographer have invaded their privacy in such a grotesque and totally unjustifiable manner".

France has some of the strictest privacy laws in the world, which may have entered into the decision to sue.



Prince William and Kate are hoisted up 130 feet into a rainforest tree. Simon Amos was the rope access technician who oversaw their ascent up the tree. He used a 'counterweight pulley system' which had been set by rope access technicians to their combined weight. Photo:GF/ Goff Photos-distributed St James Palace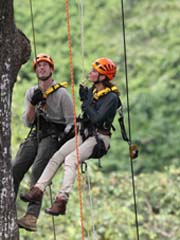 Will and Kate invoked the popular WWII British slogan Keep Calm and Carry On.

The couple traveled to Sabah, one of the two states that make up the Malaysian part of Borneo.

They arrived Saturday by government helicopter to the Danum Valley, where they met with Malaysian and British scientists.

After taking in the sights of the Imbak Canyon and Maliau Basin and its spectacular waterfalls, the royal couple toured the Danum Valley research center where they got to see the conservation work of the Royal Society, which William supports.

Then they were fitted with harnesses and hoisted 130 ft. up a rainforest tree.

"I'm going to go 'whee' and just fly up," Kate joked.

William was also jovial: "Girls don't have the same wardrobe malfunctions as men do," The Daily Mail reported he quipped as he waited to be pulled up the tree in his harness. "I hope I don't have any wardrobe malfunctions."

At the top of the tree they met with Kalsum Yusah, 32, from Sabah, who completed her PhD in entomology at Cambridge University and is stationed in the forest.

We're guessing this what Will and Kate would like to happen to the editors of the publications printing the private photographs: hoist them up 130 feet into a rainforest tree - and leave them there.


KATE, DUCHESS OF CAMBRIDGE AND SOPHIE COUNTESS OF WESSEX SHOW STYLE


In a way Queen Elizabeth is a tour promoter. She currently has two world tours taking place and could be accused of nepotism - of the best kind.

Kate, Duchess of Cambridge, and Prince William pose with Singapore's President Tony Tan and his wife, Mary Tan, at the Istana, or Presidential Palace, on Sept. 11, 2012, in Singapore. Duchess Kate, far left, is wearing a Pabal Gurung printed wool and silk frock. Photo: Chris Jackson - Pool/Getty Images Photo: Getty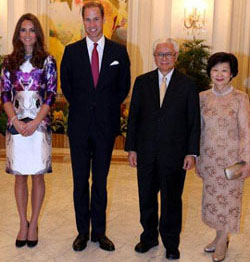 Dr. Michael Jackson, Founding President of the Royal Victorian Order Association of Canada, David Johnston, Governor General of Canada and Mrs. Sharon Johnston, Prince Edward and Countess Sophie wearing a Peter Pilotto and Christopher De Vos dress, witnessing the ceremonial signing of the registrar of the RVO by Graham Glockling, LVO, (seated), who was invested into the Order in 1978. Photograph by: MCpl Dany Veillette, Rideau Hall, Office of the Secretary to the Governor-General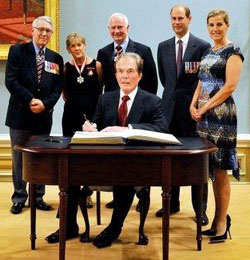 Her grandson and his wife, Prince William and Kate are on their first Asian tour while her son and his wife, Prince Edward and Sophie, are making a return working visit to Canada - he for the 33rd time and she for the ninth.

Both women understand style and know how to wear a dress, rather than having the outfit wear them. Both favor L. K. Bennett shoes and their dresses have the same type of classic elegance. As a raven haired beauty Kate is seen most often in pale colors while Sophie, a lovely blonde, prefers jewel tones.

Both are exhibiting a respect for the areas they are visiting by incorporating local style and culture into the clothing they wear - something that Queen Elizabeth has done ever since she donned that crown.

While both women are style icons, each is heavily involved in charity work. Currently on different sides of the globe, both emphasized the need for an expansion of health care options, especially in relationship to the care of children and the elderly. They also displayed an interest in the cultural life of the communities they visited.



At the National Orchid garden National Parks Board CEO Poon Hong Yuen presented The Duke and Duchess of Cambridge with white and purple, free-flowering orchid hybrid and them named the flower after them - the Vanda William Catherine. Will and Kate also saw the dendrobium Queen Elizabeth II named for his grandmother and in this photo are admiring the Dendrobium Memoria Princess Diana, a white orchid named after Prince William's late mother, Princess Diana. Photo: PA.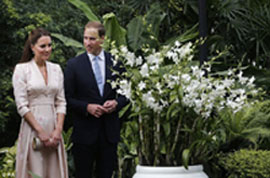 For her first engagement to Singapore's Botanical Gardens, where Prince William and Kate had an orchid named after them - Kate selected a Jenny Packham Kimono style, pale pink dress which was covered with tiny orchids.

Those embossments took a team of skilled artists at Chelsea firm De Gournay eight weeks to complete. The orchid pattern was the lovely De Gournay, the flower most closely identified with the country.

She then changed into a white dress by Beulah London, a label is run by Kate and William's friend Lady Natasha Rufus Isaacs.

Lady Natasha and co-owner Lavinia "both are committed to raising awareness for human trafficking and sex trade in Delhi.

"Their ethical fashion label helps to provide a sustainable livelihood for those who have come out of sex trafficking," according to reports about their company.



The Duke and Duchess of Cambridge paid their first ever visit to a mosque the Assyakirin Mosque in Kuala Lumpur - the biggest in Malaysia. Will pulled off his shoes and Kate took off her LK Bennett heels and wore a headscarf according to Islamic religious law. The couple learned about preparing for prayer and the role of the mosque in the local community. Then Will and Kate attended a cultural performance in a nearby park. Photo: Chris Jackson/Getty Images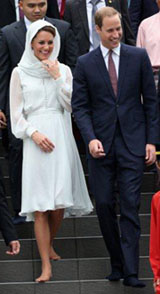 Will and Kate visited a mosque for the first time. Kate selected a gorgeous pale blue dress and matching head scarf - reminiscence of the dress and scarf worn by Princess Diana when she visited a mosque.

The visit required Kate to remove her LK Bennett Sledge shoes which made visible that Kate showed respect by removing any toenail polish, as it is inappropriate for a women to have painted toenails when entering a mosque.

After visiting the mosque Kate and William attended a lunch hosted by the British Malaysian Chamber of Commerce.

The Royals sampled crabmeat timbale and goats cheese roulade appetizers, plus oven-roasted Black Atlantic Code with Tapenade served with Confit Spear Asparagus.

Kate selected an elegant ice blue lace dress by Alice Temperley, her hair pulled back in a bun and held in place with pearl-headed Malaysian wedding pins.

She sipped tea and chatted to several guests including Malaysian-Chinese shoe designer Jimmy Choo.

Choo regularly shod Princess Diana and on occasion has been the label which covered Kate's feet.

Choo no longer has ties with the company.

Rather than discussing shoes the conversation centered on the importance of education for young people, an issue Choo is campaigning about on an international level and the duchess takes a keen interest in.

Also at the tea party was Malaysian singer, songwriter, record producer, television presenter and businesswomen Siti Nurhaliza.



Malaysian Prime Minister Najib Razak, third right, introduces local fruits to Prince William, right, and his wife, Kate, Duchess of Cambridge, during a luncheon in Putrajaya, Malaysia, on Sept. 13, 2012. Photo: AP Photo/Malaysia Information Department
Prince William and Duchess Kate watched a traditional Malay tea pouring ceremony and enjoyed some cups of the brew. Photo: PA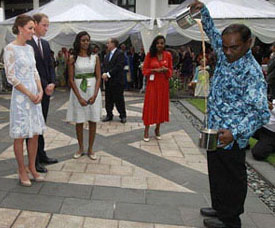 Visiting Hospis Malaysia, The Duchess of Cambridge praised the work of the hospice movement and delivered her first speech on foreign soil.

She described the centers that care for and support the terminally ill as "life changing".

Her husband as well as staff and supporters from the hospice, based in Kuala Lumpur, listened as The Duchess highlighted how she had learned the importance of palliative care through her role as Patron of East Anglia's Children's Hospices.

Speaking to the audience The Duchess, who wrote her own speech, said: "Through this patronage, I have learnt that delivering the best possible palliative care to children is vital.

"Providing children and their families with a place of support, care and enhancement at a time of great need is simply life changing.



The Duke and Duchess of Cambridge laid a wreath on behalf of the Queen and Prince Philip at the Kranji Memorial. Kate protected her skin with an Oriental paper parasol and vintage inspired pale blue-grey dress featuring lace panels and a pleated skirt, designed by Jenny Packham, as she and Will strolled past the rows of white graves. Photo: Getty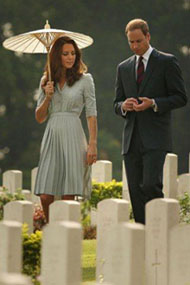 "With effective palliative care lives can be transformed. Treatment, support, care and advice can provide a lifeline to families at a time of great need."

Institutions dedicated to providing palliative treatment for those with terminal illnesses are rare in Malaysia and across the region where families either care for dying loved ones themselves or pay for it, if funds are available.

Dr Ednin Hamzah, chief executive and medical director of the charity Hospis Malaysia, said the very presence of Their Royal Highnesses at the hospice would send a message out across the region.

He said: "The impact of this (will be felt) not just in Malaysia but other countries Thailand, Philippines," and that it would highlight how politicians' priorities can sometimes lie with other issues.

"This sort of thing doesn't exist, governments like other things they think are important."

The visit also saw the Malaysian government announce a new nationwide initiative to help with the care of terminally ill children which Hospis Malaysia is supporting.

Among the guests was Princess Raja Zarith, patron of the program and from the royal family of the state of Johor, one of 11 royal houses in Malaysia.

That evening, Will and Kate attended state dinner, hosted by Malaysia's King Agong and his wife Queen Raja Persaisuri. Kate was stunning in a white and gold embroidered floor-length Alexander McQueen gown.



Prince William and Kate, Duchess of Cambridge, attending an official dinner hosted by Malaysia's king, Sultan Abdul Halim Mu'adzam Shah of Kedah, at the Istana Negara palace on September 13, 2012, in Kuala Lumpur, Malaysia. The duchess' white and gold gown is by Alexander McQueen. Photo: Mark Large - Pool/Getty Images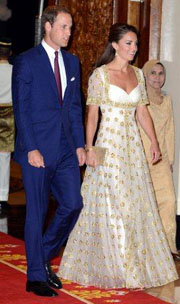 Wrap-around safety glasses were the accessory of choice when The Duke and Duchess of Cambridge visited a Rolls-Royce jet engine factory and Kate took control of giving one of the engines a test spin.

The test facility at the huge open-plan plant began to rumble as the Trent 1000 engine, built for a Boeing 787 Dreamliner plane, sprang to life and began to whine and after a few moments The Duchess slowly brought it back to a stop.

Kate asked the test engineer: "Did that sound OK?" and he replied: "That was perfect, nothing wrong with that test."

Then she noticed that a limit had been set on how far she could test the engine and when the engineer confirmed there was one, she asked, to laughter from other guests in the room: "So I wouldn't break (it)," which prompted her husband to joke: "Try not to break any engines."

Before leaving The Duchess was given the task of fitting the last of 24 fan blades to a Trent 900 engine. As she pushed a lever the titanium blade slotted home and she turned to her husband and Mark King, president of civil aerospace at Rolls-Royce, and pumped the air with her fist and smiled.

Later the royal couple visited Queenstown, the first satellite town in Singapore which was, appropriately, named after The Queen to mark her coronation in 1953.

William and Kate, who had changed for the visit into a pretty patterned silk dress by Singapore fashion brand Raoul, walked around the estate's gardens stopping briefly to watch a group of elderly residents doing t'ai chi. In the centre of the area was a number of outdoor gym machines on which pensioners were exercising.

William approached one woman in her 70s and told her through a translator: "You are looking great. How much do you exercise? An hour a day? That is fantastic, you must have big arms and legs. Very fit - awesome."

Across the globe in Canada Countess Sophie wore a vibrant red dress in a nod to the country's national flag and LK Bennett wedges. Prince Edward and Sophie were shown around Rideau Hall in Ottawa by Canadian Governor General David Johnston and his wife Sharon.

Following Ottawa Prince Edward and Sophie traveled to Iqaluit, the first royal visit in 10 years.



Nunavut Premier Eva Aariak greets Sophie, Countess of Wessex who is wearing a dark coat and light hued checkered scarf, and her husband Prince Edward, Earl of Wessex, at the Iqaluit airport as Nunavut Commissioner Edna Elias looks on. Photo: Government of Nunavut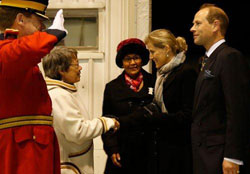 Then, the duo journeyed north, visiting for the first time Nunavut, the most northerly territory of Canada.

Chilly, Sophie arrived in a dark coat and light checkered scarf. Edward and Sophie attended an RCMP awards ceremony at the legislative assembly.

Then they took a tour of the newly rebuilt St. Jude's Anglican Cathedral and had tea. They attended a reception at the Nunatta Sunakkutaangiit Museum followed by a community feast at St. Jude's Parish Hall. On Friday morning, the countess toured the nursing program at Nunavut Arctic College.

The couple, who serve as colonels-in-chief to a number of Canadian Forces regiments are also patrons for a number of Canadian charities. During the trip presented approximately 250 Duke of Edinburgh Awards earned by outstanding young Canadians.

Born in 1964, Prince Edward was created The Earl of Wessex and Viscount Severn on his marriage in 1999.

At the same time it was announced that His Royal Highness will be given the title Duke of Edinburgh in due course, when the present title now held by Prince Philip eventually reverts to the Crown.

The Earl of Wessex has a busy schedule. As well as duties in support of The Queen, the Earl plays an active role in The Duke of Edinburgh's Award, the program for young people set up by his father in the 1950s

As for the guys on these working tours - Prince William and Prince Edward - they know enough not to try to upstage their wives. Both men mainly opted for blue suits.


SPREADING THE WORD


THE DEVIL'S DISCIPLE Written by Bernard Shaw during 1896 and 1897. A staged reading produced and directed by David Staller.

It's 1777 New Hampshire and there's intrigue afoot! A Melodrama in Three Acts The action of the play takes place in the town of Websterbridge, New Hampshire, America, in the year 1777, during the American War of Independence.

Cast of characters: Narrator and Titus Dudgeon: Sidney J. Burgoyne. Essie: Victoria Haynes. Mrs. Dudgeon: Joy Franz. Christopher Dudgeon: Ben Rauch. Judith Anderson: Janie Brookshire. Rev. Anthony Anderson: Marc Kudisch. Lawyer Hawkins: James Prendeergast. William Dudgeon: William McCauley. Richard Dudgeon: Jeremy Bobb. The Sergeant: Ted Schneider. Major Swindon: Warren Kelley and General Burgoyne: Richard Easton.

September 24 at The Players Club in New York, NY.

ETHEL KENNEDY AND FILMMAKER RORY KENNEDY will be on hand Monday, September 24, for a screening and discussion of the HBO documentary Ethel: A Private Look Inside a Highly Public Life.

The Boston Premiere takes place at the John F. Kennedy Presidential Library and Museum. A reception will be following by a screening and discussion.


OTHER PEOPLE'S MONEY


TICKETS FOR BARBRA STREISAND CONCERTS

Barbra Streisand will return to Las Vegas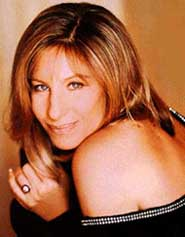 go on sale September 21 in Las Vegas and September 24th in both San Jose and Los Angeles.

The singer who rarely tours has added additional concerts to her upcoming tour, with stops planned in Las Vegas, Los Angeles and San Jose in November. The performer will be joined by Il Volo and Chris Botti.

Streisand will open Brooklyn's Barclays Center October 11 and 13 with a new concert, titled Back to Brooklyn, which is her hometown. Both shows are sold-out.

The iconic singer will also play the MGM Grand in Las Vegas on November 2 followed by a November 5 gig at the NP Pavilion in San Jose, CA and a November 9 date at the Hollywood Bowl.

Previously announced tour stops include Philadelphia, PA on October 8 at the Wells Fargo Center; Montreal, QC performance on October 17 at the Bell Centre; Ottawa, Canada on October 20 at the Scotiabank Plaza; Toronto, ON in an October 23 date at the Air Canada Center and a Chicago, IL October 26 stand at the United Center.

STEVE WYNN won his slander lawsuit against Girls Gone Wild founder Joe Francis, who claimed the hotel mogul had threatened to kill him over a $2 million gambling debt incurred at the Wynn Resort.

On September 10 a jury awarded Wynn $20 million.

During the four-day trial Francis claimed that Wynn had e-mailed Grammy winning record producer Quincy Jones, who is his neighbor, correspondence which contained the threat that Wynn was going to have Francis hit over the head with a shovel and buried in the desert.

Jones testified he never received any such e-mails. Wynn also vehemently denied the threats.

Wynn's attorney Barry Langberg had asked the panel to award billionaire Wynn $12 million plus punitive damages to send a message that false statements that travel far in the Internet age will not be tolerated.

The following day the jury doubled the award as punitive damages, ordering him to pay an additional $20 million.

Wynn said that he would donate any winnings, minus his attorney's fees, to charities.

MUHAMMAD ALI'S childhood home in western Louisville was sold to a longtime fan and Las Vegas real estate investor Jared Weiss for $70k. The initial asking price was $50k.

Weiss plans to restore it as a museum or for some other charitable or public use.

Ali, then Cassius Clay Jr., lived in the home from the time he was a toddler until after he won an Olympic gold medal in Rome in 1960.

Jared Weiss is president and CEO of Motion Properties. He was represented in the sale by Dave Lambrechts, of Louisville.


MACY'S BELIEVES IN SANTA CLAUS, BUT MANY SCHOOLS TOOK A GRINCH POSITION


For millions of people it isn't Christmas without visiting Macy's Santaland in New York City at the landmark Herald Square location.

Last August, to celebrate the fifth anniversary of its splendid Believe campaign, the department store featured in Miracle on 34th Street, reached out to school theatre programs across the country offering to provide seed money and support for productions of their new musical based on the famous 1897 newspaper column popularly headlined as Yes, Virginia, There Is a Santa Claus.

Macy's stated it would provide a digital toolkit to participating schools, where they would be able to access downloadable scripts and musical scores, production reference materials and videos from celebrities and theatre experts, free of charge.

In addition, Macy's promised to provide $1,000 grants to the first 100 accredited schools who applied, to help in defraying expenses of their staging the hour-long, flexible cast, 12-song show by Wesley Whatley and book and lyrics by William Schermerhorn.

Yes, Virginia the Musical is aimed at students in grades three through six, reflecting the ages of the child characters in both the stage and television versions.

However, less than 60 institutions applied for the program. The application deadline was last week.

Lumps of coal to the schools who failed to take advantage of this delightful opportunity.

Productions will be mounted this December.

Created and produced by Macy's and its ad agency JWT, in conjunction with the Ebeling Group and the MEC Entertainment division of MEC, Yes, Virginia debuted as an animated special in 2009. It will return to CBS this autumn and will also appear on Spanish-language network Univision.

It was inspired by the true story of an eight-year-old girl Virginia O'Hanlon who wrote a letter to the New York Sun newspaper in 1897, asking if Santa Claus was real.

"Yes, Virginia The Musical is an exciting new extension of Macy's Believe campaign, which supports Make-A-Wish and aims to inspire goodwill and generosity during the holiday season and beyond," stated Macy's chief marketing officer Martine Reardon.

"This school musical program is another way for Macy's to entertain our customers, allowing us to share this beloved story with even more families this year, spreading the Believe philosophy and giving our support to the performing arts in communities nationwide," added Reardon.


KILT WEARING PRINCE PHILIP PROVES HE'S A TRUE SCOTSMAN
Sir Sean Connery is a loyal Scotsman seen here wearing full Highland Dress, with members of the United States Air Force Reserve's Pipe and Drum Band in Washington, DC., at a Tartan Day celebration. Photo: PD-USGov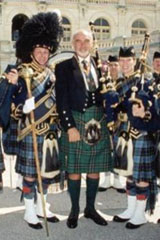 First it was a naked Prince Harry partying in Las Vegas.

Now his grandfather showed off what is under his kilt.

A true Scotsman.

In what has been described as a wardrobe malfunction, the husband of Queen Elizabeth "accidentally spreading his legs - while wearing a kilt," showing off that he has no preferred brand of underwear - in fact, demonstrating that he doesn't wear any under a kilt.

The Duke of Edinburgh and Queen Elizabeth were attending the Gathering for the Highland Games in Scotland over the first week-end in September. As is customary while in Scotland the royal consort wears the country's native garb.

According to pictures obtained by TMZ.com, the 91-year-old forgot to consider his attire and cross his legs before taking a seat and as TMZ printed "gave the world a royal wiener flash."

TMZ printed the photo with a crown over the royal jewels. TMZ is also the outlet which first published the photograph of a naked Prince Harry.

What one wears under a kilt has been the subject of curiosity for decades.



At the 2011 Dressed to Kilt charity event Actors Kiefer Sutherland, Jason Patric, Chris Noth, Brian Cox and Jim Gaffigan gave the audience a surprise ending by flipping their kilts to reveal nothing but their bare bottoms underneath. Photo: Getty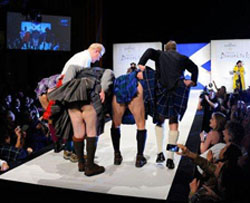 Most men also say that a kilt is very comfortable and warm piece of cloth and there is no need for tights. Also a real Scot usually doesn't have underwear underneath his kilt. Decades ago the blousy shirts men wore with kilts had long tails, so that if the kilt was removed the Scot's low land areas were covered.

One of the most famous kilt wearers is Sir Sean Connery, known for his roles in seven James Bond films. He is also an Ambassador for Scotland and quite generous.

He donated his entire salary from the film Diamonds are Forever to the charity Scottish International Educational Trust, which he co-founded.



A kilt wearing bagpipe player at the Tower of London. We didn't ask what was under his kilt. Photo: Laura Deni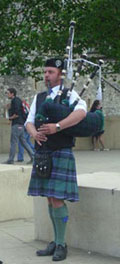 The charity has funded millions of dollars for scholarships to young talented Scots who are in need of help to achieve their educational objectives.

Sir Sean is also strong supporter of the national dress.

He also appears in full Highland Dress at Tartan Day celebrations.

David Hasselhoff lifted his kilt in front of people before the audition to Scottish edition of British Got Talent.

Dressed to Kilt is the annual Scottish-inspired fashion show and charity fundraiser benefiting the Friends of Scotland Organization. At the 2011 event, held at New York's Hammerstein Ballroom, Danny Ware and Ahmad Bradshaw of the New York Giants, looked natural although they didn't say if they were au natural under their kilts.

Country artist Gary Allan and Gossip Girl actor Matthew Settle, teased the judges with a flash of leg before strutting down the catwalk.

Glasgow-born comedian Billy Connolly admitted to the press that his tender skin has forced him to wear undergarments. Referring to having had his bare bottom under a kilt he confessed: "It's like wearing barbed wire. I tried it once, and my arse was purple by the time the day was over."

A fitting climax to the evening - actors Kiefer Sutherland, Jason Patric, Chris Noth, Brian Cox and Jim Gaffigan thrilled the crowd by bending over and flipping their kilts to reveal nothing but their bare bottoms underneath.



KENNEDY CENTER HONORS CLASS OF 2012 will include Dustin Hoffman, David Letterman, ballerina Natalia Makarova, 71, who left her native Russia in 1970; and keyboardist/bassist John Paul Jones, guitarist Jimmy Page and singer Robert Plant, all of rock band Led Zeppelin and six-time Grammy winner bluesman guitarist 74-year old George "Buddy" Guy.

Kennedy Center Honors co-creator and American Film Institute founder George Stevens Jr., will receive an honorary Oscar on the same night as this year's State Department dinner for Kennedy Center honorees, hosted by Secretary Hillary Rodham Clinton - a day before the December 2 Kennedy Center Honors gala he and his son Michael are executive producing.

ADIL HOSHUR famed Chinese tightrope walker and two apprentices who set a new world record on Saturday, for simultaneously walking on a 4,593 feet-long wire.

They completed the wire-walking 1148 feet above the Dehang Canyon, in China's central Hunan Province, without any safety nets.

The trio performed death-defying stunts, such as walking over one another, as they traveled along the tightrope.

Lead walker Hoshur began walking ropes at the age of ten and, so far, has lived to be 41-years-old.

Books have been written about him and a film chronicled his fetes. One of his students is his nephew Samat Hasan.

Thought: If you have just walked 1148 feet above anything - much less a canyon - without a safety net - you're not an apprentice.

PRINCE HARRY who celebrated his 28th birthday on September 15. The "party" kicked off early when the Taiban staged a large-scale attack on Camp Bastion, the Afghanistan base where Britain's Captain Wales is stationed.

Eighteen insurgents armed with rocket-propelled grenades, suicide vests and assault rifles used the cover of night to reach the edge of Camp Bastion in the country's dangerous Helmand province.

All the assailants were killed. Two US Marines were killed as well defending the base, and several more were wounded.

The heavily fortified British base is home to troops from several countries including Denmark, Estonia, Afghanistan, the UK and the US.

Taliban spokesman Qari Youself Ahmadi said the attack was a response to the anti-Islamic YouTube video that has incited protests throughout the Muslim world.

Prince Harry was on base at the time, about one mile away from the assault. The British Military indicated they have no plans to reassign Capt. Wales who intends to fulfill his four month deployment.

THE LATIN RECORDING ACADEMY has announced that Luz Casal, Leo Dan, Rita Moreno, Milton Nascimento, Daniela Romo, Poncho Sánchez, and Toquinho will be honored with The Latin Recording Academy's Lifetime Achievement Award, and Juan Carmona "Habichuela" and Yomo Toro are the recipients of the prestigious Trustees Award.

These honorees will be acknowledged at a special invitation-only ceremony on Wednesday, November 14, at the Four Seasons Hotel in Las Vegas as part of the weeklong Latin Grammy Awards celebration.

THE GRAMMY FOUNDATION and MusiCares Foundation - the affiliated charities of The Recording Academy - announced that their respective Boards have elected new Officers and Directors. Rusty Rueff, former CEO of SNOCAP, Inc., has been elected to serve as the Chair of the Grammy Foundation; Tim Bucher, founder and CEO of TastingRoom.com and Silicon Valley-based entrepreneur, was elected as Vice Chair; and Geoff Cottrill, chief marketing officer of Converse, was elected as Secretary/Treasurer. Beatriz R. Perez, chief sustainability officer of the Coca-Cola Company, is the new Grammy Foundation Chair Emeritus.

For MusiCares, Board leadership remains the same with Chair Scott Pascucci, president & COO of Exclusive Releasing, a division of Exclusive Media; Vice Chair Jon Platt, president, creative, North America, Warner Chappell Music Publishing; Secretary/Treasurer Gary Veloric, founder of Red Stripe Plane Group and JG Wentworth; and Chair Emeritus Paul Caine, executive vice president and chief revenue officer of Time Inc.


GET WELL SOON TO . . . .


KATHY BATES the Oscar-winning actress who underwent a double mastectomy, after being diagnosed with breast cancer two months ago. The spunky actress has also survived ovarian cancer, which was discovered in 2003.



UNDER MY SKIN by Robert Sternin and Prudence Fraser. Directed By Tony Award nominated Marcia Milgrom Dodge.

A World Premiere comedy about love, sex and healthcare.

Billed as: "In Under My Skin, a twist of fate leads to love and laughs when New York's most eligible bachelor and a single working mom hilariously experience each other's lives and see things from a very different perspective.

The cast features (in alphabetical order):
Tim Bagley as Dr. Hurtz, Erin Cardillo as Melody Dent, Yvette Cason as Angel, Hal Linden as Poppa Sam, Monette Magrath as Victoria, Megan Sikora as Nanette, Danielle Soibelman as Casey, and Matt Walton as Harrison Badish.

The creative team includes scenic design by John Iacovelli, lighting design by Jared A. Sayeg, sound design by Philip G. Allen and costume design by Kate Bergh.

Performances through October 7, 2012 at the Pasadena Playhouse in Pasadena, CA.

CYRANO DE BERGERAC a new Broadway production of Edmond Rostand's romantic verse drama. Translated by Ranjit Bolt.

Jamie Lloyd directs.

Starring Tony Award winner Douglas Hodge as Cyrano, Clémence Poésy making her Broadway debut as Roxane, Patrick Page as Comte De Guiche. Bill Buell as Ragueneau and Kyle Soller as Christian.

The cast also features Max Baker (Le Bret), Geraldine Hughes (Duenna & Marthe), Samuel Roukin (Valvert ), Peter Bradbury (Carbon de Castel-Jaloux), Mikaela Feely-Lehmann (Claire), Andy Grotelueschen (Montefleury & Friar), Frances Mercanti-Anthony (Amélie, Lise, Mother Marguérite), Tim McGeever (Lignière), Drew McVety (Man #2), Ben Steinfeld (Musketeer).

The 1897 French classic is described as: "An enduring masterwork with some of the wittiest lines ever written for the stage, Cyrano de Bergerac is a clever and touching story about the power of love, the art of wordplay and the joy of finding what you've always wanted right under your nose. Cyrano's a nobleman with a head for poetry and a nose for miles. All of Paris adores him except for his true love Roxane, who can't see past his all-too-prominent facial feature. Instead, she falls for a handsome young cadet named Christian. But when Christian admits he's tongue-tied with Roxane, Cyrano gives him the romantic words guaranteed to win her heart. With Christian's looks and Cyrano's language, it's a foolproof plan! Or is it?"

The design team includes Soutra Gilmour (sets and costumes), Japhy Weideman (lights), Dan Moses Schreier (sound), Charlie Rosen (music).

In previews at the Roundabout Theatre Company's American Airlines Theatre with the official opening set for October 11.

HEDDA GABLER Brian Friel's adaptation of Ibsen's masterpiece. Directed by Anna Mackmin. Starring Olivier Award-winner Sheridan Smith, Darrell D'Silva Buffy Davis, Daniel Lapaine, Anne Reid, Adrian Scarborough, Sheridan Smith, and Fenella Woolgar.

Played out swiftly over 24 hours, Ibsen's startlingly resonant play is a thrilling portrayal of the free-spirited Hedda Gabler (Sheridan Smith). Railing against a life of crippling convention Hedda Gabler cuts through the lives of everyone in her orbit.

Designer Lez Brotherston. Lighting Mark Henderson. Music Paul Englishby. Sound Simon Baker. Casting Sarah Bird.

A post-show discussion with members of the Company, including Director Anna Mackmin and star Sheridan Smith, giving audience members the opportunity to ask questions about the production and discover some of the secrets hidden behind the scenes will take place September 20.

The event is free to attend, but priority booking is given to members of The Old Vic Club and Friends before tickets are made generally available. You must have a ticket to the performance on the September 20 in order to attend the Q&A. Performances at The Old Vic in London.

9 TO 5: THE MUSICAL featuring a book by Patricia Resnick who is the co-writer of the original screenplay. The stage musical is based on the film of the same name and features Dolly Parton's original hit title song along with her Tony Award and Grammy-nominated score.

Directed and choreographed by Richard Stafford.

Starring Tony Award nominee Dee Hoty as Violet, opposite Holly Davis as Judy Bernley and Shayla Osborn as Doralee Rhodes.

The cast also features George Dvorsky as Franklin Hart, Jr., Kathy St. George as Roz Keith, and an ensemble including Amy Bodnar, Patrick Boyd, Jermiah Ginn, Derek Hanson, Kevin B. McGlynn, Natalie Newman, Rommel Pierre O'Choa, Sarah M. O'Connor, Peter Romagna, Shannon Lea Smith, Jonathan Stahl, Merrill West and Toni Elizabeth White.

The creative team includes Mark Hartman (music director), Phillip Witcomb (scenic designer), Paula Peasley-Ninestein (costume designer), Phillip Watson (lighting designer) and Jessica Paz (sound designer).

Officially opens September 26 at the North Shore Theatre in Beverly, MA.

JIMMY STEWART AND FRIENDS starring legendary comedian and impressionist Rich Little in his one -man show.

The show features Little's impressions of more than 25 celebrity voices including Cary Grant, George Burns, Ronald Reagan, Katharine Hepburn and John Wayne.

Together, the voices take audiences into the life of famed actor Jimmy Stewart. Besides politicians, you might hear the voices of Edith Bunker, Kermit the Frog, Robin Leach, the Bundys of Married with Children, Dr. Ruth Westheimer, Jay Leno or Robin Williams.

Part of the American Legend Series presented by the Edgerton Center for the Performing Arts.

Saturday, September 29 at the Edgerton PAC on the campus of Sacred Heart University, in Fairfield, Connecticut.


WHO'S WHERE


THE UKULELE ORCHESTRA OF GREAT BRITAIN yes, there really is one - and it's proud that they have "spawned a thousand ukulele orchestras and inspired millions of players". They're on a world tour "with only hand luggage" performing from the North Pole to Sydney Opera House, via Carnegie Hall and the Royal Albert Hall, The Ukes of GB are touring planet Earth with their funny, stomping, toe tapping, all singing, all plucking obituary of Rock and Roll and melodious light entertainment. Friday, September 21, at The Royal Albert Hall in London.

BRUCE SPRINGSTEEN AND THE E STREET BAND on stage in his home state for three nights, Wednesday, Friday and Saturday at the Metlife Stadium in East Rutherfrord, NJ.

RED HOT CHILI PEPPERS perform next Sunday, September 23, at the Valley View Casino Center in San Diego, CA.

MADONNA opens a two nighter at the United Center in Chicago on Wednesday, September 19.

TIMOTHY HESTER Fortepianist and University of Houston associate professor performs a work by Franz Joseph Haydn, along with a work by the composer's brother, Johann Michael Haydn. Hester will also perform a work by Wolfgang Amadeus Mozart and a keyboard sonata by a lesser-known contemporary of Mozart's, Joseph Martin Kraus, known as the "Swedish Mozart." The recital is followed by a wine and cheese reception. Sunday, September 23, at the Museum of Fine Arts in Houston.

KAREN AKERS the Tony nominated singer/actress performs her Stephen Sondheim tribute show Live, Laugh, Love today, September 16, at The Rrazz Room at Hotel Nikko in San Francisco. Eric Michael Gilbert directs the show, which features musical direction by Don Rebic.




FINAL OVATION


DOROTHY McGUIRE one third of the famed McGuire Sisters died September 1, 2012 at her son's home in the Phoenix suburb of Paradise. She was 84 and had suffered from Parkinson's disease and age-related dementia.

Teamed with her sisters Christine and Phyllis the trio has a string of gold record hits in the 50s and 60s including Sincerely and Sugartime. For decades they starred in Las Vegas and last performed together in the mid-2000s. They are featured on the 2004 PBS show Magic Moments - Best of 50s Pop.

The McGuire Sisters performed for five presidents and Queen Elizabeth II of Great Britain. They were inducted into the National Broadcasting Hall of Fame in 1994 and the Vocal Group Hall of Fame in 2001. Christine and Phyllis, 86 and 81 respectively, live in Las Vegas.

McGuire was married for 53 years to Lowell Williamson, a wealthy oilman. The couple had two sons, Rex and David. In addition to her husband and sons, she is survived by two step-children and nine grandchildren.

MONTY the Corgi dog who co-starred in the 2012 Olympic Ceremony James Bond/Queen Elizabeth sketch, has died. He was 13. The cause of death was not announced.

In the video, the camera ready pup paddled through Buckingham Palace with two fellow corgis and 007, played by actor Daniel Craig. Monty and his canine comrades then perform other theatrical feats such as rolling around, running down stairs, being awesome, and watching Bond and the Queen take off in a helicopter.

Monty is survived by his pet parents Queen Elizabeth and Prince Philip and two other corgis from the Olympic video, Willow and Holly.








Next Column: September 23, 2012
Copyright: September 16, 2012. All Rights Reserved. Reviews, Interviews, Commentary, Photographs or Graphics from any Broadway To Vegas (TM) columns may not be published, broadcast, rewritten, utilized as leads, or used in any manner without permission, compensation and/or credit.
Link to Main Page
---
Laura Deni



For the snail mail address, please E-mail your request.
CLICK HERE FOR COMMENT SECTION