! >
Broadway To Vegas
  
 SHOW REVIEWS CELEBRITY INTERVIEWS GOSSIP NEWS

| | |
| --- | --- |
| | |
PUGET SOUND CULTURE BALLOT INITIATIVE BENEFITS EVERYONE - - SAVE THE MUSIC FOUNDATION STAGES GALA - - CLINT EASTWOOD HONORED - - NEW YORK STATE OF MIND - - BROADWAY FLEA MARKET - -KENNEDY CENTER HONORS NAMES NEW RECIPIENTS - - THIRD ANNUAL WHITTIER COLLEGE WRITERS FESTIVAL - - BOB DYLAN, ELVIS COSTELLO AND AMOS LEE - - DONATE . . . Scroll Down


Copyright: September 16, 2007
By: Laura Deni

CLICK HERE FOR COMMENT SECTION
ARTS ORGANIZATIONS FLOURISH WHEN THINKING OUTSIDE THE BOX; DENVER INSPIRES SEATTLE AREA BALLOT INITIATIVE
Jim Kelly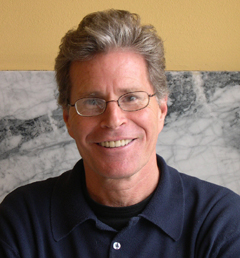 An innovative referendum may appear on a four county Washington ballot, which virtually guarantees the success of both large and small cultural programs.

Jim Kelly, Executive Director of Seattle based 4 Culture, spoke with Broadway To Vegas about keeping arts alive in The Evergreen State.

Crafted by The Prosperity Partnership, the concept "is based on an existing program in Denver that has been a remarkably successful initiative. It raises about $38 million a year to support about 300 arts and scientific organizations. We are trying to model our initiative after the Denver Scientific and Cultural Facilities District," said Kelly who is both intelligent and articulate.

"It started in Colorado about 18 years ago," continued Kelly. "It was basically an effort to raise money for the arts in Denver and the surrounding seven county region. It was the old story of most of the cultural institutions were in Denver and the surrounding counties weren't supported. It was a voter approved initiative put on the ballot that would add 1/10 of 1% to the sales tax."

Since 1989, Scientific and Cultural Facilities District (SCFD) has distributed funds from that 1/10 of 1% sales and use tax to cultural facilities throughout the seven-county Denver metropolitan area. The funds support cultural facilities whose primary purpose is to enlighten and entertain the public through the production, presentation, exhibition, advancement and preservation of art, music, theatre, dance, zoology, botany, natural history and cultural history.

Distributions are made through a three-tiered system. SCFD annually distributes approximately $40 million to over 300 organizations. In 2005, cultural facilities funded by SCFD contributed $387 million in new dollars to the local economy, a 10:1 return on investment at the time.

"That has been a remarkably successful initiative in Denver," Kelly stressed. "Our community, Seattle, has looked on that model for a long time and thought about something like that here."

"It is not in place, yet," he cautioned. "But, there is a group putting together a proposal that they will take to the legislature in 2008 that would basically do the same thing. It would create a four county taxing district of King, Pierce, Snohomish and Kitsap. Tacoma, Edmonds and Seattle are all within that district."

"What they are asking the Legislature to do is create the taxing district and then let the taxing district put a 1/10 of 1% sales tax increase on the ballot of whatever election follows the Legislative session in which hopefully this is agreed to. That would produce something in the neighborhood of $70 million in this region."

"It does not require signed petitions to get it on the ballot. The Legislature can decide to create the taxing district. Then each of the four counties could legislatively decide to put it on the ballot. The way I understand it - what goes on the ballot in King County is up to the discretion of King County. So, the state can give King County the permission to put it on the ballot, but King County would still have to decide to put it on the ballot. It is the same in the other three counties. All of the counties would have to decide to put it on the ballot," he explained.

"There are four counties. If one said - I don't want to put this on the ballot - then they would have created a three county taxing district. If there is a four county taxing district created by the legislature - hypothetically - if it only passed in one county but passed in such numbers that within the four county vote the ayes had it - it would have passed in the four counties."

"The way it would work is about 80 percent of the money would go to 37 large organizations that would be designated in the legislation. Twenty percent of the money would be split among the four counties proportionally by how it is generated."

The bill would not prevent organizations from accepting donations or seeking grants. Nor, it is a rich man's bill which benefits only those who currently ante up for the tickets.

"The reality is that if there was sufficient public sector funding in many large institutions the ticket prices would be down. One of the things that they are required to do is make a certain portion of their program available to the public at a very low cost or free. One of the things they do in Denver is - all of the Tier 1 organizations are required to do lots of free days, so the zoo is free once a month. Or, school groups go free, or residents of the seven counties get in free. It's about increasing access," he said about the initiative which is restricted to non-profit organizations.



Million Dollar Quartet opens September 19 on the mainstage of the Village Theatre and stars Rob Lyons (Carl Perkins), Levi Kreis (Jerry Lee Lewis), Dane Stokinger (Elvis Presley), Lance Guest (Johnny Cash) and Jessica Skerritt (Dyanne) Photo by Jay Koh. Property of Village Theatre.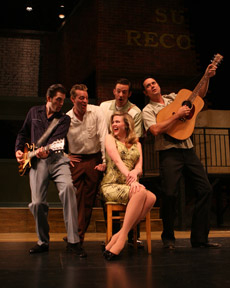 One of the numerous organization which could benefit by the initiative passing is Village Theatre. Founded in 1979, Village Theatre is a leading producer of musical theatre in the Pacific Northwest with four main programming components: Mainstage, Village Originals, and their Youth Education Program which includes both KIDSTAGE and Pied Piper.

While continuing to struggle to make ends meet, Washington theatrical organizations routinely offer-up works which have creative legs.

To date, Village Theatre's Village Originals program has developed over 60 new musicals, some of which have gone on to stages that include Ford's Theatre, Washington, DC; Pittsburg Public; York Theatre, Off Broadway, New York; Goodspeed Opera House, Connecticut; Chichester Festival, London; Koshiung Cultural Center, Taiwan; Hsinchu Cultural Center, Taiwan; National Theatre, Taipei; Los Angeles; The Cutting Room, New York; Singapore; San Jose Repertory Theatre; and Marriott Lincolnshire, Chicago. Of particular note, After the Fair, Play It By Heart, Making Tracks, The Ark, The Wedding Banquet, and Eleanor have all started at Village Theatre.

Their 2005-2006 operating budget was $6.5 million. Eighty percent of the budget comes from earned income or ticket sales, tuition fees for KIDSTAGE classes, leases, and dividends. Twenty percent of the annual operating budget comes from contributed income.

In June 2005, Village Theatre was awarded the Eastside Destination Award by the Bellevue Chamber of Commerce attesting to the theatre's vibrancy, artistic excellence, service to the community, and economic impact to East King County.

However, the road to culture is not without some speed bumps.

"There is a down side," Kelly admitted. "Washington does not have an income tax. Government is funded out of three tax sources - the sales tax, property tax and the business and occupancy tax. Property and business and occupancy taxes are considered sacrosanct. Nobody wants to see them go any higher. So, you are basically left with a sales tax. The sales tax in King County right now is 8.9 percent. In November there is going to be a transportation initiative which will increase that by .6 percent. The transportation out here is so bad that people are getting bottle necked. In polling, it looks like this thing will win in November - adding .6 percent to an already high sales tax. That goes to show you the measure of dissatisfaction people have with transportation - willing to add .6," he reiterated about the high jump.

"The real issue is - if that passes and the sales tax goes from 8.9 to 9.5 - what is going to be the appetite of the public to add another one tenth of one percent?"

"I think the strongest thing we are doing is realizing that we don't win any argument talking about taxes. What we need to do is talk about the benefit of these taxes to support the arts. Why it is important to support the arts? What will happen as a result of this increase taking effect? What can arts organizations do in terms of outreach programs, education programs, increased access through lower ticket prices - being more egalitarian - where all of a sudden everyone could go to the opera or the ballet, not just the people who can afford the hundred dollar ticket. "

"The way I think we have to approach this, to negate the conversation about taxes, is to stress the importance of letting every citizen in the four country district have access to quality arts programs both as a participant and as an audience."

"This initiative didn't come from our agency," he said referring to 4 Culture. "There is a four county body called the Puget Sound Regional Council, composed of elected officials of these four counties; business people and other community leaders. What they do is chart the course of economic development in these four counties. This is an initiative called the Prosperity Partnership which was an initiative of The Puget Sound Regional Council whose goal was to create 100,000 new jobs - good paying jobs - within the next 10 years. They looked at five sectors including aero space, informational technology, and one of them was the non-profit sector."

"It was the first time the non-profit sector, both health and human services and culture, were looked at in terms of their contributions to the economy," he disclosed.

"These five sectors met in silos. So, aero space sat down and said this is what we need to prosper. IT, bio-tech all sat down and said this is what we need. Interestingly enough, in all five silos the importance of having a vibrant arts and cultural scene was identified. So, all of a sudden, since all had all named it as important to their own economic development, arts got on the radar screen. The Puget Sound Regional Council decided to go with a cultural proposal."

"One of the things that is interesting about The Prosperity Partnership is it is not just a group of art's organizations who are getting together to say - this is what the public sector needs to do to adequately support us. This is in a sense the public sector identifying what needs to be in place to have healthy economic development in the future and recognizing the role of culture in that vitality."

The Cultural Taskforce division of the Puget Sound Regional Council is a group of arts and cultural leaders and supporters who have come together to help enact this action item. Chaired by Jon Shirley and Maggie Walker, this collection of dedicated volunteers has organized its work around four main objectives:

Expand access to arts and culture;
Expand artistic and cultural educational experiences for students;
Build capacity in underserved areas of the region; and
Provide steady, substantial funding to arts and culture organizations and institutions.

"Culture brings a lot of jobs and visitors," Kelly emphasized. "The famous story about the Seattle Opera. Every five years or so the Seattle Opera does Wagner's The Ring and the audience comes from 49 states and 18 foreign countries. When they did it about 10 years ago they sold tickets to people in all 50 states. Apparently West Virginia didn't buy a ticket this last time," he quipped.

"People see that Seattle Opera is doing their Wagner cycle again. All of these people fly in. They stay in hotels, eat in restaurants, rent cars and use cabs. The Seattle Opera has done an economic analysis on the impact of just The Ring. Twelve days of The Ring means $25 million economic contribution to the local economy."



Janice Baird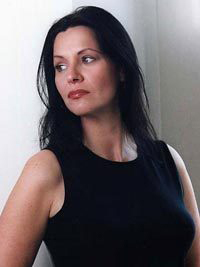 The Ring Cycle will next be presented in 2009. That mounting will bring three major singers to the production for the first time: Danish tenor Stig Fogh Andersen as Siegfried, Australian tenor Stuart Skelton as Siegmund, and American soprano Janice Baird making her American debut as Brünnhilde.

Conductor Robert Spano will be among the returnees, along with Greer Grimsley (Wotan), Margaret Jane Wray (Sieglinde), Richard Paul Fink (Alberich) and Stephanie Blythe (in three roles: Fricka, First Norn and Waltraute).

Seattle Opera's Ring productions are so popular that they usually sell out all 12 shows in a single day, and more than a year in advance of the performances. The Ring will be presented in three cycles of the four operas. Performance dates are Aug. 9-14 (first cycle), Aug. 17-22 (second) and Aug. 25-30 (third), 2009.

"That is why people begin to recognize the importance of culture," stressed Kelly. "Seattle Art Museum just expanded its museum - practically tripling its size. They have also just created an outdoor Olympic Sculpture Park. That has an impact. People want to come to see it. People are beginning to recognize the role of culture in driving not just tourism but also other economic benefits. The fact that high tech businesses want to locate here because of the wealth of cultural opportunities. They don't want to be in some waste land. The high tech, high demographic worker who can choose where they want to live is more likely to choose a place like Seattle, because of the breathe of its offerings. People in leadership positions have begun to connect the dots and realize that the arts aren't a frill, but have a major contribution to make to the quality of life and the economic impact of our region."

Kelly knows from where he speaks, both as the executive who has been with this agency for 13 years and in his current position for six. He started out on the other side of the footlights.

"I started life as an actor. I went to Catholic University and got a Masters Degree in Theatre. I moved to New York and spent 13 years living the life of an iterant actor. Frankly, I was supporting myself renovating apartments with a guy who was a former Broadway stage carpenter, who had a heart attack and decided to get out of that business."

"He used to hire out of work actors. I remember getting $50 a day. If I had an audition and couldn't work, I'd call the guy and say I can't come in - no problem - I just didn't get my fifty bucks. After doing that for a number of years, I found out about a position that was available in the Department of Cultural Affairs in New York. I was getting a little older and didn't know if I wanted to schlep 60-pound bags of cement up four flight walk-ups any more. So, I took a job there and ended up loving it. I've been in arts administration ever since."

In that capacity Kelly has become creative.

"We were actually founded in 1967 as the King County Arts Commission. Eventually, we became an executive agency. After 2001 when the whole American economy went into the tank, King County went through a financial crisis. When you work in the arts and government tells you they are having a financial crisis - you know you are going to take a smack. So, we were told to think outside the box. We have two dedicated revenue sources - lodging taxes and a percent for art revenue from the county's capital program. It was the county's general fund money that was under threat. They said you probably aren't going to get any general fund money any more. What are you going to do?"

"We thought long and hard about what we wanted to cut and realized that we didn't want to cut anything. We actually pitched the idea to the county of - if you really want us to think outside of the box - why don't you let us leave government? Why don't you give us the two dedicated revenues sources and let us operate independently of government because we think we can stretch the dollar further. We can earn money through consulting services and interest income. We can apply for grants. We think we can have more money at our disposal if you cut us loose. They agreed to do that."

"We became what is called the Public Development Authority in 2003. Our correct name now is 4 Culture. The numeral 4 represents the fact that we have programs in Arts, Heritage Preservation and Public Arts - four programs."

"It's hard to truly capture the depths of the programming now that we are independent of government," he exclaimed. "A classic example is what happened to our public art program. The amount the county bills every year fluctuates. Some years they have a big capital program. Some years they have a little capital program. Well, if you're getting one percent of a section of the capital budget called eligible projects - meaning visible elements of a project. Roads don't pay a percentage for arts because it is flat - nobody sees it. But, if you are going to build a building, we are going to vindicate the impact of that building by putting money into the art fund. So, some years the county does a lot of billing and some years the county does a little. What do you do in the years when they bill only a little? Do you lay everybody off because you don't have the money to pay the salaries?"

"What we did about five years was to explore consulting services where we can go out and earn revenue from private developers. Why shouldn't the private developer be interested in the public arts? It's not required, but if we can show you that by hiring an artist to put in a door, the windows or a terrazzo floor, light fixtures - all of the things that artists build - if we can convince you to put any of those in your building - we've just created work for artists."

"We're often hired as the consultants to select the artists. Last year we did two projects for the 2010 Olympics up in British Columbia. They were looking for an art consultant to help in do a public art plan for the speed skating oval they are constructing in Richmond, BC. Then the city of Vancouver was looking for a public art plan for the Athlete's Village and we got both of those contracts. That is fun."



Broadway To Vegas is supported through advertising and donations. Priority consideration is given to interview suggestions, news, press releases, etc from paid supporters. However, no paid supporters control, alter, edit, or in any way manipulate the content of this site. Your donation is appreciated. We accept PAYPAL. Thank you for your interest.


SPREADING THE WORD


ALAN ALDA WITH ROGER ROSENBLATT: TALKING ABOUT TALKING Alan Alda's most recent book is Things I Overheard While Talking to Myself. He talks it over with Roger Rosenblatt, an award-winning essayist, author and playwright. Alda is also the bestselling author of the memoir, Never Have Your Dog Stuffed. He played Hawkeye Pierce on the television series M*A*S*H and has achieved fame as an actor, director and writer. Sunday, Sep 23, Kaufmann Concert Hall, NTC.

DON DeLILLO whose bestselling novel Underworld was named one of the four best American novels of the past quarter-century by The New York Times will read from his latest work, Falling Man.

The winner of the National Book Award for White Noise, DeLillo is also the author of Libra, Ratner's Star and Mao II, and was awarded the Jerusalem Prize in 1999.

Monday, September 24, Kaufmann Concert Hall in NYC.

THIRD ANNUAL WRITER'S FESTIVAL will feature celebrated author Ray Bradbury, California's Poet Laureate Al Young, and Tony Award-nominated playwright Beth Henley. They will headline the Third Annual Whittier College Writers Festival - a three-day celebration of the written word which will be held September 18 through 20, and will feature an eclectic mix of music, readings, and discussion.

Each day's event will take place in the Robinson Theatre, Ruth B. Shannon Center for the Performing Artson the campus of Whittier College. California Poet Laureate Al Young is known for infusing jazz, improvisation, and thought- provoking verse into his performances. Often performing with a musical accompanist, Young's poetry highlights and asks questions great minds have always pondered – those of identity, time, purpose, and place. Young is a prolific essayist, poet, novelist, and screenwriter who has authored or edited numerous books, including Mingus, Mingus: Two Memoirs, Conjugal Visits, Sitting Pretty, and African American Literature – A Brief Introduction and Anthology. His honors include a Guggenheim Fellowship, a Fulbright Fellowship, a National Endowment for the Arts Fellowship, a Pushcart Prize, and two American Book Awards. The work of legendary science fiction writer Ray Bradbury is held in such high regard that his books are required reading in high schools and institutions of higher learning nationwide. Bradbury is best known for the classic dystopian novella, Fahrenheit 451. Published in 1953, the story serves as a commentary against television and its potential to simplify information so much that human intellectual curiosity and interest in literature are irrevocably dulled.

In the years since its publication, Bradbury has gone on to win many of literature's most prestigious awards, including the O. Henry Memorial Award, the Grand Master Award from the Science Fiction Writers of America, the National Book Foundation Medal for Distinguished Contribution to American Letters, and the National Medal of Arts—the nation's highest honor for artistic excellence. One of only a few authors to have a star on the Hollywood Walk of Fame, Bradbury was most recently honored with a special citation from the Pulitzer Prize Board for his lifelong achievement, a "prolific and deeply influential career as an unmatched author of science fiction and fantasy."

Bradbury is the author of the forthcoming text, Now and Forever: Somewhere a Band Is Playing & Leviathan '99, scheduled for publication in September 2007. Ray Bradbury lives in Los Angeles.

Beth Henley is an accomplished playwright, screenwriter, and occasional actress. Henley first gained notoriety in 1978 when her original script, Crimes of the Heart, won the Great American Play Contest. The accolade catapulted the play into the spotlight and eventually earned Henley a New York Drama Critics Circle Award for best new American play and a Tony Award nomination. In 1986, a film version of Henley's play starring several Hollywood notables was released to both commercial success and critical acclaim; subsequently, Henley received an Academy Award nomination for best adapted screenplay and a Golden Globe nomination for best motion picture of the year.


HIGHER DEGREES


Clint Eastwood will be presented with an honorary doctorate of music from Berklee College of Music at the 50th Anniversary Monterey Jazz Fest on Sept. 22. Berklee President Roger Brown and alum Diana Krall '83 will do the bestowing. Rumors are that a jam session will follow the 10:45 p.m. event. Eastwood is being honored for his contributions to jazz.

Mr. Brown, said, "From Play Misty for Me, where he famously starred as a jazz disc jockey, to the groundbreaking Charlie Parker biopic, Bird, to executive producing the seminal documentary Thelonious Monk: Straight, No Chaser, Clint Eastwood has made so many choices that have little to do with Hollywood and everything to do with a lifelong love for this music."


SWEET CHARITY


SAVE THE MUSIC FOUNDATION

Former President Bill Clinton
Sen. Hillary Clinton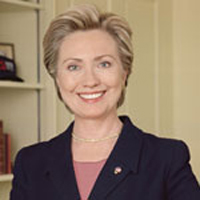 on September 20th, will mark ten years of restoring music education programs in more than 1,500 of our nation's public schools with a Gala celebration at the Tent at Lincoln Center in New York City.

Hosted by Maria Menounos, the elaborate 10th anniversary sold out celebration will pay tribute to Former President Bill Clinton, Senator Hillary Rodham Clinton, VH1 Save The Music founder John Sykes, Mariah Carey and NAMM, The International Music Products Association.

The evening will feature performances by ex-Pink Floyd member Roger Waters, Jon Bon Jovi, as well as John Mayer. It's anticipated that the biggest applause for the evening will be saved for a group of children from schools that have received VH1 Save The Music grants, who will play together for the first time as a student orchestra.

Tim Gunn of Project Runway will be on hand to emcee a live auction, which will feature one-of-a-kind items and experiences from VH1 Save The Music Foundation partners.

"Throughout the years, Bill and Hillary Clinton have exemplified incredible dedication and support for the VH1 Save The Music Foundation," said Executive Director, Paul Cothran. "It is an honor to have them join in celebrating our 10th anniversary."

For the last decade, VH1 Save The Music has been dedicated to restoring music education in US public schools. During that time, they have donated over $34 million worth of musical instruments to more than 1400 schools.

ELTON JOHN AIDS FOUNDATION'S 6th ANNUAL AN ENDURING VISION BENEFIT to be held in the Grand Ballroom of the Waldorf Astoria in New York City on Tuesday, September 25, 2007.

The gala will be hosted by Anderson Cooper and will feature k.d. lang joining Sir Elton John as the special musical guest.

As a part of the program, EJAF will present Enduring Vision awards to corporate philanthropists Harry Slatkin of Slatkin & Co./Bath & Body Works and Caroline Gruosi-Scheufele of Chopard and to long-time EJAF supporters Sharon and Ozzy Osbourne.

BROADWAY FLEA MARKET an annual Broadway Cares/Equity Fights AIDS fundraiser will be held on Sunday, September 23 in Shubert Alley in The Big Apple. The yearly event - in which Broadway memorabilia is sold and Broadway stars sign autographs for fans - will feature several Broadway luminaries including Bernadette Peters, Vanessa Redgrave, and Brian Stokes Mitchell who performed last Friday night at the University of Nevada, Las Vegas.

OPENING ACT an innovative nonprofit that provides free after-school theater programming to New York City's most under-served public high schools, will benefit from Bernadette Peters and John Dossett, performing in a one-night reading of AR Gurney's Love Letters.

This benefit reading reunites Peters and Dossett who played Rose and Herbie in the 2003 revival of Gypsy. Michael Mastro directs Peters and Dossett in Gurney's poignantly funny play about the relationship of Andrew Makepeace Ladd and Melissa Gardner. Told entirely through a series of letters, the play traces Andrew and Melissa's relationship from childhood to adolescence to middle age in a moving portrait of a bittersweet friendship.

A reception will be followed by the reading on Monday, September 24th at New World Stages, NYC.

EVERYONE LOVES A WINNER A Gala Evening to Benefit Westport Country Playhouse. A Tribute to Guest of Honor John Kander. With Performances by Tony Award winners Shuler Hensley, Debra Monk, James Naughton, Bebe Neuwirth, David Hyde Pierce, Chita Rivera, Ben Vereen, Karen Ziemba and other special guests

Peter Flynn directs the event with musical direction by Mary-Mitchell Campbell.

Silent and live auctions will be held including vacations, Broadway tickets, and more. Funds generated will support artistic and educational programming at Westport Country Playhouse.

Monday, September 24, Westport Country Playhouse in Westport, CT.

KENNEDY CENTER HONORS has announced that two pop-music stars, Brian Wilson and Diana Ross, as well as the humorist/playwright Steve Martin, the film director Martin Scorsese and the pianist and conductor Leon Fleisher as recipients of this year's awards.

In its 30th year honoring lifetime achievement in the performing arts, the Kennedy Centers Honors Gala will be held Dec. 2 at the Kennedy Center Opera House, preceded by receptions at the White House and State Department. CBS will broadcast the ceremony in late December.



NEW YORK STATE OF MIND by actor and director, Sam McCready, who has lived in America for the past twenty years, the play offers entertaining insights into contrasting life styles on both sides of the Atlantic. Directed by Roland Jaquarello, formerly the Artistic Director of the Lyric Theatre.

Billy McIlroy a young Belfast actor, gets the chance of a lifetime to play the lead part in a play in New York. Leaving his wife and young children behind and heading for the bright lights, Billy begins a correspondence with his mentor, veteran Ulster actor, RJ McStavick. Having acted with Oliver in London and shared film scenes with the likes of Audrey Hepburn, the old-timer and Billy share the attractions of life in the fast lane – the sex, the booze, the hilarious theatrical stories. But Billy is faced with a dilemma. Does he pursue fame and fortune in New York – or return to Belfast and his impatient wife and children?

Opens September 19 with performances through September 29 at the Baby Grand Opera House in Belfast, Ireland.

A DELICATE BALANCE Edward Albee's Pulitzer Prize-winning drama about a modern-day, upper-class New England family which takes an unflinching look at the fragility of friendship in the face of fear.

Directed by James O'Neil.

Susan Clark, Bonnie Franklin and Granville van Dusen star in Rubicon's production, supported by Amanda McBroom, Robin Gammell and Stephanie McNamara.

The design team including set designer Gary Wissman and lighting designer Jeremy Pivnick. Production stage manager is Linda Tross. The play takes place over the course of a weekend at the beautiful home of Agnes and Tobias, a Connecticut couple on the cusp of old age. Tobias has withdrawn emotionally over the years, but plenty of domestic drama is provided by their oft-divorced daughter Julia, who has returned home in the wake of a fourth failed marriage, and Agnes' acerbic, alcoholic sister Claire.

Their heavy drinking and barbed banter are interrupted when Agnes and Tobias' best friends Edna and Harry pay an unexpected call. Utterly terrified but unable to pinpoint the source of their fear, they have come to ask their friends for a startling favor. Their presence provokes a battle of wills within the family, pitting the desire to help others against the need for self-protection.

A Delicate Balance begins previews Sept. 20, opens Sept. 22 and runs through Oct. 14 at the Rubicon Theatre in Ventura, CA.

PYGMALION by George Bernard Shaw. Directed by David Grindley.

Golden Globe winner Claire Danes makes her Broadway debut as Eliza Doolittle, alongside Tony Award winner Jefferson Mays as the inimitable Henry Higgins.

When a pompous phonetics expert bets that he can teach a Cockney flower girl to act and speak like a lady, he gets more than he bargained for: Eliza Doolittle provokes his interest, his anger, and ultimately, his passion. As her lessons progress, it becomes obvious that it is Henry who has the most to learn about bad behavior.

Tony Award winner Boyd Gaines returns to Roundabout as Colonel Pickering and Jay O. Sanders plays Alfred Doolittle. The cast will also include Helen Carey (Mrs. Higgins), Brenda Wehle (Mrs. Pearce), Kerry Bishé (Clara Eynsford Hill), Kieran Campion (Freddy Eynsford Hill), Sandra Shipley (Mrs. Eynsford Hill), Jonathan Fielding (Bystander), Robin Moseley (Bystander) and Karen Walsh (Parlour Maid).

The design team includes Jonathan Fensom (Sets & Costumes), Jason Taylor (Lights), Gregory Clarke (Sound) and Majella Hurley (Dialect Coach).

September 21 - December 9 at the American Airlines Theatre, New York City.

MAN OF LA MANCHA

Jamie Torcellini & Paul Schoeffler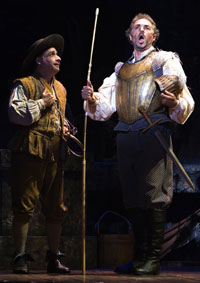 written by Dale Wasserman with music by Mitch Leigh and lyrics by Joe Darion.

Winner of 7 Tony awards, including Best Musical.

Starring Paul Schoeffler as Don Quixote and Jamie Torcellini as loyal sidekick Sancho Panza.

The musical quest of an idealistic knight named Don Quixote. During his quest he meets awe-inspiring giants, thieving gypsies, dark knights and vengeful rouges but he still finds the courage and optimism to right all wrongs and woo the heart of the woman he loves.

Based on Miguel de Cervantes' literary masterpiece, The Adventures of Don Quixote, this story comes to life in a classic retelling filled with soaring music, romance, fantasy and heartfelt gallantry.

Now through October 21, at the Walnut Street Theatre in Philadelphia.


| | | |
| --- | --- | --- |
| | | |
WHO'S WHERE


STANDARDS, BALLADS, & FAVORITES featuring The John Pizzarelli Quartet with bass player Martin Pizzarelli, Larry Fuller on piano, Tony Tedesco percussion and vocalist Jessica Molaskey. Friday, September 22 at the State Theatre in New Brunswick, NJ.

ANDREA MARCOVICCI IN ANDREA SINGS ASTAIRE an exclusive Seattle engagement September 21 through October 5. Andrea Sings Astaire pays homage to the considerable vocal legacy of Hollywood's debonair dancing man, and she sweeps you away to a glamorous world that may have never really existed, but certainly should have. The magic happens in the intimate, 125-seat Bullitt Cabaret.

EARTHA KITT begins a six-week stint at Café Carlyle's new refurbished nightlife space, Sept. 18 to Oct. 27, NYC.

CHRIS BOTTI performs Wednesday, September 19, at the Mantalvo Arts Center in Saratoga, CA.

THE POLICE on stage Wednesday, September 19 at Syadthalle in Vienna, Austria. On Saturday the show is at the Olympic Stadium in Munich, Germany.

BOB DYLAN, ELVIS COSTELLO AND AMOS LEE opens a 13-date tour September 22 at the Gwinnett Center in Duluth, Georgia. Dylan, minus Costello and Lee, will also perform a September 16 gig at the Austin City Limits Festival in Austin, TX. On September 19 Dylan and Lee but not Elvis have a Ryman Auditorium date in Nashville Dylan is touring to support the October 1 release of a three-disc, 51-track career retrospective. Simply titled Dylan. On September 23 the three are on stage at he Littlejohn Coliseum in Clemson, S.C.

KT SULLIVAN opens an engagement at the Oak Room of the Algonquin Hotel in NYC on September 18. She will be performing her Autumn in New York program through October 13. Today, September 16, she'll be an in-studio guest of David Kenney for his Everything Old Is New Again radio program, which can be heard every Sunday 9-11 PM (ET) over WBAI 99.5 FM and on the internet.

SWEET HONEY IN THE ROCK open the mainstage season Saturday, September 22, at the Flynn Center in Burlington, Vermont. The six African-American women of Sweet Honey in the Rock have inspired audiences for nearly 35 years with their righteous call for a more just and humane world. They blend their voices in a mix that celebrates the sacred music of the African American church—spirituals, hymns, gospel—as well as jazz, rap, reggae, doo-wop, and blues. This performance will have ASL interpretation.

JAY AND THE AMERICANS on stage Tuesday, September 18, at the Empress Theatre in Fort MacLeod, Alberta, Canada. On Thursday they will be singing their hits at Stearns Square in Springfield, MA. Friday finds them at B.B. King's Blues Club in NYC.

ROY ROGERS AND THE DELTA RHYTHM KINGS entertain Saturday, September 22, at the Stewart Steiner Theater in Batavia, NY.

LARRY GATLIN AND THE GATLIN BROTHERS at the Sky City Casino in San Fidel, New Mexico on Saturday, September 22.

TRISHA YEARWOOD on stage Tuesday, September 18 at the Majestic Fox Theater in Bakersfield, CA. On Thursday she is at the McCallum Theatre in Palm Desert, CA. Friday finds her entertaining at the Pechanga Resort in Temecula, CA> On Saturday the show moves to the Lancaster Performing Arts Center in Lancaster, CA.




IN REMEMBRANCE


BETTY COMDEN the lyricist and librettist who died in November at 89, will be remembered in a musical tribute Great Women Salute a Great Woman, at the Majestic Theater in New York City on Sept. 18.

Among those scheduled to perform are Lucie Arnaz, Judith Blazer, Carolee Carmello, Barbaa Cook, Christine Ebersole, Lypsinka, Audra McDonald, Phyllis Newman, Elaine Stritch, Mary Testa, Leslie Uggams and Lillias White. The tribute is open to the public.

JERRY ORBACH the beloved Broadway song and dance man and television actor, who passed away December 28, 2004 at the age of 69, will be honored when a portion of New York's 53rd Street at Eighth Avenue is renamed Jerry Orbach Way at a dedication ceremony September 17.

The ceremony will be attended by Orbach's widow, Elaine Cancilla-Orbach; Richard Belzer and other Law & Order cast members; as well as actors from the current Off-Broadway revival of The Fantasticks. A reception will follow at the Jerry Orbach Theater, which currently houses The Fantasticks. Orbach originated the role of El Gallo in The Fantasticks.
PIFFLE AND PROFUNDITIES
Sybil being introduced to the press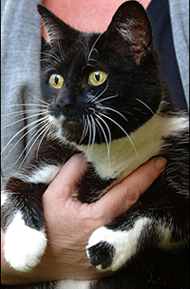 Humphrey guarding his official residence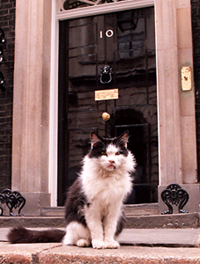 OFFICIAL CAT Number 10 Downing Street, London - that is where the Prime Minister calls home - has issued an official announcement.

"Number 10 Welcomes A New Resident. Number 10 has a new resident in the form of Sybil the cat."

"Sybil has arrived from Edinburgh with Chancellor Alastair Darling and his wife. She will make her home in the residential quarters of Number 10. PM Gordon Brown and his family live in the flat above Number 11."

"Sybil is Downing Street's first cat since Humphrey, who retired in 1997. She will have free rein to come and go around the Downing Street estate."

She is named after the harridan landlady in Fawlty Towers.

The reference to Humphrey refers to the mouser named after Sir Humphrey Appleby, the pedantic mandarin in Yes Minister. Humphrey was adopted by Number 10 in 1989 after being found as a stray. He served as top cat under Margaret Thatcher, John Major and for a short time Tony Blair.

Humphrey got almost as much ink as the PM. In June 1995 when Mr. Major was in Downing Street, the black and white cat went missing and was presumed dead, but returned after staff at a Westminster medical college read his obituary and realized the cat that had made his way into their building was, in fact, Humphrey.

Humphrey managed to stay at home until he again disappeared shortly after the Blairs moved into Downing Street. The Where's Humphrey? alarm led to official questions in the House of Commons after reports suggested that Cherie Blair had ordered the cat snuffed out. The negative uproar was so ferocious that Downing Street was forced to arrange a press conference/photo-op at a south London house showing Mrs. Blair cuddling Humphrey in a bid to end the negative publicity.

In his diaries Alastair Campbell, then Mr. Blair's press secretary, recalls how the Humphrey crisis consumed government on November 24, 1997.

"Virtually the whole day was taken up with dealing with Humphrey the cat, because it was being put around that CB (Mrs. Blair) did not like cats," he writes.

He remembers the "ludicrous situation of me and the Cabinet Secretary both having to spend a large part of our day dealing with it."

"The bloody thing was retired in Surrey, and a bit old now, and Robin B (Sir Robin Butler, the Cabinet Secretary) wanted us to be sure we would not be bringing any undue stress or attention on his new owner."

Downing Street solemnly announced Humphrey's death in March, 2006. He was aged 18. His food and vet's bills had been paid with an annual stipend of about $202 from the Cabinet Office budget.

It is reported that Chancellor Darling and his wife are footing the bills for Sybil's upkeep.

Next Column: September 23, 2007
Copyright: September 16, 2007. All Rights Reserved. Reviews, Interviews, Commentary, Photographs or Graphics from any Broadway To Vegas (TM) columns may not be published, broadcast, rewritten, utilized as leads, or used in any manner without permission, compensation and/or credit.
Link to Main Page
---
Laura Deni


CLICK HERE FOR COMMENT SECTION