! >
Broadway To Vegas
  SHOW REVIEWS     CELEBRITY INTERVIEWS     GOSSIP     NEWS 
| | |
| --- | --- |
| | |
Copyright: September 16, 2001
By: Laura Deni
CLICK HERE FOR COMMENT SECTION

GERSHWIN, BERLIN AND WARREN: GOD BLESS AMERICA In times of tragedy people have turned to music for solace and inspiration. Last Tuesday evening after Senate Majority Leader Tom Daschle, D-S.D., House Speaker Dennis Hastert, R-Ill., and House Minority Leader Dick Gephardt, D-Mo., addressed the media at a news conference on the steps of the U.S. Capitol in Washington, D.C., hundreds of members of the House and Senate, showing unity in the wake of terrorist attacks joined, together to sing God Bless America, a song written by Irving Berlin.

American composers have been patriotic tunesmiths who honored and celebrated this nation in song.

As the focus of this country so drastically altered and became polarized last week - three of this nation's most beloved and patriotic composers have anniversaries beginning Saturday.


IRVING BERLIN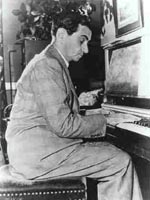 When Irving Berlin died on Sept. 22, 1989, at age 101, a small group of people gathered outside his home on Beekman Place in New York City and suddenly burst into song. The strains of God Bless America that drifted down the street seemed a fitting tribute to the man who had kept America singing for generations.

Any Bonds Today with words and music by Irving Berlin became the theme song of the National Defense Savings Program. The sheet music featured a picture of Uncle Sam tipping his hat.

His This Is the Army earned nearly $10 million, and Berlin gave it all to the government. After Kate Smith made God Bless America popular in 1938, Berlin signed over the money to the Boy Scouts and the Girls Scouts.

Also passing away on September 22 but in the year 1981 was Harry Warren. In his lifetime he penned between 311 and 350 songs, 42 of which became top ten hits.



HARRY WARREN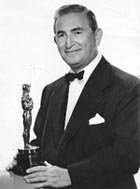 His patriotic compositions included All Aboard The Navy and Don't Give Up The Ship from the 1935 film Shipmates Forever.

The song In The Arms Of An Army Man was from the 1936 movie Sons O' Guns and Let's Bring New Glory To Old Glory came from the 1942 flick Iceland.

Warren composed The Navy Waltz for the 1952 movie Skirts Ahoy! and The Song Of The Marines can be found in the 1937 film The Singing Marine, while Wings Over The Navy originated in the 1939 movie of the same name.

Perhaps fitting for this week is a number he wrote in 1941 for the movie Sun Valley Serenade titled The World is Waiting To Waltz Again.



GEORGE GERSHWIN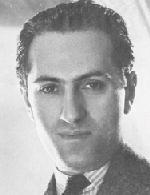 George Gershwin was born Jacob Gershowitz on September 26, 1898 at 242 Snediker Ave. in Brooklyn, NY.

Gershwin's Of Thee I Sing about the White House and politics was the first Broadway musical to win the Pulitzer Prize.

Neil Diamond whose composition America from The Jazz Singer brings the crowd to its feet kicks off his cross country tour on September 28 in Columbus, Ohio.

The multi-talented Ann Hampton Callaway, who will appear in Las Vegas with Michael Feinstein and the Big Kahuna and the Copa Cat Pack next April 7, expressed her anguish by writing a poem

On the Morning of the Unthinkable
Let us pray
Beloved friends
On this day that has forever changed our nation And our world
Let us pray for blessings of protection
For our fragile, fragile home
That we live in together
We now live in a war zone
And we must succeed in keeping peace in our hearts
Or the terrorists will have succeeded
In winning their inexplicable war
If there was a day to pray
It is today
Already the symbol of New York has fallen
And the symbol of our government has been crushed
We cannot know what may be next
Let us unite our hearts in prayer
And form a holy circle around us
Of love and blessings
Almighty God,
We beseech you to give us mercy
We are awake as we have never been
And ask for your guidance in this dark hour
Keep us safe from harm
Stop the hideous violence
The senseless destruction
And hold us
In your tender hands
Hold us and heal us
Our hearts are broken
We do not feel safe
Anymore
Ann Hampton Callaway


LAUGHTER CAN HEAL A HEAVY HEART

Nathan Lane and Matthew Broderick had tears in their eyes as they held hands with fellow cast member of The Producers and joined the audience singing God Bless America. Tom Selleck had a lump in his throat when he addressed the audience attending A Thousand Clowns.

At the urging of Mayor Rudy Giuliani all 23 Broadway productions resumed performances last Thursday following a two day shutdown which included a Wednesday matinee.

Marquee lights outside all the theaters were dimmed at 8 o'clock for a full minute to honor the victims and their families.

"Dimming the lights is the traditional Broadway way of marking the passing of an individual, but unfortunately, we've never had to honor more than one person at a time," said Jed Bernstein, president of the League of American Theaters and Producers.

The industry has taken a $5 million to $7 million loss in ticket sales since the attack on the twin towers, according to Bernstein. But, he said, "That is insignificant compared to the overall loss of life."



NICHOLAS KING and TOM SELLECK in A Thousand Clowns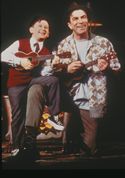 Madison Square Garden and Radio City Music Hall events in New York City have been canceled or postponed through this evening.

"In deepest respect for all those affected by this tragedy, Madison Square Garden and Radio City Music Hall have canceled or postponed all events through this Sunday. Events beyond Sunday will be assessed as appropriate," said James L. Dolan, president and chief executive officer, Cablevision Systems Corporation and chairman, Madison Square Garden.

When Broadway lights came back on The Lion King, Beauty and the Beast and Aida, cast members asked the audiences for donations to the Red Cross.

Las Vegas resorts also dimmed their lights, put patriotic messages on reader boards and dipped into some deep pockets. The MGM-Mirage megaresort conglomerate, the largest operator of hotel-casinos on the Las Vegas Strip, donated $1 million for the relief effort. Park Place Entertainment which has 20 United States properties and seven international casinos, donated $1 million to help the families of those killed in the World Trade Center with emphasis being placed on relief for the survivors of rescue workers.

The Riviera hotel turned the second floor of their Mardi Gras Plaza into a chapel and provided a non-denominational clergyman for prayer services.


ENTERTAINERS OFFER SUPPORT


Entertainers have always been quick to mobilize, ready to help in a time of crisis and the current atrocity is no exception.

While cancellations and postponements have been the rule with acts dependant upon airplane transportation, those entertainers who were committed to be on stage Wednesday did so in the name in charity, and in the hope that their performance would give an emotional break to those who needed a pause to gain strength.

The pop quintet Back Street Boys, who lost a crew member to the disaster, played a two-night gig in Toronto saying they would donate at least $10,000 from their shows to the Relief Fund as did Lynard Skynard. Veteran soul collective Earth, Wind and Fire who performed in Virginia Beach on Wednesday announced they would make a $25,000 donation to the American Red Cross.

The cast of Gypsy at Repertory Theatre of St. Louis appealed for money for Red Cross disaster relief following its Sept. 12 evening performance. The audience responded by contributing $1,214. The collections will continue after every performance through the run of the show which ends October 5.

An E-Mail was sent to music leaders in Nashville by Russ Simons, who runs the Gaylord Entertainment Center. In that missive he offered them the arena if they want to do a fund-raiser to help terrorism victims.

"Nashville's professional music community supports a large number of local and national causes. I expect we will respond to this as well," he wrote. "The purpose of this communication is to let you know the staff of the Gaylord Entertainment Center stands ready to lead, participate and/or cooperate in Nashville's response."



Broadway To Vegas is supported through advertising and donations. Priority consideration is given to interview suggestions, news, press releases, etc from paid supporters. However, no paid supporters control, alter, edit, or in any way manipulate the content of this site. Your donation is appreciated. We accept PAYPAL. Thank you for your interest.


SWEET CHARITY


THE LAS VEGAS PHILHARMONIC will offer two concerts, Sept. 21-22 at the Rio Hotel in Las Vegas. Proceeds will benefit the Relief Fund for the survivors of the WTC.

THE JACKIE GLEASON THEATER'S annual Invitation to the Arts event, scheduled for last Thursday was canceled.

FOOD FOR THOUGHT Five Tony winners Patricia Neal, Rita Moreno, Mary Alice, Judith Ivey, and Marian Seldes plus Robert LuPone, Campbell Scott, Simon Jones, Earle Hyman, Brian Murray, Judith Light, Cynthia Harris, Anne Meara, Kate Burton, and Maria Tucci are among the stars participating in the lunch-hour reading series Food for Thought, September 24-December 13 at the National Arts Club, 15 Gramercy Park South. Featured are short works of Samuel Beckett, Susan Charlotte, Frank Gilroy, LeRoi Jones, Dorothy Parker, Harold Pinter, August Strindberg, Richard Wesley, and Tennessee Williams. Admission is $25 for each reading, which includes a box lunch. For reservations, call 212-362-2560.

JOHN LENNON TRIBUTE at Radio City Music Hall has, will be a September 20 taping which will air on Lennon's birthday Oct 9. On TNT.

The event features Alanis Morissette, Beck, Cyndi Lauper, Lou Reed, Marc Anthony, Moby, Nelly Furtado, Seal, and Shelby Lynne.

Academy Award-winner Kevin Spacey will be the evening's emcee. The event, a benefit for the Violence Policy Center and the Brady Center to Prevent Gun Violence, is being co-produced by Ken Ehrlich and Lennon's widow, Yoko Ono.

WORKING PLAYGROUND Phillip Seymour Hoffman, Mary-Louise Parker, Billy Crudup, Rosie Perez, Marisa Tomei and Natasha Lyonne are among stars who have signed up for a benefit performance of The 24 Hour Plays on Sept. 24 at the Minetta Lane Theater, NYC.

The event benefits Working Playground, an organization that funds arts programs in schools. Liev Schreiber, Robert Sean Leonard, Rob Morrow and Fisher Stevens are also scheduled to appear in the six short plays, each one written, cast, rehearsed and performed in less than a day before the curtain rises. Tickets are available through Ticketmaster, (212) 307-4100.



36 VIEWS by Naomi Iizuka's opened Berkeley Repertory Theatre's 34th season last Thursday. The play concerns the passions of Japanese art collectors, lovers and imposters colliding over an ancient object -- a pillow book written by an 11th-century courtesan.

Artistic director Tony Taccone acknowledged the horror that gripped this nation and on opening night addressed not postponing the opening.

"It's been our experience that theater can be a place of shelter," Taccone told the crowd, "a safe house - We present this with the hope that this show will lift and illuminate your spirit."

Playwright Naomi Iizuka intended to be at the opening, but her flight was detoured to Kansas as a result of the crisis. The production is directed by Mark Wing-Davey, and is a co-production with The Public Theater/New York Shakespeare Festival.

The play stars Liana Pai, Bill Camp, Peter Donat, Ebon Moss-Bachrach, Elaine Tse and Rebecca Wisocky. Douglas Stein is the set designer.

36 Views runs through Oct. 28 at Berkeley Repertory Theatre's Roda Theatre, Berkeley, CA

HOUDINI LIVES AGAIN starring Magician Mr. Dixie Dooley. Magical Tribute show to the legendary Harry Houdini. Recreation of actual escapes. Tuesday to Sunday. Plaza Hotel, Las Vegas.

LES MISERABLES Aladdin Hotel Las Vegas September 19-23.

CHICAGO September 25- Oct. 1 at the Orpheum Theatre in Phoenix.

MOON OVER BUFFALO by Ken Ludwig starring Joan Collins, Frank Langella, Moira Lister, Emma Barton, Paul Bentley, Cameron Blakely, Robert Fitch, and Sarah Wateridge hit the road before opening in London. The production, directed by Ray Cooney with Tim Goodchild in charge of design begins performances at the Yvonne Arnaud Theatre, in Guildford, England September 8th to 29th and Theatre Royal, in Bath October 1-6. Then the show transfers to Old Vic in London. Previews begin October 8 with an official opening slated for October 15.

HEDDER GABLER the Ibsen classic adapted by Jon Robin Baitz and directed by Nicholas, begins previews Sept. 19 at the Ambassador Theatre, NYC.

The creative team includes Alexander Dodge (set), Michael Krass (costumes), Kevin Adams (lighting) and Jerry Yager (sound). Peter Golub will contribute original music to the piece.

ASSASSINS by Stephen Sondheim and John Weidman presented by The Roundabout Theater Co. has canceled its upcoming revival. The dark musical was about presidential assassins featured a character who attempts to hijack a plane and crash it into the Nixon White House. The production had been slated to open at Broadway's Music Box Theatre in the fall.

A statement released by Weidman and Sondheim said Assassins "is a show which asks audiences to think critically about various aspects of the American experience. In light of Tuesday's murderous assault on our nation . . . we . . . believe this is not an appropriate time to present a show which makes such a demand."

ROMEO AND JULIET opened the fall season at the McCarter Theatre in Princeton on schedule last Thursday.

Emily Mann directs Shakespeare's timeless tale of star-crossed lovers set against a backdrop of ancient family hatred.

The production stars Sarah Drew and Jeffrey Carlson with Remy Auberjonois, Sterling K. Brown, David Cromwell, Johnny Giacalone, David Greenspan, Mirjana Jokovic, Karl Light, Christopher Rivera, Steven H. Rowe, Myra Lucretia Taylor and Joe Wilson, Jr. Carlson.McCarter Theatre, Princeton, NJ through Sunday, September 30.

Post-Performance Discussions will take place on Wednesday September 19 - 8pm and Sunday September 23 - 2pm.


WHO'S WHERE


DUE TO CANCELLATIONS OF AIR PLANE FLIGHTS CHECK WITH INDIVIDUAL VENUES FOR POSSIBLE CHANGES

JEAN-YVES THIBAUDET the celebrated pianist was to have joined Keith Lockhart and the Utah Symphony last Friday for a concert of Richard Strauss' Burleske, However, Thibaudet was unable to fly to Salt Lake City in time for the performance. In place of the Strauss, Lockhart and the Utah Symphony played the Nimrod movement from Edward Elgar's Enigma Variations as a tribute to those who senselessly lost their lives in Tuesday's terrorist attacks in New York and Washington, D.C.

THE AMERICAN MUSIC ASSOCIATION'S second annual convention, which was to have begun last Thursday in Nashville, has been postponed. The AMA is working to set a new date.

JANET JACKSON postponed her concerts slated for last Thursday and Friday at the National Car Rental Center in Sunrise, Florida. The concert will now take place Octobrt 28 and 29

BEACH BOYS slated to play the Stratosphere Hotel in Las Vegas, Nev. last week has been rescheduled for Nov. 4.

JOHN DAVIDSON who was to have performed at the Las Vegas Hilton this past weekend cancelled his shows. He wasn't able to get from New Jersey to Las Vegas. No new dates yet announced.

JOHN TESH slated to have appeared last Friday at the Paramount Theatre; Denver Colorado has been rescheduled for February 15.

JACK JONES performs next Sunday in Cerritos, CA at the Cerritos Center.

BEA ARTHUR center stage Friday and Saturday in St Louis, Mo at The Pageant.

PATTY HEARST will appear in the touring production of Eve Ensler's The Vagina Monologues when it plays at the Shubert Theater in New Haven, Conn., Sept. 18-23.

OLIVIA NEWTON JOHN is in the spotlight Sat at the Hilton Hotel, Atlantic City on September 21 and 22.

DAVID CASSIDY does a two nighter Fri and Saturday in New Orleans, LA at Harrah's.

RAMSEY LEWIS entertains tomorrow in Puyallup, Washington at the Western Washington Fair

LORETTA LYNN stars tonight in Phoenix, Arizona at the Celebrity Theatre. Tomorrow the lady is in Bloomsburg, PA at the Bloomsburg Fair. On Friday and Saturday she can be found in Peshawbestown, MI at the Leelanau Sands Casino

PAUL ANKA performs at the Mirage Hotel, Las Vegas through September 24.

SADE is center stage tonight in Phoenix, Arizona at the Cricket Pavilion. On Tuesday the performance is in Concord, CA at the Chronicle Pavilion @ Concord.


PIFFLE AND PROFUNDITIES
THE NEED IS PROFOUND

The September 11th Fund
United Way New York City
2 Park Avenue
New York, NY 10016

The New York Fire 9-11 Relief Fund
IAFF General Secretary - Treasurer's Office
Attn: New York Fire 9-11 Relief Fund
1750 New York Avenue NW
Washington D.C. 20006-5395

World Trade Center Relief Fund
P.O. Box 5028
Albany, NY 12205












Next Column: September 23, 2001
Copyright: September 16, 2001. All Rights Reserved. Reviews, Interviews, Commentary, Photographs or Graphics from any Broadway To Vegas (TM) columns may not be published, broadcast, rewritten, utilized as leads, or used in any manner without permission, compensation and/or credit.
Link to Main Page
---
Laura Deni



U.S. Postal Address: Post Office Box 60538, Las Vegas, NV 89160
CLICK HERE FOR COMMENT SECTION