! >
Broadway To Vegas
  SHOW REVIEWS     CELEBRITY INTERVIEWS     GOSSIP     NEWS 
| | |
| --- | --- |
| | |
ED ASNER HONORED - - REMEMBER ME TO HERALD SQUARE - - GERMAN AMERICANS STEP OUT - - ANOTHER DORIAN GRAY MUSICAL - - A MAN OF NO IMPORTANCE - - THE IT GIRL THEN AND NOW - - TONY BENNETT KD LANG TV SPECIAL - - CARL REINER SPEAKS - - DONATE . . . Scroll Down


REMEMBER ME TO HERALD SQUARE


That miracle on New York's 34th Street, Macy's Department Store, is celebrating it's 100th year in business with an outdoor Broadway extravaganza on Monday, Sept. 23.

Entitled "Remember Me to Herald Square," the world's largest store will celebrate its place in history with a spectacular fashion and musical tribute, which will be held outside the legendary New York City store on 34th and 35th Streets, and feature a host of Broadway talent, as well as appearances by some of the City's favorite personalities and dignitaries.

With more hoping on board every day, those currently scheduled to perform include; Adam Pascal, Anthony Rapp, The Highbridge Voices Choir of the Bronx will join Liz Callaway as she sings Beyond The Dream, Jonathan Freeman, Jamie-Lynn Sigler, Alix Korey, Mario Cantone, the children of Camp Broadway with Tony Award winner Judy Kaye, and the high flying visual artistry of Anti-Gravity. In addition the birthday bash will feature a performance from the hit Broadway musical Chicago.

Broadcast legend Walter Cronkite will take part in the festivities as will Hal Kahn, the chairman of Macy's East. And, let us not forget Broadway, Bundles, Blossom and Boomer, Macy's very own holiday bears.

Rowland Hussey Macy, a former whaler, opened a small store at West 14th Street in 1857. The red star logo is actually borrowed from a tattoo, which Macy got when he was a sailor. By 1877, the store had expanded to a row of eleven buildings. Macy died in 1877, but the store continued its growth under the direction of Isidor and Nathan Straus, who had headed Macy's china and glassware department.

After outgrowing its original site, the firm acquired the present site in 1902. The ornate entrance at 34th street still has the original caryatids standing guard at the entrance. The clock and the original lettering are there, too. A plaque at the main entrance commemorates the death of Isidor and his wife who died aboard the Titanic in 1912.

Macy's is famous for sponsoring the Thanksgiving Day Parade which was important to the plot line of Miracle on 34th Street, the 1947 classic that has enjoyed several remakes. Macy's also sponsors Fourth of July fireworks and hold its own spring flower show which draws huge crowds annually. To commemorate the 100th anniversary a rose was named in the store's honor.


STEUBEN, SAUERKRAUT, SIEGFRIED & ROY


One of New York's largest and longest-running parades, the 45th Annual German-American Steuben Parade, will have Las Vegas residents Siegfried & Roy as the Grand Marshals announced Parade Chair William Hetzler. Investment banker Heiko H. Thieme is the Parade's Guest of Honor of the event which steps off Saturday, September 21.

The magicians who perform their state of the art illusions at the Mirage Hotel were scheduled to lead last years parade, only to have all plans changed in the wake of the September 11th attack on New York and the Pentagon.

"Last September we held a memorial service at St. Patrick's Cathedral, and then walked in a solemn procession to Engine Company 8 and the 17th Precinct of the NYPD as we joined the rest of New York, the nation and the world in honoring the heroes of September 11," Hetzler said. "Siegfried and Roy wanted to be part of that memorial, but could not fly into New York as all planed were grounded. We are honored that they asked to join us this year."

"We are humbled to be a part of this event that celebrates our German heritage," said Roy. "Though Las Vegas has been our home for more than 30 years, we have maintained contact with our family and friends in Germany and visit whenever we can."

Prominent leaders from New York and Germany will join Siegfried & Roy, and tens of thousands of parade participants, as they lead the colorful parade past nearly one million spectators along Fifth Avenue on September 21.

"This parade is a great celebration of both the rich history of German-Americans dating back to Revolutionary times, and of contemporary German-Americans of great achievement," added Hetzler.

Since its inception in 1958, the German-American Steuben Parade has become one of New York's top tourist attractions, and largest parades.

Previous Grand Marshal have included Rudolph Giuliani, Donald Trump, George Steinbrenner, George Pataki, Eric Braeden and the Hon. Ute W. Lally.

Named after General Frederick Wilhelm von Steuben, and organized to provide the German-American community with the opportunity to celebrate its rich heritage, the parade provides all Americans with a strong and exciting visual picture of the important role German-Americans have played in American history. German-Americans comprise the largest ethnic group in the nation, according to United States Census reports.

The parade kicks off the Oompah Fest and Schutzenfest leading up to Octoberfest.

That means beer, sauerkraut and sausages.

Sauerkraut is second only to mustard as a hotdog topping.

There is one tenth of a head of cabbage is a 14.4 oz can. Over 14.5 million heads are turned into sauerkraut.If all of the sauerkraut cans were put end to end they would stretch over halfway around the world (14,900 miles), or from Rochester, New York to Boise, Idaho!

American eat about three pounds per person per year. Over one billion servings of sauerkraut are consumed each year with 25% of all households buying sauerkraut - about 1.5 pounds at a time every 85 days.

The Dutch eat chicken stuffed with sauerkraut at Christmas as a way to end the year (a chicken scratches the earth back over the old year), and pork and sauerkraut to start the New Year (a pig uses its snout to push the earth forward, or to look ahead). Many European cultures believe it is good luck to eat sauerkraut not only for the New Year, but at graduations and weddings!



Amy Pietz and husband Kenny Williams served sauerkraut at their wedding reception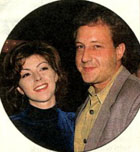 Just ask Amy Pietz. When the Caroline in the City regular and fellow actor Kenny Williams married, Lea Thompson and the rest of those associated with Caroline in the City attended the wedding in Amy's Wisconsin hometown. Amy was determined to have a fun reception and that meant all of the German traditions. The wedding and reception took place at Turner Hall, a former beer garden. The reception menu included schnitzel, potato pancakes, and sauerkraut!

Sauerkraut is even in desserts which adds moisture and acts as a natural preservative. Examples of desserts made with kraut include the famous chocolate sauerkraut cake, sauerkraut pie, and spice cake.

Sauerkraut was eaten by the Chinese as far back as the third century B.C. Even the French celebrate it. The French Sauerkraut Festival takes place September 21-22 in Brienne-la-Chateau, France.

Reigning kraut-eating champion Brenda Lashley was seven months pregnant during this year's competition. She gobbled down more than a pound of sauerkraut at the Kraut Festival in Franksville, Wis., to claim her title as the women's World Champion Kraut eater. She took home a trophy and $100.

"I just hope he likes it," Lashley said of her unborn child, while admitting she's not too fond of the food herself.

Lashley has placed first, second or third in the women's competition every year for the past 15 years.

Her secret?

"Don't look up. Don't look at the crowd."



Broadway To Vegas is supported through advertising and donations. Priority consideration is given to interview suggestions, news, press releases, etc from paid supporters. However, no paid supporters control, alter, edit, or in any way manipulate the content of this site. Your donation is appreciated. We accept PAYPAL. Thank you for your interest.


TONY BENNETT TAPES SAN FRANCISCO SPECIAL
Tony Bennett and kd lang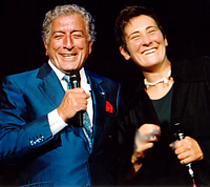 Tomorrow, Monday September 16th, PBS will be taping The Wonderful World of Tony Bennett billed as a musical retrospective of his legendary career. He will be joined by special guest kd lang and a thirty piece orchestra.

PBS picked the audience for this exclusive San Francisco performance in an unusual way. Those interested in attending were instructed to send one and only one E mail to Sony Music. Prospective audience members were told only that the taping will take place at an historic location in San Francisco and they would need to be available for the taping between 6:30 PM and 10 PM.

If selected to receive tickets the person would be notified and provided with the show up details.


SWEET CHARITY


A BENEFIT PERFORMANCE FOR THE ACTING COMPANY'S 30th ANNIVERSARY

Kevin Kline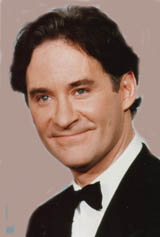 at Lincoln Center's Juilliard Theater will star Kevin Kline performing an evening of Shakespeare. Sunday, September 22.

Considered one of America's most accomplished classical actors, Kline is a founding member of The Acting Company, having toured in 18 plays during the Company's first four years. He is recipient of its John Houseman Award and serves on The Acting Company's board of directors.

In addition to Kline, Patti LuPone, Harriet Harris, Frances Conroy, Jeffrey Wright, Stephen DeRosa, Jessie L. Martin, David Ogden Stiers, David Schramm and Tom Hewitt number among the 300 alumni whose careers have begun on tour with The Acting Company, America's foremost classical repertory theater. Founded in 1972 by John Houseman and Margot Harley out of the first graduating class of Juilliard's Drama Division, The Acting Company has performed in 48 states and nine foreign countries, earning Obie's, LA Critics and Audelco awards in addition to several Tony Award nominations. Last season, the Company traveled 16,000 miles to 53 cities in 34 states.



ED ASNER

Ed Asner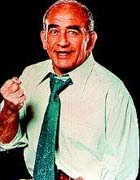 returns to from whence he came - Kansas City, Kansas - to receive the Kansas Arts Commission's Distinguished Arts Award on September 20.

The award, considered Kansas' top arts honor, is given annually to a native of Kansas who has made significant contributions to some form of art, whether it be performance or education, according to a release from Martin Bauer, president of the commission.

The award also is in recognition of Asner's efforts to promote and encourage arts in education, using the arts as a way to keep students engaged in learning, Bauer stated.

Asner is best known for playing Lou Grant on the '70s sitcom The Mary Tyler Moore Show.
CARL REINER TO LAUNCH ORANGE COUNTY'S NEW SPEAKER SERIES
Carl Reiner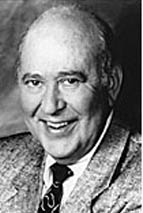 Actor/writer/director/producer Carl Reiner kicks off the new Up Close at The Center speaker series at the Orange County Performing Arts Center on Wednesday, September 18.

The Orange County Performing Arts Center, in partnership with Clear Channel Entertainment, has announced a new series that will present today's most celebrated artists, performers and public figures in a personal forum, called Up Close at The Center. This year's schedule of speakers will include 12-time Emmy Award winning actor, comedian and writer Carl Reiner, former Mr. Universe and actor Arnold Schwarzenegger on November 18 and Academy Award, Tony Award and Presidential Medal of Honor winner Julie Andrews next Spring.

The recipient of 12 Emmy Awards Reiner was as a co-star on the legendary television program Your Show of Shows, creator and co-star of The Dick Van Dyke Show, The Interviewer on The 2,000 Year Old Man, and director of such feature films as The Jerk, All of Me and Oh,God!

Born in the Bronx, Reiner trained as a machinist helper in the millinery trade while simultaneously studying drama. Show business seemed to be where his true talents lay: Reiner landed a part as a second tenor in an updated version of The Merry Widow. World War II sidetracked his entertainment ambitions momentarily, but after training as a radio operator, French-language interpreter and teletype operator, he finally settled in as a comedian and actor with Maurice Evans' Special Service Entertainment Unit. Reiner toured the Pacific in G.I. revues for 18 months until the end of the war.

Following his discharge and roles in various Broadway musicals, Reiner joined Sid Caesar and Imogene Coca on Your Show of Shows. His autobiographical work Enter Laughing, became the basis for a Broadway play and feature film of the same name.


THE MUSIC GOES ROUND AND ROUND


THE IT GIRL in a black and white world everything is where it belongs. Our hero, who stands straight and tall because he starches his underwear and socks, is looking for a gal that will make him so hot he'll loosen his tie. Enter The It Girl.

Jay Records has released the CD of the original cast recording of the acclaimed Off-Broadway musical The It Girl, based on the 1927 film It that made Clara Bow a star.

This is not a musical about Bow, who was the first mass media sex symbol. However, a little background on the gal who was The It Girl adds another prism about the era and plotlines that made productions like this popular. Bow, manipulated and used by the media and motion picture system, paved the road for Harlow, Monroe and Madonna. She is also responsible for making The It Girl part of our vocabulary.

Between 1922 and 1929 Clara Bow's sexiness, vivaciousness and on screen persona defined the liberated woman of the 1920's. It didn't start out that way.

Born in a Brooklyn tenement in 1905 during one of the worst heat waves New York has ever experienced, Clara was unwanted from day one. Both her mother and grandmother were mentally ill. Her disinterested father deserted the family shortly before Clara was born. Clara's mother hoped that the heat would kill both her and her child and didn't bother with a birth certificate.



Clara Bow as Betty Lou in It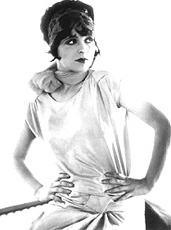 Lonely and hypersensitive Clara turned to motion pictures as her escape. At home she would look in the mirror and imitate what she had seen on the screen.

In the early 1920's, most every American girl dreamed of winning a fan magazine contest as a stepping stone to becoming a movie actress. Clara was no different. What was different was that she won. The January 1922 edition of Motion Picture Magazine announced Clara as the 1921 Fame and Fortune Contest winner.

After the resounding success of the movie It Paramount typecast her. All roles were variations of how a charming and scheming woman, would win over an otherwise unavailable man. In droves people flocked to see Clara Bow movies.

The child of poverty and neglect suddenly came into money, fame, and a realization of her own sexual power.

She became known for her very colorful off-screen life, and was eventually brought low by scandal - love affairs, madcap adventures, and careless, sometimes drunken exploits. In 1930 her life spun hopelessly out of control. After falling victim to three horrible scandals that involved gambling, carousing, and a much publicized court trial, Clara found a safe place in the arms of cowboy star, Rex Bell, whom she married in 1931.

The newlyweds moved from the bright lights of Hollywood, to their remote 400,000 acre Walking Box Ranch in Searchlight, Nevada. There they regularly hosted legends such as Lionel Barrymore, Errol Flynn, Clark Gable and Norma Shearer, showing off their 1,800 head of cattle.



Jean Louisa Kelly starring in The It Girl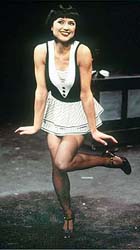 They remained at the ranch raising their two sons, until the mid-1940s, when they separated and Bell pursued a career in politics. He eventually served as Nevada lieutenant governor. First born son Rex Anthony Beldam, better known as Rex Bell, Jr., served as Clark County (Las Vegas) district attorney in the 1980s and early '90s He is now an attorney in private practice.

Plagued by physical and mental problems Clara returned to California around 1950 to live out her remaining years separated from Rex but near her California doctor. The two never divorced.

Rex Bell passed away from a heart attack on July 4, 1962 when he was in the early stages of his campaign for the Nevada Governor's seat. Clara Bow passed away on September 26, 1965. They are interred together at Forest Lawn - Glendale, California.

The New York Times called this musical The It Girl "a very pleasant surprise with a smart, savvy score," perfectly captures the energy and excitement of the Jazz Age and the charm of the silent flickers.



Jean Louisa Kelly and Jonathan Dokuchitz in The It Girl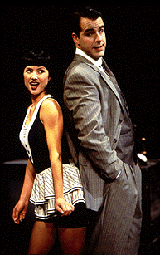 In true madcap 20's style, The It Girl focuses on a bookish young woman who is transformed into a saucy lingerie salesgirl and sets off on a freewheeling chase after love, leading her from the whirling attractions of Coney Island to the romantic distractions of high-society.

With a book by Michael Small and BT McNicholl, music by Paul McKibbins and lyrics by BT McNicholl, The It Girl opened for an exclusive 6-week run at New York City's York Theatre in May, 2001.

The show starred Jean Louisa Kelly (CBS' Yes, Dear and Mr. Holland's Opus) as The It Girl, Jonathan Dokuchitz (The Boys From Syracuse) as Jonathan Waltham, Stephen DeRosa (Into The Woods) as Monty Montgomery, and Jessica Boevers (Oklahoma!) as Adela Van Norman.

Recorded during the show's run, The It Girl album features all of the lively, evocative songs from the McNicholl/McKibbins score including the flapper's anthem Why Not?, the haunting lullaby Mama's Arms, the comic showstopper A Perfect Plan, the romantic and rollicking Coney Island, the ragtime ditty Step Into Their Shoes and the addictive title song, among others.

Albin Konopka on piano, Chris Miele flute, clarinet and saxophone, Amy Kimball violin, Ratso Harris bass, Ray Grappone percussionist, and Greg Utzig on banjo and guitar.

The It Girl will be in stores Tuesday, October 1st.

THE DREW CAREY SHOW the popular ABC-sitcom, commissioned the Cleveland Pops Orchestra to record new arrangements for three of its theme songs.The Pops and conductor Carl Topilow recorded Cleveland Rocks, Moon Over Parma and Five O'Clock World in arrangements by Pops trombonist Paul Ferguson in an Agora theater session.

VIC DAMONE has 80+ newly recorded songs - in some cases new arrangements of previously released songs - which are going to be released over time. Some have an orchestra, others are Vic and a guitar. Some feature a trio. The material covers everything from George and Ira Gershwin to Billy Joel, and many styles and genres in between. Damone as he has never been heard before.



A MAN OF NO IMPORTANCE the new musical by composer Stephen Flaherty, lyricist Lynn Ahrens and librettist Terrence McNally, is in previews at Lincoln Center Theater's Mitzi E. Newhouse, NYC slated to officially open on Oct. 10.

Joe Mantello directs a cast of 16 headed by Roger Rees, Tony Award winner Faith Prince, and Emmy winner Charles Keating. Also on board are Ronn Carroll, Luther Creek, Michael McCormick, Jessica Molaskey, Martin Moran, Sally Murphy, Barbara Marineau, Sean McCourt, Katherine McGrath, Steven Pasquale and Patti Perkins.

The show is based on the 1994 film of the same name. A Man of No Importance tells the story of a middle aged, closeted gay bus driver - played by Roger Rees- still living with his older sister - played by Faith Prince. A modest man, a quiet man, Alfie has always found his greatest satisfaction and identity as artistic director of The St. Imelda's Players, an amateur theatre group.

But it is 1964 and the world is changing. Alfie's little theatre is no longer a safe place from the tumultuous world outside.When Alfie declares that, instead of their usual production of The Importance of Being Earnest, the troupe will next present Wilde's provocative Salome, the church authorities balk at the play's "immodest dancing" and his safe little world begins to crumble. In trouble with church hierarchy Alfie wakes up to who he really is and realizes he must stand up and take his place in the world. Still a modest man, Alfie Byrne is no longer a quiet one. Some would even say he has become a man of great importance.

The show will have musical staging by Jonathan Butterell, musical direction by Ted Sperling, sets by Loy Arcenas, costumes by Jane Greenwood, lighting by Donald Holder and sound by Scott Lehrer.

Lincoln Center Theater's Mitzi E. Newhouse, NYC.

AMOUR a translation of the hit French musical Le Passe Muraille starring Melissa Errico and Malcolm Gets begins previews on September 17.

The American version will be produced by The Shubert Organization, Jean Doumanian and USA Ostar Theatricals. The French musical featuring music by Michel Legrand has been translated by Jeremy Sams. Original French lyrics were written by Didier van Cauwelaert.

Tony winner James Lapine will direct. Based on a French short story by Marcel Ayme, Amour is set in post World War II Paris and concerns the life of Dutilleul, a civil servant who discovers he has the ability to walk through walls. Amour begins previews at Broadway's Music Box Theatre on Sept. 17.

IN REAL LIFE is written and performed by Tony Award nominee Charlayne Woodard.

Proof's Tony Award winning director Daniel Sullivan helms this production

Sullivan has joined with Woodard to create another acclaimed new play, following successful runs at Seattle Repertory Theatre and Mark Taper Forum.

Continuing the path laid out in Pretty Fire and Neat, Woodard's autobiographical tale brings us to her salad days as a young New York actress auditioning and ultimately landing her Ain't Misbehavin' break out role.

September 17- November 10 at the Manhattan Theatre Club, New York City.

THE GRADUATE welcomes Linda Gray on September 17. Linda will be making her Broadway debut, substituting for Kathleen Turner who takes a well deserved week's vacation.

THE LAWS OF STORMS by Houston playwright Thomas Meloncon was prompted by the 100th anniversary of The Galveston Hurricane of 1900 -- which struck the island city claiming the lives of at least 6,000, and perhaps as many as 8,000. Meloncon's drama, which stars Timothy Eric Dickson, Wayne DeHart, and Melita Hawkins, is set in the aftermath of the disaster. The play's world premiere has launches Houston's Main Street Theater's 2002-03 season. Through October 13.

DAME EDNA Sept. 17-22 at the Tampa Performing Arts Center in Tampa, FL.

TINTYPES conceived by Mary Kyte, Mel Marvin and Gary Peale, the Tony-nominated musical revue of traditional American tunes stars Greg Zerkle as president Theodore Roosevelt with Darlesia Cearcy as Susannah.

Also in the cast are Heather Lee as Anna Held, Eric Olson as Charlie and Lisa Fishman as Emma Goldman.

Tintypes tells the story of pre-World War I America through the personalities of the times, including President Roosevelt, anarchist Emma Goldman and naughty, but glamorous Broadway star Anna Held, who inspired Ziegfeld's Follies.

This imaginative revue is filled with vivid characters who sing fervently of their history and their hopes for life in a new land. They sing of seeing the Statue of Liberty for the first time, of ingenuity and invention, and of their dreams for social justice and equality. Tuneful and high-spirited, Tintypes includes more than 40 patriotic songs by George M. Cohan, Stephen Foster, John Philip Sousa and others. Familiar titles include Yankee Doodle Dandy, You're a Grand Old Flag, I'll Take You Home Again Kathleen, Bill Bailey and Meet Me in St. Louis.

Bonnie Hellman directs. Jim Alexander and Cindy Robinson are the choreographers. David Potter is the musical director.

Rubicon Theatre Companyt Ventura, CA. September 21-October 20.

CATS September 17-22 at the Merriman Theatre in Philadelphia.

SEUSSICAL THE MUSICAL the national tour of the musical, based on characters created by Dr. Seuss, will begin at the Murat Center's Klewes Theater in Indianapolis, IN, Sept. 17-22. Sets by James Kronzer, David Woolard costumes, Howell Binkley lighting and Brian Ronan sound. Christopher Ashley directs. Choreographer Patti Colombo.

DORIAN A NEW MUSICAL currently in previews at the Buell Theatre in Denver, is the latest musical version of Oscar Wilde's darkly witty story.

Played against the mystical backdrop of New Orleans, this modern-day adaptation of Wlde's classic novel, The Picture of Dorian Gray, tells the story of one man's tragic wish to remain untouched by time, unchanged by life.

Set during the festivities of the Carnival/Mardi Gras season, with an outpouring of "Wildesque" humor and a musical score of Bourbon Street jazz and blues. Dorian remains a gothic romance, a personal quest for love and ultimate redemption.

In the cast of 26, Robert Cuccioli plays Henry Lord. Matt Cavenaugh stars as the title character, who sells his soul to remain young and beautiful, while his portrait in the attic ages hideously. The production also stars Armelia McQueen as Mama Vane and Nikki Renee Daniels as Celia Vane.

The work is conceived, co-written, directed and choreographed by James J. Mellon, with a book by Mellon and Duane Poole and music and lyrics by Mellon and Scott DeTurk. The show officially opens Sept. 17 following previews. Performances continue to Sept. 29. Designers are Robert L. Smith sets and lighting, Scott A. Lane costumes, Kurt Fischer sound and orchestrations by Bruce Coughlin.


WHO'S WHERE


MICHAEL FEINSTEIN down under September 20-21 at Queensland Performing Arts Centre in Brisbane, Australia.

ALABAMA center stage Saturday, September 21, in Centerville, Michigan at the St. Joseph County Fair.

ELTON JOHN AND BILLY JOEL make up a canceled February 2, Fleet Center, Boston date on September 20. Same place, the Fleet Center, Boston.

TONY BENNETT has a two nighter Wednesday and Thursday at Carnegie Hall in NYC.

SWEET HONEY IN THE ROCK has a two nighter Friday and Saturday at the Tryon Festival Theatre in Urbana, Illinois.

GEORGE WINSTON in the last week of his European tour performs tomorrow in Cologne, Germany at the Live Music Hall. On Tuesday the show is in Munich at the Muffathalle and Thursday finds the performer on stage in Berlin at the Passionskirche.

EARTH, WIND AND FIRE Thursday opens a four night stand at the Paris Hotel in Las Vegas.

OLIVIA NEWTON JOHN sings this evening at the Orpheum Theatre in Minneapolis, Minnesota. On Wednesday she is center stage in Knoxville, Tennessee at the Knoxville Civic Auditorium. Friday the lady stars in Atlanta, Georgia at the Chastain Park Amphitheatre. She closes out the week, Saturday, in Clearwater, Florida at the Ruth Eckerd Hall.

OAK RIDGE BOYS blending the harmony tonight in Knoxville, Tennessee at the Tennessee Valley Fair. On Wednesday the show is in Branson, Missouri at the Grand Palace. On Thursday they are center stage in Cleveland, Mississippi at the Bologna Arts Center. Saturday finds the guys returning to the spotlight in Branson again at the Grand Palace.

JOURNEY on stage Tuesday in Austin, Texas at The Backyard. On Wednesday the show is in El Paso, Texas at Abraham Chavez Theatre. Friday the performance is in Tucson, Arizona at the Anselmo Valencia Amphitheatre and they close out the week, Saturday, in Camp Verde, Arizona at the Cliff Castle Casino.

MARIANNE FAITHFUL Sept. 19, 21 & 22 at Irving Plaza.

MICHAEL BOLTON Sept. 20 at Jones Beach.

BRUCE HORNSBY Sept 20 at Town Hall, New York City.

NEIL DIAMOND sparkling Tuesday at the Nassau Coliseum in Uniondale, NY. On Wednesday he's center stage at the Continental Airlines Arena in East Rutherford, N.J. Friday he'll be singing his hits at the Cumberland Civic Center in Portland, Maine. He closes out the week, Saturday, at the Pepsi Arena in Albany, NY

DIANA KRALL in a two nighter Thursday and Friday at Royal Albert Hall in London.

SMOKEY ROBINSON in the spotlight Thursday at The Globe of Anaheim in Anaheim, California. On Friday he's at Humphrey's in San Diego,. CA. He closes out the week, Saturday, at the Celebrity Theatre in Phoenix, AZ.

MARC ANTHONY stars Tuesday at the Tampa Ice Palace in Tampa, Florida. On Friday he's on stage at the Robert Clemente Stadium in San Juan, Puerto Rico.

BILL COSBY telling funny stories Wednesday at the Western Washington Fair in Puyalllup, Washington. On Saturday he's entertain in Alpine, California at the Viejas Concerts in the Park.

LINDA EDER Sept. 19 at Humphrey's By the Bay in San Diego, CA Sept. 21 at the Orange County Performing Arts Center in Costa Mesa, CA

DARLENE LOVE AND FREDA PAYNE in Love & Payne Sept. 17-Oct. 5 at Feinstein's at the Regency, NYC.

PIFFLE AND PROFUNDITIES


PRESIDENT WARREN G. HARDING had five nervous breakdowns before he became President.













Next Column: September 22, 2002
Copyright: September 15, 2002. All Rights Reserved. Reviews, Interviews, Commentary, Graphics or Photographs from any Broadway To Vegas (TM) columns may not be published, broadcast, rewritten, utilized as leads, or used in any manner without permission, compensation and/or credit.
Link to Main Page
---
Laura Deni



U.S. Postal Address: Post Office Box 60538, Las Vegas, NV 89160
CLICK HERE FOR COMMENT SECTION