! >
Broadway To Vegas
  
 SHOW REVIEWS CELEBRITY INTERVIEWS GOSSIP NEWS

| | |
| --- | --- |
| | |
NEW YORK'S FIRST IRISH THEATER FESTIVAL - -SHIRLEY MACLAINE AT EQUUS - - WILD ABOUT HARRY PRESENTED BY THE NEW YORK MUSICAL THEATRE FESTIVAL - - HURRICANE IKE UPSTAGES SHOWS - - IRANIAN ART: WISHES AND DREAMS - - LET TED ALLEN BE HIMSELF - - URBAN STAGES' NEW PLAY READING SEASON - - BROADWAY FLEA MARKET - - DONATE . . . Scroll Down


Copyright: September 14, 2008
By: Laura Deni

CLICK HERE FOR COMMENT SECTION
NEW YORK'S FIRST IRISH THEATER FESTIVAL - lST IRISH 2008


New York has never had an Irish Theater Festival.

No blarney.

As of last week that all changed. George Heslin, artistic director of Origin Theater Company - noted for pushing the envelope - was dumbfounded when he discovered that no such event existed. So, he began putting one together - after conquering some hurdles. Anybody who knows Heslin credits his unbridled enthusiasm with pole vaulting him over the impossible.

New York City has the largest number of Irish-Americans of any city in America. There has always been an Irish presence in theater - also nine mayors of Irish heritage; 32 movies and 16 television shows or series with an Irish flavor. And, don't forget that annual, world famous parade.

The roadblocks were because of just that - if there is already so much Irish - why bother with anything more?

Heslin, who came to New York from Limerick in 1994, knows from both sides of the footlights. He's been an actor, director and producer for seventeen years. He is a graduate of the Samuel Beckett Centre Trinity College Dublin, The Abbey Theatre Dublin Directors Program and The HB Studio New York where he studied with the legendary Uta Hagen.

As an actor, he recently completed the Broadway national tour of the hit show Stones In His Pockets. In New York he has appeared in many off-Broadway productions including Juno and The Paycock at The Roundabout. Regionally he has played at The Kennedy Center, Old Globe San Diego, Pittsburgh Public, Studio Arena Buffalo, Virginia Stage Company, Penguin Rep, The Caldwell Theatre Florida and Syracuse Stage, to name a few.

The experienced Heslin had a different opinion about the New York Irish scene.

Irish related stage presentations, including the highly respected, 20-year-old Irish Repertory Theater, are entitles unto themselves. Heslin's long term goal is to annually stage a festival that groundbreaks new works, with festival presenters then showcasing them at the Dublin Theatre Festival, which takes place in late September and early October.

Heslin has long had the respect of people in high places.

"Origin Theatre Company is remarkable in the way it unites and expresses the best of progressive European Theater. It's program is exciting, bold and challenging It is a tribute to George C. Heslin that the company flourishes in such a competitive theatrical environment as New York." Kieran McLoughlin, President The American Ireland Fund.

"Origins is an invaluable bridge in terms of show-casing talent to New York and a wider America. We at the Consulate General of Ireland on behalf of the Irish Government, are pleased to work in support of Origins in any way we can as it continues its important mission." Ambassador Tim O'Connor, Consul General of Ireland.

That wasn't enough for Heslin who managed to sweet talk and cajole some high-level sponsors, including government agencies.

Through September 28 the 59E59 Theaters host 1st IRISH 2008, featuring the New York City premieres of nine companies presenting works of 13 playwrights at five locations, including a reading at the American Irish Historical Society on Fifth Avenue. Composed of three contemporary Irish plays and an evening of five short works, the First Irish Festival hosts productions from the Origin Theatre Company, Solas Nua, Tir NA Theatre and the Keegan Theatre.

Culture Ireland and the Irish Arts Council are even supporting End of Lines, a commissioned collection of shorts from five Irish playwrights that were inspired by the New York subways.

What happens when five of Ireland's hottest playwrights seek inspiration from the New York City subway? Will Irish eyes be smiling or a will it be a case of I still haven't found what I'm looking for? In five world-premiere short plays, Gary Duggan, Pat Kinevane, Morna Regan, Ursula Rani Sarma and Abbie Spallen - playwrights who come from Dublin, Cork, County Clare, Belfast and Derry and three are women - will take you on their unique journeys to the soul of The Big Apple. Directed by Julia Gibson, George C. Heslin, Alyse Rothman, David Sullivan and Fiana Toibin.

The set and lighting design is by Maruti Evans. The costume designer is Michael Bevins.

Other presentation include the Tir Na Theatre Company of Boston staging the New York premiere of the Northern Irish playwright Owen McCafferty's Mojo Mickybo, directed by Stephen Russell. It's the story of two boys, one Protestant and one Catholic, in 1970 Belfast. Featuring Colin Hamell and Derry Woodhouse.

Nothing cements a friendship like a common enemy, even if imaginary. Mojo Mickbo is billed as a classic coming-of-age story about two boys whose innocence is ultimately betrayed by communal hatred. The production runs September 16-21.

Rum and Vodka by Conor McPearson is helmed by John Brant and stars Mark Anthony Noonan.

This solo piece showcases the eye and ear for detail, which has brought two-time Tony nominee Conor McPherson acclaim on both sides of the Atlantic. In this sobering one-man play a young alcoholic Irishman recounts the events that follow after he loses his job - from the feud with his wife to the bender that might finally help him realize what's important in life. Performances continue September 14-16, 21-23.

Great White American Teeth, written and performed by Fiona Walsh is directed by Virginia Scott.

What's a young Irish girl do to when she lives in a tiny community, far away from the excitement of America that she desperately craves, not to mention the loveable Warren Beatty? Aside from being kidnapped by space aliens (something she seriously considers), how can Fiona reach the amber waves of grain. This transatlantic comedy is staged September 15 and 23.

When I Was God by Conal Creedon, directed by Tim Ruddy, features Gary Gregg and Michael Mellamphy.

It's soccer cup final day. Referee Dino Keegan is retiring from the game. At half time the spotlight illuminates Dino's moment of reckoning. On the field of dreams the referee is God, but what happens when God is made man?

The American premiere is September 14, 16, 21, 22.

Edna Walsh's Disco Pigs, directed by Dan Brick and Linda Murray, features Madeline Carr and Rex Daugherty.

Presented by Solas Nua and running Sept. 9-14, Disco Pigs is described as such: "Pig and Runt are two 17-year-olds who have grown up sharing everything: birthday, language, and worldview. But at that moment when pop songs and life-changing orgasms flash by and last forever, their friendship begins to implode on the road to adulthood."

Keegan Theatre's Love, Peace and Robbery, plays Sept. 23-28. Kerry Waters directs the play by Liam Heylin that features Matthew Keenan, Eric Lucas and Bruce Rauscher.

Love, Peace and Robbery follows "the escapades of Gary and Darren - both straight out of prison. Living with a curfew and the broken pieces of their pasts, they confront life back on the streets of Cork. Two guys who prove that there may actually be honor among thieves."

On September 15 The American Irish Historical Society, by arrangement with Roomkeepers Productions, presents the American Premiere of Bleeding Poets by Daniel Reardon. Directed by M Burke Walker.

It's 1847 and Ireland is in the grip of the most devastating famine of the century. While legendary Dublin poet James Clarence Mangan nears the end of his life, blighted by malnourishment and addiction, Cork poet Francis Sylvester Mahony and unhinged American writer, Edgar Allan Poe arrive in Dublin on a mighty poetic pilgrimage. The three meet one fateful night at The Bleeding Horse on Camden Street.

What ensues is an ultra-dark (and totally fictional!) comedy of life, death and alcohol-and-opium fuelled geniuses, set in one of Ireland's most historic public houses.

On September 24 a panel discussion, with some on New York's finest theatre directors, discussing directing Irish plays for an American audience, will take place at The New York Public Library for the Performing Arts at Lincoln Center.


SPREADING THE WORD


NEW PLAY READING SERIES Urban Stages in NYC is celebrating its 25th Anniversary with a celebration of their continued commitment to new work at a free New Play Reading Series on Monday nights in September. Wine and refreshments will be provided.

On September 15 – Traitors by Don Nigro will be read. Directed by Larry Harbison.

In the late 1940's, when Richard Nixon and the House Un-American Activities Committee were looking for communists, a senior editor at Time magazine named Whitaker Chambers testified that Algers Hiss, a prominent member of the State Department, had been for years a paid agent of the Soviet Union. What followed was the most notorious and baffling espionage and treason controversy in American history. Nigro, one of America's most prolific award winning playwrights, traces this darkly ironic horror story with humor and more than a trace of madness. It's a hall of mirrors in which we can see reflected the grotesque political masks we still wear.

September 22 – Genevieve by Edward Musto. Directed by Judd Silverman.

Genevieve is inspired by a true story, the Gabrielle Russier ordeal, which shook France in the late 1960's. At the time of the student riots in Paris, a 30 year-old schoolteacher, here named Genevieve Duvall, stands trial for "corrupting a minor". As Genevieve gives testimony, the action in the court room freezes and she relives the moments in which law and justice are at odds with one another. The play was a finalist in two national playwriting competitions.

The mission of Urban Stages is to discover, nurture and produce exceptional new works by artists of diverse cultural backgrounds thereby giving them a venue to address the multi-faceted issues facing our contemporary world.


ART AND ABOUT


VAN GOGH AND THE COLORS OF THE NIGHT

Starry Night by Vincent van Gogh, c.1889, is one of the most well known images in modern culture.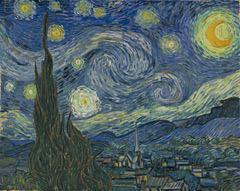 Starry Night over the Rhone by van Gogh, c. 1888, contains one final aspect that is not featured in the Starry Night piece; humans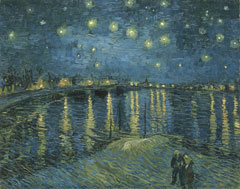 Throughout his career, Vincent van Gogh (Dutch, 1853–1890) attempted the paradoxical task of representing night by light. His procedure followed the trend set by the Impressionists of "translating" visual light effects with various color combinations.

At the same time, this concern was grafted onto Van Gogh's desire to interweave the visual and the metaphorical in order to produce fresh and deeply original works of art.

These different artistic concerns found themselves powerfully bound together in Van Gogh's nocturnal and twilight paintings and drawings. This exhibition will present new insight into Van Gogh's depictions of night landscapes, interior scenes, and the effects of both gaslight and natural light on their surroundings.

Representing all periods of the artist's career, the exhibition will comprise over two dozen works of superlative quality—several of which have never been seen together, even though they were very clearly conceived with each other in mind. This exhibition will be shown at the Van Gogh Museum in Amsterdam, February 13–June 7, 2009. It will be accompanied by a fully illustrated catalogue.

Organized by Joachim Pissarro, Adjunct Curator, Department of Painting and Sculpture, The Museum of Modern Art, and the Bershad Professor of Art History and Director of the Hunter College Galleries; and Sjraar van Heugten, Head of Collections, the Van Gogh Museum, Amsterdam. The exhibition is organized in collaboration with the Van Gogh Museum, Amsterdam.

September 21, 2008–January 5, 2009 MoMA in New York City.

WISHES AND DREAMS

Mitra Kavian, Mantra (2006), mixed media on canvas.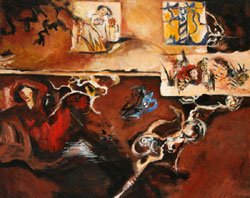 Organized by Meridian International Center in Washington, D.C. in partnership with the Tehran University Art Gallery, this exhibition outstanding in its historical and avant-garde approaches to the contemporary scene, introduces young, emerging Iranian artist to America.

The 30 artists, aged 22-40 bring the vibrant young Iranian Art scene through abstraction, portraiture, minimalism and video art. Not only does this exhibit illustrate current contemporary Iranian trends; it introduces us to the artist's dreams of the past and their concern and anxiety for the future of their beloved country.

Nancy Matthews, Meridian's Vice President for Arts and Cultural Affairs, made two trips to Iran to work on this project in collaboration with the Tehran Gallery (Tehran University, College of Fine Art) and with Dr. Sami Azar, former Director of the Tehran Museum of Contemporary Art. Now working independently, but closely allied with the Tehran Gallery, he is a major figure in the arts community of Iran and continues to work for cultural exchange. He is particularly supportive of Iran's young artists and has a great enthusiasm for this exhibition project, as do all others connected with it, especially the artists themselves.



Elham Elsamian Arangeh, Butterfly (2005), acrylic on canvas.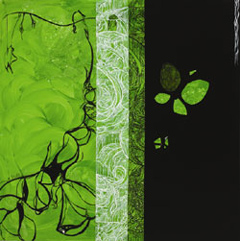 The art scene in Iran is vibrant and extremely active. There are many private galleries throughout Tehran. The younger artists - and there are many of them - are very much in evidence, supportive of each other, and anxious to have their work seen. Gallery owners are eager to support them, and shows change frequently.

Much of their art is about dreams of the past or of the future. They look to their historical past, their symbols and beliefs, wanting to preserve it, while also wondering about their future. The status of women in the country is a common theme, one which was not so evident in the first collection. Other realities and concerns, as they see them, are the subjects of their work as well.

The approximately 40 works by these young artists includes photographs, collages, videos and installation. Their art reflects the mood of the generation of tomorrow in this country of contradictions and deep-rooted cultural pride.

To compliment this exhibition a display of Persian Miniatures from the MOAS permanent collection will be on display.

Nesting Dornas, an art exhibit featuring the works of Iranian-American artists of Florida will also be on display. Nesting Dornas will be exhibited from September 19 to November 7, 2008 at MOAS.

In conjunction with these exhibitions several area arts venues have come together to host Passport to Persia: A Week-Long Journey of Passion and Pride through the Arts September 18 to 24, 2008. Passport to Persia is a week of cultural activities including films, lectures, book discussions and gallery tours that explore contemporary Iranian culture and art. Passport to Persia is a partnership project supported by Bethune Cookman University, Daytona State College, Embry Riddle Aeronautical University, the Iranian American Society, the Marc Bernier Show on WNDB 1150, the Museum of Arts & Sciences, the Southeast Museum of Photography and WCEU channel 15.

"Shows Americans another side of Iran" - comments made by Condoleezza Rice, US secretary of State at the opening of Wishes and Dreams in Washington, D.C.

On display September 19– November 7, 2008 at the Edward E. and Jane B. Ford Gallery at the Museum of Arts and Sciences in Daytona Beach, FL.



Broadway To Vegas is supported through advertising and donations. Priority consideration is given to interview suggestions, news, press releases etc from paid supporters. However, no paid supporters control, alter, edit, or in any way manipulate the content of this site. Your donation is appreciated. We accept PAYPAL. Thank you for your interest.


SWEET CHARITY


BROADWAY FLEA MARKET held each September in Shubert Alley, brings out the biggest and brightest stars from Broadway, Off-Broadway, Dance and daytime television to greet fans and sell memorabilia.

The event also includes the Celebrity Table, where celebrities gather throughout the day to sign autographs and pose for photos in exchange for donations.

Casts and company members of dozens of shows are joined by theatrical unions and guilds, producing organizations, local merchants, and many other groups to sell costume pieces, autographs, original scripts, rare photographs, and so much more.

The highlight of the Flea Market is the Grand Auction, in which singular items and opportunities such as walk-on roles in Broadway shows, television programs and films are available to the highest bidder.

Sunday, September 21, 2008 in Shubert Alley.


FOOD FOR THOUGHT


FOOD DETECTIVES

Ted Allen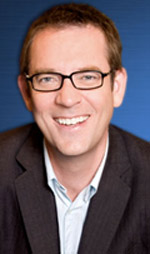 is a new series on the Food Network which stars Ted Allen. Having thoroughly enjoyed him on Queen Eye; Top Chef and Iron Chef, his star turn on this effort was eagerly awaited.

Never met the man, but on the afore mentioned shows he comes across as delightful, helpful, knowledgeable and sincere.

Food Detectives is a different situation. The show is interesting and informative. Somebody has ordered Mr. Allen to yell, act overly dramatic - and frequently - the camera shots are so tight that his face appears distorted - perhaps to make it appear he is a detective and that is how his face would look if one saw it through a hand held magnifying glass. The result is that Mr. Allen comes across as over-bearing and obnoxious - which isn't his fault.

Somebody has instructed him to take on that persona. It's off-putting. Try more Mr. Nice Science Guy who really wants to help - or - better yet, why not just let him be himself?
HURRICANE IKE UPSTAGES SHOWS


Due to Hurricane Ike stealing the show, Galveston/Houston entertainment has retreated into the wings.

The Grand 1894 Opera House in Galveston will reschedule a performance by Steve Tyrell. The new date for the show, which was scheduled for Saturday, September 13, will be announced as soon as possible. The Grand is one of the few remaining theatres of its era in Texas and is listed in the National Register of Historic Places. In 1993 the 73rd Texas Legislature proclaimed The Grand "The Official Opera House of Texas."

The Arena Theatre in Houston, which has been bringing in mainstream entertainers since the '70s, has rescheduled The Fall Funk featuring George Duke with friends Doc Powell and the Jazz Crusaders featuring Wayne Henderson & Ronnie Laws. The new date is Saturday, November 22. Originally scheduled for September 13, previously purchased tickets will be honored or refunds available at point of purchase beginning September 15.

Hopefully, third time will be the charm for the Sun Hat Jazz Festival. The date for the outdoor jazz festival, originally set for Aug. 16, was changed to Sept. 13 because of the weather. Then Ike rolled ashore. Now slated for October 4, Hamilton Loomis will be among the headliners at the event, which will be at Stringfellow Orchards in Hitchcock, Texas. The event, which will be a fundraiser for the Jack Johnson Foundation, will also feature Tanya Nolan and Loretta Williams Gurnell. Proceeds will go to the foundation's scholarship and memorial funds, foundation President Kim Collins said.



TURN OF THE CENTURY By Marshall Brickman and Rick Elice. Directed by Tommy Tune. Starring Jeff Daniels and Rachel York.

Nine-time Tony Award-winner and National Medal of the Arts recipient Tommy Tune directs the world premiere of this glorious musical from the writers of the Tony Award-winning Jersey Boys.

Dixie Wilson is a singer who can't catch a break - with a gig or a guy. Billy Clark is a piano player who knows all the songs and loves all the ladies. The friction between them is immediate; so is the chemistry.

At the stroke of midnight on New Years Eve 1999, the impossible happens - Billy and Dixie receive a fantastical power which transports them to an earlier century, becoming the superstars they've always dreamed of being.

Turn of the Century is a recipient of an Edgerton Foundation New American Plays Award.

In the Albert Theater of the Goodman Theater in Chicago. September 19 - October 26, 2008.

PASSION PLAY by Pulitzer Prize finalist Sarah Ruhl. Directed by Mark Wing-Davey opens the season at Yale Rep.

Ruhl, author of The Clean House and Eurydice, returns to Yale Rep with Passion Play: an epic trilogy of plays performed in one evening.

Local communities and amateur actors have come together for centuries to perform Passion plays, theatrical celebrations of the life and death of Jesus. Inspired by this tradition, Sarah Ruhl's Passion Play transports audiences first to 16th-century England, where the Protestant Queen Elizabeth threatens to shut down a small town's production; then to 20th-century Germany, where Adolf Hitler seizes an opportunity to use the famous Oberammergau Passion Play to promote the Nazi agenda; and finally to Spearfish, South Dakota in 1984, as a local production becomes a campaign stop for a famous actor-turned-President running for re-election.

Containing strong language and nudity the play has been described as; "Poetic, poignant, and uniquely theatrical, Passion Play reveals the power of performance to transform ordinary sinners into saints and world leaders into theatrical icons."

September 19-October 11 at Yale Rep in New Haven, CT.

KAFTA ON THE SHORE by Steppenwolf ensemble member and Tony Award-winner Frank Galati who also directs. Based on the work by Haruki Murakami. Featuring ensemble members Francis Guinan and Jon Hill with Gerson Dacanay, Aiko Nakasone, Andrew Pang, David Rhee and Lisa Tejero.

A young boy's coming of age parallels an old man's search for destiny in a modern day Japan where the borders between everyday reality, dreams and imagination are constantly crossed. In this world premiere adaptation of the popular novel, encounter talking cats on the streets of Tokyo, World War II soldiers trapped in time, Colonel Sanders and Johnnie Walker. Experience the unexpected in this fantastical tale about waking up to your own life.

Thursday, September 18 - Sunday, November 16, downstairs theatre at the Steppenwolf, Chicago.

KICKING A DEAD HORSE written and directed by Sam Shepard. Starring Stephan Rea.

The British premiere which was first seen at the Abbey Theatre, Dublin before transferring to New York. This production is garnering attention because Shepard himself occupies the director's chair.

Kicking a Dead Horse stars Rea as Manhattan art dealer Hobart Struther who, tired of selling romantic pictures of the American West at a huge mark-up, has embarked on a horseback journey of self-discovery in the desert. Unfortunately, his horse dies, and the play sees Struther discussing his life as he tries and repeatedly fails to tip its huge corpse into a too-small grave.

Through September 20 at the Almeida Theatre in London.

WILD ABOUT HARRY commissioned by the New York Musical Theatre Festival.

Wild About Harry begins where the tabloids left off. A completely fresh look at Leona Helmsley, one of NYC's most colorful characters, the one man who loved her, the many others who did not, and her dog...who inherited 12 million bucks.

"In commissioning a new dance musical, we wanted not only to bring the dance and theater communities together but also to create a rich environment where choreographers could be full collaborators from the very first stages of creating a piece. Combining the varied talents of five up-and-coming choreographic stars, an incredibly versatile cast of 12, and Leona's larger-than-life story, it's been amazing to watch Wild About Harry develop over the past few months," says Isaac Robert Hurwitz, Executive Producer.

This unique, danced-through musical, has a book by Susan DiLallo and music by Dan Acquisto. Elizabeth Lucas directs and the piece is choreographed by five of today's most talented young choreographers, Josh Bergasse, Maurice Brandon Curry, Daryl Gray, Jeff Shade, and Shea Sullivan. The cast of dancers includes Eddy Bowles, Shane Dennis, Danielle Janora, Marc Mann, Denise Miller, Dennis O'Bannion, Tiffany Lee Ocvirk, Sara Reardon, Siobhan Santapaola, Manuel Santos, Amanda Shoppe, and Kisa Willis. The design team includes lighting by Tony Award winner Howell Binkley, costumes by Mark Richard Caswell and projections by Chris Kateff.

September 19-21 and 28 at Manhattan Movement & Arts Center, NYC.

The New York Musical Theatre Festival (NYMF) celebrates its fifth year with 24 full productions, a dance series, a developmental series, concerts and special events. Since its inception in 2004, this three-week annual festival has premiered more than 130 new musicals – many of which have gone on to award-winning productions in New York, in regional theaters and on tour in 38 states, and nine countries worldwide. NYMF 2004 hit Altar Boyz has played well over 1,000 performances Off-Broadway and spawned two National Tours; fellow NYMF alum [title of show] recently opened to rave reviews at the Lyceum Theatre on Broadway; Nerds is coming to Broadway this Spring; and Off-Broadway audiences will soon see My Vaudeville Man. This year's Festival will begin September 15 and continue through October 5.




WHO'S WHERE


ANNA BERGMAN perform My Heart Stood Still: The Love Songs of Richard Rodgers in which Anna turns her attention to the glorious melodies of the incomparable theatrical legend, Richard Rodgers. In the romantic songs that Rodgers wrote with such masterful lyricists as Lorenz Hart, Oscar Hammerstein, Martin Charnin and Stephen Sondheim. Directed by Eric Michael Gillett, the evening will feature special guest, Broadway leading man Brent Barrett. Paul Greenwood will serve as musical director and arranger. Sept. 14th, 15th & 21st at Feinstein's, NYC.

PLACIDO DOMINGO backed by The Las Vegas Philharmonic Orchestra. Soprano Ana Maria Martinez will also perform in the concert that includes Spanish opera, zarzuela and mariachis performs. September 15 - thee eve of Mexican A VIP reception for Patrons follows the concert. Partial proceeds from the sales will go to the Philharmonic, a nonprofit organization.

FOREIGNER perform Wednesday, September 17, at the Concerts at Wente Vineyards in Livermore, CA. On Friday the show is at The Mountain Winery in Saratoga, CA. Saturday finds them at the Star of the Desert Arena in Primm, NV.

EAGLES the best selling American group ever - bring their tour to the Sommet Center in Nashville on Thursday, September 18. On Saturday they can be enjoyed at the Scotttrade Center in Saint Louis. Next Sunday finds them at the Bradley Center in Milwaukee. Inducted into the Rock and Roll Hall of Fame in 1998, the Eagles consist of Glenn Frey, Joe Walsh, Timothy B. Schmit, and Don Henley.

INDIGO GIRLS Devoted environmental and social justice activists and lifelong music-industry mavericks, the Girls have spent their entire career pushing boundaries on a variety of fronts. Friday, September 19 at Stamford Center for the Arts, CT.

JANET JACKSON at the Staples Center in Los Angeles on Wednesday, September 17. Friday finds her in Las Vegas at the Mandalay Bay Events Center. On Saturday the show is at the Sports Arena in San Diego.

VAN MORRISON takes to the stage Friday, September 19, at Brighton Dome in Brighton, UK.

BIG BAD VOODOO DADDY on stage Saturday, September 20, at the Holland Performing Arts Center in Omaha, NE.

TONY BENNETT in a two nighter September 19-20 at the Hilton in Las Vegas.


PIFFLE AND PROFUNDITIES


SHIRLEY MACLAINE

Richard Griffith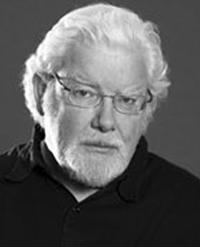 attended a preview performance of Equus, the Peter Shaffer drama now being revived on Broadway. Oscar winner MacLaine has a friend in the production.

In 1994 MacLaine starring the movie Guarding Tess. Portraying the cook in that flick was Richard Griffith. The actor, who picked up a Best Leading Actor in a Play Tony Award for his role in The History Boys, co-stars in this emotional and psychological revival.

Daniel Radcliffe, the young international star of the popular Harry Potter films, plays Alan Strang, the stable boy. Richard Griffiths (nasty Uncle Vernon in the Harry Potter film series) plays the part of the psychiatrist, Martin Dysart.

Equus opens Sept. 25 at the Broadhurst Theater.

Next Column: September 21, 2008
Copyright: September 14, 2008. All Rights Reserved. Reviews, Interviews, Commentary, Photographs or Graphics from any Broadway To Vegas (TM) columns may not be published, broadcast, rewritten, utilized as leads, or used in any manner without permission, compensation and/or credit.
Link to Main Page
---
Laura Deni



U.S. Postal Address: Post Office Box 60538, Las Vegas, NV 89160
CLICK HERE FOR COMMENT SECTION