! >
Broadway To Vegas
  
 SHOW REVIEWS CELEBRITY  INTERVIEWS GOSSIP NEWS

| | |
| --- | --- |
| | |
RAY BROWN REMEMBERS HIS PARENTS ELLA FITZGERALD AND RAY BROWN - - GENE PITNEY HEADLINES THE LAS VEGAS STRIP - - AMERICAN THEATRE WING SEMINAR - - MADELEINE ALBRIGHT SPEAKS - - JOHN RITTER COLLAPSES ON SET AND DIES AT 54 - - THE MAN IN BLACK JOHNNY CASH PASSES AWAY - - THE BOY FROM OZ - - MAN EATING PLANT TAKES THE STAGE - - DONATE . . . Scroll Down


DIVERSE PERFORMERS MAKE LAS VEGAS STRIP DEBUT
Gene Pitney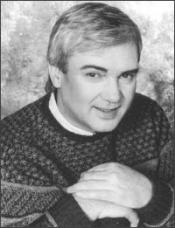 Gene Pitney, the anguished singer of pop anthems, who last year was inducted into the Rock and Roll Hall of Fame and Ray Brown, Jr. son of jazz icon Ella Fitzgerald and renowned jazz musician Ray Brown, are both performing on the Las Vegas Strip for the first time.

Pitney performs at the Stardust Hotel September 17-20. Brown with his Uptown Attitude ensemble is in for a three-month engagement in the Le Bistro Theater at the Riviera Hotel.

I first interviewed Pitney in 1985. Brown spoke with Broadway To Vegas on Monday.

Pitney rivaled the Beatles, the Beach Boys and other rock icons of the 1960s, turning out more than a dozen chart hits. His strong, flexible tenor voice and a melodramatic style is well suited to songs of teenage angst and torment.

Born on February 17, 1941, and raised in the small New England village of Rockville, CT, Gene initially did not have any real ambitions to be a singer. He was more at home collecting stamps and coins, trapping mink and muskrat, and experimenting with electronics. However, he played in his own local band called Gene Pitney & The Genials. At this point, he began to compose songs, gleaning inspiration from the beautiful countryside of New England.

An excellent student, Gene attended Wards Electronics School intending to become an electronic engineer. Music would short circuit that, but not before Gene gained an insight into the technical side of a recording studio.

Years later he would say; "The recording process - that is where you can make or break a record. Because of my electronic background I wasn't afraid of the recording process."

In 1959, he began singing with a young girl named Ginny Arnell and, shortly afterwards, made his first single recording entitled Classical Rock & Roll. On the -side was a duet called Strollin' Through The Park. Their second and last record was Snuggle Up Baby.

Said Gene, "We called ourselves Jamie and Jane. I knew, however, that I didn't want a professional career in music with only a first name or as half of a duet, so I moved on to record Cradle of My Arms the following year under the name of "Billy Bryan." In fact, the record company wanted to call me "Homer Muzzy." Well, that was it. I wasn't going to go through life with a name like that! I decided it was time to start using my real name, Gene Pitney!"

Gene's first success came when the Kalin Twins recorded his song, Loneliness. "From that point," Gene says, "I decided to concentrate on writing songs instead of singing them." That became a smart move. His songs were recorded by some of the biggest stars of the time. Las Vegas resident Steve Lawrence recorded Tears From Heaven. In 1960, Roy Orbison released Today's Teardrops as the B-side to his million-selling single, Blue Angel, and Rubber Ball became a worldwide hit for US artist Bobby Vee and UK artist Marty Wilde - each topping the million seller mark.

Now in heavy demand as a songwriter, Gene soon realized that he could sing his own songs just as well or better than the artists who were recording them.

In a small four-track studio on 7th avenue in New York, he made a demo of a self-penned song titled I Wanna Love My Life Away for about thirty dollars.

Although it was created on a shoestring budget, the record had a very big sound. Gene experimented with multi-tracked vocals and overdubbing, used his electronics experience to create a mini-masterpiece in record production, and revolutionized recording techniques in the process. Gene sang seven vocals on the recording and played piano, guitar and drums to keep the session costs down.

The thirty-dollar demo was released as a single and reached Number 39 in the US charts and hit Number 26 in Britain. Gene scored his second hit with Every Breath I Take, which was produced by Phil Spector.

A pioneer in rock music production and famed for his influential technique, known as the Wall of Sound, which featured soaring orchestration and multi-layered vocals, neither the songs or the life of Phil Spector could be called simple. He was charged with first-degree murder after 40-year-old Lana Clarkson of Los Angeles, was found shot dead inside his Los Angeles mansion on February 3, 2003. Spector's trial was supposed to have begin the first week of August, but the case has been delayed.

Pitney's first American Top 20 hit and million-selling single was the title song from a movie of the same name: Town Without Pity. The song won the Golden Globe for Best Song in a Motion Picture and was nominated for an Oscar. Pitney performed the number at the Academy Awards - becoming the first pop artist invited to perform at the Oscars.



Gene Pitney performing at the Rock and Roll Hall of Fame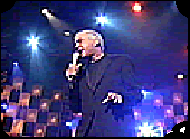 "The film was initially a box office disaster," Gene recalled, "but after the success of the record, the film was re-released and became a huge hit. That's the kind of power records had in those days." Another movie theme, The Man Who Shot Liberty Valance, a crossover country-pop tune before that term existed, gave Pitney an immediate follow-up hit. To this day, it is one of Gene's most requested songs in concert performances.

Gene's career began to skyrocket. One song after the next reached the top of the charts: Only Love Can Break a Heart, If I Didn't Have a Dime, Half Heaven, Half Heartache, Mecca, True Love Never Runs Smooth and It Hurts To Be In Love.

Pitney and Phil Spector consolidated their mutual admiration for each other's work in the summer of 1962 when Spector's group, The Crystals, recorded the Pitney song, He's A Rebel. Within weeks of its release, the song stormed its way to the top of the American Hit Parade, sold a million, and actually deprived Gene of making the coveted Number 1 spot himself. At the same time that He's A Rebel was at Number 1, Gene's single Only Love Can Break a Heart sat at Number 2!

In 1963, Pitney's hit Twenty Four Hours From Tulsa became the beachhead from which his fame spread. With that song riding high in the British charts in November of 1963, Gene crossed the pond for a promotional tour. While appearing on the Thank Your Lucky Stars Program, he met the Rolling Stones - who later provided him with his next single.

Although a seemingly unlikely combination, Gene and The Stones struck up an immediate rapport. Mick Jagger and the band admired Pitney's polish and his professionalism. They were also totally fascinated by his tremendous knowledge of recording techniques. Gene liked the group's freshness and gutsy attitude. Pitney's endorsement of the group in America helped them break through to US success shortly thereafter. For their part, Jagger and Keith Richard penned Gene's next hit, That Girl Belongs To Yesterday. That song became the first Jagger/Richards composition to hit the American Charts.

Gene returned the compliment by playing piano on the Stones' Little By Little, which made up the flip side of Not Fade Away. With Phil Spector playing maracas and Gene on piano, they appeared on the group's first Decca album, The Rolling Stones. The track, Now I've Got a Witness, is subtitled "Like Uncle Phil and Uncle Gene." Lying in the vaults are two other Stones songs which have never been released commercially: And The Rolling Stones Met Phil And Gene and Mr. Spector and Mr. Pitney Came, Too.

In 1989, he made number one in the U.K. again by duetting with British singer Marc Almond on a remake of one of his '60s singles, Something's Gotten Hold of My Heart.

In 1990 Pitney and Almond came to Las Vegas to film a video based on the movie One From The Heart.

There they were standing out in the desert in the middle of the night lip syncing to the song as it played on speakers. Pitney was dressed in a white tuxedo while Almond wore black leather. The single became No.1 back in England.

During the July 4th weekend of 1997 Pitney returned to Sin City, played his first Las Vegas engagement at Texas Station, located in the northwest section of town.



A relaxed Gene Pitney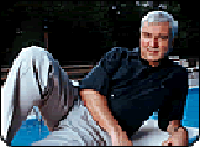 In 1970, after spending nearly a decade on the road - eleven months of every year - Gene decided to drastically cut back on his touring commitments. "I had a family at home, two boys starting to grow up, and I was getting a guilt complex about not being there with them. So I decided to make a six-month commitment to touring and spend the rest of the time at home with the family." He bought Crystal Lake Beach & Boat Club in Connecticut where he had worked as a cook in high school.

For decades he's lived a healthy lifestyle. After experiencing colon problems in the 60s Pitney became health conscious - consuming an Oriental diet and massive quantities of nutrients.

Gene still lives in Connecticut not far from where he was raised in a big rambling Dutch Colonial house set in an old apple orchard with his wife, Lynne, whom he married in 1966. "I've always been happily married. Sure, women turned up at my hotel room, but I never messed with them. In the beginning my wife worried about other women throwing themselves at me, but I told her I'd never stray."



Ray Brown, Jr.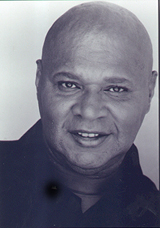 Vocalist Ray Brown Jr., son of jazz icon Ella Fitzgerald and renowned jazz musician Ray Brown, was adopted as a small child and raised in front of a piano - music infused into his body.

"Because of my roots, people always assume I sing jazz or play jazz. That's what they ask when they meet me for the first time. People are surprised when I sing country or rock and roll."

So were his parents.

"Rock and roll musicians had a certain innocence with some innuendoes," he continued. " It was fun music. My mom was really opened minded. My father took awhile. Dad was jazz, I was rock and roll. We studied classic music in school. My father was very passionate about everything. You studied. You practiced. You took lessons. You commit yourself wholly. Now, when you are a teen-ager half of that goes in one ear and out the other. It's when you get to be an adult that you sort it all out."

Brown recalled studying the piano beginning at the age of 10 but falling in love with the drums at 14. "My dad arranged for me to study with Bill Douglas and later with Chuck Flores in Los Angeles."

"I used to tell my dad that my life was rock and roll. When I was grown I said to him - I told you that just to see that look on your face!"

Ella Fitzgerald was married in 1941 to Benny Kornegay. The marriage was annulled in mid-1942. In 1947, she married Brown. The couple divorced in 1953 but continued to perform together.

Brown is surprised that anyone might think it unusual that the divorced couple continued a successful musical partnership.

They also were unwavering in a passionate devotion to their son and a united effort in raising him.



Ray Brown, Jr. with his mother, Ella Fitzgerald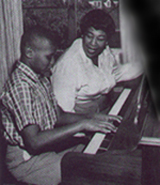 "I traveled with my parents all the time," recalled Brown. "It was wonderful! You got to hang out back stage. I talked to wonderful musicians and learned the history of music - where it came from. Absolutely, it was a real treat."

"In the summer time I traveled with my mom. We'd traveled on tour Los Angeles to Washington, D.C. Then I would go with my dad and we'd go back from Washington, D.C. to Detroit and spend a week in Detroit or Chicago or where they were playing."

In interviewing his mother in 1975 she bragged about her son's musical leanings. "He's a guitarist, but really a drummer. He plays both very well." So what happened to the guitar?

Brown was startled that his mother had mentioned that guitar.

"It's a long, sad story. Let's just say I didn't play very well," he laughed, indicating that his mother's recollections of his guitar picking ability might have been heard through the ears of a mother's love rather than those of a musician.

Brown praised his parent's parenting skills. "You can't really be a good parent unless you are able to extend yourself to other children and people. Both of my parents always did that."

Fitzgerald, whose jazz recordings won her 13 Grammy Awards in a career that spanned six decades, died in June 1996 at the age of 78.

Her Carnegie Hall Tribute Memorial was SRO. "Dad played and I told stories," remembered Brown. Diana Krall played piano and sang Goody, Goody. She was joined by Russell Malone and Ella's ex-husband bassist Brown. They performed Dream a Little Dream of Me. Brown then did an avant-garde bass solo of The Very Thought of You.

The stories from her son were warm. "When you went home after a concert and talked about her, she went home and talked about you."



Ray Brown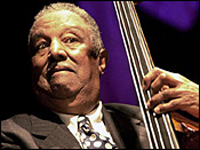 Revered by his peers and by jazz audiences everywhere, Brown was finishing an engagement at the Jazz Kitchen in Indianapolis at the time of his death on July 2, 2002. Brown had played golf, a favorite pastime, earlier and went to take an afternoon nap. When he did not show up to perform, a bandmate went to his hotel where it was discovered that he had passed away in his sleep. He was 75.

Their son is pleased that his parents lived to see him succeed as a musician. Brown, Jr. displayed his versatile voice and other musical talents in with his debut album for SRI Records, Slow Down For Love featuring featured a collection of light jazz and R&B songs composed, written and arranged by Brown and his second album, Committed From The Heart, was released this year.

For 15 years, Brown had been steadily working in bands and as a single artist, performing all over the world. Like his father, he loves to golf. Like his mother, he knows the rigors of the road and the joys of home.

"You know how the business is," Ella had told me. "You have to travel and do the one nighters. I was always traveling, and you're always thinking of home. When you are home all you want to do is be with your family."

"For musicians to learn a living you have to be willing to travel," agreed her son. "When I'm off the road I prefer to crash at home. I just want to be with my family." That family includes "our 13-year-old son from my wife's previous marriage and we have a 4-year daughter."

Recently, Brown has become seriously interested in photography, specializing in black and white snaps. "I'm an avid photographer. It's therapy for me."

For those who are into musical therapy Ray Brown, Jr. is at the Riviera Hotel and Gene Pitney is performing at the Stardust.



Broadway To Vegas is supported through advertising and donations. Priority consideration is given to interview suggestions, news, press releases, etc from paid supporters. However, no paid supporters control, alter, edit, or in any way manipulate the content of this site. Your donation is appreciated. We accept PAYPAL. Thank you for your interest.


SPREADING THE WORD


EFREM ZIMBALIST, JR & STEPHANIE ZIMBALIST Ponchitta Pierce, moderator.

Efrem Zimbalist, Jr., television star of The FBI and 77 Sunset Strip, gracefully looks back on his life in his autobiography, My Dinner of Herbs. He will be joined by his daughter Stephanie Zimbalist, best known for her Remington Steele TV series. An episode from 77 Sunset Strip will be screened before the discussion.

September 21 sponsored by the 92nd Street Y at the Steinhardt Building, NYC.

MADELEINE ALBRIGHT was nominated by President Clinton and confirmed by the U.S. Senate as the 64th Secretary of State. She is the highest-ranking woman in the history of the U.S. Government. Among her many achievements, she was the representative to the United Nations and served in the Clinton cabinet and National Security Council. She is also the author of Madam Secretary: A Memoir. She'll speak about foreign policy and her vast life experiences September 21 at the 92nd Street Y in NYC.

WORKING IN THE THEATRE The American Theatre Wing's series of seminars will be held on Thursday, September 18, featuring cast and crew members from the acclaimed Roundabout Theatre Company/Deaf West Theatre production of Big River: The Adventures of Huckleberry Finn.

Taking part will be performers Tyrone Giordano (Huckleberry Finn), Daniel Jenkins (Mark Twain and the voice of Huckleberry Finn), and Phyllis Frelich (Miss Watson and Sally Phelps), as well as director-choreographer Jeff Calhoun and Deaf West Theatre's producing director, Bill O'Brien. Theodore Chapin of the Rodgers and Hammerstein Organization will moderate.

The seminar will be held at the Graduate Center of the City University of New York. ATW seminars are telecast by CUNY-TV (Time Warner channel 75 and RCN channel 106) in New York and by Channel 36 in Los Angeles.


SWEET CHARITY


ACTORS FUND 3rd ANNUAL BENEFIT CONCERT Chess starring Josh Groban, Lara Fabian, Adam Pascal and many more. At the New Amsterdam Theatre in New York City. Monday September 22.



THE BOY FROM OZ begins previews September 16th. Leading a cast of 25 the production stars Hugh Jackson as Peter Allen. The cast includes; Stephanie Block as Liza Minnelli, Beth Fowler as mother Marion Woolnough, Isabel Keating as Allen's mentor and mother-in-law, Judy Garland, Jarrod Emick as Allen's companion Greg Connell, Mitchel Federan as the young Peter and Michael Mulheren as father Dick Woolnough, and the manager-promoter Dee Anthony.

The ensemble will feature Leslie Alexander, Brad Anderson, Todd Anderson, Kelly Crandall, Naleah Dey, Nicholas Dromard, Timothy A. Fitz-Gerald, Christopher Freeman, Tyler Hanes, Jessica Hartman, Colleen Hawks, John Hill, Pamela Jordan, Tari Kelly, Stephanie Kurutzuba, Brian J. Marcum, Jennifer Savelli and Matthew Stocke.

The Boy from Oz is billed as "a musical true story" of the late entertainer Peter Allen who was a protege of Judy Garland - and married to her daughter Liza Minnelli from 1967 to 1972. (See Broadway To Vegas column of April 21, 2002). Martin Sherman provides the libretto for the score which features the music and lyrics of Allen. Songwriters that collaborating with Allen are also represented in the production. They include; Adrienne Anderson, Burt Bacharach, Jeff Barry, Michael Callen, Christopher Cross, Tom Keane, Marsha Malamet, Dean Pitchford and Carol Bayer Sager.

Former Las Vegas teacher and performer Philip Wm. McKinley directs, with choreography by Joey McKneely. Patrick Vaccariello will serve as musical supervisor. Orchestrations are by Michael Gibson. Ben Gannon and Robert Fox produce. Robin Wagner (sets), William Ivey Long (costumes) and Donald Holder (lighting) and ACME Sound Partners (sound). Imperial Theatre, NYC.

HOMEBODY/KABUL By Tony Kushner. Directed by Frank Galati. Starring Firdous Bamji, Reed Birney, Bill Camp, Linda Emond, Rahul Gupta, Maggie Gyllenhaal, Maz Jobrani, Dariush Kashani, Marshall Manesh and Rita Wolf.

The Homebody, an emotionally imprisoned but wildly intellectual English woman, unexpectedly flees to Afghanistan, a place that, with the help of an old Kabul tourist guidebook, she romanticizes as exotic and mysterious. Her sudden disappearance prompts a search by her husband and daughter who arrive in the foreign land unprepared for the adventures and contradictions that await them.

Set Design: James Schuette. Costume Design: Mara Blumenfeld. Lighting Design: Christopher Akerlind. Original Composition and Sound Design: Joe Cerqua.

Post-play discussions every Tuesday evening beginning October 7. Deaf Audience Theatre Experience and Audio Described Performance: Saturday, October 25. Previews begin Sunday, September 21 at the Mark Taper Forum in Los Angeles.

LITTLE SHOP OF HORRORS based on the 1960 Roger Corman cult film, is described as "everybody's favorite boy-meets-girl, plant-eats-world phenomenon." It's the classic musical tale of Seymour Krelbourn, a meek Skid Row florist who makes a Faustian pact with a bloodthirsty plant in order to win the heart of Audrey, the girl he loves.

Starring The Plant, Audrey II, designed by The Jim Henson Workshop puppeteered Martin P. Robinson. When nourished with water, TLC and human blood, she grows to 22 feet tall, requiring four humans to manipulate her clawing leaves.

The musical co-stars; Hunter Foster as Seymour and Kerry Butler as Audrey, the woman of his dreams. Rob Bartlett Douglas Sills as Orin Scrivello, Michael Leon Wooley as the Voice of Audrey II, Rob Bartlett as Mushnik with Carla J. Hargrove as Ronnette, Trisha Jeffrey as Crystal and Dequina Moore as Chiffon.

Book & Lyrics by Howard Ashman; Music by Alan Menken; Choreography by Kathleen Marshall; Directed by Jerry Zaks.

Sets by Scott Pask. Lighting by Donald Holder. Costumes by William Ivey Long. Sound by T. Richard Fitzgerald. Musical Supervision by Michael Kosarin. Music direction by Henry Aronson. Currently in previews. Officially opens on October 2nd. Virginia Theatre, NYC.

VISITING MR. GREEN Jeff Barron's award winning play is currently being produced at the International City Theatre in Long Beach, California. In Visiting Mr. Green, an elderly New Yorker is almost hit by Ross Gardiner's speeding car. Fortunately, Mr. Green isn't injured, but Ross is charged with reckless driving and sentenced to visit the old man every Thursday evening for six months as part of his community service. What starts out as a comedy about two men who do not want to be in the same room together turns dramatic as they get to know each other and open old wounds they have been hiding and nursing for years.

Visiting Mr. Green, Barron's first play, has been performed in 23 countries in 14 languages in over 200 productions This year alone, Visiting Mr. Green, has been produced in Japan, France, Germany, Australia, Serbia, Finland, Turkey, Belgium, Israel, The Philippines, Canada and Switzerland. Baron was awarded the KulturePreis Europe 2001, the first American and the first artist to receive this award. He was invited in 1999 to speak at the United Nations and to present a reading of Visiting Mr. Green. Performances through September 28.


| | | |
| --- | --- | --- |
| | | |
WHO'S WHERE


BRUCE SPRINGSTEEN AND THE E STREET BAND performing tonight at Kenan Stadium in Chapel Hill, North Carolina. On Saturday the Boss and his band are at Ralph Wilson Stadium in Buffalo, New York.

CHRIS ISSAK on stage September 19-20 at the Paris Hotel in Las Vegas.

PETER, PAUL AND MARY in the spotlight September 19th at the Orleans Hotel in Las Vegas. They'll be singing their hits Saturday, September 20, at the Camel Rock Casino in Santa Fe, New Mexico.

JIMMY BUFFETT on stage September 20th at the Grand Garden Arena MGM-Grand Hotel, Las Vegas.

MARTIN & LEWIS CANNOT APPEAR BUT THEIR SONS CAN is how the dual billing for Gary Lewis and the Playboys and Ricci Martin "The Pack" is being promoted. Same bill, but each performing their own act, then doing a number or two together. September 20-21 at the Suncoast Hotel in Las Vegas. Expected to be in the audience applauding; Jerry Lewis and Jeannie Martin.

MARIAH CAREY brings her stunning five-octave voice to Radio City Music Hall for One Intimate Evening on Thursday, September 18. On Saturday she's in the spotlight at the Trump Taj Mahal in Atlantic City.

BRANFORD MARSALIS at Travis Park in San Antonio, Texas on September 20th.

BILLY IDOL entertains Monday at the NorVa in Norfolk, Virginia. On Wednesday the show is at the Innsbrook After Hours in Richmond, Virginia. Friday the performer is in the spotlight at the Beau Rivage in Biloxi, Mississippi and on Saturday the show is at Sam's Town in Robinsonville, Mississippi.

EDDIE IZZARD brings his show to The Wiltern, which is a Los Angeles art deco historical landmark. Izzard's engagement runs Tuesday, September 26 through Saturday September 20th.

PETER CINCOTTI has a busy week. The 19-year-old whose performs Monday at the Kuumbwa Jazz Center in Santa Cruz, California. On Wednesday he's center stage at the Sunset Cultural Center in Carmel, California. Thursday finds the talented, young performer at the Villa Montalvo Center for the Arts in Saratoga, California. He closes out the week, Saturday, at the Monterey Jazz Festival in Monterey, California. By the way, his mother is also part of the act - in a wordy way. Cincotti's composition I Changed The Rules, has lyrics penned by his mother.

KC AND THE SUNSHINE BAND performs at B.B. King's Blues Club in New York City on Saturday, September 20th.

CROSBY, STILLS AND NASH performs Monday at the Veizon Wireless Virginia Beach Amphitheatre in Virginia Beach, Virginia. On Tuesday the show is at the Bi Lo Center in Greenville, South Carolina. Thursday finds the group at the Amphitheatre at Regency Park in Cary, North Carolina. On Friday they are center stage at the Chastain Park Amphitheatre in Atlanta, Georgia.


FINAL OVATION


JOHN RITTER

John Ritter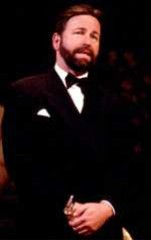 the charming and talented Emmy award-winning actor, died suddenly due to a previously undetected arterial problem. Born Jonathan Southworth Ritter, he would have celebrated his 55th birthday on Wednesday. He collapsed on Thursday evening while filming 8 Simple Rules for Dating My Teenage Daughter, the ABC television comedy.

The former star of Three's Company was taken to Providence St. Joseph hospital in Burbank, California, across from the studio where he had been working. Surgeons at the hospital were unable to save him, and he died from a ``dissection of the aorta,'' which results from n unrecognized flaw in a main artery from the heart.



The cast of Three's Company - From Top clockwise; John Ritter, Suzanne Somers, Joyce DeWitt, Norman Fell, Audra Lindley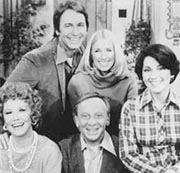 Ritter portrayed Jack Tripper in the 1970s situation comedy Three's Company, which won him Emmy, Golden Globe and People's Choice awards.

A well documented falling out took place between Ritter and Suzanne Somers - a feud that lasted for years until Ritter's wife, Amy, intervened. They happened to have attended the opening of Victor/Victoria. During intermission Amy and Suzanne were in the ladies room and Amy approached Suzanne, introduced herself, and indicated that the riff between the former co-stars needed to be mended. After a brief face to face meeting at the theater, where a hug was exchanged, a phone call took place that resulted in Somers and Ritter patching up their differences.



John Ritter and Henry Winkler. Photo By; Laura Deni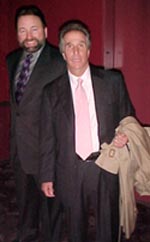 A prolific actor, Ritter appeared in more than 50 plays nationwide and won critical acclaim for his recent nine-month role in the Broadway premiere of Neil Simon's The Dinner Party, co-starring with his friend Henry Winkler.

Winkler was at ABC-TV to make a guest appearance on Ritter's sitcom. Ritter had complained to Winkler that he felt "tired."

Ritter was honored by the Los Angeles Music Center in June with a lifetime achievement award.

Ritter was the son of country singer and actor Tex Ritter (see Broadway To Vegas column of September 1, 2002). He graduated from the University of Southern California with a degree in drama.

Ritter received two Emmy nominations for his PBS role as the voice of Clifford the Big Red Dog on the animated series. Ritter co-starred with Billy Bob Thornton in Bad Santa, which is scheduled for November release by Miramax.

Ritter collected Beatles' memorabilia. Once of his earlier dreams was to play professional baseball - specifically first base for the L.A. Dodgers. He once hit a double off Fernando Valenzuela, the Dodgers' star pitcher, during a charity game.

He is survived by his wife, Amy Yasbeck and their daughter, Stella who celebrated her fifth birthday the same day her father died. Ritter also has three children, Carly, Tyler and Jason, from his first marriage to Nancy Morgan. Also surviving is his brother, Tommy.

JOHNNY CASH

June Carter and Johnny Cash performing November, 1973 at the Las Vegas Hilton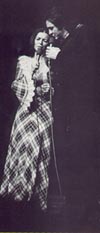 known as The Man in Black died Friday at Baptist Hospital in Nashville. He was 71. He was preceded in death last May by his wife June Carter Cash. Cash died of complications from diabetes that resulted in respiratory failure, his manager, Lou Robin, said in a statement issued by Baptist Hospital in Nashville.

Cash had been released from the hospital Wednesday after a two-week stay for treatment of an unspecified stomach ailment. The illness caused him to miss last month's MTV Video Music Awards, where his cover of the Nine Inch Nails song Hurt had been nominated in seven categories. The video won for best cinematography.

Cash won 11 Grammy Awards - most recently in 2003, when Give My Love To Rose earned him honors as best male country vocal performance - and numerous Country Music Association awards. He joined the Grand Ole Opry at age 25.

He was elected to the Country Music Hall of Fame in 1980 and inducted into the Rock and Roll Hall of Fame in 1992. He remains the only performer besides Elvis Presley to have been inducted into both.

He also wrote books including two autobiographies, and acted in films and television shows.

His first marriage to Vivian Liberto ended in a 1966 divorce. Cash is survived by children from that union. They are singer Rosanne Cash, herself sidelined by throat problems for almost seven years and only recently returned to the road and the recording studio, and daughters Kathleen, Cindy and Tara.
















Next Column: September 21, 2003
Copyright: September 14, 2003. All Rights Reserved. Reviews, Interviews, Commentary, Photographs or Graphics from any Broadway To Vegas (TM) columns may not be published, broadcast, rewritten, utilized as leads, or used in any manner without permission, compensation and/or credit.
Link to Main Page
---
Laura Deni


CLICK HERE FOR COMMENT SECTION