! >
Broadway To Vegas
  
 SHOW REVIEWS CELEBRITY INTERVIEWS GOSSIP NEWS

| | |
| --- | --- |
| | |
CAFE CARLYLE OPENS 50TH SEASON WITH DIXIE CARTER - - YOKO ONO SELLS OUT IN LONDON - - NUDESTOCK - - GEORGE LINDSEY AND ERNEST BORGNINE - - WE WILL ROCK YOU OPENS IN LAS VEGAS - - 50TH ANNIVERSARY FOR LYRIC OPERA OF CHICAGO - - STEPHEN KING TALKS - - MANFEST - - DONATE . . . Scroll Down


GOODBER'S NOT SO NUTTY ACCOMPLISHMENTS
George Lindsey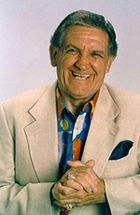 Millions of fans came to love him as Goober - one of the most endearing characters on The Andy Griffith Show, Mayberry RFD, and later Hee Haw. However, on the campus at the University of Northern Alabama, Goober is known as Dr. George Lindsey, founder of the George Lindsey Film Festival. Down the road apiece in Atlanta, he is known as the host of a new Turner Cable South television series, Liars & Legends.

He's a former football star whose best friend is Ernest Borgnine. Goober is nobody's fool.

In a conversation punctuated with jokes and yarns, George "Goober" Lindsey spoke with Broadway to Vegas about his career.

Lindsey was born to George Ross Lindsey and Alice Smith Lindsey on December 17, Alabama Statehood Day, in the Tennessee Coal and Iron Hospital in Fairfield, Alabama. At the age of six weeks the family moved to Jasper. His father had dreams of being a baseball player but never made it beyond the local team. His mother suffering from osteomyelitis, a painful inflammation of the bone marrow. Lindsey was raised by his grandparents.

"They were not happy with each and they always separating and not there a lot," Lindsay said of his parents.

"I had four aunts and a grandma and a grandpa. I kind of grew up like a front page of a Saturday Evening Post," he recalled, referring to the famous Normal Rockwell covers of small town America.

"Everything was alright. You stood in front of Western Auto and watched television. That was the only television in town. They had one in the window, so we'd stand around watching boxing."



College quarterback George Lindsey. Photo courtesy UNA office of University Relations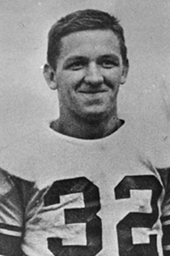 Lindsey went through college on a football scholarship.

"I didn't just go to college. I graduated with some pretty good grades," he stressed. Football was a means to that end.

"Football, like anything else, has changed," he said. "The guys have gotten bigger. It's more intricate. It's more sophisticated. The uniforms are better. But, you go back to the basics of it and its still blocking and tackling."

Still a rabid football fan who, when asked his favorite team immediately answers, "the University of Northern Alabama."

After a stint in the service and a year of coaching and teaching high school, Lindsey moved to New York where he received a degree in acting from the American Theatre Wing and pursued graduate studies at Hunter College.

His career began on Broadway - for which he is grateful.

"I always wanted to be an actor. I hitchhiked to Birmingham when I was about 14 and saw a production of Oklahoma. I said - I can do that. Eventually I got on Broadway in that show. I figured that was the best route to go - Broadway."



George Lindsey and Florence Henderson in Wonderful Town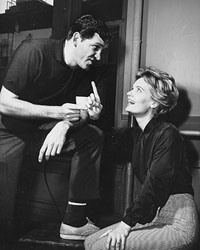 "I was in the off-Broadway production of Wonderful Town, which was revived this past season on Broadway. We went to New York last year to see it," said Lindsey who still knows his part, and began singing his standout song Pass The Football.

"I played the Wreck. It's a great show."

"The production I was in was actually a touring company of the show. It was also an Oldsmobile Industrial Show, so at the end of each act they would unveil a new Oldsmobile. We were in a Broadway theater in New York, then we went to Chicago. Fort Worth, St. Louis, Kansas City, San Francisco."

"Florence Henderson was the star. She is really a nice lady. I did her show a few times when she had her television cooking show."

"I've been really fortunate that before the Goober thing I did Broadway, because the Goober thing killed me, you know. Hee Haw was the only job I could have gotten after having played Goober."

Despite a difficult to overcome typecast, Lindsey's memories of The Andy Griffith Show are warm.



George Lindsey and Ron Howard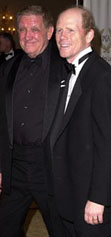 "It was great," he emphasized. "I wouldn't take anything in the world for it. You know, everyone with the Griffin show were college graduates. And, they all had Broadway experience. I guess everybody on the Griffith show, other than the boy, came from the New York theatre. Ron Howard was the best actor I worked with - not the best child actor but the best actor."

"Then Ron went on to own the world. The last I heard he was work about $500 million. When I go on stage I always say 'Does anybody know what happened to that little red headed kid? He was great to work with. Andy was great to work with."

"I really think the secret to that show was that we became those people. For eight hours a day we became those people. The secret would be to stay Goober when Goober has nothing to do or say. Just stay in the part."

"If you watch Seinfeld, boy those people can really do that."

"We had a great writers. Andy Griffin is the best script constructionist that has ever been. He innately knew what was right."

"You know, I replaced Jim Nabors. I was suppose to have had that job and I didn't speak to Jim for ten years - Oh, we speak now. Well, I was promised that job, but I didn't get it - but it all worked out. He was great as Gomer. Then I came on and I did very well."

When Nabors spun off the character into his own show, Lindsey was cast as Goober Pyle, Gomer's cousin. His first episode was titled Fun Girls, the only episode containing both Lindsey and Nabors.



Andy Griffith, George Lindsey and the Dog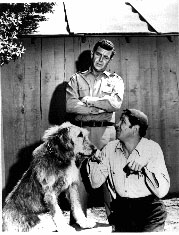 "At first I wasn't sure about the part," Lindsay admitted. "I asked Andy - tell me about Goober. I'm having a tough time with this character. Andy said - 'He's the kind of guy that would go into a restaurant and say - 'Hey, this is great salt.' So, from then on I knew how to play him."

His favorite episode is Goober with the Talking Dog.

"Goober thought he had a dog that could talk. The kids had put a microphone under the dog's collar. Goober goes down to Floyd and tells him about the talking dog and Floyd tells him that a dog can't talk. But, when Goober is about to leave the barber shop Floyd says - 'What did he say?'"

"I must tell you, there are 1,225 Andy Griffith re-watchers clubs in America, that pay dues. The re-runs are on everywhere."

Hee Haw became a 20 year run for Lindsey. The show was the place for stars of all genres to be seen.

"Ernest Borgnine, Sammy Davis, it was like getting hit in the face with a pie by Soupy Sales. You had to be on Hee Haw," Lindsey explained. "We had this marvelous cast who could do anything. The main thing were the girls. All of the daddies and granddaddies would say - 'I'm staying home tonight, Hee's Haw's on.' Because of the girls in the corn field. They had advice to the lovelorn. It was a fun show to do. It was just a Hillbilly Laugh In."

"But, I could act, and I still can. I got to do a great Hitchcock called The Jar," he said about the Emmy Award winning episode penned by Ray Bradbury for Alfred Hitchcock Presents.

"I really enjoyed being able to do Twilight Zone and Rifleman and stuff like that," related the actor who was on more than 40 television shows including, M*A*S*H and Gunsmoke.

"I will always be pleased that I did theatre before I did Goober."

The perception of Lindsey is that he offers unconditional friendship. He's the type of person you'd trust with a key to your house.

He credits his lack of ego throwing to "growing up in the theatre where they wouldn't allow you to do that. Mel Brooks wrote the first musical I was in and Josh Logan directed it," he said referring to All American with music by Charles Strouse, lyrics by Lee Adams and the book by Mel Brooks. Directed by Joshua Logan and choreographed by Danny Daniels, the show starred Ray Bolger and Anita Gillette. It opened at the Winter Garden Theatre on March 19, 1962 and ran for 80 performances.

"Then I did a movie with Josh. I was so awed by the whole thing. I just stood back and looked. I was doing scenes with Walter Matthew, Jack Nicholson. I thought they'd never believe this in Jasper."

Actually, they didn't.

"I went back home after the first year of The Andy Griffith Show," related Lindsey.

"It's always been - you're a big shot if you get a shave at a barber shop. So, I went into the local barbershop and sat down."

"The barber says - 'What are you doing now, George?' I said 'Well, I'm out in Hollywood. I do a show called The Andy Griffith Show.'"

"He said - 'Yeah, but I was just wondering - what kind of work do you do?'"

Success enabled Lindsey to have the resources to make a difference. The film festival being one example.

Lindsay began the film festival with UNA assistant professor of journalism Bobbie Hurt and university press/communications representative Bill Jarnigan. The intent being to provide a vehicle for young filmmakers to break into the television and film business.

"Bobbi, Bill and I drove all over Alabama getting support. I spoke to the legislature to see if they would give us some money and they did. Then we started on a shoestring. I don't think any of us knew what an independent movie was. When you see Slingblade or My Big, Fat Greek Wedding you say Wow!"

"What we don't want people to think is when you get involved with this you're going to make a movie that is going to do that. What we want to do is disperse information and intelligence."

"We don't have any pie in the sky."

Lindsey is pleased that the categories have expanded into the elementary school.

"We have a category for first, second and third grades. These kids are using computers, so they make cartoons," he exclaimed about that section whose official competition categories are short narrative, documentary and music video.

"We are all in on this. The college is backing me. The town is backing me. It takes about five years for the town to understand what you are doing."

"It's really not too hard to figure out what you need to do at a film festival," said Lindsay. "You need to get people some knowledge of making a film."

Lindsay's background is in front of a camera not behind it.



Part of the George Lindsey exhibit. Photo by Bill Jarnigan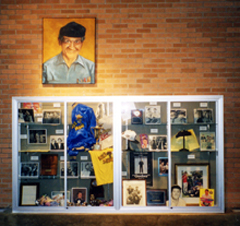 "Yes, I could kick myself," he confessed. "If I had studied and observed like I should have, I would be Ron Howard," he said emphasizing his admiration for the child star turned director/producer.

"But, I just never had any interest in the camera."

"Not only do we teach directing, we have classes on how to finance a project, how to add music, how to get an attorney. All of the things that you need when you try to make a motion picture. People think all you need to do is get in front of a camera. You have to have directors, finance, lawyers."

This year Lindsey scored quite a coup when UCLA became a team player.

Under a new interuniversity partnership, UNA film students will travel to UCLA to study the entertainment industry and to get some real Hollywood experience. According to UNA Continuing Studies Director Dan Throgmorton, film students will begin taking UNA prerequisite classes to kick off a certificate program offered by UCLA. The program will culminate with a 12-week, summer internship in which the students will actually live on the LA campus.

"Their certificate [UCLA's] program in film, television and entertainment studies are the gold standard in the industry, bar none," said Throgmorton, who used his former employment at the California university to help set up the prestigious partnership.

Beginning this fall semester, film students are required to take a minimum of five courses in the field of their choice: development, pre-production, production for film and television and post-production for film television.

In addition, UNA will offer elective classes in acting, cinematography, film history and appreciation, film theory and directing.

Students participating in the certificate program will also take an online, industry role-playing game entitled The Business of Hollywood, which will help ease students into the demands of their internship.

"It really immerses students in an environment where they really learn hard data on not only what it takes to get a movie made, but also the all nuances that are involved in the industry," said Jane Kagon of the UCLA Entertainment Studies and Performing Arts, who is the planner behind the California side of the program.

In addition to UNA, Kagon says that UCLA also has partnerships with schools in Germany, Japan, India, Ireland and Australia. UNA is the first domestic school to establish such a program.

"We are just so happy, pleased and humble about that," Lindsey stressed.

"This is our eighth year and we started from absolutely nothing. So many of the film festivals are so commercially slick with so much money involved. We had only a shoestring."

A major goal for Lindsey is script preservation.

"We are trying to build the biggest script archive in the world with the actor's margin notes in them. Hopefully, we will get a building to house that."



Ray Bradbury
Author and screenwriter Ray Bradbury gave autographed copies of his stage plays to the George Lindsey Television and Film Collection at the University of North Alabama.

Bradbury noted, "I could not afford to go to college. So when I finished high school, I continued my education in the library. I graduated from the library. Fahrenheit 451 was written in the typing room in the basement of the UCLA library. I have been in love with books and with libraries my whole life. I hope that these scripts will help instruct and inspire young actors, playwrights and screenwriters for many years to come."

Ernest Borgnine has given a collection of the movie scripts from his career thus far to the Lindsey Collection. News Radio director Tom Cherones, and NBC News anchor Tom Brokaw are among others who have contributed scripts to the collection.

"It is sort of word of mouth within the entertainment community," Lindsey lamented, hoping that more industry professionals follow the lead.

"It looks like everybody in the world has a film festival. What makes us different is that we offer a film festival with education. You get college credit for this."

"I hope this lives on forever," he said of the Film Festival. "That's why we did it. I am also very proud of the things I've done with Special Olympics," added Lindsay who started the Special Olympics in Alabama and raised $450,000 to build the George Lindsey Aquatic Center at the Alabama State Hospital for the Mentally Retarded.

He got involved with the Special Olympics because of a plane ticket.

"The Special Olympics said we will buy you a ticket if you'll come down and be at their game. I went over to the pool and there was a girl in there, trying to swim, but she was sinking. I jumped in, Goober suit and all, and swam up to her. She said - 'Don't help me. I am just slow.'"

"That did it for me," said Lindsey in a voice tinged with the emotion of that experience.

"Eunice Shriver asked how can we make some money?" Lindsay suggested a golf tournament.

"I got Coach Bear Bryant and people like that to play in the first one. Then we just got everybody. I did the golf tournament for 18 years."

Participating in most Lindsey projects is his best friend - Ernest Borgnine.

Friendship is an interesting situation, sometimes making little sense to those not involved. Case in point - Lindsey and Borgnine.

They met by accident in a restaurant. "I was going into a restaurant to meet with actor Jeff Allen," recalled Lindsey. "Borgnine was sitting there with him. Jeff had to leave and there were these two guys who didn't know each other. So, we talked for awhile."

Lindsey invited Borgnine to play golf.



Parsley pickers Ernest Borgnine and George Lindsey receiving honorary doctorates. Photo by; UNA photographer Shannon Wells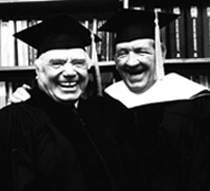 "Well, we played golf and we talked. It was just like sponge and water," he said of their instant and enduring friendship.

"I brought him on to do Hee Haw. Ernie and I used to go play golf. But, I will tell you that if I hit a good one off of the first tee, he will quit. He'll say - 'Hell, I'm not playing you today.'"

"Over the years he has taken me places with him. I've been to Mexico with him a couple of times. He speaks Spanish. We'd visit the people picking crops. We would go out in the parsley field and leave with five or six great, big bags of parsley," he laughed. "I went to France and Spain with him."

Borgnine used to love to tool around the countryside in a big, motor home.

"He has sold that," Lindsey related. "He told me yesterday that he had just gotten back from Alaska," said Lindsey about his Tuesday conversation with the Oscar winner.

"He's been to my home town in Jasper, Alabama where we were seen on the street eating ice cream cones. He never meets anybody that he doesn't like."

A new project for Lindsey is hosting a Turner Cable South series called Liars & Legends, which explores the larger-than-life heroes, histories, mysteries, and colorful events that have shaped the South's rich history.

"There is one place where their big thing is meeting once a year to see how high they can blow a 200 pound anvil into the air," Lindsey divulged about a heavy block of iron or steel on which hot metals are shaped by hammering.

"It's like the outhouse races in Kentucky. The underground railroad in Chattanooga, the Mullet tossing in Florida. Just whatever people do which would be strange to other people, but not strange to them. In Tennessee they have a ramp festival - a ramp being like an onion but much stronger. They go eat these ramps."

In 1954 a proclamation of Ramp-Eating Day in Tennessee was declared by Tennessee Governor Clement and in 1955, the Festival was attended by ex-President Harry Truman.

"We did one on some place in Texas where they eat dirt," added Lindsey.

"If they had a Liars & Legends in New England it would be the same way. But, people think Southerners are not the sharpest knives in the drawer," said Lindsey about the irksome image. "You know," he declared, "you have to have a masters degree to play a moron."

"It is just great," he said of the new show. "I hope it goes national. I go to work in Atlanta one day a month. I think I got the job because I can read the words," he kidded.

Lindsay currently calls Nashville home.

"I live here because of a divorce," he said.

After the property settlement were you left with the State of Tennessee?

"A State of Nothing," he laughed. "I was married a long time to a great lady and I would never, ever say anything against her. She was one of the grandest ladies there has ever been. She was most helpful in my career. She stuck with me when we were living off of $11 a week. I never gave up, and I don't think she thought I was ever going to make it, but she stuck with me."

The marriage produced two children, Camden and George, Jr. "I have a girl who is about to have a baby - a boy - in February. She owns two Sylvan Learning Centers. I have a son who does on site entertainment for state and county fairs. He's on his own," kidded Lindsey. "I haven't had to send him money in three months."



Lindsey, who hasn't had a drink since l980, wrote about his drinking problem in his autobiography, Goober In a Nutshell (1995). The book contains a forward by Ernest Borgnine.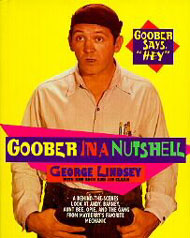 Lindsay is no stranger to Las Vegas.

"I played Las Vegas many times when Howard Hughes had all of those hotels. I played the Landmark, the Riviera, Frontier, Hilton, the Nugget.

"I enjoyed it. It was a time when if you went to work in one of the big hotels they'd give you a nice diamond ring or something," remembered Lindsey about a common Las Vegas practice which accountants ended years ago.

"You'd go into the casino and there would be Joey Lewis and all of his people at three o'clock in the morning. So, Las Vegas always fascinated me."

During a Riviera gig Variety gave Lindsey a rave review: "known affectionately as Goober, is in solid with country audiences. He has an engaging quality enough to appeal to general pop crowds that visit Las Vegas ... There is something universal about his jokery that hits any kind of funny bone. Lindsey is one of the formidable ones in the comedy crowd, knowing how to pace, have ability and agility to quickly handle the chore at hand."

"I got all good reviews," Lindsey said.

"I do fairs now. I don't do any off color stories. And, I do Mayberry reunions. I'm doing the North and South Carolina state fairs. I do two 15-minute routines. It's old corn pone humor, but people laugh"

It's an act that makes people feel good.

"I don't need any money. I don't have any axe to grind. I have my own film festival and my own show."

The eighth annual George Lindsey University of North Alabama Film Festival is April 22-24, 2005 with the deadline for entries set for October 31, 2004. Categories are for professionals, faculty, college and high school students and K-8 students. Liars & Legends. can be seen Monday evenings on Turner Cable South television.


NUDESTOCK


Shed those clothes and let it all hang out as you flap to the music of retro 60's.

It's the only Laguna del Sol, the only Nudist Resort to promote a retro-Nudestock that relives the music and mood of the Sixties and Seventies, stages the 7th annual Nudestock Music Festival, located 20 miles from Sacramento, September 17-19.

Participants are invited to "dance in the meadow, wear flowers in your hair; sing along to your old favorites. Be sure to bring a costume - or body paint! - for the Saturday night party and you might win a prize."

Nudestock Music Festival includes Michael Allen, musician and folk singer will perform in the early evening at the stage. There is an open microphone show hosted by Rod Marshall from Glen Eden. Saturday, HELP! performing their Beatles Tribute: Tombstone Shadow celebrating the music and magic of Creedence Clearwater Revival and the songwriting excellence of John Fogerty. The Groovy Judy Band is San Francisco's very own guitar wailing, outrageous hat wearing, positive energy, colorful and very entertaining artist that puts a new face on the late '60s and early '70s sound that made the Bay Area what it is. Bluespace is a Sacramento band will keep you dancing right up until the music ends for Nudestock 2004. They call their style "Rhythm-and-Jazz-Rock-Blues", which covers lots of your 60s and 70s favorites from The Grateful Dead and Joe Cocker to The Doobie Brothers and lots more.

Nudestock, September 17, 18 and 19th. No first time visitors will be admitted. If you want to attend Nudestock, you will need to visit on a prior date and take a visitor orientation.


DANCE LIKE A CHICKEN AT OKTOBERFEST


Every October. Oktoberfest Zinzinnati features a huge chicken dance/kazoo band, and 30,000 show up to take part. Ex-Monkee Davy Jones and Weird Al have led the fray.

Widely known as the Chicken Dance, this dance song was composed by Werner Thomas in the 1970s in Davos, Switzerland, and was originally entitled Der Ententanz, which means The Duck Dance, but became known as the Vogeltanz, Chicken Dance, and also as Dance Little Bird. Their were many versions of this that became hit songs, but the song and dance have had the greatest longevity in the U.S., where it has become a popular German heritage song. In 2003 Löwenbräu World's Largest Chicken Dance and Kazoo Band led by Grand Marshal Eddie Money.

The nations largest and most authentic Oktoberfest. Oktoberfest-Zinzinnati was first held in 1976 near Fountain Square in Cincinnati to attract visitors Downtown and to celebrate Cincinnati's strong German heritage. Since then, the event has grown to be North America's largest Oktoberfest with over 500,000 people attending each year.

Oktoberfest-Zinzinnati showcases the rich German heritage of Southwestern Ohio, as well as tasty samples of German-style music, food and beer. Nearly 600 volunteers contribute their time and energy to stage the event.

Sept. 18.-midnight; Sunday, Sept. 19 in Cincinnati.


WHO IS?


Born in Pittsburgh, this person spent his youth studying the piano, organ and violin. From the age of 12 until he began college he attended every performance of the Pittsburgh Symphony Orchestra - a feat which required him to walk two miles to and from the venue.

A parallel love was writing poetry which eventually translated into penning song lyrics, which caught the attention of songwriter Billy Hinsche of the Beach Boys, and Dino, Desi and Billy fame, Oscar winner Marilyn Bergman and Nashville music publishers. His lyrics to over 300 songs earn him royalties in excess of $18,000 a year.

Who is? Answer at bottom.



Broadway To Vegas is supported through advertising and donations. Priority consideration is given to interview suggestions, news, press releases, etc from paid supporters. However, no paid supporters control, alter, edit, or in any way manipulate the content of this site. Your donation is appreciated. We accept PAYPAL. Thank you for your interest.


SPREADING THE WORD


MACBETH Michael Kahn, Artistic Director of The Shakespeare Theatre, Washington, DC, will present selected highlights from his current production of Macbeth, with members of the cast including Kelly McGillis as Lady Macbeth. Mr. Kahn will discuss the process of creating a performance, giving the audience an insight into the actor/director collaboration. The event will culminate with the presentation of The Shakespeare Society Medal to Mr.Kahn for his outstanding achievement in the world of William Shakespeare.

The Shakespeare Society was formed in 1997 for people who share a passion for Shakespeare, and an enduring curiosity to understand and appreciate the greatest playwright of the English language.

A membership organization with over 600 members, we present entertaining and challenging programs performed by outstanding actors, scholars and directors. Past participants have included Sir Peter Hall, Vanessa Redgrave, Patrick Stewart, Derek Jacobi, Philip Bosco, John Simon, Ralph Fiennes, Harold Bloom, John Guare, and Claire Bloom.

Monday, September 20 at The Kaye Playhouse at Hunter College, NYC.

STEPHEN KING the most anticipated book in Stephen King's career, The Dark Tower VII: The Dark Tower is the final installment to the best-selling author's epic series. The tome promises to be the most exciting publishing event of the year. Stephen King is the recipient of the 2003 National Book Foundation Medal for Distinguished Contribution to American Letters.

On Sunday, September 19 he will be interviewed by Emmy award winner Charlie Rose as part of the Conversations with Charlie Rose Series at the 92nd Street Y in NYC.

A TRIBUTE TO JERRY HERMAN Keith Lockhart and the Boston Pops Orchestra pay tribute to legendary Broadway composer Jerry Herman. In honor of Herman's 70th birthday, celebrities from the Great White Way - including Tony-award winner Faith Prince, Marin Mazzie and John Barrowman - perform songs from the hits Hello, Dolly!, La Cage aux Folles and Mame. Herman shares stories from his prolific career. September 19 on PBS.

NEW GEORGES' MANFEST running from September 12 through 25.

An audacious two-week conversation that's all about shaking up expectations - produced by the OBIE-Award-winning theater company New Georges. Based on an original idea by Brooke Brod, this is part new play festival and part community forum. As the centerpiece of the festival Susan Bernfield, Artistic Director of New Georges asked six women playwrights to write short plays from the perspective of a man or men.

Two programs of three plays each presented in rotating rep. Participating actors include: Benton Greene, Nina Hellman, J. Elaine Marcos, Orlando Pabotoy, Chuck Patterson, Abby Royle, and Jim Stanek.

Unusual panels about women and theater include authenticity to collaboration, writing to acting. Guests include Lynn Alvarez, Brooke Berman, Lee Blessing, Charles Busch, Lonnie Carter, Kia Corthron, Trip Cullman, Gina Gionfriddo, David Greenspan, David Lindsay-Abaire, Quincy Long, Rogelio Martinez, Alice Tuan, Sheri Wilner.

First workshop is September 18-19 with Diane Torr, who has been teaching women to be "a man for a day" since 1989. HERE Arts Center in NYC.

EVERYTHING OLD IS NEW AGAIN hosted by David Kenny tonight, September 12th, features an in-studio chats with Peter Cincotti upon the release of his second CD On The Moon and Mark Murphy about his new CD Bop for Miles. Next Sunday, September 19th, the show features interviews with Jessica Molaskey and Dixie Carter.

Everything Old Is New Again can be heard every Sunday 9-11 PM (ET-USA) over WBAI 99.5 FM and on the Internet.



LAS VEGAS MAYOR OSCAR GOODMAN

Clive Davis to receive the Legend Award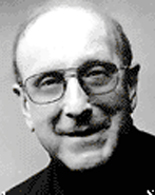 slated to present the key to the city to Prince Albert of Monaco in a City Hall ceremony Sept. 13. The son of Grace Kelly and Prince Rainier III, who has made several trips to Sin City, will be in town for the Sept. 15 World Music Awards, which will be held at the Thomas and Mack Center for airing on ABC. The awards show moved to Las Vegas after being broadcast from Monaco for over a decade.

Under the High Patronage of H.S.H. Prince Albert of Monaco, the WMA honors the world's greatest selling recording artists in various categories. It is the only international music awards ceremony in the world today. Celine Dion will receive the Diamond Award. A Legend Award will be presented to music mogul Clive Davis for his outstanding contribution to the music industry.

Artists performing include; Usher, Alicia Keys, Marc Anthony, Kanye West, Josh Groban and Avril Lavigne.

The World Music Awards benefits The Monaco Aide & Presence Foundation, which is a unique charity under the honorary presidency of H.S.H. Prince Albert and is run by a subvention from the government of Monaco. All donations go directly to assisting underdeveloped areas mainly in Africa, Asia, Eastern Europe and Brazil. No funds are deducted for office and administration costs. The proceeds go into building hospitals, schools, and orphanages and this year's show will be completely devoted to the Princess Grace clinic in Africa.


SWEET CHARITY


4TH ANNUAL ONE-NIGHT-ONLY BENEFIT CONCERT FOR THE ACTORS' FUND takes place September 20 at the New Amsterdam Theatre in New York City.

This production of a true original - the American Tribal Love-Rock musical - Hair will introduce the incredible power, the wonderful wit and the timeless message of this groundbreaking score to a whole new generation.

The all-star cast includes Kathy Brier, Gavin Creel, Darius deHaas, Harvey Fierstein, Hunter Foster, Ann Harada, Norm Lewis, Idina Menzel, Julia Murney, Adam Pascal, Billy Porter, Jai Rodriguez, RuPaul, John Tartaglia and Lillias White with Anika Larsen, Paul Castree, Stephen Bienskie, Kate Coffman-Lloyd, Mary Faber, Trent Armand Kendall, Darius Nicols, Amanda Ryan Paige, Jason Little, Audrey Klinger, Aisha deHaas, Nell Snaidas, Ledisi, Julie Garnye, Mary Ann Hu, Chris Zelno, Brian Golub, Eliseo Roman, Jason Little and Bobby Daye.

Tickets are sold on a first-come-first-served basis.



OVER THE RIVER AND THROUGH THE WOODS by Joe DiPietro. Funny and touching, a young man's career decision sparks an eruption of unsolicited advice, matchmaking, general meddling and unending food. Nick's well-meaning grandparents go to heartwarming and hilarious lengths to keep him at home when he is offered a job cross-country. Their tactics are simple: Keep him fed…and find him a girl!

It's all about change, individual choices and those invisible ties that bind us to the ones we love

September 17 – October 3 presented by Charlotte Rep at the Booth Playhouse in Charlotte, N.C.

WE WILL ROCK YOU the latest customized package to spotlight hit music of the talented, has officially opened at the Paris Hotel in Las Vegas. We Will Rock You neither possesses the intellectual and creative genius of Billy Joel/Twyla Tharp's Movin' Out nor is as much fun as Mamma Mia!

This former British show turned into a customized Las Vegas production has an inconsequential story line and head-ache inducing sound. What makes the show zing are the songs. BTV is a fan of Queen. For those with too much money who attend rock concerts for the noise, energy level and atmosphere - put this on your don't miss list. If what you want is the music, stay home and play the CD's.

STRING OF PEARLS by Michele Lowe stages its New York premiere at Primary Stages. The play which has been mounted at People's Light and Theatre Company in Philadelphia, is a series of vignettes linked by a pearl necklace.

Inspired by interviews with over 200 people, String of Pearls opens with a monologue from Beth, a 72-year-old grandmother who was given a string of pearls by her husband and centers on how contract with the necklace changes the lives of over two dozen characters. Their stories twist and turn through a myriad of emotional turmoil as the necklace touches the lives of all who come in contact with it.

Tony nominee Mary Testa stars along with Antoinette LaVecchia, Ellen McLaughlin and Sharon Washington. The four actresses are to play 27 characters. The show will begin previews on Sept. 15 and open on Sept. 28 running through Oct. 24.

The production will have its Southeastern premiere opening March 18 at Florida Stages in Manalapan, Florida.

CINDERELLA (LA CENERENTOLA) LAST EASTER by Bryony Lavery centers around a woman dying of cancer who is whisked around the world by friends to search for a cure. The production stars; Veanne Cox, Jeffrey Carlson, Jeffrey Scott Green, Clea Lewis, and Florencia Lozano. It will begin performances at the Lucille Lortel Theater on Sept. 15, and open on Oct. 7 for a run through Oct. 23.

Lyric Opera opens the 47th season with this production by Rossini, starring mezzo-soprano Joyce DiDonato in the title role, performed in Italian with easy-to-read English translations above the stage. Lyric Opera of Kansas City. September 18, 20, 22, 24 and 26.

SLANGUAGE by Gamal A. Chasten, Lemon, Flaco Navaja, and Steven Sapp. Breaking the bounds of traditional theatre. It's theatre and poetry to a city's beat - with iambic heat, jazz riffs, spoken word, movement and down home blues.

September 14 - 26 Up Close in the Victor Jory Theatre in Louisville, Kentucky.

HELLO, DOLLY! September 15 thru October 3 on the Main Stage of the Bucks County Playhouse, the State Theatre on Pennsylvania in New Hope, PA.

NOT ABOUT NIGHTINGALES by Tennessee Williams. The Omaha premiere of Tennessee Williams recently discovered steamy, intellectually stimulating lost play. Not About Nightingales is based on real events in a large American prison in the 1930's. The food is disgusting, the mood rebellious and the punishments amount to torture. This play is an impassioned account of inhumanity and injustice. Not only is it a look at the extent of unearthly human potential, but a study of the aspiring twenty-seven-year-old William's development into a momentous literary figure. This production contains adult content. Omaha Community Playhouse September 17 October 17.

FESTEN (THE CELEBRATION) David Eldridge's English Language stage version of an adaptation of the original Danish Dogme film and play, after enjoying a successful run at the Alemeda Theatre is transferring to the West End's Lyric Theatre on September 15 and open there on September 23.

The production will be directed by Rufus Norris.

Festen centers on Helge Klingenfeltand his family. He is celebrating his 60th birthday with his family at a magnificent old house in the Danish countryside. Gathered together are his loyal wife Else, his daughter Helene, and sons Christian and Michael. As the evening progresses Christian feels compelled to break the silence surrounding a dark family secret.

THE POSTMAN ALWAYS RINGS TWICE by James M. Cain In a new adaptation by Andrew Rattenbury. Directed by Lucy Bailey. Designed by Bunny Christie.

When Frank drifts into their roadside café, Greek immigrant Nick and his American wife Cora have no idea of the devastating effect he'll have on their lives. Frank and Cora begin a passionate affair that leads to murder, double-crossing and dubious courtroom deals.

Contains moderate violence and scenes of a sexual nature.

Produced by the West Yorkshire Playhouse in association with Incidental Colman and Ambassador Theatre Group Ltd presented at the 750 seat Quarry Theatre in Leeds, England September 18 to October 16.

EMPIRE nominated for three LA Theatre Ovation Awards, Empire is a new musical about the men and women who bravely embodied the American spirit during the dark days of the Great Depression by building what was then the tallest structure in the world – The Empire State Building. The success of this building, and other endeavors like it, would prove to be a symbol of what's best about America - of how important it is, even in times of great despair, to hold onto and pursue dreams, with hope and an optimistic vision of the future.

September 19-26 at the Rich Forum, Stamford Center for the Arts in Stamford, Conn.

JEKYLL & HYDE will be the third consecutive Broadway show presented at The Trump Plaza in Atlantic City. With music by Frank Wildhorn and lyrics by Leslie Bricusse the tuner debuted on Broadway in 1997, where the production was nominated for four Tony Awards. A year later, it received a Grammy nomination. The Equity production opens on Sept. 16, for a six-week run which will close on Halloween.

DON GIOVANNI

Bryn Terfel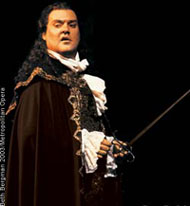 by Mozart receives a star-studded new production to open the 50th Anniversary Season of the Lyric Opera of Chicago. On September 18th ticket holders will stroll down the red carpet into the rose-laden Civic Opera House and enjoy delicious intermission hors d'oeuvre and bubbling champagne. Igniting the stage will be an astounding collaboration of artists, including; Bryn Terfel as the Don. Karita Mattila and Isabel Bayrakdarian, Susan Graham, Italian heartthrob bass-baritone Ildebrando D'Arcangelo. Illustrious maestros Christoph Eschenbach and Sir Andrew Davis on the podium, and Peter Stein, a giant among the world's top directors, staging the production.

In Italian with projected English titles.

Those attending the Opening Night performance also have the opportunity to purchase tickets to the Opera Ball which takes place at the Hilton Chicago immediately following the Opening Night performance. This black tie event provides opera lovers with the opportunity to celebrate Opening Night in a special way with Lyric Opera and its stars.


| | | |
| --- | --- | --- |
| | | |
WHO'S WHERE


DIXIE CARTER opens the 50th season of the Cafe Carlyle. Accompanied by John Wallowitch on piano she'll perform from Sept. 17 through Oct. 9.

LET'S FALL IN LOVE: A TRIBUTE TO COLE PORTER in a tribute to this legendary songwriter, Grammy nominated cabaret performer Bobby Short, one of the foremost interpreters of Cole Porter's music, performs an elegant Pops concert conducted by Marvin Hamlisch. The sold out dates are Sep 16 - 18 at the Kennedy Center in Washington, D. C.

DON HENLEY became well-known during the 1970s as part of The Eagles, who went on to define the California Sound of '70s music. He went solo when The Eagles broke up in 1982, and his debut solo album, I Can't Stand Still, went gold in December of that same year. He is also an environmental activist, honored by former President Bill Clinton for his work as founder of the Walden Woods Project. September 19 the Juanita K. Hammons Hall for the Performing Arts at Southwest Missouri State University.

YOKO ONO performs September 15 at Tate Britain in London. The show is sold out.

TONY BENNETT in the spotlight Friday, September 17, at Chastain Park Amphitheatre in Atlanta, GA.

BIG BAD VOODOO DADDY bring their show to Clemson University in Clemson, SC on Tuesday, September 14. Friday finds them at California State University in Chico, CA.

JERRY SEINFELD getting laughs September 17 at the Benedum Center in Pittsburgh, PA.

LARRY THE CABLE GUY part of the ConnectiCare Comedy Series, Friday, September 17 at Mortensen Hall in Hartford, CN. With his cry of "Git-R-Done!" and "Lord, I Apologize," Larry the Cable Guy begins his daily radio commentaries in cities around the country. You might not think a cable installer could be hilariously funny-until you see Larry the Cable Guy, the church-going, strip bar-going know-it-all comedian!

STEVE & EYDIE bring mirth and music to the Stardust Hotel in Las Vegas when they headline September 17-19.

ELTON JOHN center stage September 13 at the Convention Centre in Hong King. On September 17 he performs at the Olympic Main Stadium in Seoul, Korea.

LINDA EDER brings her talents to the Iowa Western Community College in Council Bluffs, Iowa on September 18.

PHIL COLLINS performs at Madison Square Garden on September 17-18.

THE FOUR FRESHMEN harmonizing Friday, Sept. 17 at the Newberry Opera House in Newberry, S.C.


PIFFLE AND PROFUNDITIES


WHO IS? Sen. Orrin Hatch of Utah.
















Next Column: September 19, 2004
Copyright: September 12, 2004. All Rights Reserved. Reviews, Interviews, Commentary, Photographs or Graphics from any Broadway To Vegas(TM) columns may not be published, broadcast, rewritten, utilized as leads, or used in any manner without permission, compensation/credit.
Link to Main Page
---
Laura Deni


CLICK HERE FOR COMMENT SECTION