! >
Broadway To Vegas
  SHOW REVIEWS     CELEBRITY INTERVIEWS     GOSSIP     NEWS 
| | |
| --- | --- |
| | |
Copyright: September 12, 1999
By: Laura Deni
CLICK HERE FOR COMMENT SECTION

SINATRA FAMILY SUES VEGAS HOTEL
Orange may have been Ol' Blue Eyes' favorite color, but David Cassidy is seeing red over the lawsuit filed against the Desert Inn Hotel, home to his production of The Rat Pack Is Back. The impersonation revue is staged in the hotel's 200 seat Starlight lounge. (See related article in the Broadway To Vegas column of Sept.5)


TINA SINATRA WITH FATHER FRANK She is guarding his trademarks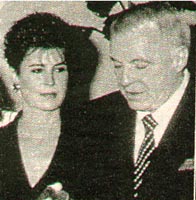 Sheffield Enterprises, owned by Frank Sinatra's children, Nancy, Frank, Jr. and Tina, filed a trademark infringement lawsuit, against the resort, last Wednesday in District Court.

During his lifetime Sinatra waged a myriad of legal battles to stop entertainers from impersonating him. This particular suit isn't trying to ring down the curtain on The Rat Pack Is Back. Rather, the suit addresses the "wrongful use of Sinatra's name, identity and persona in advertising and marketing material."

The suit asks for compensation from the resort for profits gained as a result of this wrongful use. The lawsuit states that the public knows Sinatra as a Rat Pack member who had the first name of "Frank" and nicknames of "Ol' Blue Eyes" and "Chairman of the Board." Because of that, those names are listed in the complaint as trademarks Sheffield Enterprises has the right to control.

The lawsuit continues that the Desert Inn has injured Sheffield Enterprises by depriving it of control of the quality of its trademarks and by reducing the market value of said trademarks. This wrongful use of the Sinatra and persona is with the willful intention of causing confusion or deception.



DEAN MARTIN, SAMMY DAVIS, JR and SINATRA the 1962 "Summit" performance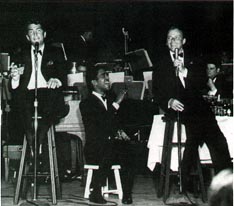 Specific examples named in the lawsuit include:

- The Desert Inn has displayed pictures of Sinatra and his signature, as well as the words "Blue Eyes," on walls behind the center at the bar near the Starlight Lounge entrance.

- The words "The Rat Pack Is Back! Bar" are displayed above the bar's counter.

- Menus list alcoholic beverages with Sinatra nicknames, including "Blue Eyes."

- T-shirts and caps with the words "The Rat Pack Is Back!" are sold in the Desert Inn's gift shop.

- The performance and the advertising of "the Rat Pack Is Back" show is a wrongful use of Frank Sinatra's name and persona.

Should this case result in a court decision, the outcome would set legal precedent. Thus, the Nevada entertainment scene is taking notice. If this case is dropped or settled out of court, no legal precedent is established.

Many celebrities and their estates zealously protect copyright infringements. Fred Astaire's widow, Robyn, has been fervent in campaigning for protection against the unauthorized use of a deceased public person's likeness.

Johnny Carson has sued - and won - on several occasions. The judgements may not have been lucrative, but he made his point. In March 1975 a Lincoln, Nebraska bank and travel agency agreed to pay Carson $1 plus "other goods and considerations" after Carson filed a lawsuit charging unlawful use of his name and photograph in connection with a Las Vegas tour promotion.


MOVIE STUDIO BROKE UP ROMANCE

Married and divorced three times, the unsinkable Debbie Reynolds is being portrayed as a cold fish by first ex-husband Eddie Fisher in his new book, Been There, Done That. Reynolds was America's sweetheart when she wed crooner Eddie Fisher. However, she admits her happiest romantic memories are of her first love - Robert Wagner.



ROBERT WAGNER studio bosses wouldn't let him marry Debbie Reynolds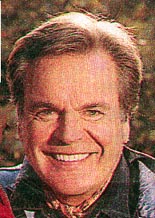 "I was on the rebound from Robert Wagner when I married Eddie. I was in love with Eddie, but it was love on the rebound," recalled Debbie who was the last contract player of the golden era of Hollywood.

Reynolds and Wagner had dated while Debbie made Singing In The Rain. They were in love and Wagner proposed marriage. The studios objected. Debbie was the girl next door, who was about to become a major star.

Wagner's career also ignited with the 1952 release With a Song In My Heart opposite Susan Hayward, in which he had to watch Hayward and cry. More than 5,000 letters a week from bobby-soxers poured in. Wagner joined the sex symbol club that included Tony Curtis, Tab Hunter and Rock Hudson.

"The studio system had a lot of power," explained Reynolds. "At the time with Singing In The Rain they felt I was a bigger star than R.J.," she said calling him by his initials as his closest friends do.

"The studio heads didn't want us dating much less getting married. They broke us up. Eddie Fisher was on television, had hit records, was loved by all of America. R.J. had a more swinging image. We were together through the entire picture. If Singing In The Rain hadn't been a success the studio probably wouldn't have broken us up. We would have been happy and...." thinking of what might have been, her voice trailed off.



DEBBIE REYNOLDS AND GENE KELLY in the blockbuster 1952 movie Singing In The Rain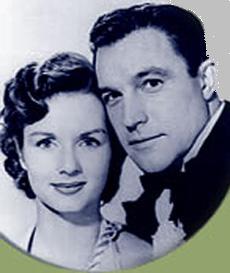 No edict could destroy their friendship.

During one of Wagner's Las Vegas visits the two fondly remembered their romance.

" I have to tell you about kissing R. J.," she giggled. "He was my first love and he's the best kisser. We used to enjoy sneaking off alone and necking.

"You know what I did with my first paycheck that I earned as an actress? My first check went to build a pool that said Abba Dabba," recalled Debbie referring to her first record Abba Dabba Honeymoon from the musical Singing In The Rain.

"Boy, do I remember that pool!" gleefully exclaimed Wagner, who is happily married to Jill St. John.



DEBBIE REYNOLDS AND FRANK SINATRA soundtrack recording The Tender Trap. Sinatra took Debbie to lunch and warned her not to marry a singer.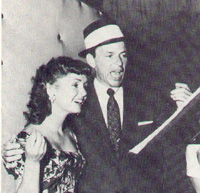 "R.J. remembers that pool because we used to neck in the backyard out by the pool."

"We used to neck in the front yard, too," interrupted Wagner. "We'd also neck inside the car. I sure do have fond memories of that car!"

"I remember one night in particular, when we were necking and R.J. tried sitting on top of a bar-b-que pit," continued Debbie.

"I was trying to get a better position," explained Wagner.

" He wasn't too observant about the bar-b-que pit, which was still hot! Boy, did he jump!"

Added Wagner: " That got me all heated up," he laughed. "That was some red hot kiss!"

"I still remember that night and that was a long time ago," Debbie softly replied.

"One of the nicest nights of my life was when Debbie asked me to go to the premiere of Singing In The Rain with her," continued Wagner. "We were in the limo with Gene Kelly. What was so exciting about it was - as we all know - is that Debbie was absolutely spectacular in that movie. It was truly seeing somebody become a gigantic star out of that picture."

Looking at Debbie he said: "You were so great in that and worked so hard and I was with you through that entire movie. You put your whole heart into that movie."

Responded Debbie: "You know, we sure had a lot of fun in our youth. . . I love you."

As their eyes met he answered. "I love you, too."



Broadway To Vegas is supported through advertising and donations. Priority consideration is given to interview suggestions, news, press releases, etc from paid supporters. However, no paid supporters control, alter, edit, or in any way manipulate the content of this site. Your donation is appreciated. We accept PAYPAL. Thank you for your interest.


THE DRAMATISTS GUILD FUND PRESENTS

Legendary Sardi's Restaurant will be the setting for the September 15th Dramatist Guild presentation and reception.



KATHLEEN CHALFANT who won every award possible for her starring role in Wit. Photo by: Laura Deni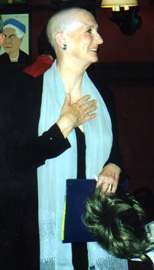 Sheldon Harnick, President of the Dramatists Guild Fund, announced that the recipients of the second annual Madge Evans and Sidney Kingsley Awards for Excellence in the Theatre are actress Kathleen Chalfant and playwright Christopher Durang. They will each receive a check for $25,000.

"The Dramatists Guild Fund is delighted to honor Kathleen Chalfant and Chris Durang for their outstanding achievement in the legitimate theatre," said Harnick.

"The Madge Evans and Sidney Kingsley Awards are given annually to an actress and an American playwright for their body of work rather than for a single play or performance."

The Dramatists Guild is a professional association established to advance the rights of playwrights, composers and lyricists. The Dramatists Guild Fund provides emergency assistance to dramatists - whether members of the Dramatists Guild or not - as well as modest financial assistance to not-for-profit theatre institutions around the country who nurture and produce the works of American playwrights, lyricists and composers.


BRING ON THE EUPHONIUMS

A classic form of music that originated in England in the 1840's to 1850's, the British Brass Band does fudge the truth a bit, since brass bands also normally include up to three percussion players, who are one-man bands - being required to play as many as twenty different instruments.

It's impossible to feel depressed listening to a brass band, British or otherwise. Shirley MacLaine sang I'm A Brass Band in Sweet Charity and The Music Man caused a run on trombones. What Chuck Mangione does with a flugelhorn is erotic and let's not forget Roxanne Pulitzer and that trumpet.



The SERPENT. In Paris the brass instrument was popular during the mid 18th century. The horn comes with assorted mouthpieces.

British Brass Bands are getting downright assertative. Determined not to let the euphonium go the way of the Serpent, the musicians are getting organized, promoting, playing and blowing off any quizzical looks.

What makes the British brass band a crumpet apart from the ordinary brass band is all in the composition.

A somewhat unique aspect is that all parts are written in treble clef except for the Bass Trombone part. The standard instrumentation for a British Brass Band is: One E flat Soprano Cornet, Nine B flat Cornets, One Flugelhorn, Three Tenor Horns; Two English Baritones, Two Euphoniums, Two Tenor Trombones, One Bass Trombone, Two E flat Tuba, Two B flat Tuba and Three Percussion.

Las Vegas is going to be the setting for the lst Western Regional North American Brass Band Association festival Oct. 28-30 at the Las Vegas Performing Arts Center.

Six bands from Los Angeles, Chicago, Sun City and Phoenix, Arizona and Lubbock, Texas will toot their own horns.

The Las Vegas British Brass Band, conducted by Chris Chapman, includes a retired musician from Jimmy Dorsey's Band in New York and a musician and vocalist with The Four Freshman. Performances are partially funded by a grant from the Nevada State Council on the Arts.
SWEET CHARITY

KATIE HOLMES AND CONNIE BRITTON host a Latin dance comeptition at Madison Square Garden on Sept. 18. The night benefits The Big Bam! Foundation, a breast-cancer awareness group for young women.

THE LATIN JAZZ INSTITUTE will induct Tito Puente, Lalo Schifrin, Eddie Palmieri and Chucho Valdes into its Latin Jazz Hall of Fame at the third annual Ritmo y Sabor festival Sept. 18 and 19 at California Plaza, Los Angeles. Festival proceeds provide scholarships for a Latin jazz seminar conducted by the Berkelee College of Music.

THE ACADEMY OF MOTION PICTURE ARTS AND SCIENCES has established a new fund that is expected to bestow about $250,000 a year to support film festivals around the world. The initial grants are the Chicago International Film Festival, New York Film Festival and Telluride Film Festival - each awarded $50,000. The New York International Children's Film Festival receives $10,000.



THE BEST LITTLE WHOREHOUSE IN TEXAS a knee-slapping, boot-stomping, based on fact celebration. In 1973, zealous, crusading reporter Marvin Zindler caught wind of the existence of a bordello in LaGrange, Texas. As big city newspapers descended on the small town, Miss Mona - the Madam- and her ladies became front page news. The result of this clash between sex and politics was the lamented demise of "The Best Little Whorehouse in Texas," and an economic crisis for LaGrange. Opens Sept 15 to Nov. 14, Alhambra Dinner Theatre, Jacksonville, FL.

GROSS INDECENCY: THE THREE TRIALS OF OSCAR WILDE by Moises Kaufman has performances through October 17 at the Artists Repertory Theater, Portland. Using trial transcripts, personal correspondence and interviews. The play raises pertinent issues of sexuality, censorship and the role of the artist in society. Michael Laswell directs this A.R.T. production.

THINGS TO SAY PAST MIDNIGHT has cast changes. Hazelle Goodman, Peter Rini and Larry Storch have joined the off-Broadway comedy. Perhaps best known as Corporal Agarn on TV's F-Troop, Storch teamed with Kaye Ballard for a Las Vegas engagement at the Flamingo Hotel in 1956. During the 60s and 70s Storch appeared in Vegas on a regular basis.

THE QUEEN BEE'S LAST STAND or Why Your Mail is sometimes Late by Rob Santana opened at the Blue Heron Arts Center, NYC. Santana, himself a Postal system employee, has written a drama about relationships and sexual harassment set during the graveyard shift on holidays at a Manhattan post office. Santana's play Bomber Jackets was produced Off Broadway bt the Puerto Rican Traveling Company in 1997 to excellent reviews. The cast for The Queen Bee's Last Stand, under the direction of T.L. Reilly, includes: Valorie Hubbard, Ibi Janko, Carlo D'Amore, K.C. Ramsey and Michael Palmer. The design team is comprised of; Megan Ingalls (sets), Kevin Brainers (costumes), Jason Boyd (lighting), and Johnna Doty (sound).


WHO'S WHERE


RICKY MARTIN

RICKY MARTIN sizzles in any language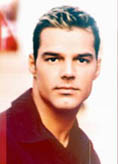 that Puerto Rican hot tamale, who has become an overnight icon, says he may sing Mandarin Chinese on his next album.

The fans who make his shows SRO in a matter of hours scream throughout his entire performance so it doesn't really matter how or what he sings. It's also puzzling why he just doesn't perform in an empty building. Selling "seats" seems an oxymoran, since the hyperventilating fans stay standing throughout the entire performance.

A second show has been added to his upcoming Las Vegas gig. He'll rev up the crowd November 11-12 at Mandalay Bay Events Center. Both shows are sold out.

CELINE DION christens the new Pepsi Center in Denver in a sold out Oct. 1 performance. The new $160 million entertainment and sports venue covers 52 acres with 675,000 square feet.

ELTON JOHN performs at the Asheville Civic Center, NC on October 5, which our roving reporter Trudy Knight will be covering. The next night John does the same in Daytona, FL. Tickets $59.50.

MOODY BLUES with the New Jersey Symphony Orchestra perform Sept. 15 at the Pine Knob Music Theatre, Detroit.

THE IRISH TENORS with the Royal Philharmonic Orchestra September 21 at the Thomas & Mack Center, Las Vegas.

SARAH BRIGHTMAN will delight and enthrall October 12, Greensboro Coliseum Complex, NC. Tickets $35-$55.

BONNIE RAITT, JACKSON BROWNE, SHAWN COLVIN, BRUCE HORNSBY & DAVID LINDLEY Wednesday, September 22 Outdoor Concert Series in Reno, Nevada. Tickets $20.50-$45.

CHARLIE PROSE a delightfully funny, laid back comedian, who has been a Laughlin, Nevada mainstay for decades, performs Sept 14 at the Westbury Music Fair, LI

GEORGE JONES signed for a Dec 11 gig at the MESA Park Amphitheater, Florida. Jones first hit the record charts in the 1950s. Last April he celebrated the 40th anniversay of his first No. 1 record, White Lightning. After a near fatal auto accident, Jones is now celebrating being alive and able to resume performing.

PAUL RODRIQUEZ on the heels of Mexican Independence Day, performs September 17-18 at the Monte Carlo Resort, Las Vegas. The son of migrant farm workers, Rodriquez got his break as a comedian doing warm-ups for Norman Lear's show Gloria. Last year he made his directorial debut with the film A Million to Juan.

VICTOR BORGE September 12 celebrates 50 years in show business by making his debut at Jones Hall with the Houston Symphony Orchestra. Houston, TX.

SCOTT COULTER

SCOTT COULTER Photo By: Stephen Mosher

the MAC and Bistro Award-winning vocalist returns to Don't Tell Mama, NYC Sept 20 for a six week run.

His show Unexpected Songs will focus on the irony of life - the life you lead as compared to the life you'd dreamed of.

The show will include work by songwriters Stephen Schwartz, Cy Coleman & Ira Gasman, Maury Yeston, David Zippel, Victor Young & Ned Washington, Tom Andersen & Tim DiPasqua, Jason Robert Brown and John Bucchino. The musical director for the engagement will be Bobby Peaco.
THIS AND THAT

CLUB DEEP in Miami Beach, Florida has a dance floor that sits atop a 2,000-gallon aquarium.

LICK THIS The Post Office picked the Star Trek Experience at the Hilton Hotel as the launching pad for the new 33 cent "Star Trek" stamp. On hand for the beam up was Majel Barrett Roddenberry, who played nurse Christine Chapel, and was married to series creator Gene Roddenberry.

PLAYING SOLDIER The 135th anniversary of the Battle of Chickamauga, Sept. 17-19, in Catoosa County, Georgia, just south of Chattanogga, Tenn. A two day comprehensive battlefield tour just prior to the Reenactment of the Battle of Chickamunga, in which 10,000 Civil War reanactors are anticipated to participate. Those who have studied Civil War history and biographies may assume the persona of a battlefield commander and participate in battle strategies. During the original battle the North was commanded by Rosecrans while Bragg was the commander for the South. The North suffered 11,500 casualties and the South 17,000. The Southern victory trapped Rosecrans in Chattanoga. The Chattanooga and Chickamauga National military Park is the oldest and largest Civil War Military Park in the country. For more information call (202)208-4747.



Mention BROADWAY TO VEGAS for Special Consideration
Call (800) 942-9027









Next Column: September 19, 1999
Copyright: September 12, 1999. All Rights Reserved. Reviews, Interviews, Commentary, Photographs or Graphics from any Broadway To Vegas (TM) columns may not be published, broadcast, rewritten, utilized as leads, or used in any manner without permission, compensation and/or credit.
Link to Main Page
---
Laura Deni
broadway@broadwaytovegas.com
CLICK HERE FOR COMMENT SECTION