! >
Broadway To Vegas
  
 SHOW REVIEWS CELEBRITY INTERVIEWS GOSSIP NEWS

| | |
| --- | --- |
| | |
MUSICAL CURTAINS NEEDS TO BE RAISED ON BROADWAY - - JERRY LEWIS CONGRESSIONAL GOLD MEDAL - - COLE PORTER'S 50 MILLION FRENCHMEN - - BROADWAY BLESSING - - A MUSICAL ABOUT ELLA FITZGERALD - - SELECTED SHORTS WITH TONY ROBERTS - - NEW YORK CITY OPERA GALA - - ON THE COUCH CARTOONS FROM THE NEW YORKER - - DONATE . . . Scroll Down


Copyright: September 10, 2006
By: Laura Deni

CLICK HERE FOR COMMENT SECTION
CURTAINS NEEDS TO BE RAISED ON BROADWAY
A nicely dressed lady sauntered up and asked; "Ma'am, would you like to sell your ticket?"

Not a chance.

"Do you have an extra ticket for sale?" inquired a man waiting nearby the Ahmanson box office.

While the curtain on Curtains is being rung down today, the closing is not because of slow ticket sales.

Curtains, the musical comedy murder mystery starring David Hyde Pierce and Debra Monk wraps up its pre-Broadway world premiere in Los Angeles. The production is garnering more than its share of attention because Curtains has been evolving for nearly twenty years, continuing on despite the deaths of its original lyricist, Fred Ebb and book writer Peter Stone. Peter Stone, who came up with the show's concept and wrote its book, died while preparing for the script's third reading; Rupert Holmes was brought in to replace him. Holmes also co-wrote additional lyrics after lyricist Fred Ebb succumbed to heart failure in September 2004. To get an idea of whether this show is Broadway ready or needs to be re-tooled before hitting the Great White Way, Broadway To Vegas saw the show yesterday.



David Hyde Pierce and Debra Monk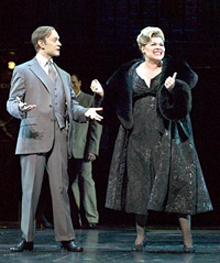 Most of the Los Angeles reviews had been positive. Those that didn't thrown around the superlatives seemed to have anticipated a vehicle more akin to dark musicals Cabaret or Chicago.

Curtains opens up the windows and lets the laughs in. It's a bubbly delight. With the staging of Curtains the creative team has thrown down the top me gauntlet for being entertaining. Without giving it any deep thought, Broadway To Vegas came up with at least nine categories for which Curtains should receive a Tony nomination after its New York bow.

Curtains is an ingenious production which needs to raise itself on Broadway as soon as possible and stay open.

Curtains a musical comedy murder mystery is a play within a play. The curtain comes up at the Colonial Theatre in Boston in the 1950's with the opening night of Robbin' Hood. An out-of-town try out for a new musical set to go to Broadway. The leading lady dies mysteriously, and the critics kill the play. Frank Cioffi (David Hyde Pierce), homicide detective and musical theatre aficionado, is on the case! He's got a tough job as the bodies pile up, the ensemble dwindles, and everyone is a suspect. And that second act needs work! Can Cioffi solve the murders and save the show before it reaches Broadway?



Jill Paice and David Hyde Pierce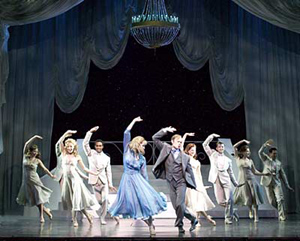 David Hyde Pierce plays Lieutenant Frank Cioffi, a Boston homicide detective. Hyde Pierce is brilliant. The effort that he put into preparing for this role should not be overlooked. Fans who know him from Frazier or those who saw him on Broadway in Spamalot might be surprised to hear him speak with a Boston accent. It's a regional dialect he has nailed. He never drops a vowel, not even when singing or speaking immediately after dancing. That accent wasn't acquired in an afternoon. Neither was the honing of his dancing. He kicks up his heels no matter what the choreographer blocked - from graceful to adorably awkward. He delivers a line the way a writer meant them to be heard. His comedy timing is the gold standard. His performance is perfect. Hyde Pierce makes it all seem as easy as falling off a horse -something he does when he takes his curtain call.

Many times book writing for a musical is a secondary event a bridge to connect one number to the next. In this plot within a plot musical, the book writing is crucial and the words cleverly dove tail lines from one plot line into the other - lines which Hyde Pierce flawlessly executes. By itself the plot is an interesting who-dun-it, thanks to Tony winner Rupert Holmes who knows more than a little about crafting a murder mystery.



Noah Racey and Karen Ziemba throwing her leg around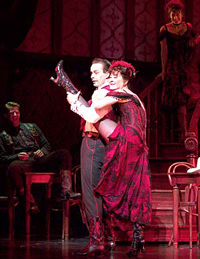 The choreography by Rob Ashford is bawdy, provocative, fast paced and innovative.

That isn't lost on Kander who lets it be known that he can pen risqué as well as Ebb.

There are several stand-out songs. Show People is an anthem for Broadway. Not since There's No Business Like Show Business has a musical number stood out to celebrate those who toil in the spotlight. Expect several bars breaking out as required singing at showbiz events. As the word implies, there is a business in showbiz. Debra Monk as producer Carmen Bernstein almost stops the show with It's A Business.

For actresses who have their eye on winning Best Actress in a Musical Tony next June, the lady to beat is Debra Monk.

Karen Ziemba has legs that could wrap around Cleveland and her Tony award winning ability is in great form. ( See Broadway To Vegas column of August 26, 2001. ) Megan Sikora can wrap her body around anything. Her agility is not lost of the audience who continued to applauded her after the fact, picking up on dialogue that could refer to her stand out routine. This is the production which will take her from a performer few ever heard of to somebody who is in demand.

Edward Hibbert's take on beleaguered director, Christopher Belling, is a swishy hoot. Robert Walden and Noah Racey are excellent. Jill Paice as the Ingénue plays and dances well with Hyde Pierce. An excellent, excellent cast.



Debra Monk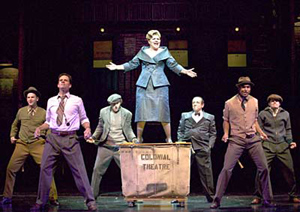 Several of the musical numbers deserve mentioning. What Kind of Man? is a barbed tongue ditty for every person who has been skewed by a critic. The meaning is well delivered when Karen Ziemba sings Thinking of Him - powerful lyrics (written by a man) which women will understand. I Miss The Music is a lyrically beautiful melody, superbly sung by Jason Danieley. Coffee Shop Nights. with lyrics credited to Kander, Ebb and Holmes, is Hyde Pierce's solo. It's an ode to the middle-class worker whose okay life just doesn't have enough highs. A Tough Act To Follow is a toe tapping production - think Fred and Ginger or as they say in the show, Marge and Gower Champion.

The real-life director Scott Ellis has championed the project for years being with the effort since words were first put on a page. He can take pride in the show's success. Ear pleasing sound by Brian Ronan. Even orchestra leader David Loud had lines!

Cast: Jim Newman (Randy), Jill Paice (Niki), Patty Goble (Jessica Cranshaw, Connie), Noah Racey (Bobby Pepper), Michael X. Martin (Johnny), Darcie Roberts (Roberta Wooster), Megan Sikora (Bambie Bernstein), Karen Ziemba (Georgia Hendricks), Jason Danieley (Aaron Fox), Debra Monk (Carmen Bernstein), Michael McCormick (Oscar), Edward Hibbert (Christopher Belling), David Hyde Pierce (Lieut. Frank Cioffi), Mary Ann Lamb (Mona Page), Matt Farnsworth (Harv), Robert Walden (Sidney Bernstein), David Eggers (Detective O'Farrell, Roy Stetson), John Bolton (Daryl Grady), Nili Bassman (Arlene Barucca), Ward Billeisen (Brick Hawvermale), Jennifer Dunne (Jan), Brittany Marcin (Peg), Joe Aaron Reid (Ronnie), Christopher Spaulding (Russ).

The orchestra includes; Woodwinds; Sal Lozano, Glen Berger, Brian Scanlon and Bob Carr. French horns; Nathan Campbell and Marni Johnson. Trumpet; Chris Eble and Ramon Flores. Trombones; Robert Payne, Craig Ware. Guitar; Thom Rotella. Percussion; Cliff Hulling. Piano & Synthesizer;Sam Davis. Bass; Ken Wild. Drums; Bruce Doctor.


ART AND ABOUT


ON THE COUCH Cartoons from The New Yorker Presented in honor of the 150th anniversary of the birth of Sigmund Freud (1856-1939).

This exhibition illustrates nearly 80 years of our culture's preoccupation with what happens inside the therapist's office.

Come see more than 75 cartoons published in the pages of The New Yorker on this hilarious theme.

A related program is a one hour illustrated New Yorker cartoon course, Thursday, September 14, presented by Bob Mankoff, cartoon editor of The New Yorker.

The exhibition takes place September 14-December 31 at The Skirball Center in Los Angeles.


IN REMEMBRANCE OF 9/11


MOZART'S REQUIEM, IN REMEMBRANCE OF 9/11 Monday, September 11 Juilliard and Carnegie Hall invite everyone to sing Mozart's Requiem with the Juilliard Orchestra and Choral Union in a community remembrance of the fifth anniversary of 9/11. Music scores will be distributed.

This event is free. and is sponsored by The New York Mets.



Broadway To Vegas is supported through advertising and donations. Priority consideration is given to interview suggestions, news, press releases, etc from paid supporters. However, no paid supporters control, alter, edit, or in any way manipulate the content of this site. Your donation is appreciated. We accept PAYPAL. Thank you for your interest.


SPREADING THE WORD


SELECTED SHORTS WITH TONY ROBERTS

Tony Roberts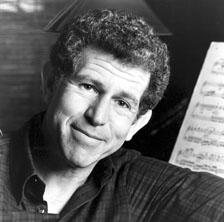 An ARTS in the House presentation by the Westport County Playhouse.

You've heard it on the radio, now see it in person! Selected Shorts features some of the finest artists of the American theatre, reading contemporary and classic short fiction - the most distinguished works from a broad array of literary talents.

Join host Isaiah Sheffer as he brings the renowned Symphony Space program, as heard on NPR, to the stage of the Playhouse.

The reading will be taped for broadcast nationally on public radio.

September 19 at Westport Country Playhouse in Westport, CT.


ASKING FOR A PRAYER OF A CHANCE


It's the Broadway version of Blessing of the Fleet. Each year in Europe fishing boats are blessed by Roman Catholic Cardinals. They are asking for a profitable season with no boats sinking. On September 18, the Great White Way version takes place - the 10th annual Broadway Blessing - an interfaith service that takes place, traditionally, the start of the theatre season. The event brings together members of the theatre community "to ask God's blessing on the new season."

Clergy from the Cathedral, Congregation Ezrath Israel/The Actors' Temple and St. Clement's Episcopal Church will participate as will the Broadway Blessing choir, under the direction of Darryl Curry.

The free event will also feature performances by Broadway stars, including Tony winner Anna Manahan who will perform a selection from Sisters, the one-woman show she will be appearing in at 59E59 Theaters.

The service will open with an explosive jazz/gospel performance by Project Dance featuring dozens of dancers performing in the aisles and center stage. The Very Rev. Dr. James A. Kowalski, dean of the Cathedral, will offer opening remarks and a prayer. Actor James Ashcraft will recite a reading about life in the theatre and actress/Singer Cindy Marchionda will sing I Am Born Again by Ron Melrose, music director of Jersey Boys. Broadway and cabaret performer PJ Nelson will sing Go Home, Train! from Fade Out -- Fade In. A new song composed for this occasion by Elizabeth Swados will also be presented.

Other participants include: Actors' Temple rabbi, Jill Hausman, who is also a cantor; and Broadway veteran J. Mark McVey, who will sing Ordinary Miracles.

Following a candle lighting ceremony the evening will conclude with an audience sing-along of You're Just in Love from Irving Berlin's Call Me Madam, with the choir and Mary Sheeran and Richard Nesbit as soloists.


SWEET CHARITY


NEW YORK CITY OPERA celebrates its 63rd season with a Gala Concert of opera highlights on Tuesday, September 19.

A Night at the Opera will be a celebration of City Opera's founding commitment to young artists and its history of launching the careers of some of the finest singers in the opera world. The evening's performance will be a spectacular concert of opera highlights directed by acclaimed theatre and opera director, Mark Lamos.

This one-night-only musical event featuring performances by: Pamela Armstrong, Beth Clayton, Vinson Cole, Lauren Flanigan, Elizabeth Futral, Vivica Genaux, Judy Kaye, Samuel Ramey and Carol Vaness.

With a special message from Beverly Sills and Placido Domingo.

Conducted by Music Director George Manahan and Julius Rudel who is returning to the City Opera podium for the first time in over 25 years.

A black-tie Gala dinner will be enjoyed after the concert.



WINNERS OF THE 19TH ANNUAL ORAEMIUM IMPERIATE PRIZE FOR MUSIC were announced Thursday in an informal ceremony taking place in the Rainbow Room of Rockefeller Center in NYC. The winners are; American composer Steve Reich in the music category, former Bolshoi Ballet prima ballerina Maya Plisetskaya of Russia in the category of theater and film; Yayoi Kusama of Japan in painting; Christian Boltanski of France in sculpture; and Frei Otto of Germany in architecture.

The prizes, recognizing lifetime achievement in the arts in categories not covered by the Nobel Prizes. Each winner receives approximately $131,000. The formal awards ceremony is to take place in Tokyo on Oct. 18, when the laureates will receive gold medals from Prince Hitachi, honorary patron of the Japan Art Association, which makes the awards.

JERRY LEWIS born in New Jersey and a Las Vegas resident for decades, is in line for a Congressional Gold Medal. Last Wednesday a resolution sponsored by Sen. John Ensign R-Nev. and Democrats Frank Lautenberg and Robert Menendez of New Jersey, was introduced into the U.S. Senate. Lewis, 80, would be recognized for his philanthropy and comedic talent.

Lautenberg said Lewis's annual Labor Day telethon to battle muscular dystrophy has improved the lives of thousands of children.

"This kind of commitment is what made America great, and it is why Jerry Lewis is a great American," Lautenberg stated. Menendez said honoring Lewis with the Congressional Gold Medal "would be a fitting accolade to this larger than life individual."

Lewis, 80, has received numerous awards for his philanthropy. This year, his telethon raised a record $61 million. The telethon has raised $1.4 billion to fight the disease since 1966.


PLAYWRIGHTS WEEK FESTIVAL


The Lark Play Development Center in New York City begins their season with Playwrights' Week 2006, a series of workshop productions of new plays staged September 13-18.

The Lark Play Development Center provides American and international playwrights with indispensable resources to develop their work, nurturing artists at all stages in their careers, and inviting them to freely express themselves in a supportive and rigorous environment. By reaching across international boundaries, the Lark seeks out and embraces new and diverse perspectives from writers in all corners of the world. With the aim to integrate audiences into the creative process from its initial stages, the Lark brings together actors, directors and playwrights to allow writers to learn about their own work by seeing it - and by receiving feedback from a dedicated and supportive community.

The presentations will include;

The Bridegroom of Blowing Rock by Catherine Trieschmann, directed by Victor Maog: At the end of the Civil War in Blowing Rock, North Carolina, a town of split loyalties, a blind daughter is seduced by a Union Raider through his extraordinary storytelling abilities, much to the dismay of her staunchly Confederate mother.

Dance of the Holy Ghosts a play on memory by Marcus Gardley, directed by Daniel Beatty. Oscar, 72, isolated from family and friends, spends his days with his memories, reliving the joys and rewriting the mistakes. But when his estranged grandson arrives to take him to the funeral of Oscar's daughter, Oscar must confront the truth of his past.

Hand, Foot, Arm, and Face by Mat Smart, directed by Jeremy Cohen. When a young American woman runs away with her Iraqi fiancé in the months following 9/11, they confront racism, the objections of her well-meaning but needy mother, and a friendly but overly curious neighbor who may or may not be beating his daughter.

Layla and Majnun by Nastaran Ahmadi, directed by Susanna Gellert. Layla, a young Iranian-American living in Southern California, cares for her speechless father in an empty apartment in the weeks after the 9/11 attacks. Here, Layla reads de Tocqueville, wears a gas mask, and is visited by Majnun, a character from an Iranian folktale, while she struggles to identify a heritage that she has never truly known. Can she be an American and an Iranian, or does she have to choose?

Love Person by Aditi Brennan Kapil, directed by John Eisner. Through Sanskrit, American Sign Language, and English, two sisters and their partners search for human contact and for love. Is it possible for two languages to fall in love, or for love to survive without communication? And does sex really trump words?

Neighbourhood Upside Down by Nina Mitrovic, directed by Michael Johnson-Chase. In this series of vignettes, the various inhabitants of a very tall apartment building engage in micro-dramas until one person exits by way of the window, encountering fellow jumpers on the way down who are also searching for redemption. In this upside down world, are they falling from the Tower of Babel?

Vaidehi by Gautam Raja, directed by Connie Grappo. Vaidehi begins with a birth and ends with its conception. A prisoner of societal expectations, Vaidehi struggles to fight the origin of her name (one of exemplary womanly and wifely virtue) to find intimacy and independence amongst the men that surround her.

Wild Men of the Woods by Elisabeth Karlin, directed by Sturgis Warner. In a brutal New York City winter, a tarnished golden boy who had it all and lost it, finds himself out on the fringe with some unlikely company. Wild Men of the Woods tells a story of survival, responsibility, great apes, and the eternal longing for warmth.



ELLA with a book by Jeffrey Hatcher, conceived by Rob Ruggiero and Dyke Garrison, with musical direction and arrangements by Danny Holgate; directed by Rob Ruggiero; starring Tony Award nominee Tina Fabrique.

Ella features nearly two dozen songs including, Cheek to Cheek, That Old Black Magic, and How High the Moon. For more than half a century, Ella Fitzgerald, the First Lady of Song was the most popular female jazz singer in the country. Here is an evening of music and song which reveals the highs and lows of one of our country's most loved artists. Be swept along by a cascade of her best-loved songs in a celebration of her remarkable life.

The creative staff includes Michael Schweikardt (scenic design), John Lasiter (lighting design), Alejo Vietti (costume design), Charles (Chuck) Lapointe (wig design), and Michael Micelli (sound design). The company includes George Caldwell (piano/conductor), Brian Sledge (trumpet), Frank Derrick (drums), Rodney Harper(drums), Brian Walsh (bass) and John Rosen (Norman).

Presented by San Diego REPertory Theatre, performances began Saturday, September 9 with Opening Night on Friday, September 15 running through October 15 on the Lyceum Stage in Horton Plaza in downtown San Diego.

LEADING LADIES by Ken Ludwig. Two English actors, down on their luck, have resorted to performing on the Moose Lodge circuit in the Amish country of Pennsylvania. Add a wealthy old woman searching for her two long-lost heirs. Then, mix in the beautiful niece who longs to be in the theatre and you have a rollicking new comedy of mistaken identities September 13-October 1 at the Flat Rock Playhouse in Flat Rock, NC.

RABBIT HOLE By David Lindsay-Abaire. Directed by Michael Bloom.

When a tragic accident turns the Corbett family's world upside down, everyone copes with the loss and the need for renewal in their own way. Written by one of America's most important young playwrights, Rabbit Hole is a moving family play that charts the Corbetts' bittersweet search for comfort and a path that will lead them back into the light of day.

September 15-October 8 at the Cleveland Playhouse.

FIFTY MILLION FRENCHMEN the 1929 hit by Cole Porter will be presented by London-based Lost Musicals, a non-profit troupe specializing in "neglected musicals by America's finest theatre writers".

Directed by Ian Marshall Fisher. The musical director is Mark Mitchell. The cast features KT Sullivan, Sondra Lee, Christine Pedi, Donna Coney Island, Catherine Lavalle, Maurice Edwards and Mary Ellen Ashley; also Katie Adams, Roger De Witt, Richard Marshall, Sean McKenzie, Keith Merrill, Michelle Niklaus, Dale Radunz, Jeffrey Stern, and Mark Vietor.

This first ever revival has a script by Herbert Fields and features such Porter songs as You Do Something to Me, You've Got That Thing, You Don't Know Paree, and I Worship You.

Performances Sept. 17, 24 and 29, and Oct. 8 at the French Institute's Florence Gould Hall in New York City.

TONIGHT AT 11

Fritz Coleman in Tonight At 11 Photo by Wesley Horton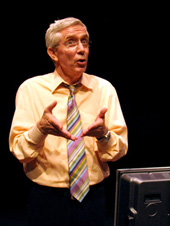 Written and performed by Fritz Coleman.

Directed by LA Drama Critics Circle Award winner, Richard Kline.

Truth proves stranger than fiction when Fritz Coleman exposes the behind-the-scenes drama at a fictional Los Angeles television station.

As a real life award-winning weathercaster for NBC4, Coleman delights in giving us an insider's look at what goes on during your "typical" late night broadcast, behind the camera and off the air.

News from the inside out comes off the TV and onto the Falcon Theatre stage.

Performances through October 1 at the Falcon Theatre in Burbank, CA.

SISTERS by Declan Hassett. Starring Tony award winner Anna Manahan making her first appearance on the New York stage since winning that 1988 Tony for her performance in Beauty Queen of Leenane.

The play was written specifically for the 81-year-old Manahan, who plays both Martha and Mary, two sisters whose lives have taken very different turns. The characters are based on the biblical sisters with the same names, traditionally seen as representative of spirituality (Mary) in contrast to action (Martha). Earthy country humor mixes with gentle pathos - a memorable evening of theatre with a twist in the tale.

Directed Michael Scott. Designed by Stuart Marshall. Costumes by Michael McCaffery.

First presented at the Everyman Theater in Cork, Ireland. Presented by the Colorado Festival of World Theatre in association with the City Theatre Dublin.

Opens Sept. 12 at 59E59 Theatres in New York City with performances through October 15.

MY LIFE AS YOU a new romantic comedy by Laura Rohrman. Featuring Jeff Branson of All My Children. Directed by Emmy-nominated Fritz Brekeller.

Set in 1998, with the Monica Lewinsky scandal as a backdrop, Stella and Diana are two confused women on the cusp of change. In an attempt to figure out who they are and what they want, they will do anything and everything, from moving around the country on a whim to stealing each other's boyfriends, and attempt to become someone they are not – all to find a little happiness. A psychological comedy that examines obsessive female friendships, love, sex and how to survive your twenties intact.

Opens September 14 at The Producers Club II in Los Angeles.

SOUTHERN COMFORTS

Kathleen Clark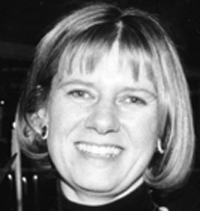 A New York Premier by Kathleen Clark. Directed by Judith Ivey with Penny Fuller and William Biff McGuire.

Some people need continuous change in order to feel vital and alive. Others are terrified of unsettling the peace that they have established.

Southern Comforts is an exploration of the intimate workings of all relationships.

Two-time O'Neill Playwrights Conference participant Kathleen Clark takes us on a journey of a widow and a widower who meet later in life and find a way into each other's hearts.

September 19-October 29 at Primary Stages in New York City.

WINDY CITY based on The Front Page, written by Ben Hecht and Charles MacArthur. Score by Tony Macaulay.

Directed and Choreographed by Marc Robin.

Ace reporter Hildebrand "Hildy" Johnson wants to do the impossible. He has a new fiancée, a new job in the movie business and a new life waiting for him on the West Coast. All he has to do is quit the Chicago Examiner and leave his scheming editor, Walter Burns. Easier said than done however, as the devious Burns won't let his top reporter go that easily. On Hildy's last day, the boys in the press room are awaiting news on Earl Williams, a mentally unhinged murderer who has a date with the executioner in the morning. Sensing one last big scoop, Hildy works feverishly to knock out one more story before his new life begins. What follows is total calamity as the condemned Williams escapes from police custody. Will Hildy finish his story before his train and his fiancée leave for the West Coast? What has become of the fugitive Earl Williams? And what does Walter Burns have up his sleeves to keep Hildy from leaving the Examiner? Bullets and comic barbs fly left and right as the show rumbles like an "L" Train to its hilarious conclusion.

This has become one of the most often-told tales in American popular culture over the past 80 years, having spawned numerous incarnations, including the original 1928 stage production and the 1940 films His Girl Friday, starring Cary Grant and Rosalind Russell) and The Front Page (1974, starring Walter Matthau and Jack Lemmon, directed by Billy Wilder). In the early part of the 1980's Tony Macaulay and Dick Mosburgh collaborated on bringing a musical version of this classic story to life. Windy City premiered on London's West End in 1982. Composer Tony Macaulay has sold more than 52 million records worldwide. Twenty-four of his songs have been Top-20 hits (Build Me Up, Buttercup, Don't Give Up On Us Baby and Love Grows (Where My Rosemary Goes) just to name a few). He has twice been honored by the British Film Academy as Songwriter of the Year. Mr. Macaulay has won the British Academy Award a staggering nine times. Writer and lyricist Dick Vosburgh has received two Tony nominations for his work on the 1980 Broadway production of A Day in Hollywood, A Night in Ukraine.

The company of Windy City includes; Broadway veteran David Elder, Cristen Boyle, Paul Schoeffler, Keith Gerchak, Denise Whelan Bev Appleton, Maggie Anderson, Harold Barnard, Bill Bateman, Stephen Berger, David Brummel, Curt Dale Clark, Jeffrey Coon, Michael Daly, Kelley Faulkner, Lee Golden, William Hartery, Colleen Hazlett, Donna Ryan, Peter Schmitz, William Solo and Stuart Zagnit.

The design staff includes; Musical Director is Douglass G. Lutz. Set Designer Robert Kovach. Lighting Designer Paul Wonsek. Costume Designer Colleen Grady Sound Designer Ryk Lewis.

Windy City runs at the Walnut Street Theatre in Chicago through October 22.

AMADEUS a modern classic returns to the London stage presented by the English National Opera.

Within the magical, intimate atmosphere of Wilton's Music Hall, 2006 Tony Award winner John Doyle will direct Peter Shaffer's masterpiece Amadeus, with a cast led by Olivier Award winning Matthew Kelly.

Sir Peter Shaffer, one of Britain's most widely-seen and critically acclaimed playwrights, adapted the filmAmadeus from his long-running Broadway and London stage hit that won numerous awards, including five Tony's in 1981, (Best Play, Best Actor, Best Director, Best Lighting and Best Sets.)

The production staged by the English National Opera has only 30 performances September 14 - October 15 at Wilton's Music Hall in London.




| | | |
| --- | --- | --- |
| | | |
WHO'S WHERE


IAN GILLAN the voice of Deep Purple performs at the House of Blues in Las Vegas on Sunday, September 17.

AIN'T NOTHING LIKE THE REAL THING An Evening with Ashford & Simpson Sept 12-23 at Feinsteins at the Regency, in New York City.

JOE FRANCIS WITH SPECIAL GUEST MICHAEL MORANO perform Sept 17-18 at Feinstein's at the Regency in NYC.

JACK JONES performs September 12-23 at the Algonquin Hotel, New York City.

ELAINE STRITCH opens open the fall season at the Café Carlyle in Manhattan performing her new show, At Home at the Carlyle II, from Sept. 12 through Nov. 4. For those who know where Stitch calls home - she lives at the Carlyle, exactly three floors above where she will be performing.

MICHAEL FEINSTEIN on stage Saturday, September 16, at Irr Auditorium in New Wilmington, PA.

THE WHO kick off their latest tour Tuesday, September 12 at the Wachovia Center in Philadelphia. On Wednesday they are all over the Jones Beach Theatrestage in Wantagh, New York. On Friday the show is at Scotiabank Place in Ottawa, Ontario and on Saturday they can be enjoyed at the Fleet Center in Boston.

MARIAH CAREY performs Monday, September 11 at the United Center in Chicago. On Thursday she is on stage at the Toyota Center in Houston. Saturday finds her at the American Airlines Center in Dallas.

HOWIE MANDEL getting laughs at John Ascuaga's Nugget in Sparks, Nevada on September 16.

MANDY PATINKIN the Tony and Emmy winner, will open The UNLV Performing Arts Center's 31st season on Sept. 16 as part of the New York Stage & Beyond series. Backed by Paul Ford, pianist, Patinkin will perform the music and lyrics of Rodgers and Hart, Stephen Sondheim, Harry Chapin, Irving Berlin, and Cole Porter. The University of Nevada in Las Vegas.

JAZZ AT LINCOLN CENTER'S OPENING CONCERTS of the new season are a series of shows based on the music of John Coltrane on the 80th anniversary of his birth. Thursday through Saturday at the Rose Theater, Wynton Marsalis and the Jazz at Lincoln Center Orchestra will present Coltrane, a program of his pieces originally recorded between 1957 and 1963.
















Next Column: September 17, 2006
Copyright: September 10, 2006. All Rights Reserved. Reviews, Interviews, Commentary, Photographs or Graphics from any Broadway To Vegas (TM) columns may not be published, broadcast, rewritten, utilized as leads, or used in any manner without permission, compensation/credit.
Link to Main Page
---
Laura Deni


CLICK HERE FOR COMMENT SECTION