! >
Broadway To Vegas
  SHOW REVIEWS     CELEBRITY INTERVIEWS     GOSSIP     NEWS 

To all of those who are receiving Emmy Awards as we are launching this edition, we offer our joyous congratulation.
To all of you who are wearing borrowed jewelry - don't lose any of it - as has happened and don't forget to return it. It's embarrassing when security guards storm your hotel room - as happened to one actress recently.

HBO will stage a party for all of their shows -The Sopranos - at Spago's in Beverly Hills.


TENNESSEE PERFORMING ARTS CELEBRATES AND TANDY CRONYN FOLLOWS IN HER PARENTS' FOOTSTEPS

The Tennessee Performing Arts Center is celebrating it's 20th birthday with a month long lineup of specials. The Tennessee Performing Arts Center, headed by TPAC's president Steven J. Griel, has a right to be in a festive mood. When the place was being built many felt it would never survive - that Nashville would support sports but never the arts. The dedication, hard work and excellent productions have given the center a reputation that is admired.



Les Miserables makes their sixth Nashville appearance

TPAC has put together an ambitious lineup of arts events throughout the month. The cornerstone of the celebration is Fest de Ville Nashville, a weekend arts festival on Sept 22-24 which will include both indoor and outdoor events in the TPAC theaters, on Deaderick Street and on War Memorial Plaza.

The celebration also includes the Mark Morris Dance Group and the sixth Nashville engagement of Les Miserables, the touring Broadway musical, on Sept 26-Oct 1.

And throughout the month, TPAC's resident groups will be offering special programs, some of which the arts center has specially commissioned or supplemented with extra funding.

These include the Tennessee Repertory Theatre's production of Wit - Sept 20-Oct 7 - Margaret Edson's 1999 Pulitzer Prize winning play starring Tandy Cronyn, the daughter of Jessica Tandy and Hume Cronyn. Tandy's previous acting experiences have included Getting Out, The Story Lady (1991), Twisted (1986) The Guardian, and Age Old Friends.

On Sept 22 The Nashville Opera's Opera Goes Hollywood in a cabaret evening of opera arias; the Nashville Ballet's new production of Peter and the Wolf on Sept 23-24, with choreography by artistic director Paul Vasterling and costume and set designs by Tennessee artist Norris Hall; and Circle Players 42nd Street.

There is special excitement about Peter and the Wolf, which TPAC commissioned, because of Hall, who is well-known for his whimsical animal characters and other colorful images - vaguely reminiscent of Warner Bros. cartoons - featured on everything from Tennessee license plates to murals.

With four principal singers, a chorus of 10 and the Nashville Chamber Orchestra in the pit, Opera Goes Hollywood will attempt to please longtime opera fans as well as serve as an introduction to opera for less experienced listeners.

Artistic director John Hoomes chose to focus on excerpts from two works, Mozart's The Marriage of Figaro and Lehar's The Merry Widow, both of which have been used extensively in films. Figaro played heavily in two recent films - Trading Places starring Eddie Murphy and The Shawshank Redemption starring Morgan Freeman and Tim Robbins.


MUFARO'S BEAUTIFUL DAUGHTERS MAKE BIG MONEY FOR TOURING COMPANY

"Touring is the biggest thing we do now - it grosses half a million dollars a year, far more than we earn on our mainstage - yet we hope to double that in the future." So declared James Larson, artistic director of the Omaha Theater Company for Young People

Mufaro's Beautiful Daughters an African cultural play, is hitting the road with the Omaha Theater Company for Young People under the tour direction of Michael Wilhelm. This tour will hit 27 cities reaching 80,000 viewers.

It's a stage adaptation by company playwright Karen Abbott of the familiar story by John Steptoe, a charming Cinderella-like fable about an African village leader whose two daughters are sent to the territorial king to be judged as possible royal wives. One is spoiled, lazy, dishonest and headstrong, and the other is demure and kindly. The girls have to travel through a rite of passage arranged by the king to test their character.

Kenny Glenn, portrays the dual role of village leader and father. Stephanie Anderson directs. Costumes by Sherri Geerdes. The road company will have a cast of four: Glenn; Quiana Smith as Manyara, the spoiled daughter; Donna Davenport as Nyasha, the kindly daughter; and Michael Pasqualone, Los Angeles-based actor, as Chinouyazue, the narrator of the fable. It is a full-dress production, with all the tech support of a home production. In fact, Wilhelm is serving as technical director on the tour, who stresses that the shows are not watered down.

The touring company will leave Omaha Sept. 18 and return the day before Thanksgiving. Its longest stays - three days each - will be in Grand Rapids, Mich., and Fayetteville, Ark. Where they will do six performances, playing to a total of 12,000 people there.


SWEET CHARITY

BLOOMER GIRL Cotton Blossom Musicals and Theatre@St. Clement's Church presents Bloomer Girl, Harold Arlen and Yip Harburg's classic 1944 musical hit. The show will run through September 24th.

Performances are Thursdays through Saturdays. Tickets for the show are $25, which includes a $5 contribution to the Theatre @ St. Clement's capital campaign. Thursdays are "Pay-What-You-Wish" nights, with all proceeds going to Seven Works, a neighborhood not-for-profit charity in Hell's Kitchen/Clinton.

Penned shortly after Harburg and Arlen's smashing success The Wizard of Oz, Bloomer Girl originally starred Celeste Holm and ran for 654 performances on Broadway.

Set during the Civil War, the musical focuses on Dolly Bloomer, the publisher of The Lily, an early feminist and abolitionist publication, and Dolly's fictitious niece, Evelina, whose father is a prominent hoopskirts manufacturer. The action centers on Dolly and Evelina's attempts to eradicate the wearing of hoopskirts in favor of the much less confining and inhibiting bloomers. The show also depicts the women's efforts to help an escaped slave to freedom via the underground railroad.

The charming and eclectic score includes "The Eagle and Me" - which Stephen Sondheim recently included in his list of Songs I Wish I Had Written, as well as the lyrical Right As the Rain, and the spirited It Was Good Enough For Grandma (But It Ain't Good Enough For Us) Agnes DeMille choreographed the original production, including the controversial "Civil War Ballet," and her work provides the inspiration for this production.

Directed by Alisa Roost, Bloomer Girl will be fully staged with musical direction by Myra Vassian and choreography by Julia Baumgarten, Heidi Flanagan and Amy Shure. The show also boasts period costumes by James E. Crochet, lighting by Alan Keen, and settings by Ron Meyers. The stellar cast of 25 has collectively performed on Broadway and in national tours of Cats, Showboat, and Riverdance to name just a few. The company includes Maryellen Conroy,* Meghan Maguire, Amy McAlexander, David McMullin,* Greg Mills,* Les Minski,* PJ Nelson,* Tonianne Robinson,* Amy Shure,* Raphael Darrell Sligh, Frank Stellato,* Geoff Sullivan,* and Lee Winston* (* denotes performers appearing courtesy of Actor's Equity Association)

Generous support of the Harburg Foundation and the Adolph and Ruth Schnurmacher Foundation has helped make this production of Bloomer Girl possible. This production of Bloomer Gir is an equity approved benefit, and all proceeds will go to Seven Works. Serving the economically disadvantaged of the Hell's Kitchen/Clinton neighborhood, Seven Work offers a variety of programs. These include numerous educational opportunities (such as after-school and summer programs for children, and ESL programs for adults), a food pantry, a free vet clinic for the animals of homeless and needy people, and employment opportunities for adults with limited abilities.

CATS GARAGE SALE Sept. 16, 10 AM-6 PM, the Winter Garden auctioning off Cats props, costumes and other memorabilia. The tire will be up for grabs, as will Railway Cat train pieces and various window cards. The $10 admission and all proceeds will go to Broadway Cares/Equity Fights AIDS.



Broadway To Vegas is supported through advertising and donations. Priority consideration is given to interview suggestions, news, press releases, etc from paid supporters. However, no paid supporters control, alter, edit, or in any way manipulate the content of this site. Your donation is appreciated. We accept PAYPAL. Thank you for your interest.


HEWES DESIGN AWARDS 2000

Tomorrow at a luncheon at the Mariott Marquis Hotel in New York City, the Hewes Design Awards will be presented. 45 designers have been nominated for outstanding artistry in 24 production presented during the 1999-2000 New York theatre season. The Hewes Design Awards were originally called the Maharams and later known as the American Theatre WingDesign Awards.

These annual awards - now in their 36th year and renamed last year for co-founder Henry Hewes - honor Of Broadway and off-off Broadway as well as Broadway designers for designs originating in the U.S. winners receive honoraria and citations. Those nominated and the winners are:


SCENIC DESIGN

John Lee Beatty Proof
Michael Brown The Price
Bob Crowley Aida
David Gallo Jitney, The Wild Party (MTC) WINNER
David Jenkins James Joyce's The Dead
Thomas Lynch Contact, The Music Man
Neil Patel Lydie Breeze
Robert Brill The Laramie Project
Myung Hee Cho Gertrude and Alice
Richard Foreman Bad Boy Nietzsche
Edward T. Gianfrancesco The Big Bang
Eugene Lee A Moon for the Misbegotten
Rob Odorisio An Empty Place on the Cafe du Grand Boeuf
Robin Wagner Kiss Me Kate, The Wild Party

COSTUME DESIGN

Gabriel Berry Lydie Breeze
Bob Crowley Aida
William Ivey Long Contact, The Music Man, Swing WINNER
Martin Pakledinaz Kiss Me Kate, The Wild Party(MTC)
Jane Greenwood James Joyce's The Dead
Susan Hilferty Dirty Blonde, Jitney
Basil du Maurier (aka Boyd Graham) the Big Bang

LIGHTING DESIGN

Pat Collins A Moon for the Misbegotten
Peter Kaczorowski Contact, Kiss Me Kate, The Music Man WINNER
Kenneth Posner Swing, The Wild Party(MTC)
Mimi Jordan Sherin Gertrude and Alice
Nataska Katz Aida
David Lander Dirty Blonde
Rui Rita Dinner with Friends
Jennifer Tipton James Joyce's The Dead

NOTEWORTHY UNUSUAL EFFECTS

Diller+Scofidio, design & video concept, Christopher Kondek video designer, Dan Dobson sound, Jennifer Tipton lighting, dbox/James Gibbs & Fric Schuldenfrei computer animation, Peter Norman video co-designer/video system designer for JET LAG
Boyd Graham, Edward T Gianfrancesco, Basil du Maurier, Jennie Marino, theLipbalm Penthouse backer's audition environment for THE BIG BANG
Molly Hughes set, Jane Con lighting, Laurie Olinder projection & costumes, J. Hagenbuckle, sound, for HYPATIA or THE DIVINE ALGEBRA
William Ivey Long, tap-shoe bedroom slippers, for SWING
Steve O'Hearn sets, puppets, costumes, for SWUONK WINNER
Gregory Meeh special effects for VOICES IN THE DARK
Dan Moses Schreier sound for DIRTY BLONDE

CURTAIN DOWN

THE VISIT the John Kander-Fred Ebb musical based on Friederich Duranmatt's famous play about a rich woman who seeks revenge on a man she once loved - scheduled to open on Broadway this spring - has been postponed at least until next season. Producer Barry Brown was unable to find a star to replace Angela Lansbury, who dropped out of the show over the summer after her husband became ill. That prompted a principal backer to cut her $4 million investment to $1 million. Producers are looking at mounting a cheaper version in London. Diana Rigg's name is being bandied about as the possible star.

STEVE LAWRENCE AND EYDIE GORME closed the Caesars Palace showroom in Las Vegas with style, class, a video retrospective of the stars who played the famous showroom and Steve's keen sense of humor - he brought down the house explaining to Steve Wynn that it was going to take more than his imploding of so many hotels to get rid of Paul Anka.

CATS closes tonight after 8 years, 7,485 performances, seven Tonys - including best musical - and the distinction of having been seen by more than 10 million people, grossing more than $388 million.

Tonight's final howl is a by invitation-only show followed by a Jellicle Ball party for 1,500 people at Pier Sixty. A Grucci fireworks display will cap the evening.

The second-to-last performance, September 9, was a benefit for the Actors' Fund, while yesterday's matinee had an audience filled with alumni from the show's past 18 years. Over 1,000 actors, stagehands and crew have taken part in the show.

Cats opened October 7, 1982, and, on June 19, 1997, passed A Chorus Line as the longest-running Broadway show of all time. The show's original cast recording won a Grammy and sold more than 2 million copies.

Around the world, more than 50 million people have seen Cats - to the tune of $2.5 billion - in such countries as Iceland, Korea, Belgium, Spain and Hong Kong. The still-running London production, which opened May 11, 1981 at the New London Theatre, is the country's longest-running musical.

Several costumes, set pieces, and the original conductor's score will go into the Smithsonian Institution.



MEN ARE FROM MARS, WOMEN ARE FROM VENUS
will translate from a1992 best-selling book with sales of 14 million, to a Las Vegas theatrical production. According to the author, John Gray, who was in Las Vegas touting the project - this is a musical comedy. "All the messages of my book are there, but cleverly disguised as pure entertainment."

The production begins previews Sept. 18 at the Flamingo Hotel, officially opening in the 750-seat showroom on September 28.

The production includes a 10-member cast featuring Janien Masse and Mark W. Smith, who starred in the now shuttered Notre Dame de Paris. She was Esmeralda and he was Phoebus. Men Are From Mars features 28 songs written by Rita Abrams.

On September 13 Gray gives his "Practical Miracles for Mars & Venus" lecture at the Hilton Hotel, in Parsippany, NJ.

MISS SAIGON which closes on Broadway December 31 moves to Chicago, as part of their 2001 season. It will be an entirely new production of the famous pop-musical treatment of Madam Butterfly,Expect a longer than normal run at the Chicago's Mariott.

FAME Husby Performing Arts Center, Washington Pavilion of Arts and Sciences, Sioux Falls, S.D. September 22-23 Tickets: $24.25, $37.75 and $47.75.

LILY TOMLIN in The Search for signs of Intelligent Life In The Universe written and directed by Jane Wagner now thru October 7 at the Seattle Repertory Theatre. Production then moves to New York.

SWEENEY TODD:THE DEMON BARBER OF FLEET STREET called The Original Serial Killer. Performances begin September 20 for this production by C.G. Bond, which will be directed by Marc Geller. The cast includes: Edwin Sean Patterson as Sweeney Todd, Zoey O'Toole as Mrs. Lovett and David Paterson, J.M. McDonough, Charlie Romanelli, Ellen Lindsay, Tom Kulesa, Mary Beth Twisdale, Mike Murphy and Gabe Hernandez as the rest of the colorful characters that inhabit the demon barber's 19th century London home. The lighting design is by Frank DenDanteIII. Gloria Maddox Theatre, NYC.

BETRAYAL by Harold Pinter has cast Juliette Binoche, Liev Shrieber and John Slattery. David Leveaux directs. Productions opens at the Roundabout, NYC.

SEUSSICAL still set for a Nov 9th opening at the Richard Rodgers Theatre, NYC got mutilated by the Boston critics.

SING ALONG SOUND OF MUSIC it's the highest grossing film musical of all time and approaching its 35th anniversary, the production has been reinvented as a campy sing-along. The audience participatation version - think The Rocky Horror Show has crossed the pond after playing to delirious crowds at the Prince Charles Cinema in London.

You're encouraged to attend in costume and interact - in this instance - at the Ziegfeld Theater in New York City. The basic premise is simple: During such Rodgers and Hammerstein standards as Sixteen Going on Seventeen; So Long, Farewell and Climb Ev'ry Mountain, moviegoers sing along to the lyrics, which appear on the screen as subtitles - your parents did that when Mitch Miller was on television - Sing Along with Mitch.

In this case, you're not in the privacy of your own home but out in public where the entire audience is having a ball. In addition to singing along, audience members hold up queue cards and yell out instructions to the actors.

In London, when Julie Andrews' fellow nuns ask, "How do you solve a problem like Maria?" the crowd holds up postcards printed with question marks. When Captain von Trapp (Christopher Plummer) first kisses Maria, they let throw confetti and let loose with the pull of party poppers. Nuns' habits and lederhosen are popular choices.


WHO'S WHERE

DARYL HANNAH

DARYL HANNAH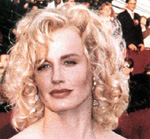 makes her professional stage debut in The Seven Year Itch despite having "this big thing with stage fright."

The actress, who once was the significant other in the late JFK, Jr.'s life, will play the role Marilyn Monroe played in the hit 1955 film. Of course, Monroe is said to have had a relationship with JFK, Sr.

The production opens October 9 at London's Queen's Theater.

BRITNEY SPEARS N.O. Superdome, LA September 20.

CHRISTINA AGUILERA plus Destiny's Child, UNO Lakefront Arena, LA September 27.

CHICK COREA performs Thursday-Saturday at the Blue Note inside the Aladdin Hotel, Las Vegas. The nine-time Grammy winner gets to Vegas early so he can check out the Blue Man Group at the Luxor Hotel. Son Thaddeus has been a drummer with the unusual aggregation for the past five years. This will be the first time Chick has had an opportunity to see him son in this production. The Old Man in is for a culture shock.

OAK RIDGE BOYS will be appearing for two concerts at the Grand Palace in Branson, Missouri on September 18.

CHARLOTTE CHURCH the 14-year-old Welsh vocalist, appears tonight with The Nashville Symphony in Nashville.

CLEO LAINE September 12-23 at Feinstein's in New York City.

ANA GASTEYER, MERCEDES RUEHL & BROOKE SHIEDS starring in The Vagina Monologues thru September 24. Westside Theatre, NYC.

PATTI LUPONE with her Matters of the Heart has 19 performances October 15-December 17 at Lincoln Center Theater, NYC.

JERRY LEWIS who closes his first engagement of his new contract this evening at the Orleans Hotel, Las Vegas, just bought his wife, Sam, a horse.


THIS AND THAT

CLINT HOLMES recovering from a torn knee cap he received when he did just one too many high-energy, sexy moves during his performance at Harrah's Hotel, Las Vegas.

CINE VEGAS INTERNATIONAL FILM FESTIVAL will be held at the Paris Hotel, Las Vegas Nov. 28-Dec.2 showing the best of eight film festivals including London, Sundance and Toronto. Over 60 film will be screened.

TIARAS TURNING HEADS Prince Albert of Monaco has been doing the charity circuit in New York. Tomorrow Sarah Ferguson, the Duchess of York, co-hosts the Regis Talk Show and Crown Prince Philippe and Princess Mathilde of Belgium went into the D'Agostino supermarket at 23rd and 8th Ave to offer samplings of the Belgian products that will be sold at 24 D'Agostineo stores.




Mention BROADWAY TO VEGAS for Special Consideration
Call (800) 942-9027









Next Column: September 17, 2000
Copyright: September 10, 2000. All Rights Reserved. Reviews, Interviews, Commentary, Photographs or Graphics from any Broadway To Vegas (TM) columns may not be published, broadcast, rewritten, utilized as leads, or used in any manner without permission, compensation and/or credit.
Link to Main Page
---
Laura Deni


CLICK HERE FOR COMMENT SECTION