! >
Broadway To Vegas
  SHOW REVIEWS     CELEBRITY INTERVIEWS     GOSSIP     NEWS 
| | |
| --- | --- |
| | |
$5 MILLION TEX RITTER MUSEUM - - CARL REINER AND DEBBIE REYNOLDS HONORED - - SERGIO FRANCHI FOUNDATION - - NICKEL AND DIMED - - YAKOV SMIRNOFF TO BROADWAY - - THE STONES ROLL ALONG - - ROBIN WILLIAMS LEAST LIKELY TO SUCCEED - - BETTER WITH A BAND - - DONATE . . . Scroll Down


$5 MILLION TEX RITTER MUSEUM OPENS
Tex Ritter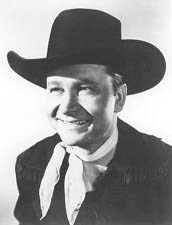 Woodward Maurice "Tex" Ritter, the beloved singing cowboy, who got first big break starring on Broadway, was born in the Carthage Murvaul Community of Panola County, Texas.

Recently the ribbon was cut in Carthage to unveil the new $5 million Tex Ritter Museum, located next to the Chamber of Commerce Building.

Tommie Smith, president of the Chamber of Commerce and head of the Tex Ritter Museum, spoke with Broadway To Vegas about the Tex Ritter Museum.

Ritter began his singing career at radio station KPRC in Houston in 1929. In 1930, he toured with a band throughout the South and Midwest. The following year, he joined the New York Theater Guild and appeared in Green Grow the Lilacs - the play that later served as the basis for the musical Oklahoma.

In 1932, he became a featured singer in the Madison Square Garden Rodeo, which further established his "singing cowboy" reputation. He soon landed a starring role in The Lone Star Rangers, one of the first western radio programs in New York.

Ritter's first movie contract followed in 1936. He went on to make eighty-five movies, seventy-eight of which were westerns. He distinguished himself from other popular cowboy stars like Gene Autry by singing traditional western folk songs instead of contemporary western tunes. His hits include Rye Whiskey (1931), Boll Weevil (1945), Wayward Wind, Hillbilly Heaven, You Are My Sunshine (1946), and High Noon (1952).

He married Dorothy Fay Southworth on June 14, 1941 and became parents to two sons, John and Tommy. In 1959, Ritter starred in the TV series Ranch Party, which ran until 1962. The Country Music Hall of Fame honored Ritter in 1964 as its fifth inductee. He was president of the Cuntry Music Hall of fame from 1963 to 1965, and launched an unsuccessful campaign for the U.S. Senate from Tennessee in 1970.



The Tex Ritter Museum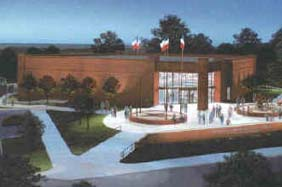 "In 1992 we opened the Tex Ritter Museum in the Chamber of Commerce office," explained Smith. "It was in the multi story Hawthorne-Clabaugh-Patterson antebellum home off of the downtown area. We opened the whole top floor which was about 3,000 square feet and made it the Tex Ritter Museum. We've had such good luck and success with that - so many tourists - that in 1998 we expanded to include some of Tex's country music friends that were also born in Texas. We called that part of the Museum the Texas Music Hall of Fame."

"A couple of years ago the city got involved and they sold bonds and raised the money to build us a 13,000 square foot $2.5 million dollar building for our two museums. It's a beautiful building. We moved in and cut the ribbon two weeks ago."

So what does this museum have?

"Everything! You name it and we have it!" exclaimed Smith. "The family is very supportive. They gave us all the stuff. John and Tommy have just been wonderful.



Tommie Ritter Smith, Tommy Ritter, Texas Country Hall of Famer Charlie Walker, who was contracted by the Golden Nugget in Las Vegas as an MC 25 weeks a year during the 1960s. An avid golfer Walker would top the Las Vegas Sahara Invitational Golf Tournament. County legend Ralph Emery is at the right.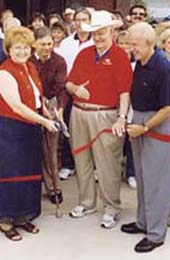 "John was in production for his new show, so couldn't attend but Tommy cut the ribbon," explained Smith referring to John's new ABC sitcom with Katey Sagal, 8 Simple Rules for Dating My Teenage Daughter, based on the best-selling book by Bruce Cameron, beginning September 17 - coincidentally John's 54th birthday.

"I am actually their cousin," Smith finally fessed up. "My grandfather Ritter and Tex's dad were brothers. So, he and my dad were cousins.

"John and Tommy are really cute together," continued their delightful cousin. "John is a very, very compassionate. You'd think a Hollywood star would be bratty and selfish but he is so concerned about other people's feelings. He is so adorable. I just love him to death. Tommy is, too. The whole town loves Tommy because they have gotten to know him. He is here every year and stayed for longer periods of time."

"When I came back to Carthage after I left after high school, I took the job as manager of the Chamber. Then the Chamber allowed me to do the Museum. So, I am president of the Chamber of Commerce - been there for 21 years - and I'm also President and Founder of the Museum. I do that in my spare time," she laughed.

"Tex Ritter is still widely loved. 90 percent of our traffic is to see his memorabilia," Ritter Smith added. "He was born here and he was always proud of that. In all of his press releases, in everything he did, he bragged about being from Panola County. We just felt like we needed to honor him."

"The family is very supportive," Smith emphasized. " Mrs. Ritter always wanted a Tex Ritter museum. I wanted to do that and they allowed me to do it. They have been extremely supportive and they are very grateful that I am preserving Tex's memory," Ritter Smith reiterated.



Larger than life statue of Tex Ritter and his horse by Sculptor Bob Harness
Tom Ritter, songwriter Joe Allison and his wife, and John Ritter posing with a tabletop version of the statue of Tex Ritter and his horse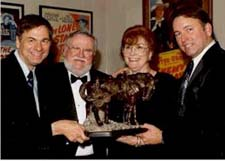 For those passing through the town of 7,500 the museum is difficult to miss, especially the "the larger than life bronze statue of Tex Ritter and his horse White Flash out front. On the other side of the Plaza there is a star shaped area with brick around it that has five Texas flags. It is a beautiful building," Ritter Smith stressed.

In the center of the exhibit area, a replica of a 1930's theater marquee reminds visitors of the role of country music in the movies. Neon and globe lights catch visitor's eyes as they move through the museum and a video display continuously runs vintage singing cowboy movies.

Also serving as an entrance to the Tex Ritter Museum, the marquee hovers over displays of some of Ritter's many costumes from his movie days. There is also a recreation of Tex's den.



Brothers Tom and John Ritter examine an item from their father's museum display at the Tex Ritter Museum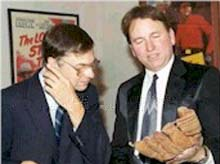 The museum displays and case work, designed by Southwest Museum Services of Houston, Texas, are designed to preserve the collection. Constant humidity and temperature control and low ultraviolet emission lighting are used to minimize damage to the artifacts.

"This is a small town and everybody is amazed that we have the Texas County Music Hall of Fame. It has gotten us all kinds of publicity," Ritter Smith continued.

"When I opened the Museum I started using Ritter as my middle name. I don't us a hyphen. Depending upon who calls, I am either Tommie Ritter or I am Tommie Ritter Smith. I adore my husband I wouldn't trade him for anything, but I kid him all the time saying I'll always be a Ritter, but I may not always be a Smith - unless you play your cards right."

The Tex Ritter Museum is open from 10 a.m.- 4 p.m. Monday-Saturday.



Broadway To Vegas is supported through advertising and donations. Priority consideration is given to interview suggestions, news, press releases, etc from paid supporters. However, no paid supporters control, alter, edit, or in any way manipulate the content of this site. Your donation is appreciated. We accept PAYPAL. Thank you for your interest. Laura Deni P.O. Box 60538 Las Vegas, NV 89160



CARL REINER & DEBBIE REYNOLDS HONORED the first Steve Allen Pioneer of Comedy award will be presented to Carl Reiner at the Las Vegas Comedy Festival. Sept. 4-8 at the Stardust Resort & Casino. Jayne Meadows will make the presentation. Debbie Reynolds will receive a lifetime achievement award. The Las Vegas Comedy Festival kicks off with a Wednesday cocktail reception.


SWEET CHARITY


ACTOR'S FUND ANNUAL BENEFIT CONCERT takes place Monday, September 23. The Actors' Fund of America will proudly present the eagerly anticipated 2nd annual Benefit Concert the legendary American musical Funny Girl.

The one night only event, to be held in the historical Amsterdam Theatre, will feature a different exciting actress playing the role of Fanny Price in each scene!! What fun!!

Already on board for this once in a lifetime performance are; Carolee Carmello, Kristin Chenoweth, Sutton Foster, Christine Ebersole, Ana Gasteyer, Whoopi Goldberg, Jane Krakowski, Ricki Lake, Audra McDonald, Idina Menzel, Megan Mullally, Donna Murphy, Bebe Neuwirth, Rosie O'Donnell, Lillias White, Marissa Jaret Winokur and more!

Also starring Peter Gallagher as Nicky Arnstein, with Len Cariou, Kaye Ballard, Marcia Lewis, Gary Beach, Jason Danieley, Brad Oscar, Liz Smith, Julie Halston, John Scherer, Sam Harris, Varla Jean Merman, Edie Falco and more. Get your tickets now

SERGIO FRANCHI FOUNDATION the 9th annual ".. and let the music play!" memorial concert will be held on Saturday, September 7th at the Sergio Franchi estate in Stonington Connecticut.

During the 1970s Franchi lived in Las Vegas and was a regular on the Las Vegas Strip.

On May 1 1990, after a courageous battle, Sergio lost the fight to cancer. Instead of flowers being sent when he passed on, donations were used to seed the idea for the Sergio Franchi Music Foundation. Throughout his career of 28 years, Sergio was a dedicated supporter of the arts. It was Sergio's fondest wish that talented, poor, deserving children be given the same chance that was once given to him. In Italy when Sergio's funds had run out and he had to stop studying, the help and encouragement of one special friend enabled him to hang in a little longer and wait for his big 'break'.

Since 1993 the Foundation that bears his name has been able to award over 120 scholarships and awards to students of vocal studies, young tenors and sopranos, with the hope that through beautiful, romantic, classical music the spirit of romance can be kept alive.

Those attending will be entertained by the 2002 Sergio Franchi Vocal Scholarship winners as they perform their renditions of some of Sergio's romantic songs and most loved operatic arias, accompanied by a 29-piece symphonic orchestra, with guest conductor Jeff Amoto. Special guest star, tenor Marcello Giordani, will also perform.

Before the concert starts, guests will be able to tour the estate and see all that it has to offer, such as Sergio's rare antique car collection and the inside of Sergio's home. Food and beverages will be available for purchase.

The event will be hosted by Sergio's widow, Eva.

Attendance is limited to 4,000. Last year they had to turn people away at the door.



NICKEL AND DIMED by Joan Holden, based on Barbara Ehrenreich's best-selling book Nickel and Dimed: On (Not) Getting By in America. As an investigative journalist, Barbara Ehrenreich went "undercover" in three different parts of the country, taking jobs as a waitress, a maid, and a Wal-Mart sales clerk to discover what it's really like to live in low-wage America. Her best-selling book, Nickel and Dimed: On (Not) Getting By in America has received widespread acclaim as one of the most important works of social criticism of our time. This book played a dominate role is an excellent A&E Investigative Reports program Wage Slaves which aired last week. If you find it on a repeat, give a look. It's an eye opener. Much was shot in Las Vegas.

Now Joan Holden has captured Ehrenreich's provocative, funny, and often disturbing experiences in a new play that is as powerful as the extraordinary book on which it is based.

Sharon Lockwood stars. Also in the cast are Jason Cottle, Kristin Flanders, Cynthia Jones, Cristine McMurdo-Wallis and Olga Sanchez. Nickel and Dimed, directed by Bartlett Sher, plays the Mark Taper Forum, Los Angeles, Sept. 8-Oct. 27.

LES MISERABLES September 3-8 Ohio Theatre Columbus, Ohio.

LADIES IN RETIREMENT a mystery by Edward Percy & Reginald Denham - Directed by Terri Miller Schmidt. A companion to a wealthy ex-actress living in a remote country home, makes plans to provide a permanent home for her two eccentric sisters to whom she is devoted. Ladies In Retirement offers some unexpected twists to complicate the plan. September 6-22 Huntington Beach Playhouse, California.

A STREETCAR NAMED DESIRE by Tennessee Williams completes Studio Arena Theatre's five-year retrospective of Tennessee Williams with this powerful drama. Studio Arena Theatre is Western New York's only fully professional resident theater. The company's 38th season begins September 8 with this production which runs October 13.

BETTER WITH A BAND witty words, memorable melodies with humor and heart. The brilliant lyricist - Harvard Law School graduate - David Zippel shows how smart lyrics - paired with great tunes - can weave their magic spell in this sophisticated new revue of the songs he has written with some of America's top composers. Lyrics by Zippel with music by Cy Coleman, Marvin Hamlisch Wally Harper, Doug Katsaros, Rob LaRocca Alan Menken, David Pomeranz, Jimmy Roberts Jonathan Sheffer and Bryon Sommers.

Here's a show whose songs have won 11 Oscars and five Tonys. A savvy and stylish evening by one of today's top lyricists, starring four extraordinary Broadway singers John Barrowman, Judy Blazer, Marva Hicks and Sally Mayes and a five-piece orchestra. Special guest stars to be announced. Joe Leonardo directs.

Mark Mariani costumes, Michael Gilliam lighting and Ray Klausen sets. Sept. 18 and continuing through October 6. Prince Music Theatre, Philadelphia.

A SAINT SHE AIN'T by Dick Vosburgh and Denis King, directed by Eric Hill, Westport Country Playhouse, Westport, Conn. opened August 28 running through September 14.

AS LONG AS WE BOTH SHALL LAUGH is comedian Yakov Smirnoff's Broadway-bound one-man show that focuses on the relationships between men and women, including observations about his own 12-year marriage that ended in divorce two years ago. He shares custody of his 11-year-old daughter, Natasha, and 9-year-old son, Alexander with his ex-wife, Linda Smirnoff, who works in a holistic health center.

The former Las Vegas comic who opened his own Yakov Smirnoff Theatre in Branson, Missouri has been on the road, fine tuning his one man show. He closes tonight at the American Heartland Theatre in Crown Center, Kansas City. Smirnoff returns to his Branson Theatre on September 4.

The Russian immigrant became an American citizen on July 4, 1986, when he was sworn in at the Statue of Liberty. The immigrant who, in 1977, landed in this country with his parents and less than $100 in his pocket became a successful comic with the patriotic catch phrase, "What a country!" It's the Smirnoff who became a TV celebrity, wrote jokes for President Ronald Reagan and who since 1993 has been performing to sell out crowds in his 1,400-seat Branson theater.

As Long As We Both Shall Laugh opens Jan. 26 at the American Airlines Theater in New York.


WHO'S WHERE


STEPHEN SCHWARTZ & FRIENDS the Oscar and Grammy Award-winning songwriter is joined by Broadway stars Debby Gravitte and Scott Coulter in a show-stopping treat for the whole family. September 8 at the Westport Country Playhouse. Westport, Conn.

THE ROLLING STONES aren't going to be gathering much moss with their busy tour schedule. It kicks off Tuesday in Boston at the Fleet Center. On Thursday the aging rockers will strut their stuff in Foxboro, Mass at the CMGI Field.

CHER AND CYNDI LAUPER on stage Wednesday in Birmingham, Alabama at the Birmingham Jefferson Arena. The energetic duo are in the spotlight Thursday in Louisville, Kentucky at Freedom Hall. They close out the week, Saturday, in Greensboro, North Carolina at the Greensboro Coliseum.

PINK AND LENNY KRAVITZ tomorrow in Phoenix, Arizona at the Cricket Pavilion.

GABE KAPLAN makes the folks laugh September 5-8 at the Mohegan Sun Casino, Uncasville, Conn.

SHIRLEY JONES at the Fairmont Hotel in Dallas, Texas on September 7.

ALABAMA performs at the York Inter-State Fair in York, Penn. on Saturday.

STACEY KENT reopens the Oak Room of the Algonquin Hotel, New York which has been closed for the month of August. Kent's jazz vocals will be on stage September 3-38.

JARS OF CLAY on stage at Universal Studios in Orando, Florida September 6.

OZZY OSBOURNE all over the stage Thursday in Phoenix, Arizona. On Saturday he performs in Selma, Texas at the Verizon Wireless Amphitheatre. Next Sunday the action takes place in Dallas, Texas at the Smirnoff Music Center.

CHICAGO does a two nighter Friday and Saturday in Reno, Nevada at the Silver Legacy Casino.

CHRISTOPHER CROSS center stage next Sunday at Humphrey's in San Diego, California.

TONY BENNETT will delight the audiences who have the good sense to see his show Saturday or Sunday at the Mohegan Sun Casino in Uncasville, Conn.

SMOKEY ROBINSON entertains Saturday at Lehigh University in Bethlehem, PA.

PETER FRAMPTON headlines today, Sunday, at the Mahoning County Fairgrounds in Canfield, Ohio.

JUDY COLLINS in the spotlight Thursday at the Elliott Hall of Music in West Lafayette, Indiana.

ELVIS COSTELLO sings tomorrow at the National Stadium in Dublin, Ireland. On Tuesday the show is in Glasgow at the Barrowlands. Thursday the show moves to City Hall in Newcastle, UK and on Friday it's the City Hall but this time in Sheffield, UK.

MICHAEL BOLTON performs Wednesday at the Potawatomi Casino in Milawkee, Wisconsin. On Thursday the show is at the Orpheum Theatre in Minneapolis, Minn. Michael closes out the week, Saturday, in Wisconsin Dells, Wisconsin at the Crystal Grand Theatre.

ANNA BERGMAN holds forth at Danny's in New York City for a month long engagement September 4-27. Melody, Melodie: A Celebration of Song from Berlin to Bizet, features Anna Bergman with Alex Rybeck as Musical Director and Sara Louise Lazarus as Director. Anna salutes such great American and European composers as Berlin, Kern. Rodgers, Gershwin, Sondheim, Coward and Puccini.

Anna presented Melody, Melodie at the Kennedy Center on August 30th , prior to this engagement at Danny's opening September 4.

PIFFLE AND PROFUNDITIES


ROBIN WILLIAMS was reportedly voted Least Likely To Succeed in high school.













Next Column: September 8, 2002
Copyright: September 1, 2002. All Rights Reserved. Reviews, Interviews, Commentary, Photographs or Graphics from any Broadway To Vegas (TM) columns may not be published, broadcast, rewritten, utilized as leads, or used in any manner without permission/compensation and/or credit.
Link to Main Page
---
Laura Deni



U.S. Postal Address: Post Office Box 60538, Las Vegas, NV 89160
CLICK HERE FOR COMMENT SECTION