! >
Broadway To Vegas
  
 REVIEWS  INTERVIEWS COMMENTARY NEWS

| | |
| --- | --- |
| | |
GEORGE HARRISON: LIVING IN THE MATERIAL WORLD - - RICHARD GERE GUITARS - - LA CAGE AUX FOLLES ON TOUR - - MUSIC INDUSTRY CELEBRATES HAL DAVID'S BIRTHDAY - - THE ADDAMS FAMILY ON TOUR BETTER THAN BROADWAY - - MICHAEL JACKSON VERSUS ELVIS PRESLEY SLOT MACHINES - - DENZEL WASHINGTON $2 MILLION CHAIR - - MAP NEEDED FOR RECORDING OLYMPIC GAME ANTHEMS - - DONATE . . . Scroll Down



THE ADDAMS FAMILY SPROUTS A (BETTER) TOUR VERSION


Usually when a Broadway show goes on tour the ticket selling hype centers on actually being able to see the Broadway show in your backyard.

There are instances when a Broadway show needs to be pared down to accommodate venue time restraints. In fact, I thought a shortened Las Vegas mounting of Spamalot was far better than the original Broadway production.

The Addams Family on tour is not a clip to fit the clock version.

The Addams Family you see on Broadway isn't The Addams Family that's on tour.

The tour version is different as in much better.

Last June when Brooke Shields was prepping to take over the role of Morticia from Bebe Neuwirth in the Broadway production, she disclosed that her part was being re-written - especially some of the dance moves - such an as intricate tango, to accommodate the difference in height. Shields' elegant stature needed different choreography from the steps scripted for Neuwirth's petite delight frame.

The creative team also said that they were updating the characterizations before taking The Addams Family on tour. With all attention on Shields, the significance of a tour re-write statement didn't resonate until New York City rehearsals began for the tour. When it hit The Big Easy, the press pounced on the fact that major changes were implemented - all under the orders of four-time Tony Award winner Jerry Zaks who now carries the creative whip.



The Addams Family National Tour Company. Patrick D. Kennedy (Pugsley), Pippa Pearthree (Grandma), Sara Gettelfinger (Morticia), Douglas Sills (Gomez), Tom Corbeil (Lurch), Cortney Wolfson (Wednesday) and Blake Hammond (Uncle Fester.)Photo by Jeremy Daniel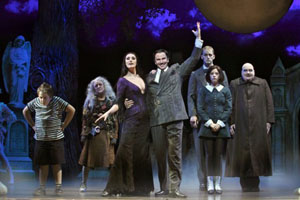 Tour audiences also finger snap along to the famed television theme, which opens the show, although the production is based, not on the television show, but on the original cartoon.

There are three new songs In the Arms, Secrets and Not Today, and new plot lines, including more emphasis on the relationship between Gomez and Morticia, which includes a serious marital conflict after Gomez is caught not being honest with Morticia.

Everyone is pleased that In the Arms, or the Squid Song is gone as are the tunes Where Did We Go Wrong and Morticia.

Fans can rest easy in that the show stopping The Moon and Me performed on tour by Blake Hammond as Uncle Fester, remains.

The tour version stars Tony Award nominee Douglas Sills as Gomez who steals the show and Sara Gettelfinger as Morticia, Tony Award nominee Martin Vidnovic as Mal Beineke, two-time Tony Award nominee Crista Moore as Alice Beineke, Blake Hammond as Uncle Fester, Pippa Pearthree as Grandma, Tom Corbeil as Lurch, Patrick D. Kennedy as Pugsley, Brian Justin Crum as Lucas Beineke and Cortney Wolfson as Wednesday.

Portraying the ancestors - who are given more prominence in the tour version - are Ted Ely, Karla Garcia, Steve Geary, Victoria Huston-Elem, Patrick Oliver Jones, Lizzie Klemperer, Alexandra Matteo, Christy Morton, Brad Nacht, Rebecca Riker, Jonathan Ritter, Roland Rusinek, Geo Seery, Samantha Shafer and Jason Eric Testa.

The touring production closes October 9 in St. Louis, and continues to 28 more cities through Aug. 12, 2012. Next stop is the Ovens Auditorium in Charlotte, NC for performances October 11-16. If you hated the Broadway production, as many did, give the tour version is a chance. You're in for a pleasant surprise.

The Addams Family has also partnered with No Snap Judgments to promote social awareness.

No Snap Judgments was developed when the producers of The Addams Family took into account a bizarre predicament - formal arts education in schools has been on a steady decline, while high school focused musical television shows are at the height of their popularity. They turned this problem into a unique opportunity to feature the beloved Addams family characters through an entertaining, yet truly educational, multi-media learning module for grades K-12.

The ultimate goal of No Snap Judgments is to promote acceptance of others through an understanding that, while each of us is different, what brings us together is what we have in common, and these commonalities far outweigh anything that should keep us apart.

For instance, The Fabulous Fox Theatre in St. Louis held an essay contest in which patrons of any age were asked to submit a 500 word essay about the negative effect that "snap judgment" intolerance can have and provide an example of how you might encourage tolerance in your community, school or workplace. The top 10 essay finalists received two tickets to The Addams Family.



Broadway To Vegas is supported through advertising and donations. Priority consideration is given to interview suggestions, news, press releases, etc from paid supporters. However, no paid supporters control, alter, edit, or in any way manipulate the content of this site. Your donation is appreciated. We accept PAYPAL. Thank you for your interest.



ART AND ABOUT


GEORGE HARRISON: LIVING IN THE MATERIAL WORLD The Grammy Museum, in cooperation with Estate of George Harrison, will debut a major new exhibition, George Harrison: Living in the Material World opening on October 11, 2011.

The exhibition will open the week following the broadcast premiere of Martin Scorsese's documentary of the same name, showing on HBO in two parts on October 5 and 6, and will be the first major museum exhibition to explore the extraordinary life and career of 12-time Grammy Award winner George Harrison.

"I'm honored that Olivia Harrison has chosen to work with us to create George Harrison: Living in the Material World," said Bob Santelli, Executive Director of The Grammy Museum. "We are particularly excited to celebrate Harrison's extraordinary musical legacy with the legions of fans who admire him, as well as to introduce him to a new generation of music lovers."

During a career spanning four decades, George Harrison earned a reputation as one of rock's most talented and innovative musicians and songwriters. As a Beatle, Harrison was responsible for writing some of the group's most beloved songs, including While My Guitar Gently Weeps, Here Comes the Sun, and Something. In addition, Harrison's spiritual quest led him to India where he studied the sitar, and began a lifelong friendship with Indian sitar master, Ravi Shankar; their collaborations profoundly influenced the introduction of Indian classical music to the West.

After the dissolution of The Beatles in 1970, Harrison embarked on a highly successful solo career, resulting in several critically acclaimed albums, including his ground-breaking debut triple-album, All Things Must Pass. In 1971 Harrison staged the now legendary Concert for Bangladesh, raising both money and awareness for the country and ushering in an era of other important benefit rock concerts. Harrison was also a member of the supergroup, the Traveling Wilburys, which had its share of successful recordings as well. George Harrison passed away at age 58 in 2001.

"As a Beatles fan, working on this exhibit has been a fascinating journey for me personally," said Santelli, who assumed the role of co-curator with Grammy Museum curator Tory Millimaki and Grammy-Award winning designer Masaki Koike. "I came to realize George Harrison was a more deeply complex musician than I previously knew, and a beautifully spiritual man whose interests touched not only songwriting and music, but also included photography, filmmaking and book publishing. Hopefully, the exhibit will bear this out, enabling other fans of George Harrison to see him and hear his music in a brand new light."

Living in the Material World will provide an in-depth look at all aspects of Harrison's creative life. Bringing together a collection of diverse artifacts, rare photographs and footage, the exhibit features dozens of items from the private collection of the Harrison Estate, including:

Several guitars used by George Harrison during his years with The Beatles and in his solo career;
Handwritten lyrics;
Personal journals and sketches;
Stage outfits; and
Personal photographs shot by Harrison.

George Harrison: Living in the Material World opens October 11, 2011 and will be on display through February 12, 2012.

The Grammy Museum features 30,000 square feet of interactive and multimedia exhibits located within L.A. LIVE, the downtown Los Angeles sports, entertainment and residential district.

MADELEINE DE SINETY: PHOTOGRAPHS

Le Pain pour la Semaine [Bread for the Week], digital print, 11 x 14 inches. Photo by Madeleine de Sinéty. Courtesy of the artist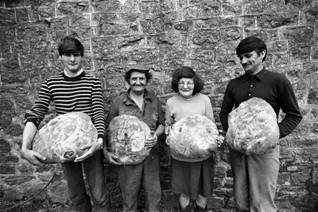 Over the past 40 years, Madeleine de Sinéty has worked on several continents, quietly documenting the everyday lives and public events of those who reside in obscure rural corners of the world. Madeleine de Sinéty: Photographs, on view through December 18, 2011, at the Portland Museum of Art, in Portland, Maine features a selection of 60 black-and-white and color images, the first to explore the breadth of de Sinéty's photographic essays.
,br> Madeleine de Sinéty: Photographs is the fourth in a series of exhibitions called Circa that explores compelling aspects of contemporary art in the state of Maine and beyond.

This selection of images focus on her multi-year exploration of traditional French farm families in a small region of Brittany, village life in Uganda, and the work of a single logger in northern Maine who still uses draft horses to pull this precious natural resource from the woods. On the lighter side of life in Maine, de Sinéty has also documented the famed photographer and conceptual artist, William Wegman, at work in Rangeley making large Polaroid portraits of his dogs.

Born in 1939 to aristocratic French parents, de Sinéty was raised in France at her family's Loire Valley château and in Algeria on the family's date plantation. As a young woman, she worked in Paris as an illustrator for magazines and newspapers. After marrying an American scientific writer, she moved to the United States in 1980.

A resident of Rangeley, Maine, for the past 30 years, de Sinéty has maintained connections to the contemporary photographic scene through her contacts with the Maine Media Workshops, where a renowned group of international photographers offer courses and critiques on a wide variety of photographic practices and techniques. The noted documentary photographer, Mary Ellen Mark, one of de Sinéty's mentors there, assisted in the editing process that is the basis for this exhibition and provided an introduction to the 80-page illustrated catalogue published by the Museum.


DENZEL WASHINGTON MAKES $2 MILLION ENDOWMENT TO FORDHAM THEATRE: PHYLICIA RASHAD NAMED FIRST CHAIR
Denzel Washington, FCLC '77, gives a master class at Fordham in 2005. Photo by Jon Roemer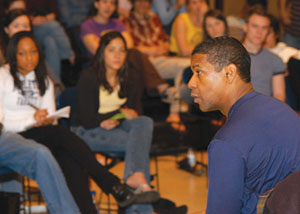 Academy Award-winning actor Denzel Washington, a 1977 graduate of Fordham University, has made a $2 million gift to endow the Denzel Washington Chair in Theatre and a $250,000 gift to establish the Denzel Washington Endowed Scholarship for an undergraduate student studying theatre at Fordham, according to a release issued by the school.

It was further announced that Tony Award-winning actress Phylicia Rashad, has joined the Fordham faculty as the University's first Denzel Washington Chair in Theatre.

"Show me a successful individual, and I'll show you someone who has had positive influences in his or her life. The late Bob Stone, my mentor, was a former actor and professor at Fordham University. Bob was one of those influences in my life. He believed in me and gave me something to live up to," Washington said.

"I wanted to create the Denzel Washington Endowed Scholarship and Chair in Theatre at Fordham in order to offer the next generation of students positive influences. Phylicia Rashad, as the inaugural holder of the chair, will provide the care, compassion and that extra push to help take students where they're meant to go."

Washington was born and raised in Mount Vernon, N.Y., the second of three children. Originally a journalism major at Fordham, he was seduced by student drama productions and switched to theatre.

"The theatre program is deeply honored by Denzel's support. He's a model for students in his acting and directing choices, and he has inspired them with his visits to Fordham; besides being a brilliant actor, Denzel is a born teacher. Casting himself as Melvin Tolson, the master teacher he plays in his film The Great Debaters, is perfect type casting," said Matthew Maguire, professor of theatre and director of the program.

"Phylicia Rashad is also an inspiration. Like Denzel, she is one of our top actors of film and TV who always returns to her roots on stage. Our students are thrilled to learn from this unique artist whose dynamism and powerful authenticity earned her the Tony for Lena Younger in A Raisin in the Sun."



Phylicia Rashad
Rashad already has begun teaching in the Fordham theatre program. She is a native of Houston, Texas, and earned a B.F.A. in theater magna cum laude from Howard University. She recently made her directorial debut at the helm of the Seattle Repertory Theatre's production of August Wilson's Gem of the Ocean.

Her Broadway credits include Cat on a Hot Tin Roof, The Wiz and A Raisin in the Sun, for which she won a 2004 Tony Award for best actress in a play.

Washington won a Tony Award in June 2010 for his lead role in the Broadway revival of Fences - his first Tony - but not the first for Fordham alumni: hundreds of Fordham-trained actors have found success on the Great White Way. The honor roll includes Tony-winner Julie White (FCLC '85) for The Little Dog Laughed; John Benjamin Hickey (FCLC '85), who won a 2011 Tony Award for his performance as Felix Turner in The Normal Heart; and performers in The Phantom of the Opera, La Cage aux Folles, American Idiot, The Lion King and West Side Story, among many others.

Maguire said the success of Fordham graduates comes from a love of the work. The first Denzel Washington Endowed Scholarship recipient will likely be announced in fall 2012. The scholarship is intended for a minority undergraduate theatre major, and if possible, a graduate from the Mount Vernon, N.Y., school district.

"Fordham is deeply in Denzel Washington's debt, not only for his generous gifts to the theatre program, but also for his longstanding commitment and public support for the University," said Roger A. Milici Jr., vice president for development and University relations. "His international reputation and star power will certainly bring greater interest to Fordham programs and greater support for our mission. We are especially grateful and honored to count Denzel Washington as an alumnus and generous benefactor."


SWEET CHARITY


HARMEN CENTER FOR THE ARTS ANNUAL GALA when the Shakespeare Theatre Company will spotlight favorites from the past 25 years, including Patrick Stewart and special appearances by Edward Albee, Chelsea Clinton, Terrence McNally, Bradley Whitford, Jason Danieley and Marin Mazzie.

The gala will feature a spectacular array of multidisciplinary performances. The Broadway cast of West Side Story will appear, Lyubov Petrova will perform Gounod's Romeo et Juliette and the Joffrey Ballet will dance Lubovitch's Othello.

This year's Gala, held on Monday, October 17, will celebrate the 25th anniversary of STC and Michael Kahn's visionary direction.

The Harman Center for the Arts Annual Gala is considered one of "Washington's most buzzed-about galas," and its proceeds provide indispensable funds for the Theatre's education and outreach programs, including the annual Free For All. Each summer, the Free For All brings three weeks of free Shakespeare to D.C.-area residents. Since Michael founded the event in 1991, more than 600,000 people - many of whom might not otherwise possess the means to see a full-scale theatrical production - have enjoyed some of STC's most acclaimed productions completely free of charge.

Following the spectacular array of multidisciplinary performances in Sidney Harman Hall, guests will be transported to the stunning atmosphere of the National Building Museum, one of D.C.'s premier event spaces, to mingle with the stars of the evening and enjoy a gourmet dinner and dancing.

SALLY STRUTHERS: OFF SCRIPT… AND OFF THE RECORD! the second in a series of fundraising and entertainment events presented by the Cabrillo music Theatre in the recently renovated Founders' Room of the Thousand Oaks Civic Arts Plaza. An intimate evening of comedy and stories from the two-time Emmy award winner's colorful life. She will also field questions from the audience.

Co-chairs for the event are Joann Horwitz and Michelle Ouellette.

The entertainment will be preceded by a brief cocktail hour, featuring hors d'ouevres and followed by a dessert reception with Sally. Monday, October 17, at The Founders Room in the Kavli Theatre, Thousand Oaks,CA.

VOLPONE a benefit reading of the Ben Jonson play, for the Red Bull Theatre company, starring F. Murray Abraham, Helen Carey, Adam Cochran, Richard Easton, Ryan Lowe, Liv Rooth, Jay O. Sanders, Brendan Spieth, Elizabeth Stahlmann, Raphael Nash Thompson, Michael Urie, Marc Vietor and Gregory Wooddell.

Directed by Jesse Berger.

"The greatest of the Jacobean satires skewers humanity's greed and hypocrisy with guffaws and hilarity. Featuring live music by Scott Killian, stunning singing, ukuleles, accordions, and more."

Join the cast and special guests Emily Bergl, Robert Cuccioli, Daniel Davis, Jennifer Ikeda, Larry Pine, Everett Quinton, Patrick Page, Matthew Rauch, Laila Robins, Derek Smith, Richard Thomas, John Douglas Thompson, and more for festivities after the reading.

Monday, October 10, at the Red Bull Theater in New York City.


MAP NEEDED FOR RECORDING OLYMPIC GAME ANTHEMS


It's not unusual for recording sessions to use mood lighting. In the case of a recent London Philharmonic Orchestra session at the Abbey Road Studios, a map of the world was laid on the floor. The musicians knew where they were, they just needed a little prompting in locating the obscure countries whose anthems they were recording.

The LPO had the daunting task of recording more than 200 national anthems for the Olympic and Paralympic Games which take place next year in London. That Olympic worthy gig took 52 recording hours and didn't finished until Zimbabwe came across the (recording) track.

A gold medal accomplishment, the orchestra had only 10 to 12 minutes to sight read and record each piece.

Conductor and composer Philip Sheppard was in charge of the project. He posted on the BBC News website that: "The shortest national anthem was Uganda's, at 18 seconds, which was extended, while the Uruguayan anthem was the longest at nearly seven minutes (the equivalent to an overture) and needed to be edited down."

As for that world map on the floor, he posted that it was "to help the orchestra, since there were some places they had not heard of."

Sheppard met 45 delegations from various countries in three days to discuss his treatment of the anthems.

It's not as simple as just playing the notes. First, those notes have to be arranged.

Each of the 205 recordings required a unique arrangement created just for the Olympics. Two reasons: One is the obvious, artistic one, creating a faithful version but redesigned with a fresh spin. The second reason is that dreaded word - legal - as a previous arrangement can't be replicated.

Olympic rules dictate that each anthem must be between 60 and 90 seconds, so there is enough time to raise the flag on the winner's podium.

Every country will hear its anthem as they are all played at the welcoming ceremonies for each competing country.

The host country, England, received an added clang. Olympic gold medalist Jonathan Edwards played the last cymbal crash to God Save the Queen.


MICHAEL JACKSON VERSUS ELVIS PRESLEY SLOTS
Michael Jackson slot machines. Photo: Getty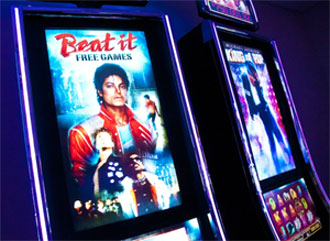 Cha-ching

It a sure bet the estates of Elvis Presley and Michael Jackson will rake in the lucre from permitting slot machines to be themed after their respective dead star.

Nothing about Michael Jackson's life - or death - was ordinary. Thus, it shouldn't be a head turner that during the trial of Dr. Conrad Murray, the man accused of causing The King of Pop's death through involuntary manslaughter, and the opening of the new Michael Jackson theme Cirque du Soleil show in Montreal, a line of Michael Jackson slot machines was introduced in Las Vegas at the Global Gaming Expo, which took place last week at the Sands Expo.

While many casino machines tout popular movies and television shows from the original Wheel of Fortune to Jeopardy, I Love Lucy, The Brady Bunch, The Incredible Hulk, Pink Panther, Rocky, The Osbourne's Reality Show, two gaming devices stand out as focusing on one person - Elvis Presley and now Michael Jackson - although a lesser seen Frank Sinatra slot is produced.

Slot machine manufacturer Bally Technologies, which has a long line of celebrity branded casino playthings, is the company behind the Jackson branding, while International Game Technology (IGT) launched the Elvis Presley casino plaything.

The digital penny slot uses original Michael Jackson songs and video to encourage players. Hit a certain combination on the reels and Michael Jackson moonwalks across the screen to Bad. Use his iconic sequin glove to spin a wheel for prizes as Smooth Criminal plays in the background. Watch his dancing foot kick icons to transform them into wilds during a Beat It bonus round.

According to the official description, Sony and the Michael Jackson estate provided to Bally audio and video for the project. A professional musician-turned-Bally engineer remixed them for the game in a sound studio at the company's headquarters. Six songs - Billie Jean, Dirty Diana, Don't Stop 'Til You Get Enough, Smooth Criminal, Beat It and Bad - are used in the game's first generation, and Bally has a second version with two more songs planned for the future.

The slot machine is progressive. The minimum bet is 40 cents and the maximum $4.

"With iconic images of his sequined glove and dancing shoes, the Jackson slot machine exemplifies state-of-the-art gaming, with a surround-sound chair that even vibrates to the pop legend's music," the manufacturer said. The machine also has four high-definition screens for wagering and displaying his videos.

The machine will be easy to spot while strolling through the casino. A gold Michael Jackson statue will erupt in flames while music blares.

Bally plans to introduce it in several Las Vegas resorts and export it around the world early next year.

Jackson fans may give the Presley slots are run for the coins as Jackson fans are younger than Presley fanatics, and thus in the income demographics than translate into having more play around cash.

Both the Jackson and Presley machines are slots and there are a limited number of options to make them different - basically graphics and songs. The marketing concept is fan driven.

The Elvis slot machine is a 3-reel, 3-coin spinning-reel quarter game from (IGT) that uses the company's advanced Vision Series 80960 platform. It features a built-in CD ROM, full stereo sound, a Liquid Crystal Display (LCD) screen, and a bonus feature that plays video concert footage of Elvis Presley singing his biggest hits, from Hound Dog and Don't Be Cruel to Jailhouse Rock and Heartbreak Hotel.


SPREADING THE WORD


LIVE FROM THE NYPL John Lithgow in conversation with Bill Moyers takes place Tuesday, October 11. In an event co-sponsored by The Cullman Center the actor who has received five Emmys and two Golden Globes discussed his memoir, Drama: An Actor's Education, which follows the twists of his career up to his success in the 1980's - including his admission of affairs.

Harry Belafonte in Conversation with Paul Holdengraber takes place Wednesday, October 12. In his new memoir, My Song, Harry Belafonte traces his journey from Jamaica and Harlem to the world stage. After finding success as a singer and actor, Belafonte became a powerful force in the American Civil Rights movement. In his memoir, the chart-topping singer discuses his friendship with figures including Martin Luther King, Jr., John F. Kennedy, Nelson Mandela, and Marlon Brando. In this conversation event, Belafonte will reflect on his long and illustrious career.

On Friday, October 14, Holdengraber returns to engage a conversation with Def Jam's Russell Simmons and Rick Rubin.

Def Jam Recordings is a comprehensive history of the first major hip-hop label. Founded by Russell 'Rush' Simmons and Rick Rubin in 1984, the label's first office was Rubin's NYU dorm room. Def Jam led the way in transforming hip-hop from a projects-based art form to a popular phenomenon. Def Jam is responsible for launching and sustaining the careers of musicians such as Jay-Z, LL Cool J, Run-DMC, Public Enemy and The Beastie Boys. Both Simmons and Rubin have now left Def Jam to pursue successful careers in and away from music; but their creative legacy remains at the heart of the label's modern-day identity.

ISLAND SONG CONCERT READING the musical theater team Sam Carner and Derek Gregor present a developmental concert reading of their new project, Island Song, a piece about isolation and connection in contemporary urban life, directed by Adam Fitzgerald, Artistic Director of kef theatrical productions.

This song cycle tells the stories of people making it through the day and night in the city and all their painful, beautiful and funny experiences along the way. Confirmed performers include Autumn Hurlbert, Nick Gaswirth, and Andi Alhadeff. Sunday, October 16, at the 92YTribeca in NYC.

AN EVENING WITH ROB BERMAN the musical director of the City Center Encores! series, will offer behind-the-scenes insight into the process of mounting the entire Encores! season. Special guest artists will perform selections from all three upcoming Encores! productions: Merrily We Roll Along, Pipe Dream and Gentlemen Prefer Blondes.

This new series which aims to "provides an intimate forum for informal conversations with some of today's most compelling figures in theater and dance," will be curates by Tony Award winner Victoria Clark, who will also host the offerings of Studio Five at City Center in the Barbara and David Zalaznick Studio on 5, in NYC. This, the first in the series, takes place October 17.

THE COUNTESS OF STORYVILLE a free staged reading of a new musical with music by Martin Sylvestri, lyrics by Joel Higgins, book by R. M. Cohen, directed by Michael Bush. Presented by Amas Musical Theatre, the readings will take place on Monday, October 17 and Tuesday, October 18 at The Players Theatre, NYC.

The Countess of Storyville "tells the mystery-laden tale of "Countess" Willie Dupree, a celebrated Parisian prostitute, on the occasion of her 1910 return to New Orleans, the city of her birth, where her mother was executed for murder years earlier. Dupree is about to open a sumptuous new bordello in the Storyville red light district, the demimonde saturated in race and revolution, sex and secrecy, and voodoo."

The cast includes Tony Award winner Lillias White, Lawrence Clayton, Nikki Crawford, Allen Fitzpatrick, Wendy Fox, Jeremiah James, John Herrera, Christine LaDuca, Jamie Laverdiere, Forrest McClendon, Doreen Montalvo, Jay Sullivan, and Mark Zimmerman.

Music Direction is by Jason DeBord.

The presentations are part of the ongoing Amas Six O'Clock Musical Theatre Lab, a development series for writers, lyricists and composers to mount staged readings of their new musicals free to the public.

LIDLESS currently in a limited engagement at Walker Space in NYC, will present a post-show event on Wednesday, October 12 - The Stress of Guantanamo.

Join the conversation with moderator Michelle Shephard, a Toronto Star reporter and author of Decade Of Fear: Reporting from Terrorism's Grey Zones and Guantanamo's Child: The Untold Story of Omar Khadr hosting Kate Porterfield, Chair of the American Psychological Association's Task Force on the Psychosocial Effects of War on Children, Ramzi Kassem, Associate Professor of Law at the City University of New York where he directs the Immigrant & Refugee Rights Clinic, and Gitanjali S. Gutierrez, counsel for Mohammed al Qahtani, a Saudi citizen detained in Guantánamo, who was subjected to the "first special interrogation plan," for a special post-performance discussion.

Since the creation of the Guantanamo Bay detention center by the United States administration in 2002, questions have raged about harsh interrogation practices that were practiced there and whether those actions constitute torture or violate the Geneva conventions. But there is no question that the prison's very existence has had a significant impact on those who were detained there, those who work there, and ultimately on the American psyche. Now hear from four people at the front lines of this story, including attorneys Gitanjali S. Gutierrez and Prof. Ramzi Kassem who have represented Gitmo detainees, psychologist Dr. Kate Porterield who has evaluated detainees at Guantanamo, and the moderator, journalist and author Michelle Shephard. This panel discussion is a free event following the performance on October 12.

THE BIG APPLE OCEAN SPRAY CRANBERRY BOG returns to Rockefeller Center, where growers share their stories with New Yorkers and visitors from around the world. Visitors to Rockefeller Center will experience a 1,500 square foot free-standing cranberry bog containing more than 2,000 pounds of glimmering cranberries. The bog is on display for two days only - October 18th & 19th.

PATRICK STEWART will kick off a new series, Classic Conversations with Michael Kahn, presented by the Shakespeare Theatre Company in Washington, DC.

To celebrate the STC's 25th anniversary, they've invited some of the world's most renowned classical actors to talk about their craft.

Patrons are advised to "Think Inside the Actor's Studio live at Sidney Harman Hall - hosted by Artistic Director Michael Kahn.

Classic Conversations with Michael Kahn featuring Patrick Stewart takes place Tuesday, October 18. Sidney Harman Hall in Washington, DC.


MUSIC INDUSTRY PAYS TRIBUTE TO 90-YEAR YOUNG HAL DAVID


Love, Sweet Love a musical 90th birthday tribute to Hal David - whose actual 90th birthday occurred last May 25 - will take place October 17 at the Music Center of Los Angeles County.

Love, Sweet Love features a star-studded evening of music and dining, benefiting The Blue Ribbon of the Music Center and The ASCAP Foundation. Paul Williams will emcee.

Legendary performers paying tribute to David in this once-in-a-lifetime concert include long time collaborators, Burt Bacharach and Dionne Warwick along with Herb Alpert, Dwight Yoakum, Kristin Chenoweth, Liz Callaway, Freda Payne, Jackie DeShannon, Lani Hall, Albert Hammond, Michele Lee, Smokey Robinson, Valerie Simpson, B.J. Thomas, Steve Tyrell, and more along with the LACHSA Vocal Jazz Ensemble.

David, as a young man, turned to journalism as a potential career, and like a number of other illustrious magicians of words on the printed page, cut his eye teeth at The New York Post.

While pouring out words of the news in The Post's city room, David dabbled in song lyrics as well, and thanks to a lucky break, wrote his first successful lyric for "swing and sway" bandleader, Sammy Kaye, in 1947. With this entree, the door was opened and other hits came tumbling out of David's busy typewriter. One of the first of these was Four Winds and the Seven Seas, created with co-writer, Don Rodney, a vocalist for the Guy Lombardo orchestra. A recording by the Lombardo ensemble became a hit. David followed with Broken-Hearted Melody, which became Sarah Vaughan's biggest single hit ever, and Johnny Get Angry, a great success for yet another female singer, Joanie Sommers.



Burt Bacharach and Hal David accepting Academy Awards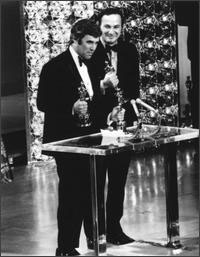 Academy Award-winning lyricist Hal David is an icon in the music industry. Raindrops Keep Fallin' on my Head, This Guy's in Love With You, and I'll Never Fall in Love Again, are just three of the hits in a string of standards written by David. Don't Make me Over, Close to You and Walk on By are all in the Grammy Hall of Fame. Among Hal David's million-sellers, all of which have become Pop standards, are Do You Know the Way to San Jose, Walk on By, What The World Needs Now is Love, I Say A Little Prayer, One Less Bell to Answer and To All The Girls I've Loved Before.

David, who grew up in Brooklyn, has been honored for his way with words from every major award bestowed upon the music industry, including 20 gold records, several Grammys, an Academy Award, the NARM Presidential Award, the B'Nai B'rith Creative Achievement Award. He has also been elected to the Songwriters Hall of Fame and the Nashville Songwriters Hall of Fame. David's Broadway show Promises, Promises received a Grammy and was nominated for a Tony Award, when it first appeared on Broadway.

Founded in 1968, The Blue Ribbon of the Music Center promotes and supports the educational, cultural, and community programs of the Music Center of Los Angeles County. The Blue Ribbon presently has a membership of about 500 women who champion the performing arts. Since its inception, Blue Ribbon has contributed through its annual dues and designated giving over $68 million to the Music Center Resident Companies as well as the Music Center's nationally-recognized education and community programs.

The ASCAP Foundation is dedicated to nurturing the music talent of tomorrow, preserving the legacy of the past and sustaining the creative incentive for today's creators through a variety of educational, professional, and humanitarian programs and activities which serve the entire music community.

"Hal David is a true American treasure," said Constance Towers Gavin, president, The Blue Ribbon, in a statement. "Few individuals have brought as much joy into the lives of generations throughout the world as our honoree. For all of us who know him, Hal is every bit as unforgettable as the words he has given us. How fitting to celebrate this milestone birthday here at our beautiful Music Center."


OTHER PEOPLE'S MONEY


RICHARD GERE has a passion for guitars Not just any old guitars, but American vintage guitars. Now, they can be yours. Christie's auction house in New York will gavel down 110 of his guitars on October 11.

Gere is parting with his prized collection to support humanitarian causes around the world.

Christie's stats that Gere studied trumpet and is a self-taught pianist and guitarist.

The actor said in a statement announcing the sale that he never planned to put together a guitar collection and bought only ones he liked and that sounded good to him. Included in the sale are brands C.F. Martin, Gibson, Fender, Gretsch and Epiphone, and guitars once owned by blues guitarist Albert King and reggae musician Peter Tosh.

A selection of amplifiers also is being sold. The sale is expected to bring $1 million. It includes brands such as C.F. Martin, Gibson and Fender and instruments once owned by blues guitarist Albert King, reggae musician Peter Tosh and acclaimed guitar maker James D'Aquisto.

BILLY ELLIOTT winner of ten Tony Awards shocked Broadway by announcing that the production would hang up the tutus on January 8, 2011 after 3 years and 3 months of performances.

After wrestling with the not-enough-profit demon, producers cited high production costs as the reason for a closing notice on a show which everyone thought would run several more years.

Make it a point to see it while you can.






THE 2011 NOBEL PRIZE IN LITERATURE was awarded on October 6 to Tomas Transtromer of Sweden, widely recognized as the most influential Scandinavian poet of recent decades.

His works have been translated into over 60 languages.

Transtromer's poems have gradually shifted from the traditional and ambitious nature poetry written in his early twenties toward a darker, personal, and more open verse.

A psychologist and avid amateur pianist, Transtromer 80, suffered a stroke in 1990 that left him half-paralyzed and unable to speak, but he continued to write and published a collection of poems - The Great Enigma - in 2004. He has since retired from writing.

His other honors and awards include the Aftonbladets Literary Prize, the Bonnier Award for Poetry, the Neustadt International Prize for Literature, the Oevralids Prize, the Petrach Prize in Germany, and the Swedish Award from International Poetry Forum.


GET WELL SOON TO . . . .


JOEL GRAY who fractured his foot while walking down the street. The Tony Award winner who currently plays Moonface Martin, Public Enemy No. 13, in the Tony Award-winning Anything Goes, will be sidelined until the fracture heals.

"His doctors expect him to make a full recovery in two weeks, and he looks forward to returning to Anything Goes as soon as he can," according to a Roundabout Theatre Company statement.

Robert Creighton, who usually plays the Purser in the show, has stepped into Grey's part until the veteran showman returns. The Roundabout revival of Anything Goes is at the Stephen Sondheim Theatre.



LA CAGE AUX FOLLES music and lyrics by Jerry Herman and book by Harvey Fierstein, based on the play by Jean Poiret. This production is choreographed by Lynne Page and directed by Terry Johnson, who won a 2010 Tony Award for his direction.

This national tour will star Tony nominee Christopher Sieber as Albin and George Hamilton as Georges.

They will be joined on stage by Billy Harringtan Tighe as Jean-Michel, Bernard Burak Sheredy as M. Renaud/M. Dindon, Cathy Newman as Mme. Dindon/ Mme. Renaud, Jeigh Madjus as Jacob, Gay Marshall as Jacqueline, Allison Blair McDowell as Anne, Dale Hensley as Francis, Ashley Kate Adams as Colette, Danny Vaccaro as Tabarro, Matt Anctil as Angelique, Mark Roland as Hanna, Donald Shorter, Jr. as Chantal, Trevor Downey as Phaedra, Logan Keslar as Bitelle, Terry Lavell as Mercedes, Todd Thurston as Male Ensemble (waiter), SuEllen Estey as Female Ensemble Adult, Todd Lattimore as Male Swing 1, Christophe Caballero as Male Swing 2 and Rylyn Juliano as Female Swing.

The tour kicks off October 11-16 at the Civic Center in Des Moines, IA.

NO WAY TO TREAT A LADY: THE MUSICAL book, music and lyrics by Douglas L. Cohen. Directed by Steven Colyer.

Featuring: Jason Langley, Phillip Lowe, Julie O'Reilly and Katrina Retallick.

Based on the novel by William Goldman, No Way to Treat a Lady follows Christopher 'Kit' Gill, a failed and unknown actor, who turns his hand to murder to become famous. Detective Morris Brummell takes on the case and is hungry for recognition as he brings him to justice. The killer adopts a myriad of disguises to trick the detective in a thrilling cat and mouse game.

The musical is based on the best selling 1964 novel by screenwriting guru William Goldman and the 1968 film. It won the prestigious Richard Rogers Grant and was nominated for two Outer Critics Circle Awards

Musical Director: Craig Renshaw. Assistant Musical Director: Chris King. Designer: David Fleischer. Lighting Designer: Gavan Swift.

October 13-November 13 at the Darlinghurst in Potts Point, Australia.

HOUSE OF GOLD by Gregory Moss. Star Trek: TNG's Gates McFadden (Dr. Beverly Crusher) and Denise Crosby (Tasha Yar) reunite on this theater project at Ensemble Studio Theatre/LA.

Artistic director McFadden directs company member Crosby in this West Coast premiere.

Inspired by the unsolved murder of six-year old JonBenét Ramsey, House of Gold is billed as "a hilarious, yet scathing critique of our culture, revealing dark truths about our values, and, ultimately, about ourselves. It's a dark, kaleidoscopic comedy about childhood in America."

Performances of House of Gold take place October 15 thru December 4 at Atwater Village Theatre in Los Angeles.

TEMBLE ADVICE by Saul Rubinek. A world premiere, directed by Frank Oz.

Starring Tony-nominated Scott Bakula, Sharon Horgan, Andy Nyman and Caroline Quentin.

"Stanley (Stinky to his friends, played by Nyman) and Jake (Bakula) are best friends. Hedda (Quentin) and Delila (Horgan) are best friends. Jake loves Hedda; Stinky loves Delila. Stinky plans to marry Delila, until Jake shares some secrets and then gives him some advice."

At the Menier Chocolate Factory in London through November 12.

THE BLUE FLOWER a new musical by Jim Bauer and Ruth Bauer. Choreography by Chase Brock. Directed by Will Pomerantz.

Starring Sebastian Arcelus, Marc Kudisch, Meghan McGeary, Joseph Medeiros, Julia Osborne, Graham Rowat, Aaron Serotsky and Teal Wicks.

Spanning two continents and half a century, The Blue Flower "explores the romantic and tumultuous relationships between four young friends – three artists and a scientist – as they create a world of art, revolution and passion amidst the turbulence and destruction of the World Wars."

Performances begin October 12 at Second Stage Theatre in New York City.

SAY GOODNIGHT GRACIE:THE LIFE, LAUGHTER & LOVE OF GEORGE BURNS AND GRACIE ALLEN

Post card for George Burns appearing at the Sahara Hotel in Las Vegas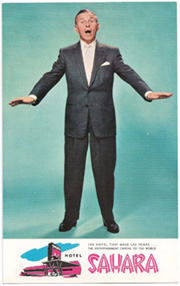 is penned by Tony and Emmy Award-winning writer Rupert Holmes.

Staged by William I. Franzblau.

Joel Rooks will reprise his critically acclaimed role of the lovable George Burns and Didi Conn will supply the singular voice of Gracie Allen.

Production design is by Elaine Smith.

The Broadway production was nominated for a 2003 Tony Award for Best Play, and became the third longest running solo- performance shows in Broadway history.

In Say Goodnight Gracie, theater audiences take a guided tour through an American century told through the eyes of George Burns who savored each day from his impoverished youth on the lower East side, to his career in Vaudeville, his marriage to Gracie Allen, their rise to success on stage, screen, radio and TV, and finally George's "second time around."

Say Goodnight Gracie returns to the New York stage on Friday, October 14th at Off Broadway's St. Luke's Theatre.

Opening day is scheduled for Sunday, October 30th.

CARMEN by Georges Bizet. Directed by Bernard Uzan. Conducted by Pier Giorgio Morandi.

Featuring Georgian mezzo-soprano Anita Rachvelishvili in the role of opera's most famous femme fatale, gypsy Carmen, with Luis Chapa as the man who loves her.

Bizet's sexy thriller about a soldier's ill-fated obsession with the ultimate femme fatale is arguably the world's most popular opera.

With: Michael Todd Simpson, Norah Amsellem, Joseph Lattanzi, Donovan Singletary, Amanda Opuszynski, Sarah Larsen, Andrew Stenson and David Krohn.

Set Designer: R. Keither Brumley. Costume Designer: James Schuette. Lighting Designer: Donald Edmund Thomas. Choreographer: Peggy Hickey. English Captions: by Jonathan Dean. Sets: Lyric Opera of Kansas City. Costumes: Seattle Opera.

In French with English subtitles, October 15-29 at the Seattle Opera in Seattle, WA.

JERUSALEM Jez Butterworth's award-winning riotous comedy returns to London's West End.

Mark Rylance reprises his legendary Olivier and Tony-winning performance as Johnny "Rooster" Byron.

Rylance is joined by Mackenzie Crook (Ginger), Max Baker (Wesley), Alan David (The Professor), Aimeé-Ffion Edwards (Phaedra), Johnny Flynn (Lee), Geraldine Hughes (Dawn), Danny Kirrane (Davey), Sophie McShera (Pea), Charlotte Mills (Tanya), Sarah Moyle (Ms. Fawcett), Harvey Robinson (Mr. Parsons), Barry Sloane (Troy Whitworth) and Lennie Harvey, Dylan Standen and Archie Waite (Marky 1,2,3).

Jerusalem is billed as a "comic, contemporary vision of life in our green and pleasant land. On St. George's Day, the morning of the local county fair, Johnny Byron is a wanted man. The Council officials want to serve him an eviction notice, his son wants his dad to take him to the fair and Troy Whitworth wants to give him a serious kicking."

Designs are by Ultz, with lighting by Mimi Jordan Sherin, sound by Ian Dickinson for Autograph and music by Stephen Warbeck.

Previews began at the Apollo Theatre in London on October 8 with the official opening taking place October 17 for a 14-week engagement through January 14, 2012.

BARRYMORE by William Luce.

Starring Keither Baker.

You've heard of Ethel, Lionel and of course you know Drew. Bristol Riverside Theatre opens its 25th season with Keith Baker portraying the greatest American Shakespearean actor of all time, John Barrymore.

Set in 1942, the final year of John Barrymore's life, Barrymore takes place on the stage of a Broadway theatre, where the actor is struggling to recreate his performance in the title role of Shakespeare's Richard III.

Come get to know John Barrymore through this unforgettable portrayal, and experience a taste of the wives and the women...the notoriety and the glory...the sorrow and the humor...of one of Hollywood's favorite rogues.

October 11-30 at the Bristol Riverside Theatre in Bistol, PA.


WHO'S WHERE


GIVE OUR REGARDS TO BROADWAY a musical delight, takes place Monday, October 10, when conductor Paul Gemignani and the Manhattan School of Music (MSM) Chamber Sinfonia will showcase some of the best of Broadway. Guest artists will include soprano Kate Baldwin and lyric baritone Alexander Gemignani along with Ted Firth (pianist) and Larry Lelli (drummer).

Featuring works by: Cole Porter, Stephen Sondheim, Richard Rodgers & Oscar Hammerstein II, Jerry Bock & Sheldon Harnick, Leonard Bernstein & Stephen Sondheim, Charles Strouse & Lee Adams, Richard Adler & Jerry Ross, Jule Styne & Stephen Sondheim, Leonard Bernstein & Richard Wilbur and Frank Loesser.

NSO POPS: SOME ENCHANTED EVENING Soprano Rebecca Luker, tenor Aaron Lazar, and baritone Rod Gilfry sing the music of Rodgers & Hammerstein with Principal Pops Conductor Steven Reineke and the NSO Pops. October 13 - 15, 2011 in the Concert Hall of the Kennedy Center, Washington, DC.

IRVING BERLIN: RAGS TO RITZES opens the New York Pops season on October 14. Performing will be Ashley Brown (Mary Poppins), Hugh Panaro (The Phantom of the Opera), James T. Lane (The Scottsboro Boys), Natasha Yvette Williams (Porgy and Bess) and musician Tony DeSare. Jack Everly will conduct the New York Pops.

AUDRA McDONALD Prior to her return to Broadway in the American Repertory Theater production of Porgy and Bess, which begins performances in December at the Richard Rodgers Theatre, the singer has embarked on a multi-city concert tour. On October 11 she appears at the Orpheum Theatre, Vancouver, BC. On October 15 the Tony Award winner will be at the Renée and Henry Segerstrom Concert Hall, Costa Mesa, CA.

BEBE NEUWIRTH: STORIES WITH PIANO one of today's most versatile performers, having earned two Emmy Awards as repressed psychiatrist Lilith on the hit comedy Cheers and two Tony Awards on Broadway for her roles in Chicago and Sweet Charity, Neuwirth, accompanied by pianist Scott Cady, performs an evening of favorite songs from her one-woman cabaret show. Saturday, October 15, at the Scottsdale Center for the Performing Arts in Scottsdale, AZ.

TOM DREESEN one of the most respected family comedians of all time, is the comic who opened Frank Sinatra's shows for 14 years. He'll divulge what that was like in his An Evening of Laughter and Memories of Sinatra, at the Rampart Hotel in Las Vegas October 14-16.

CYNDI LAUPER AND DR. JOHN perform Tuesday, October 11, at the Peace Center concert Hall in Greenville, SC. On Wednesday the show is at the Cobb Energy PAC in Atlanta. Friday's show is at the Wellmont Theatre in Montclair, NJ. On Saturday they are on stage at the Bergen PAC in Englewood, NJ.

JERRY SEINFELD telling funny stories Thursday, October 13, at the Centrium Arena in Red Beer, AB, Canada. On Friday he'll be getting laughs at the ENMAX Centre in Lethbridge, AB.

KATHY GRIFFIN brings her sense of humor to the Jubilee Auditorium in Edmonton, Northern Alberta, Canada on Wednesday, October 12. On Thursday she'll tell it she sees it at the TCU Place in Saskatoon, SK. Friday's show is at the Jubilee Auditorium in Calgary, Alberta and on Saturday she'll be outrageous at the Orpheum in Vancouver, BC.

K.D. LANG in the spotlight Tuesday, October 11, a the Morton J. Meyerson Symphony Center in Dallas. On Wednesday the show is at the Paramount Theatre in Austin, TX. Friday's performance is at the Lensic PAC in Santa Fe, NM and on Saturday she can be enjoyed at Centennial Hall in Tucson, AZ.

KINGSTON TRIO open a two night gig Saturday, October 15 at the Downtown Cabaret Theatre in Bridgeport, CT.

KATY PERRY is in England with a show Wednesday, October 10, at the Motorpoint Arena in Sheffield. On Friday the show is at The 02 in London.

RHANNA is across the pond where she opens a two night stand Monday, October 10 at the S.E.C.C. in Glasgow. On Thursday the tour stops at The 02 in London. Saturday's performance is at the LG Arena in Birmingham.


FINAL OVATION


STEVE JOBS genius who changed the world - the legendary Apple founder & CEO died on October 5, 2011 at 56 after long battle with pancreatic cancer.

Neil Portnow, President/CEO of The Recording Academy issued the following statement: "In 2002, Apple Computer, Inc. was a recipient of the Technical Grammy Award for contributions of outstanding technical significance to the recording field — which the groundbreaking company continues to achieve to this day. The world has lost an inspiring and creative inventor whose extraordinary legacy will forever remain present in our lives. Our deepest sympathies go out to his family, his friends, and the outstanding employees of Apple who will continue to honor his memory and vision."

AYUN FEDORCHA a Helen-Hayes nominated lighting designer, passed away after a long illness on September 28th. She was 53.

Ayun Fedorcha Fedorcha, who learned her craft in the University of Virginia at Charlottesville's MFA program, served as resident lighting designer for Washington, DC Adventure Theatre and Teatro de la Luna for nearly twenty years.

ROGER WILLIAMS world renowned pianist, died October 8, 2011 of pancreatic cancer at his home in Los Angeles, one week after his 87th birthday.

He recorded more than 100 albums. Seven singles made it onto the Billboard Top 40, perhaps the best known of which - and the one that brought him stardom - was Autumn Leaves - the only piano instrumental to reach #1 onBillboard's popular music chart.

Billboard ranks him as the top selling piano recording artist in history with 18 gold and platinum albums to his credit.

Williams was known as the Pianist to the Presidents having played for nine administrations beginning with Harry S. Truman. His last White House performance was in November 2008 for a luncheon hosted by former First Lady Laura Bush.

He is survived by two daughters, Laura Fisher, of Carmel, Calif., and Alice Jung, of New York; and five grandchildren.








Next Column: October 16, 2012
Copyright: October 9, 2011. All Rights Reserved. Reviews, Interviews, Commentary, Photographs or Graphics from any Broadway To Vegas (TM) columns may not be published, broadcast, rewritten, utilized as leads, or used in any manner without permission, compensation and/or credit.
Link to Main Page
---
Laura Deni



For the snail mail address, please E-mail your request.
CLICK HERE FOR COMMENT SECTION