! >
Broadway To Vegas
  SHOW REVIEWS     CELEBRITY INTERVIEWS     GOSSIP     NEWS 
DIVORCES, FACT SPINNING AND FIRE ALARMS

Nathan Lane, currently starring in The Man Who Came To Dinner - although the hit production closes tonight - is being lauded for helping an audience keep their heads when all about them people were screaming fire! during last Thursday's performance.



NATHAN LANE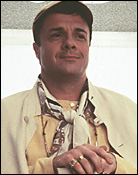 Halfway through the third act there was noise, a smokey smell, and the audience became extremely frightened. The disruption was so intense that finally the actors stopped.

Not one to be upstaged by an audience gone awry, Lane stepped forward. The house lights came up and that's when people starting screaming Fire! There's a fire in the theatre!

Quick thinking Lane stemmed what appeared to be a stampede waiting to happen - in a voice that is Lane at his best sarcastically - yelled backstage: "Is there a fire? Can you tell us what's going on?"

Although he wasn't joking, his delivery and sense of timing broke the panic and the audience regained control over themselves and were then prepared to evacuate the premise in an orderly manner.

Fortunately, that wasn't necessary.

It turned out that the gel on one of the overhead lights had popped, causing the strong burning odor.

While the patrons returned to their seats Lane continued to ad lib. Lane received a round of applause and then uproarious laughter when the play resumed and the first line was "I'm going upstairs, there's too been too much melodrama in the house."

So - all's well that ends well.



JAY LENO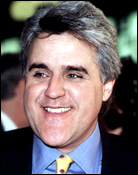 Jay Leno brought his Tonight Show crew to Las Vegas for some inter active taping at the Paris Hotel. In keeping with the political season the food soldier comedian trotted down the path with former White House Press Secretary Joe Lockhart. They'd snag hotel guests and give helpful instructions on how to twist the truth. When one man admitted to Lockhart and Leno that his wife didn't know he was gambling in Las Vegas, Lockhart gave him instruction to explain to her that he was in Las Vegas "investing for their future."

Leno will be airing the Vegas Jay Walking segments this coming week.

Paul Anka has decided to do it his way - splitting with wife Anne after 37 years of marriage, five daughters and a mega stash of community property.

Anka's wife filed for legal separation, claiming irreconcilable differences. In the petition filed in Los Angeles.Superior Court, Anne Anka asked for an unspecified amount of spousal support. The couple married Feb. 16, 1963, and they separated on Sept. 28, according to court papers. The couple has five daughters.

Although rumors have been thick for some time that Anka had found a new lady love, the couple claims to remain the best of friends, with the splitzville duo planning on spending Thanksgiving together - apparently giving thanks that the split is amicable.

The 25th anniversary of The Rocky Horror Picture Show will be Time Warping it all over Las Vegas this week, with the official convention taking place Friday and Saturday at Cashman Field and the Hard Rock

A fan club convention takes over Cashman Field followed by a parade Saturday night from Circus Circus Hotel to the Hark Rock Hotel culminating with the largest group Time Warp in front of the Hard Rock for the Guinness Book of World Records.

VH1 is taping he festivities, including a karaoke special, which will air on Halloween.

Stars of the film confirmed to attend include Little Nell Campbell, Dori Hartley, Patricia Quinn, and Richard O'Brien.

Celebrities expected on Saturday include Jesse L. Martin, Dominique Swain, Bijou Philips, Eric McCormack, Ashton Kutcher and superthin supermodel Kylie Bax, all of whom have promised to sing songs from the cult classic movie - soon to be revived as a Broadway musical.

Producer Jordan Roth's revival of Richard O'Brien's The Rocky Horror Show, begins previews on Oct 20 at the Circle in the Square NYC, with the official curtain going up on Nov. 15



JOAN JETT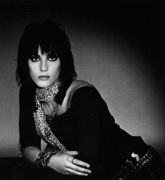 The revival of the cult musical, The Rocky Horror Show, will feature Christopher Ashley directing an eclectic cast, including Dick Cavett as the Narrator, Lea DeLaria as Eddie/Dr. Scott, Joan Jett making her Broadway debut as Columbia, Jarrod Emick as Brad, Raul Esparza as Riff Raff, Daphne Rubin-Vega as Megenta, Alice Ripley as Janet, and Tom Hewitt as Frank n' Furter.

The production team, under director Ashley comprises choreographer Jerry Mitchell, scenic designer David Rockwell, lighting designer Paul Gallo, costume designer David Woolard, sound designer Richard Fitzgerald, musical director Henry Aronson and orchestrations by Doug Katsaros.

As would be expected, the show will interact with the audience.

The cult movie was actually an adaptation of the original stage version which ran for about a month in 1975. The movie, released the same year, featured many performers who were in the original Broadway production.

The film version was directed by Jim Sharman and starred Tim Curry, Susan Sarandon, Barry Bostwick, Richard O'Brien, Jonathan Adams, Meatloaf, Little Nell (Campbell), Charles Gray and Patricia Quinn.



Broadway To Vegas is supported through advertising and donations. Priority consideration is given to interview suggestions, news, press releases, etc from paid supporters. However, no paid supporters control, alter, edit, or in any way manipulate the content of this site. Your donation is appreciated. We accept PAYPAL. Thank you for your interest.


SOUTHERN FESTIVAL OF BOOKS

The Southern Festival of Books takes place in Nashville this week with the pages being flipped October 13-15 at War Memorial Plaza in Nashville, TN.

Newport News, Va. born William Styron -- who with Eudora Welty would rank as one of the two most eminent Southern authors alive today -- is scheduled to deliver the Robert Penn Warren Lecture on Southern Letters that coincides with the opening of the popular book festival.

Among the Yale graduate's many novels are the early, brilliant Lie Down in Darkness(1950); the Pulitzer Prize-winning Confess of Nat Turner (1967); Sophie's Choice (1979), adapted into a highly regarded film starring Kevin Kline and Meryl Streep; and Darkness Visible (1990), which explored the author's struggle with depression.

Styron's 30-minute talk -- scheduled for the opening Friday at the Sheraton Nashville Downtown -- is the third in the lecture series, which was launched in 1998 and has previously spotlighted Elizabeth Spencer and Reynolds Price.

WILLLIAM STYRON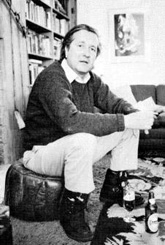 The Tennessee Humanities Council presents the book festival and co-sponsors the lecture with the Robert Penn Warren Center for the Humanities at Vanderbilt. Galyn Glick Martin is the, festival director and Robert Cheatham is president of the Council.

Big-name scribes include Bobbie Ann Mason, Peter Matthiessen, Alan Lightman, Terry Kay, Josephine Humphreys, George Garrett, Clyde Edgerton and Frederick Barthelme. There is also hot newcomer Ha Jin, who snared a recent National Book Award for Waiting, as well as William Least Heat-Moon, author of Blue Highways and River-Horse. And look for some current members of Vanderbilt's literati -- author Tony Earley and poet Mark Jarman. During the festival, Earley, who will be promoting his latest book, Jim the Boy, will be featured in War Memorial Auditorium in a special appearance with singer-songwriter Paul Burch, who has composed music inspired by Earley's book.

The festival was launched in 1989 with less than 100 authors on hand and is envisioned as a marriage of commerce and education, since most but not all of the authors are promoting new books.

Over the three days of the convention there will be nearly 70 panel discussions, including children's books, and some 62 presentations by individual authors. Another 16 performances, ranging from poetry reading and storytelling to music related to writing, are also planned. In addition, there will be some 95 exhibitor booths for publishers, booksellers and various book-related non-profit organizations.

Estimated attendance is expected to exceed 30,000, with attendees coming from across the nation.


SWEET CHARITY

16th ANNUAL RITA HAYWORTH GALA

Rita Hayworth suffered from Alzheimer's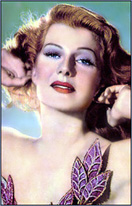 takes place in New York City on October 11th.

Rita's daughter, Princess Yasmin Aga Khan, who lives in Utah, is the founder and hard working hostess.

This year's benefit called Beneath the Harvest Moon, is the 16th Annual Rita Hayworth Gala benefiting the fight against Alzheimer's disease, which destroyed the fabulous screen goddess.

Ashford & Simpson perform and the place will be packed with celebs: Calvin Klein, Regis Philbin, Kathie and Frank Gifford, Phyllis George, Donna Dixon and Dan Aykroyd, Kim Cernak and Art Garfunkel.

For more info Call (212) 843-1712.

BERNADETTE PETERS was in concert last night at the McCarter Theatre in Princeton, N.J., backed by a 30-piece orchestra. The event benefited the theatre company.



THE SCARLET PIMPERNEL is on tour. On October 10th they open at the Bushnell in Hartford CT. where they'll be performing through October 15th. Then it's Pittsburgh PA Heinz Hall October 17-22; Hershey, PA Hersheye Theatre October 24-29; Philadelphia, PA Merriam October 31-November 5; Green Bay, WI Weidner November 7-12; San Diego, CA Civic Theatre November 28- December 3; Tempe, AZ Gammage December 5-10; Denver, CO Buell December 12-31.

The cast includes: Amy Bodnar, William Michals, Robert Patteri, Jennifer Zimmerman, Billy Sharpe, Leo Diagnaulp, Stephonne Smith Russell Joel Brown, Harvey Evans, Russell Garrett, James Van Treuren, Stephen Hope, Aaron Paul, Christopher Carothers, D.B. Bonds, Peter Kapetan, Michael Bunce, Matthew Farver, Ashlee Fife, Angela Garrison, Rebekah Jacobs, Christeena Michelle Riggs, Marisa Rozek, Kathleen Shields, Michael Susko, Lisa Yuen, Erin Coakley, Drew Geraci, Grant Rosen.

THE DINNER PARTY by Neil Simon has begun previews at the Music Box Theatre, NYC. The production stars Harry Winkler, John Ritter, and Len Carlou.

THE FULL MONTY in previews at the Eugene O'Neill Theatre, NYC.

LES MISERABLES at the Saenger Theatre, New Orleans, LA. The international hit returns for the fourth time - this time as the first attraction of the Saenger's new Broadway series. Music by Claude-Michel Schonberg, lyrics by Herbert Kretzmer and Alain Boublil, book by Boublil and Jean-Marc Natal, based on Victor Hugo's novel. Stars Ivan Rutherford, Stephen Bishop, Joan Almedilla, Stephen Brian Patterson, and Stephanie Walters. Through October 15. Tickets range from $16 to $53.

GODSPELL Proctor's Theatre, Schenectady, NY. Revival of the musical. October 10-11. Tickets: $20.50 to $34.50.

CHESS New Orleans premiere of the 1986 British musical, music by Benny Andersson and Bjorn Ulvaeus of ABBA, lyrics by Tim Rice, book by Rice and Richard Nelson, directed by Tim Baker. Russian-American chess rivalry amid political and romantic intrigue during the Cold War. With Donald Loupe Jr., Vatican Lokey, Nicole Teague, Tara Brewer, Travis Resor, Raphaelle O'Neal and Kevin Fricke. Opened Thurs at the Delgado Community College plays through October 22.

THE MAN IN THE FLYING LAWNCHAIR

TOBY WHERRY as Larry Walters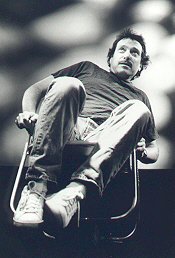 78th Street Theatre Lab NYC proudly presents the return of this summer hit with performances resuming on October 12. It's an ensemble-created piece directed by Eric Nightengale, based on the true life story of Larry Walters.

This is a funny, high altitude comedy of errors about a man dedicated to getting the best view. Man In The Flying Lawn Chair investigates the strange but true life of Larry Walters, who, with the help of fifty surplus weather balloons, launched himself to 16,000 feet in an aluminum lawn chair where he was spotted by passing aircraft. Mr. Walters dropped out of sight after enjoying a brief 15 minutes of fame - including an appearance on Late Night With David Letterman - but not before securing his place as a cult hero for outcasts and daredevil weirdoes everywhere.

The ensemble-created and performed piece is headed by Toby Wherry as Larry Walters. Mr. Wherry portrayed Bob Packwood in the highly successful Lab production of The Packwood Papers. This production is the latest installment of From Page to Stage an ongoing series at 78th Street Theatre Lab of new work developed in the tradition of the living newspaper, where theatrical inspiration is drawn from people and events pulled from the front pages. In addition to Mr. Wherry the ensemble includes: Carey Cromelin, Monica Read, Kimberly Reiss, and Troy W. Taber.


WHO'S WHERE

SHAOLIN WARRIORS refined martial arts training in feudal China as a precautionary defense nearly 1,500 years ago. Today, the monks still undergo intense training through Buddhist meditation, achieving extraordinary human physical ability and proficiency with more than 20 weapons. October 17 at the. LIED Theatre in Lincoln NE. Tickets $28-$36.

SARAH BRIGHTMAN October 8 in New Orleans, LA at the Saenger Theatre, October 9 in Dallas, Texas at the Reunion Arena/Starplex Amph Oct. 10 in Houston, TX at the Aerial Theatre and October 13 in Columbus, Ohio at the Nationwide Arena.

BERNADETTE PETERS October 13 at the OnCenter War Memorial in Syracuse, NY.

CHRISTINE NOLL October 14 with the Cape Symphony Orchestra at the Barnstable Performing Arts Center in Hyannis, MA.

CLEO LAINE in the United Kingdom October 8 - Cleo: The Stables - September Song (with Milton Keynes Chamber Orchestra) October 10 - The Stables - Table Talk October 12 - Norwich Festival (with Generation Band) October 14 - The Stables - If Music Be the Food of Love.

RITA RUDNER,/font> has quietly proved that a clean, intelligent comedian can succeed. Furthermore, she's female and female comedians have always had it tougher, especially in Las Vegas. The talented lady has turned the Cabaret Theatre at the MGM Grand Hotel into a winner. The room holds 380 people and Rita packs the place. The next time you're in Las Vegas don't miss her show.

CHARLIE PROSE Turning Stone Casino Resort, Verona, NY. October 10 Tickets $20-30.

SHIRLEY CESAR in Savannah, GA Johnny Mercer Theatre on October 10. Then on Thursday it's on to Augusta, GA Bell Auditorium Civic Center.

DOOBIE BROTHERS Jacksonville, Florida Theatre on October 10.

DIXIE CHICKS couldn't be hotter and they are determined not to cool down. Tonight they're turning on the crowd in Lincoln, NE at the Bob Devaney Sports Center. On Tuesday they cross the state line to perform in Valley Center, KS Kansas Coliseum. Then on Thursday it's Columbus, OH Schottenstein Center.The tearing up the stage Friday at a stop at State College, PA Bryce Jordan Center and rounding out the week of one nighters is a Saturday performance in Philadelphia, PA First Union Spectrum.

OAK RIDGE BOYS must have been yo-yos in a previous life. On October 11 they perform Branson, MO at the Grand Palace. Hopefully they can leave most of their wardrobe in their dressing room. On Friday they travel up the road a bit to Minot, ND Norsk Hostfest and then return to Branson for a Saturday night gig, again at the Grand Palace.

JOAN BAEZ sings tomorrow in Marquette, MI Northern Michigan Univ. Next night she's in Kalamazoo, MI at the Kalamazoo State Theatre. On October 12 it's Torrington, CT at the Warner Theatre. Friday finds her performing in Purchase, NY NY/Purchase Arts Center.

LARRY GATLIN cutting loose Oct. 13 in Henderson, KY at the Fine Arts Center.

GLADYS KNIGHT expects a better reception on October 10 in Little Rock, AR at the Excelsior Hotel following last week's cancellation of a show because of poor ticket sales. That has to have been a first for the Las Vegas resident.

JULIO IGLESIAS has a busy week. Tomorrow he's in Denver, CO at the Paramount Theatre. On Wed he sings in San Jose, CA San Jose Arena. The following night the crooner is in San Diego, CA Copley Symphony Hall.

AUDRA MC DONALD on Saturday will be delighting the crowds in Hershey, PA at the Hershey Theatre.

WILLIE NELSON,/font> does his thing tonight in Spring, Texas C.W. Mitchell Pavilion Then on Thursday he's in Columbus, OH Schottenstein Center.

KD LANG is across the pond. On October 10 it a performance in Glasgow, UK Clyde Auditorium. Then on Wednesday it's center stage in Manchester, UK Apollo Manchester . If it's Thursday it must be Nottingham, UK Nottingham Arena and rounding out the week on Saturday in Hamburg, Germany Curio Haus.

THE MISSISSIPPI STATE FAIR has an entertainment price that is right - free. The Mississippi State Fair is being held at the fairgrounds in downtown Jackson until October 15. Scheduled free live entertainment includes; Jan and Dean October 9, Chad Brock October 10, followed by Jeffrey Osborne, The Bellamy Brothers, Lou Rawls and Lee King. All shows are at the Budweiser Pavilion. regular fair admission is $3. Children under 6 are free.


THIS AND THAT

CHRISTINA AGUILERA AND JIMMY BUFFET not together - caught the O show at the Bellagio Hotel, Las Vegas. Buffet was doing his own show in Vegas while Christina was part of last night's Tiger Wood's Tiger Jam Charity Gala at Mandalay Bay.




Mention BROADWAY TO VEGAS for Special Consideration
Call (800) 942-9027









Next Column: October 15, 2000
Copyright: October 8, 2000. All Rights Reserved. Reviews, Interviews, Commentary, Photographs or Graphics from any Broadway To Vegas (TM) columns may not be published, broadcast, rewritten, utilized as leads, or used in any manner without permission, compensation and/or credit.
Link to Main Page
---
Laura Deni


CLICK HERE FOR COMMENT SECTION