! >
Broadway To Vegas
  
  REVIEWS INTERVIEWS COMMENTARY NEWS

| | |
| --- | --- |
| | |
JAMES BOND AUCTION SURPASSES EXPECTATIONS - - CARNEGIE HALL PRESENTS BARBARA COOK 85th BIRTHDAY CONCERT - - JEKYLL & HYDE CD REVIEW - - CALL THE MIDWIFE SERIES HAS CONNECTIONS TO BROADWAY - - A CHRISTMAS STORY CD REVIEW - - PRODUCTION OF GRACE PLANS SPECIAL EVENTS - - CAROL CHANNING LIVE AND ON STAGE - - RUDOLF NUREYEV: A LIFE IN DANCE - - DONATE . . . Scroll Down


NEW MUSICALS RUN THE GAMUT


A CHRISTMAS STORY: THE MUSICAL with a book by veteran playwright Joseph Robinette and music and lyrics by Benj Pasek and Justin Paul. The world premiere recording of the delightful, family friendly musical will be released on CD on October 22, 2012 by Masterworks Broadway.

All it takes is listening to just the first four bars to know A Christmas Story: The Musical is going to be a rousing wonderful score which leaves the listener in a good mood.

Seemingly everybody knows the story line of this iconic work. Even if you are the one person on the planet who isn't familiar with A Christmas Story, the tunes and the included dialogue effectively convey the plot.

Set in 1940s Indiana, a bespectacled boy named Ralphie has a big imagination and one wish for Christmas a Red Ryder BB Gun. A kooky leg lamp, outrageous pink bunny pajamas, a cranky department store Santa, and a triple-dog-dare to lick a freezing flagpole are just a few of the obstacles that stand between Ralphie and his Christmas dream. A Christmas Story, The Musical is holiday entertainment that captures a simpler time in America with delicious wit and a heart of gold.

The upcoming Broadway opening of the stage musical is co-produced by the film's original Ralphie, Peter Billingsley. With the exception of the loving - What a Mother Does - all numbers are effervascent, toe-tapping, high-kicking, jazzy, marvelously up-lifting.

The 1983 MGM film A Christmas Story, starring Peter Billingsley, Darren McGavin, and Melinda Dillon is now seen on television because the MGM film library was purchased in 1986 by Ted Turner. For those who can only manage to see the television movie version which has no music, listening to this CD will add tremendous enjoyment to that small screen offering. Or, for that matter, reading the book upon which this is based. That was called In God We Trust, All Others Pay Cash.



John Bolton as The Old Man performs A Major Award. Photo: Carol Rosegg.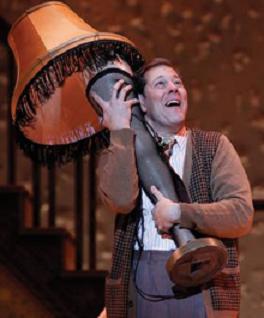 Holiday offerings can be tricky.

Many Christmas themed productions and especially seasonal music - unintentionally - induce depression. The lyrics are longing, mourning days, people or situations past.

While A Christmas Story is centered around Christmas, the story is really one of a family and how they cope with a variety of situations.

Although set in 1940s, the events are timeless and the music does an exemplary job bringing that era, the famous plot, and this family to life.

An excellent recording in which every word of the lyrics and accompanying dialogue can be understood.

That is a significant accomplishment considering that many of the lines are delivered by children. Many times child speak can only be understood by their respective parents. In the case of A Christmas Story, this show has demographics which include everyone.

The one poignant song concerns the scene where Ralphie has been in a fight. His mother covers for him at the dinner table after The Old Man asks about the black eye. That number - What a Mother Does is loving and tender.

This is the perfect stocking stuffer for anyone. Put it on your gift giving list and buy one for yourself. One listen will leave no doubt that you'll enjoy playing the CD any time of the year. This isn't a CD that's thrown into a pile to - perhaps - be played once a year.

This CD also infuses an interest in watching the show which arrives on Broadway at the Lunt-Fontaine Theatre from November 3-December 30, 2012.

The 18-track recording features John Bolton as The Old Man, plus cast members from Seattle's The 5th Avenue Theatre production and the 2011 National Tour. They're joined by Broadway stars Liz Callaway as Mother and Tom Wopat as Jean Shepherd. The remarkable young Clarke Hallum stars as Ralphie.

Conductor: Ian Eisendrath. Associate Musical Director/Associate Conductor Faith Seetoo.

Orchestra: Dane Andersen, Michael Edwards, Martin Kuuskman, Dave Long, Dewey Marler, Francine Peterson, reeds. Brad Allison, Paul Baron, trumpets. Nelson Bell, Dan Marcus, David Marriott, trombones. Dwight Beckmeyer, Matt Goodrich, keyboards. Catherine Barrett, harp. Paul Hansen, percussion. Chris Monroe, drums. Jon Hamar, bass. Recorded and mixed by Todd Whitlock. Edited by David Lai. Assistant Engineers: Sam Hofstedt, Ian Kagey, John Kilgore, Brian Valentino, Derik Lee, Brett Mayer.

Mastered by Mark Wilder at Battery Studio, NYC. Additional recording and mixing by Isaiah Abolin. Recorded on December 10-14, 2010 and April 17 and August 10, 2011 at Studio X (Seattle), MSR Studios NYC and JK Sound and Recording, NYC. Mixed at MSR Studio, Studio B.

Music Preparation: Don Oliver and Paul Holderbaum, Chelsea Music. Keyboard programming, Jim Harp. Music Librarian Dane Anderson.

Music Direction & Supervision by Ian Eisendrath. Orchestrations by Larry Blank.

Track Listings

1. Overture
2. Counting Down to Christmas
3. At Higbee's
4. Red Ryder Carbine Action BB Gun
5. Counting Down to Christmas (Reprise)
6. The Genius on Cleveland Street
7. When You're a Wimp
8. Ralphie to the Rescue
9. What A Mother Does
10. Sticky Situation
11. A Major Award
12. Act One - Finale
13. A Kid At Christmas
14. Just Like That
15. Up On Santa's Lap
16. Before the Old Man Comes Home
17. Somewhere Hovering Over Indiana
18. A Christmas Story

The 5th Avenue Theater in Seattle has premiered 14 new musicals over the past decade. Seven of them have gone on to Broadway and two - Hairspray and Memphis - earned Tony awards for best musical.

This season The 5th Avenue has two musicals opening on Broadway within one week of each other.

A Christmas Story, The Musical! arrives at The Lunt-Fontanne Theatre in New York City with the show's opening night set for November 19. The show ran in Seattle from Nov. 26 to Dec. 30 in 2010. Kathy Lee Gifford's Saving Aimee, produced at The 5th Avenue Theatre in 2011, opens November 13 at the Neil Simon Theatre.

JEKYLL & HYDE 2012 CONCEPT RECORDING conceived for the stage by Tony and Grammy nominee Frank Wildhorn and Steve Cuden, the four-time Tony-nominated musical Jekyll & Hyde features a book and lyrics by two-time Oscar winner, Emmy winner and four-time Tony Award nominee Leslie Bricusse and music by Wildhorn.

This concept CD is released by Broadway Records to coincide with the current national Jekyll and Hyde Tour. The accompanying booklet contains an explanation by Wilhorn:

"This present new offering, which is the fifth US version since l990, illustrates more clearly than ever how the evolution of the score of a musical play can continue to expand with the passage of time, especially if the style of its presentation adapts to the musical times in which each new version is offer.(sic)"

If we're talking eons ago and re-imagining can breathe life into something that deserves a modern re-birth, then bravo.

If we're talking current, a "reimage" can be a cover word indicating the person doesn't have the ability to compose their own production, thus attempts to "reimage" the work of somebody else.

Jekyll & Hyde is different. In this case Frank Wildhorn not only permitted, but requested his Jekyll & Hyde score to be reimaged and orchestrated. Why?

There was nothing the matter with the original, which I saw and thoroughly enjoyed on Broadway.

In the Broadway To Vegas column of June 8, 1998 reviewed the Broadway production. In part that review stated: "In Jekyll & Hyde their composition of This Is The Moment is showstopping. Joining that incredible song in deserving classic longevity are Once Upon A Dream and Someone Like You. This is a musical production where, despite the dark theme of the Robert Louis Stevenson novella, you leave the theatre humming the songs. A week later you'll still remember the music and lyrics. That's what a musical production is suppose to do and Jekyll & Hyde lives up to the highest expectations. If you haven't seen the production, go see it. If you have, go see it again. The second time isn't a second hand let down. Rather, it's an opportunity to again be engulfed in creative perfection."

What this 2012 Concept Recording sounds like is an attempt not so much to "adapts to the musical times" but to adapt to the financial times and/or to permit performances by instrumentalists still honing their skills.

If this CD is intended to be heard under the mind set of staying under budget by eliminating live or experienced musicians, then it is effective and makes its point.

This CD doesn't do justice to the ability of the expert and capable musicians heard on this CD.

Nor are these comments meant to in any way imply that the arrangers and orchestrator are amateurs. They ably carried out their instructions. The puzzlement is why Wildhorn went in this direction.

Mediocre orchestrations result in mediocrity.

If this new re-imagined score is intended to convey what Wildhorn wishes he had done in the first place, then the composer needs to re-listen to his original creation - which was excellent.

Again, if "re-imagining" this to show how music has changed is a code for cutting live musicians, relying on a synthesizer - then okay - just like being able to rewrite a major musical into a high-school version, a full blown musical can be rewritten to throw the performance burden on the singers and more or less eliminate the orchestra.

The results are comparable to a school version production.

Highly successful musicals such as Les Mizerables are re-written into a "school version," making sure the spoken words don't offend and that middle school or high school students can perform the orchestrations.

Middle school music students should delight in playing these arrangements.

This 2012 Concept Album has uncomplicated orchestrations which are not nearly as ambitious or entertaining as the original. That means more responsibility is heaped upon the singers to convey the meaning of the lyrics, because the instruments utilized are merely being played. The instruments don't interpretate meaning or "talking".

If played as an instrumental, these new song versions would mostly blend into one long song.

Lost in the Darkness is wishful, longing, while I Need to Know is anguish filled desperation. Take Me As I Am is mellow. However, the score relies heavily on the drums and violins, but the drum has little more than three set note patterns.

Bring on the Men has been drastically changed from the original. It is now orchestrated as a hora. Without having the benefit of having seen the new 2012 version of Jekyll & Hyde, and thus having no memory pictures of the new performance, listening to Bring on the Men conjured up visions of Jewish men with long beards and coats dancing with bottles on their heads.

However, this isn't some dreadful CD which ought to be used as a Frisbee. There are parts of it which are quite interesting. The duets such as Someone Like You are ear pleasing.

The arrangements on Alive do have sinister undertones, which is one of the few arrangements which permits a musical instrument to deliver a message.

Then there is This is the Moment.

This is the song which needs the male lead to send the lyrics to the back of the house. In the original production - which played on Broadway for 1,543 performances, from 1997 through 2001 - this was the showstopping number that ended the first act. This was the show's defining number. This was the song that brought the audience to its feet and guaranteed that the crowd returned after the intermission.

This "reimagined version," castrates This is the Moment, which begins too mellow and stays underwhelming. Instead of permitting the singer to make the song his defining moment, he is frequently drowned out by the drum and there are too many repetitive violin bars. The "moment" is destroyed.

The singers have clear, beautiful voices - which saves the recording.

Heard on this CD are Tony Award nominee Constantine Maroulis heads the cast in the dual title role of Dr. Henry Jekyll and Edward Hyde with Grammy-nominated R&B star Deborah Cox as Lucy, Teal Wicks as Emma Carew, Laird Mackintosh as John Utterson, Richard White as Sir Danvers Carew, Tom Hewitt as Sir Danvers, Shannon Magrane as Nellie, Corey Brunish as Utterson and Carly Robin Green also as Lucy.

Newly imagined arrangements and tracks by Jason Howland and Billy Jay Stein Orchestrations are by Kim Scharnberg.

Mixed by Billy Jay Stein. Recording engineer Billy Jay Stein. Assistant engineer and MIDI programming Hiri Iida. Synthesizer Programmer Billy Jay Stein. Mastered by Dave McNair. Recorded & mixed at Strange Cranium Studios, NYC.

Musicians:
Piano and keyboards: Jason Howland. Keyboards: Billy Jay Stein. Guitar: Mark Copely, Ben Butler, Alex Skolnick. Bass: Richard Hammond. Drums: John Clancy. French horn: RJ Kelley. Trumpet: Don Downs. Trombone: Jeff Nelson. Violin/Contractor: Antoine Silverman. Violin: Emily Yarbrough, Entcho Todorov. Cello: Anja Wood.

Following a preview engagement at the La Mirada Theatre for the Performing Arts, Jekyll & Hyde officially launched its national tour October 2-7 at San Diego's Civic Theatre. The production runs at the Civic Theatre in Houston, TX October 9-21.

After a February 12-March 3 staging in Los Angeles at the Pantages Theater, the production is set for a Broadway return in April 2013.

As for the original Broadway production, following a 30-city tour, the original Broadway production opened at The Plymouth Theatre April 28, 1997, and earned four Tony Award nominations. Directed by Robin Phillips and choreographed by Joey Pizzi, the production featured Robert Cuccioli as Dr. Henry Jekyll and Edward Hyde, Linda Eder as Lucy, and Christiane Noll as Emma Carew. Rob Evan played matinees as Dr. Henry Jekyll. Brad Oscar and Emily Skinner made their Broadway debuts in this musical.



Broadway To Vegas is supported through advertising and donations. Priority consideration is given to interview suggestions, news, press releases, etc from paid supporters. However, no paid supporters control, alter, edit, or in any way manipulate the content of this site. Your donation is appreciated. We accept PAYPAL. Thank you for your interest.




ART AND ABOUT


RUDOLF NUREYEV: A LIFE IN DANCE

Costume by Nicholas Giorgiadis for Rudolf Nureyev in the role of Prince Florimond in Sleeping Beauty, Teatro alla Scala, Milan, 1966 (left) and costume by Ezio Frigerio and Mauro Pagaono for Rudolf Nureyev in the role of Romeo, Romeo and Juliet, London Ballet Festival, 1977 (right). Collection CNCS/Rudolf Nureyev Foundation. Photographs by Pascal François/CNCS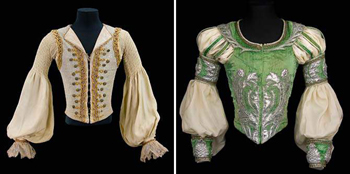 This special exhibition is dedicated to the life and work of the legendary dancer and choreographer Rudolf Nureyev (1938–1993). It showcases more than 80 costumes and 50 photographs from the dancer's personal collection, entrusted to the Centre national du costume de scène, France, by the Rudolf Nureyev Foundation, and incorporates key loans from active ballet companies.

"You live as long as you dance," was Nureyev's mantra throughout his meteoric rise as an internationally acclaimed dancer, choreographer, ballet master, and company director.

"The objects in the exhibition are the witnesses to his real life—they make up the daily luggage of this eternal traveler, of this rootless soul who found his identity in dance studios, rehearsal rooms, and on stages around the world," says Delphine Pinasa, the director of the Centre national du costume de scène.

Reflecting Nureyev's lifelong obsession with the details of fabric, decoration, and stylistic line, the costumes in this exhibition represent every period of his long career. As a meticulous performer, Nureyev demanded costumes that were not only beautiful, but precisely engineered to suit the physical demands of his dance. He also loved sumptuous decoration, and these costumes reflect his highly-refined aesthetic; fantasias of embroidery, jewels, and braid.

"Rudolf worked very closely with designers and no detail was too small. Lengthy discussions encompassing world history and the history of art, design, and performance were part of creating his ballets," says Jill D'Alessandro, Fine Arts Museums of San Francisco's curator of costume and textile arts.

Nureyev's dramatic escape from the Soviet Union in 1961, combined with his dashing good looks, sexual energy, and the triumphant success of his ballets, made him an international sensation by the age of 23. This exhibition highlights how he was part of the intense new celebrity culture taking hold in the early 1960s.

"Nureyev was considered ballet's first pop star," says D'Alessandro. "From his very first appearances on stage at Covent Garden, 'Rudimania' set London ablaze." Like Mick Jagger and John Lennon, Nureyev drew adoring crowds and was constantly photographed, and he was an enthusiastic participant in the '70s nightclub scene and international jet set.

On the 20th anniversary of Rudolf Nureyev's death, Rudolf Nureyev: A Life in Dance opened yesterday and is on display through February 17, 2013 at the de Young Museum in San Francisco's Golden Gate Park. Organized in collaboration with the Centre national du costume de scène in Moulins, France and the Fine Arts Museums of San Francisco, the de Young is the exhibition's exclusive US venue.

THE ANIMOTION SHOW an evening of music and painting which brings together Scotland and Russia to reflect the creative spirit of the court of Catherine the Great.

Scottish percussionist Dame Evelyn Glennie joins cellist Philip Sheppard and vocal consort Canty in a world premiere performance, while Russian visual artist Maria Rud creates a new work of art in the Grand Gallery.

The program reflects the creative spirit of Catherine's court, incorporating early Russian sacred music and work by Bortniansky, who composed for Catherine herself, as well as contemporary pieces.

AniMotion is a concept developed by acclaimed Russian artist Maria Rud in collaboration with a host of musicians across a range of genres. The musicians perform, whilst Rud paints a narrative piece that reflects the symbiosis between art and music in Russian culture.

Thursday, October 11, at The National Museum of Scotland in Edinburgh.


SWEET CHARITY


F. MURRAY ABRAHAM the Academy Award winner will receive the Will Award at The Harman Center for the Arts Annual Gala on Monday, October 15, in Washington, DC.

The Harman Center for the Arts Gala provides indispensable funds for the Theatre's education and outreach programs including the annual Free For All.

The evening begins with cocktails and a special multidisciplinary performance in Sidney Harman Hall including the presentation of the William Shakespeare Award for Classical Theatre. Michael Kahn describes this year's recipient, F. Murray Abraham, as "the embodiment of what every classical actor strives for: a model representative of the arts who has garnered critical acclaim on stage, film and television."

After the performance, guests will finish the evening at the National Building Museum with dinner, dessert and dancing with the evening's performers.

A BENEFIT PERFORMANCE FOR THE SOUTH STREET SEAPORT MUSEUM An immersive evening of readings and films, starring Matthew Broderick as Ishmael, Edward Herrmann as Ahab, and John Douglas Thompson as Father Mapple, with historian and author Nathaniel Philbrick as narrator and host.

Monday, October 15 at the Hosack Hall, New York Academy of Medicine in New York City.

Reception to follow for ticket buyers at the $250 level and above.


CAR AND WATCH TAKE TOP BIDS IN JAMES BOND AUCTION
2008 Aston Martin 2-Door Coupe used by Daniel Craig as James Bond in Quantum of Solace topped the auction. Photo: Christie's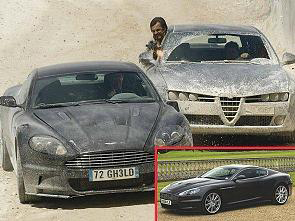 Never mind those estimates. Bidders at the James Bond memorabilia gavel down held last Friday at Christie's in London surpassed even the most optimistic expectations.

Dame Judi Dench, who plays M, and Samantha Bond, known for her role as Miss Moneypenny, attended the by invitation only auction and fueled bidding excitement.

The auction contained exclusive Bond items direct from the archives of EON Productions plus donations from Bond cast members.

The October 5th auction coincided with the 50th anniversary of the Bond movies.

The first Bond film, Dr. No was released Oct. 5, 1962.

Shortly before the live bidding began Christie's and EON Productions announced that a special, last minute donation had been made: the orchestral score for the theme song Skyfall, signed on the cover by Adele and co-writer Paul Epworth. The movie is due for release on October 26.

Sung by Adele, Skyfall, topped the iTunes chart within 10 hours of being released.

As for the auction, while it was no surprise that the 2008 Aston Martin 2-Door Coupe used by Daniel Craig as James Bond in Quantum of Solace brought in the most money - the amount was a shock. With a gavel down estimated of $161,400-$242,100, the car sold for $389,280. ­ The luxury car was reportedly bought by an unidentified bidder over the telephone.

From then on, the bidding went over the top.

Coming in second was the Automatic Seamaster Professional "Planet Ocean" wristwatch by Omega worn by Daniel Craig as James Bond in Skyfall.

Estimated to be auctioned for $9,684-$12,912 the timepiece ­sold for over $250,000.

Other items under the hammer: the complete works - 18 total - of Ian Fleming, Bond's creator. That fetched $147,197, surpassing the meager estimate of $16,140-$24,210.

A Clapperboard and Pierce Brosnan's director's chair used during the filming of Golden Eye. had an original estimate of $1,288-$1,932; It sold for triple that amount.

A navy, wool Tom Ford suit worn by Daniel Craig in the new Skyfall sold for $75,715. It was estimated to sell for between $3,500 and $5,000.

Daniel Craig's power blue swimming trunks were a hot number.

He wore the famous size "L" trunks by La Perla, labeled GrigioPerla and made in Italy, as he emerged from the sea in the movie Casino Royale.

Estimated to fetch $4,842-$8,070 the swim wear went for $71,725.

A pair of enamel cuff links worn by Chaim Topol as Milos Columbo in For Your Eyes Only, and a poster board from the movie also tripled their estimate.

Bringing in four times their estimate - a set of prop suction pads and a fiberglass shotgun from Sean Connery's You Only Live Twice. An Octopussy circus sign and program from the Roger Moore James Bond film also went up for grabs.

Proceeds of the auction will go toward benefiting a group of charities including UNICEF, Art Fund, ORBIS, and ChildLine.


SEATTLE OPERA ENCOURAGES PATRONS TO STORM THE STAGE


Usually operas are considered high tone events, attended by well dressed, polite people who know how to politely applaud.

For their upcoming production of Fidelio which opens October 13, the Seattle Opera is taking a different approach.

Storm the stage.

Beethoven's only opera is notable both for its stunning music and its timeless message of hope and love in the face of tyranny and oppression.

To help drive home the universality of Fidelio, Stage Director Chris Alexander is making use of a modern-day setting that features the every day citizens of Seattle.

Seattle Opera recently put out a call to the community, asking for volunteers to serve as supernumeraries ("extras") - non-singing, non-speaking roles - joining the large group who swarm the stage and break down the prison walls in the opera's triumphant final scene.

Fidelio tells the story of a devoted wife who rescues her husband, wrongly imprisoned for his political beliefs. Seattle Opera is using "dozens of extras to crowd the stage for the opera's conclusion, a scene in which prisoners and townspeople celebrate the downfall of a tyrant, the establishment of justice, and the strength of a humble person empowered by love."

To honor Beethoven's timeless message, Seattle Opera encouraged people of all ages and walks of life to audition. Because the production takes place in the present day, supernumeraries will wear their own clothing, not costumes.

Seattle Opera wasn't fooling around and stressed that "supernumeraries must be able to commit fully to Seattle Opera's rehearsal and performance schedule. Photos and video will be taken at the auditions; by participating you are allowing Seattle Opera to use your image for marketing and publicity purposes."

The human scenery will be storming the stage through October 27.


SPREADING THE WORD


CONVERSATION WITH AMERICAN LEGEND CAROL CHANNING

Carol Channing will be on stage October 20th.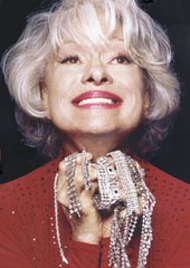 live and onstage of The Edgerton Center for the Performing Arts on the Campus of Sacred Heart University in Fairfield, Connecticut on Saturday, October 20, 2012.

Miss Channing will take the stage to candidly reminisce about her stage, film and television careers in an Actors Studio-style presentation hosted by Jerry Goehring, Executive Director of The Edgerton Center.

The evening will include selected clips from her film, television and stage productions and she will also participate in a Q&A with members of the audience.

Actress Channing made her debut on the Broadway stage in 1941's Never Take No for an Answer. With her megawatt wide-eyed grin and raspy voice, Channing made a name for herself in 1949 when she starred as Lorelei Lee in Gentlemen Prefer Blondes. It was this role in which she immortalized the anthem Diamonds Are a Girl's Best Friend. Channing's next Broadway hit did not arrive until 1963, when she landed the role of Dolly Levi in the blockbuster stage musical Hello, Dolly! She won a Tony Award for her performance. Channing returned to Broadway in a revival of Hello, Dolly! in 1978 and then again in 1995 in her Farewell Revival.

In 1966, Channing was awarded an Emmy for the 1966 TV special An Evening with Carol Channing and received an Oscar nod for her supporting performance in the film Thoroughly Modern Millie in 1967.

In 1981, Channing was inducted into the American Theatre Hall of Fame and in 1995 she was honored at the Tony Awards with a lifetime achievement award.

Live and onstage of The Edgerton Center for the Performing Arts on the Campus of Sacred Heart University in Fairfield, Connecticut on Saturday, October 20, 2012.

UPDATE - OCTOBER 9, 2012 Due to complications from a recent injury, Ms. Carol Channing's doctors have advised against air travel from the west coast to Connecticut. Carol appreciates everyone's concern and understanding and is looking forward to fulfilling her commitment at a later date.

JOHN TRESCH IN CONVERSATION WITH SIMON CRITCHLEY former Cullman Center for Scholars and Writers feller discusses his new book The Romantic Machine, with philosopher Simon Critchley.

In his vivid study of Romanticism and industrialization in Paris after Napoleon, Tresch explores the connections between these seemingly disparate movements by drawing on examples from art, literature, opera, scientific discoveries, and technological advancements.

Thursday, October 11, 2012 at the Stephen A. Schwarzman Building at the New York Public Library.

LOVE STORY THE MUSICAL

Piano shaped, signed Liberace soap. He also put his name on the piano at the Walnut Street Theatre.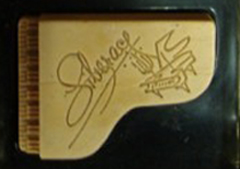 currently having its world premiere at the Walnut Street Theatre in Philadelphia has a beautiful white Baldwin piano that is being played by Douglass G. Lutz.

The piano has a history.

Under the lid, there's an undeniable mark of a memorable pianist.

The piano is signed by Liberace, who used the Baldwin while playing a concert in Atlantic City in 1985.

It has also been played by rock star Cyndi Lauper for a House of Blues concert.

Love Story: The Musical with music and lyrics by Howard Goodall and Steven Clark has performances through October 21.

ICE SKATING AT ROCKEFELLER CENTER in The Big Apple officially opens on Tuesday, October 16. You might even be able to partner with Rob McClure who took roller-skating, violin and tightrope-walking lessons for his star turn in the new musical Chaplin about Charlie Chaplin. McClure will be demonstrating whether or not he can stay upright on ice skates.

BUSIER THAN A BLUE-ARCHED FLY! an expression used by Prince Philip in 1970, will now be officially attributed to him in the Oxford English Dictionary, unless anyone else can provide evidence that another person used that particular expression in public before him.

The expression came about when the husband of Queen Elizabeth was expressing annoyance at a photographer.

The Duke became irritated when a group of photographers took too long. He asked a photographer who was rushing around taking pictures of him whether he was getting enough shots.

When the photographer responded that he "hoped so," Prince Philip snapped back: 'You should do. You have been running around like a blue-arsed fly.' The Times reported the phrase - which describes someone in a constant flurry of activity - on April 22, 1970, and since then it has become a common phrase in England.

THE ACADEMY AWARD WINNING AND TONY AWARD NOMINATED DIRECTOR SAM MENDES

Call The Midwife is a very adult, gritty, riveting BBC 1950's period drama. Photo: BBC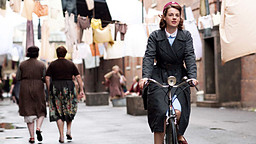 is responsible for the BBC television series titled Call The Midwife. Tony Award winner Vanessa Redgrave of the storied Redgrave clan is part of the series, which made it's American debut on PBS last week.

Eagerly looking forward to it, I thought it was going to be another fluffy British comedy.

Instead, Call The Midwife is a period drama which follows newly qualified midwife Jenny Lee and the work of midwives and the nuns of Nonnatus House, an Anglican nursing convent, coping with the medical problems in a deprived area of East London in the late 1950s.

Directed by Philippa Lowthorpe, the series also features Jessica Raine, Pam Ferris, Helen George, Miranda Hart, Jenny Agutter, Judy Parfitt, Bryony Hannah, Laura Main, Cliff Parisi, Stephen McGann,Ben Caplan,Lorraine Stanley, Hayley Squires, Carolina Valdes, Tim Faraday, Lacey Bond, Benjamin Wilkin, Sarah Ridgeway, and David Annen.

Narrated by Vanessa Redgrave as the voice of the mature Jenny.

Compelling, riveting, enthralling, this not to be missed series will go down in England as a hit on the level of Downton Abbey. Hopefully, the result will be the same across the pond.

Actress Miranda Hart and Costume Designer Amy Roberts were both nominated for BAFTA awards in 2012.

Call The Midwife was created by Heidi Thomas based on the memoirs of Jennifer Worth. The first series of six episodes premiered in the UK on January 15, 2012. A second series of eight episodes of the show has been commissioned and is expected to air in mid-2013 with a 2012 Christmas Special. The series is produced by Neal Street Productions, a film, television and theatre production founded and owned by Mendes.


IN THE COURTS


TONY SPECIALE HAS FILED A LAWSUIT AGAINST STAN RICHARDSON over authorship of a play about a secret Harvard tribunal conducted in 1920 to rid the campus of gays. That event was exposed in 2002 by the university's Crimson newspaper.

The two playwrights, who were once friends, both authored dramas about the incident.

Tony Speciale's Unnatural Acts received a Drama Desk nominee last year while Stan Richardson's play Veritas was staged at the 2010 New York International Fringe Festival.

Speciale, 33, filed in lawsuit in Manhattan federal court. He asked for a court order declaring his play doesn't infringe on Richardson's copyright for Veritas, and also which to be listed as a co-author of its script.

According to the suit, Speciale and Richardson collaborated on the development of Veritas until April 2008 when they had a "personal and professional falling out."

Speciale contends that he and 14 of his Plastic Theatre colleagues then started writing a new play that approached the same subject "through a different lens, emphasizing different aspects of the historical plot than Veritas." When Unnatural Acts was selected as a "main stage production" of the Classic Stage Company in 2010, Richardson accused Speciale of stealing his script, which Speciale says has since kept his play from appearing "in a variety of venues (including a Broadway option)."

Last August Speciale, a Louisville native, returned to Louisville to direct a production of Shakespeare's Romeo and Juliet which opened Actors Theatre of Louisville's current season.


HAPPY BIRTHDAY TO . . .


CARNEGIE HALL PRESENTS BARBARA COOK 85th BIRTHDAY CONCERT Thursday, Oct 18, 2012 at Stern Auditorium / Perelman Stage in New York City.

Barbara Cook gained fame in musicals like The Music Man for which she won a Tony Award and Candide.

Over the course of her illustrious career, she has played on the biggest stages all across the globe. She was named an honoree at the 2011 Kennedy Center Honors.

This living Broadway legend made her Carnegie Hall debut in 1975 and returns to kick off her 85th birthday week-long celebration. The vivacious lady turns the magic number on October 25th.



GRACE

Paul Rudd as Steve who prays for a chain of gospel hotel and Ed Asner as the exterminator Karl who has a different view on life. Photo: Joan Marcus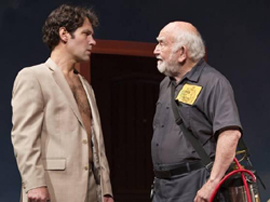 by Craig Wright. Directed by Dexter Bullard.

Starring stage and screen star Paul-Rudd, Academy Award nominee Michael-Shannon, Kate-Arrington, and seven-time Emmy winner Edward Asner.

Set in Florida, the dark comic drama examines the meaning of religion and life.

Have faith. And a back up plan.

The 100-minute intermissionless play is explained as: "In alternating scenes of hilarity and poignancy, life turns surreal for an eclectic foursome whose destinies collide in the Sunshine State. A wide-eyed young couple (Rudd & Arrington) head south with big plans to open a chain of Gospel-themed motels. When an agitated rocket scientist (Shannon) and a prickly pest-control man (Asner) enter the picture, the couple's ordered world is thrown into utter chaos."

The creative team includes scenic designer Beowulf Boritt , Darron L. West sound design, lighting designer David Weiner, costume designer Tif Bullard, J. David Brimmer, fight director and Nan Zabriskie makeup designer.

Grace premiered to critical acclaim at The Woolly Mammoth Theatre in Washington, DC, in 2004, and was subsequently seen in a celebrated production at Northlight Theater in Chicago, and at the Pasadena Playhouse in Los Angeles.

A series of special events celebrating the Broadway premiere of Grace are taking place.

Tomorrow, October 8, the entire cast will appear at the intimate theatre inside the Apple Store Soho for a conversation about the play. CNN's Shanon Cook will moderate the event, which will be recorded for future podcast. The conversation is open to the public and will include an opportunity for audience questions.

A Talkback Series will also be held following three Wednesday evening performances.

On October 10 Los Angeles Times journalist Patrick Pacheco will be joined by the entire cast for a post-show conversation about the play. On October 17 best-selling Eat Pray Love author Elizabeth Gilbert and the Rev. Stephen Phelps of the Riverside Church of New York will engage in a discussion of faith as it relates to the themes of the play. On October 24 Dr. Michael Brown of the Marble Collegiate Church NYC, who consulted on Grace during the rehearsal process, will similarly discuss the issues of faith and religion that are explored in the play.

All talkbacks will take place directly after the evening performances.

The limited run production is at The Cort Theatre in New York City.

I OUGHT TO BE IN PICTURES written by Neil Simon. Directed by Gregg W. Brevoort.

Starring Kelly Hare, Genevieve Joy and Robert Wuhl.

It's 1980 and struggling screenwriter Herbert Tucker suddenly finds his estranged 19-year-old daughter Libby has hitchhiked to Hollywood and landed on his doorstep. After sixteen years of disconnection, Libby sweeps into Herb's home, convinced that he can give her the silver screen acting career she desires, and demands the love and fatherly guidance he owes her. With the isolation of his California bungalow disturbed, Herb is forced to deal with the realities of fatherhood, and a renewed sense of direction that may affect his relationship with his on-again-off-again girlfriend Steffy. This funny and heartwarming story from one of America's most renowned playwrights proves that even the most dysfunctional families can undergo astounding transformations.

October 10 - November 11 at the Falcon Theatre in Burbank, CA.

ZELDA: AN AMERICAN LOVE STORY Composed by Frank Wildhorn. Book and Lyrics by Jack Murphy. Story by Jack Murphy and Vincent Marini. Directed by Vincent Marini.

"Anybody can be anything they want to be. you've just gotta first believe it yourself." - Zelda

"A brand new jazz age musical loosely based on the lives of Scott and Zelda Fitzgerald.This new musical tells the story of a beautiful southern belle who meets handsome author F. Scott Fitzgerald at a dance on July 4, 1917. what follows is a love affair for the ages and a couple that comes to define a new cult of American celebrity. with a score that nods to Porter and Gershwin, Zelda is an old-fashioned musical told in a completely new, contemporary way."

The cast is headed by Lauren Kennedy as Zelda Fitzgerald and Tony winner Jarrod Emick as F. Scott Fitzgerald.

They are joined on stage by Nova Bergeron, Barbara Bradshaw, Charles Brady, Scott Cote, Ben Dibble, Preston Dyar, Roderick Kennedy, Lauren Linville, Erin Mosher, Kristin Piro, Elizabeth Racanelli, Robbie Roby, Julius Rubio, Eric Stretch, Jena Lindsay VanElslander, Todd A. Walker, Nikol Wolf and Brenna Yeary.

Original choreography by Andy Blankenbuehler and additional choreography by Jennifer Jancuska and Stephanie Klemons.

Flat Rock Playhouse in Flat Rock, NC has partnered in the production of this new musical.

Performances at Flat Rock Playhouse, The State Theatre of North Carolina through October 28, 2012.

ANNIE with a book by Thomas Meehan, music by Charles Strouse and lyrics by Martin Charnin. Directed by James Lapine and choreographed by Andy Blankenbuehler.

Annie stars Katie Finneran as Miss Hannigan, Anthony Warlow making his Broadway debut as Daddy Warbucks and 11-year-old Lilla Crawford as Annie, with Brynn O'Malley as Grace Farrell, Clarke Thorell as Rooster Hannigan, and J. Elaine Marcos as Lily St. Regis.

The Orphans are Madi Rae DiPietro as July, Georgi James as Pepper, Junah Jang as Tessie, Tyrah Skye Odoms as Kate, Taylor Richardson as Duffy, Emily Rosenfeld as Molly and Jaidyn Young as standby for the roles of Annie, Pepper, Duffy and July.

The production also features Ashley Blanchet, Jane Blass, Jeremy Davis, Fred Inkley, Merwin Foard, Joel Hatch, Amanda Lea LaVergne, Gavin Lodge, Liz McCartney, Desi Oakley, Keven Quillon, David Rossetti, Sarah Solie, Dennis Stowe and Ryan VanDenBoom.

Starring as Sandy is Sunny, a two-year-old terrier mix who was discovered by animal trainer William Berloni at the BARC Municipal Animal Shelter in Houston, TX, only 24 hours before she was scheduled to be put to sleep (killed) as an unwanted shelter dog. Casey, a one-year-old terrier mix, is the Sandy understudy. She was discovered at the Maury County Animal Shelter in Nashville, TN. She was also scheduled to be euthanized (killed) before a last-minute reprieve.

The creative team includes scenic design by David Korins, costume design by Susan Hilferty, lighting design by Donald Holder and sound design by Brian Ronan. Projection design is by Wendall K. Harrington. Music director is Todd Ellison. Orchestrations are by Michael Starobin. Dance music arrangements are by Alex Lacamoire. Musical coordinator is Patrick Vaccariello. Hair and wig design is by Tom Watson. Casting is by Telsey + Company. Animal training is by William Berloni who was also the trainer of the original production's "Sandy."

The production of Annie began previews on October 3 and will officially open November 8 at the Palace Theatre in NYC.


WHO'S WHERE




CARRIE UNDERWOOD performs Wednesday, October 10 at the Maverik Center in Salt Lake City. On Friday she's center stage at the Events Center in Reno, NV. Saturday finds her at the Power Balance Pavilion in Sacramento, CA. Next Sunday, October 14, the show is at the HP Pavilion in San Jose, CA.

ESPERANZA SPALDING is on stage Tuesday, October 9, at the Kauffman Center in Kansas City. On Friday she'll appear at Austin City Limits Music Festival in Austin, TX and on Saturday she can be found at the Lila Cockrell Theatre in San Antonio.

PINK MARTINI is in Japan this week. On Monday, October 8 they are at the Civic Hall in Fukuoka. Saturday's performance takes place at the PAC in Hyogo, and next Sunday the show is at the Alpha Anabuki Hall in Kagawa, Japan.

BILL COSBY will be making people laugh Saturday, October 13 at the America Theatre in Branson, MO. Sunday's laugh fest takes place at the River Center in Baton Rouge, LA.

MADONNA has a two night stand Wednesday and Thursday at the Staples Center in Los Angeles. On Saturday she begins another two night gig at the MGM Grand in Las Vegas.

JOSS STONE is in the spotlight Tuesday, October 9 at the Sound Academy in Toronto, ON. Wednesday's show is at the Metropolis in Montreal, QC. On Friday the tour stops at the Casino Ball at Hampton Beach, NH and on Saturday the performances takes place at the Shubert Theater in New Haven, CT.

JUSTIN BIEBER will be getting screams Monday, October 8, at the Rose Garden Arena in Portland, OR. On Tuesday the screams will be coming from the Dome in Tacoma, WA. Wednesday's performance is at the Rogers Arena in Vancouver, BC. On Friday he'll be performing at the Scotiabank Saddledome in Calgary, AB.


FINAL OVATION


HEBE MARIA MONTEIRO DE CAMARGO recipient of the prestigious 2010 Trustees Award presented by the Board of Trustees of the Latin Recording Academy (Latin Grammy Awards), died September 29, 2012. She was 83. On January 8, 2010, Camargo was admitted to Albert Einstein Hospital in Sao Paula for surgery to remove cancer from the peritoneum, followed by chemotherapy

Married twice, her first marriage ended in divorce and produced one child. Her second husband, whom she married in 1973, died in 2000.

Gabriel Abaroa Jr. President/CEO The Latin Recording Academy issued the following statement:

A 2010 Latin Recording Academy Trustees Award recipient, Brazilian Hebe Camargo was a singer, actress and radio personality who ultimately blossomed in the field of television. She captured the heart of her country with her top-rated TV show "Hebe," and entertained a nation for more than six decades. Brazil has not only lost its most beloved television icon, 'A Madrinha da Televisão Brasileira' ('the Godmother of Brazilian television'), but one of its most gifted personalities. Her exuberance, talent and smile will be missed, and our deepest condolences go out to her family, friends, colleagues, fans, and to the people of Brazil.

BIG JIM SULLIVAN the British session guitarist who played on over 1,000 chart recordings, including 55 No 1 singles, died October 2, 2012 at home in West Sussex, England. He was 71 and had long suffered from heart disease and diabetes.

In 1969 he joined Tom Jones' band and spent time in Las Vegas, where he befriended Elvis Presley.

Among the numerous talents he worked with were Eddie Cochran, George Harrison,Marianne Faithfull, David Bowie, Gerry and the Pacemakers, Frank Zappa and the Who.

He is survived by his wife Norma, their children and grandchildren.








Next Column: October 14, 2012
Copyright: October 7, 2012. All Rights Reserved. Reviews, Interviews, Commentary, Photographs or Graphics from any Broadway To Vegas (TM) columns may not be published, broadcast, rewritten, utilized as leads, or used in any manner without permission, compensation and/or credit.
Link to Main Page
---
Laura Deni



For the snail mail address, please E-mail your request.
CLICK HERE FOR COMMENT SECTION