! >
Broadway To Vegas
 
  SHOW REVIEWS CELEBRITY  INTERVIEWS GOSSIP NEWS

| | |
| --- | --- |
| | |
TIGER ATTACK DURING SIEGFRIED AND ROY SHOW - - THEATRE WORKS' THE PLAY'S THE THING - - NEIL DIAMOND'S STAGES - - THE INFLUENCE OF YIDDISH THEATER - - WILL PAUL NEWMAN WEAR A SUIT? - - UNSEEN WORKS OF JIM HENSON - - THE RETREAT FROM MOSCOW - - RITA HAYWORTH GALA - - DONATE . . . Scroll Down


TIGER ATTACK DURING SIEGFRIED & ROY SHOW; ROY IN CRITICAL CONDITION
Roy on stage with one of his pampered exotic animals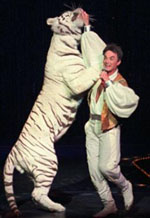 Roy Horn, half of the Siegfried and Roy duo, remains in critical condition at University Medical Center in Las Vegas after being attacked on stage by a tiger during Friday's performance at the Mirage Hotel.

What caused the animal to turn on its owner hasn't been determined.

The attack occurred approximately 45 minutes into the 7:30 p.m. show - the first of two scheduled performances.

As occurs during every show, Roy appears alone on stage introducing the tiger, Montecore, to the audience. The seven-year-old male had been performing in the production since it was six months old. Montecore had been assimilated into a stage environment and had never before exhibited threatening behavior.

Ringsiders reported that the animal "didn't look happy from the moment it was lead on stage," leading to speculation that the exotic animal wasn't feeling well or had become upset backstage. Another theory is that Roy may have slipped when he knelt down, accidentally placing himself in a submissive position in front of the wild animal, causing the creature to revert to it's natural attack instincts.



Roy nuzzling one of the tiger cubs in the popular Sprint commercial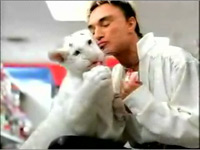 Almost immediately problems began.

Normally the routine has the tiger first lying down on the stage. Roy kneels down, bends his head toward the animal and puts the microphone to the animal's mouth so the audience can hear the tiger making sounds. Roy then stands. Montecore jumps up, puts his front paws on Roy's shoulders and kisses Roy.

This time nothing went as planned.

When Roy attempted to turn the animal towards the audience the tiger balked, and then refused to obey the command to lie down. Instead, the exotic animal lifted its lip and showed his teeth. Roy scolded the animal who then grabbed Roy's arm. Roy tried to free himself by repeatedly hitting the animal's nose with the live microphone - sounds growing in intensity as they reverberated around the 1500 seat showroom.



An active part of the Vegas community, Siegfried & Roy are involved non-stop in charitable causes. In this early 1980's event, the magicians donate books to Las Vegas students.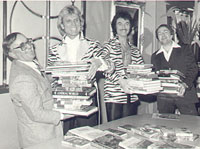 The tiger then made a lightening grab for Roy's neck. With Roy's neck firmly in it's jaws, the tiger carried the illusionist offstage. Numerous audience members used the same words to describe the scene - that Roy "looked like a limp, rag doll."

Some in the audience thought it was part of the act. Seconds later they realized the horror of the situation.

Horn's partner Siegfried Fisbacher came on stage and, although visibly upset, apologized to the audience for having to cancel the remainder of the show.

After the emergency call was placed, it took paramedics less than four minutes to arrive on the scene.

"The biggest concern was blood loss - so direct pressure on the wound without hurting the larynx and without stopping the breathing. It's a difficult challenge, but they did it," stated Clark County Fire Department spokesman Bob Leinbach. He added that "on the way (to the hospital) he was conscious, talking, and he had trouble breathing."

Treated on the scene for massive blood loss, Roy was rushed into three hours of emergency surgery to repair the damage to the left side of his neck. No details were released on the surgery, although rumors surfaced Saturday that Roy had undergone more than one operation.

The attack came on Roy's 59th birthday. He had celebrated the night before with a huge party at the Mirage. Additional gatherings had been planned throughout the week-end.

In over 35 years of professional entertaining in Las Vegas Roy had never experienced even a scratch while performing on stage.

The German born duo materialized from a 1966 specialty act in the Folies Bergere show at the Tropicana Hotel, into an illusion conglomerate that put magic into Las Vegas.



Siegfried and Roy are listed as the Segment VII specialty act in the 1971 Lido de Paris at the Stardust Hotel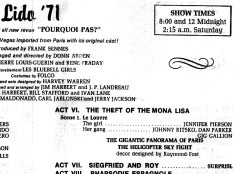 They worked their way up from a segment seven specialty section in the Lido de Paris at the Stardust Hotel to headlining the French extravaganza in 1978.

In 1981 they opened their own show at the Frontier Hotel playing approximately 3,500 performances over a seven year period.

In 1990 they transferred to the Mirage hotel under a $57.5 million contract spanning five years. In February, 2001 that was expanded to a lifetime contract. Their show has a cast of 88.

Enormous success propelled them into the recherche bracket that are lampooned on comedy shows, subjected to jokes on late night talk shows and impersonated at Halloween on The Today Show.



Siegfried and Roy watch as Elizabeth Taylor strokes the cub.
Tom Cruise helps to bottle feed the cub as Penelope Cruz looks on
Siegfried and Roy's dressing room at the Mirage was a revolving door for A-list celebrities.

Virtually ever star to visit Vegas not only attended a Seigfried & Roy performance, but went backstage afterwards to cuddle and help feed the cubs as they chatted with the illusionists.

Friends, performers and politicians gathered at the hospital waiting for word on the entertainment icon.

Siegfried has been keeping a bedside vigil making only one trip to their massive compound, known as Jungle Palace, before returning to the hospital.

After visiting the hospital Penn Jillette of Penn and Teller told reporters; "It's really not good. I'm sure there is hope. When I talked to Siegfried last night he said it was going to be okay, but you have no idea what that means."

On Saturday afternoon Siegfried issued the following statement: "For more than four decades I have had the great privilege of standing at the side of this remarkable man and I will continue to do so during this very challenging time. We are grateful and overwhelmed with the tremendous support we have received from around the world and ask for your continued prayers and reflection."

All future performances of the Siegfried and Roy show at the Mirage have been indefinitely canceled. 267 cast and crew members were advised to consider other employment options.

Individuals with reservations should call the box office for refund information.
FROM COURT TV TO PLAYING FRANK SINATRA'S MOTHER


Long before there was Judge Judy there was Aaron Rubin.

One of the most successful, diverse and influential theatrical movements - the Yiddish theater - has been the wide range inspiration for airwave court programs to playing Frank Sinatra's mother.

Now the 92nd Street Y in Manhattan is presenting a six part series, with host Caraid O'Brien, designed to introduce and explain the significant of the Yiddish theater on the white bread and mayo milieu.



Rabbi Shmuel Aaron Rubin Photo: American Jewish Historical Society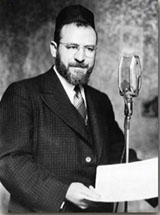 From the late-1930s to 1956, Rabbi Shmuel Aaron Rubin presided over a mediation court that convened in the back room of a synagogue. Rubin adjudicated every kind of dispute imaginable, from the complaints of abandoned parents to altercations over ill-fitting sheets. By the end of the 1930s, the dealings of the Jewish American Board of Peace and Justice, as the mediation court was called, were being recorded and broadcast on Yiddish radio stations.

Plaintiffs who brought their cases to the air were often too poor or unfamiliar with the American justice system to take their case to the state courts. In Rabbi Rubin's court disputants, who agreed to binding arbitration, could present their complaints in their own language and appeal for ethical justice - as in the case of parents requiring support - even when it was a moral rather than a legal issues.

An NPR documentary Rabbi Rubin's Board of Peace and Justice about the first court of the air, featured Tony Award winning Hal Linden as the English voice of Rabbi Shmuel Aaron Rubin.



Molly Picon (1898-1992) Picture: American Jewish Historical Society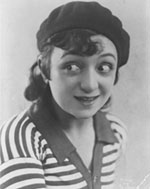 In its heyday in the '20s, the Yiddish theater had more than 11 Broadway-style houses in Manhattan, Brooklyn and the Bronx, the oldest artists' union in America.

It boasted a roster of unforgettable talent including Molly Picon, who played Frank Sinatra' mother in the movie A Hole In The Head, the which wrapped production February 23, 1963 a week early and $100,000 under budget. The adaptation of the Neil Simon hit also starred Las Vegas resident Phyllis McGuire.

The first of this important and informative six part series takes place on October 14 and will explore The Beginning of the Yiddish Theater in America. The story of Boris Thomashefsky and how he first brought Yiddish theater over from Eastern Europe, the plays he performed, the competing companies that soon formed and the stars that were born.

On October 21 the Yiddish Musical Theater will be spotlighted. With world class composers such as Joseph Rumshinsky, Alexander Olshanetsky ("I love you much too much"), Abraham Ellstein and Sholem Secunda ("Bei mir bistu shayn"), the Yiddish theater produced hundreds of original musicals, as well as adaptations of Broadway hits. This program focuses on the composers and some of their biggest stars, like Molly Picon who starred in Jerry Herman's Milk and Honey, Aaron Lebedev and Ludwig Satz.



Joseph Buloff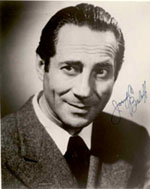 The Yiddish Literary Theater takes center stage on October 28. This class delves into the longest-running repertory company in New York City's history - Maurice Schwartz's Yiddish art theater, which for more than 30 years produced literary masterpieces by Sholem Asch, I.J. Singer, Oscar Wilde and William Shakespeare, as well as introducing American audiences to stars such as Academy Award-winner Paul Muni and actors Joseph Buloff and Luba Kadison.

Up for discussion will be the legendary Vilna Troupe, Europe's leading Yiddish art company which brought the world the most famous Yiddish play, The Dybbuk, written by the famous Yiddish writer and dramatist S. Ansky (1863-1920).



S. Ansky, portrait by Leonid Pasternak, 1918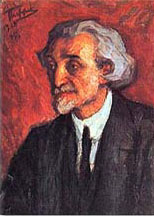 In Jewish folklore, a dybbuk is a disembodied human spirit that must wander restlessly, burdened by former sins, until it inhabits the body of a living person. Ansky's knowledge of folklore inspired and laid the foundation for his famous play which he penned in both Russian and Yiddish.

As equally diverse as their theatrical counterpart were several radio stations with Yiddish language programming. The most well known of them was WEVD. This discussion looks at the life and legacy of one of its most prolific star performers - the legendary crooner Seymour Rexite.



Seymour Rexite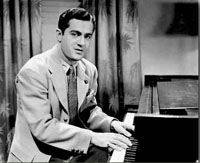 At the height of his popularity in the 1940s and '50s, Rexite starred on 18 half-hour radio shows a week. On the radio for more than 60 years his sponsors included Maxwell House, Coca-Cola and Barbosal. He often performed with his wife, actress-writer Miriam Kressyn, who translated most of the popular American songs of the day into Yiddish.

Not limited to radio, he enjoyed a Sinatra-like adoration from female fans and had regular gigs in upscale New York nightclubs like Billy Rose's Diamond Horseshoe and the Casino de Paris.

Rexite lived in lower Manhattan until his death, at the age of 91, in October 2002.

The Yiddish Cinema will be featured in the November 11 lecture which focuses on the films of Yiddish directors Joseph Seiden and Joseph Green and is accompanied by a screening of a Yiddish film.

The Influence of the Yiddish Theater on American Culture is the topic on November 18. This class explores the myriad ways the Yiddish theater influenced mainstream American culture. The first musical version of George Bernard Shaw's Pygmalion starred Menashe Skulnick at the Lyric Theater in Brooklyn in 1932. Rex Harrison learned his style of talk-singing from Joseph Buloff's unforgettable turn as Ali Hakim in Oklahoma!

Ground-breaking designers who began their work on the Yiddish stage include set designers Boris Aaronson and Sam Leve and lighting designer Abe Feder.

One of the most distinguished LDs in Broadway history, he worked at Chicago's Goodman Theatre, then moved to New York, where his first Broadway credit was Trick for Trick in 1932.

Among his New York theatre credits were Four Saints in Three Acts (1934), New Faces of 1936 (1936), I'd Rather Be Right (1937), The Cradle Will Rock (1938).

In the Tim Robbins film, The Cradle Will Rock, based on the musical play by Marc Blitzstein, Feder was portrayed by Lee Arenberg.

Other Broadway credits include; One Third of a Nation (1938), Angel Street (1941), The Skin of Our Teeth (1942), Winged Victory (1943), Out of This World (1950), The Immoralist (1954), The Boy Friend (1954), The Flowering Peach (1954), The Wisteria Trees (1955), Inherit the Wind (1955), My Fair Lady (1956), Orpheus Descending (1957), Time Remembered (1957), Camelot (1960), Blues for Mr. Charlie (1964), On a Clear Day You Can See Forever (1965), and The Night of the Iguana (1985).

His inventions include the reflector bulb, which he created with Clarence Birdseye, and the sealed beam reflector lamp.

Feder died on April 24, 1997 in Manhattan. He was 87. On April 28, the lights at Rockefeller Center and the Empire State Building were turned out for one hour as a memorial tribute.

Hosting the classes is Caraid O'Brien who holds a degree in Yiddish literature from Boston University; studied with Elie Wiesel, Abigail Gillman, Eugene Green, Herbert Mason and with Ruth Wisse at Harvard University; also studied Yiddish and Hebrew at the Hebrew University of Jerusalem as well as studying Irish Gaelic at the National University of Ireland in Galway.


THE MUSIC GOES ROUND AND ROUND


STAGES: PERFORMANCES 1970-2002 is the ultimate Neil Diamond live box set. Needs to be on everybody's gotta have it list. There are 5 audio CD's containing 83 tracks, all but one of which are previously unreleased. Forty-two of these performances include songs that Diamond has never issued in live versions before. Among those 42 tracks are five numbers that Diamond has never released on any album.

The sixth disc, DVD, contains 12 songs from a 2002 concert in Dublin plus a backstage video documentary of what its like for Neil while he is on the road.

There is a also a 52 page booklet with liner notes and previously unreleased photography. The first two CD's A Night in Las Vegas 12/27/02, comprise an entire, uncut Diamond concert record, from the most successful tour of his career. Stages is the largest single collection of previously unreleased live material ever commercially officially issued on one artist in pop music history.

Musicians: Neil Diamond (vocals, guitar); Eddie Rubin, Randy Sterling, Carol Hunter, Mark Kapner, Dennis St. John, Alan Lindgren, Richard Bennett, Emory Gordy Jr., Reinie Press, Danny Nicholson, Jeffrey Kewley, Jesse Diamond, Doug Rhone, Julia Waters, Ron Tutt, Oren Waters, Art Velasco, Ralf Rickert, Larry Klimas, Don Markese. Compilation producers: Neil Diamond and Sam Cole. This set is in stores now.

SWEET CHARITY Hey, big spender, spend a little and get this CD. That old LP is all scratched up and you know you need a CD that you can really hear. If you're one of the deprived whose life has a black void because you don't own this original cast recording - get with the program. The 1969 motion picture soundtrack, presented by Decca Broadway for the first time on CD is just waiting for a spot in your collection.

With music by versatile Broadway composer Cy Coleman and lyrics by the witty Dorothy Fields, starring Sammy Davis Jr., Shirley Maclaine, Stubby Kaye, Paula Kelly, John McMartin, Ricardo Montalban and Chita Rivera.

Orchestra Conducted By Joseph Gershenson.



Broadway To Vegas is supported through advertising and donations. Priority consideration is given to interview suggestions, news, press releases, etc from paid supporters. However, no paid supporters control, alter, edit, or in any way manipulate the content of this site. Your donation is appreciated. We accept PAYPAL. Thank you for your interest.


SPREADING THE WORD


MUPPET RARITIES: THE UNSEEN WORK OF JIM HENSON Presented in association with The Jim Henson Legacy. In Person: Jane Henson, Cofounder of The Muppets; Vice President, The Jim Henson Foundation, Jerry Nelson, Muppet Performer, Craig Shemin, Muppet Historian; Secretary, The Jim Henson Legacy, plus additional panelists. Wednesday, October 15 at The Museum of Television & Radio in NYC.


SWEET CHARITY


BREAKING NEW GROUND

Robin Williams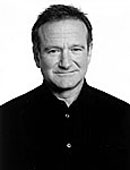 a fundraiser for the Westport Country Playhouse features the talents of Carole King, Paul Newman, and Robin Williams

Carole King will headline the musical entertainment, Robin Williams will perform his trademark comedy, and Paul Newman will be auctioneer at a multi-star-studded fundraiser to support the renovation of the historic and legendary Westport Country Playhouse. This once-in-a-lifetime event takes place Thursday, October 9, at the Hyatt Regency Greenwich.

The evening will pay homage to the Playhouse with a look back at the history of the illustrious theatre and the many luminaries that have graced its stage. There will be cocktails, a silent auction, dinner, a live auction, and celebrity entertainment. Playhouse artistic director Joanne Woodward said of the benefit, "Getting Paul to even go to anything like this is a major coup, and we have him as our auctioneer. Now we'll just have to wait and see if he wears a suit."

Among the other major celebrities lending their support are famed actress Olivia de Haviland as Honorary Chair, and Miramax CEO Harvey Weinstein as Corporate Chair. Ms. de Haviland has appeared twice on the Playhouse stage in What Every Woman Knows by James M. Barrie in 1946 and George Bernard Shaw's Candida in 1951. Ms. Woodward and Playhouse board member Christopher Plummer will be contributing to the evening's program, as well as several other celebrities who have indicated their participation.

Co-chairing the fundraiser are Suzanne and Bob Wright of Fairfield and Laurie Lister and Judd Burstein of Westport along with an illustrious committee from Connecticut and New York.

The event is of special importance to the success of the Campaign for a New Era, a $30.5 million comprehensive campaign to renovate and expand the Playhouse. Under the artistic direction of Woodward, the Westport Country Playhouse closed its 73rd summer season with the Irish Repertory Theatre's musical production of the Victorian melodrama, The Streets of New York, the very first play produced at the Playhouse in 1931.

While the 18-month renovation project takes place the show will go on at another location. In 2004, the Westport Country Playhouse will produce a shortened season of two plays and a series of special events in partnership with The Ridgefield Playhouse for Movies and The Performing Arts.

"The Ridgefield Playhouse came out on top for several reasons," explained Woodward. "First, it is close to Westport, only 15 miles door-to-door. It's a beautiful theatre, recently restored in 2000, with comfortable seating, great sightlines, convenient parking, and all the backstage necessities to produce theatre of the caliber that we strive to bring our audiences."

The Westport Country Playhouse will re-open in 2005, its 75th anniversary year.

Admission for Breaking New Ground: A Celebration! on October 9, 2003, is by reservation only. Tickets range from $2,000 to $500 per person. Tables of 10 range from $50,000 to $25,000.

RITA HAYWORTH GALA BENEFIT FOR ALZHEIMER'S spearheaded by Princess Yasmin Aga Khan. Muffie Potter Aston is the Gala's chair. Susan Hess and Claudia Cohen are the Live Auction co-chairs. Honoree Donna Dixon Aykroyd will be serenaded by Dan Aykroyd's Blues Brothers Band. At the Waldorf on Tuesday, October 7. Tickets are $1000 a person or $10,000 for a table.

BAY STREET THEATRE FALL BENEFIT starring Michael Feinstein. The Bay Street Theatre is a not-for-profit 300-seat professional theatre situated on Long Wharf, in Sag Harbor, NY. Saturday, October 11, Performance begins at 7:30 p.m. with a reception immediately following in the Theatre's Lobby.

VOLUNTEERS OF AMERICA benefits from the Friday, October 10th, performance of Crowns, at the Alliance Theatre in Atlanta, Georgia.

The special ticket purchase helps to buy VOA tickets to support the "I Remember Mama" Mother's Day Luncheon & other outreach programs.

Volunteers of America is a national, nonprofit, spiritually-based organization providing local human service programs and opportunities for individual and community involvement. The charity helps youths at risk, frail elderly, abused and neglected children, people with disabilities, homeless individuals and many others.

VOA brightens the lives of many elderly women on Mother's Day each year by extending invitations to those who otherwise would be alone. "I Remember Mama" provides a delicious meal, entertainment and a gift bag to guests.

Crown written and directed by Regina Taylor, Adapted from the book by Michael Cunningham and Craig Marberry.

The regional premiere opens October 8 running through November 9.

With gospel music, storytelling and a liberal dose of "hattitude," Crowns shows that when you match the right woman with the right hat, it can be Sunday morning all week long.


THE SMALL TUBE AND ON THE AIR


OUR TOWN

Paul Newman in Our Town. Photo by: Photo: Marc Bryan-Brown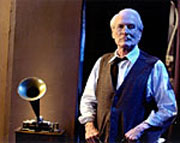 Westport Country Playhouse's production of Our Town, taped during its record-breaking Broadway run last winter, will be the premiere of ExxonMobil Masterpiece Theatre's 33rd season, airing on the PBS network, Sunday, October 5.

Paul Newman, who plays the central role of the Stage Manager in Thornton Wilder's classic play, received 2003 Tony and Emmy Award nominations for his performance. Our Town marked Newman's first appearance on Broadway in 38 years.

This production of Our Town first opened at Westport Country Playhouse during the 2002 summer season. The ensemble cast, under the direction of James Naughton, includes Jayne Atkinson, John Braden, Frank Converse, Jane Curtin, Jeffrey DeMunn, Mia Dillon, Ben Fox, Maggie Lacey, Jake Robards, Stephen Spinella, and Newman. Scenic and costume design is by Tony Walton, lighting design by Richard Pilbrow, and sound design by Raymond D. Schilke

First produced in 1938, the Pulitzer-Prize winning Our Town has become an American stage treasure and is Wilder's most renowned and frequently performed play. Set at the turn of the 20th century, the play reveals the ordinary lives of the people in the small town of Grover's Corners, New Hampshire, U.S.A.

ADAMS' RIB Based on the screenplay by Garson Kanin and Ruth Gordon. Part of The Play's the Thing series presented by the Los Angeles Theatre Works.

Adams' Rib is adapted for Radio by David Rambo who includes never-before-seen original material in his adaptation of the Oscar-nominated screenplay.

Starring Anne Heche and Marsha Mason. A classic battle of the sexes and a courtroom farce, this peerlessly witty examination of husband and wife attorneys was first crafted for Spencer Tracy and Katharine Hepburn.

The Play's the Thing award-winning live-in-performance radio series features some of the greatest plays performed by the best actors in an acoustically perfect and extremely intimate setting. The director cues the opening music, and the Foley artist creates the scene — clinking glasses, clothes unzipping, raindrops falling, doors slamming. The fully rehearsed actors take the stage, scripts in hand, and the magic of radio theatre begins. Each breath, each kiss, each roar of laughter and round of applause is recorded for future broadcast on satellite and public radio across the country October 8, 9, 10, 12. All performances are held at the Skirball Cultural Center, Los Angeles.

TONY DANZA currently performing at Feinstein's at the Regency through October 11, guests in studio this evening with David Kenney on Kenney's Everything Old Is New Again radio show heard over WBAI 99.5 FM and on the Internet at: www.2600.com/offthehook/hot2.ram. On October 12 Kenney has an Interview with Billy Porter prior to his show at Lincoln Center's Kaplan Penthouse.





A TREE GROWS IN BROOKLYN Book by George Abbott & Betty Smith Music by Arthur Schwartz Lyrics by Dorothy Fields This new production has a revised book by Elinor Renfield.

Based on the classic book, A Tree Grows in Brooklyn is a spirited, heartwarming salute to turn of the century America. The show features Katie, who loved one handsome weakling, and her sister Cissy, who loved many strong men. In a tender account of Katie's struggles and Cissy's adventures, this shining musical leaves the audience constantly laughing through sentimental tears. The soaring score includes Make the Man Love Me, I'll Buy You a Star, Look Who's Dancing and Love is the Reason.

On October 17 is the First Friday event where patrons can mingle at happy hour, enjoying an introductory talk by a member of the Goodspeed creative staff; while enjoying appetizers, compliments of La Vita Gustosa. An informal post-show audience discussion with the cast takes place November 6, November 20, and December 4.

Goodspeed Opera House, East Haddam, CT. October 10 – December 14.

THE RETREAT FROM MOSCOW by the author of Shadowlands, William Nicholson. Tony Award winner John Lithgow stars. Eileen Atkins, whose performance in the London production won her an Olivier Award, plays his wife in the family drama. British actor Ben Chaplin will play their son. Daniel Sullivan directs.

The play tells the story of a man, a woman, and a marriage that should have lasted. One weekend, he abruptly walks out, destroying her world, and leaving their only son to put the pieces together and to decipher right from wrong.

Previews began October 2 at the Booth Theatre. The official opening is October 23.

CAT ON A HOT TIN ROOF the Pulitzer Prizer winner by Tennessee Williams about the rivalries and misunderstandings that tear apart a Southern family as it gathers for the 65th birthday of its patriarch, starts previews on October 9 and opens November 2 at the Music Box Theatre in NYC.

Ashley Judd, who made her Broadway debut in Picnic in 1994, will play Maggie the Cat, the sexy, frustrated Southern wife who spends the entire first act in a lacy slip. Her co-stars include Jason Patric as Brick and Ned Beatty as Big Daddy.

Judd joins an illustrious list of actresses who've played the role on the Great White Way, including Barbara Bel Geddes, Elizabeth Ashley and Kathleen Turner. In the film version, of course, Elizabeth Taylor had the part.

THE DRAWER BOY by Canadian Michael Healey won the 1999 Dora Award for best New Play, a 2000 Chalmers Canadian Playwriting Award and the 1999 Governor General's Literary Award. The play won rave reviews at Chicago's Steppenwolf Theatre and Time Magazine called it one of the year's best plays in America.

Set in the 1970s, an urban actor turns up on a farm in Ontario hoping to gather ideas for a theatre project. Morgan and Angus, two middle-aged farmers, reluctantly take him in, but they are not prepared for his probing questions which delve more deeply than they expect. And when the startling answers find their way into a theatrical production, what Angus sees onstage triggers recovered memories that change their lives forever.

Through October 12 at the Round House Theater in Bethesda, Maryland.

ROSSELL SIMMONS' DEF POETRY JAM nine gifted, young poets speaking from the heart about love, dreams, self-respect, politics and everything that makes today's world a fascinating, complex place. Winner of the 2003 Tony Award for Best Special Theatrical Event has hit the road and will play the 2,800-seat Mortensen Hall at the Bushnell Theatre on October 12. Hartford, Conn.

OVER THE RIVER AND THROUGH THE WOODS by Joe Di Pietro Michael Webber directs the cast starring Bernie Landis, Vince Viverito, Renee Matthews, Matt Orlando, Glory Kissel and Shane Goodsell.

New Jersey born author DiPietro, teamed with producer Jimmy Roberts to pen the long-running off-Broadway musical, I Love You, You're Perfect, Now Change. He has been commissioned by the Elvis Presley estate to write a musical incorporating popular Presley songs. He received the 1997 William Inge Festival award for New Voices in American Theater, and the National Playwright's conference MacArthur award for comic writing. Over the River and Through the Woods debuted at the John Houseman Theater in New York in 1998.

In this play DiPietro has used his real grandparents as source material for his characters, but the action of the play is fictional - a tight-knit Italian-American New Jersey family. Nick Christano is a 29-year old, single, marketing executive who dutifully visits his four grandparents every Sunday for dinners which are governed by "the three F's" - family, faith, and food. One Sunday he has an exciting, though devastating announcement: He's being promoted to a new position which requires him to move to Seattle. The news doesn't sit so well. Thus begins a series of schemes.

Opens October 12 at The Mercury Theatre in Chicago followed by the opening night party at the Blue Bayou.

THE GOOD DOCTOR by Neil Simon, directed by Guy Sanville, opened at The Purple Rose Theatre in Chelsea, Michigan October 2 with performances through November 30.

Two world premieres are on the Purple Rose schedule this 2003-04 season - Leaving Iowa and Duck Hunter Shoorts Angel.

Leaving Iowa, a comedy by Tim Clue and Spike Manton, directed by Anthony Caselli involves a writer searching for the perfect spot to scatter his late father's ashes. In doing so, he finds himself re-living all the summers he spent trapped in the back seat of a station wagon as a young boy.

Duck Hunter Shoots Angel, a comedy by Mitch Albom, directed by Guy Sanville follows a big city tabloid journalist on the trail of an out-of-this-world tale. Bat Boy, Elvis and Half Man/Half Alligator are nothing compared to the zany people in this new play from the award-winning Detroit Free Press columnist and celebrated author of Tuesdays with Morrie.

CROSSING DELANCEY a comedy by Susan Sandler. Phyllis B. Gitlin directs the production that features, Elan Barram, Holly Sena, Shirley Romano, Rosina Pinchot and James J. Ross. Scenic design is by Playhouse Artistic Director, Elaine Herman; Sound Design by Ron Wyand, Costume Design by Donna Fritsche and Lighting Design is by Michael Schrupp. The opening performance, October 11, is followed by a champagne reception with the Director, Cast, Crew, and Playhouse Staff. Performances begin October 10 through -November 22 at the Long Beach Playhouse, Long Beach, CA.


| | | |
| --- | --- | --- |
| | | |
WHO'S WHERE


FAITH PRINCE in concert, as part of the Best of the New York Stage series, at the University of Nevada, Las Vegas. October 10th.

AMANDA McBROOM songwriter/performer, best known for her song The Rose made famous by Bette Midler, brings her cabaret act to The Barns at Wolf Trap in Vienna, Virginia. Appearing with her long time collaborator, Michele Bourman, on Saturday, October 11th.

TONY BENNETT performs tonight and tomorrow at the Sydney Opera House in Sydney, Australia.

CHER on stage Friday at the MCI Center in Washington, D.C.

LEA SALONGA the Tony Award-winner for Miss Saigon entertains at the Mohegan Sun's Cabaret Theatre October 8-12.

AN EVENING WITH CAROL CHANNING STARRING RICHARD SKIPPER who performs his tribute to Carol Channing's amazing life and career with musical director John Bowen. Special guest - Scott Samuelson at The Duplex in NYC October 7th.

LUIS MIGUEL performs Friday, October 10, at Mandalay Bay in Las Vegas.

JOHN MICHAEL MONTGOMERY, LORRIE MORGAN AND MICHAEL PETERSON entertaining in special outdoor arena constructed for their performance at the Riviera Hotel in Las Vegas on October 11.

GLORIA ESTEFAN on stage in her Live & Unwrapped concert October 10-19 at Caesars Palace in Las Vegas.

DENNIS MILLER one of our favorites, explaining all of the issues in such a funny, sightful way at the Paris Hotel in Las Vegas October 8-12. Opening the bill is Las Vegas resident Stephen Sorrentino.

PETER CINCOTTI 19 year old jazz phenomenon on the verge of an extraordinary recording career will be performing a variety of old favorites with his wise-beyond-his-years vocal and ivory styles. October 9 the at the Belding Theater in Hartford, Conn.


PIFFLE AND PROFUNDITIES


IT'S A SPONGEBOB WORLD the popular Spongebob Squarepants TV series has some familiar voices; Ernest Borgnine - Mermaid Man, Tim Conway - Barnacle Boy, Charles Nelson Reilly - Dirty Bubble and Marion Ross - Grandma SquarePants.
















Next Column: October 12, 2003
Copyright: October 5, 2003. All Rights Reserved. Reviews, Interviews, Commentary, Photographs or graphics from any Broadway To Vegas (TM) columns may not be published, broadcast, rewritten, utilized as leads, or used in any manner without permission, compensation and/or credit.
Link to Main Page
---
Laura Deni


CLICK HERE FOR COMMENT SECTION